A few weeks back, we listed our favorite celebrity fashion icons, and over the next few months, we'll be breaking down each celebrity's style in depth and showing you how to get her style for yourself. First up is Zendaya.
As we mentioned in our fashion icons article, Zendaya has a reputation for her daring and dauntless looks, her sense of poise reflected in her wardrobe. It's difficult to find a look she can't pull off — whether it's urban cool or red-carpet polished, this star can work any style she chooses.
Zendaya's Early Life:
Coming into the acting and media world at age 14, Zendaya was raised to love and appreciate the stage, as the daughter of a stage manager. Training in theaters and companies around the California area in her free time, Zendaya attended the Oakland School for the Arts to focus on dance, theatre, and modeling.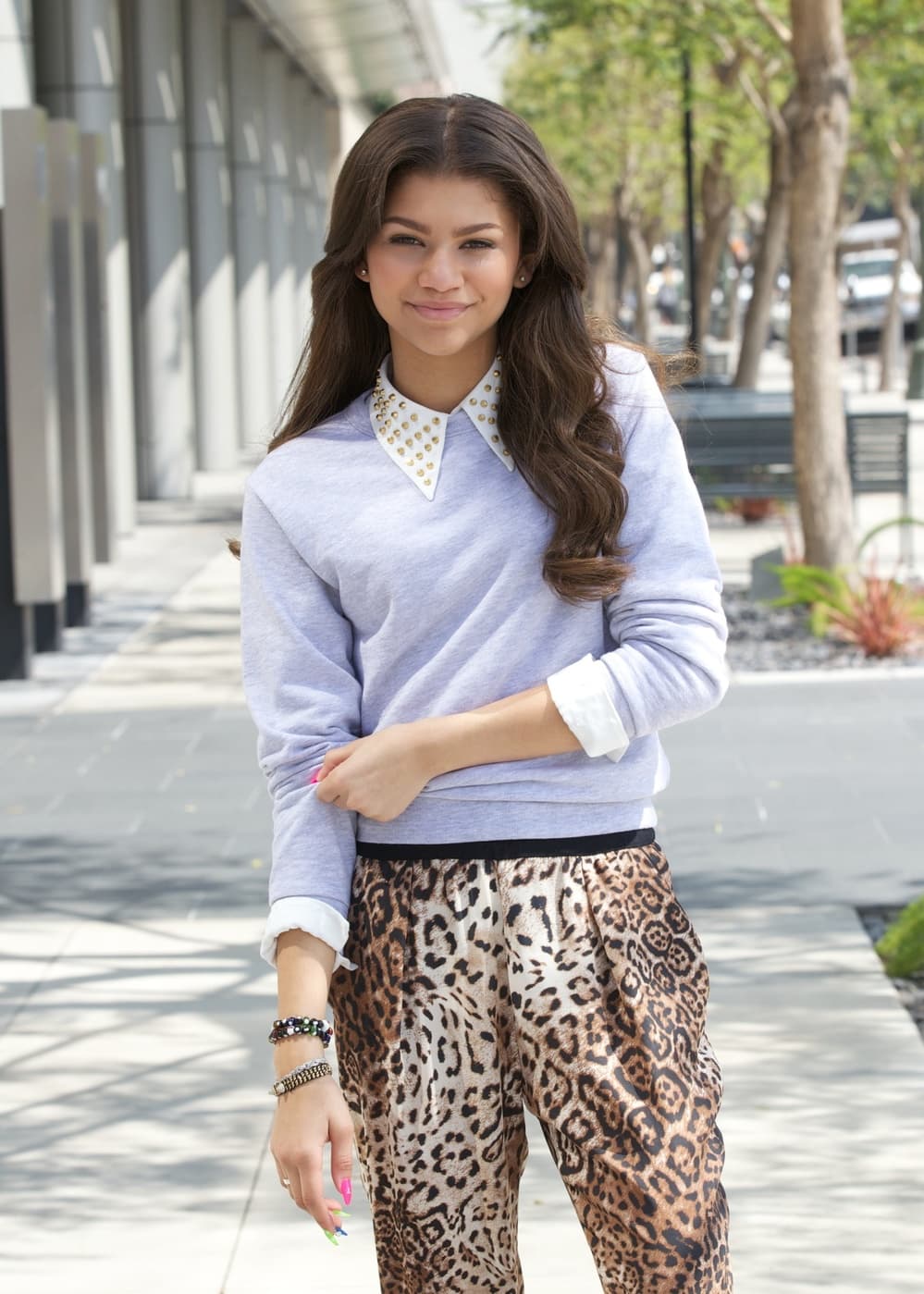 Zendaya's big break came when she was cast in the Disney Channel show Shake It Up. Through the show, she was given opportunities to release songs from the show and star in crossover episodes with other Disney shows to raise her profile.
After acting for Disney in her young teen years, she went on to compete on ABC's "Dancing With The Stars", moving her directly into the Hollywood spotlight. She then began producing music, as well as acting in movies.
Challenges:
Despite being just 20 years old, Zendaya isn't afraid to stand up for herself, as she is often challenged in the media world. She has frequently discussed the pressure she feels as a young biracial woman in the spotlight.
She recently explained at Beautycon in New York,
"As a black woman, as a light-skinned black woman, it's important that I'm using my privilege, my platform to show you how much beauty there is in the African-American community. I am Hollywood's, I guess you could say, acceptable version of a black girl and that has to change. We're vastly too beautiful and too interesting for me to just be the only representation of that. What I'm saying, it's about creating those opportunities, sometimes. You have to create those paths. And that's with anything, Hollywood, art, whatever."
A few years ago, Zendaya was famously criticized for wearing dreadlocks on the red carpet at the Oscars. Even back then, she was ready to speak out, firing back at critics,
"There is already harsh criticism of African American hair in society without the help of ignorant people who choose to judge others based on the curl of their hair. My wearing my hair in locks on an Oscar red carpet was to showcase them in a positive light, to remind people of color that our hair is good enough."
In another instance, Zendaya confronted the Modeliste Magazine after they edited pictures to slim and change the shape of her hips and torso. You can read her caption in the photo below:
Through the many criticisms she's faced, it's become clear that Zendaya handles her critics and the negative side of media with an air of class, grace, and assertiveness. These qualities make her a fabulous role model for young women.
Zendaya's Style & How to Get It:
Zendaya has spent plenty of time on the red carpet, and has become a street style star in her own right when she's off duty. With a sleek, modern style, her vibe is perfect inspiration for college girls everywhere.
The best thing about Zendaya? Her fearlessness when it comes to fashion, and her confidence that follows wherever she goes. Zendaya has pulled off hats, wigs, pantsuits, flowing dresses, and odd combinations with ease. Anything she wears turns heads.
So let's talk about her style! Here are some outfits to help you get a sense of Zendaya's style and how to get her vibe for yourself.
Casual and Trendy: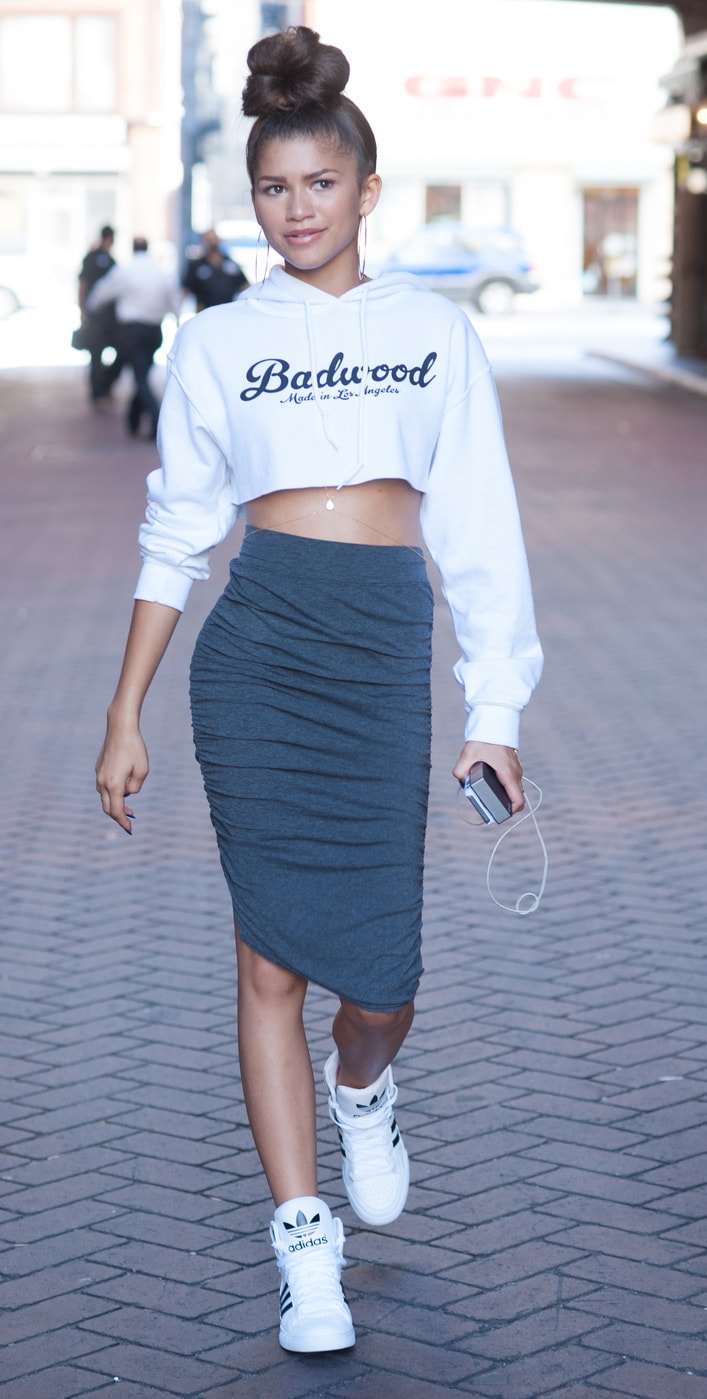 In this look, Zendaya slays the streets, showing off her cool girl style and looking totally relaxed and comfortable. Wearing a cropped sweatshirt, a tight midi skirt, and white high-top sneakers, Zendaya combines casual and sensual in this look. This outfit shows off her skill in creating a trendy, yet comfortable vibe.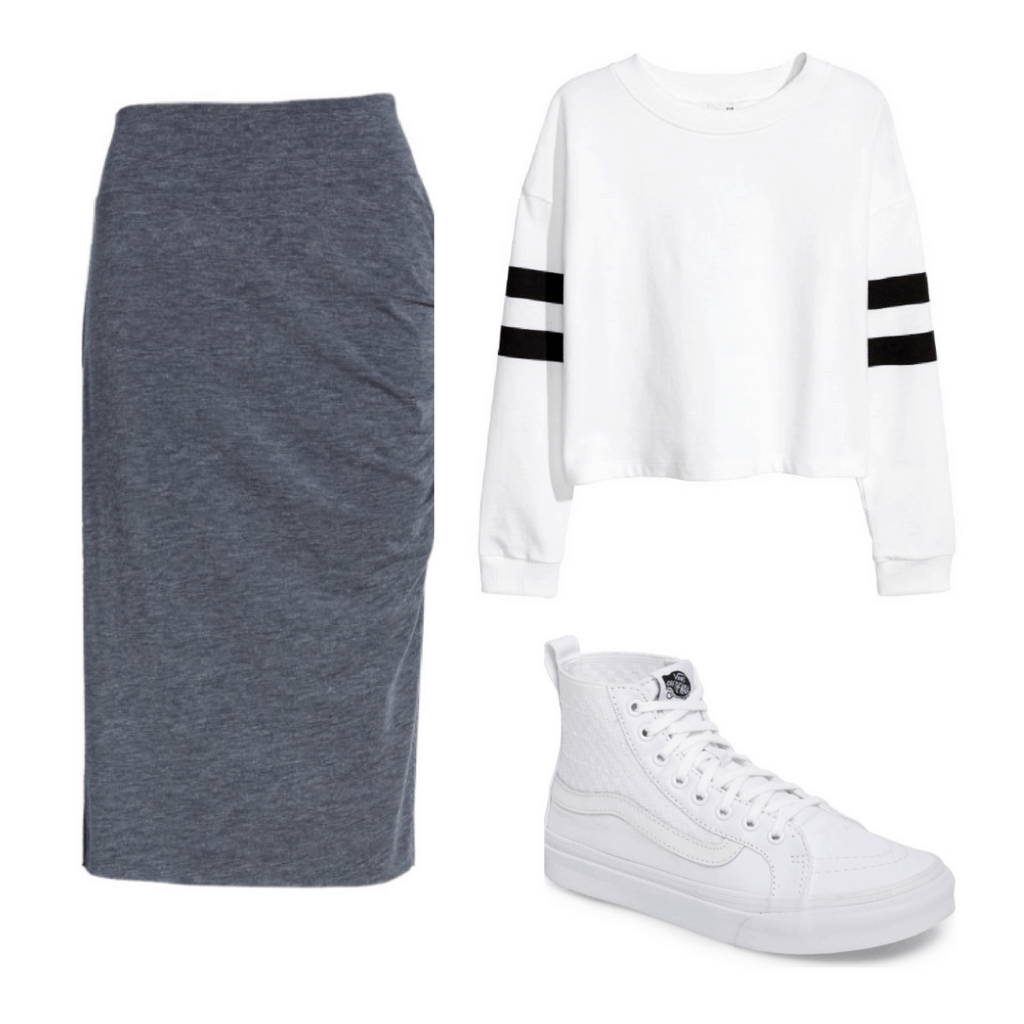 Products: Shoes – Amazon, Skirt – Nordstrom, Sweater – H&M
To replicate this look of Zendaya's, find a midi-length skirt in a neutral color such as charcoal gray or black, and add a cropped sweatshirt with matching high top sneakers. Throw your hair up into a messy topknot for extra points. This look is perfect for a casual shopping outing, or exploring the city.
Fun and Flirtatious: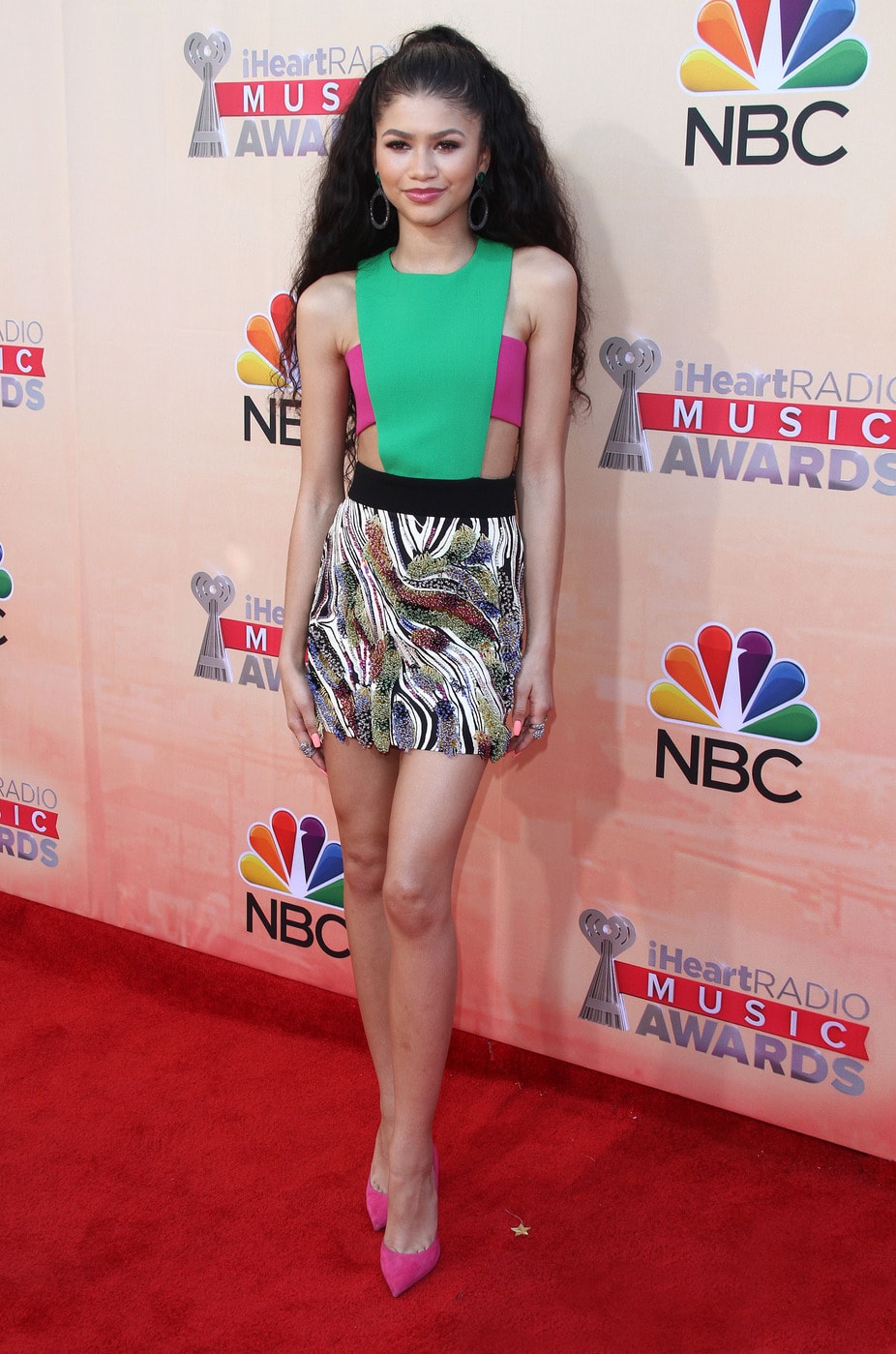 In this red carpet look, Zendaya takes some fun fashion risks, wearing a cut-out dress featuring zebra print, '80s-style pop colors, and pointed pink heels. This look represents her youthful age and attention to detail. The bright pink in her shoes matches the bandeau bra and her lipstick/eyeshadow combination.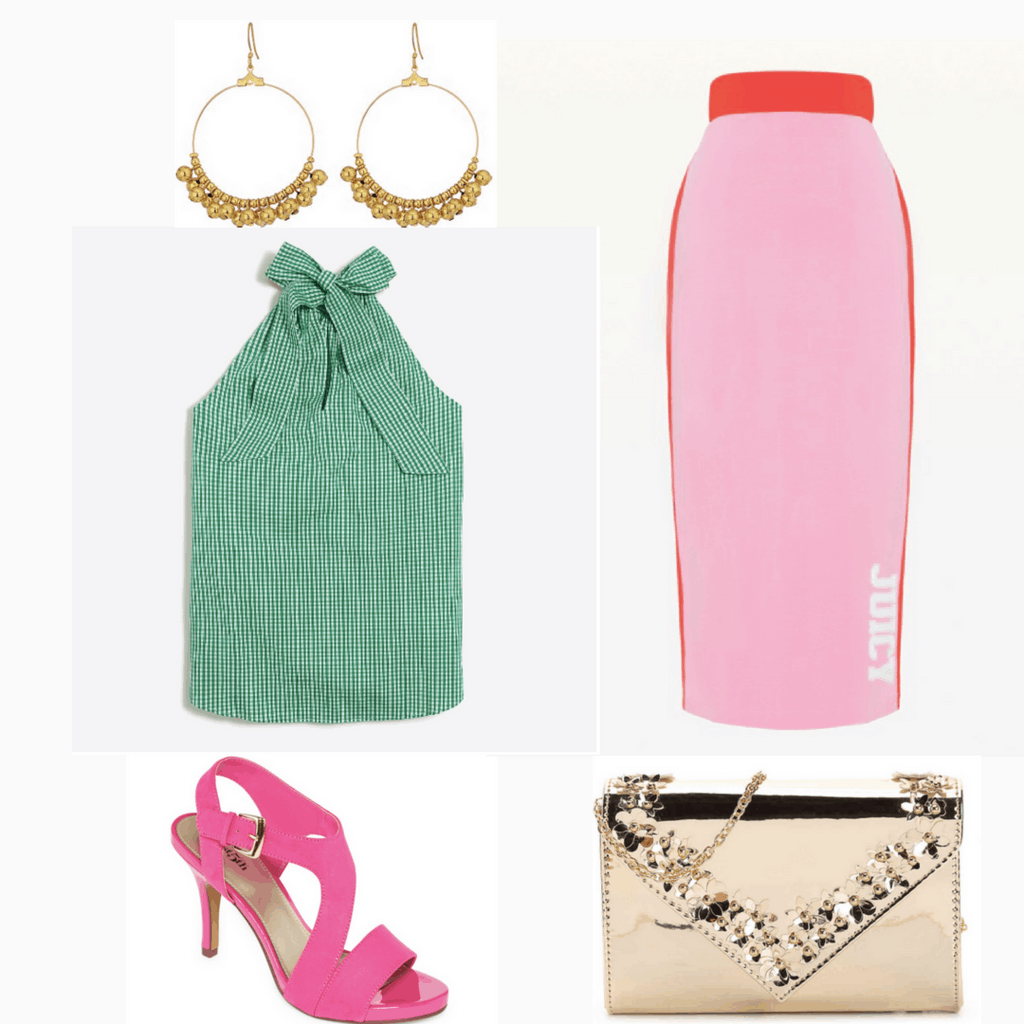 Products: Shoes – JCPenney, Bag – DSW, Skirt – Juicy Couture, Top – J.Crew, Earrings – Zappos
Achieve this look by pairing bright colors with patterns, and opting for gold or shiny jewelry and accessories. This is not the time to be timid with your styling choices! This look is perfect for standing out in a crowd, or going out at night.
Professional and Polished: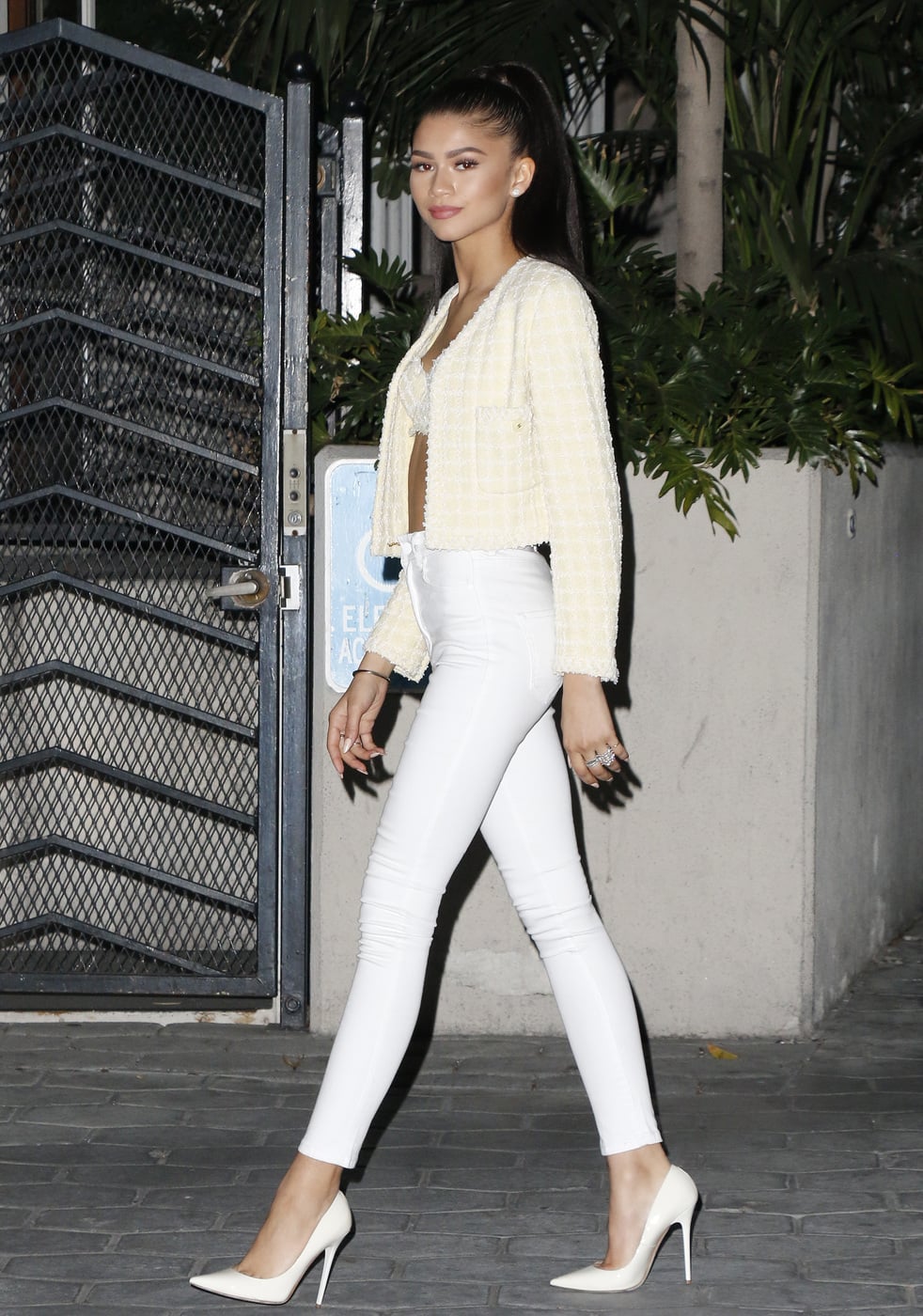 In this high-class style, Zendaya's long legs are accentuated by the tight, straight pant paired with tall pointed heels. In addition to the style of this look, Zendaya's confidence and posture act as accessories, adding to the fun-yet-professional feel of the outfit.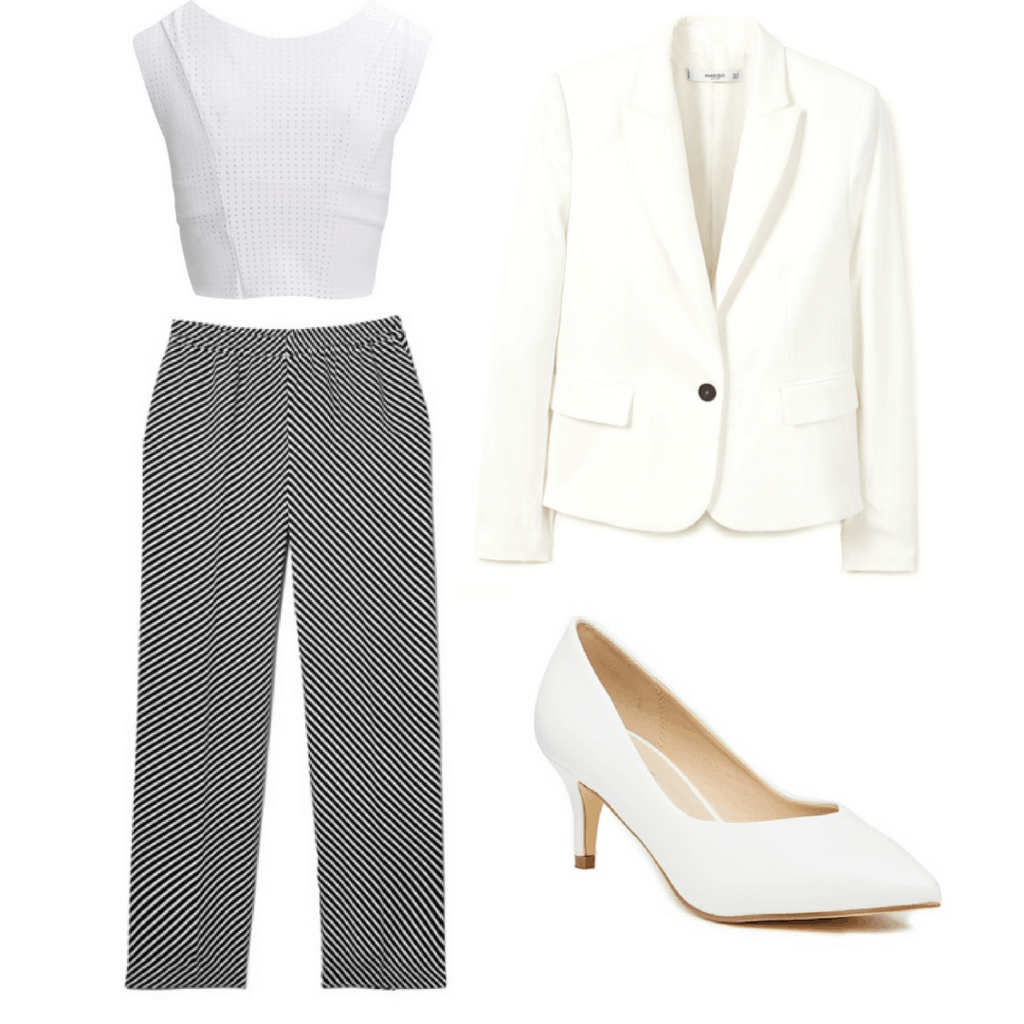 Products: Shoes – Nordstrom, Pants – Vince Camuto, Top – Back Country, Jacket –Mango
Match this style by finding a pair of classic white pumps, and working with neutral colors to create a combination that exudes polished class. I love the juxtaposition of a tight, slightly cropped top with a heavy, business-like jacket and wide pants. (Though Zendaya's look shows skin, here we've found high-waisted pants to pair with the crop top for coverage.) This look is perfect for a fun brunch with friends or a fashion-forward internship.
Active and Easy:
Zendaya looks comfortable and casual in this look (click here to see it), yet she still looks like a boundary-pushing fashionista. Her grey fitted top hugs all the right places, and her high waisted black sweats and all-white sneakers give her look a streetwear feel. Note that Zendaya wears her hair long and straight — this gives off a more glamorous, put-together vibe.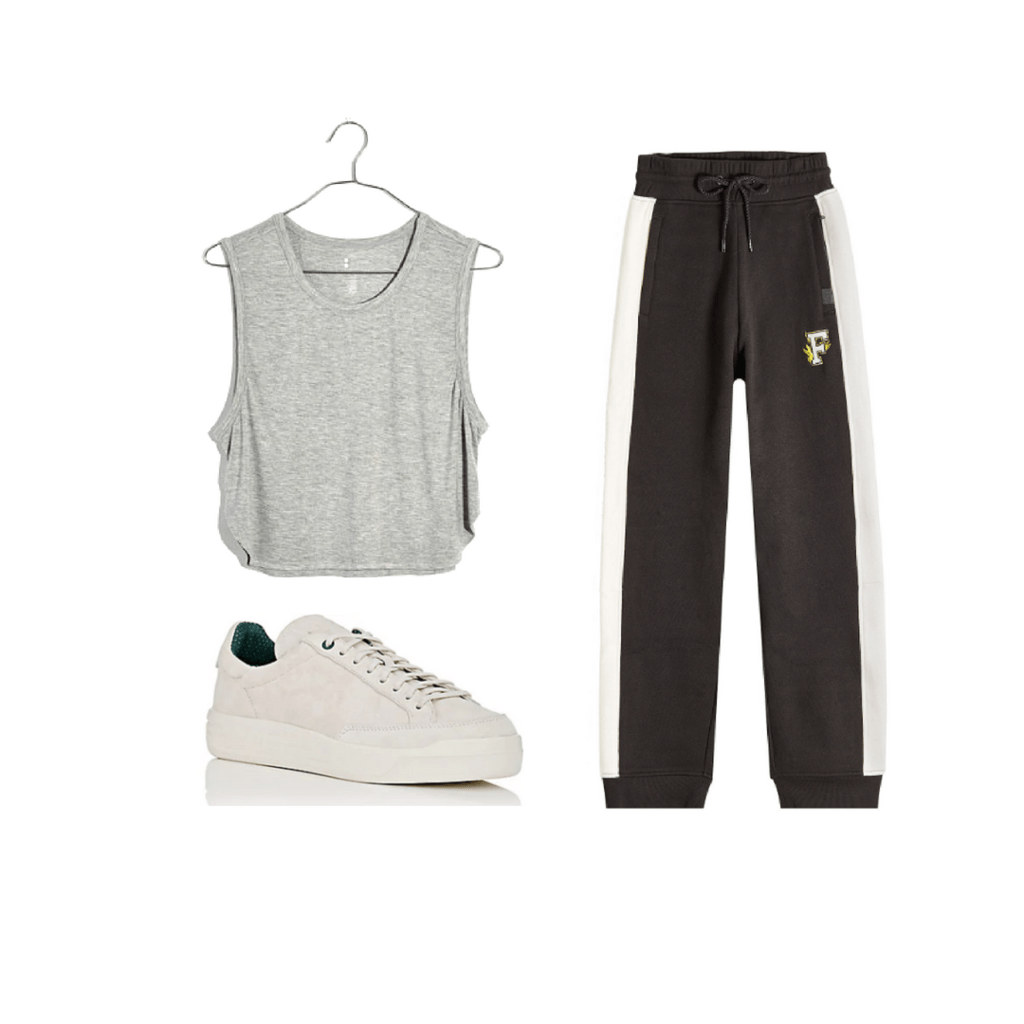 Products: Shoes – Barneys, Pants – StyleBop, Top – Madewell
To recreate this active and easy look, simply take a cropped tank or tee, pair it with dark sweatpants, and finish it off with all-white tennis shoes from whatever brand you love best. Dress the look up by throwing on a nicer jacket, or dress it down by putting your hair in a messy bun or wearing a baseball hat. This look is perfect for a trip to the grocery store, leaving the gym, or a day spent studying.
Feminine and Chic:
In this unique and playful look for a photoshoot, Zendaya rocks a pair of high waisted plaid pants, matched with a ruffled sweater and simple heels. With curled short hair/bangs and bright red nails, Zendaya makes the look even more lively.
Products: Shoes – H&M, Pants – NastyGal, Sweater – H&M
Copy this outfit for yourself by starting with a simple pair of black heels, then adding high-waisted plaid pants of your choice and a brightly colored and uniquely designed sweater. To accessorize, rock simple gold jewelry or a whimsical hairstyle. This look is perfect for an afternoon event or casual dinner with friends.
What do you think of Zendaya's style?
Comment below which look is your favorite, or which outfit set you're going to incorporate into your wardrobe!