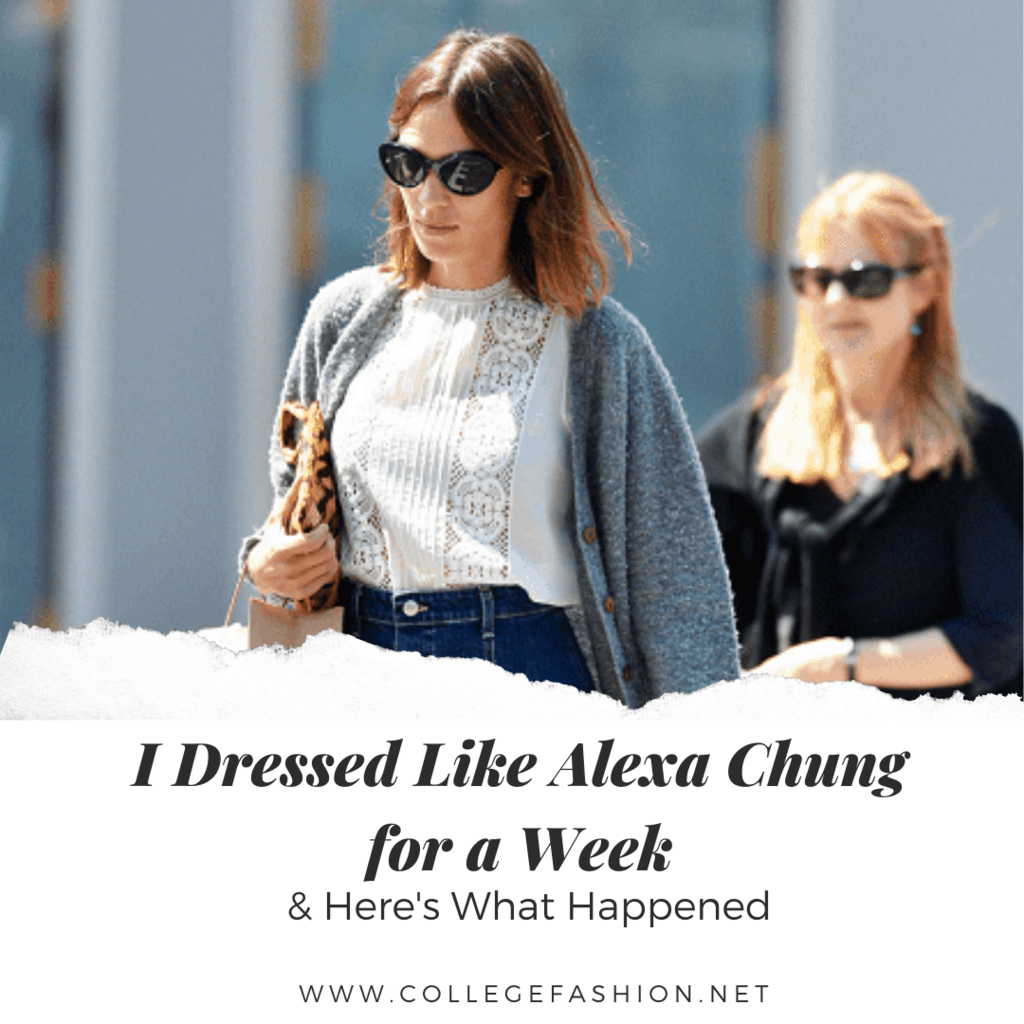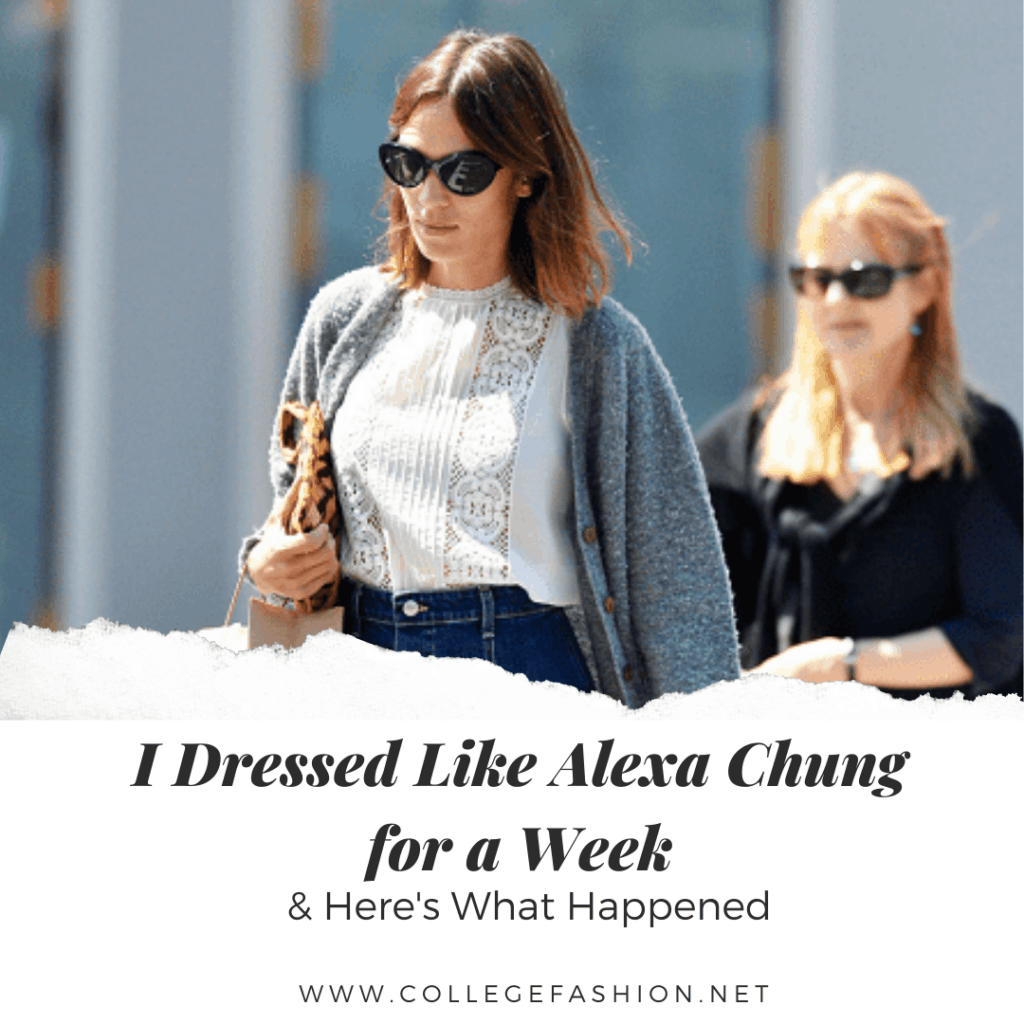 We've all looked to celebrity style for fashion inspiration at some point in our lives. But it's one thing to say "I love her outfit," and it's another to actually copy it in real life.
For this series, I'm going the extra mile and making it happen. Each week, I'm getting inspiration from a celebrity and copying five of her looks as closely as possible. Then, I'm reporting back to you: Did the outfits work in real life? Did I feel comfortable? Did people treat me differently? I'm sharing it all.
In past posts I've dressed like Zendaya, Gigi Hadid, Grace Kelly, Kendall Jenner, Vanessa Hudgens, Sophie Turner, Priyanka Chopra, Millie Bobby Brown, Hilary Duff, Lily Collins, Taylor Swift, Iconic Halloween Characters and Selena Gomez.
This week, I'll take on the style of the 'Queen of Model-Off-Duty', Alexa Chung.
Alexa Chung's Style
Alexa Chung has been a staple in the fashion world since I can remember. She seems to appear in every single 'Best Dressed', 'Model Off-Duty' and 'Street Style' list.
She has modeled for every major fashion magazine like Vogue, Elle and Harper's Bazaar and is always present, front row, at catwalks and multiple Fashion Weeks.
Alexa Chung's style is cool. There is no other way to describe it. It is utterly, effortlessly, amazingly cool.
She can take a basic outfit and turn it into the most fashionable look ever with some well-chosen items, accessories, and colors. Alexa has a strong personal style and, even if she wears a trendy item, it is used in a way that's unique to her.
With that in mind, let me tell you how this challenging week went!
Alexa Chung's Style – Outfit #1 "Monday"
For the first day, I chose a more casual, but very common look in Alexa's fashion history. In the pic, she's wearing a floral dress, a knit sweater and Converse.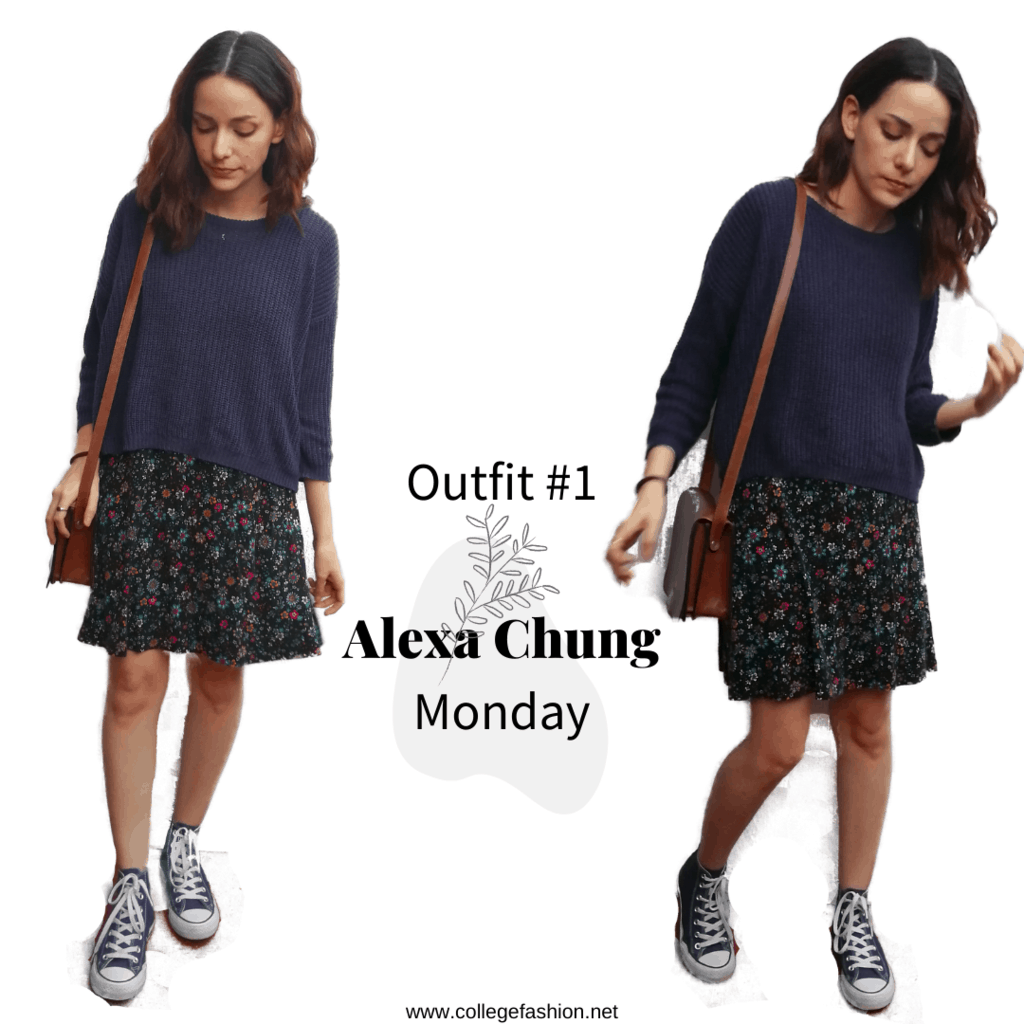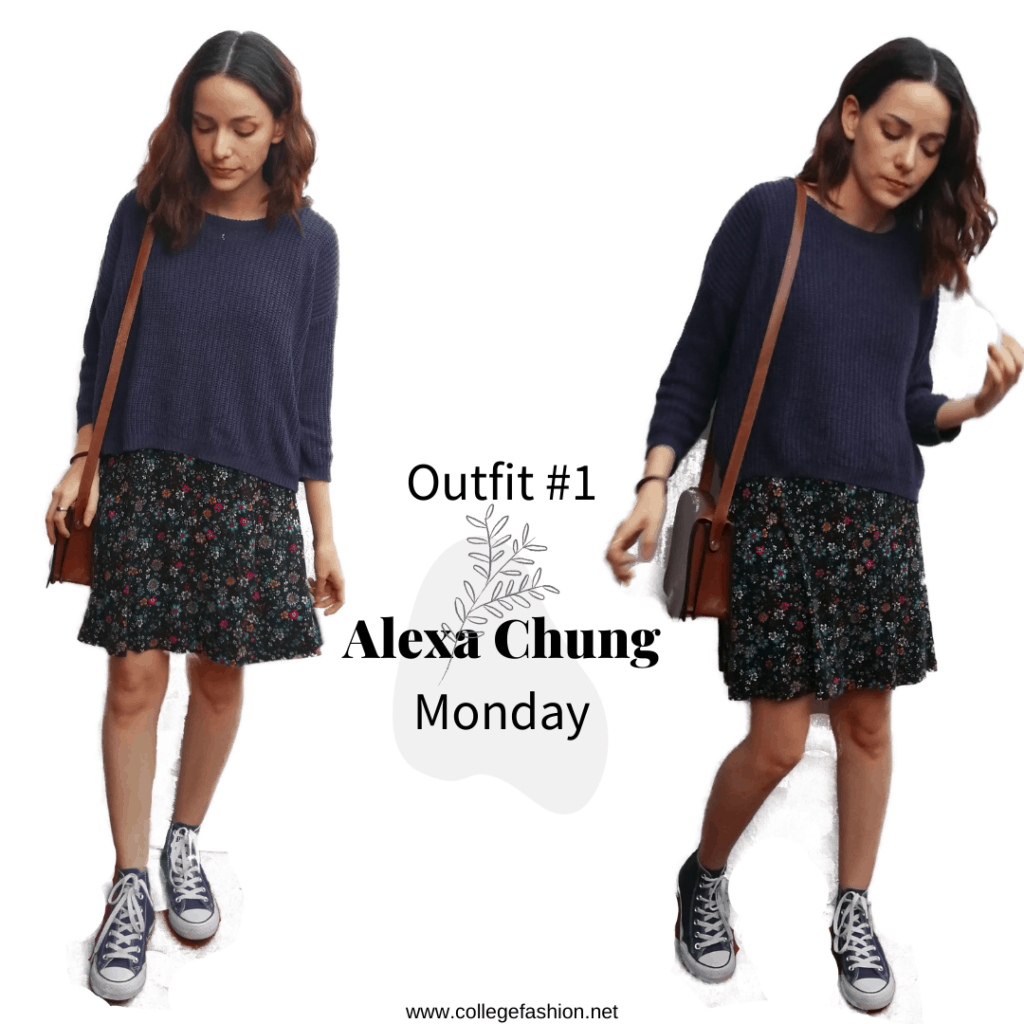 To get this look, I started with a blue floral dress. I decided to go for this because I already had a blue floral dress and buying another one seemed pointless.
I borrowed a navy blue cable knit sweater and layered it over the dress.
For shoes, I wore a pair of high top blue Converse. I finished up accessorizing with a structured brown bag.
Usually for the 'Monday outfit' in this series I go for a more office-like or proper vibe, but I really liked the look of this outfit and wanted to use it first. In general, I try to wear my floral dresses with a leather jacket or boots, for an edgy feel, so I had never actually worn this one with sneakers and a sweater.
This outfit was comfortable and it looked great! I didn't feel under-dressed at all, which was my fear with this outfit in particular. For both the office and the last days of school, it was absolutely comfortable. Next time I would add a pair of tights since I was a little cold.
Alexa Chung's Style – Outfit #2 "Tuesday"
On Tuesday, I went for an 'all-neutrals' outfit, with a polka dot shirt, a black bralette, jeans, black booties, and a corduroy blazer.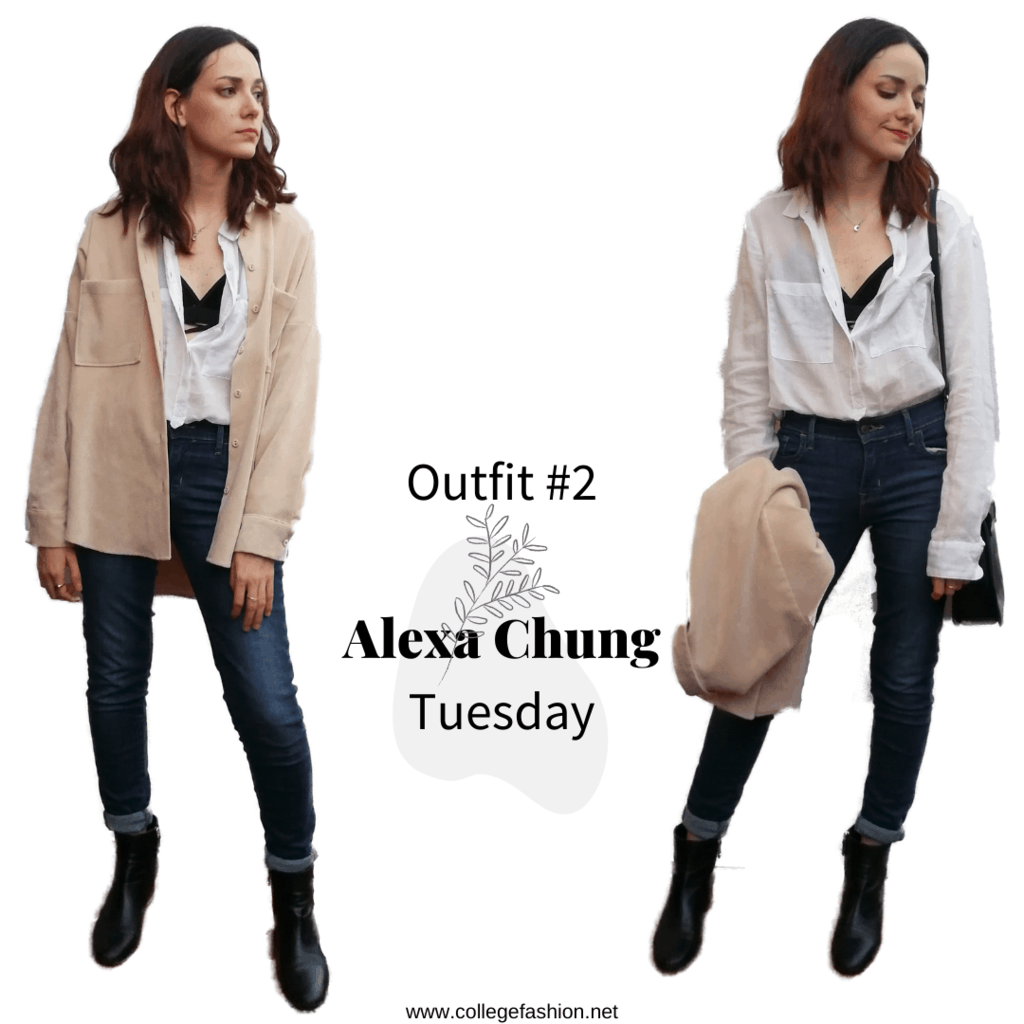 For the base of the outfit, I wore a pair of medium wash denim jeans and I borrowed a white shirt from my sister. Under the shirt, I wore a black bralette — mine isn't quite as detailed as Alexa's, but I thought the look was close enough.
I didn't have a corduroy blazer, but I have an oversized corduroy shirt in the same color, so I wore that instead.
For shoes, I wore a pair of black booties I already had in my closet.
For accessories, I grabbed a black purse. I also put on red lipstick and a very natural makeup look and did my hair like hers.
Also Read: 17 Things to Keep in Your Purse
Tuesday was… a roller coaster of a day. First of all, it was the warmest day of the week, thankfully! And secondly, I thought I was just dressing for a normal office day (my office is casual); instead I had to go run some errands for work and was on-the-go the whole morning.
It was a very chaotic day and I didn't even have time to think about what I was wearing or make adjustments. I went to have some coffee with a friend in the afternoon and it was only then when I had time to think back about it.
This outfit was good, because it looked chic and put together and nothing bothered me through the day.
Was it a great outfit? Yes. Would I have chosen this if I had known what I would be doing for the day? Probably not.
Had I known my day ahead of time, I would have probably used Monday's outfit on Tuesday or I would have chosen another outfit. I saw a few clients and the way the blouse is cut I couldn't button up to cover the bralette, so I just used the corduroy shirt as a cover.
Alexa Chung's Style – Outfit #3 "Wednesday"
The third day came along and I wore a recreation of this red coat ensemble. Above, Alexa is wearing a red coat, a black t-shirt, jeans, and (I had to look the full outfit on Pinterest) black booties.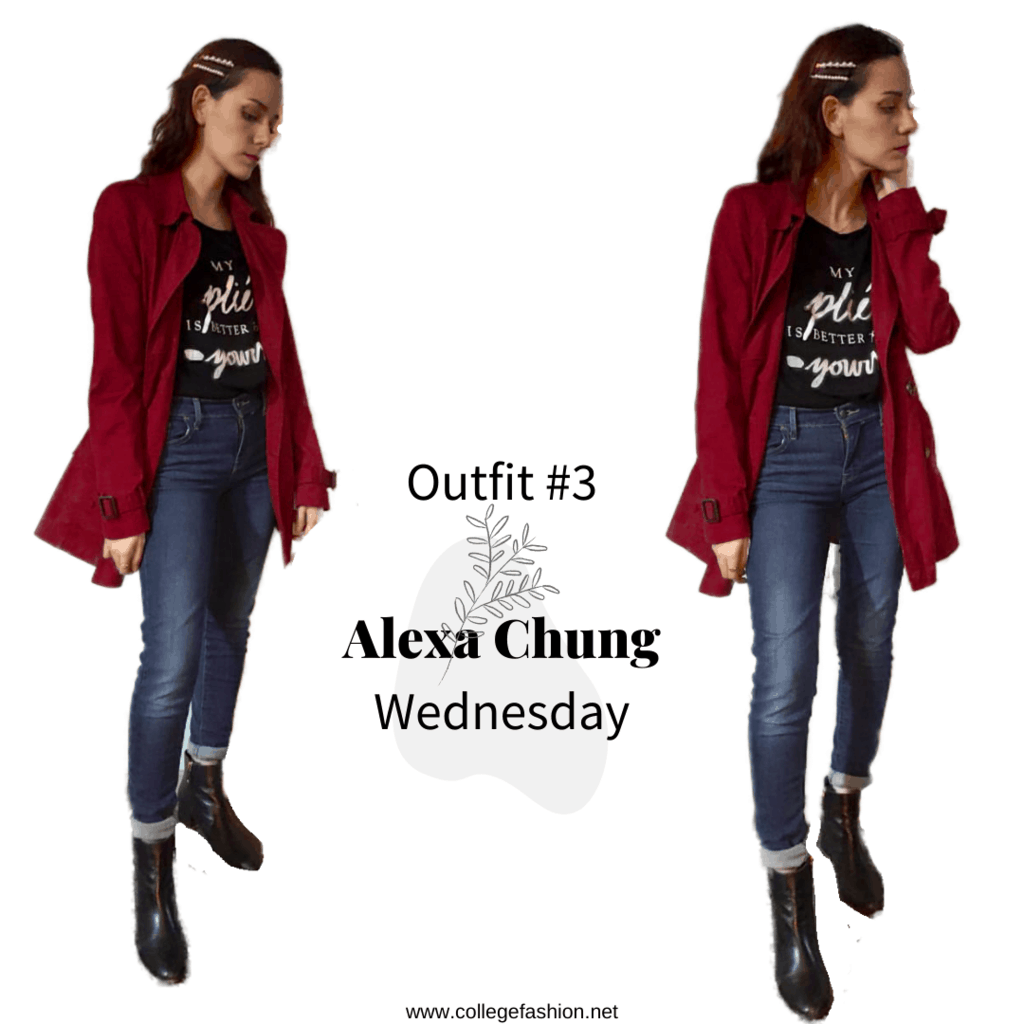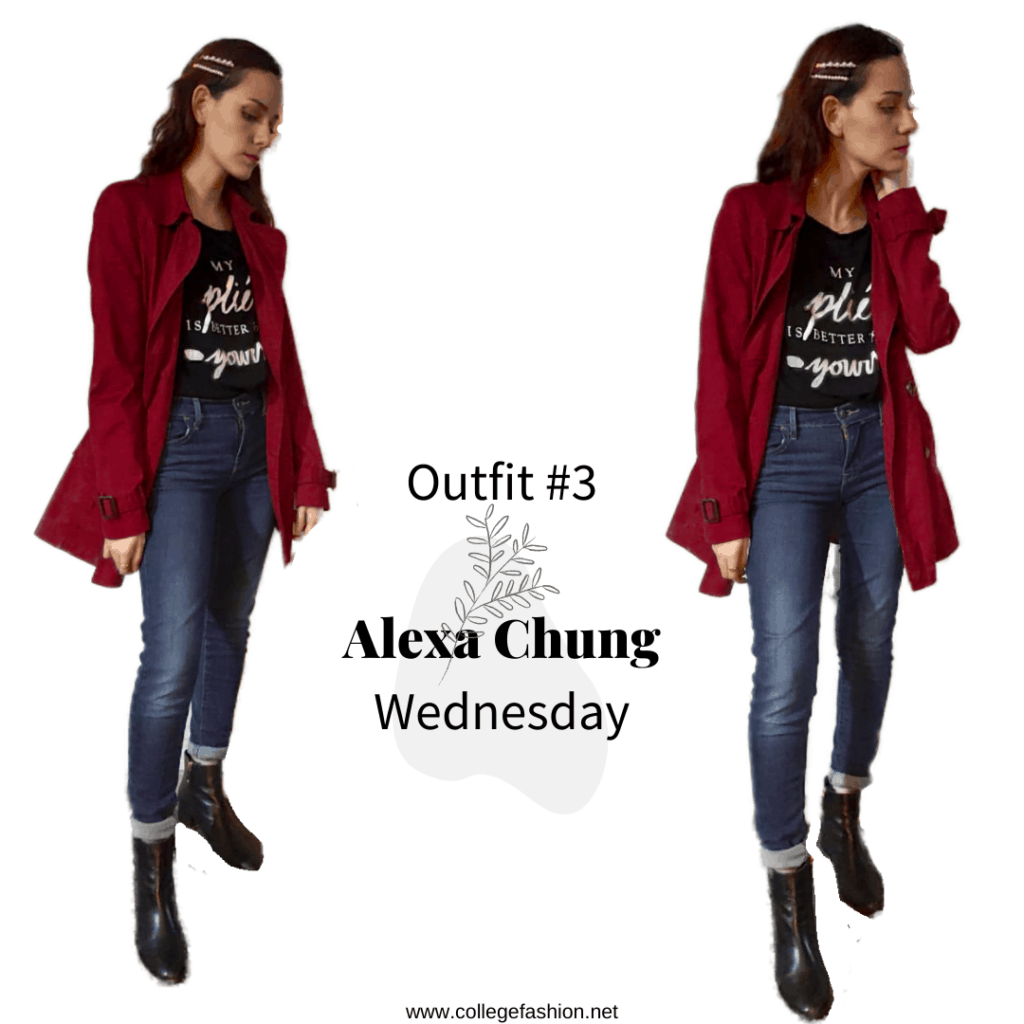 For the base of the outfit, I used a pair of medium wash jeans and tucked in a black T-shirt with white details that I borrowed from my sister.
I threw a red coat on, but mine is shorter and in a different fabric. Like I mentioned, I had to look the full outfit up on Pinterest to know what type of shoes she was wearing, so I wore a pair of black booties like Alexa did.
Also Read: Stop Everything: We Found the Perfect Black Ankle Boots
Finally, I accessorized with pearl bobby pins, which are very trendy this year.
I loved this look! While it is a very casual look, the coat and the bobby pins took it to a new level.
I love to use the bobby pins because they are a very simple way to accessorize and you can't go wrong with them. And red is one of my favorite colors, so every single thing I love was present in this look.
Overall, it was a good way to brighten up a day at the office. I would wear this again!
Alexa Chung's Style – Outfit #4 "Thursday"
On Thursday I chose another neutral outfit. In the pic, Alexa is wearing a denim skirt with a striped shirt, a coat, and black booties.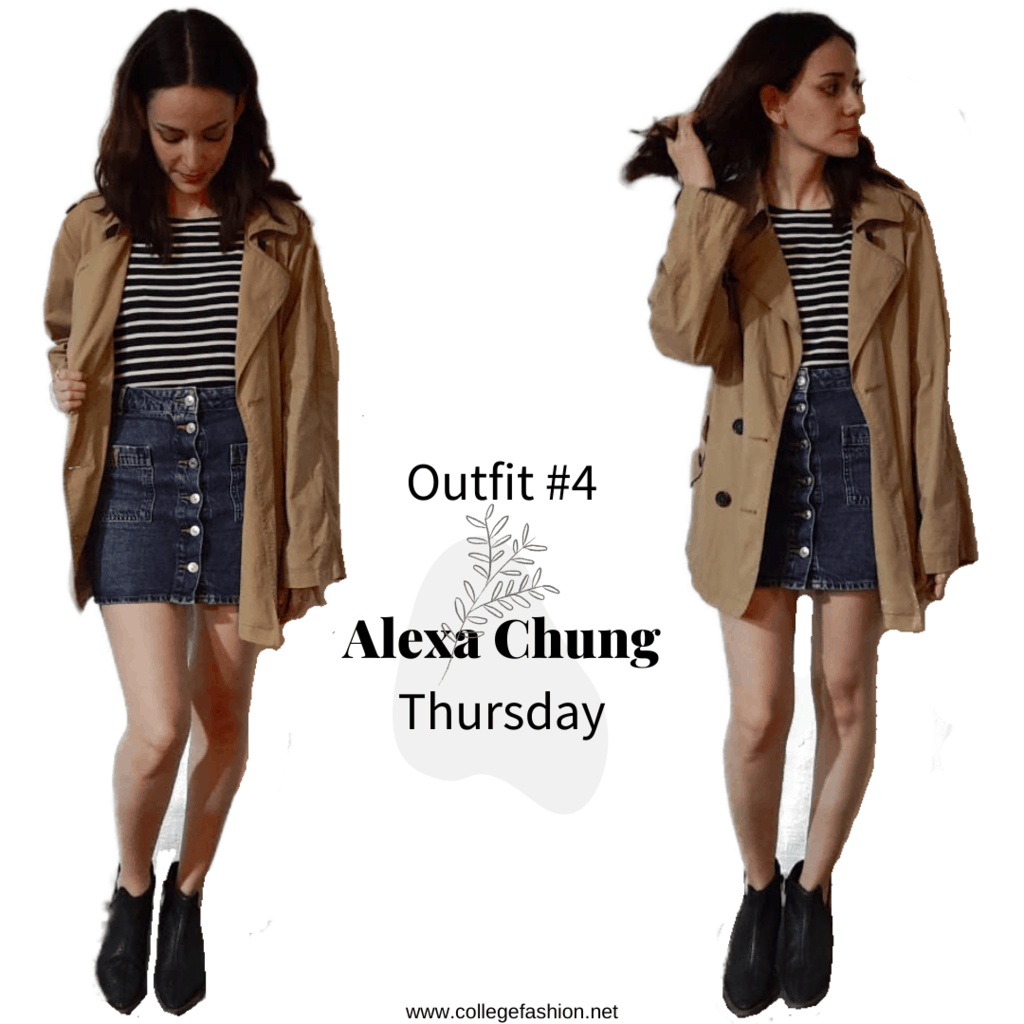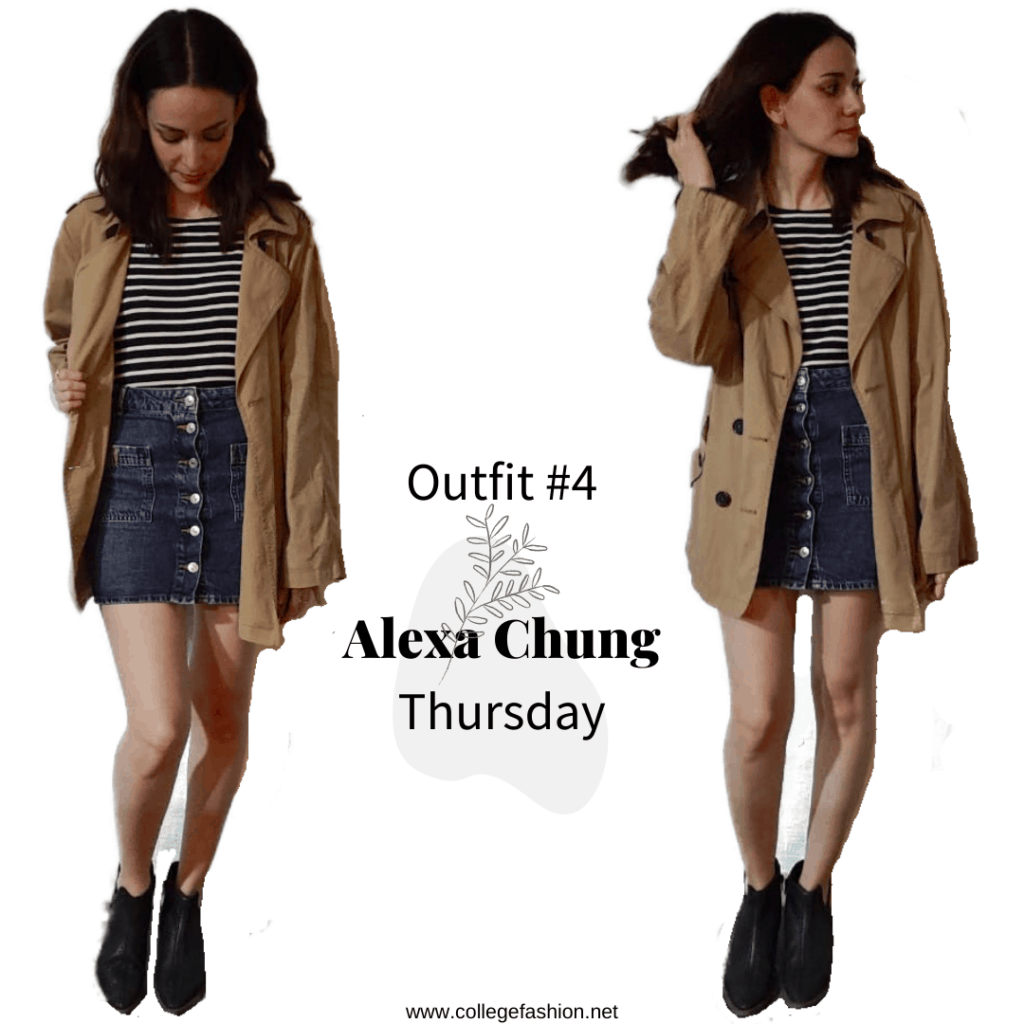 To get this look, I wore a medium wash denim skirt and a long sleeved striped shirt. I don't have a suede coat, but I do have a tan colored coat, so I wore that instead. I don't have a pair of black lace up boots either, so I wore my pair of black pointy booties.
Also Read: 10 Winter Coat Trends (+ Affordable Dupes!)
As neutral and classic as it is, this outfit was a no-brainer. On Thursday I had meetings in the morning and school in the afternoon. It was a very polished and put together outfit to wear, especially for a very uneventful day.
My only criticism was the warmth of it. As with some of the other outfits I wore during this week, I would add a pair of black tights or use over-the-knee boots because it is getting colder and that was the one thing that kept me from fully enjoying the whole outfit.
Alexa Chung's Style – Outfit #5 "Friday"
For the fifth day I chose a very sparkly look. In this photo, Alexa is wearing a silver skirt, a teal sweater, and black booties.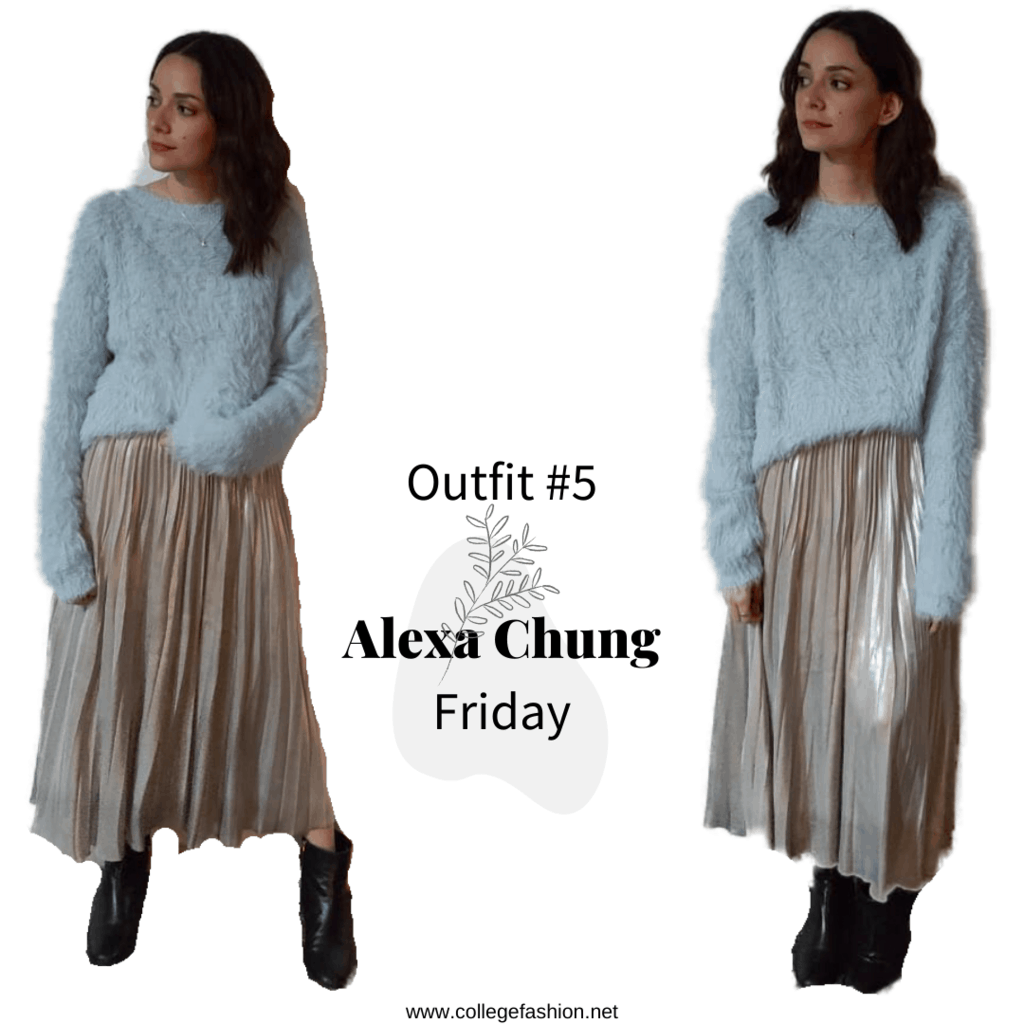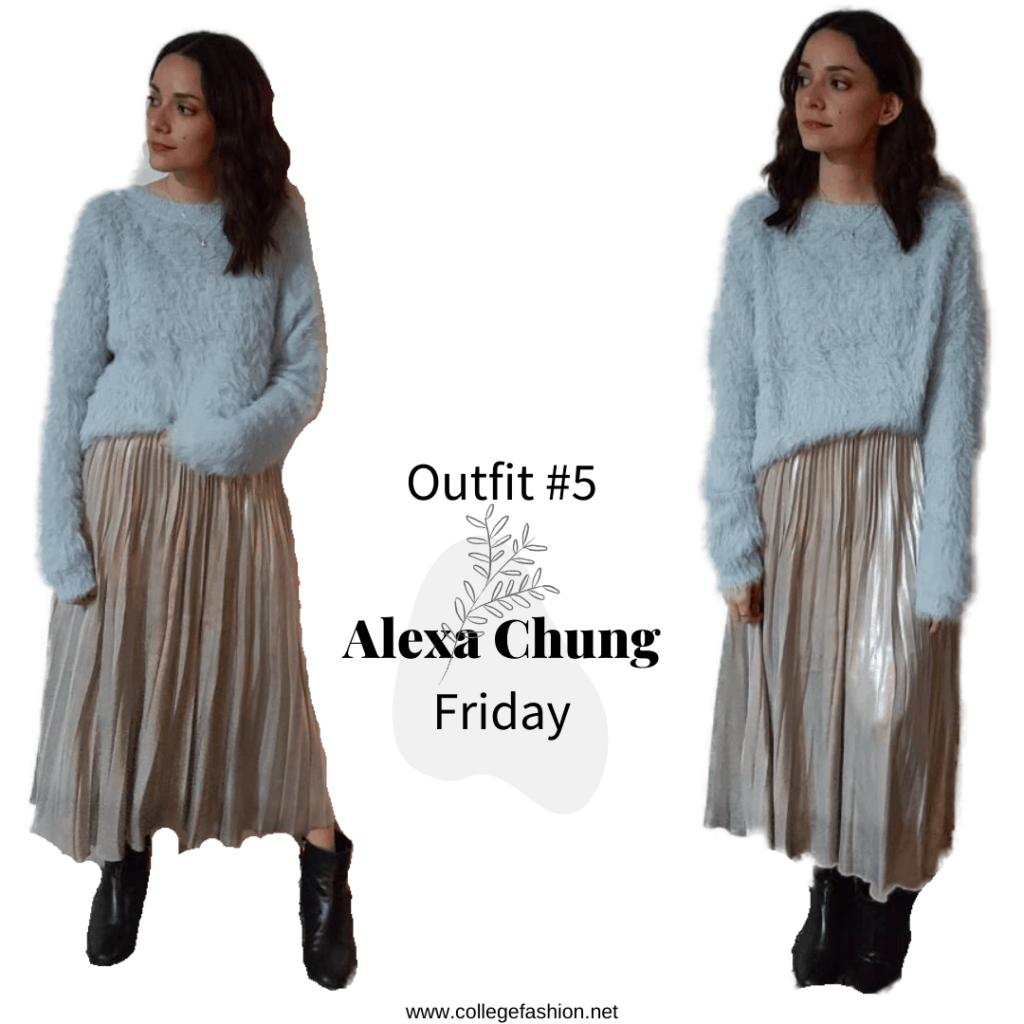 On this day I wore a silver pleated midi skirt and a long fuzzy blue sweater. For shoes, I grabbed a pair of black booties. As simple as the outfit is, I like to complicate my life so I tried to recreate her brown smoky eye look as well.
I'm not even going to wait until the end of the post to say this is my absolute favorite look of the week.
Also Read: The Sweaters You Need in Your Closet Now
Friday marked my last day of school, not only for this semester — it was my last day of college! So, it seemed fitting to wear something sparkly to celebrate that.
This skirt is my favorite item and I had been looking for one for years and I found this one like two months ago. I usually wear it with the top tucked in, to create the illusion of a shape, but this was the first time I wore it with a loose sweater.
Overall, this outfit was celebratory, comfortable, and cute.
Alexa Chung's Style – Outfit #6 "Saturday"
For Saturday, I decided to go with a casual and cozy look, consisting of white pants, a tan sweater, a blue coat, and Converse.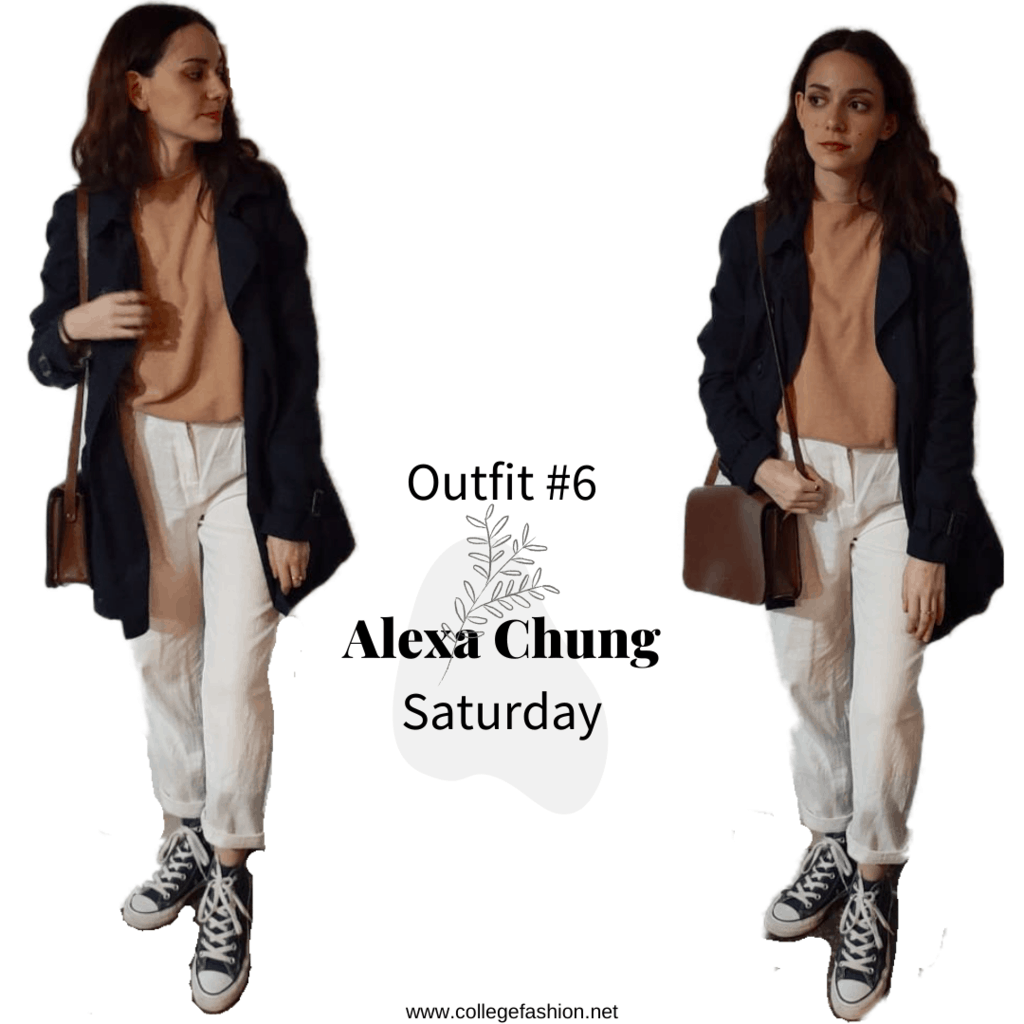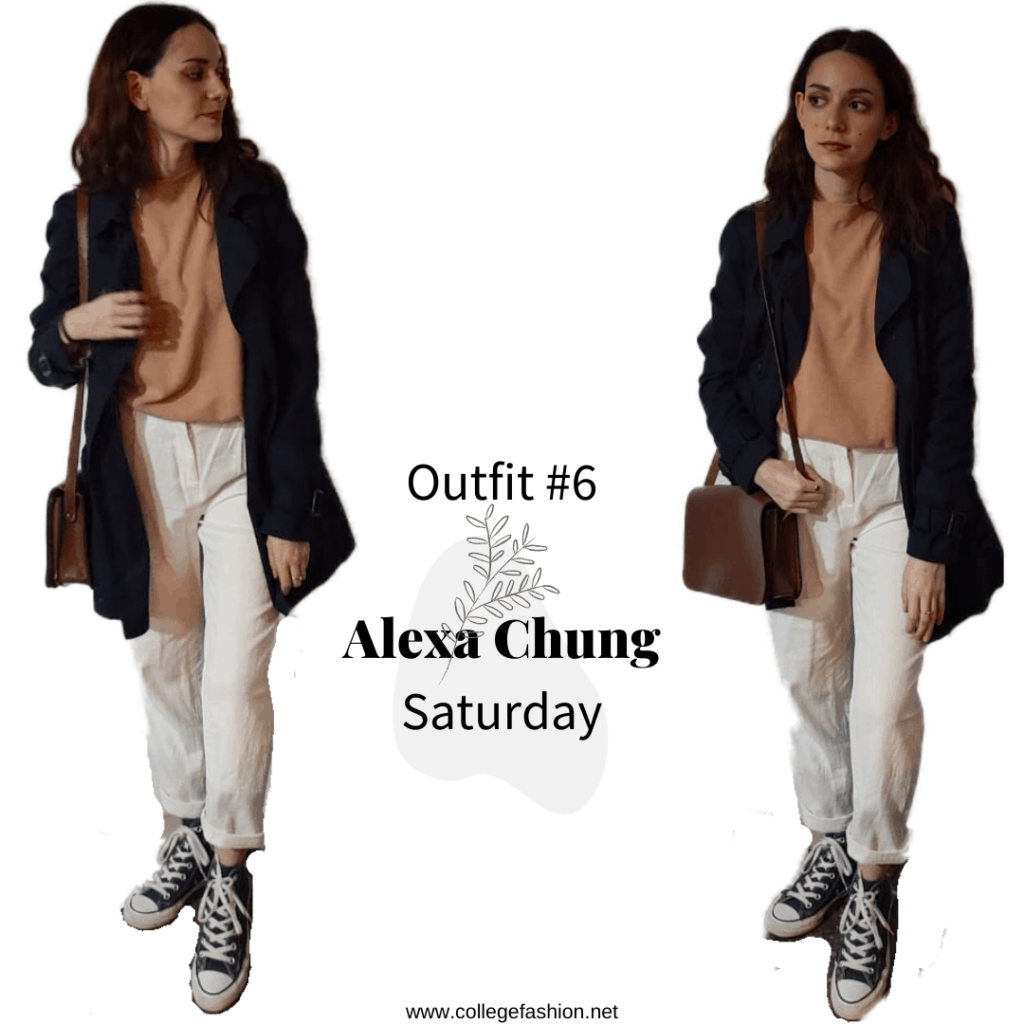 To recreate this famous Alexa look, I wore apair of white pants with a cozy sweater in camel. Then, I layered with a navy blue coat.
For shoes, I wore my blue high top Converse. Next, I accessorized with brown framed sunglasses. Finally, I decided to use a brown structured purse, since I don't have a fuzzy brown one and couldn't find one even remotely similar.
Also Read: The Best Shoes for Summer – 5 Pairs You Need in Your Closet
I'm still trying to figure the whole "white-pants" thing, especially because I tend to gravitate to darker hues and colors during this time of year. That being said, it was a really cozy and beautiful outfit.
I love the combination of neutrals and how they match up together and I feel like the combo gives off a minimalistic vibe.
I wore this outfit for a very chill and relaxing Saturday, so this was a way of being both comfortable and looking great.
Alexa Chung's Style – Outfit #7 "Sunday"
For the final day, I went for this overalls look. In the pic, Alexa is wearing a red sweater, overalls, and a black hat.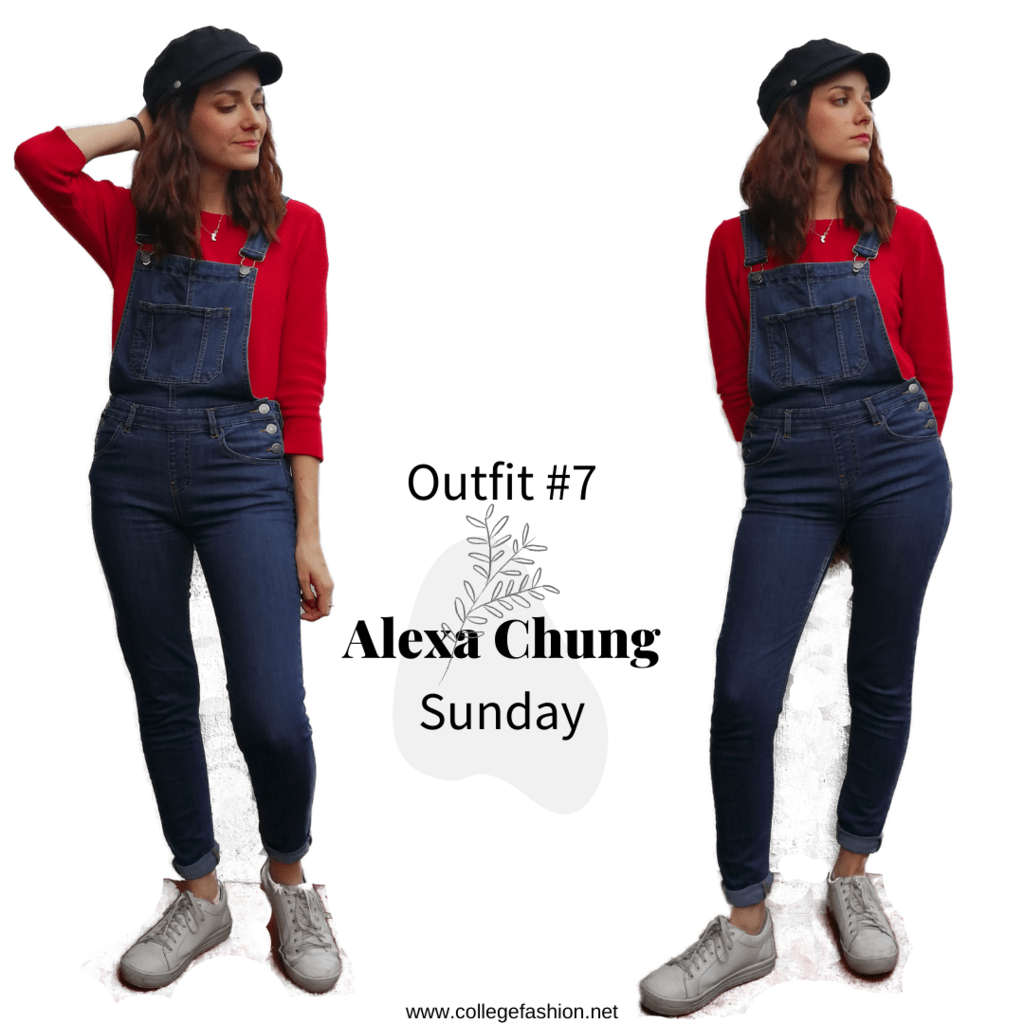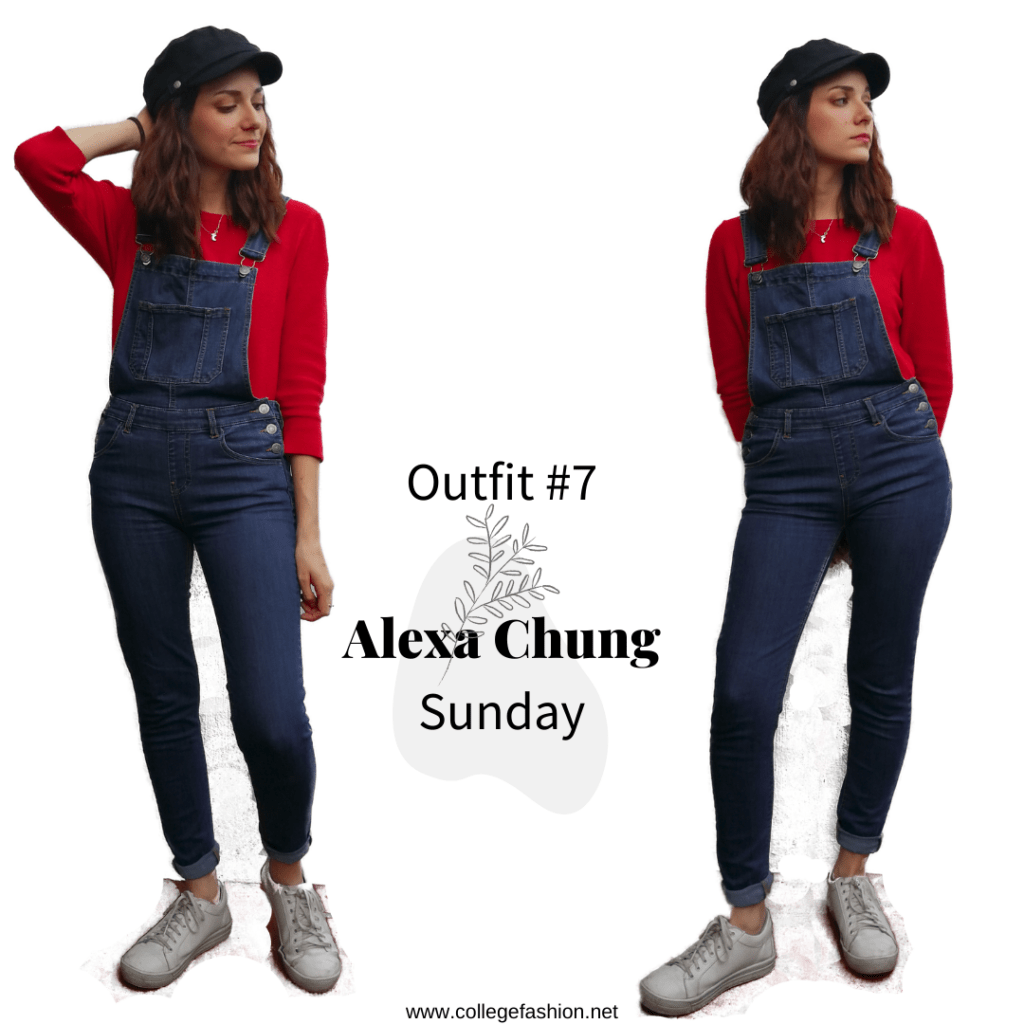 To copy this last outfit, I wore my medium wash denim overalls and a red sweater. I couldn't find what type of shoes she was wearing, so I looked for the shoes she could've worn based on other pictures, and chose a pair of white sneakers.
I don't have a hat like Alexa's, so I used a black paperboy hat instead.
Also Read: 15 Best Womens Summer Hats & Hair Accessories 2022
I love overalls. They're one of my favorite items in my closet and I wear them a lot during the summer. Overalls are a great piece to create a good outfit with little time.
This outfit was so cool. I liked that it was both casual and put together. If I was making this outfit from scratch, I would have probably added a jacket, since it is almost winter and I'm always cold now, or maybe switched the paperboy hat for a red beret to continue with the pop of color.
Final Thoughts
It was a challenging week; I'm not going to lie.
Alexa Chung is a muse for multiple designers, there is a bag named after her and she has her own amazing clothing line, so she intimidates me more than the other celebrities I've covered.
I've been a fan of Alexa's for what feels like forever and I always felt like her style would be unattainable for me. Actually, I've wanted to do a post on her since I started this series, but I always chickened out. Finally, after all the recreations I've done in the past year, I thought it was time to try.
All the items of clothing, thankfully, I already had. But the accessorizing was a bit tricky, especially the bags and some of the shoes. And this time, I was very aware of my choices and tried to choose different bottoms and looks, to not repeat the "only-pants" pattern from my Selena Gomez post.
With all that being said, it was a great week! I did seven outfits because I felt like Alexa had so many iconic looks, I couldn't just do five without leaving something about her style out.
I think I have two favorite outfits: Friday's outfit with the silver skirt (obviously!) and Saturday's neutral look.
Both of the outfits represent the most valuable lesson I learned from Alexa this week: less is more. There is not one item that feels out of place and, as cool as she dresses, there weren't actually that many trendy items.
Doing these posts can be intimidating sometimes, but when I end a week and write about the whole experience it is 100% worth the leap of faith. We should never be too intimidated to try new things, especially if we are trying to experiment with our style.
When you experiment like this, you're going to have hits and misses. Maybe the outfit you choose won't be the right one for your day (as happened to me on Tuesday), but at least you've tried something new and learned.
After doing these posts, I no longer say things like "That's just not for me" and "If I looked like her, maybe…". Now, if I like something I try it on, see how it fits, and decide how I can make it work for me.
Alexa's style is perfect for exactly that: experimentation. You probably have the items, she is just giving you a new, interesting way to accessorize and style them out. Maybe you'll have to invest in a few accessories like a hat, some embellished bobby pins, or a really cool bag… but it will be worth it.
I loved every outfit, and will continue to wear versions of these outfits in the future. I 100% recommend you take the leap and try out Alexa's style, you won't regret it!
What do you think?
Do you like Alexa Chung's style? Which outfit was your favorite? Which one would you wear? Whose style do you think I should recreate next? Let us know in the comments below!