When it comes to street style mavens, Alexa Chung is at the top of our list. This British "it" girl is a model, a TV personality, an author, and a fashion icon.
I chose her as this week's style inspiration because she has a classic British style and isn't afraid to have fun with fashion. As spring semester finishes up have some fun with trends and mix it up like Alexa does. Here's a week's worth of outfit ideas based on Alexa Chung's outfits:
Monday: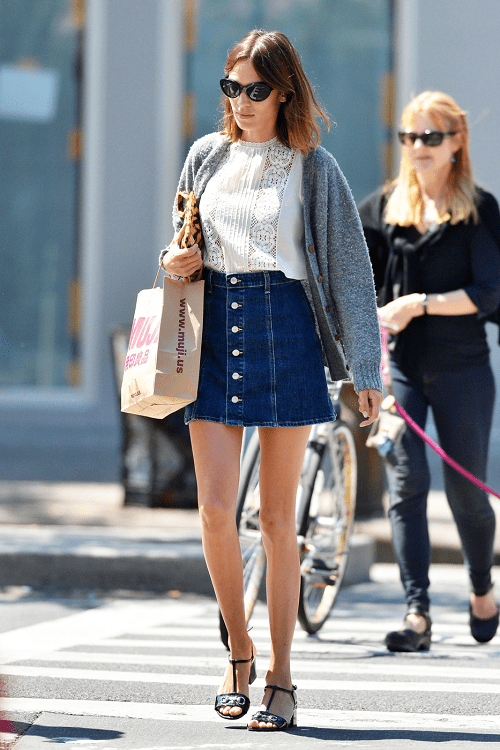 A lot of people seem to be hesitant to try a denim mini because it makes them think of the early 2000s, but a button-up denim skirt looks super-cute and casual.
Alexa shows us a great way to mix up your everyday denim routine. Tuck a lacy white blouse into the skirt for a cool and breezy summer look, then add a gray cardigan for warmth. Grab a pair of nice heeled sandals and dark sunnies and you're ready for your Monday morning coffee run.
Tuesday: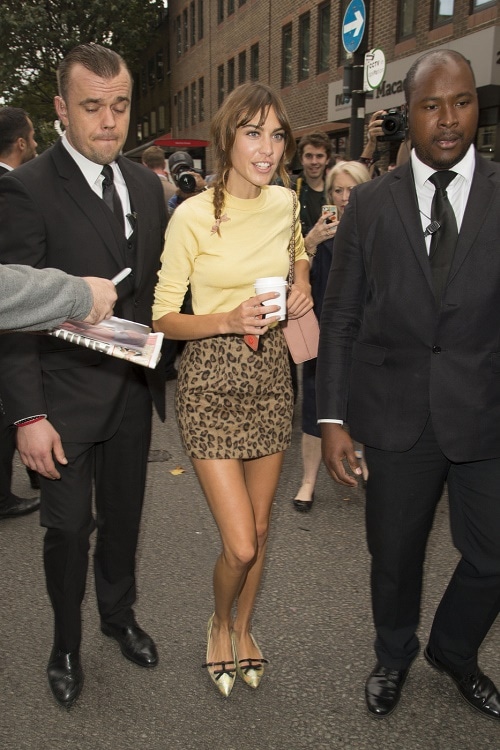 Alexa tends to wear a lot of mini skirts, and this is another cute way to wear one. A leopard print mini skirt looks fierce yet sophisticated when paired with a soft-colored shirt, like Alexa's yellow one. Add ponty-toe metallic flats and a chain-strap purse for an effortlessly chic ensemble. You don't have to go all out to look fashionable. You can look stylish and casual.
Wednesday: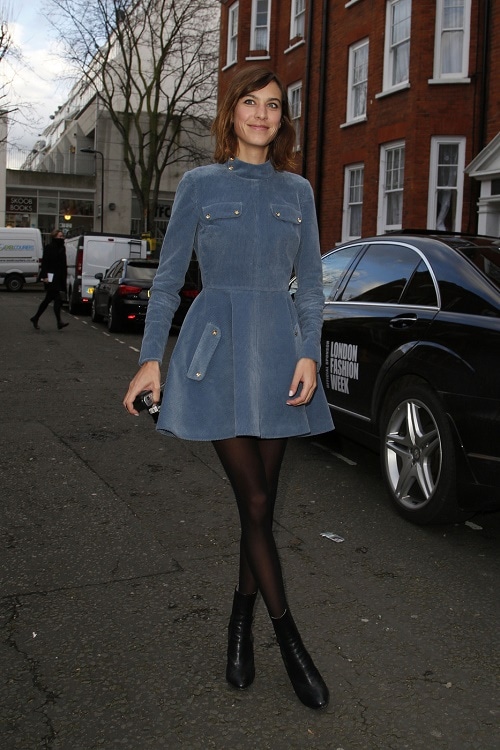 If there's one trendy piece you need this summer it's a little denim dress. Say goodbye to the little white dress and try a LDD for a unique summer look.
Alexa wore hers when it was chilly out, but you can find one with short sleeves, like this Forever 21 frock. Pair it with black booties or even black gladiator sandals. You can't go wrong with this simple yet chic combo.
Thursday: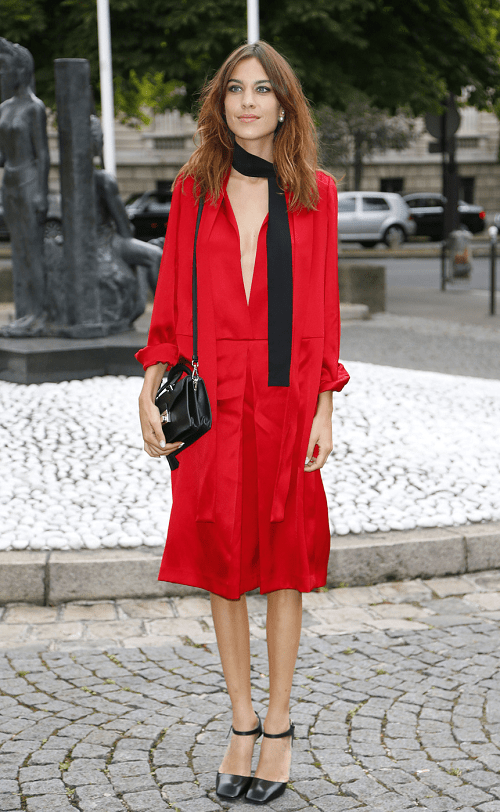 This is one of my favorite outfits because the skinny scarf is currently my favorite trend. I'm not sure why I love them so much. Sometimes skinny scarves give me flashbacks to middle school, but when worn the right way, like Alexa did, it looks classy.
Since it's sultry but chic, a little red dress is perfect for a night out. Pair your LRD with a skinny black scarf, short black heels or flats, and a black crossbody bag. You'll be ready for wherever the night takes you.
Friday: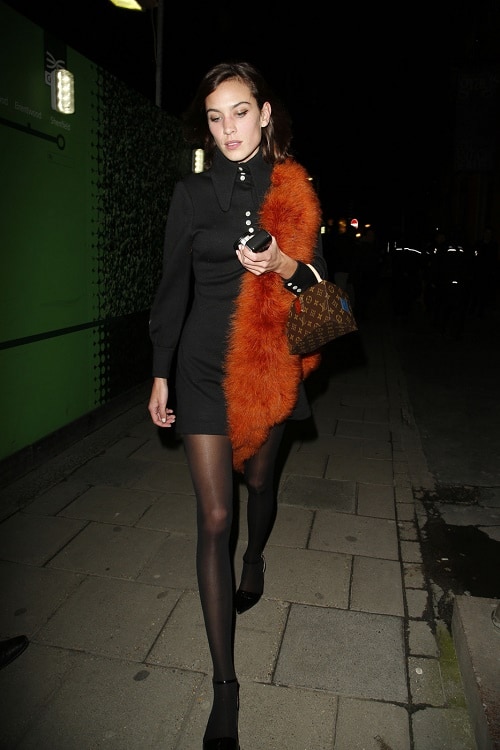 This is a bold but really fun night out look. You can never go wrong with an all-black outfit, and Alexa's collared LBD is a standout piece. It won't look stuffy when you pair it with a bold faux fur jacket or scarf.
The burnt orange and black combo has a bit of a '70s feel, which I love. Add black tights if it is chilly, pointed-toe black heels, and you'll be ready to hit the town.
Saturday: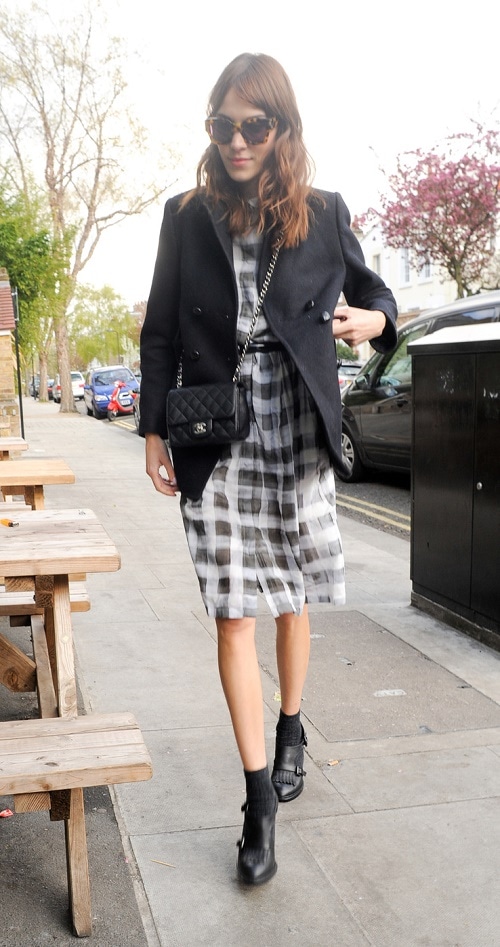 Try out spring's gingham trend with style pointers from Alexa. To avoid looking like a young girl, go with a monochromatic ensemble; a black and white color scheme always looks chic.
A thin black belt cinches the waist and adds definition to a gingham dress. Throw on a black blazer to make the outfit more polished. Sleek black ankle booties and a quilted crossbody bag tie the look together.
Sunday: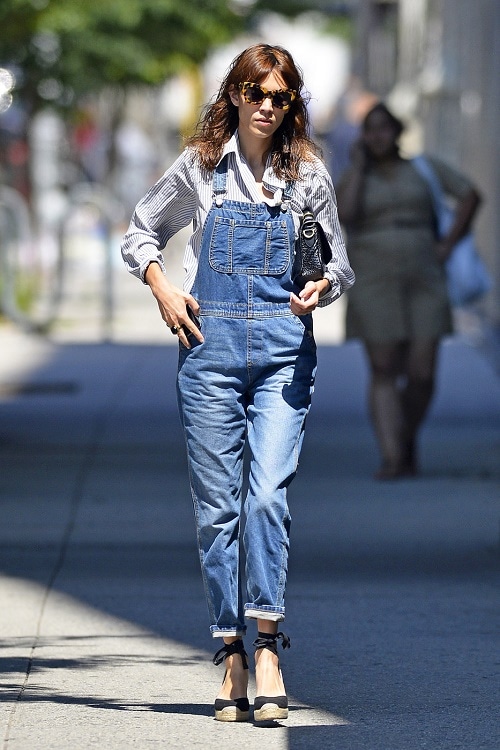 Sorry for those of you who dislike overalls, but this trend isn't leaving yet. Overalls are great for lazy Sundays. You can make them look grown-up by pairing them with a striped button-up and summery wedges. Quirky leopard print sunnies finish off the outfit.
What do you think of Alexa Chung's outfits?
What do you think of Alexa Chung? Do you like her outfits? Would you wear any of these outfits? Which look is your favorite? Who would you like to see next? Let me know in the comments below!