Hey CF readers! Do you ever want to try a new trend, but are afraid it might be a little too wild? Do you have trouble incorporating a new trend into your wardrobe? Or maybe you just don't know how to style it? Have no fear! I'm here to try out every wacky trend in the book, just for you, in this new column, Test Drive.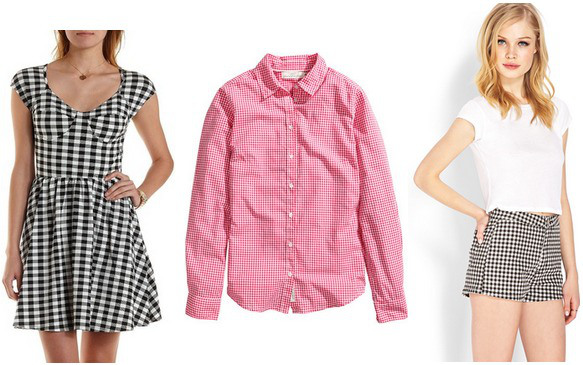 Gingham Print: Charlotte Russe, H&M, Forever 21
What is Gingham Print?
If you're anything like me, when spring fashion rolls around your reaction goes something like this. Gingham is your savior. This print, the child of plaid, is super-popular this spring. It's fun, fresh, and preppy, but also outdoors-y and a little bit retro.
Like I mentioned, gingham is very similar to plaid, but with a few key differences:
1. Gingham is always white + another color.
2. The lines are always the same width.
How I Styled It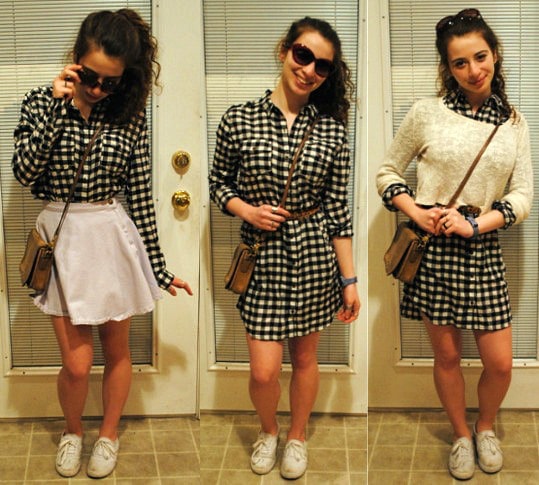 Although gingham print isn't quite off-the-charts wacky, you always run the risk of looking like someone cut your clothes out of a picnic blanket, in a Sound of Music-like fashion.
I wore this gingham shirtdress three different ways to show you the versatility of this print. For the look on the left, I layered a purple circle skirt over it so the dress would act as a shirt. In the middle pic, I wore the dress as is with a belt to accentuate my waist. For the last look, I threw a sweater on top of the dress, then rolled the sleeves up.
I paired each of these outfits with white canvas sneakers, red sunglasses, and a leather crossbody bag. All of these outfits are perfect for the upcoming spring days, and I love how versatile the shirtdress is both in shape and pattern.
Where to Find Them
Traditional gingham button-down shirts can be found at most places that sell basics, including Gap, Old Navy, and J. Crew. However, since gingham is so popular right now, you can find more unexpected gingham pieces at trendy stores like Forever 21 or H&M.
Styling Tips
To keep from looking overly preppy (unless you love that look!), try gingham in unexpected shapes. I love the look of gingham dresses, matching separates, rompers, jackets, whatever you can find.
Try unexpected colors, too! Gingham print is usually found in black, red, or navy, but if you do a little searching you could find just about anything. Light blue, mint green, or pale purple are great options for spring.
Try gingham details in fun places, like these cute laces.
Wear a pop of gingham under a pastel sweater to look spring-ready for an important interview or internship.
Or, play up the retro feel with white canvas sneakers and big sunglasses for a bike ride or a day outdoors.
The Verdict?
Pull out your gingham as soon as the weather gets warm! In fact, pull it out before then. Gingham is the perfect piece for those early spring days, late summer afternoons, and everything in-between.
What do you think?
Would you wear gingham? How do you like to style it? What are your favorite pieces to wear as we transition into spring? What would you like to see next on Test Drive? Let me know by leaving a comment!