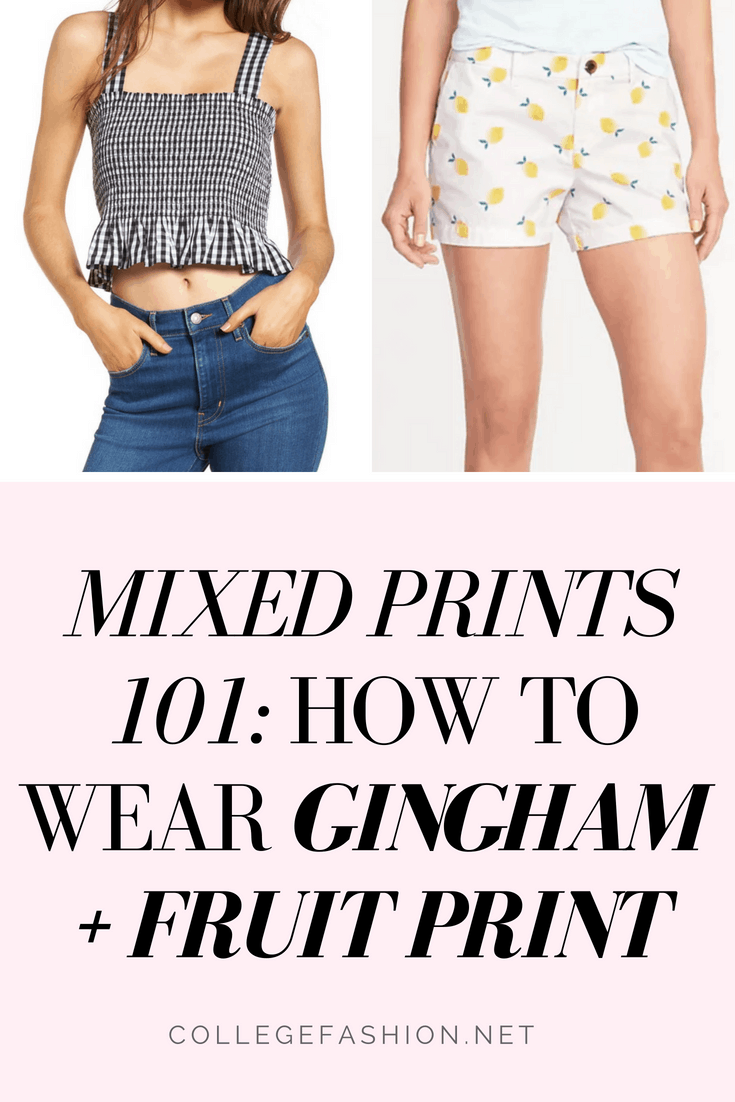 Last time on Mixed Prints 101, we went over how to pair stripes and floral patterns together at the pool, at the Fourth of July barbecue, at your summer internship, and at outdoor events! We've already told you the rules for wearing mixed prints, so now we have two new patterns to feature. This week we are focusing on two ultra-summery patterns, fruit prints and gingham.
There's some debate over the moment when fruit prints first became popular. Maybe it was when Carmen Miranda donned the iconic fruit headgear in the 1943 Technicolor musical, The Gang's All Here. Today's trend, as well, might have more recent roots with Katy Perry's quirky music video, This is How We Do. Wherever our inspiration comes from, we can all agree that fruit print is a derivative of floral fashion that is fun, colorful, vibrant, and quirky while evoking the spirit of warm summer weather.
Although fruit prints are fun on their own, what if we threw gingham into the mix? This is the same pattern featured on picnic tablecloths, in country home decor, and on Judy Garland in The Wizard of OZ. Is it possible to wear these patterns together? We say yes, and here's how:
How to Wear Fruit Print & Gingham to a Theme Park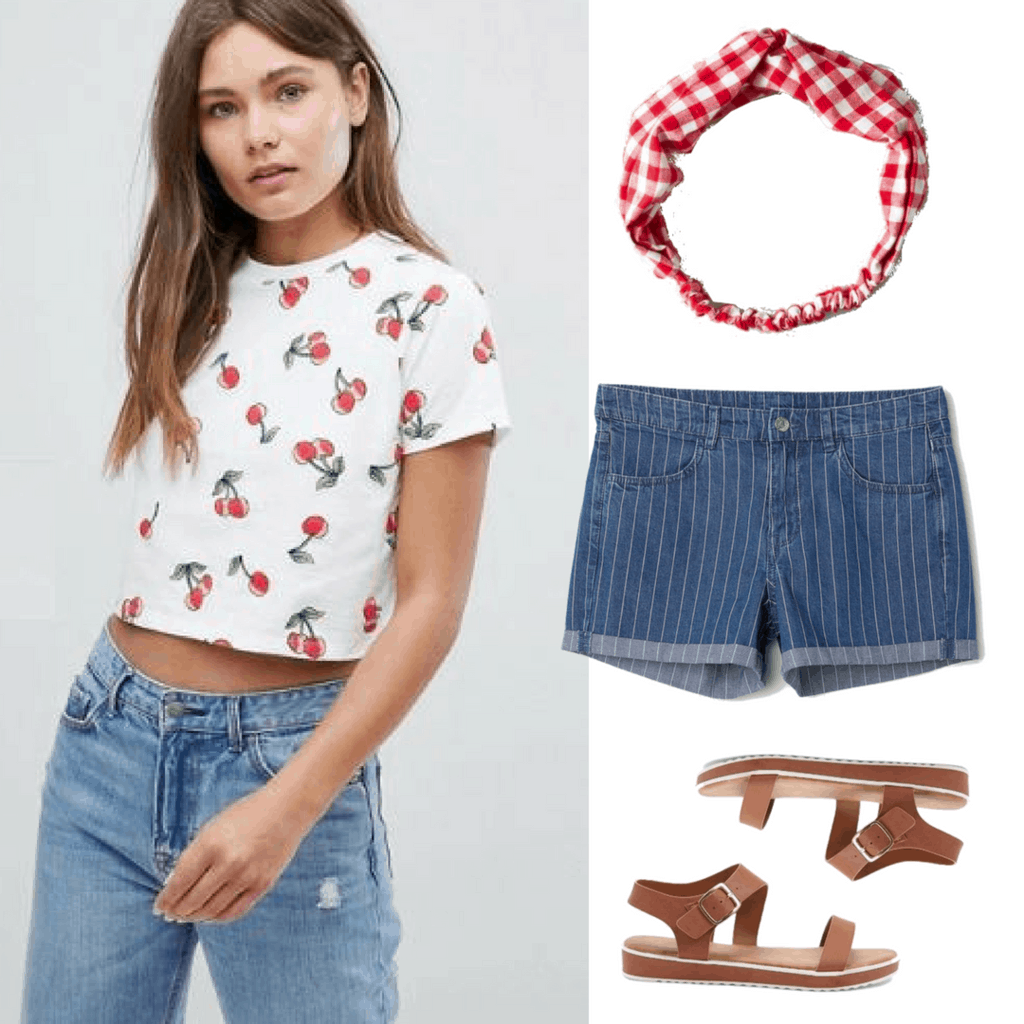 Products: Shirt – Asos; Headband – American Eagle; Shorts – H&M; Sandals – Forever 21
Summer and theme parks go together like peanut butter and jelly (or peanut butter and Fluff, if you're from the Northeast). This gingham and cherry print outfit is sure to impress whether you're spending the day at Coney Island, Six Flags, Disney World, or your local theme park of choice.
The classic cherry print t-shirt pairs perfectly with a red gingham headband, striped denim shorts (another pop of pattern ftw), and chunky sandals.
How to Wear Fruit Print & Gingham as a Tourist
Products: Pants – H&M; Shirt – H&M; Camera – Nikon; Bag – Modcloth; Sandals – Modcloth; Lipstick – Nordstrom
If you haven't gotten the chance to be a tourist this summer, hopefully, you'll try to experience at least one new destination before school begins again. Or you could even just become a tourist in your own town for the day — your call.
Since you'll most likely be walking around all day, exploring, and taking pictures, you need a go-to outfit to match this activity. Try a comfortable and timeless look of black and white gingham cropped pants and a flowy black t-shirt. For a twist on this classic look, wear a woven cherry-embroidered crossbody bag. Add on some bold red leather sandals and a bright red lip to match the red accent of the cherries on your purse.
How to Wear Fruit Print & Gingham to Sunday Brunch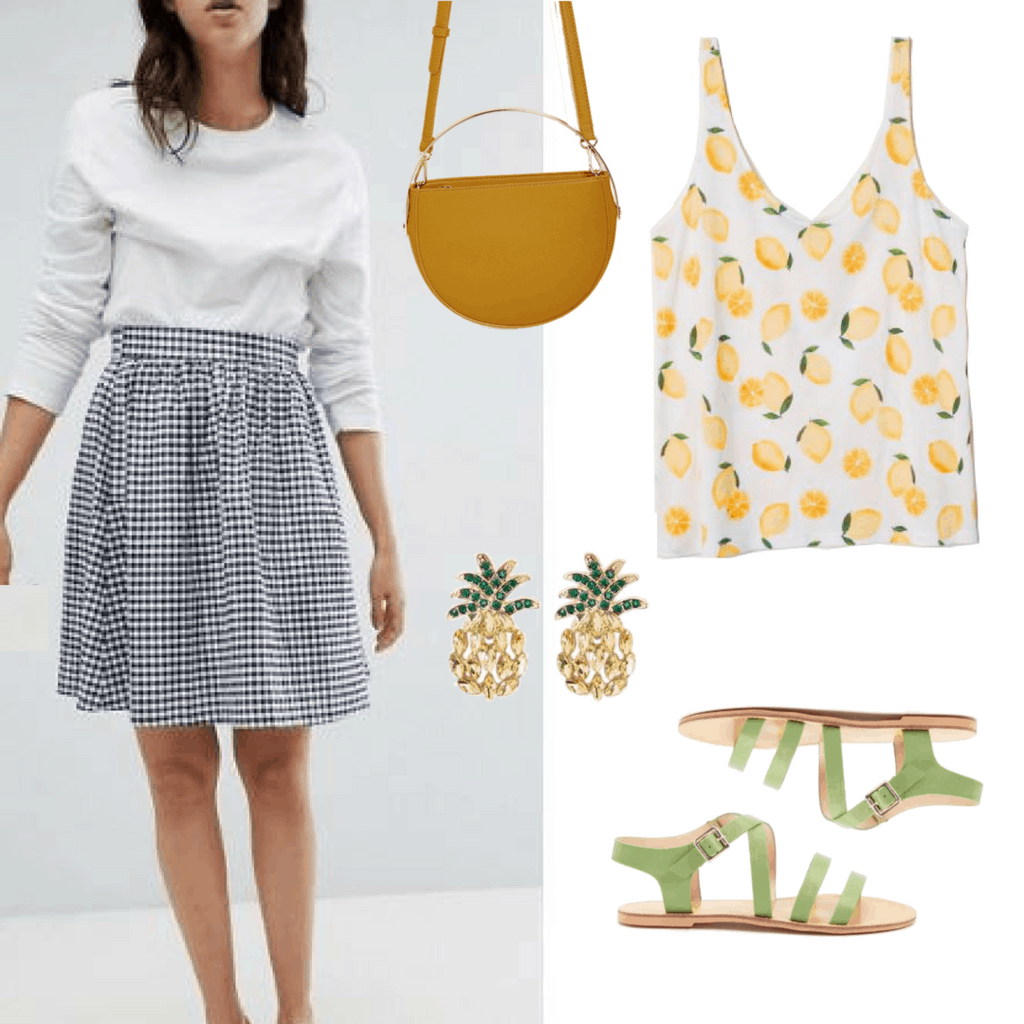 Products: Skirt – Asos; Purse – Modcloth; Top – H&M; Earrings – Forever 21; Sandals – Forever 21
Need something to wear on your next Sunday Funday? Try pairing this navy gingham A-line skirt with a lemon print tank top. You'll look polished without taking yourself too seriously while drinking mimosas and replaying last Saturday night's antics amongst your friend group.
For some extra color, add in green and yellow accessories to accent the yellow lemon and its green stem. To add some bling, rock these adorable pineapple bejeweled earrings as a finishing touch!
How to Wear Fruit Prints & Gingham on a Date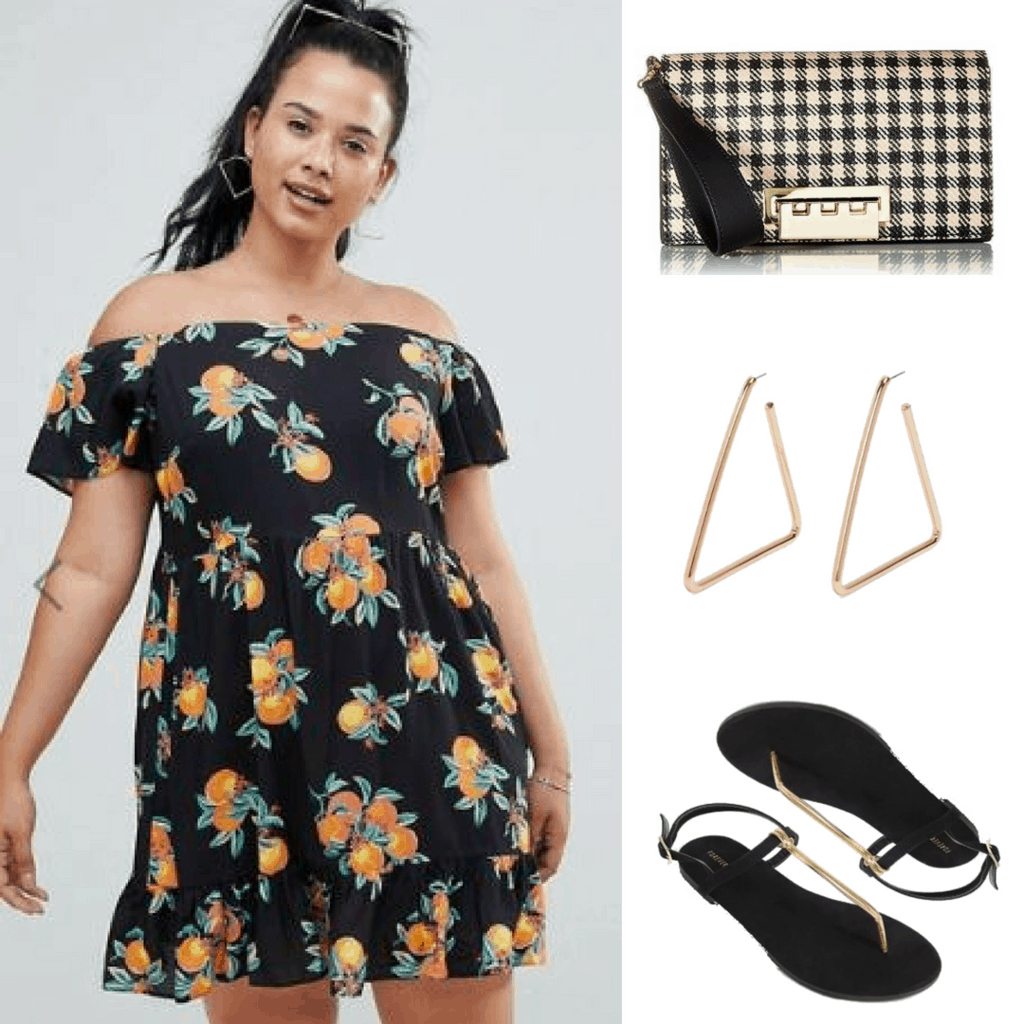 Products: Dress – Asos; Clutch – Amazon; Earrings – Aldo; Sandals – Forever 21
I totally misunderstood the tangerine trend that occurred this last spring. While everyone was obsessing about the orange color, I thought we were wild about the fruit itself. But why not obsess about this beautiful off-the-shoulder tangerine print dress?
This dress is fun and flirty, perfect for a casual date night. The Zac Posen gingham clutch adds a rebellious touch to the feminine look. Match the bling on the clutch with gold triangular hoops and metallic accented sandals to "wow" everyone you meet!
What do you think?
Are you loving the gingham and fruit print combination or do you hate it? What pattern combination should we try next? Let us know your opinion in the comments below!