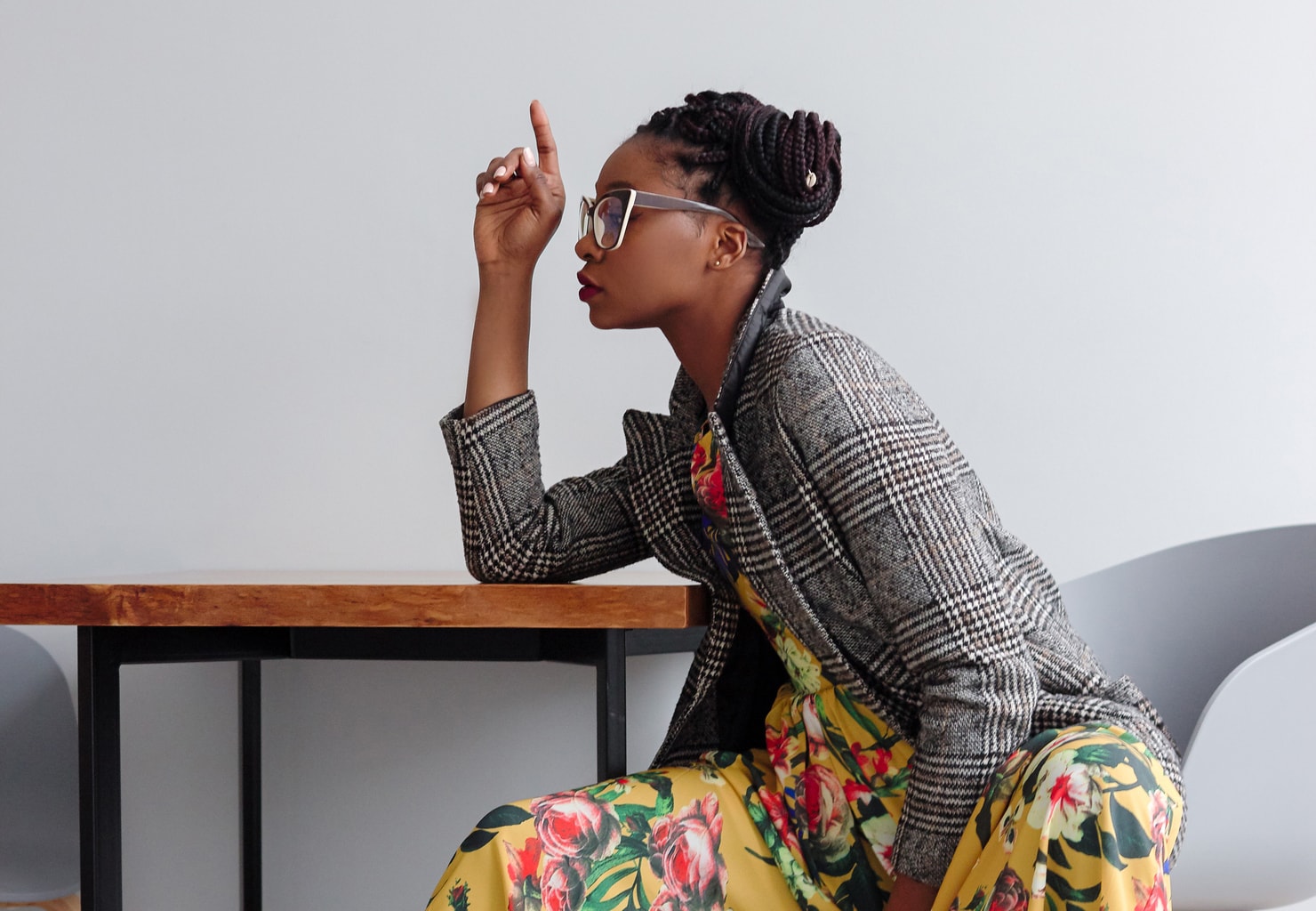 I love to mix and match patterns, colors, and styles in my outfits. It is fun and liberating to wear so many cool items at once.
It can take a creative eye to appreciate outfits like these (they're not for everyone), but if you're like me and appreciate the eccentricity of an original look, these tips will help you in creating your very own awesome mixed print outfits.
Learning the art of wearing mixed prints also couldn't come at a better time. Print mashups are "the thing" of SS18. Many designers went in this direction, for example, mixmaster Dries Van Noten paired vintage florals with silky checks, and Margiela's models were wearing abstract corsets over watercolor-like shirts.
With so many prints in style to chose from (even in fast fashion) — from stripes and patterns to graphic grid prints and florals — it only makes sense we'd want to combine a few of our faves!
Here are my three go-to methods for wearing mixed prints in my outfits. Follow any one of them and you won't go wrong.
Related reading: How to Mix Patterns in Fashion (+ Styling Tips & Examples)
Method 1: Pair mixed prints with neutral solids
If you are new to the mix and match game, this should be your go-to move. It's a simple method to follow and will yield some unique outfits.
You can add a sense of subtleness to your mixed prints by breaking them up using layers of neutral solids. This quiets the look. You can do this with jackets and sweaters by allowing just a bit of the pattern peek through in the collar, for example.
Example outfit: Breaking up prints with neutrals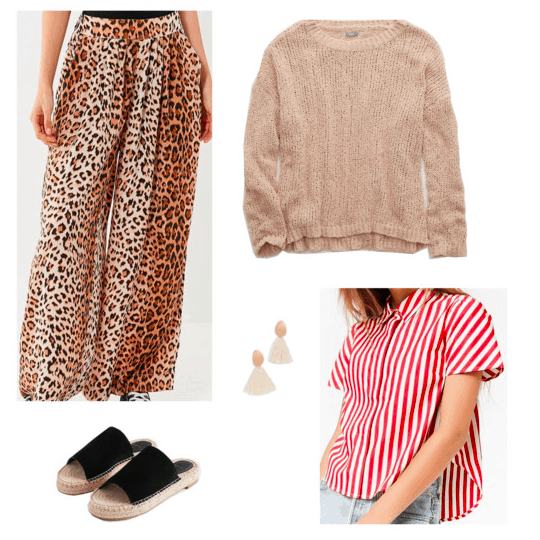 Products: Sweater – Aerie, Button-down – Forever 21, Pant – Urban Outfitters, Espadrille slides – Urban Outfitters, Earrings – Madewell
This outfit, though bold, is an example of making this rule work. It combines two bold prints with a solid, neutral-colored sweater to break it up. This way, you get a pop of stripe on top of the leopard pants, but the effect is muted thanks to the sweater.
The accessories are all simple and balance the look. The colors follow a warm color scheme and, with the exception of the red, are relatively neutral. If you wanted to kick this outfit up a notch you could add a lilac jacket or maybe royal blue slides instead of black ones.
Method 2: Make sure your prints have some kind of similar element
Your patterns don't have to match, they just have to go. By this, I just mean the prints you choose need to have some kind of unifying element. This could be colors, style, or scale.
Some people say to stick to two colors, and to this I say "no thanks." Color is a key component to mixing patterns. If you need guidelines to understand how colors can go together, see our guide to matching colors in your outfits.
The basic color rule to keep in mind is to find a single color that appears in all of the patterns — as you'll see in the example outfit below, so long as all of your patterns have a single color in common, they'll work together. However, you don't have to stick to this.
Alternatively, you may want to chose two completely different complementary colors but in the same type of pattern (say, all small florals). Or, you may want to mix two different patterns with the same theme and color (both pink floral pieces but completely different patterns). Any one of these approaches will work! You just need that "similar element."
Example outfit: Play with all colors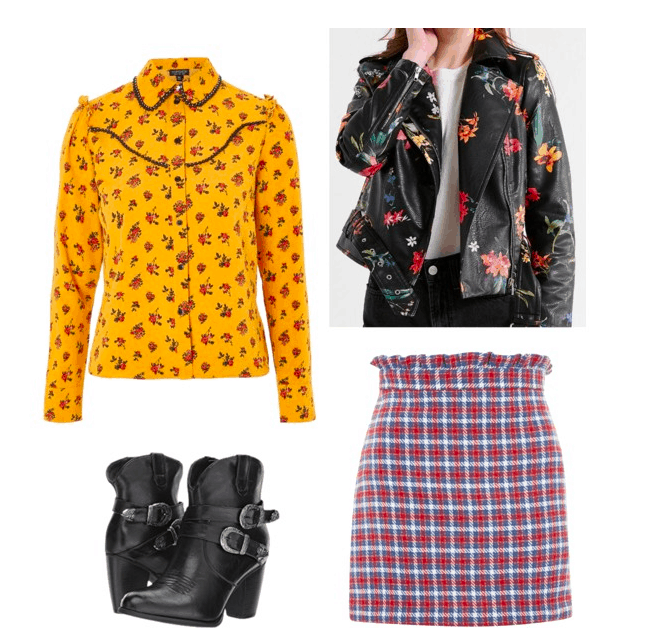 Products: Shirt – Topshop, Skirt – Topshop, Jacket – Urban Outfitters, Boots – Zappos
This outfit is even bolder than the first, but as you can see, all these bold prints still work together. This is because they're all unified by the color red — there's red in the floral top, the plaid of the skirt, and the print of the jacket, and this color ties everything together.
To finish the outfit, I added simple black boots. Three pops of pattern are enough in this look.
3. Play with size and density of pattern
Now we're getting a little more advanced. If you have two totally disparate prints to pair, never fear: They can still work if you apply this final method.
The first way to do this is to match bigger graphic prints with smaller ones. For example, a large abstract, geometric print can look great with a smaller floral or even a small camo print.
Alternatively, you could mix a bolder print with a subtler pattern, like big, multicolored graphics with a simple, muted floral print.
It is possible to mix two smaller patterns or two big patterns together — just be aware that they may look like competing features in the outfit. That said, if you do these things with purpose, taking care to combine other elements like color and pattern theme, you can make it work.
Example outfit #1: Large Print with Small Print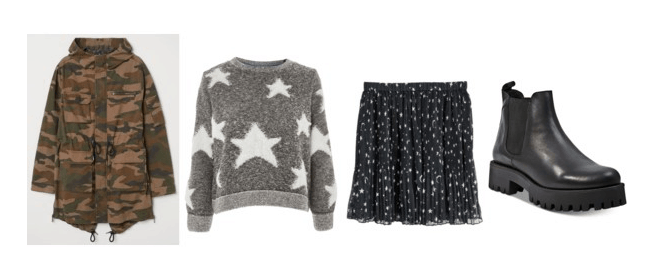 Products: Jacket – H&M, Sweater – Topshop, Skirt – H&M, Boots – Steve Madden
Here we've mixed a large star print with a smaller starred print in the skirt. Combining two of the same pattern in different sizes is super cool and easy to do. The camo is a medium size print and matches the general color scheme of the look with its green and darker colors. Using similar colors is another easy way to mix match patterns
Example outfit #2: Bold Print with Subtle Print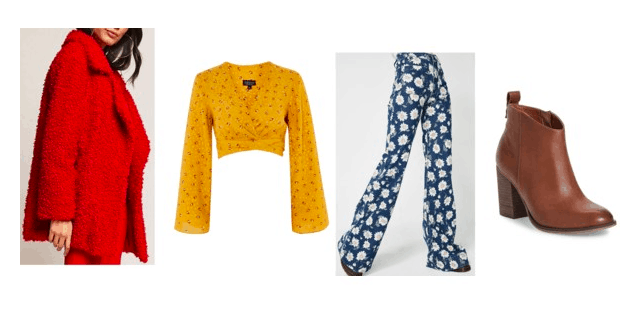 Products: Jacket – Forever 21, Shirt – Topshop, Jeans – Dollskill, Shoes – Nordstrom
This look is warm and playful. The small print on the shirt and the large print of the pant play off each other in a fun way. Textured fabrics like perforated leather or fur in this case give you extra fashion points but also calm down outfits as used in the first example. The primary color blocking works here in a creative way as well.
How do you mix and match prints?
If you utilize these tips while getting dressed in mix and match looks, I promise you success. And no matter what you do, know that the main thing you need to pull off any look is confidence. No matter what, own your 'fit and this will be half the battle to stylishly rocking mixed prints (or any outfit for that matter).
Tell me how you mix and match prints in the comments! As well, be sure to tag @collegefashion in any outfit photos if you try this — we may feature you on our Instagram!