This post may contain affiliate links, which means we may receive a commission if you purchase through our links. Please
read our full disclosure here
.
Welcome to the latest edition of Ask CF! Every two weeks, we select a reader fashion question and answer it here on the site. Do you have a specific fashion question for us? Scroll to the bottom of this post to learn how to send it our way!
Ask CF Question
HI CF! I love the way mixing prints looks on other people, but whenever I try to do it myself I look like I got dressed in the dark. Is this a confidence issue or are there some print mixing rules I'm not following? Help me out if you can!

Kisses, Rhonda 🙂
Our Response
Dear Rhonda,
I personally understand the struggle of trying to pull off a new trend and not being sure if I'm doing it right. Print mixing is definitely an intimidating trend, but can look so chic – and not at all crazy – when you get it down.
Chances are, actually, that you're doing just fine and it's the fear of looking strange that makes you feel like you're missing a step. Mixing prints requires a little leap of faith, especially the first few times. However, the more you expand your fashion comfort zone, the easier it becomes!
Below are a few outfit inspirations for your journey into print-mixing. Remember, confidence is key, and you'll rock anything if you feel good in it!
Mixed Prints Outfit 1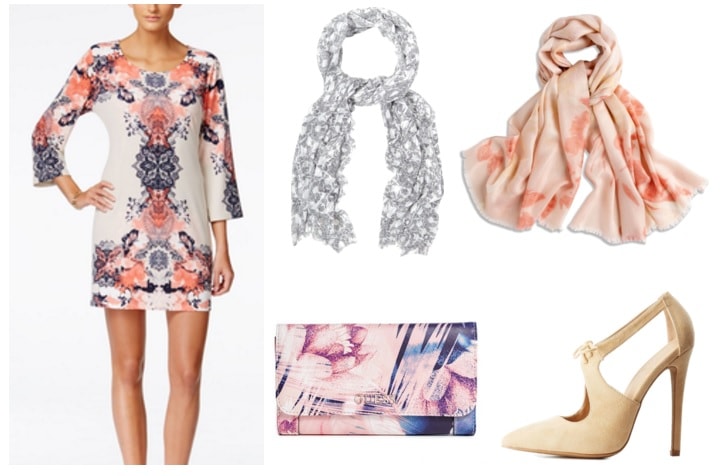 Products: Dress | Scarves: 1, 2 | Clutch | Shoes
This outfit works as a first step into print mixing. I recommend starting out by finding a printed piece to build the outfit around, and then picking accessories of different prints to complement it. This adorable dress can be paired with a cute printed scarf in the same color family for an easy, but still eye-catching, mix. Neutral heels will keep the outfit from looking too busy. Bonus points for working in a patterned clutch or handbag.
Mixed Prints Outfit 2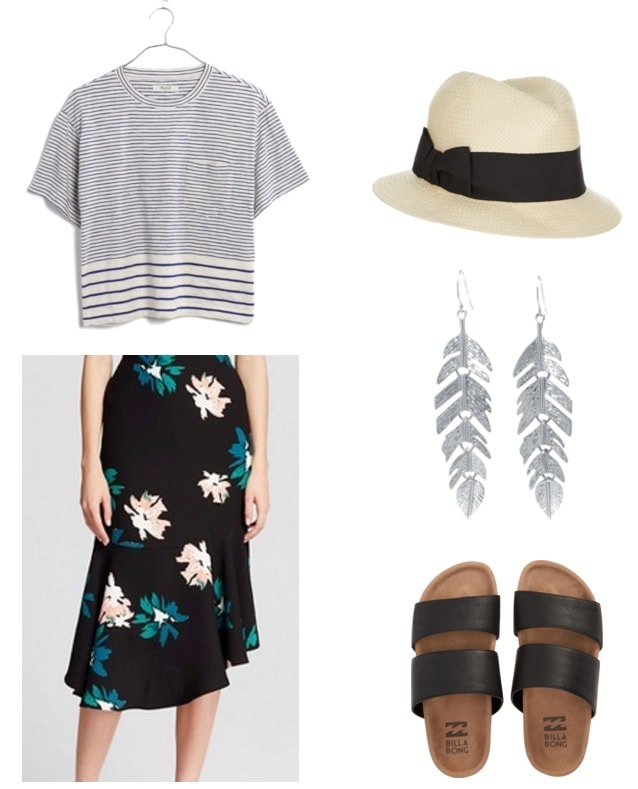 Products: Top | Skirt | Hat | Earrings | Sandals
This breezy look is perfect for Spring Break! Stripes are an easy choice for print-mixing because they're almost a neutral, especially if they're small like the ones on the top above. Pairing small prints with bigger prints is a classic way to keep a mixed-print outfit balanced, so this midi skirt with large flowers is a perfect match for the striped top. To amp up the beachy vibe, add a straw hat and sandals in neutral tones. Feather earrings finish things off with a boho twist.
Mixed Prints Outfit 3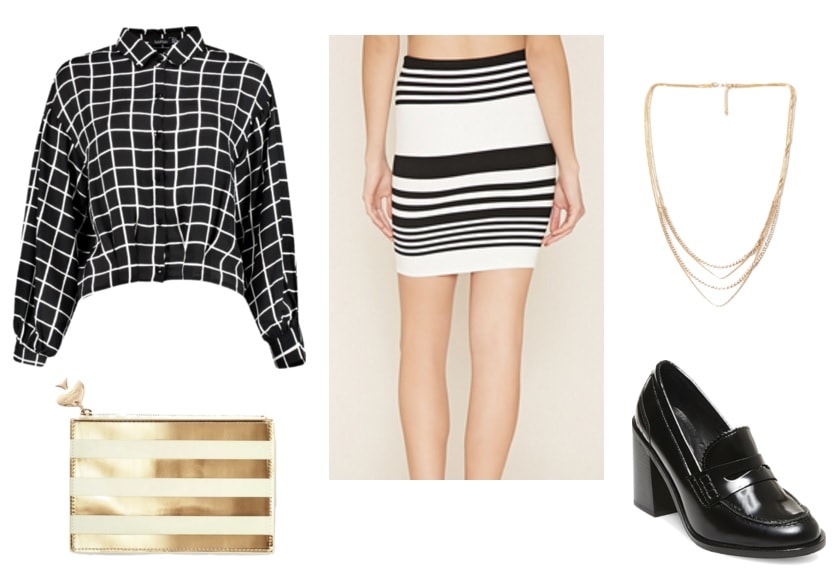 Products: Shirt | Skirt | Bag | Necklace | Shoes
Once you're more comfortable mixing different prints, try something a little more bold, like this outfit set. For a modern look, go monochrome with your outfit. The shirt and skirt are both simple geometric patterns in the same colors, so they will look awesome paired together. These heeled loafers carry the menswear vibe from the shirt through the rest of the outfit. Simple jewelry and a shining clutch add some sparkle without being overwhelming.
More Print-Mixing Tips
We've covered this topic on CF before, so if you want more tips on mixing prints like a pro, see our past posts on the subject:
Do you have a pressing fashion question? Ask away!
Is there a piece in your closet that you never know how to style? Do you have an important event coming up? Is there a certain trend that is completely lost on you?
If you have a question you want to see answered in this column, just send it on over via email to askcf @ collegefashion.net and one day you might see your question answered right here on the site!
Please note: We get A LOT of email and unfortunately we will not be able to respond to every single question. However, we will read through each question and then decide which ones will be most helpful to the most readers. Thank you for your understanding.
What do you think?
Do you feel completely confident mixing prints, or are you still working it into your comfort zone? Are you going to try any of the outfit ideas above? Let us know in the comments below!