This post will show you how to mix patterns in fashion to create mixed print outfits.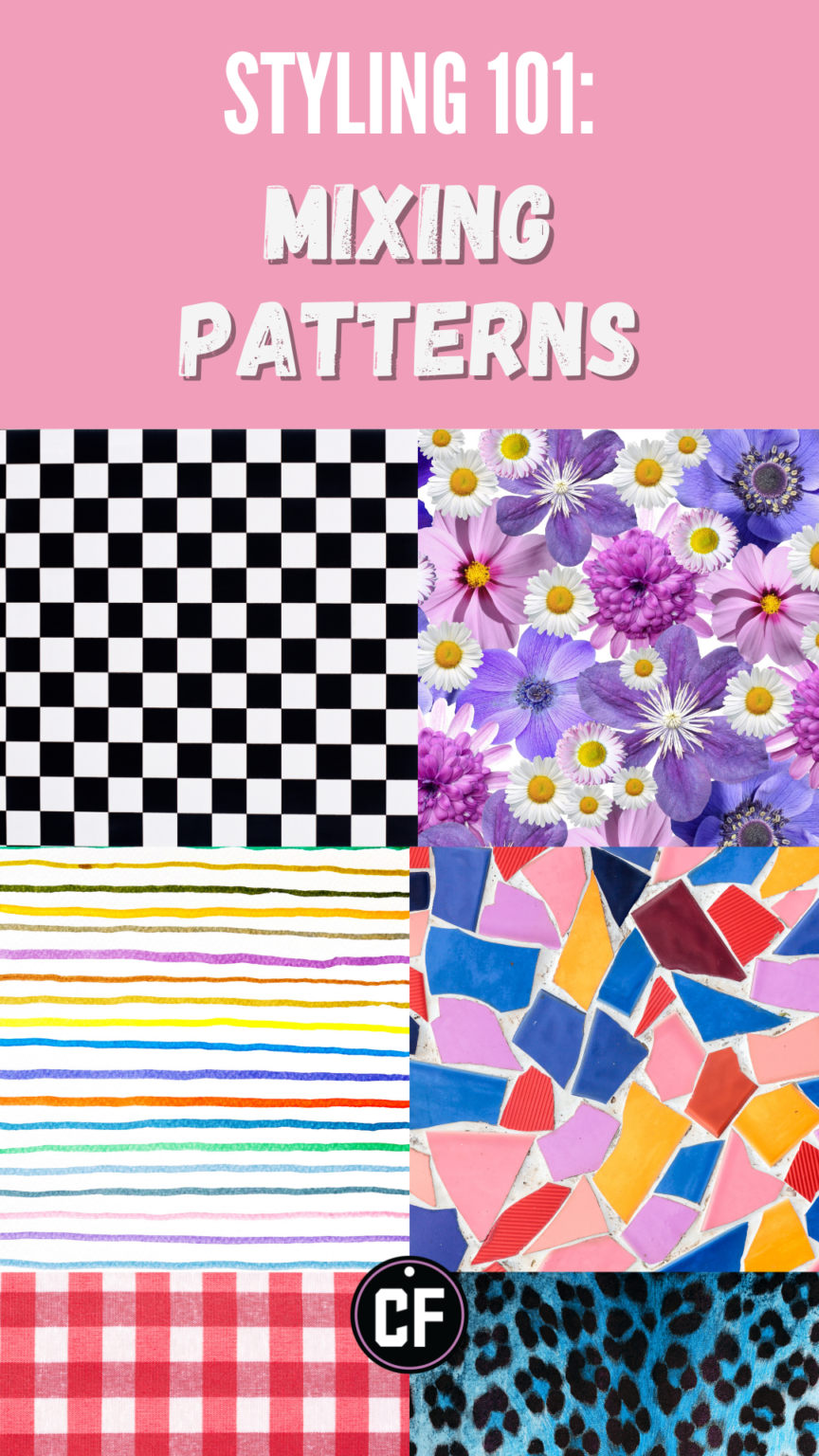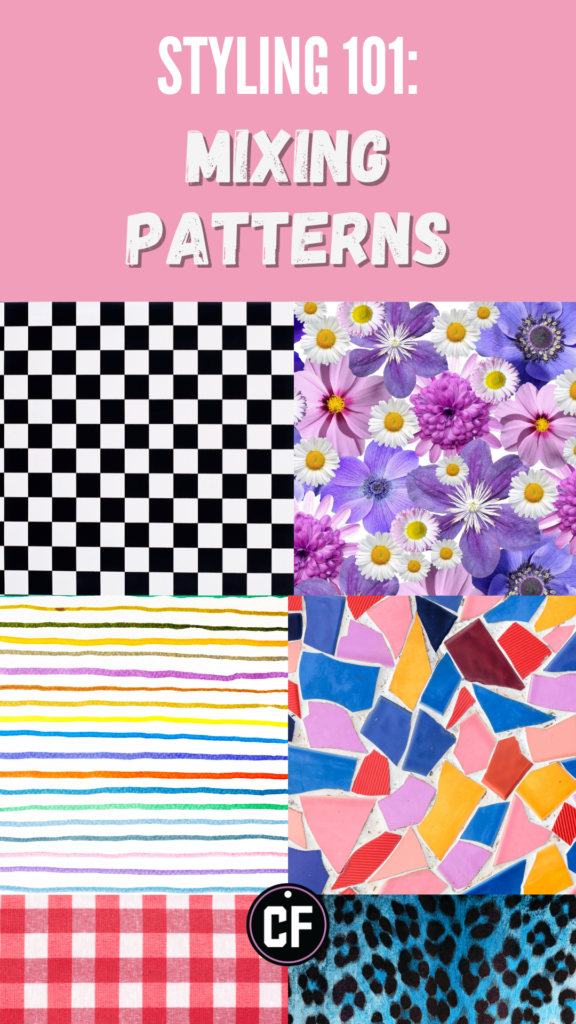 Fashion is fun. Styling an outfit is a fantastic way to get your creative juices flowing. But, sometimes (and for some of us), it can be overwhelming. Look, I get it. it's a fast-paced, ever-changing industry. Trends and styles come and go in the blink of an eye. It can be too much to handle if you are dipping your toes in the pool of fashion for the first time.
I'm here to help.
In this new series, I'll give you styling advice on some of the most confusing and difficult styling areas. I'll outline all my tips, tricks, and hacks to help you create amazing outfits. Also, I'll exemplify everything in three degrees of difficulty so it can be easier to see what you can do.
This week, I'll give you all the tips and tricks to mix patterns to create cool, exciting outfits.
What *is* the deal with patterns?
For ages, we have been told that the golden rule of styling an outfit is: if you are wearing a patterned item, the rest of the items have to be in solid colors. Clashing patterns will make you look like a mess.
Fashion, at its best, is about the freedom to experiment. And to do that, you have to break the rules. Mixing patterns is a fantastic way to experiment, and it can triple the usage of patterned items in your closet. An outfit created with different patterns is one of the most fashionable and unique ways to style yourself. That's because we all have different patterned items in our closets, so your potential combinations are unique to yours.
In this post, I'll give you tricks and tips to make it easier for you to visualize mixing patterns in fashion and work with the patterns that you have in your closet.
How to Mix Patterns in Fashion: Tips, Tricks, and Hacks.
Mixing patterns can be daunting, and I understand why. Unlike our other Styling 101 trends and styles, where there is a basic art theory to follow and it is easy to find examples of what you already have, for mixing patterns, there is not.
Styling is about visualizing, but with patterns, visualizing is the hardest part.
The most important thing to remember while mixing patterns in an outfit is that it is all about balance and scale. Play with the scale of your patterns.
The easiest way to make it work is to pair a really small pattern with a big one: this way, the small pattern almost acts like a solid and balances the big one. If you want to use two big (or two small) patterns, make sure they have the same color palette to create cohesiveness.
Here are some more general tips for mixing patterns in fashion:
Textures can be your ally (or your greatest enemy). The thing with textures is that sometimes they act like a solid, but some textures are a pattern on their own. Think about a wide-knit sweater — it looks like a pattern from far away. When that's the case, consider the textured item as a patterned one.
Know your patterns. When you know what type of pattern you are working with it is easier to see what role it plays within your look. Geometric patterns (gingham, polka dots, stripes) are great for creating balance or acting as a solid. Floral or movement patterns (zebra stripes, watercolor or tie-dye, jungle-inspired prints) could be your statement pieces, and you can use them as an anchor for the rest of the look. Animal print can be considered a neutral and a solid.
Vary the size of the patterns to create a sense of balance.
Solids are not forbidden. Solids can be used to break up a busy outfit. Accessories, shoes, and outerwear can bring two different patterns together by creating a common thread.
When in doubt about mixing prints, find a color in common. Maybe you are unsure about the scale or the texture, but if you can find a common color between the patterns, your outfit will be cohesive.
Disclaimer
As I mentioned earlier, patterns are unique to everyone's closet. That means that the combinations I can create with my clothes may not be helpful to you if you want to do a 1:1 recreation of a look.
Instead, I focused on creating outfits based on the tips and tricks above to exemplify what they *actually* mean and help you visualize using these strategies with your closet.
How to Mix Patterns in Fashion: Outfit Examples
Easy – Black & White Patterns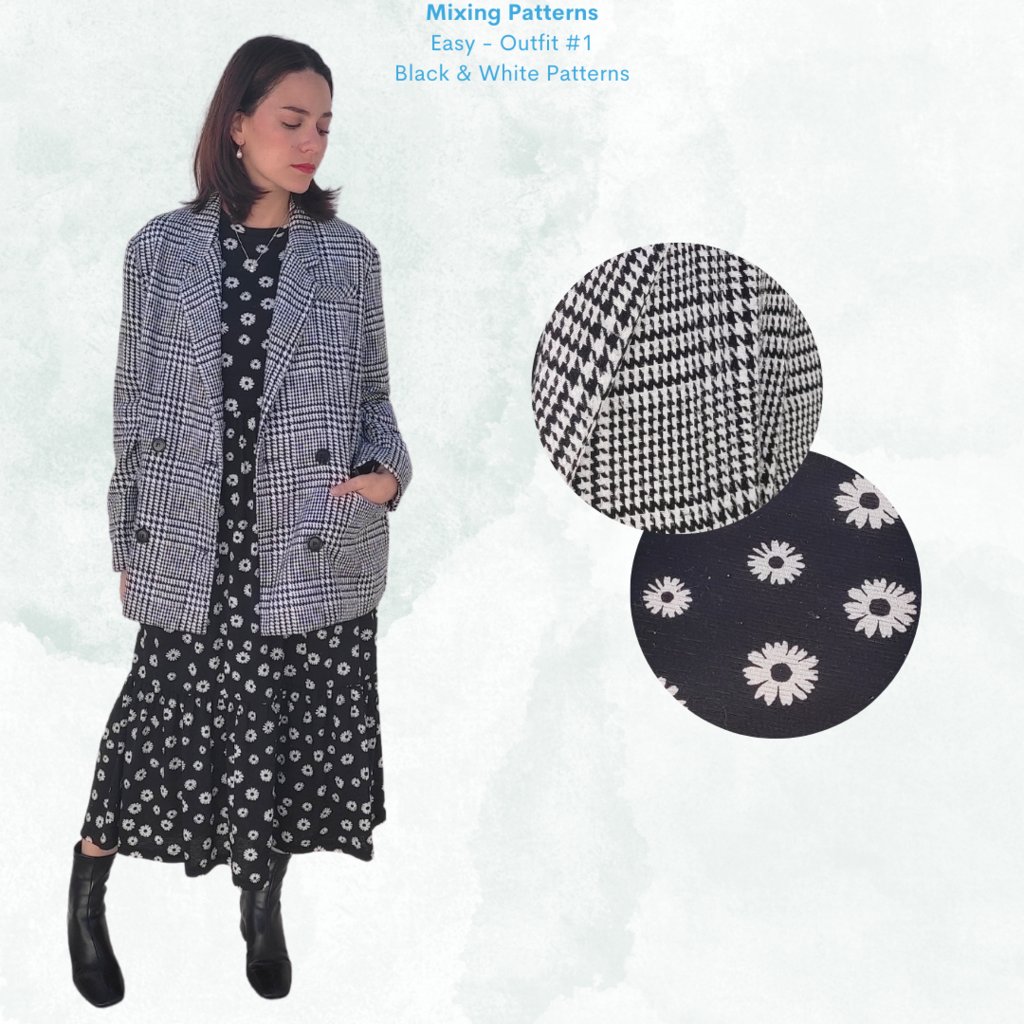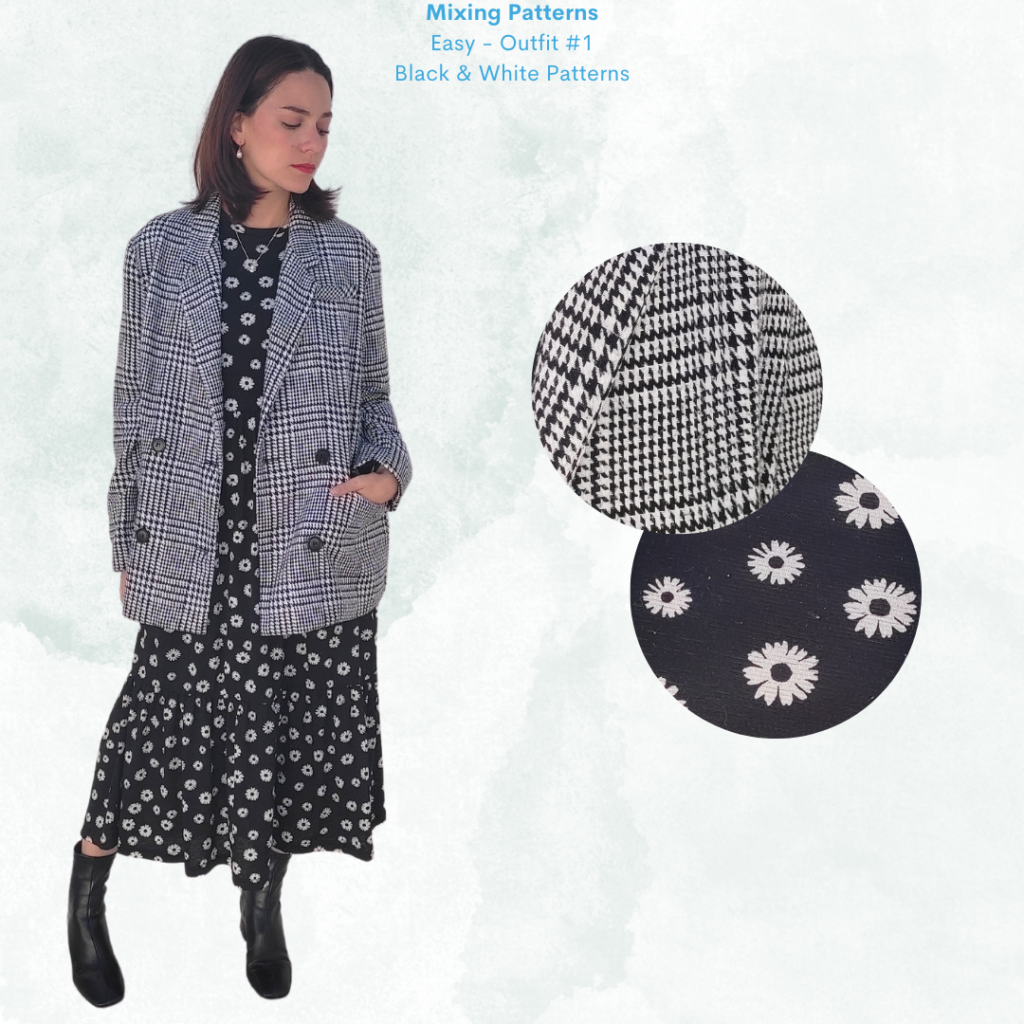 Let's start with the easiest way to mix patterns. The one thing you can do that you can be sure will work is to mix black and white patterns. Since the color palette already works together, it makes it easier to just focus on the scale and busyness of the patterns.
To create my B&W look, I wore a floral midi dress and an oversized houndstooth blazer. For shoes, I just used a pair of black sock booties to keep everything as simple as possible.
The floral pattern of the dress is simple and less busy. This type of pattern gives the illusion that the dress is the black item of the look. The houndstooth is graphic, very detailed, and mostly white. This allows the pattern of the dress to become the centerpiece and what draws the eye first, while the blazer seems almost a solid item. The simple shoes help the outfit feel sleek and bring the whole thing together.
Easy – Similar Patterns & Palette, DIfferent Scale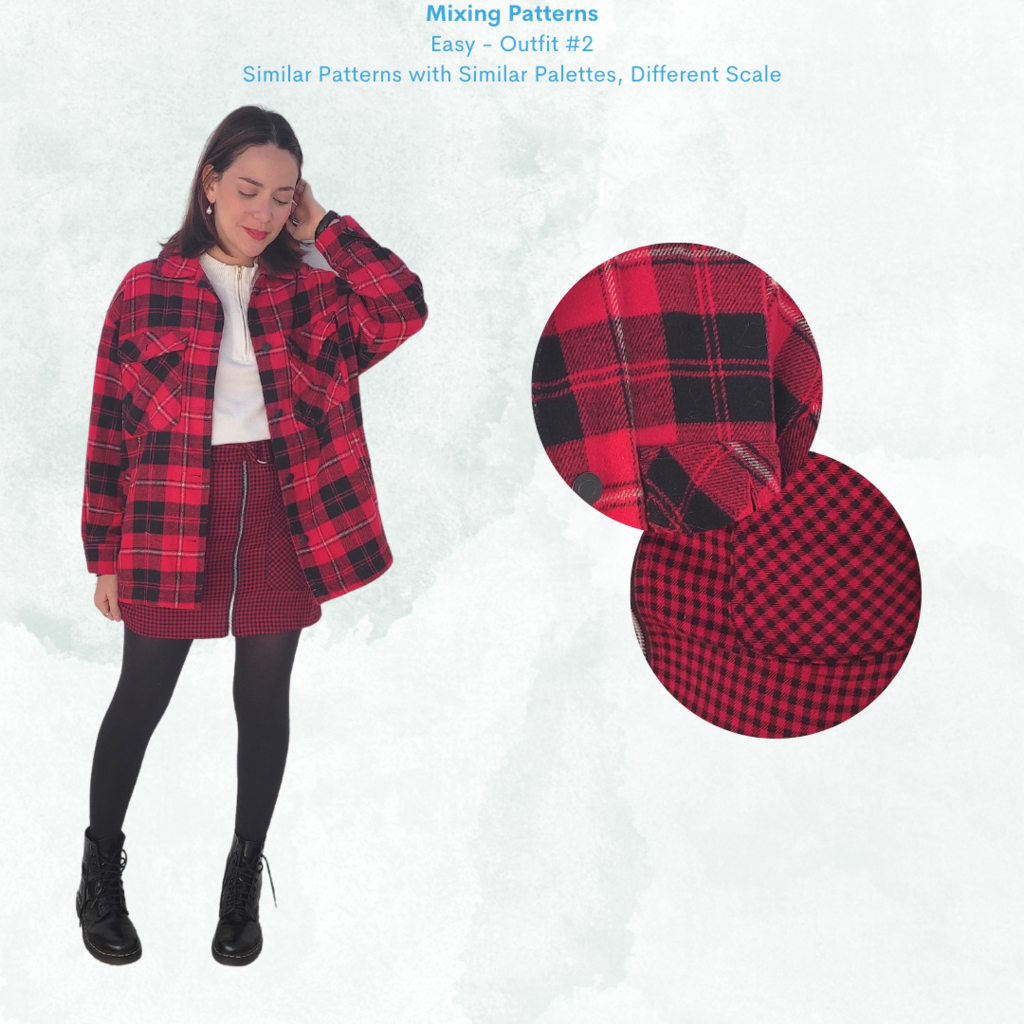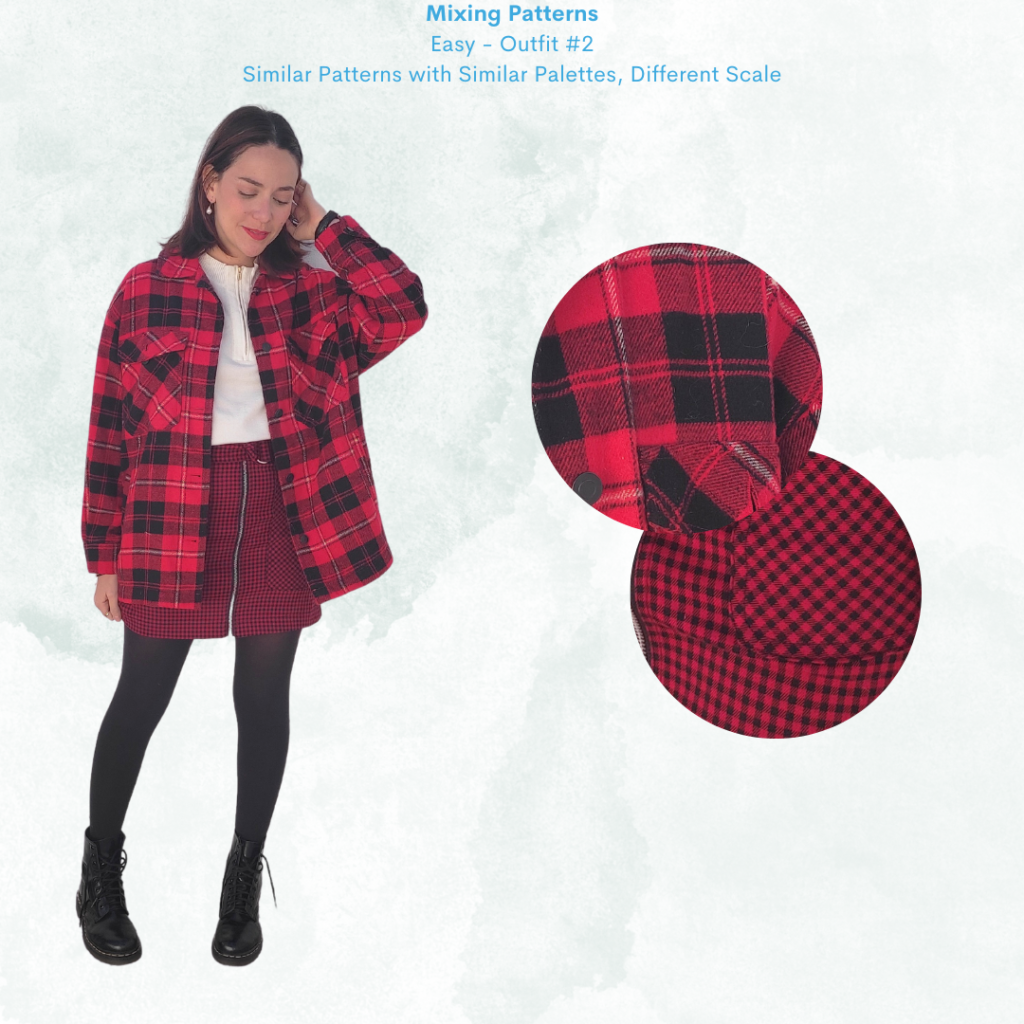 Another way to easily tackle mixing patterns is to pair two items that have a similar color palette and similar pattern but in two very different scales. It is like the B&W look because you know the colors match, but when we are working with *similar* patterns, not identical ones, it is more difficult to balance if the scale is similar too.
For my second outfit, I wore an off-white, mock-neck knit top and a high-waisted mini-skirt with a small gingham pattern. For my second patterned item, I threw on an oversized, plaid flannel shirt. Both patterned items have a red and black color palette. To finish the outfit, I accessorized with black tights and wore black Doc Martens.
Here you can clearly see how you can play with scale to your advantage. The smaller the pattern, the more solid it looks, while larger patterns draw the most attention. The small gingham pattern of the skirt allows the oversized plaid of the shirt to take center stage. The shirt is also the common thread that connects all the items (red, white, black), which makes everything look cohesive.
Easy – Animal Print as a Solid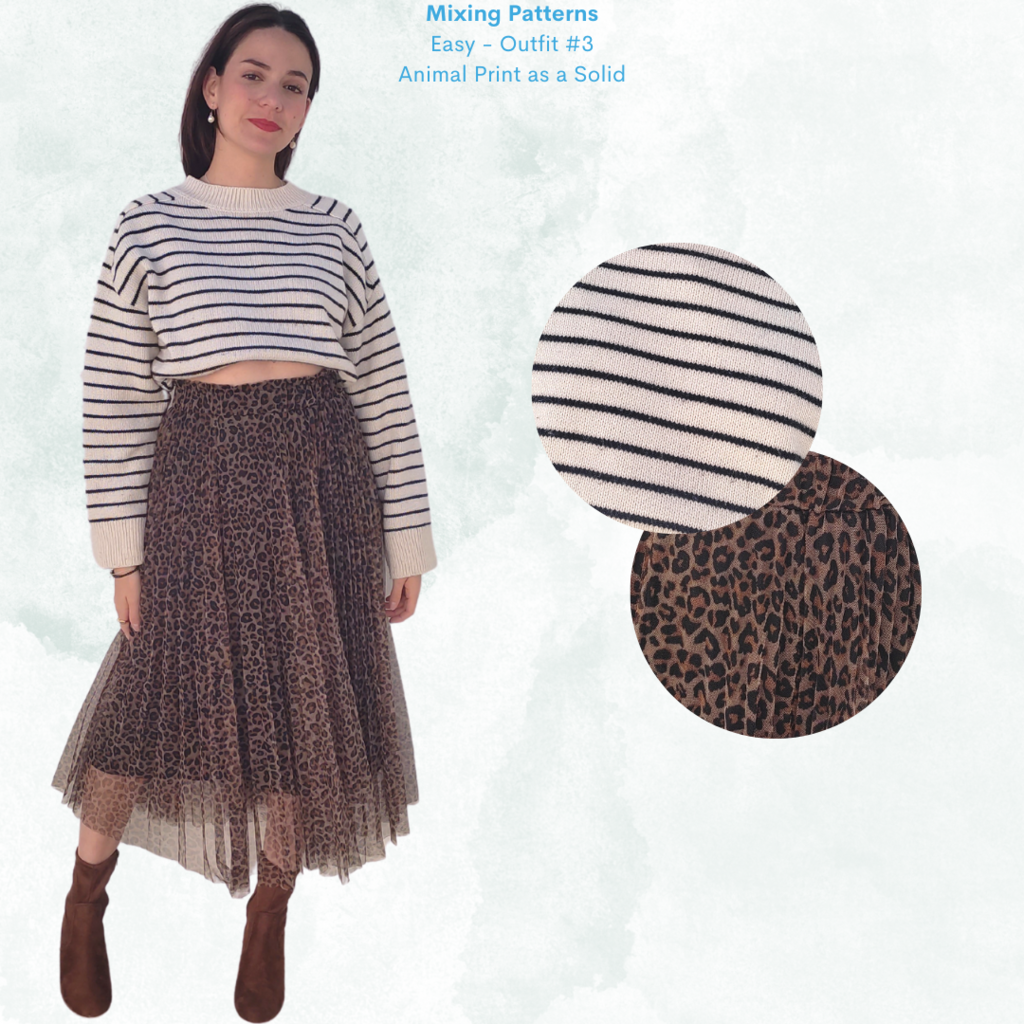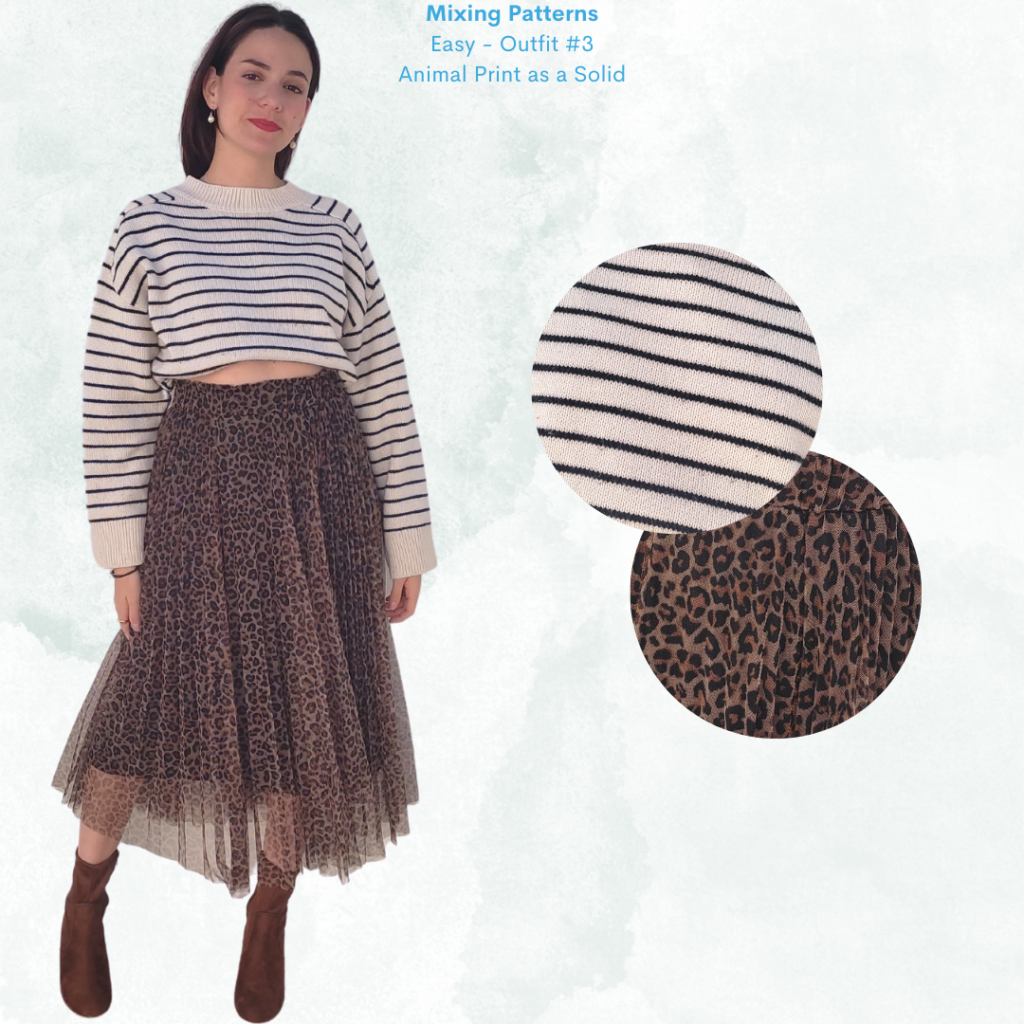 One of the things you learn very early while styling is this: animal print in the brown, beige, and black color palette is a neutral, and sometimes a solid. Especially the classic leopard print. This palette is so neutral, and the pattern tends to be so small and busy that it gives the illusion that it is a solid item.
For this look, I wanted to use two classic patterns together. I wore a striped knit sweater in an off-white and navy blue palette and paired it with a tulle, leopard print midi-skirt. The skirt has a dark brown color palette. To finish it off, I used a pair of cognac suede sock booties.
Again, scale is key with this look because we are not working with the same color palette. The stripes on the sweater are thin and are very spaced out, while the leopard spots are medium-sized, but have a little breathing room with each other. The skirt acts as our solid because the busier the pattern, the less space there is between elements, our eye tends not to focus specifically on the elements of the pattern and see it instead as a whole.
Medium – Neutral Pattern + Colorful Pattern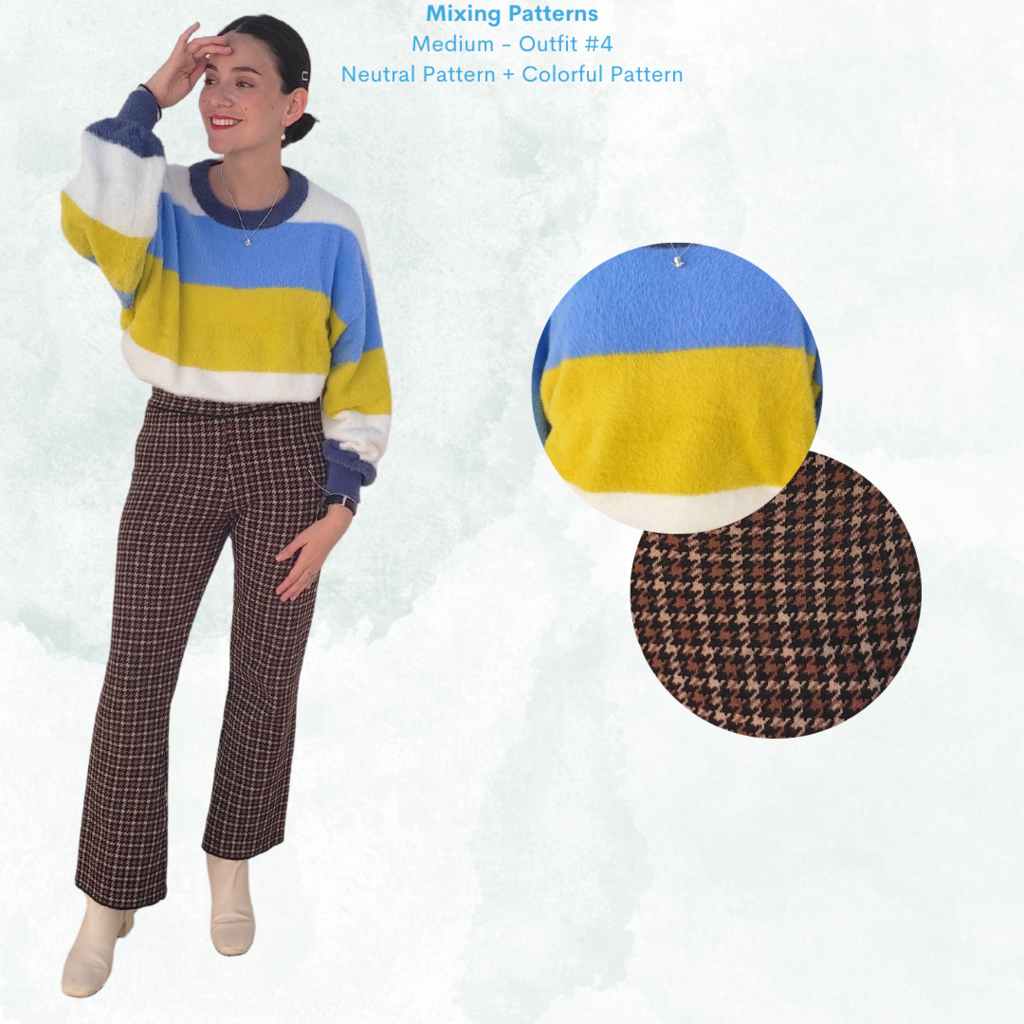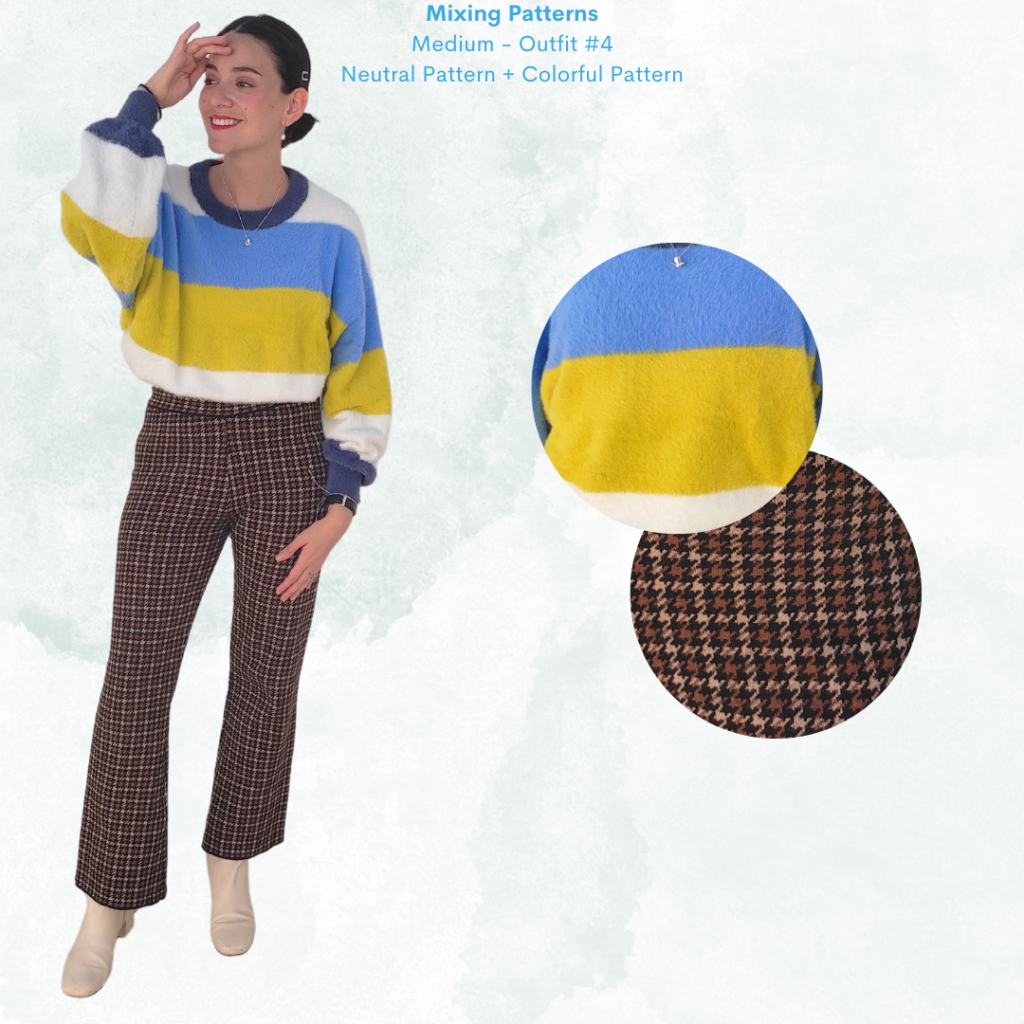 Now we start to get into the colorful side of things. I know that colorful pattern mixing is usually the most daunting and challenging style to tackle, so let's start slowly. If there is a colorful pattern you want to add, but don't have another item in a similar color palette, try wearing it with a neutral pattern.
Taking everything we learned from the first three outfits (scale and balance), we can apply it to a colorful pattern. For this look, I wore a striped, fluffy sweater with a blue, neon green, and white color palette. Then, I used a pair of knit flared leggings with a houndstooth pattern in neutral colors. Finally, for shoes, I decided on a pair of square-toe cream booties.
This outfit is fun because the scale and colors are enjoyable to play with. The stripes on the sweater are ridiculously wide, which helps a lot because the houndstooth pattern is not that small in reality. Keeping an otherwise neutral color palette makes it easier to create a cohesive look that works with colorful elements.
Medium – Common Colors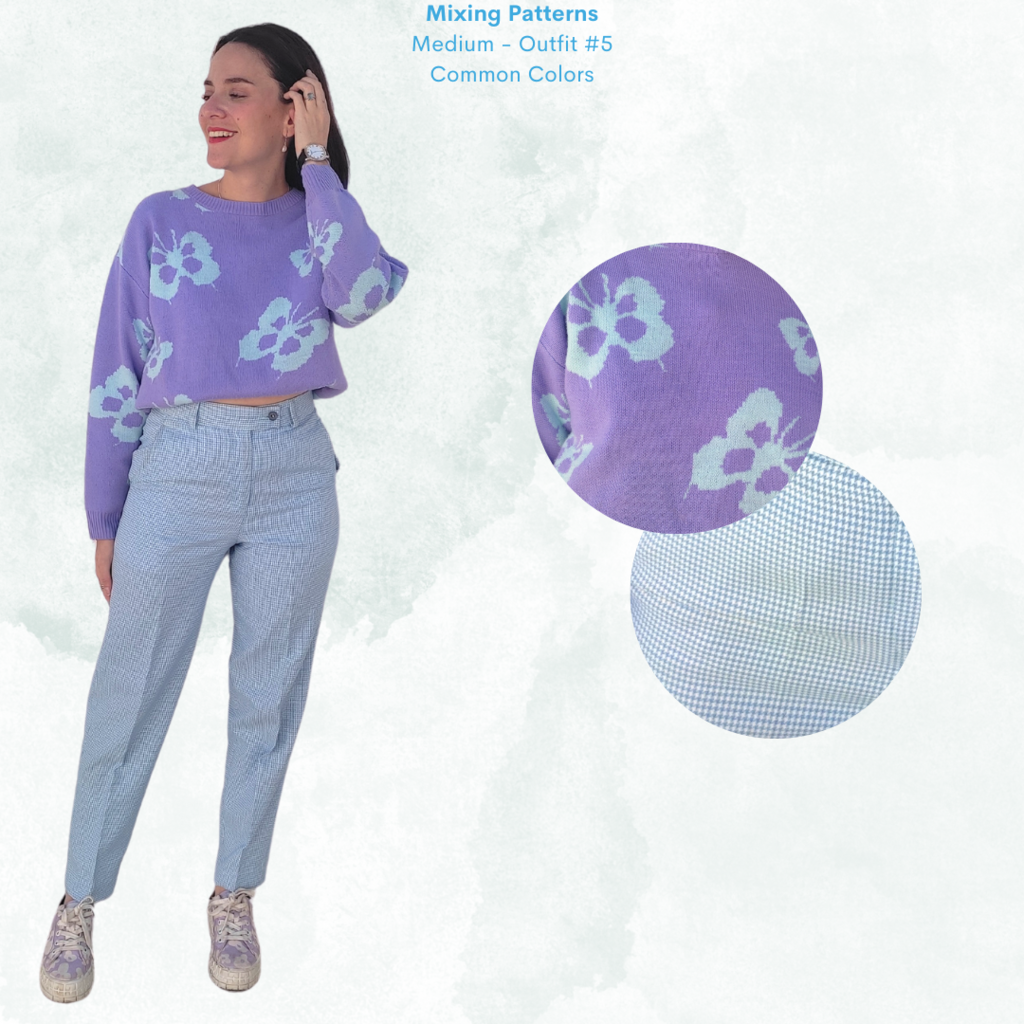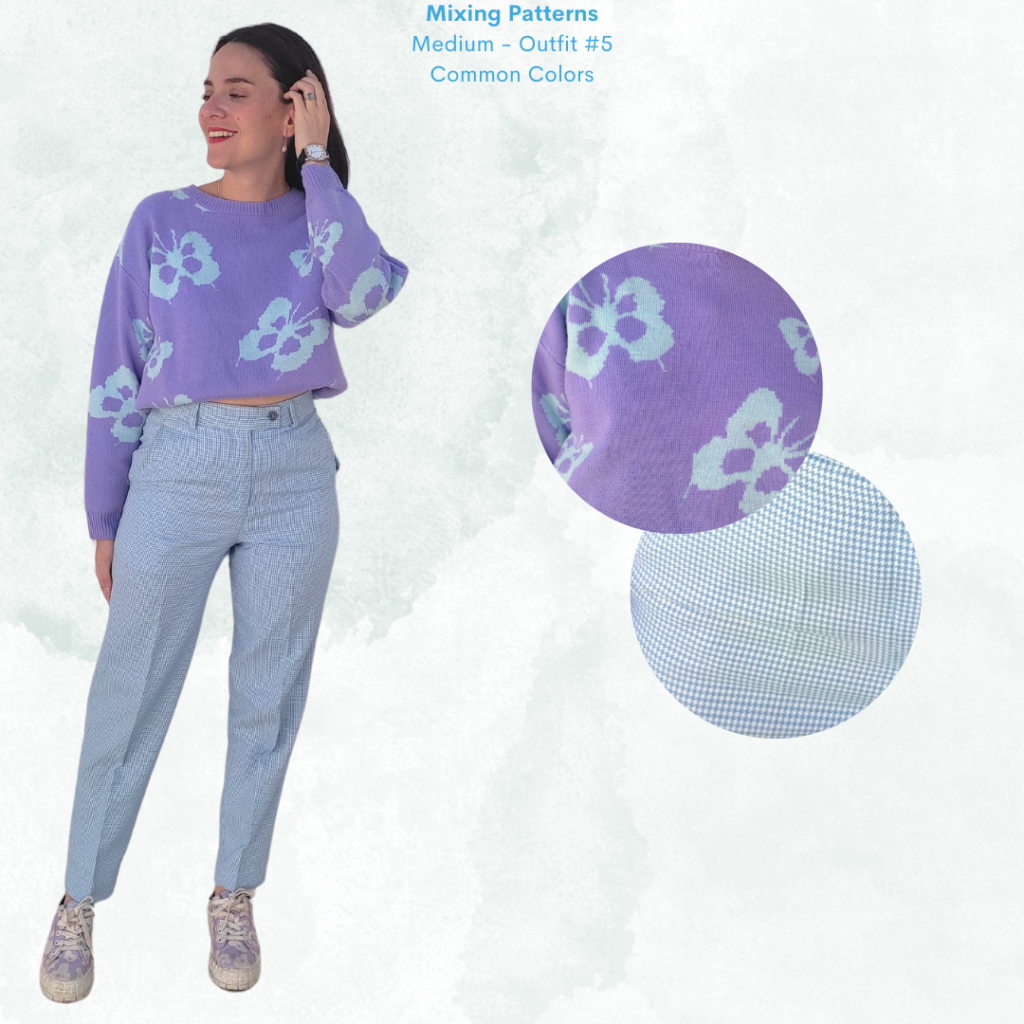 The best way, in general, to create a cohesive, colorful look is to pair colors that belong to the same family. (See: A Foolproof Guide to Matching Colors in Your Outfits.) Neons go great with neons, pastels with pastels, etc. The same applies when you are pairing two colorful patterns together.
To create our first all-colorful look, I used a pastel color palette. For the top, I wore a lilac knit sweater with a baby blue butterfly pattern. For bottoms, I put on a pair of tailored-made, baby blue slacks. The slacks have a really small houndstooth pattern. Finally, for shoes, I chose lilac sneakers.
As you can see, if you learn how to work with scale, it will be your biggest ally. The butterfly pattern is so big and scattered that it directly contrasts with the houndstooth's smallness and repetitiveness. Using one color, baby blue in this case, as a common thread through the items helps you bring the items together despite the different patterns.
Difficult – Solid Color + Two Different Patterns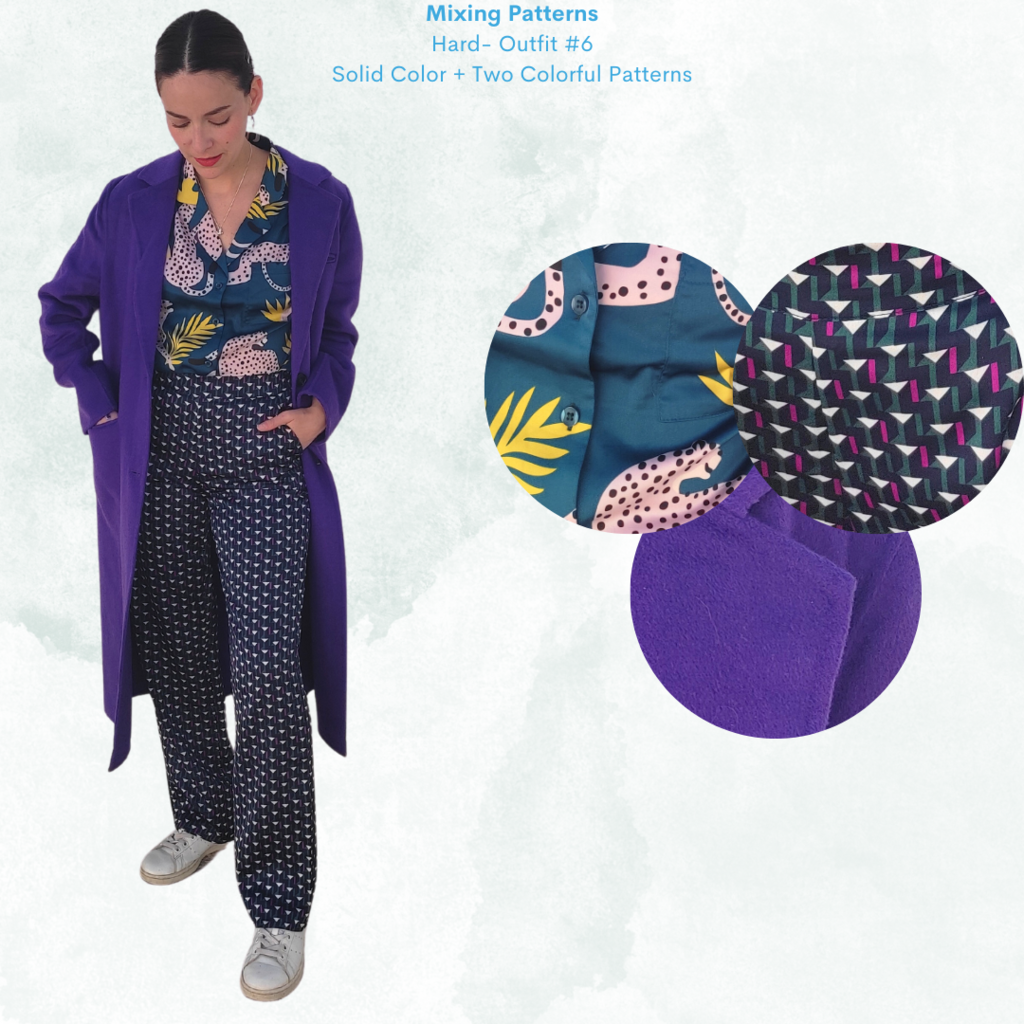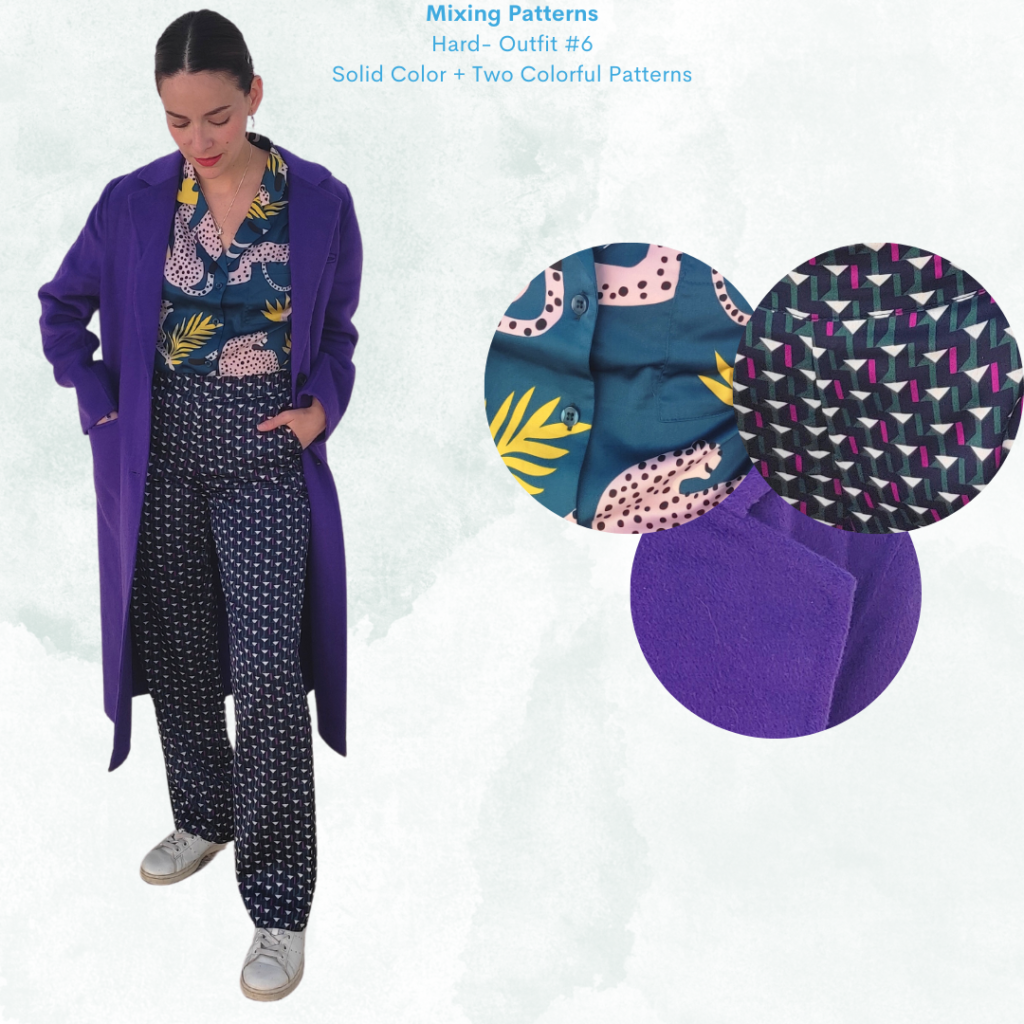 But what about colorful patterns that don't have an identical color in common? What about non-classical patterns? Sometimes it's just about using similar tones in similar fabrics to make everything look as closely related as possible.
To exemplify this, I wore a silk shirt in a relaxed fit that has a jungle-themed pattern. Then, I chose a pair of silk pants with a geometric pattern. Both items have jewel-toned base colors (emerald green and navy blue) with light accents (light pink and white). Since our common thread is jewel-toned colors, I threw on a bright purple wool coat. Finally, I kept the shoes simple and used white sneakers.
As you can see in the close-up photo, these patterns don't have an exact color in common. The trick here is all in the tonal match and the fabric. Fabric is important because tones look different depending on the fabric, especially if you use a reflective fabric (silk, sequins) or a natural fabric (cotton, wool). Since I'm using the same type of fabric, the tones come together seamlessly. The wool from the coat contrasts, but since it is a solid color, it doesn't clash.
At the same time, we are applying the rules we learned to balance the scale of the patterns: the jungle pattern is big and has movement, while the geometric pattern is small and very repetitive.
Difficult – Three Patterns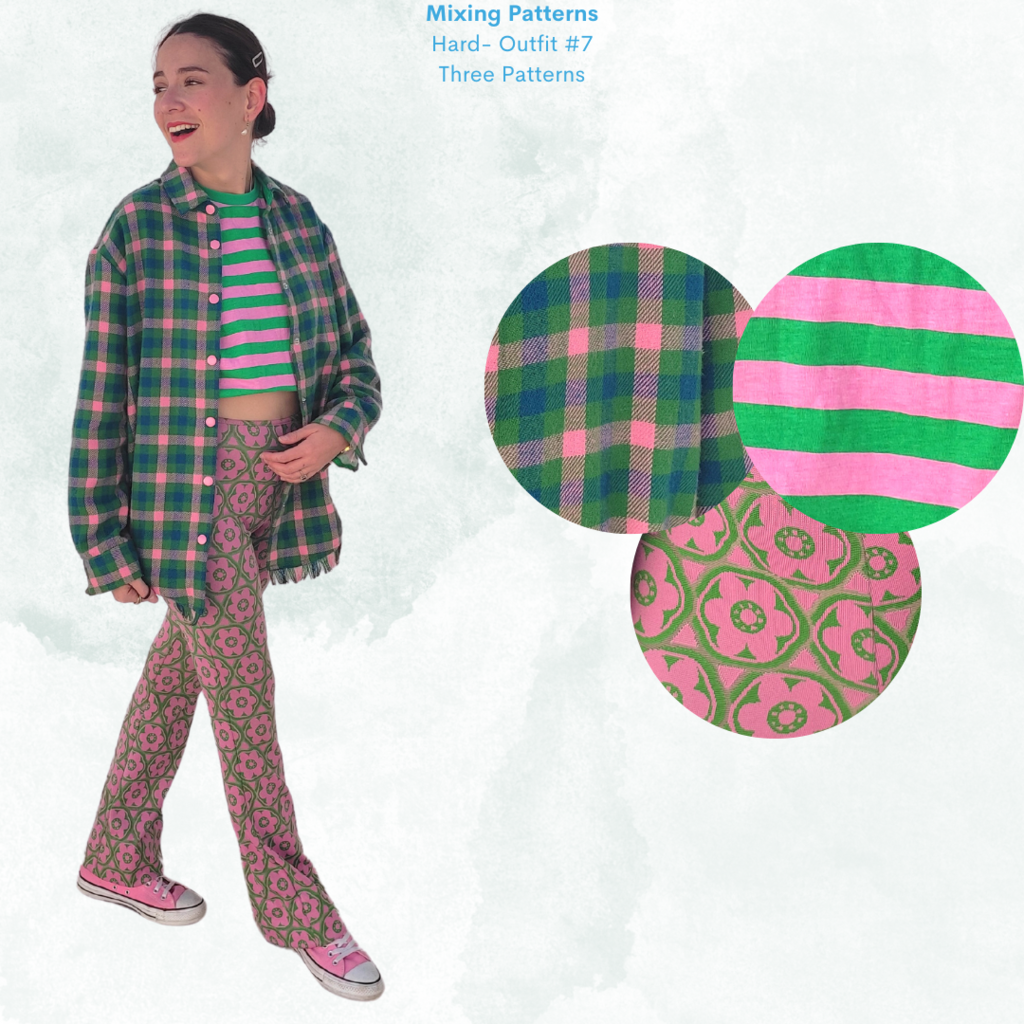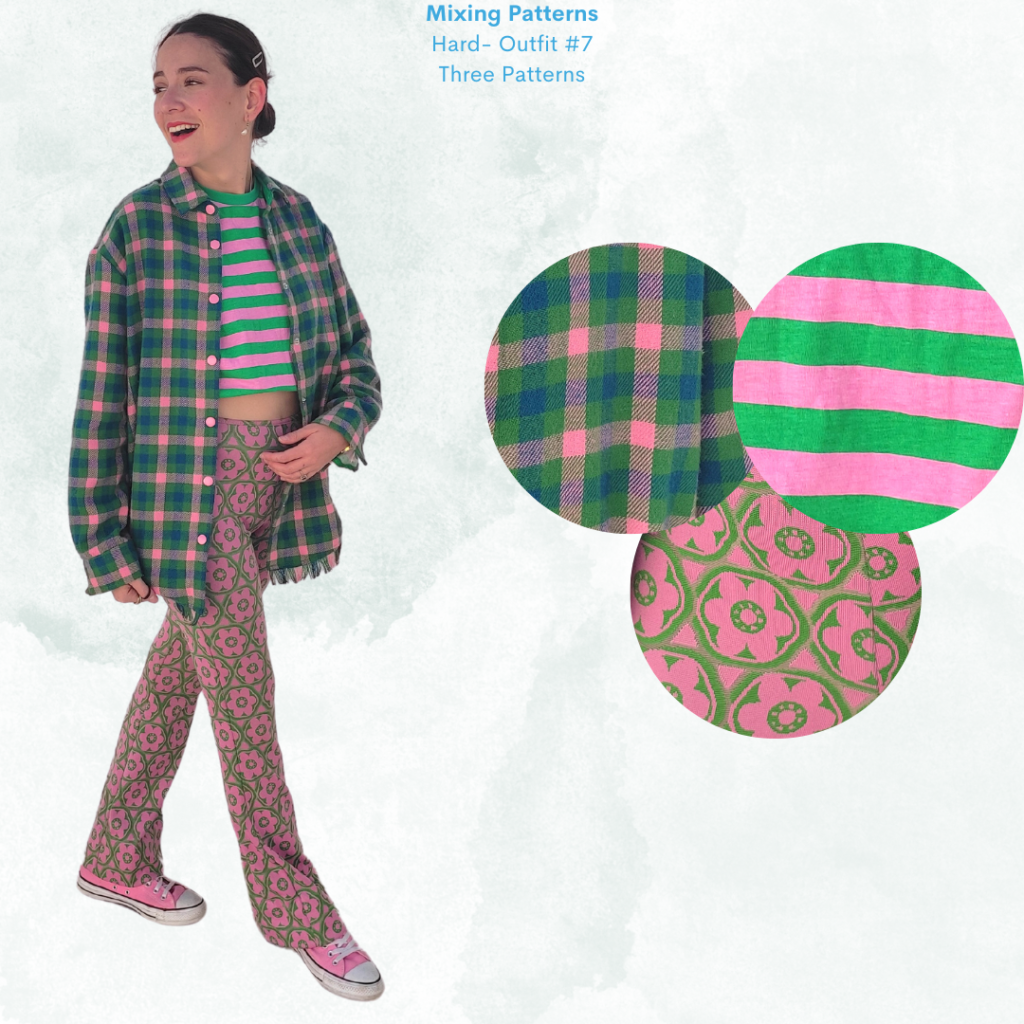 Now, let's take everything we've learned about mixing patterns in fashion and apply it to a three-pattern outfit. It is the most difficult because you have to look for the most commonality while working the most contrast.
For this look, I decided to base my look on the same color palette: bright green and bubblegum pink. For the top, I wore a striped, long-sleeved t-shirt. Then, I used a pair of floral, flared leggings, and threw on a flannel overshirt with a tattersall print. My shoes are just pink Converse.
As you can see, the scale of each pattern is not that different. What plays in my favor is that these patterns have almost the same color palette in natural or similar types of fabrics. But there's also something else that they have in common. That is: they're all geometric patterns, even the floral one. They are repetitive and have little space between elements. Between the colors and the repetition, the patterns don't clash but work together to create an exciting look.  
What do you think?
What do you think of my guide to how to mix patterns in fashion? Which outfit was your favorite? Do you have any styling questions you want me to cover? Let us know in the comments below!