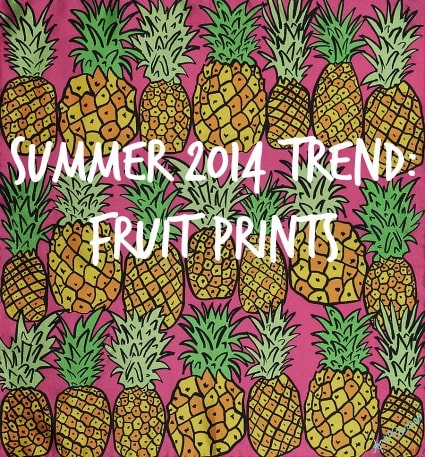 Pineapple Print Scarf via Net-a-Porter
From strawberries and cherries to lemons and oranges, fruit print clothing and accessories are a hot new trend for summer 2014.
While it may sound totally kooky, we think even the most pattern-shy individuals can get behind this trend – these prints are fun, colorful, and perfect for warmer weather.
Below, we've rounded up our favorite budget-conscious fruit patterned pieces, as well as some ideas on how to wear this trend. Read on to learn more!
Hot Picks for Summer
Want to rock this trend without breaking the bank? Here are our fave budget-friendly fruit print picks for summer.
Accessories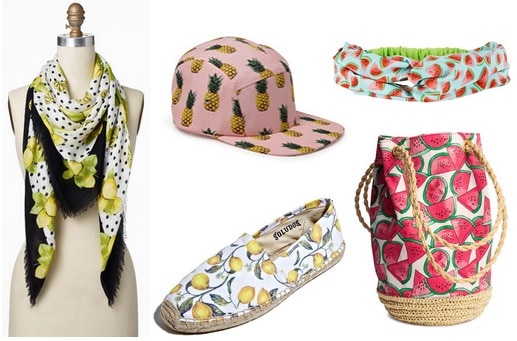 Product Info: Scarf- Ann Taylor, Hat- Forever 21, Headwrap- Aeropostale, Shoes- Nordstrom, Bag- H&M
As always, accessories are a fantastic way to test out a new trend if you're not fully ready to embrace it. These espadrille flats and scarf both showcase a lemon print in a sophisticated way, while the watermelon-adorned headwrap and bucket bag would look so adorable poolside. Lastly, this Forever 21 pineapple print hat is a quirky take on the snapback trend.
Clothes
Product Info: Swimsuit- River Island, Crop Top & Skirt- Nasty Gal, Romper- MissGuided, Top- GoJane, Skirt- Volcom, Blouse- Delia's
There are so many types of fruit print clothing out right now – the pieces pictured above are just a small selection! This orange-adorned swimsuit has a cool retro vibe, while the watermelon print separates, strawberry print romper, and pineapple print crop top have a fun, childlike quality to them.
If you're looking for something a little more subdued, check out this cute watermelon print button-down. On the other hand, if you're feeling bold, check out this skater skirt – it's adorned with a variety of different fruits!
Outfit Ideas
Need some outfit ideas before you try out this trend? Here are two sample looks – one for day and one for night.
Summertime Citrus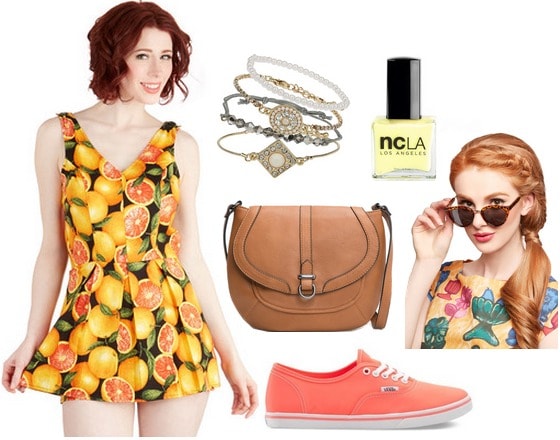 Product Info: Romper- ModCloth, Bracelets- Topshop, Nail Polish- NCLA, Bag- Mango, Sunglasses- ModCloth, Shoes- Vans
Between the fun silhouette, cheery colors, and punchy print, this citrus-y romper is pretty much the epitome of summer. Play up the grapefruit pattern with a pair of casual, coral-hued Vans and citron yellow nails. Balance out the bright colors with a classic tan handbag, then accessorize with several mixed metal bracelets. Slip on a pair of cat-eye shades and you'll be good to go.
If You Like Piña Coladas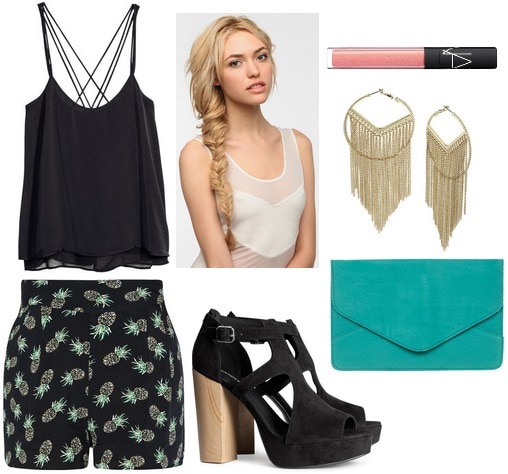 Product Info: Top- H&M, Shorts- New Look, Hair Photo- Urban Outfitters, Lipgloss- NARS, Earrings- Steve Madden, Shoes- H&M, Bag- Dorothy Perkins
For a fun yet dressy night out look, try pairing these pineapple print shorts with a strappy satin tank. Platform sandals glam things up, as do these gold fringed earrings. Next, grab a teal envelope clutch for a bold pop of color. Show off the earrings by putting your hair into a chic side braid, then finish with a swipe of peachy lipgloss.
Your thoughts?
What do you think of this trend? Is it right up your alley or is it too eccentric for your taste? Would you wear either of the looks? Do you like any of these fruit print pieces? As always, remember to tell us your thoughts by leaving a comment!