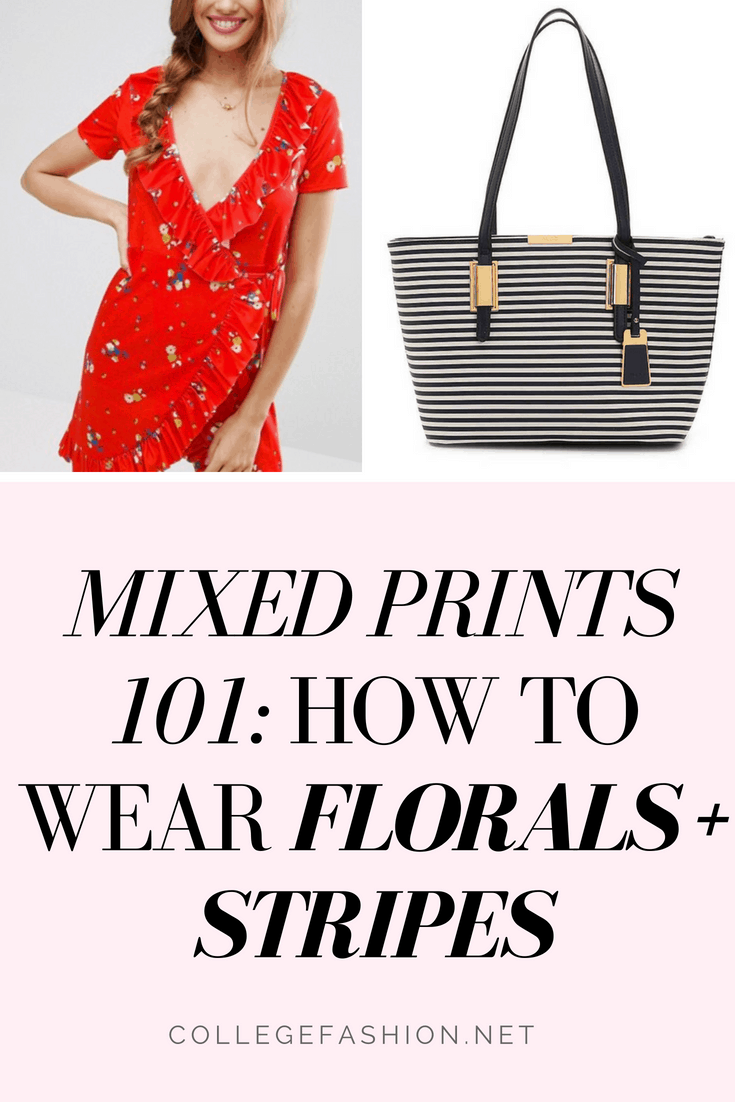 Welcome to the first article of my new series, Mixed Prints 101! I decided to create this series since, like most people, I used to fear mixing patterns together. With the popularity of minimalist wardrobes on the rise, it's safe to assume that I'm not the only one with this fear.
I'm all about a great capsule wardrobe, but when someone tells me they only wear one or two colors, I have to ask why? After going through an all-black phase in my early college career, I eventually became bored with the monotony (and the more than occasional person mistaking me for a store employee… cue eye roll).
As I began to experiment with fashion as a form of self-expression and creativity, I became increasingly interested in mixed prints.
At first, I would stare into my closet and contemplate whether my favorite purple plaid blouse could be paired with studded cheetah print flats. While holding up different patterned pieces, a series of silently worried questions would play through my head…
"What if I end up looking like my grandma's living room? Or that awful family photo of my relatives donning a collection of clashing retro '90s patterns? What if someone calls me out for looking like a hot mess?!"
Yes, there are many cringe-inducing examples of mixed patterns gone wrong, but it's safe to say that YOU are the best judge of what looks good on you. (In fact, after throwing on my purple plaid blouse, black skinny jeans, and studded cheetah flats, I looked in the mirror and thought, "Damn, I look good!" )
In the spirit of helping you achieve mixed pattern proficiency, every couple of weeks, I will pick out one or more pattern combinations and give you a small lookbook with tips on how to wear those patterns for all occasions and in various degrees.
This week, we're celebrating the classic coupling of florals and stripes and giving you tips and tricks on how to rock these prints together! We've already talked about stripe outfits, so let's mix them with florals and see what happens.
First up…
How to Wear Florals & Stripes for the Fourth of July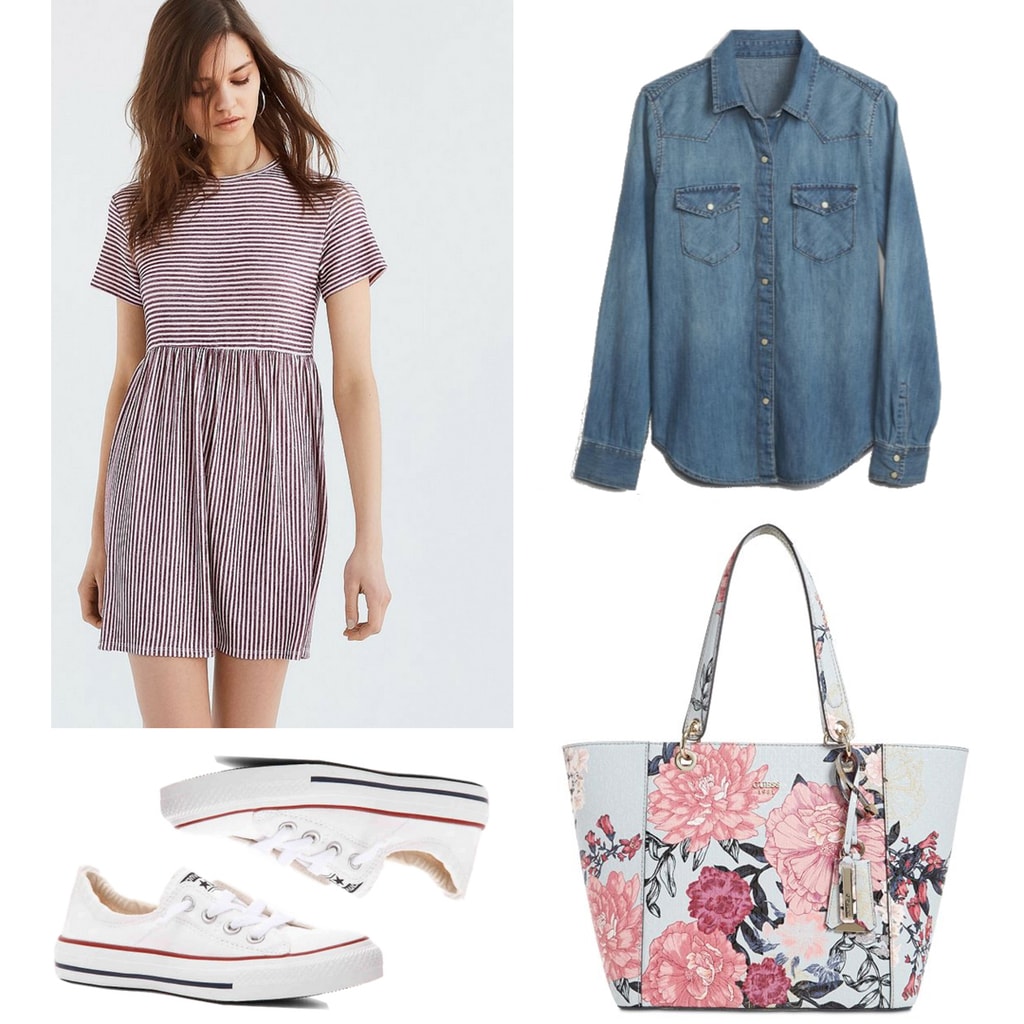 Products: Dress – Urban Outfitters; Button-down – Gap; Shoes – Nike; Bag – Macy's
Fourth of July is one of my favorite holidays, so I had to throw in an Independence Day outfit! July Fourth is all about backyard barbecues, friends, music, and fireworks on a warm summer night. (What's better than that?)
The outfit above looks patriotic but can be incorporated into your regular wardrobe. The baby doll dress features thin red and white stripes running in different directions. Since these stripes are so thin and consistent, I would consider this pattern a "neutral". What I mean by neutral, is that the print acts similar to a solid color and can be paired with almost anything.
My criteria for the perfect Fourth of July outfit includes:
Must be comfortable
Could be dressed down for the hot day or dressed up for the breezy night
Looks classic yet unique
Obviously includes the patriotic colors red, white, and blue
I think I nailed the criteria with the red, white, and blue converse, chambray button-down, and a blue and pink flowered tote bag.
How to Wear Florals & Stripes by the Pool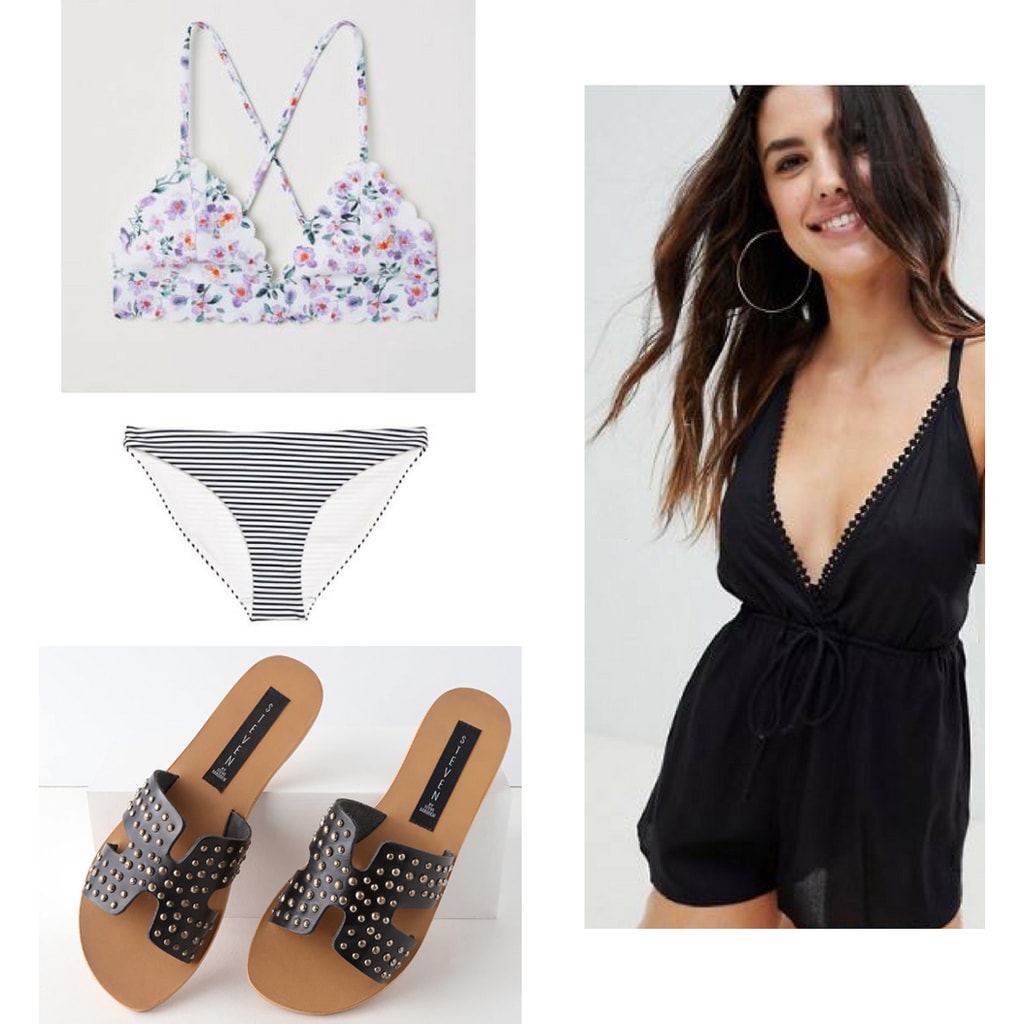 Products: Bikini Top – H&M; Bikini Bottom – H&M; Romper – Asos; Sandals – Lulu's
I'm a huge fan of mixing up bikini tops and bottoms. If you buy two bikinis, you've got yourself four different looks. Therefore, I've included two sets with the same striped bottoms.
Again, thin stripes are similar to a natural piece and can be paired with almost any pattern. In the outfit above, I paired the bottoms with a scalloped white floral bikini top to achieve a simple and cohesive bathing suit. The top and bottom fit into the same color scheme and both feature tiny prints, which helps them blend together.
For contrast, pair this bathing suit with a black romper that will show off the floral bikini top pattern underneath. Finish with on-trend Greek-style sandals with cool girl studs.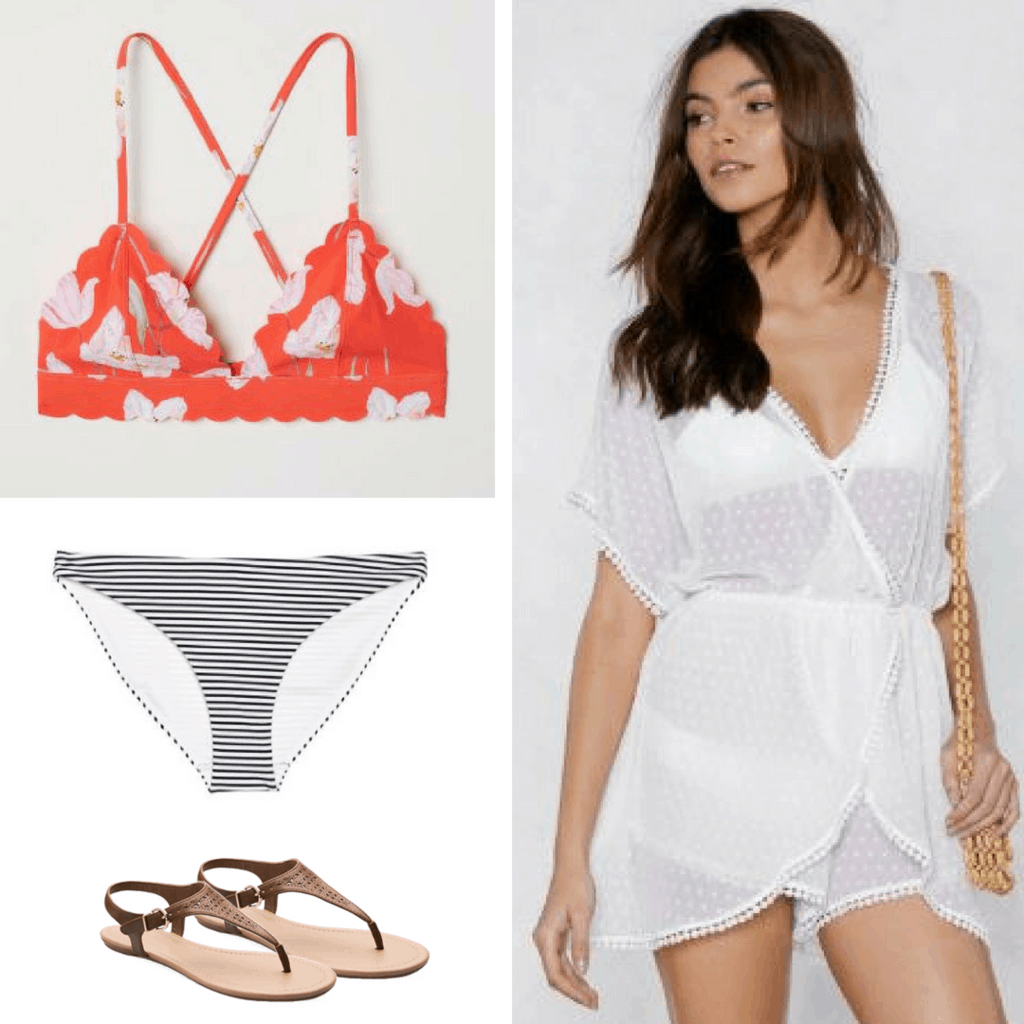 Products: Bikini Top – H&M; Bikini Bottom – H&M; Romper – Nasty Gal; Sandals – Amazon
For a bold bathing suit choice, try a bright bikini top with large floral patterns as pictured above. By keeping to complementary colors like blue and orange, these patterns mesh well together despite being vastly different.
Since the bathing suit is so interesting and bright on its own, wear a white see-through romper to cover up while still showing off your bikini.
How to Wear Florals & Stripes at Your Summer Internship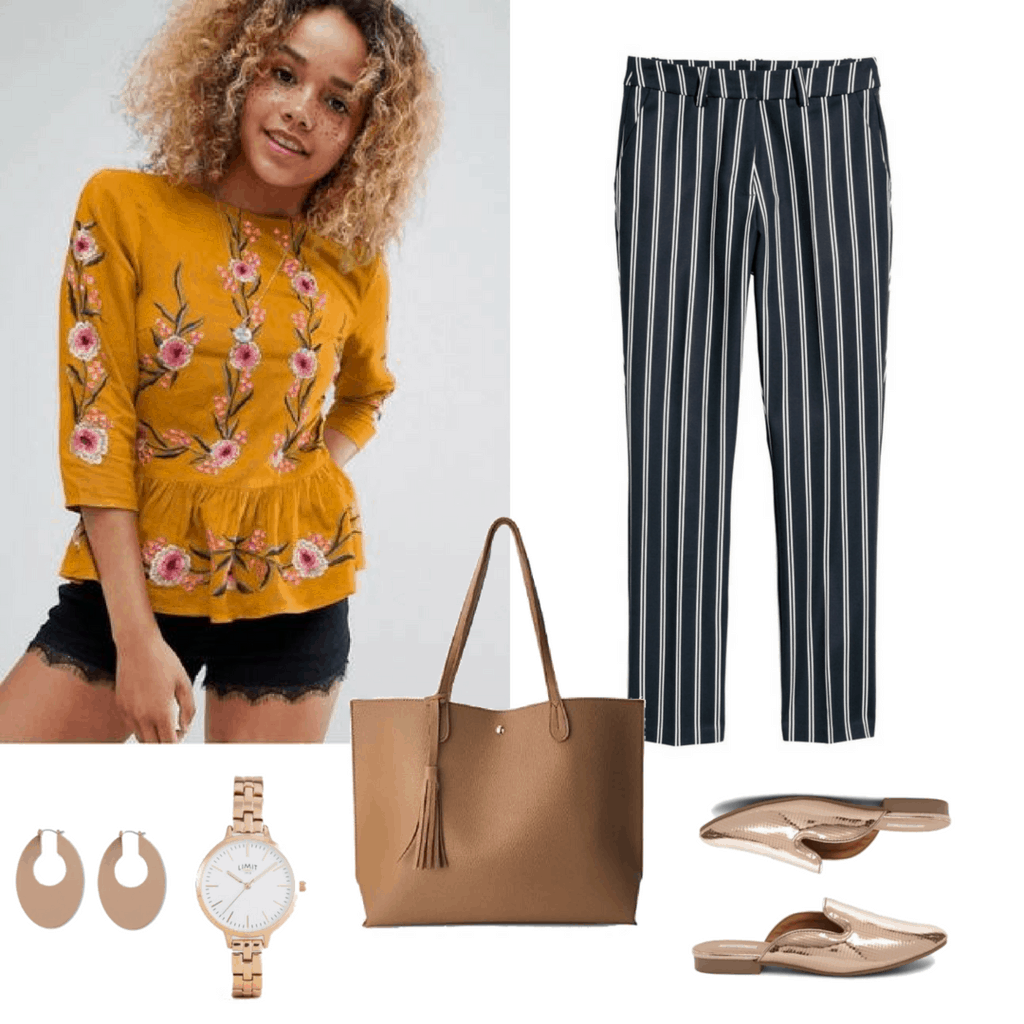 Products: Top – Asos; Pants – H&M;  Earrings – River Island; Watch – Asos; Bag – Amazon; Shoes – Forever 21
I believe if the environment allows for it, wearing mixed patterns at work is doable! My internship dress codes all been business casual (they have to be because of the 100+ degree Texas weather — nobody is wearing full business suits), leaning on the more casual side.
For the outfit above, I chose these fun vertical striped slacks that stop just above the ankle (there're also on sale for $10!) and paired them with a peplum top with an embroidered floral pattern.
Since there's already a lot going on in the outfit, stick to minimalist accessories like the versatile faux leather tote and solid rose gold mule loafers.
How to Wear Florals & Stripes at the Friday Night Art Trail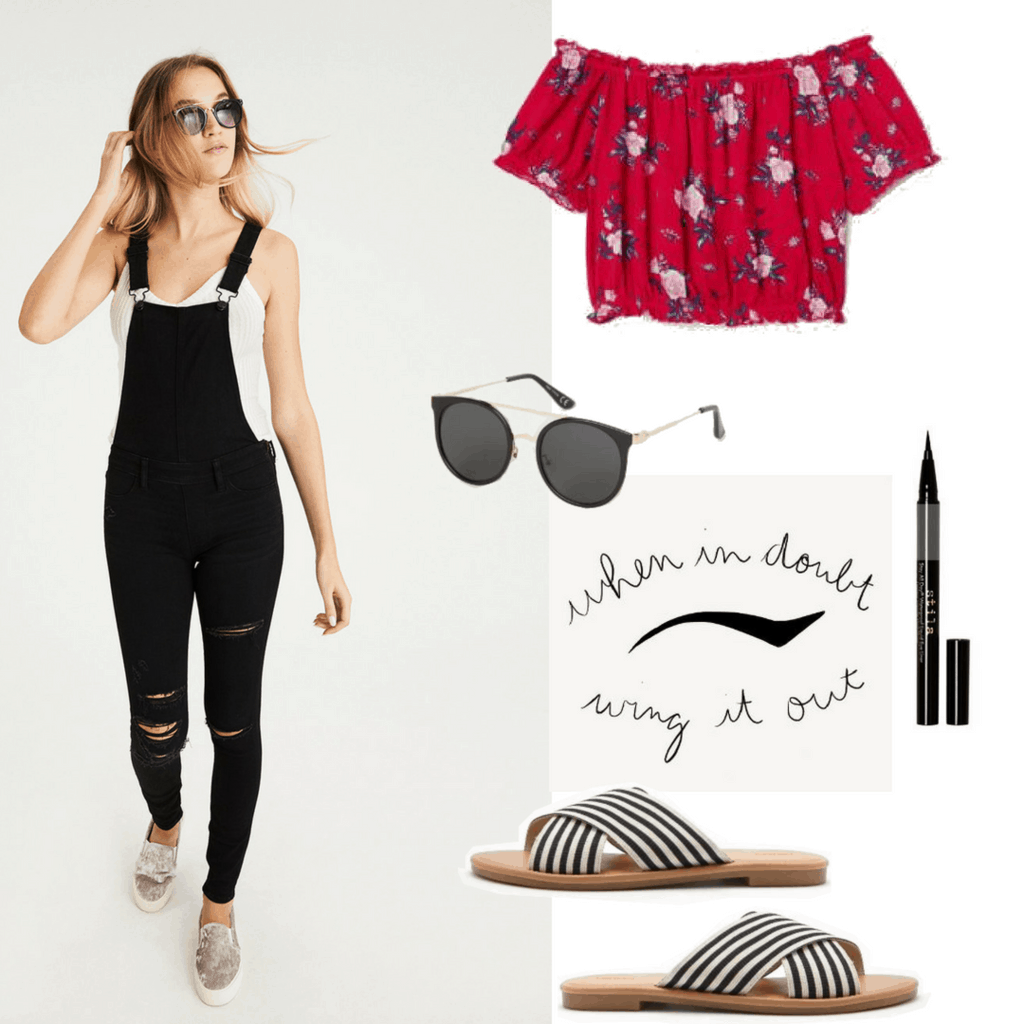 Products: Overalls – American Eagle; Top – H&M; Sunglasses – H&M; Eyeliner- Ulta; Sliders – Forever 21
One of my favorite things to do is attend the First Friday Art Trail in my small college town. During this event, on the first Friday of the month, all the local galleries in the art district open their doors to the public to show off all their latest works.
After hopping from gallery to gallery, I typically chill-lax with friends around the food trucks while sipping on agua frescas and listening to local bands. Your town might not have a First Friday Art Trail but I'd be shocked if it didn't have something similar.
These outdoor community events are the best to dress for! Everyone tends to dress up and no one holds back. I've been obsessed with overalls lately and fell in love with the grungy pair pictured above. Add a classic yet sexy floral Bardot top and striped sliders to look effortlessly cool.
What do you think?
Do you love mixing patterns? So you want to see more outfit combinations centered around mixed prints? What are your tips and tricks for combining patterns? Let us know in the comments below!