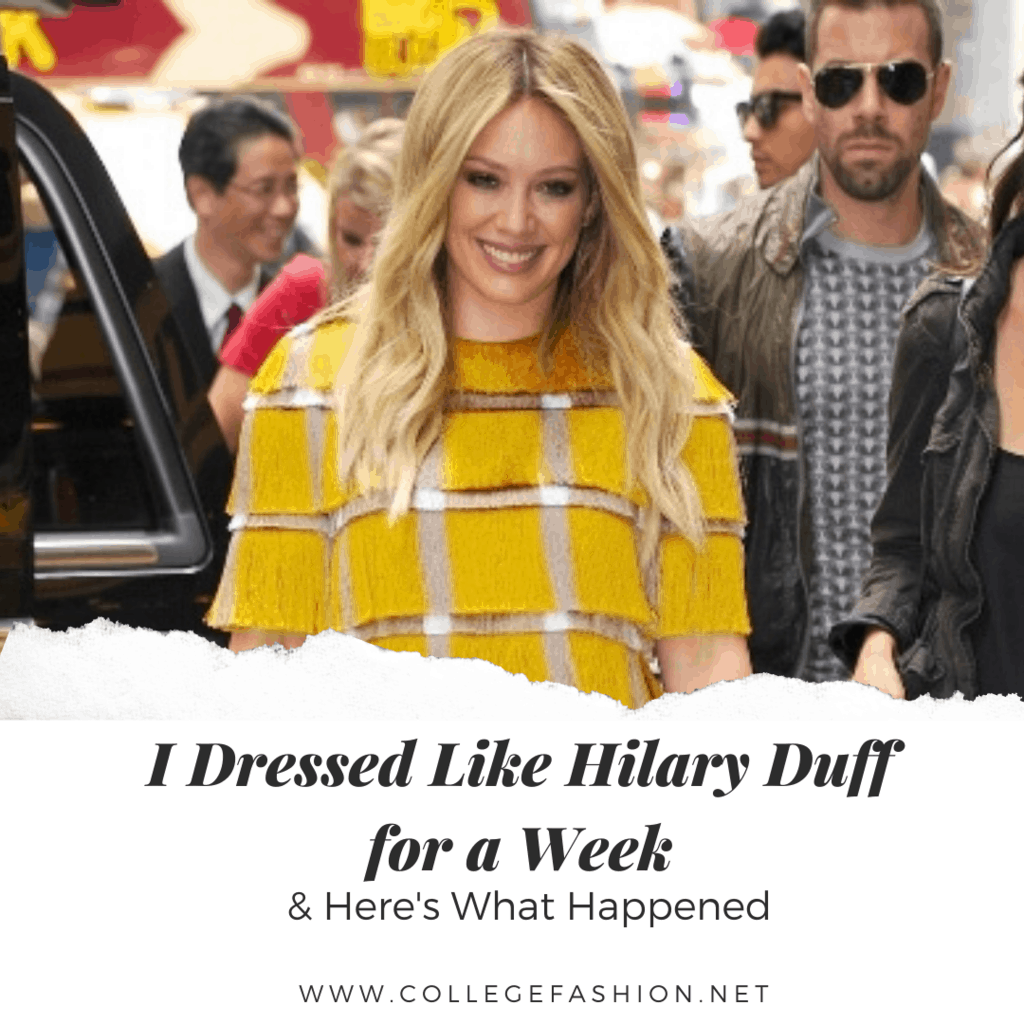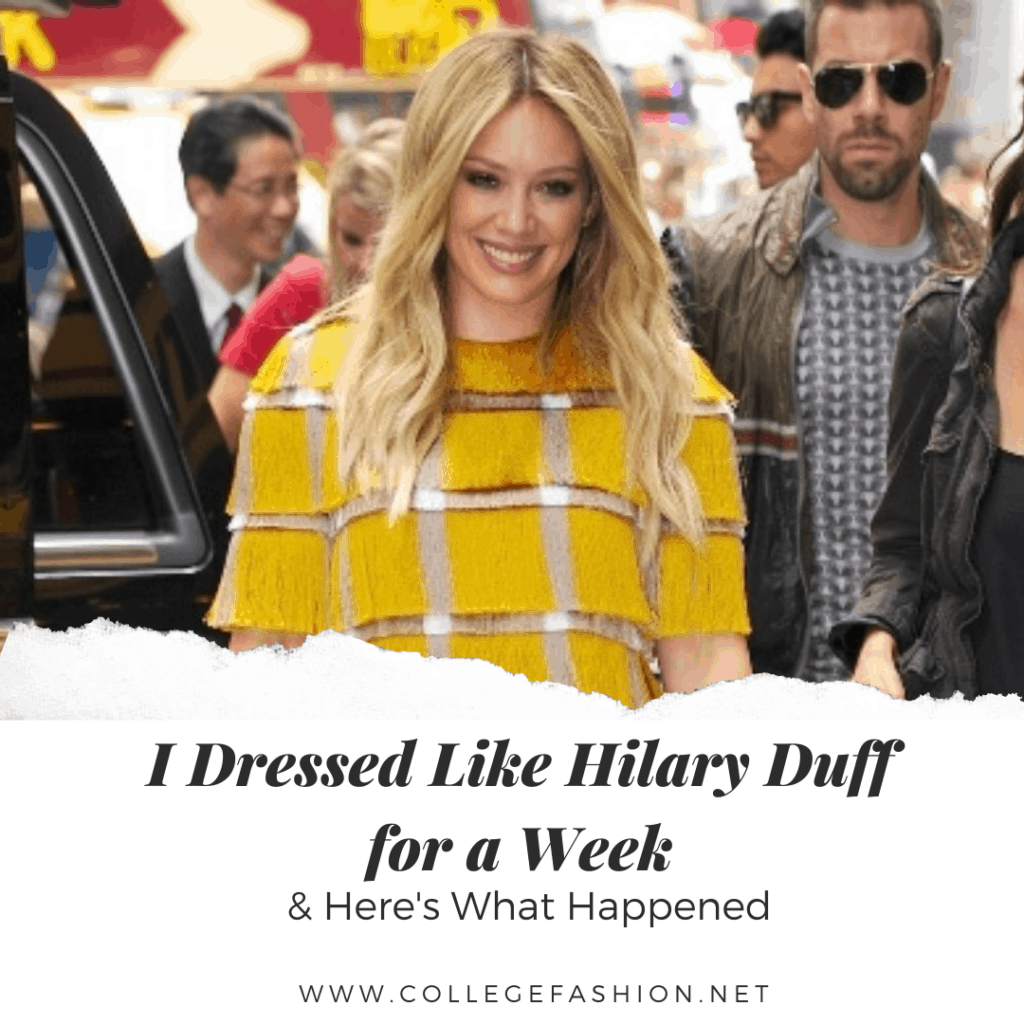 We've all looked to celebrity style for fashion inspiration at some point in our lives. But it's one thing to say "I love her outfit," and it's another to actually copy it in real life.
For this series, I'm going the extra mile and making it happen. Each week, I'm getting inspiration from a celebrity and copying five of her looks as closely as possible. Then, I'm reporting back to you: Did the outfits work in real life? Did I feel comfortable? Did people treat me differently? I'm sharing it all.
In past posts I've dressed like Zendaya, Gigi Hadid, Grace Kelly, Kendall Jenner, Vanessa Hudgens, Sophie Turner, Priyanka Chopra and Millie Bobby Brown. This week, I'm copying the style of one my OG inspirations, Hilary Duff.
Hilary Duff's Style
Hilary's style is all about chic comfort. Her closet is full of oversized sweaters and sweatshirts, t-shirts, and the coolest mom jeans, sneakers, and booties.
Hilary elevates her look with colorful and interesting pieces like coats, hats, fun sunglasses, and bags. She styles everything in a way that makes the outfit look put together.
Hilary's Style – Outfit #1: Monday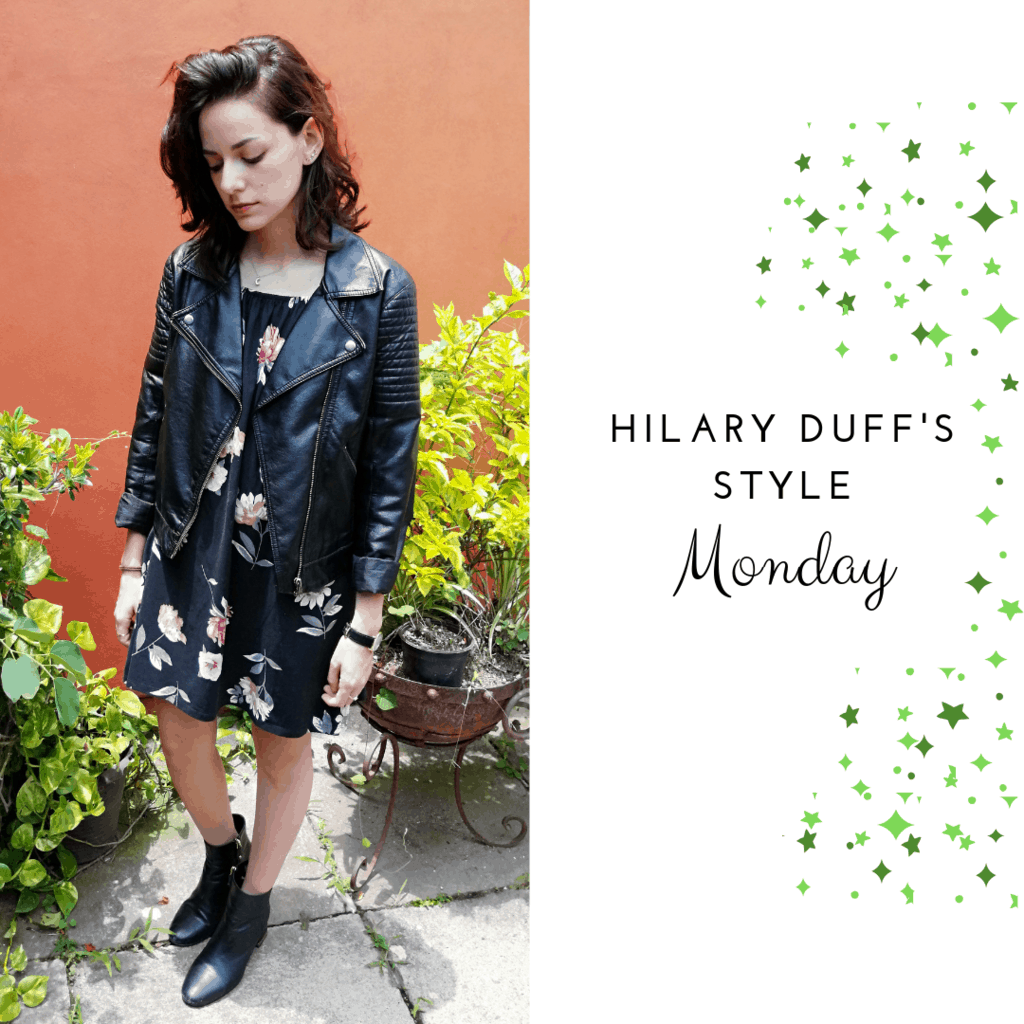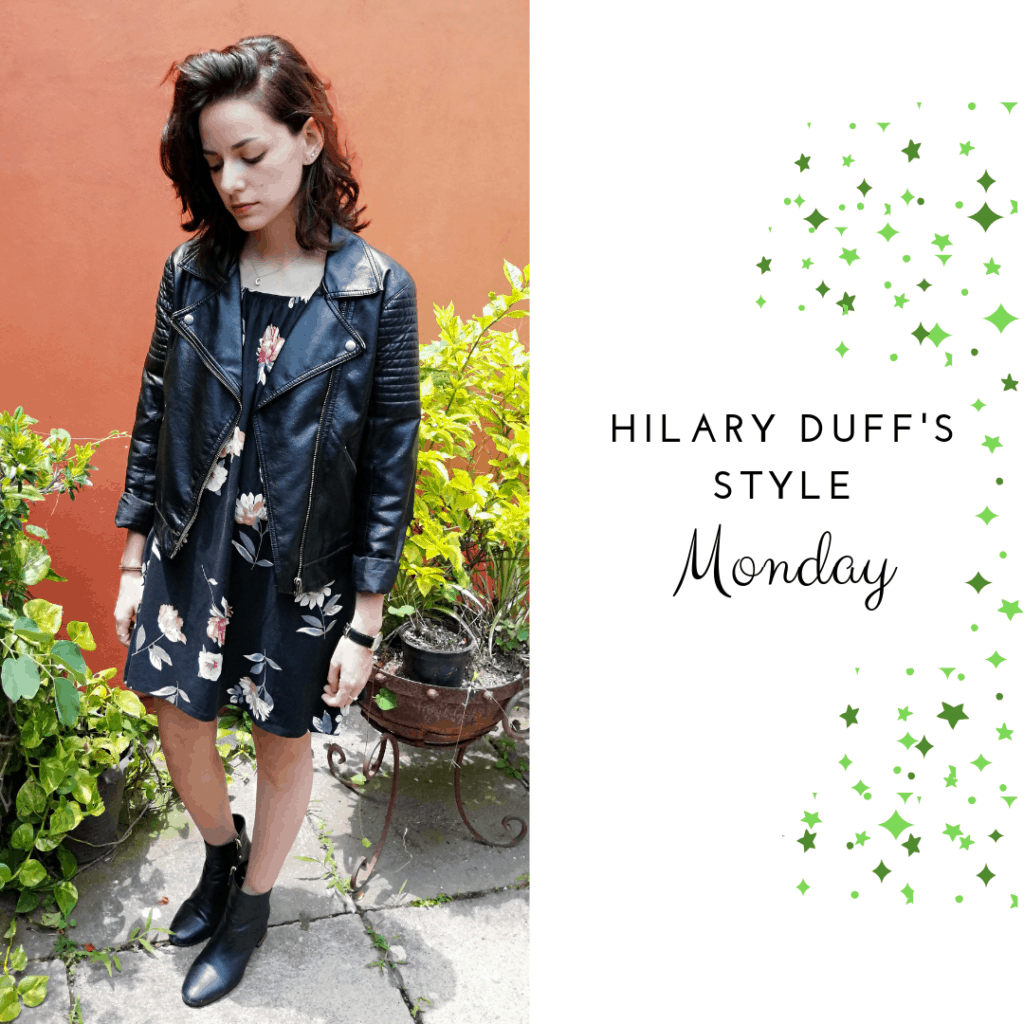 For the first day, I opted for a girly-edgy outfit. Hilary was recently spotted wearing a moto jacket and a floral dress.
For my version of this outfit, I wore a black floral dress and a black moto jacket. I accessorized with dainty gold jewelry and sunglasses. Since I couldn't figure out what type of shoes Hilary was wearing, I took the liberty of wearing a pair of black booties to complement the jacket.
I already had all of the items, though I decided not to buy a white floral dress, since I already had a perfectly usable floral dress.
This week, I took a trip to visit my family in Mexico City. It was my only free week this summer, so I wanted outfits that felt a bit different than my usual "casual-office" uniform. This outfit was the perfect way to start. I don't usually go for floral prints, but I do love this dress and it is one of my favorite pieces. This outfit is perfect for this transitioning season.
Hilary's Style – Outfit #2: Tuesday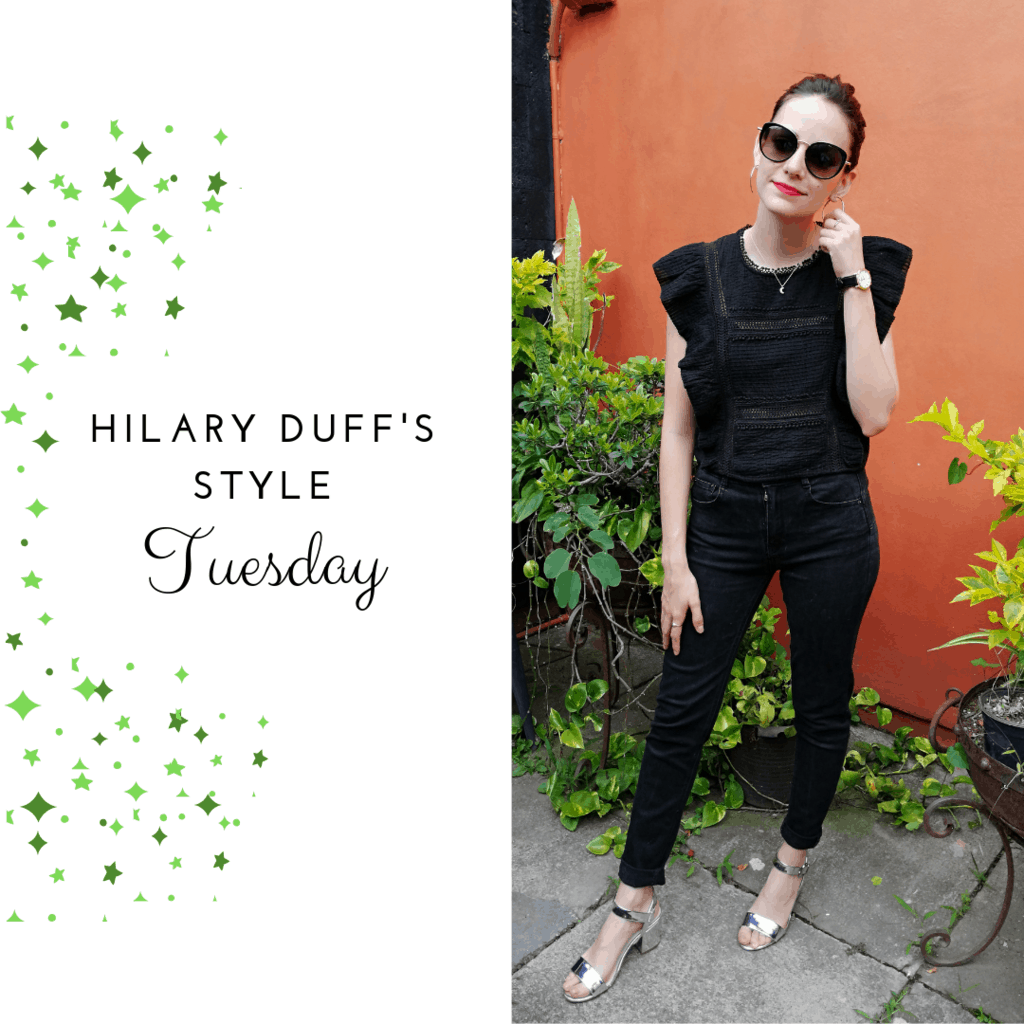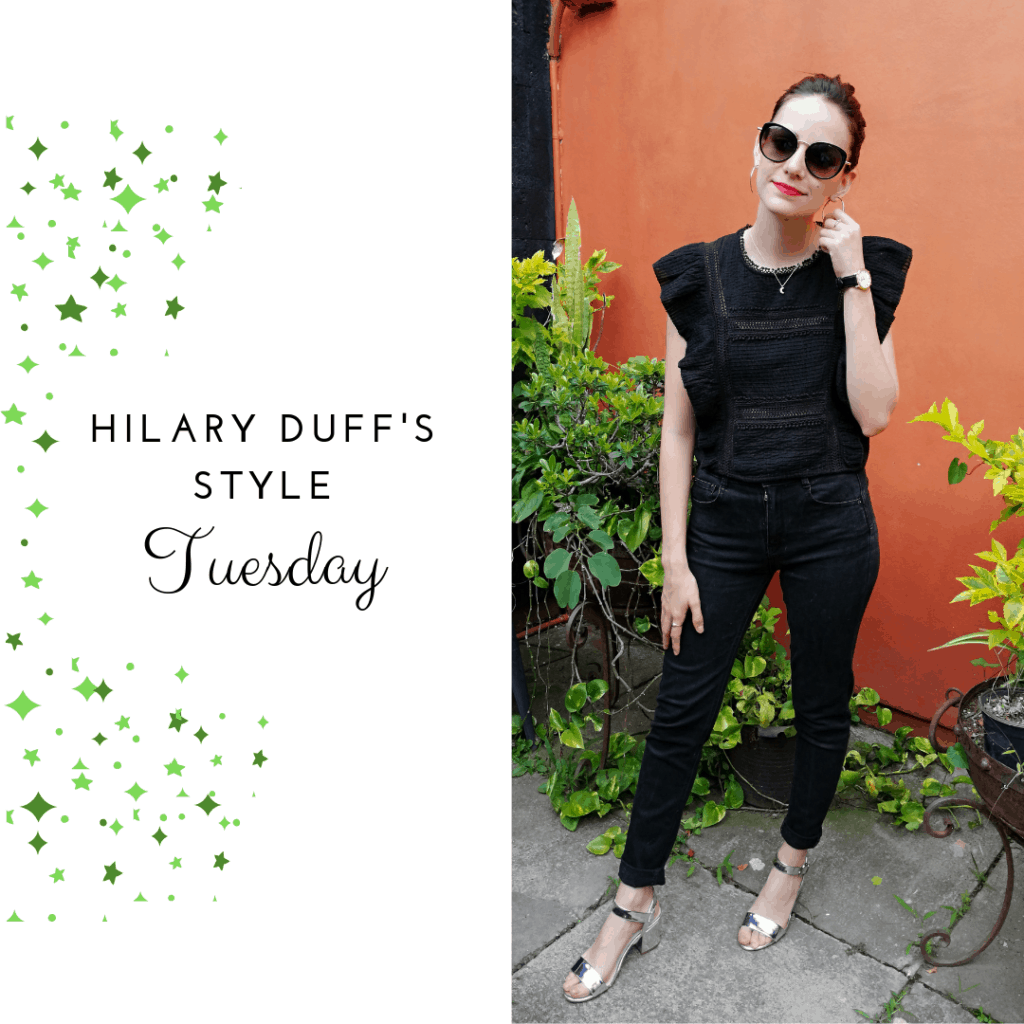 For Tuesday, I chose this sleek, monochromatic look. For her look, Hilary is wearing a black top and jeans with silver heels.
I wore a black lacy shirt and black jeans. I borrowed the shirt from my sister and I owned the jeans. I paired this with a pair of silver heels I bought for another post. I accessorized like Hilary did: hoop earrings, cross-body bag, and sunglasses. I even used a red lip because it fit with the outfit so well.
As you probably know by now, black is my go-to color. I absolutely loved this outfit.
I wouldn't have worn it with the heels if I hadn't been doing this post, but I'm glad I wore them. They took the whole outfit to a new level. It wasn't as comfortable as it would've been with maybe a pair of sneakers, but I loved the look and feel of it.
Plus, adding the red lipstick and the hoop earrings changed the whole outfit to give it extra style points. Again, I adored this look.
Hilary's Style – Outfit #3: Wednesday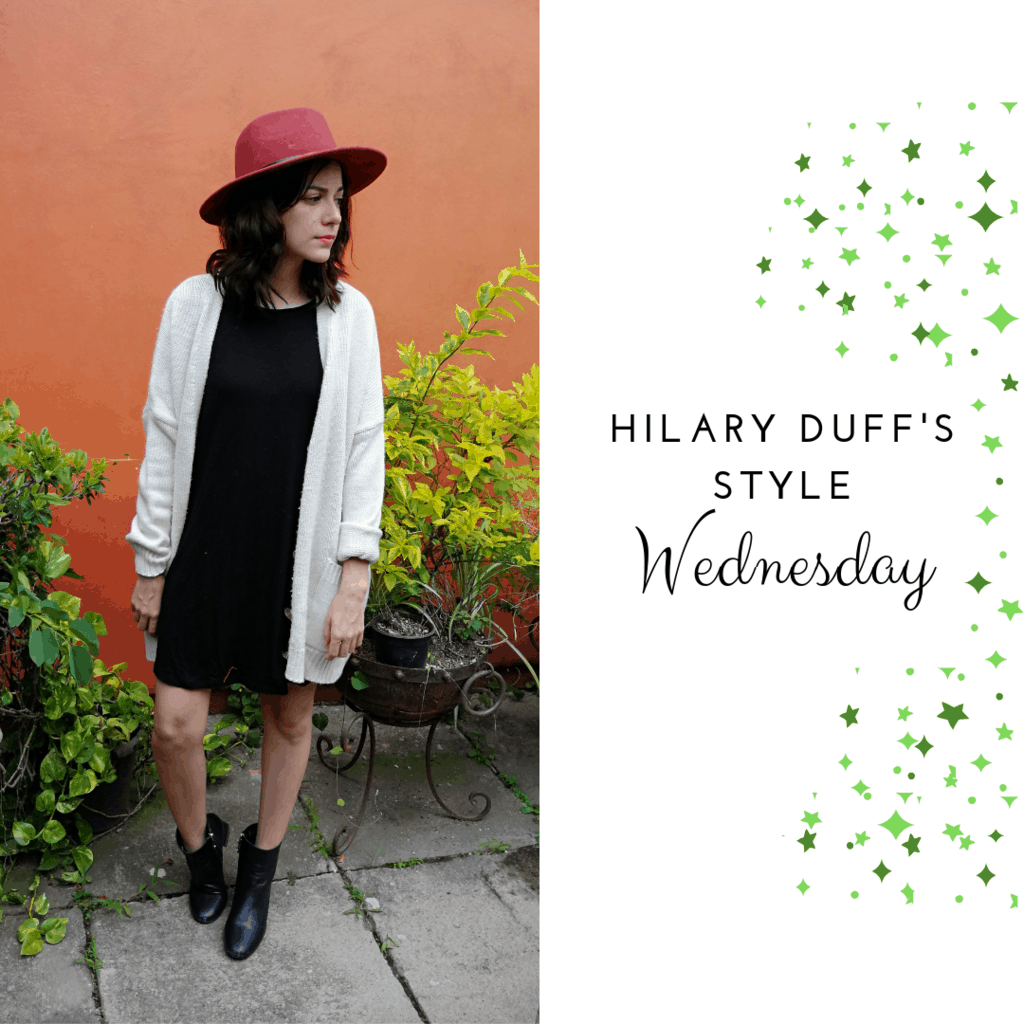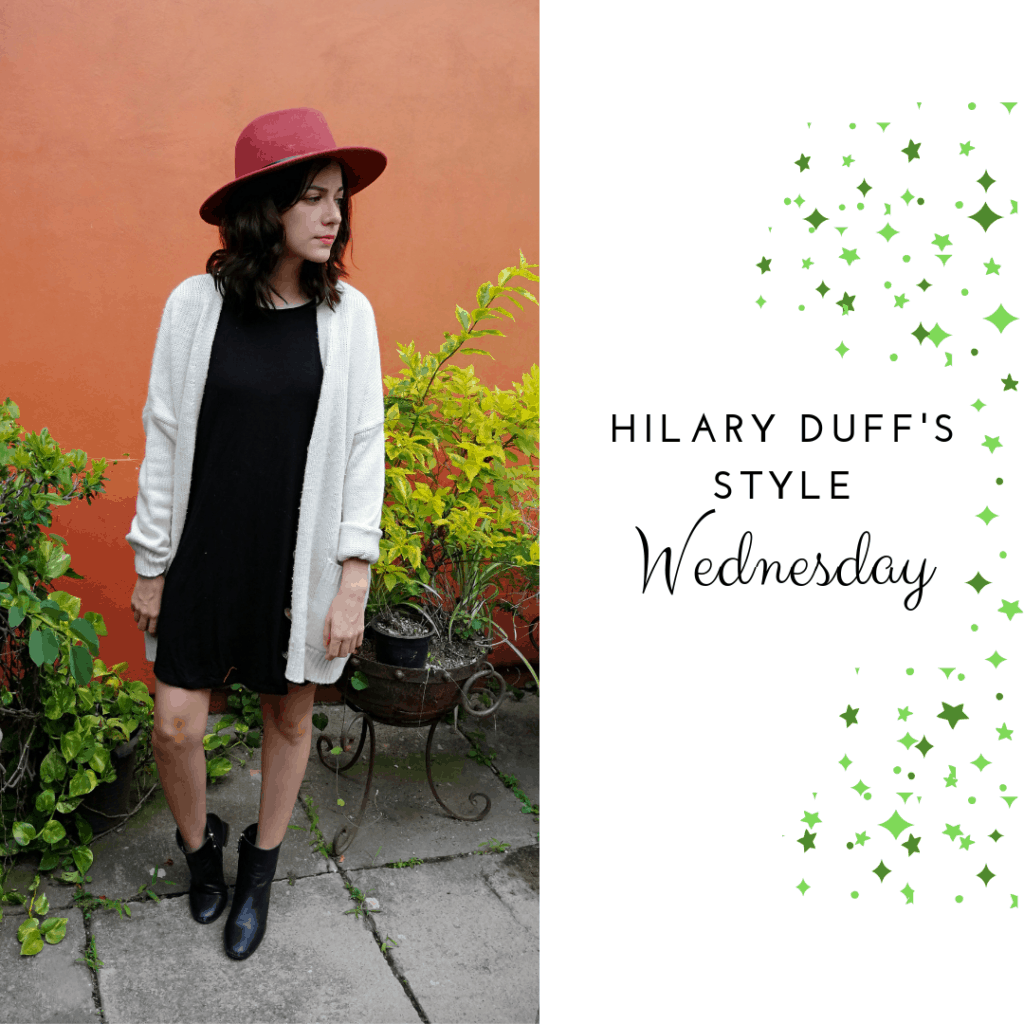 Wednesday was here and the outfit I chose was both chic and comfy. For this look (click here to see), Hilary is wearing a black dress, a cardigan, and a wide brim hat.
For my interpretation of this outfit, I wore a black dress, a long cream-colored cardigan, and a wide brim hat. I already had all of these items. Again, I couldn't find out what kind of shoes she was wearing, so I wore the same black booties from Monday. I felt the booties followed the vibe of her outfit better than sneakers or heels.
I loved this outfit. Like Monday's outfit, it was the ideal choice for this transition between summer and fall. It was both comfortable and perfect for the weather.
Like I've said before, accessorizing the right way can take the whole look to a new level and that's exactly what the hat did here. Instead of just being a basic, casual outfit, it looks modern and chic.
Hilary's Style – Outfit #4: Thursday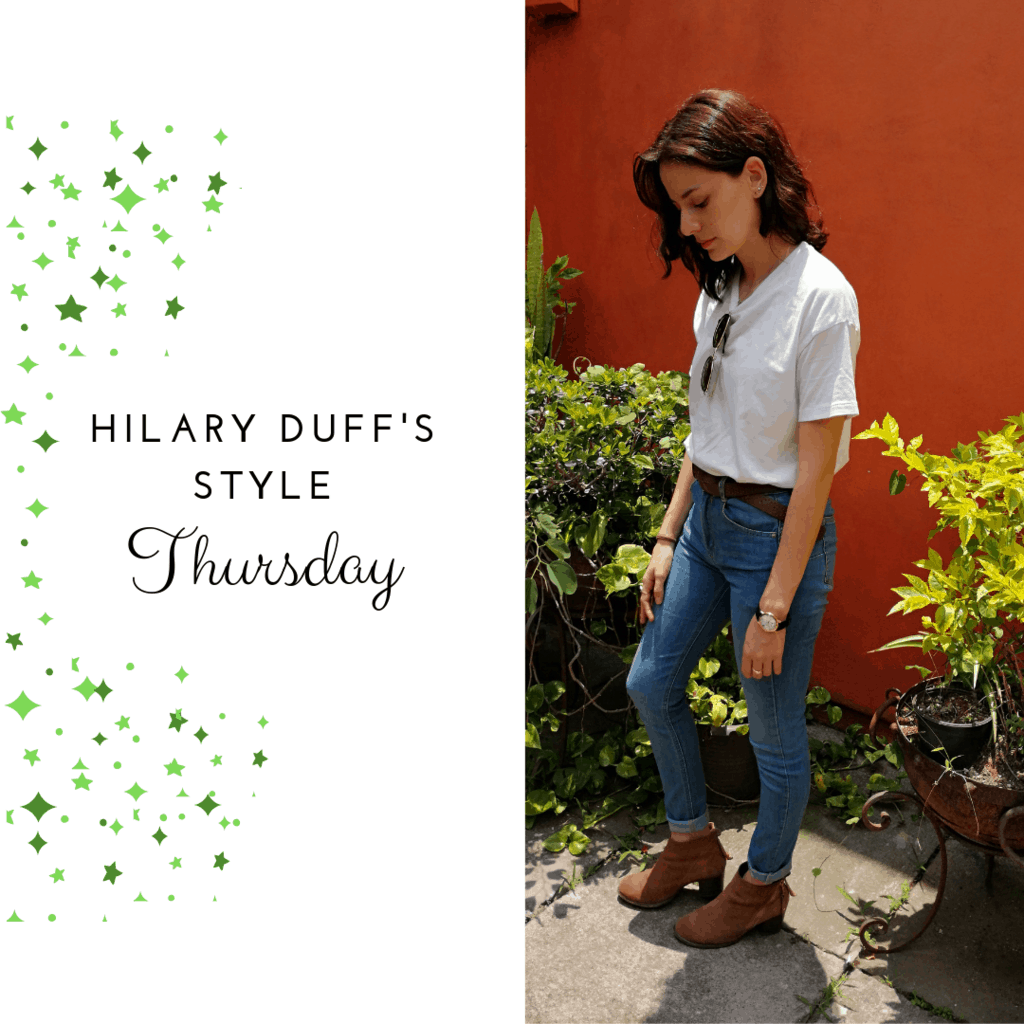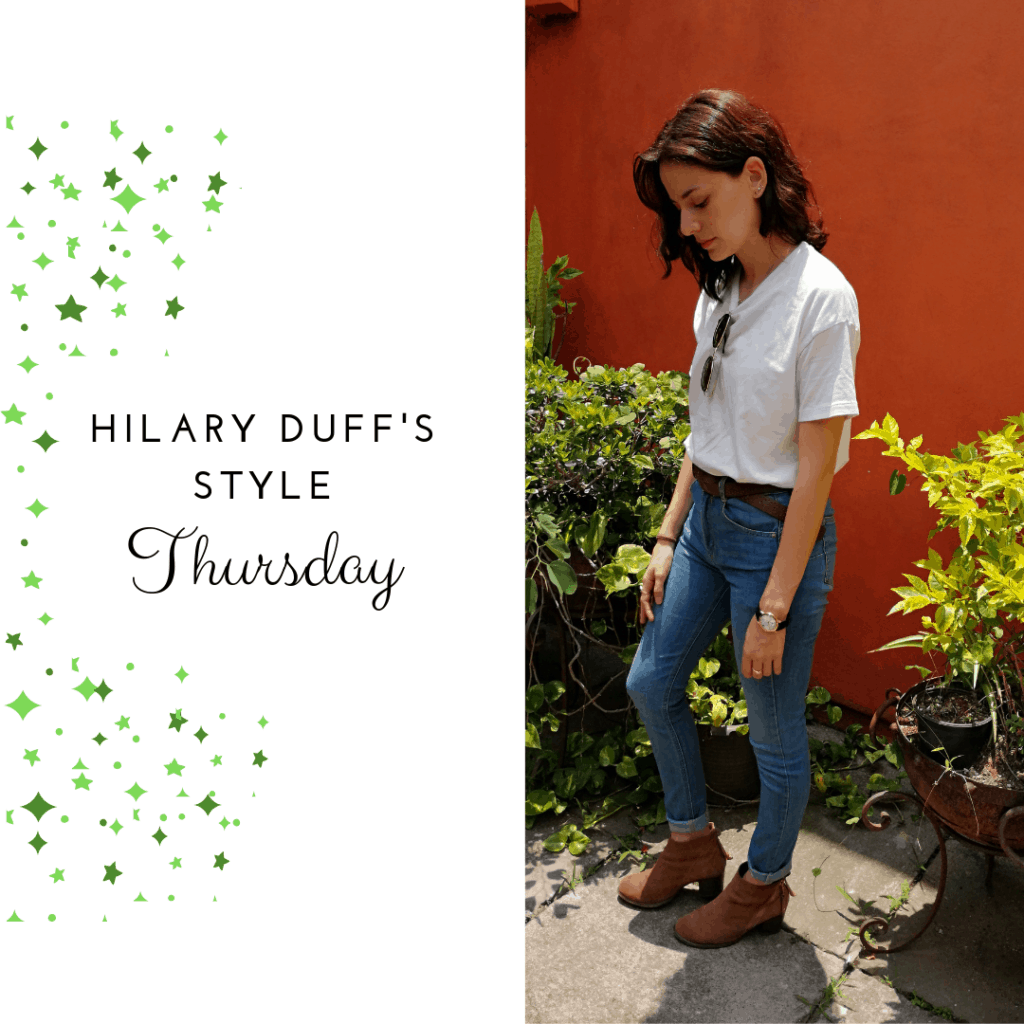 For the fourth outfit, I went for this casual look.
To copy this Hilary Duff style look, I wore an oversized off-white t-shirt and tucked it into a pair of blue jeans. I added brown suede booties and a brown belt. Since it is such a casual outfit, I already had all of the items and only borrowed the booties from my sister.
I accessorized with gold jewelry and black sunglasses. I used light makeup and I did my hair with soft waves to match the whole "not-an-office-look" vibe I wanted for this day.
Simple, basic outfits are underrated for good reason; I mean, they're just jeans and a t-shirt. But this one… I loved. I tried to wear the belt like Hilary did, just to see if that tiny detail did anything to make me feel any different with it and, honestly? It did change the look for me. I felt a bit more put together, but also incredibly comfortable.
Hilary's Style – Outfit #5: Friday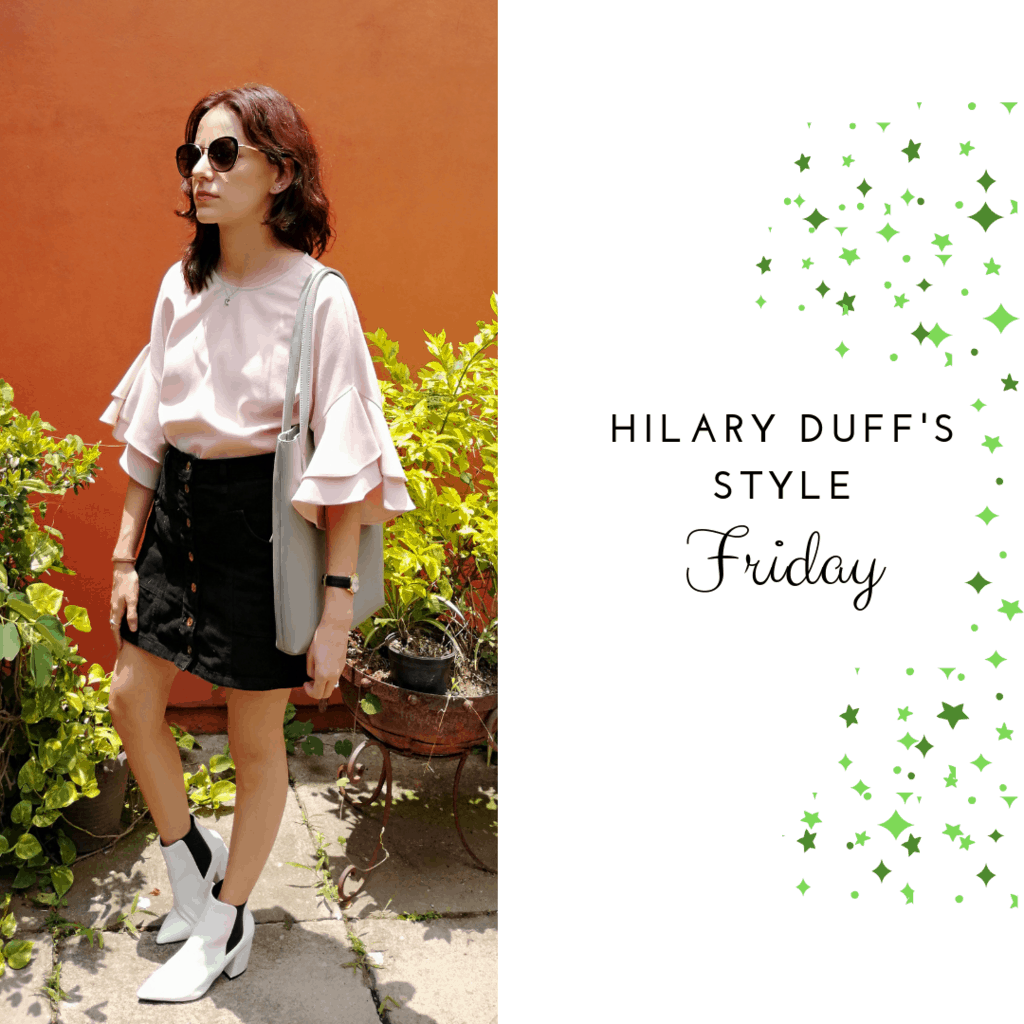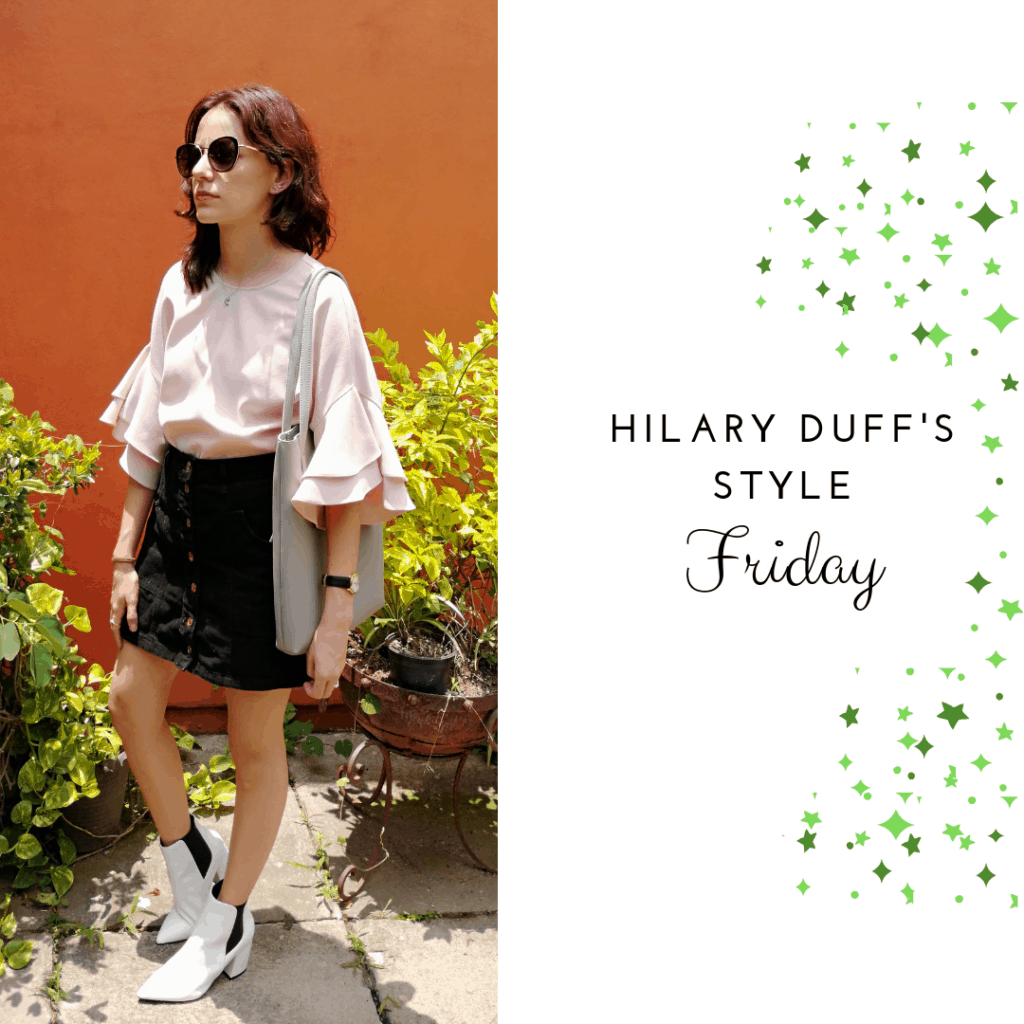 Friday was here and, as per usual, I opted for a more feminine outfit to push my boundaries. In this picture, Hilary's outfit is composed of a black skirt, a pink shirt, and white booties.
I borrowed the black denim skirt from my sister and paired it with a pink shirt I own. Then, I used my white booties and accessorized with oversized sunglasses and a grey bag. The shirt isn't a perfect match, but it was close enough for me to use.
This was a cool outfit and I would've never worn all of these items together, but I didn't love it. It was comfortable but I felt like it was missing something, so I threw a black suede jacket on to see if maybe that was it. It did help, because it added more texture and contrast to the look.
Hilary's Style – Outfit #6: Saturday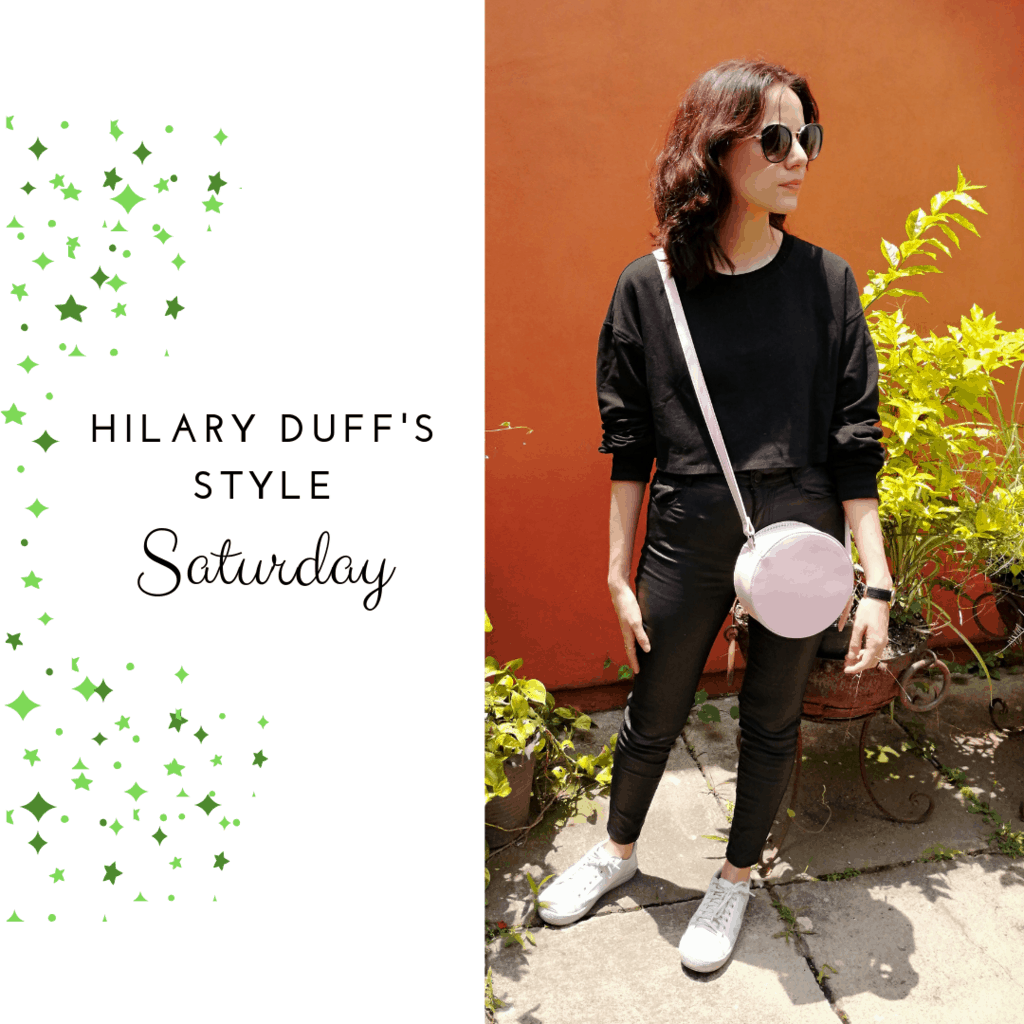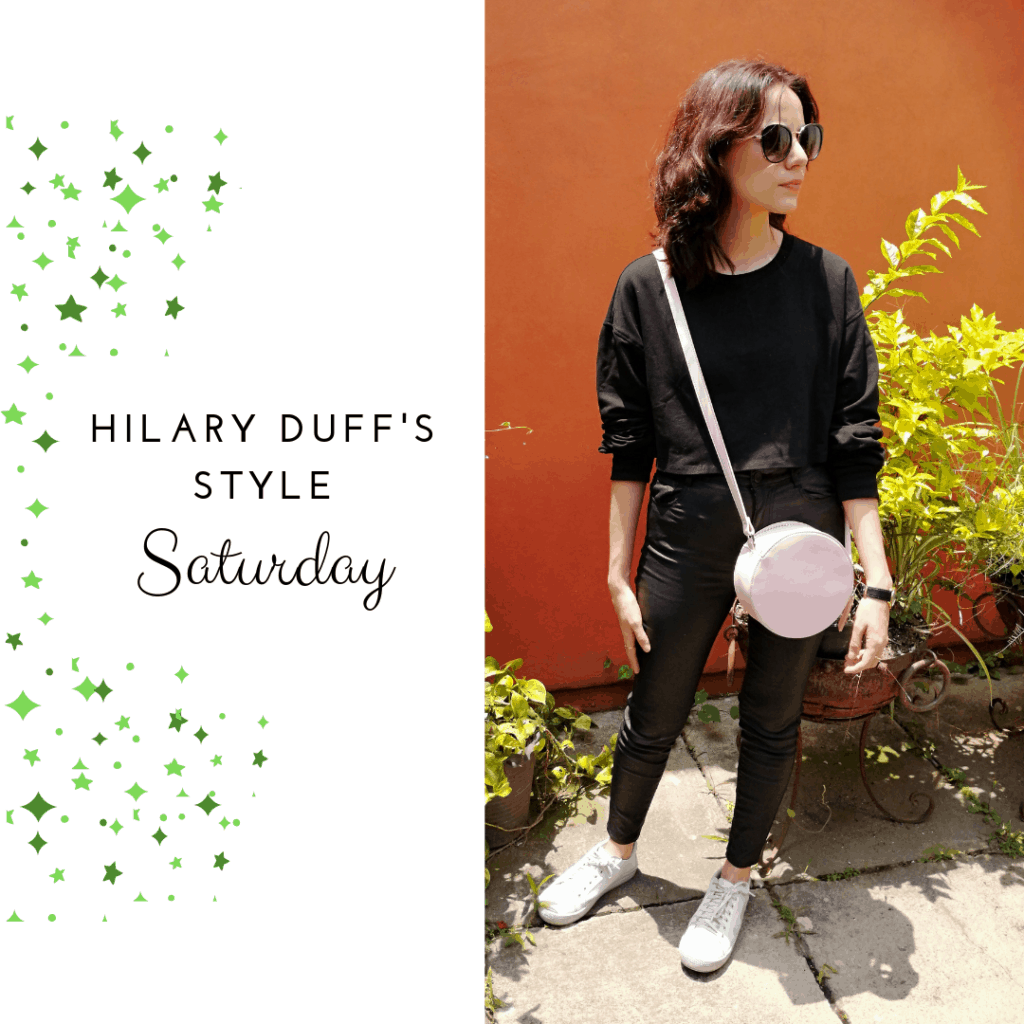 Surprise! This time, I did two extra days of inspiration and included my weekend outfits.
For Saturday, I chose another monochromatic outfit. In the pic, Hilary is wearing an all-black outfit, namely a black top and jeans, with white sneakers and a pink bag.
To copy this Hilary Duff style, I paired a black sweatshirt and black coated jeans together. Then, I wore a pair of white sneakers and a baby pink round cross-body bag. If I'm being 100% honest, I chose this outfit explicitly for the bag: I had bought one just like that a few weeks before I started this post and when I saw this I just had to use it. Basically, I owned everything by pure luck.
I loved how comfortable this outfit was. I decided to wear coated jeans instead of my usual black jeans, to give the outfit a bit of texture and dimension, but the outfit looks cool either way.
My go-to bag is a black cross-body bag, but lately I've been trying to incorporate more color and spice into my look by using bolder accessories. What I have loved the most about this series, is that it has allowed me to wear things I already have or recently bought that I'm not quite sure how to style and the pink bag is the perfect example of this.
Hilary's Style – Outfit #7: Sunday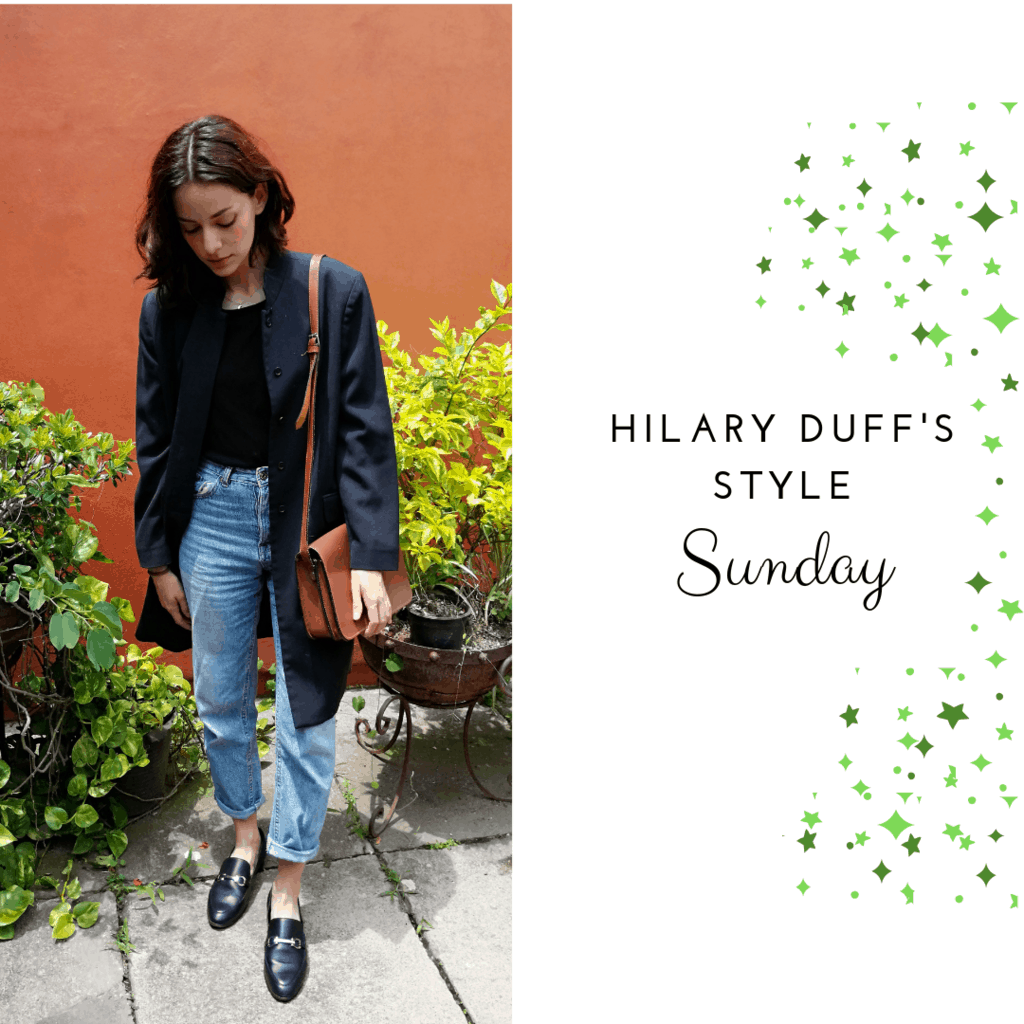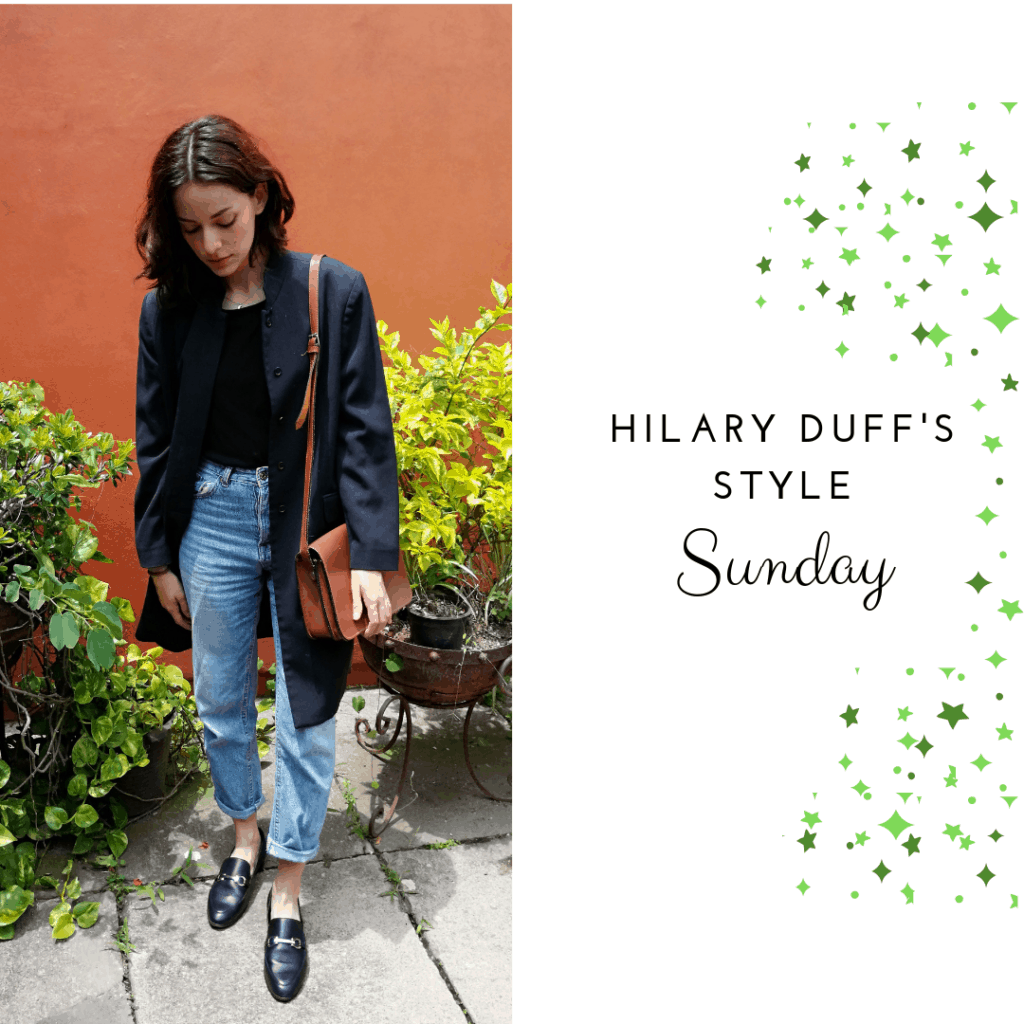 Finally, I chose this preppy, cool outfit for Sunday. In her look, Hilary is wearing a black coat and top, blue jeans, and loafers.
For this look, I already had all the items necessary. I used a black sweater and blue jeans. I wore a navy blue coat instead of a black one, because it matched hers better in style and length. I borrowed the black loafers from my sister.
This wasn't the most daring outfit in the world, but it was perfect for a chill Sunday. On Sundays I don't usually put much effort onto my look, unless I have a brunch or a special event to go to. This outfit was the perfect match between being comfortable and still looking put together. It doesn't have much color, but I recently bought a green hat that would go perfectly with this outfit and could give it a bit more pop.
Final Thoughts
This was a great week and, since I had to travel, having the outfits planned ahead of time helped a lot, especially knowing what to pack for my trip and what to leave home. Thankfully, this week I succeeded on my goal of not shopping and I had all the items I needed already.
My sister and I were big Lizzie McGuire fans growing up and we loved Hilary's movies, so I don't know why it took me so long to use her as an inspiration. I mean, I've been using her characters as inspiration since I was a little girl. I guess what I'm saying here is: don't be afraid to look way back into your style history. Maybe there are characters, celebrities or items you dared to use as a child that could inspire your adult self again.
While I was looking for outfits, I realized Hilary usually has basic items and she gives them a little twist using accessories and styling them in different ways. Jeans and sweaters seem to be her favorite items. Her style is incredibly easy to recreate, if you pay more attention to the styling than copying the exact items.
I definitely recommend you take inspiration from Hilary Duff if you like her vibe; her looks are comfortable, easy, and put together. Plus, I guarantee you already have most of the items in your closet.
What do you think?
Do you like Hilary Duff's style? Which outfit would you wear? Who do you think I should take inspiration from next?