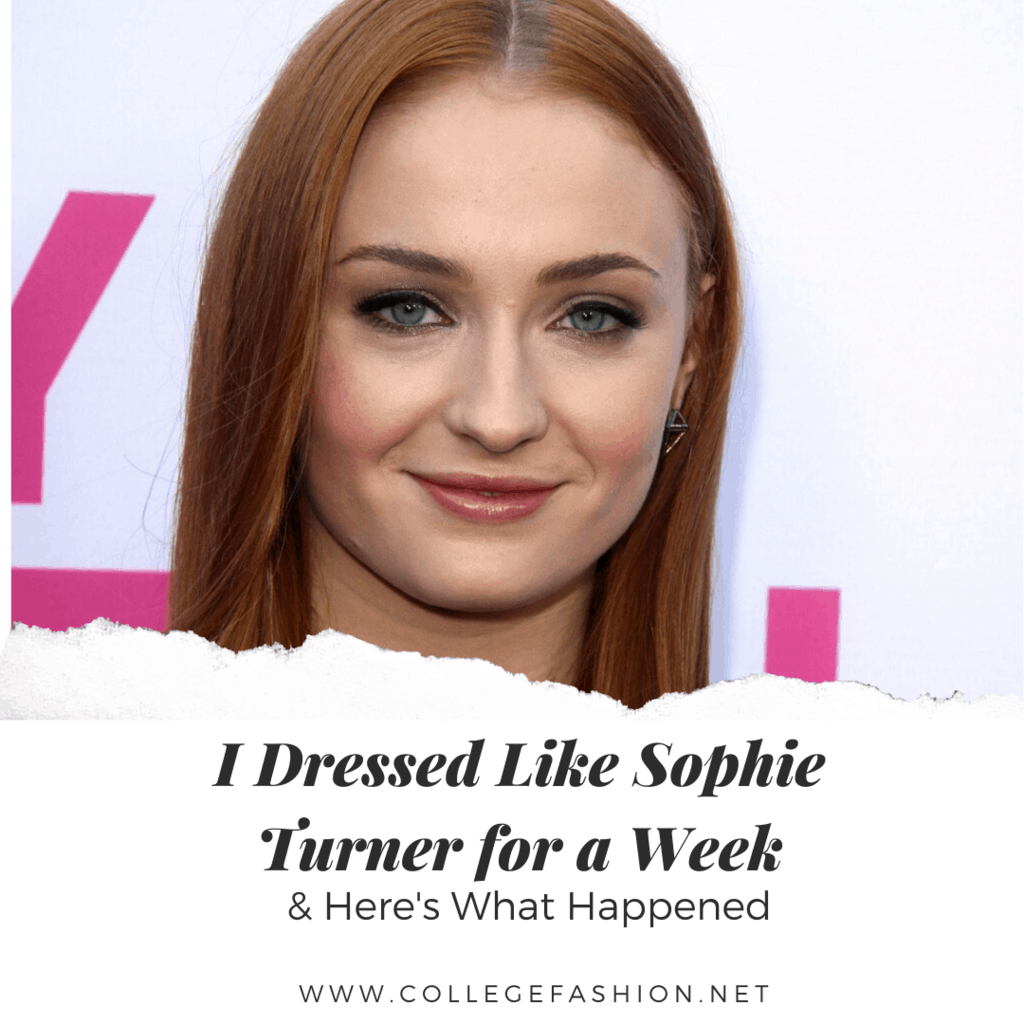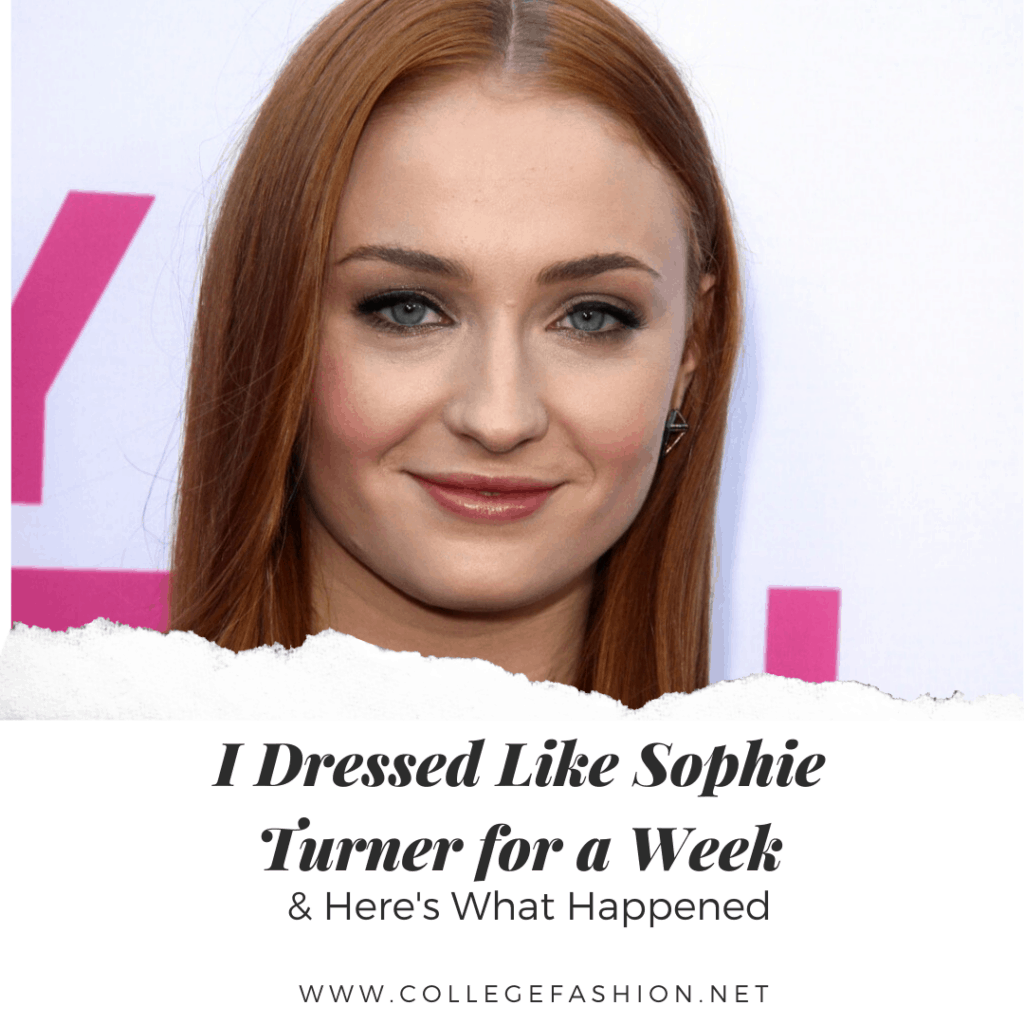 We've all looked to celebrity style for fashion inspiration at some point in our lives. But it's one thing to say "I love her outfit," and it's another to actually copy it in real life.
For this series, I'm going the extra mile and making it happen. Each week, I'm getting inspiration from a celebrity and copying five of her looks as closely as possible. Then, I'm reporting back to you: Did the outfits work in real life? Did I feel comfortable? Did people treat me differently? I'm sharing it all.
In past posts I've dressed like Zendaya, Gigi Hadid, Grace Kelly, Kendall Jenner and Vanessa Hudgens. Today, I'm channeling one of our favorites here at CF, the stunning Sophie Turner.
Sophie Turner's Style
Sophie Turner has a casual, comfortable style with a very edgy vibe. She usually gravitates towards jeans, denim shorts, crop tops, t-shirts and sneakers. She caps off her style with edgy accessories like sunglasses in bright colors, statement jackets, baseball caps, and menswear-inspired pieces.
Sophie Turner's Style: Outfit #1 – Monday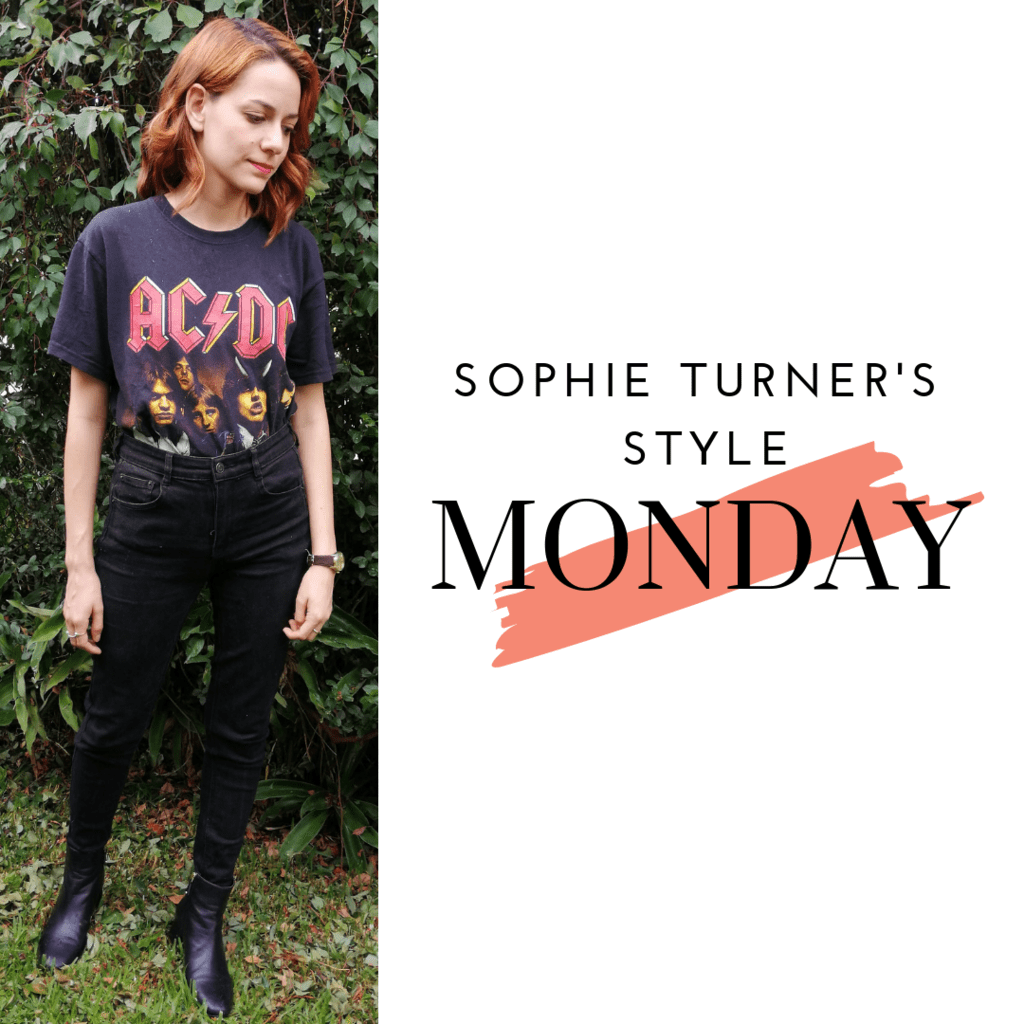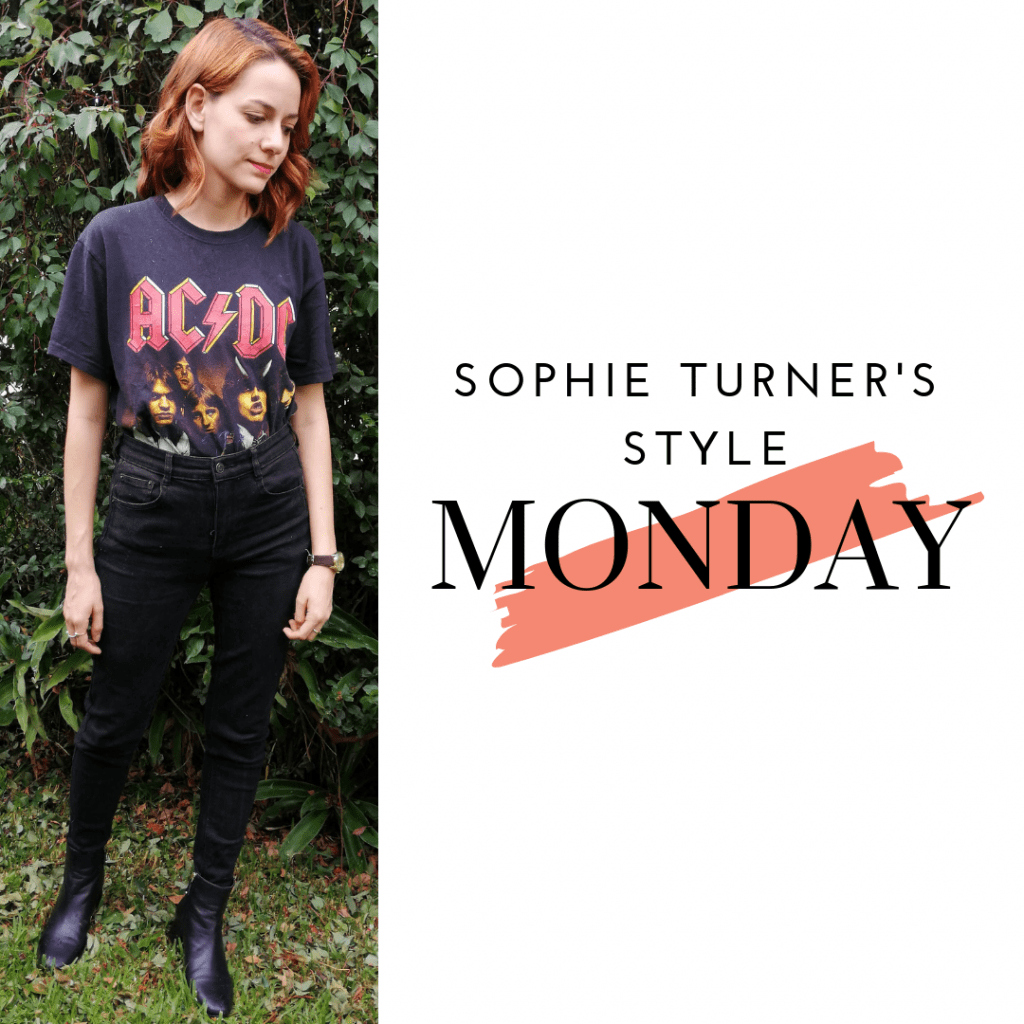 I started the week with this monochromatic ensemble. Above, she's wearing black high waisted jeans, a black graphic t-shirt, and black ankle boots.
This outfit is something that is 100% my personal style, so everything I'm wearing was already mine, except the t-shirt that used to be my brother's. Since it's so close to my style, I styled it exactly like Sophie did. Instead of cuffing my jeans like I normally would, I tucked them into the boots and I didn't wear a belt.
I loved this outfit. It was comfortable, edgy, and put together. The key to making this outfit "Sophie" instead of "me" was focusing on the little details, like the way I tucked the jeans instead of cuffing them. If this was my own style, I would've worn different boots or replaced them with sneakers.
The best part about this outfit was that I felt incredibly comfortable in it. I've been doing this series for over a month and I needed something that felt more like "me" for a day. This was perfect.
I would wear this outfit again exactly like this but maybe on a night out instead of the office.
Sophie Turner's Style: Outfit #2 – Tuesday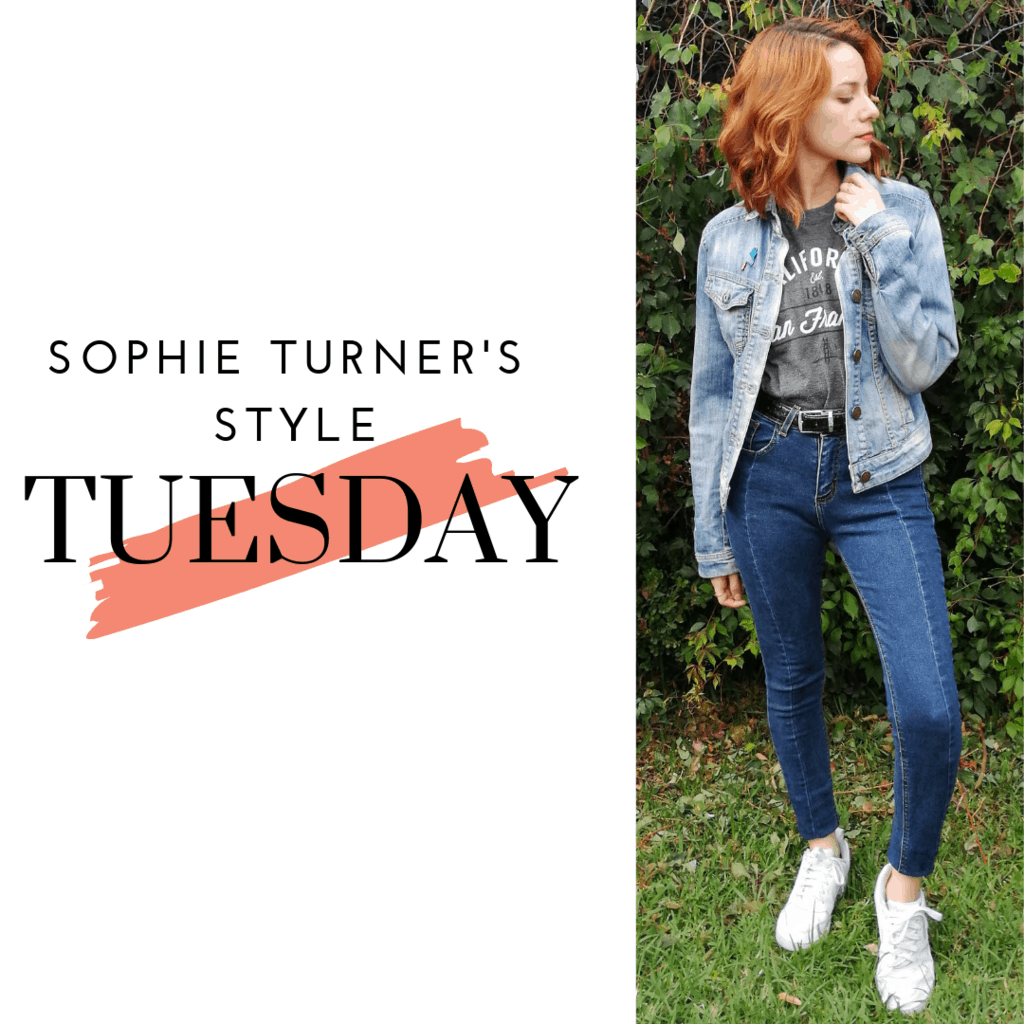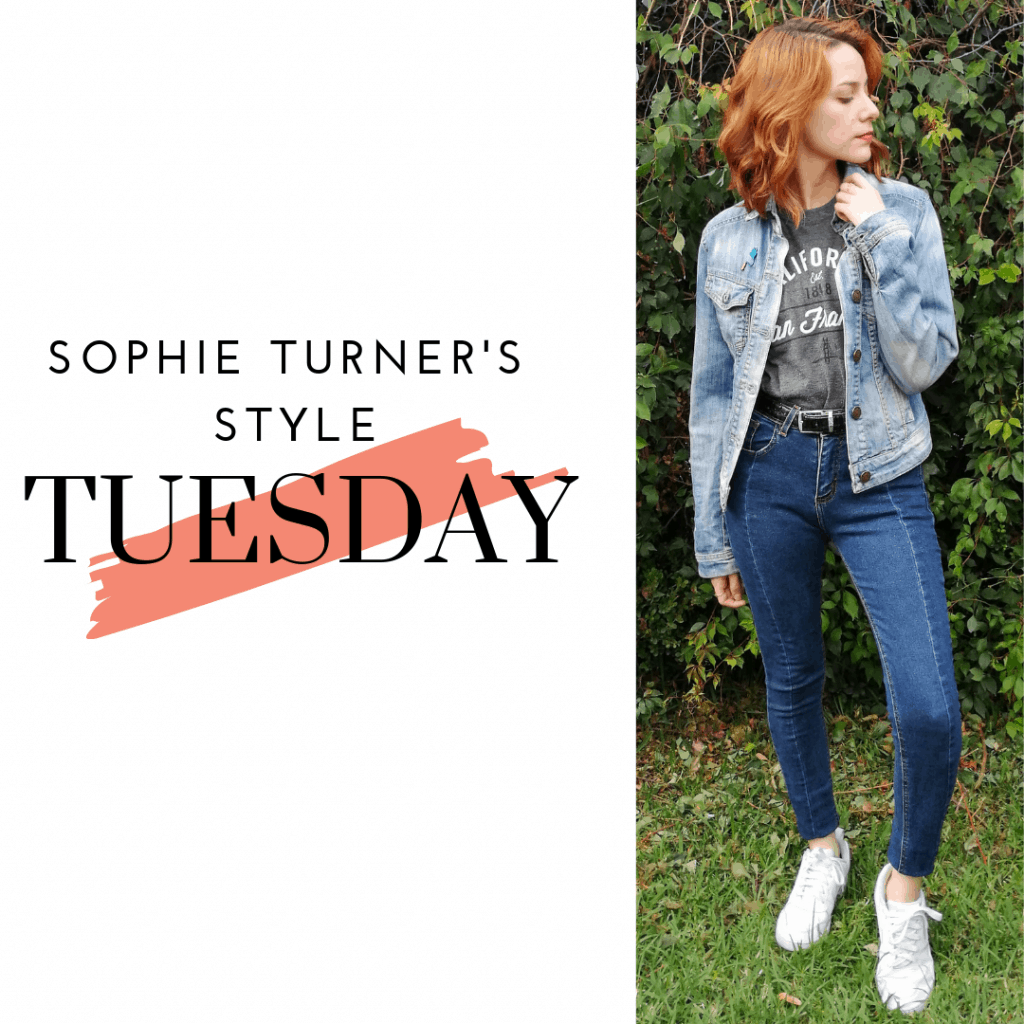 For the second day, I recreated this casual, denim outfit. In the picture, Sophie is wearing blue jeans, a denim jacket, a dark grey t-shirt, a black belt, and white sneakers.
To recreate this outfit, I wore jeans, sneakers, and a belt from my own closet. The t-shirt and the jacket I borrowed from my sister. (I do have an oversized denim jacket, but it has shearling and it's too thick for summer, so I had to borrow a lighter-weight one.)
Even though this has been the most casual, easy outfit I have worn since I started this series, I don't usually wear this much denim in the same color scheme all at once. I liked it, but I felt a bit more like my sister than myself. I will say it was comfortable to wear for sitting the whole morning in the office and running errands in the afternoon.
Sophie Turner's Style: Outfit #3 – Wednesday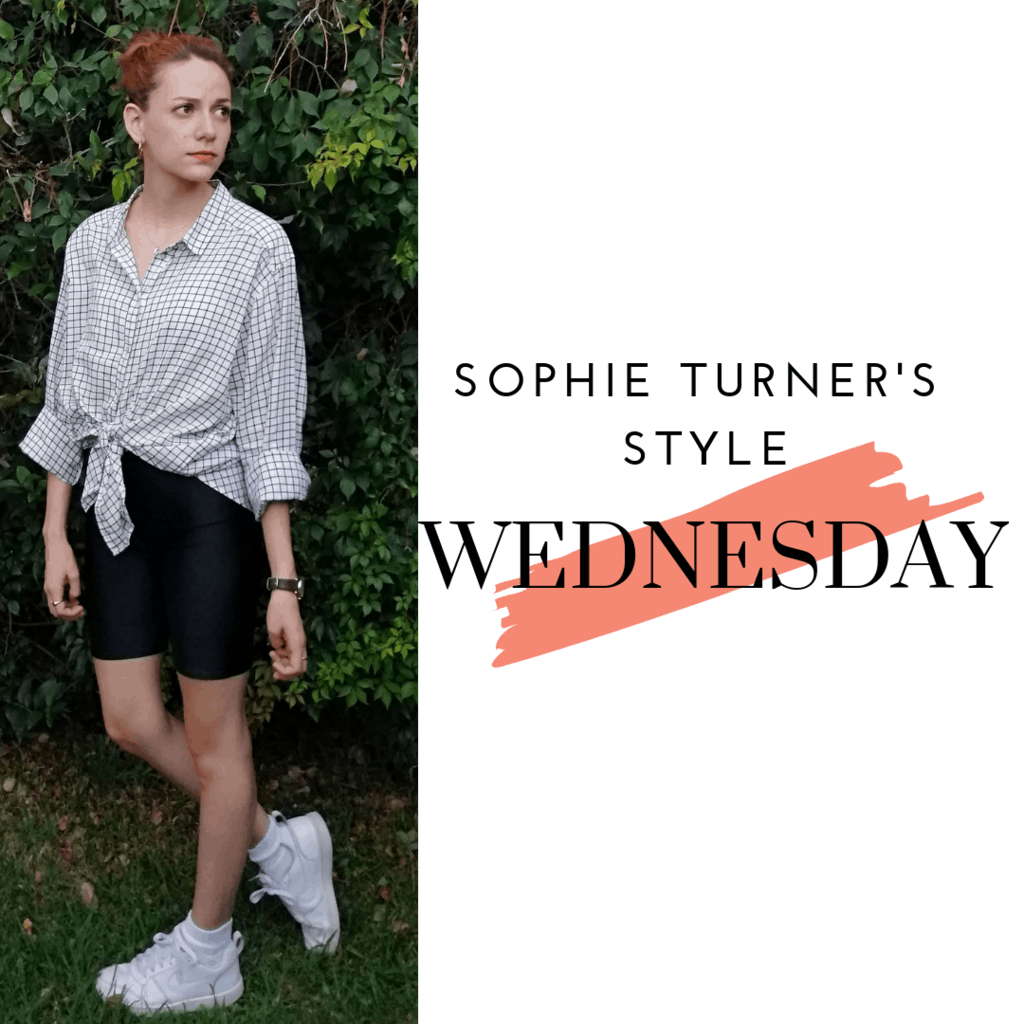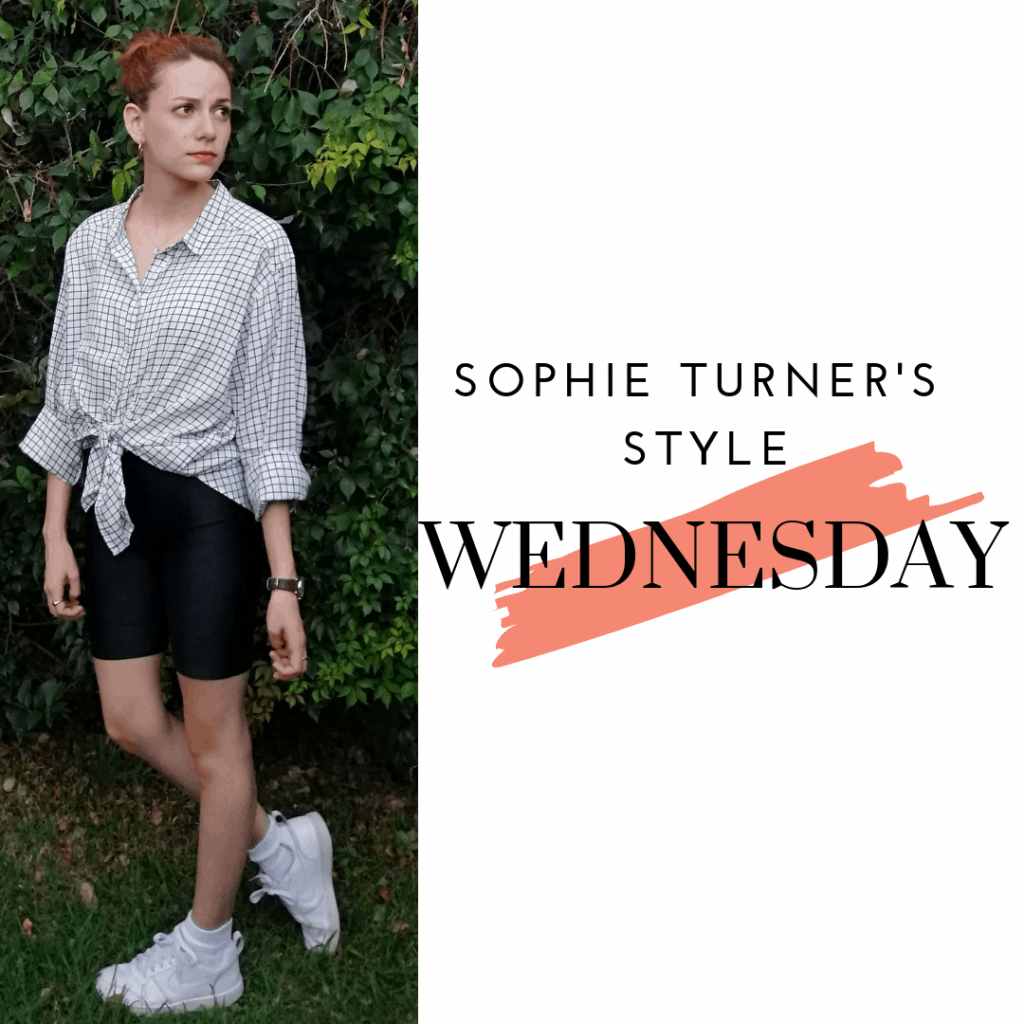 On Wednesday, I chose this athleisure-style, trendy outfit. Sophie is wearing bike shorts, an oversized shirt, white sneakers, white socks and hoop earrings.
Since the shorts are the trendiest part of the outfit (and not a trend I've tried before), I had to buy a pair of bike shorts for this. I lucked out in that the one oversized oxford shirt I own looks a lot like Sophie's. I did my hair like her and accessorized with hoop earrings and white socks.
Like I said, I have never gotten into the bike shorts trend. But this outfit changed my mind. I decided I would wear this on Wednesday because I don't go to the office and if I didn't like the shorts, I would just wear them around the house and maybe to run some errands. I ended up loving this outfit. It was comfortable, but it didn't look like a "gym outfit" the way I expected it to. It was an ensemble that looked cool and made me feel cool, too! I didn't just wear it inside my house, I ran some errands and then I went to have dinner. And it was perfect for the weather too!
Sophie Turner's Style: Outfit #4 – Thursday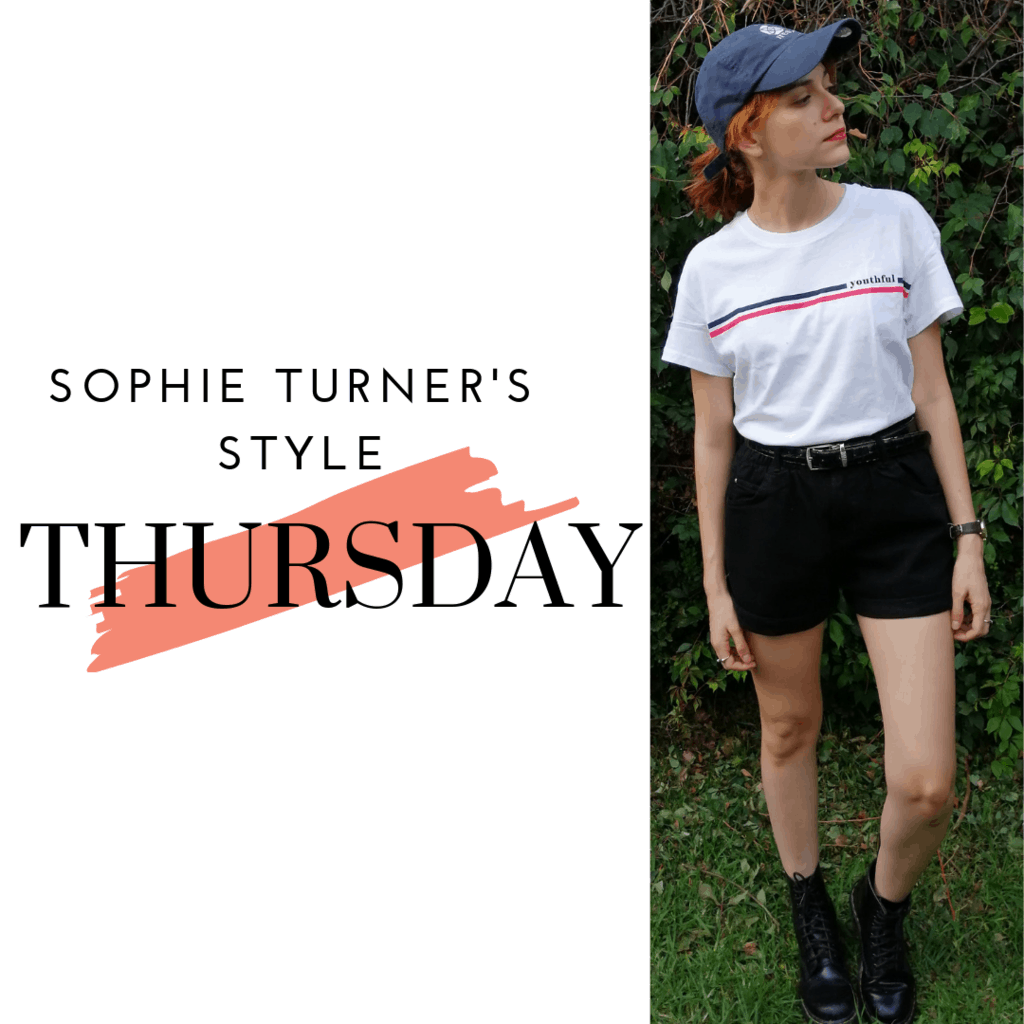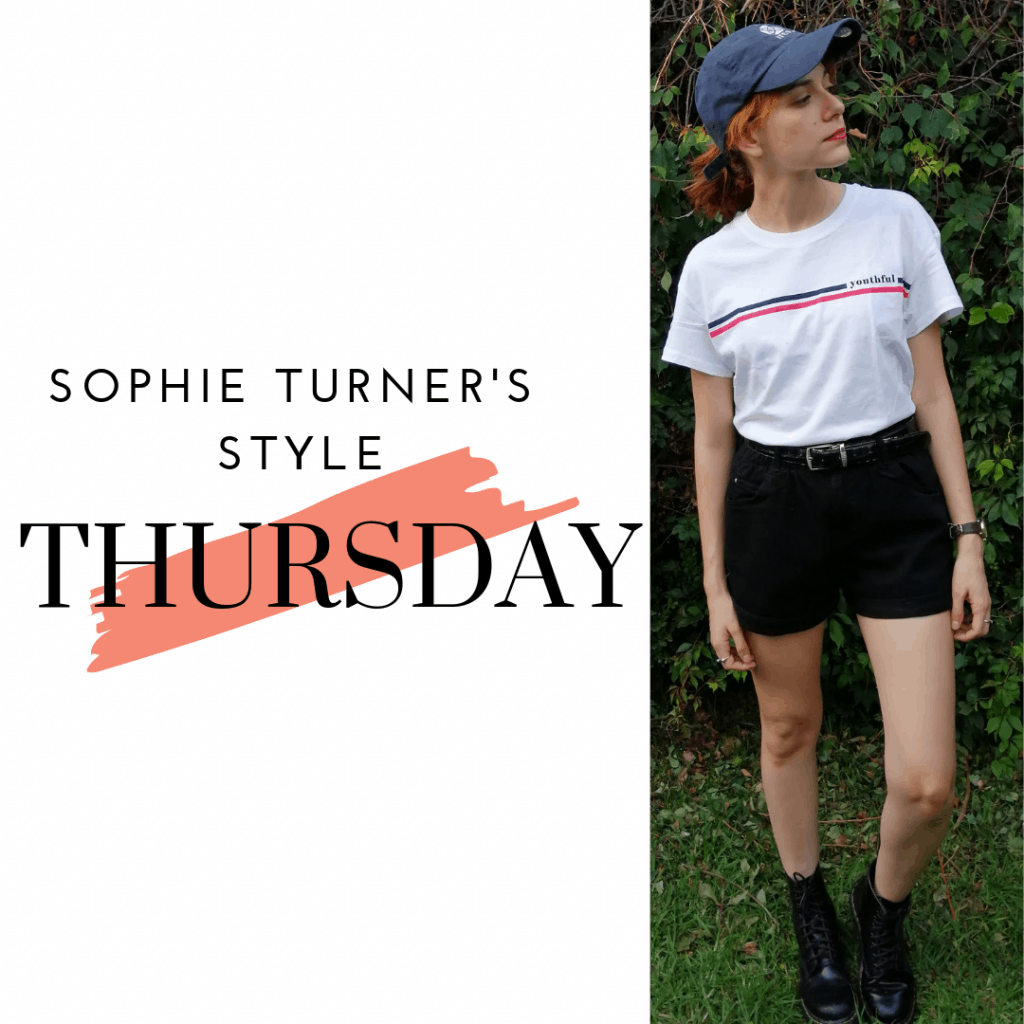 Thursday came and I went for this athleisure/edgy outfit. Above, Sophie's wearing chunky boots, a white t-shirt, a baseball cap, black shorts, and a belt.
To recreate this outfit, I did have to buy the black denim shorts and, I wasn't planning to buy a white t-shirt, but I saw this one that had the same red and blue details as hers, so I bought it. I don't have boots like the ones she's wearing, but I do have my black combat boots so I decided these ones would do. I found the baseball cap in a closet in my house and the belt is the same one I wore on Tuesday.
I don't go for the "combat boots and shorts" combo often, almost never in fact, but I was very happy with the look of it. Also, I do not wear baseball caps, ever, but after this week I'm looking for new ways to wear the one I found. (I should note that I didn't wear the cap at the office because it wasn't that comfortable to work with it on.)
Overall, I liked the outfit, it was comfortable and edgy, and I felt really confident wearing it.
Sophie Turner's Style: Outfit #5 – Friday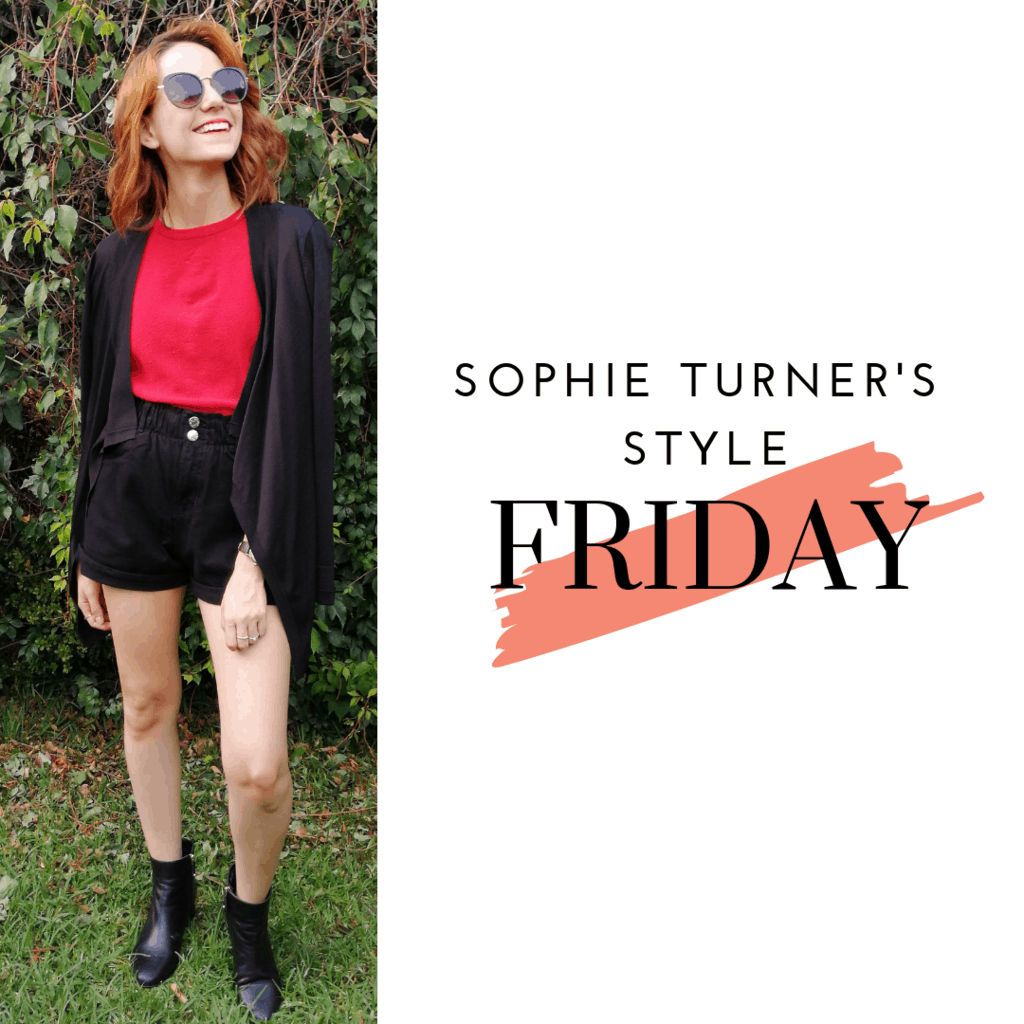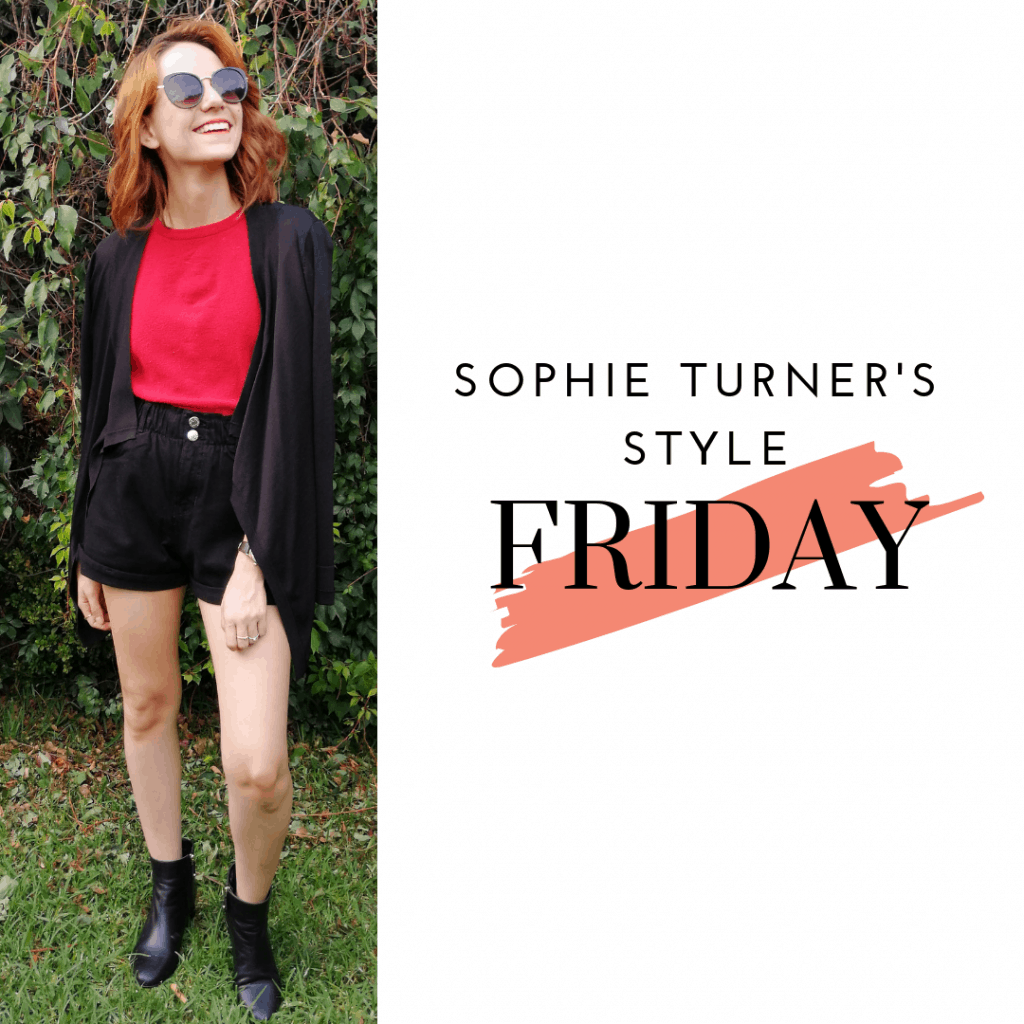 For the last day, I chose this red and black ensemble. In the pic, Sophie is wearing black leather shorts, a red sweater, a black coat and black booties.
I used the same shorts I wore the day before, because finding a pair of leather shorts in the middle of the summer season was impossible. I didn't want to use the coat, but it started raining so I did wear one. Aside from the shorts, everything else was already in my closet.
I absolutely loved this outfit. It was edgy, put together and so, so, so cool. I felt incredibly confident and it was perfect for the weird weather of that day. People did notice this outfit a lot more than the rest and my friends loved it as much as I did.
Final Thoughts
While I was searching for outfits from Sophie to wear, I noticed she repeats a lot of items: she wore the same belt for the outfits I chose for Tuesday and Thursday, and the same boots for Monday and Friday. And I saw her repeat jackets, t-shirts, sneakers, and accessories.
It isn't common to see celebrities repeat clothing items like we do. It was refreshing and, honestly, it made me like Sophie more. The uniqueness of her style doesn't come from the clothes, but from the styling and the accessories she wears. This also made me look back into my own closet and style: how can I refresh my favorite outfit combos?
We all have a way of cuffing our jeans, tucking our shirts, pairing certain types of earrings or socks with specific items of clothes, but sometimes to refresh our style we can make changes to these small details. Try making some small changes and the look of your favorite outfit will change: instead of tucking in your shirt, tie it with a knot; if you never wear hoop earrings, try wearing a pair to upgrade a t-shirt and jeans outfit.
Sophie Turner's style is perfect for college students. If you want to recreate her style, pay attention to the little details: how she cuffs her jeans, what kind of earrings she used or if she uses a specific type of socks. Take inspiration from the details as much as you do from actual clothes, it helps a lot when you want to make a simple outfit look more put together.
What do you think?
Do you like Sophie Turner's style? Which outfit was your favorite? Which one would you wear? Whose style do you think I should recreate next?
Let us know in the comments below!