This post may contain affiliate links, which means we may receive a commission if you purchase through our links. Please
read our full disclosure here
.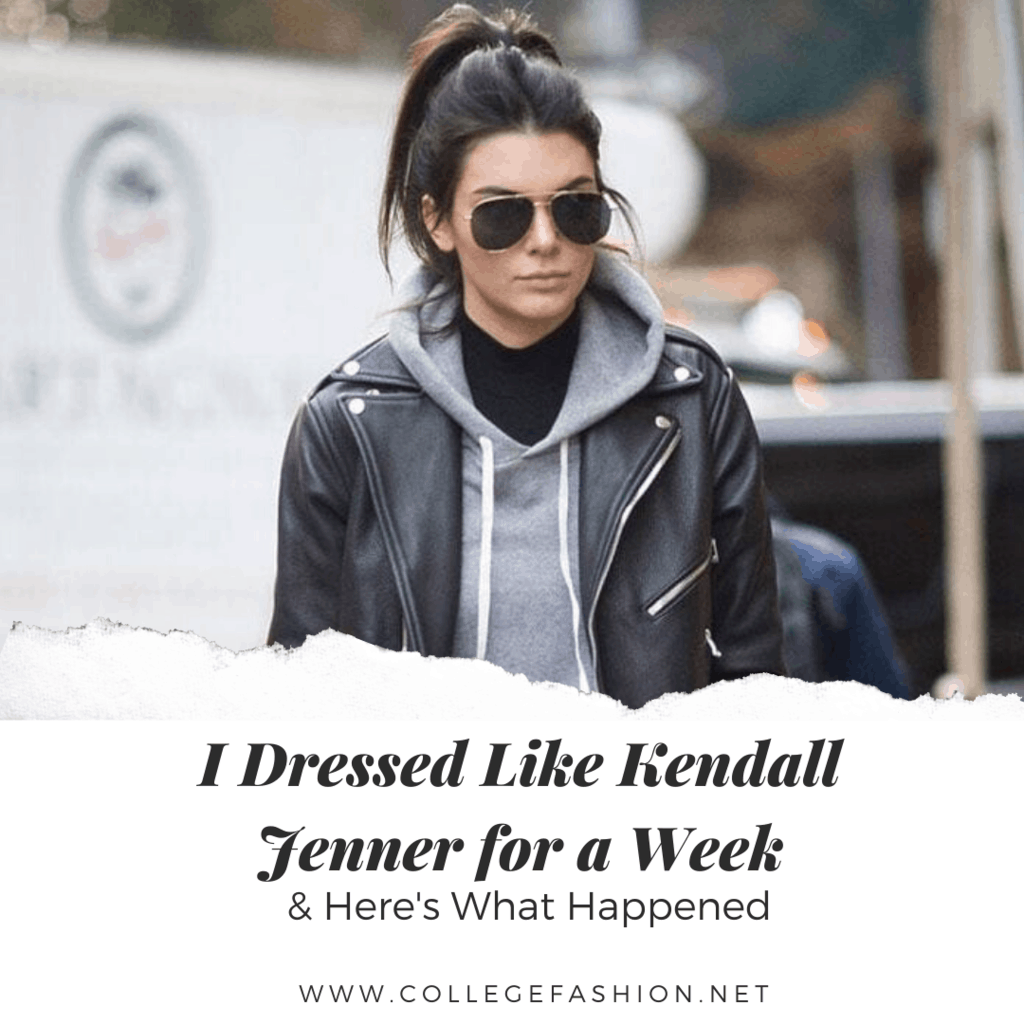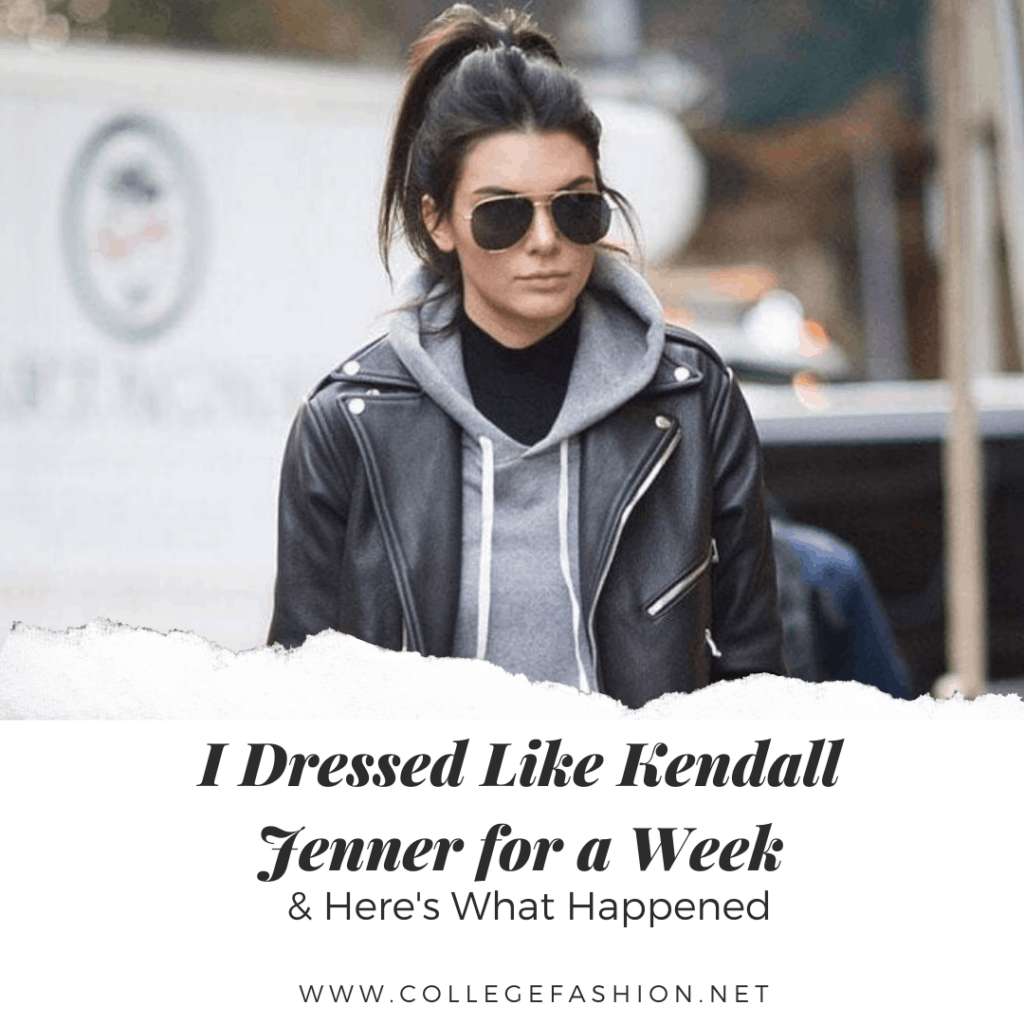 When I'm struggling to put an outfit together one of the first things I do is to look for inspiration from celebrities. Usually I see the outfit, love it, save it on my phone and never copy it in its entirety.
For this series, I'm actually wearing these celebrity outfits — and I'm doing it every day. Each week, I'm choosing a celebrity and copying her style for a full five day work week. I try to use what I have in my closet already and to keep the shopping to a minimum.
I've already dressed like Zendaya, Gigi Hadid, and Grace Kelly.
This week, I'm taking on Kendall Jenner's style.
Kendall Jenner's Style
As a part of the Kardashian family, Kendall is known for her fashion forward style, but in comparison to her sisters, her style is a lot more muted and classic. She takes basic outfits and gives them a twist with incredible shoes, jackets or interesting designer pieces. Kendall's style is balanced between edgy and athleisure.
(For more details on her look, see our guide to Kendall Jenner's style in 2020.)
Kendall Jenner's Style, Outfit #1 – Monday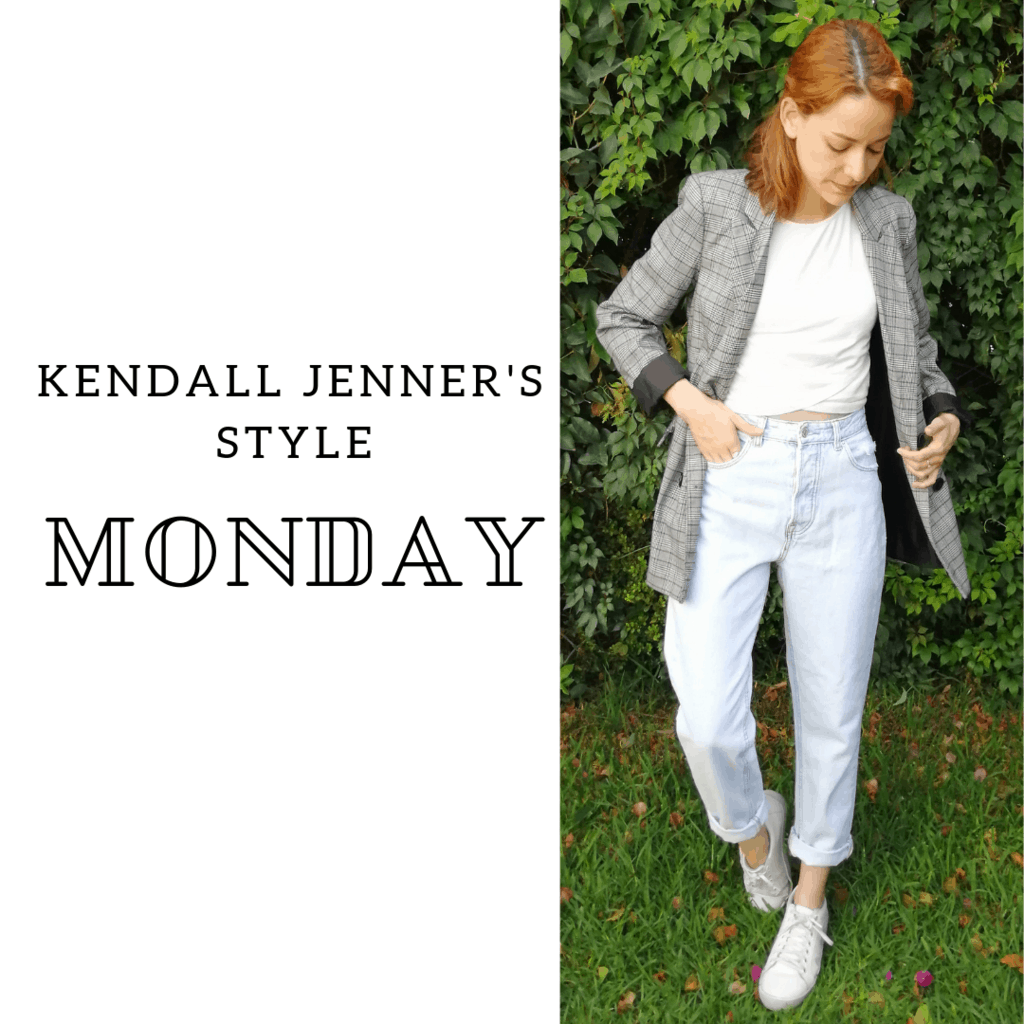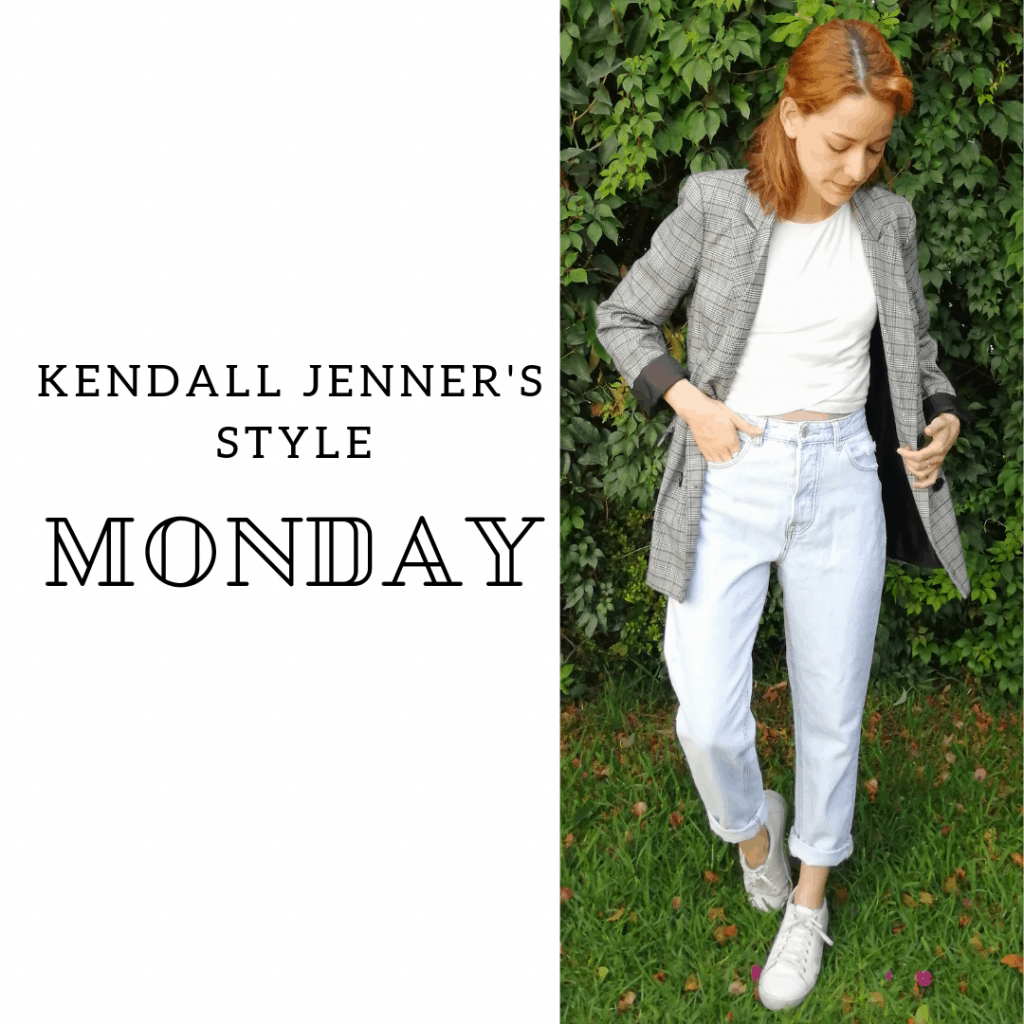 (Swipe to the second pic)
The first Kendall outfit I chose was this loose-fitting blazer look. In the photo, she's wearing a white crop top, mom jeans, and white sneakers with her oversized blazer.
I already had every single one of these items, but since the blazer I had was darker than Kendall's, I used light wash jeans to create the contrast her outfit has.
On Mondays I only go to the office and try to run some errands in the afternoon. This look was comfortable and way more put together than what I usually wear on a Monday. Inside the office with the A/C on, it was great to have the blazer, but when I went outside or got in the car, the blazer was too much for the weather.
The outfit in general is right up my style alley, so it was a great outfit choice to kick off the week.
Kendall Jenner's Style, Outfit #2 – Tuesday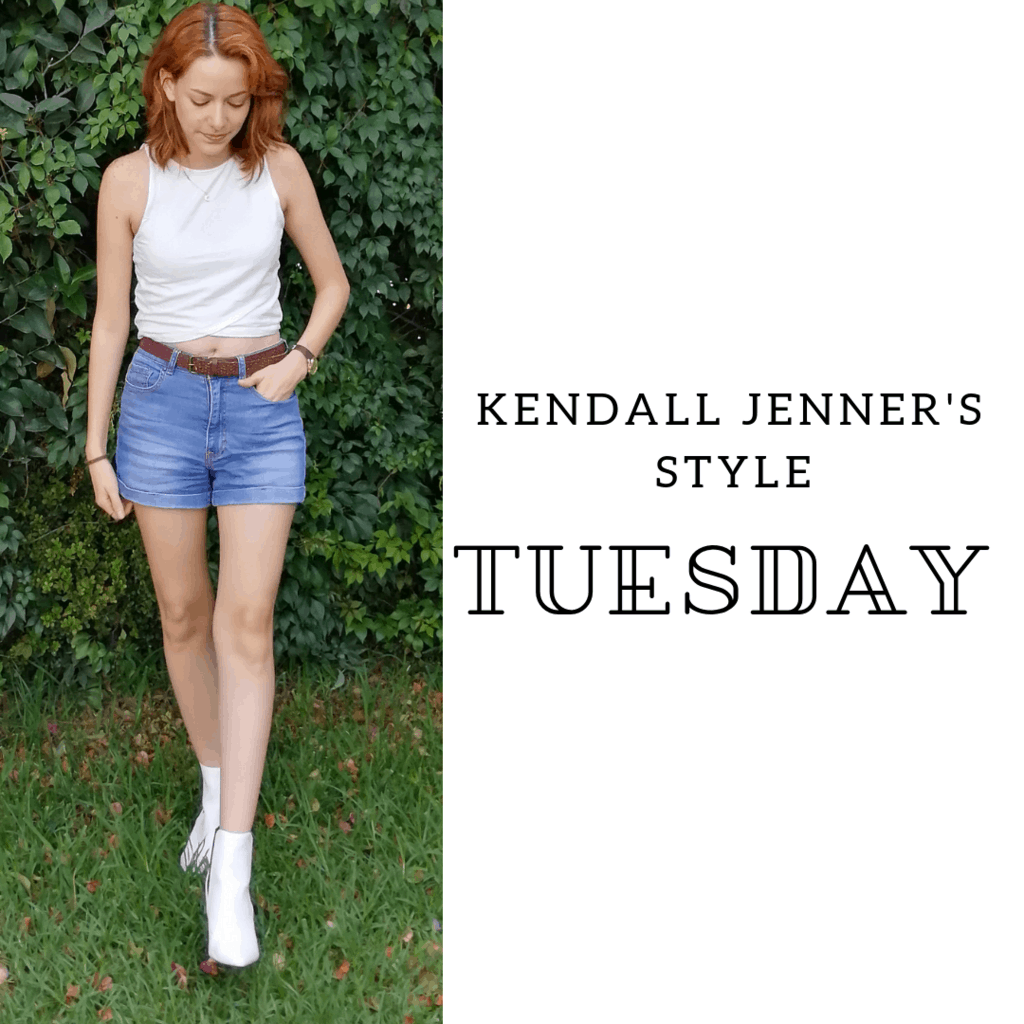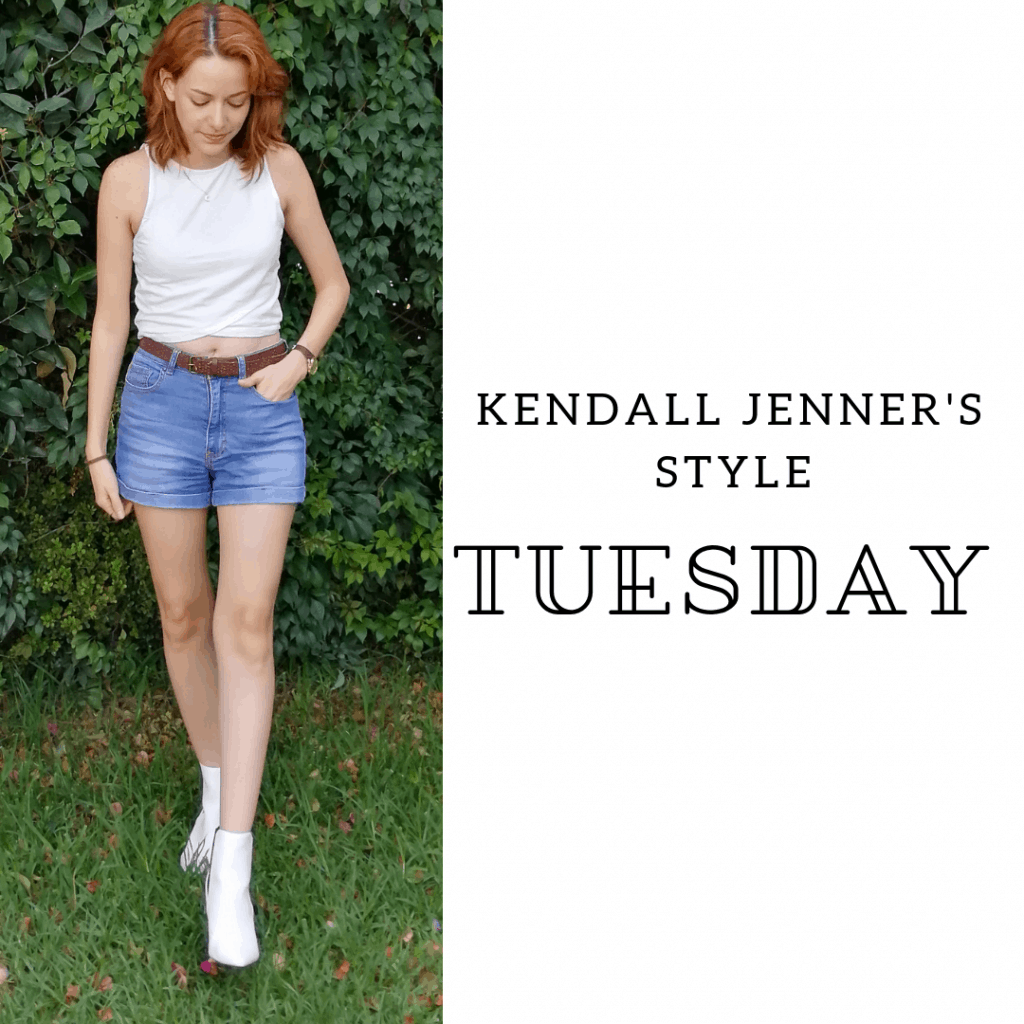 For Tuesday, I wanted a more weather-appropriate look for the hot temperatures where I live.
With that in mind, I chose this simple yet stylish ensemble from Kendall. In the photo above she's wearing denim shorts, a white crop top, white booties, a belt, and a beige long sleeve shirt underneath her top.
To copy this look, I used a white crop top, high-waisted denim shorts, white booties and a brown belt. I opted to not wear the beige shirt underneath for two reasons: one, the hot weather, and two, I don't have a shirt like that and I couldn't justify buying one, as I knew I'd never wear it again.
As I've mentioned here previously, I struggle to style the white ankle booties I own. So this outfit was another great push for me to wear these boots in a new way!
I loved this outfit, but it did make me aware of a very important difference between my body and Kendall's body: she has a long torso and long legs, and I have a short torso and long legs. This affects how things fit and makes us look different, even though I'm wearing the same things. Her crop tops end above her waist and mine ends below my waist, changing the look of the outfit in a subtle way.
Kendall Jenner's Style, Outfit #3 – Wednesday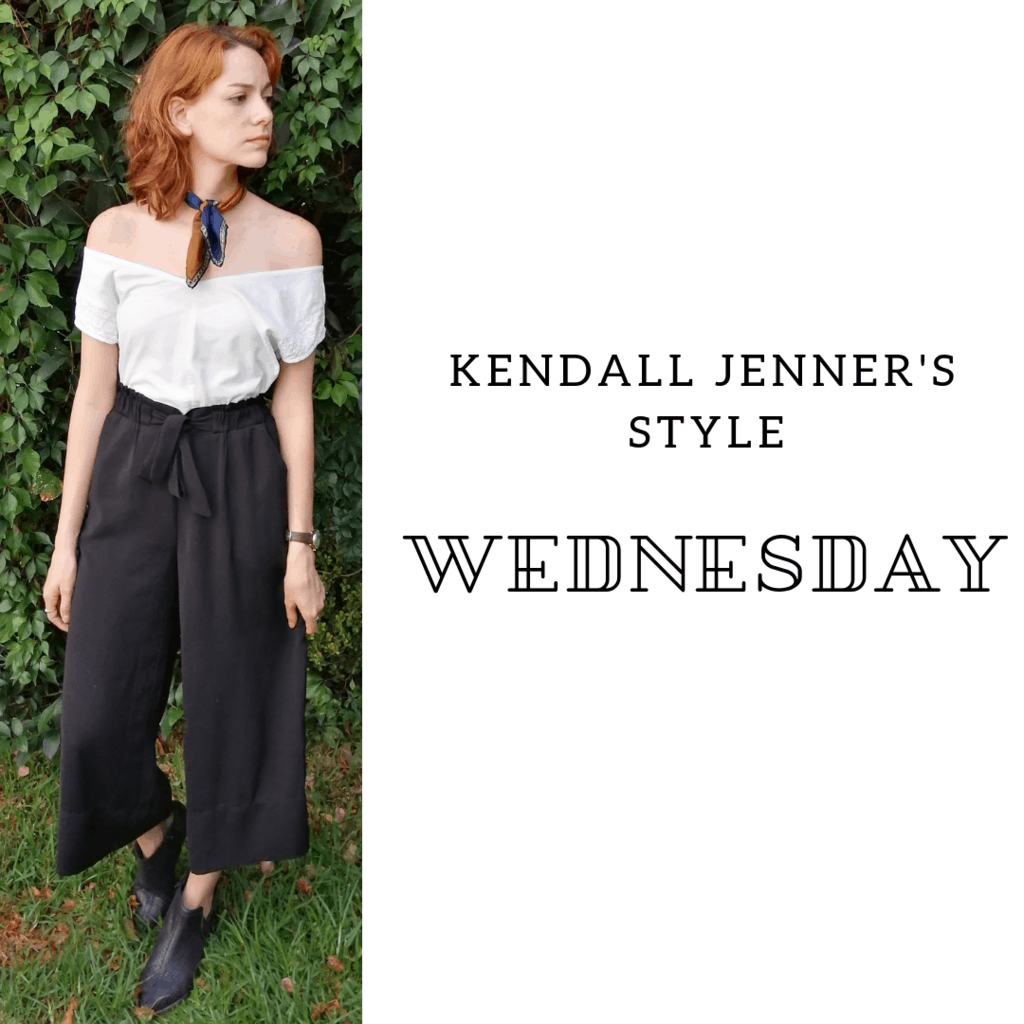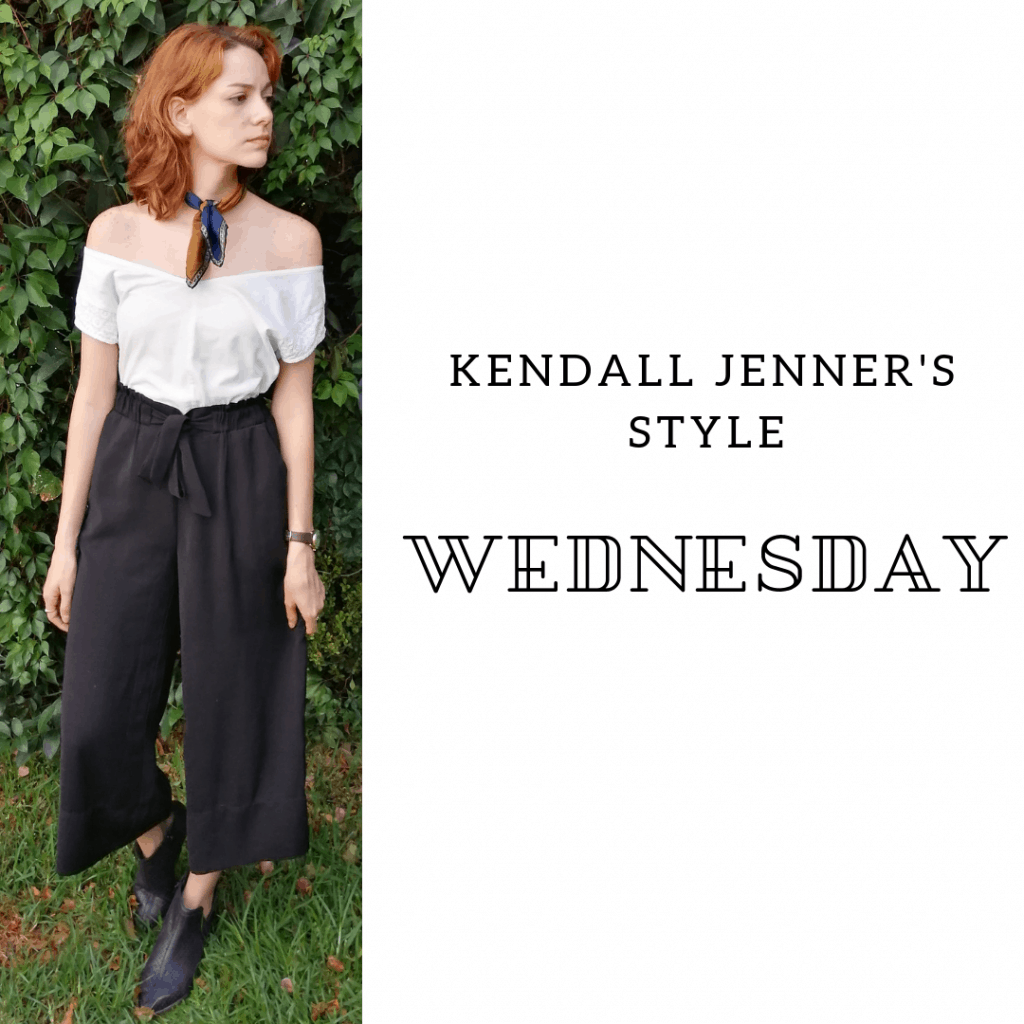 (Swipe to the third pic)
Wednesday came and this was the outfit I chose. Above, Kendall is wearing an off-the-shoulder white top, black culottes, black pointy booties and a black bandana tied around her neck.
This outfit was a little tricky to put together, because I didn't have a white off-the-shoulder crop top on hand. To get the look, I borrowed a loose-fitting white crop top from my sister and pulled the sleeves down. The rest of the items — the pants, booties, and bandana — are mine.
I LOVED this look. This was one of my favorite outfits I've worn since I started this series. It's fresh, put-together, and incredibly cute. In this look, I actually felt the way Kendall Jenner looks: confident and beautiful.
Kendall Jenner's Style, Outfit #4 – Thursday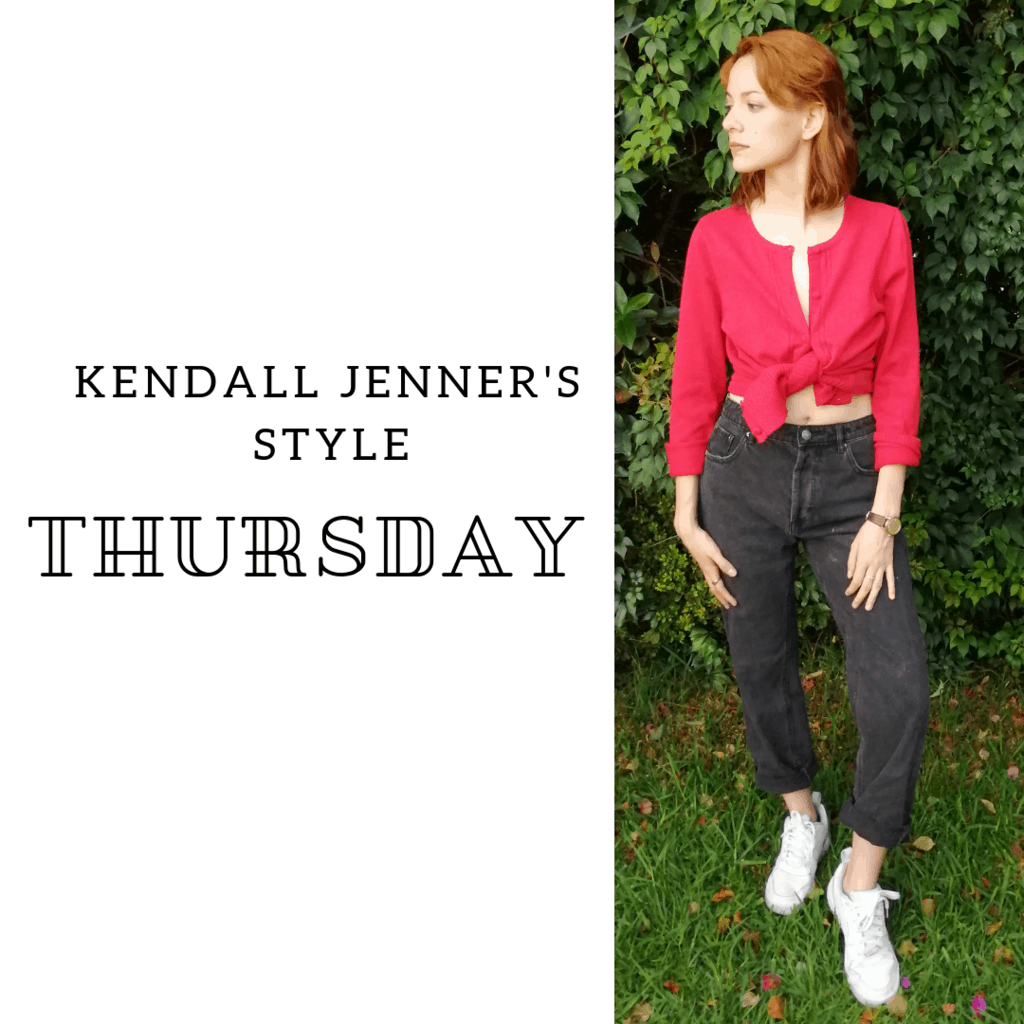 For Thursday, I chose this red and casual ensemble. Here, Kendall is wearing a red sweater tied in the front, black jeans, and white sneakers.
I wore a red button-up sweater, black mom jeans, and white sneakers. Again, I had everything already. I didn't button the sweater and tied it at the waist to emulate Kendall's look. I saw a pair of black jeans in a store that looked more like hers than the ones I had, but decided to use the jeans I already owned and make them work.
In theory, this is a comfortable outfit. But I didn't feel comfortable in it. I'm not a huge fan of deep-V necklines and with this outfit, I was way more aware of the neckline than the actual comfort of wearing jeans, a sweater, and sneakers. I just couldn't feel like myself in a neckline so low.
Also, this wasn't as hot as the blazer, since the sweater's fabric was thinner, but it was still a bit much for the weather.
Kendall Jenner's Style, Outfit #5 – Friday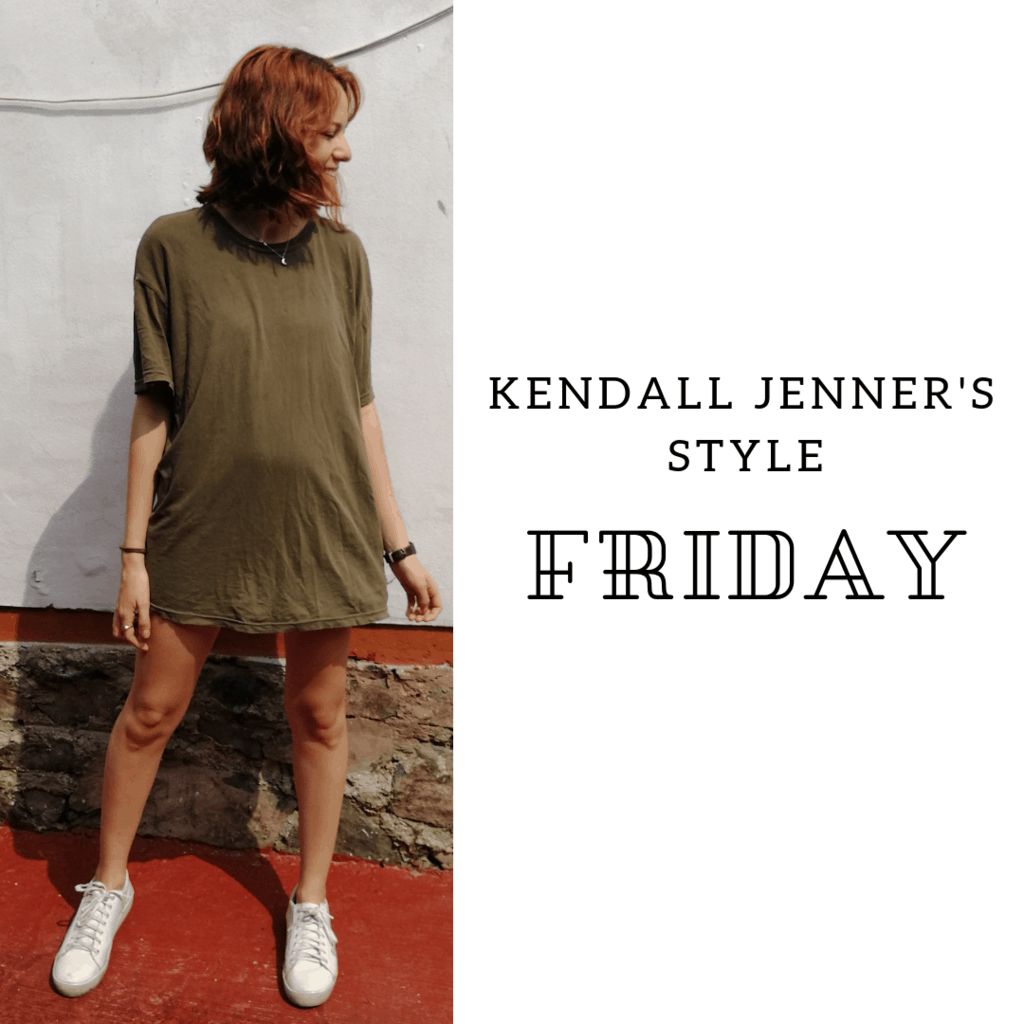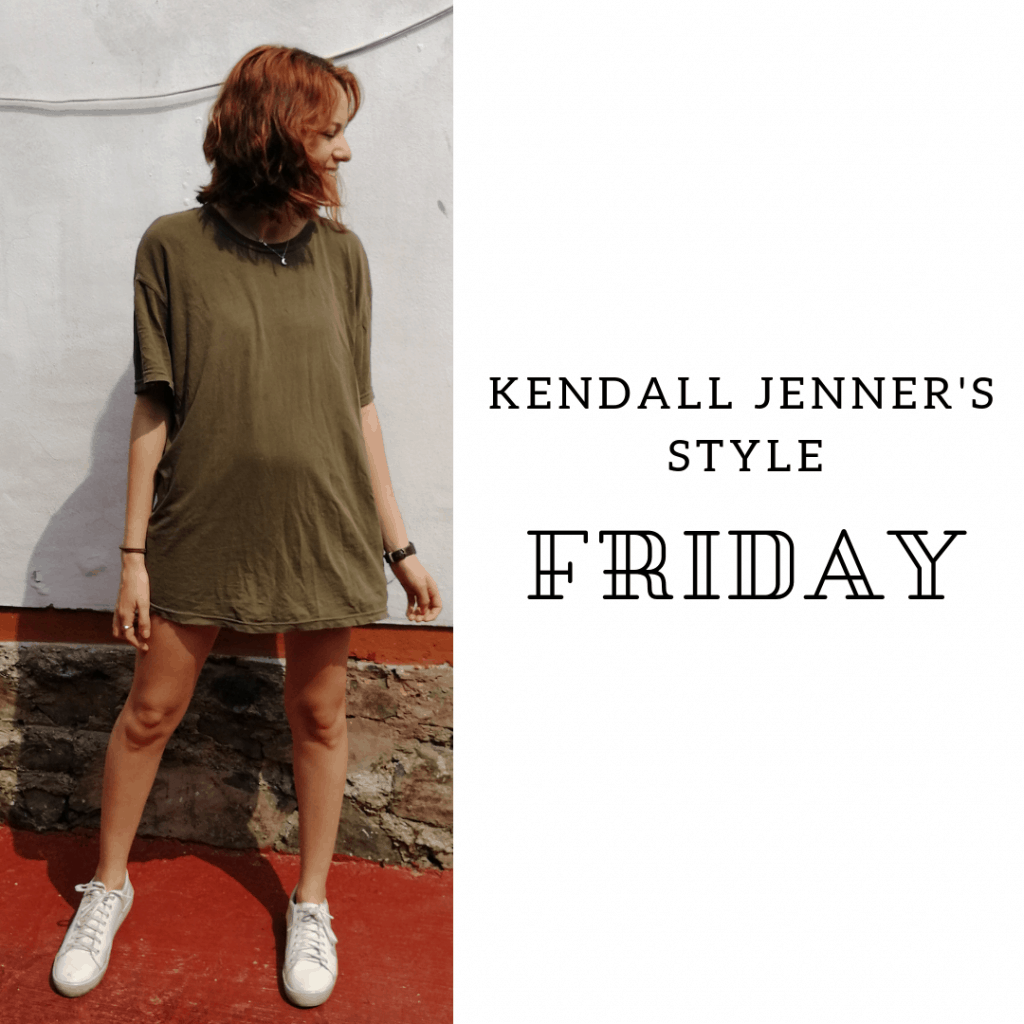 The last outfit is this camo t-shirt dress and white sneakers.
I borrowed the t-shirt from my sister and wore the same sneakers I used on Monday. My dress is just army green instead of camo, but it has the right color and cut, so I figured it would still work.
This was the perfect outfit for Friday. It was a bit shorter, hemline-wise, than what I'd usually wear, but it was comfortable and it was a fun change for me. This look was perfect for the weather and the day: I worked at home, went to class, and then went out with some friends. I thought about changing the sneakers for booties before going out, but I was too comfortable and decided to keep them. No one noticed and I didn't feel under dressed.
Final Thoughts
To choose these outfits, I decided to discard most of Kendall's red carpet looks and extravagant street style looks, especially the ones that had costume designer pieces or weird items. This was for practicality's sake — I knew it would be next to impossible for me to find similar pieces. Also, I still had to go to work and school, so I needed outfits that I could wear there and not get fired.
I'll say it right now: Kendall's style terrifies me. So does the style of every Kardashian-Jenner.
That being said, I loved this week's outfits. They were a bit more my style than the other posts I've done, and they helped me branch out from my usual outfit formulas and be more creative with what I have.
This week I also noticed something that seems obvious, but that we don't talk about much: proportions matter SO MUCH in the overall look and feel of an outfit. Kendall's long torso and legs make the crop tops shorter on her and my short torso and long legs make them seem longer. The same goes for high-waisted pants: hers end below her waistline and mine end exactly at the waist. So, yes, we're both skinny girls but that doesn't mean we look the same wearing the same outfits.
The lesson here? Everyone has different proportions and body types — we just have to work with what we've got. So, if you are copying a celebrity's style and you look different, don't get frustrated; just take this difference into account when planning your outfits.
If you want to copy Kendall's style, look for outfits that would work for your type of work and school. She's photographed so much that you're bound to find some to try! You'll probably have most items on your closet and you'll find new, fun ways to style them.
What do you think?
Do you like Kendall's style? Which outfit was your favorite? Who should I copy next?
Leave us your comments and let me know!