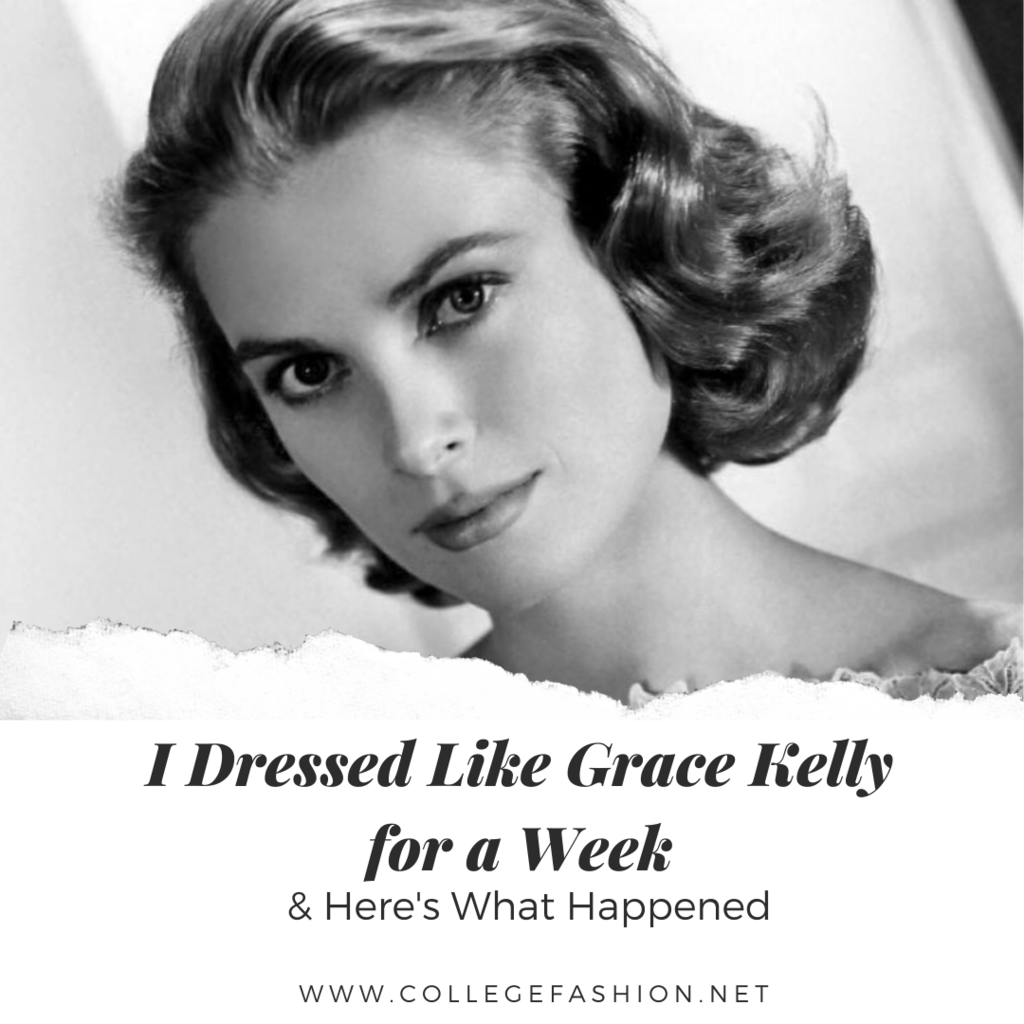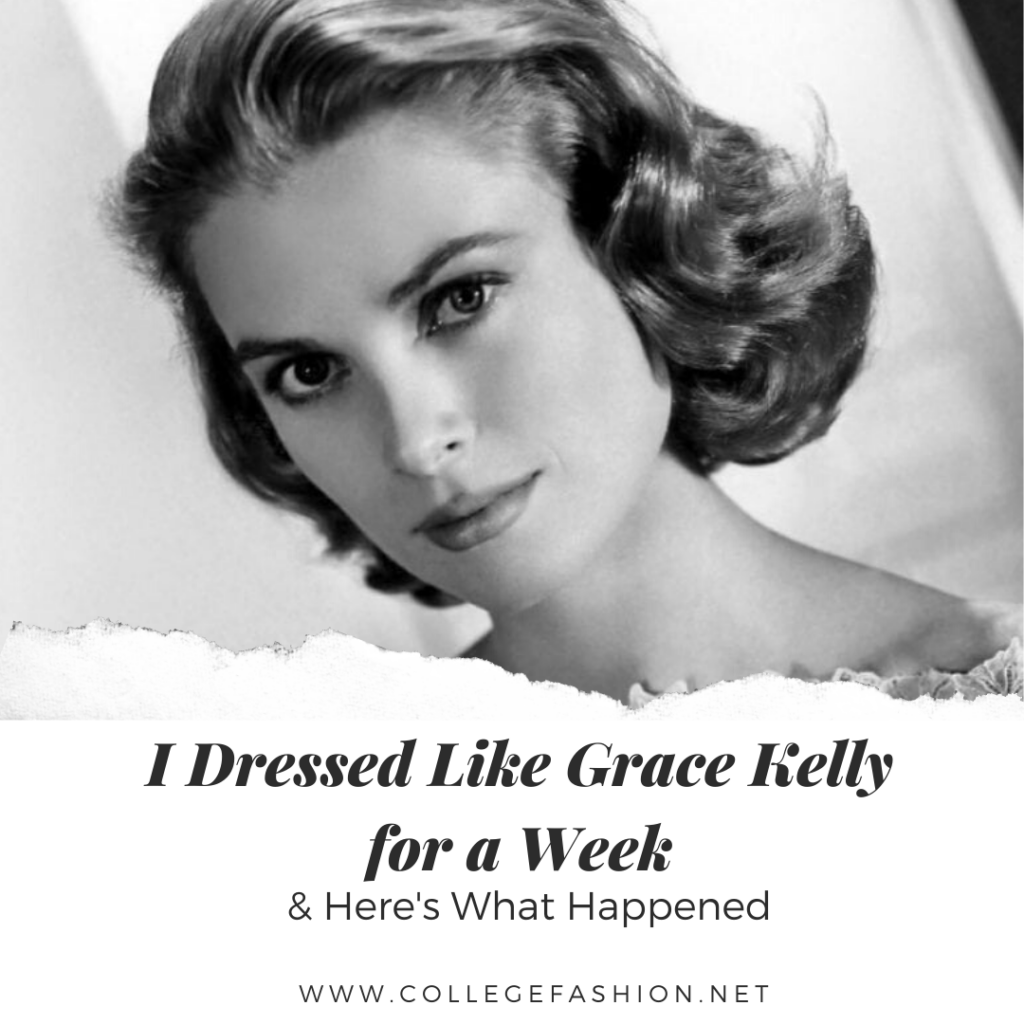 We've all looked to celebrity style for fashion inspo at some point in our lives. But it's one thing to say "I love her outfit," and it's another to actually copy it in real life.
For this series, I'm going the extra mile and making it happen. Each week, I'm getting inspiration from a celebrity and copying five of her looks as closely as possible. Then, I'm reporting back to you: Did the outfits work in real life? Did I feel comfortable? Did people treat me differently? I'm sharing it all.
So far, I've dressed like Zendaya and Gigi Hadid. This week, I went back to the Golden Age of Hollywood and got inspired by the classic movie star, Grace Kelly.
Grace Kelly's Style
In her prime, Grace Kelly wasn't just one of the best actresses in Hollywood, she was a fashion icon on and off screen.
Simple and poised, Grace Kelly wore fresh and classic items. From loose pants to oxford shirts, A-line skirts and jeans, Grace wore everything in neutral colors and pastel colors, sometimes with a splash of brightness. She wore heels, espadrilles and even sneakers with absolute confidence.
Grace Kelly's Style: Outfit #1 – Monday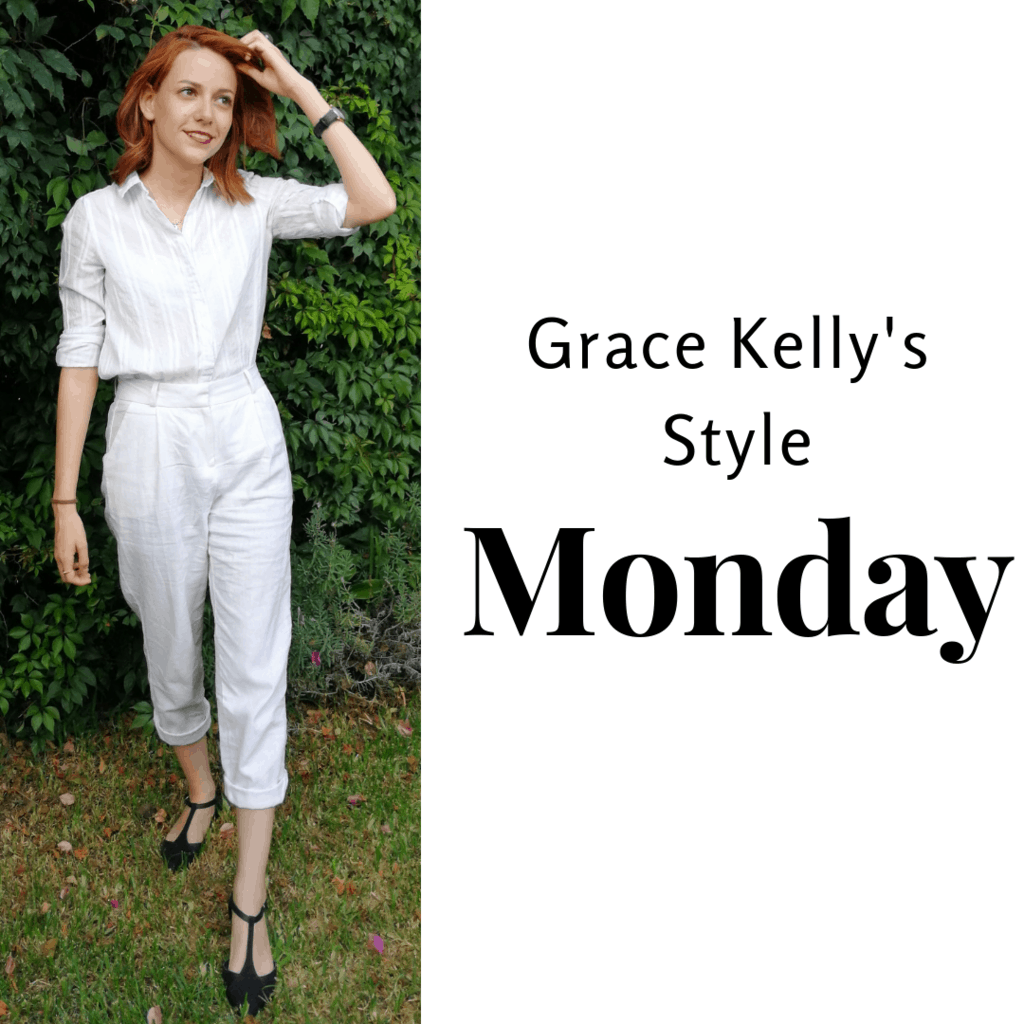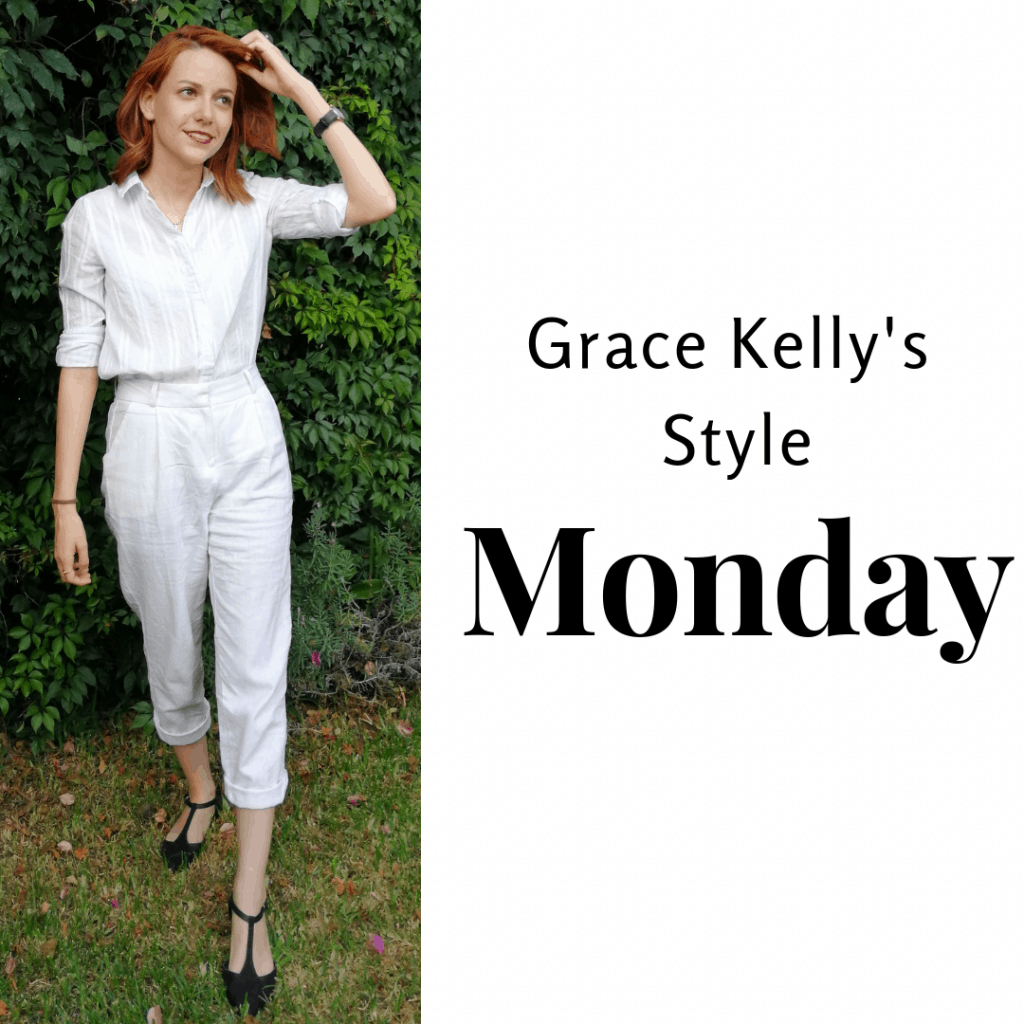 For the first day, I chose this summery all-white Grace Kelly ensemble. In the photo, she's wearing white pants, a classic white shirt, and flat black mary-janes. I wanted to try this outfit because of the color scheme, since I loved it so much on my Gigi Hadid week.
I already owned all of the items this time. (Thanks, Gigi!) I wore white linen pants, a white shirt, and black flats. My shirt didn't have short sleeves, but it had the same style and cut as Grace's, so I figured the sleeves wouldn't be a big game changer.
I wore this outfit to go to the office and run errands. I figured monochromatic looks are always good if you want to look put together.
In this outfit, not only did I look put together, I felt put together. It was comfortable and classic. Like I said in the previous posts, I've always been hesitant to wear white, but again I loved it. This time, I wasn't that nervous about spilling something on my clothes, but I was still kind of aware of anything that could cause a stain.
Grace Kelly's Style: Outfit #2 – Tuesday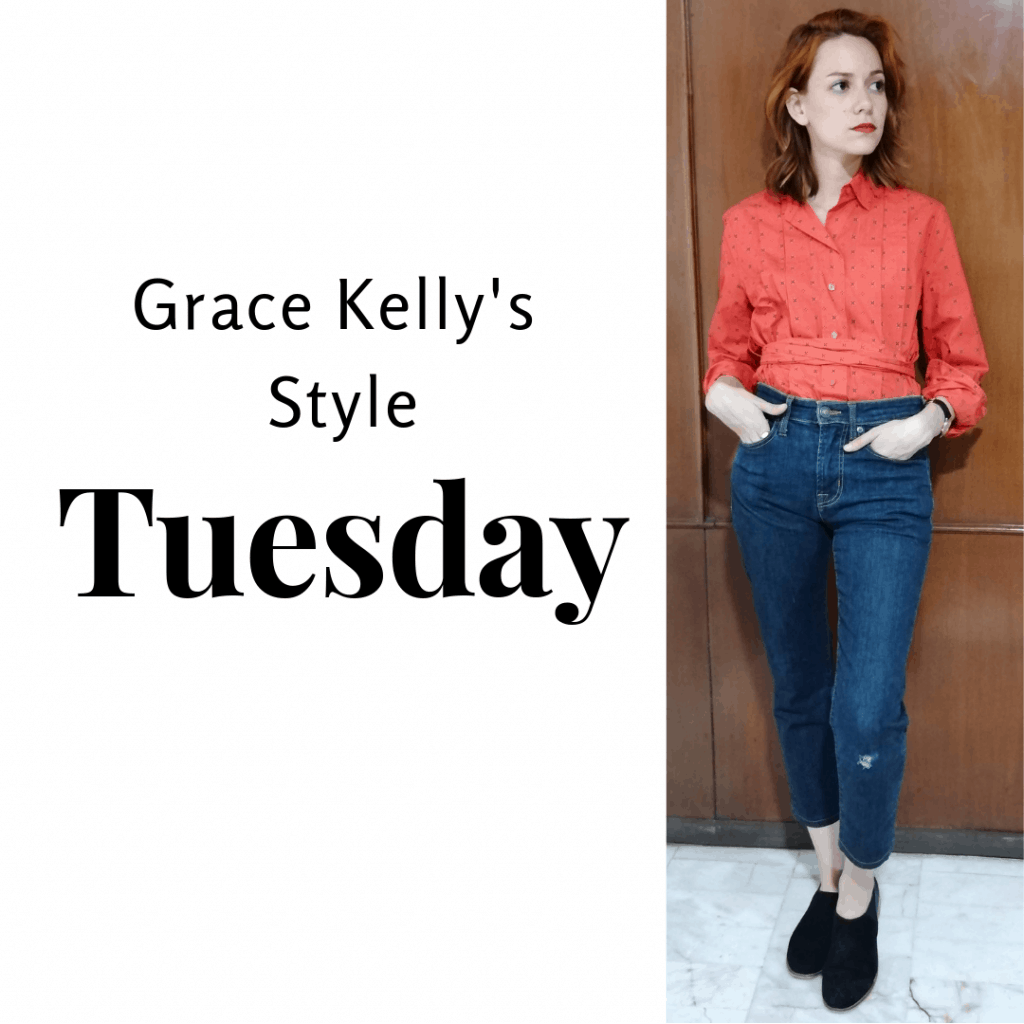 This outfit is inspired by a couple of outfits worn by Grace Kelly, but specifically this last outfit she wore in my favorite movie, Alfred Hitchcock's Rear Window (1954). She's wearing an oxford shirt, high waisted jeans and loafers.
The loafers and jeans I wore are actually two of my favorite items in my closet. The oxford shirt proved to be a bit trickier. Between my sister's closet and mine, there wasn't a single oxford shirt that wasn't in a neutral color. So, I eventually borrowed one from my mom.
Usually, oxford shirts are my go-to item for job interviews, meetings or class presentations: all events that require me to look formal. But with this outfit, it felt like the shirt was a way of upping my style game and shifting away from the basic formula of t-shirt, jeans, and sneakers.
Grace Kelly's Style: Outfit #3 Wednesday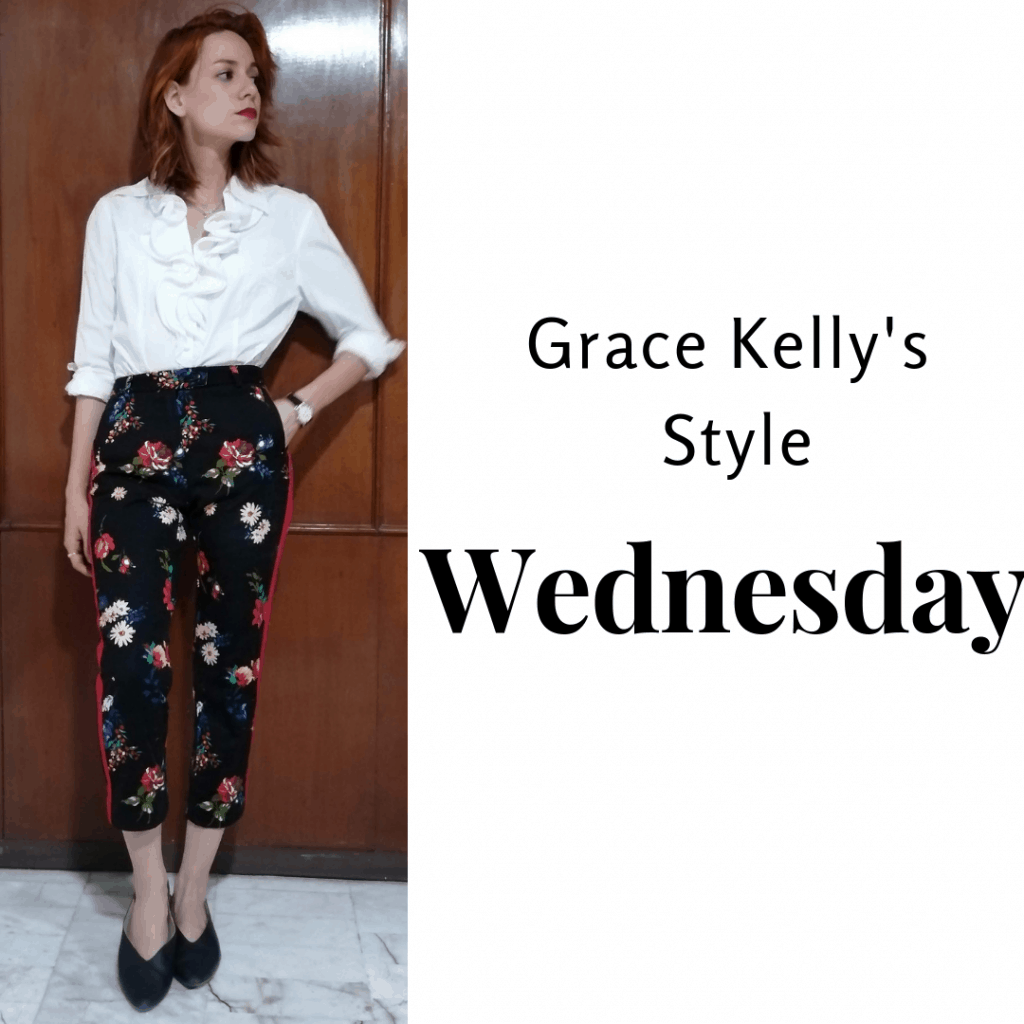 For Wednesday's outfit, I chose this outfit from Grace. In the linked pic, she's wearing printed high waisted pants, a white shirt, and black pointed toe flats.
For my interpretation of the outfit, I wore black high-waisted pants with a floral print. Mine were more colorful than Grace's, but of the pants I had, these resembled hers the most. Again, I borrowed a white shirt from my mom, since it had similar details to the one Grace is wearing. The black pointed toe shoes I fortunately owned as well.
I loved the look of the outfit, it had a lot of textures and fun prints, but it still looked put together. I might not look as poised in my photo as Grace does in hers, but I really, really liked the fit of everything. I got so many compliments on this outfit, but I think it is mostly because it's not an outfit that flies under the radar.
Unfortunately, it was also the day the weather was the hottest, so between the long sleeves and the thick fabric of the pants, it was too much for warm weather.
Grace Kelly's Style: Outfit #4 Thursday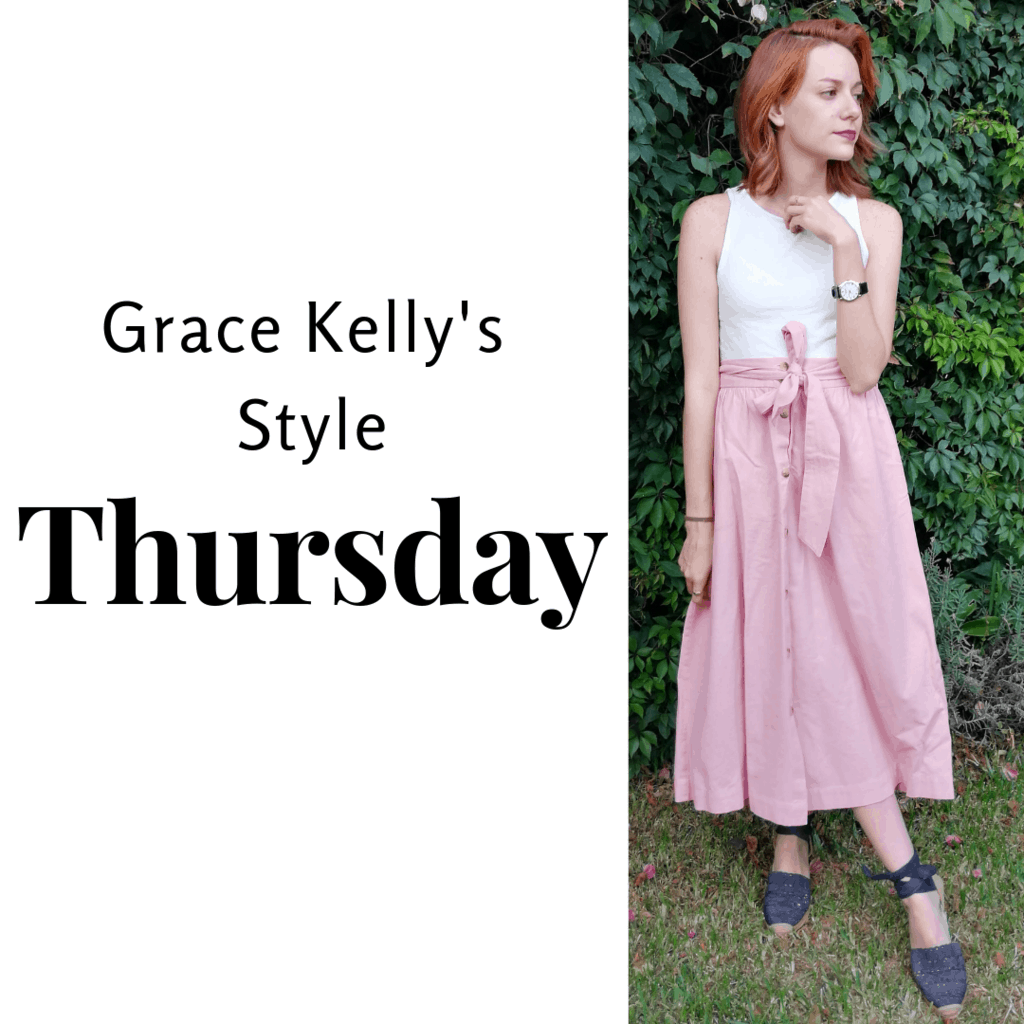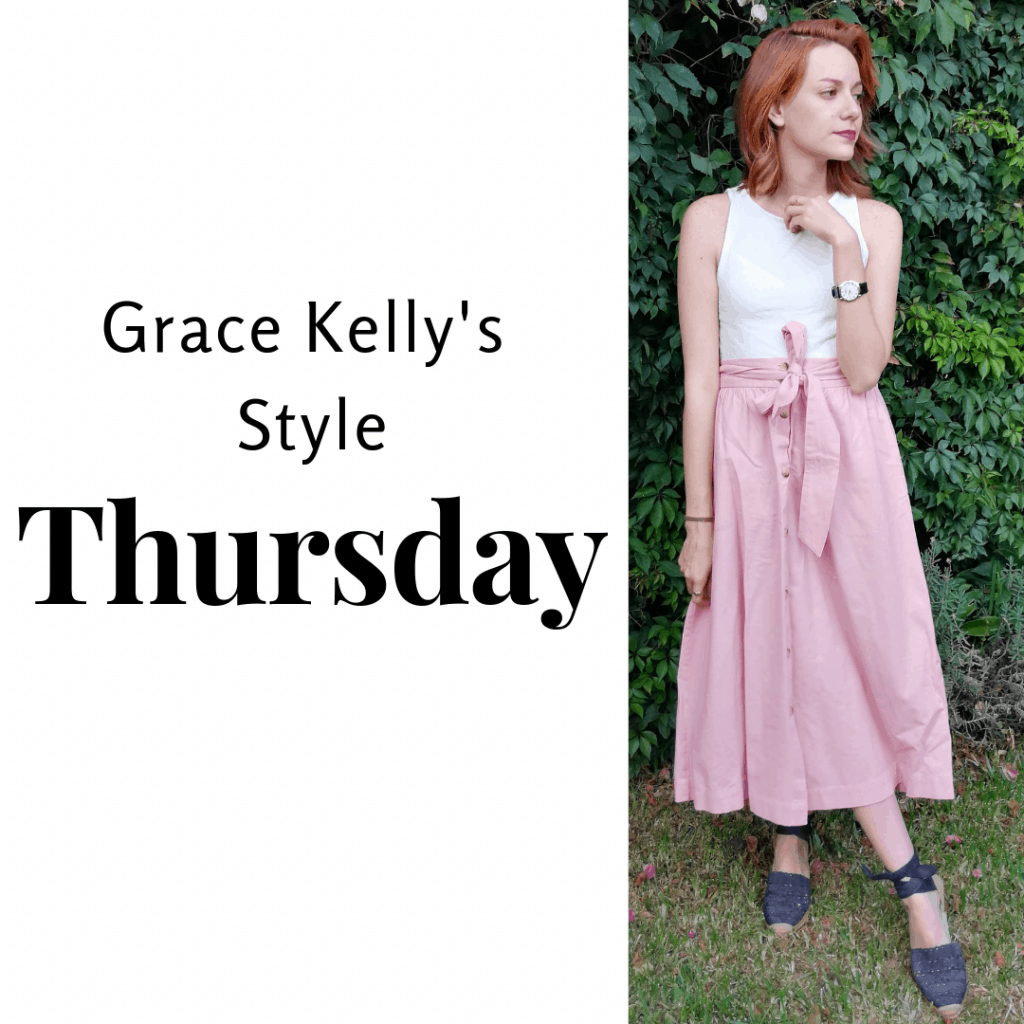 For Thursday I cheated a bit and combined several items from different outfits worn by Grace Kelly, mostly inspired by this photo. The A-line skirt was her go-to skirt style, the white top was in Rear Window, and the espadrilles were also a type of shoe preferred by the princess of Monaco.
To get this look, I paired a pink heavy A-line skirt with a white top and black espadrilles. I didn't have to buy anything for this outfit and I loved the look of the ensemble. With the warm weather in my city, this was the perfect look.
My personal style isn't girly: I tend to lean on darker colors and wear pants and jeans 80% of the time, so the style of the skirt (my sister's) and the color weren't in my comfort zone. But with this outfit I got the princess Grace of Monaco vibe that I've always admired and I felt kind of princess-y.
Grace Kelly's Style: Outfit #5 Friday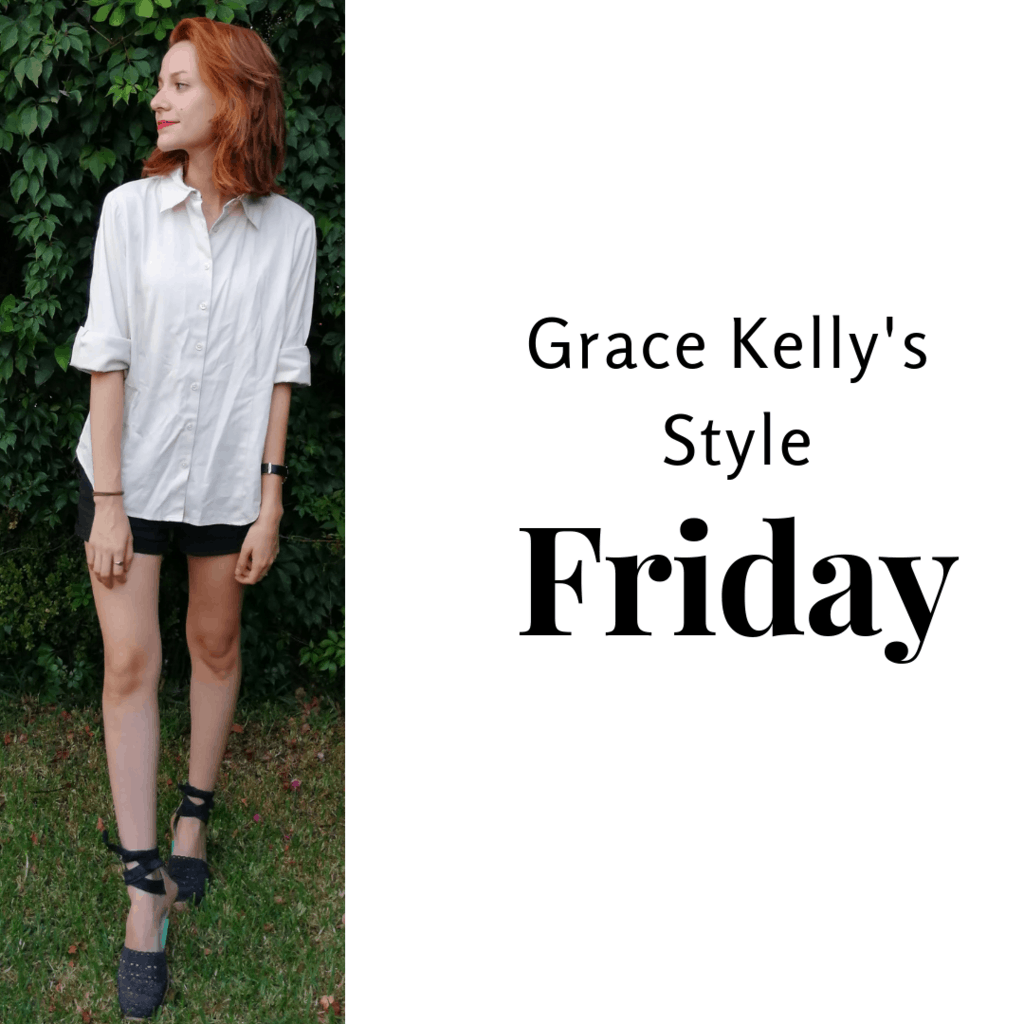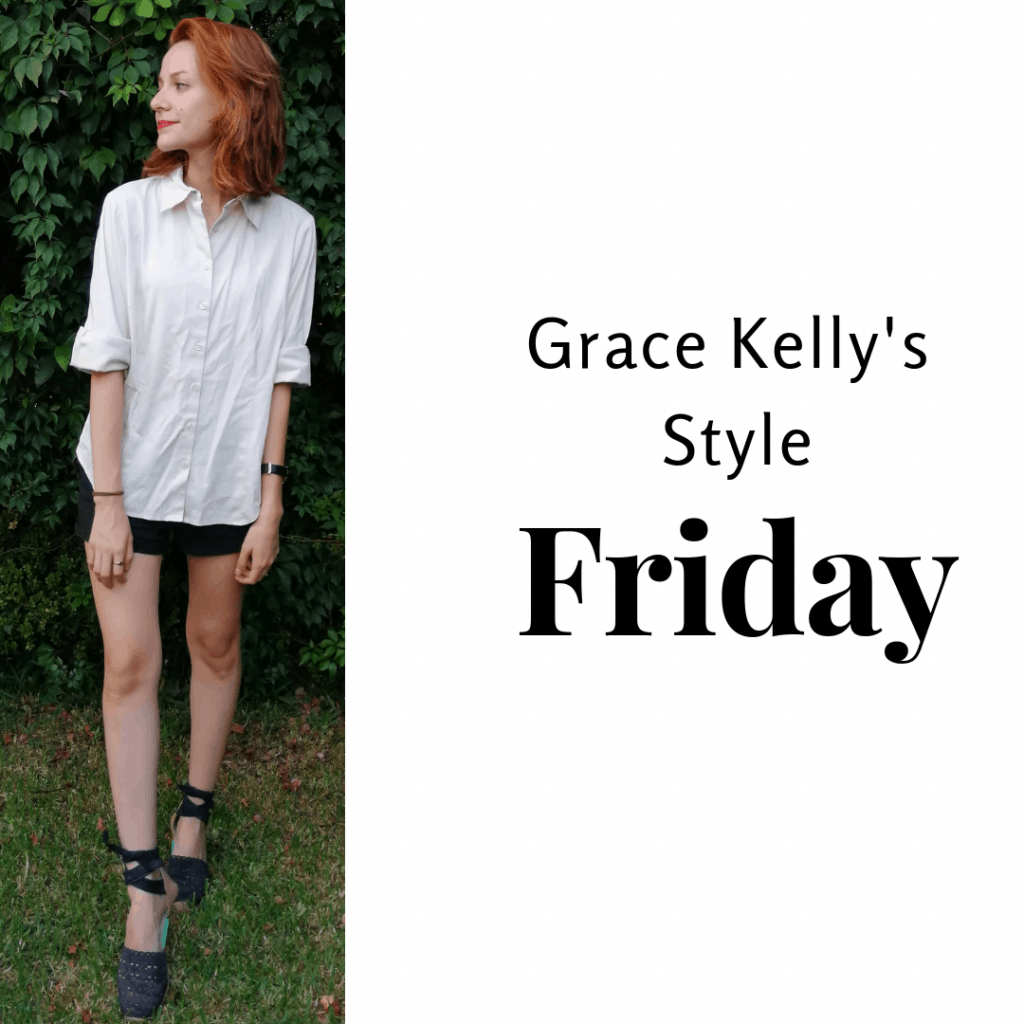 Finally, it was Friday and it was time to wear my final Grace Kelly inspired outfit. For this, I chose this beachy look, consisting of shorts, a classic oxford shirt, and black espadrilles.
To copy this outfit, I grabbed black loose shorts, a white shirt, and the same espadrilles I wore on Thursday. On Friday's I don't go to the office, so this look was perfectly appropriate for a work-office day and a late class in the middle of warm weather. Again, the classic oxford shirt made what could have been a basic outfit into a more stylish ensemble.
I wore this look to run errands, attend class and go to dinner with some friends. I never felt over or under dressed, despite of the simplicity of the outfit. It was an effortless look that I will definitely be repeating.
Final Thoughts
Grace Kelly was a fashion icon for a reason: she wore simple and classic items, but did it with such elegance and enough twists it makes it memorable. As such, I loved emulating her style.
My favorite outfit was Tuesday's, because I finally had the guts to copy my absolute favorite Grace Kelly character on film. In a very close second came the outfit I was the most hesitant to wear: Wednesday's outfit. The textures and patterns scared me a bit, but I really liked the way it looked and how it fit.
Even though I loved it in theory, Thursday's outfit wasn't my favorite. I think there's a reason for our personal style to be what it is and this outfit was one of the furthest things from my personal style that I have worn since I started this series. Since it really wasn't me, I didn't feel as good in this look as I did the rest of the outfits.
If you want an effortless, classic, and absolutely gorgeous style challenge, I recommend Grace Kelly as an inspiration. I guarantee you have most of the items already in your closet. Her style, being so classic, is perfectly appropriate for the office, school, or going out.
What do you think?
Do you like Grace Kelly's style? Which outfit was your favorite? Which one would you wear? Who do you think I should do next?