Over the past few weeks, we've been breaking down our list of 16 classic fashion icons everyone should know.
Last week, we covered Marilyn Monroe, seductive actress extraordinaire. This week, we'll be talking about the princess of both Hollywood and Monaco, Grace Kelly.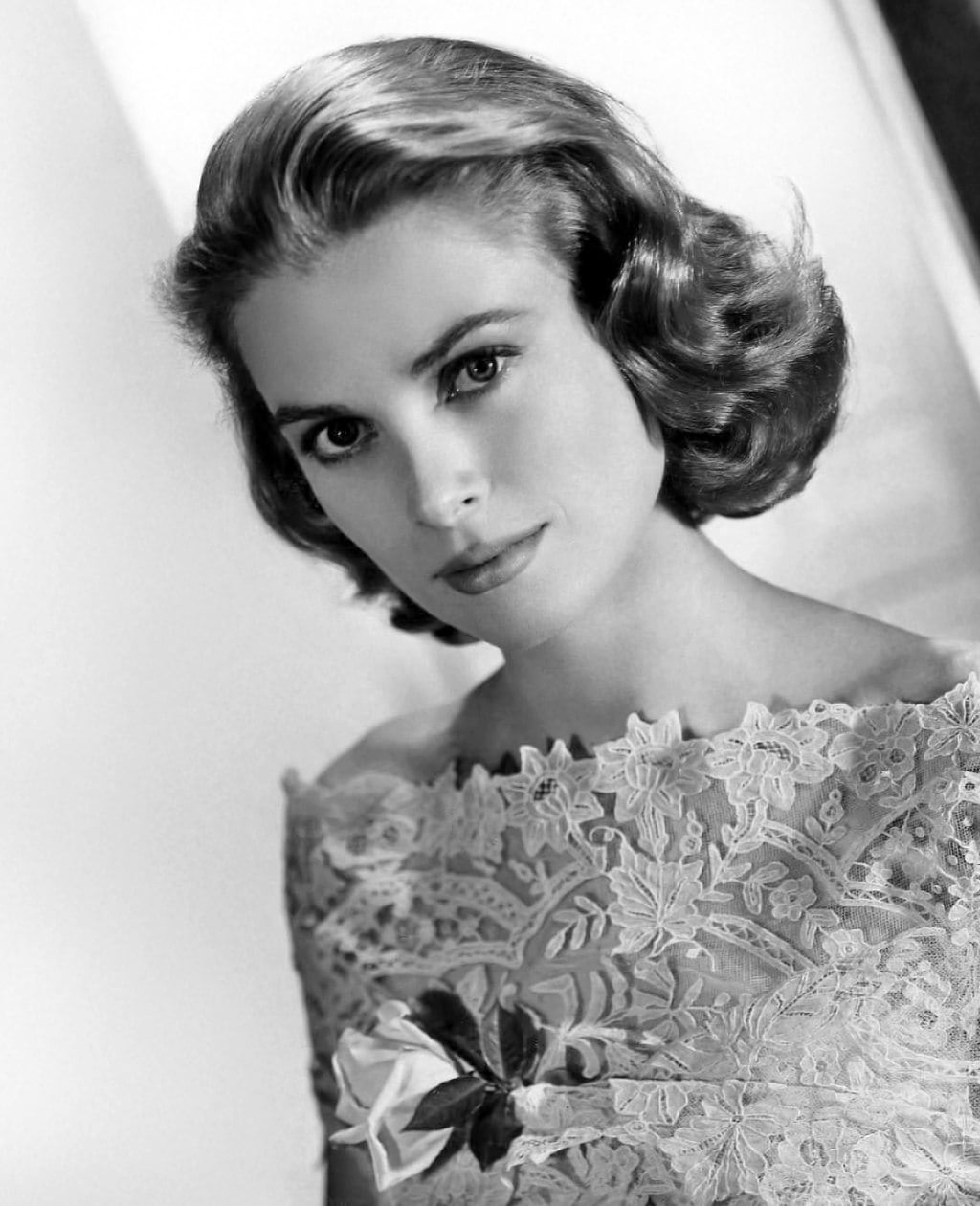 The Pennsylvania-born star is recognized for being an incredible actress, partnering with director Alfred Hitchcock on multiple films, and also for becoming the Princess of Monaco when she married Prince Rainier III. Her sophisticated beauty has never been forgotten.
Keep reading to find out more about Grace's upbringing, acting career, and journey into royalty!
All About Grace
Dreaming of the Pictures
Grace grew up in a wealthy and well-to-do family. Her father was an Olympic gold medalist, and her mother was a coach and P.E instructor at the University of Pennsylvania. She had an uncle who was a vaudeville star, and another who was a Pulitzer Prize-winning writer.
Throughout her childhood, Grace attended school and occasionally did modeling along with her sisters and mother.
Grace dreamed of being an actress, much to the displeasure of her parents. They overlooked her accomplishments in favor of her sister, Peggy. Her father is quoted as once saying "I thought it would be Peggy whose name would be up in lights one day."
Start Spreading the News
But Grace had big aspirations, and after graduating Catholic school, she set off to study acting in New York City
At this time, Grace lived at the famous Barbizon Hotel for Women. Back then, the residency was known for being a prestigious place for up-and-coming female professionals (including Sylvia Plath, Liza Minelli, and so many more). No men were allowed after 10 pm and there were strict dress codes. (Fun fact: If you've read The Bell Jar, this place may sound familiar because it served as inspiration.)
Fortunately, Grace's career took off pretty fast, and she earned roles in TV and film before getting a seven year contract with MGM.
Grace's acting career lasted only five years, and during that time she made just 11 movies. But her star power was no joke. People obsessed over her alluring, "ice cold" image and rumored romances with famous, Hollywood men (like Clark Gable and Bing Crosby).
She won three Golden Globe awards and an Academy Award, was nominated for numerous other acting prizes, and has a star on the Hollywood Walk of Fame. Her collaborations with mentor and director Alfred Hitchcock are known for being some of her best work.
The moment you've all been waiting for…Princess Grace
If there's one thing Grace is remembered for more than her films, it's her marriage to Prince Rainier III of Monaco in 1956 at age 26. In a wedding that featured over 600 guests and was produced and broadcast by MGM to approximately 30 million viewers, Grace's real life fairytale took over the headlines.
For the publicly broadcast ceremony, Grace wore a dress that's still talked about today. It took 30 people six weeks to make and featured vintage lace. The dress was worth an estimated $60,000+!
But this wasn't Grace's first engagement. She was to wed a fashion designer before calling it off for the Prince of Monaco, with whom she had three kids and who never remarried after her untimely death.
Hollywood's Princess
Grace gave up acting to become a princess since it wasn't deemed appropriate for her to do both and she needed to focus on her royal duties (much like Meghan Markle did when she took to the royal family this year).
At the time, she was happy to leave. But some biographers report her later questioning her decision and saying "How many wonderful roles I might have played by now?" years later.
Princess Grace wanted to go back to acting in a Hitchcock film, and her big screen return was the talk of the town, but she had to call out of the project for "logistical reasons." Many believe it was because the people of Monaco didn't want their princess starring in what would have been a controversial role.
But even without acting, Grace lived a legendary life. She was devoted to philanthropy which took over her life post-acting. She founded organizations and used her role as princess to further causes which mattered to her, like supporting the arts.
Sadly, Hollywood's favorite princess died in a tragic car crash. She suffered a stroke while driving at age 52 in 1982. Her husband was later buried next to her in 2005, and her children still work to keep up her charities.
Fashion Inspired by Grace Kelly
Grace had what Alfred Hitchcock once described as "sexual elegance." She was mysterious and captivating. Always well-dressed, Grace's look was classy, sophisticated, and proper. She was never one to shock audiences with the next big trend, but she created a look that was timeless.
Grace Kelly is still the standard of elegant glamour and a go-to inspiration for women everyone who wants a put-together, chic look. She was a princess, after all! Her fashion was anything but casual. Grace's outfits always looked expensive and luxurious.
Show Business Chic
Grace was a leading lady who could strut through the streets of the studios in decadent fashions and not think twice about it. On screen, she sported some of the finest costumes from the most acclaimed designers of the era. Her image is still associated with the traditional look of 1950s formal attire. She knew how to put together a coat and skirt ensemble that was chic and feminine.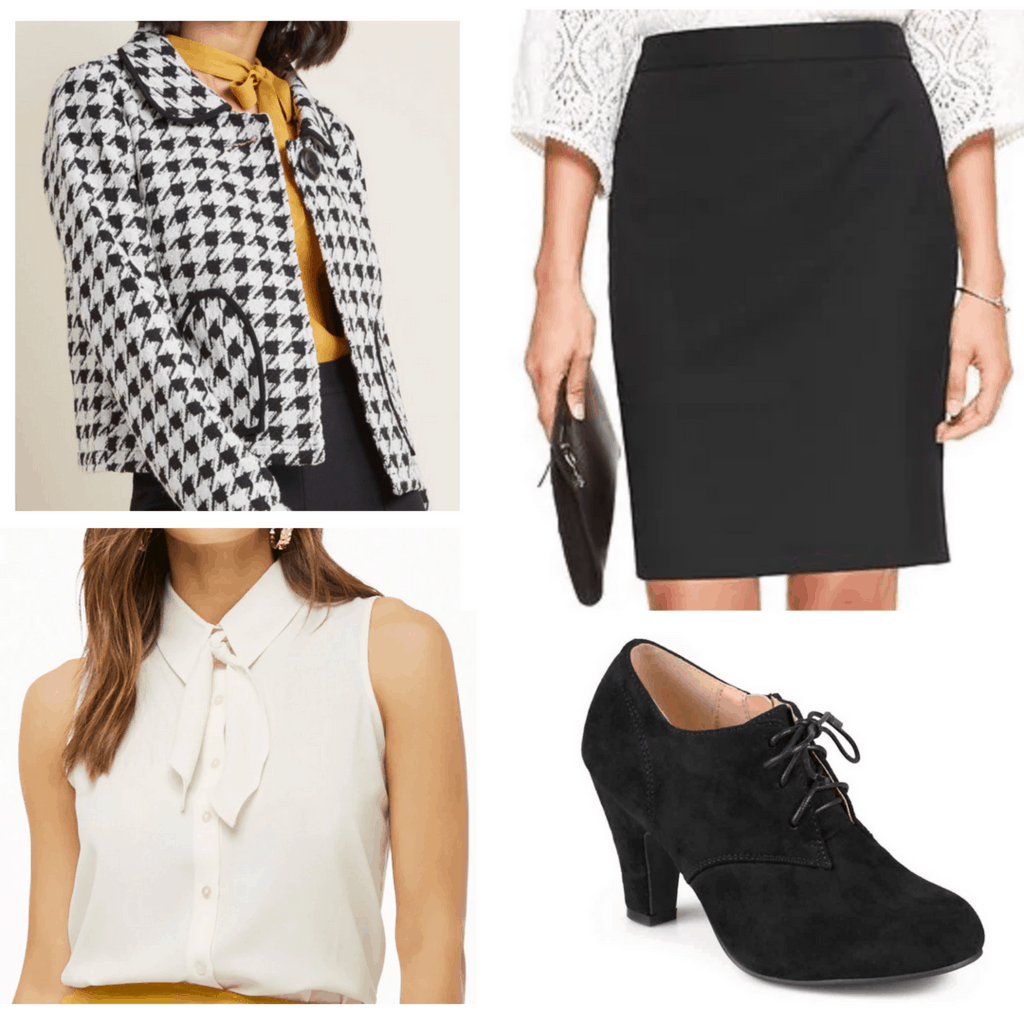 Products: Coat – Modcloth, Skirt – Banana Republic Factory, Top – Forever 21, Shoes – DSW
This '50s formula look is perfect for cooler seasons, easily adaptable to autumn and winter. All you need is a killer skirt and coat. You can pair a long sleeved button-down (be sure to get one with a scarf tie neck for extra '50s flair) with a longer skirt and coat for added warmth. Oxford style booties are adorable and add throwback vibes to the whole look, while also being perfect to wear with tights or stockings for colder months.
While many ladies in the '50s opted for matching patterned or colored coats and skirts, you can mix it up for a more modern twist on the style staple.
Old School Hollywood Glam
Grace was one of the most admired movie stars at the time, and certainly dressed the part in photo shoots and at events. Her silhouettes were always fairly modest, but she could be known to include something a little flirty, like an off-the-shoulder sleeve or slightly opened back.
You wouldn't catch Grace in a super low-cut top or dress, but rather something like a sweetheart neckline or a strapless ensemble. These were just provocative enough to be a major photo moment in the '50s, but also still considered conservative.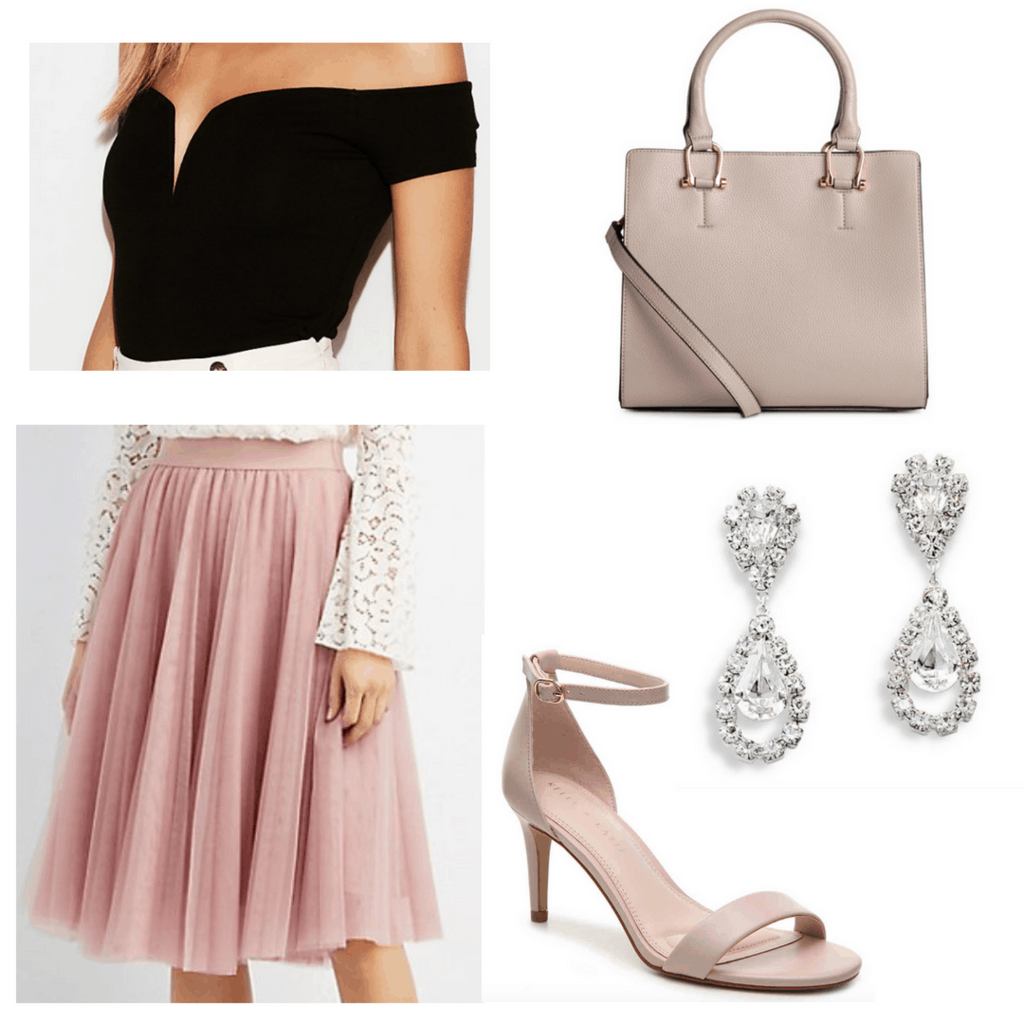 Products: Top – Express, Skirt – Charlotte Russe, Bag – H&M, Earrings – JCPenney, Shoes – DSW
Find a sweetheart top to pair with a full bodied skirt for the old-school silhouette on a modern college girl's budget! Midi skirts bring back the formality of vintage cut dresses but are easier to wear, since you can match them with anything. A tulle skirt like this one will make anyone feel like a princess and contrasts the formfitting, cheeky top in traditional Grace fashion.
A faux-leather bag is a must, as Grace popularized the Hermès Kelly Bag! When she was pregnant, she would use the bag to hide her belly from paparazzi, and the style took off (not unlike Jane Birkin and her Birkin Bag).
Always Dressed to Impress
Even in her most casual outfits, Grace still looked fancy and regal. She enjoyed a polished look. Her day clothes were always perfectly fitted to show off her figure without being super form-fitting. Immaculately tailored, Grace's clothes are the gold standard of professionalism.
Grace kept her accessories pretty simple. Even if she was wearing earrings, bracelets, and a necklace, they never overpowered each other or looked gaudy. She could rock a headband or sunglasses or make them look prestigious.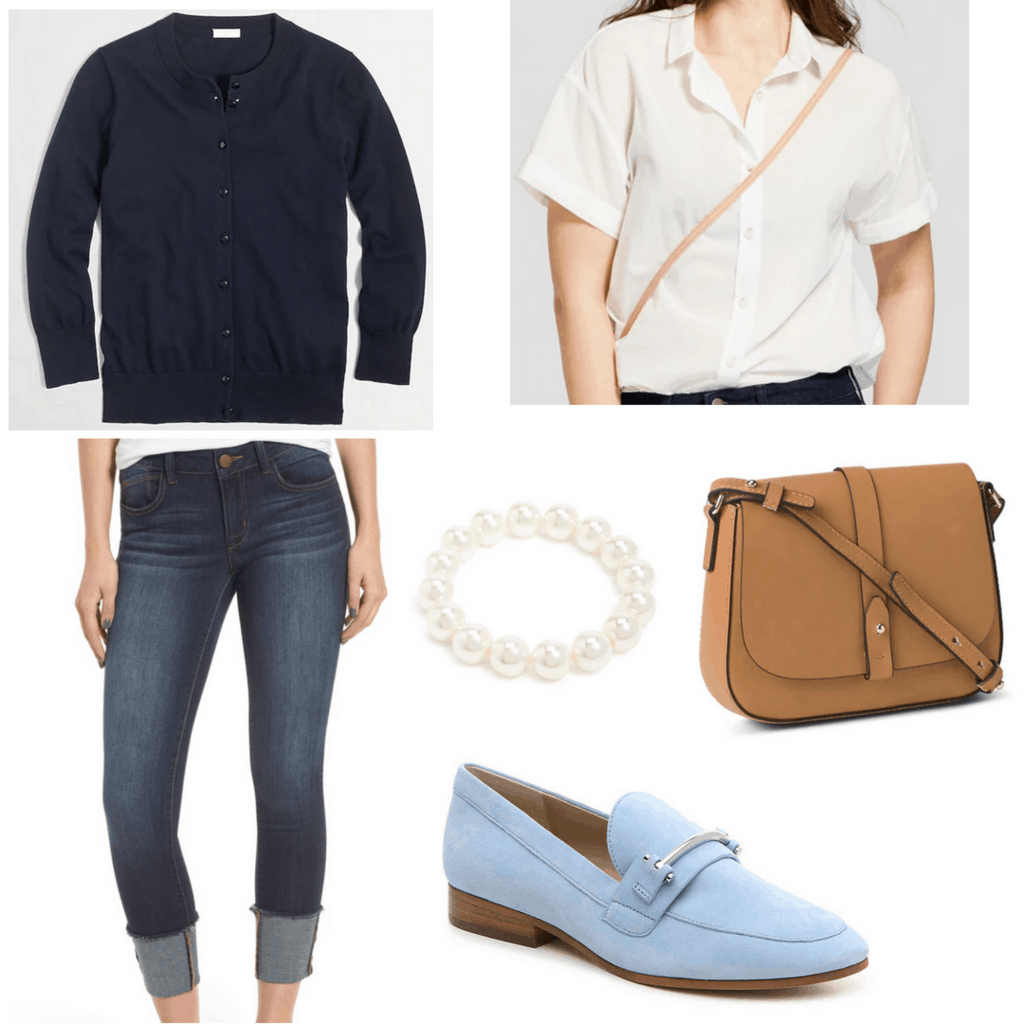 Products: Cardigan – J.Crew Factory, Jeans – Nordstrom, Top – Target, Bracelet – Forever 21, Shoes – DSW, Bag – The Gap
You can definitely wear jeans and achieve Grace glamour, but go for a dark wash with no distressing and cuff them for a polished finish. Adding a nice cardigan can dress up any top, and wearing loafers is a way to be comfy but also look formal without needing heels.
Play around with casual accessories, like bracelets and matching earrings, and bring your favorite faux-leather bag to go with it all!
Will you be channeling Princess Grace sometime soon?
Grace Kelly's style was superb, looking expensive and formal almost all the time. But most of that sophisticated glam came from her fierce but quiet attitude. It's no wonder women have admired her for decades.
Are you off to buy chic formalwear? Will you be planning out your own fairytale lifestyle like Princess Grace? Let us know in the comments!
And for more information on Grace Kelly, check out these great sources: