Over the past month, we've been breaking down our list of 16 classic fashion icons everyone should know. Last week, we covered Cher — the singer/actress you all know and love. This week, we'll be talking about an influential figure on the European fashion scene, Jane Birkin.
The singer/actress/model/muse took over international pop culture in the 1960s and 1970s with her chic, undone style and provocative films and songs that were sometimes banned for being too sensual. (We'll get into that later.)
A natural beauty and muse to many an artist (including the most renowned French musician in modern history), Jane Birkin is a stylish example of the je ne sais quoi of European fashion.
Keep reading to find out more about Jane's early life in England, rise to French superstardom, and influence on the fashion scene.
All About Jane
An English Rose
Jane found huge success in France and is considered a French style icon, but she was actually born in London, England in 1946.
Her mother was a successful actress, and her father was a Royal Navy lieutenant-commander and spy during WWII. Her brother, Andrew, is a filmmaker and has photographed her many times.
At 17, Jane was offered a part in a musical produced by her soon-to-be first husband John Barry.
But she had yet to achieve the fame that was waiting for her. To begin, she starred in minor roles in counter-culture films like the movie Blow-Up. That role created a small buzz around her name due to her brief nude scene.
Ooh la la
Jane soon divorced John Barry and met Serge Gainsbourg. Gainsbourg, in case you don't know, was one of the most important and influential figures in modern music and remains, to this day, an icon in France.
Birkin's collaborations with Gainsbourg were often erotic. Their duet "Je t'aime…moi non plus" (I love you…me either) featured lyrics and vocals that were considered so sexual that it was banned from the radio in six countries and couldn't be played in France before 11 pm.
Naturally, because the tune was so taboo, it became a hit. (The '60s and '70s were a lot more wild than you think…) Jane became a symbol of effortless beauty and sexuality, captivating the world with her stunning looks and provocative art.
She and Gainsbourg were in a relationship for 13 years and collaborated on loads of different music and film projects, but eventually split in 1980.
Jane married a director that same year, though Serge continued to write songs for her and was always in her life. But Serge died in 1991, and Jane went on to say "when Serge died, everything else collapsed. Nothing was really the same again." She divorced her then-husband shortly after.
Still, Jane managed to succeed on her own and continue working in music and film. In 2017, she released the album Birkin/Gainsbourg: Le Syphonique, featuring songs Serge wrote for her. She even performed it at Carnegie Hall earlier this year.
A Muse to the World
Jane was a muse to many famous directors and musicians, but also to the entire fashion world. Her modeling popularized the minimalistic casual fashion vibe that was huge in the '70s.
One of her most iconic fashion moves was carrying a large wicker-basket purse (not sure how comfortable this is but it looks fabulous) — you might notice that those wicker basket style bags are back today! (Fashion, it's cyclical.)
Jane also inspired the world-famous Birkin Bag by Hermès. Then chief executive of the design label was sitting next to Jane when her bag spilled, and decided to design one for her after she complained about not having a good leather bag.
Fashion Inspired by Jane Birkin
Jane's style has been pretty consistent throughout her career. Her it-factor comes from blending the casual with the sensual. You won't find many photos of Jane in extravagant evening gowns or elaborate lingerie, but you'll find her looking just as gorgeous in a simple t-shirt and jeans. (How does she do it?) Here's a guide to copying her look for yourself:
Classic Jane
A white t-shirt and jeans were Jane's go-to back in the day. She loved an easy-going aesthetic. Also, notice the infamous basket purse! Loose-fitting clothes showed off Jane's slim figure in a subtle way and helped to enhance that "Oh, I just put this on in a second!" look she became known for.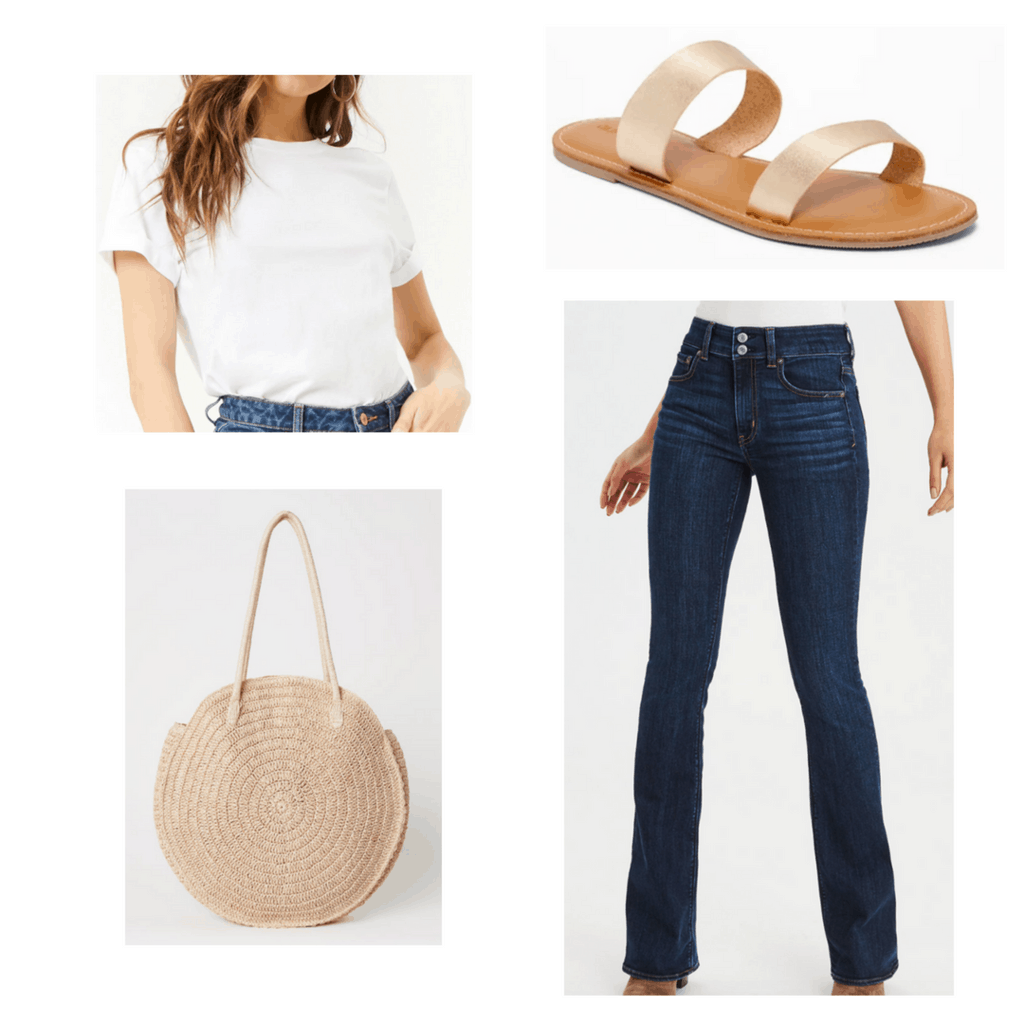 Products: Top – Forever 21, Bottoms – American Eagle, Bag – H&M, Shoes – Old Navy
To steal this look, you probably have everything you need, namely a plain white t-shirt, flared jeans (if you can get bell-bottoms, go for it!), and some simple shoes. If carrying a full wicker basket isn't for you, try a straw purse. They're smaller but maintain the aesthetic.
Always in Style
Jane has been photographed in a classic white button-down countless times. These shirts were paired with everything from trousers, to high-waisted jeans, to khaki shorts, and sometimes no bottoms at all! Jane's style focuses on those classic types of pieces.
Products: Top – Old Navy, Shorts – American Eagle, Socks – ASOS, Shoes – DSW, Bag – Forever 21
I feel like '70s Jane would love the fanny pack resurgence going on right now. It totally captures to the lazy-cool vibe she became known for. Staples like button-downs and Mary Janes don't get old. Try adding a blazer or belt for even more of Jane's charm.
Simply Fabulous
Jane's style can be defined as understated. When wearing something more elegant and dressed-up, like a little black dress or jumpsuit, she'll usually pair it with a few simple accessories that don't draw too much attention away from her natural beauty, even when they're statement pieces. Her outfits are balanced.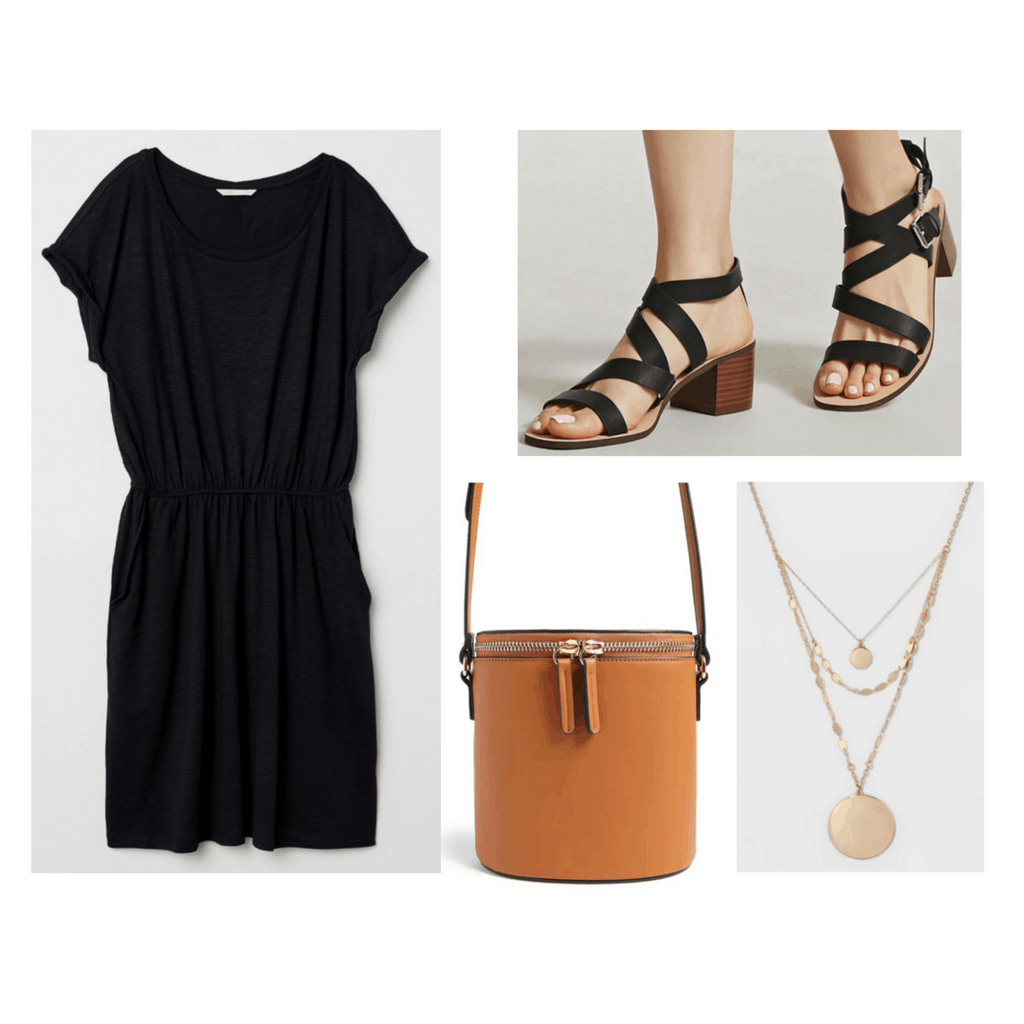 Products: Dress – H&M, Shoes – Forever 21, Bag – Forever 21, Necklace – Target
T-shirt dresses are laid-back and comfortable but can be made to look super cute for a day or night event. Paired with chunky sandals, layered necklaces, and a basket shaped bag (a tribute to Jane's old favorite), this timeless look is simple and cool.
Will you be channeling the effortlessly chic Jane Birkin?
The fascination with Jane's style is undeniable. People across the globe have admired her ability to make anything (or nothing) at all look elegant, sophisticated, and trendy.
Are you running to put on a pair of flared jeans? Will you be buying a wicker basket sometime soon? Or maybe a knock-off Birkin bag? Let us know how you will channel Jane Birkin in the comments!
For more information on Jane Birkin, check out these great sources: