This post will show you the best designer bags from top luxury brands in 2023.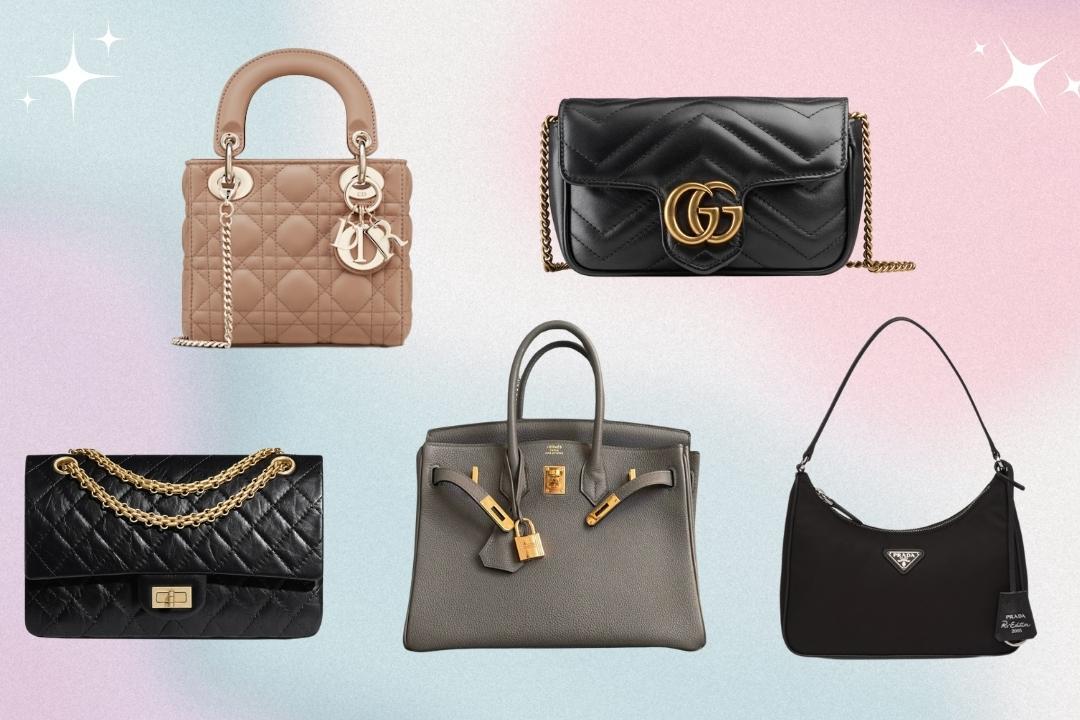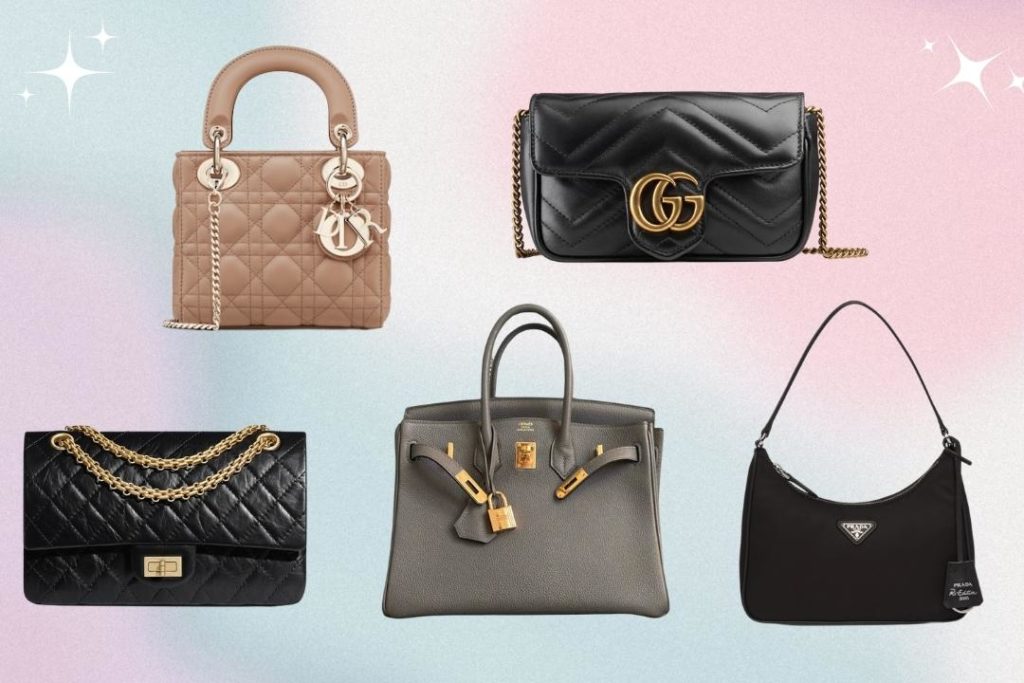 There comes a time in every girl's life when she's ready to make an investment… but I'm not talking stocks, bonds, or NFTs. I'm talking about designer handbags!
Okay, okay, so this might not be true for everyone, but if you are fashion-obsessed like us, there's a good chance you've drooled over a designer bag before.
I'm all about shopping on a budget (in fact, some of my favorite handbags that I own cost less than $50), but luxury handbags are made with a level of craftsmanship that's hard to beat; they'll often last you for years and years. Beyond that, there is the appeal of the designer brand itself. Fans of fashion are eager to collect tokens from their favorite designers or fashion houses and wear them proudly. Many designer handbags also have unique histories which make them that much more special or rare.
And of course, a stylish bag can completely elevate your outfit and make even the plainest of clothing pop!
So, whether you're ready to invest in a designer handbag right now or are planning for a future luxury purchase, we're breaking down the best designer bags you can buy in 2023 to help you make the best decision.
Related reading: The 10 Best Designer Heels Actually Worth Your Money
The 5 Best Designer Bags
These five bag styles are the best of the best when it comes to designer handbags. Find your perfect designer bag based on your needs, below.
Best Crossbody Bag: Yves Saint Laurent Lou Camera Bag
The Yves Saint Laurent Lou camera bag is a chic, roomy crossbody bag that will instantly elevate any outfit. Its crossbody strap makes this bag a breeze to carry, while its chevron quilting and gold hardware add to its luxurious look.
The Lou crossbody comes with a removable hanging tassel and the YSL logo adorned on the front of the bag. This bag is a bit larger than your average crossbody, which makes it great for those who need a little extra room in their purse (like I do!). You won't feel like you have to cram your items in this bag, which is a major plus.
Between its spacious size, convenient hand-free method of carrying, and sleek design, this crossbody is a winner.
Specs & Info:
Price: $1,550
Material: Leather
Dimensions: 9 x 6.2 x 2.3 inches
Colors: Black, Turquoise, Blue, Red, Khaki, Beige, Taupe, Green, White, Gray, Burgundy
Pros:
Zipper closure will keep your belongings secure.
Roomy enough to fit all your necessities.
Adjustable shoulder strap.
Cons:
Can only be worn crossbody-style.
Only one flat pocket inside.
Related reading: Best Online Designer Stores: Where to Shop Online for Designer & Luxury Pieces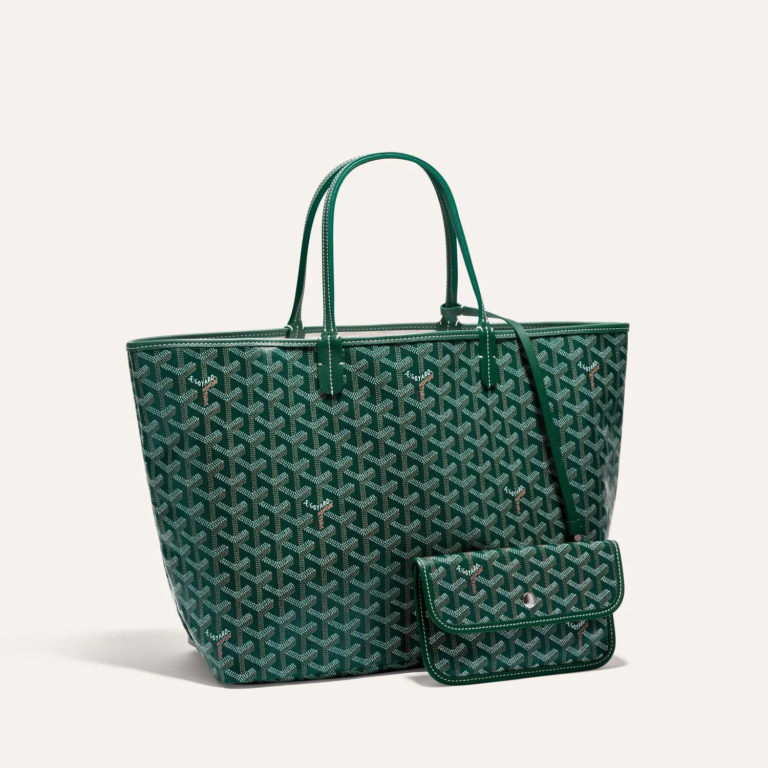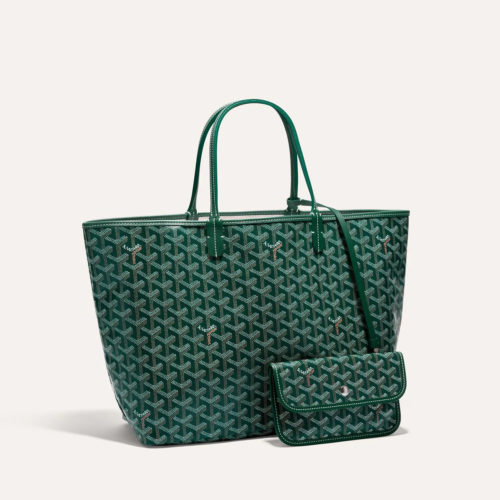 Picking an "everyday" bag can be a challenge since the bag needs to be super functional to meet your daily needs while also looking stylish, and Goyard's St. Louis bag does just that.
This spacious tote bag is extremely lightweight, comes with a removable inside pocket/wallet, and is reversible. In fact, it was first designed to be a beach bag, but fashionistas quickly realized how handy this bag could be in their day-to-day lives.
You'll be able to throw all your necessities in this stylish tote bag for long days on the go – and with hardly added weight thanks to its ultra-light composition. Your laptop, books, papers, makeup, and even a change of clothes can fit in this slouchy, open-top bag (making it an excellent travel bag, too).
Plus, you can get it personalized with your initials in the colors of your choosing for a personal touch.
Specs & Info:
Price: Upon request (around $1,200 – $1,500)
Material: Goyardine Canvas & Chevroches Calfskin
Dimensions: 28 x 15 x 34 cm
Colors: Green, Blue, Red, Black, Gray, White, Navy, Brown, Yellow, Orange, Black/Brown
Pros:
Very lightweight and spacious.
Reversible and durable.
Fits a laptop.
Cons:
No zipper pockets.
Is unstructured/may not hold shape.
Cannot order online directly from Goyard.
When it comes to handbags with top handles, it doesn't get more classic than the Lady Dior bag. This elegant handbag has a classic, ladylike design that features Cannage stitching for a quilted texture that is signature to Dior.
The bag's two top handles give it a classically chic appearance that is accentuated by gold metal hardware including darling 'D.I.O.R.' charms which hang from a ring on the front. You'll also be able to wear this bag as a crossbody thanks to its removable leather shoulder strap, making it a versatile piece.
The Lady Dior bag comes in various styles and in five sizes: micro, mini, small, medium, and large. We love the size of the medium Lady Dior bag since it will fit all of your everyday necessities without being too large or too small – as Goldilocks would say, it's just right!
Specs & Info:
Price: $5,900
Material: Leather (lambskin)
Dimensions: 24 x 20 x 11 cm
Colors: Natural (beige), Black, Blue, Gray, Pink, Red, and White
Pros:
Ideal size to fit all of your belongings while still being compact.
Can be carried by hand using the top handle or worn as a crossbody thanks to its removable shoulder strap.
May be paired with other straps such as Dior's embroidered straps for a different look.
Cons:
Expensive (compared to other bags on this list).
May tear more easily due to the lambskin leather's ultra-soft composition.
Looking for a designer handbag that you can take to work? Prada's Galleria bag has a chic, classic design that is perfect for the workplace (or for whenever you just want to look like a boss).
This sophisticated bag features multiple compartments for superior organization: two large zippered compartments, an open compartment in the middle, and a few more zippered pockets throughout. You'll be able to separate and arrange your belongings in an ultra-organized way while keeping your personal items contained and secure.
The Galleria bag's large size will allow you to fit everything you need for your workday (you can stick papers and folders in the open middle section), and its Saffiano leather with a crosshatch texture lends a luxe look to it. The understated triangle Prada logo does not overwhelm the bag or make too bold of a statement, which adds to its appropriateness for an office setting.
In addition to its double handle, the bag also comes with a detachable shoulder strap so that you can wear it crossbody-style.
Specs & Info:
Price: $3,850
Material: Saffiano leather
Dimensions: 24 x 13.5 x 32 cm
Colors: Black, Blue, Red, Beige, White, Pink, Emerald Green, Billiard Green, Gray
Pros:
Multiple compartments allow for excellent organization of your belongings.
Classic design will not go out of style.
Has "feet" to protect the bottom of the bag from wear and tear.
Cons:
Does not fit a laptop.
Top handles do not fit comfortably over shoulders (not a shoulder bag).
Only comes with gold hardware (no silver option).
You don't need a big bag to make a big impact – Gucci's GG Marmont matelassé leather super mini bag is a show-stopper despite its small size.
Tiny yet mighty, this bag features Gucci's signature Double G logo inspired by an archival design from the '70s. Its made from matelassé chevron leather and has a flap closure with a chain shoulder strap which can be worn crossbody-style.
Though it may not fit your cell phone (let's be real – most of us keep our phones glued to our hands, anyways!), this mini bag can fit a card case and/or money, lipgloss, and keys, which is about all you need for a night out.
I'd recommend this bag if you're looking for an elevated "going out bag" for your social life. Its micro size is probably too small to be an everyday bag, but it is ideal for nighttime when you're going out with friends, going to dinners, or going on vacation.
This purse would also make for a great "starter bag" if you're just getting into the designer purse game and don't want to break the bank. With a lower price point compared to other designer bags, it's a more attainable option that is still going to give you a designer look with its bold Double G hardware.
BTW – you may not know that the back of this bag has an adorable heart shape stitched on it within the chevron design.
Specs & Info:
Price: $1,150
Material: Leather
Dimensions: 6.2 x 4 x 1.7 inches
Colors: Black, White, Dusty Pink, Red, Brown, Grey, Rose Beige, Blue, Beige Python
Pros:
More affordable compared to other bags on the list.
Includes a key ring inside which can attach to another bag, wallet, or keys.
Good for a night out on the town!
Cons:
Its mini size is not going to fit much – it will only fit a cell phone up to 2.7" W x 5.8" H x .3" D.
No zipper pocket or closure.
Features an oversized designer logo which some may not like.
Most Iconic Designer Bags
The list doesn't stop there. Let's take a look at some other designer handbags that have earned icon status thanks to their superior craftsmanship and famed histories.
Created in 1955 by Coco Chanel herself, the Chanel 2.55 handbag is as iconic as it gets. With its signature quilted leather, chain strap, and rectangular shape, there's no mistaking this classic Chanel creation that is as versatile as it is sophisticated.
The brand went on to create countless variations of the bag, and while many of us recognize the famous interlocking CC closure on Chanel bags, the 'Mademoiselle Lock' on the 2.55 bag goes back even further in fashion history – making it the ultimate classic.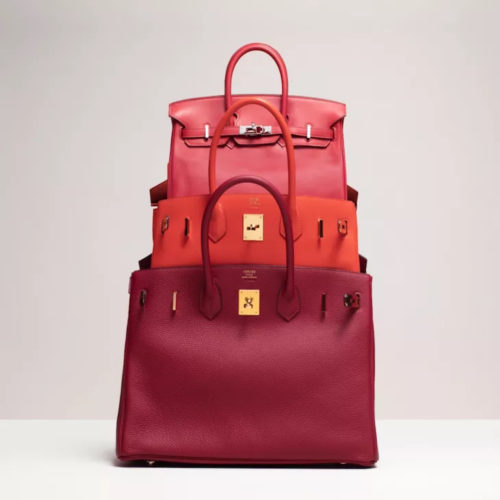 Perhaps the most highly-coveted handbag in the world, the Hermès Birkin bag has achieved total icon status.
You can't just order this bag from the Hermès website; you'll only be able to get this bag from an Hermès boutique or from an independent re-seller. And when you walk into an Hermès store, don't expect to see this bag on display, either. If you're lucky, a sales associate will offer you the opportunity to purchase a bag, and you'll only get to pick from the options they may (or likely, may not) have. Furthermore, there is a strict quota that Hermés is said to enforce, restricting buyers to only two luxury bag purchases per year. This is why obtaining a Birkin bag has become somewhat like a sport for those who can afford its hefty price tag!
Beyond the retail hype, the story behind the Birkin bag's conception is very cool: Jean-Louis Dumas, the past Executive Chairman of Hermès, sketched the bag's design while on an airplane with actress Jane Birkin, who was complaining that she could not find a bag suitable for her needs as a young mother. Thus, the Birkin bag was born!
Way before the Neverfull, there was the Speedy. One of Louis Vuitton's earliest handbag styles, the Speedy was launched in 1930 and is still going strong today!
With rolled leather top handles, a zippered closure, and a duffle-like shape, the Speedy comes in four sizes and three prints. From the Speedy 25 (once carried by the Audrey Hepburn) which is great for every day, to the Speedy 40 which is ideal for travel, this bag is a classic.
Fendi's Baguette bag is the brand's most classic style, designed in 1997 by Silvia Venturini Fendi. It now has a wide range of colors, patterns, and details to choose from, though the brown jacquard fabric with the signature FF motif is the most iconic.
Fendi re-issued the Baguette in 2019, and recently it has had a resurgence in popularity with Y2K fashion making its comeback.
Prada made waves in the 2000s with their range of simple yet statement-making nylon bags and is doing so again with the Re-Edition line, which breathes new life into the original designs using sustainable fabrics. The Re-Edition mini bag is made with "Re-Nylon," a fabric produced from recycled, purified plastic trash. This minimalist design featuring Prada's iconic triangle logo is a classic that you can feel good about carrying now knowing that it's sustainable!
Named after former First Lady (and fashion icon) Jackie Kennedy who once shielded herself from paparazzi with this handbag, the Gucci Jackie bag is the definition of timeless elegance. With its curved half-moon shape and signature piston hardware, the Jackie bag has been reintroduced in new sizes, prints, and colors that give this classic bag a contemporary feel.
Now known as the Neo Cagole City bag, Balenciaga's original "Motorcycle City" bag was the "it bag" of the early 2000s and carried by just about every starlet at the time. At one point, Mary-Kate and Ashley Olsen were practically synonymous with the bag, helping it soar to instant icon status.
The bag's moto-inspired hardware and unstructured silhouette make it instantly recognizable, and Balenciaga now offers a shoulder bag version of the oversized classic that has become super popular this year.
What do you think of our best designer bags round-up?
For more on high-end fashion, be sure to see our guide to the best luxury watches for women.
Which bag is your favorite? Would you ever consider buying a designer handbag? Leave a comment and let us know!