This post will show you the 10 best designer heels worth investing in for 2022.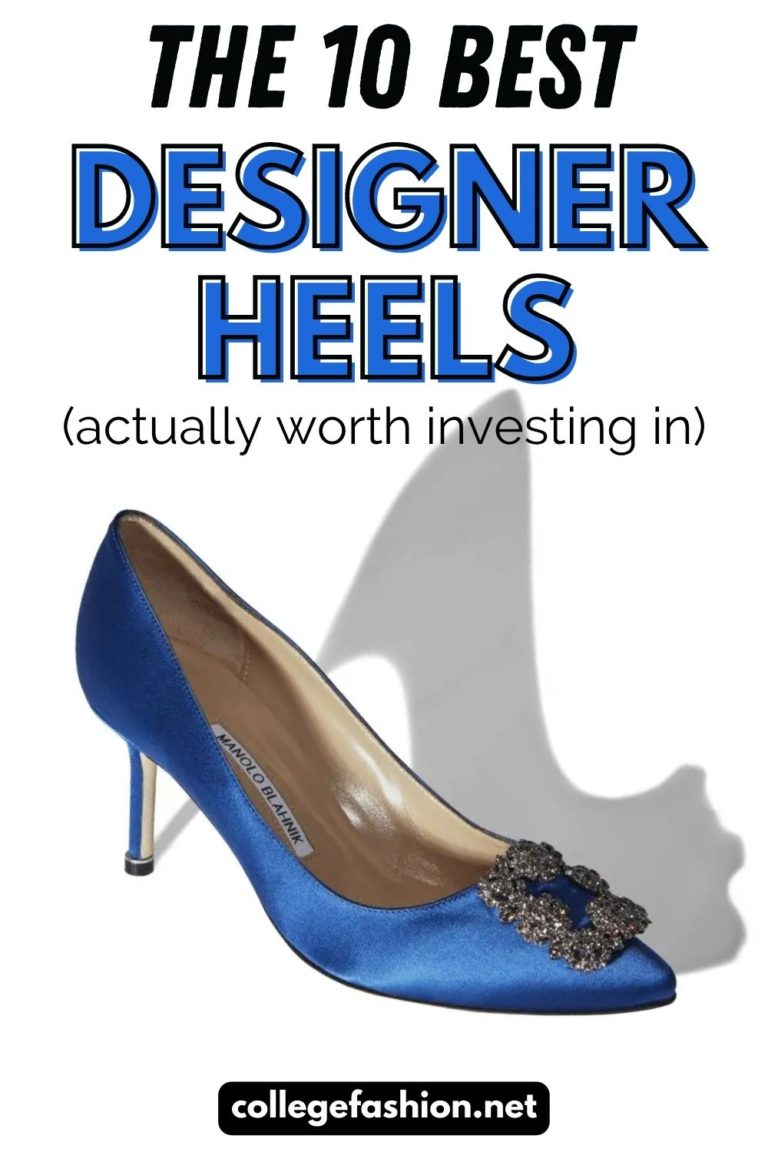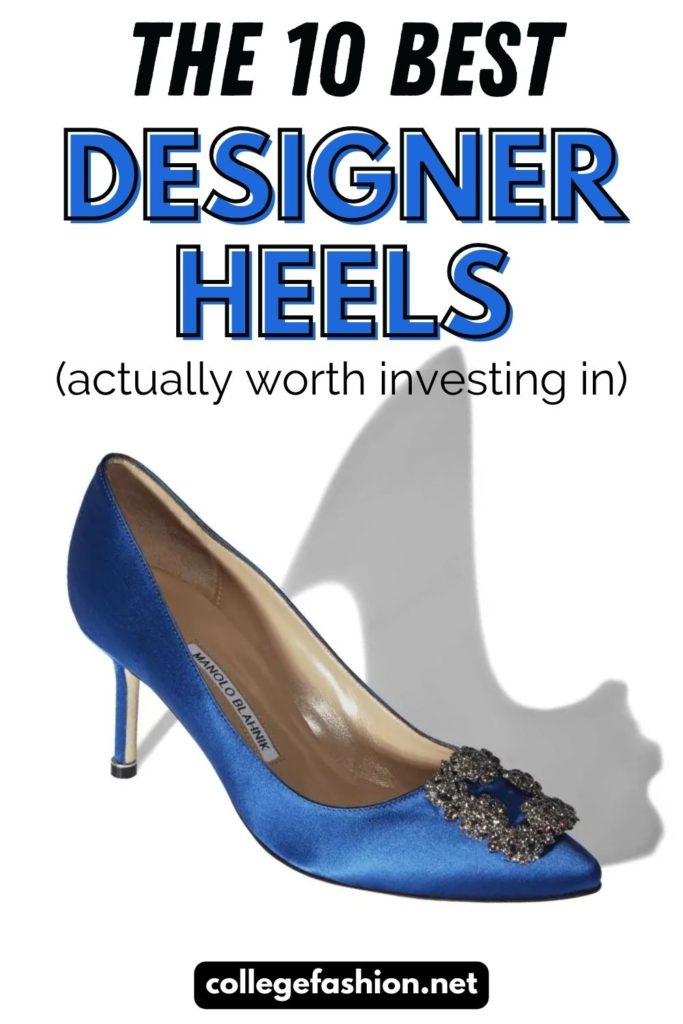 There's something about wearing a killer pair of heels that makes you feel feminine and powerful all at once. Not to mention how a good pair of heels can totally transform any outfit and make you look instantly polished!
If you are ready to invest in some designer heels but don't know where to start, you're in luck. In this post, we're helping you find the perfect designer heels from top luxury brands in 2022 that are actually worth the investment. (And yes, buying designer items can be an investment, since there's always resale value to consider.)
Though these heels are pricey, their expert craftsmanship, elite materials, and cutting-edge trend appeal make them worth the splurge. So without further ado, read on and find out which 10 designer heels are CF-approved and actually worth investing in!
(If you want more info on designer shoes, we have guides to the best designer shoes overall, the best designer flats, and the best designer bridal shoes. And if you want to sell them someday, see our guide to where to sell designer shoes.)
Related reading: The 10 Best Designer Shoes That Are Worth the Price
The 10 Best Designer Heels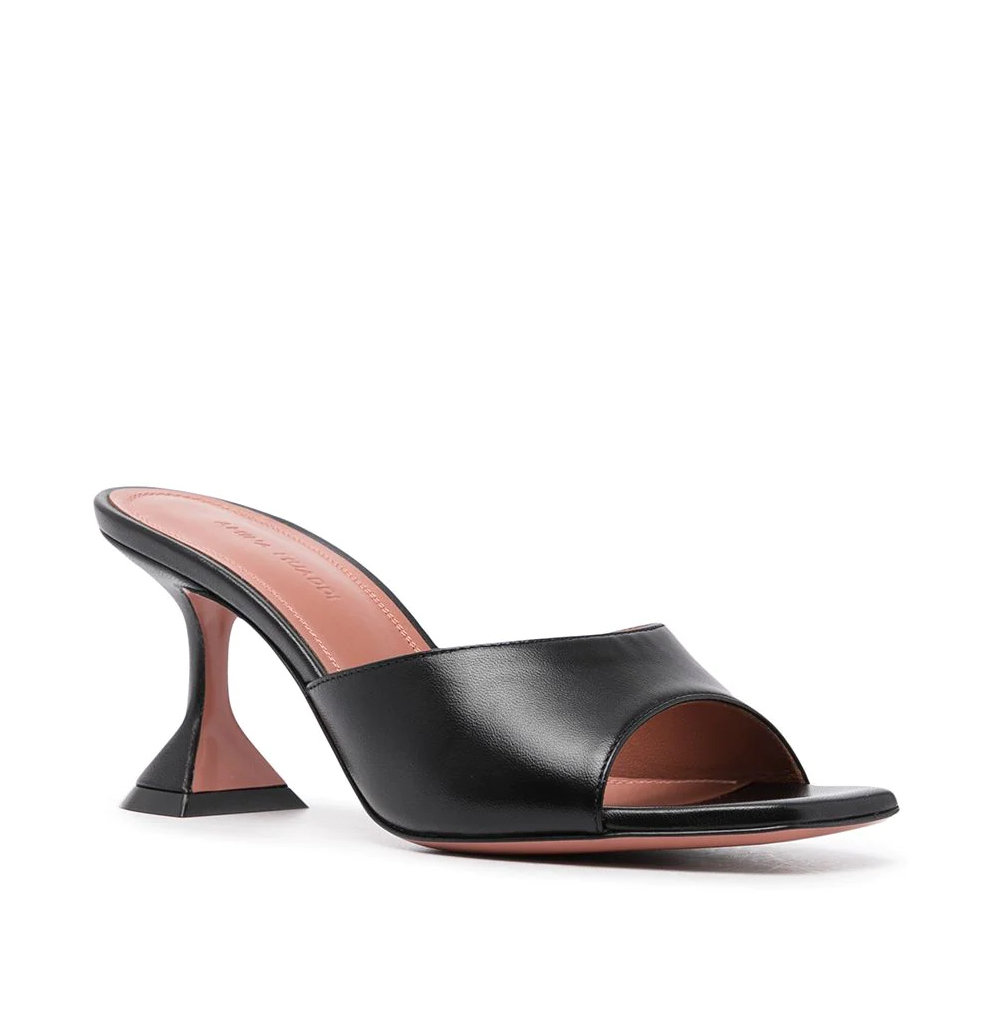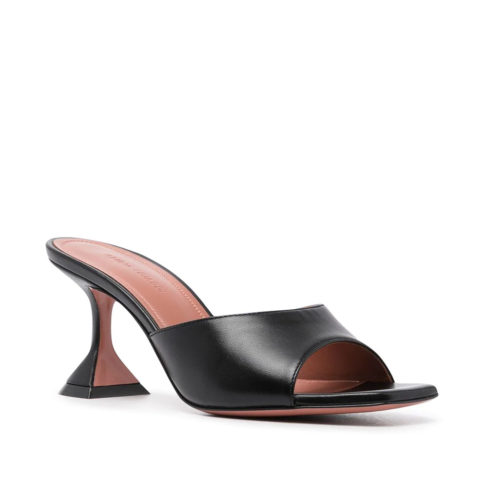 Shoe designer Amina Muaddi pioneered the kick-flair heel, which has become a signature of her brand and is instantly recognizable, even without any obvious logos. Her innovative designs have inspired countless dupes and earned her the Designer of the Year title at the Footwear News Achievement Awards in 2019 — and did I mention that she also worked with Rihanna on FENTY's footwear collection, too?
For all of those reasons, Amina Muaddi's Lupita Sandals take the cake as the best overall heels, striking the perfect balance between classic and modern with their innovative square-based heel.
This simple pair of black mules with a heel under 3″ are ultra-wearable; they are suitable for daytime or nighttime, and laid-back and dressy events, alike. You could just as easily wear these to happy hour as you could to a wedding, making them an excellent investment. And supporting a woman-owned designer brand is always a plus!
Specs:
Price: $960
Heel Height: 2.8″
Material: Leather
Size Range: 36 – 42
Colors: Black, Pink, Tan, Tiger Print
Recommended For: Someone who wants a versatile pair of heels with trend appeal and added stability.
Pros:
Low-profile design makes these versatile.
Short heel height is wearable day or night.
Kick-flare heel base makes these easier to walk in.
Cons:
May not be suitable during colder months due to backless and open-toe design.
Some sizes are not readily available.
Related reading: Best Online Designer Stores: Where to Shop Online for Designer & Luxury Pieces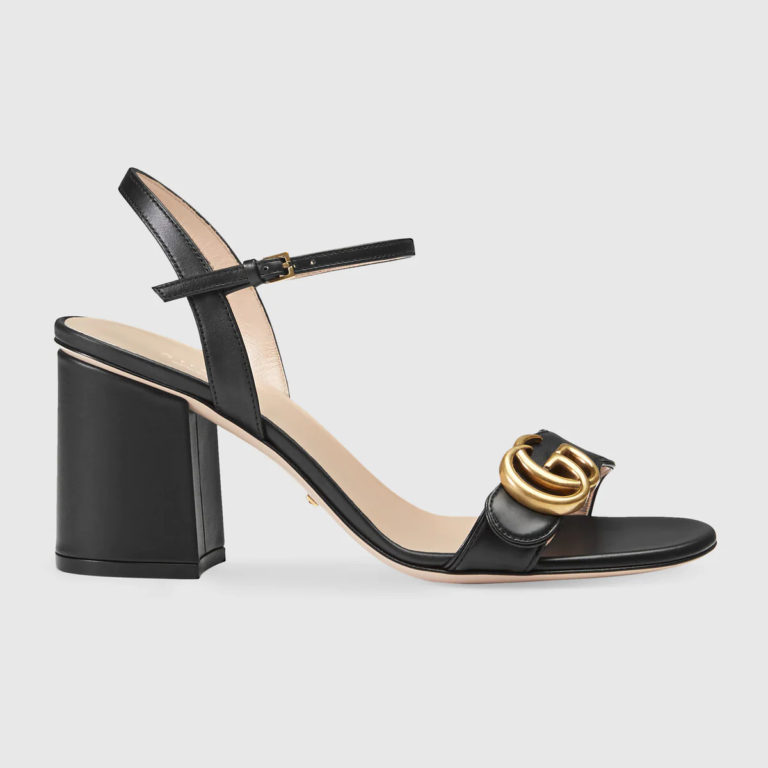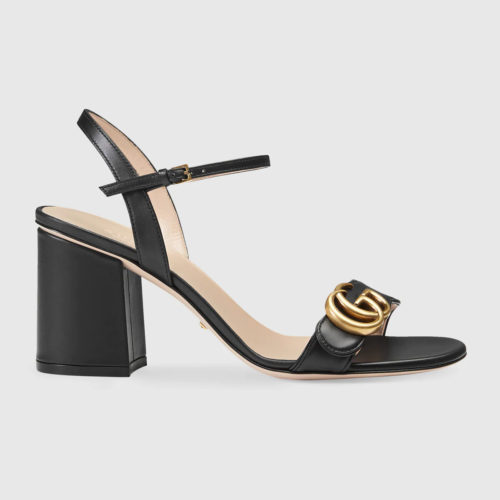 I am a huge fan of shoes with block heels, as I find them much easier to walk in (and overall more comfortable) compared to stilettos. Gucci's leather mid-heel sandals elegantly balance a sturdy block heel with a delicate ankle strap for a chic look.
These block heels have a timeless design that you'll be able to wear for years to come and are suitable for tons of different occasions. Their classic look makes them highly versatile, while the iconic gold double-G logo on the front strap lends the sandals a luxe vibe.
Specs:
Price: $850
Heel Height: 3″
Material: Leather
Size Range: 34 – 42
Colors: Black, Gold Metallic
Recommended For: Someone who wants a sturdy heel that is classic but also gives off fashion flair.
Pros:
Comfortable block heel.
Classic design that will not go out of style.
Mid-heel height is wearable day or night.
Cons:
Feature a prominent logo on the front strap which may not appeal to everyone's taste.
Limited color options.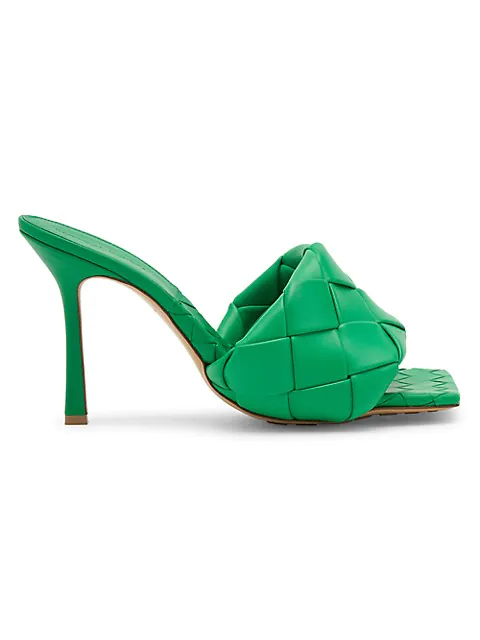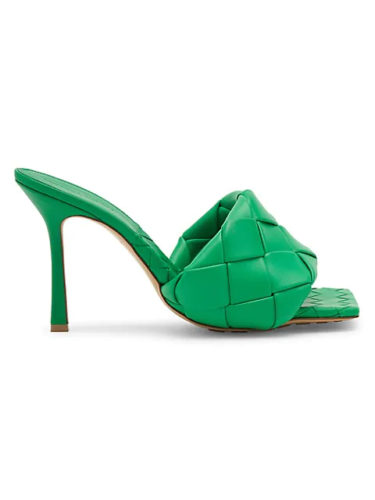 When it comes to heeled sandals, Bottega Veneta's Lido Mules reign supreme.
Even without an obvious brand logo, there's no mistaking Bottega Veneta's signature intrecciato weave design on these statement-making sandals. They also feature a modern square toe and grippy rubber soles which provide added traction when walking, making these surprisingly practical.
These sandals are available in a ton of bright (and some neutral) colors, giving you plenty of options for finding your perfect pair. Regardless of if you go for a bold or muted hue, they will make an impact.
Specs:
Price: $1,500
Heel Height: 3.5″
Material: Leather
Size Range: 34 – 42
Colors: Green, Black, Orange, Yellow, Navy Blue, Pale Blue, Teal, Purple, Beige
Recommended For: Someone looking for a modern heeled sandal with trend appeal.
Pros:
Grippy rubber soles provide added traction when walking.
Versatile design.
Many colors to choose from.
Cons:
Some may find the backless mule design more difficult to walk in.
Trendy style has inspired many dupes on the market.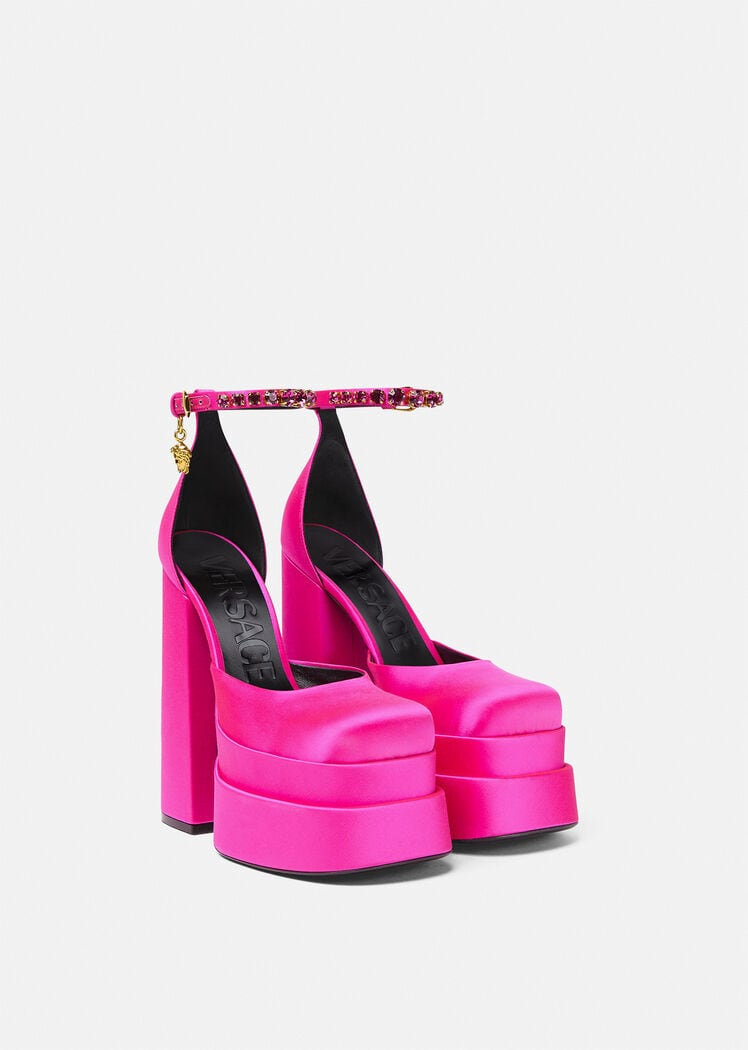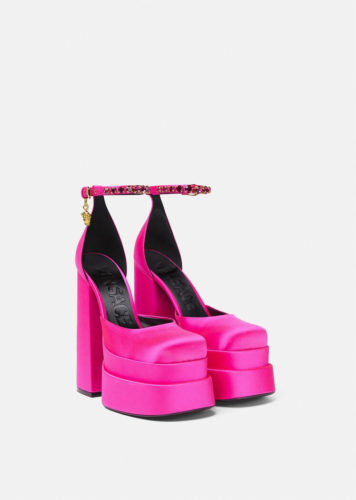 There's a good chance you've spotted Versace's Medusa Aevitas Platform Pumps all over your Instagram feed since they've been a favorite of celebs and influencers this year.
These larger-than-life platforms are retro-inspired with girly flair thanks to their silky exterior, double platform, and crystal-embellished ankle straps with a cute dangling Medusa charm (Versace's logo). The sky-high platform heel is likely to make you feel invincible, and many reviews even attest to their comfort.
They are the ultimate party shoe and undoubtedly the hottest platform heels of the year.
Specs:
Price: $1,475
Heel Height: 6″ (155mm) heel; 2 1/2″ platform
Materials: Silk and viscose (upper); leather (lining and sole)
Size Range: 5 – 11
Colors: Black, Lilac, Fuchsia, Light Pink, Pink, Red, Light Blue, Yellow
Recommended For: Someone who has fun with fashion and enjoys partaking in fashion trends, or anyone looking for a major boost in height!
Pros:
An "it" shoe that will pop in all of your #ootd posts.
Comfortable thanks to platform heel.
Luxe-looking details like crystals and a charm.
Cons:
Some may find this heel height to be too high.
Not as versatile as more classic heel styles; very bold.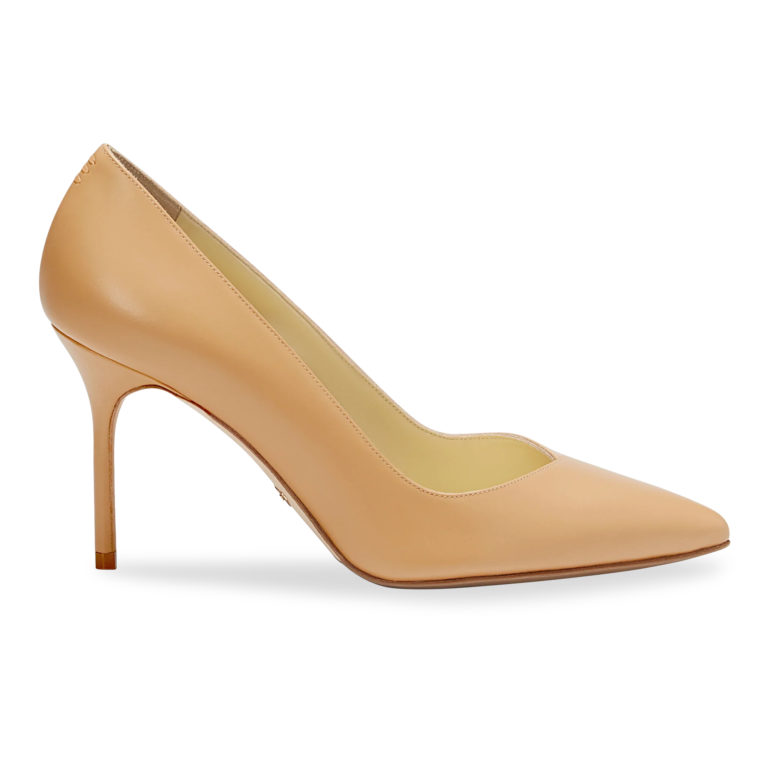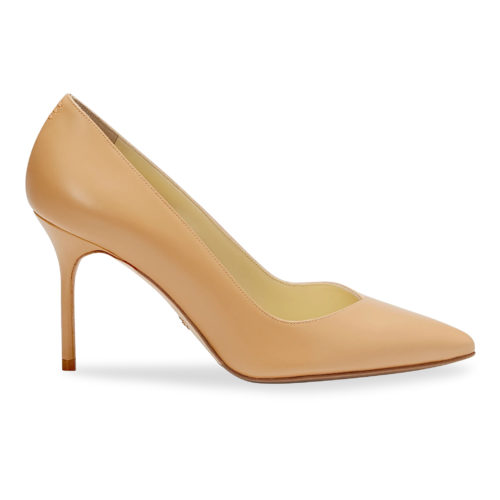 Heels that are actually comfortable? Yes, they do exist! Sarah Flint's Perfect Pumps are crafted with thoughtful details to give you the comfiest heel experience while still looking super sleek.
These pumps feature a footbed with extra padding, a wider toe box to ease foot crowding, anatomical arch support, and a steel rod stiletto which provides durability and security. Sarah Flint really thought of everything when designing these!
Handcrafted in Italy, these pumps come in a ton of colors and prints, and have been seen on the likes of Lady Gaga and Karlie Kloss, among other celebs. You can also choose from three different heel heights of this style.
Specs:
Price: $550
Heel Height: 50mm, 85mm, or 100mm
Material: Italian suede (also available in leather, lame fabric, haircalf, etc.)
Size Range: 34 – 43
Colors: 20+ variations including taupe, leopard print, and metallic gold
Recommended For: Anyone looking to prioritize comfort without sacrificing style; anyone who may be on their feet for long periods of time.
Pros:
Extra footbed padding.
Anatomical arch support for all-day wearability.
Three different heel height options.
Extended size range.
Cons:
May take a bit of "breaking in" since the shoe will stretch in width with wear.
No obvious designer logo or signature detail, which some may prefer.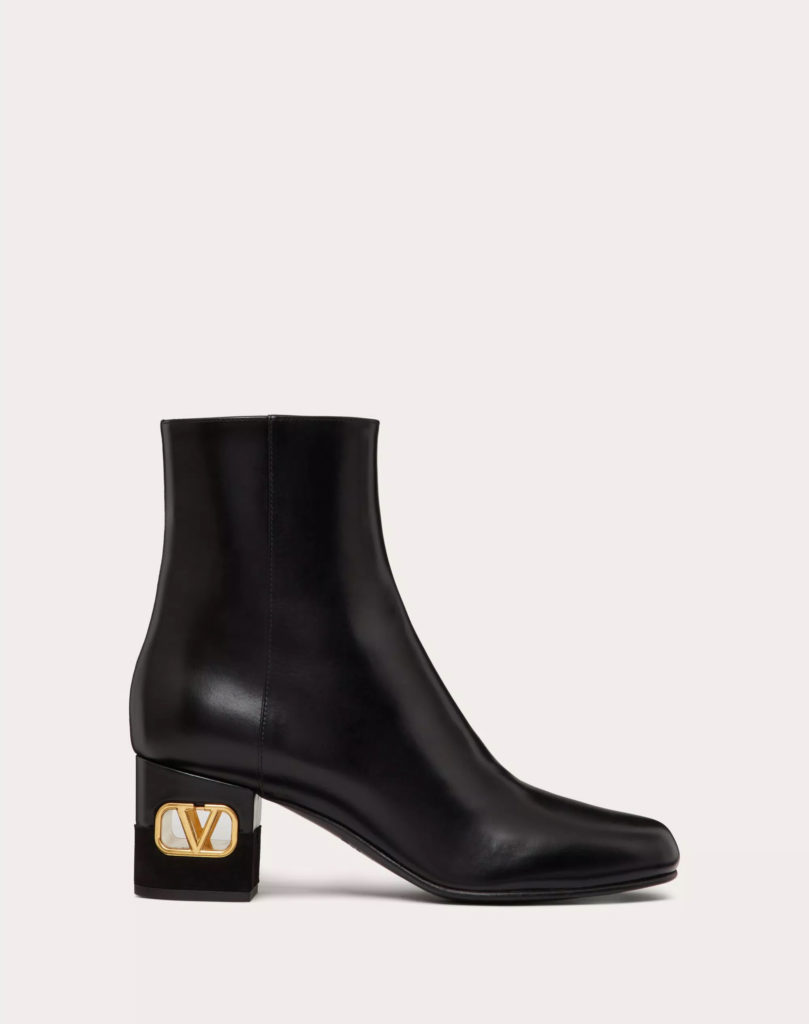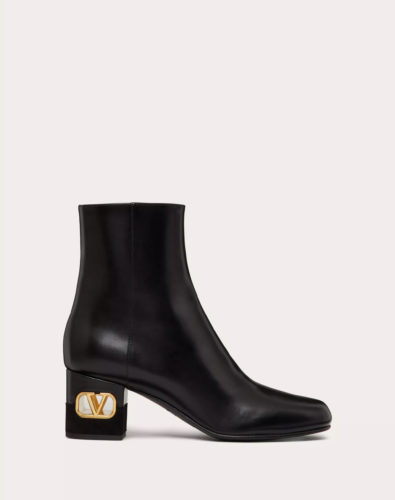 Simple yet striking, Valentino's Heritage Ankle Boots with a block heel featuring the brand's V Logo Signature detail are a great investment.
These ankle booties can be worn day or night and dressed up or dressed down, thanks to their short block heel and overall sleek look that works with dresses, skirts, jeans, trousers, and more.
While there are so many bold designer boot options out there, I suggest opting for a pair like this due to their versatility, especially if you are just starting to build out your designer shoe wardrobe. Trends come and go, but you'll always need a pair of simple black booties! (But of course, the gold logo cut-out adds a hint of fashionable flair).
Specs:
Price: $1,390
Heel Height: 60mm
Material: Calfskin leather
Size Range: 6 – 11
Colors: Black
Recommended For: Someone looking for a versatile ankle bootie that is functional yet luxurious.
Pros:
Classic design will be in style for years to come.
Heel height is wearable day or night.
Block heel is easy to walk in.
Cons:
No other color options.
Gold-tone logo may not match certain outfits.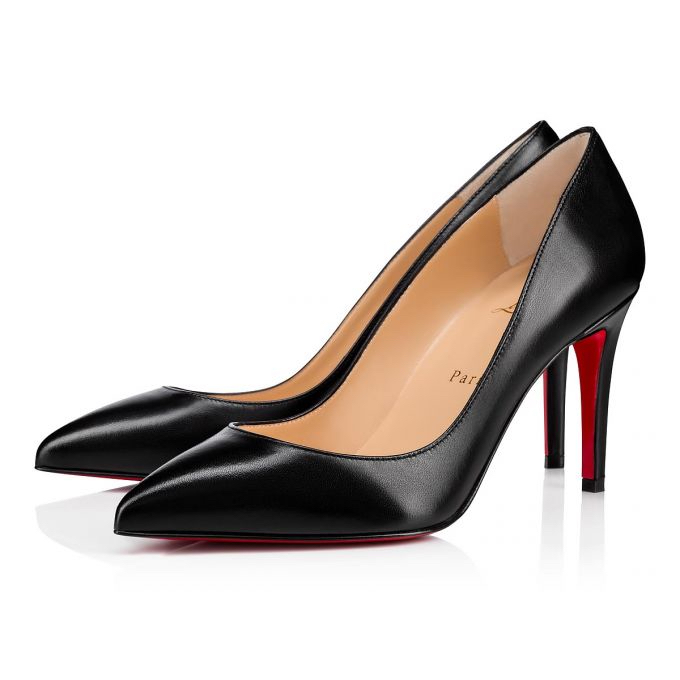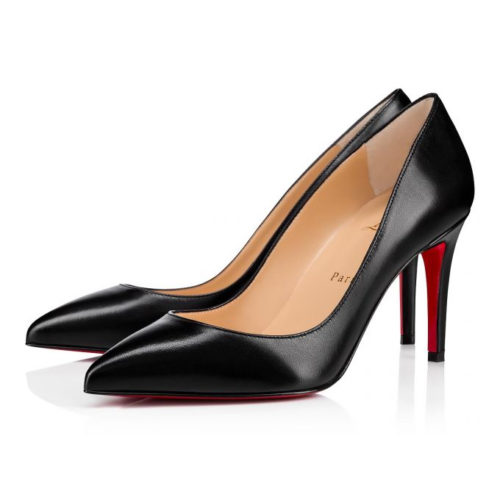 It doesn't get more classic than a pair of "red bottoms," a.k.a. Christian Louboutin pumps, which feature a signature red-colored sole. The "Pigalle" is the brand's most iconic style, being a timeless design with a pointy toe and skinny heel with two different heel heights available.
The Pigalle pumps come in variations of black and nude, further cementing them as a truly classic style — no need for crazy prints or ultra-bright colors with this timeless design, which still makes a major impact. The hint of red doesn't hurt, either!
Fun fact: these heels were named after Christian Louboutin's favorite neighborhood in Paris.
Specs:
Price: $795
Heel Height: 85mm or 100mm
Material: Nappa leather
Size Range: 34 – 42
Colors: Black, Black Patent Leather, Nude, Nude Patent Leather
Recommended For: Someone who wants to invest in classic heels that will always be in style and can be worn with almost anything in their wardrobe for years to come.
Pros:
A classic design that will not go out of style and is highly versatile.
Two different heel heights to choose from based on your preference.
Neutral color options match most of your wardrobe.
Cons:
Red-colored soles are visible when wearing, which may not suit everyone's taste or match certain outfits.
These pumps have slick leather soles which can make it difficult to walk on shiny or slippery surfaces; consider applying rubber sole protectors for grip.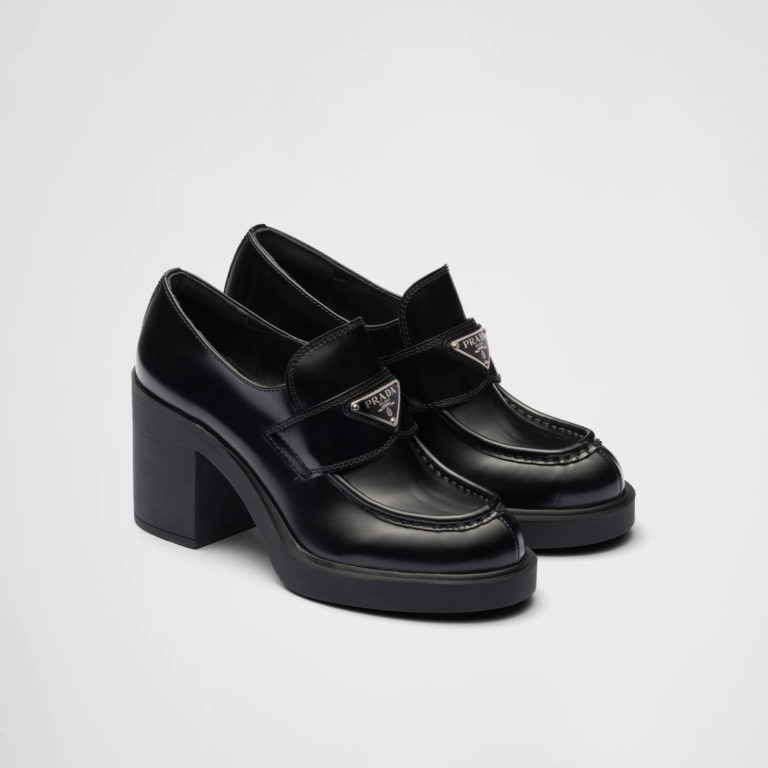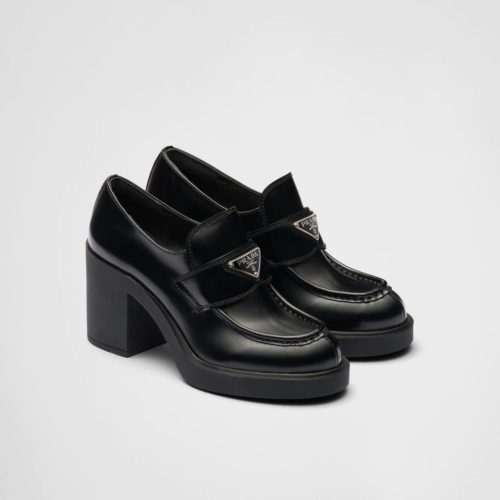 If you're looking for a pair of designer heels that you can wear in the office or workplace, look no further than Prada Chocolate High-Heeled Loafers. While a pair of classic pumps are a timeless workwear choice (including the Christian Louboutin pumps above), I am all about practicality. Unless there is a need to really dress up, these loafers are a much more comfortable and functional heel option for the office that looks professional.
Prada has reimagined the classic "penny loafer" with this pair, adding on a chunky rubber sole for a modern touch, along with the brand's iconic metal triangle logo. The logo is still understated enough to be office-appropriate, and the block heel and rounded toe make these more comfortable than a pointed-toe stiletto.
These heeled loafers will look fantastic with dresses, skirts, trouser pants, and blazers (a.k.a. your whole work, internship, or academic wardrobe) making them a winning choice with a lot of versatility.
Specs:
Price: $1,250
Heel Height: 85mm
Material: Leather
Size Range: 34.5 – 41
Colors: Black
Recommended For: Professionals who are looking for a practical yet stylish pair of heels to wear to the office or in work settings.
Pros:
Comfortable thanks to the chunky rubber soles, rounded toe, and mid-height heel.
Can be worn alone or with tights or socks, making them versatile.
Can be worn casually or with dressier outfits.
Cons:
Features the brand's logo, which may not suit everyone's style or be acceptable in certain work environments.
More of a modern look rather than a classic look (this could be considered a pro, though!).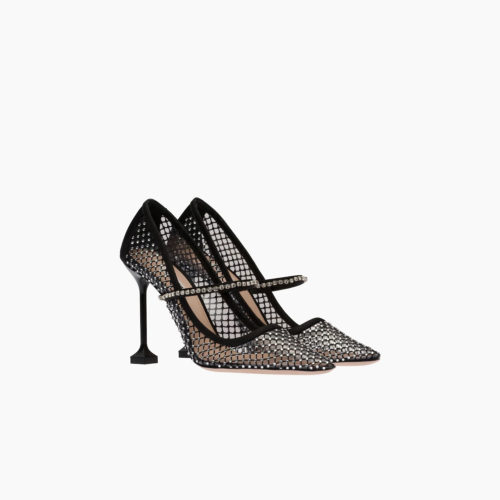 I am drooling over these Miu Miu Vinyl and Mesh Pumps with all-over crystals all the way down to the crystal-studded Mary Jane strap. Talk about a statement shoe!
They are edgy yet glamorous, and right on-trend. A rubber heel tip adds modern flair to the skinny heel while also providing extra stability, too.
You could wear these with the plainest, most basic dress and still look completely eye-catching thanks to these sparkly stunners.
Specs:
Price: $1,720
Heel Height: 105mm
Material: Vinyl, Leather
Size Range: 34 – 42
Colors: Black
Recommended For: Someone who has a trendy sense of style and wants a statement shoe that's going to shine.
Pros:
Highly unique and trendy.
Sparkly crystals make a bold statement.
Rubber heel tip provides added stability.
Cons:
Most expensive heels on the list.
Not a timeless or "everyday" shoe; only suitable for certain occasions.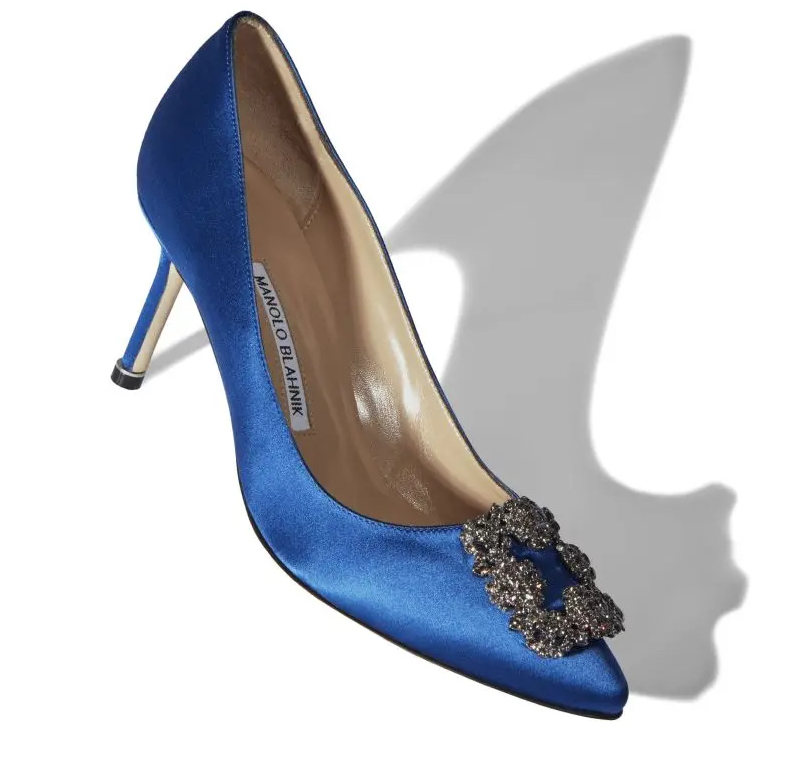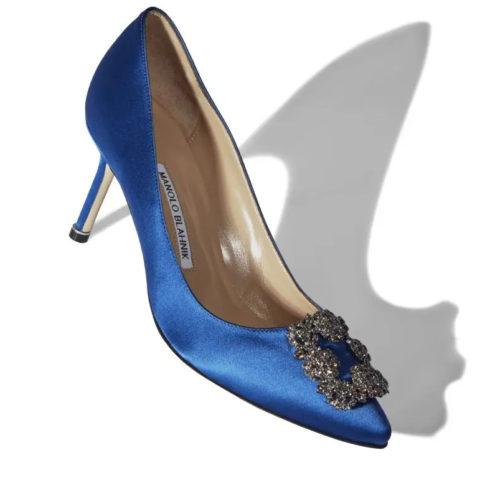 If you don't see these iconic pumps and immediately think of Carrie Bradshaw, you need to go watch SATC, stat. Mr. Big proposed to Carrie in the TV series with Manolo Blahnik's Hangisi Blue Satin Jewel Buckle Pumps and I still can't think of something more romantic (or stylish)!
Channel your inner Carrie Bradshaw with these beautiful satin pumps with crystal buckles and an almond-shaped toe. They are sure to make a sparkly fashion statement when you get dressed up, even if no one is proposing to you with them. And BTW, Carrie is still wearing these iconic heels in And Just Like That… proving that this shoe style is still totally relevant.
Specs:
Price: $1,125
Heel Height: 70mm
Material: Viscose/Silk blend
Size Range: 33 – 43
Colors: 13 colors including blue, black, green, red, white, and beige
Recommended For: Someone who wants heels that are elegant, feminine, and a part of pop culture (or anyone who loves Carrie Bradshaw!).
Pros:
Many colors to choose from.
Ideal for special occasions.
Wide size range.
Cons:
Would probably be too "fancy" to wear frequently; more of a special occasion shoe.
Delicate features like the silk material and crystal buckle may need to be protected.
What do you think of our designer heels picks?
Do you agree with our picks? Which style of designer heels is your favorite? Leave a comment and let us know!