For as much talk as there's been about the recent return of '70s fashion, I feel like it's still a pretty under-appreciated style era.
The '70s were all about expressing your personal style, mixing and matching styles from previous decades, and being creative and a little crazy with your looks. It was the era that gave us hippie, punk, disco, and bohemian styles, popularized by icons like David Bowie, Cher, and Diana Ross. The '70s spanned a huge range of styles from the soft simplicity of bohemian looks to the glittery and luxe fabrics of glam rock and disco, so no matter what you're into, the '70s has something for you.
If you're looking for some '70s inspired styles, then scroll down to see three different looks, going from least to most '70s. So whether you want to just want to be a little bit groovy or you (like me) have been listening to '70s playlists on Spotify for the past week, hopefully you'll find a bit of inspiration.
(For more decade inspiration, see our past posts on 1990s fashion and 1980s fashion.)
Look #1: Folk Festival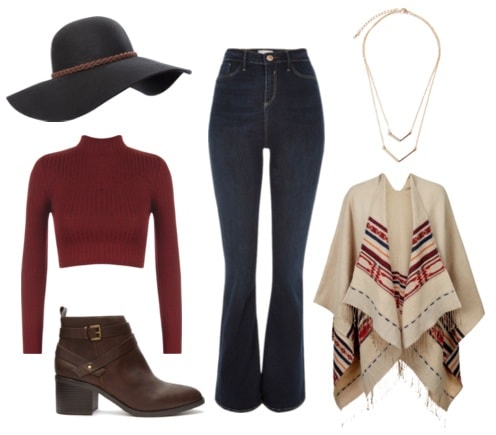 Products: Shirt, Jeans, Boots, Poncho, Hat, Necklace
Obviously, we can't do a '70s article without including bell bottoms at least once, considering that they're a defining piece from the era. The darker wash makes these jeans a little more stylish and modern.
Taking a cue from the American folk style of the '70s, pair your jeans with a turtleneck and fringed shawl with a bold pattern. Wide brim hats are one of my favorite fashion trends from the '70s and a neutral toned one looks great with this outfit. Finally, cute ankle boots and a layered necklace finish the look.
Look #2: Bohemian Rhapsody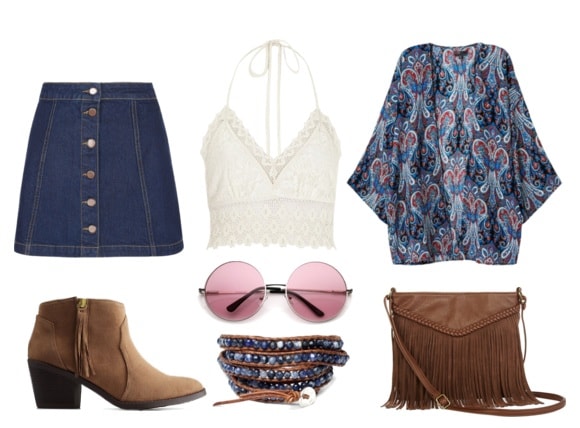 Products: Shirt, Skirt, Kimono, Boots, Bag, Bracelet, Sunglasses
Hippie fashion was pretty influential in America from the late '60s to early '70s, so I made an outfit that has some elements of that laid-back vibe. Suede, fringe, lace, and bright patterns were all part of the late '60s, early '70s boho-hippie aesthetic, so start off with lacy halter top paired with a bold patterned kimono for a fun summery take on this carefree style.
A mini-skirt isn't strictly bohemian or hippie-chic, but they were still at the height of their popularity in the '70s (see our post on the history of the mini for details!), and this denim button-front one is the perfect addition to this look.
Accessorize with a fringed messenger bag and throw on layered bracelets and circle sunglasses for a little bit of Janis Joplin inspiration. If you want to be even more '70s, center part your hair and keep your makeup simple, and you're all set to listen to any of your favorite musicians in style.
Look #3: Starman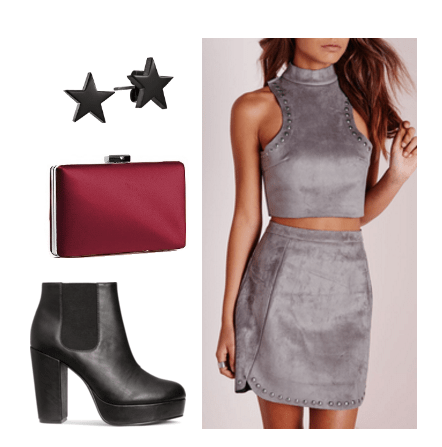 Products: Skirt, Shirt, Boots, Purse, Earrings
Though this outfit is definitely more over-the-top than the other two, it may initially seem like the least 1970s of all, since glam rock and glam metal fashion are often forgotten aspects of '70s style. In fact, they deserve a place here – the decade wasn't just about bellbottoms and fringe, guys!
Glam rock is difficult to work into a casual outfit, with its bold colors and prints, though the same could be said for glam metal, which is characterized by metallics, leopard prints, and platform heels. I took a bit of inspiration from each to make an outfit that will make you feel like a star while out on the town.
As promised, the key piece of this look is platform heels, though you don't necessarily need a David Bowie–level bright red pair. Two piece sets were big in the '70s, though this studded grey ensemble is a simpler take on the trend. A pair of simple post earrings is really all the jewelry you need, and a deep red clutch adds a bit more luxe to the look. Of course, if this outfit isn't glam enough for you, you can always keep warm with a leather jacket or faux fur coat.
What's your opinion on '70s fashion?
Are you planning to incorporate it into your look this year? Are there any '70s trends you think I should have included? Let us know in the comments, we'd love to hear from you!