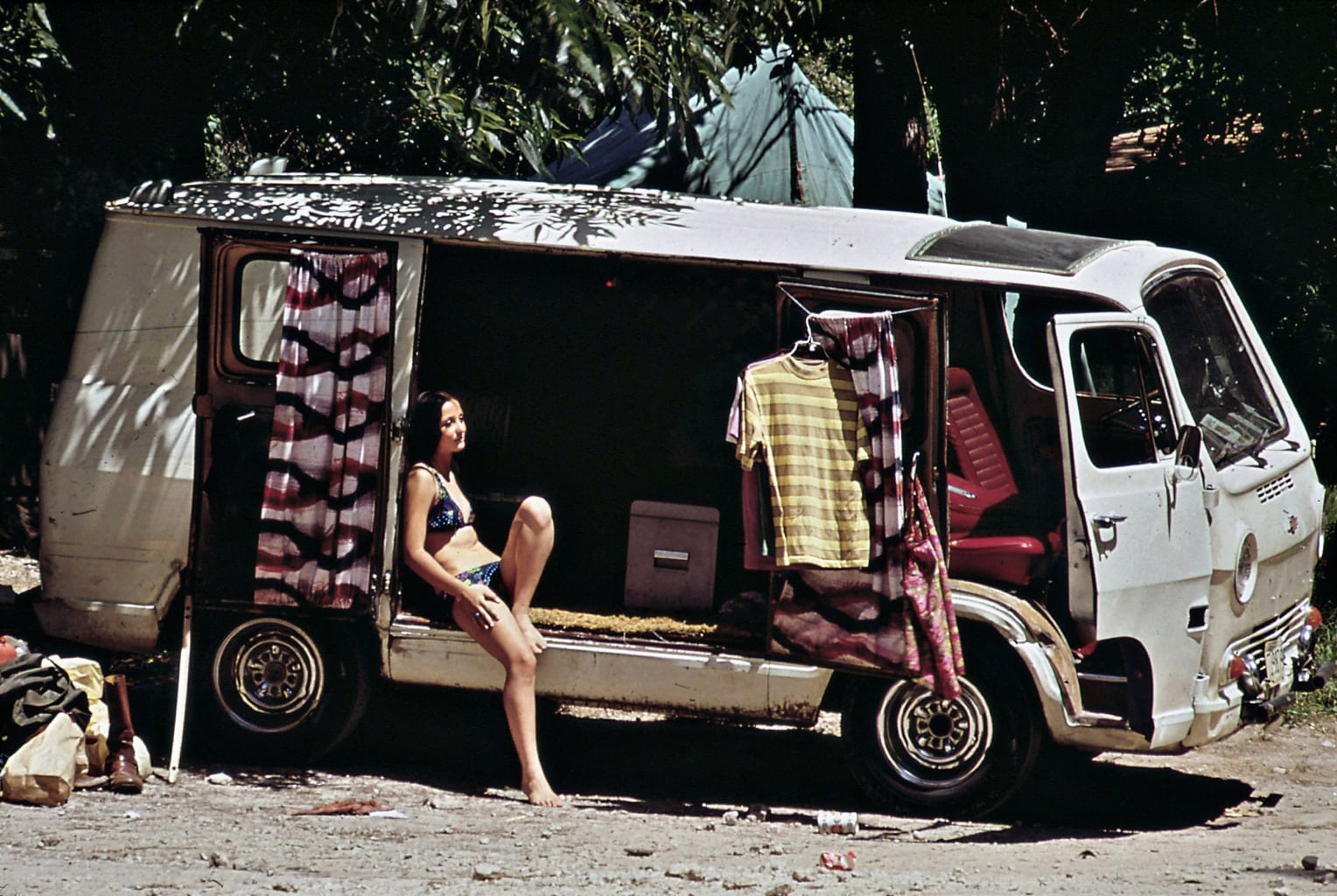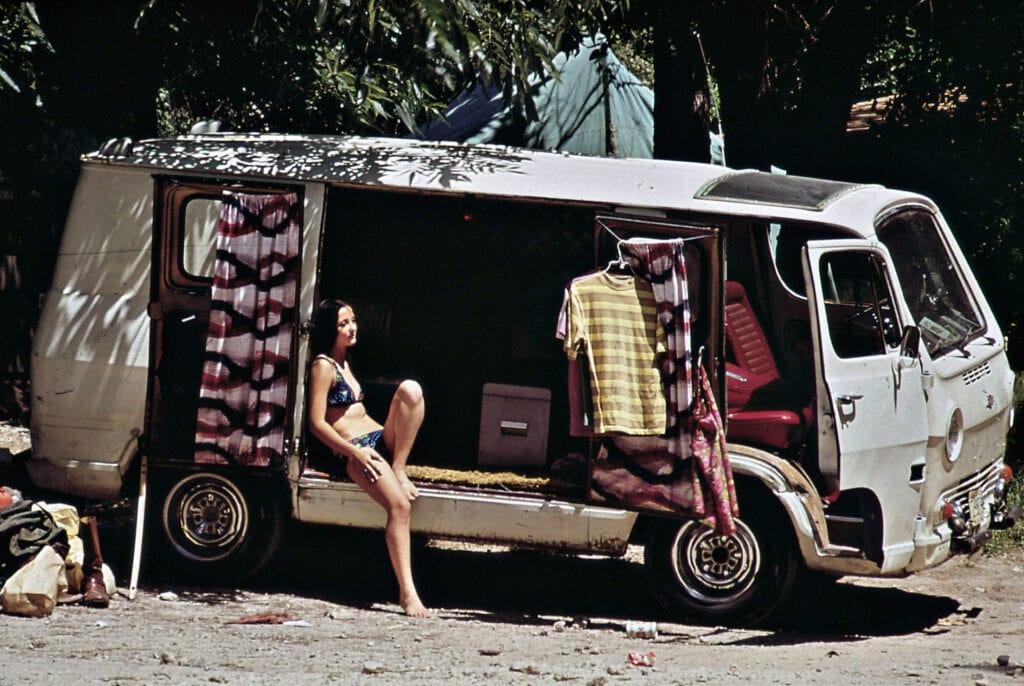 For as much talk as there's been about the return of '70s fashion, I feel like it's still a pretty under-appreciated style era.
The '70s were all about expressing your personal style, mixing and matching styles from previous decades, and being creative and a little crazy with your looks.
It was the era that gave us hippie, punk, disco, and bohemian styles, popularized by icons like David Bowie, Cher, and Diana Ross.
The '70s spanned a huge range of styles from the soft simplicity of bohemian looks to the glittery and luxe fabrics of glam rock and disco, so no matter what you're into, the '70s has something for you.
If you're looking for some '70s inspired styles, then scroll down to see three different looks, going from least to most '70s. So whether you want to just want to be a little bit groovy or you (like me) have been listening to '70s playlists on Spotify for the past week, hopefully you'll find a bit of inspiration.
(For more decade inspiration, see our past posts on '10s fashion, 20s fashion, 30s fashion, 40s fashion, 50s fashion, 60s fashion, 80s fashion, and 90s fashion.)
70s Fashion Outfit #1: No Rules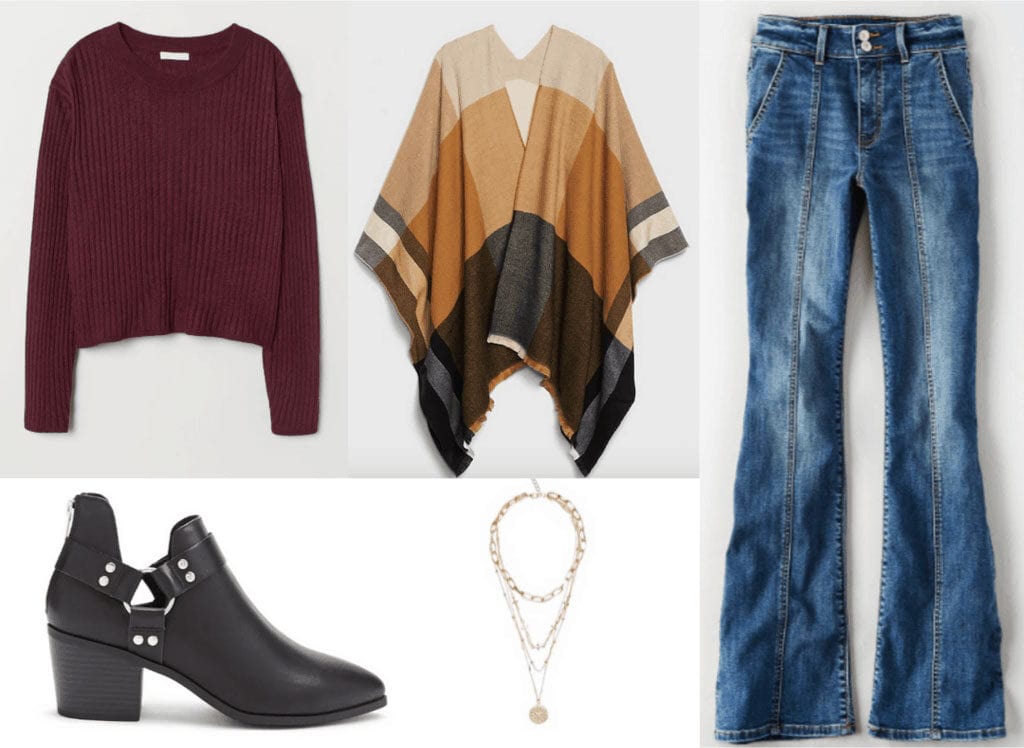 Products: Jeans – American Eagle, Heels – Forever 21, Necklace – Guess, Sweater – H&M, Shawl – Gap
Obviously, we can't do a '70s fashion article without including bell bottoms at least once, considering that they're a defining piece from the era. The mid-tone wash makes these jeans stylish and modern.
Taking a cue from the American folk style of the '70s, pair your jeans with a shawl with a bold pattern. Shawls and ponchos are my favorite fashion trends from the decade, and instantly make any outfit so much more cozy.
Finally, cute ankle boots and a layered necklace finish the look.
70s Fashion Outfit #2: Jumping For Joy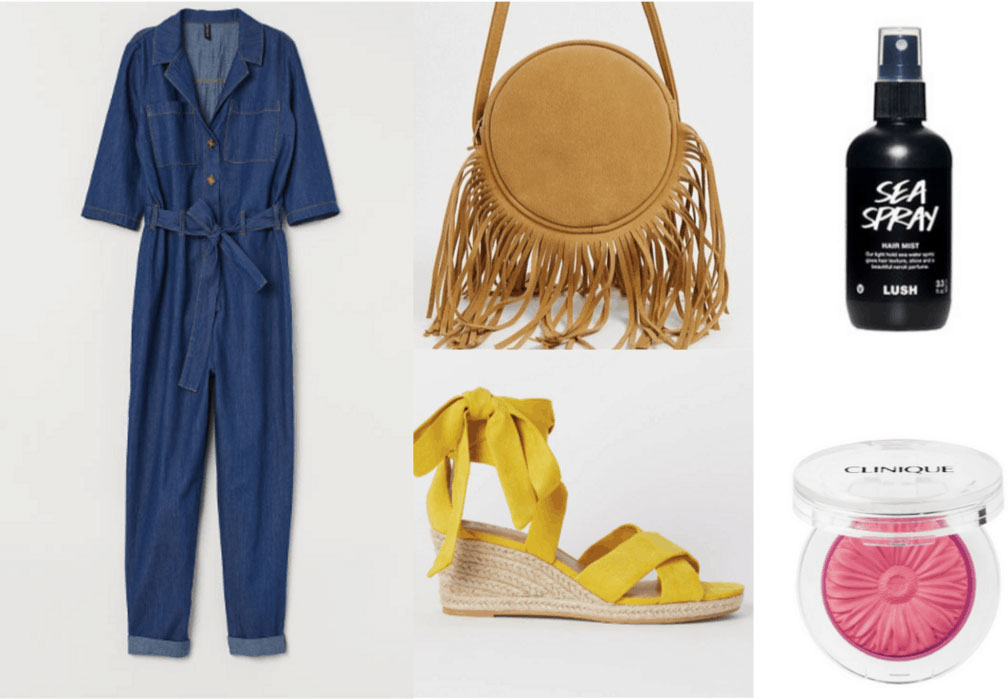 Products: Jumpsuit – H&M, Heels – H&M, Purse – ASOS, Sea Salt Spray – Lush, Blush – Sephora
September has vanished, and work and school have us busier than ever, which makes the idea of jumpsuits that much more attractive. In general, for the fashionably lazy, jumpsuits, rompers, and dresses are a godsend. Instead of having to struggle to match two items together, all the work has been done for you.
The jumpsuit was a hot item of the decade, which is why I picked out this denim inspired piece, along with a few choice accessories. Hair in this decade had become more relaxed and natural, so I included this sea salt spray to help boost easy waves, while adding a little texture to hair.
Between basic fringe accessories and chunky wedges, this look is incredibly easy and comfortable to wear on the way to class or the library. Add a jacket and a scarf (swap the wedges for ankle boots if it's chilly), and you're good to go.
70s Fashion Outfit #3: Hippie Vibes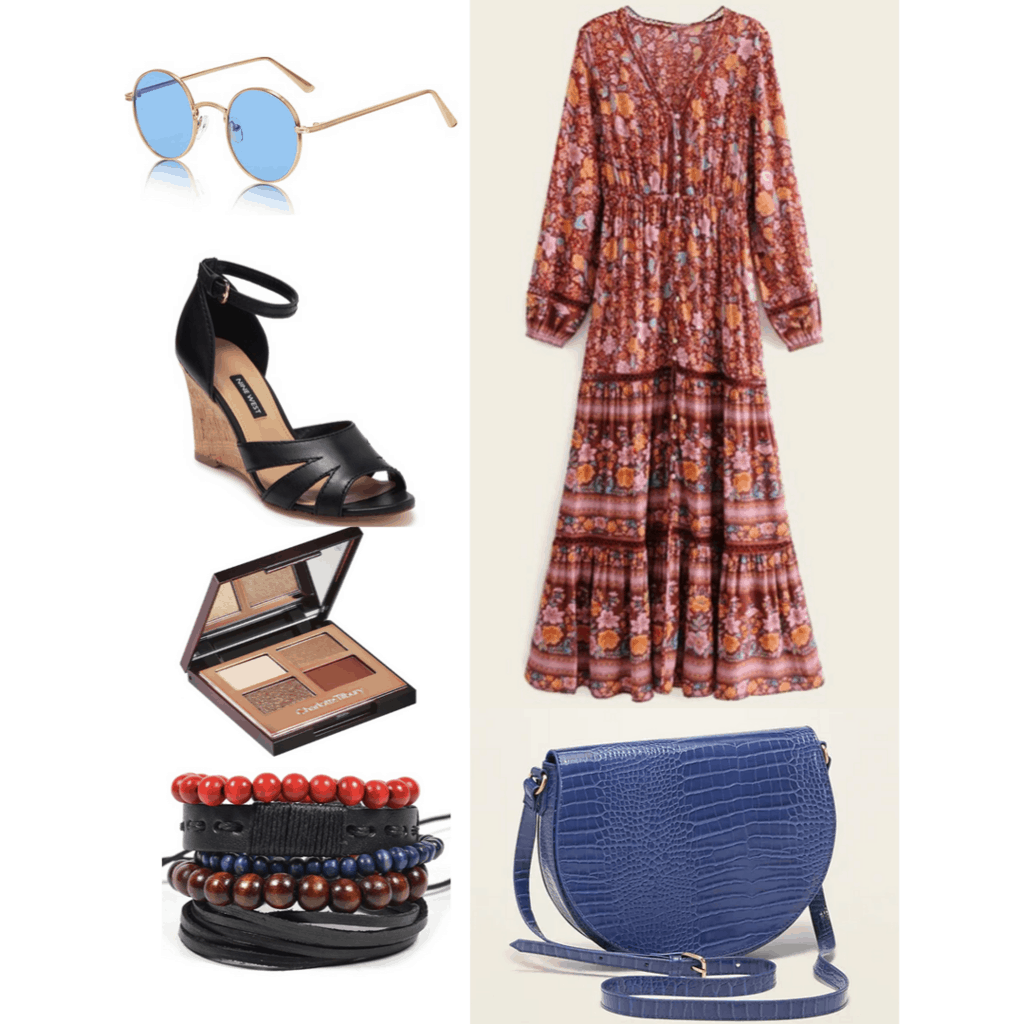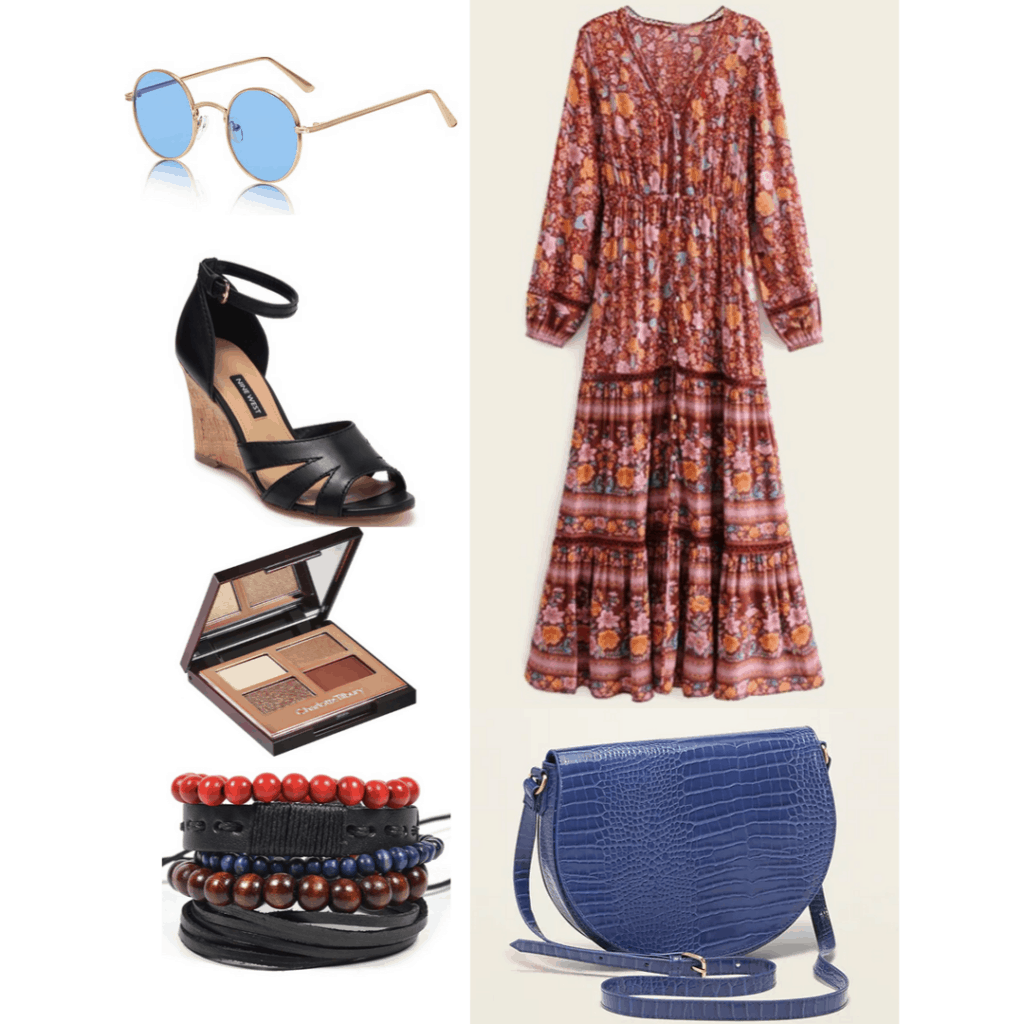 Products: Dress – Shein, Wedges – Nordstorm Rack, Bracelet – Amazon, Sunglasses – Amazon, Eyeshadow – Sephora, Bag – Old Navy
Hippie fashion was pretty influential in America from the late '60s to early '70s, so I made an outfit that has some elements of that laid-back vibe. Bright patterns and warm tones were popular trends, which made this dress the perfect building block for a boho-hippie inspired outfit.
Fashions adapted to the changing times of the '70s, but they also payed homage to earlier trends. One such example is the empire waist dress of the '60s that was converted to maxi-dresses, playing off of the concept of a loose form. This dress is inspired by this style, while also playing off of popular trend of patterns and colors.
Accessorize with a blue toned pair of sunglasses and bag, and throw on layered bracelets for a bohemian twist.
What's your opinion on '70s fashion? 
Are you a fan of '70s fashion? What are your favorite looks of the decade? Which of these 1970s inspired outfits is your favorite? Tell me what you think in the comments.
Editor's note: This post was originally published in 2016; it was completely updated and revamped in 2019 with new photos, outfit sets, and information.