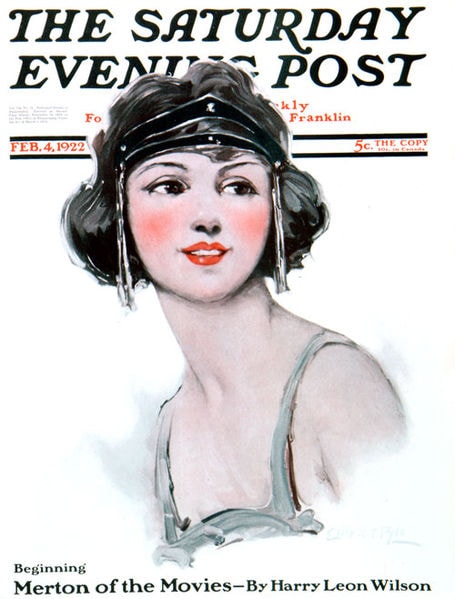 Despite the (heartbreaking) fact that 1920s fashion is not having a major revival at the moment, 1920s styles are still pretty well known. After all, flapper fashion is unforgettably iconic and The Great Gatsby film remake of 2013 brought back an obsession with the Roaring Twenties for a time.
One of my favorite things about '20s style, though, is that it seems to have come out of nowhere following the end of WWI. Nothing of its sort was seen before, and its uninhibited opulence and glamour may never be seen again (though, I'm still holding out for bringing back the '20s in 2020).
So, we already know a fair bit about '20s fashion. However, as it's one of the most interesting decades out there, I hope you'll indulge me for a bit as I take you through the styles of the Jazz Age.
1920s Fashion Overview
As WWI ended in 1918, it brought about huge changes in style for both men and women. For women in particular, the war marked a transition from the domestic sphere to the public one. As with WWII, during WWI women were called upon to take up some traditionally male roles, and after the war, women continued to enjoy the new freedoms they found during wartime.
Similarly, women came to prefer their wartime clothes to the styles they had been wearing before the war. Even though the uncomfortable 'S' silhouette (think corsets and bustles) of the early 1900s was abandoned in favor of a sleeker look, women's fashion in the early '20s still wasn't engineered for ladies to do much of anything outside the house. As a result, most women preferred the loose, comfortable, and practical clothes they wore during the war. The new pieces were free of the frills, excess fabric, and constricting corsets of pre-war fashion and women didn't want to go back.
Most styles that came out in the '20s, therefore, were designed to be relaxed and easy to wear, with short skirts for easier movement and loose, dropped waists. Bobbed hair also contributed to making women's lives easier, as it took far less time to style. The ideal silhouette of the decade was boyish and completely went against the idea of rigid femininity that had kept women in check for years.
While there's so much more I could say about the decade, I'm sure you all want to get to the fun part, so lets move on to…
Outfits Inspired by 1920s Fashion
If you, like me, enjoy a nice vintage look, here are three ways to work '20s fashion into your style. As usual, these are simply looks inspired by the styles of the decade – no costumes here!
Outfit #1: Comfort Over Fringe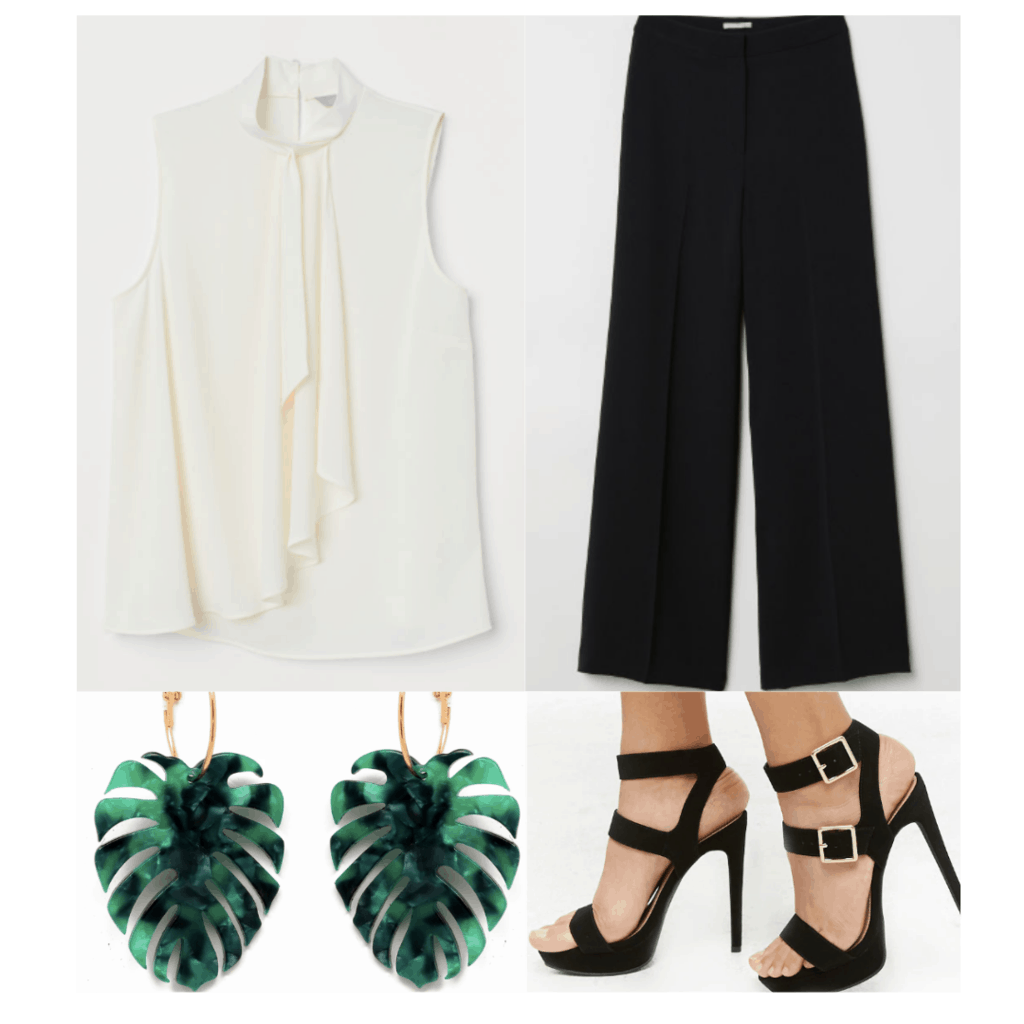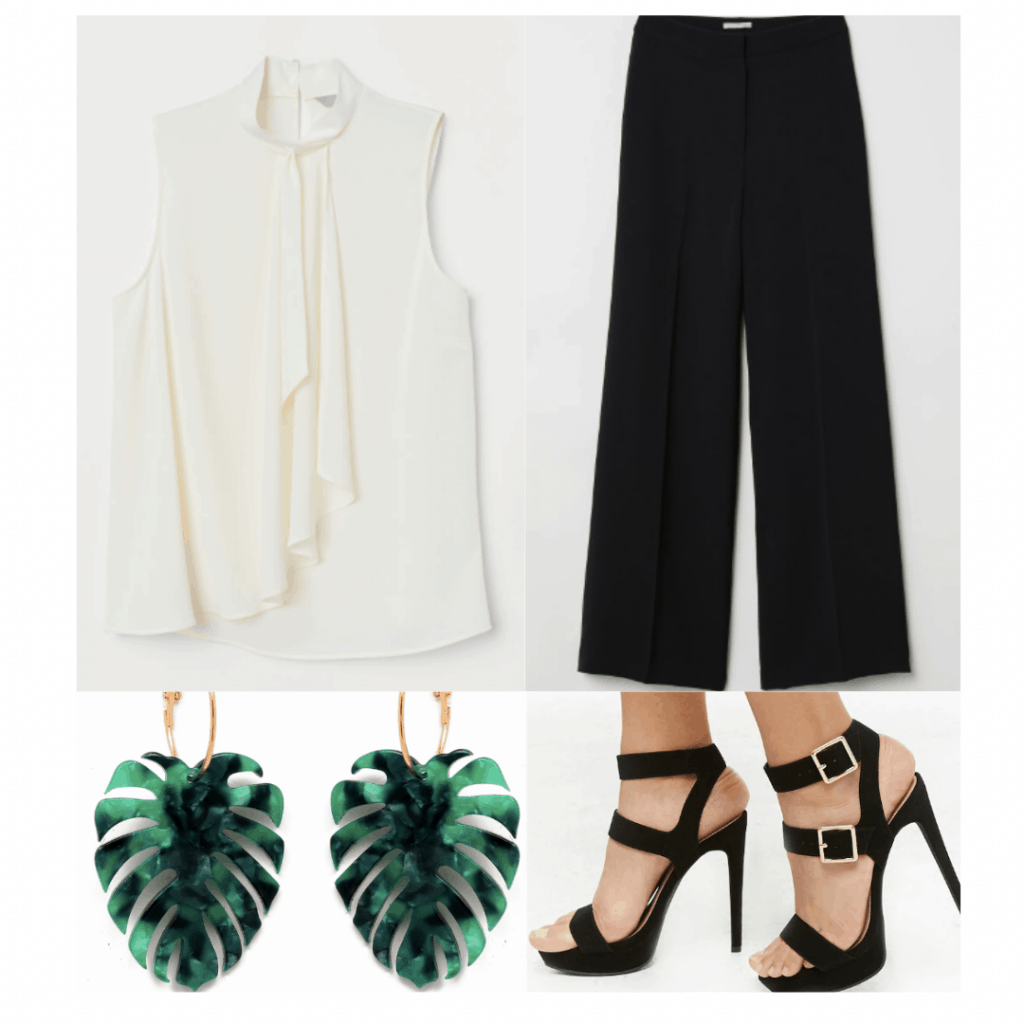 Products: Blouse – H&M, Wide Leg Pants – H&M, Earrings – Amrita Singh, Shoes – Forever 21
When you think about the 1920s, you tend to think about The Great Gatsby, which is understandable. Both the book and the movie wrap up the aesthetic on the decade in a layer of fringe and glitter.
However, for more realistic 1920s fashion inspiration, I'd recommend the television series, Miss Phryne Fisher's Murder Mysteries. The show takes heavy inspiration from the historical fashion of the time period, relying on the transition towards menswear items, along with hints of glitzy jewelry and cosmetics.
Focusing on the freedom of movement that was so popular in the decade, I chose this look to focus on a pair of wide leg pants, paired with a white blouse, perfect for a summer internship. With such a simple outfit, accessories help transform the look. Specifically, I added the strappy heels of the decade and some major statement earrings.
Outfit #2: More Tea, Please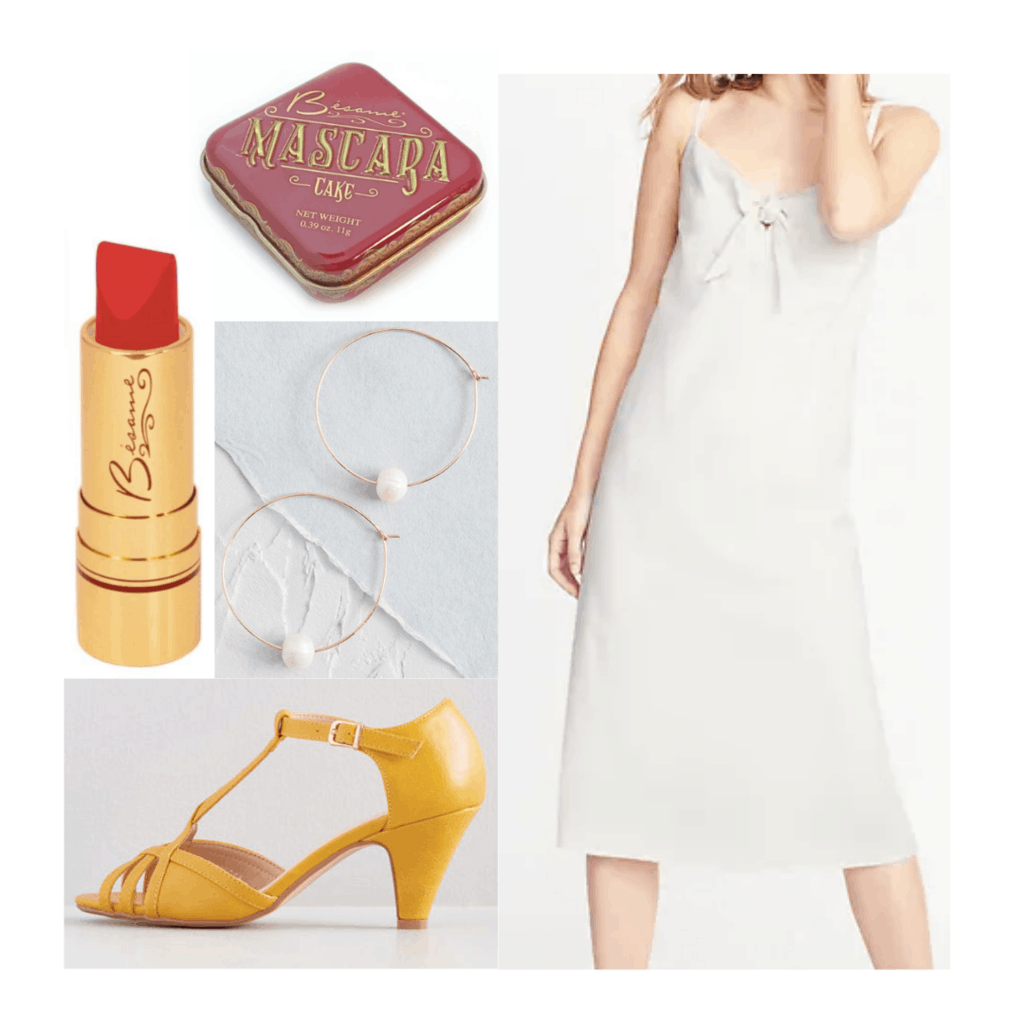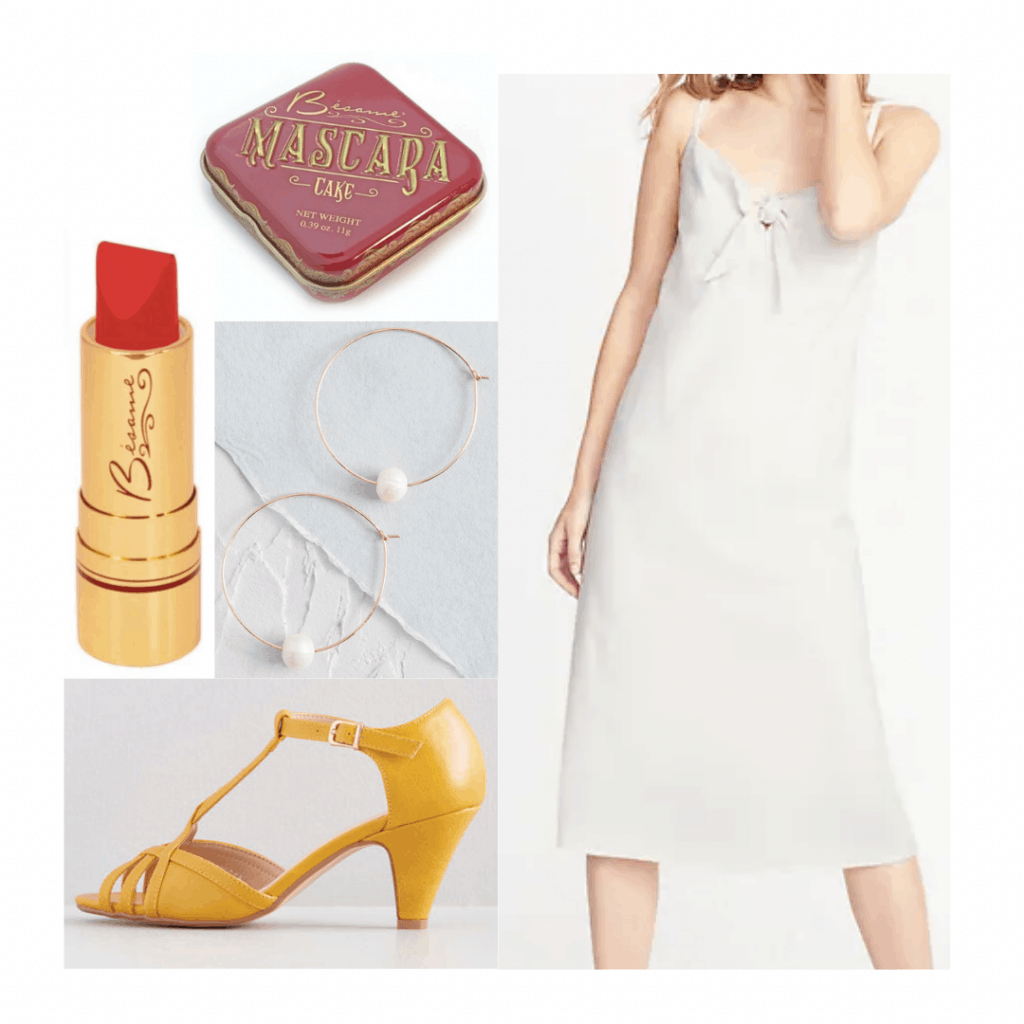 Products: Dress – Old Navy, T-Strap Heels – Modcloth, Earrings – Modcloth, Cake Mascara – Besame Cosmetics, Lipstick – Besame Cosmetics
One of the more fashionable activities for women during the decade was afternoon tea. With a lengthy history of bringing groups together, the simple ceremony could be transformed into a formal atmosphere, which impacted the clothing worn by those partaking.
Women favored white clothing during summer as a fashionable choice, which is why I created this white look for the current season. T-Strap heels were incredibly popular during the 1920s, so I found these yellow ones to add a pop of color to the look.
When you think about 1920s jewelry, you might imagine the long strands of pearls worn by the flappers at the time. In contrast, these subtle hoop earrings play off the memory with an understated pearl. This allows for period-appropriate cosmetics to steal the show, specifically some traditional cake mascara and a vintage shade of red lipstick.
Outfit #3: Modern Woman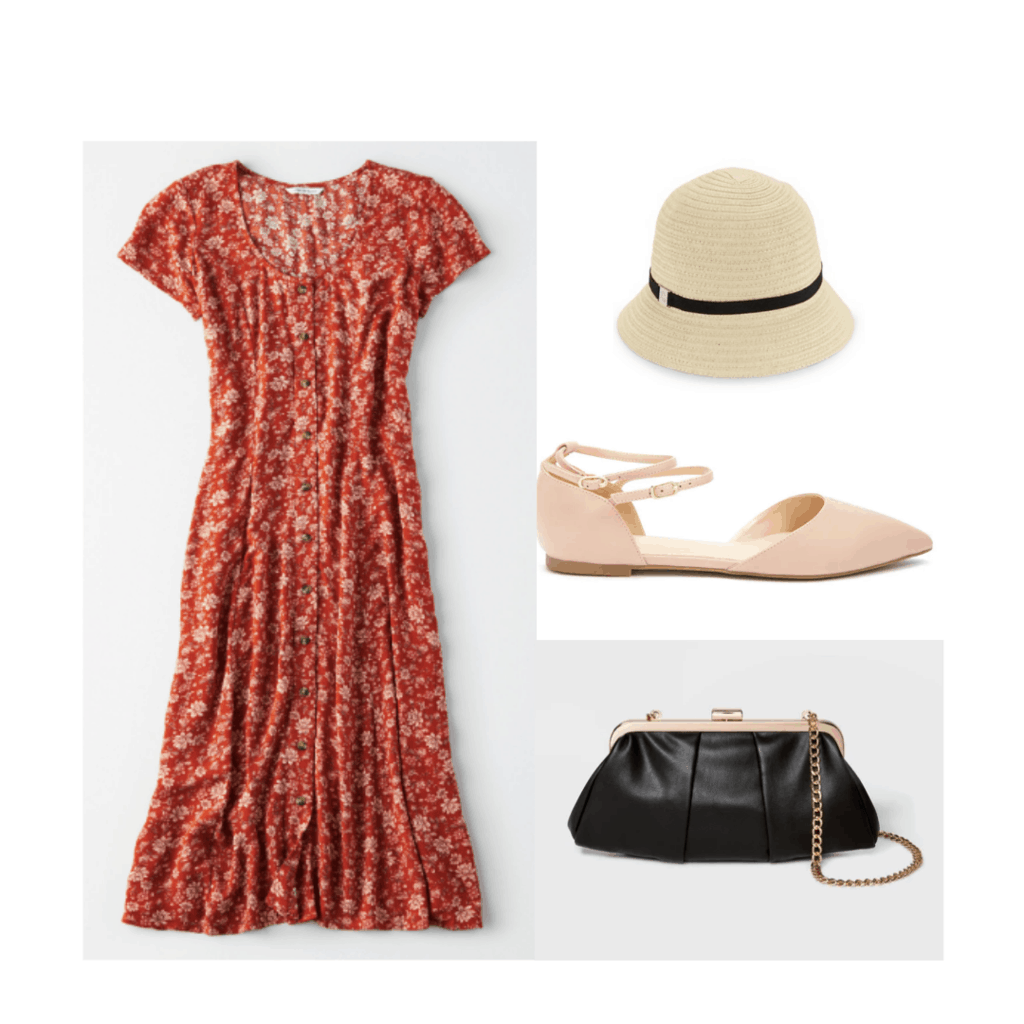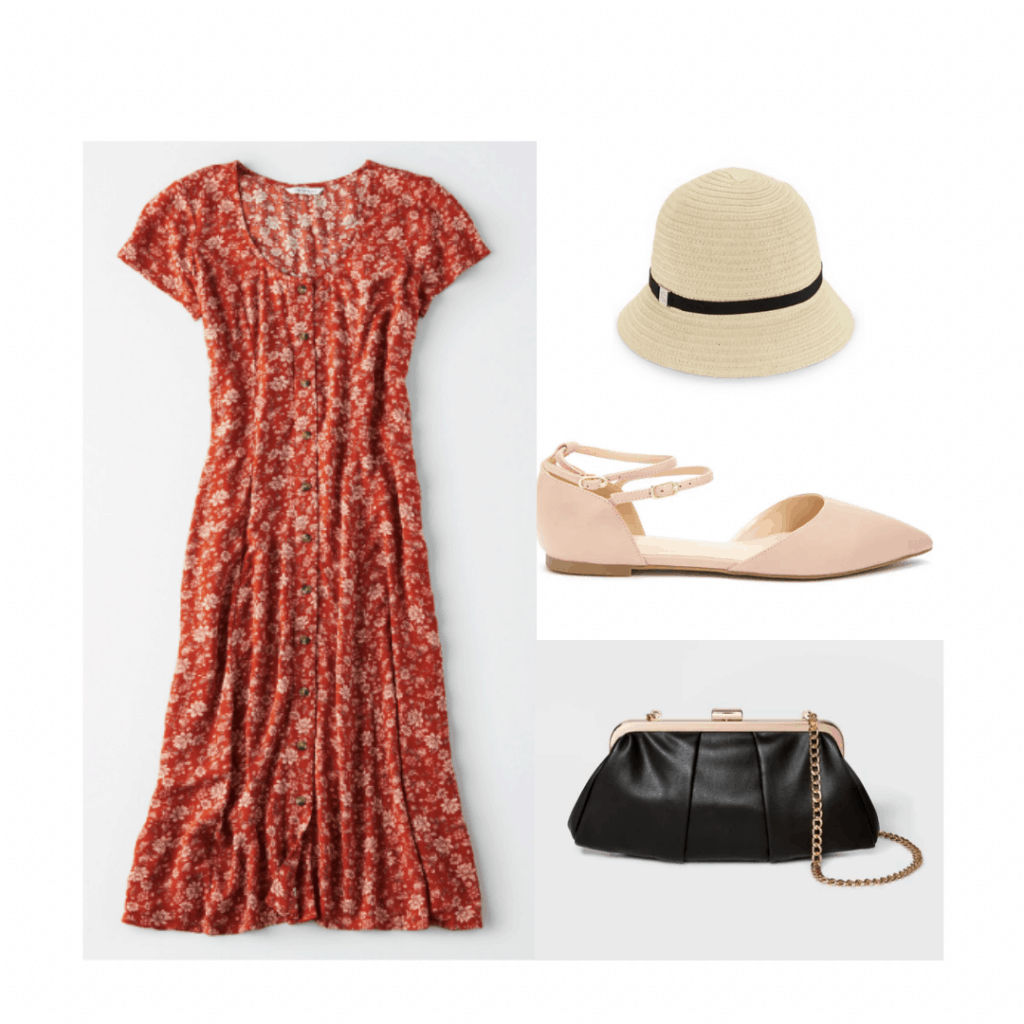 Products: Dress – American Eagle, Flats – Forever 21, Hat – Lord and Taylor, Purse – Target
Modern women were everywhere in the 1920s, playing sports, dancing, and spending time outside of the home. Plenty were competing with men for jobs, too. For the first time in the country's history, women were truly expanding their lives beyond domestic realms and finding new spaces to occupy. Naturally, they needed new clothes for their new pursuits.
This outfit looks simple, but it is wonderfully practical, due to the loose fit of the dress, matched with sensible flats. (While women of the decade were fond of strappy heels, I wanted to provide a more comfortable alternative.)
Possibly the best element of this style is the cloche hat, traditional and effective at protecting you from the elements.
Paired with a simple purse, this is the perfect outfit to wear when running errands.
More Styles by the Decade:
Want to travel to a different decade with your style? See my other posts on '90s fashion, '80s fashion, '70s fashion, '60s fashion, '50s fashion, '40s fashion, and '30s fashion for more!
What's your opinion on 1920s fashion?
Are you planning to incorporate 1920s style into your look this year? Are there any 1920s fashion trends you think I should have included? What's your favorite '20s look? Let us know in the comments, we'd love to hear from you!
Editor's note: This post was originally published in 2016; it was completely updated and revamped in 2019 with new photos and information.