Despite the (heartbreaking) fact that '20s fashion is not having a major revival at the moment, 1920s styles are still pretty well known. After all, flapper fashion is unforgettably iconic and The Great Gatsby film remake of 2013 brought back an obsession with the Roaring Twenties for a time.
One of my favorite things about '20s style, though, is that it seems to have come out of nowhere following the end of WWI. Nothing of its sort was seen before, and its uninhibited opulence and glamour may never be seen again (though I'm still holding out for bringing back the '20s in 2020).
So, we already know a fair bit about '20s fashion. However, as it's one of the most interesting decades out there, I hope you'll indulge me for a bit as I take you through the styles of the Jazz Age.
1920s Fashion Overview
As WWI ended in 1918, it brought about huge changes in style for both men and women. For women in particular, the war marked a transition from the domestic sphere to the public one. As with WWII, during WWI women were called upon to take up some traditionally male roles, and after the war, women continued to enjoy the new freedoms they found during wartime.
Similarly, women came to prefer their wartime clothes to the styles they had been wearing before the war. Even though the uncomfortable 'S' silhouette (think corsets and bustles) of the early 1900s was abandoned in favor of a sleeker look, women's fashion in the early '20s still wasn't engineered for ladies to do much of anything outside the house. As a result, most women preferred the loose, comfortable, and practical clothes they wore during the war. The new pieces were free of the frills, excess fabric, and constricting corsets of pre-war fashion and women didn't want to go back.
Most styles that came out in the '20s, therefore, were designed to be relaxed and easy to wear, with short skirts for easier movement and loose, dropped waists. Bobbed hair also contributed to making women's lives easier, as it took far less time to style. The ideal silhouette of the decade was boyish and completely went against the idea of rigid femininity that had kept women in check for years.
While there's so much more I could say about the decade, I'm sure you all want to get to the fun part, so lets move on to…
Outfits Inspired by 1920s Fashion
If you, like me, enjoy a nice vintage look, here are three ways to work '20s fashion into your style. As usual, these are simply looks inspired by the styles of the decade – no costumes here!
If you just want to take some pointers from the '20s, go for look #1. Look #2 is somewhere in the middle, perfect for those a little more into the '20s. Finally, #3 is perfect for those who think the '20s are all that jazz.
Outfit #1: Hear Me Roar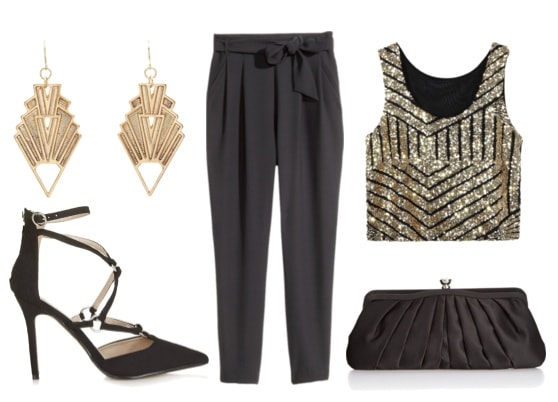 Products: Top, Pants, Shoes, Purse, Earrings
Flapper culture, which epitomized the decade (and was actually considered highly scandalous at the time), bloomed out of the desire to live and celebrate and embrace the glamour that the war had denied. Flapper costumes were glitzy and cut particularly high for the times to better allow women to dance and party.
Rather than picking a true flapper dress, I chose to do a look that simply follows the ideals behind the style. Flapper dresses were designed to facilitate movement, so I took it up another step and picked these cute pleated trousers. A cropped top with a geometric design plays off of the glitzy patterns featured on most flapper frocks. Art deco earrings and strappy heels are modern takes on favorite accessories of the decade. Finally, a ruched, top-clasp clutch is similar to the pleated evening bags that were in the hands of every young lady out on the town.
Outfit #2: Old Sport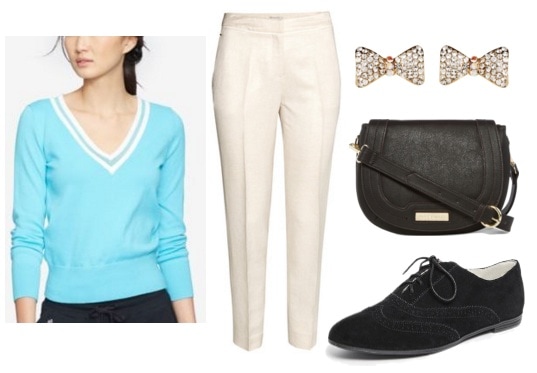 Products: Top, Pants, Shoes, Purse, Earrings
Mens fashion also changed a great deal during the '20s, and I thought it would be fun to do a menswear-inspired look as well. To a lesser degree, mens fashion in the 1920s also became less formal than prior to the war, with more options becoming available to men, especially in the way of sports clothes.
In the early '20s mens trousers were fairly narrow, and though they became almost ridiculously wide later in the decade, I chose a cropped, pleated pair for this look. I also added oxford shoes, which were common footwear for both men and women during the '20s.
The cricket or tennis sweater also became popular for men during the decade, though I omitted the button-down and tie that were traditionally worn with it. A simple cross-body bag is just a cute accessory, but the bow tie earrings represent the colorful neckties that brightened up the neutral-toned suits worn by 1920s men.
Outfit #3: En Cloche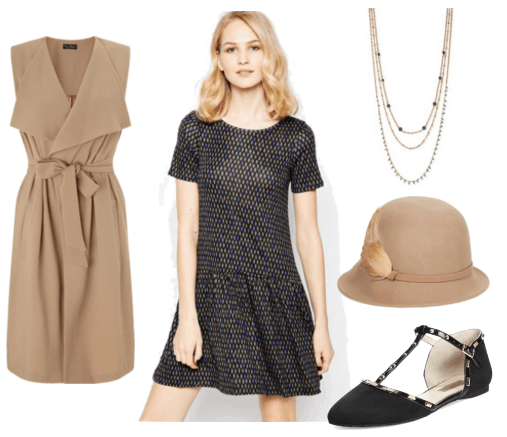 Products: Dress, Jacket, Shoes, Hat, Necklace
Separate from flapper culture, though similar in aesthetic, was the idea of the New American Woman, who was just starting to emerge. She wore casual, practical clothes, played sports, went to parties, and was far less concerned with getting married and being respectable than the average woman of previous decades.
A drop waist dress is about as Roaring Twenties as it gets, though this one is a fair bit shorter than a true '20s version. Layered necklaces were popular accents during the decade, as were belted cardigans. T-strap heels and Mary Janes were some of the most popular shoe styles of the era – the thinner the straps, the better.
I feel like I'm always swapping heels out for flats and vise versa, but these t-strap flats add a more girlish vibe to this look, in keeping with the youthful trends of the '20s. Additionally, a cloche hat worn over bobbed hair is certainly the most well-remembered style of the decade, and one or both is the perfect finishing touch to your '20s outfit.
More Styles by the Decade:
Want to travel to a different decade with your style? See my other posts on '90s fashion, '80s fashion, '70s fashion, '60s fashion, '50s fashion, '40s fashion, and '30s fashion for more!
What's your opinion on '20s fashion?
Are you planning to incorporate 1920s style into your look this year? Are there any 1920s fashion trends you think I should have included? What's your favorite '20s look? Let us know in the comments, we'd love to hear from you!