Just kidding! I'm sure pretty much all of you are familiar with '90s fashion in some way, since it made a huge comeback last year.
The '90s are among the most interesting fashion eras as they encompassed so many trends and so much progression in the fashion world. And of course, that's when most of us were born, so there's a special nostalgia for those years among our generation.
During the '90s, the lingering neons of the '80s gave way to stark minimalism and later the anti-fashion movement, followed by trends influenced by grunge, punk, and hip-hop and even more preppy styles. In addition to all of that, the '90s saw a return of trends from the '60s and '70s (hi, bellbottoms!), the introduction of the first supermodels, and the rise of fashion icons we still adore today.
So where do you start if you want a '90s look? Below are three '90s fashion outfits, in order of intensity: If you want just a taste of '90s style, Look 1 is for you. If you think the '90s are all that and a bag of chips, scroll down to Look 3.
Look #1: Less Is More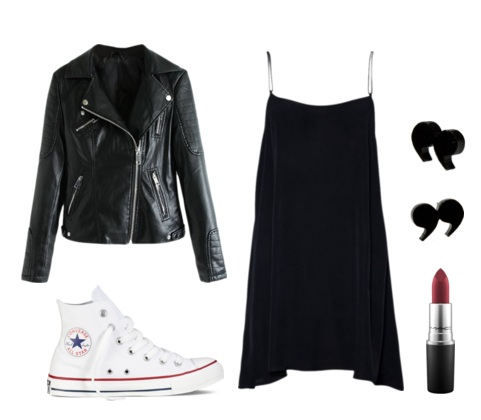 Products: Jacket, Slip Dress, Sneakers, Earrings, Lipstick
Winona Ryder was pretty much the poster girl for '90s minimalist fashion, and this outfit is heavily inspired by her looks from that time.
Slip dresses were all the rage on the '90s red carpets. I know the form-fitting look isn't everyone's cup of tea, so for this look I picked a slip dress that's more reminiscent of the festival dresses that were everywhere this summer.
For a true '90s minimalist look, you could leave it at that and add a pair of delicate strappy heels, but for those of us who are cursed to live in colder climates, an oversized leather jacket and beat up high-tops will keep you more comfortable. (Add shredded tights if desired.)
Accessories should be minimal – just a simple pair of stud earrings – but there's no reason you can't take a page from Winona's book and add red lipstick as a fierce pop of color.
Look #2: Not-So Clueless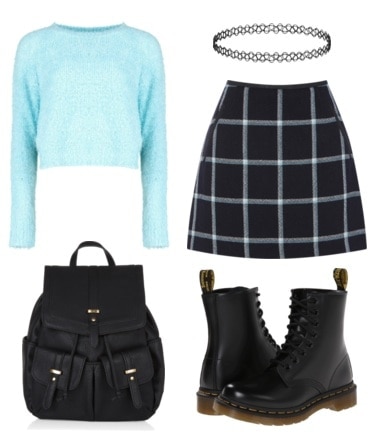 Products: Sweater, Skirt, Backpack, Boots, Choker
This look is either a more punk version of '90s prep, or a Clueless twist on Liv Tyler's outfit in Empire Records. A cropped sweater is about as '90s as it gets, especially when paired with some Doc Martens and a black choker. (In lieu of Docs, though, any black boots will have the same effect!)
A plaid skirt was a Clueless staple, but I've updated it to a more modern mini instead of a pleated schoolgirl skirt to keep it from looking too retro. To finish the outfit, grab a black backpack that toes the line between punk and preppy.
Look #3: Grunge Girl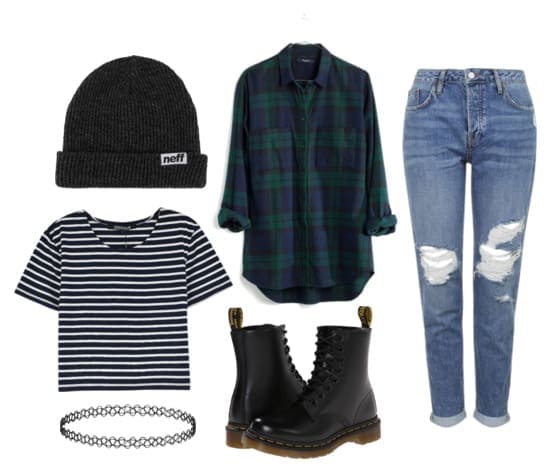 Products: Tee, Flannel, Jeans, Boots, Choker, Beanie
The biggest – and most enduring – trend that the '90s gifted to us was grunge fashion. For this look, I've included links to items you can buy new, but for an authentic '90s vibe, don't be afraid to do a little thrift store digging.
Start with a pair of distressed jeans, preferably high waisted, or even 'mom jeans'. While you can totally use a distressed t-shirt instead of this striped one, I wanted to pay homage to the rampant pattern mixing of '90s TV stars. Layer an oversized flannel on top and accessorize with a beanie, a pair of combat boots and another black choker.
For a truly '90s look, finish off with dark lipstick and bold brows.
What do you think?
What's your opinion on '90s fashion? Are you planning to incorporate it into your look this year? Let us know in the comments, we'd love to hear from you!