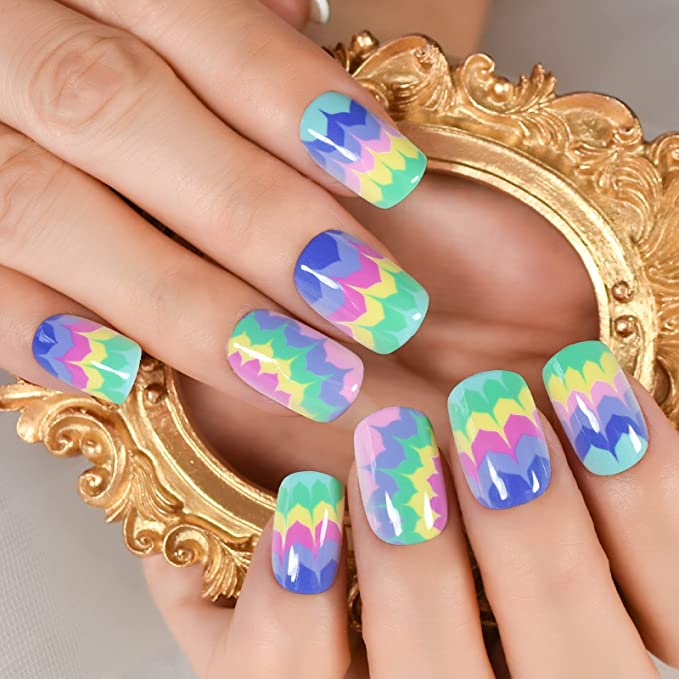 90s-style clothing is officially back in style, but the trend doesn't stop there. Along with '90s blowouts all over our FYP, all of the cutest nail trends from the '90s are coming back.
So, if you are obsessed with the 90s era, there's no better time to recreate all of the 90s nail trends that you love.
'90s nails are characterized by bright colors and bold designs. They also include famous cartoons and characters from the '90s like Hello Kitty, Lisa Frank, and Scooby-Doo. Oh, and we can't forget plenty of sparkles!
So, if you are interested in trying out some super cute '90s nail trends, check out this list of 15 '90s nail designs that will give you that throwback look.
Best '90s Inspired Nail Designs
1. Lisa Frank-Inspired Nails
One of my absolute favorite trends from the '90s is Lisa Frank everything. Even if you were born in the 2000s, you may remember some of the iconic Lisa Frank products that were absolutely adorable.
Lisa Frank is known for colorful and bright designs, so to create a Lisa Frank-inspired nail look, you will need to recreate these designs.
This video will show you a great example of how to get Lisa Frank's iconic rainbow cheetah print on your nails.
2. Neon Nails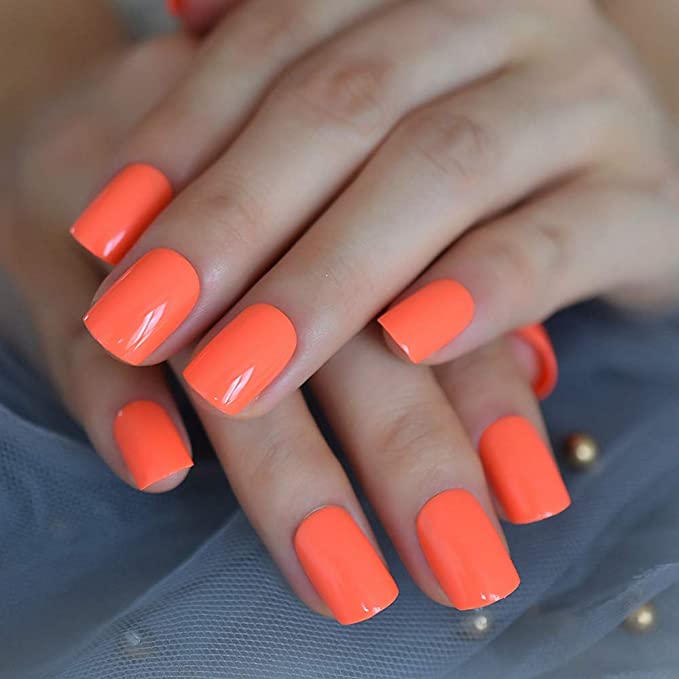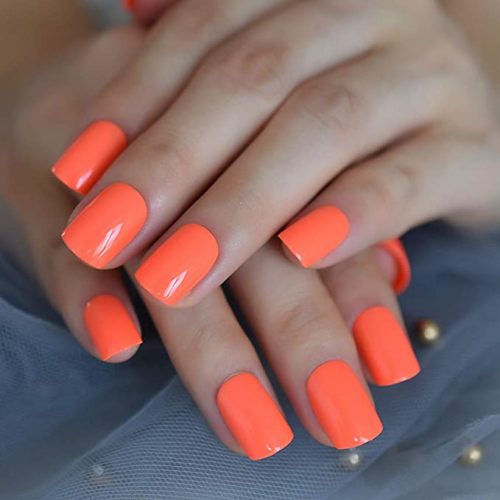 If you want a '90s nail trend that is incredibly simple and easy for you to do at home, neon nails are the look for you.
What I love about this trend is that you can easily do this at home. All you need is to get a neon nail polish of your choice and you will be able to create this look in no time. Pretty much any shade goes — the '90s were all about bold, eye-catching hues.
You can also purchase press-on nails like these orange ones to make your life even easier.
3. Chunky Glitter Nails
If you love a sparkly nail look or you like to add some glitter nail polish to your nails, you will love this '90s nail trend.
The chunky glitter nail polish trend was huge in the 90s and it's coming back. This look is super easy to do at home, you just need to have a base coat color of your choice and some chunky glitter nail polish to add on top of your nails. So simple!
4. Powerpuff Girls Nails
This nail design is one of my all-time favorites. It is Powerpuff Girl nails!
If you were born in the 90s or 2000s, you probably watched the Powerpuff Girls growing up. So, by recreating this look, you will be able to relive some of your childhood memories and create an adorable nostalgic nail look!
This design is a little bit more detailed than the others, so I would recommend watching this video tutorial to see exactly how to do it. Alternatively, you can buy Powerpuff Girls nail decals on Etsy.
5. Color Block Nails
This is a more simple '90s trend nail design, but I also think that it is very cute. This look is called color block nails.
If you have never seen color block nails before, the look sounds just like its name. Basically, you create a look with multiple different colors in a block-like shape on your nails.
If you are curious about this look, this video tutorial will show you a great example of a look that you can create. It's a lot easier than it looks.
6. Scooby-Doo Nails
Scooby-Doo is another one of my favorite things from the '90s. And, you can totally create a nail look inspired by this TV show!
For example, this video tutorial will show you how to get a Scooby-Doo design on your nails that is absolutely adorable. Once again, if you're not talented at nail art, you can buy some Scooby Doo nail decals online and use those instead.
7. Valentine Nails
Another super cute 90s nail trend is neon Valentine nails. Valentine nails will give you a sort of graffiti-inspired heart nail design that is also very adorable!
This nail trend is perfect for those of us who want an easier nail design to try because it is pretty simple to do on your own.
All you need to do is add a base coat color to your nails and then add some cute heart-shaped designs to finish the look.
Related reading: 30 Beautiful Pink Nail Designs to Rock This Year
8. Jelly Nails
Jelly nails are another '90s nail trend that you will be obsessed with if you like colorful nail looks.
The jelly nail look as shown in this video is all about semi-sheer polishes to make your nails look like they're made of transparent plastic. The style looks great when you use multiple different colors to create the jelly design on your nails.
If you have never seen jelly nails before or if you are unsure how to create them, just watch this video tutorial to see exactly how to do it at home!
9. Hello Kitty Nails
Hello Kitty is another iconic cartoon from the '90s. And she's adorable to recreate on your nails! This is one of my favorite 90s nail designs because it's so girly and sweet.
To get your inspiration going, this video will show you a super cute way to use Hello Kitty designs to create an adorable nail look that is '90s-inspired.
10. Peace Sign Nails
Another popular design from the 90s is peace sign nails. Peace signs were everywhere in the '90s, from baby tees to temporary tattoos, and they look great as part of a nail look.
For example, you can create a super cute design if you use colors like purple, yellow, and blue to create your peace signs, as shown in this video tutorial!
11. Animal Print Nails
Another popular 90s trend was animal print. As we all know, animal print has never really left as a trend. In fact, the print has become a very trendy nail look recently, especially the cow print nail look.
So, if you want to get a '90s nail vibe that's also modern, just recreate all of your favorite animal print nail designs like leopard print or the trendy cow print.
12. Acrylic Nail Art
If you like to do acrylic nails, you may be wondering what kind of fun '90s designs you can recreate on longer nails.
Acrylic nail art was very popular during the 90s, especially on square-shaped longer acrylic nails. So, to give you inspo for some 90s-inspired acrylic nail art, check out this video!
13. Metallic Nails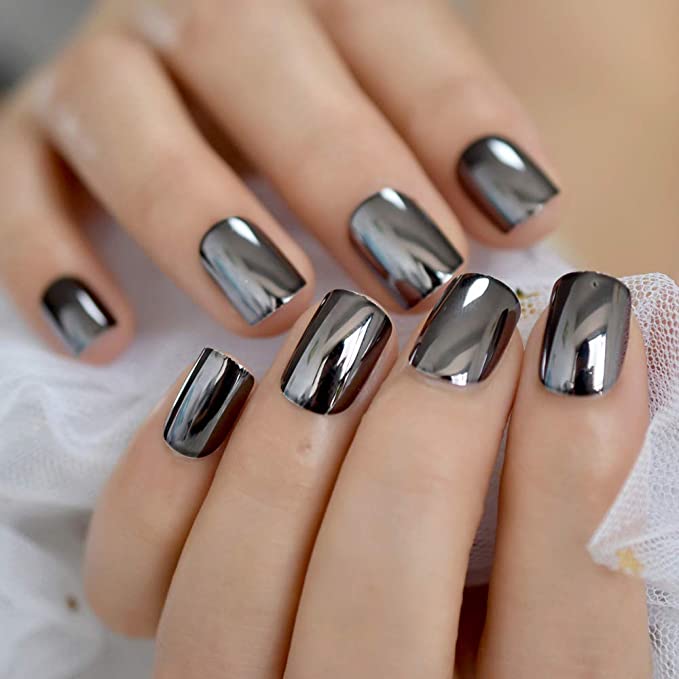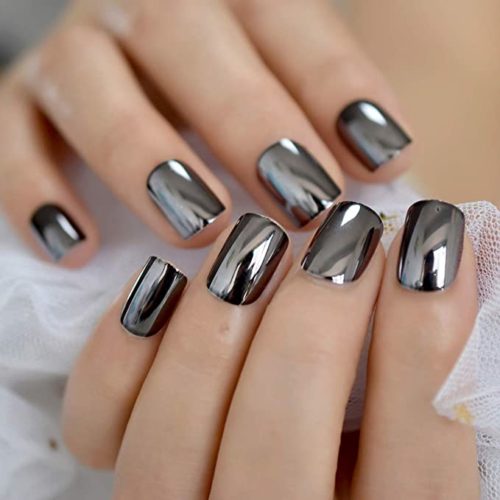 Another simple 90s nail trend is metallic nails. There are zillions of chrome polishes out there, however, they can be tricky to apply smoothly and without streaks. To create this look at home, I recommend purchasing press-on nails like these silver metallic nails.
This will also make doing your nails at home very easy, and it will definitely make your nails stand out.
14. Tie Dye Nails
One other fun and colorful 90s nail trend is the tie-dye nail look. With tie-dye nails, you can use as many colors as you like to create a super colorful '90s feel.
If you have never created tie-dye nails, just watch this video tutorial to see how to do it!
15. Glow in the Dark Nails
Glow-in-the-dark nails are another fun '90s nail trend that you should definitely try. To create glow-in-the-dark nails, just make sure to pick out one of your favorite nail colors to create the look! You can do a glow dip powder as seen in the video, or use glow-in-the-dark nail polish.
You can also make this look more fun by adding some glitter or doing glow-in-the-dark French tips as shown in this video!
Which of these '90s nail looks is your favorite?
Which nail ideas from this list will you be trying? Have you ever tried 90s nail looks? Tell me what you think in the comments down below.