This post may contain affiliate links, which means we may receive a commission if you purchase through our links. Please
read our full disclosure here
.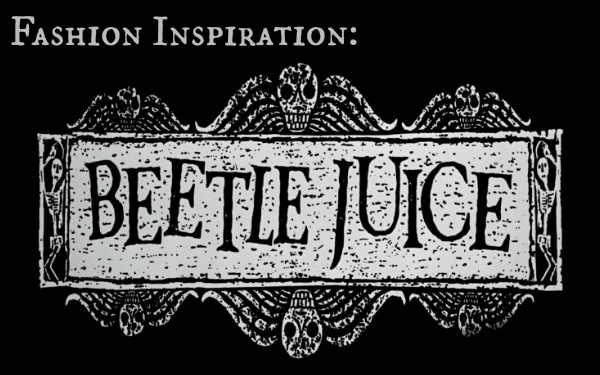 Although it's technicallynot a Halloween movie, Beetlejuiceis one of those films that can instantly put me in the Halloween spirit. This Tim Burton film about the afterlife not only combines macabre elements with humor and just the right amount of spookiness, but also has some memorable fashion moments to boot. From Lydia Deetz's gothic ensembles and oversprayed, sculpted hair to the title character's vertical striped suit, this movie is simply brimming with fashion inspiration.
Whether you want to dress up like your favorite character for Halloween or just incorporate some of their style into your everyday look, you've come to the right place. Scroll on down to learn more about Beetlejuice and to check out some outfits based on the movie and its characters:
Meet the Maitlands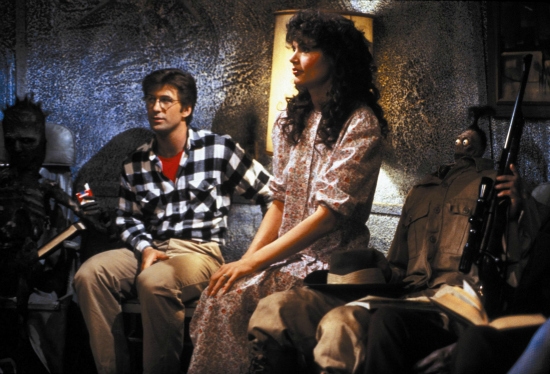 When an afternoon running errands leads to their untimely demise, Adam and Barbara Maitland learn that life after death is filled with rules, regulations and waiting rooms. After their afterlife caseworker tells them that they must remain in their home for the next 125 years, the Maitlands hope they'll be able to live in harmony alongside the new occupants… but unfortunately, that won't be the case.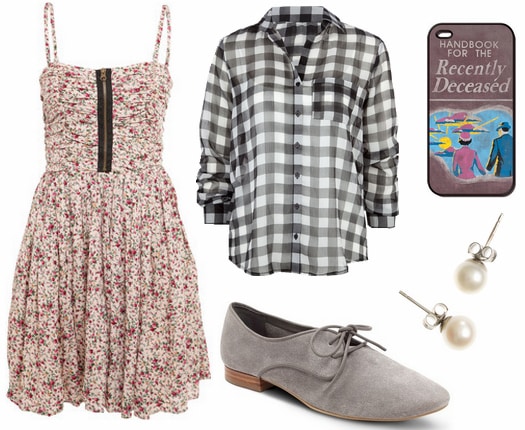 Product Info: Dress- Republic, Shirt- Tilly's, Phone Case- Etsy, Shoes- BCBGeneration, Earrings- J. Crew
For this look, I drew inspiration from both Barbara and Adam's styles to create a cohesive outfit. Start by layering a black and white buffalo plaid shirt over a pretty floral sundress, tying the shirt into a knot at the bottom for a polished look. Gray oxfords add a menswear-inspired touch, while pearl studs speak to the Maitlands' traditional and preppy style. For the finishing touch, accessorize your phone with this attention-grabbing case inspired by the afterlife's must-read manual. (FYI, it reads like stereo instructions.)
Lydia Deetz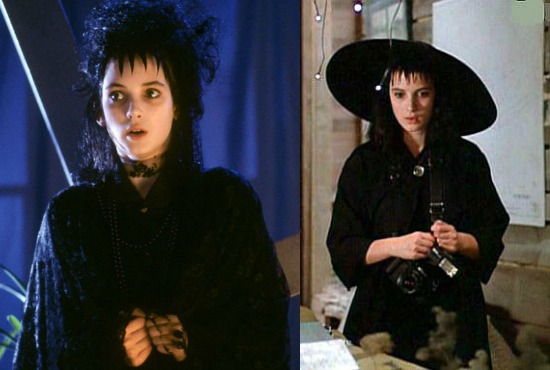 The Deetz family moves into the Maitland home and their advant garde style clashes with the traditional tastes of their deceased roomies. Adam and Barbara ineffectively try to scare the Deetzes away, because — as we soon learn — teenager Lydia is the only one who can see the ghosts, due to the fact that she's "strange and unusual." Lydia has an open mind and morbid fascination with the dead which is reflected in her all-black, gothic ensembles.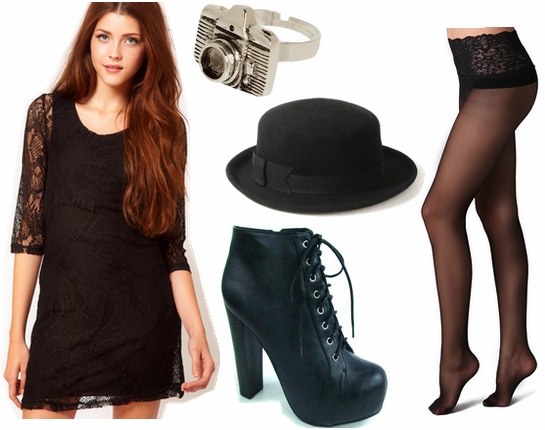 Product Info: Dress- ASOS, Ring- ModCloth, Hat- Forever 21, Boots- skinnybitchapparel.com, Tights- Shopbop
Bring Lydia's '80s goth look into the 21st century by pairing a gorgeous black lace dress with sheer tights. Platform lace-up booties add a fashion-forward vibe, while a brimmed hat is similar to the one she wears in the film. Finally, accessorize with a camera-shaped ring, which is a fun nod to Lydia's love for photography.
The Ghost with the Most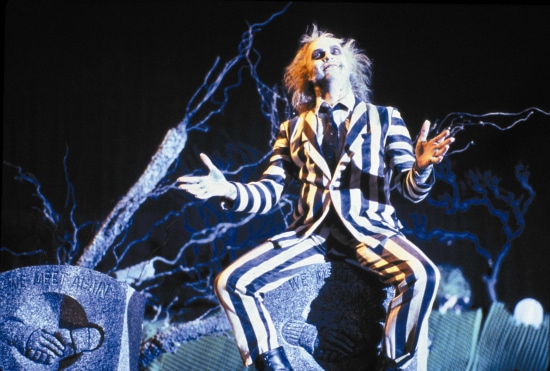 After several more botched attempts to scare away the Deetzes, the Maitlands contact a freelance "bio-exorcist" to help them out. Betelgeuse is a crude and skeevy ghostly prankster who can only be summoned by calling out his name out three times. Adam and Barbara decide to pass on Betelgeuse's unscrupulous services, but he still manages to wreak some havoc before they can send him back.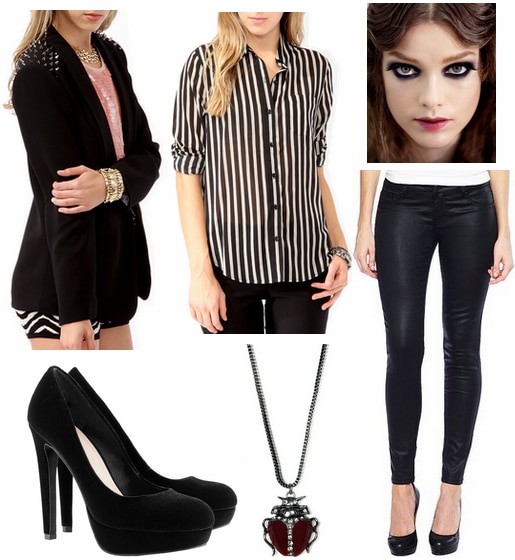 Product Info: Blazer- Forever 21, Blouse- Forever 21, Shoes- H&M, Necklace- Mango, Jeans- JCPenney | Photo: ELLE
For a fashion-forward take on Betelgeuse's iconic suit, pair a vertical striped button-up with some trendy coated jeans. Add an edgy spiked blazer for a totally chic take on this look worn by Betelgeuse. Black suede pumps help to streamline the outfit, while a dark red beetle-shaped necklace is a tongue-in-cheek reference to the bio-exorcist. If you want to rock that fresh-from-the-grave look, try a dramatic kohl-rimmed smoky eye, similar to the picture above.
Unholy Matrimony
Lydia's father and stepmother eventually learn about their ghostly roommates and through a series of events, the Maitlands get into trouble. In order to save Adam and Barbara, Lydia is forced to summon Betelgeuse, who will only help her out if she agrees to marry him. Lydia reluctantly agrees, but right before the "I do"s, a nefarious sandworm literally sends Betelgeuse back down into the underworld.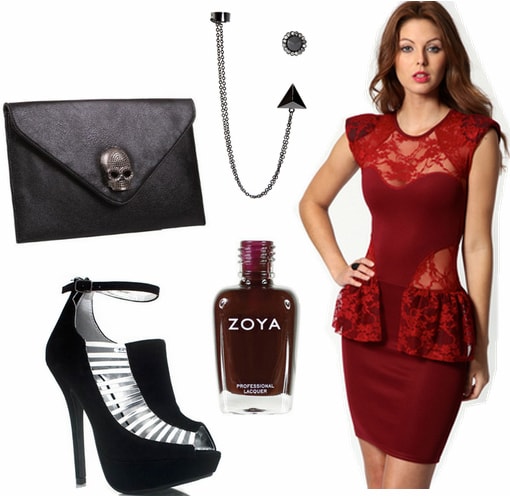 Product Info: Bag- chicnova.com, Earrings- ASOS, Dress- boohoo.com, Shoes- GoJane, Nail Polish- Zoya's "Paris"
Combine the best elements of Lydia's lacy gown and Betelgeuse's (on-trend!) oxblood suit with this crimson-colored peplum dress. The silver detailing on these sky-high pumps have a sandworm-esque shape and striped pattern, while mismatched earrings add an edgy vibe. Grab a skull-adorned clutch and paint your nails a deep red shade to complete this look.
Shake, Shake, Shake Senora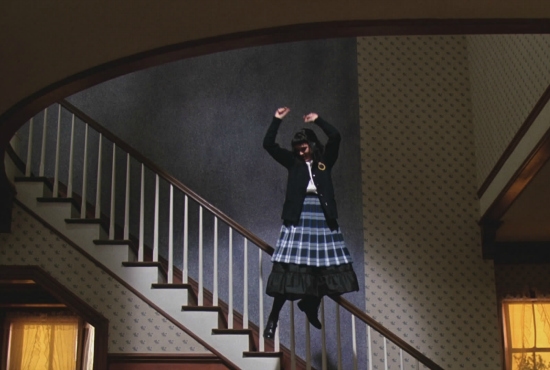 After the unsavory ordeal with Betelgeuse, the Maitlands and the Deetzes have learned to coexist peacefully, while the bio-exorcist has gone back to his old shenanigans in the afterlife. The movie ends the way every film should — with Lydia dancing in mid-air (thanks to some ghostly magic) and lip-syncing to a Harry Belafonte song.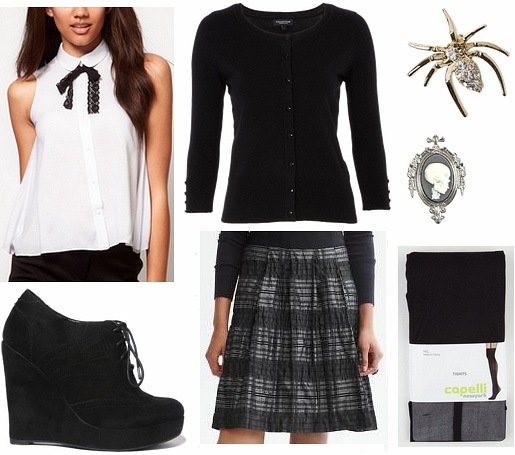 Product Info: Blouse- ASOS, Cardigan- Debenhams, Spider Brooch- yesstyle.com, Skull Cameo- bluebanana.com, Shoes- Forever 21, Skirt- Banana Republic, Tights- Tilly's
Even though Lydia is wearing a school uniform in this scene, I love how she incorporates elements of her own style — the black petticoat and lace-up boots — into the look. Mimic her outfit by pairing a black and gray plaid skirt with a collared blouse that has a lace bow. Dress up a simple black cardigan with a spooky spider brooch and skull cameo. Adorn your legs with these unique 'suspender' tights, then finish with a pair of black wedged ankle booties.
It's showtime…
Have you ever seen Beetlejuice? What do you think of the fashion in it? Would you wear any of these looks? Which one is your favorite? Remember to tell me what you think by leaving a comment below!