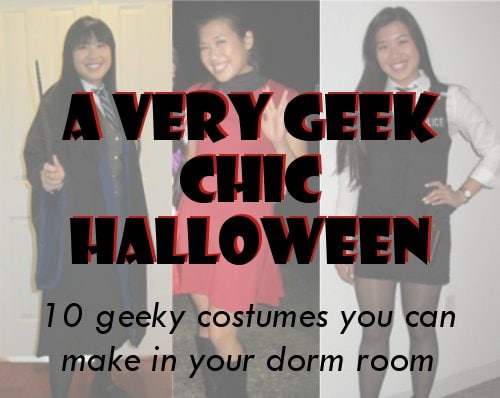 [L-R Cho Chang, Uhura, Amy Pond]
I absolutely love costumes. I'd wear them every day if it were socially acceptable. (Really, the whole point of the Geek Chic column is getting away with costumes-that-aren't-really-costumes!) But aside from events like Comic Con, Halloween is the only time of year when we fans can truly let our geek flags fly.
While past Geek Chic posts feature wearable, everyday ensembles inspired by shows and movies, this post is all about in-your-face outfits–the wilder the better!
Trust me when I say that geeky Halloween costumes are a blast: you get to blatantly advertise your fandom devotion and no one will think it's weird.  The past few years, I've dressed up as characters from Doctor Who, Star Trek, and Harry Potter (pics above), and been totally surprised at how many people recognized/appreciated the costumes, all of which were assembled in my dorm room for cheap!
Tips & Tricks for Budget Costuming
DIY! Why spend $50 on a shoddy polyester costume that will fall apart by the end of the night when you can make a better and cheaper version yourself? Plus there's nothing like the satisfaction of being able to respond to a compliment with, "Thanks, I made it myself!"
Thrift stores are your friend. Buying fabric by the yard isn't cheap, nor is it practical if you haven't got a sewing machine in your dorm room. But thrift stores are a gold mine for inexpensive, already-constructed clothing articles that you can easily alter for your own needs. Or you can source materials from oversized garments: for instance, craft leather is expensive, so instead I cut up a pair of $7 leather pants from Goodwill to use for the armor on my Wonder Woman costume this year.
Plain t-shirts are also your friend. So many possibilities! Add a nautical collar and pin on a bow: boom, you've got the top of a Sailor Scout costume.  Iron a transfer-paper "Merlotte's" logo to a white T-shirt and you're Sookie Stackhouse!
Use what you have! I'm a stickler for accuracy when it comes to making my convention costumes, but Halloween isn't about screen-accurate replicas: it's about having fun! Shop your own closet (or your friend's) for clothes that can pull double duty as costume parts. And household items like aluminum foil and pillowcases can be unexpectedly great for costume-making!
10 DIY Costume Ideas
Still looking for that perfect Halloween costume? Check out these suggestions for geeky costumes that won't break the bank!
1. Wonder Woman from DC Comics
You probably won't win any "most original" awards with this costume, but Wonder Woman is an absolute classic. Who wouldn't want to be Diana, warrior princess of Themiscyra? All you need to get your Amazon on is a red tank or tube top and cobalt shorts (or stay warm in colored skinny jeans or leggings). Use fabric paint or sew craft felt onto the top to make her armor, and do the same for the white stars on the pants.
Red knee-high boots are difficult to come by, so get the look by wearing red knee high socks with any red shoes that you've got. Cuff bracelets are popular and available for cheap at stores like Forever 21. Don't forget to slick on a coat of classic red lipstick!
2. Dobby from Harry Potter
There aren't any more Harry Potter midnight premieres to attend but you can still show your Hogwarts love! Pay tribute to everyone's favorite house elf (sorry, Kreacher) with this easy costume. If you're on the petite side, just cut holes in an old pillowcase for your arms and head. If you'd prefer to wear real clothing, a light-colored wrap dress will work just as well.
Mismatched socks are a must for this costume — the crazier the better! Finally, cut ears out of craft felt and glue them to a plain headband. It might not be an instantly recognizable outfit, but you'll get to shout "Dobby is a free elf!" all night at everyone who asks who you're supposed to be.
3. PSY from Gangnam Style
This isn't a fandom-inspired outfit, but it's definitely fun! If you've been anywhere near social media the past few months, you've almost certainly watched the music video for the undeniably catchy "Gangnam Style." And don't lie — you've tried out the dance moves in your dorm room.  Hop on the K-pop bandwagon with an outfit inspired by PSY (who, by the way, is a BU alum…go Terriers!).
You might already have all the pieces for this costume in your closet! Just add on snazzy extras like sunglasses and a bowtie. Because bowties are cool.
4. Starfleet Officer from Star Trek: The Original Series
All you need to boldly go where no one has gone before are black boots, tights, and a long-sleeved mini-dress in command gold, science blue, or security red! Make the Starfleet delta insignia yourself: just cut out a piece of study cardstock in the right shape, wrap it with aluminum foil, then safety pin or sew it on. If you're going as Uhura, you can also pop on a bluetooth headset to emulate her earpiece.
A black crossbody bag does double duty here: it resembles the tricorders that the crew carries on missions, and it'll hold all your essentials when you go out on Halloween night!
5. Castiel from Supernatural
Quick note: There will be a proper Geek Chic post on Supernatural-inspired fashion coming soon, but I just had to make a shout-out to my latest fandom obsession! (I now go into involuntary spasms whenever "Carry On Wayward Son" starts playing.) My favorite character is definitely Castiel, the long-suffering, trenchcoat-wearing angel played by Misha Collins.
Besides the Impala, Castiel's coat is probably the most recognizable object from Supernatural. And luckily, it's also a closet staple that you might just have on hand. Add basics like a blazer, trousers and a white blouse to get that "holy tax accountant" look, then borrow a navy tie from a guy friend. (Wings are optional.)
6 & 7. Dexter and DeeDee from Dexter's Laboratory
Group costumes are always fun, especially when it means bringing it back to your Cartoon Network-watching days! Just grab a friend to be the DeeDee to your Dexter (or vice versa). If you know a science major, or if you are one yourself, it shouldn't be difficult to get your paws on a lab coat. Add thick-rimmed glasses, black pants, and boots, then pop on a pair of gloves. (Grab an extra pair next time you have chem lab!)
For DeeDee, you'll need a poufy pink dress, white tights, and plain ballet flats. (Tie ribbons around your ankles to get the lace-up look.) Then tie up your hair in the highest, most obnoxious pigtails you can manage and you're set!
8 & 9. Jamie and Adam from Mythbusters
Here's another dynamic duo that spends lots of time in a lab: Jamie Hyneman and Adam Savage from Mythbusters! Whether you and your designated costume-partner are hardcore fans or casual viewers who just drop in for Shark Week episodes, you'll both have a blast channeling the hosts of this uber-geeky show.
For Jamie, the beret and walrus mustache pretty much are the costume: just add a white shirt, cargo pants, and the most disdainfully skeptical expression you can muster. Adam's outfit is super easy, requiring only a pair of thick black glasses, a black blouse, and black pants. Bonus points if you get other friends to dress up as Tory, Kari, and Grant! (Anyone else have a huge crush on Grant?)
10. Daenerys Targaryen from Game of Thrones
I haven't started watching Game of Thrones yet (for shame, I know!) but Tumblr tells me that Daenerys is one badass lady who hangs out with dragons. Since her white blonde hair is a vital element of the costume, you'll have to get wiggy with it (unless you happen to have waist-length platinum locks!).
Go for tough, strappy boots and textured garments in natural hues to emulate the rugged leather pieces that Daenerys wears. If you have an old maxi skirt that you don't mind altering, cut a slit up the side to mimic her overskirt, then wear leggings underneath. Feeling crafty? Follow this easy tutorial to make a homemade dragon egg as a fun prop.
What do you think?
Is spooky your favorite season? Would you wear any of these costumes? Are you dressing up geeky for Halloween this year? Do you DIY your costumes?  Let us know in the comments!