I don't know about you guys, but I'm super-psyched for Season 3 of the HBO series True Blood. (The many emails we've received requesting an article on the show makes me think you probably are, too!) The show always keeps me on the edge of my seat and has something for everyone– action, romance, comedy and of course, plenty of vampires!
For those who are unfamiliar with the premise of the show, it goes like this: vampires have made their existence known to humans worldwide. The series centers on the town of Bon Temps, Louisiana and Sookie Stackhouse, a waitress with telepathic powers.
Even though she's a small town girl, Sookie (played by Anna Paquin) has an enviable wardrobe for every occasion– whether she's serving drinks at Merlotte's or winning the heart of a vampire named Bill.
So to tide you over until the season premiere on June 13th, here's how to add some Sookie Stackhouse style to your wardrobe:
Sookie Style 101
Sookie is a girl from the deep south and her wardrobe reflects that. She wears clothes that are simple and sweet— never too flashy. Her style is also very feminine and she's not one to shy away from a breezy sundress. Her wardrobe is also equipped for the hot, sticky weather in Bon Temps. She wears lots of sleeveless tops, shorts and lightweight skirts.
Sookie also wears a lot of florals, pastels and white clothing. Almost every outfit she wears incorporates at least one of the three. Check out these examples of each with items that look like they came straight out Sookie's closet:
Floral Frenzy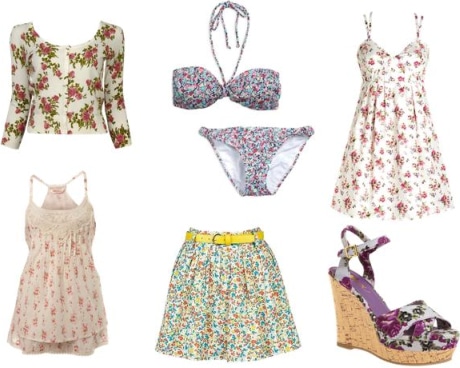 Product Information: Cardigan- Forever 21, Swimsuit- American Eagle Outfitters, Dress- Delia's, Top- Miss Selfridge, Skirt- Forever 21, Wedges- ModCloth
Sookie's signature is definitely floral print clothing. This pattern is on-trend this season and is easy to pull off in a variety of ways. My favorites are the bikini and these fabulous wedges!
Pretty Pastels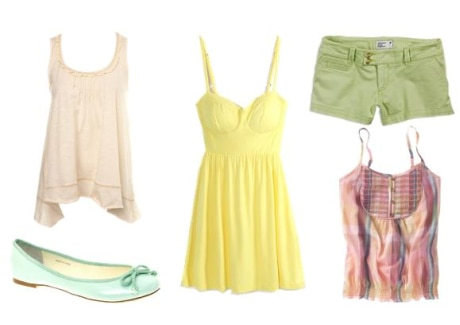 Product Information: Top- Miss Selfridge, Dress- PacSun, Shorts- American Eagle Outfitters, Ballet Flats- ASOS, Cami- Old Navy
Sookie rarely wears dark colors– instead, her wardrobe is filled with light colored clothing. These pastel items will brighten up any girl's closet.
White Hot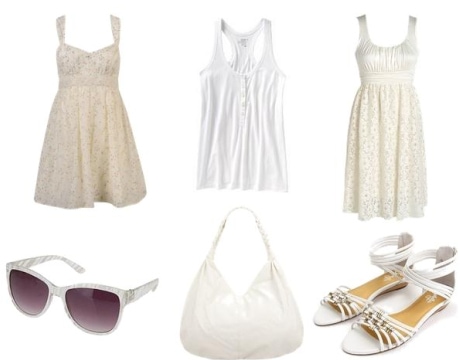 Product Information: Printed Dress- Forever 21, Tank- Old Navy, Lace Dress- Delia's, Sunglasses- Urban Outfitters, Bag- Tilly's, Sandals- Lori's Shoes
Sookie also wears a lot of white clothing, which I believe is meant to reflect her innocent personality. The white sundresses and top keep you cool in hot summer weather, while the accessories and sandals add a chic touch to any outfit.
Sookie's Hair and Makeup
One thing I love about Sookie is the variety of hairstyles she pulls off. Throughout the show she wears her hair straight, wavy and curly, so it's fairly simple to try out one of her hair styles with your natural texture.
Whatever your hair type, you can easily achieve a Sookie-inspired hairstyle by slipping on a thin plastic headband, like the ones by Scunci for a sweet and polished look.
As far as makeup goes, Sookie keeps hers looking low-key and natural. Mimic her makeup by lightly lining the top and bottom of your eyes with a brown, black or gray eyeliner and then add a coat of your favorite mascara. Use a pink shade of blush on the apples of your cheeks and keep the lips neutral with a light pink or nude color.
Sookie Inspired Outfit #1: Southern Belle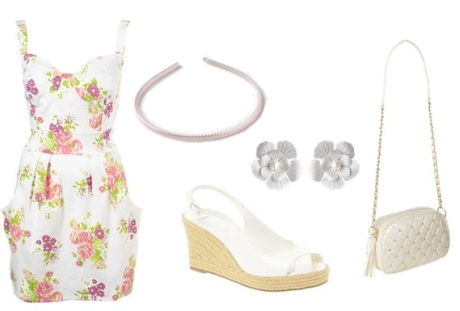 Product Information: Dress- TopShop, Headband- Kohl's, Earrings- Dorothy Perkins, Espadrilles- ASOS, Bag- Fred Flare
This floral-inspired outfit is something Sookie would definitely wear on a date with Bill. This floral dress is ultra-feminine and sweet. Continue the floral motif with stud earrings, and add a classic touch with a quilted white bag. A dainty headband keeps your hair away from your face and these espadrilles are perfect for summer.
Sookie Inspired Outfit #2: Heat Wave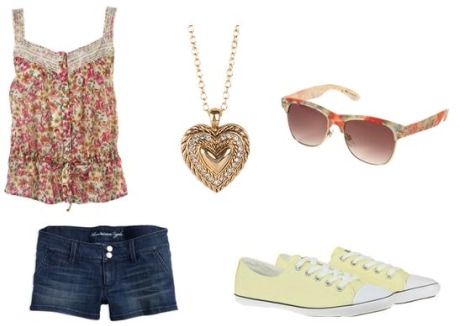 Product Information: Top- TopShop, Necklace- Forever 21, Sunglasses- TopShop, Shorts- American Eagle, Sneakers- Converse
This outfit is similar to the daytime outfits Sookie often wears. This floral cami is lightweight and girly, and I paired it with a basic pair of denim shorts. The matching floral sunglasses are on-trend and are great for protecting your eyes from the sun! Sookie often wears simple sneakers like these pastel yellow Converse and accessorizes with antique-looking necklaces like the one above.
So, are you craving Sookie's style?
Do you watch True Blood? Are you as excited for the Season 3 premiere as I am? Are you a fan of Sookie's style? Do you have signature patterns or colors that you often wear? As always, leave a comment and let us know!