This Halloween movie costumes guide will show you outfits inspired by Halloween characters from different iconic movies.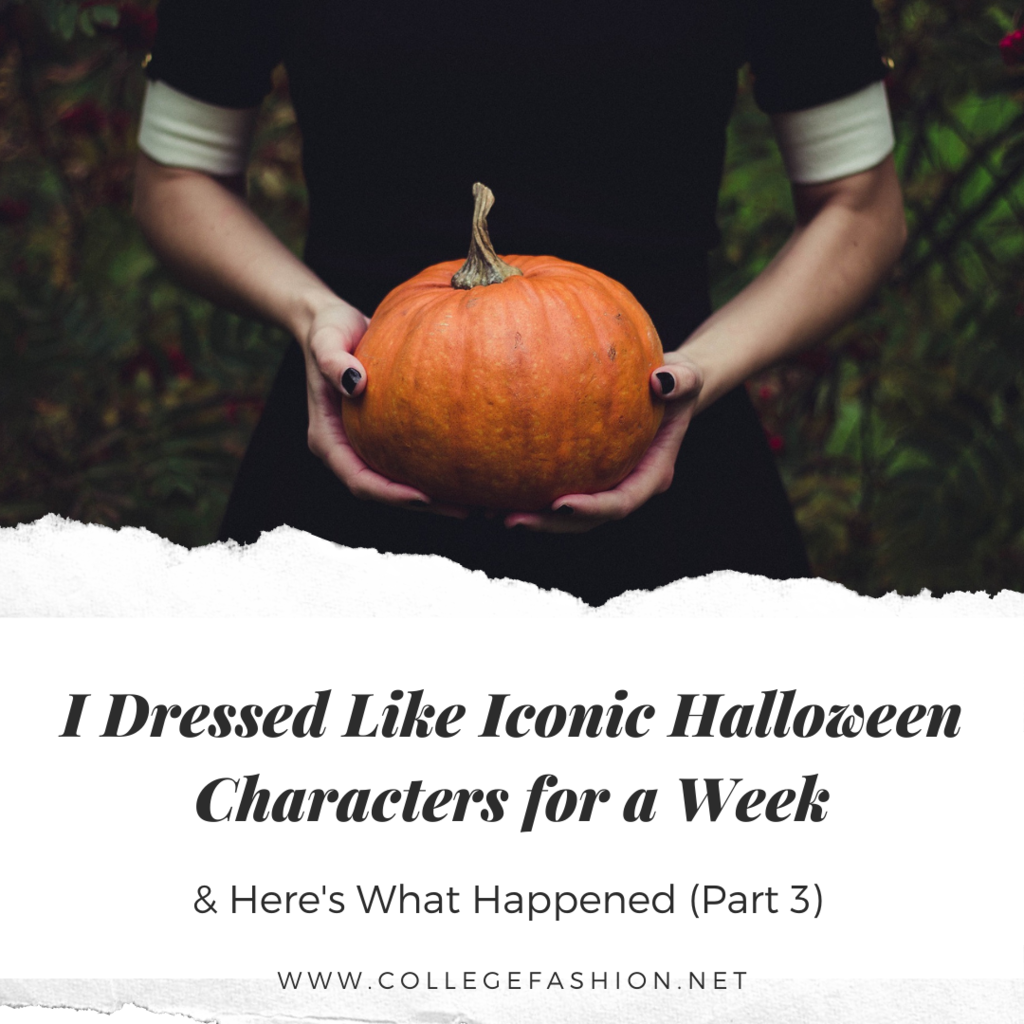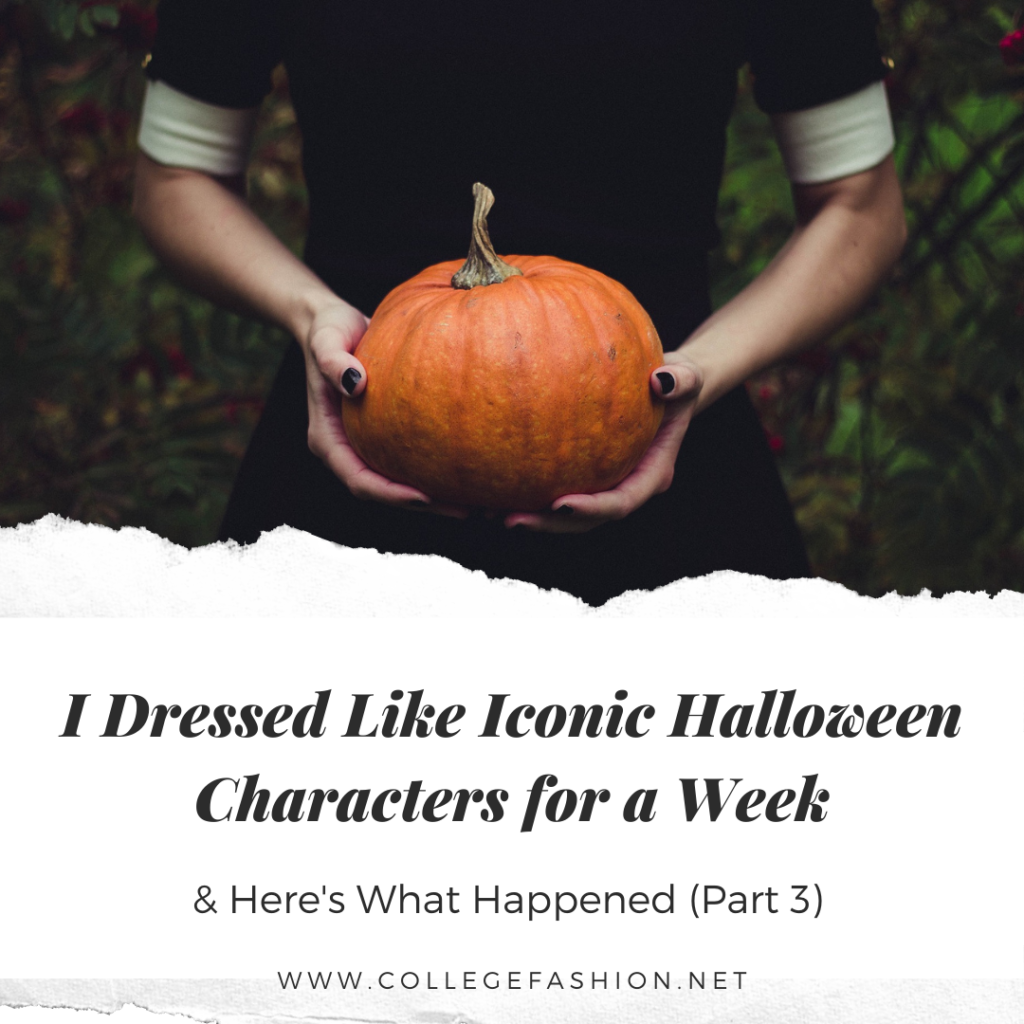 We've all looked to celebrity style for fashion inspiration at some point in our lives. But it's one thing to say "I love her outfit," and it's another to actually copy it in real life.
For this series, I'm going the extra mile and making it happen. Each week, I'm getting inspiration from a celebrity and copying five of her looks as closely as possible. Then, I'm reporting back to you: Did the outfits work in real life? Did I feel comfortable? Did people treat me differently? I'm sharing it all.
In past posts I've covered the style of these celebrities: Zendaya, Gigi Hadid, Grace Kelly, Kendall Jenner, Vanessa Hudgens, Sophie Turner, Priyanka Chopra, Millie Bobby Brown, Hilary Duff, Lily Collins, Taylor Swift Part 1 and Part 2, Selena Gomez, Alexa Chung, Queer Eye's Fab 5, Lucy Hale, Dakota Johnson, Hailey Bieber, Kaia Gerber, Nina Dobrev and Olivia Rodrigo.
I've also covered the style of certain iconic TV and movie characters: Iconic Halloween Characters Part 1 & 2, Iconic Christmas Characters Part 1 and 2, Rachel Green Part 1 and 2, Monica Geller, Little Women's Characters, Gilmore Girls' Characters Part 1 and 2, Iconic Olsen Twins' Movies, Winx Club Characters, Bridgerton Characters, W.I.T.C.H Characters, Power Rangers' Characters, Wanda Maximoff, Disney Characters, Clue Characters, Gossip Girl Characters and Veronica Mars.
I also did a full behind-the-scenes, tips on how to do your own recreations and cheap items I use to make my own.
Since it is almost Halloween, I took inspiration from five iconic Halloween characters.
First, Past Halloween Movie Outfit Posts:
For the last couple of years, I created outfits based on the style of iconic Halloween characters. I emulated the style of Clarice Starling, Nancy Prescott, Buffy Summers, Rosemary Woodhouse, Wednesday Addams, Lydia Deetz, Michael Myers, Kat Harvey, Georgie Denbrough and Winifred Sanderson.
If you want to check them out, here's part 1 and part 2.
For today's post, I will take inspiration from the character and create an everyday look based on their overall characterization. Just like the last two Halloween posts, the outfits will not be an exact recreation, though they work well as Halloween movie costumes if you don't need your outfit to be exact.
With that said, let's get started!
Outfits Inspired by Halloween Movie Costumes
Monday – Laurie Strode, Outfit #1 (Halloween 1978)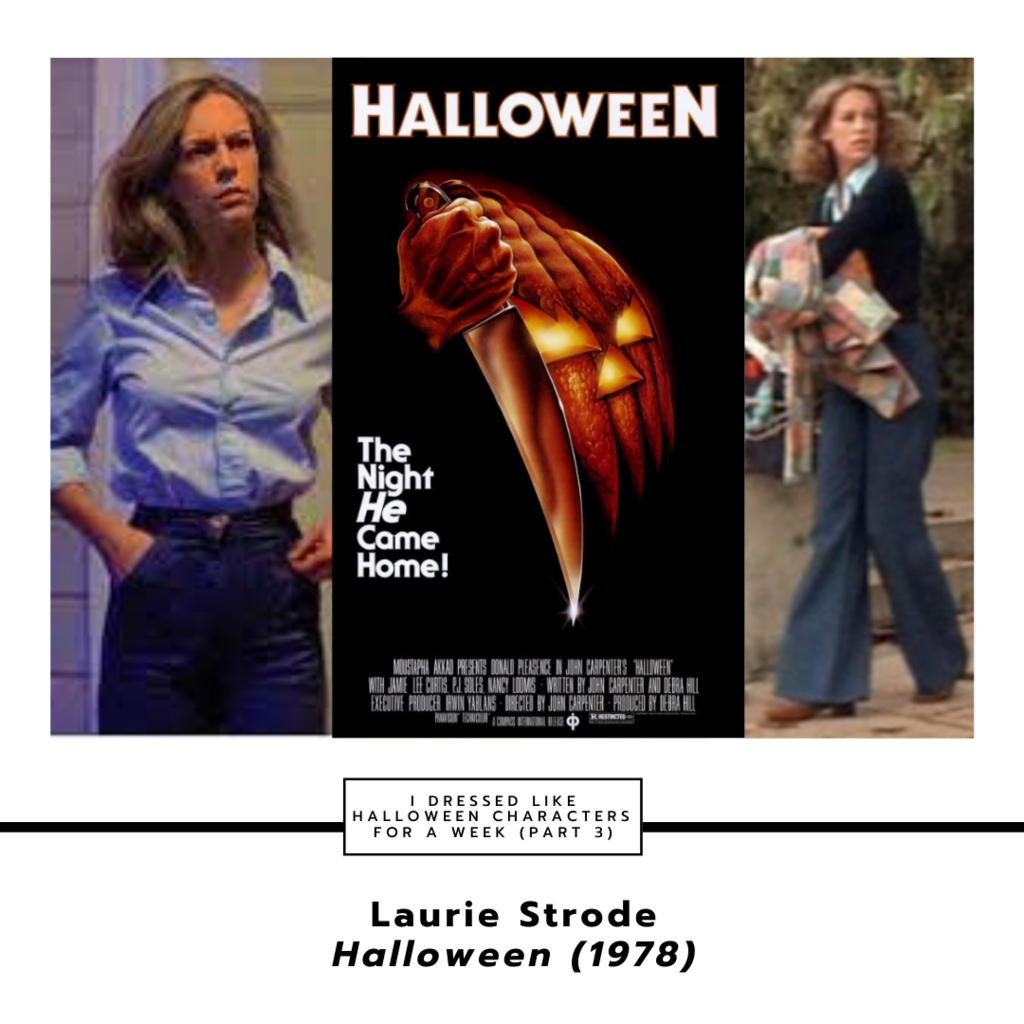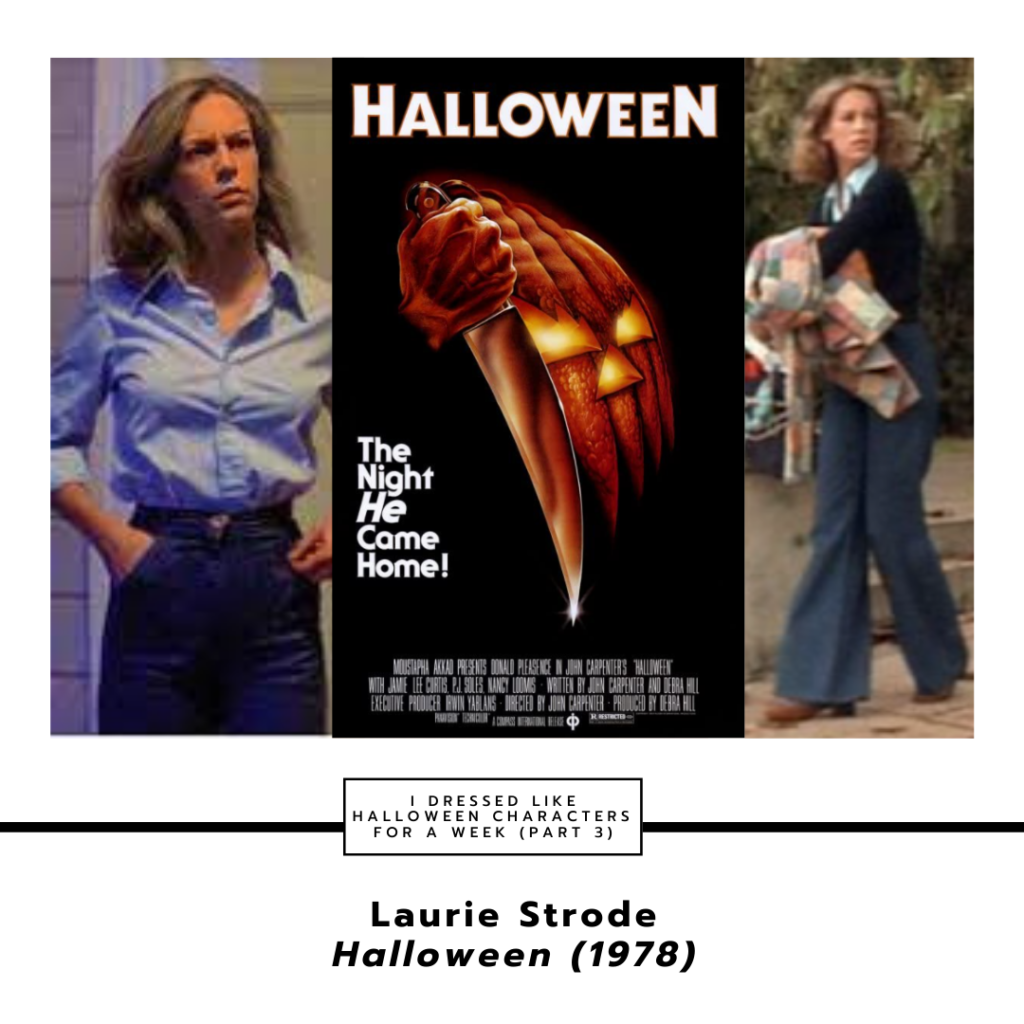 One of the original slasher films, Halloween premiered in 1978 and became Jamie Lee Curtis' breakout role. Teenager Laurie Strode (Curtis) takes a job as a babysitter for Halloween. As the night of the masks draws nearer, she keeps seeing an eerie masked figure stalking her. While Laurie believes a schoolmate is playing a harmless Halloween trick on her, she and her friends have no idea of the danger that is waiting for them.
Laurie has two outfits during the film. The one I'm taking inspiration from is the one she wears while being chased by Michael. For obvious reasons, this is also her most known look. She is wearing a blue shirt, flared jeans and booties.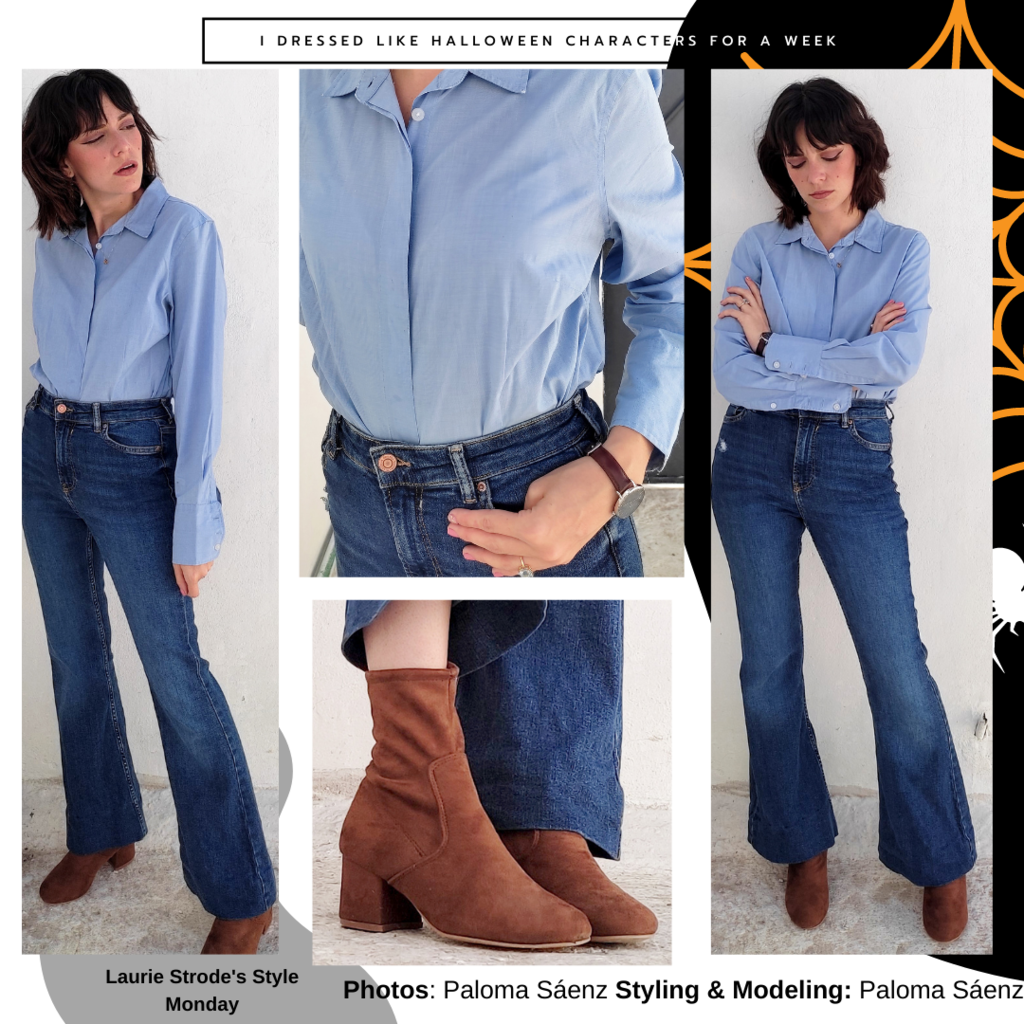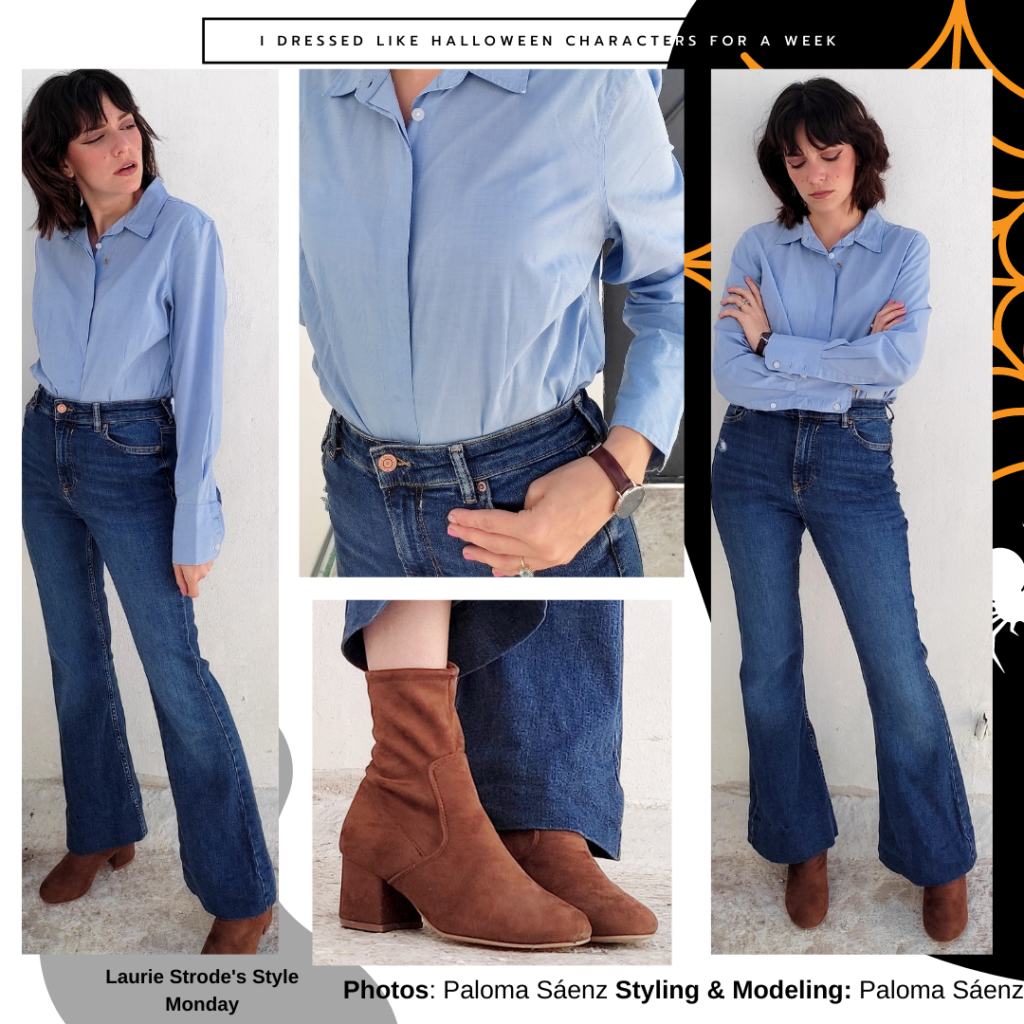 I decided to start my week of recreations with Laurie's look. It is the simplest one and it was a combo that I thought would ease me into the week.
For my version of Laurie's Final Girl outfit, I paired a blue Oxford shirt with a pair of medium wash flared jeans. I borrowed the blue shirt from my mom and the jeans are mine. My shoes are brown suede sock booties that kind of resemble the shoes Laurie wears in the film.
Halloween is one of my favorite horror movies, so I was excited for this one. It was a great look! I really liked the monochromatic color scheme with the warmth of the brown. Overall, it felt very appropriate for a fall outfit.
Unfortunately, halfway through the day, it was a bit hot for long sleeves and boots. The outfit was saved by a chilly night, though.
I would wear this, as is, any day in the future. It would also make a great Halloween movie costume for horror buffs. Also, I will be trying similar combinations with a different color scheme.
Tuesday – Freddy Krueger, Outfit #2 (A Nightmare on Elm Street 1984)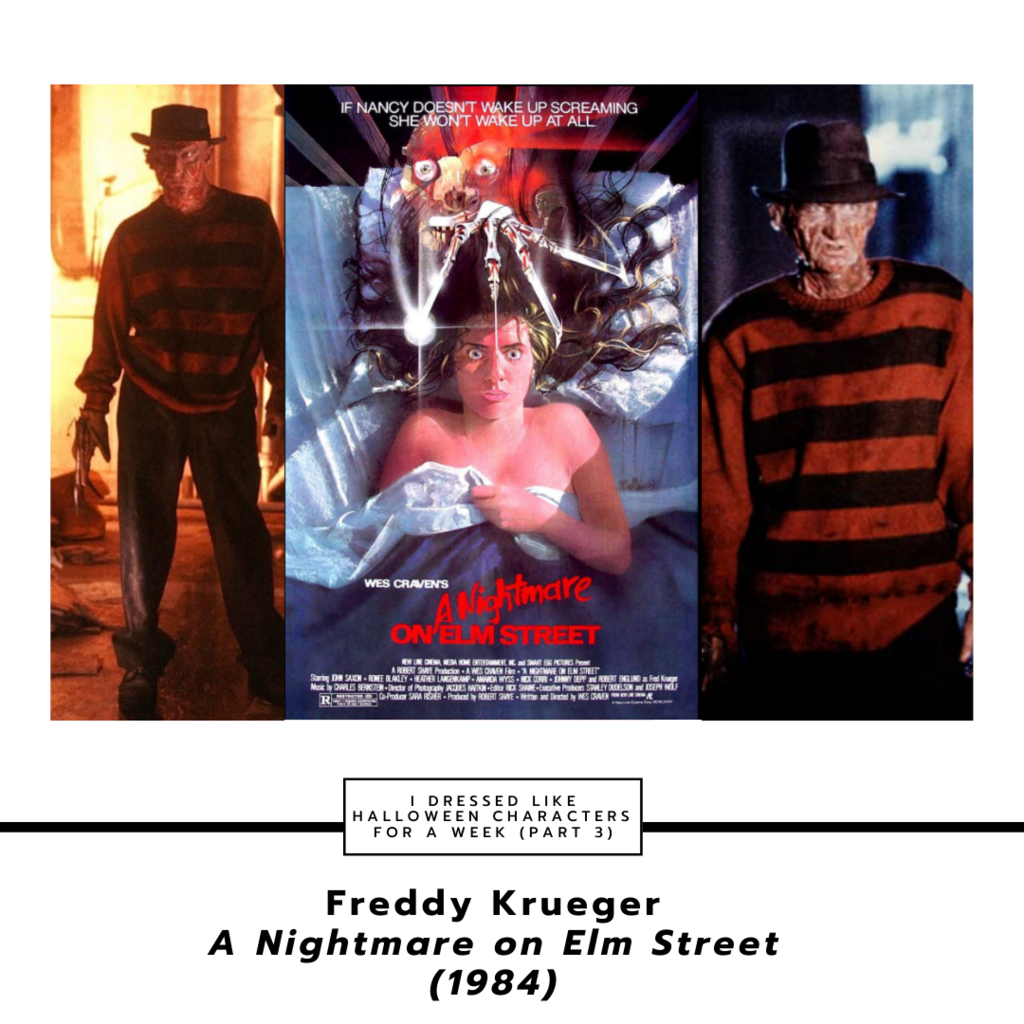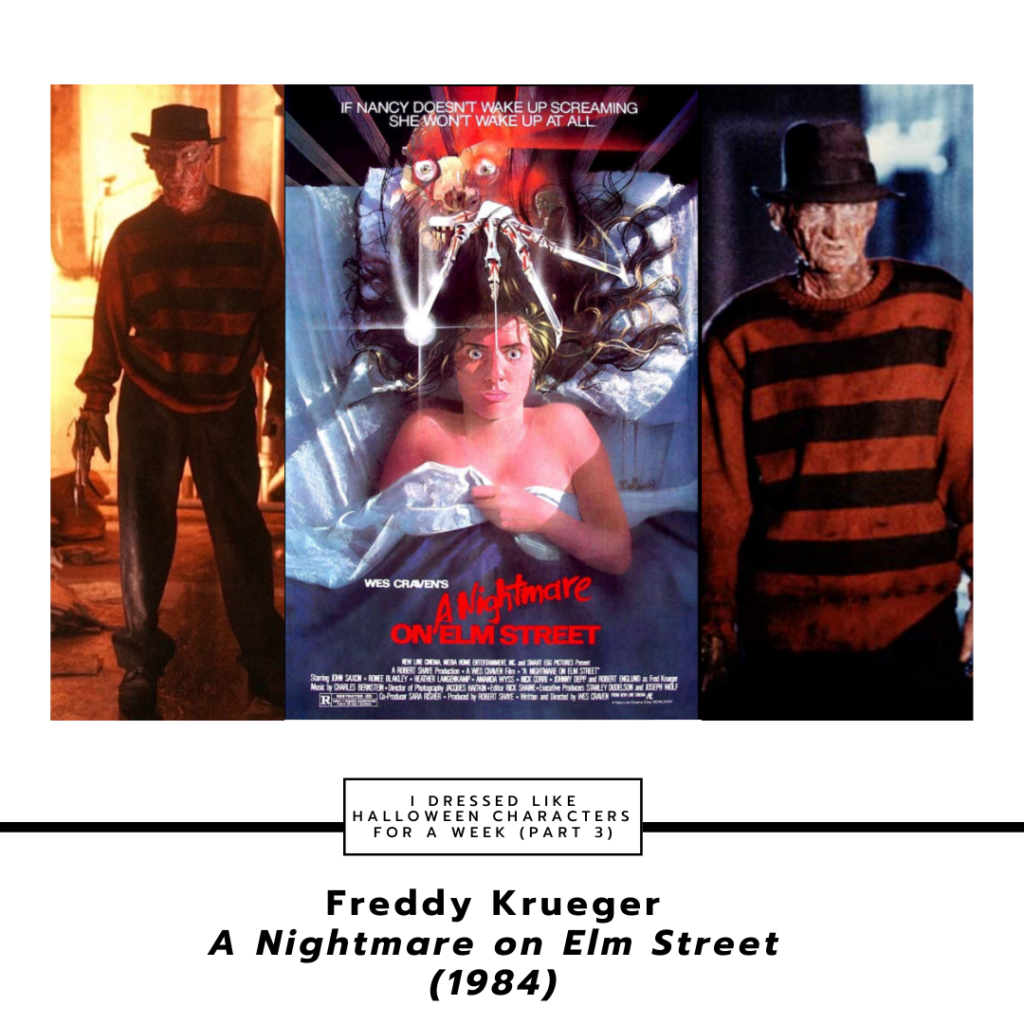 A Nightmare on Elm Street is a 1984 film by horror master Wes Craven. Teens are having nightmares about a burned man with blades on his fingers. After one of her friends dies during a nightmare like that, it's up to Nancy (Heather Langenkamp) to find out what's going on, and ultimately to confront it before she dies, too.
Freddy Krueger is definitely one of the villains I enjoy watching the most. He just seems to be having a blast while tormenting these teens and he's so scary because of it. Freddy's movie costume is as iconic as his razor blade fingers. Freddy can be seen wearing a green and red striped sweater, dark pants and boots, and a hat.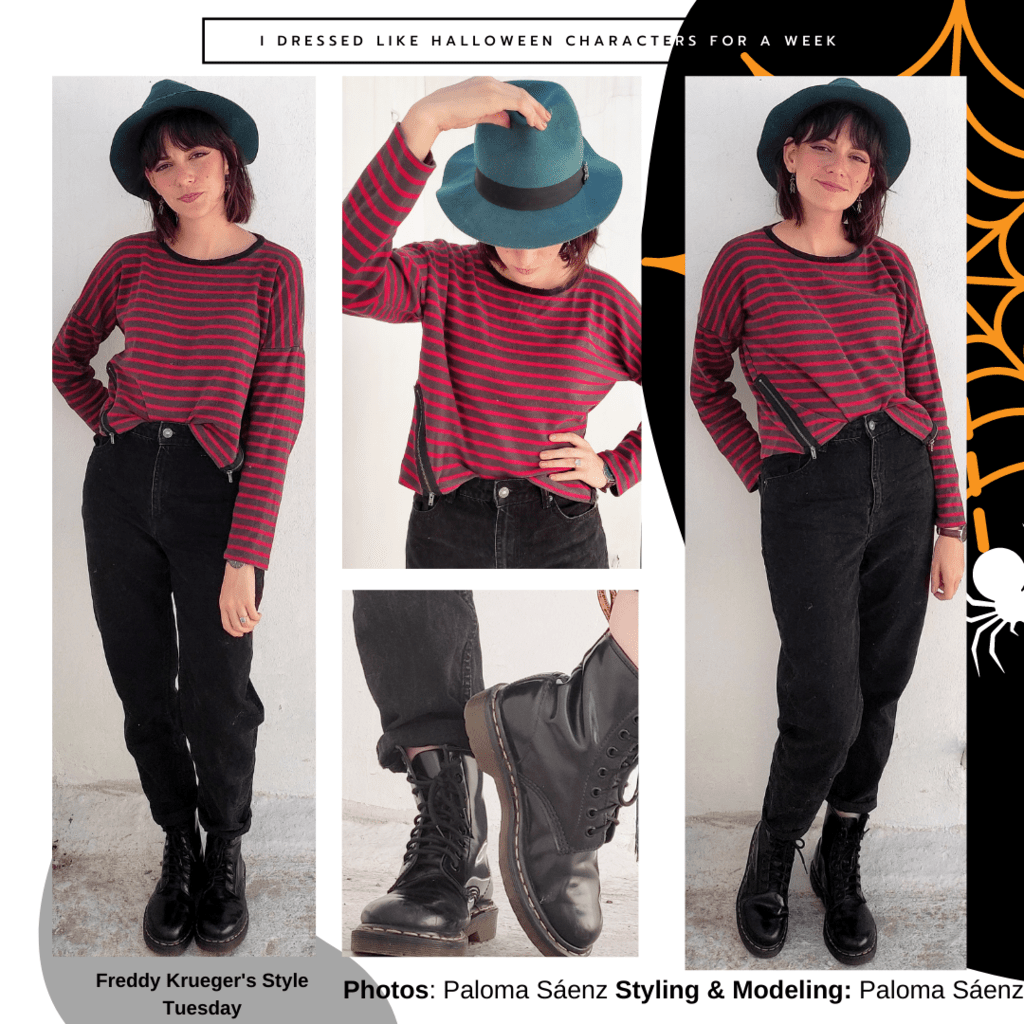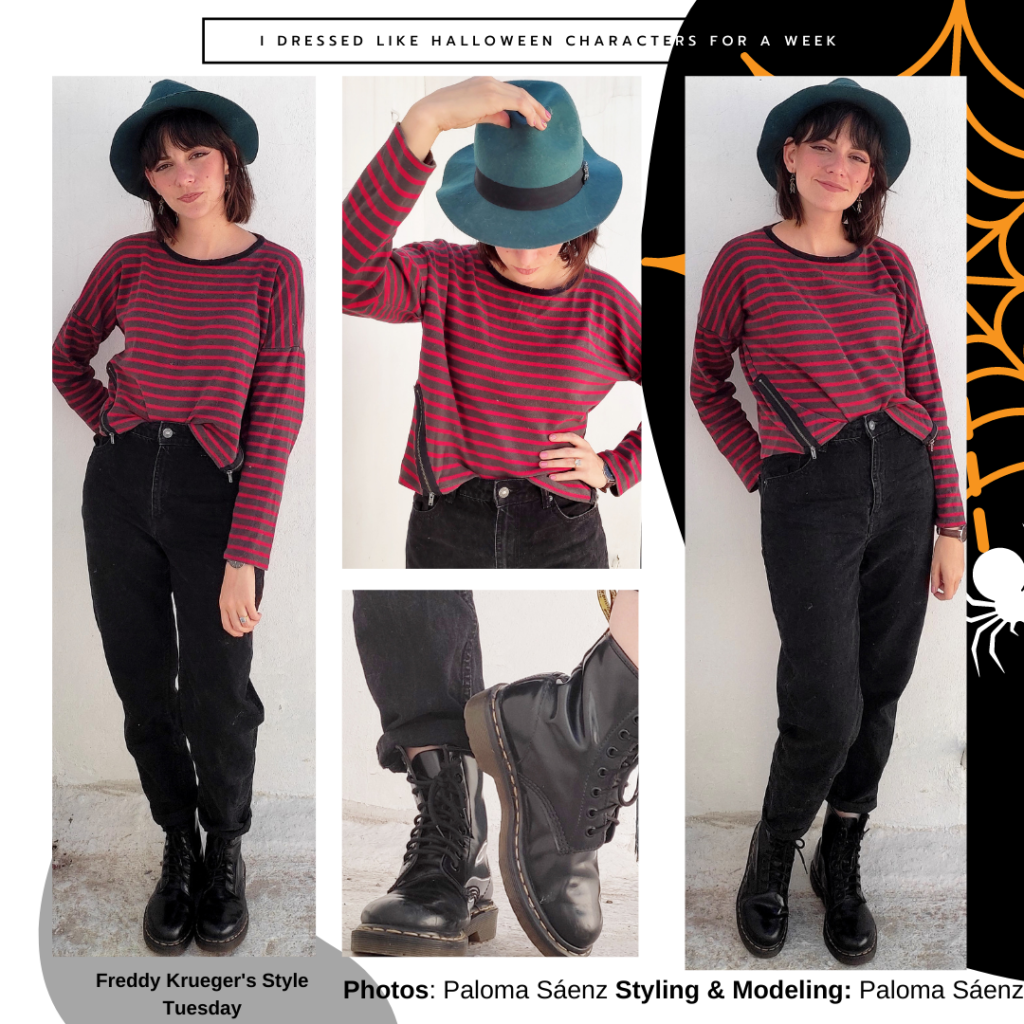 Of all the outfits I did this week, I felt most comfortable in Freddy's.
I started with a red and grey striped sweater that is a bit cropped. His sweater is green and red, but this sweater was the closest thing I had and it had the correct vibe. For the bottoms, I put on a pair of black mom jeans. The shoes are my black Doc Martens.
Finally, for accessories, I went with a wide-brim green hat. I decided to wear a green hat instead of a black one to complete Freddy's red and green color scheme.
I liked this look so much! Honestly, I wasn't sure the hat would work with the rest of the ensemble, but I ended up loving how everything looked together. Just like the day before, the weather was a bit hot for the sweater and the boots, but it was fine overall.
If I wear this one again, I'd like to try wearing it with a pair of black sock booties to make it slicker. Again, this would make a super cute Halloween movie costume you could pull off in a hurry.
Wednesday – Chucky, Outfit #3 (Child's Play 1988)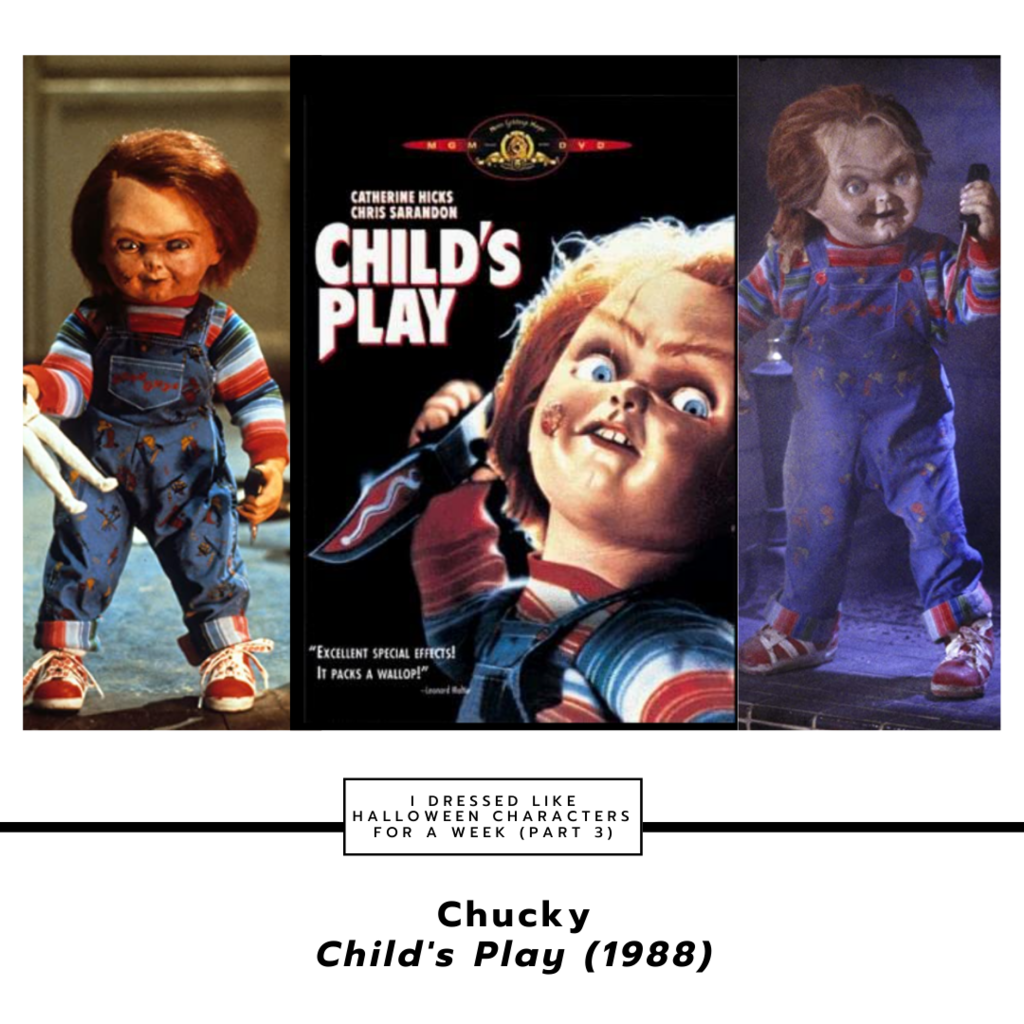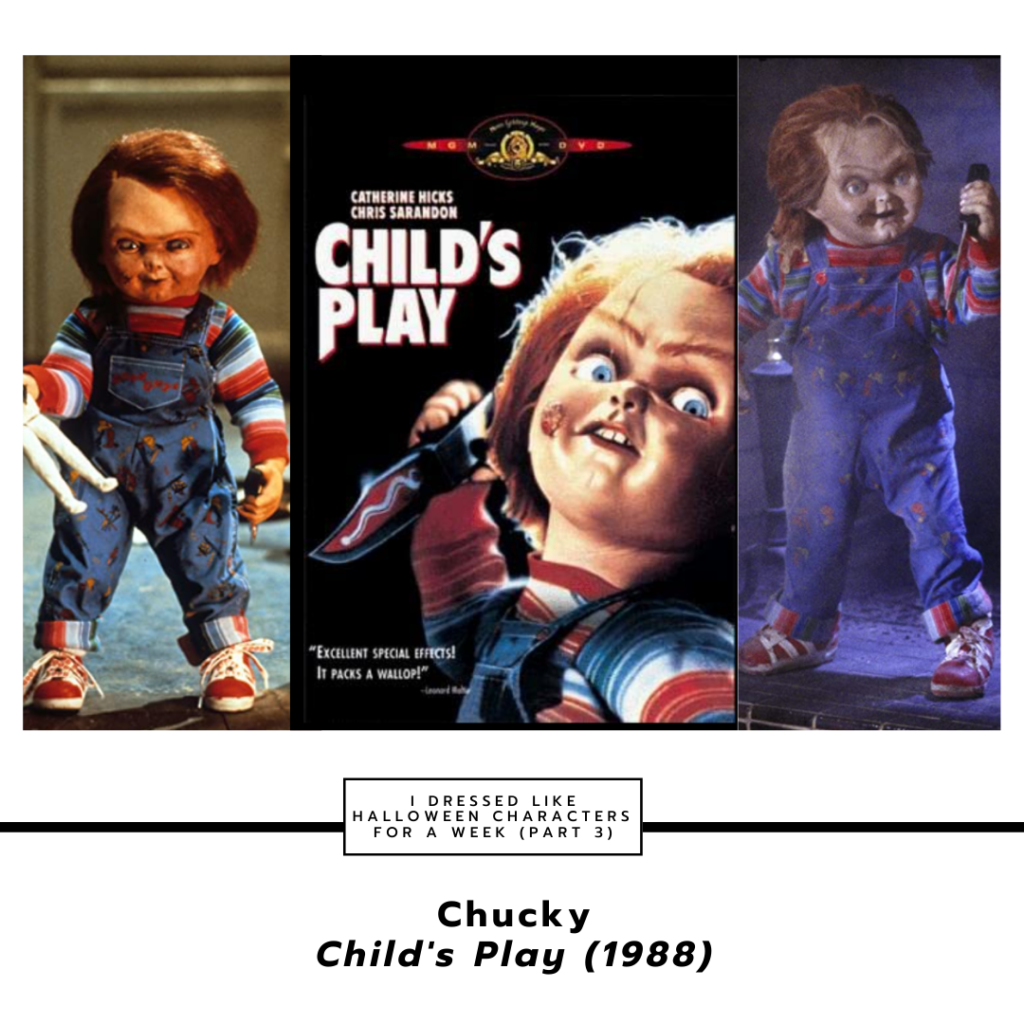 Child's Play is a horror film directed by Tom Holland (no, not that one) and it premiered in 1985. It tells the story of a single mother who gives her son a much sought-after doll for his birthday, only to discover that it is possessed by the soul of serial killer Charles Lee Ray. The film follows Chucky's exploits as he causes all sorts of murderous mayhem in his search for a new human host.
When I was younger, Chucky was probably in the top 3 of villains that scared me the most. The other two were the Headless Horseman and Pennywise the Clown. Since getting over my fear of Pennywise and Chucky (the Horseman still haunts me), I've come to appreciate Chucky as the ironic character that he is: a menacing psychotic force trapped in an innocent children's toy.
Chucky's look is, for a lack of a better word, childish. Since he is possessing a toy, he is one of the horror villains with the brightest color scheme and the most relatable look.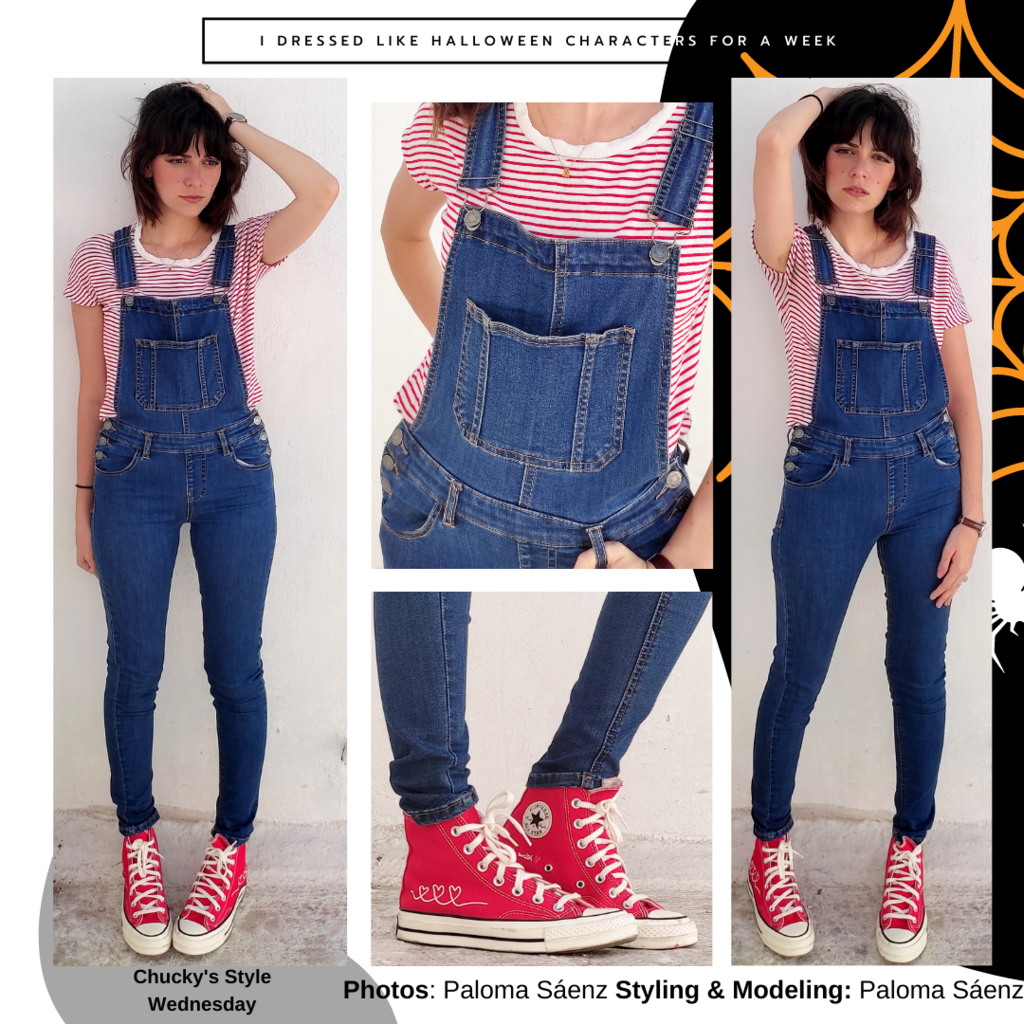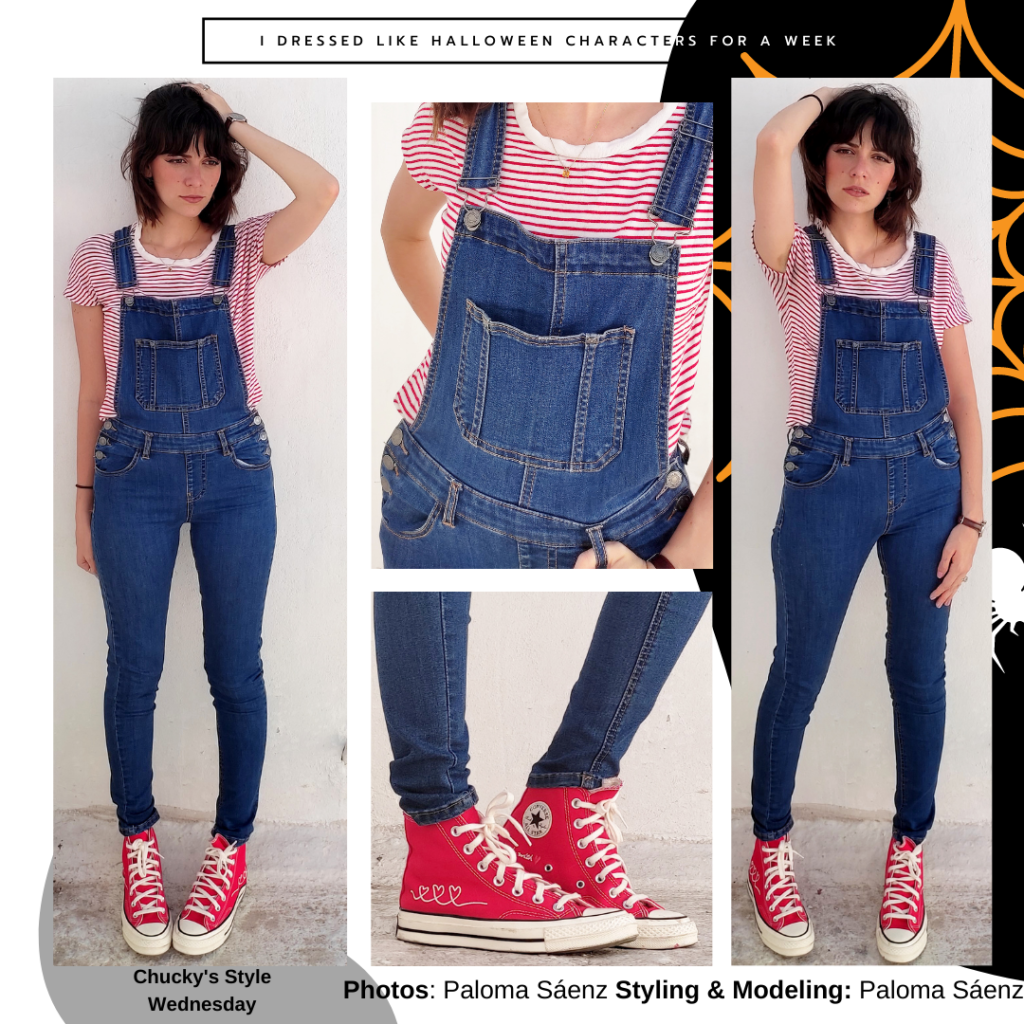 For my Chucky outfit, I wore a red and white striped t-shirt and a pair of medium-wash overalls. He wears a super colorful sweater, but I couldn't find a sweater that looked right or that I would wear again. So, I went with this t-shirt because it was the closest thing I had on-hand.
Chucky rocks a pair of adorable red sneakers. For my sneakers, I put on my high-top red Converse. For a bonus Chucky vibe, I didn't do my hair at all and just let it get messy.
This was a fun one. I liked the chill vibe of the look and I felt really comfortable with it. I do think a sweater could've looked better, but the t-shirt was perfect for the hottest part of the day. I threw on a red denim jacket later in the day, because I was a bit cold.
Other than that, I liked it and it was fun, cute look to wear halfway through the week.
Thursday – Casey Becker, Outfit #4 (Scream 1996)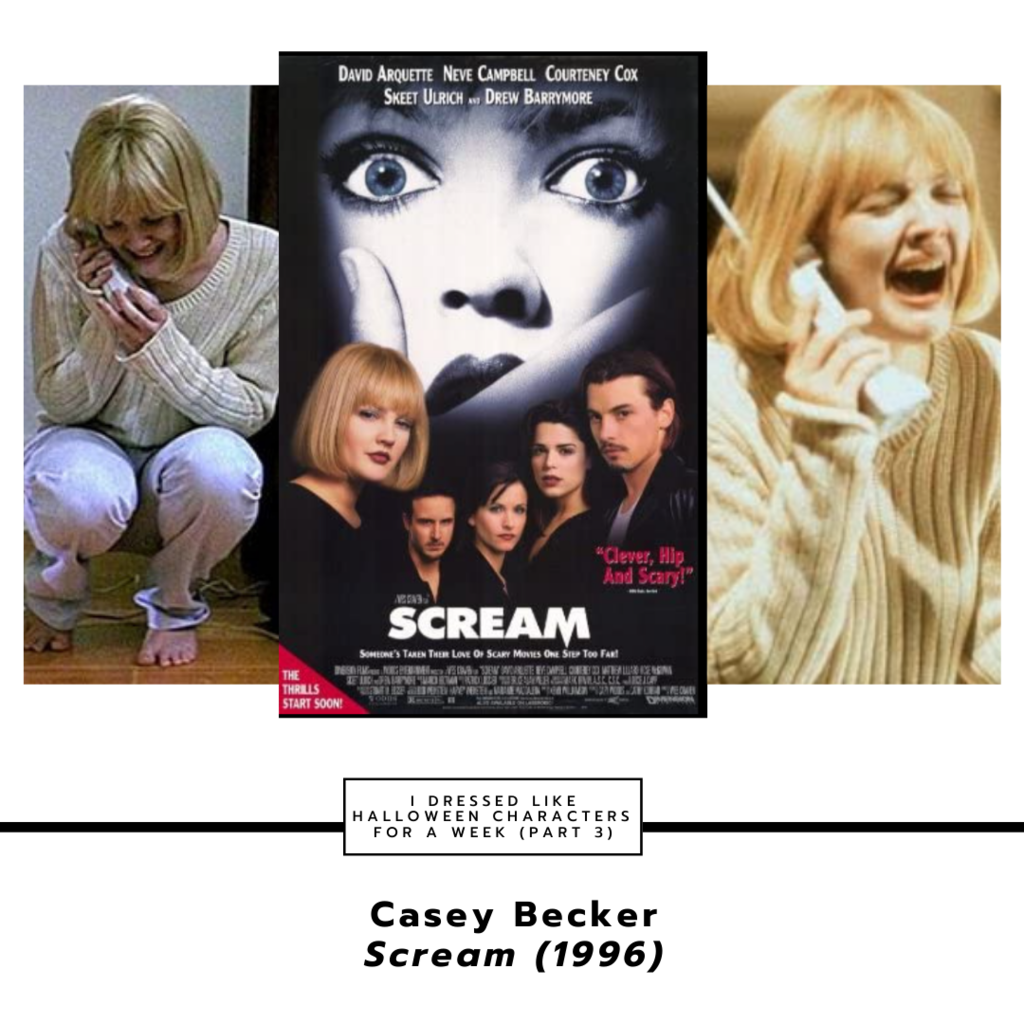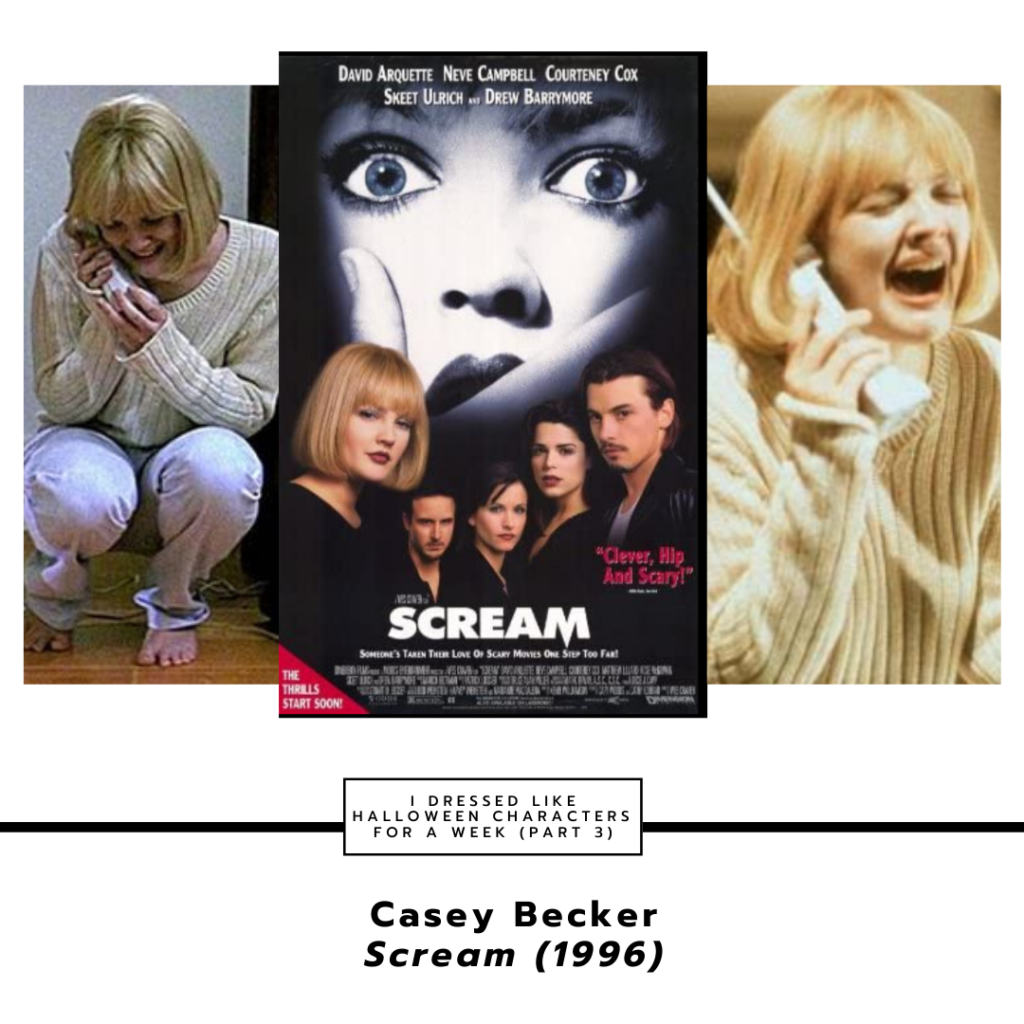 Scream was directed by Wes Craven years after Nightmare on Elm Street took the world by storm. It follows the character of Sidney Prescott, a high school student, who becomes the target of a mysterious killer in a Halloween costume known as Ghostface.
Drew Barrymore's character appeared less than 15 minutes on screen, but it is the most iconic scene in Scream, as well as the most quoted. Casey Becker's outfit consists of a loose cream sweater and white jeans.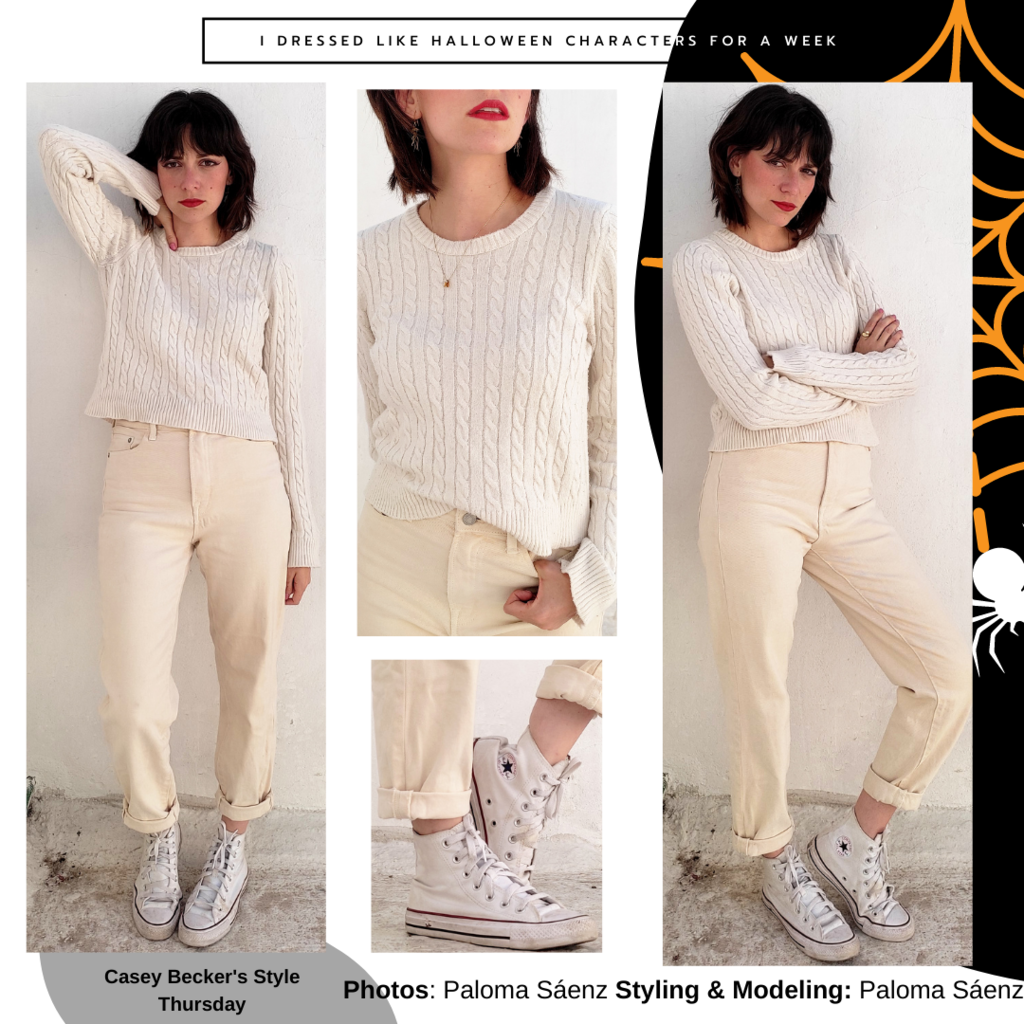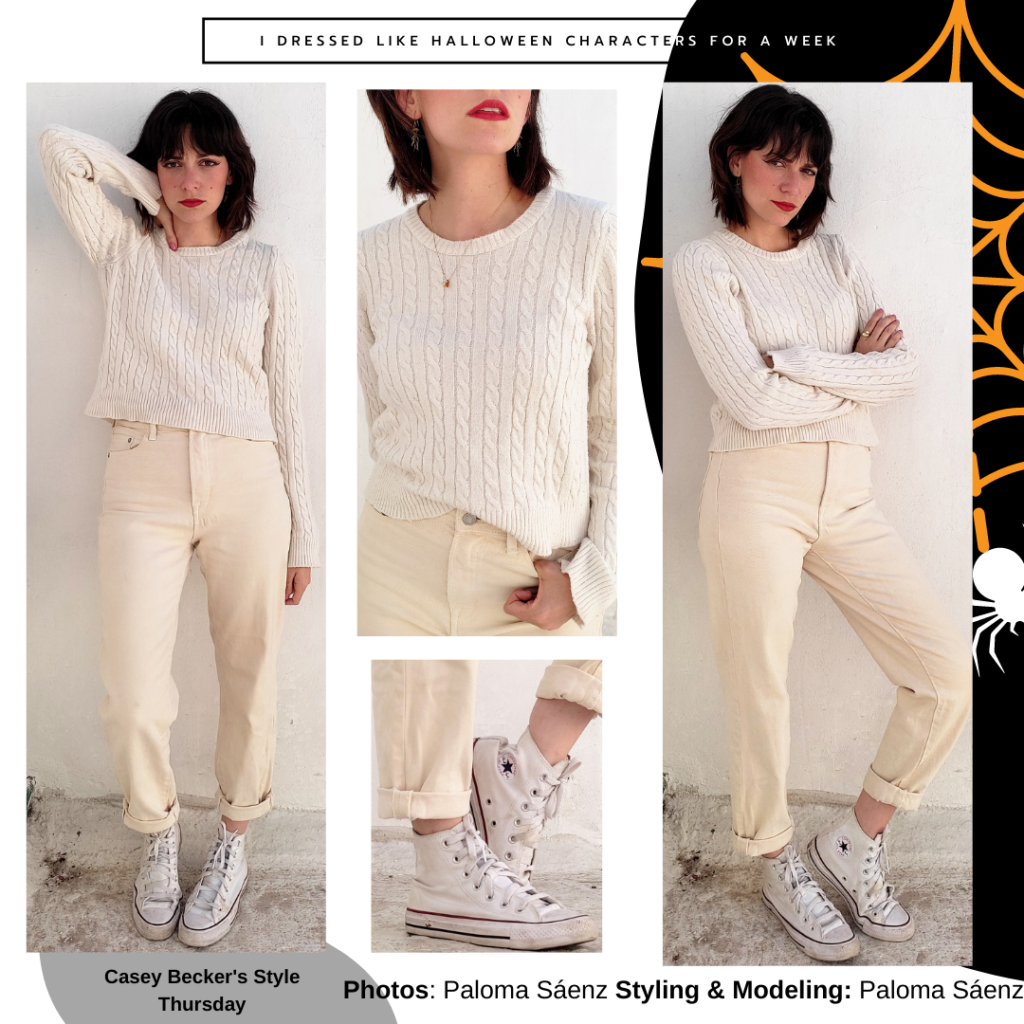 Recreating Casey Becker's outfit was both easy and challenging. The easy part was the base of the look. I put together a cropped sweater in a creamy color with a pair of off-white jeans.
The challenging part came with the shoes. Casey is barefoot through the whole scene, so I didn't know if I should go for a pair of nude mules or white sneakers. I ended up choosing the white high-top Converse, since I thought they would be more '90s. Finally, I put on red lipstick to match hers.
I adored this look! It was so cute and perfect for fall. Personally, I really liked using lighter colors at a time when every item of clothing seems to be really dark or jewel-toned. It was comfortable, but the sweater was a bit thick for the actual weather we are having.
If I ever wear this one again, it will be during the winter, when it's a lot colder outside.
Friday – Carrie White, Outfit #5 (Carrie 1976)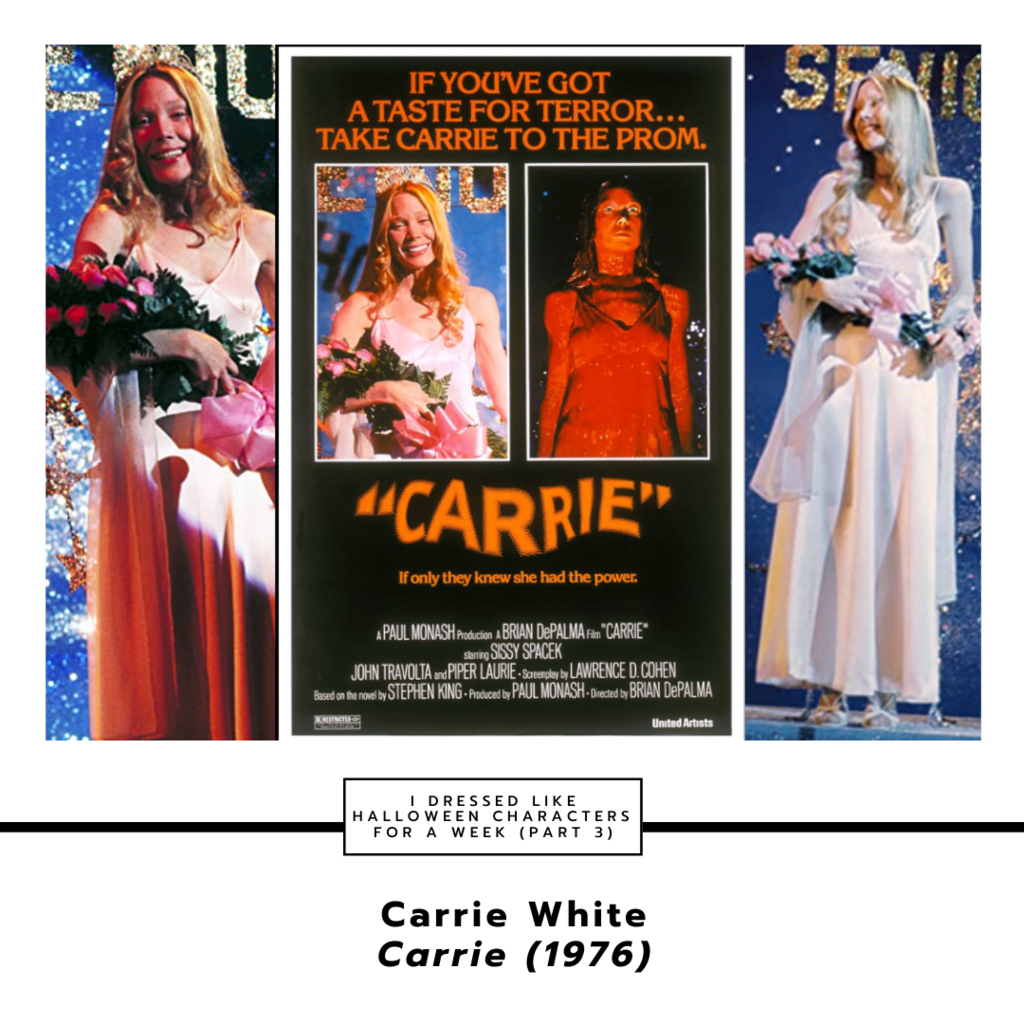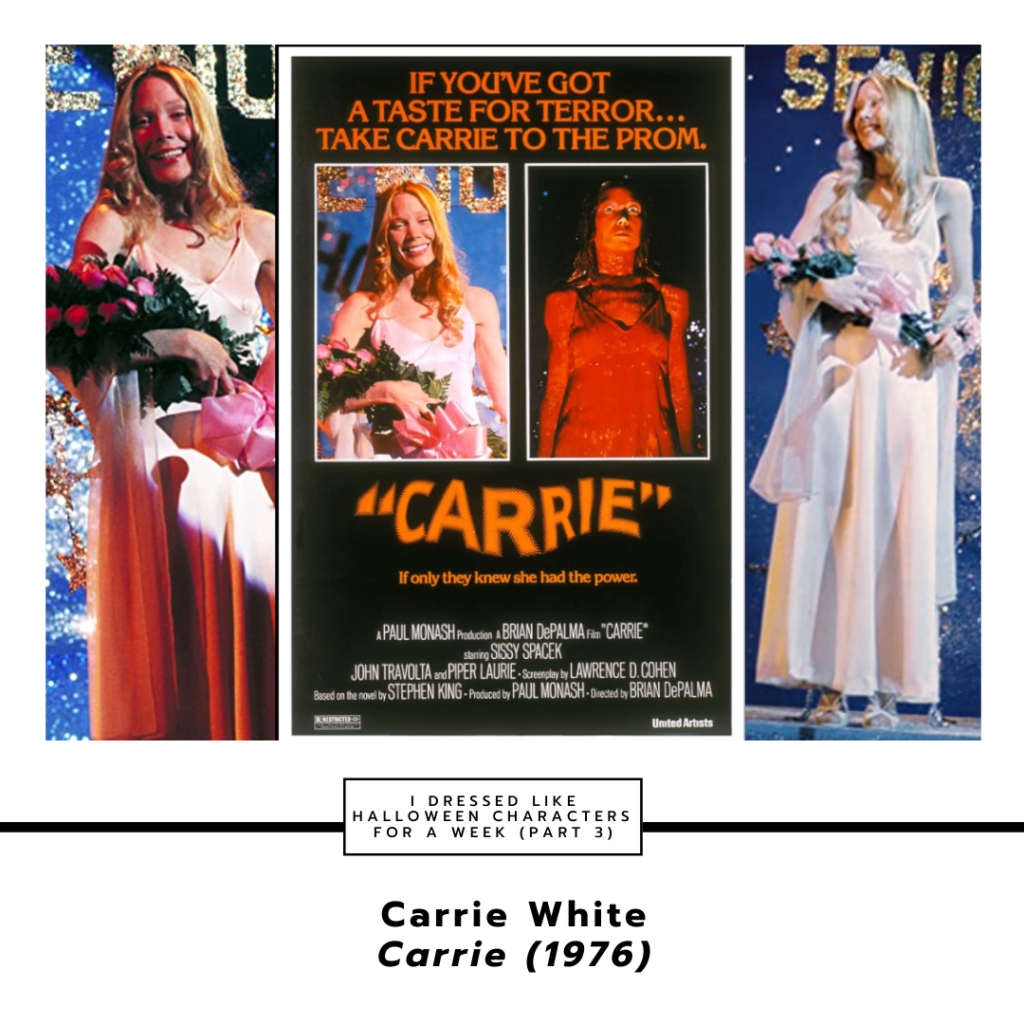 Carrie (1976) is the first and best-known adaptation of the Stephen King novel Carrie. It was directed by Brian De Palma and stars Sissy Spacek. Carrie White is a shy, friendless teenage girl who is sheltered by her abusive mother. She has spent her entire life as the town pariah, rejected by her peers and tormented by her mother. However, Carrie has a secret: she has telekinetic powers.
Carrie has a lot of outfit changes, but her prom look is her most iconic ensemble. Carrie wears a gorgeous light pink, satin dress with silver shoes. Honestly, it's just sad when you think about how this beautiful look ends up.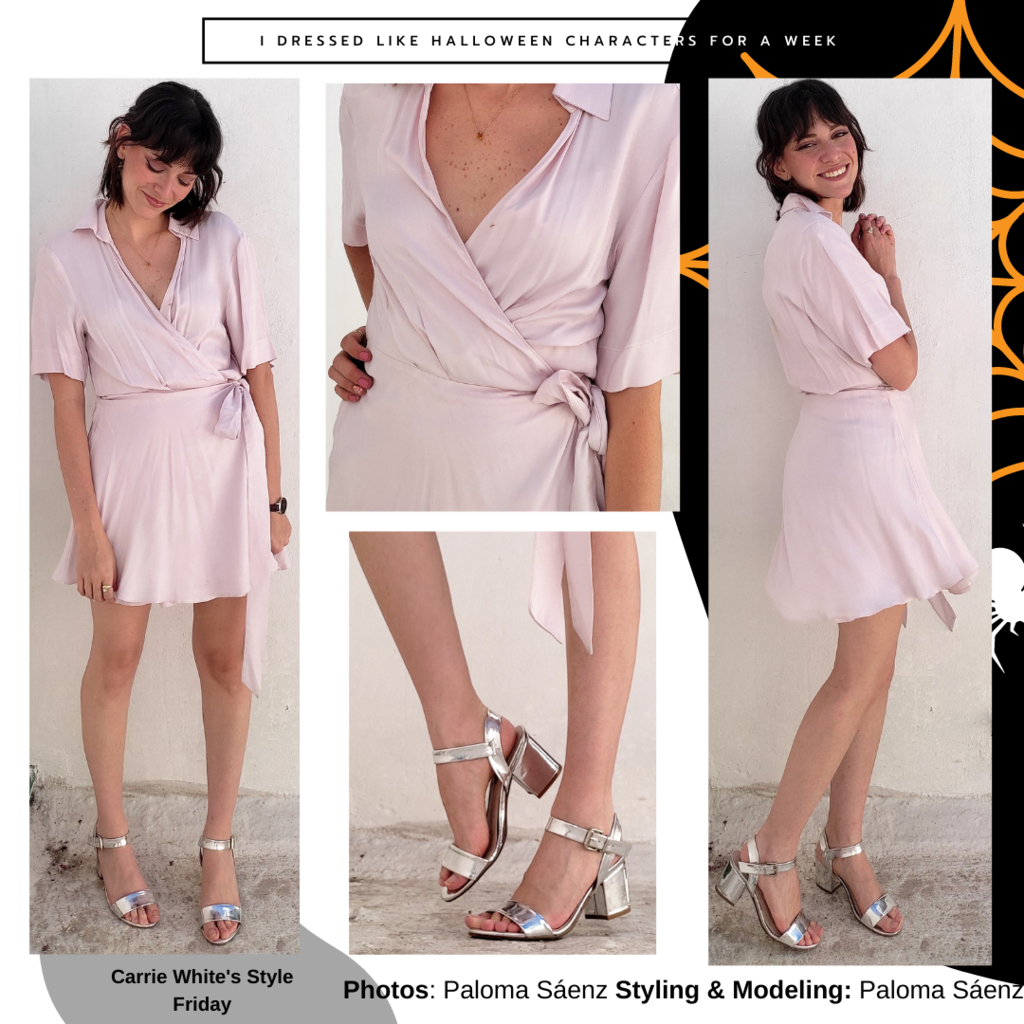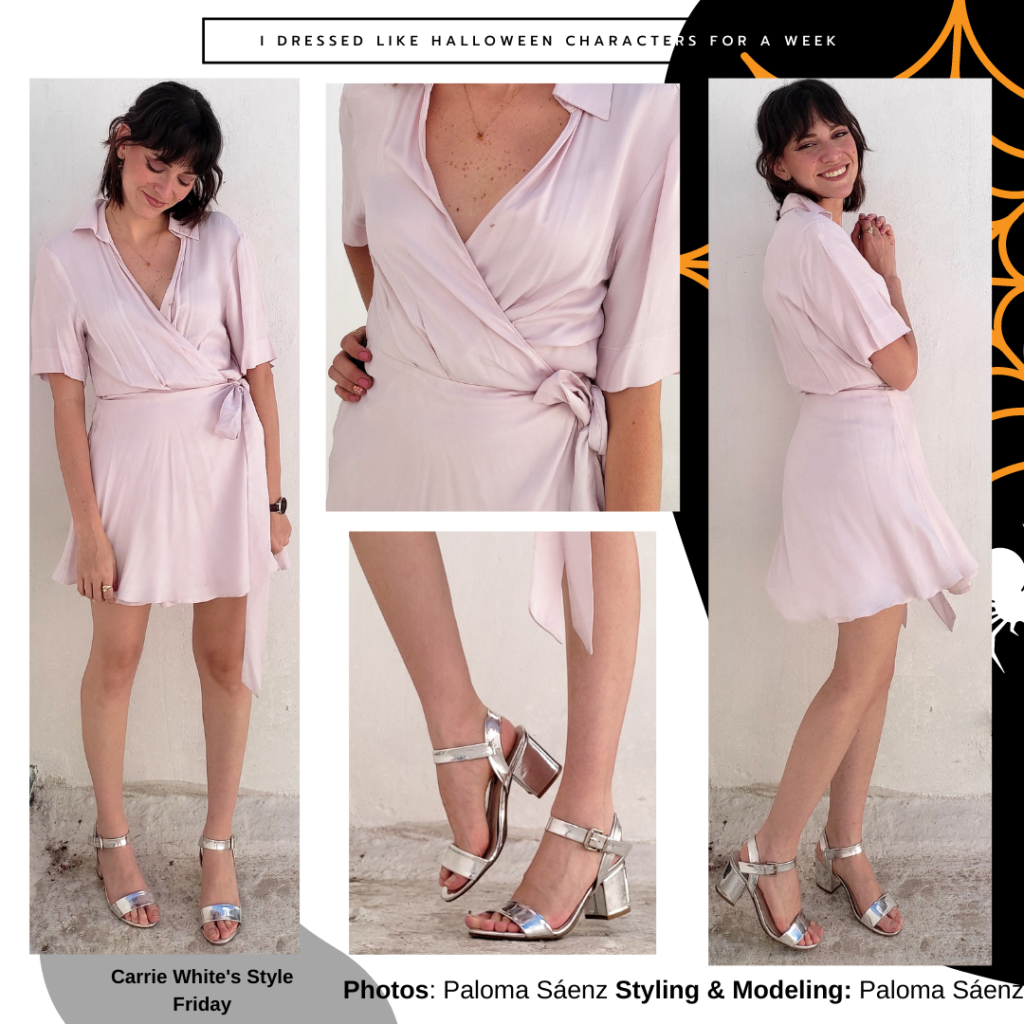 For my Carrie look, I decided to wear this satin wrap dress in a light pink shade. The dress isn't mine, I borrowed it from my sister. It's a different cut, but I think that it is a good mix between Carrie's more conservative outfits and her satin prom dress. Carrie is wearing a pair of silver heels, so I decided to wear my own silver strappy heels. Finally, I put my hair into a half-ponytail, just to stylize my hair a bit.
I loved this look! I felt super pretty all day. But, I was also cold all day long. I had a date that night, so I had to change the look for something better suited for the weather and plan. I could've worn a coat, changed the heels, and worn tights; but I really wanted to be comfortable and be able to walk and sit freely. I repeated Casey's look instead.
Final Thoughts
One of my favorite things to do is to read horror novels, and watch horror films and TV shoes. Naturally, I always love doing my yearly Halloween post. This time, it was a bit easier to choose the characters I wanted to cover, since I spent a lot of time this year watching horror films. All of these movies are in my top ten, or at least, I watch them annually.
These posts always let me play with vastly different styles and aesthetics. It was fun to wear items I haven't worn in a while and to create outfit combinations I wouldn't normally wear.
My favorite outfits of the week were Freddy's, Casey's, and Chucky's, in that order. If it had been summer, Carrie's outfit would've been my number one of the week.
If you need inspiration, want to refresh your style or just want a quick-but-cute Halloween costume idea, don't look any further than any of these films. Just look for Halloween movie costume pictures on IMDB or Pinterest if horror isn't your genre,. But, if you want to venture into it, you can also have a marathon while getting inspired.  
What Do You Think?
Which outfit would you wear? Have you seen these movies? Which recreation was your favorite? Do you have any celebrity, show or character you'd like to see in this series? Let us know in the comments below!