This post will show you the items you need to keep on hand to pull off easy outfit hacks.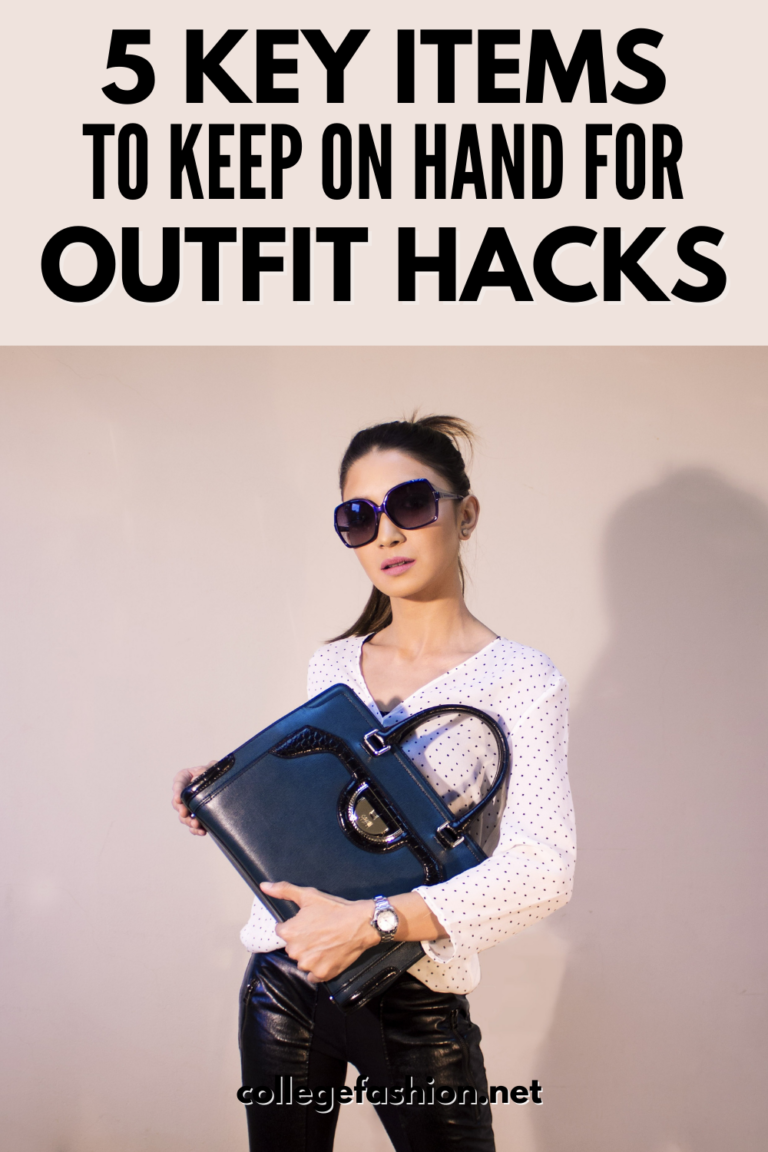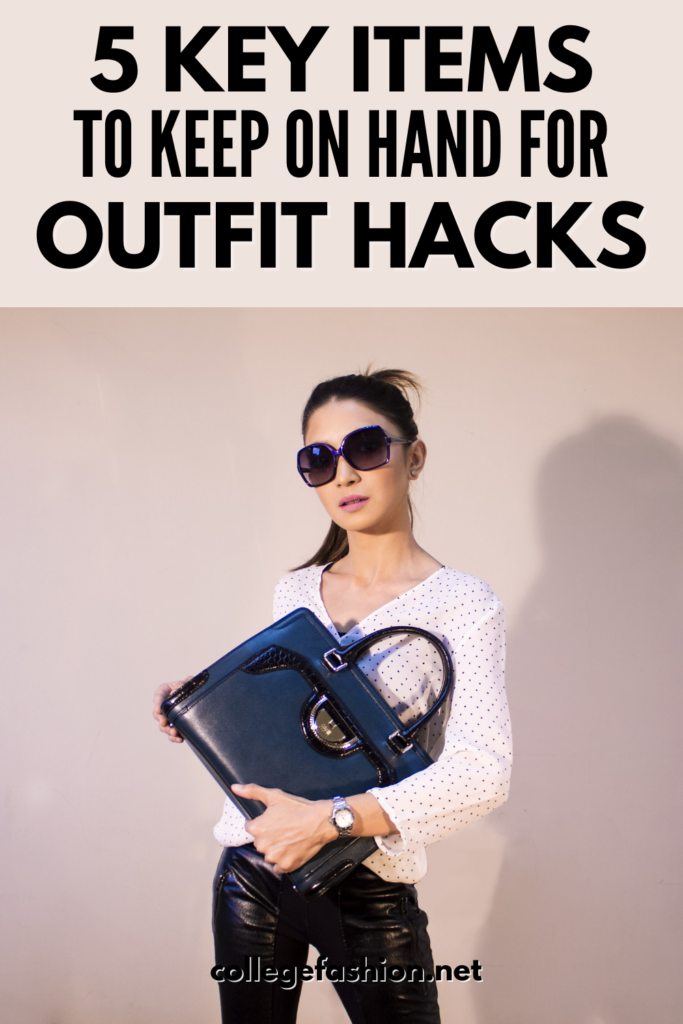 Last week, I posted a guide on how to recreate celebrity outfits and dress like your favorite characters from movies or TV shows.
This week, I'm going further into depth and sharing the 5 items you need to have on hand for easy outfit hacks and simple alterations. I use these every time I copy a celebrity or character's outfits, and they are life-changing.
These simple and cheap items will help you copy any outfit you can think of, without dipping into your bank account. They'll also help you make all of your clothes look better, period.
Read on to check them out!
Item #1 – Safety Pins
There are times when I see an outfit that I want to copy and – yes! – I already have everything I need. There's just one problem: *one* item isn't quite right. Either the hem is too long, I need the fabric to gather differently, or it is just ill-fitting on me.
I would love to have the talent (and time) to alter my clothes at home, but currently I don't. And I definitely don't want to cut up my clothes if an item is too long or big on me.
Safety pins are your #1 ally when it comes to pulling off quick outfit hacks. You can use them to hem dresses and skirts to different lengths, and they are also great for making subtle tweaks to blazers, coats, and blouses to make them fit better. The latter is especially important if you like to borrow clothes from friends or family members.
Safety pins are super cheap and you can find them anywhere. I have a ton, in 4 different sizes, just to have all my bases covered.
Item #2 – Fashion Tape (or Double-Sided Tape)
Plunging necklines are a huge fashion trend that doesn't seem to be going anywhere anytime soon. Whether you love or hate them, I think we can all agree that when we rock these, we just want to be sure that nothing is going to slip out when we move.
Fashion tape is the best thing for this situation. In case you didn't know, fashion tape is double-sided tape. While you can use regular double-sided tape in a pinch, I do recommend you invest in actual fashion tape. This is because you will be using it directly on your skin and sometimes a normal tape can cause irritation and be a bit harsher on your skin.
If you just want to use the tape to hem stuff, however, your usual double-sided tape will do just fine.
Item #3 – Hair Ties
Hair ties are obviously a must-have item for anyone with hair longer than a pixie cut. But, hair ties are also great for outfit hacks. You can use them to make sweatshirts, cardigans and items with thicker fabrics fit you the way you want them to.
Example below:
I love sweatshirts and t-shirts but I usually get them a few sizes up because I want to be cozy and comfortable when I'm wearing them. The downside to this is that if I want to wear them cropped, I can't use my usual fashion tape or safety pins — there's just too much fabric to contain.
With hair ties, however (either the normal ties or the little plastic ones), you can crop sweaters, hoodies, t-shirts and sweatshirts without having to tuck them in or using safety pins.
Personally, I use the little plastic ties for t-shirts or summer cardigans. I use normal hair ties for thicker fabrics and my biggest sweatshirts.
Item #4 – Steamer and/or Iron
One of my biggest pet peeves is wrinkles on my clothes. (Yes, I iron my t-shirts and sweatshirts before wearing them.) But I also use my steamer and iron for outfit hacks.
Both of these items are perfect for re-doing pleats that are kind of bunched up or creating pleats on pieces where there aren't any.
For instance, if a pleated skirt or pants have been in your closet too long, the pleats may not be in the best shape possible. To reshape pleats in flowy or delicate fabrics, I'd recommend using a steamer. It reduces the chance of ironing the pleat wrong or burning the fabric.
To create pleats where there aren't any, a normal iron is your best and safest choice. I usually do this on pants or items with thicker fabrics, to avoid burning anything in the process.
First, use hair pins to fold the fabric to create the pleat. Next, iron the crease that your pin has created. In seconds, you've created a pleat.
Pro tip: If it isn't uncomfortable, leave the hair pin where it is through the day, it will hold the pleat much better. Remember, this isn't a "real" pleat, it's a temporary fix to create the illusion of one in case it's something you need for a specific outfit.
Item #5 – Heel Cushions and Shoe Pads
I remember one time, years ago, I found the perfect pair of shoes. They were black glittery studded loafers and I immediately bought them. I tried them on when I got home and they were a bit stiff, but I thought I could just wear them a bit and it would be fine.
It was not fine.
The first time I wore them, my heel was bleeding by the end of the day.
No matter what I did or what type of sock I wore, every time I put them on and walked a bit, I ended up with blisters.
We've all been there, and here's the truth: There are just some shoes that aren't comfortable to wear. Loafers, heels and booties tend to be thicker and harder to break in generally. Personally, I wear those types of shoes when I know I won't be walking too much, or I take an extra pair of comfortable shoes with me to change into.
Then, I started to copy celebrity outfits for my column here at CF and *a lot* of them required me to wear heels and loafers for extended periods of time.
A couple of months (and blisters) into doing these posts, I started using heel cushions and shoe pads and it changed my life. Not only I was able to walk without my heels bleeding, but my feet didn't hurt as much at the end of the day. And, if a shoe is a little bit too big, the shoe pads and cushions fix that right away — hello, outfit hack.
Don't get me wrong, it isn't like you are suddenly wearing sneakers or slippers, but at least you won't get hurt or walk in pain.
What are your favorite outfit hacks?
Have you used any of these items specifically to make something fit? Do you have any tips for me? What are your go-to outfit hacks and what fashion kit items do you always keep on hand? Let us know in the comments below!