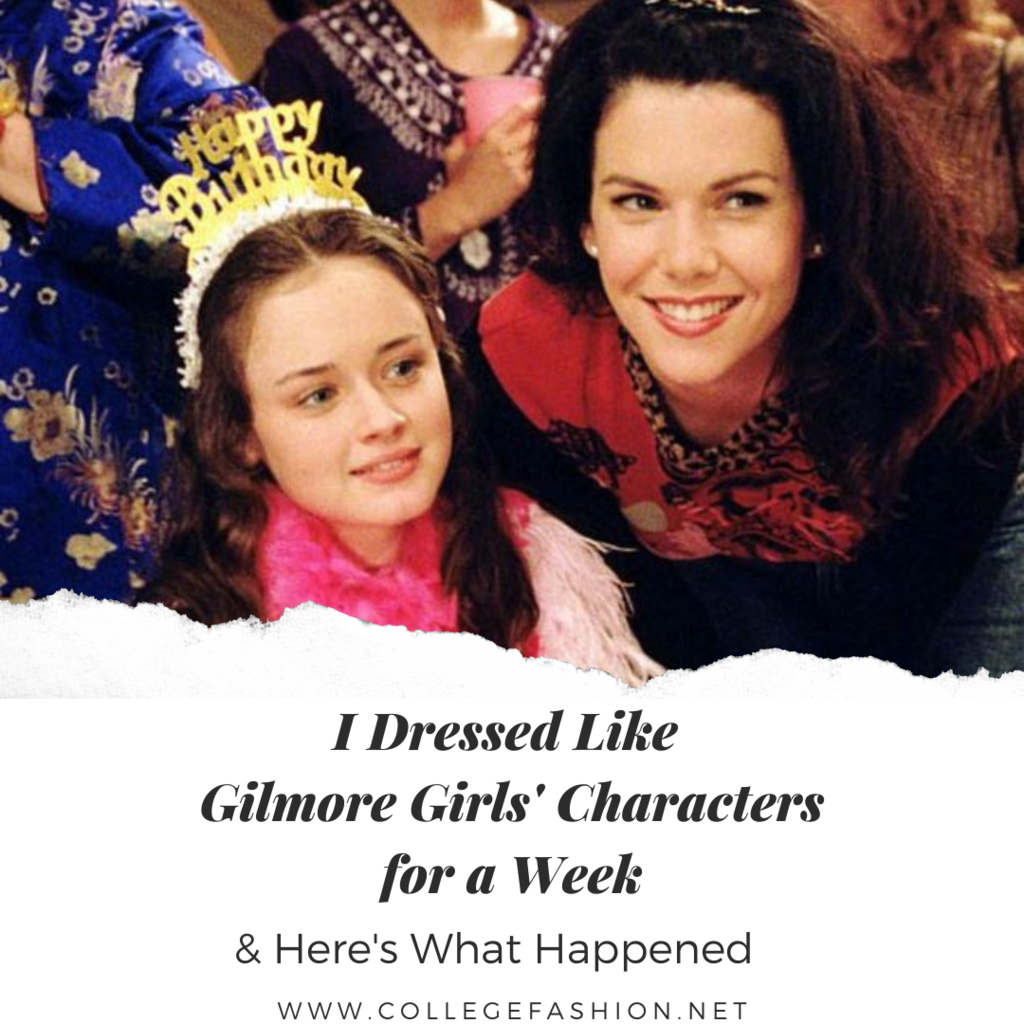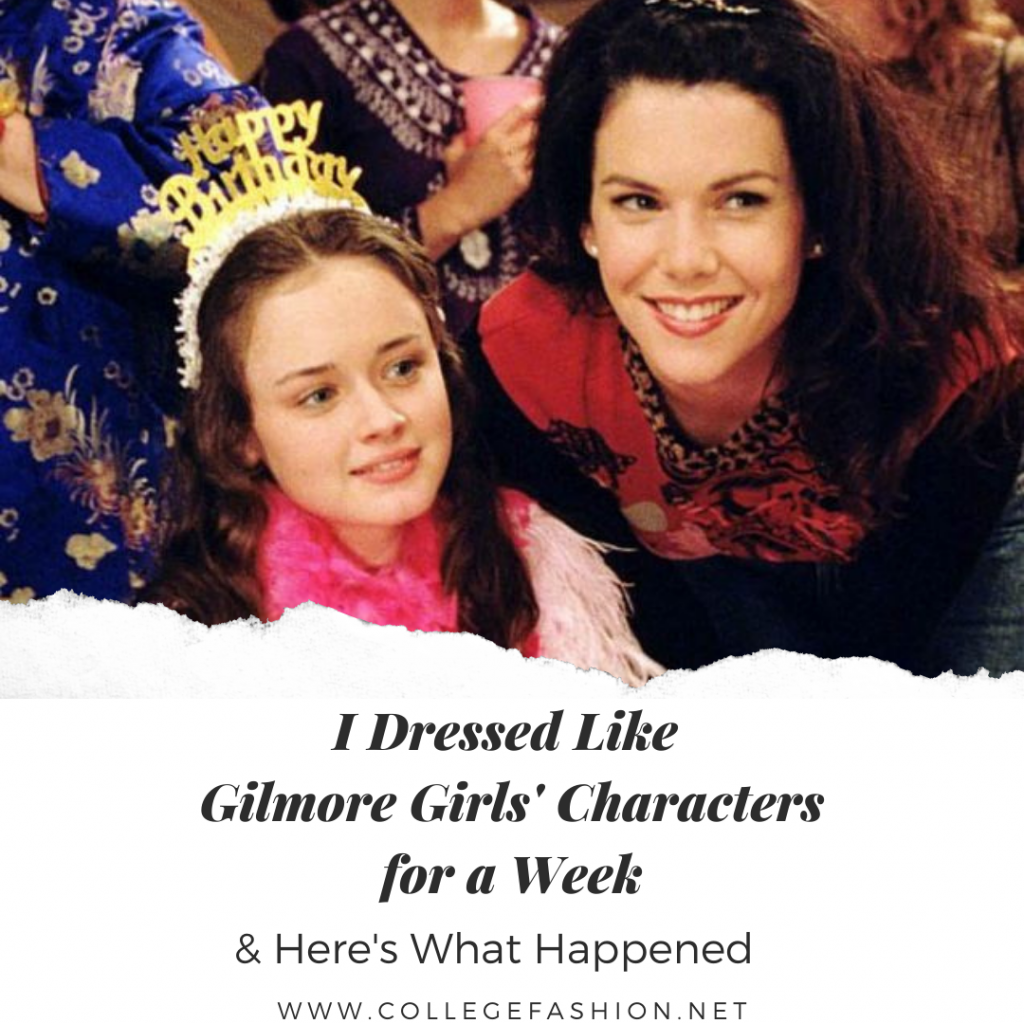 This post will show you what happened when I recreated my favorite Gilmore Girls outfits every day for a week.
We've all looked to celebrity style for fashion inspiration at some point in our lives. But it's one thing to say "I love her outfit," and it's another to actually copy it in real life.
For this series, I'm going the extra mile and making it happen. Each week, I'm getting inspiration from a celebrity and copy five of her looks as close as possible. Then, I'm reporting back to you: Did the outfits work in real life? Did I feel comfortable? Did people treat me differently? I'm sharing it all.
In past posts I've dressed like Zendaya, Gigi Hadid, Grace Kelly, Kendall Jenner, Vanessa Hudgens, Sophie Turner, Priyanka Chopra, Millie Bobby Brown, Hilary Duff, Lily Collins, Taylor Swift, Iconic Halloween Characters, Selena Gomez, Alexa Chung, Iconic Christmas Characters, Rachel Green Part 1 and 2, Queer Eye's Fab 5, Monica Geller, Little Women's Characters, Lucy Hale and Dakota Johnson.
As part of my fall rituals, I've been rewatching one of my favorite shows. So, this week, I'm getting inspiration from Gilmore Girls.
UPDATE: I recently wrote Part 2 of this series, where I feature outfits from Gilmore Girls: A Year in the Life. This update includes Emily, Lane, Paris, and even Jess' styles!
About Gilmore Girls
Gilmore Girls is a TV show that aired from 2000 to 2007. It was written and directed by Amy Sherman-Palladino (creator of The Marvelous Mrs. Maisel) and Daniel Palladino. Fast-paced, witty, and filled with literary and pop culture references, this show had a good run. It became a cult classic over the years after it ended.  
The story follows a single mother, Lorelai Gilmore (Lauren Graham), and her daughter, Rory (Alexis Bledel). They live in the fictional small town, Stars Hollow, surrounded by colorful characters.
The show explores issues of family, romance, education, friendship, disappointment, ambition, generational gaps, and social class. We see all of this through Lorelai's relationship with her upper-class parents, Emily and Richard, and Rory's coming-of-age story, as she grows through high school and college.  
Gilmore Girls Outfit #1, Monday – Lorelai Gilmore (Seasons 1-3)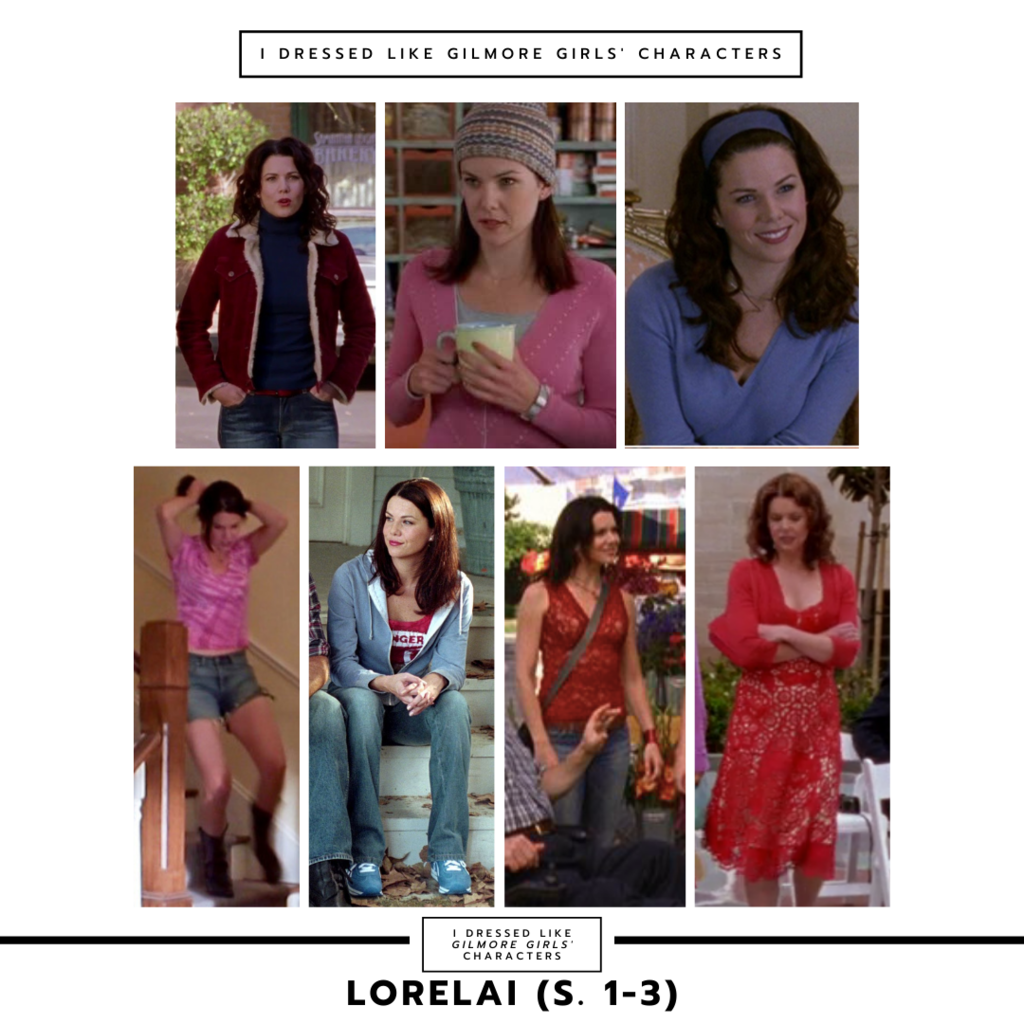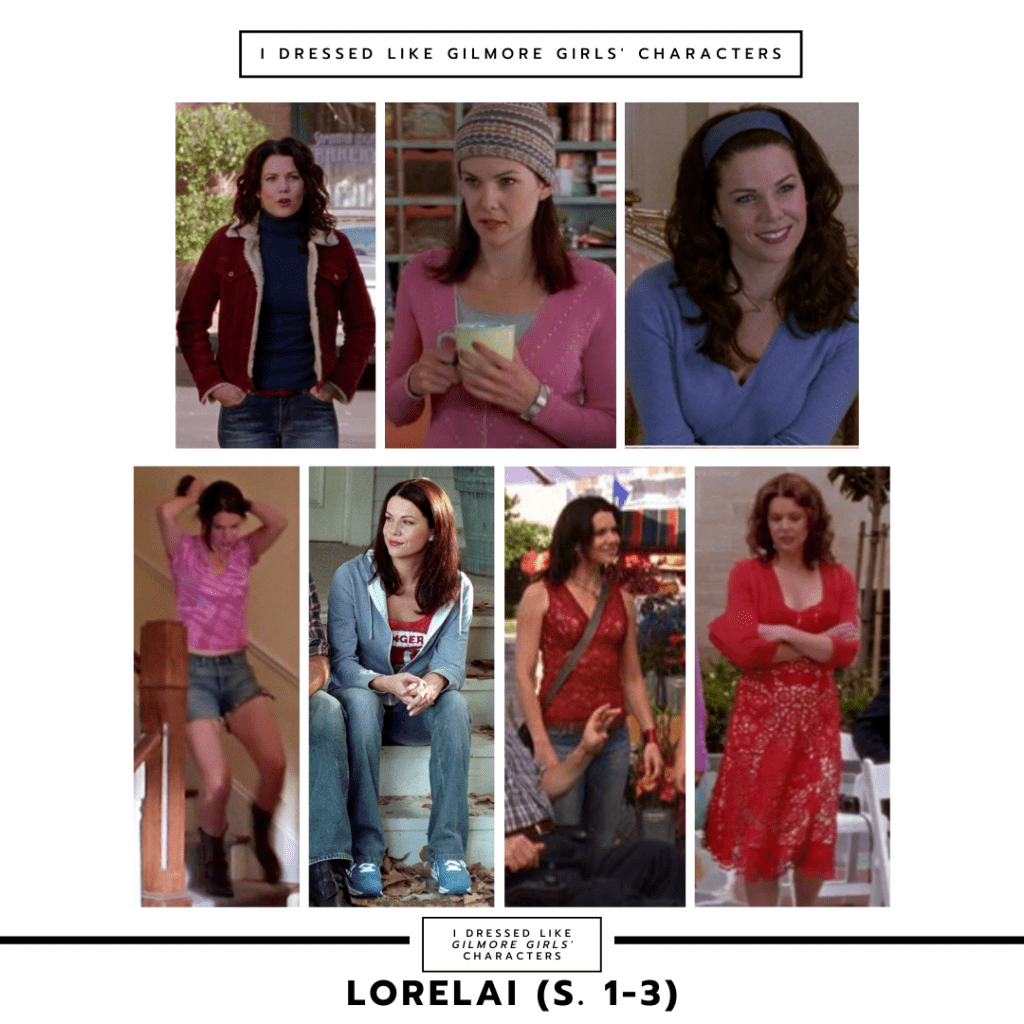 Lorelai is an eccentric, snarky, and doting single mother. She also runs The Independence Inn and, eventually, owns her own inn, The Dragonfly Inn. Caffeine addict and avid foodie, Lorelai is a force to be reckoned with.
For the first three seasons, her fashion style was eccentric even by 2000s standards. She liked bright colors, especially pink, red, and blue. Her items of choice tended to be pencil skirts, flare jeans, graphic t-shirts, fitted blouses, and every kind of jacket imaginable.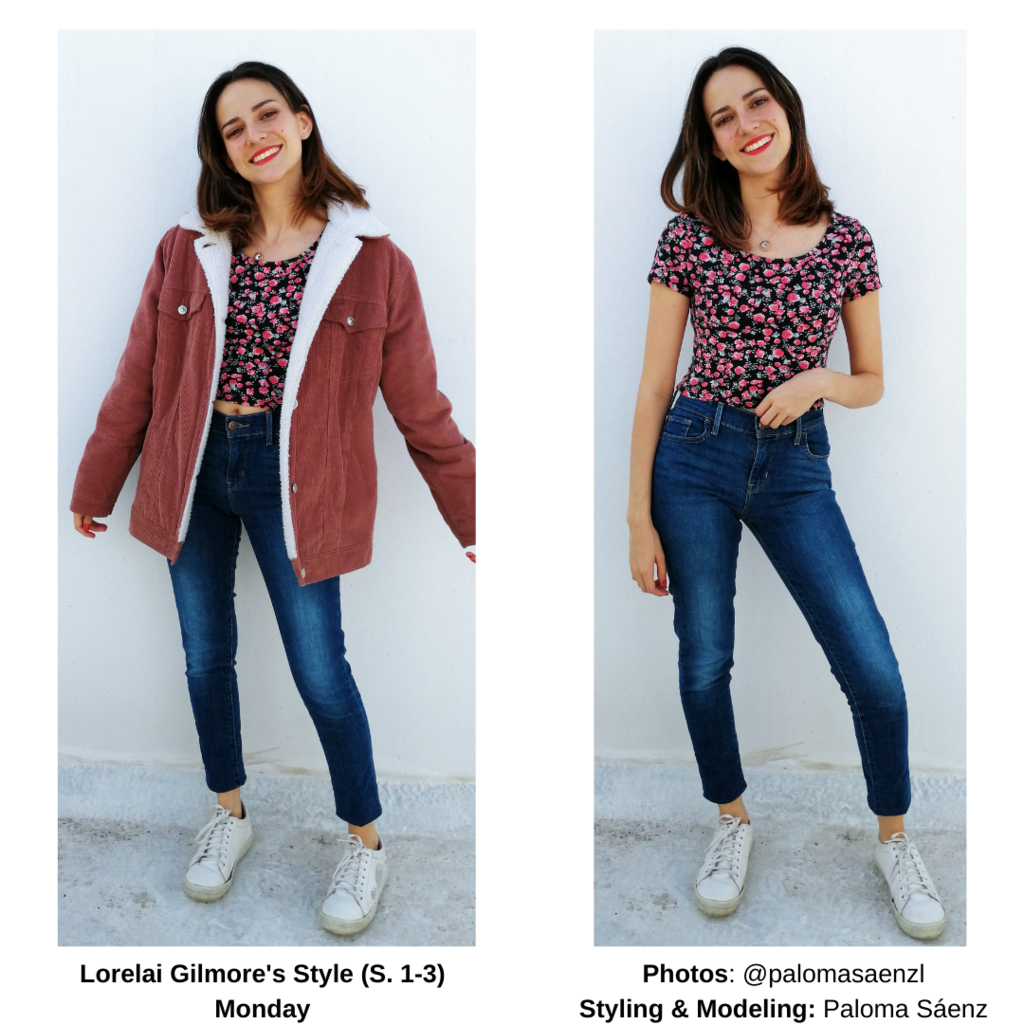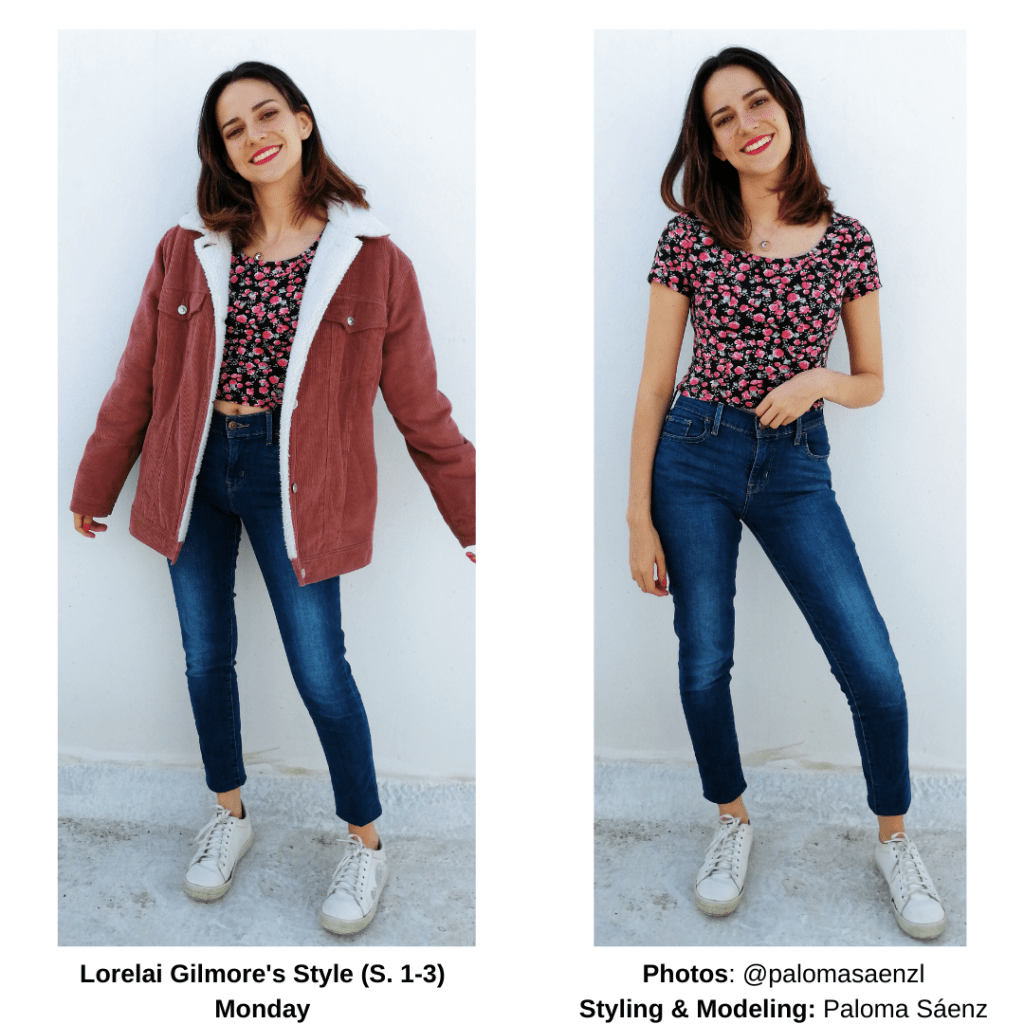 Similar items:
For my first outfit inspired by Lorelai, I tried to cover most of the items listed above, but I mostly got inspired by her iconic 'pink tee-denim shorts' look from the episode "The Lorelais' First Day at Chilton" from season 1.
To create my look, I started with a fitted crop top that has a floral pattern and a lot of pinks. Instead of denim shorts, I wore a pair of dark wash jeans, since it has been raining a lot where I live.
I next added an oversized pink corduroy jacket, again because of the weather, and as a nod to Lorelai's love of sherpa jackets. Finally, for shoes, I went for a pair of white sneakers to tie everything together and keep it comfortable.
Beauty-wise, I straightened my hair and wore my 'natural' makeup look. This is because Lorelai's hair is mostly straight through the first seasons and her makeup is always pretty minimal.
Overall, this was a comfortable and cute outfit! I really liked it. The jacket was very useful, but only for a little bit, and as the rain cleared up, it was way too heavy for me. Next time I would wear this look with a light denim jacket or without any type of jacket.
Gilmore Girls Outfit #2, Tuesday – Rory Gilmore (Seasons 1-3)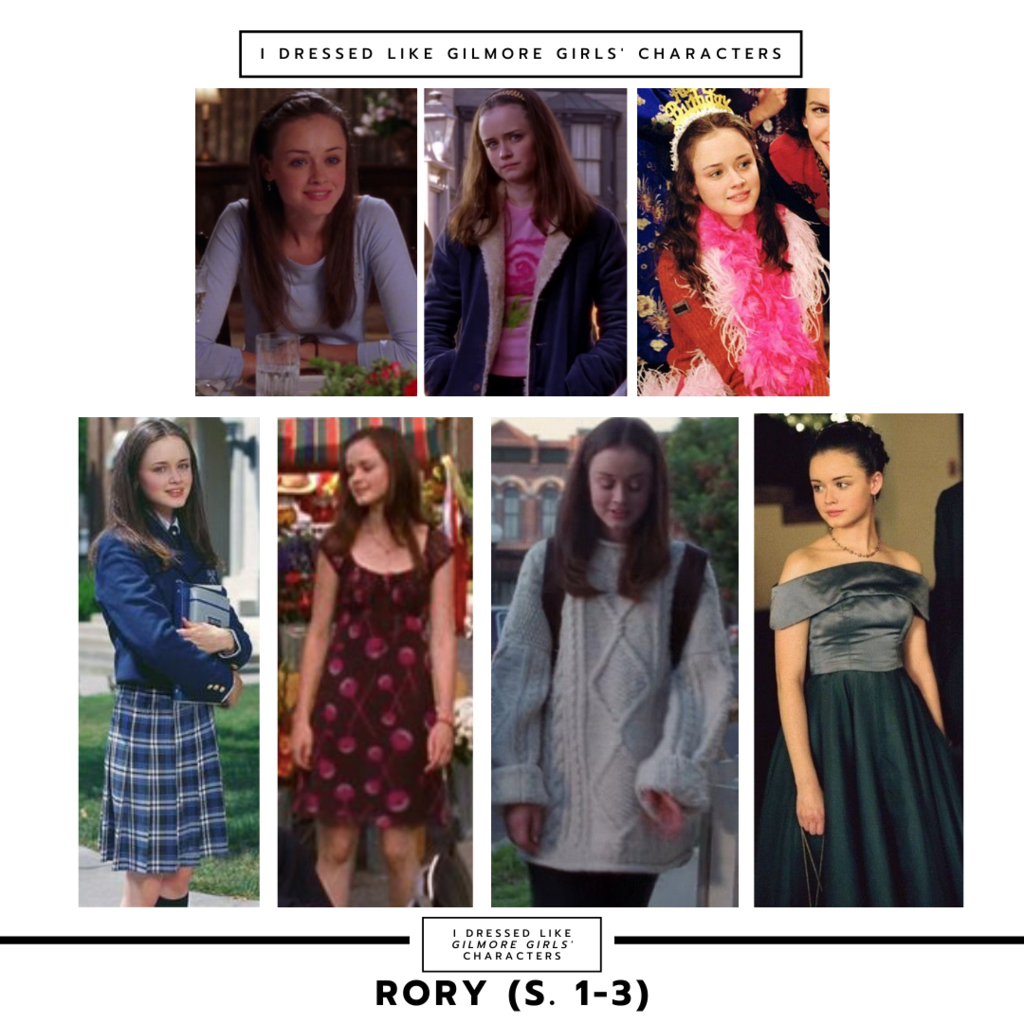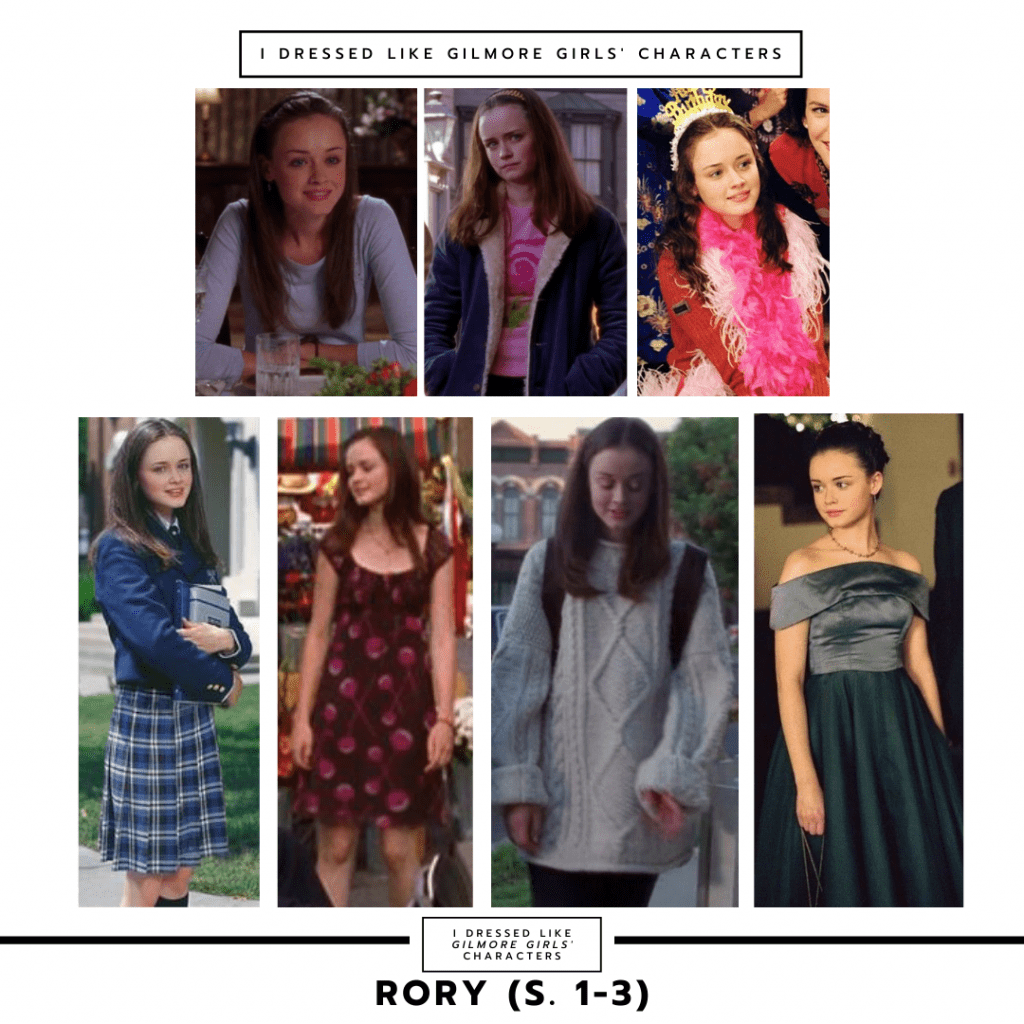 Rory is a shy bookworm and Lorelai's daughter. Her dream is to go to Harvard and become a journalist. When we first meet her, she is a sweet and kind-hearted, but socially awkward teenager; we later see her progress (or regress, if you ask some of the fans) into a more social and extroverted young woman.
For the first seasons, we mostly see Rory in her Chilton uniform, but aside from that her style is very simple and casual. She is seen mostly in baby blue, but Rory has a colorful closet, just like her mother. Her preferred items are oversized sweaters, t-shirts, overalls, flared skirts or dresses, and sneakers.
Also Read: Jess Day Outfits: How to Dress Like Jess from New Girl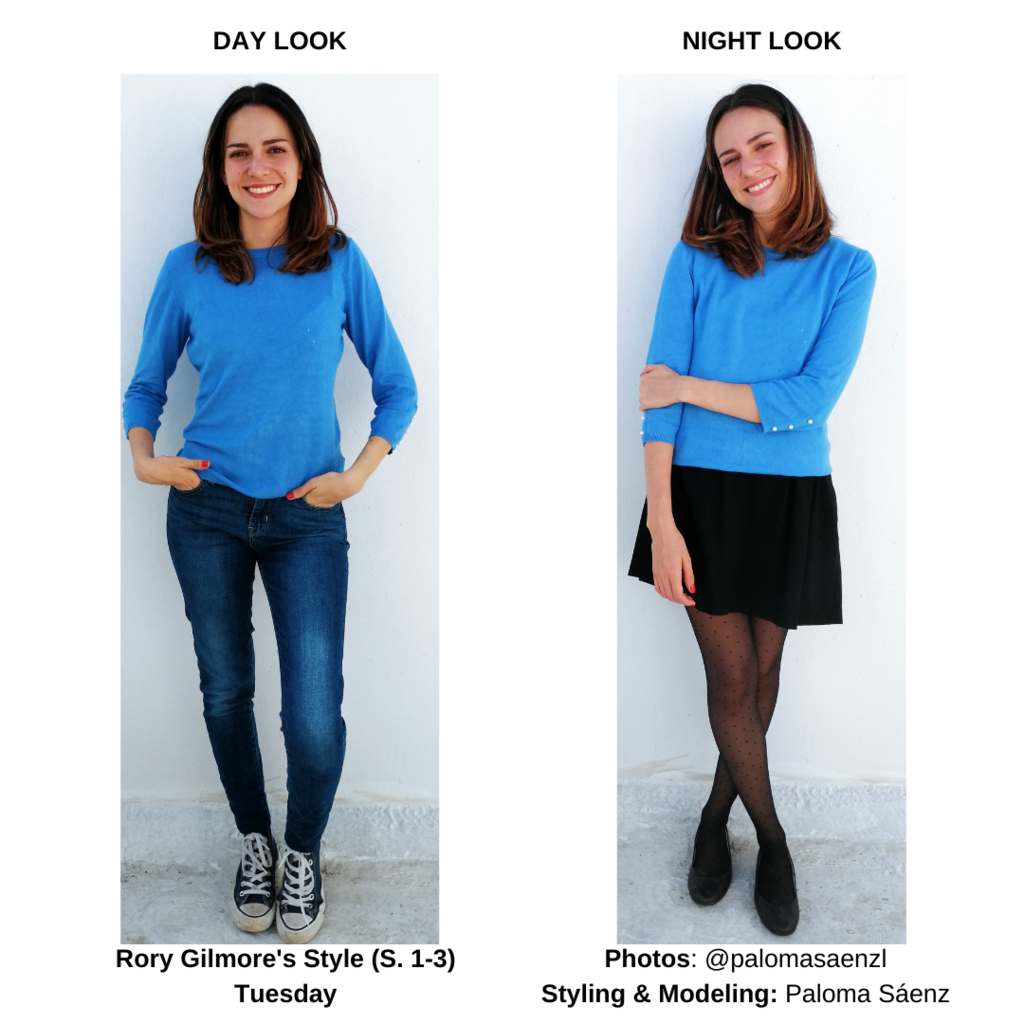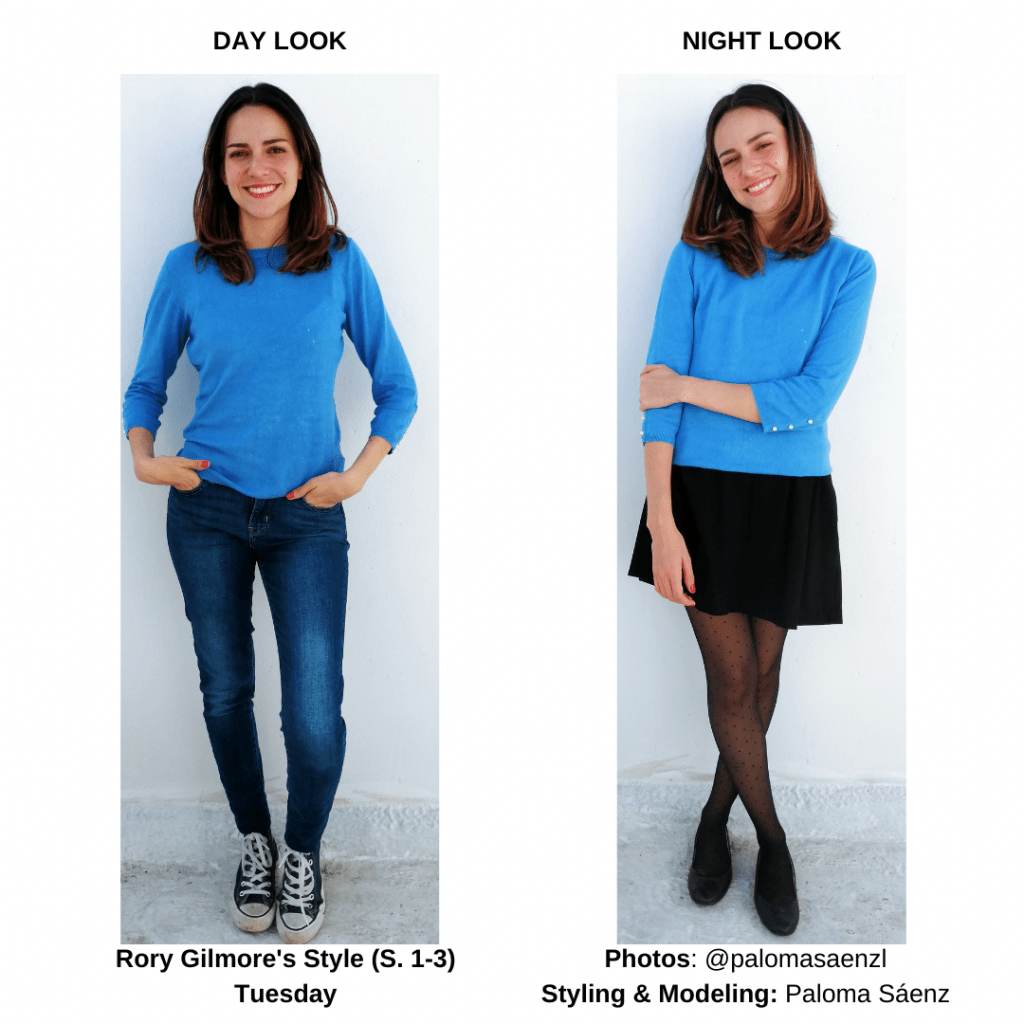 Similar items:
In the first few seasons, Rory has a very clear style for her Stars Hollow life and another one for her Friday night dinners with her grandparents, so that's why I decided to do two looks for this day.
For my daytime Rory outfit, I wore a periwinkle blue sweater with pearl details and a pair of blue jeans. The shoes are blue low-top Converse Chuck Taylors since she wears this type of sneaker a lot.
Finally, for my night look, I ditched the jeans and wore a black A-line dress under the same sweater. Then, I added black tights and black flats. Finally, I straightened my hair and kept my makeup as simple as possible, with just pink lip gloss and just a bit of mascara.
Both looks were great and looked amazing, but I will admit, they're not really my style. The first one was very comfortable but monochromatic in a way that I wouldn't have normally chosen. That said, it was okay for running errands and working. The night look I liked a lot more — it was a great outfit to wear to stay in and catch up with some friends.
Gilmore Girls Outfit #3, Wednesday – Lorelai Gilmore (Seasons 4-7)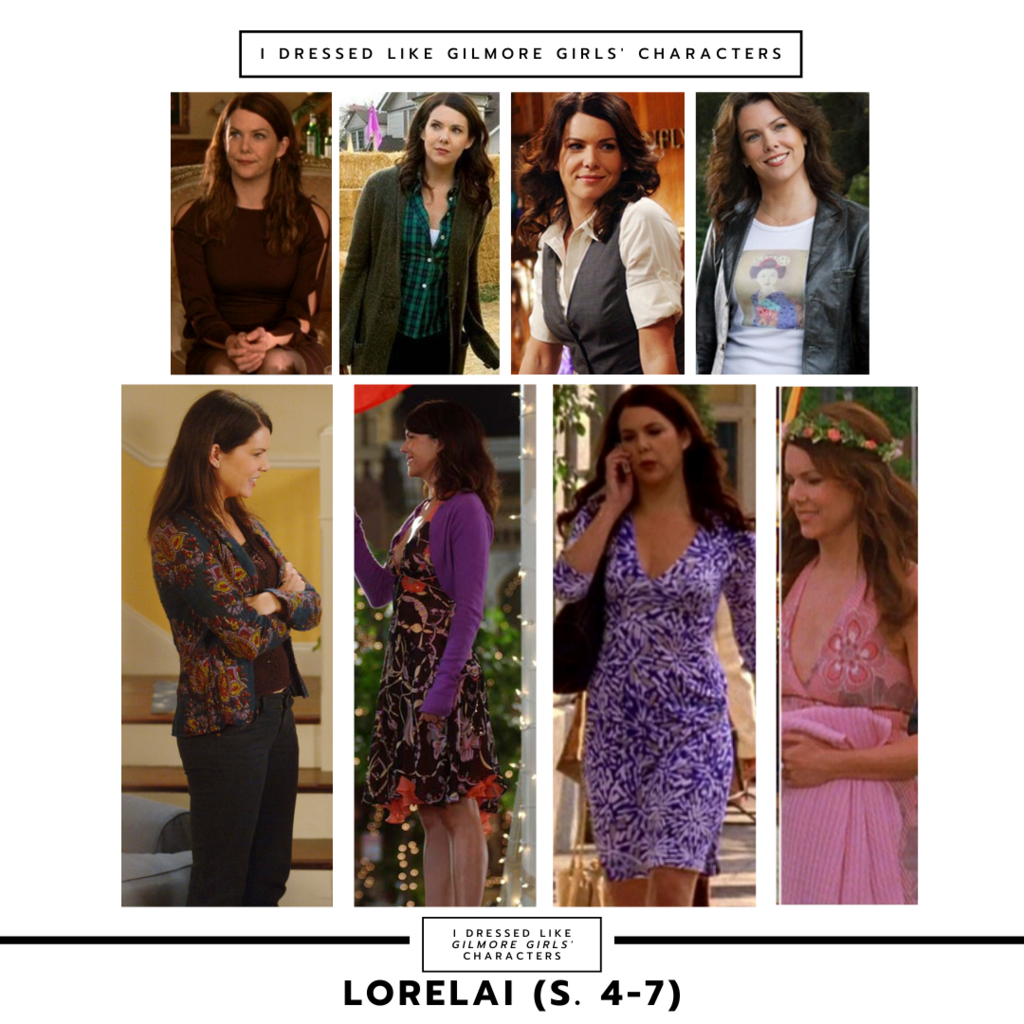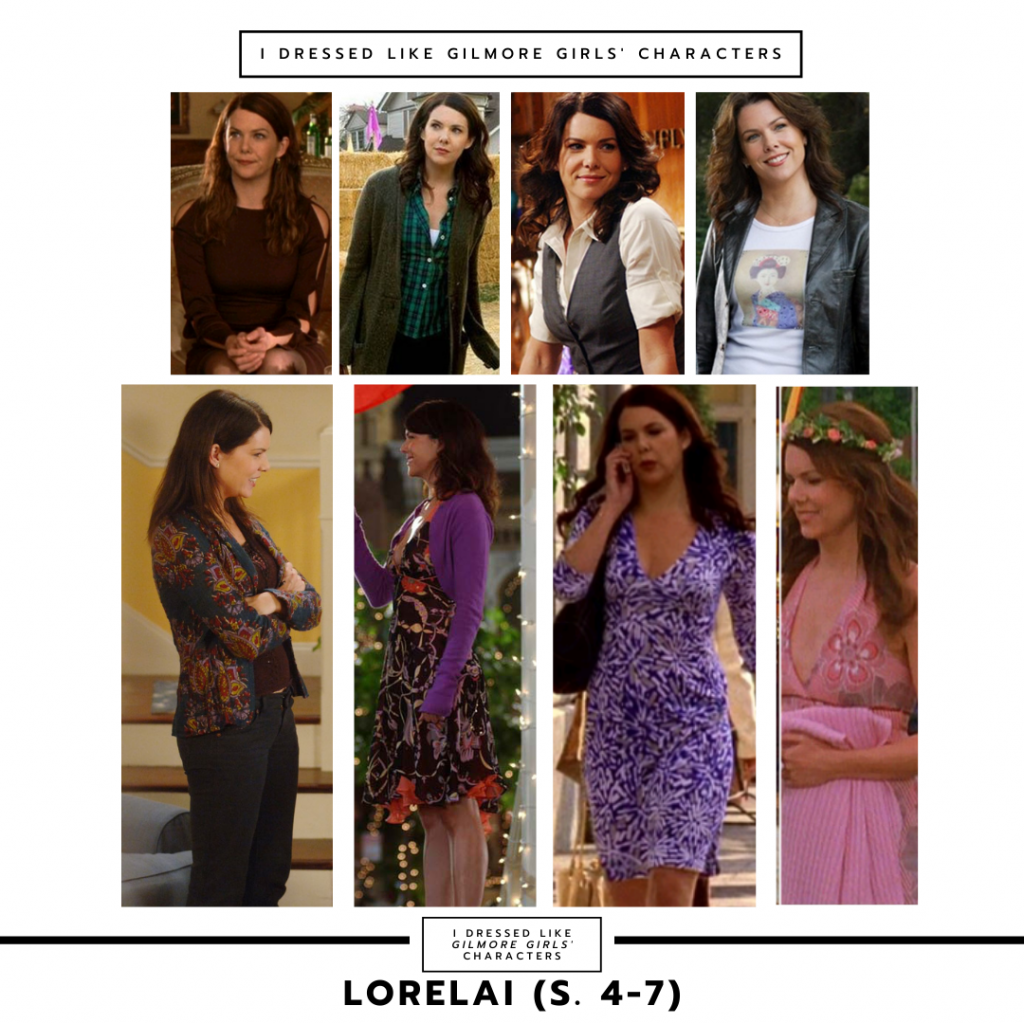 Lorelai's style in the later seasons changes accordingly with both her personal and professional growth. It remains mostly the same, revolving around colorful, casual, and fitted items, but she adds wrap dresses, trousers, and heeled boots to the rotation.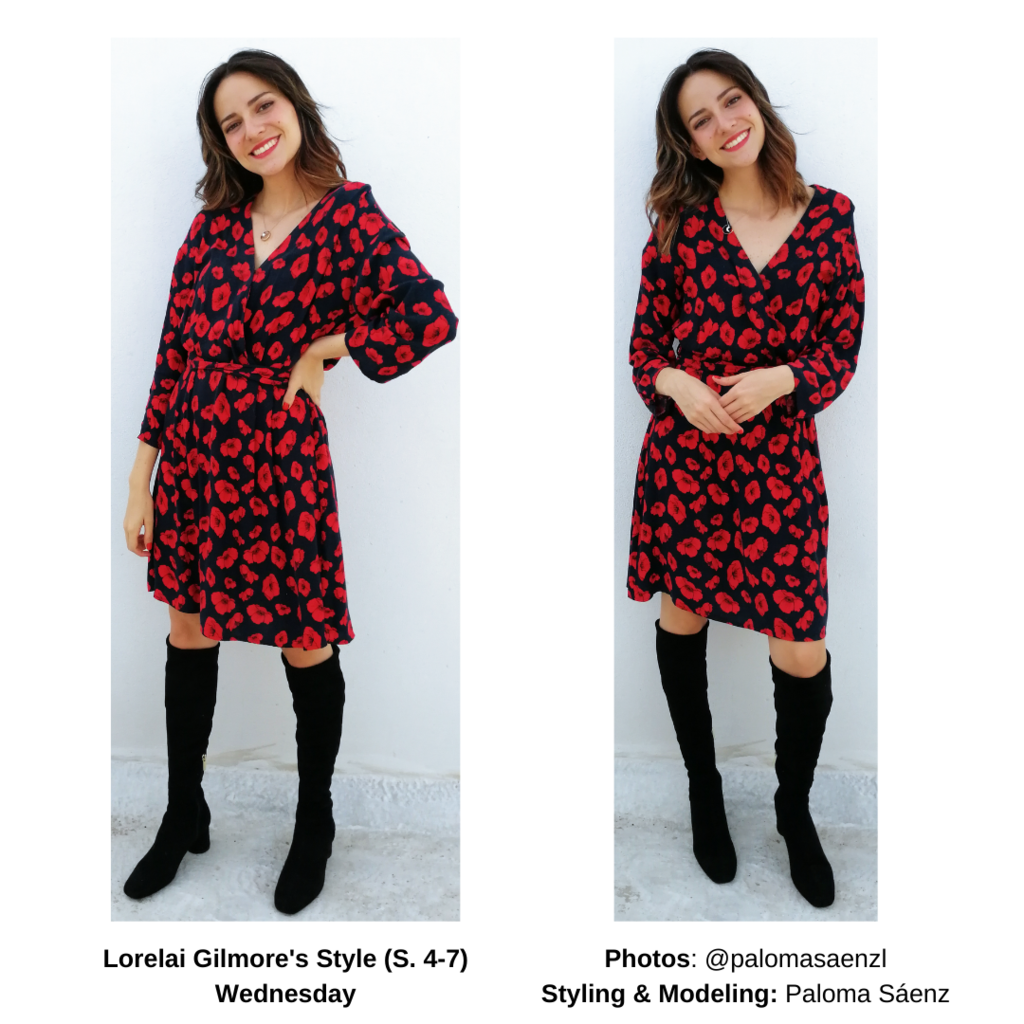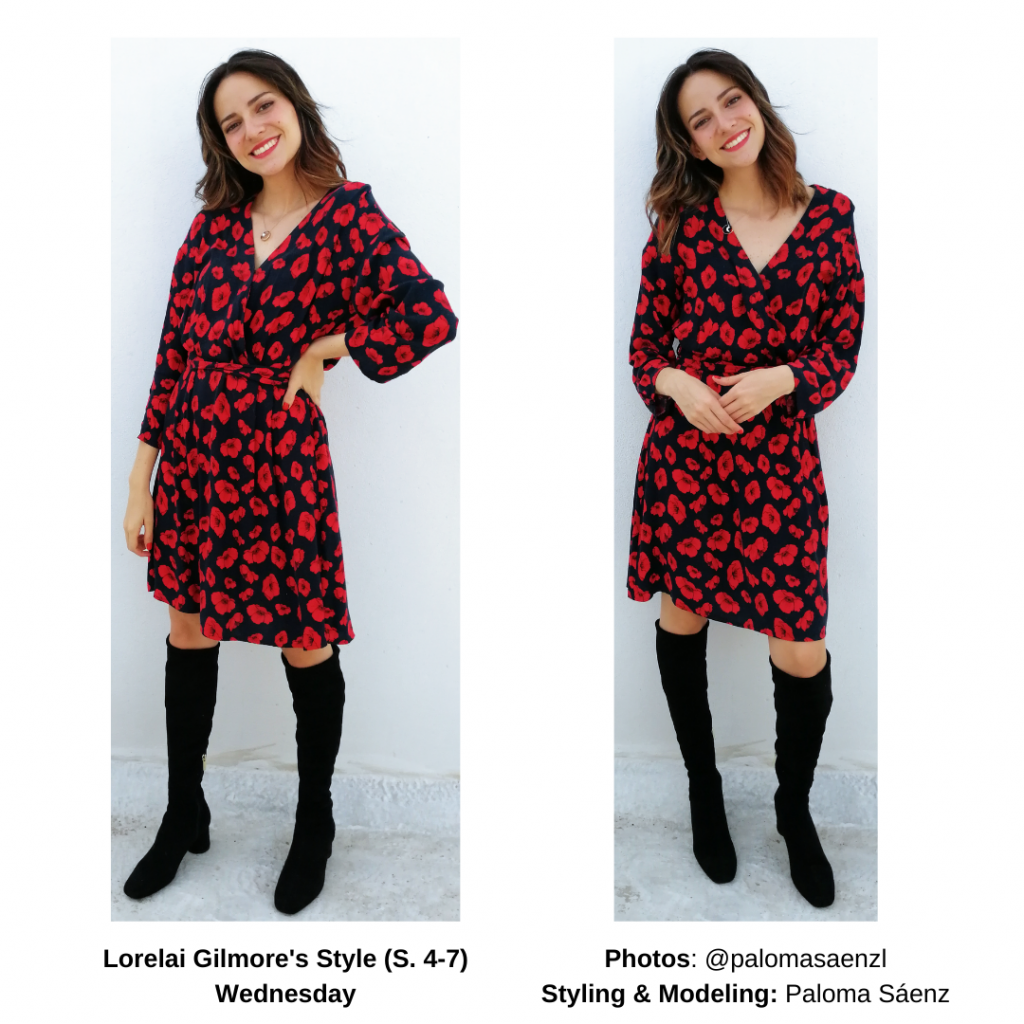 Similar items:
For my second Lorelai look, I took inspiration from her wrap dresses and bold patterns.
I wore a navy blue and red wrap dress that has a floral pattern. For shoes, I wore my black over-the-knee boots and I folded them a bit so they would be a bit shorter. I also curled my hair and wore more makeup, because in the last few seasons, Lorelai's hair was mostly curled up and she went a little heavier on the cosmetics.
I loved this outfit! So much! It was stylish, cute, and comfortable. And it didn't take much to create, just a couple of items. It was also perfect for the weather since it is a flowy, breathable dress and the boots and long sleeves helped when it got a bit chilly.
Gilmore Girls Outfit #4, Thursday – Rory Gilmore (Season 4-7)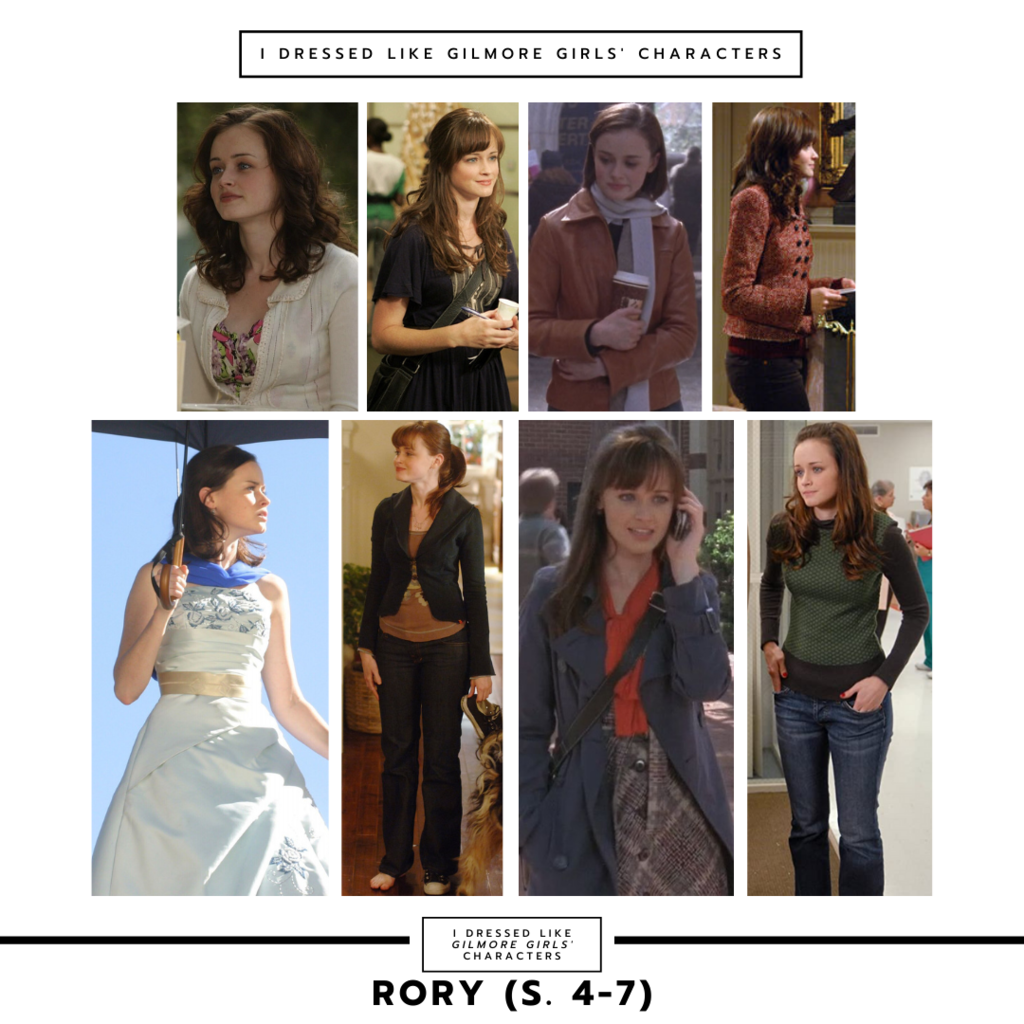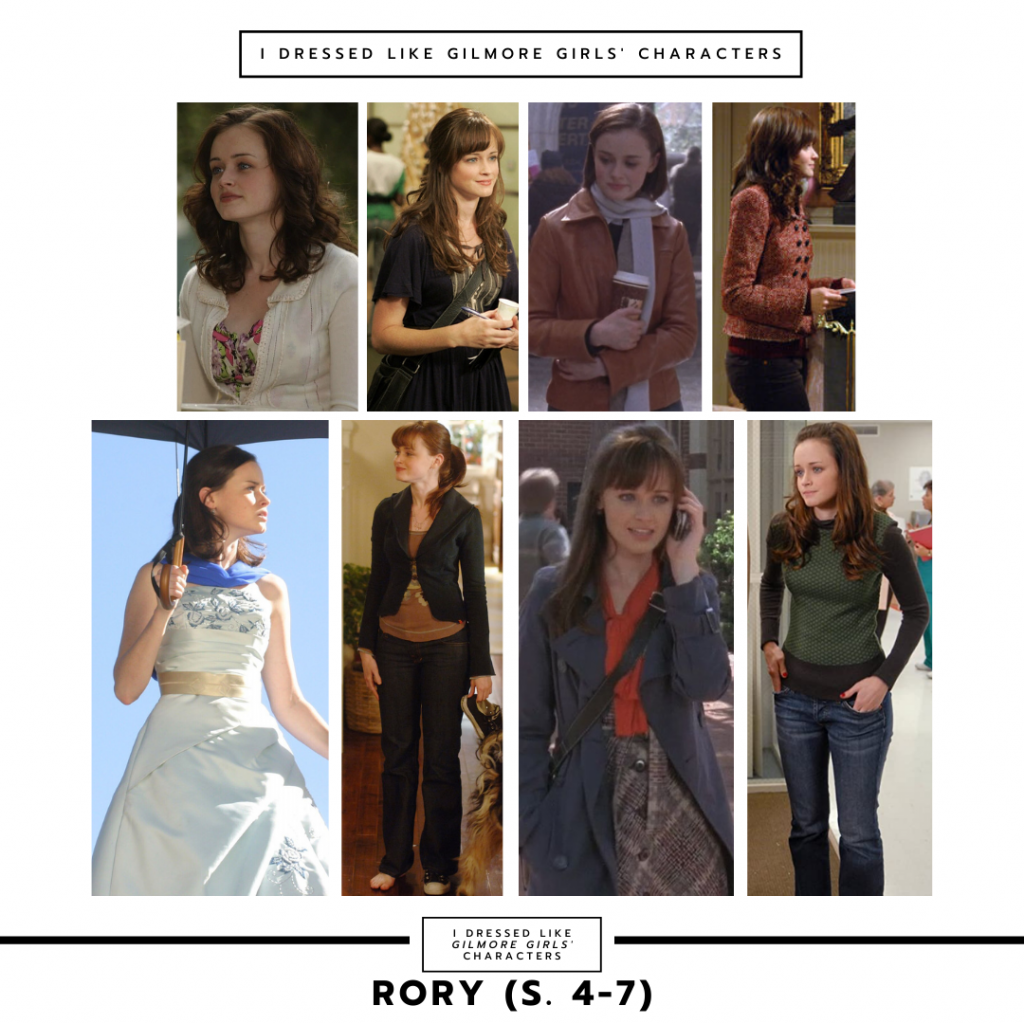 Rory changes a lot after she gets into Yale and her closet changes with her.
In the later seasons, her clothes become tighter and her necklines are more low-cut. After the infamous fight with her mother during season 6, she adds blazers, flowy blouses, and more polished items to her closet and they stick around until the final season.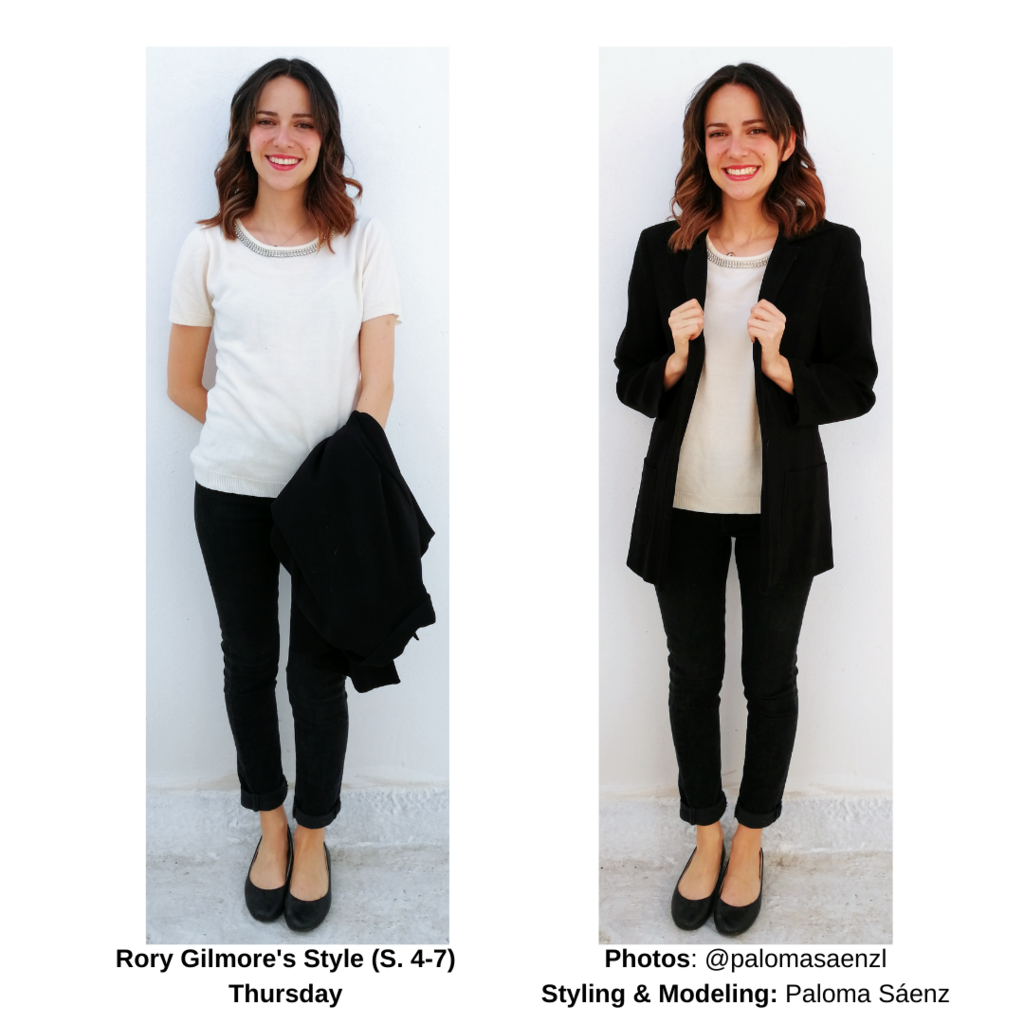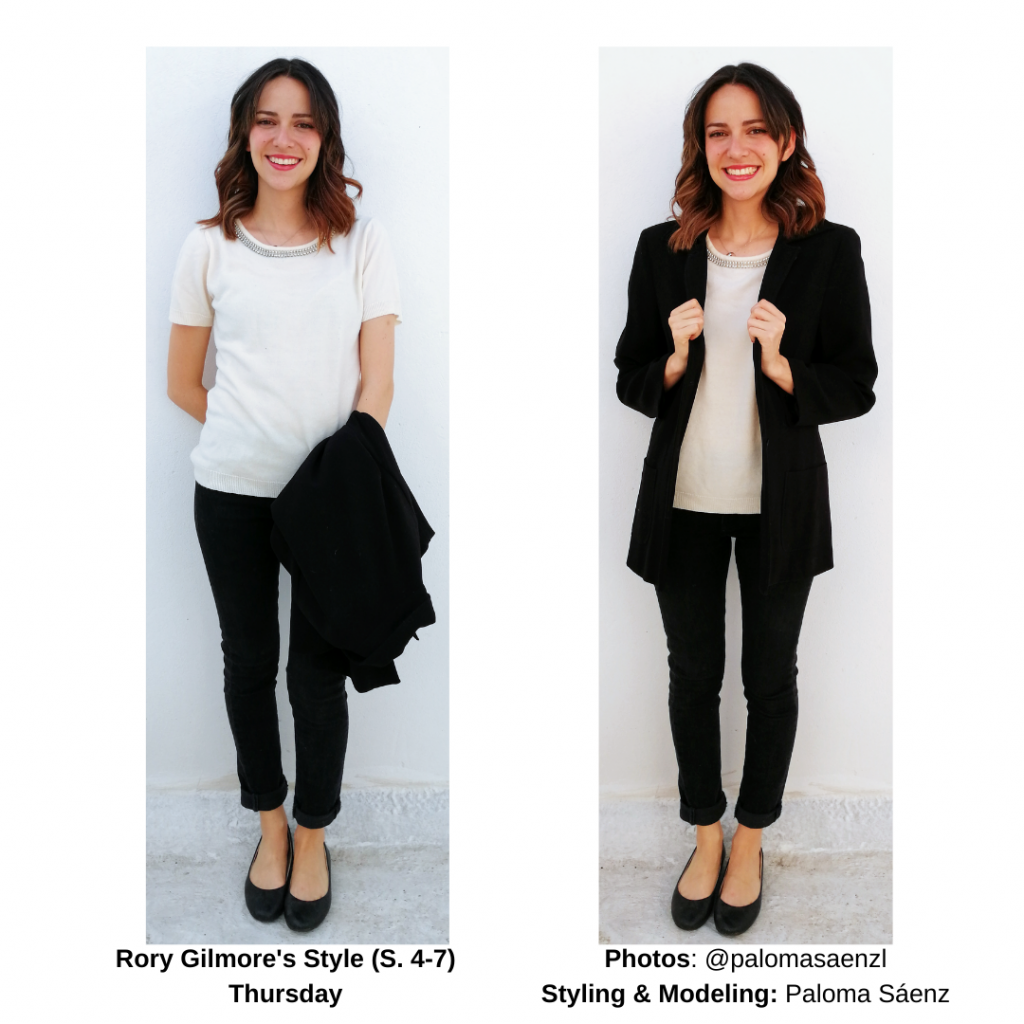 Similar Items:
For my 'grown-up Rory' outfit, I decided to start with a fitted cream blouse with faux-diamond detailing on the collar. This sort of reminds me of her run in the DAR and her high-class looks.
Then, I wore a pair of black trousers and the same black flats from my Rory night look. For an extra layer, I put on a black blazer to make everything more professional, since we actually see Rory buy her first suit during the last season.
Just like I did with Lorelai's second look, I curled my hair and wore more makeup. This was a visual way to show Rory's change in both her goals and approach to life during the infamous fight with her mom and how she was not the same shy teenage girl we met in Season 1.
I liked this look, it just landed a bit too far on the 'office' side of things for me. If I were going to the office it would be great, but since I'm working from home and going out mostly to run errands, this outfit was a bit too professional for my current lifestyle.
Gilmore Girls Outfit #5, Friday – Luke Danes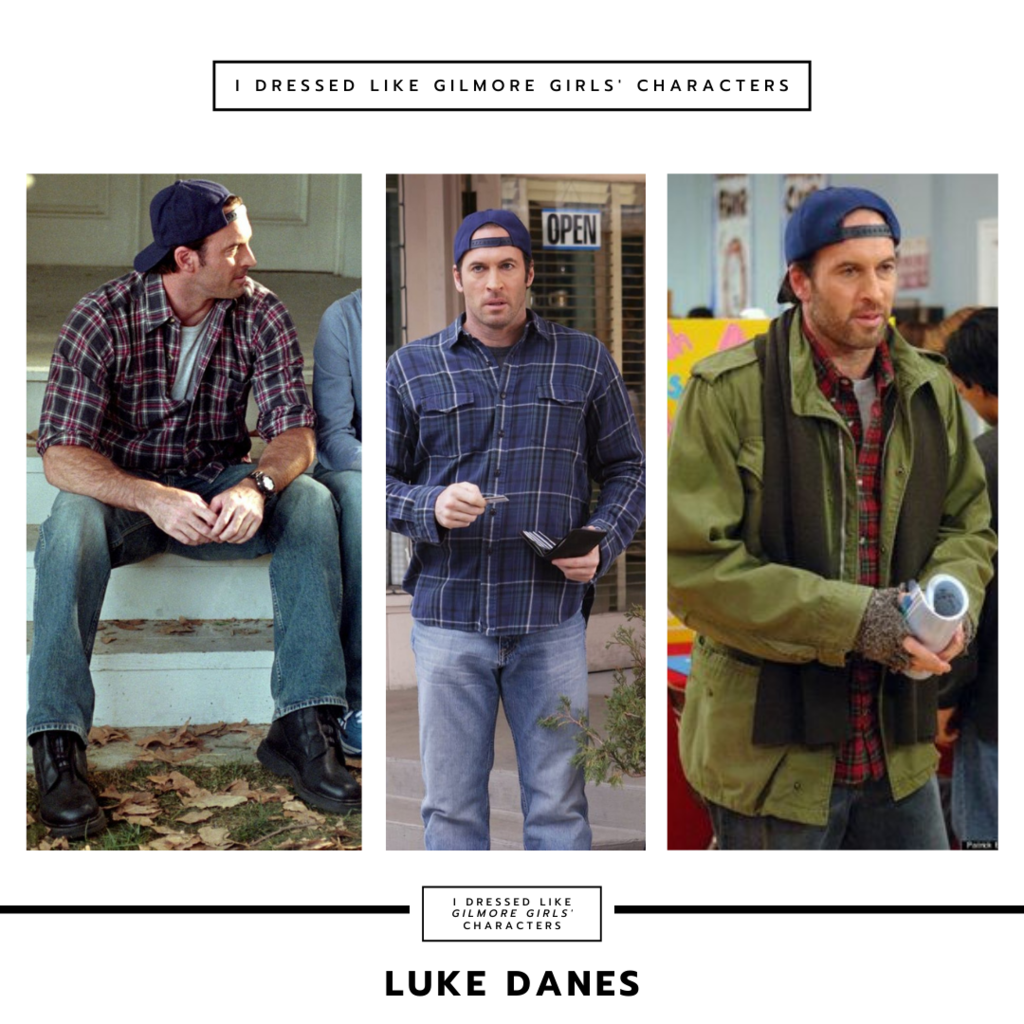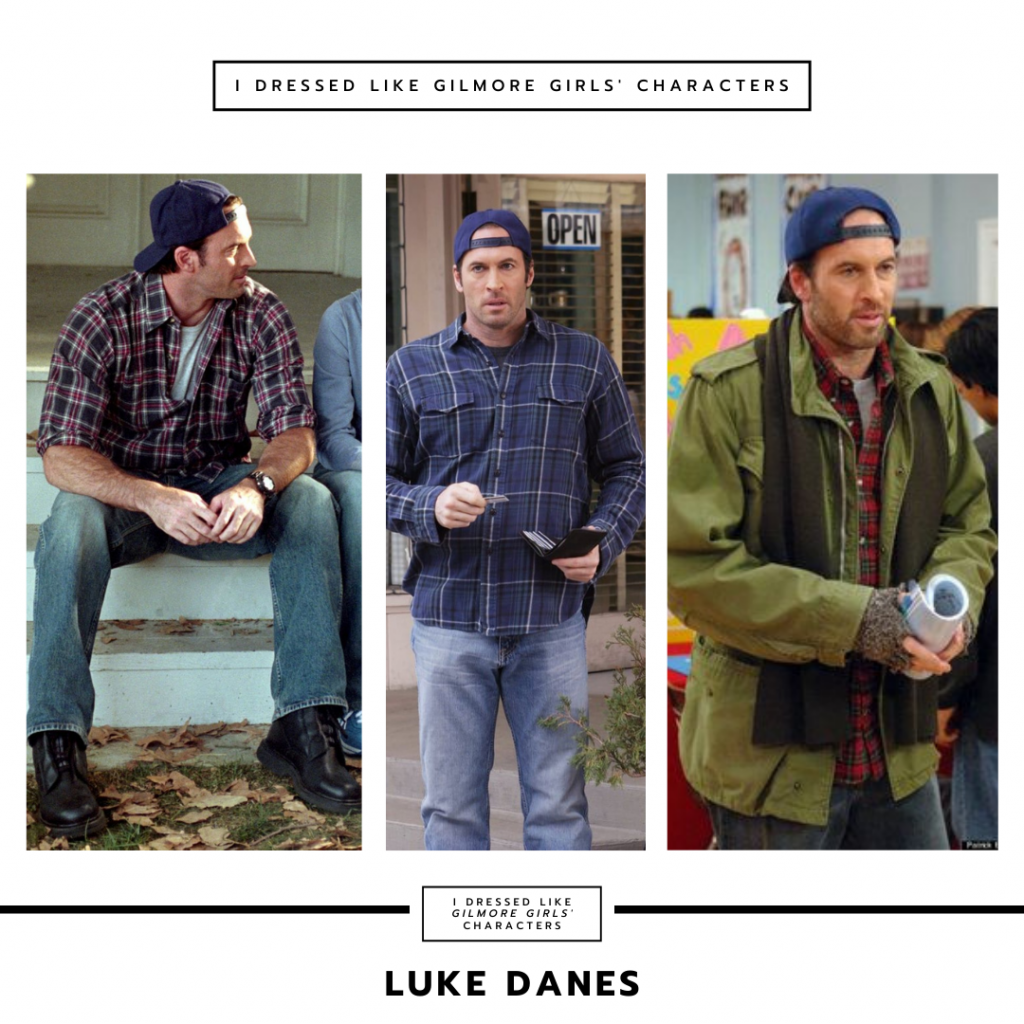 Luke Danes is the owner of Stars Hollow's diner and is Lorelai's main love interest throughout the show. (Fun fact: Lorelai's very first scene is with Luke, not Rory.)
Luke is a snarky, quiet, and strong man with a heart of gold. He is Rory's and Jess' father figure and, as such, he is very protective of both of them.
Luke's style doesn't change at all throughout the series, a nod to his dependable and strong personality. He is always wearing a flannel, a t-shirt, jeans, and a baseball cap.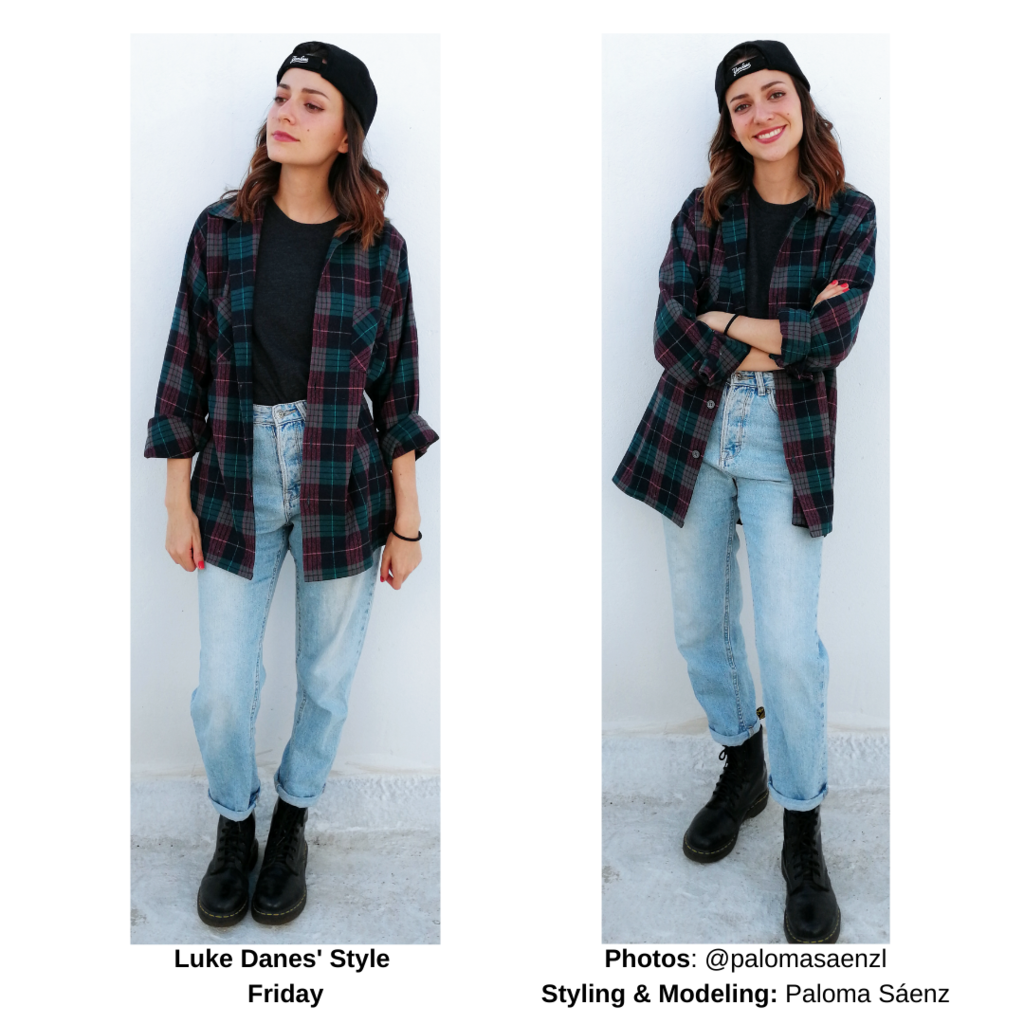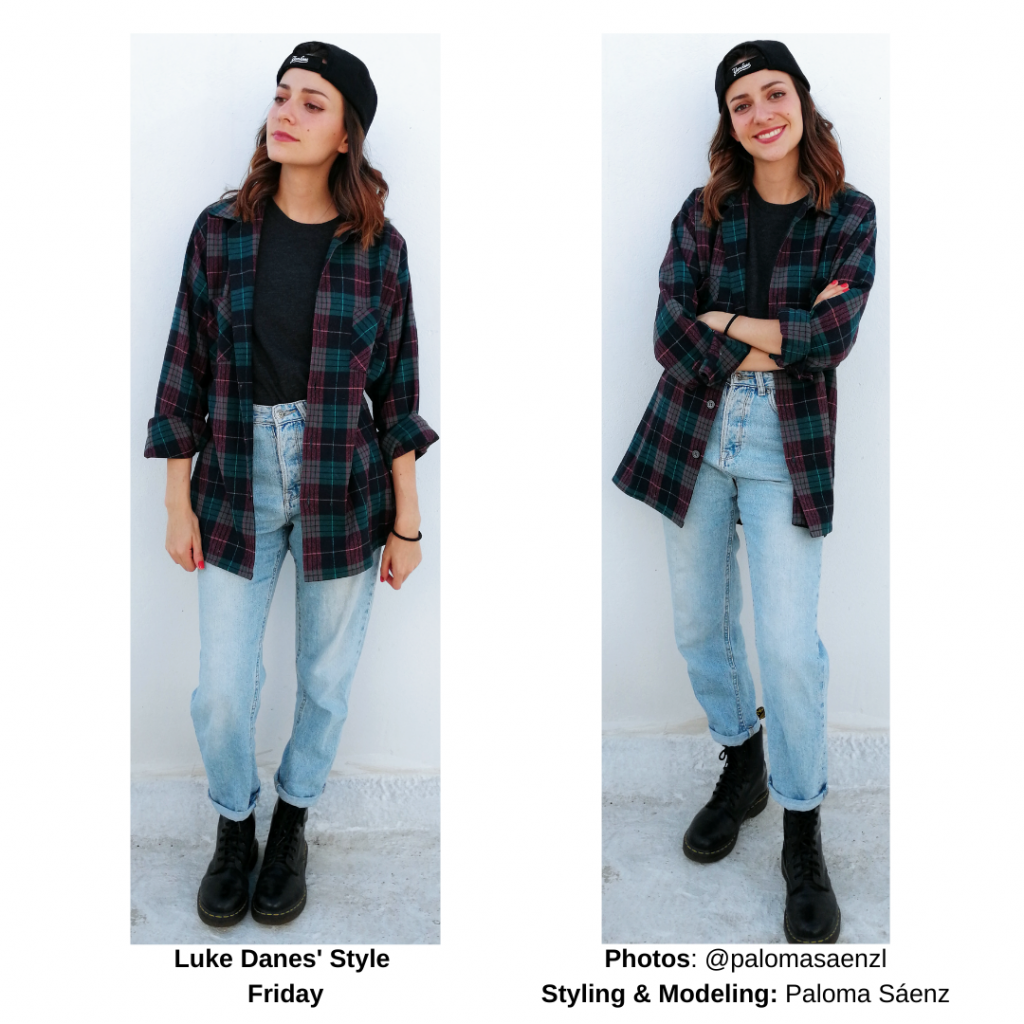 Similar Items:
My Luke outfit was hands down the easiest look of the bunch to achieve.
For the base of the outfit, I wore a dark grey tee that I borrowed from my sister, as well as my own pair of mom jeans. As a layer, I put on a dark blue and purple flannel shirt and rolled up my sleeves.
For my shoes, I went with my beloved Doc Martens. Finally, my only accessory was a navy blue baseball cap and I wore it backward, just like Luke.
This was, without a doubt, my favorite look of the week. I absolutely loved it! I would not have worn an oversized flannel with mom jeans, since I usually like to balance a loose item with a fitted one, but it was a really great outfit. I'm also not big on baseball caps, I usually don't wear them, but since it was backward I barely noticed it was there. This outfit was comfortable to work and run errands in without losing its cool factor.
Final Thoughts
Gilmore Girls is one of my favorite shows and has a special place in my heart. (In case you're wondering, I'm #TeamJess.) So, when I started re-watching it a couple of weeks ago, it made sense to write this post.
Gilmore Girls is not a flawless show, at all, but it is a major fashion inspiration source, especially since certain '00s fashion trends are making a comeback.
It was kind of difficult to create some of these looks since there are trends that are barely making a comeback and I don't have many '00s-inspired items. But, with imagination and a major binge-watching session, I was able to put together these outfits.
In case you're wondering, I decided to leave the revival episodes for another post, in which I will include both Lane and Paris as well. But for the original run, Lorelai, Rory, and Luke gave me plenty to work with.
As I said, my favorite outfit of the week was Luke's. It is so close to my personal style while being different enough to make this a fresh take on several of my most-worn items. Lorelai's Wednesday look is a very close second, though. I'll definitely add it to my rotation.
If you need a show to get inspiration for wearing these comeback '00s trends, look no further than Gilmore Girls. They have tons of different outfits to work with, and they cover everything from casual, to professional to night-out looks. Just choose a character and go for it!
What do you think?
Have you seen Gilmore Girls? Do you have a favorite character? Which outfit was your favorite? Would you wear any of these looks? Would you like to see a Gilmore Girls: A Year in the Life post? Let us know in the comments below!
More Fashion Inspiration