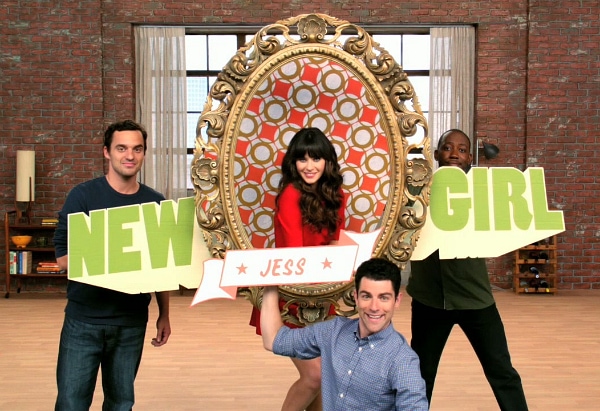 Fox's New Girl follows Jess Day (Zooey Deschanel), a 20-something teacher who finds herself living with three male roommates after answering an ad on Craigslist. Jess' quirky, bubbly, and somewhat over-the-top personality sends the guys for a loop, while Jess deals with adjusting to life as the new girl.
Not only is the show hilarious, the characters lovable, and the theme song ridiculously catchy (I dare you to listen to it and not have it stuck in your head for the next two days!), but Jess rocks some amazing fashion to boot. She knows how to blend lots of bright colors and bold patterns to create adorable, stylish, and completely unique outfits.
Want to snag her style for yourself? Read on to learn some more about Jess' style, then check out some outfits for inspiration!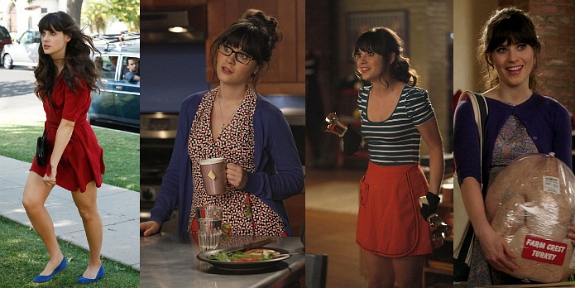 Jess' Style 101
Rainbow Bright. No neutrals for this girl! Jess' wardrobe is all about rich, saturated colors. She never shies away from bright hues, which makes her outfits just as bubbly and cheerful as her personality.
Pattern-palooza. Along with lots of bold colors, Jess is all about wearing unique patterns. Whether she wears a patterned blouse, skirt, or dress, she knows how to blend each piece seamlessly with other colorful items and never lets a print overpower the rest of her look.
Short story. Jess is all about wearing flouncy, short skirts and dresses. This length not only creates a fun, youthful, and flirty look but showcases Jess' great legs and fab shoes.
Flat Stanley. Speaking of shoes, no Jess-inspired ensemble would be complete without her footwear staple: ballet flats. Jess seems to own a pair of cute and comfy flats in every color imaginable, which she uses to mix and match with all her outfits.
3 Jess-Inspired Outfits
Now that you know a little bit more about her personal style, check out these three outfits, which each capture a different element of Jess' one-of-a-kind look:
Outfit #1: The Little Red Dress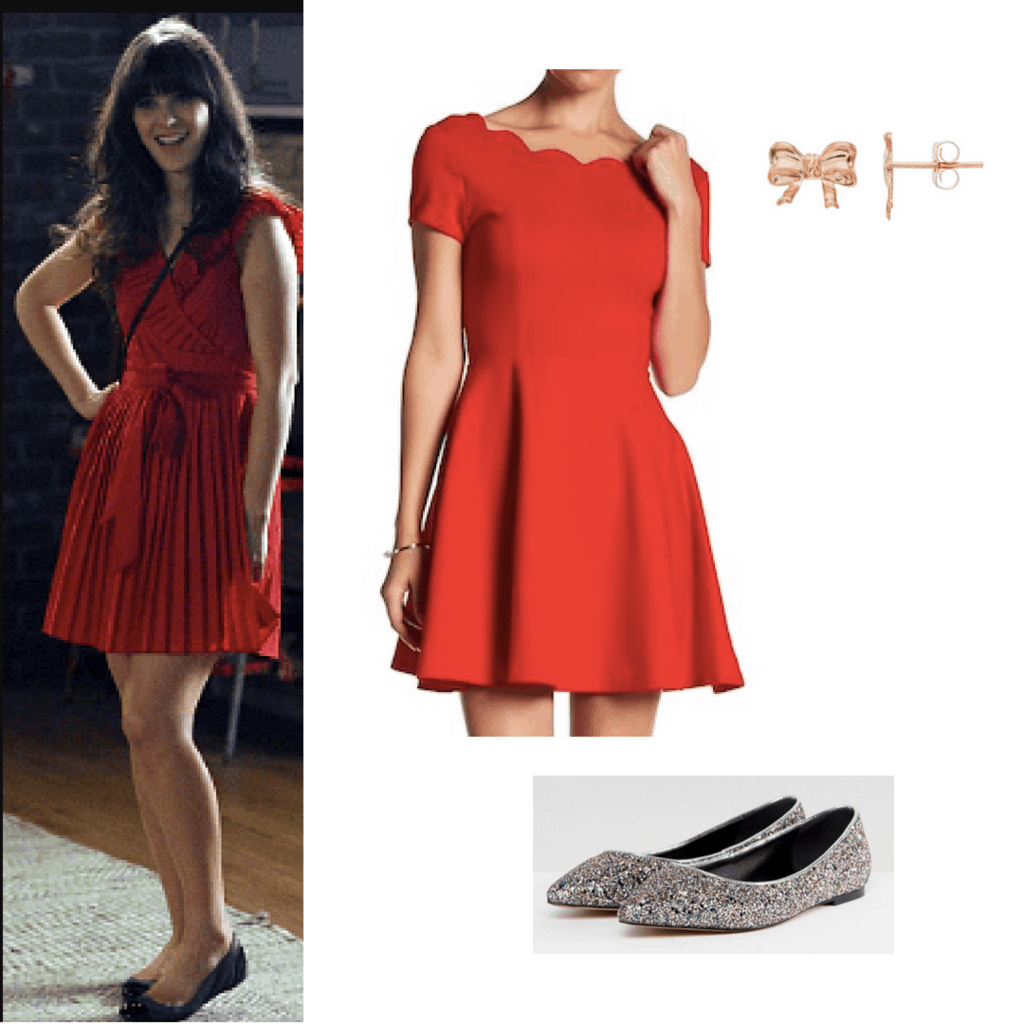 Products
While some girls swear by a good LBD, Jess' go-to frock is a Little Red Dress. She's worn several LRDs so far in the series and always mixes them up with different shoes and accessories to keep her look fresh and fun.
For the first look, I decided to dress up this clean-up and scalloped LRD. Some glitter-encrusted flats add just the right amount of sparkle, while these bow earrings are both elegant and fun. Voilà, a simple LRD looks playful and dinner ready.
Outfit #2: Mix and Match
Products:
Jess definitely knows how to wear prints like a pro, but I especially love the way she mixes two pieces with the same type of pattern. For example, in the photo above, Jess is wearing two different polka-dotted pieces to create an eccentric, yet stylish outfit.
To create a similar look, I chose to mix two striped pieces. While both pieces look different, the similar stripe spacing keeps the look chic and not over-the-top. Also, the vertical stripes on the skirt help to balance out the horizontal stripes on the shirt. The subdued yellow ballet flats tones down the vibrant skirt. For a finishing touch, add a delicate piece of jewelry, like this horseshoe necklace.
Outfit #3: Contrasting Colored Shoes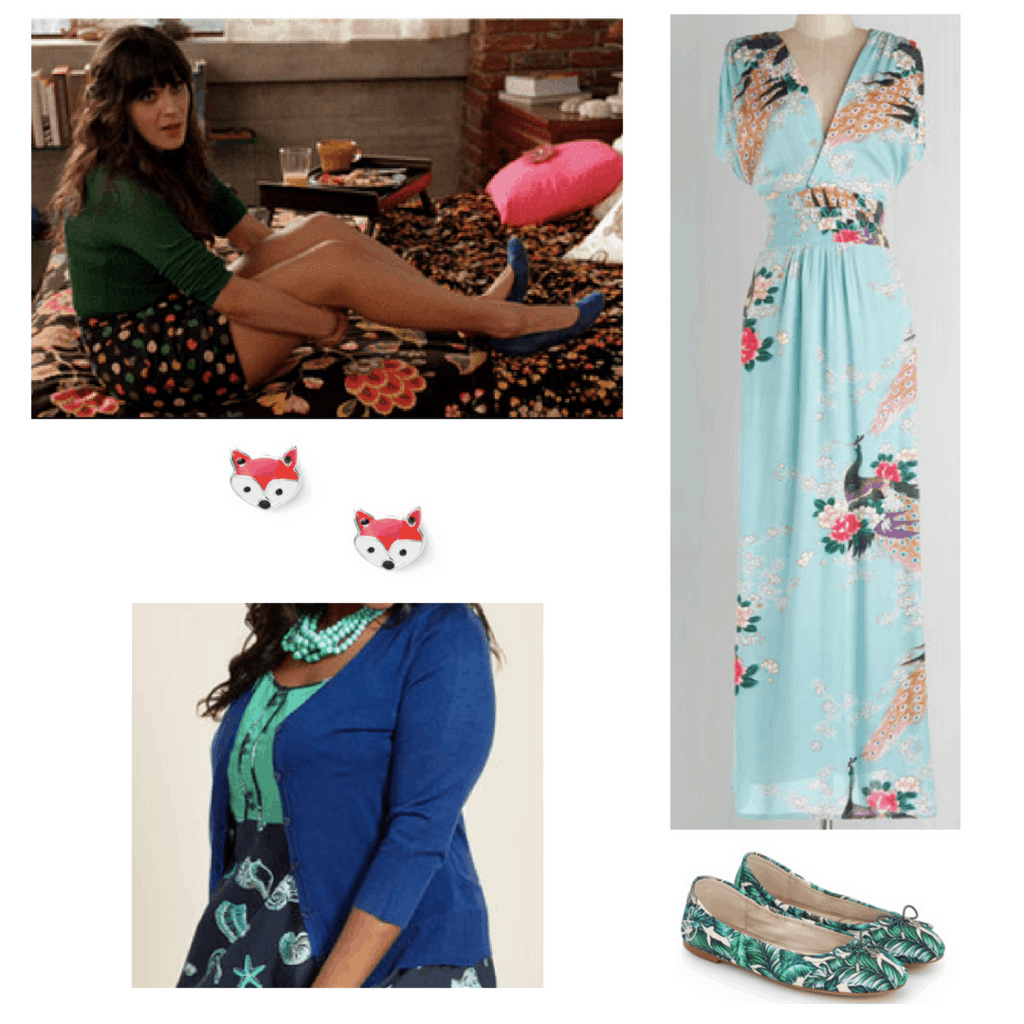 Products:
Jess is always pairing her outfits with deliberately mismatched shoes. The colorful shoes don't necessarily "match" her outfit in the traditional sense, as shown in the photo above. The key to this look is to pair the outfit with shoes in a contrasting shade (i.e. not a color that's complementary or analogous), which will create a fun and eye-catching look.
To get this look, pair a blue patterned dress with a royal blue cardigan. The two blue pieces complement each other and create a monochromatic look. Add some pretty green flats for a contrasting shade (and get in more pattern mixing), then accessorize with some whimsical fox earrings.
Jess' Beauty Routine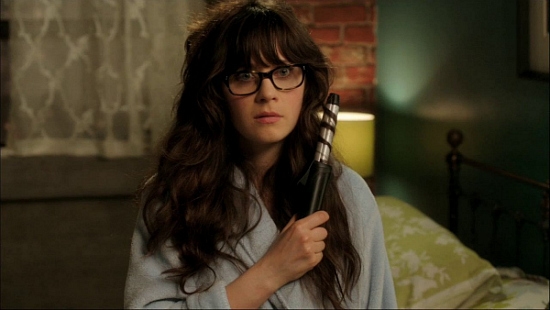 While her outfits are undoubtedly fabulous, Jess' hair and makeup routine is definitely the finishing touch. Check out some Jess-inspired beauty picks below: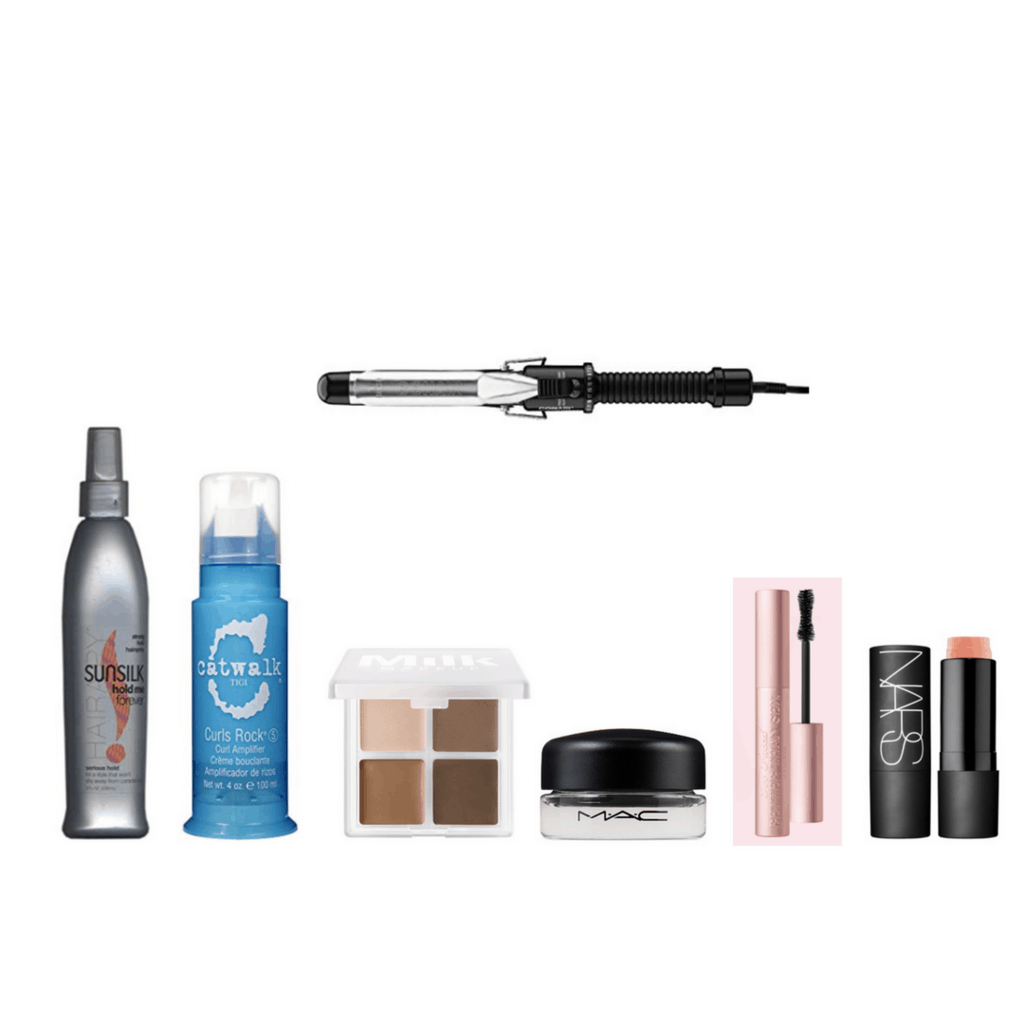 Products:
Jess' makeup is fresh-faced and low key, so start by applying a very light amount of your favorite foundation or tinted moisturizer. Next, apply some subtle, neutral-colored eyeshadow and lightly line the top and bottom of your eyes with a brown or black eyeliner. Jess is all about the ginormous lashes, so plump yours up by applying two to three coats of a volumizing mascara. Finally, use a pink-based all-in-one makeup product (like NARS The Multiple), then apply it to the apples of your cheeks for a rosy glow and to your lips for some subtle color.
As far as hair goes, Jess rocks some romantic, soft and totally gorgeous waves. To get her look, start by adding some curl enhancer to damp hair to create waves. Once it dries, start defining the waves by wrapping small sections of hair around a curling iron, then add a spritz of hairspray to each section for extra hold.
Your thoughts?
What do you think of Jess' style? Do you watch New Girl? Would you wear any of these outfits? What do you think of her hair and makeup? Remember to leave a comment below and let me know what you think!
If you liked this article about jess day outfit, consider checking out these other articles below —
Editor's note: This post was originally published in 2011; it was completely updated and revamped in 2022 with new photos, outfit sets, and information.