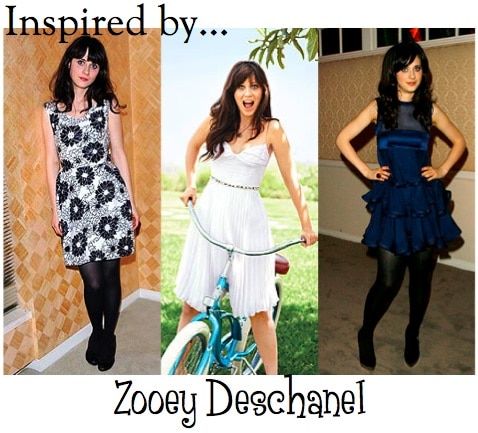 Zooey Deschanel became one of my favorite celebrities for style inspiration after I wrote a piece on Zooey Deschanel's style in (500) Days of Summer. I just love her feminine look and vintage-inspired garments.
After conducting some research on Ms. Deschanel, I also appreciate the fact that she's a self-proclaimed shopaholic. For Zooey Deschanel, fashion is important! In an interview with People Magazine, Zooey admitted, "I go shopping every week, literally. There's something about getting a new dress or shirt that makes you feel that extra 20 percent better." And who wouldn't agree with that?!
If you are a Zooey fan, or are merely curious about Zooey , read on!
Zooey Deschanel Style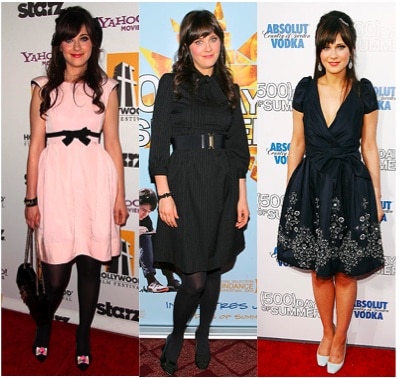 Usually, I separate a celeb's style into two categories: daytime/casual and evening/formal; however, Zooey is an exception because her daytime and evening looks follow relatively the same formula. She almost always wears dresses or feminine separates, such as a flirty top with a skirt. She also frequently rocks bows, floral accents, or lace elements, all of which reiterate the girlishness of her style.
Zooey chooses outfits with figure-flattering silhouettes. As you can see in the pictures above, she loves to rock a cinched waist and an a-line skirt, a combination which makes her appear very dainty and slender, without looking boyish or overly skinny.
Here is an outfit that I think showcases the different elements of Zooey's style: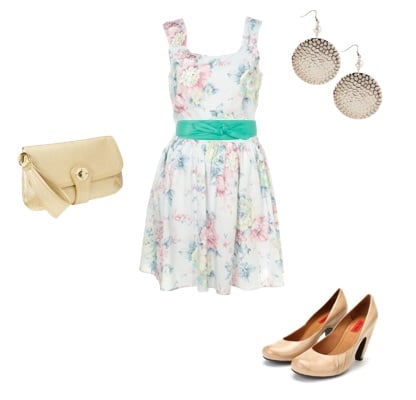 Product Information: Tea Belle Dress- TopShop, Jade Sash Belt- Dorothy Perkins (UK), Round Earrings- Forever 21, Nude Pumps- Lori's Shoes, Wristlet/Clutch- Old Navy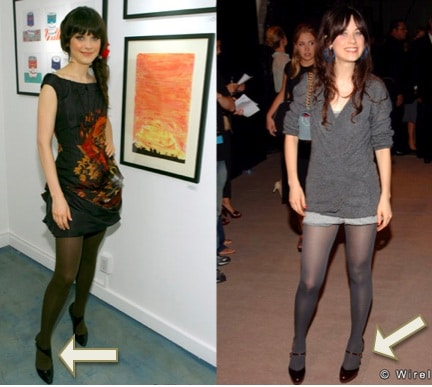 Zooey is also known for wearing tights and mary-janes (above). If you're interested in her style, but maybe don't know how to draw inspiration from it, tights with mary-janes could be something fun for you to try! Here are some budget-friendly tights and high heeled mary-janes available for purchase: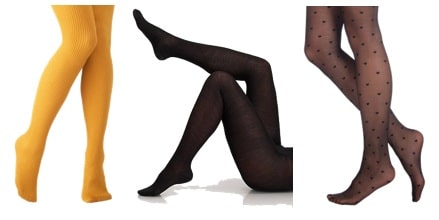 Product Information: Honey Mustard Tights- Modcloth, Black Opaque Tights- Urban Outfitters, Dotted Semi-Sheer Tights- Betsey Johnson through Modcloth

Product Information: MIA Mary Janes- Endless, Charcoal Mary Janes- Brantano (UK), Thick Strap Mary Janes- Payless
Zooey Deschanel Hair and Makeup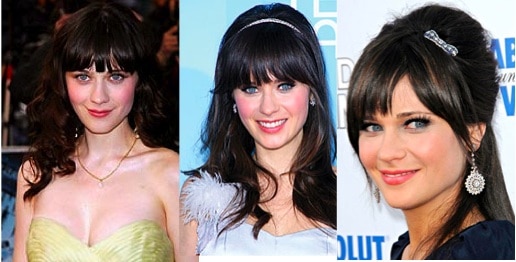 Zooey Deschanel's bangs are definitely one of her signature assets, and it certainly surprises me how she manages to wear such a "one way street" kind of a hair style in so many different ways. If you are interested in getting your hair cut like Zooey's, I suggest you check out InStyle's mini article on how to style your bangs like Zooey's.
Also, if you have bangs like Zooey's, but aren't sure how to diversify your look like she does, check out this collection of Zooey Deschanel hair looks from The Hair Styler. There is also an option to upload a photo of yourself and virtually try on the look…could be fun!
In the makeup department, keep it light, fresh and natural emulate Zooey! Fortunately for us, Zooey has name-dropped a few of the products she uses in magazines, so if you are curious as to exactly which products she uses or has used before, here are a few…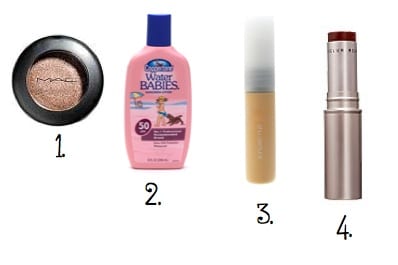 Product Information: 1. MAC Goldmine Eyeshadow, 2. Water Babies by Coppertone, 3. Shu Uemura Mark Cealer in Beige 4. Delux Beauty Flush Stick in Pink, all reported in an interview with InStyle
A Penny for Your Thoughts…
Now that you've read all about Zooey's style, what do you think? Are their any aspects of her style you like? Does she inspire you? Let me know with a comment!
* Top right photo is from Style.com. All other photos not individually cited are from People Magazine's website*