In honor of the release of Taylor Swift's Midnights, I'm showing you how to copy Taylor Swift's style during her Midnights era.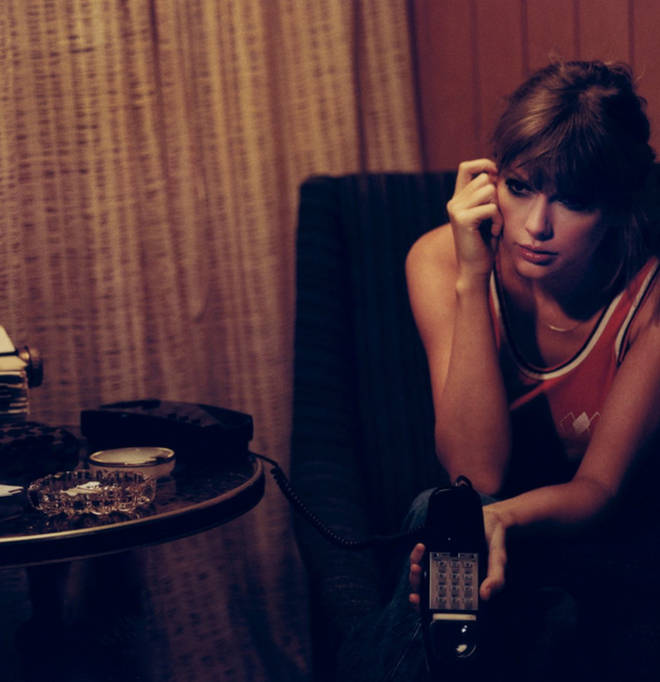 We've all looked to celebrity style for fashion inspiration at some point in our lives. But it's one thing to say, "I love her outfit," and it's another to copy it in real life.
For this series, I'm going the extra mile and making it happen. Each week, I'm getting inspiration from a celebrity and copying five of her looks as closely as possible. Then, I'm reporting back to you: Did the outfits work in real life? Did I feel comfortable? Did people treat me differently? I'm sharing it all.
This week, in honor of the release of Midnights, I once again dressed like my favorite blonde: Taylor Swift.
(For my past Taylor Swift posts, see my guides to All Too Well outfits, Taylor Swift's street style, Taylor Swift eras outfits, Evermore outfits, and Folklore outfits.)
About Midnights
Midnights is the tenth studio album by songwriter Taylor Swift. The album was released on October 21, 2022. One of the biggest theories, not only among her fans but everyone else, was that Swift would close up the year by releasing one of her re-recorded albums. To everyone's surprise, she announced a brand new album would be coming out and all hell broke loose.
Swift also went back to her tradition of games, Easter eggs, and clues to promote this release. The track list was revealed through a TikTok series called Midnights Mayhem with Me. In this series, she confirmed a long-awaited collaboration with Lana del Rey on the fourth track of the album, "Snow on the Beach".
The week of the release, specific Spotify billboards around the world unveiled lyrics at midnight and no one knew where the next would appear. The US, UK, Brazil, and Mexico were the countries where lyrics appeared at midnight. A music video for the song "Anti-hero" also premiered on the day of the release. At the moment of this writing, another music video for the song Bejeweled has been released (October 25th).
Described by critics as a concept album, Taylor envisioned it as 13 sleepless nights with different motives as to why she was losing sleep. Revenge fantasies, wondering what could have been, and falling in love were just a few of the reasons behind these songs. Swift broke multiple records just the weekend of the release and is expected to break more before the week is over.
Related reading: What to Wear to Taylor Swift's "The Eras" Tour
Taylor's Style for the Midnights Era
The concept art for the album and Taylor's style for Midnights are inspired by the '70s. Both '70s glamorous and casual styles have made an appearance in her red carpet looks, her shorts, and the interviews she's made to date. All of this inspiration is very modernized.
For her glamorous '70s outfits, she has worn shiny, luxurious fabrics and textures in the form of rompers and dresses. Platforms, glitter, satin, and gemstones are some of the elements Taylor has worn and probably will keep wearing for the rest of the Midnights era.
For the more casual promotional content, Swift has taken on a subtler color palette and softer types of fabrics. Knitted items, corduroy, denim, and cotton are some of the materials she has worn to date. Loose-fit pants, polo shirts, miniskirts, oversized tees and sweaters, and mom jeans are some of the most worn items.
A Few Notes Before We Get to the Outfits:
For this post, there are a couple of important things to consider. The first one: I chose the looks before the album and most of the promotional content was out. This means that almost all of the looks I chose came from the series Midnights Mayhem with Me. Now that the album is out and she has a media presence, I will do a second part that includes her looks post-release.
The second thing to note is that Taylor was barefoot for all her Midnights Mayhem looks. The shoes I chose came from knowing what type of shoes, sneakers, and boots she tends to go for. This is just a natural result of writing four previous posts about Taylor Swift and researching her style for all of them.
With that out of the way, let's see the outfits!
Taylor Swift's Midnights Style Guide
Taylor's Midnights Style – Monday, Outfit #1
For my first Midnights-inspired look, I wanted something chill and casual. One of my favorites was this really simple blue tee and dark grey jeans combo.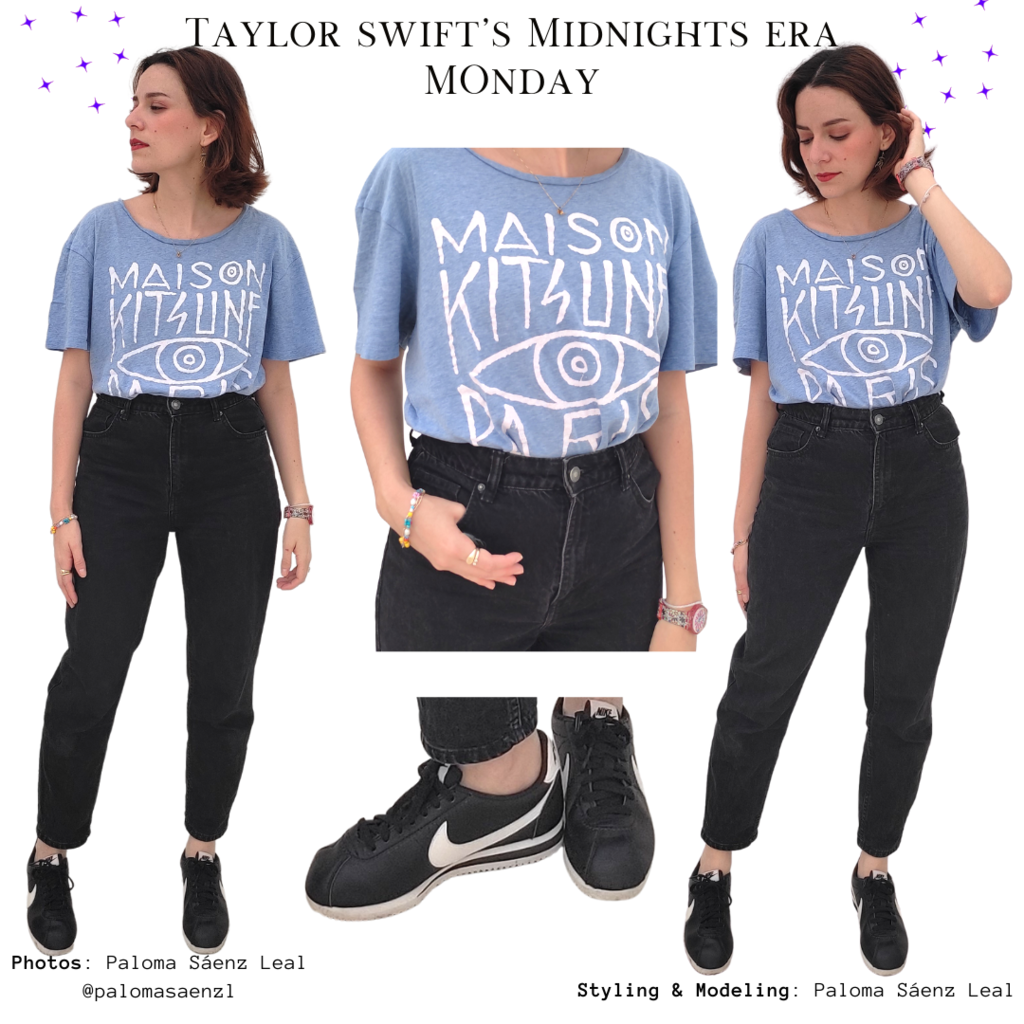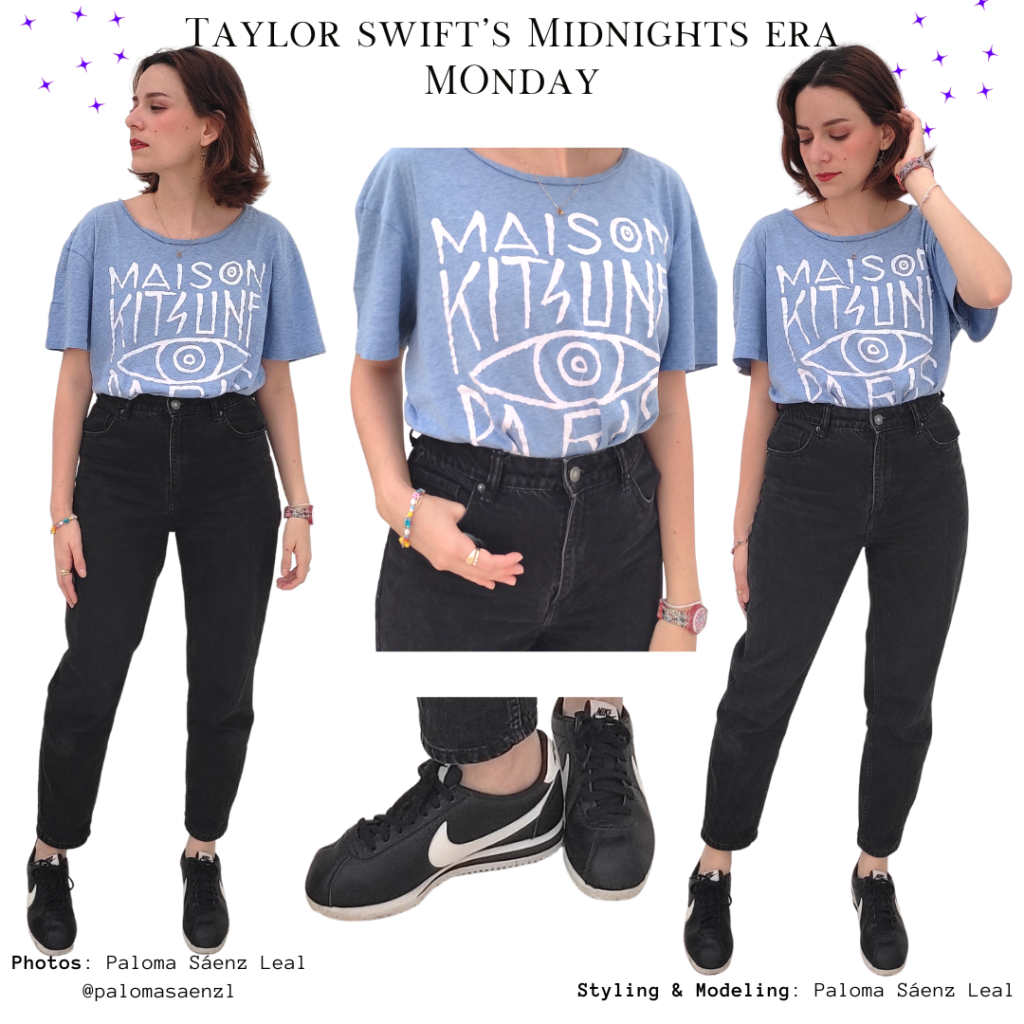 To recreate this, I had to compromise with the colors a bit. I threw on an oversized blue t-shirt that has a white graphic on it. Then, I put on a pair of faded black mom jeans. I didn't have grey jeans (and don't plan to) so I thought my black jeans would work since they're the same cut and have a worn-out feel to them. The t-shirt is not actually mine, I borrowed it from my boyfriend, hence the perfect oversized fit.
As I mentioned earlier, Taylor didn't wear shoes for this series. Most of the day, I didn't wear any shoes. I work from home, so I'm usually barefoot anyways. When I had to go out to go swimming, I wore my black pair of Nike Cortez sneakers. Taylor has worn similar sneakers in the past, so I thought these ones worked.
I really liked this outfit! Of all the outfit recreations I do, I think this one is the most practical and closest to real-life that I have done. As I said, I work from home, so I only wear shoes when I'm recreating a specific look or I'm going out. This look was super comfy, and the t-shirt is so soft I might not give it back at all.
Taylor's Midnights Style – Tuesday, Outfit #2
For Tuesday, I saw this video and I couldn't not do it. Taylor is wearing a brown sweater and the same gray faded jeans from the previous outfit.
The sweater is actually the same sweater Sadie Sink wore for the All Too Well (10 Minute Version) short film. I made a whole post just about the short film, if you want to check it out and refresh your memory.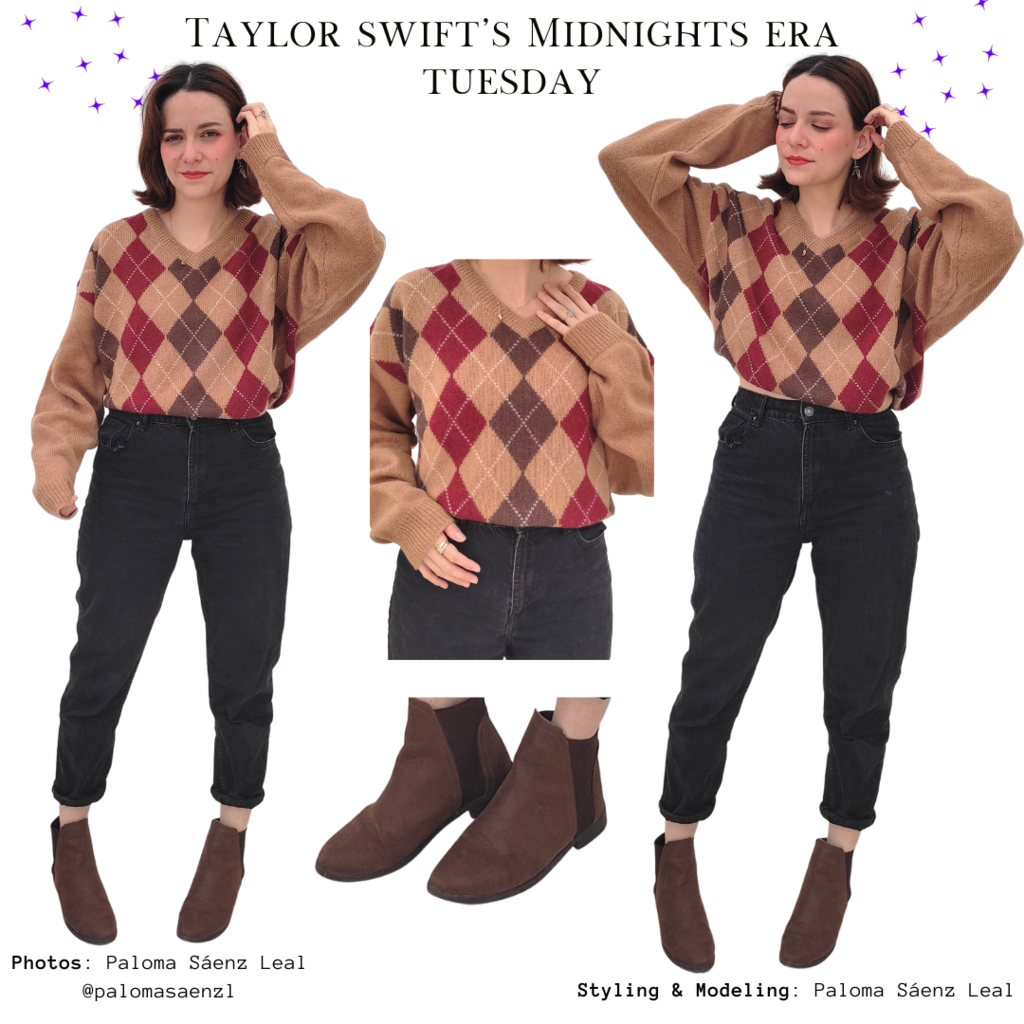 For this recreation I said, if Lizzie McGuire and Taylor Swift can be outfit repeaters, then so can I. I wore the same tan and brown argyle sweater I used for my All Too Well post. The sweater is actually my dad's. Then, I wore the same faded black jeans from the day before.
Again, I didn't wear shoes for most of the day, but Tuesday is movie date day. Later in the day, when I went to the movies, I put on a pair of brown suede Chelsea boots. This kind of followed the fall theme of the look.
Not going to lie, this one was fun and easy. Not only is it a really cute fall outfit, but it is comfortable too. Personally, I would add a mock neck shirt underneath the sweater to be able to take the sweater on and off depending on the weather, and also to make it look more polished.
Taylor's Midnights Style – Wednesday, Outfit #3
For Wednesday, I always try to choose something different from the rest of the week. Taylor had a bunch of non-pants looks, but I went with this green ensemble. In the video, Taylor is wearing a polo shirt and a mini skirt.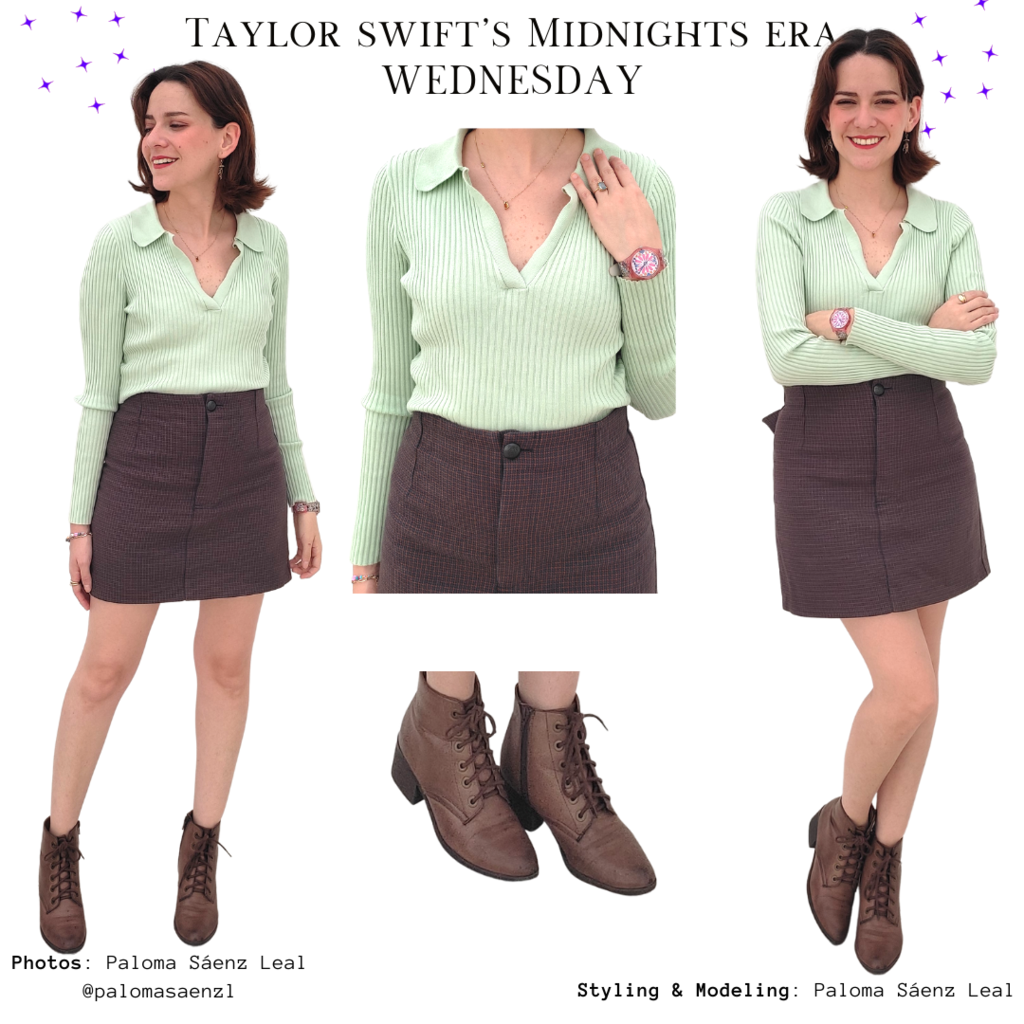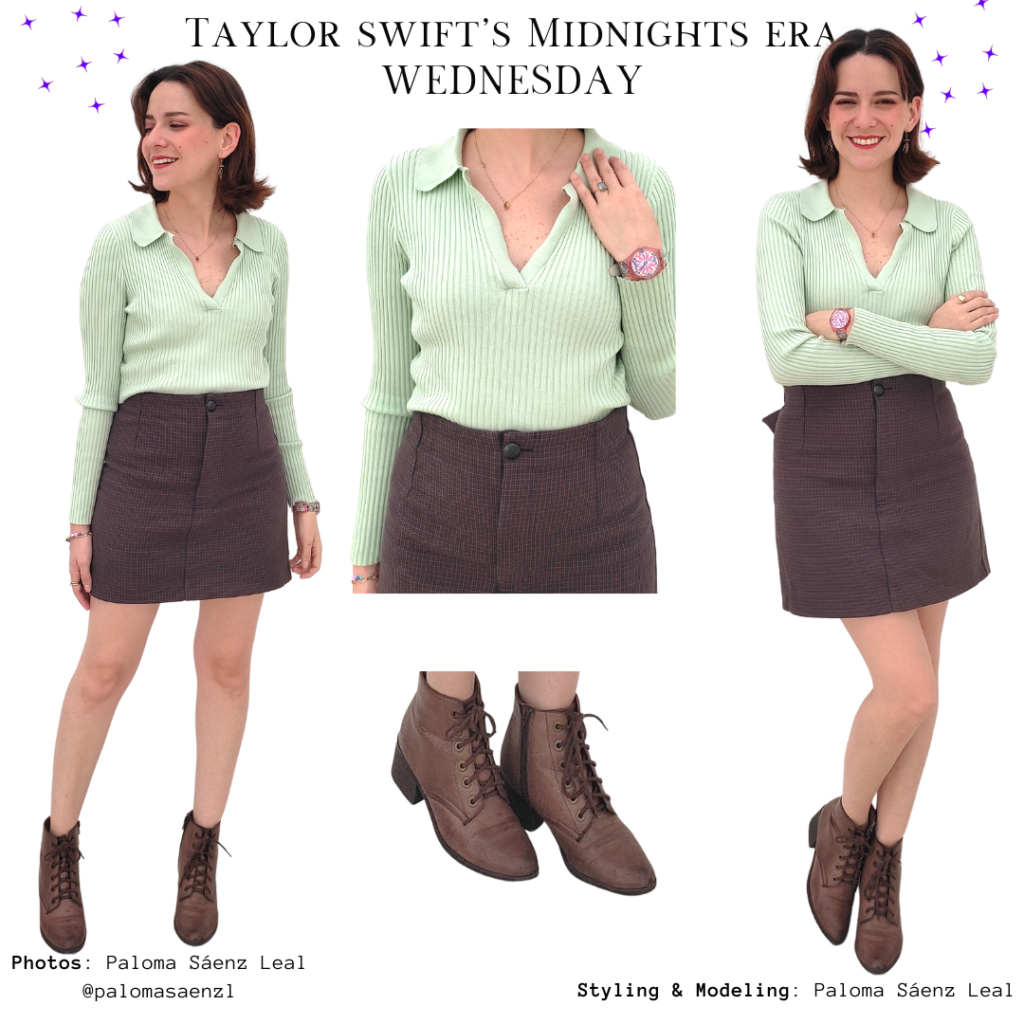 To recreate this one, I wore a knitted, long-sleeved polo shirt in a pretty pistachio green. For the skirt, I went with this brown, high-waisted mini skirt. Taylor's is corduroy, but I couldn't find one that I liked. I thought this one, which has a small Prince of Wales pattern in dark brown, gave the look that fall warmth that I was going for. Now for shoes. Again, I improvised and decided to wear these brown, lace-up booties.
I really, really, really, love this look! I feel like it's the perfect color combo for fall right now. It made me feel so pretty and put together, which was good because Wednesday is the day I have the most meetings and I need to look my best. If it were a little bit colder outside, I would add a pair of brown tights and maybe a jacket or coat to make it weather-appropriate.
Taylor's Midnights Style – Thursday, Outfit #4
For the fourth day, I wanted something really autumnal since the weather in my city changed drastically this week. In the video, Taylor is wearing an orange sweater and corduroy pants.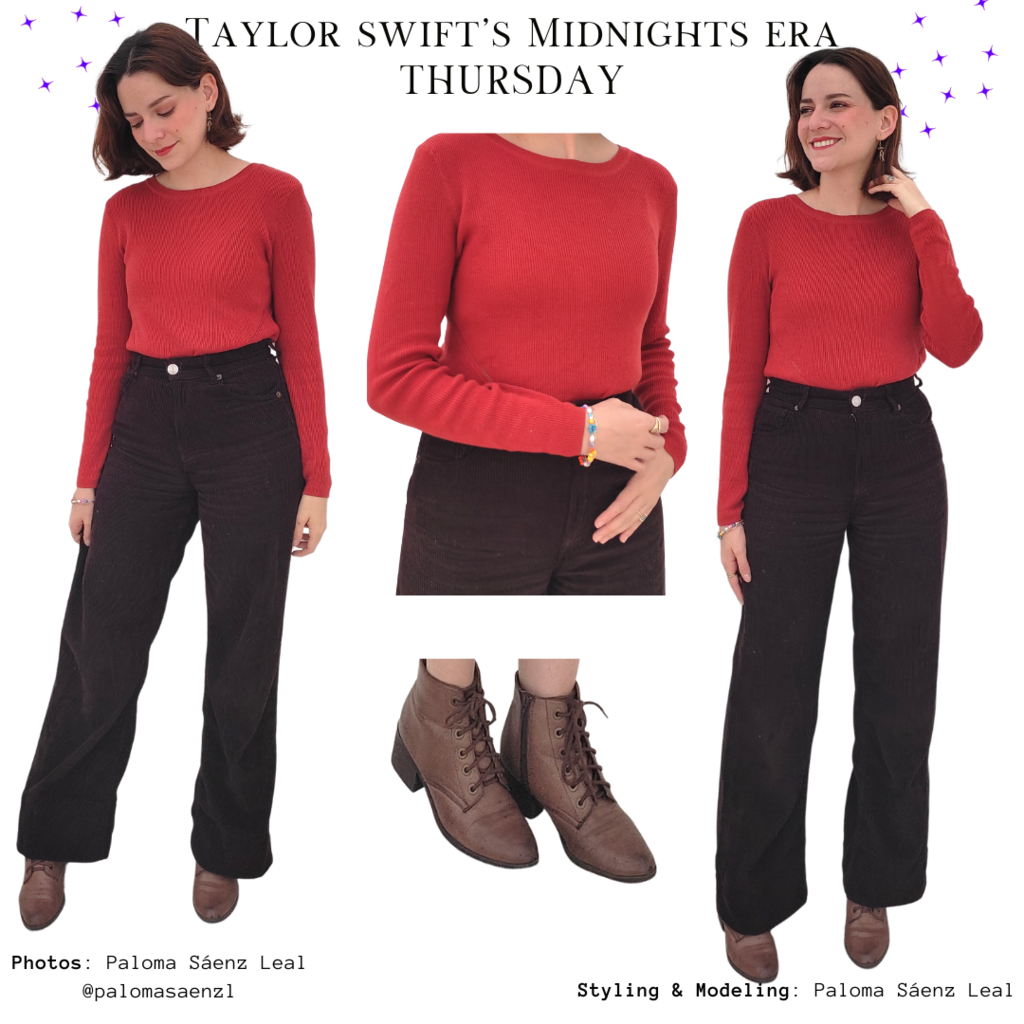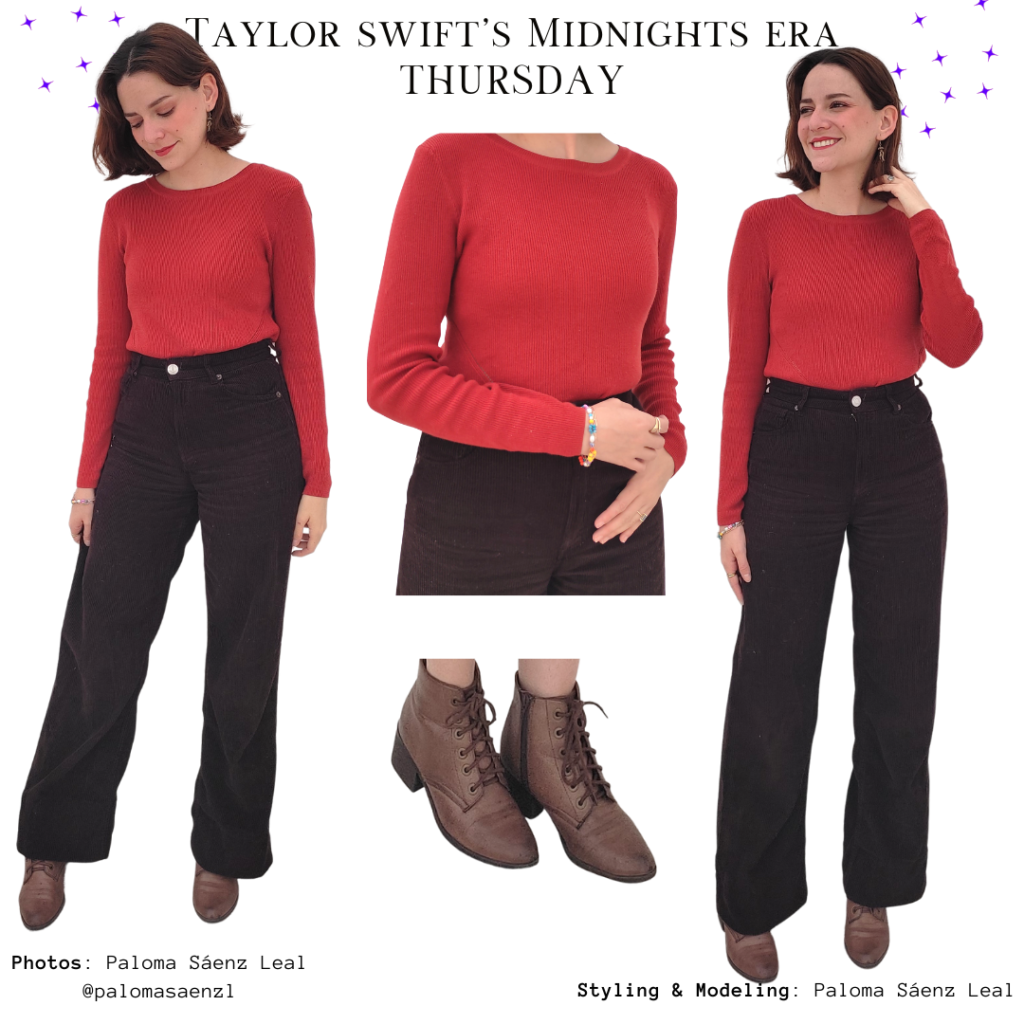 To recreate this look, I wore a burnt orange knit sweater. I didn't have a similar sweater to Taylor's with a turtleneck, but I figured this one works too. For the pants, I went with this pair of corduroy pants in dark brown. The pants have a loose fit and are high-waisted too, so they're pretty similar to Taylor's. For my shoes, I put on the same brown, lace-up booties from the day before.
I enjoyed this one so much! it was so cozy and warm. I got these pants last year and they are my current favorite pants for fall and winter. I love the richness of the color and they're made of a really soft fabric.
Honestly, I wore the booties for just a small part of the day, since I didn't go out at all and I forgot to use them through the morning. But hey! Taylor was also barefoot, so I count this one as a win for comfort.
Taylor's Midnights Style – Friday, Outfit #5
Finally, Friday was here. By now, you probably know that I reserve the outfit I'm most excited about for Friday. This is the look I chose — click the link to see the photo. It's from Taylor's night out attending the NYC premiere of the new film The Banshees of Inisherin.
The best part about this outfit is, it has shoes! In the photo linked above, Taylor's wearing a pair of plaid pants, a black shirt, a black blazer, and loafers.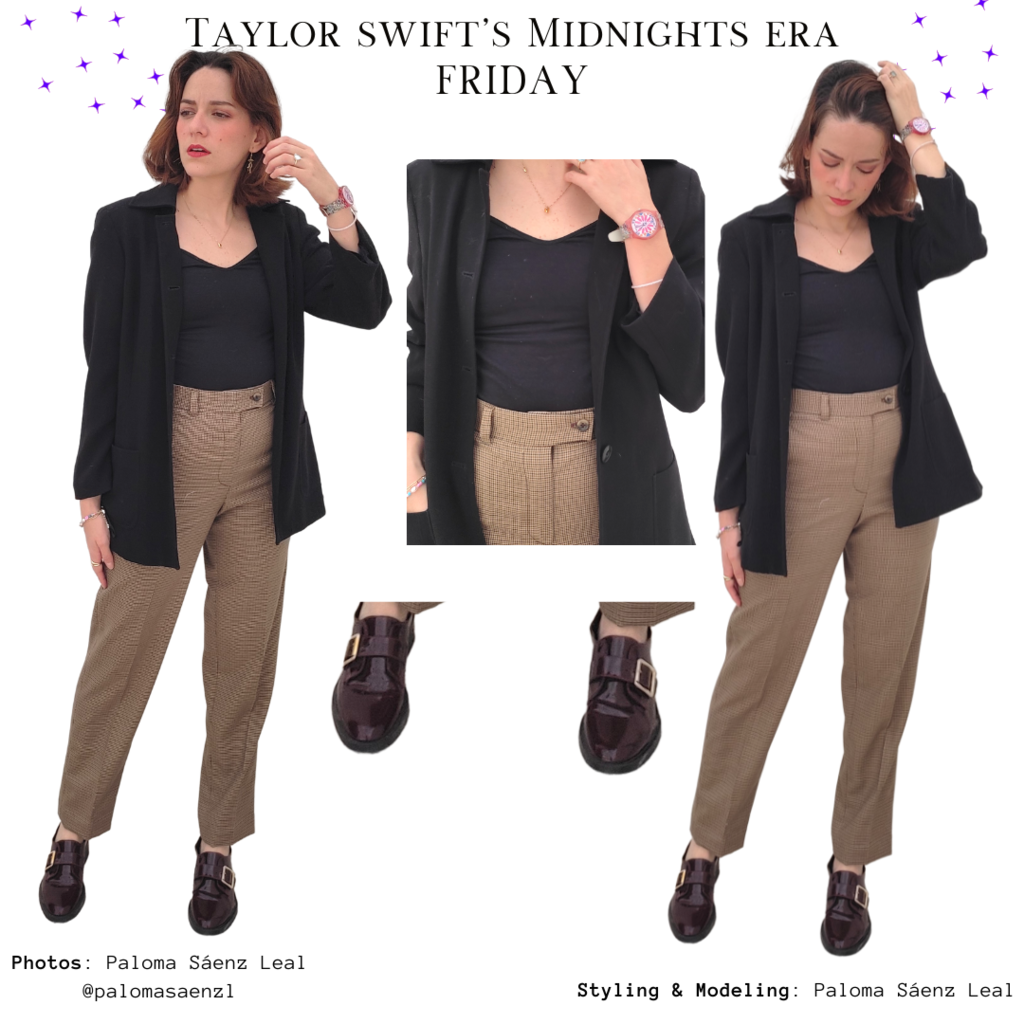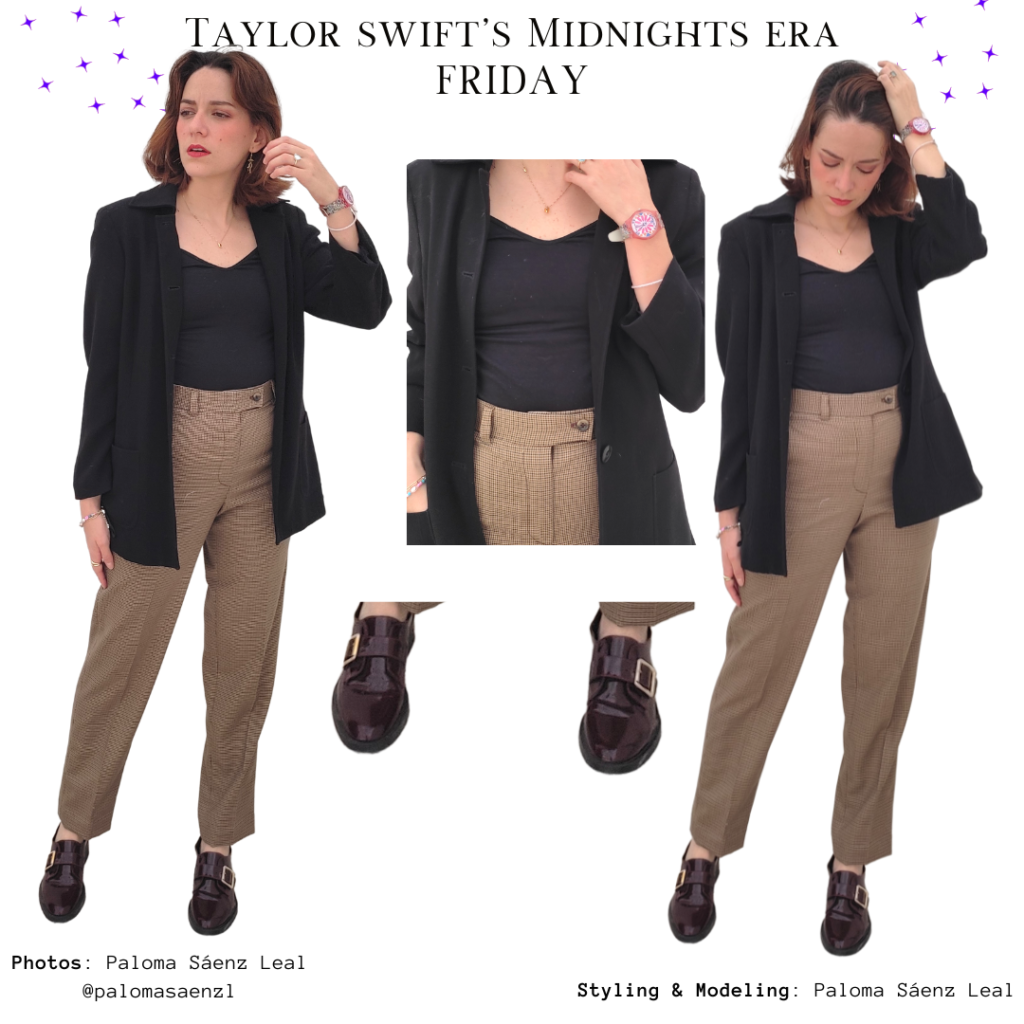 To start the outfit, I wore a simple, black tank top. Then, I put on a pair of tan and brown houndstooth pants. The pattern is small, but I believe it's similar to Taylor's. The biggest difference is the fit of the pants. Hers are really loose-fitting, but mine have a straight fit. I then threw on an oversized black blazer.
Finally, I added this pair of burgundy loafers you probably have seen a million times before. Taylor's shoes are high-heeled loafers and black, but I'm not searching for a similar pair right now and I'm not sure I would wear them a lot even if I wanted them. So I wore my go-to loafers instead.
To say that I LOVE this outfit would be an understatement. It's a lot more structured than I usually go for, but I think it's the cutest one of the week! The pants are my favorite part: They're custom made and I had been waiting for them to be ready for such a long time. And I got them just a few days before I started the week. To be honest, I had chosen a different look from Midnights Mayhem for Friday, but since I had the pants, I decided to switch it up.
Final Thoughts
You guys know how much I love Taylor Swift and her music. I was so excited when she announced a brand new album instead of a re-recording. Don't get me wrong, I love what she is doing to get her work back, but I want to know what's next for her music. And Midnights delivered for me in a huge way!
Personally, I think the album really showcases how much her writing and singing have matured and improved through the years. After listening to it, the fashion choices she has made make so much sense to me. This is especially true for the comfier looks, which I'm not used to coming from Taylor.
Since these songs are about her thoughts unraveling in the middle of the night, keeping her awake, it makes sense that she has very casual, loose-fit clothes, and she's barefoot. That's what you would expect from someone just hanging out in their home late at night. This also makes sense for her more glamorous looks: those are usually outfits you use for a night out and come back home late.
As I mentioned before, it was very realistic for me to spend most of the days barefoot since I work from home and that's how I'm more comfortable. But, my favorite looks would be Friday's menswear-inspired look, Thursday's mint-chip combo, and Monday's blue tee outfit.
At the moment, Midnights for me sits very comfortably in 6th place of my favorite TS albums. It will probably enter the top 5 before the year ends, but right now I'm just learning the lyrics and connecting with the songs. That being said, individually, some of the songs are already in my top 10 songs list. Easy.
Anti-hero, Snow on the Beach, Bejeweled, and Sweet Nothing are my absolute favorite songs on the album. Snow on the Beach and Sweet Nothing are so sweet and perfectly encapsulate what it feels like to love someone that much and have them love you back, and to have a partner that really gets you. This reminds me to thank my boyfriend for helping me out with this post and spending the entire weekend listening to me dissect this album.
But You're On Your Own Kid and Karma are my absolute top two tracks. YOYOK is amazing and makes me cry every time, and Karma is so deliciously happy and not at all what I expected. There are rumors about a tour (at the time of this writing), and I can't wait to sing both at the top of my lungs alongside a thousand Swifties.
If you are looking for inspiration, be it for a casual day or a more glamorous event, Midnights is the album for you. Taylor has worn everything on the casual-glam spectrum for this one, so you have options. It's especially fitting for fall/winter, since a lot of the colors and fabrics are perfect for this time of year.
What do you think of my Taylor Swift Midnights Mayhem outfits?
Have you heard Midnights? Which song was your favorite? Should I do a second Midnights post? Which outfit would you wear? Let us know in the comments below!