This "All Too Well: The Short Film" fashion guide will show you how to recreate outfits from the video.
We've all looked to celebrity style for fashion inspiration at some point in our lives. But it's one thing to say "I love her outfit," and it's another to actually copy it in real life.
For this series, I'm going the extra mile and making it happen. Each week, I'm getting inspiration from a celebrity and copying five of her looks as closely as possible. Then, I'm reporting back to you: Did the outfits work in real life? Did I feel comfortable? Did people treat me differently? I'm sharing it all.
By now you probably know that I'm a Swiftie. In past posts I've covered Taylor Swift's style in depth. (See Part 1, Part 2 and Part 3.) But lately, Taylor has been giving us so much new material to work with, so I'm constantly inspired to create even more outfits.
This Holiday season, I'm taking inspiration from the cozy looks in Taylor Swift's "All Too Well: The Short Film".
About "All Too Well"
"All Too Well" is a pop/rock song from Taylor Swift's Red album. Originally released in 2012, the album was re-released under the title Red (Taylor's Version) on November 2021. This was done as part of Swift's continuing battle to own her music, which has led to her re-recording her first six albums.
During its original run, the song was already long, clocking in at 5:28, and the longest song on the Red album. The draft for the song was 10 minutes long, but Taylor was asked to trim it to something more manageable.
The song was never released as a single, but it quickly became the Taylor Swift song for her fans. Even Swift has admitted to being surprised at the song's overwhelming popularity and success. The seemingly lost-forever 10-minute version took on an almost mythical form within the fandom. The minute Swift announced her plans to re-record her previous work, it dominated the conversation.
In Red (Taylor's Version), both versions of the song are included. The 10-minute song, however, debuted at #1 on Billboard's Hot 100, making it the longest song ever to reach the mark. It surpassed Don McLean's "American Pie" after half a century of holding the record.
About "All Too Well: The Short Film"
All Too Well: The Short Film is the official music video for Taylor Swift's song All Too Well (10 Minute Version). The short was written, performed and directed by Swift. It stars Dylan O'Brien (Teen Wolf & Maze Runner Trilogy) and Sadie Sink (Stranger Things).
The song is about the singer reminiscing on a past relationship and trying to reconcile the painful feelings of the breakup with the memories of what the relationship was and who she has become afterwards.
Also Read: 9 Taylor Swift Outfits Inspired by All of Her Album Eras
First, a Quick Note
For all the outfit details we get in the film, you can never *actually* see the shoes Sadie Sink's character wears. Not even a glimpse of them. So just as a warning, I had to improvise basing my choice of shoes on the overall styling of the film and the aesthetic of the album.
"All Too Well: The Short Film" Fashion Guide
Monday – An Upstate Escape, Outfit #1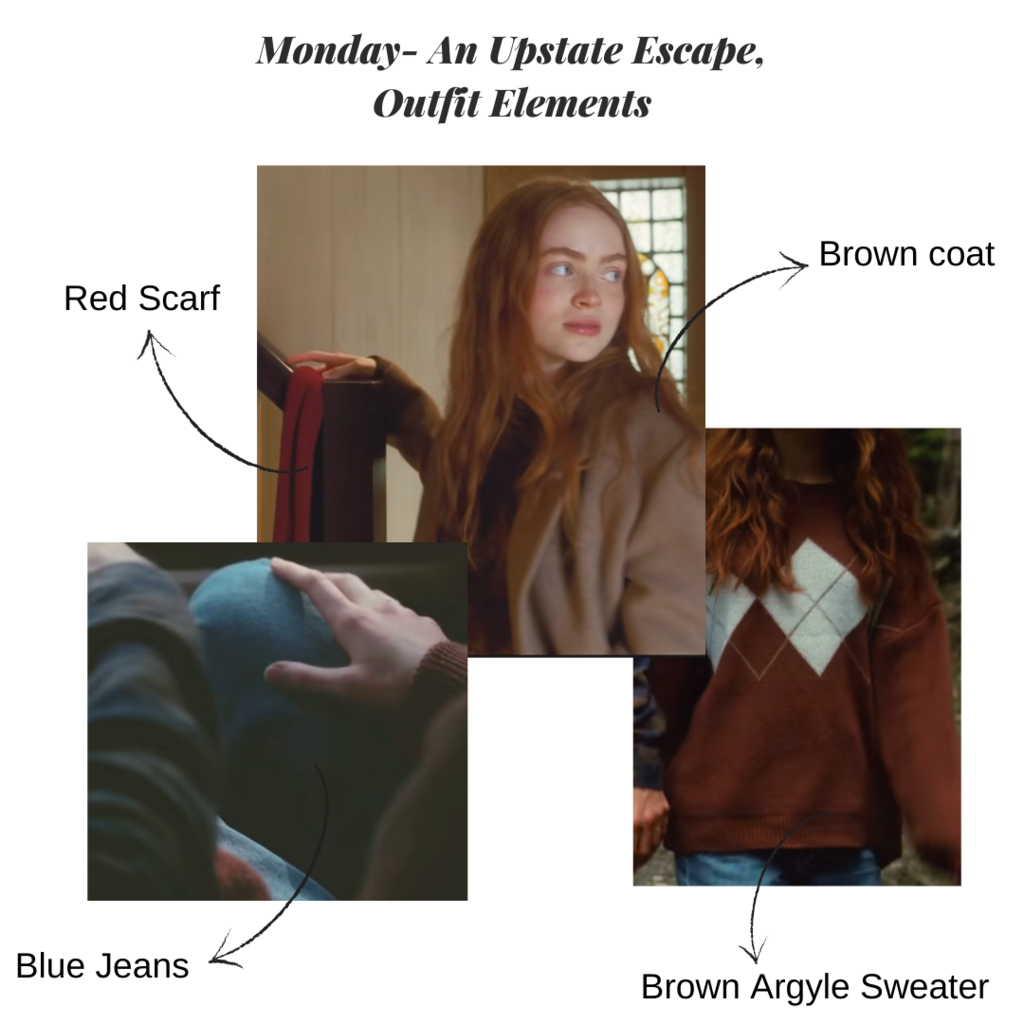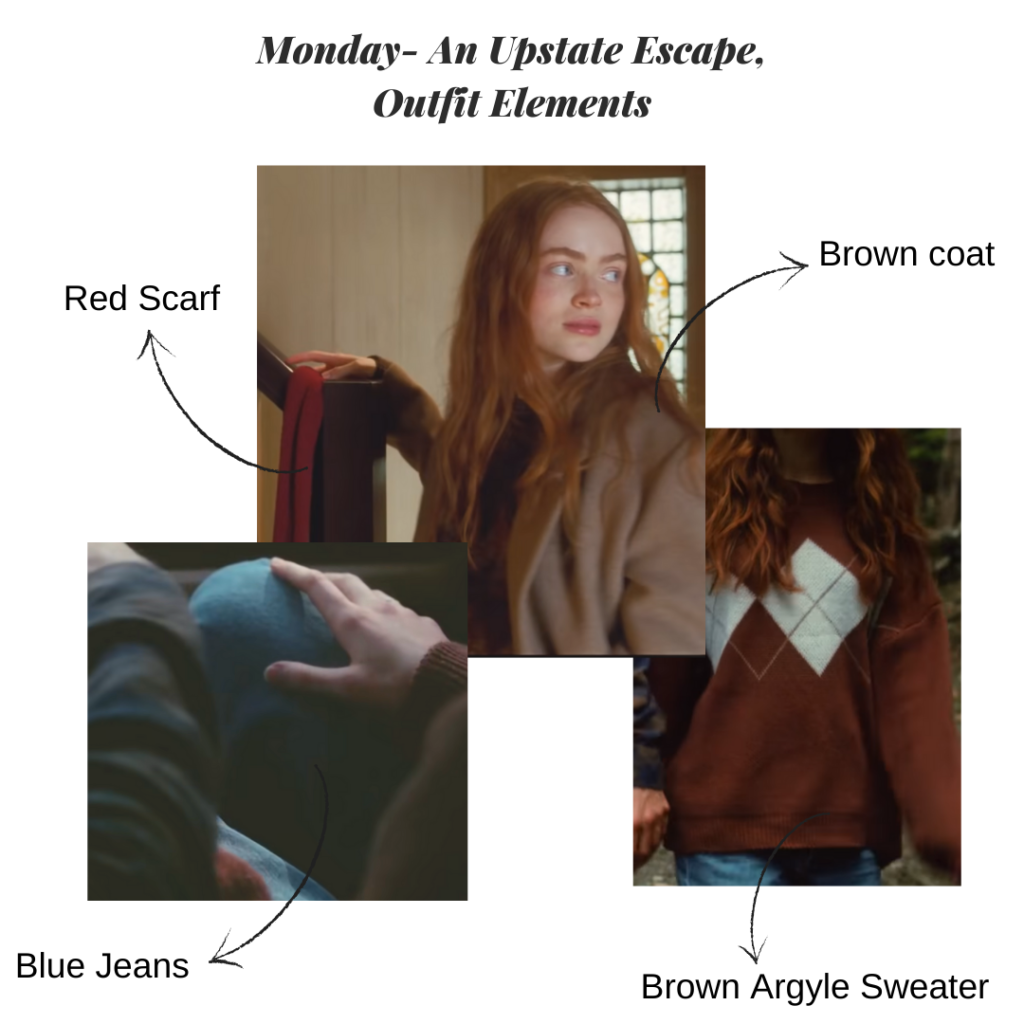 For the first look, I chose the very first look we see Sadie Sink in. She is wearing a brown sweater, jeans, a coat, and a red scarf.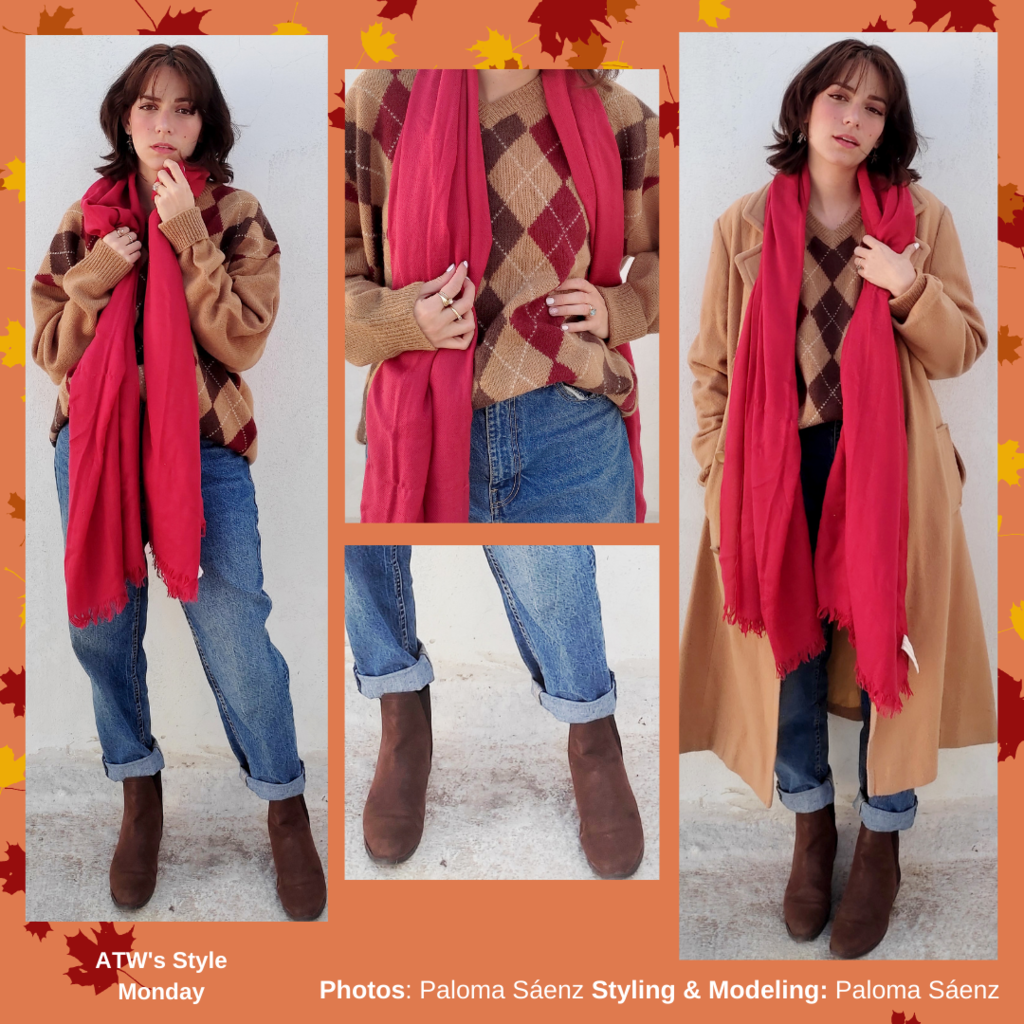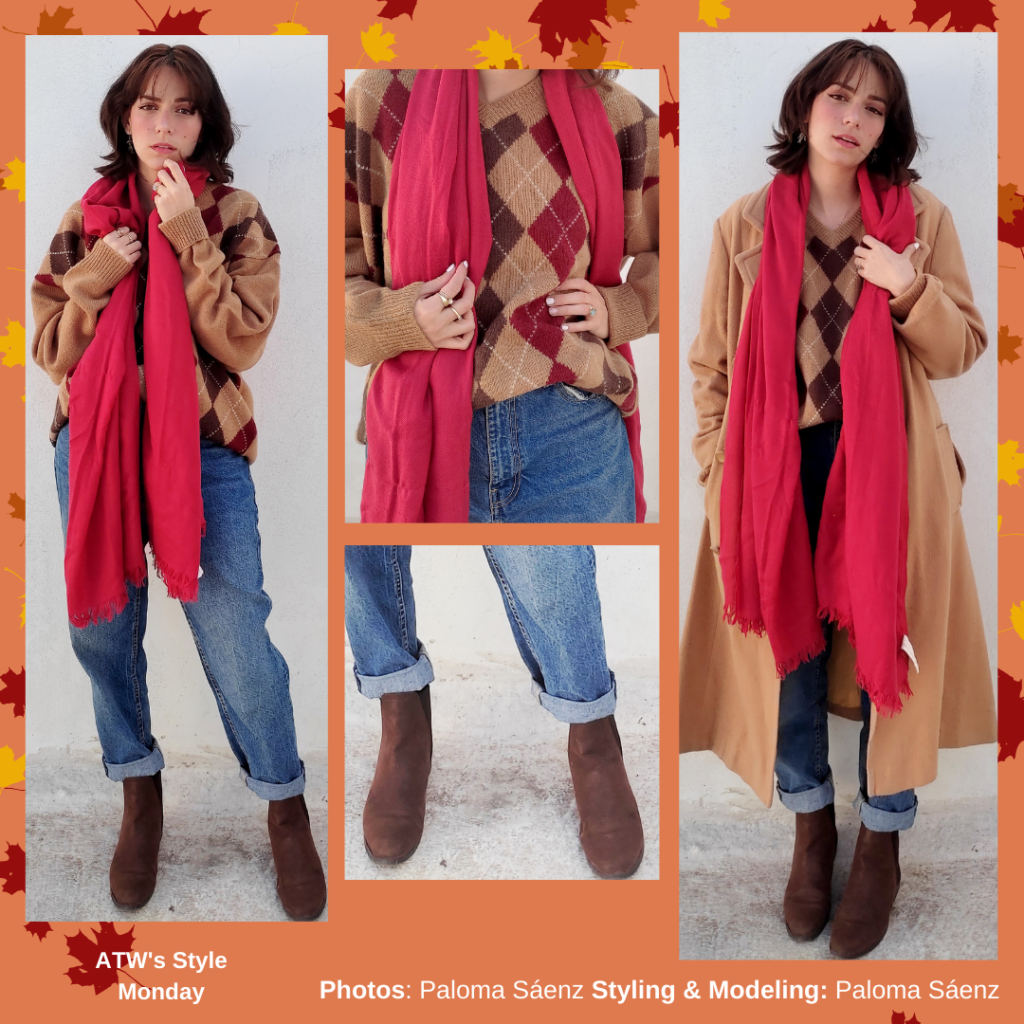 To recreate this Upstate Escape look, I had to get a bit creative with the colors. I paired an argyle sweater with blue jeans. Sadie's sweater is a darker shade of brown with white accents. Mine is more beige-y and the pattern is red and brown. But the overall palette was still there, so I figured it was a good dupe. (Fun fact: I borrowed the sweater from my dad.)
Then, I threw on a long wool coat and a red scarf. (The scarf is my mom's.) Finally, for shoes, I really think our character would be wearing some type of brown bootie, so I put on a pair of brown Chelsea boots.
I adored this look! It was super cozy and cute. I didn't wear the coat the whole day, but it was perfect when I went out to run some errands later in the day and it was colder out. Overall, this was the perfect outfit to work from home and mostly do some chores while still looking cute.
Tuesday – The First Crack in the Glass, Outfit #2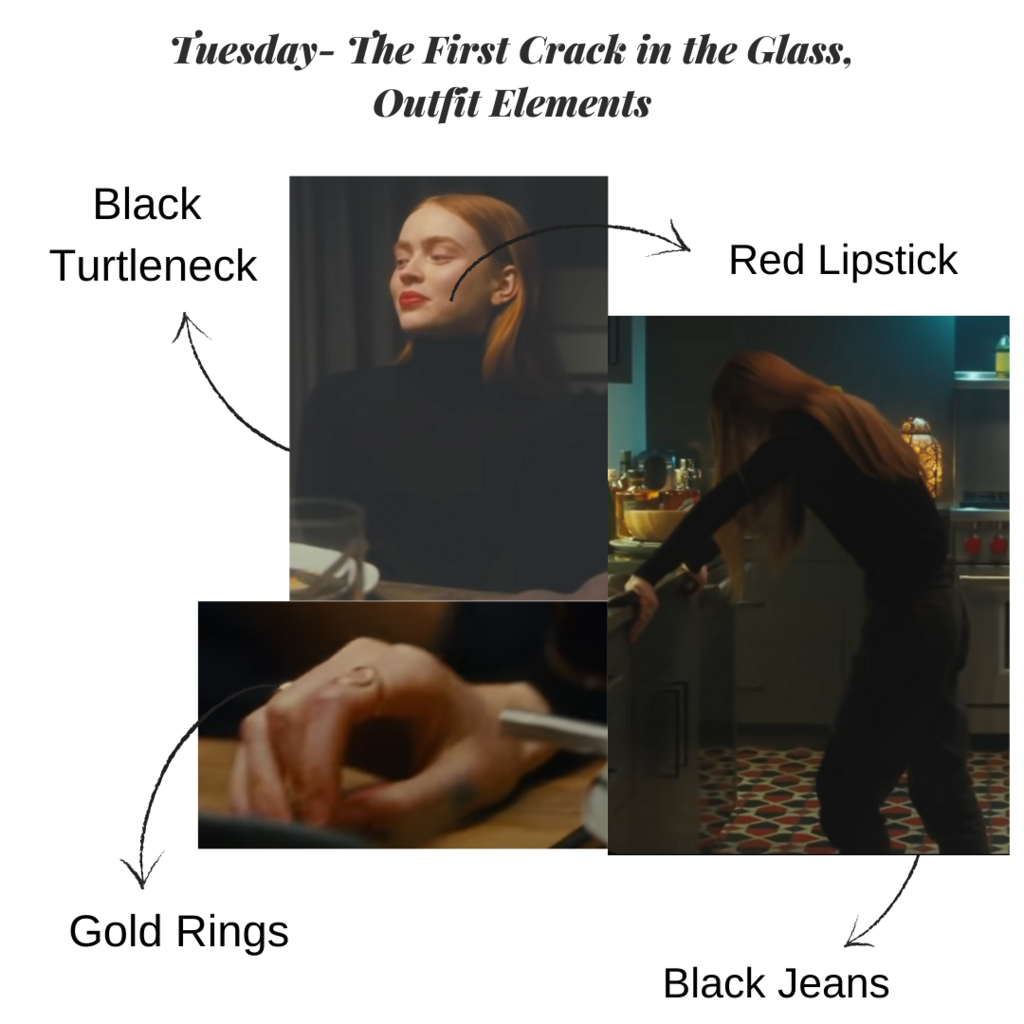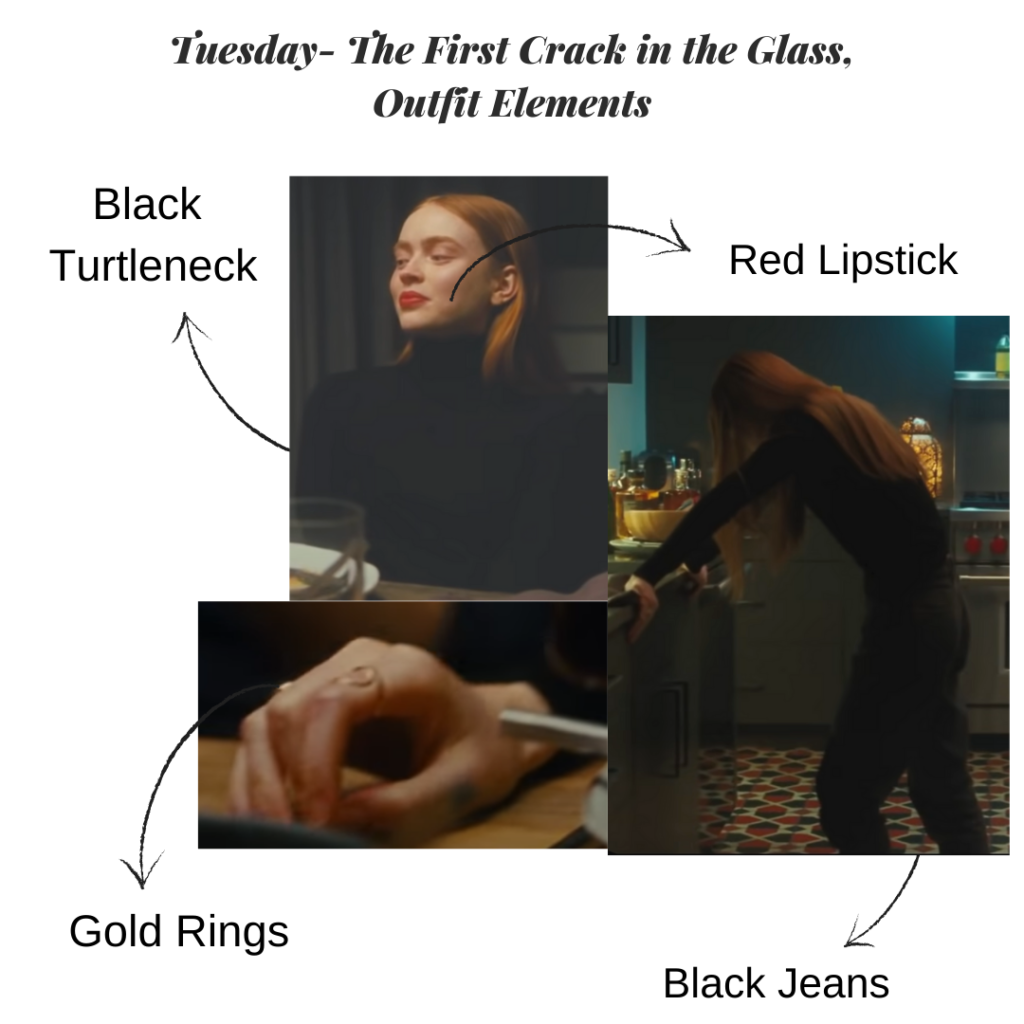 For Tuesday, I went with this all-black look from the infamous "you dropped my hand" scene. She is wearing a black turtleneck, black mom jeans, and a couple of gold rings.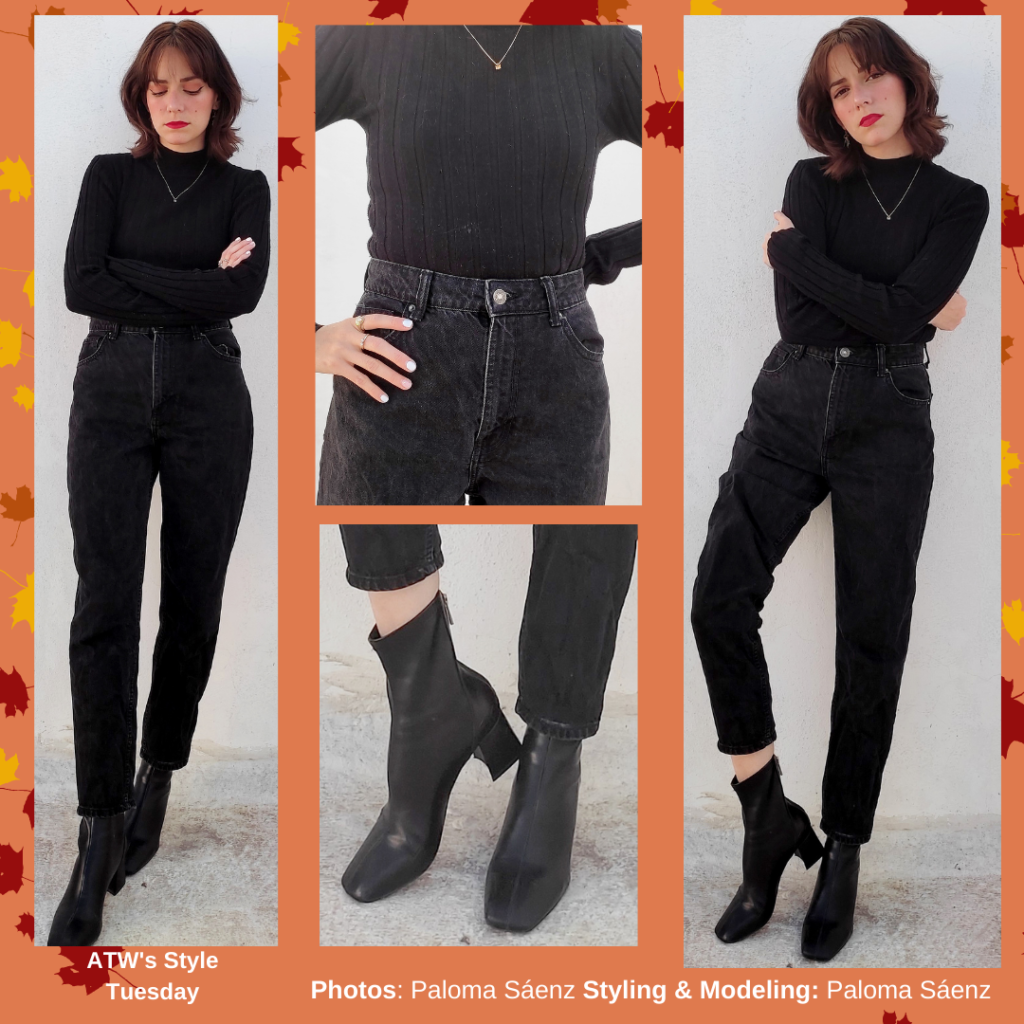 It was so easy to create my own version of The First Crack in the Glass outfit.
First, I grabbed a pair of black mom jeans and a black turtleneck. I tucked in the shirt (borrowed from my sister) to create a slicker silhouette. Then, I put on my usual gold rings for accessories.
After watching, (and re-watching) the video, I decided to wear a pair of black sock booties. I debated between the booties, and heels or flats. But I felt like the overall vibe of the film and the scene called for something less fancy than heels, but more cozy than flats.
Finally, I put on some of Taylor's trademark red lipstick.
Not gonna lie, I've worn this exact look a couple of times before the short film was even a thing. I'm a big fan of the turtleneck + jeans combo, especially for the early days of fall. I really liked how it turned out, but it has gotten very cold these past few weeks so I had to add a coat later in the day. But it is a comfortable, put together and versatile look that is a 100% attainable for anyone.
Wednesday – The Reeling, Outfit #3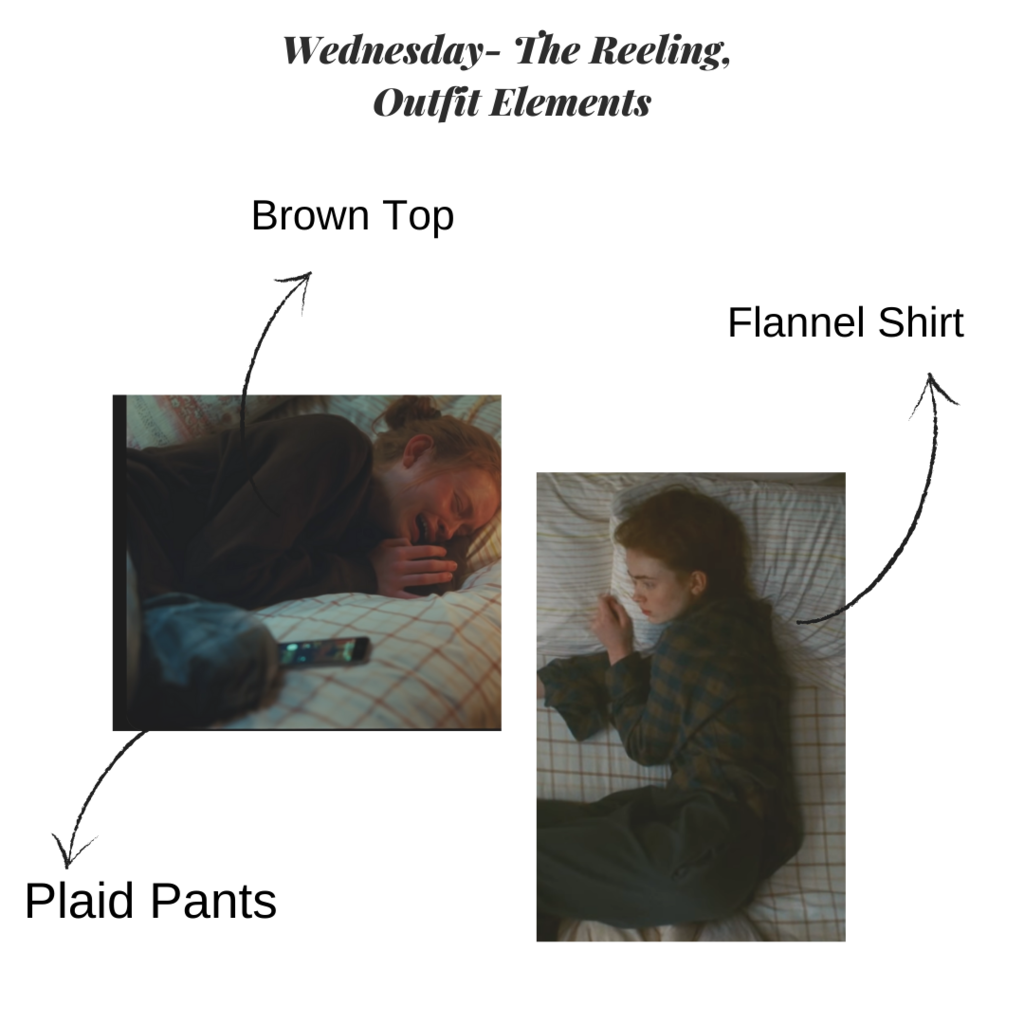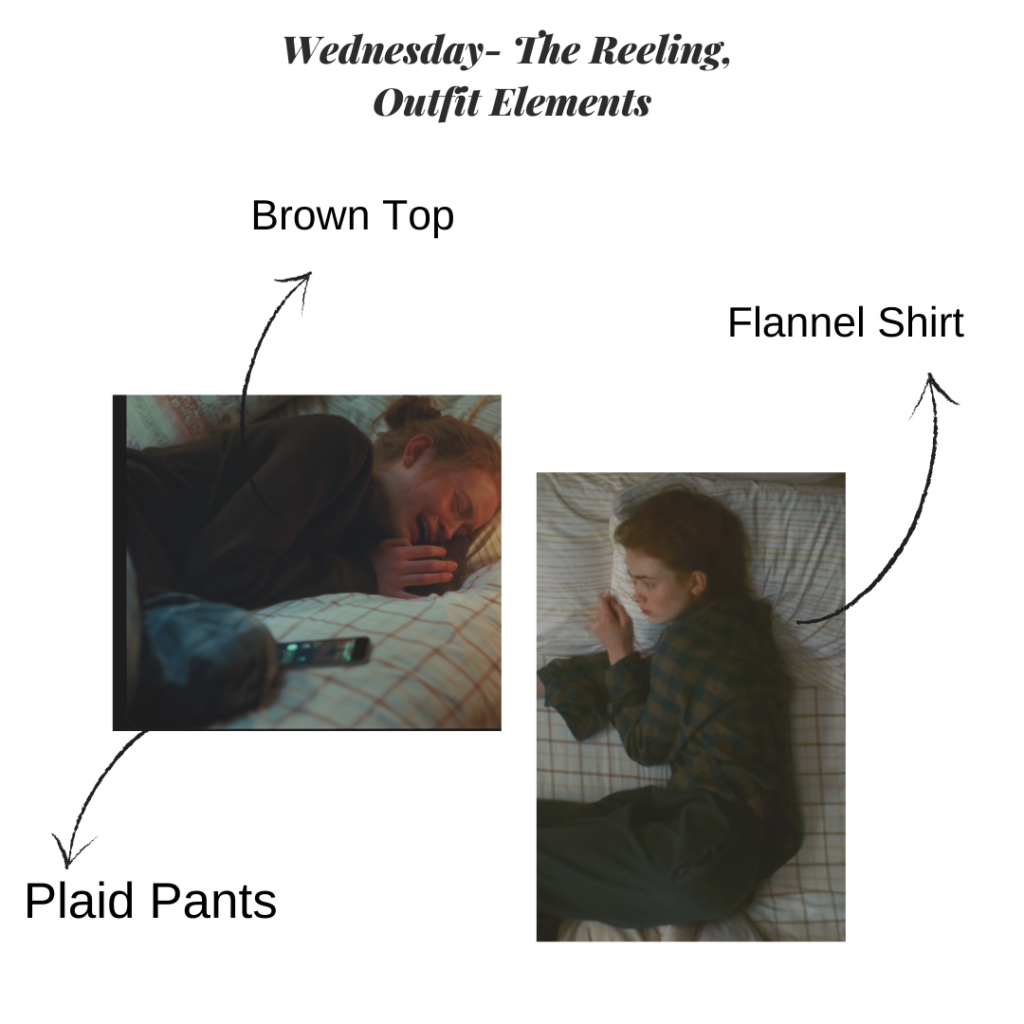 Originally, I wanted to recreate the looks in the chronological order they appear on the film. but, halfway through the week, I realized that the prettiest outfit was slated for a casual Wednesday and I needed a more put together look for Thursday and a fancy one for Friday. So, I changed my mind and rearranged the last three looks to accommodate my schedule and events.
For 'The Reeling' look, Sadie is wearing a flannel shirt, a brown top and a pair of plaid pajama pants.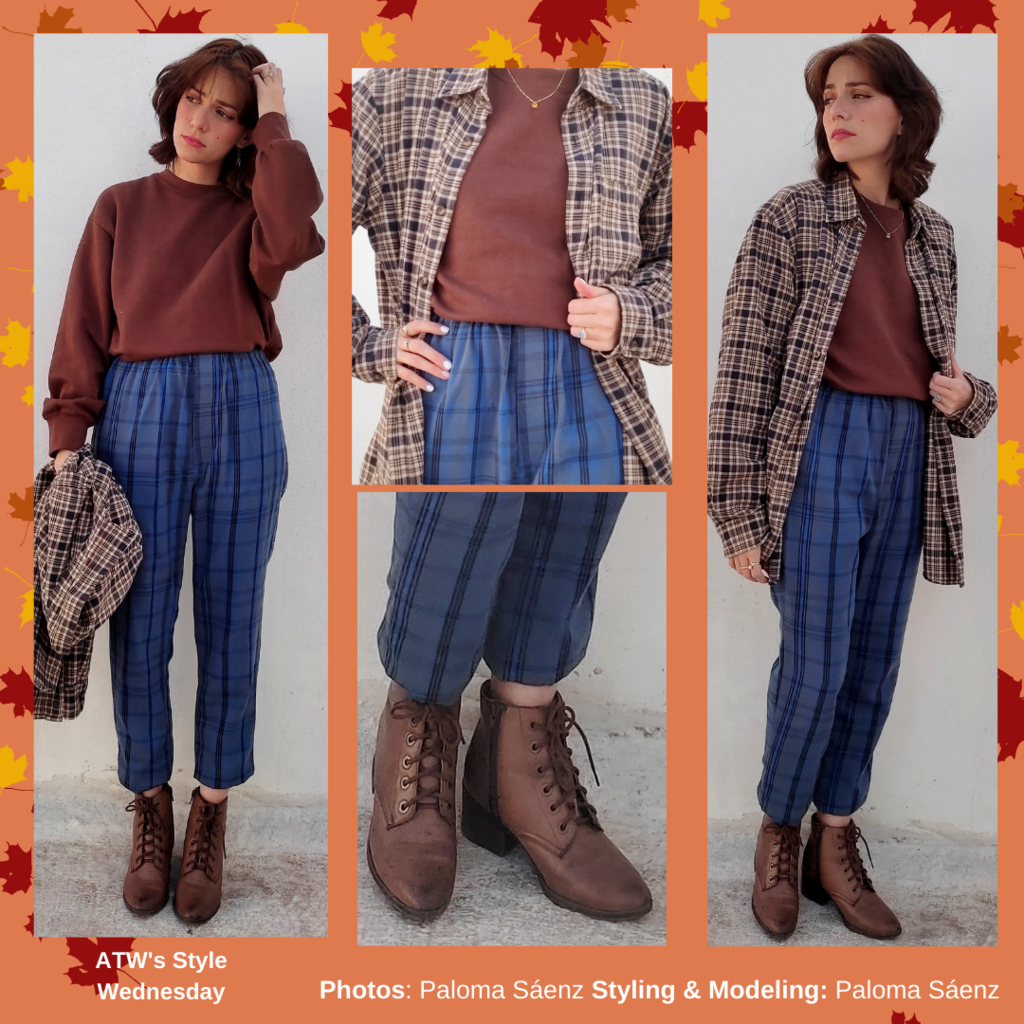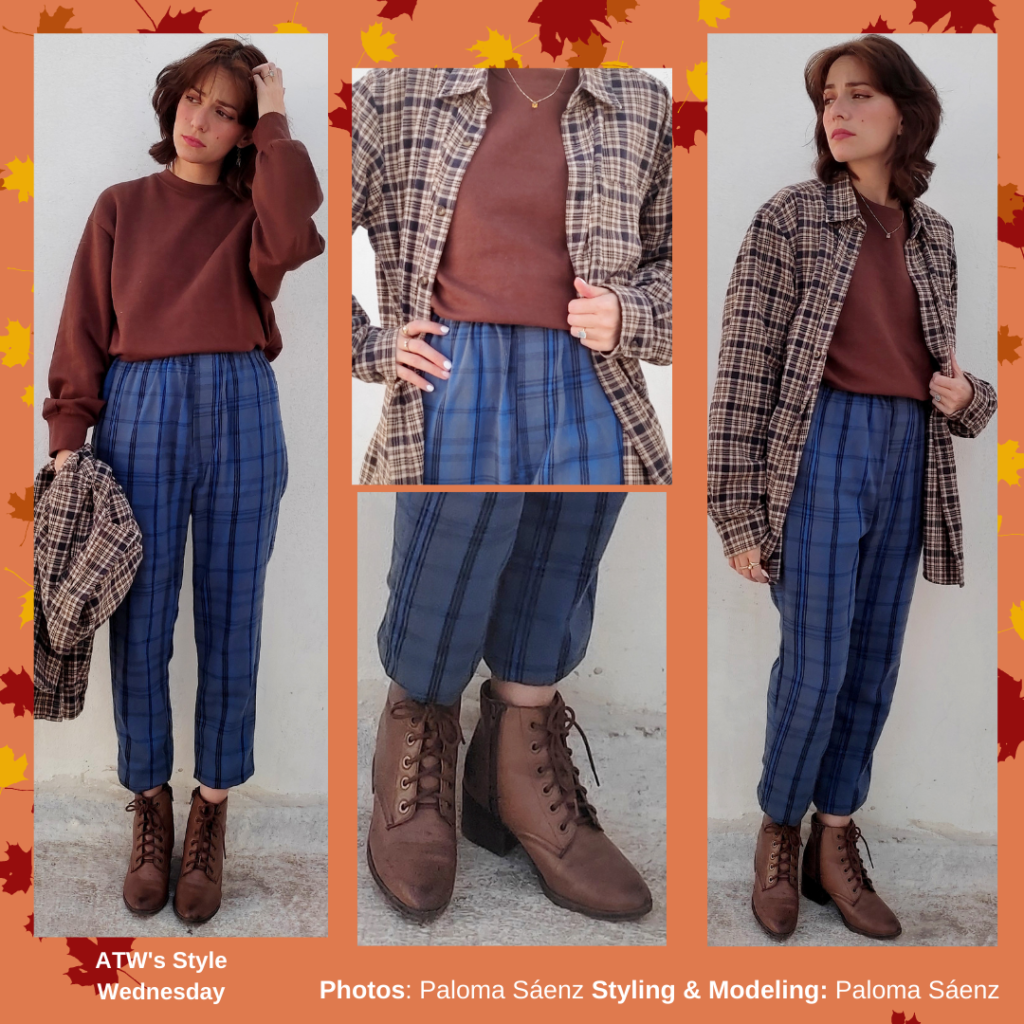 Creating my Reeling outfit in a fashion-adjacent way was my biggest challenge of the week.
First, I paired my blue plaid pants with a brown sweatshirt. I tucked in the sweatshirt to give myself some shape and not feel so boxy through the day. Then, I threw on an oversized flannel in brown and beige.
For shoes, I wore a pair of brown booties that had a slight heel. I went with these ones because I wanted to elevate the look a bit and make it less 'heartbreak-on-bed' and more 'cozy-lounge'.
I struggled so much to like this look! I'm aware that it's not an *actual* outfit in the film. But I expected it to be one of those that I didn't like at the beginning of the day but ended up loving it. But to be honest, it wasn't.
Perhaps with the right patterns it could be a cool combo, but I wasn't loving these pieces together. Maybe I will try a different version of this outfit another time.
Thursday – Thirteen Years Gone, Outfit #4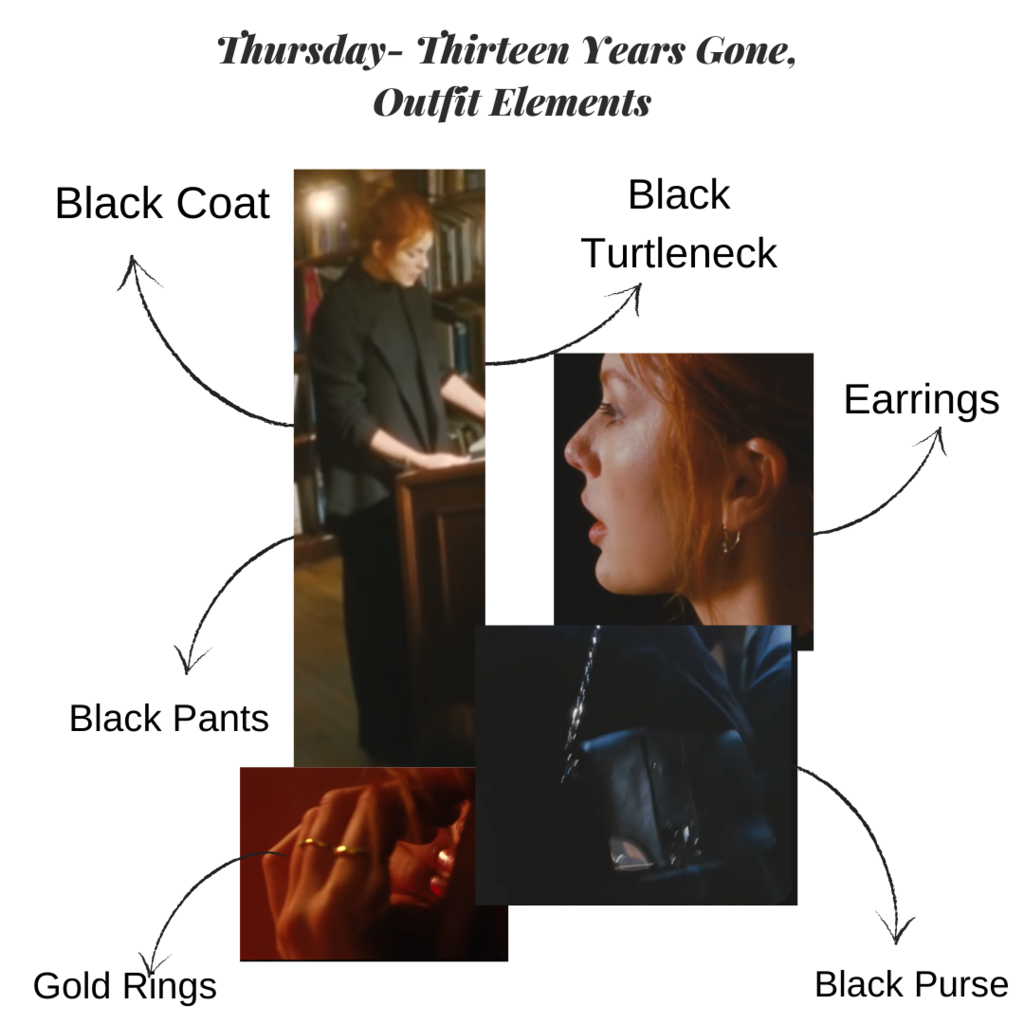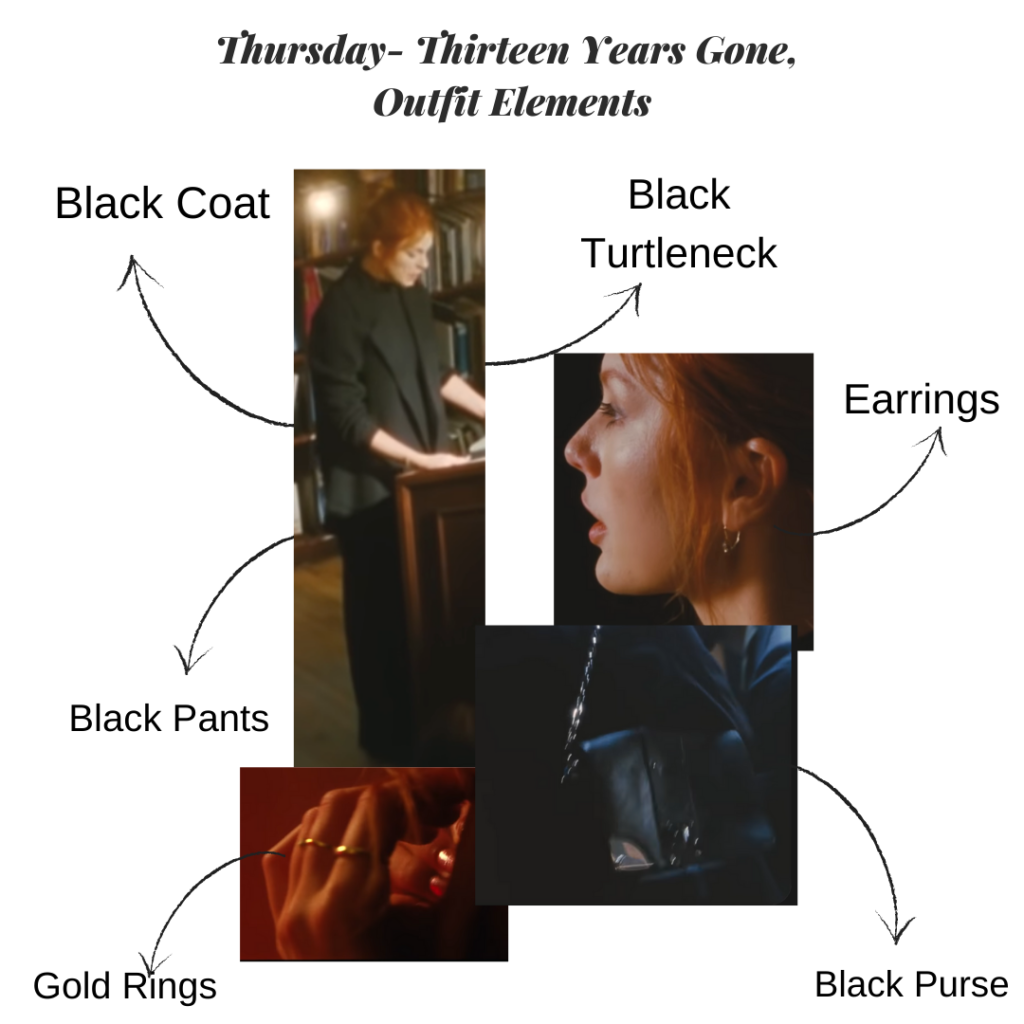 Thursday came and I was kind of un-excited about this one. For the 'Thirteen Years Gone' look, Taylor Swift is wearing an all-black ensemble of a coat, turtleneck and pants. She accessorizes with the same gold rings Sadie had on the previous looks, plus earrings and a black purse.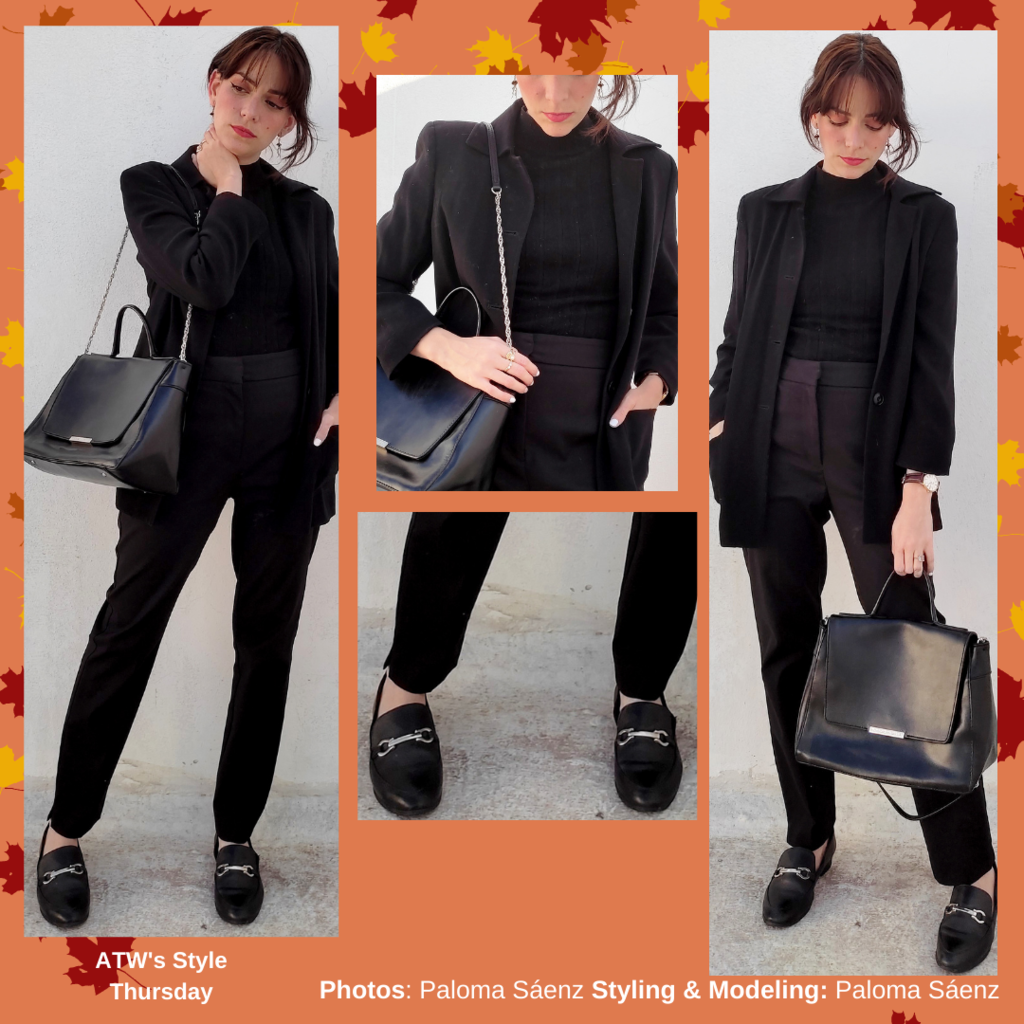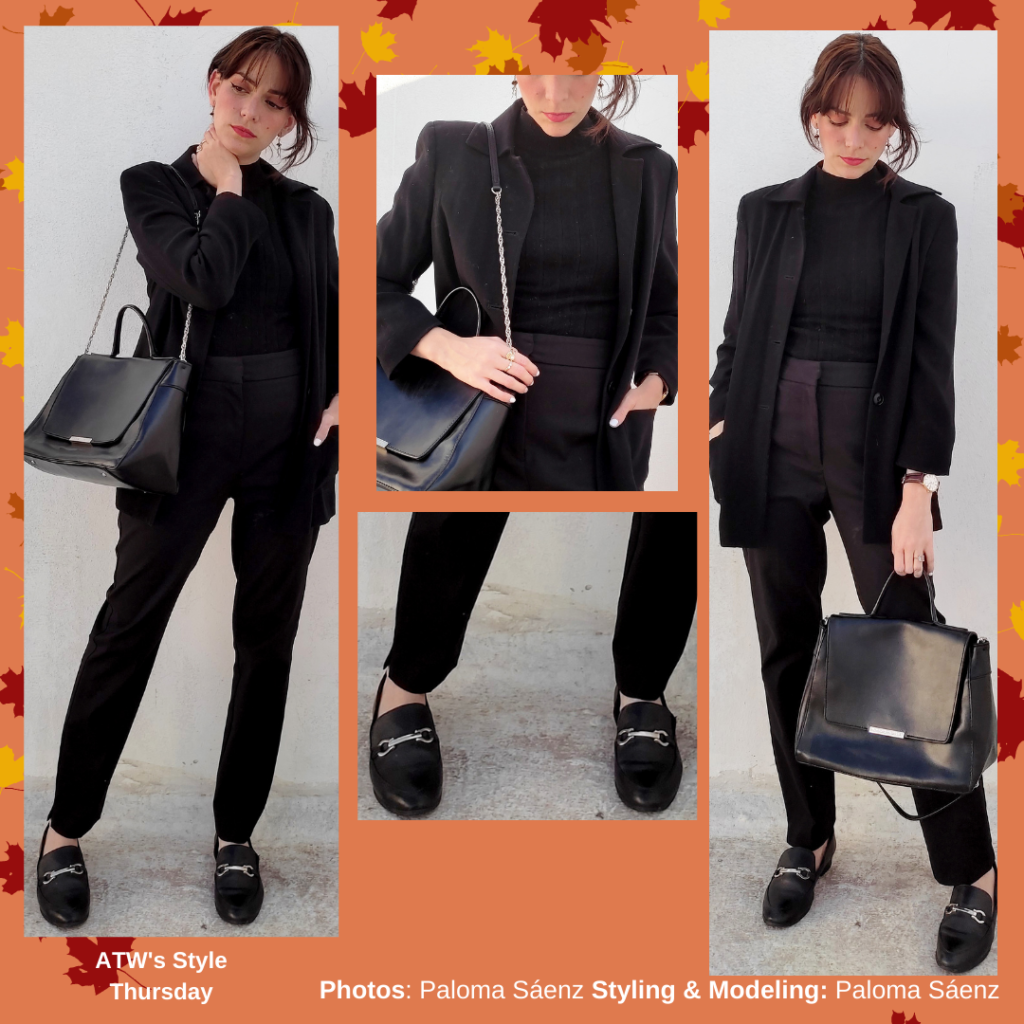 My version of the Thirteen Years Gone outfit was *almost* perfection. The base of the outfit was created by putting together the same black turtleneck from Tuesday with a pair of black chino pants. I borrowed both pieces from my sister. Then, I threw on a black oversized blazer.
For this look, you can kind of see she's wearing some sort of flat shoe, either loafers, Oxfords or something similar. So, I went with a pair of black loafers. For my accessories, I grabbed my black structured envelope bag with a golden chain, because it looks similar to the one in the video. I kept the same gold rings on and wore my jellyfish earrings.
This was one of those looks that I *almost* loved but there are details that just don't work for me. It was perfectly comfortable, maybe not as cozy or warm as other looks this week, but I wasn't particularly cold either. The problem was, it just felt so office-y and mom-ish.
My love for suits and blazers is not a secret. But I usually wear them with T-shirts, mesh tops, sneakers, or booties, trying to make them more modern and more my style. Next time, I'd probably wear a more relaxed coat or blazer and sneakers to tone this one down.
Friday – The Breaking Point, Outfit #5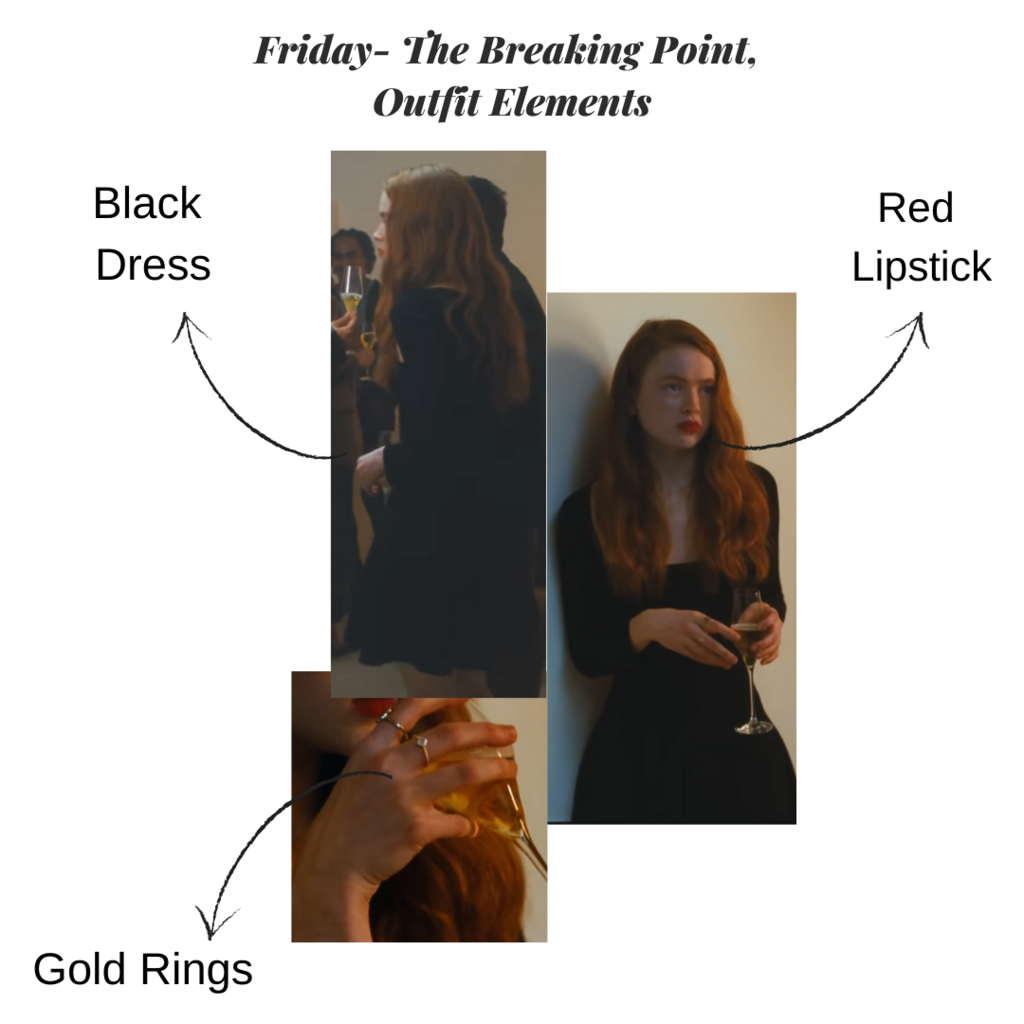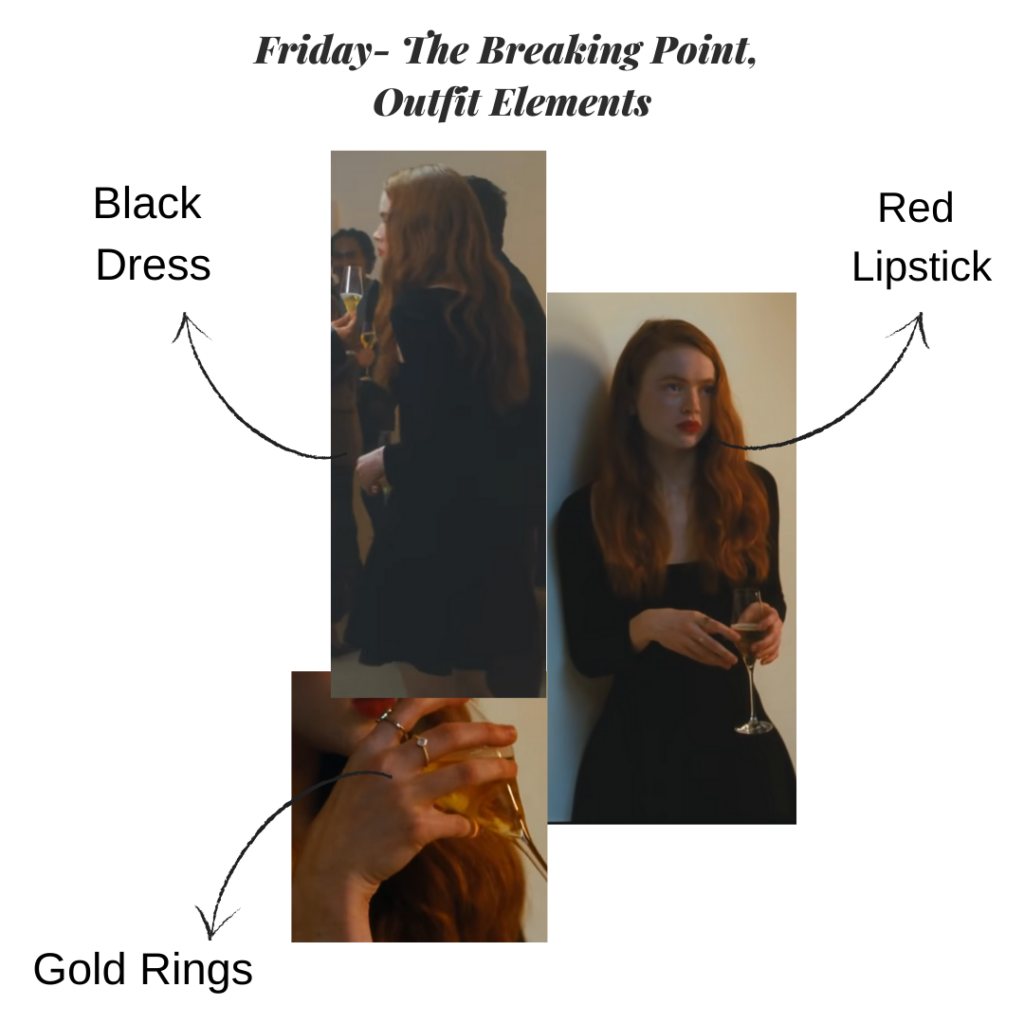 Finally, Friday arrived and with it came my most formal look of the week. In this scene, Sadie is wearing a black dress, gold rings, and red lipstick.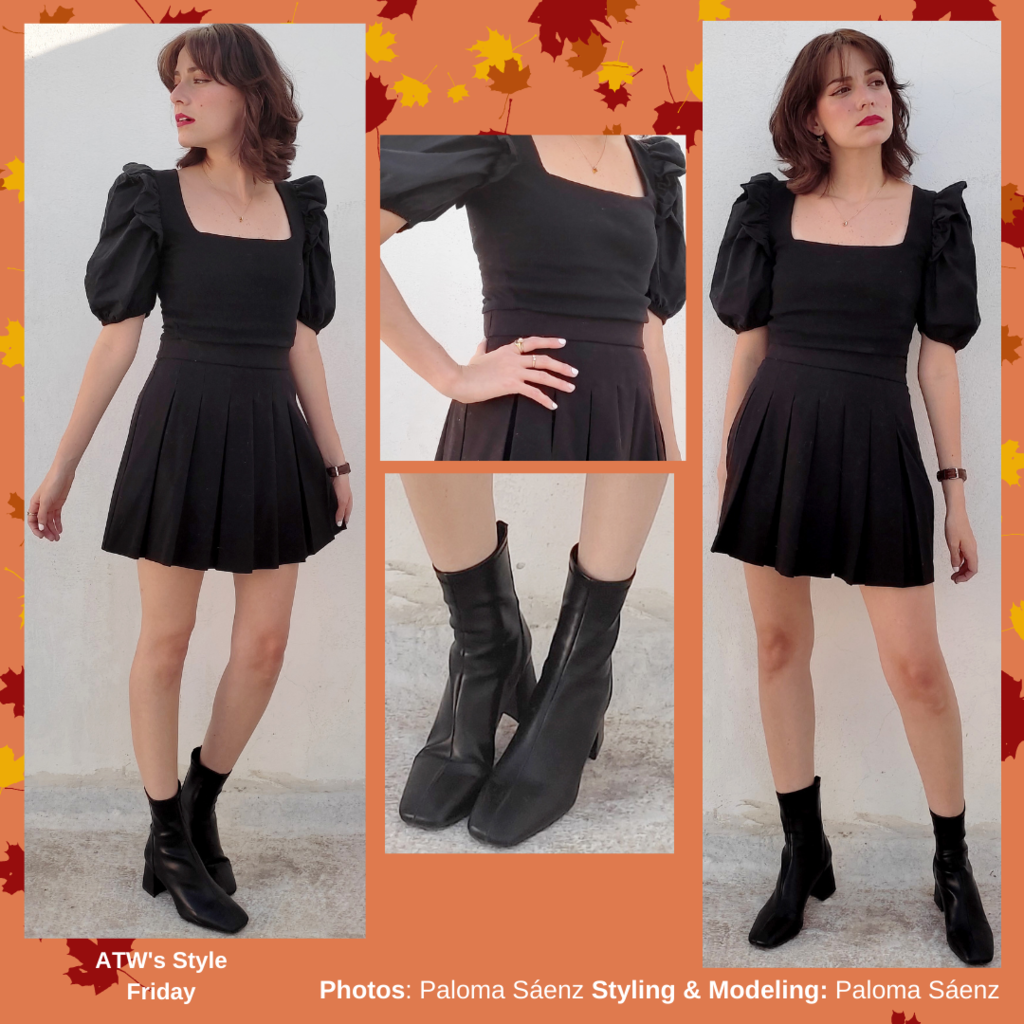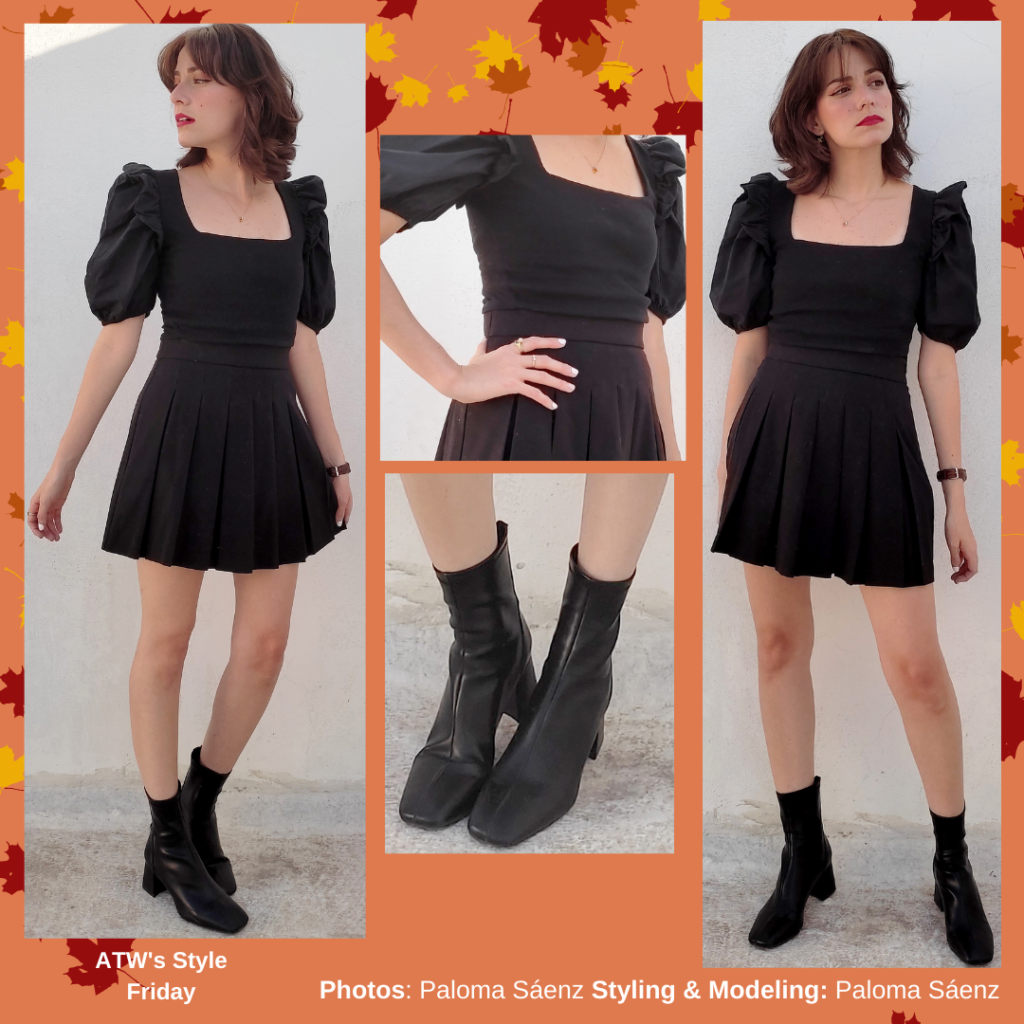 I had to get very creative to recreate my Breaking Point look. I didn't have a black structured dress like Sadie is wearing in the film. Don't get me wrong, I do have a bunch of different little black dresses, just not one to create the appropriate cut and style for this. So, I had to get creative.
First, I borrowed a black top from my sister. It has a square neckline, like Sadie's dress, and balloon sleeves. There was a compromise on the length of the sleeves, because I either had to add sleeves (with a sweater) and ignore the square neckline (by layering the sweater underneath). I felt the neckline was way more iconic to the look than the sleeves, so I left the top as-is.
Then, I wore an A-line pleated skirt and tucked the top into it. That way, I created this faux fit-and-flare dress. It's not a perfect dupe but I ended up loving the combo.
I brought back the black sock booties from Tuesday. I think they went with the "dress" and the character more than a pair of strappy heels or loafers. Finally, I accessorized with my golden rings and added red lipstick to my makeup again.
I LOVED THIS LOOK! It was my favorite of the week, without a doubt. It checks all the boxes: it's put-together, sexy, and a bit different. It wasn't the coziest, though, quite the opposite. But I threw on a black wool coat later that day and it still looked so good. Personally, I would add one accessory, a black beret, to make it 100% my style.
Final Thoughts
All Too Well is one of my favorite Taylor Swift songs, easily in my top three. I already know the 10-minute version by heart and was eagerly awaiting the short film the day it came out. When I finished watching it, I just knew I had to write a post about it.
There's a lot to love about this video. I think Dylan nailed it and Taylor outdid herself, frankly. But, Sadie was just amazing in this. When she's crying on her bed, Sadie clutches her chest. This detail really got to me, because I think it's such a specific action we take when we are crying with such heartbreak and grief you just want to tear the pain away with your hands.
This week was very interesting, style-wise. It went from cozy knits, to slick dresses, to lounge-wear. I had so much fun! This one was extra enjoyable because Fall/Winter fashion is my favorite, but I usually end up putting together the same type of look over and over again. This post gave me an opportunity to find new looks and refresh my usual outfit combinations.
My favorite outfits of the week were Monday, Tuesday, and Friday. I feel like these three represent my Fall/Winter style pretty well, but with enough twists that I got to try something new with each one.
If you want cozy, put together looks for the fall and winter, All Too Well: Short Film is a great source of inspiration. If you want to experiment with different patterns, cuts and lengths, it's also amazing inspo. The styling for this was incredibly relatable, so you probably have every single item you need to create a look inspired by All Too Well.
What Do You Think?
Did you like the short film? Do you think Taylor should do similar music videos for other songs? Which look was your favorite? Which one would you wear? Do you have any celebrity or character that you want me to cover ton this series? Let us know in the comments below!