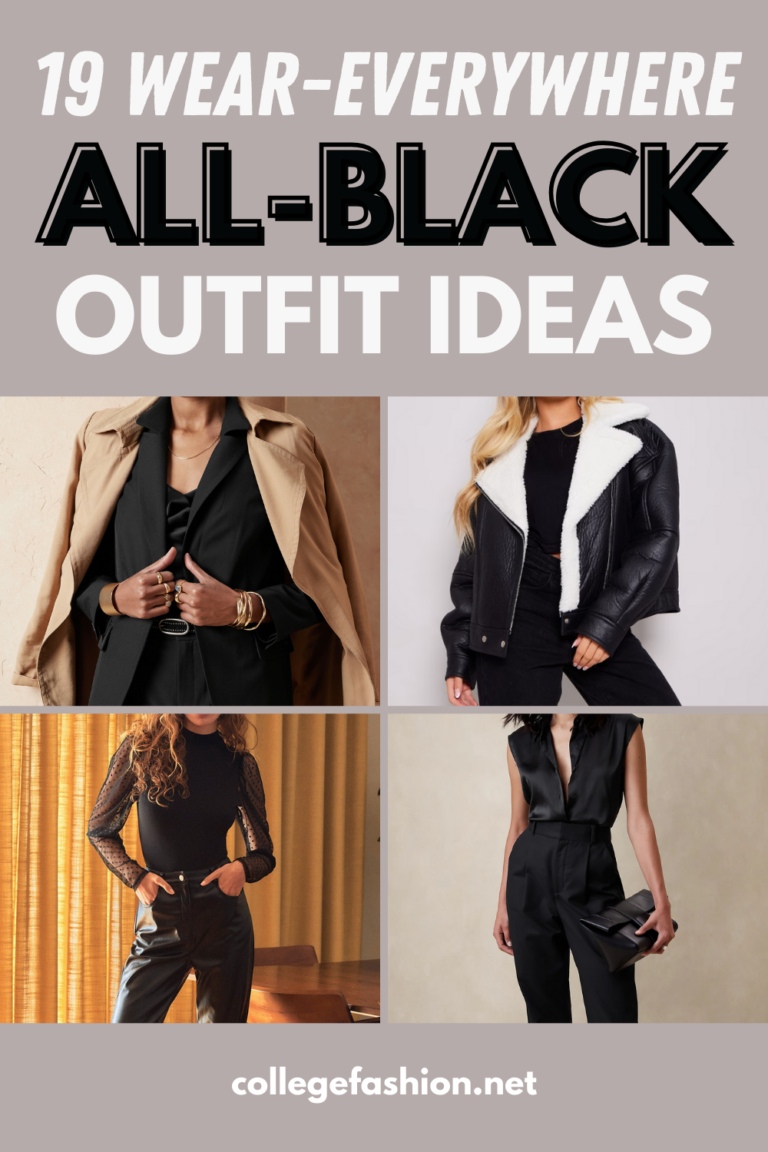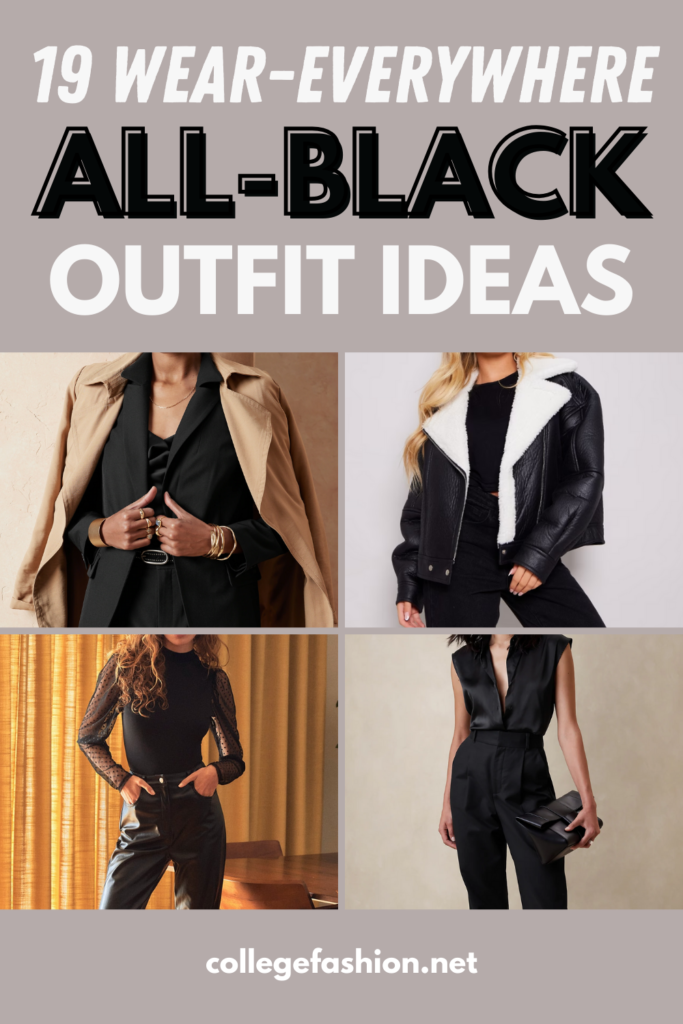 Are you someone who loves wearing all-black outfits, or are you trying to create an edgier wardrobe? This article is for you.
Dressing in all black may seem like an easy way to create super cute outfits. However, you want to make sure you style your all-black outfits just right to get the exact type of look you are going for.
For example, are you going for more of a casual all-black vibe or maybe even an edgy all-black look? Or, you can create some office-appropriate outfits with black clothes or even a girly all-black look, which you could wear for cute things like date night!
So, if you are wondering what kind of pieces you should be putting together to create these all-black outfit looks, then you will love this post which will show you exactly what you need to create all-black outfits that will fit your vibe, plus 19 outfit examples.
Casual Chic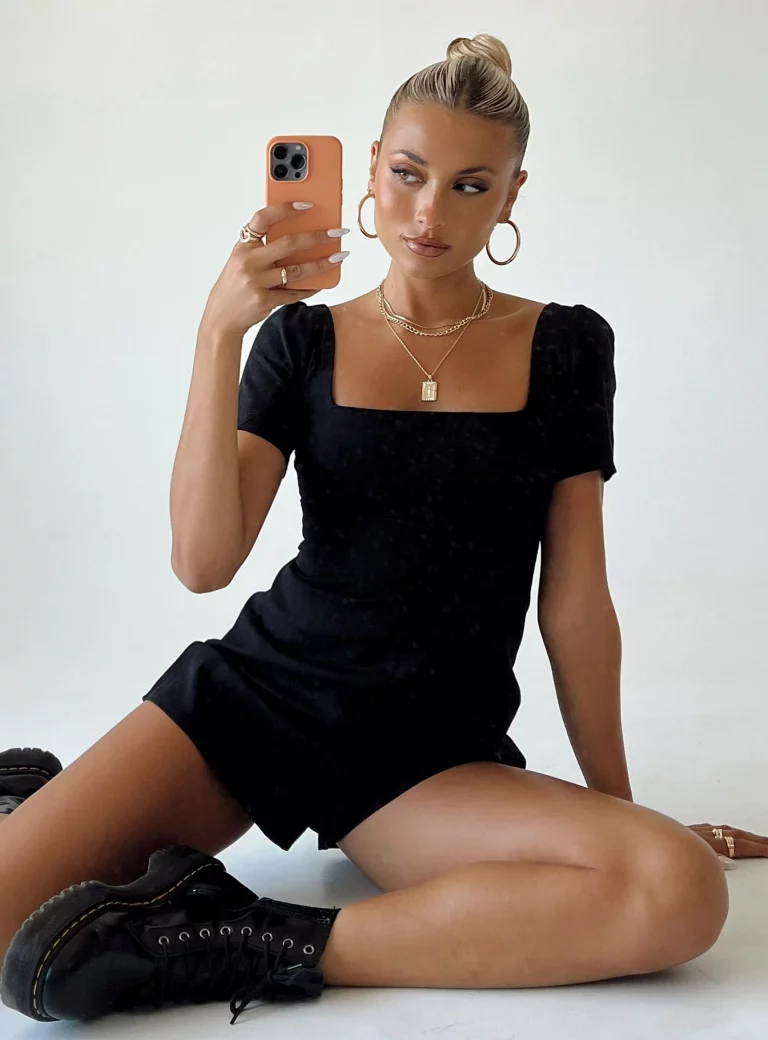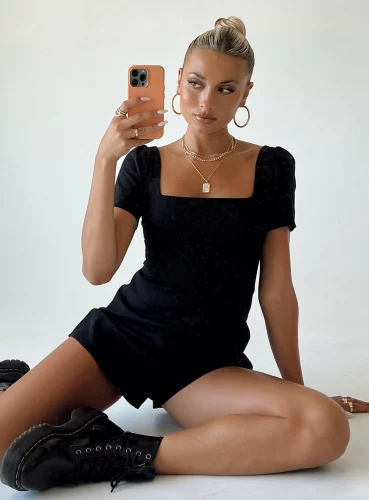 For those of us going for a casual chic look, I recommend starting with this adorable all-black romper. Not only is this romper super cute with its square neckline and short sleeves but also it will be a super simple and chic way to put together an all-black outfit that you will love!
If you love layering, this is the piece for you. Wear it under a black blazer for a polished vibe or throw on a black leather jacket for some edge. Add boots for daytime or your favorite black heels for night. So versatile!
Black Crossbody Bag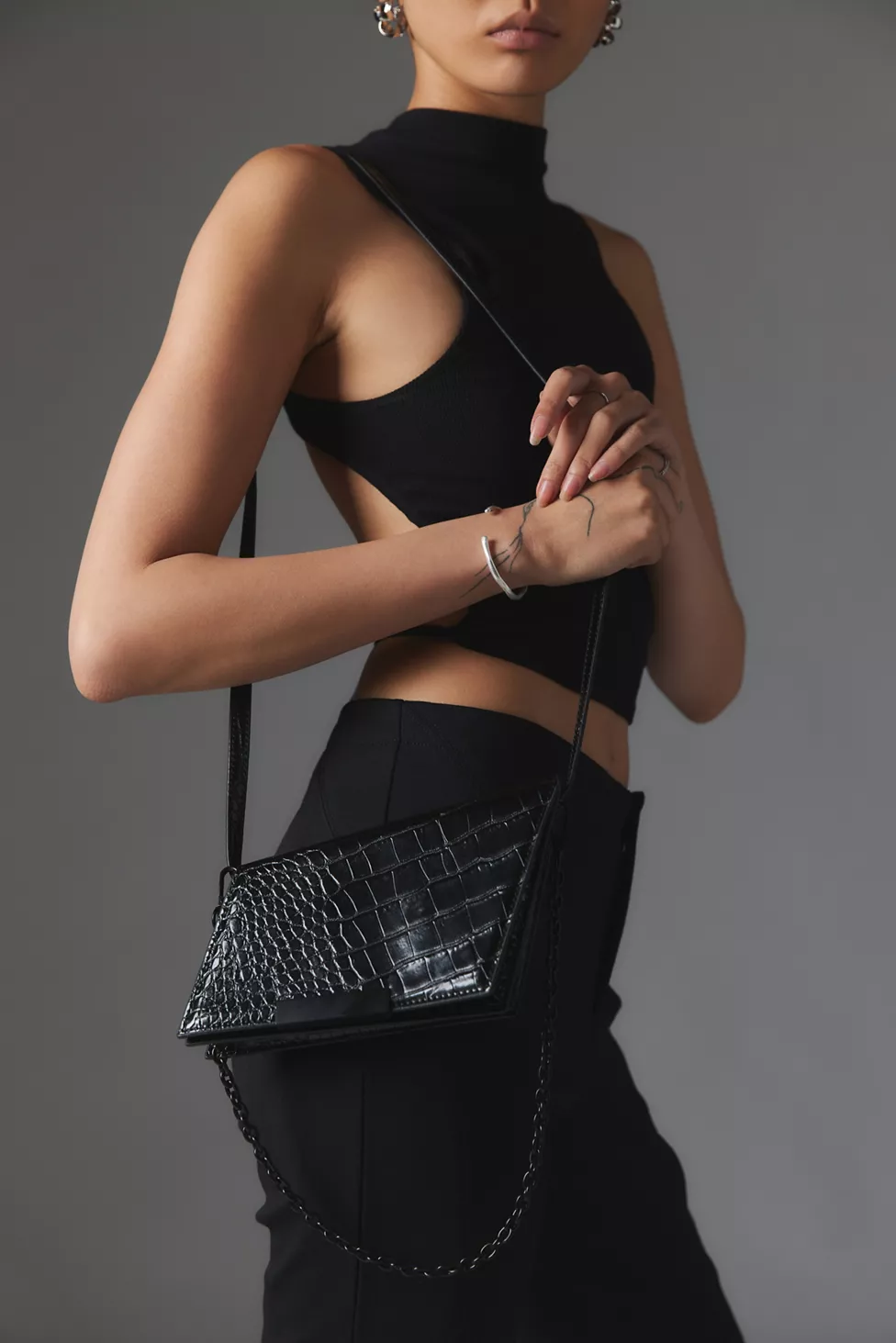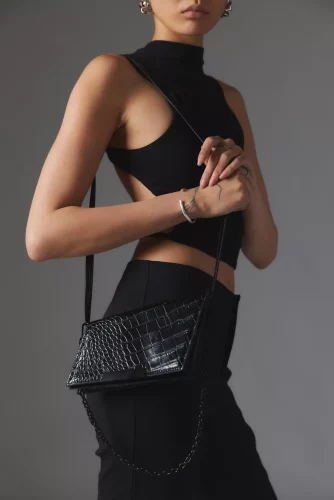 If you want the perfect all-black accessory to go with your all-black outfit, I highly recommend checking out this adorable black crossbody bag.
This bag will be the perfect addition to any all-black outfit, and it will give you those casual but chic vibes that you are going for! I love how it's styled here with black trousers and a high-neck crop top for the evening.
Black Long Sleeve Top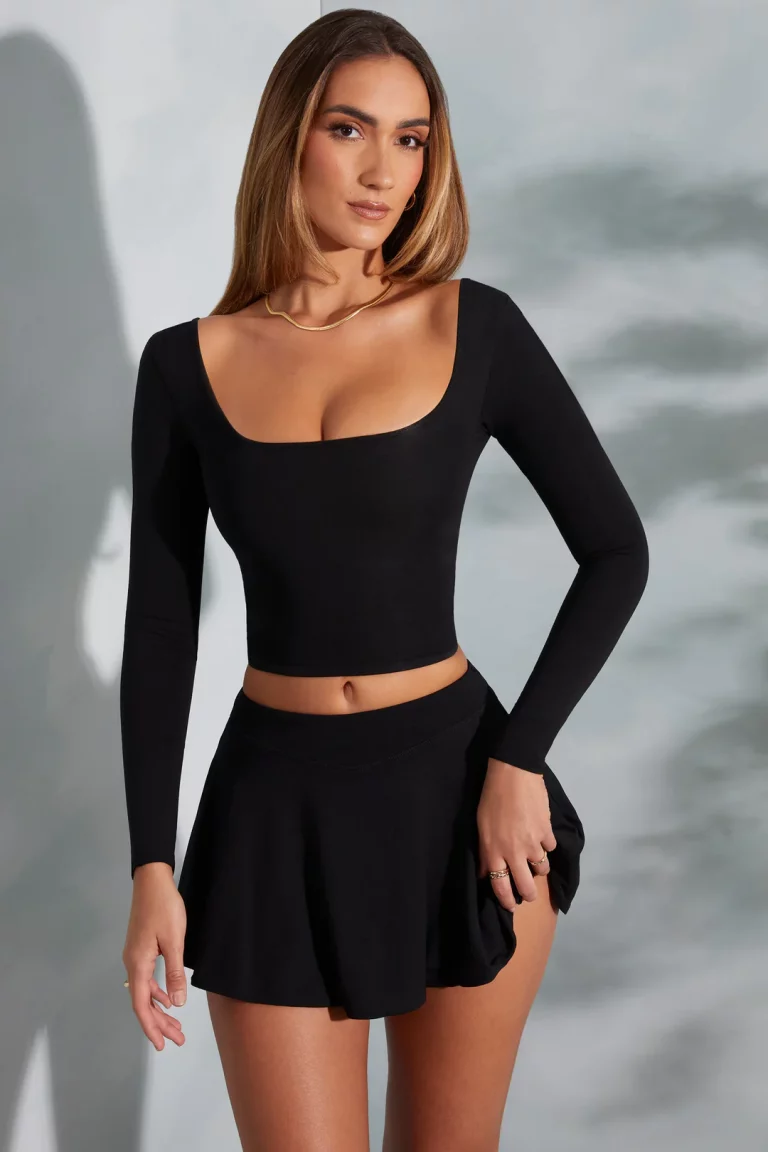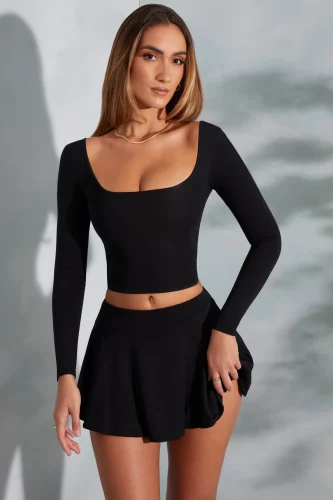 Another cute casual chic all-black outfit essential is this black long-sleeve top! This top will help you achieve a cute and straightforward all-black look that you can wear with some black pants or even a black skirt.
This is a super simple piece that will work perfectly for any all-black everyday outfit.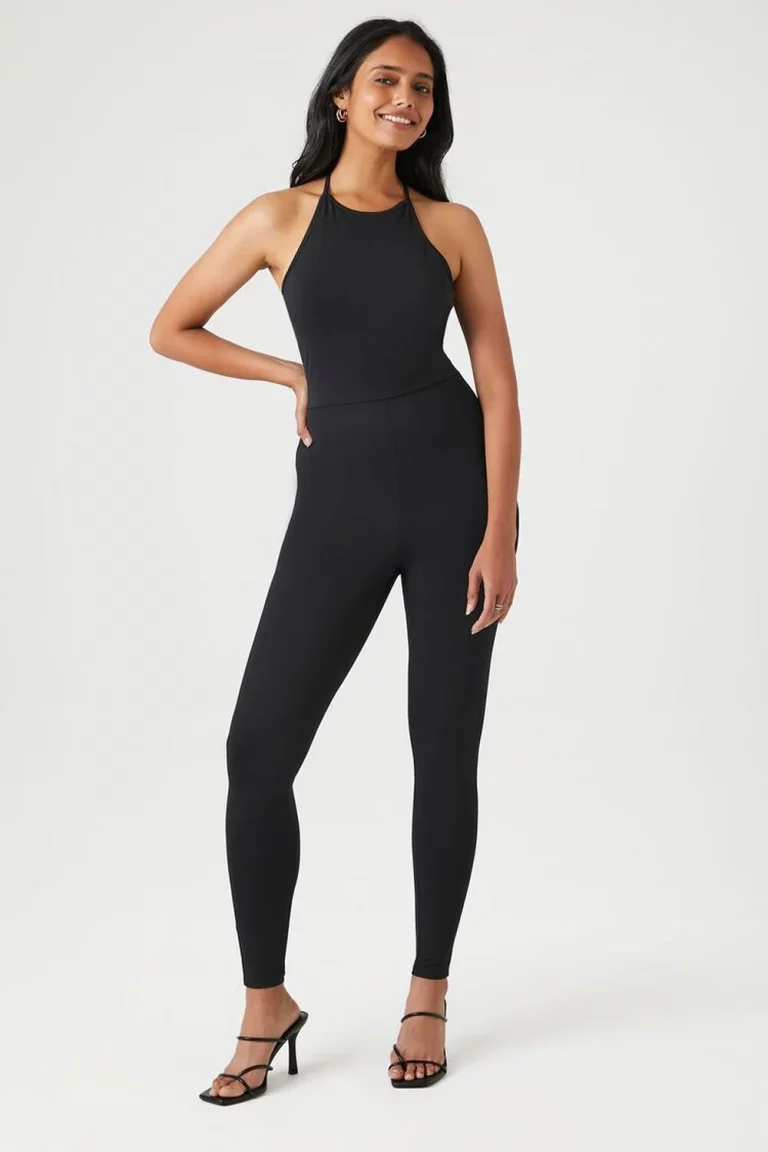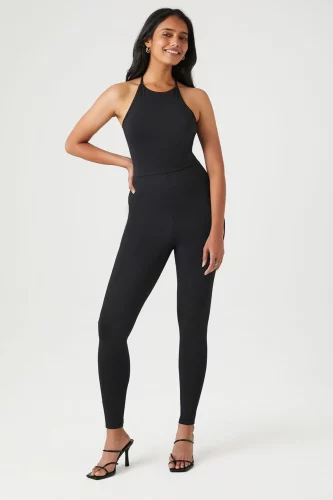 This is also another super popular all-black clothing piece, which is the black halter jumpsuit!
This jumpsuit is a fun and easy way to wear an all-black outfit for everyday activities while looking cute. I see these layered with jackets and blazers for all types of daytime occasions.
And you can even turn this jumpsuit into a night outfit by adding some heels to the look! Grab a cool clutch, layer on some jewelry, and you're good to go!
Date Night
Black Mini Dress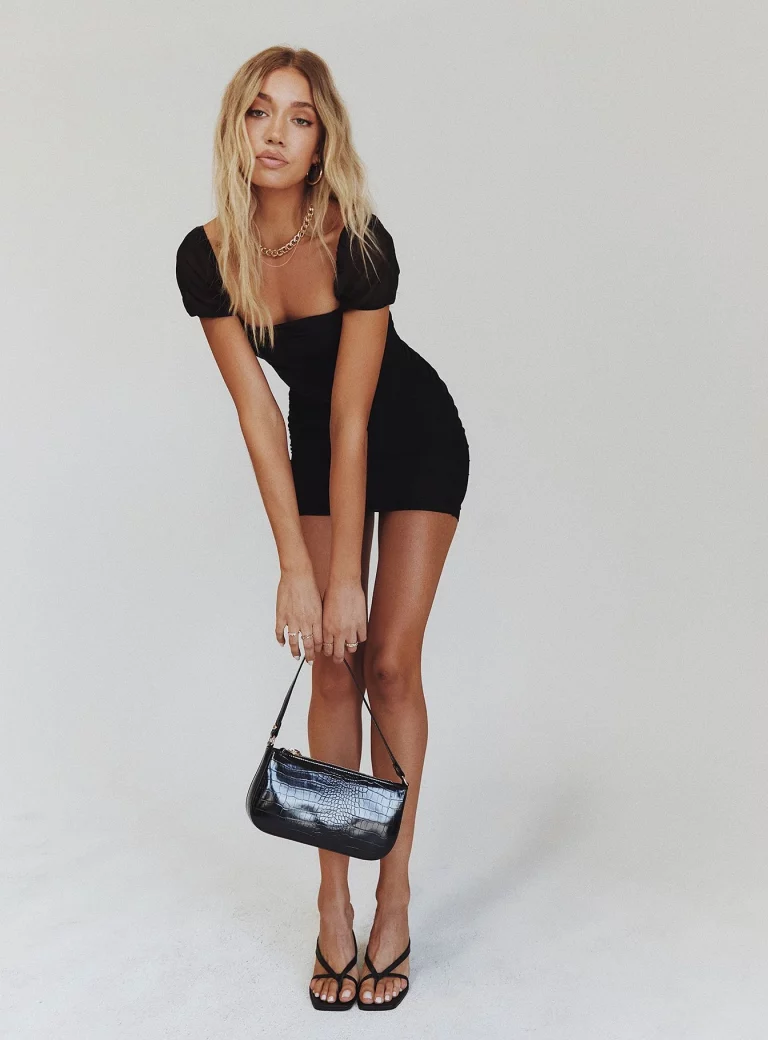 If you are trying to put together the perfect all-black outfit for date night, you absolutely need an all-black mini dress! This one is SO chic and adorable; I'm obsessed.
This mini dress comes with super cute puffy sleeves that will give this all-black dress a girly but also simple look. And how cute is it with a black mini purse, necklace, and strappy heels? It's date night perfection.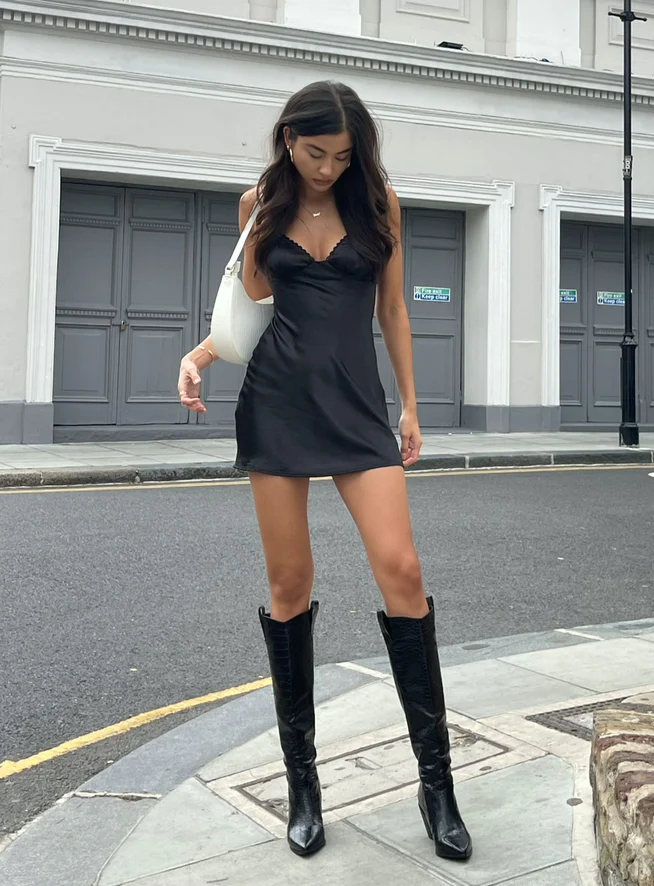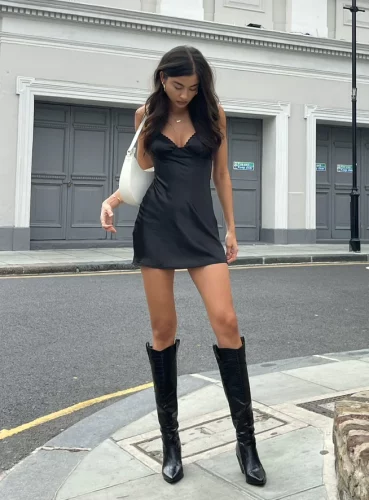 You can also add to your all-black outfits with all-black shoes! Adding black shoes to your outfits is the perfect way to complete your fit, especially if you pick a cute pair of black boots like these!
These boots would be the perfect addition to any date night outfit to give you a fun and girly all-black look. Their trendy knee-high cut is statement-making yet simple, and they'll go with so many looks! I absolutely love them styled here with a little slip dress and a contrasting bag.
Black Two-Piece Dress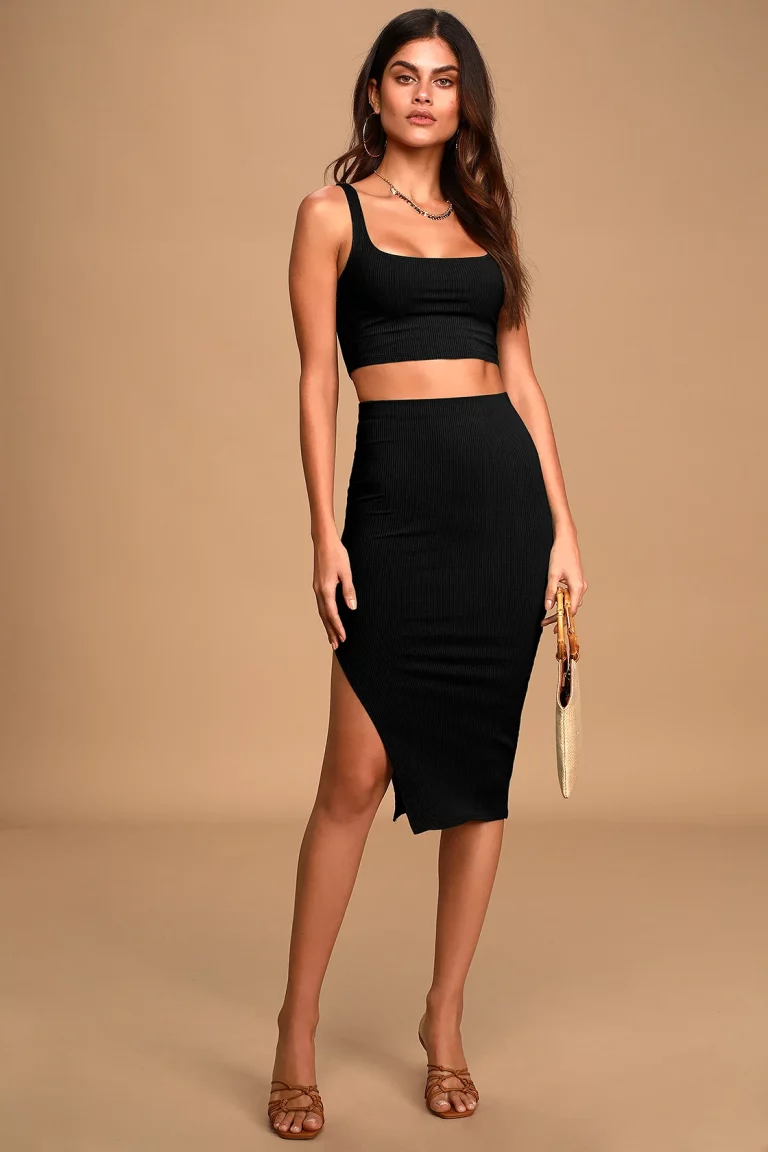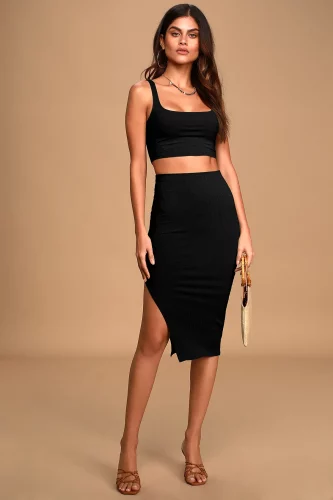 Another easy way to create an all-black outfit is to find the perfect two-piece set. For example, this set from Lulus is chic yet sexy, perfect for everything from parties to dates.
Again, you don't need to go overboard with the styling here. This would be so cute with a black blazer draped over your shoulders and some simple strappy heels, as seen above.
Satin Maxi Slip Skirt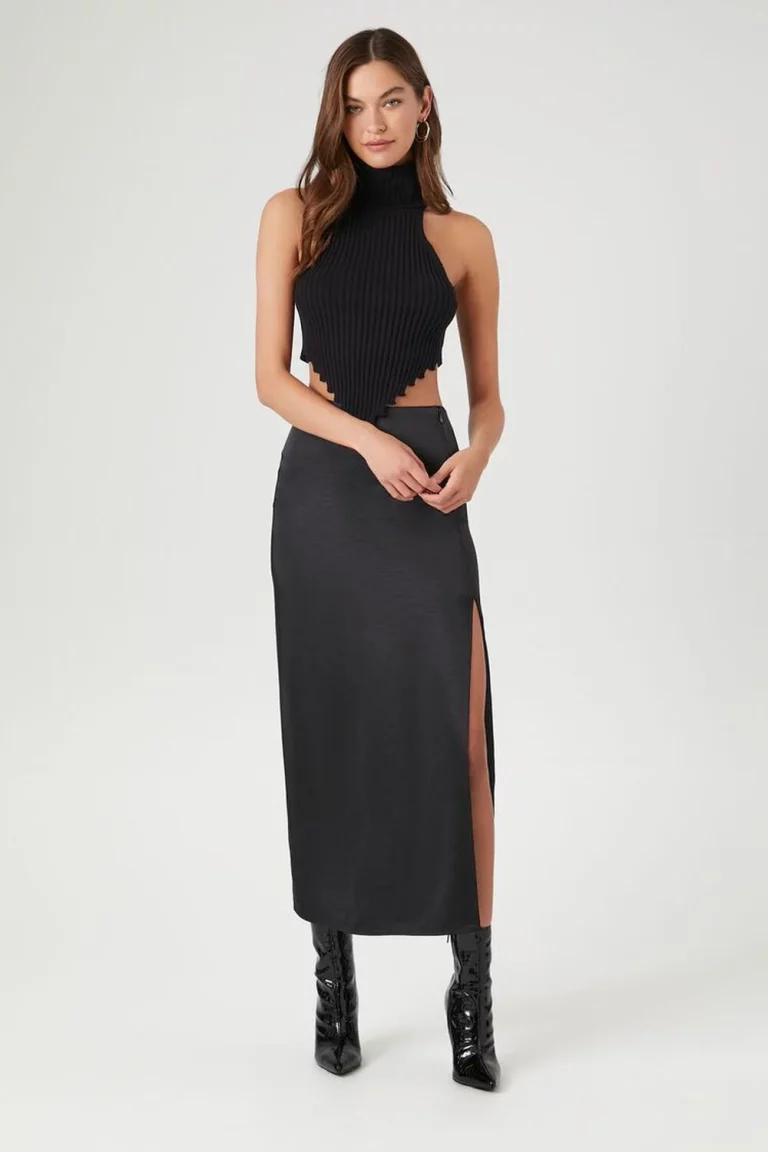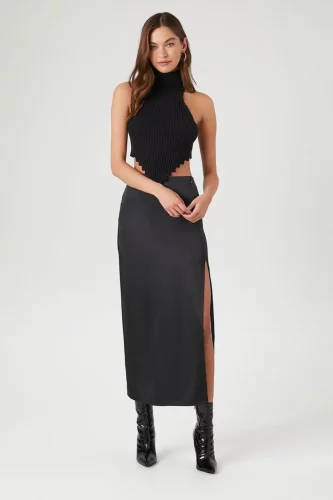 Another fun way to put together a cute all-black look for date night is by wearing a skirt like this satin maxi slip skirt. Maxi skirts and silk skirts are trending right now, so this is a perfect way to look current yet super cute as well.
You can wear this skirt with an all-black halter top like this one or another cute all-black top paired with some black strappy heels or pumps, and you will have the perfect outfit for date night.
Office-Appropriate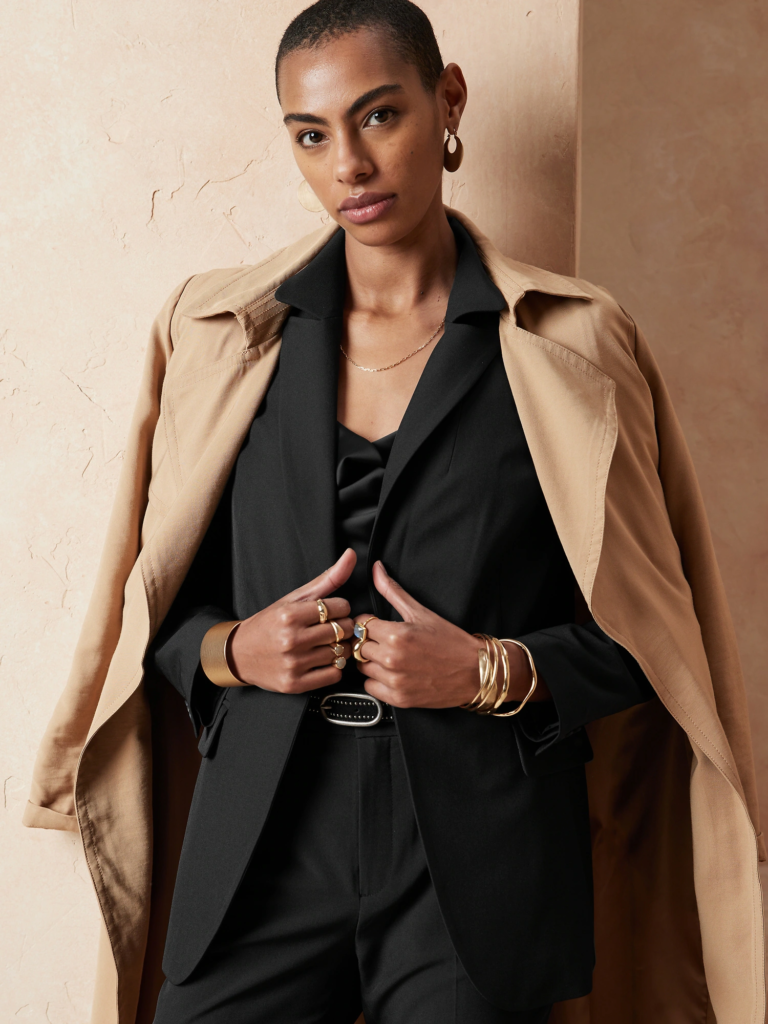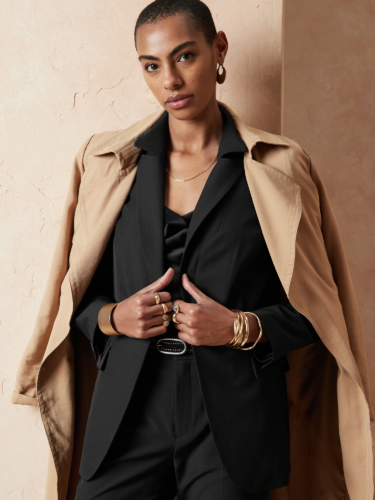 If you want something that is office-appropriate and gives you a chic look for the office, I definitely recommend purchasing a timeless black blazer.
When paired with the right outfit, an all-black blazer can be just what you need to make your outfit stand out! Here, it's styled with black trousers, a black cami, and a black belt, all layered underneath a classic camel coat. So chic for any office.
Black Faux Leather Trousers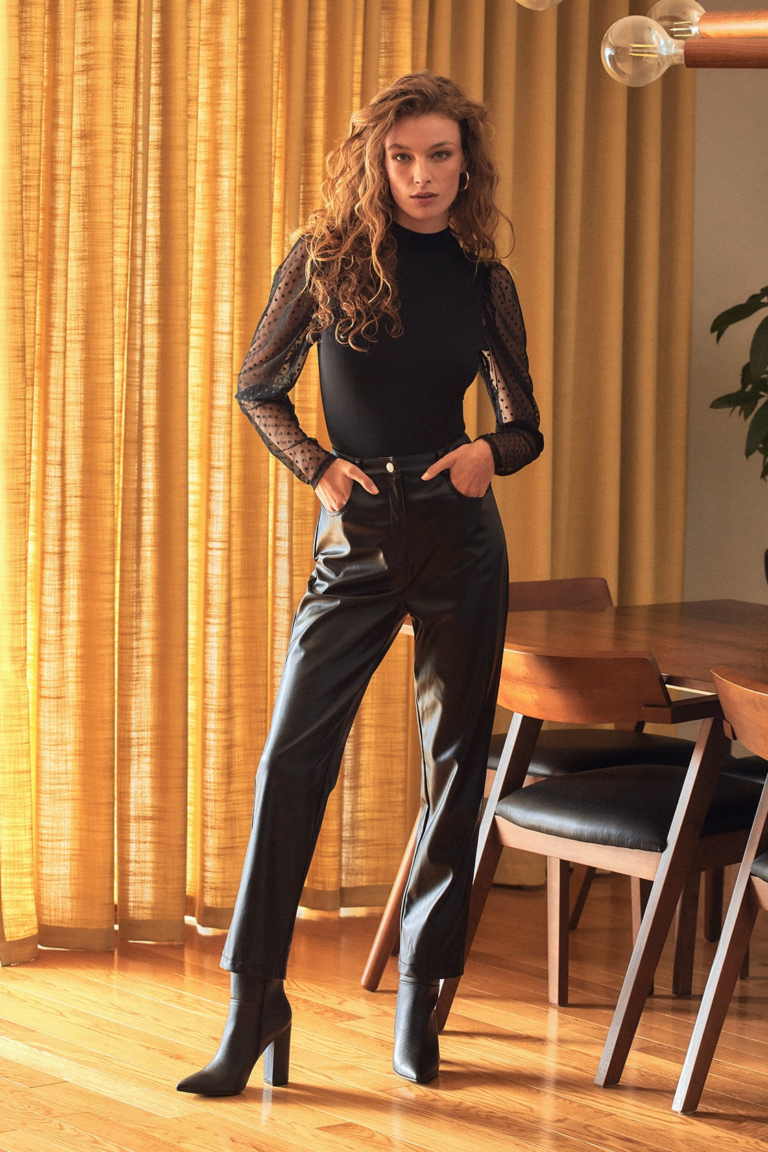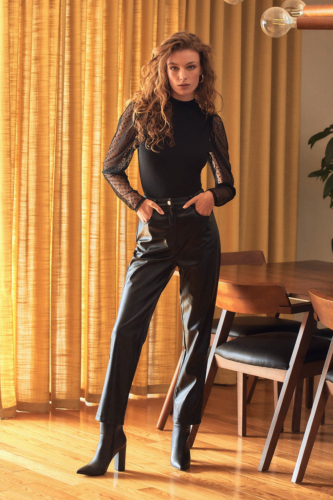 Black faux leather trousers are amazing for so many occasions, and they can be styled for a casual workplace if you keep your look conservative.
Case in point: This cool outfit with black leather trousers, a black high-neck blouse, and high-heeled black boots. This would be great for casual Friday or any time you want to edge up your work look a little without looking inappropriate.
And don't even get us started on all the ways you can wear faux leather pants — you need them in your wardrobe!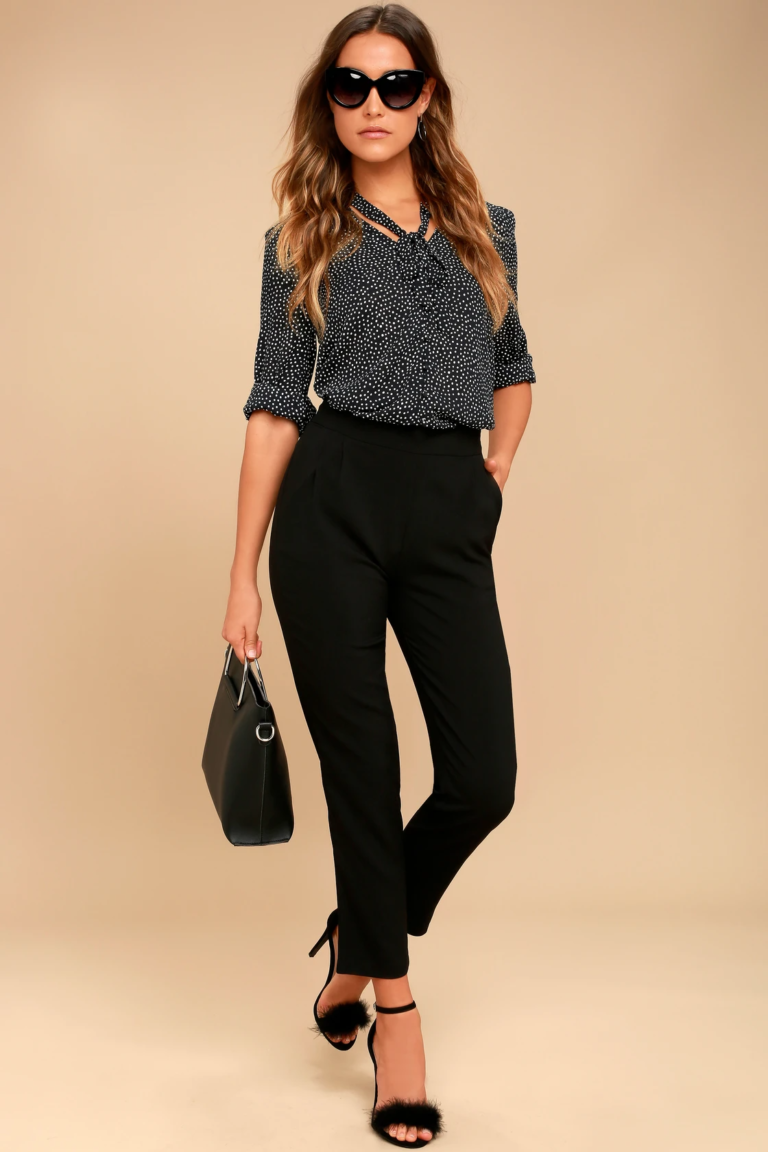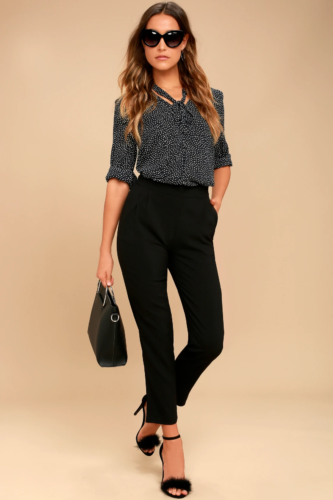 And you can't forget about trousers! You will need the perfect black trousers to go with your all-black looks. These are workwear wardrobe staples.
If you want to style your black trousers into a cute work look, channel the outfit above and rock a patterned black blouse with a black tote bag and heels. The strappy heels above would only work for a very casual office (or happy hour), but swap them for pointed-toe pumps and the outfit would be perfect for the workplace.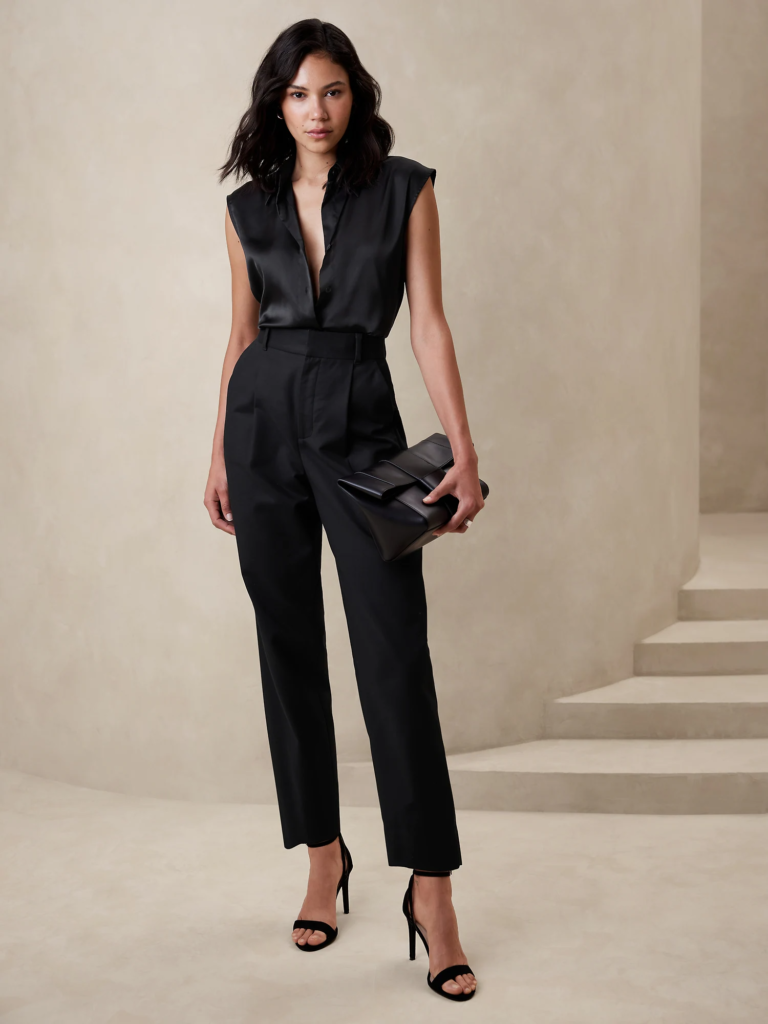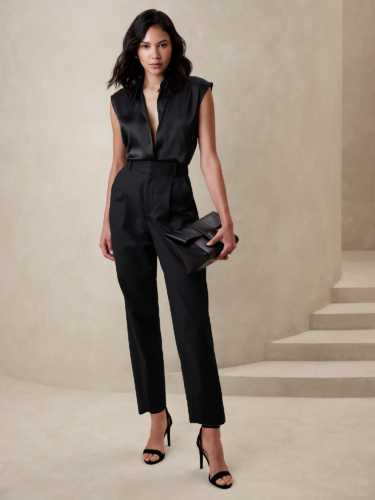 Of course, no office wardrobe is complete without a blouse! A black satin short-sleeve blouse is endlessly versatile. You can wear it alone as seen above, or layer it under a blazer or jacket.
The outfit above would be perfect for an office party where you get to let loose a bit — it's so chic and put together, not to mention stunning!
Edgy & Cool
Black Corset Top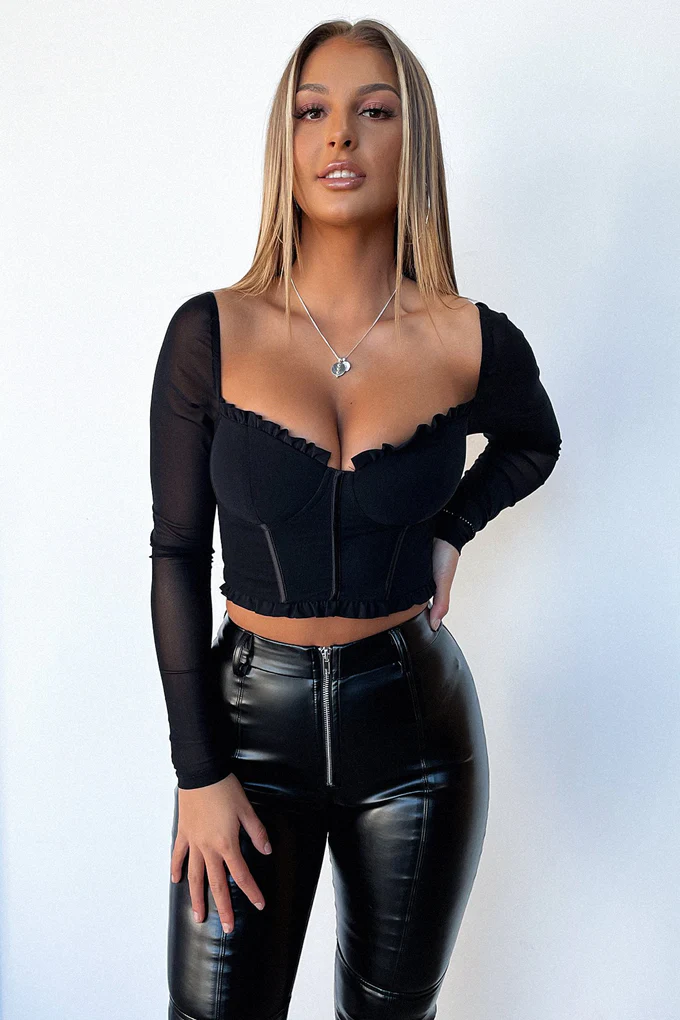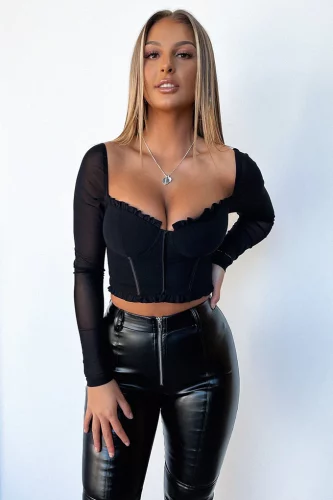 For those of us who want to create all-black outfit looks for edgier vibes, you may want to consider investing in a black corset top.
This top will give you an edgy but cute look that you can use to put together an all-black outfit. Just add some black pants or a skirt with the corset to complete your ensemble, and don't forget the black bag and shoes.
(Need more corset styling ideas? See our guide to our favorite corset outfits.)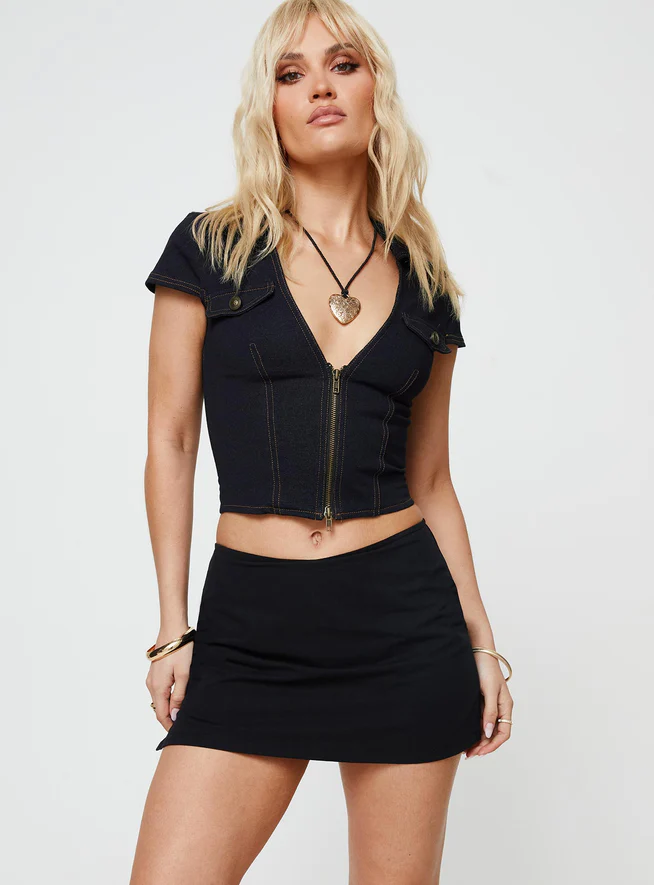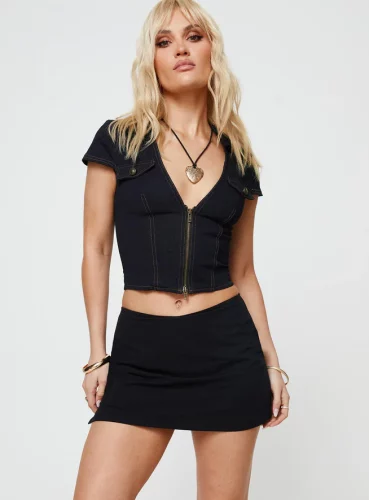 Another easy way to create an edgier look with an all-black outfit is by adding a black mini-skirt. A black mini skirt, when paired with the right top and shoes, can give you an edgy look that you will love!
For example, pair a black mini skirt (this one is actually a skort for extra coverage!) with some black Doc Martens and a vest top, and you will have a cool and edgy all-black outfit.
Black Faux Leather Jacket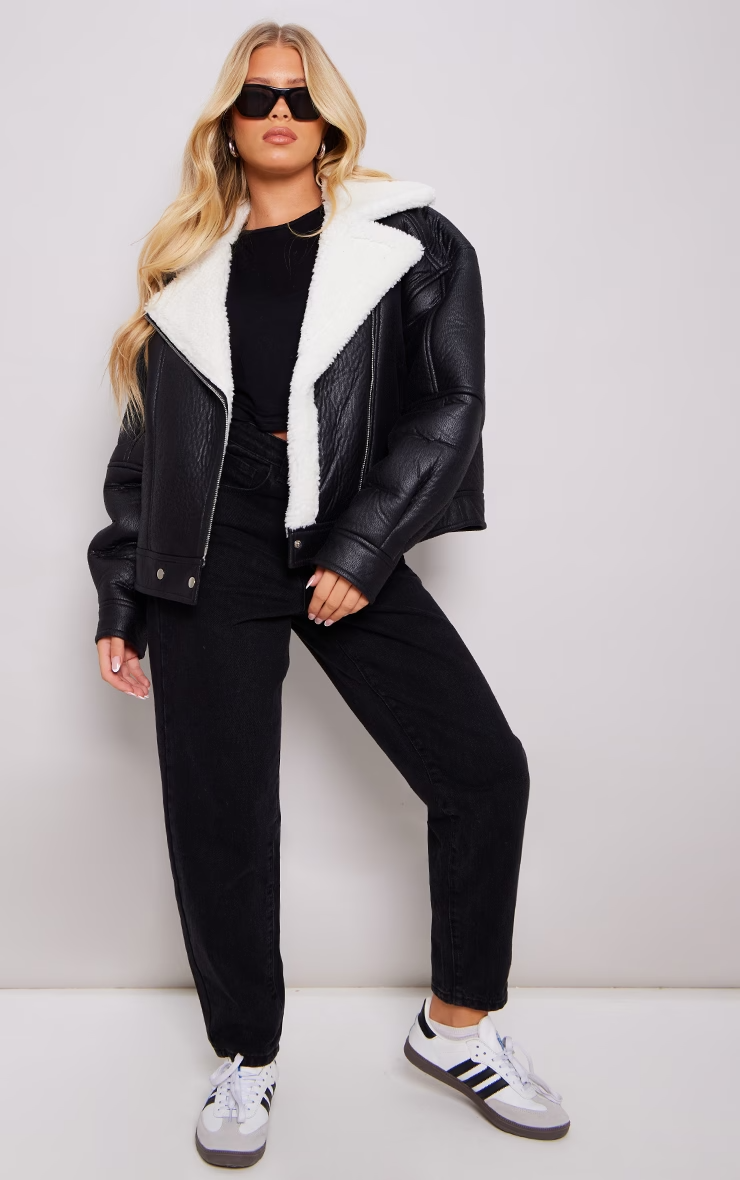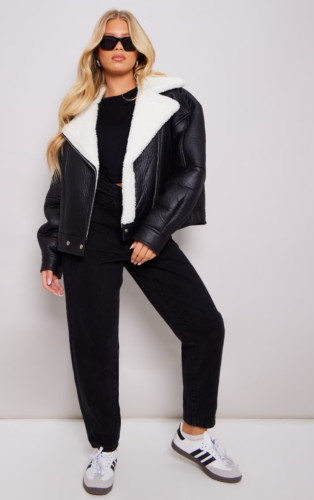 For the fall season, chunky black leather jackets are always in style! I'm particularly loving this one from PLT.
A cool statement jacket like this one will look great over so many outfits, but I love this casual-cool look that would be perfect for class. Just layer the jacket over a black long-sleeve and some black wide-leg jeans, then add your favorite sneakers for all the cool-girl vibes.
Chunky Black Boots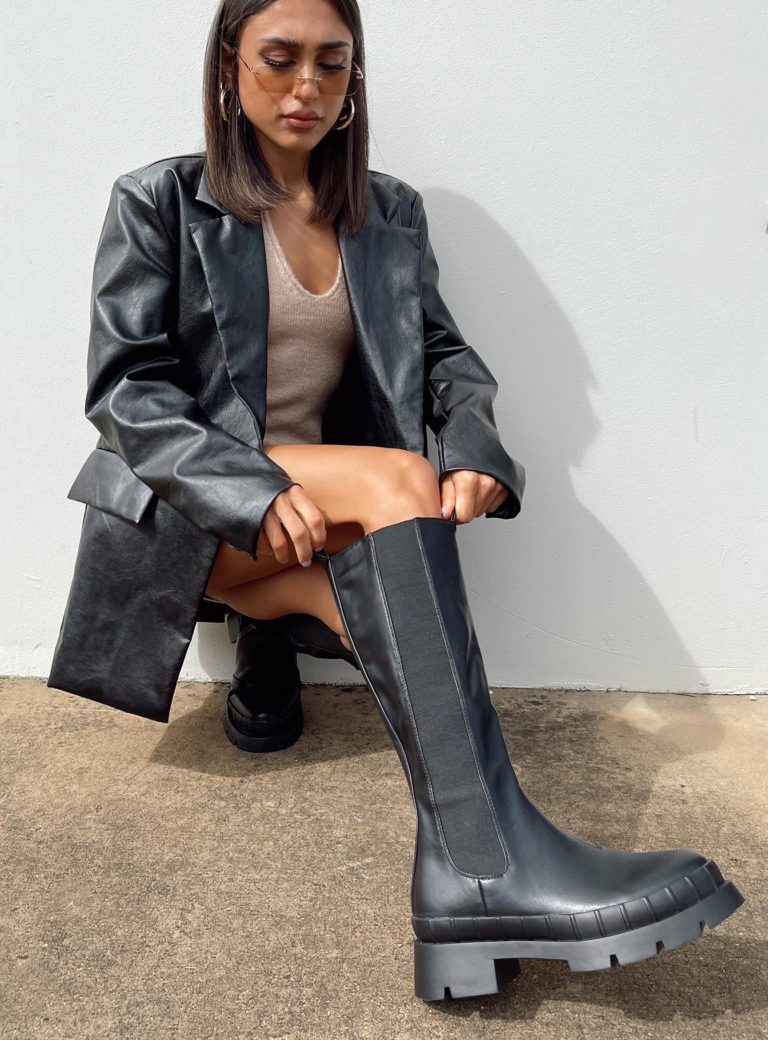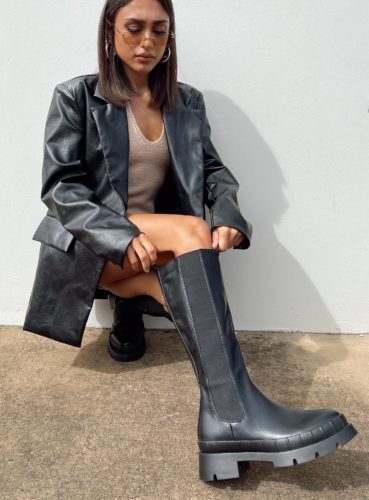 If you are in need of some edgy black shoes, you might want to check out these chunky black boots. Chunky boots are very in style right now and will be the perfect addition to an all-black outfit to give it an edgier look!
Wondering how to wear them? The outfit above is a great example. Pair them with a little mini dress or mini skirt and layer a faux leather blazer over top for coverage and to match the boots. Add cool sunglasses and you have a totally updated '90s ensemble.
Girly & Feminine
Black Sparkly Mini Dress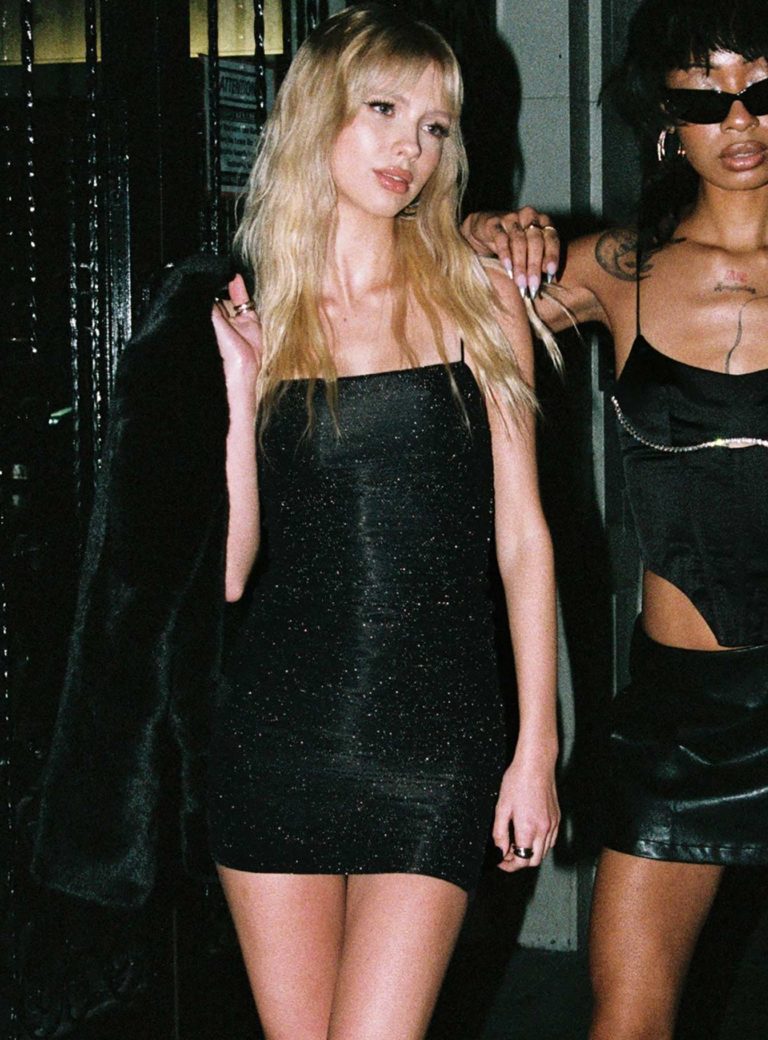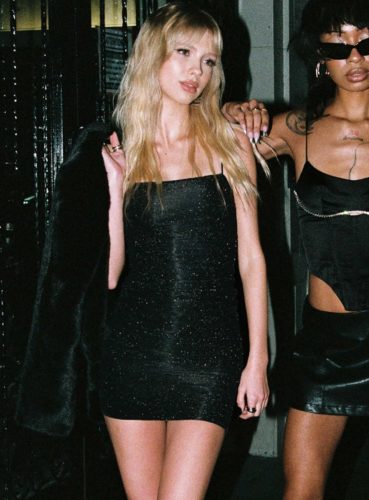 You can also totally create girly looks with an all-black outfit; it just depends on what kind of clothing items you choose.
For example, this black sparkly mini dress is all black but still gives off a girly vibe because of the added sparkles! Style it under a faux fur coat for an amazing New Year's or holiday party 'fit.
Black Strappy Heels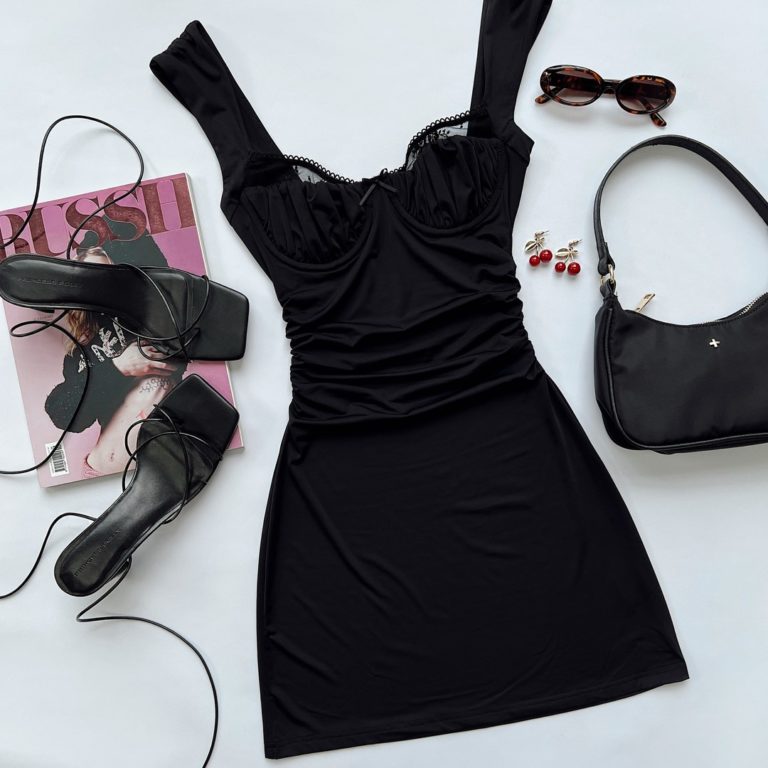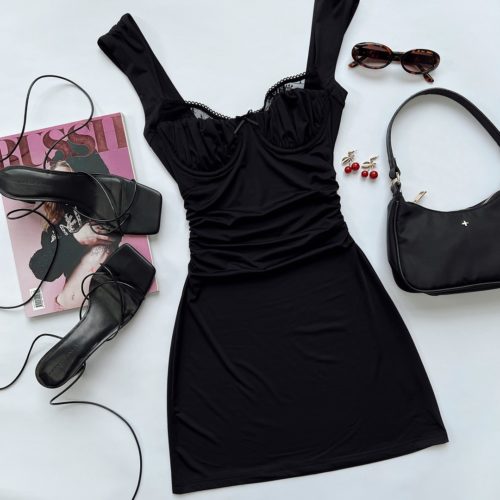 If you want the perfect shoes for that little black dress, you should absolutely have a pair of black strappy heels! Check out this all-black outfit inspo to see exactly what you should wear these black strappy heels with.
These heels come with adorable ankle straps so that you will get a more girly vibe that you will love. Plus, the straps add extra detail so they're great for pairing with an otherwise simple dress.
Black Pleated Mini Skirt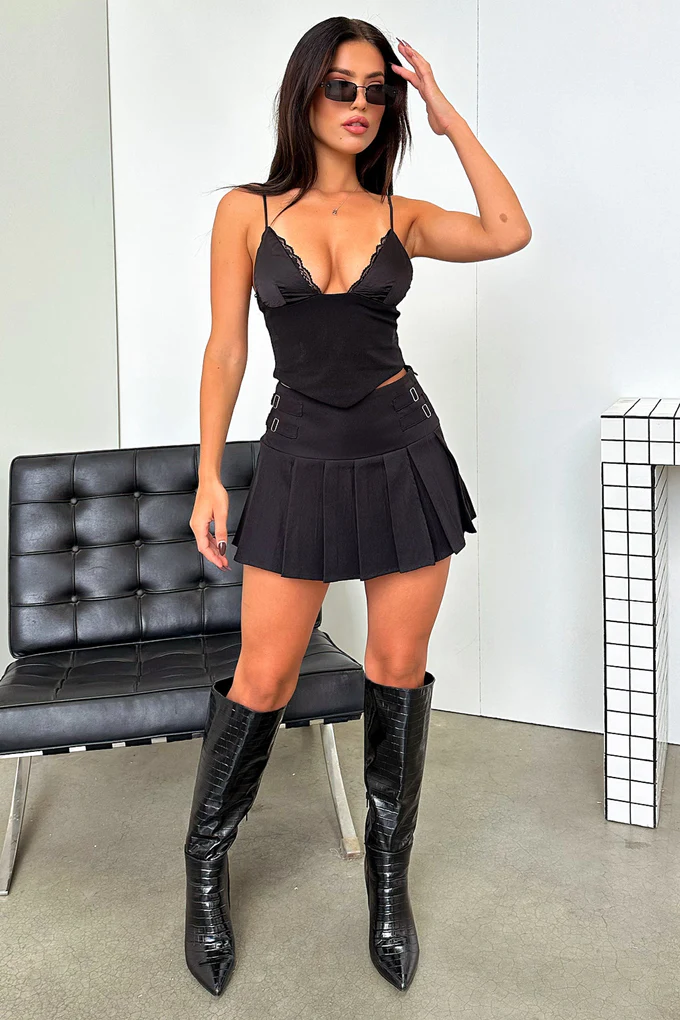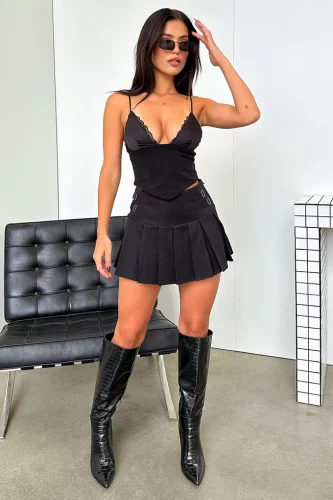 If you love the look of a black mini-skirt but want something a bit more girly, I recommend checking out this pleated mini-skirt that has a flare to it!
These skirts have become very popular and have been very trendy to wear for an everyday outfit or even for working out.
So, the next time you are looking for the perfect cute all-black outfit that is a bit more girly, grab this skirt and pair it with boots and a black top. So simple and so cute!
Which all-black pieces will you be trying?
Do you like to wear all-black outfits? What is your favorite kind of all-black outfit? Talk to us in the comments down below! And for even more tips on styling all-black looks, see our post, In Defense of Wearing All-Black Every Day.