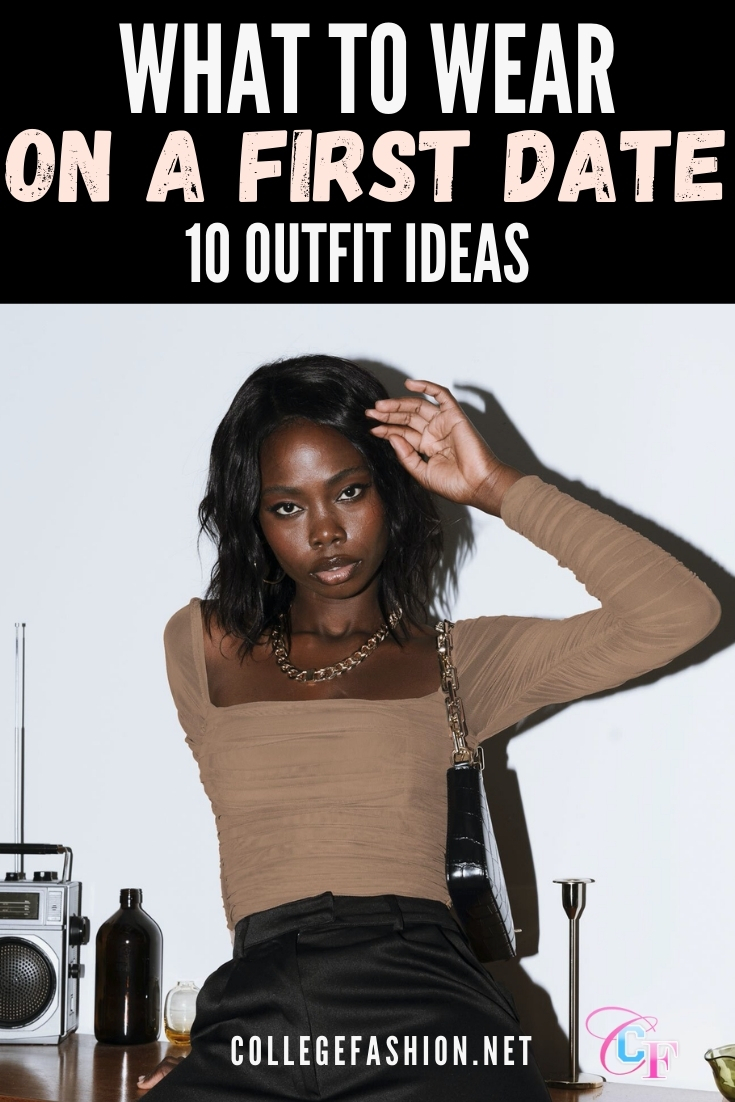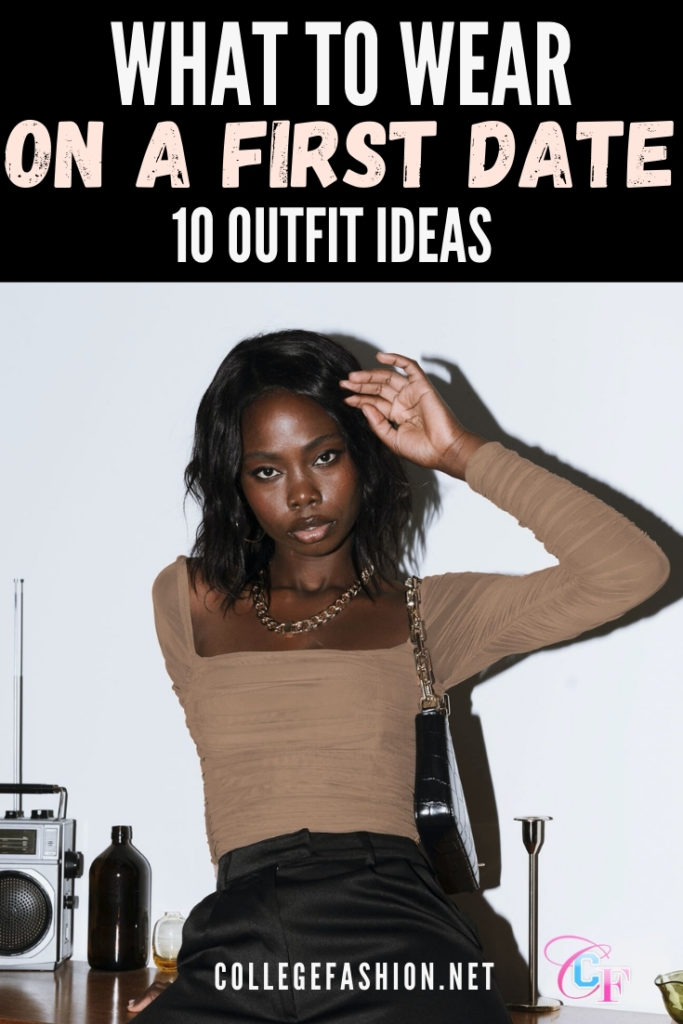 First, there's the excitement, then there's the freak-out. What do I wear on a first date?! Learn what are the best first date outfits.
We've all been there. Suddenly, it feels like you have nothing to wear and no inspiration for how to style yourself. Ugh!
No need to stress out anymore, though: we've come up with ten first-date outfits that are going to help you look and feel your best no matter what kind of date you're going on. From ultra-casual to fancy, this guide has got you covered!
Regardless of the type of date you go on, there are some guidelines to consider when you're getting ready.
Related reading: The 20 Best Fall Date Outfits of All Time
Tips for choosing a date outfit:
Wear what makes YOU feel the most confident. While you may feel some pressure to "impress" your date, no outfit is more impressive than a confident attitude.
Test-drive your outfit before wearing it on your date. As tempting as it may be to go buy a new outfit and wear it out, you don't want to experience any wardrobe malfunctions! Stick with an ensemble that you can rely on.
Opt for comfort. I'm not saying to show up in sweatpants, but if you feel comfortable in your clothing, you'll feel more relaxed and thus more able to enjoy your date.
Now that we've gotten the basics covered, let's get to the looks. Read on for ten outfit ideas for ten different types of dates, and you'll never have to stress out again!
P.S. – these date outfits work beyond a first date. Even if you're in a relationship, you can totally use this guide to help you get dressed on your next date night.
Now that we've gotten the basics covered, let's get to the looks. Read on for ten outfit ideas for ten different types of dates, and you'll never have to stress out again!
P.S. – these date outfits work beyond a first date. Even if you're in a relationship, you can totally use this guide to help you get dressed on your next date night.
10 Outfit Ideas for Every Kind of Date
1. Coffee Date Outfit Idea
A coffee date is often the go-to first date option because it's a relaxed environment that is ideal for getting to know someone. Because of this, your outfit should be laid-back while still looking put-together – even in a casual setting, you should strive to put your best foot forward. After all, there is inevitably some effort that goes into looking "effortless!"
Related reading: Cute Girlfriend Outfits: What to Wear on Dates in Every Season
While my number one tip is to wear what is true to you and what makes you feel the most confident, I'd suggest not overdoing it for a coffee date. Jeans will have you feeling comfortable and looking laid-back, a.k.a. just right for this date. If you have a favorite pair of jeans that you feel are the most flattering on your body, I recommend rocking those!
Wear your jeans with a cute top or sweater with a bit of flair, like an off-the-shoulder sweater in a neutral color. It won't make you look like you're trying too hard but still has an elevated look.
Opting for neutral hues, especially for daytime dates, is another way to look stylish without being excessive. Plus, it's easy to match some neutral-colored footwear to your outfit, like some taupe suede ankle booties. These are extremely versatile, with a small heel and a low-profile design that goes with just about any look.
Scale down any accessories so that your outfit remains casual. A dainty gold pendant necklace (this one features an initial pendant, making it personal) adds a touch of interest without overpowering the ensemble.
2. Fancy Date Night Outfit Idea
Heading out to a fancy dinner or trendy bar for your date? This means it's time to dress it up a bit!
Though you may be tempted to dress super trendy, I'd recommend picking an outfit that is a cross between trendy and classic, especially on a first date. You don't want to risk your outfit wearing you!
Enter the LBD. A "little black dress" is a timeless option that works in almost any setting, and this one that is midi length with a ribbed knit material and sweetheart neckline looks especially polished. The silhouette of this dress is super flattering and includes a tie-belt and a slit. The ribbed sweater material also lends a luxe texture to the dress, adding to its elevated look.
Wear it with some black mule sandals, which have an equally sleek appearance. The square toe gives these a modern vibe, and the low heel makes them manageable for walking in. I'd advise you to stay away from very tall high heels on a first date to avoid having difficulty walking around or being uncomfortable.
Accessorize with jewelry that makes a statement but won't overpower the dress – think small drop earrings and a cool bracelet. These silver link drop earrings and chain link bracelets add just the right amount of shine to make the dress appear fancier.
A classic yet trendy black crocodile embossed handbag is the ultimate night-out bag to complete this chic outfit.
Related post: The 38 Cutest Date Night Dresses We Love This Season
3. Casual Dinner Date Outfit
If you're grabbing a casual dinner at a more low-key spot on your first date, you'll want to wear an outfit that fits the vibe. At the same time, you don't want to be dressed too casually, since it is a date, after all!
For casual dinner dates, my go-to is the classic combination of fitted jeans and a cute top (or bodysuit).
This off-the-shoulder bodysuit has a casual feel since it's similar to a henley t-shirt, however, its body-hugging fit, off-the-shoulder design, and fun button details amp it up and give it a flirty feel.
Though baggier jeans styles are trending right now, a pair of equally stylish slim-fitting high-waisted jeans will look a bit more elevated with this outfit.
Heels would be out of place at a casual dinner, so opt for ankle booties with a flat or low heel instead. This suede cognac-colored pair matches the rust bodysuit perfectly.
For a final touch, wear some understated earrings like these small braided gold hoops.
4. Going Out Date Outfit Idea
Sometimes your first "date" may involve a group of friends hitting the town. You and your date may plan to meet up at a bar, club, or party, and while it may not be a traditional date situation, you're still going to want to dress the part!
Unlike a fancy date, this is your opportunity to *add a little spice* to your outfit and dress a bit more trendy or sexy (if that's your style). I'm talking crop tops, faux leather pants or skirts, bodycon dresses, and the like.
Of course, you'll still want to look elevated, so be sure you consider proportions when putting your outfit together.
For example, this faux leather mini skirt pairs well with this beige gathered bodysuit. The bodysuit features long sleeves and a square neckline, along with a tulle overlay.
Wear this outfit with some black knee-high boots which are on-trend this season, and add interest with eye-catching metal pieces. A gold snake chain necklace and a gold chainlink mini purse are going to round out this ensemble.
5. Day Date Outfit Idea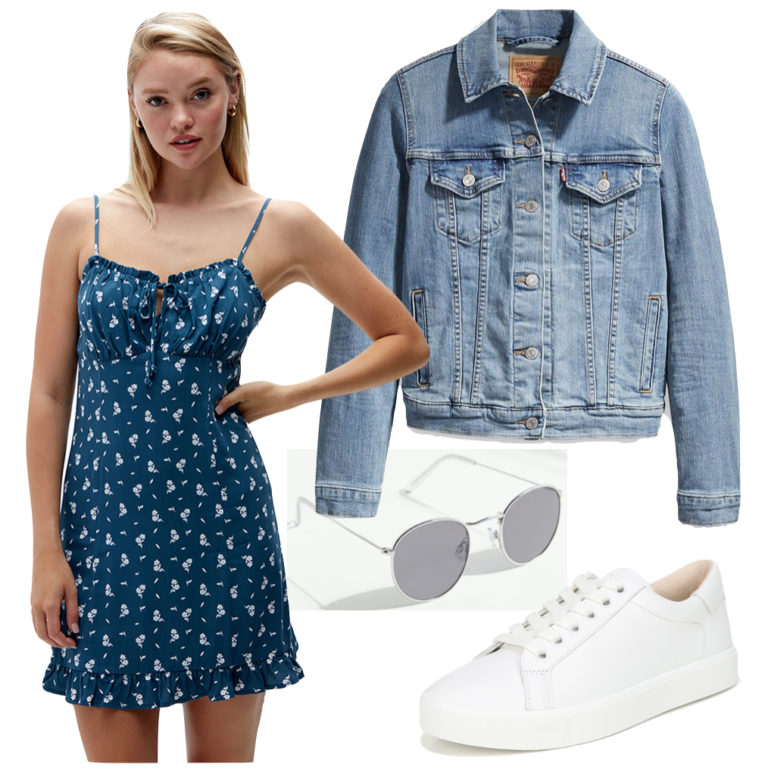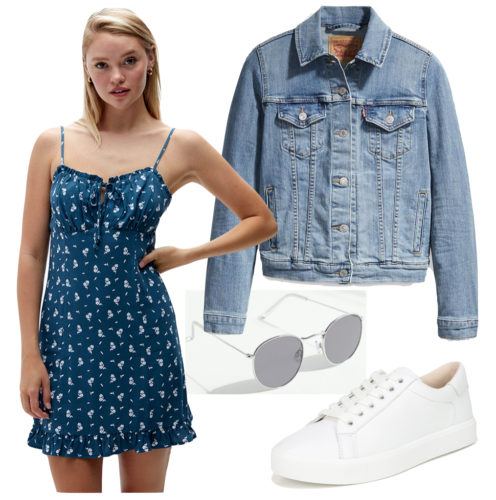 Products
If you're going on a casual day date such as walking around the city or a park, sightseeing, a boat ride, etc., you'll want to wear a versatile outfit that works in multiple situations.
A fail-safe option for this is a sweet mini dress worn with some white low-top sneakers and a jean jacket.
The sneakers are ideal for walking around in, and a shift dress has an effortless feel while still looking pretty. This particular mini dress has a feminine tie-front detail and ruffled hem, along with a subtle print that matches the white sneakers.
A jean jacket helps to keep the dress looking casual – plus I never like to leave the house without a jacket, just in case!
Don't forget a pair of sunnies for this daytime look.
6. Active Date Outfit Idea
Maybe you're going on a date that involves being active, like hiking or rock climbing. If this is the case, you'll definitely want to wear a sporty look that is comfortable, but still stylish.
Break out your cutest athleisure wear for this date, like color-coordinated leggings and a sports bra top. Matching sets are totally on-trend and will make you look put together, even while wearing athletic clothing.
Though black leggings are my "ride or die," consider wearing some in a color which will show a bit more personality. I adore these navy high-waisted leggings and longline racerback sports bra tops in the same shade. Wear a cropped hoodie or sweatshirt over top in case you get chilly.
Bring the ensemble together with some athletic sneakers and a large hair claw clip to keep your hair out of your face in an elegant way.
7. Movie Date Outfit Idea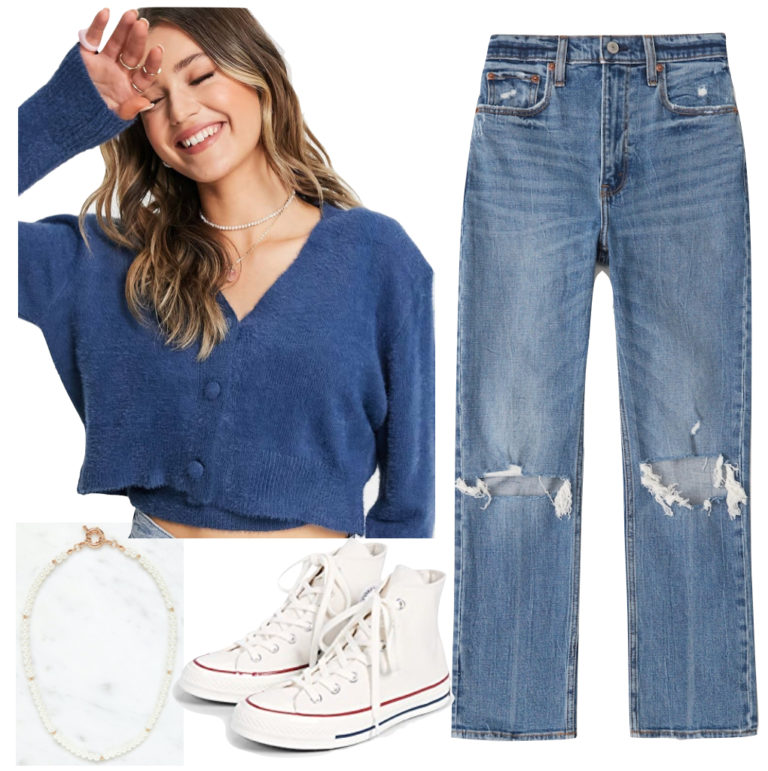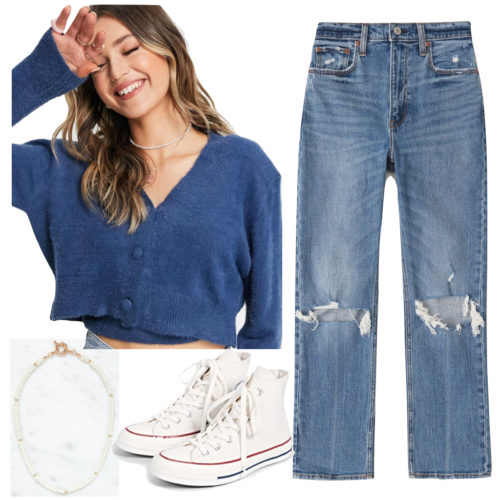 Products:
A movie date equals a low-key look. If you're going to be sitting in a chair for two hours, you'll want to be comfy!
And since movie theaters tend to always be cold, a cute cardigan is the way to go. I adore the trend of a cropped cardigan sweater worn with a matching tank top underneath. A knit set is laid-back but still shows that you have a sense of style.
Wear the matching cardigan set with some straight-leg jeans (preferably ones that are stretchy so that you feel extra comfortable while sitting).
Bring this chill look together with a fun necklace like this faux pearl choker and some high-top Converse sneakers.
8. Beach Date Outfit Idea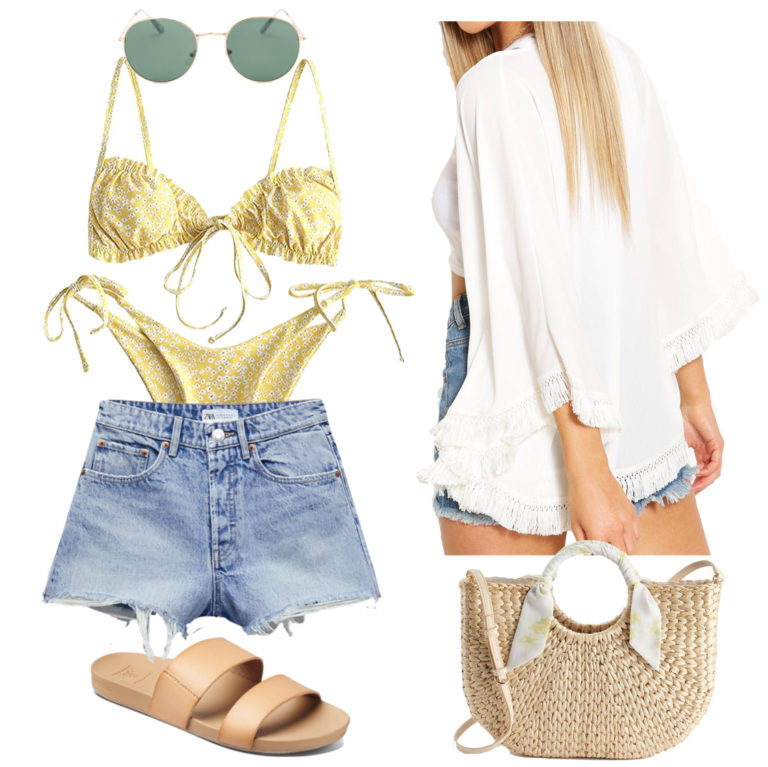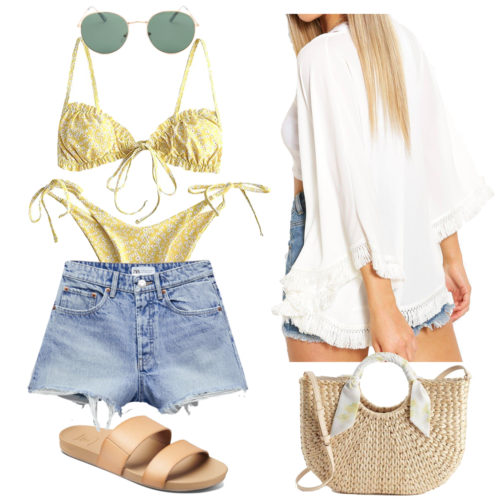 Products:
So you're going on a beach date? Lucky you!
For a day at the beach, you're going to want to wear a swimsuit that makes you feel confident. Whether you go for a bikini or a one-piece, just be sure to pick a swimsuit that you feel comfortable in, and preferably one that you've worn before.
If this is the first date, you don't want to be stressed about any bathing suit malfunctions or feel uncomfortable in your swimwear! The goal is for you to be present during your date, rather than your mind worrying about a string coming undone by mistake.
Wear some frayed high-rise denim shorts over your bathing suit, which are cute but also practical, since you can wear these both on and off the beach.
A kimono looks great as a cover-up for both bikinis and one-piece swimsuits, and pairs perfectly with the jean shorts. You can also wear this over your swimsuit without the shorts if you're taking a stroll along the sand. Plus, it's nice to have a lightweight layer like this with you in case you stay for the sunset and get a bit chilly. The tassel trim on this short, white kimono gives it just the right amount of beachy flair.
Keep accessories simple – you don't want to have to stop to think about removing any jewelry if you decide to take a dip in the water. However, sunglasses and a beachy tote bag are obviously a must! You can't go wrong with some round metal sunnies and a straw half-moon tote bag (this one has a stylish scarf detail on the handles).
Some flat sandals or flip-flops complete the look.
9. Picnic Date Outfit Idea
A picnic date sounds so romantic and fun, which is exactly the vibe you should portray in your outfit.
The ideal picnic date outfit should strike a balance between laid-back and feminine with bonus points if you wear floral print or gingham.
A floral print midi skirt is the perfect way to incorporate the print into your look and can be made to look more casual by pairing it with some white low-top sneakers. Plus, sneakers are a comfy option for walking outdoors to get to your picnic destination.
Add to the feminine feel of the outfit with a white bodysuit featuring flirty details like ruffled trim and tie straps. A crop top would look cute with this outfit as well, though a bodysuit may be a more comfortable choice considering you'll likely be sitting on the ground (on a blanket, of course).
Accessorize with dainty jewelry like some gold twisted hoop earrings and a round rattan crossbody bag, which is a nod to the classic picnic basket you may or may not be used on the date.
10. Cold Weather Date Outfit Idea
Dressing for a date when it is cold outside during the winter used to stress me out. How could I look/feel cute when I needed to bundle up in heavy layers? Luckily, I found the perfect cold-weather date outfit formula.
The secret? Faux leather and cut-out sweaters. Faux leather pants or leggings are the ideal bottoms to wear in cold weather on a date because they look sexy but are often made of a thick (and sometimes lined) material that will keep you warmer than a dress or skirt would. Plus, you can wear them both day and night.
Also Read: 15 Trendiest Faux Leather Clothing Pieces Under $70 You Need This Fall
And just because you need to wear a sweater doesn't mean it has to look frumpy. While I love oversized knitwear for every day, I'd suggest opting for a tighter-fitting ribbed knit sweater with an alluring cut-out design for a date. You can show a flirty hint of skin with a front cut-out or an open-shoulder design, but the knit material and tighter fit will keep you warm.
As for your outerwear, sleek-looking coats work best. This beige hooded faux wrap coat is a chic option and has a tie-belt design that will help to highlight your physique by cinching your waist – unlike a puffer coat, which may look bulky.
A stylish black handbag and some black ankle booties tie the outfit together. If you're going to be braving winter elements like snow or rain, consider a pair with a lug sole. A chunky, lug sole with a short block heel will give you more traction when walking on a slippery sidewalk, especially compared to a stiletto heel.
For more date outfit tips and ideas, check out these related posts below –
What do you think of our first date outfit ideas?
Would you wear these outfits? Which date look is your favorite? Leave a comment and let us know!