Faux leather clothing for fall may not be the most *groundbreaking* trend of all time (says the Miranda Priestly voice in my head), but it is back and better than ever this season!
In new shapes, textures, and colors, faux leather pieces are going to be a must-have for A/W 2020, and are the key to achieving the cool, edgy vibe that is so trendy right now.
Read on for 15 of the trendiest faux leather clothing items from across the web, all $70 or less!
Related reading: How to Wear Faux Leather Pants & Leggings (+10 Outfit Ideas)
Faux Leather Leggings
Let's kick things off with faux leather leggings, which are a staple piece come fall and winter.
Zara makes some of the best, most affordable faux leather leggings, and the best part is that these come in 5 different colors: black, brown, maroon, green, and sand beige.
They are high-waisted and feature zipper and button closure on the front, so that you can wear them with tops that are shorter in length, too.
Faux leather leggings can be dressed up or down, making them ultra versatile; they look just as fab with sneakers as they do with booties or high heels.
Faux Leather Longline Blazer
Faux leather blazers are one of the top trends this season, and for good reason. This edgy take on a classic piece is going to add an instant cool factor to your fall outfits.
Opt for an oversized fit, which can double as a light jacket.
Faux Leather Trench Coat
This faux leather trench coat is giving us Hailey Bieber vibes to the max.
The street style queen had rocked a similar leather trench coat in black, which she wore with a black turtleneck, mom jeans, and chunky black boots (similar to how it's styled above).
Leather Look Mini Shirt Dress
Not all faux leather pieces need to be black; as I mentioned before, the range of hues has expanded greatly this season, including neutral shades that look super chic.
This stone-colored mini dress has the look of an oversized shacket (shirt + jacket) with a flattering tie-belt to cinch your waist.
Wear it with booties or knee-high boots for a trendy look.
Faux Leather Moto Jacket
It wouldn't be right to round up the season's best faux leather pieces without including the O.G.: a moto jacket.
Moto jackets have proven themselves to be a wardrobe staple, never going out of style and always making just about every kind of outfit look cool.
Every college girl's wardrobe should include a faux leather moto jacket!
Boxy Puffer Jacket
This boxy puffer jacket is a must-have for the wintertime! When it gets too cold to rock a moto jacket, swap it out for a faux leather puffer coat.
The faux leather material gives the puffer jacket an elevated look, making it wearable for both day and night.
Bonus points for this jacket, which features an elasticized drawstring hem, so that you can control how "boxy" it fits on you.
Crocodile PU Zip Mini Skirt
This crocodile print-embossed mini skirt is eye-catching thanks to its edgy-meets-sexy vibe.
The shiny silver zipper running down the front stands out against the rest of the skirt, adding a unique element.
Related reading: How to Wear a Leather Skirt: Outfit Ideas & Styling Tips
Faux Leather Mini Dress
I adore the olive-green hue of this button-front faux leather mini dress — it has such a fall feel.
The puffed 3/4 length sleeves are a super cute touch that give it added trend appeal.
Bonded Contrast Faux Fur Biker Jacket
Faux fur plus faux leather? Yes, please!
This winning combination looks luxe while still maintaining that streetwear edge.
Faux Leather Pants
I actually bought these faux leather pants this past week, and can't wait to wear them!
They have a straight fit and are ankle-length, making them perfect for pairing with booties.
The inside features a super-soft lining which makes them extra comfortable to wear, as opposed to feeling restricted.
Related reading: What Shoes to Wear with Leather Pants: The Ultimate Guide
Balloon Sleeve Faux Leather Trucker Jacket
This is a feminine take on a classic trucker jacket, with balloon sleeves and a cropped length which makes it stand out.
The neutral coloring also softens the look and makes it versatile within your wardrobe to pair with many other colors.
Faux Leather Pleated Skirt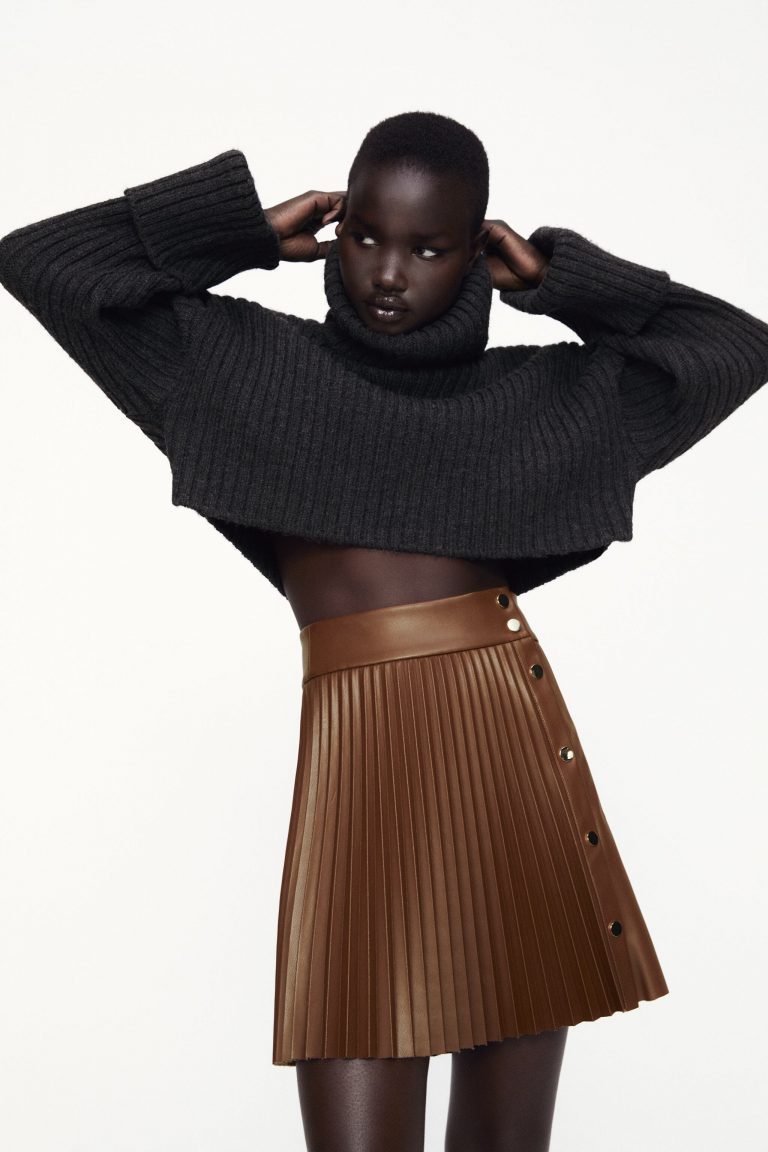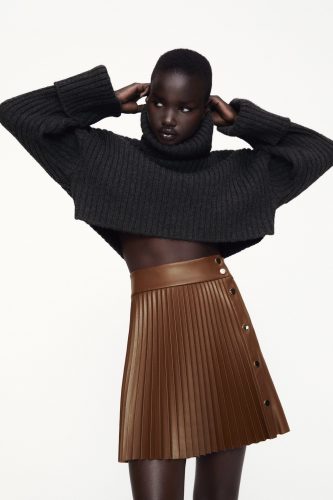 This pleated faux leather mini skirt comes in three fabulous colors: brown, black, and mauve.
The accordion-style pleats and metal snap buttons are small details that make it extra-special – I think it'd be especially cute to wear on Thanksgiving or around the holidays.
Faux Leather Button-Up Jacket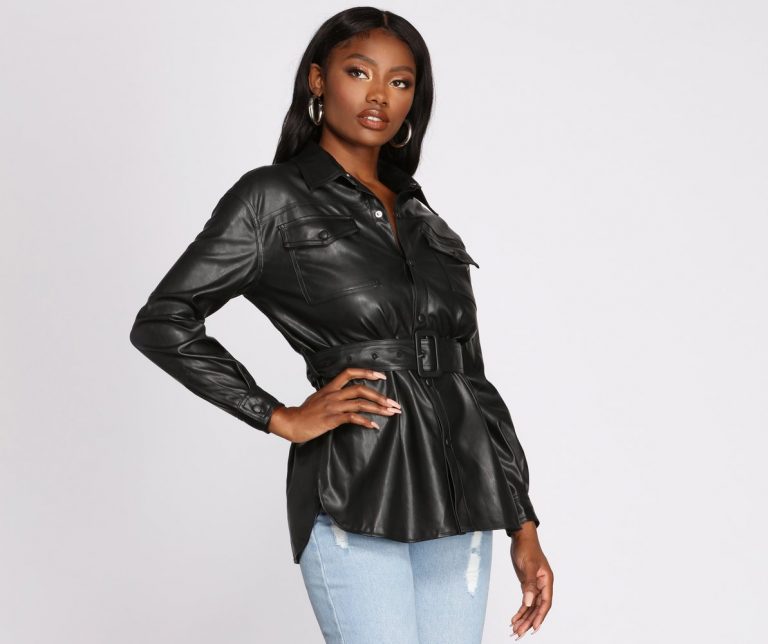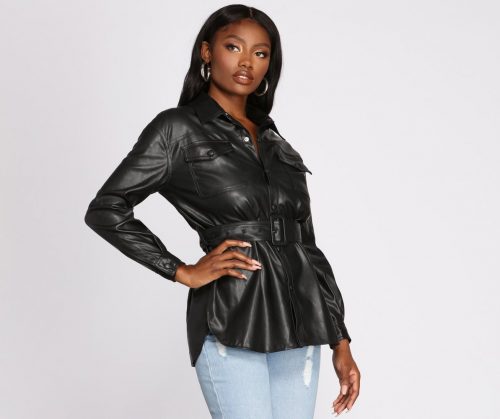 Shackets are one of the trendiest ways to wear faux leather this season, and they can be worn alone or over another top.
The buckled belt on this one is a flattering touch to emphasize your waist, and its high-low cut means it can be paired with leggings, too.
Faux Leather Open-Front Blazer
There's something about camel-colored faux leather that looks so chic and elevated.
The rich hue of this open-front faux leather blazer will make even casual outfits look put-together.
Vegan Leather Cami
This vegan leather cami crop top with a U-neckline and a crisscross back is super sultry and unique.
Wear it with high-waisted denim and a metal buckle belt for a sleek look.
What do you think of our faux leather clothing picks?
Which style is your favorite? Are you planning on wearing the faux leather trend this season? Leave a comment and let us know!