This post will show you the best shackets you need in your wardrobe this fall.
Since fall is now here, that means it's time to start rocking some fun fall trends to stay warm and look cute at the same time.
One of the biggest fall trends this year is the shacket, AKA shirt jacket. This hybrid fashion item is so cozy and warm, and is the perfect comfy layer your wardrobe has been needing.
This season, shackets come in many different styles and can be used as an extra layer on your outfits, so you can look fashionable throughout the season while also staying warm.
This post will show you 15 super cute shackets that you definitely need for this fall!
1. Green Long Teddy Borg Shacket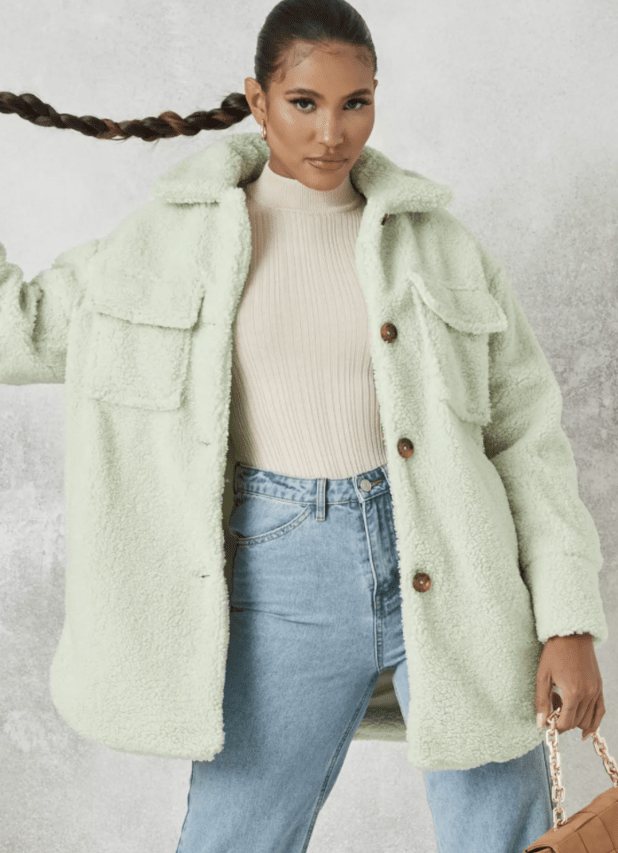 If you want to add some color to your outfit, you definitely need this green long teddy borg shacket!
This fuzzy take on a shacket comes in a beautiful green that will add just the right amount of color to your outfits, and its thicker material will make sure you stay warm.
It is also great for those of us who always wear neutral or black and white toned outfits because it will add that extra pop of color that you need to stand out.
2. Pale Pink Belted Dipped Shacket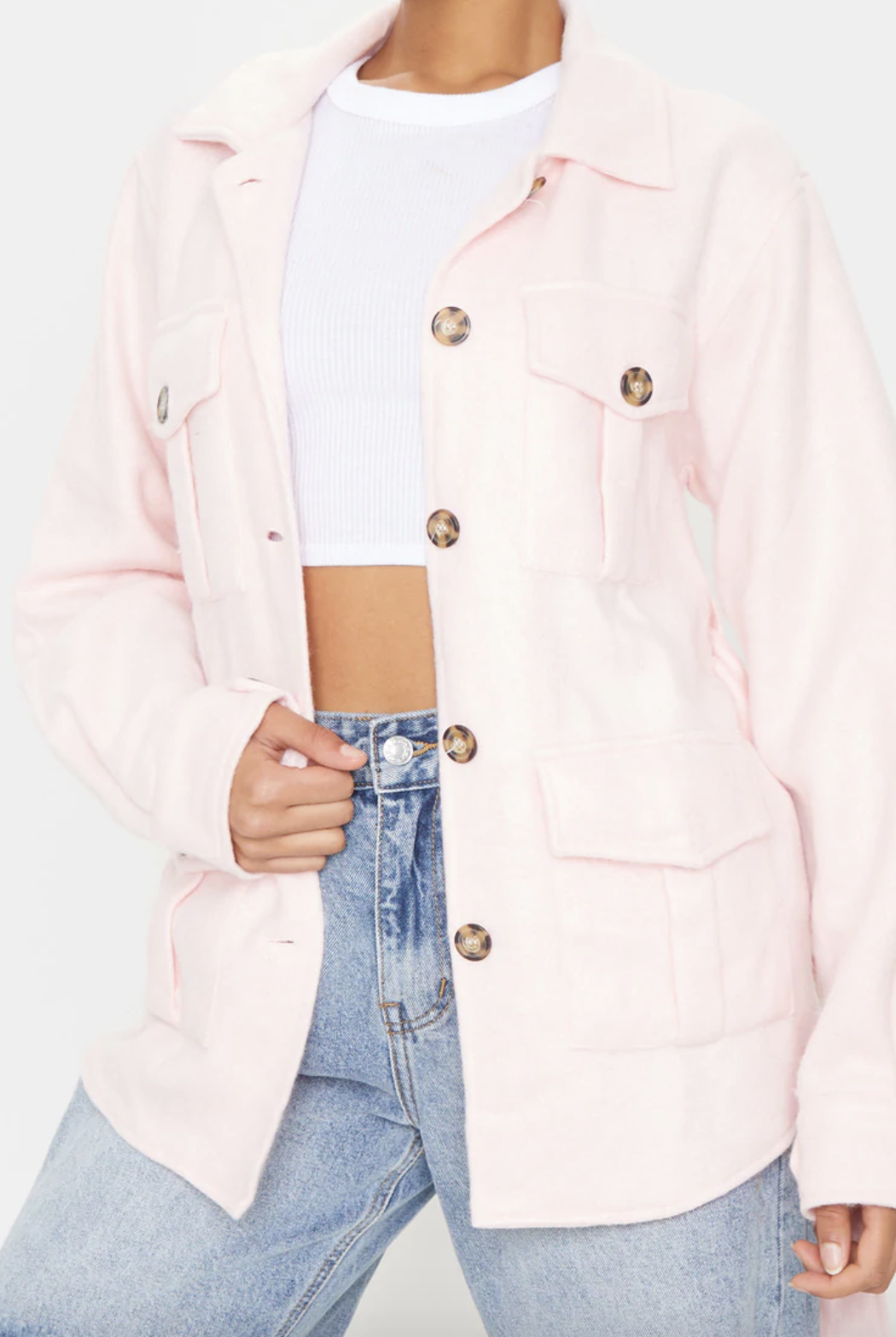 Fall outfits can sometimes not feel as fashionable as you would like because functional layers can take away from your outfit. This is especially true if you have a preppy, girly sense of style.
But don't worry, because if you are looking for a more girly shacket to wear this fall, this pale pink belted dipped shacket is a super cute option. Pair it with a crop top and mini skirt for the perfect girly fall look.
3. Stone Pocket Front Shacket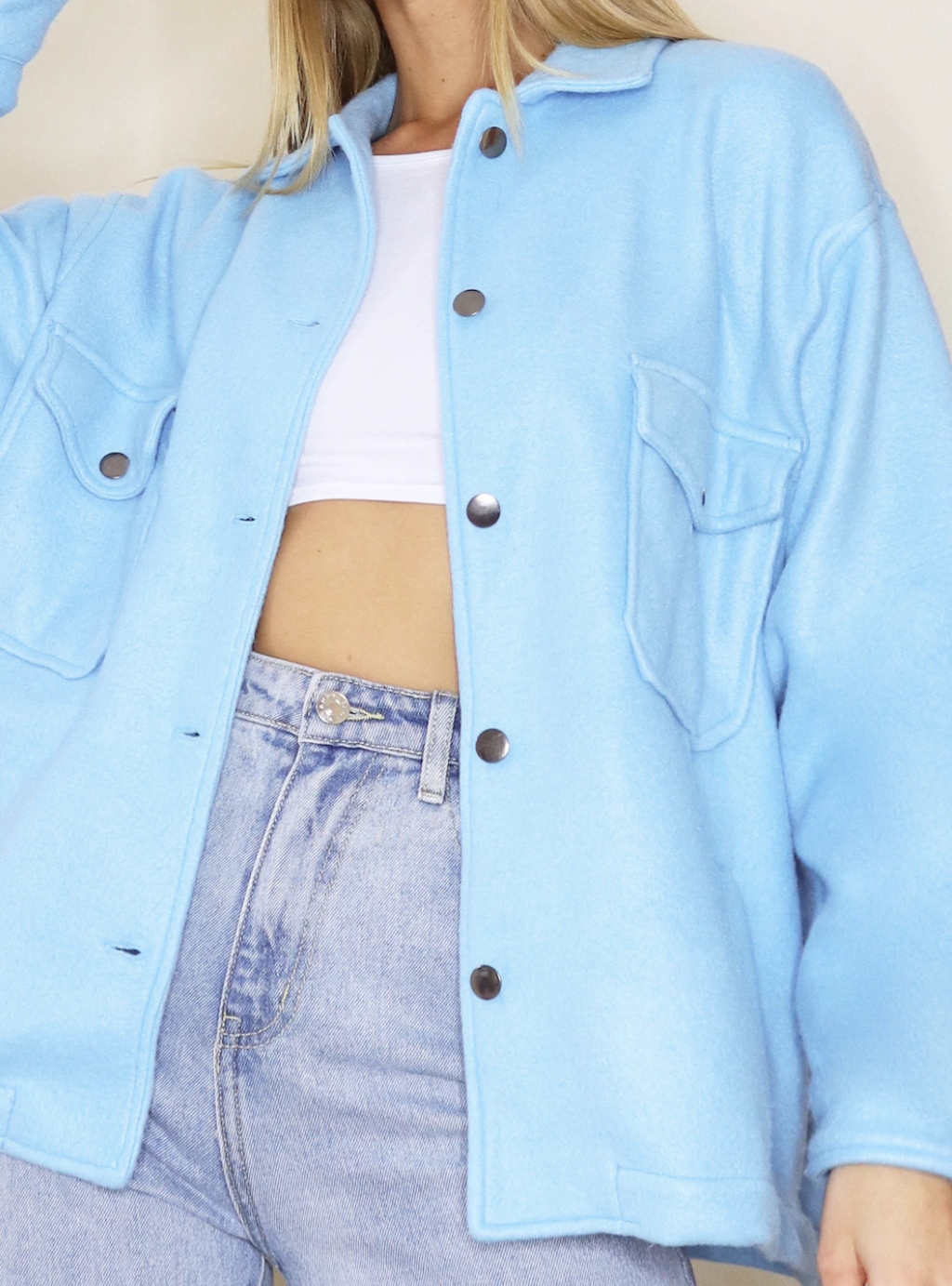 Fall outfits are usually dark colored because most layers always come in black, but why not spice up your outfit with some bright colors?
This stone pocket front shacket is perfect because this pretty blue color will make sure you stand out in the crowd. Plus, the fabric is nice and thick so it's sure to keep you warm this fall.
4. Elyse Os LI Shackett
If you want a cozy shacket that will go with absolutely everything in your wardrobe, try a beige option like this Elyse one from Cotton:On.
Beige and neutral colored clothing is very trendy, so this piece is perfect for rocking the minimalist trend while also staying cozy. Pair it with a white bodysuit and mom jeans for a simple and chic fall outfit.
5. Dark Blue Wash Denim and Check Oversized Shirt Jacket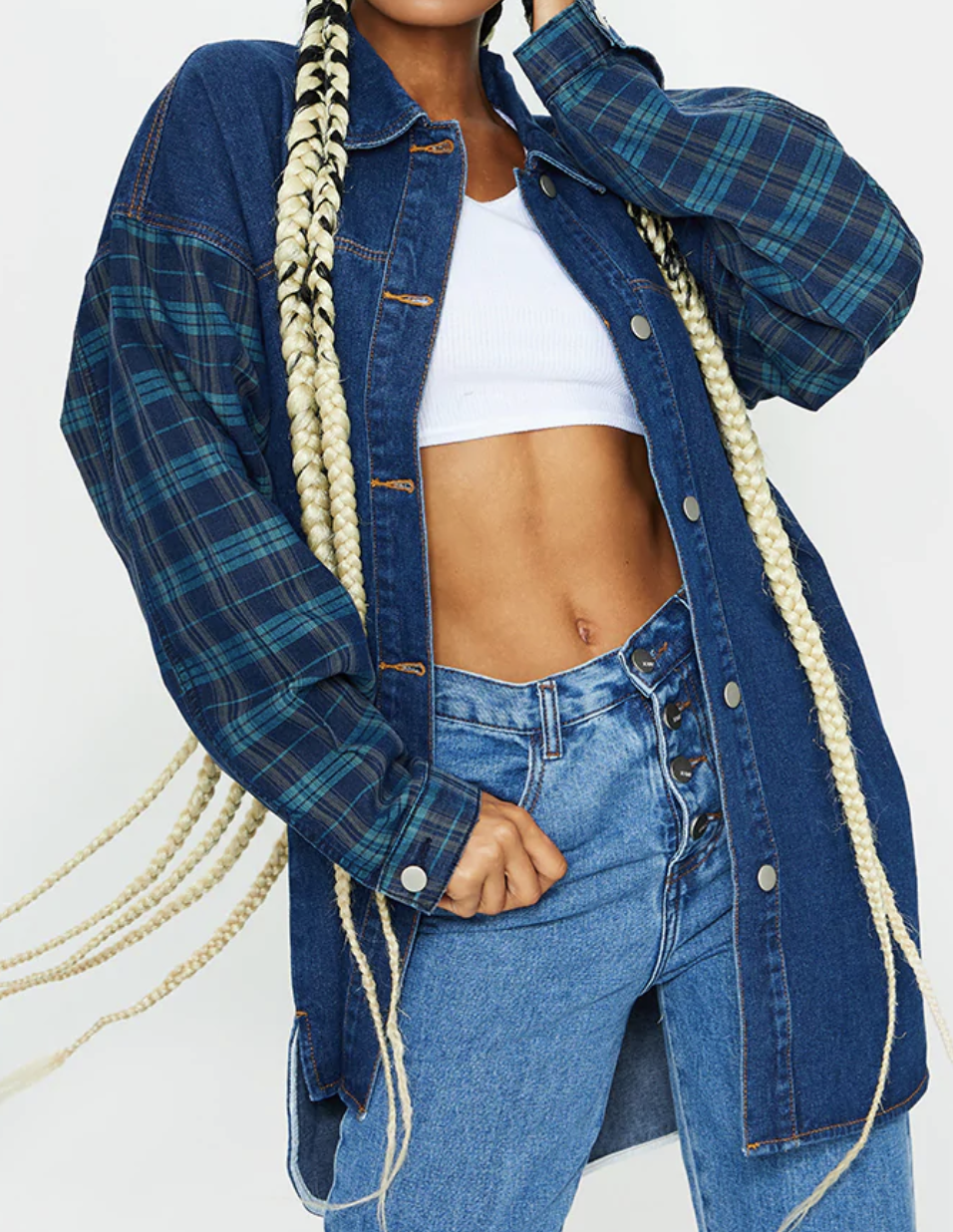 Most of us wear a lot of denim in the fall to keep ourselves warm, but the same old jeans can get boring. So why not incorporate a little more denim into your look this fall?
If you are looking for more ways to incorporate denim into your fall outfits, this dark blue wash denim and check oversized shacket will look great with your ensembles.
This one also boasts cute plaid sleeves, for an extra fall vibe that's also a little '90s.
6. Red Checked Pocket Front Shacket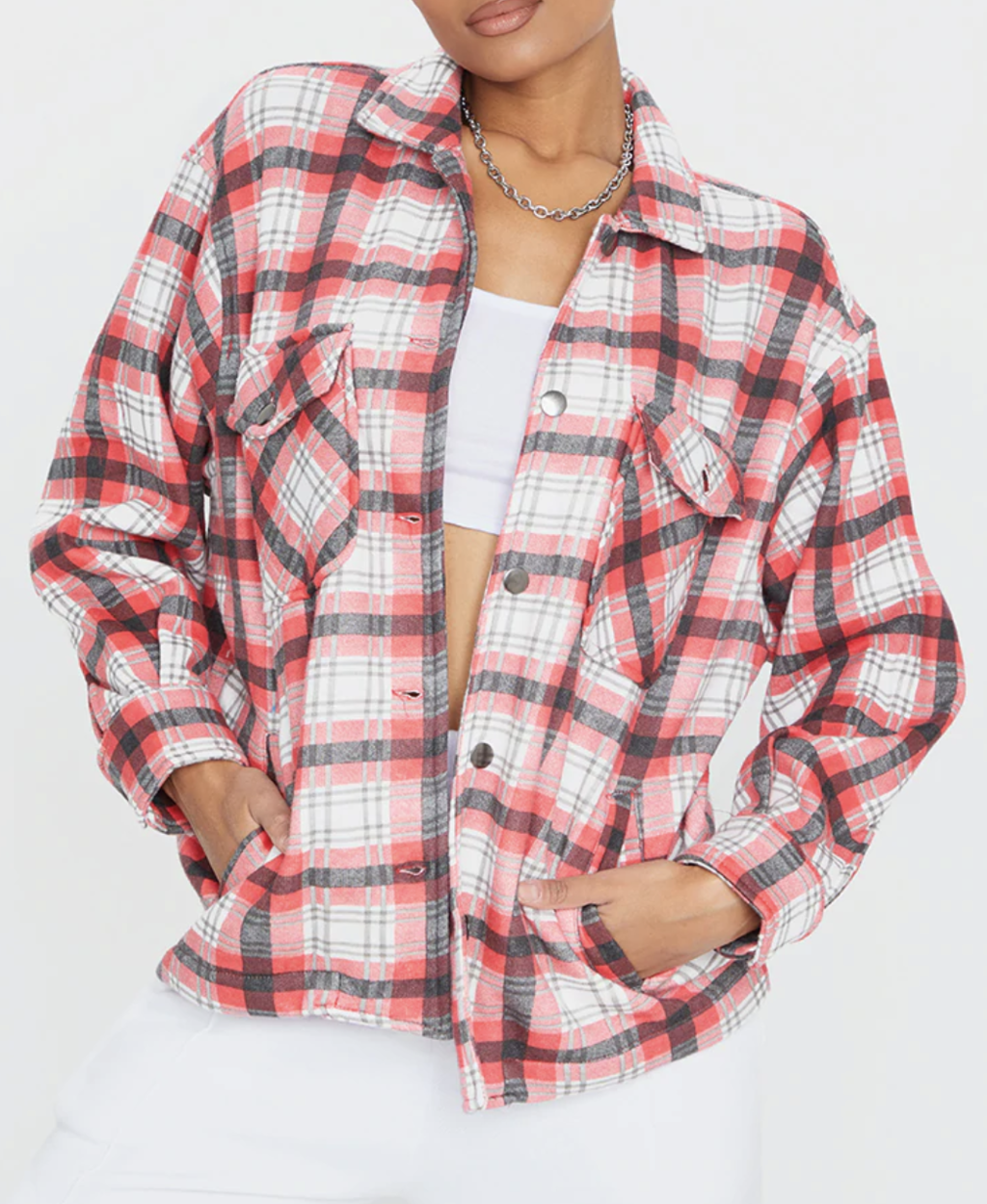 If you are someone that loves to have fun designs on their clothes, this red checked pocket front shacket is the one for you.
You can pair this piece with any white or black outfit, and it will look super cute for this fall.
7. Multi Two Tone Shirt Jacket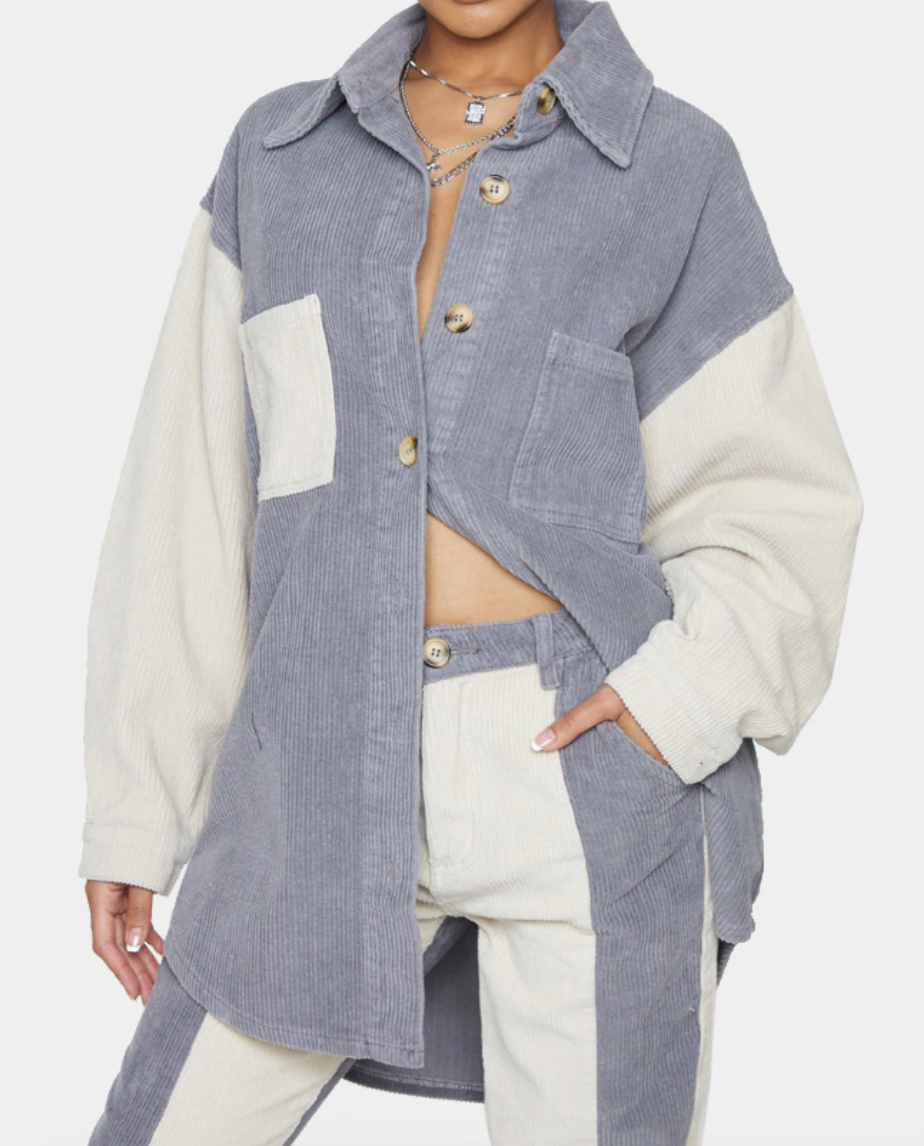 The only thing better than a shacket is a full shacket outfit. This multi two tone shacket is awesome because you can also get the matching pants!
It doesn't get much cozier than fuzzy corduroy in the fall, so this cute shacket is definitely one to pick up.
8. White Oversized Pocket Shacket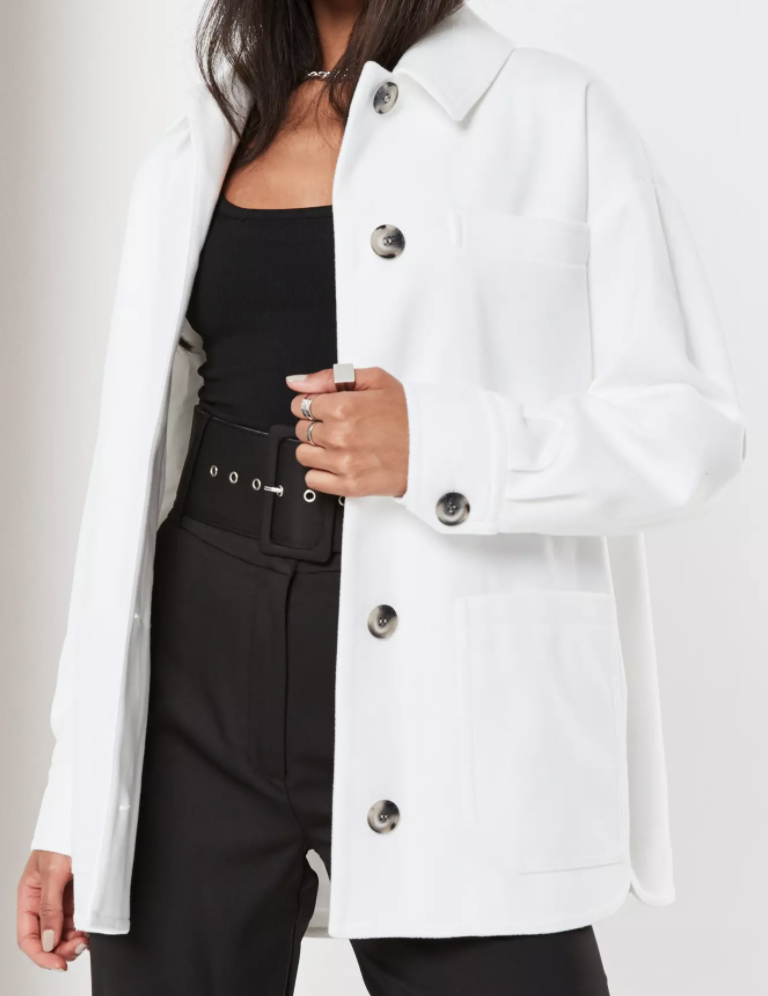 Talk about classic! A white shacket like this white oversized pocket shacket is the perfect clothing item to layer your outfit with that will look good with everything.
This will especially work for your daytime outfits and whenever you are in a rush because you can just grab this shacket without having to worry about it matching your outfit! Plus, it's the perfect pop if you usually like to wear all black in the fall.
9. Black Co Ord Faux Leather Quilted Shirt Jacket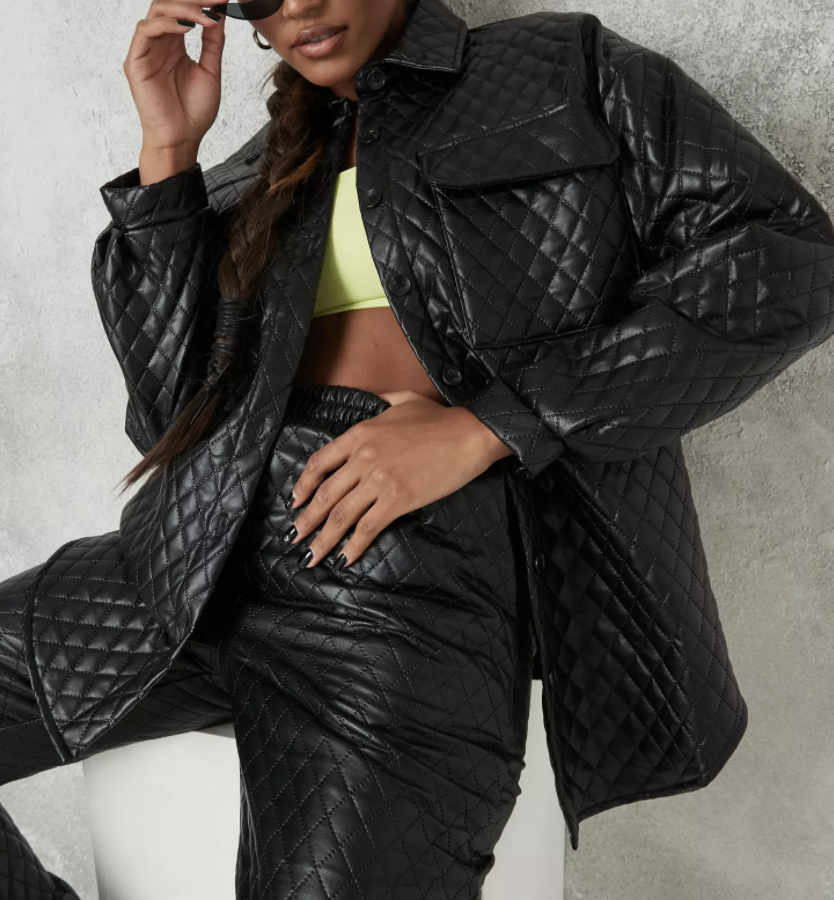 A black shacket is another must-have, especially if you are trying to stay warm in a going out outfit.
I absolutely love this black co ord faux leather quilted shacket because it's so cool and unique — the quilting is a fun detail and faux leather clothing is a huge trend this fall.
I can definitely see this paired over crop tops for fun nights out this fall.
10. Mint Pocket Front Shacket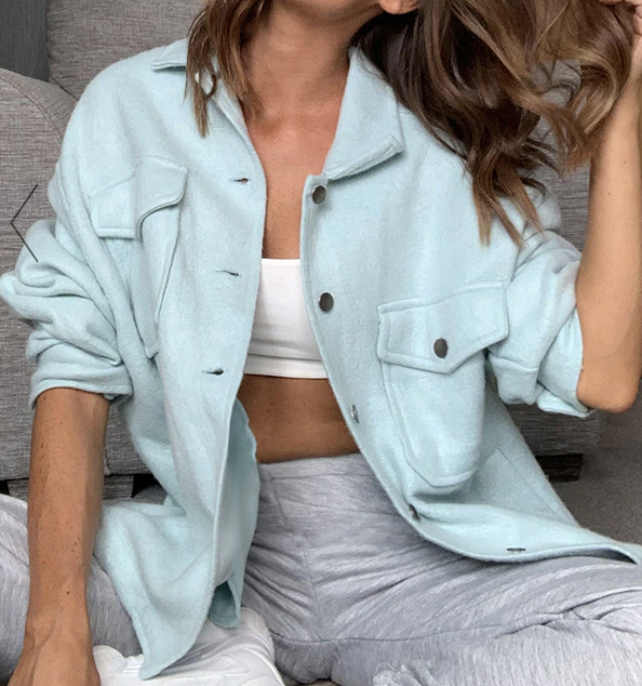 Mint is such a pretty color, but did you ever think about buying mint-colored clothes? You can with this mint pocket front shacket.
This shacket will add a bit more color to your fall outfits, and if you are wearing a white outfit, they will look super cute together! Plus, you can totally wear this into the spring since mint is a forever spring favorite.
11. Houston Shacket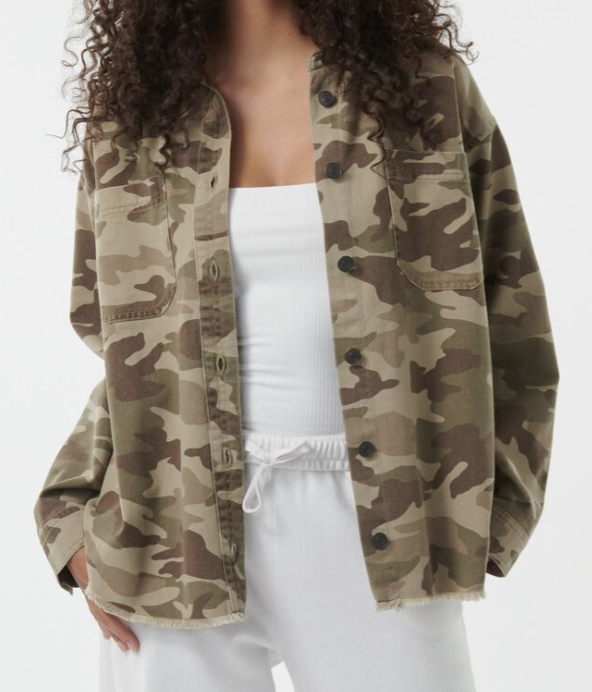 Camouflage is another very trendy design, and we absolutely love it for fall.
With this Houston shacket you will look trendy for this fall, while also having a neutral piece that will go with a variety of looks. Pair this with faux leather leggings and a white tee for a casual day out.
12. Grey Waffle Texture Oversized Shirt Jacket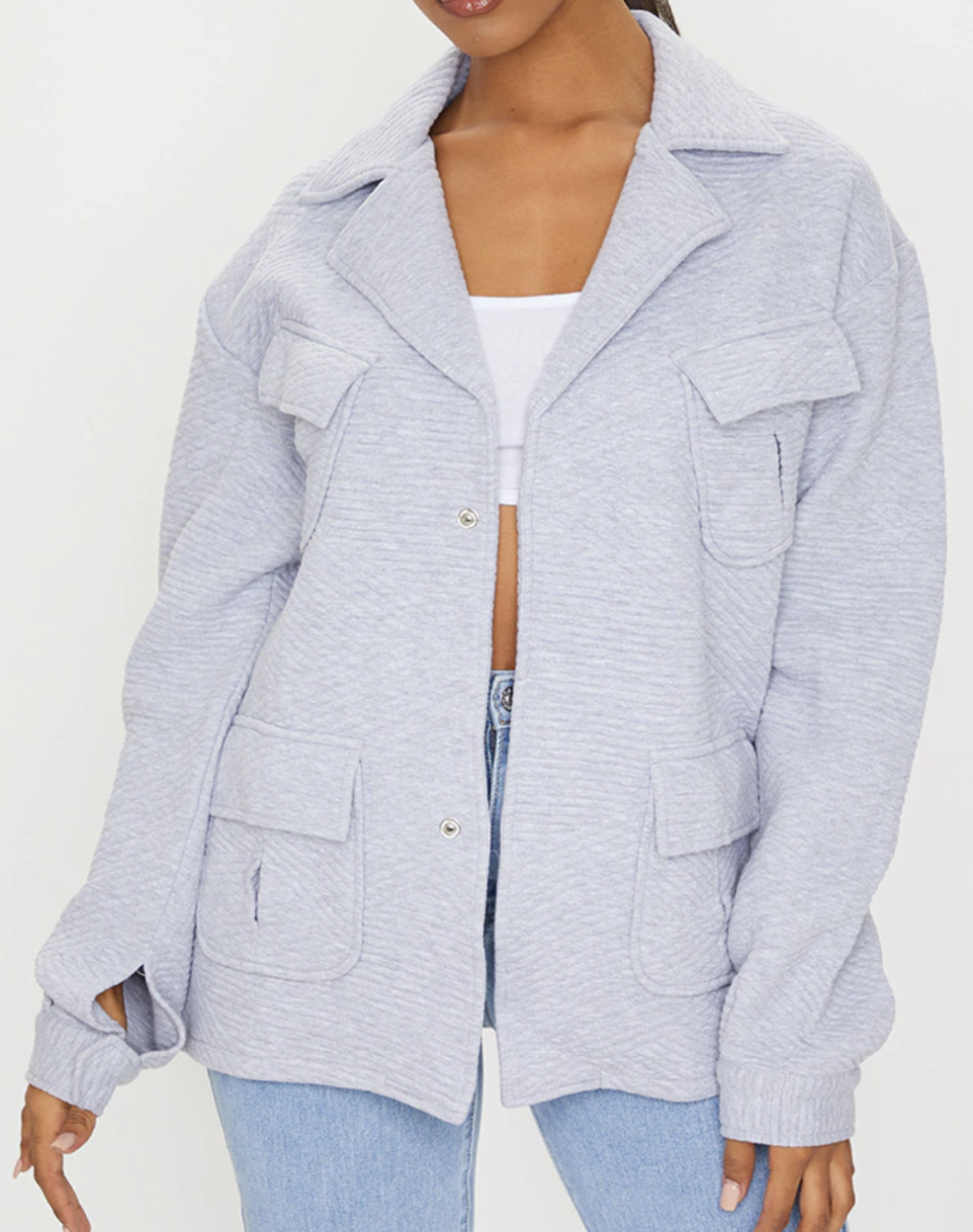 I'm obsessed with how cozy this grey waffle texture oversized shacket looks!
It is a pretty grey color, which will match with almost anything, and if you would rather have a shacket without as many buttons, this one is perfect.
It's definitely more to the jacket side of things than some of the other items on this list, but I absolutely love it.
13. Black Fringe Studded Denim Shacket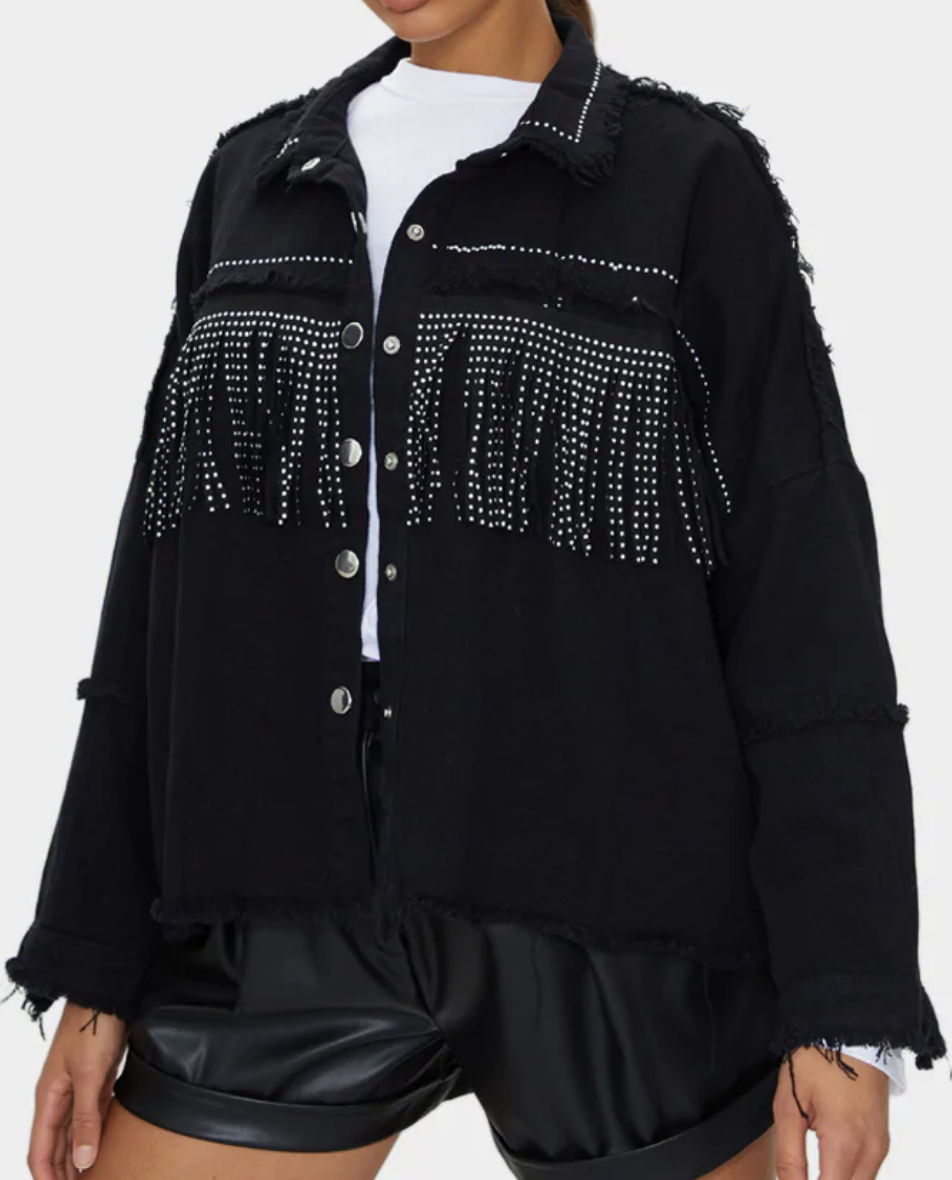 If you want to really stand out and bring some boho vibes to your look, you should get this black fringe studded denim shacket.
Fringe has also been popular in fashion recently, and I love the fringe detailing on this piece. This shirt jacket comes in black so you can wear it with basics or flashier pieces, depending on the occasion.
14. Sage Faux Leather Longline Shirt Jacket
Shackets are usually the size of a jacket (think hip-length), but you can also get one like this sage faux leather longline shacket that fits more like a dress.
This shacket is long enough that you could wear it as a dress as one of your fall outfits, or layer it like you normally would over pants and dresses.
Finally, how pretty is this sage color? It's such a unique take on fall colors and I absolutely love it.
15. Stone Contrast Stitch D Ring Shacket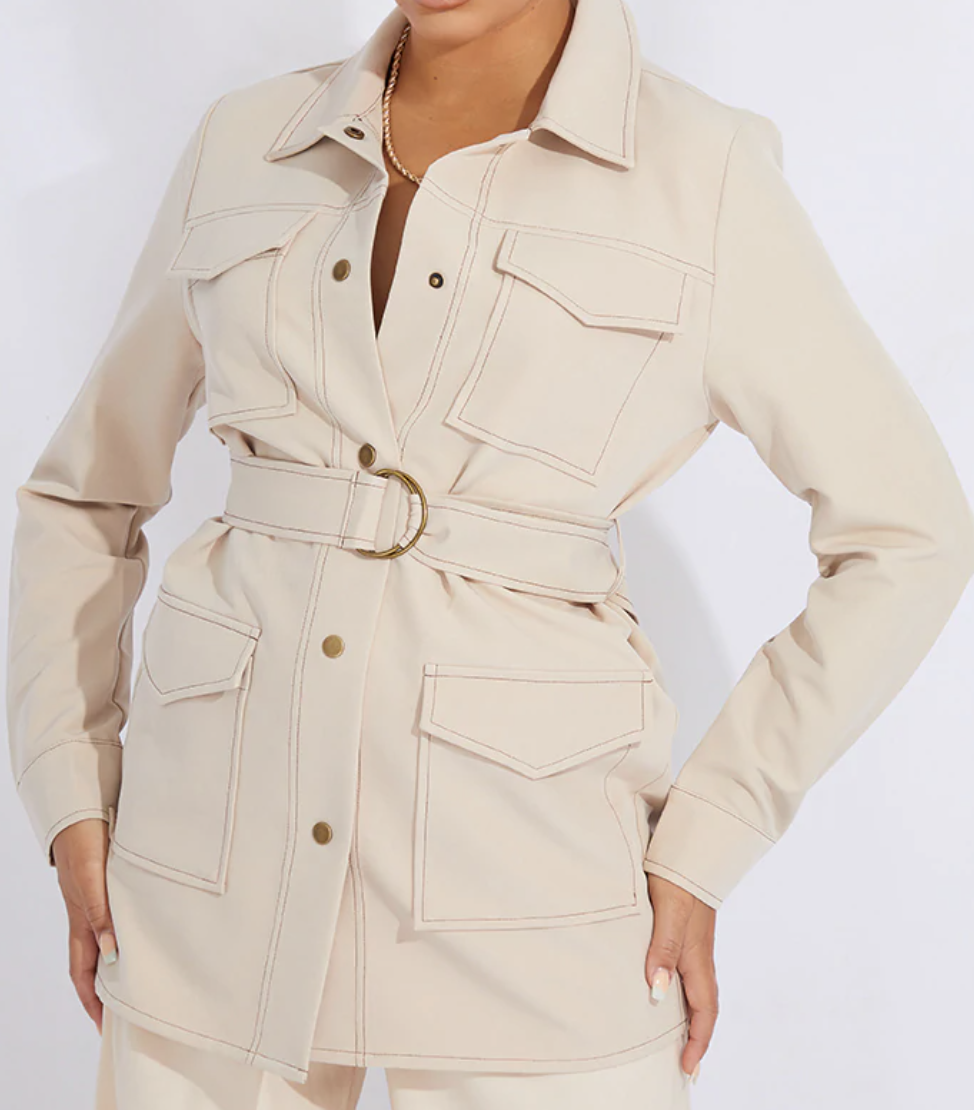 If you want a shacket that has a belt (great for cinching your waist or just staying extra warm), you should get this stone contrast stitch d ring shacket!
It is a beige color which will match with everything, and it also has a gold ring that you can use as a belt.
Which shacket is your favorite?
Which shackets are you going to wear this Fall? Which ones are you going to purchase?