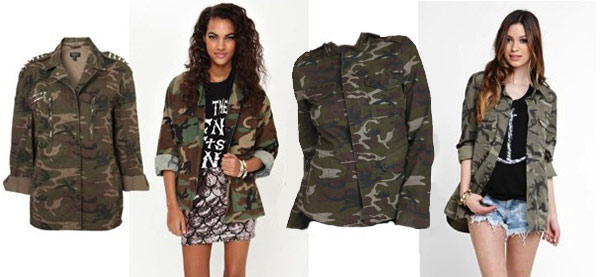 When I first saw camo jackets on street style blogs, I'll be honest and admit that I had a minor freak out. I'm all for androgyny and remixing unexpected pieces, but whoa, CAMOUFLAGE?!! I was the first girl in my friend group to wear harem pants and leopard print leggings, but the camo trend seemed outrageous even to me.
It took me, well, okay, an entire week to cave in and acquire a piece of the trend for myself. Although camo pants and shirts are popular, I thought a camouflage jacket would be the safest bet, even though I wasn't entirely sure how to style it. After some thought and research, I found out that camouflage jackets are indeed very versatile, and will probably definitely work with the clothes you already have in your closet. Score!
In honor of my newfound trendy best friend, I've scoured the internet and rounded up the best tips and tricks on how you can rock a camouflage jacket. Read on, ladies!
(Note: if camouflage jackets are a little too bold for your taste, any of these tips and tricks will work with a solid-colored army jacket as well!)
Tips and Tricks for Wearing a Camouflage Jacket
These jackets are super hot, but have the potential to burn out quickly. Be mindful about how much of your clothing budget you feel comfortable investing on such a trendy item. This is probably a great thing to buy at Forever 21, Charlotte Russe, or Wet Seal.
Get the real deal! Check out army surplus stores for authentic camouflage jackets. They're affordable there, and you'll have a big selection of patterns and colors to choose from. A real army jacket is also sweet because it'll be simple enough to customize and make your own. Speaking of which…
Add some flair to your army jacket with patches or studs. I went the lazy route and picked up a jacket with studs already affixed to it, but I imagine that this would be a very simple DIY project. Check eBay for inexpensive vintage patches. If you want to experiment with a military look but aren't sold on camouflage, this would also be a neat way to dress up a plain utility work shirt.
Roll the sleeves. This probably a no-brainer, but it transforms the coat into a chic piece.
The easiest way to wear a camouflage jacket is to pair it with a plain white tee, skinny jeans, and simple boots. This way, your chic jacket will steal the show. Up the ante by wearing an edgy pair of ankle booties, by adding a cute belt, or by substituting a plain tee shirt with a graphic tee.
Juxtapose your army jacket with a girly ensemble. How amazing would a camo jacket look with a light tulle or lacy dress? It would look equally chic with a simple maxi dress, pink or purple jeans, a patterned skirt and cropped top, or even just skinny jeans with a fabulous pair of heels.
Glam it up by curling or teasing your hair, or by wearing red lipstick, a bow headband, or blingy chandelier earrings.
Mix prints, but exercise caution. I think a camouflage jacket would look amazing with certain tie-dyes, plaids, polka dots, or even leopard print. The trick is to make sure neither pattern is too eye-catching or brightly colored. You want to look street-style chic, not like a walking hot mess.
Have fun experimenting. This trend is great because it evokes a wild, carefree, edgy vibe to your look. Don't be afraid to pair your new camo jacket with, well, pretty much anything in your closet. The sky's the limit, and the point of the trend is to look unexpected and unique.
Outfit Ideas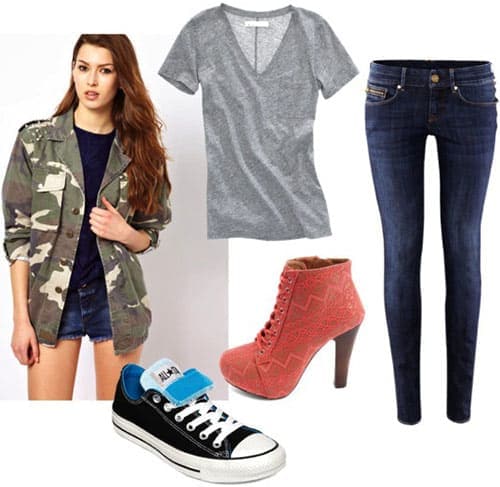 Jacket, Shirt, Jeans, Converse, Booties
This is one of the most basic — and most versatile — ways that you can rock a camouflage jacket. A gray v-neck t-shirt and dark-wash skinny jeans won't steal the show from your jacket, and can be dressed up or down depending on the occasion. Wear this outfit to class with a messenger bag, sneakers, and a beanie. Or pair the look with lace-up platform boots, a statement necklace, and an edgy clutch for a night on the town. The possibilities are endless!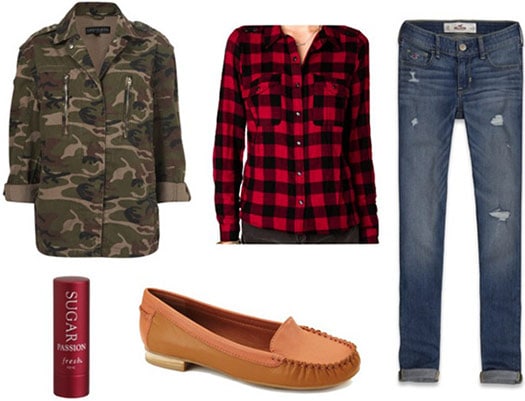 Jacket, Shirt, Jeans, Shoes, Lip Color
This outfit is a great example of the right way to mix prints. Buffalo plaid isn't too busy to mix with camo, and the deep red actually complements the green and tan shades in the jacket. Finish the ensemble with skinny jeans and a pair of loafers. Counteract this outfit's natural masculinity by rocking red lips and maybe curling your hair!
Dress, Jacket, Shoes, Anchor Necklace, Infinity Necklace
This look is not for the faint of heart — but I know you foxy CF girls can pull it off! An amazing, unexpected, and completely chic way to wear camouflage is to pair it with something insanely girly. A frilly, pink lace and tulle dress would look so trendy with a military jacket like the one pictured! Finish with tough heels and layered necklaces.
Thoughts?
Do you have an army jacket? How do you feel about camouflage pieces? How do you style your army inspired items? What do you think about the outfits and tips? Do you have any tricks you'd like to share? What other trends have you stumped? Leave a comment and tell us what you think!