Editor's note 2/26/20: While we stand by this advice, you may want to check out our updated guide to patterned pants outfits for the most of-the-moment takes on this trend.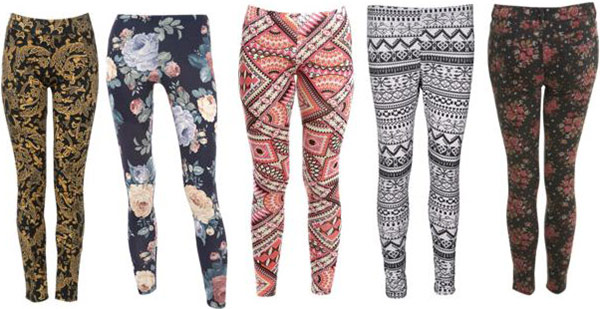 Even the most stylish girls can get tripped up on a trend from time to time. I remember a sort of panic setting in the first time I saw patterned denim pop up at stores like H&M and Urban Outfitters. Patterned tops or dresses are one thing, but pants?! I mean, we all just got used to wearing brightly colored jeans!
As with any challenging fashion scenario, this mild case of fashion anxiety diminished as soon as I started noticing how stylish girls on campus were rocking them. Here at CF, we believe that anyone can pull off any trend with the right confidence and a little bid of creativity.
Today, we're tacking patterned pants and leggings and breaking down the easiest ways to pull these babies off with ease. Ready to learn a few style tricks? Read on!
Tips and Tricks for Rocking Patterned Pants or Leggings
Start conservatively. If bold patterns aren't your thing, you can still participate by looking for bottoms with subtle details, like tiny polka dots, pinstripes, or tie-dyed designs.
Try leopard print. Leopard print bottoms are very popular, so they're another great option if you just want to stick your toe in the water with this trend. See our post on how to wear leopard print pants for ideas!
Consider the cut. Printed pants with flared bottoms can look a little dated (think of a leisure suit from the '70s), but patterned trousers can look preppy and even business-casual when styled correctly. While printed harem-style or flowy pants are hot on street style blogs, they can be hard to pull off in real life. The easiest and most flattering way to rock this trend is with a skinny cut pant.
Elongate your legs. This can be done in many ways, but wearing heels or wedges is probably the easiest and most fool-proof fix. Ballet flats will look great also, especially with cropped styles. Avoid flat ankle boots here — they can make you look stumpy.
Keep your top half simple. Solid colors and slimming silhouettes will nicely complement the boldness of your pants.
Think about the pattern itself. Horizontal stripes can be tricky, as can anything with too many loud colors. It might be a good time to enlist an honest (but sweet) BFF if you're not sure if a particular pattern is flattering or not.
Leggings aren't pants! I know I'm preaching to the choir here, but always pair your printed leggings with a tunic or a simple dress that covers your butt. You don't want to leave yourself vulnerable to ridicule or an embarrassing camel-toe situation! My rule of thumb is, if a pair of jeggings is thin enough to show the seam of a regular pair of underwear, I stick with bum-covering top options.
Balance the look with your top half. Sometimes patterned bottoms can have a tendency to look like pajama pants, especially if you go with a chino-styled cut. Counteract this by pairing them with something neat and dressy up top — a dress shirt and blazer would accomplish this perfectly!
Be confident! As with almost every fashion trend, those around you can sense whether you feel good in something or not. Carry yourself with some swagger — people will admire your bold sense of style!
Outfit Inspiration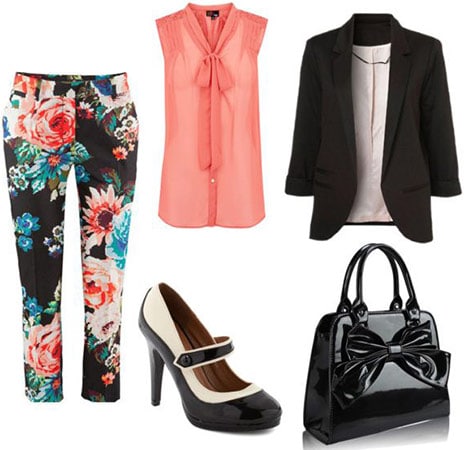 Pants, Top, Blazer, Shoes, Tote
This outfit is a perfect "snappy casual" look, which would be great for office hours with a professor, lunch with the 'rents, or a casual work setting. Multi-colored patterns don't have to just be paired with neutrals. Pair these pants with a top that's the same color as any of the hues on the pants, and you'll look fresh and put together. Add a blazer for a sharp look, and finish with heels and a structured bag.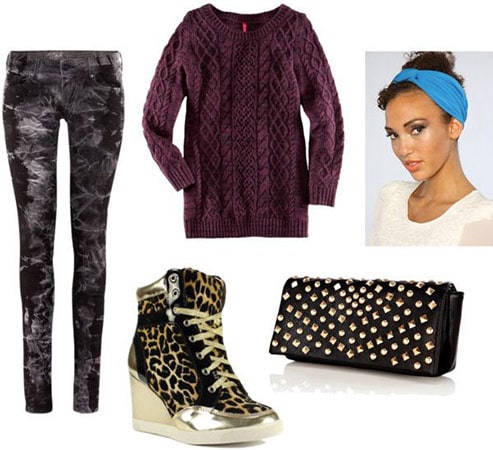 Pants, Sweater, Shoes, Turband, Clutch
Tie-dyed pants are a great way to rock this trend without going over-the-top. Jeans like these would look awesome with a knit sweater like the one shown above. Don't worry about the sweater looking dull — you can make it edgy by adding a studded clutch and wedge sneakers! Finish the look with a trendy turband.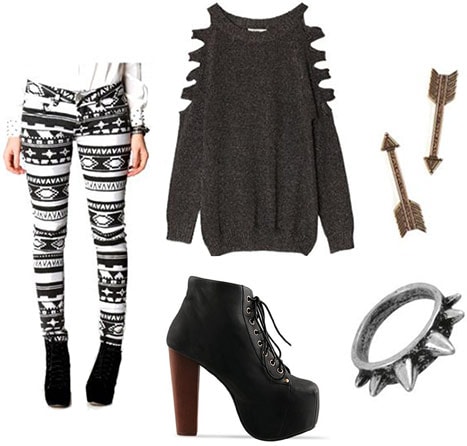 Pants, Sweater, Shoes, Ring, Earrings
If you're a street style junkie like I am, you've seen many outfits similar to this before! Geometric-patterned jeggings will look urban and hip with an edgy cut-out tunic sweater. Keep the trendy vibe going with JC Litas and a spiky ring. Finish with simple earrings.
What Do You Think?
When did you start wearing patterned pants and leggings? What are some of your favorite ways to style them? What patterns do you think work best? Is there a rule that you follow for whether a pair of jeggings should be treated more as leggings or pants? What other trends have you tripped up? Leave a comment and tell us your thoughts!