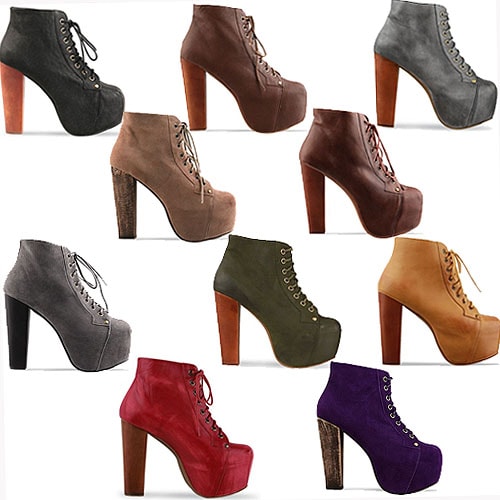 In case you lived under a rock last year (or were just too busy studying for midterms to browse fashion blogs) Jeffery Campbell's Lita boots hit the street style fashion scene with more fury than Uggs in high school. I'm slightly addicted to Fashiontoast, and I became truly obsessed with the way Rumi made haphazardly thrown-together outfits look incredibly chic with just the addition of her many pairs of Litas.
It took me quite a little while to save up for a pair (they run from $150-$200 dollars, depending on the material or print you choose) but finally, the week after Thanksgiving break, my lovely Litas arrived on my doorstep. After the initial screaming with joy, wearing them 24/7 around my house (even with my pajamas), and showing them to all of my friends wore off, I was left with a bit of a problem…sure, they look great on waifish fashion bloggers, but do Lita boots translate well into real life?
These distinctive boots were hotter than Jude Law last year, and from the street style photos we've seen of this season's New York Fashion Week, they're back for another go-around. CF is here to tell you why we love them, show you some cheaper alternatives, and give you tips on how to style these babies.
Are you as excited as I am? (And I'm talking Rebecca Black-caliber "WE, WE, WE SO EXCITED!!") Read on!
Why We Love Lita Boots
Before we get into styling them, here's a brief history of the Lita boot. Since hitting the scene in July of 2010, these babies have become a bit of a cult item, appearing on literally every popular style blogger's posts in fall of 2010 and winter of 2011.
But don't worry, despite their trendiness last year, I have a feeling that these boots still have another winter or two of popularity left in them. Here's a few reasons why I think they rock:
They come in every color, pattern, or style imaginable. From suede to leather, glittered to pony-haired, solid-colored to leopard print, camouflage to plaid, you're bound to find a pair that's as crazy or as versatile as you prefer. (Check out the Lita selection at Solestruck for an idea!) The pair I own are brown leather — the neutral color goes with everything in my closet, leather is easier to care for than suede, and let's face it: the boots are crazy enough on their own. The more patterned the boots are, the harder they become for a college girl to pull off.
They're surprisingly comfortable. So, they're 5-inches high, which may sound too high for many of you. However, the 2-inch hidden platform at the ball of your foot make them feel like 3-inch heels — much more reasonable. Plus, the laces allow you to tie them as tightly or loosely as you want, and you can easily hide a gel insole in them if you need extra support.
They're a great investment piece for some styles. If your usual style is really preppy or conservative, spending $160 dollars on a pair of Lita boots probably isn't this wisest decision. However, if your style is more urban or funky, these boots alone can breathe new life into your current wardrobe.
They go with almost anything. From dresses to shorts, skinny jeans to bell bottoms, a solid pair of leggings or a patterned pair of tights, a pair of lace-up boots will go with a very large percentage of what is already in your closet.
They'll give your wardrobe some high-fashion flair. As much as I wish I could afford Rag and Bone's entire fall line, I've also got to do things like eat and pay rent. Lita boots will give your Forever 21-infused ensemble the look and feel of a designer outfit.
They're fun! When worn with plenty of confidence, Lita boots make an excellent conversation piece. Guys will compare your shoes to a pair of Lady Gaga's (in a good way!), and girls will ask you where you bought them and how you learned to walk in them. Plus, I can't help but feel like a total badass when wearing them out. They made mundane things like getting coffee, going to the bank, grocery shopping, or filling up your gas feel glamorous!
Get The Look For Less
Not up for spending $150+ on a pair of real Litas? There are plenty of cute and affordable alternatives that will help you get the look for less cash. These cheaper options would also be a great way to try the trend if you aren't sure about it yet.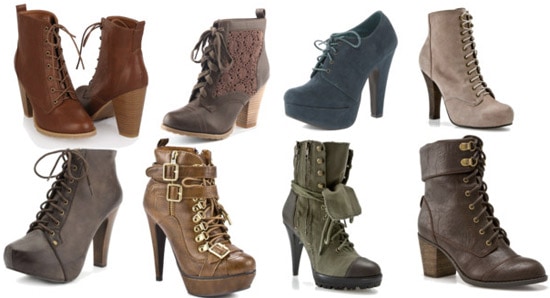 From the top left: 1, 2, 3, 4. 5, 6, 7, 8
How to Style Your Lace-Up Boots
With Dresses. Litas (or similar styles) look great with a winter dress paired with a wooly pair of tights or your go-to pair of leggings. Transition a summer dress into fall by pairing it with a cardigan, scarf, tights, and your lace-up boots.
With Pants. Lita boots are most popularly worn with skinny jeans, but I think they look awesome paired with flared jeans as well — it's a good way to tone down the craziness of the shoe. They would also look great with a pair of skinny cargos or even harem pants if you're daring.
With Shorts. A dressy pair of shorts plus a pair of lace-up high heeled boots will make your legs look miles long. If it's chilly, add your favorite pair of tights.
With Socks. If you're feeling really bold, pair your boots with thigh-high stockings or cute socks that reach a little higher than your ankles. You can go girly with a pair of lacey fold-down socks, or urban with a thick, patterned pair.
With Tons of Accessories. Steal some blogger style by wearing your lace-up boots with a fedora, a thick scarf, dangly earrings, a stack of bangles, and a giant cocktail ring.
Outfit Ideas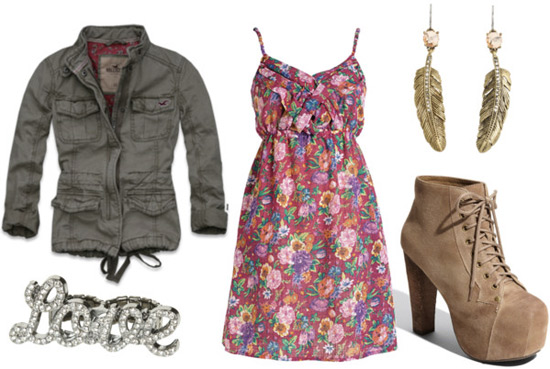 Jacket, Ring, Dress, Earrings, Lita Boots
Have a favorite summer dress that you aren't quite ready to part with? Condition it for fall by pairing it with a utility-style jacket and of course, a pair of lace-up booties. Finish the look with some funky jewelry.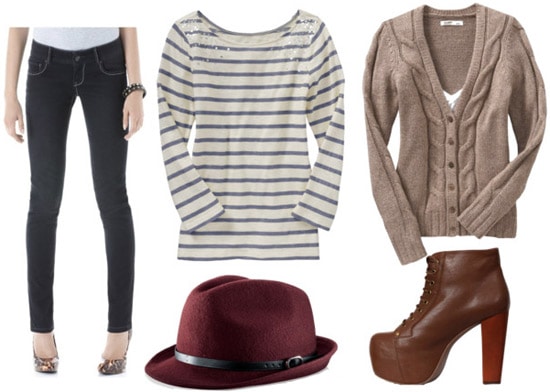 Jeans, Striped Shirt, Cardigan, Fedora, Lita Boots
Start with dark skinny jeans, and pair them with a classic striped boat neck shirt. Add a cozy cardigan to stay warm. This is a really basic, wearable outfit, but you can make it unique with a wool fedora and your lace-up boots! This is a simple way to make an outfit go from "blah" to "WOW!"
What Do You Think?
What was your initial reaction to the Lita boots trend? What do you think of them now? Would you dare to rock them? Are you going to save up for a real pair, or get a more thrifty version? How do you style your lace-up boots? Leave us a comment and let us know!