A few weeks ago, I was strolling down the unkempt aisles of my local Marshalls when, to my surprise, I stumbled upon a single pair of black skinny cargos that happened to be in my size. I've had my reservations about the comeback of the cargo trend, but once I tried them on, I couldn't leave without them. Black, perfectly cropped (I'm short, so it's hard to find pants that don't drown me) and donning adorable little ankle zippers… I needed them.
Since buying these magical pants, I've basically worn them to death – I combine them with just about everything in my closet; they've truly become a staple in my wardrobe. And I think if more college girls gave skinny cargos a try, they'd feel the same way.
Therefore, here are two ideas for how to style your own pair of skinny cargos, based on how I personally style mine! I hope this gives you some inspiration and convinces you to try the look yourself.
1. Girly Casual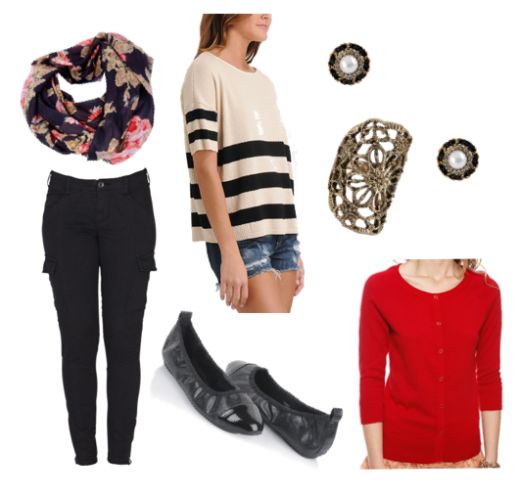 Cargos, Top, Scarf, Cardigan, Flats, Ring, Earrings
I'm a big fan of mixing prints and textures, and that's why I love this outfit. Since the cargos give off a tough vibe with their utility pockets and ankle zippers, I decided to pair them with cute, girly accessories for contrast.
To begin, I chose this striped sweater top – it's loose fitting, which helps balance out the fitted pants. Next, I decided to do some print-mixing by throwing a floral infinity scarf over the bold stripes. (This combo works because the scarf has the same pretty beige color as the top. Get it? It's all so strategical…) For shoes, I found these cute ballet flats – I love flats with cargos for a casual look. Finally, I kept the jewelry simple with some pearl studs and a pretty gold ring, and topped it all off with a bright red cardigan to complement the scarf.
2. Tough Girl Cute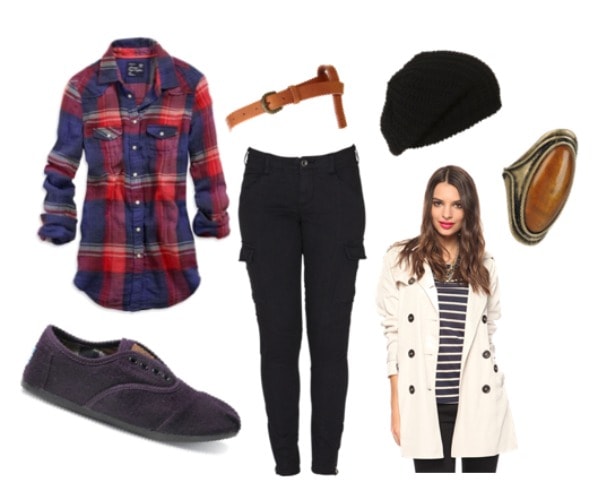 Cargos, Shirt, Trench, Shoes, Belt, Beanie, Ring
This outfit is definitely less girly, and gives much more of a "tomboy" feel than the last – but it still stays feminine through the use of a few interesting details.
I began by choosing a colorful plaid shirt to serve as the center of the look. To let the shirt stand out, I kept the other pieces simple and minimal. The TOMS shoes are cute and casual, and their deep plum color plays off of the undertones in the shirt without detracting. The belt and ring complement each other, and the men's black beanie adds a little bit of boyish edge. Top it all off with a cream colored trench to add a touch of femininity, and call it a day!
Your thoughts?
So there you have it – two different ways to style a pair of very versatile, very trendy skinny cargos! Go scan your local Marshalls, and maybe you'll luck out and find a pair like I did, or do some browsing online to find your own perfect pair.
Now I want to hear your thoughts. What did you think of the way I styled the pants? Would you wear either of these outfits? How would you style a pair of skinny cargos? Let me know what you guys think!