This Rom-Com outfits guide will show you how to dress like Rom Com characters from our favorite iconic movies.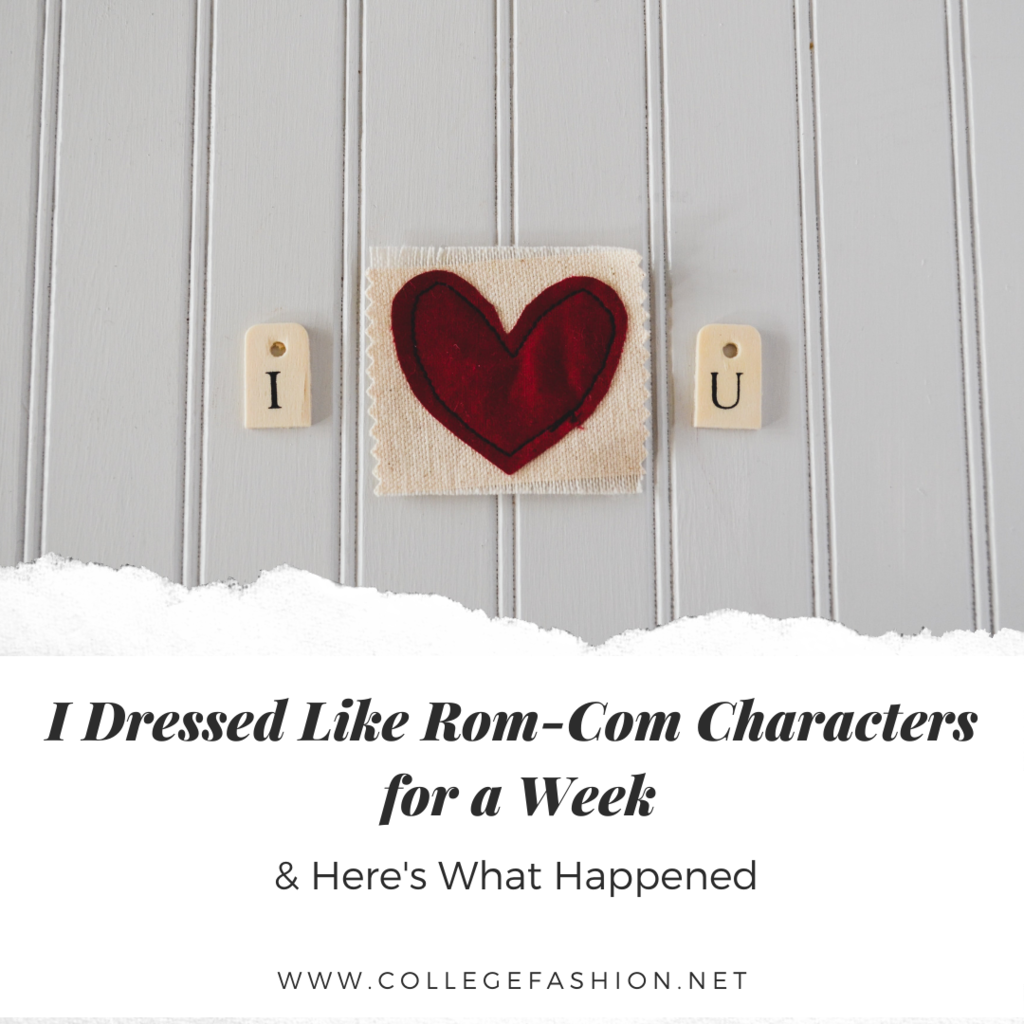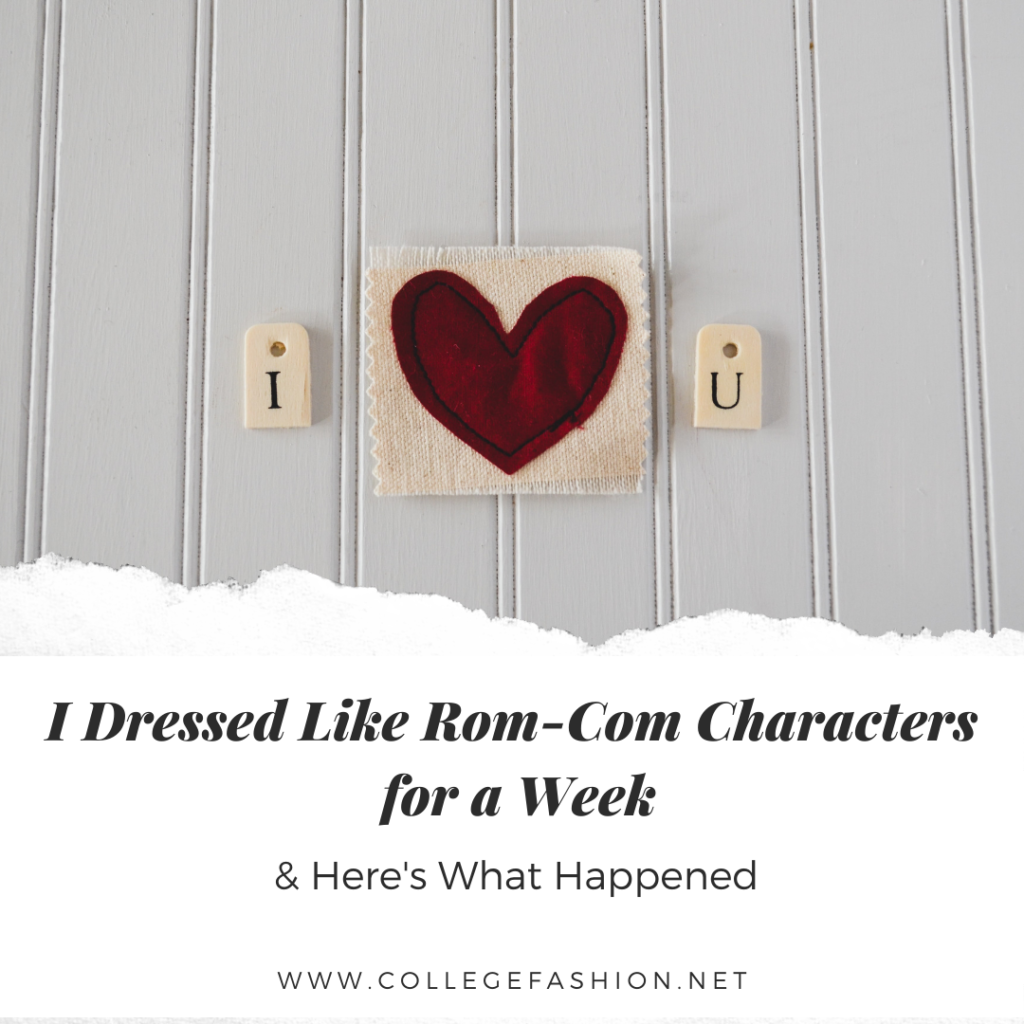 We've all looked to celebrity style for fashion inspiration at some point in our lives. But it's one thing to say "I love her outfit," and it's another to actually copy it in real life.
For this series, I'm going the extra mile and making it happen. Each week, I'm getting inspiration from a celebrity and copying five of her looks as closely as possible. Then, I'm reporting back to you: Did the outfits work in real life? Did I feel comfortable? Did people treat me differently? I'm sharing it all.
This week, to celebrate the month of love, I'm dressing like rom com characters for a week.
First, what is a Rom Com?
Romantic comedy, or "Rom-Com", is a genre in which the pursuit of romance leads to comedic situations for the protagonist.
The genre provides a lot of freedom to creators, since it really is just what is says on the tin, so they can pretty much do what they want with the rest of the movie. There are so many types of rom-coms, tropes, parodies, and deconstructions of the genre, that it truly is a subject for a larger post and discussion. But, mainly, rom-coms revolve around the quest for love.
Given its subject and its target demographic (mostly women), romantic comedy is a divisive and controversial genre. On one hand, a lot of rom-coms, as written and conceived, tend to be racist, misogynistic, fatphobic, and homophobic. On the other hand, most of the discussion about the legitimacy or impact of the genre, especially by critics and detractors, can also fall into misogynistic takes, regardless of the quality of the film.
In the past few years, there has been a very visible effort to create rom-coms that are more inclusive, with more female and LGBTQ writers, directors and producers bringing their voices to the genre.
Personally, I love rom-coms. The overall theme of the pursuit of love has always made me happy. My best friend and I bonded in the early years of high school through our shared love of rom-coms. (We loved Sleepover and Angus, Thongs and Perfect Snogging the most.) We have spent countless hours together having dinner and watching cheesy, endlessly-romantic films.
Rom Com Outfits & Fashion Guide:
First, a note: Like most of my character-inspired posts, this one won't be an item-by-item recreation. (Some of these movies are decades old, after all.) My looks are contemporary takes on each character's most iconic look or style.
Now, on to the rom com outfits:
Monday – Outfit #1, Sally Albright (When Harry Met Sally)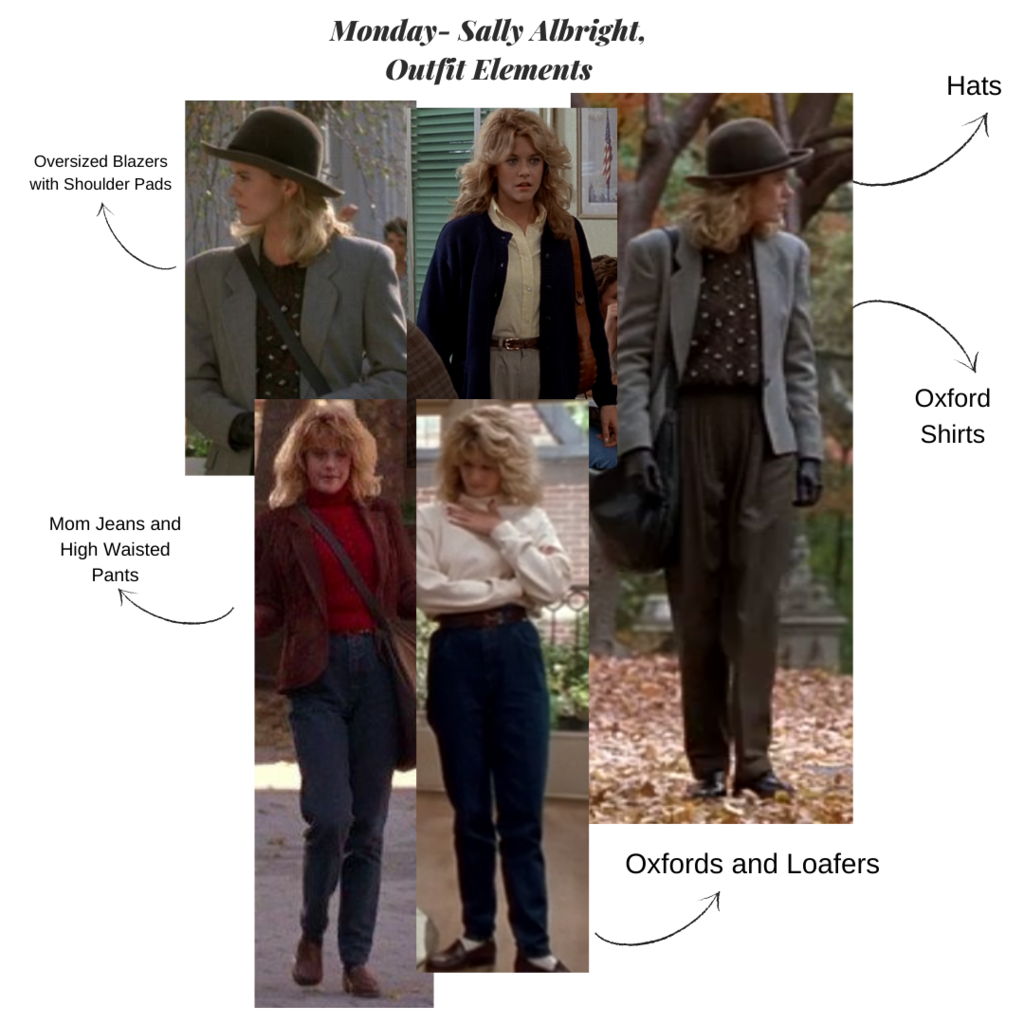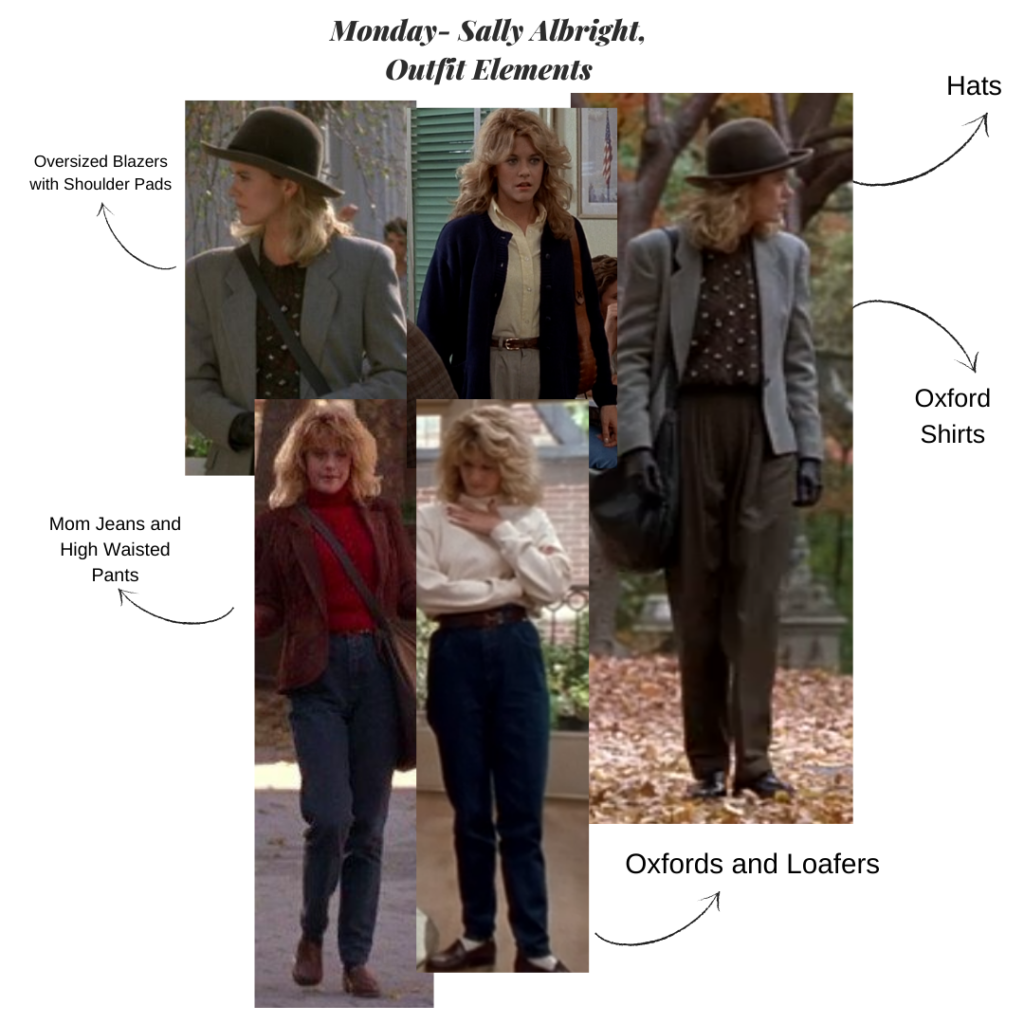 When Harry Met Sally is a romantic comedy directed by Rob Reiner, written by Nora Ephron, and starring Billy Crystal and Meg Ryan. The film premiered in 1989 and it has become required viewing for any rom-com fan.
Cynic Harry Burns (Crystal) and idealist Sally Albright (Ryan) first meet in 1977, when they share a drive from college in Chicago to New York City. The movie revolves around their relationship through the years, and their differing views on love, sex, friendship, and Casablanca. While it has an R rating, this was likely due to the famed restaurant scene and a couple of swear words. The rest of the movie is fairly tame.
Sally's style is quintessential '80s trendy. Shoulder pads, oversized blazers, mom jeans, high waisted pants, and loafers are her most-worn items.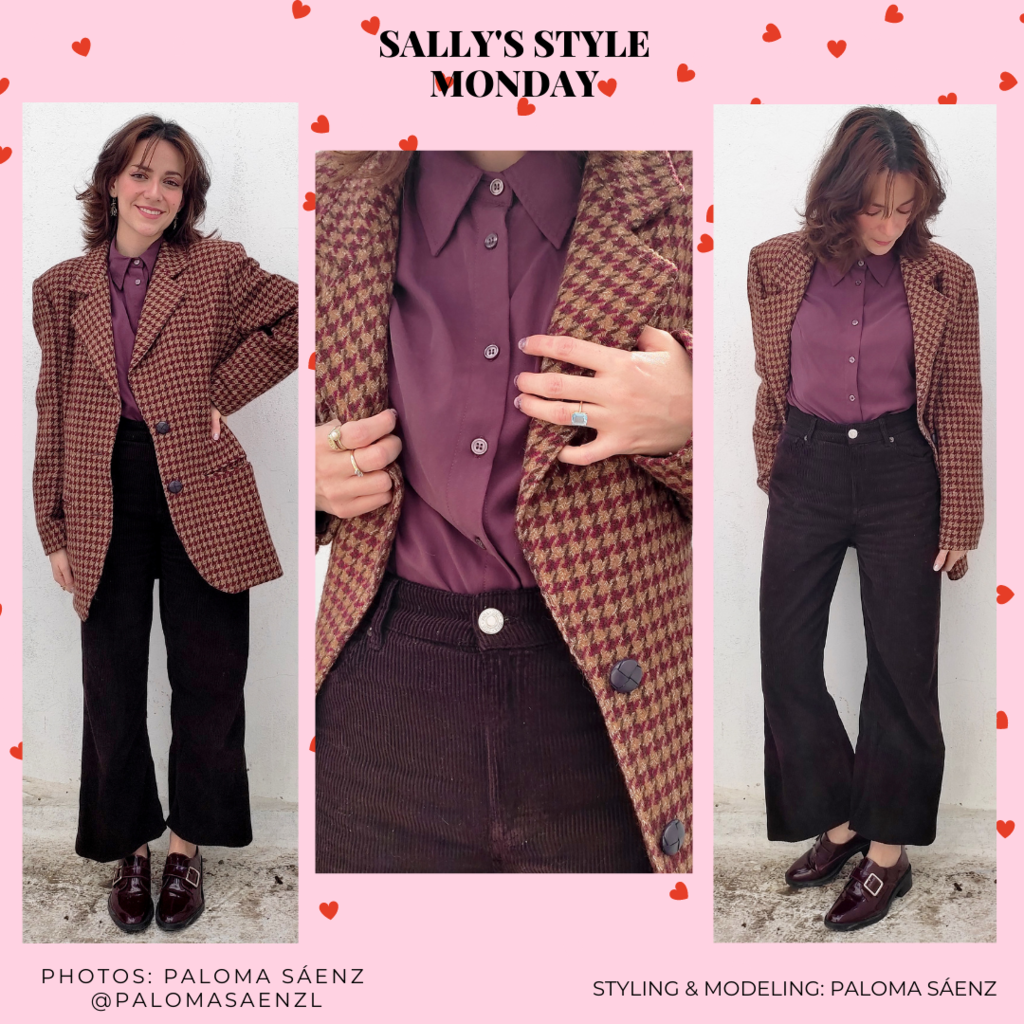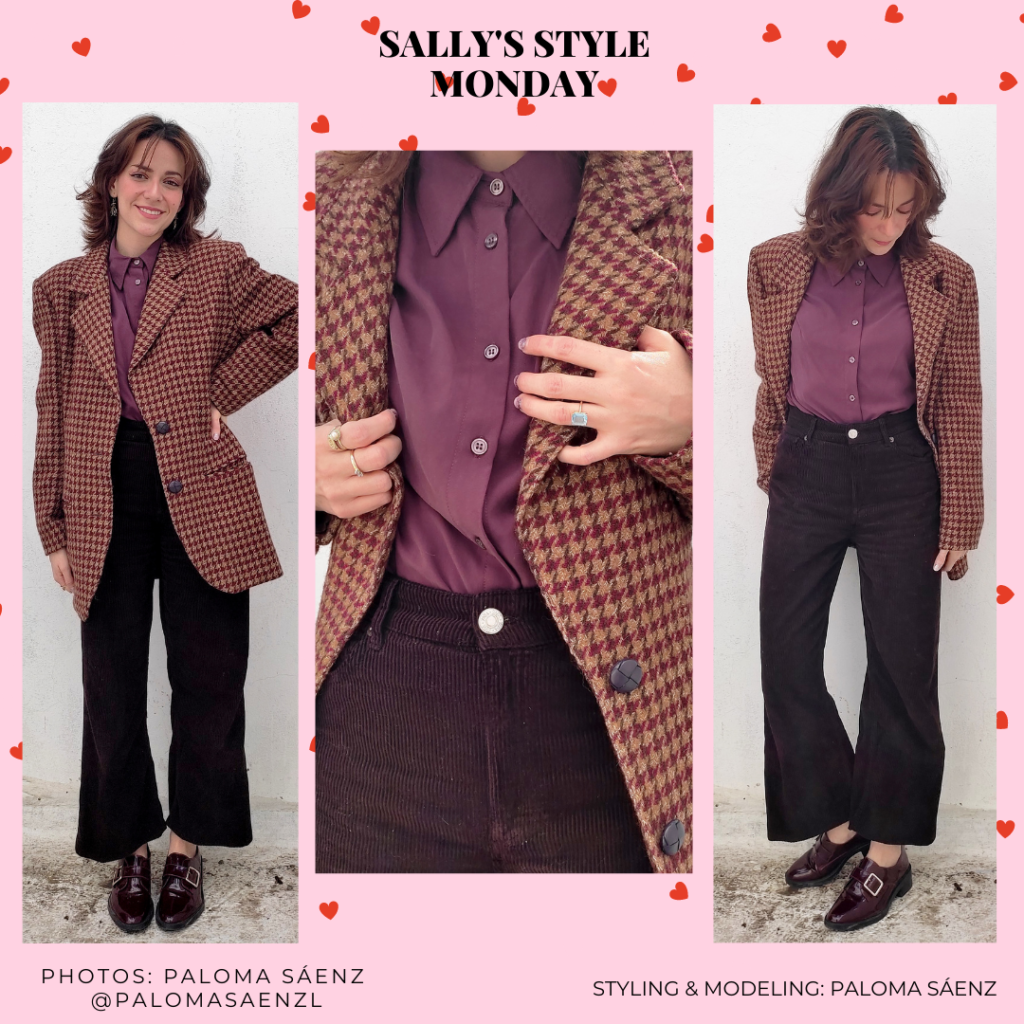 For my Sally look, I got inspired by her look from the movie poster. There, she wears a shirt, high waisted pants, a blazer and loafers.
To get her vibe, I started with a burgundy Oxford shirt and a pair of brown corduroy pants. Then, I borrowed an oversized blazer from my mom in brown and burgundy. Fun fact about the blazer: my mom has had this since the '80s, so it's a vintage item that matches the film's decade to a T. Then I added burgundy loafers to match.
Unfortunately, I couldn't find a hat that matched Sally's and none of my hats were the right shape or color, so I decided to not wear one.
Overall, I really liked this look! I've been stealing this blazer from my mom for months now and I'll take any opportunity to wear it. The outfit was incredibly cozy and comfortable, especially for a chill Monday. It was a bit office-y looking, though, which is not typically my style.
In general, it's a cute look, but I would make a few adjustments to fit my style (and this decade) a bit more. For instance, I'd change to a more fitted pair of pants or use sneakers instead of loafers.
Tuesday – Outfit #2, Lara Jean (To All the Boys I've Loved Before)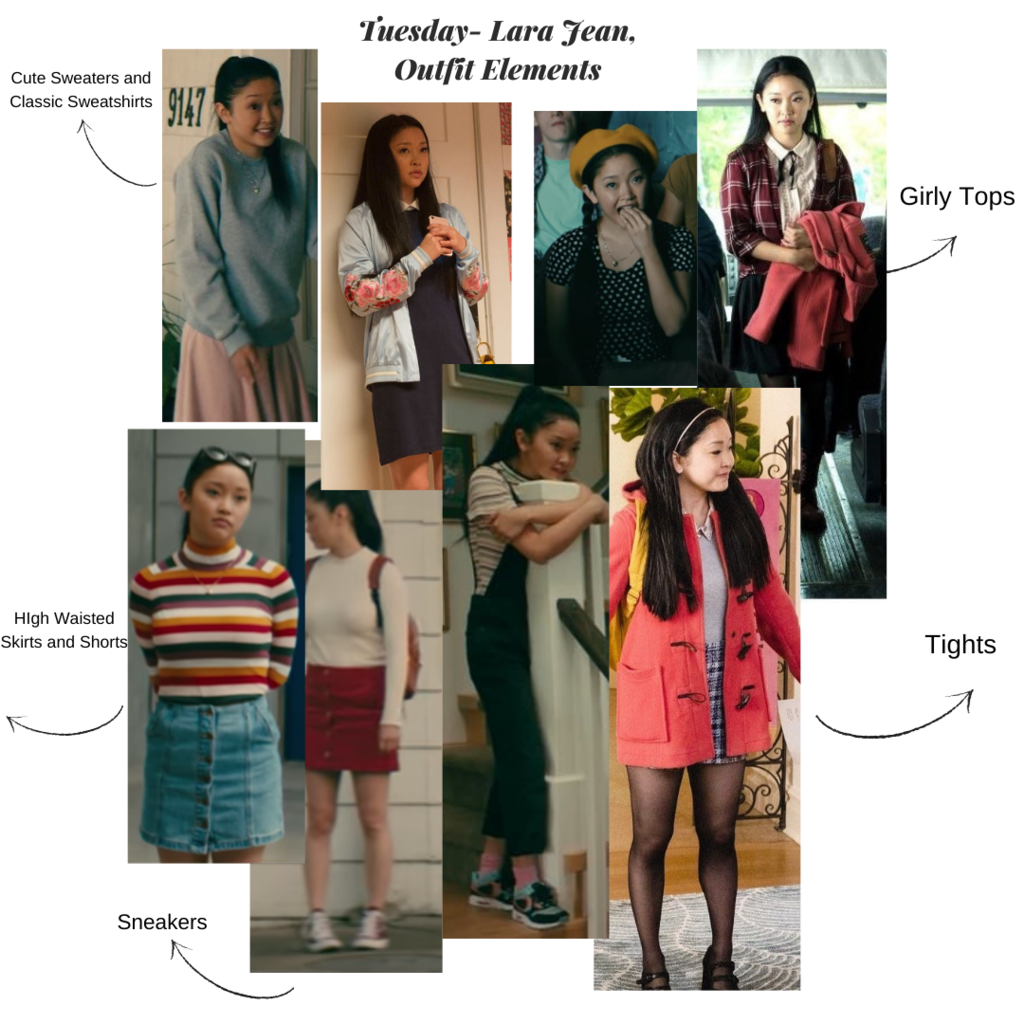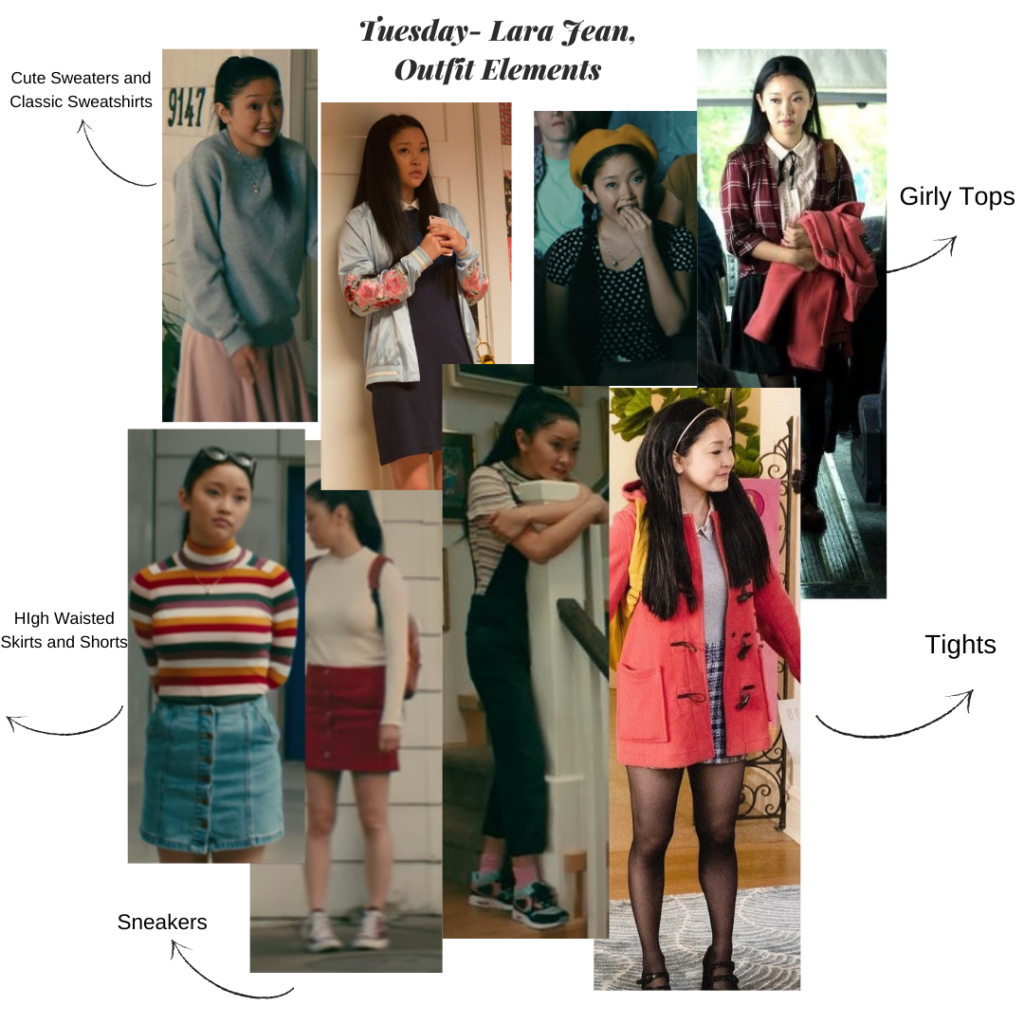 To All the Boys I've Loved Before is a 2018 romantic comedy based on the 2014 novel of the same name by Jenny Han. The film was directed by Susan Johnson and was released internationally on Netflix. It stars Lana Condor and Noah Centineo.
High school junior Lara Jean Covey (Condor) is a hopeless romantic who has never had a boyfriend. She has written five love letters to the most intense crushes of her life but never intended to send them. Concerned for her sister's social life, Lara's younger sister Kitty (Anna Cathcart) sends out the letters to their intended recipients, including their older sister's boyfriend Josh and popular jock Peter Kavinsky (Centineo). Peter approaches Lara Jean with a proposition: they fake-date to get Josh, his ex Genevieve, and the rest of the school off of their backs.
Lara Jean's style can be best described as girly-comfy. She always looks put together, but without sacrificing comfort. Sneakers, booties, high waisted skirts and shorts, sweaters, sweatshirts and girly items are some of her most worn pieces.
(For more on her look, see our guides to How to Dress Like Lara Jean Covey, and How to Dress Like Lara Jean in "P.S. I Still Love You.")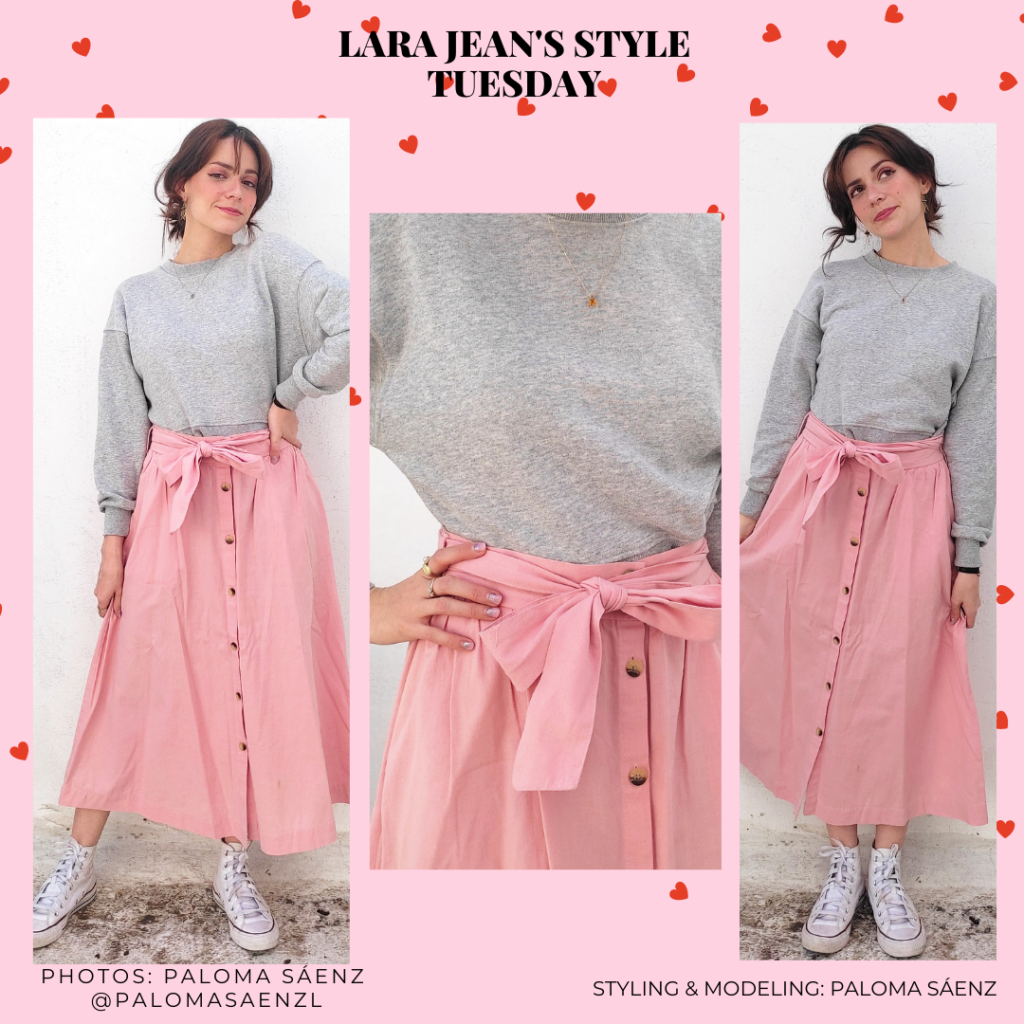 For my Lara Jean outfit, I took inspiration from a specific look she wears when she is confronted by Josh about her relationship with Peter. She's wearing a long pink skirt, a grey sweatshirt, and sneakers.
To start off my look, I put on a grey sweatshirt that's slightly cropped. Then, I paired it with a long, dusty-pink skirt that I borrowed from my sister. Finally, I decided I'd go with a classic pair of white Converse, since Lara Jean wears these sneakers with some of her looks.
This was a very easy look to create. I liked it so much and it was so cute on! The simplicity and femininity of the look really scream Lara Jean for me. The skirt's fabric was thick, so it was perfect for February weather where I live. Overall, I'd wear this one again as-is.
Wednesday – Outfit #3, Bianca Stratford (10 Things I Hate About You)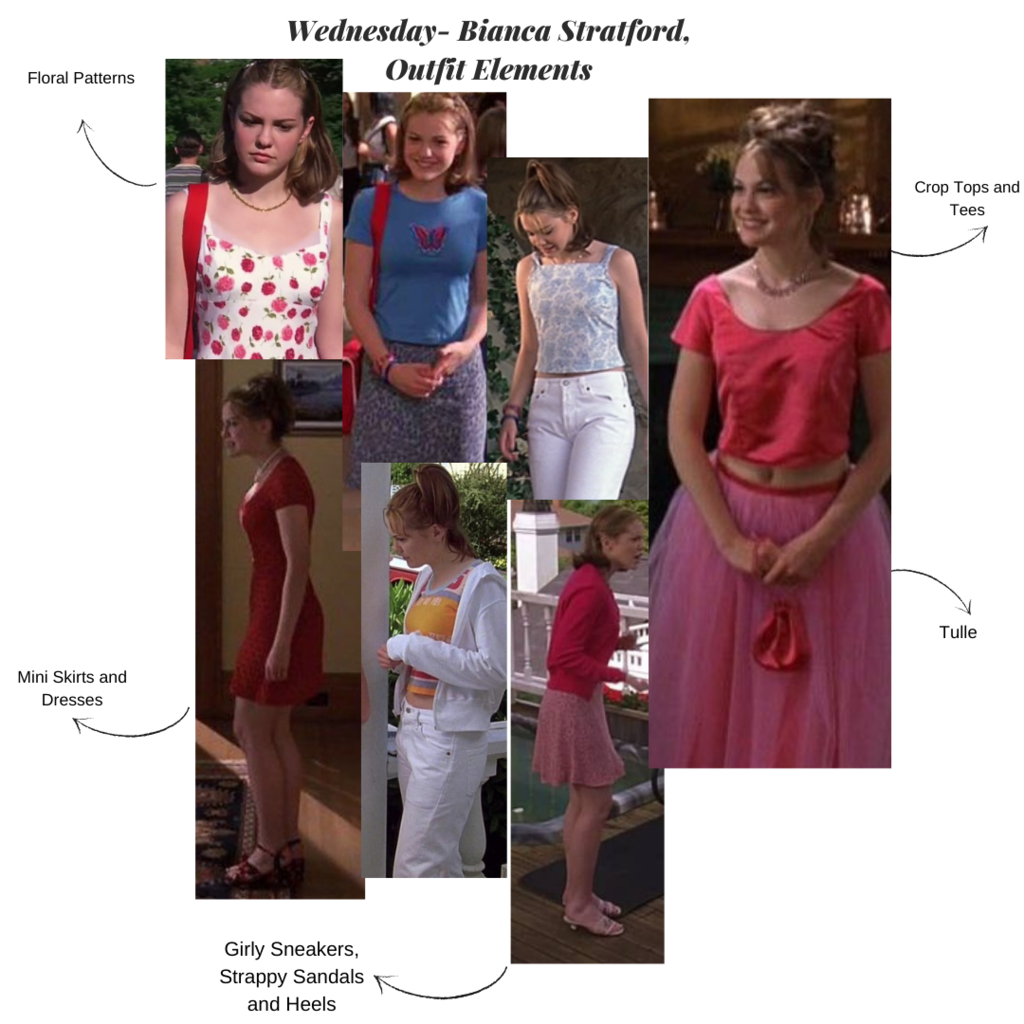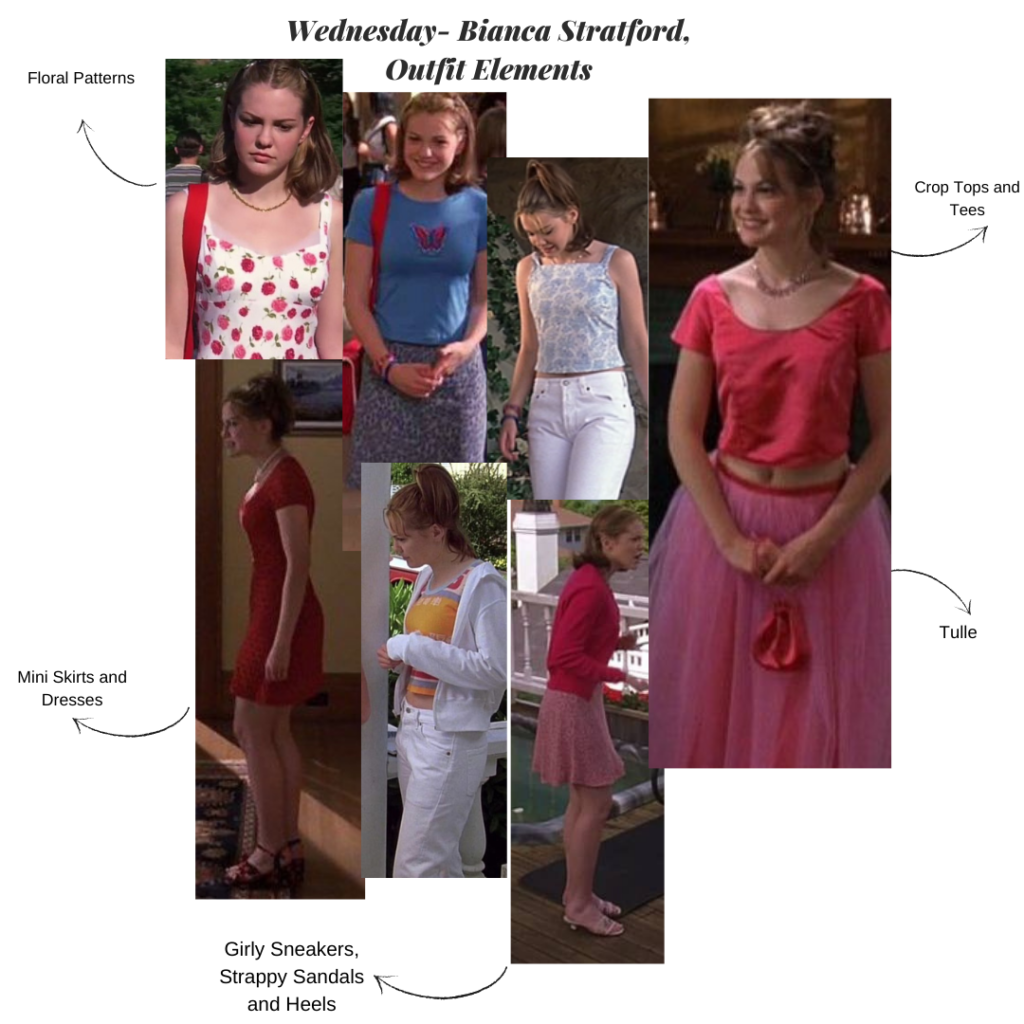 10 Things I Hate About You is a '90s rom com in every sense of the word. It follows the '90s trend of making teen rom-coms based on classic literature, loosely following Shakespeare's The Taming of the Shrew. The film also features some of the biggest stars of subsequent years at the beginning of their careers, like Heath Ledger, Joseph-Gordon Levitt, and Julia Stiles.
In the film, there's a rule at the Stratford household: Bianca, the bubbly, popular younger sister, can't date until her standoff-ish, feminist older sister Kat does. When Bianca spills this to Cameron, the new kid in town who has a crush on her, he develops a plan: Find someone willing to date Kat.
Cameron and his friend Michael decide on Patrick Verona. He's mean, has a criminal reputation, and he scares off Cameron when he's approached with the idea. Michael then comes up with an idea: get Joey, a popular guy with a crush on Bianca, to unknowingly pay Patrick to date the scary Kat Stratford.
While Kat is my favorite Stratford sister, Bianca is undeniably the most stylish one. She wears miniskirts, cool dresses, crop tops and tees, strappy heels, and platform sandals. But her tulle skirt and cropped tee prom look is down-right iconic.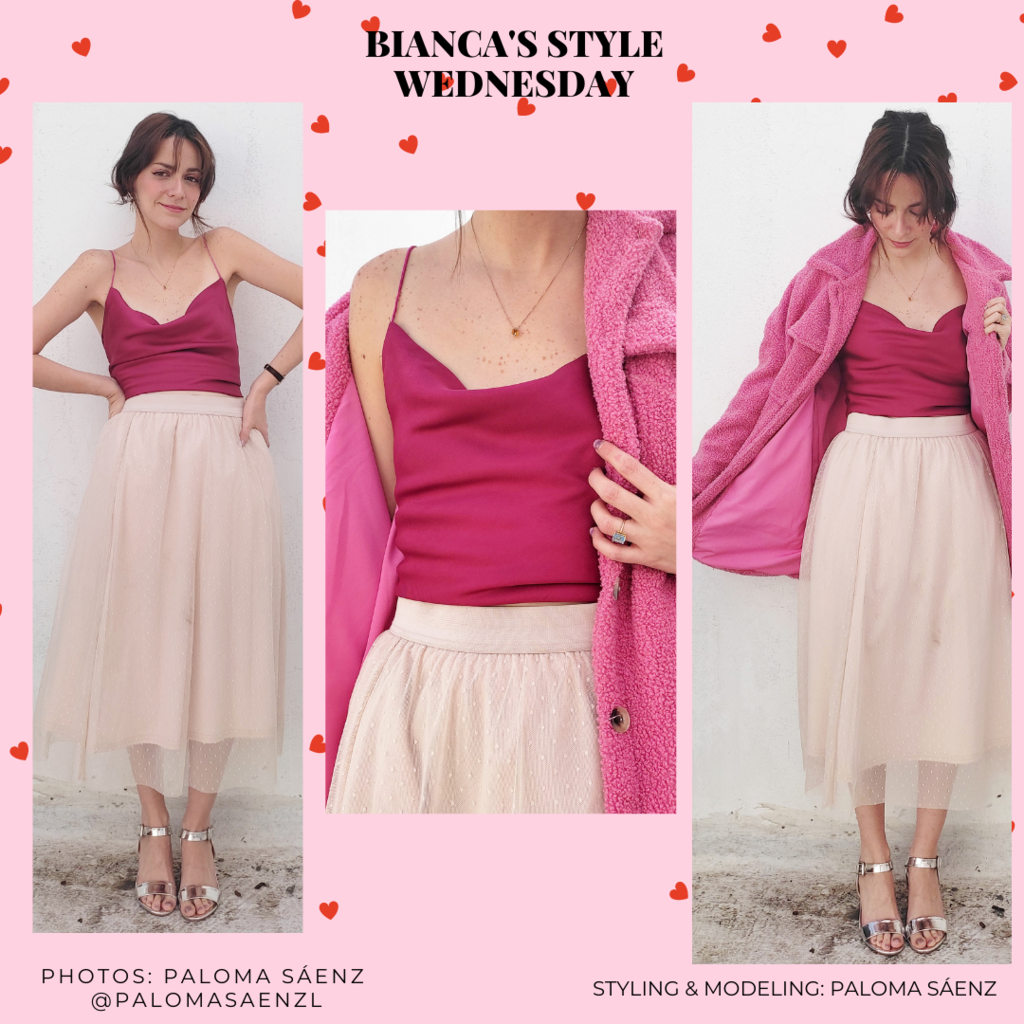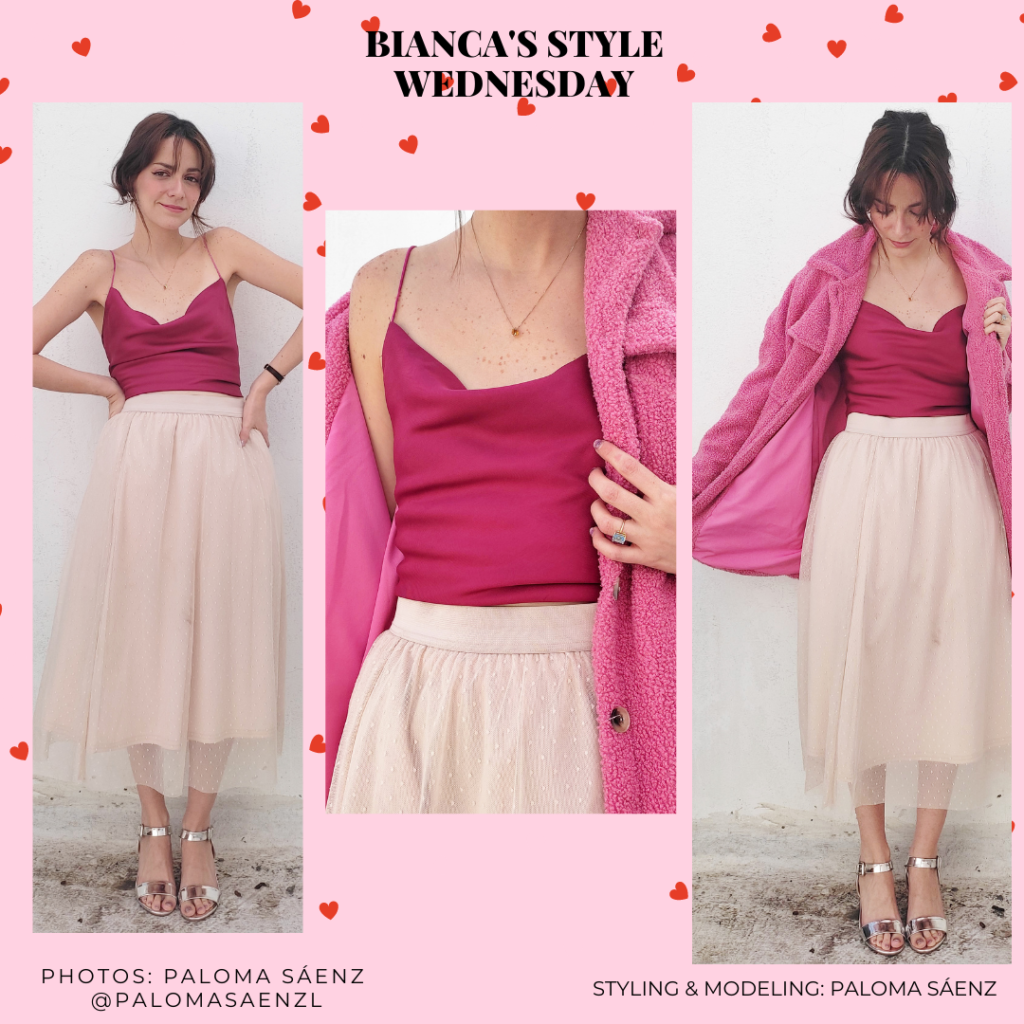 For this rom com outfit, I decided to recreate Bianca's amazing prom dress. Her prom look is comprised of a satin pink top, a pink tulle skirt and heels.
For my more modern and casual take on this outfit, I put on a pink camisole and paired it with a tulle skirt in a very light shade of pink. I borrowed the skirt from my sister. Since it is a bit cold outside, I decided a coat would be a good addition to the look. I went with a cozy pink teddy coat. Finally, I wore a pair of silver strappy heels. Also, I put up my hair as best as I could with my current cut.
I adored this look! First of all, pink is my favorite color. Secondly, it was way comfier than I expected. The coat was a great addition because otherwise I would've been freezing, and even with that, I was a bit cold through the day. Finally, I could easily wear this on a date night as is, but I could make it more casual if I needed to with some sneakers and maybe a pink t-shirt instead. But, I felt pretty hot with this, I just loved it.
Thursday – Outfit #4, Cher Horowitz (Clueless)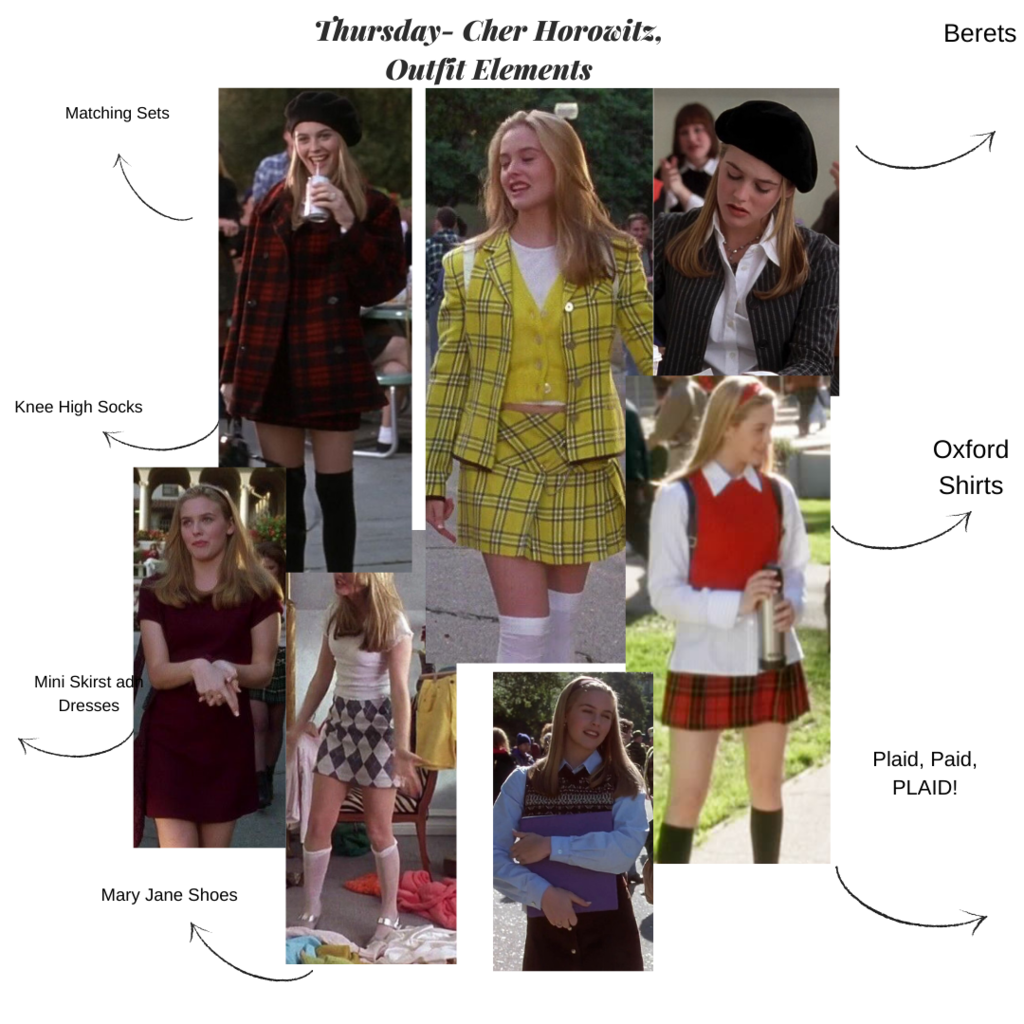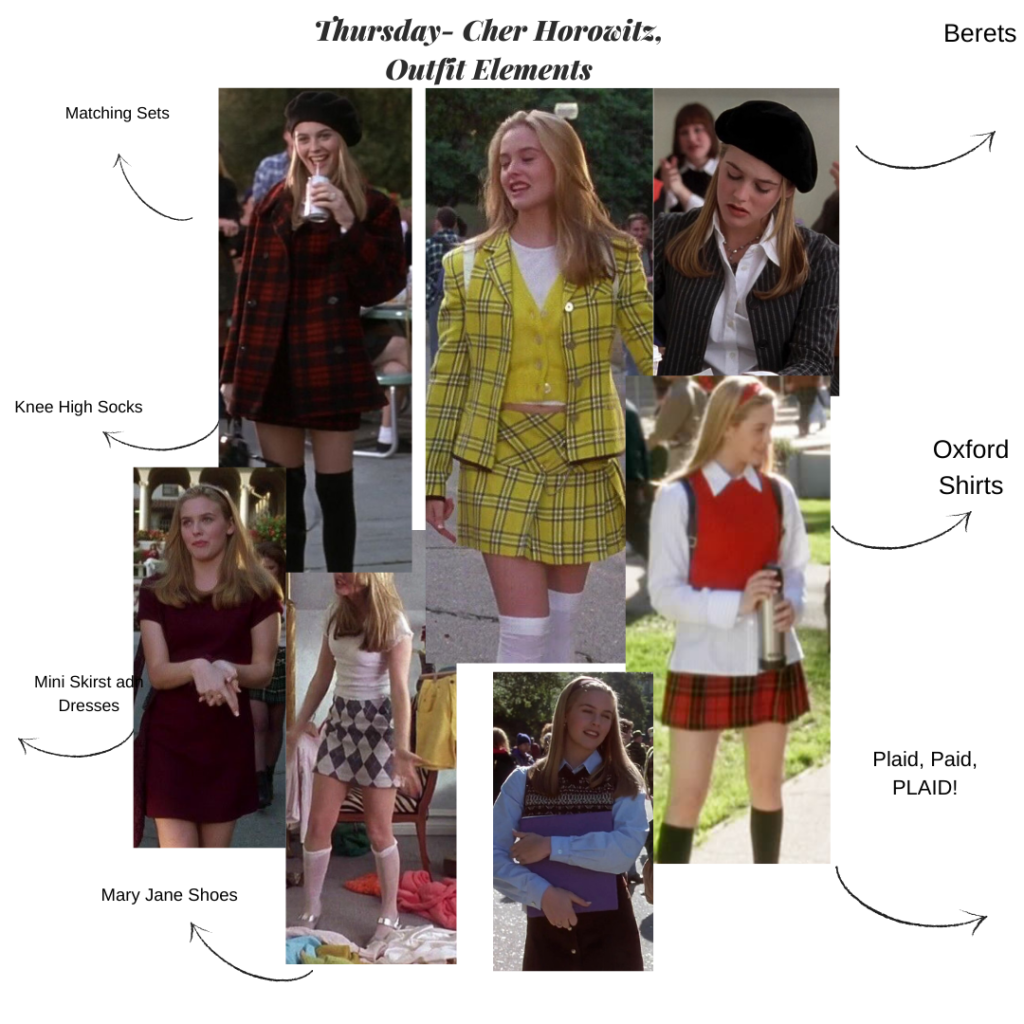 Clueless premiered in 1995 and if you ask me, it's by far the most fashionable entry on this list. Like 10 Things (…), it's based on a classic novel. This time, Jane Austen's Emma was the inspiration behind the film.
Set in Beverly Hills, the film focuses on the spoiled and shallow, but essentially good-hearted, Cher Horowitz (Alicia Silverstone) as she seeks to improve the lives of everybody around her. The film contains funny, but affectionate, takes on early '90s teen culture, high school, fashion, and especially Valley Girls.
Cher is a fashionista. Her closet is truly iconic and every outfit she wore in the film is worth analyzing. (If you want more detail, check out our Clueless fashion post.) Plaid, matching sets, miniskirts and dresses, Mary Jane shoes, knee high socks, Oxford shirts and berets are her most worn items.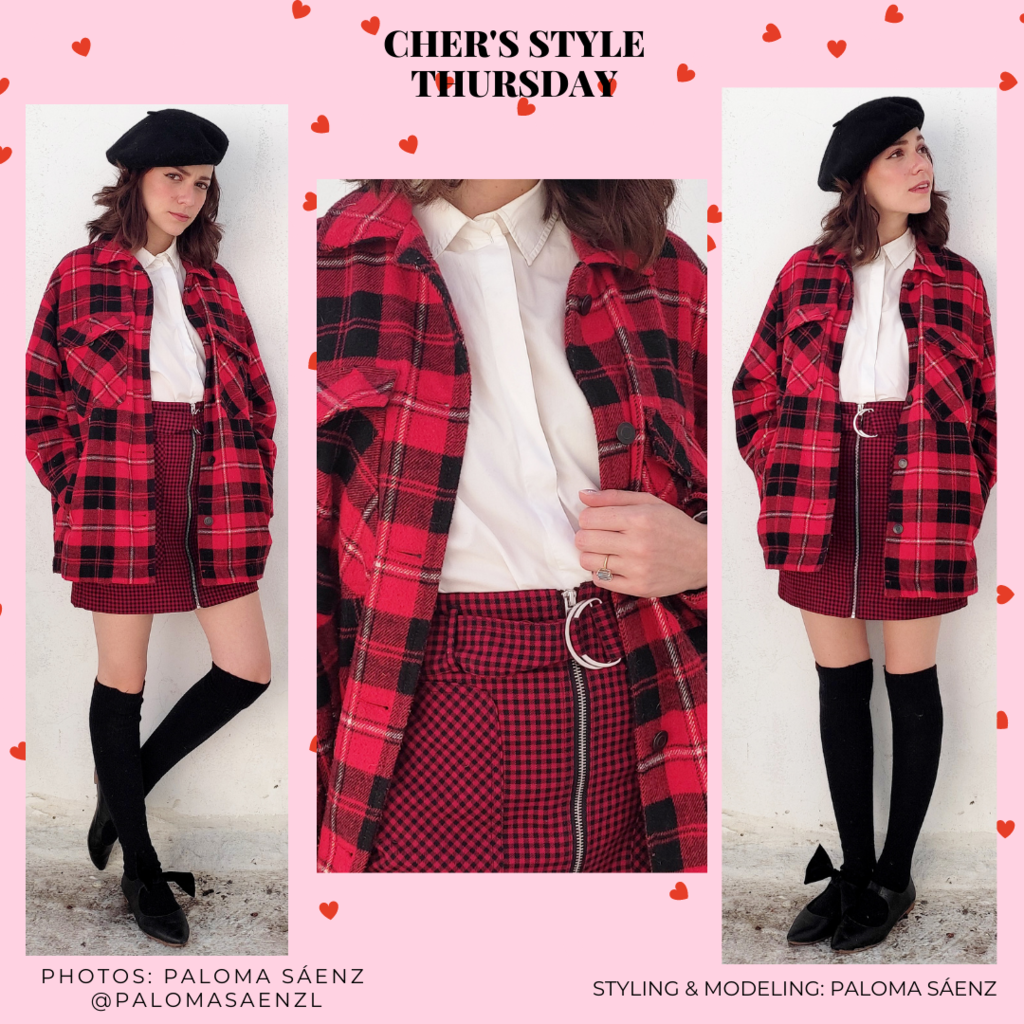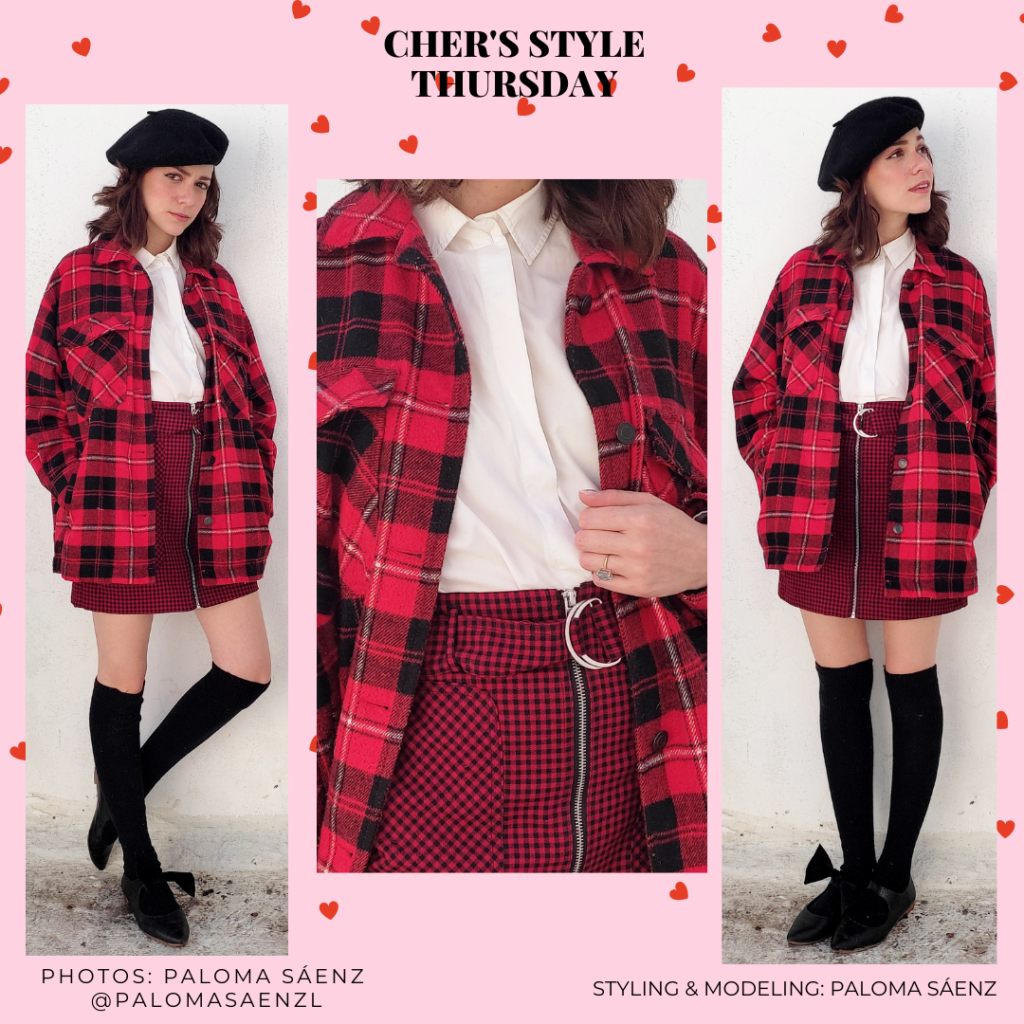 While I know Cher's most iconic look is the yellow plaid matching set, I didn't want to buy a yellow set knowing that I already had the items to recreate other Cher outfits. Plus, everyone talks about the yellow set and her other looks deserve some love, too!
Instead, I recreated the look Cher wears when she realizes she's losing her popularity to Tai. She wears a plaid dress and matching jacket, a white shirt, knee high socks, a beret, and black shoes.
To create my look, I wore a simple white Oxford shirt and a plaid mini skirt in red and black. Then, I threw on a plaid jacket, also in red and black. I didn't have a matching set, but the jacket had the same color scheme as the skirt, so it coordinated. Knee-high socks are a must if you are doing a Cher look, so I put on my pair of black knee-high socks.
After that, I had to choose the shoes. Since Cher wears a lot of Mary Jane shoes, I borrowed a pair of black Mary Jane's from my sister. As an added cute bonus, the shoes have velvet ribbons on top. The final item to complete the look was a black beret.
I LOVED this outfit, so much! My recreation isn't the most accurate, but I think it captures Cher's style pretty well: preppy, cute, and with a slight sexiness to it. It was so cool and I've never worn all of these items together before. I thought the different patterns would clash, but I actually like how they look together. The outfit was warm too, which makes it a perfect fall/winter ensemble.
Friday – Outfit #5, Jenna Rink (13 Going on 30)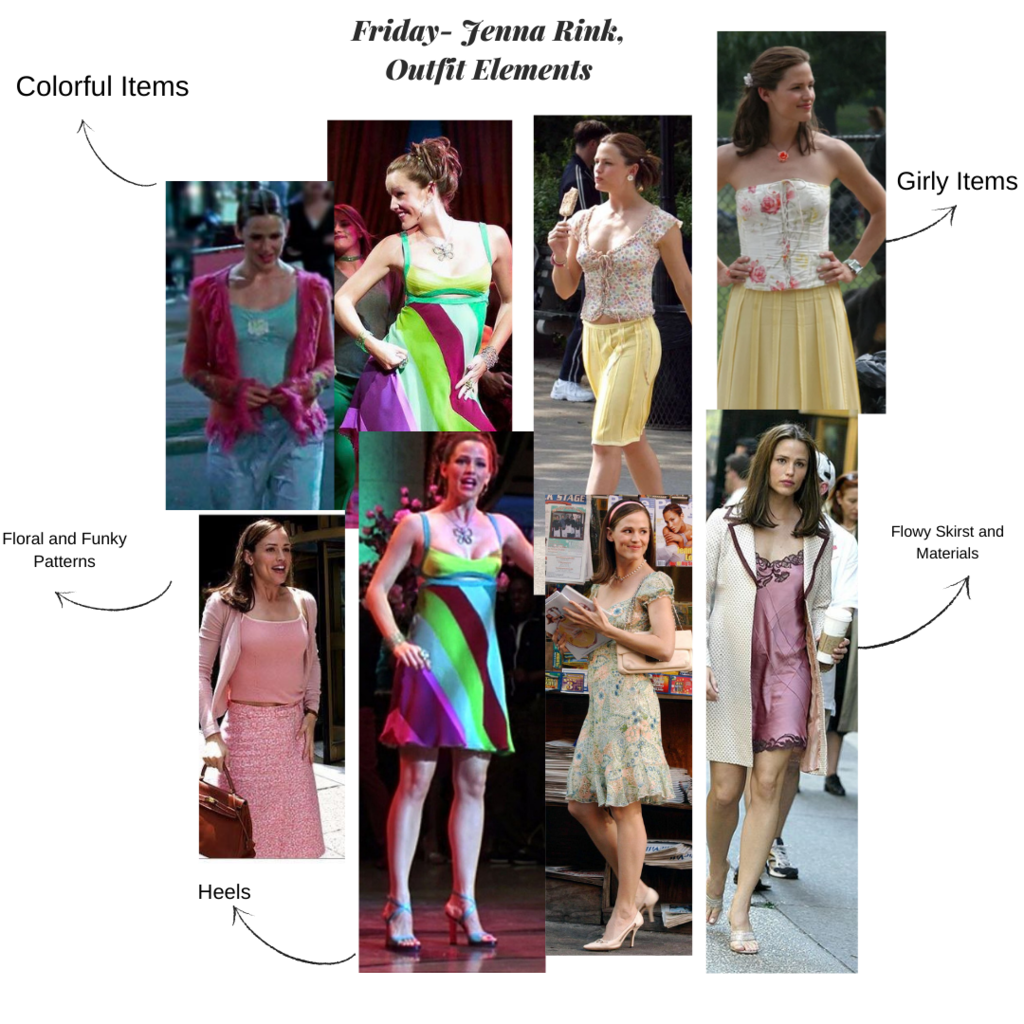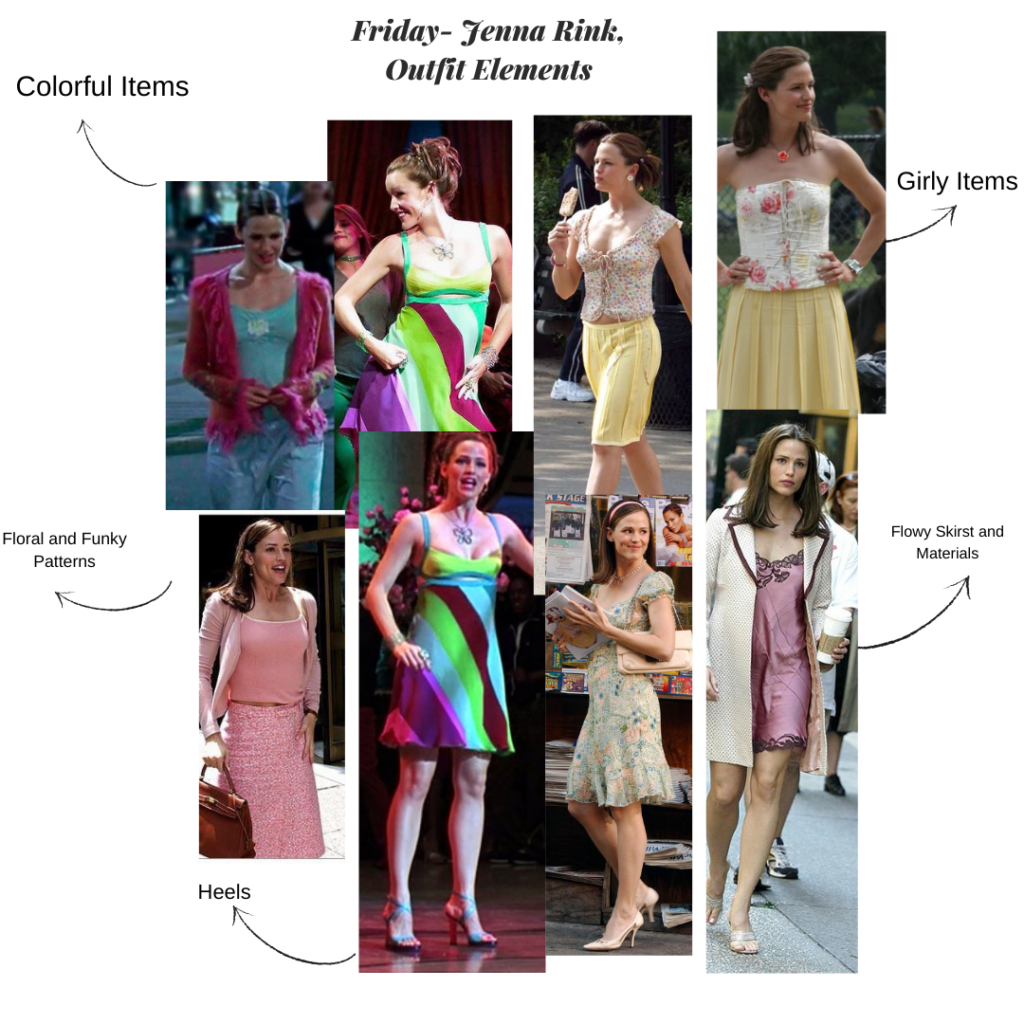 13 Going on 30 is a 2004 film starring Jennifer Garner. This was Garner's first lead in a film, having been previously known as an action actress in the TV show Alias. It is one of the most beloved rom-coms from the early 2000s, especially for Garner's charming portrayal of Jenna and her awesome fashion choices.
Jenna Rink is a 13-year old who dreams of being popular and beautiful. After her birthday party is ruined, Jenna wishes for one thing: to be 30, flirty, and thriving. She wakes up the next day and sees her wish came true. Jenna is now a thirty-year old woman, with a cool NYC apartment and a cool job as the fashion editor of her favorite magazine. The only problem is that she doesn't remember the last 17 years. After some time, she realizes this might not be exactly what she wanted.
Jenna's fashion choices are a cool look at the most popular fashion trends of the 2000s. Flowy fabrics, floral prints, vibrant colors, strappy heels and sandals, and super girly items are all over her outfits through the film. In fact, her style is the reason I made this post.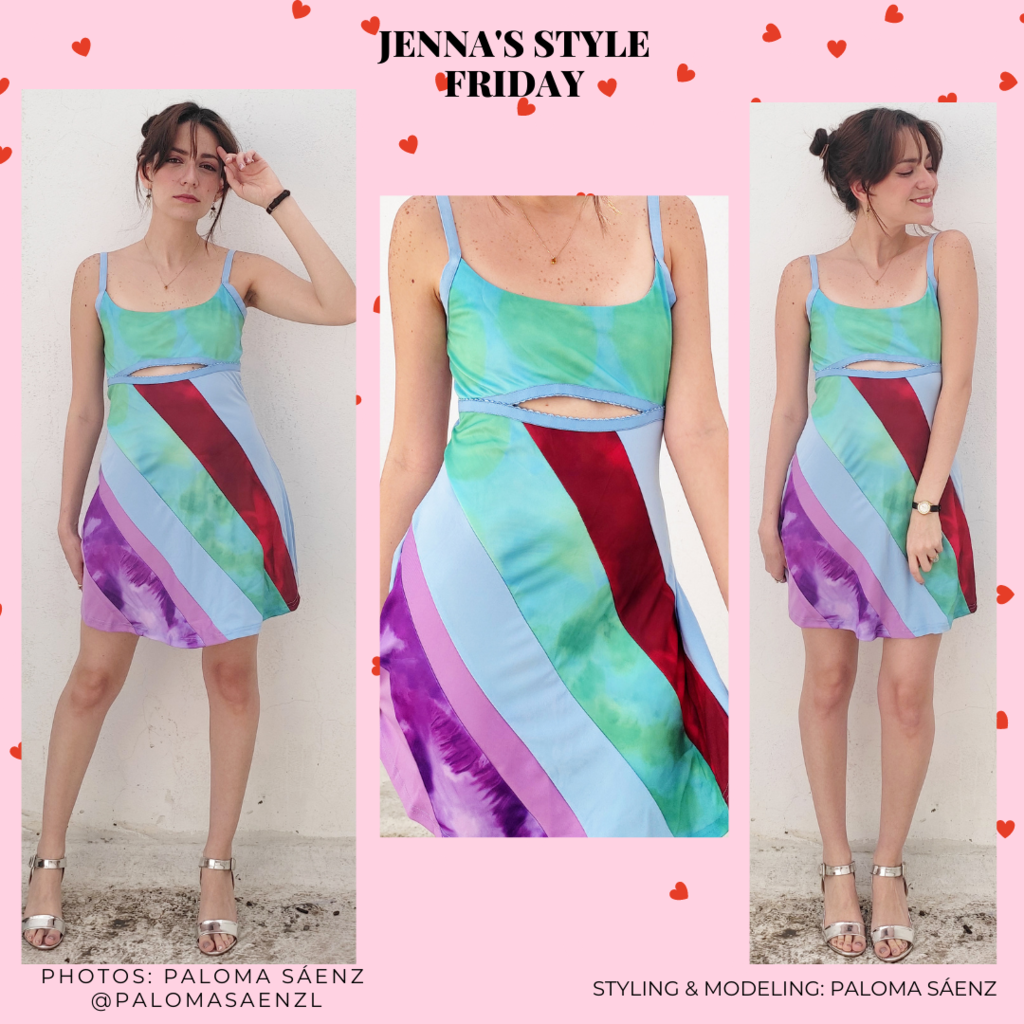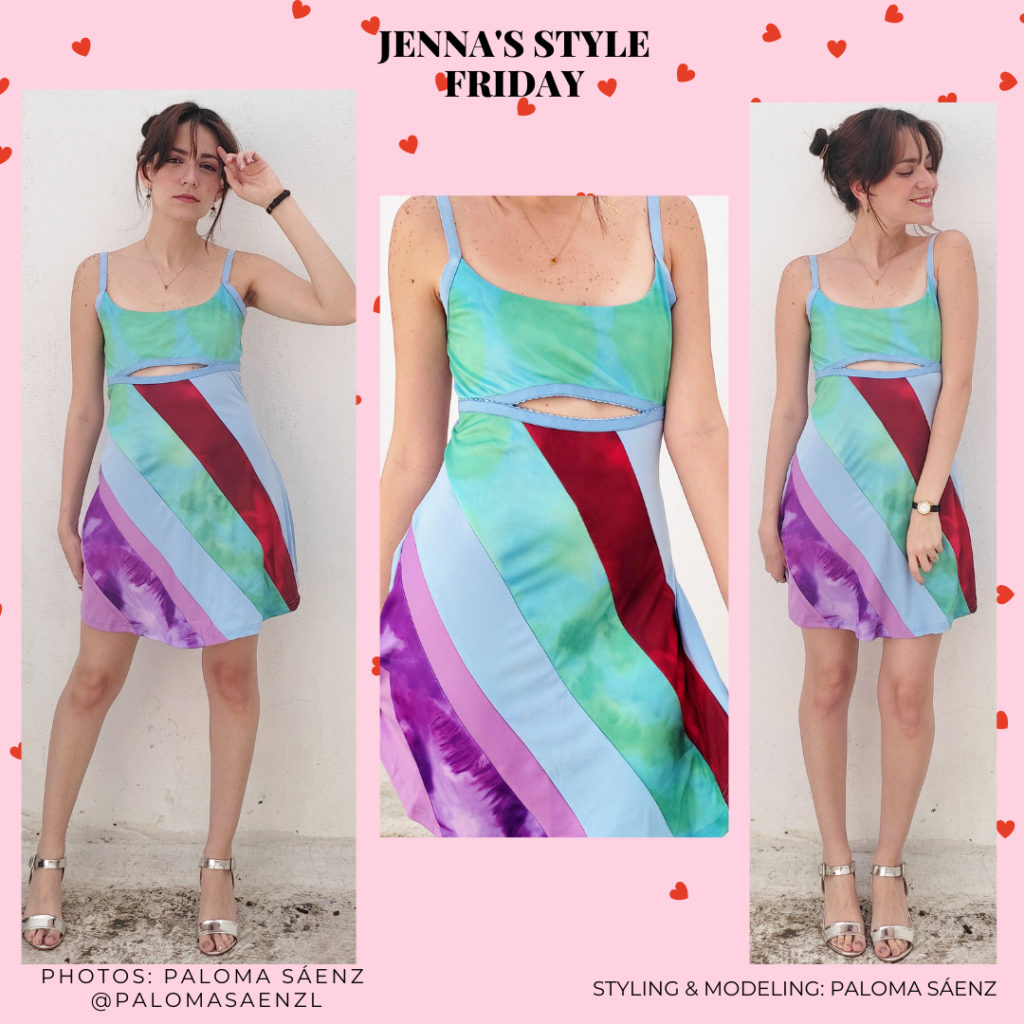 For my Jenna look, I decided to recreate her now-iconic party look. Jenna is wearing a colorful Versace dress and metallic heels. Obviously, I didn't have the exact dress already in my closet, but I found an affordable dupe online.
I put on my rainbow-striped mini dress and paired it with the same pair of silver heels I wore on Wednesday. I tried to put up my hair as best I could and I think it turned out really cute.
What can I say? I LOVE THIS DRESS! At first, I hesitated a lot to buy it because it's so specific, but I really like it.
I will say I added the same pink teddy coat that I wore for Bianca's look because I was super cold through the day. Unfortunately, it wasn't enough. Originally, I wanted to wear the look out, but it has been so cold lately, I just ended up changing for something warmer.
I'm thinking of wearing this outfit again soon, but with a white Oxford shirt underneath, a cool jacket, and a pair of sneakers or booties.
Final Thoughts
I really love rom-coms. They might not be everyone's cup of tea, but I've always enjoyed them (with a few exceptions). This week was really fun and I think it's the week with the girliest outfits I've ever done, and that's including the Winx post.
For the most part, my rom com outfits experiment meant a week that was comfy, cute, and colorful. But I didn't take into account that usually the most iconic looks aren't necessarily every day, comfy type of looks. They're also not very cold-weather friendly.
My favorite looks were Bianca's pink look, Jenna's party outfit, and Cher's red plaid ensemble. Personally, Cher's is the one I would wear the most as-is, but the other two are something I'd really like to give a second chance either with different styling or in warmer weather.
Most rom-coms have great styling and the outfits are usually easy to recreate. They're also great time-capsules to get to know some of the biggest fashion trends in any given decade. If you are looking for inspiration, especially for a date outfit, try pulling from your favorite rom-com and you'll like the results.
What do you think of my rom com outfits?
Do you like rom-coms? Which rom-com is your favorite? Which look was your favorite? Let us know in the comments below!