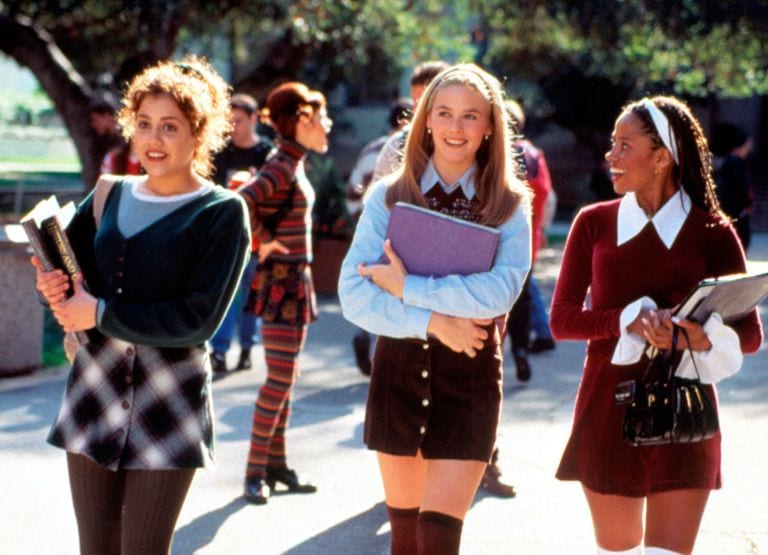 The next movie we'll be looking at for the 10 More Movies for Fashion Inspiration series is the 1995 teen comedy Clueless.
The film centers around a rich Beverly Hills teen named Cher (Alicia Silverstone) who sets up two lonely teachers in order to raise her grades. When her plan works, Cher and her best friend Dionne (Stacey Dash) decide to use their popularity for good and make over awkward new girl Tai (Brittany Murphy). While trying to find a boyfriend for Tai, Cher experiences the ups and downs of trying to find the perfect guy for herself.
The fashion in this movie perfectly captures the look of the mid-'90s. Cher's style is rich girl prep and she rocks patterned mini-skirts, knee-high socks, and platform Mary Janes throughout the film. Lots of trendy '90s accessories are also featured in the movie, including faux-fur handbags, feather-trimmed coats and unique hats.
If you want to try and capture Cher, Dionne, and Tai's '90s vibe in your own wardrobe, check out these 5 outfits inspired by Clueless.
* I'm going to make a lot of references to the film below, so bear with me if you haven't seen it. And if you haven't seen Clueless, go watch it. Now. Seriously!
Cruising with Dionne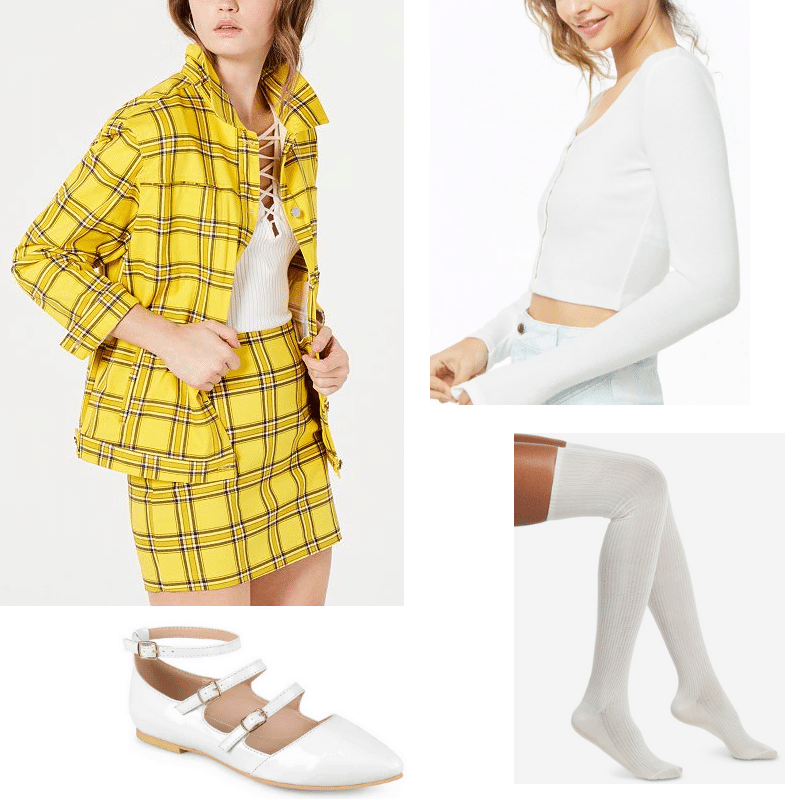 Products: Jacket – GUESS, Skirt – GUESS, Top – Forever 21, Socks – Macy's, Shoes – DSW
This outfit channels the first ensemble Cher wears in the film and is perfect for driving the loqued-out Jeep daddy got you. The matching jacket and skirt set are spot-on at replicating the look, while a simple white top tones things down a bit. Knee socks are totally optional, but will take the outfit to the next level. Add patent flats to finish the outfit, because you really shouldn't be driving in platforms.
Total Betty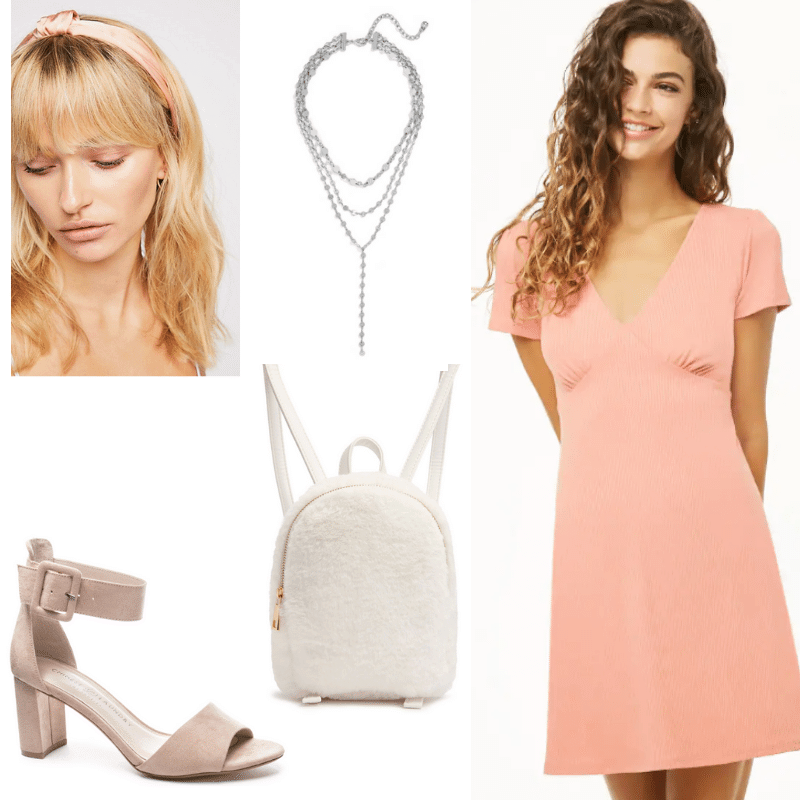 Products: Dress – Forever 21, Shoes – Chinese Laundry, Headband – Free People, Necklace – Nordstrom, Backpack – Forever 21
This look is an adorable take on the babydoll dresses and coordinating hair accessories Cher loves to rock. This demure dress works for day or night, while these block-heel sandals will show off your nice stems. Accessorize with a layered choker necklace and a sweet headband. And don't worry, no collies were skinned to make this trendy faux fur backpack.
Making a Cameo at the Val Party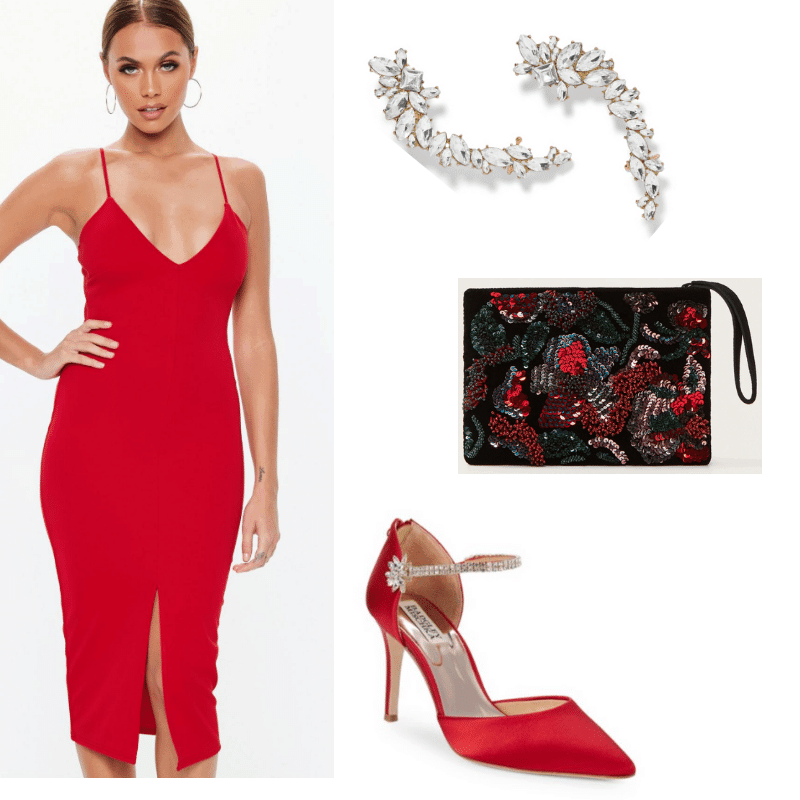 Products: Dress – Missguided, Shoes – Badgley Mischka, Earrings – Nordstrom, Bag – Mango
Although it's not an Alaïa, this red dress will definitely turn heads. Since its silhouette is so sleek, this dress is fabulous for jazzing up with accessories. A velvet sequined clutch and ear crawlers add plenty of sparkle and keep this party look modern and on-trend. Now, don't let anyone ruin your satin shoes and remember to always do a lap before you commit to a location.
Shopping with Dr. Seuss?
Products: Top – ASOS, Skirt – River Island, Hat – Nordstrom, Bag – Forever 21, Shoes – Forever 21
This outfit is based on Dionne's eccentric sense of style. The leopard print skirt and lettuce hem top look like they came straight out of the mid-'90s. Dionne wears lots of crazy hats in the movie, so channel her style in a trendy way with a baker boy cap.
Dionne would totally wear a belt bag today, so add one to the look. Finally, throw it back to the '90s with Mary Jane pumps. If you're brave enough to wear this outfit, your friends will definitely give you snaps for your courageous fashion efforts.
Rollin' with the Homies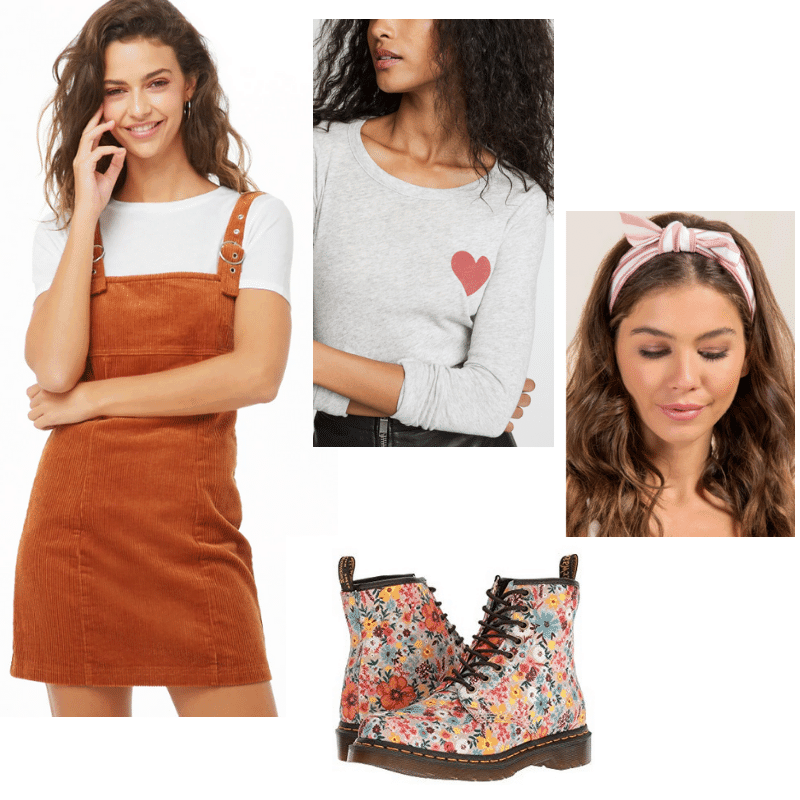 Products: Dress – Forever 21, Top – Shopbop, Headband- Francesca's, Shoes – Doc Martens
This outfit is based on Tai's quirky style in the movie. Although she is given a makeover, Tai still maintains a bit of her fun personal style. This corduroy overall dress is a nod to the '90s trend and looks great with this basic long-sleeved tee. The bow headband will make you look so adorably clueless, while floral Doc Martens add some edge. Hopefully, this outfit won't be something you wear sporadically.
Feeling inspired?
What do you think of the '90s style featured in Clueless? Do you think the outfits capture the look and feel of the film? Leave a comment and let us know!
Editor's note: This post was originally published in 2010; it was completely updated and revamped in 2018 with new photos, outfit sets, and information.