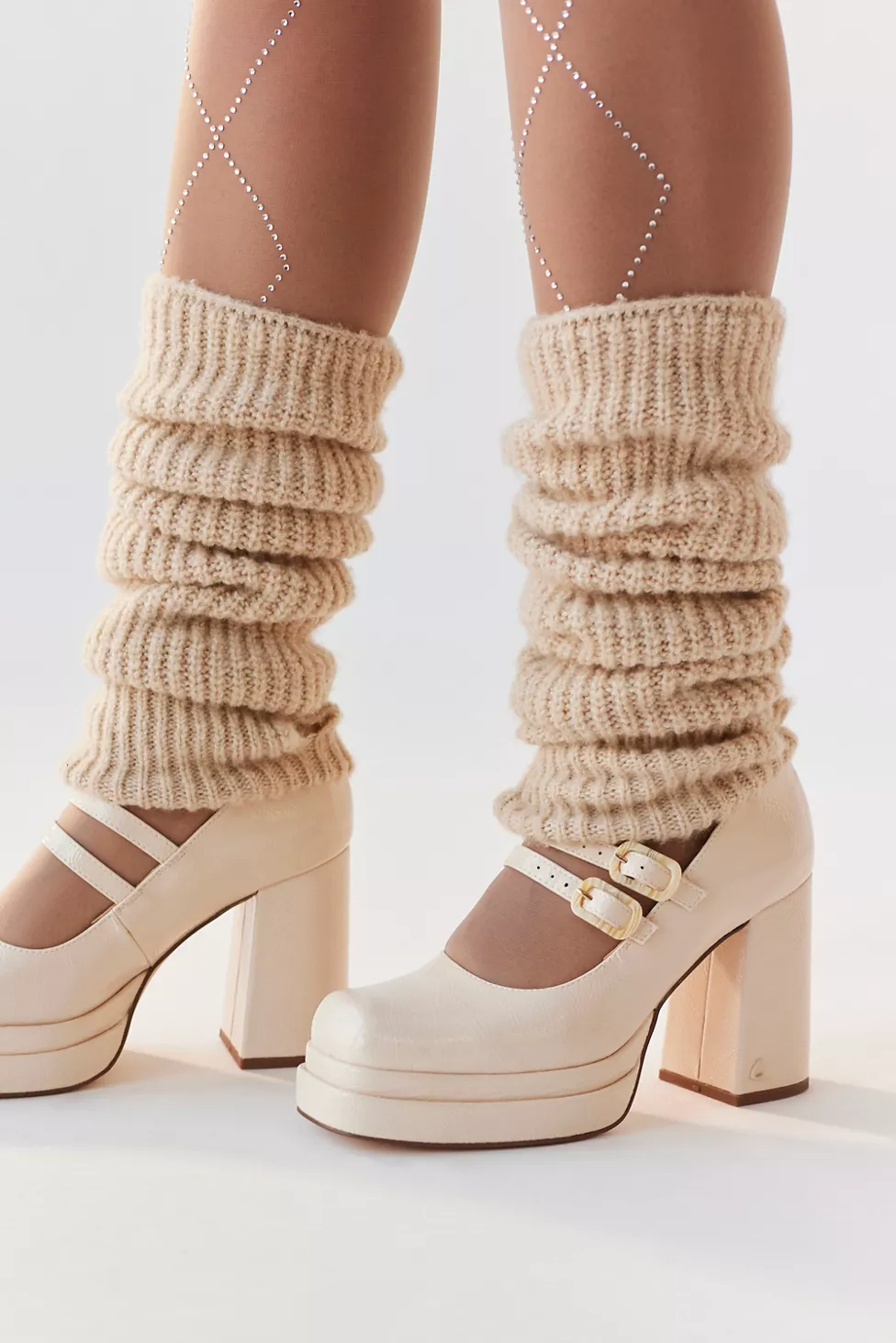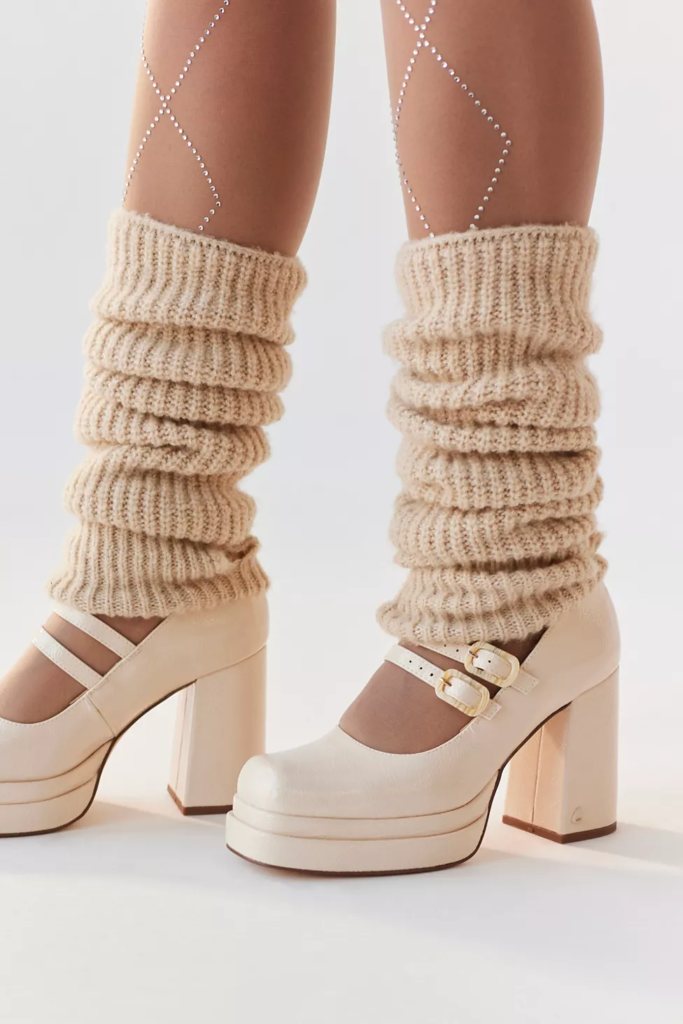 Mary Janes are shoes that you might associate with school uniforms, but they are actually a timeless, vintage style for all ages. From formal to casual outfits, Mary Janes can fit most looks.
You've undoubtedly seen these shoes with a strap in recent seasons, thanks in part to shows like Bridgerton. They come in different variations and colors, from black chunky heeled versions to pink ballet flats. Based on this, their versatility is endless. From pleated skirts to trousers, you can wear them with so many different outfits.
Today, I'll help you figure out how to style Mary Janes. To do so, I'll pick out fashion pieces to pair with the shoes and offer some examples of outfits with Mary Janes.
What Are Mary Jane Shoes?
The origin of the name for Mary Jane shoes comes from the comic strip "Buster Brown," created by Richard Felton Outcault. The shoes were named after a character, Mary Jane, in the comic strip. Though initially, children wore the shoes to school, adults did and still do.
Now, what are Mary Jane shoes exactly? If you never heard of them, classic Mary Janes are closed-toe, flat ballerina shoes with at least one strap across the top of the foot. They don't have to be flat, though — we see Mary Janes in platform and chunky-heeled styles as well these days. Mary Jane shoes are typically seen as preppy or vintage in style.
What to Wear with Mary Janes
Mary Janes are timeless and versatile shoes that you can pair with most looks. From jeans to pleated skirts to dresses, worn with tights or socks, there are so many choices available.
Today we will look at outfit ideas you can wear featuring Mary Janes. So if you need some outfit inspo, keep reading!
1. Pleated Skirt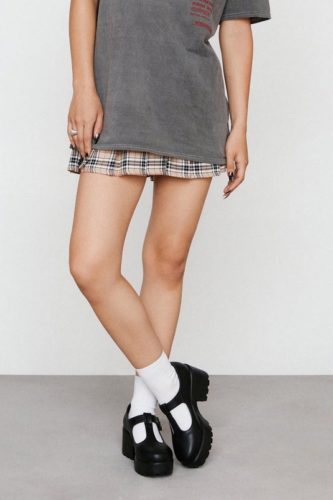 Pleated skirts are on-trend and also timeless staples. Pairing one with Mary Janes gives off preppy vibes, but to make it more casual, throw on a graphic t-shirt like the outfit in the picture. You can wear white socks to give it a schoolgirl look.
The outfit would be an excellent choice for studying in a library or a college class. However, if you want to make it more dressy, you can put on some tights, a faux leather moto jacket, and cool earrings. You could easily take this outfit to nighttime with those swaps.
2. Dresses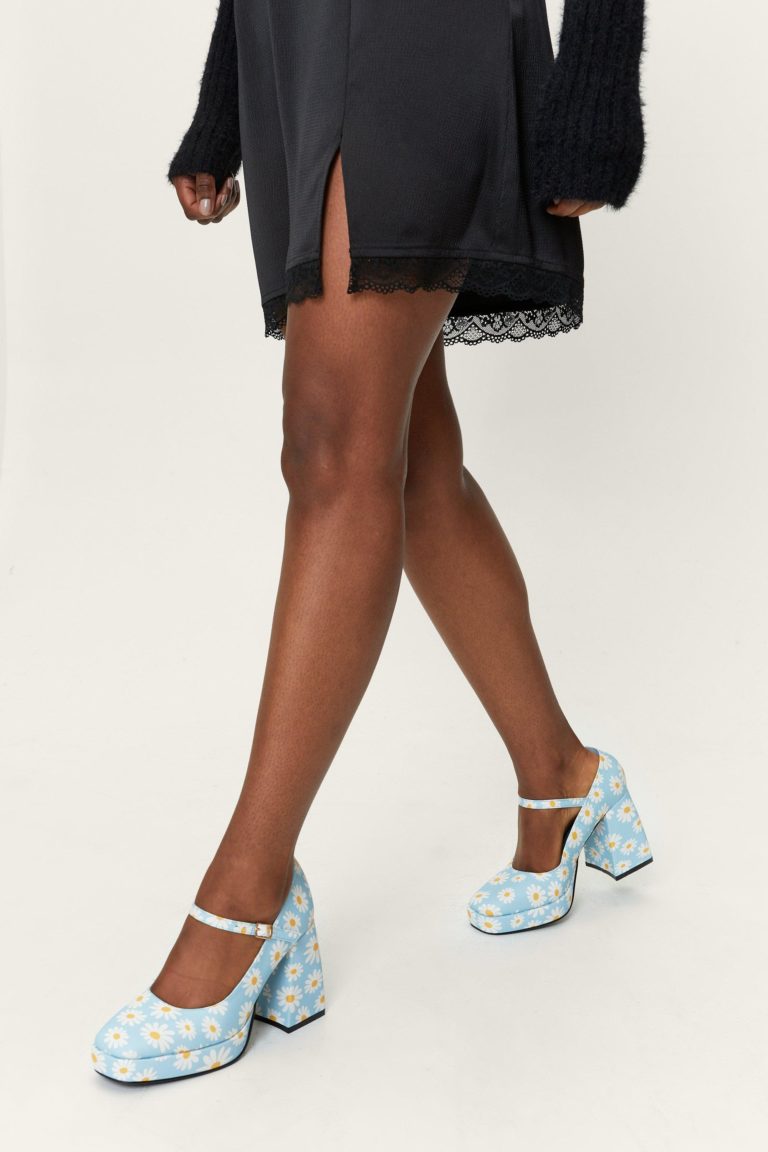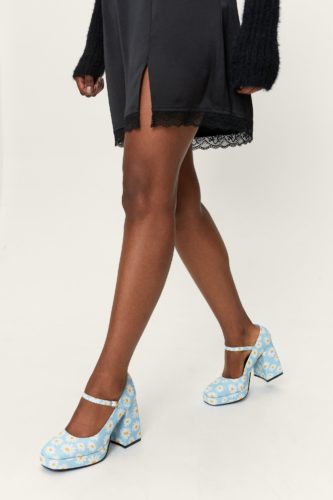 Who says these shoes have to be simple? These Mary Janes definitely make a statement with the baby blue color and the daisy floral print. As soon as I saw them, I knew I had to put them in this post!
These shoes would look great with a plain or lace dress in a solid color and some jewelry, as seen in the photo above. I also see these shoes for spring and summer with a chambray or shirt dress for a combo that would be great for a Sunday brunch, Easter dinner, or a picnic.
3. Jeans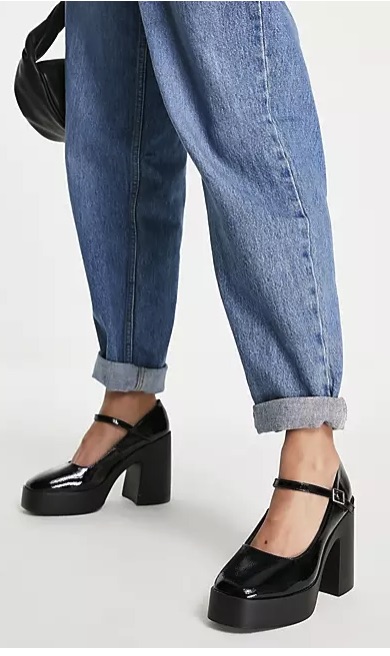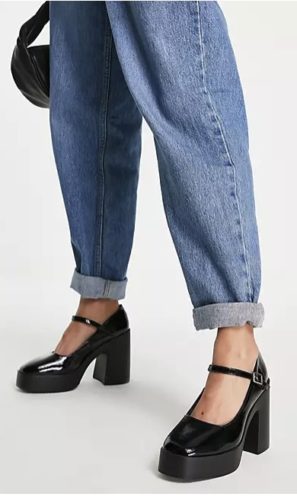 Jeans are always my go-to clothing piece, but even I fall into the routine of pairing them with either sneakers or boots most days. But seeing these cute black patent Mary Janes from ASOS is making me reconsider. After all, pairing other footwear with jeans helps you stand out more with your outfit!
If you want to spice up the footwear you pair with your jeans, try Mary Janes. If you are nervous about trying them, start off with a black pair like the ones above, and then you can venture out to more styles, colors, and patterns.
The outfit combo above would be great for a lunch date. It works great in the spring with a sweater or in the summer with a graphic t-shirt to make it slightly edgy.
Also, another tip: You can get straight-leg jeans and wear flat ballet Mary Janes, too, if heeled shoes aren't your thing.
4. Casual Shorts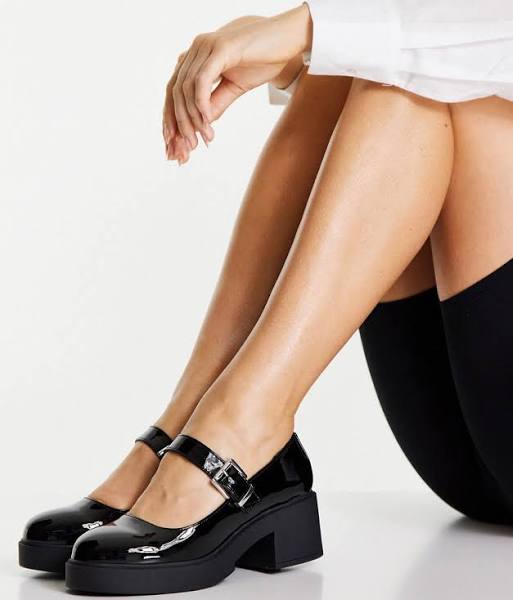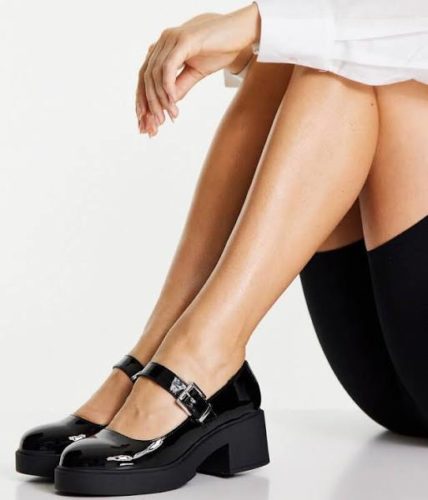 For our next outfit idea, you can pair Mary Janes with casual shorts. This look pairs simple patent Mary Janes with some black biker shorts and a white button-up shirt. You could even wear a graphic t-shirt instead to make the look more casual.
This look is casual thanks to the shorts. It would be great to wear to get coffee, go to the library, or even on a lunch date with friends. P.S., the shoes also come in green, which would add a pop of color to the neutral outfit!
5. Trousers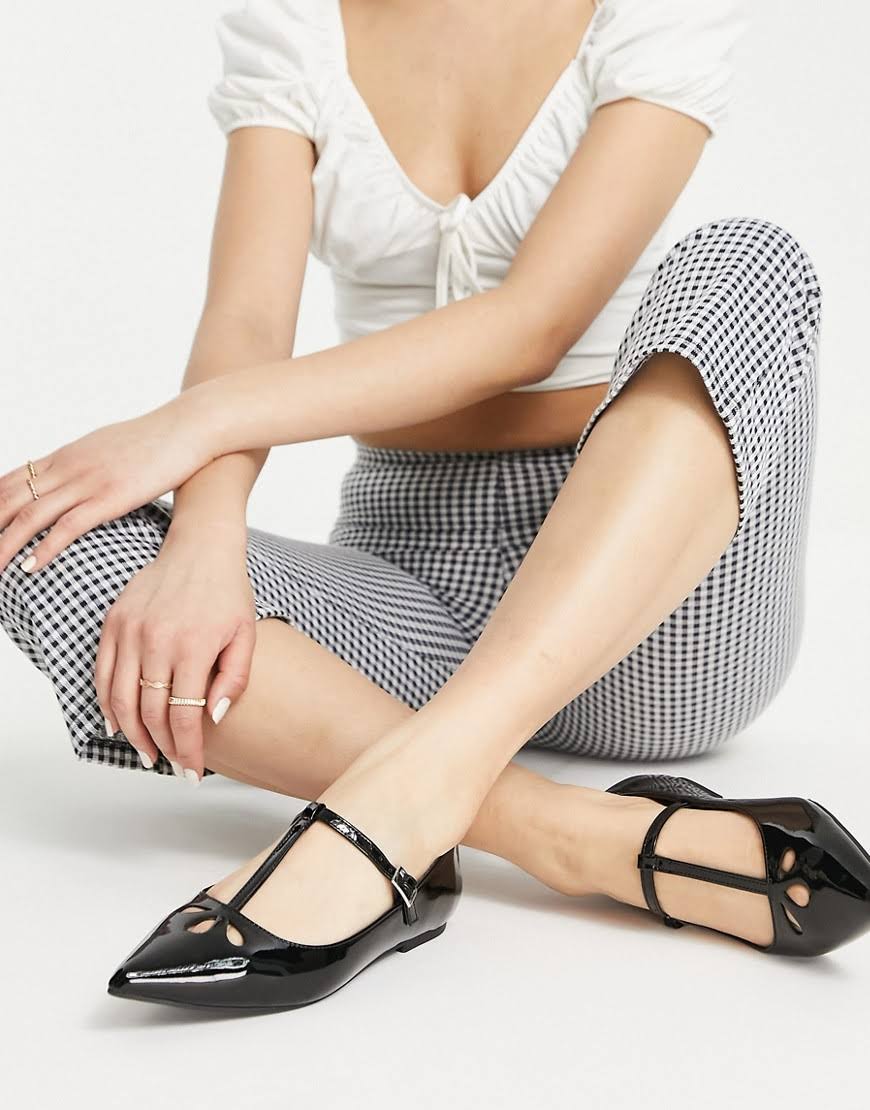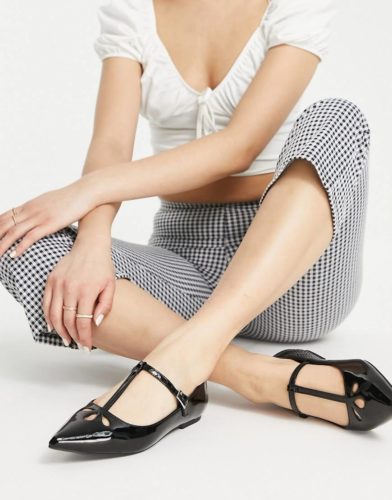 The last look has a vintage feel, combining gingham cropped pants with Mary Jane flats.
To get the look, wear a solid-colored top and let the pants be the statement. I love these gingham ones, but any pants with a plaid or pattern will work. These flat ballet variations of the Mary Jane shoes are cute and give off a chic detail to the look.
This outfit is great for an office look, a dinner, or a study date. Make sure to add accessories like rings to help add some sparkle to the outfit. Now you're ready for wherever your day takes you!
How to Style Mary Janes: Outfit Ideas
Need more outfit inspiration? Below I put together some full outfit ideas on how to style Mary Janes. From office to casual looks, here is some outfit inspo to help you through every scenario.
1. Office Look
You can elevate your office look by adding Mary Janes to your wardrobe. Mary Janes are not only cute but fit the professional attire that office settings usually have. They are great shoes for work, and you can look for low or flat ones if you don't want to wear heels.
This outfit combines chic and preppy for a look that would be great for the fall. Start with a knee-length plaid skirt. This also has shades of brown, which is a trendy color right now, especially for the fall season. Next, I added a pussy bow blouse for a professional feel. Next, I chose a burgundy headband and watch to accessorize.
For an outfit like this, it's best to keep the Mary Janes simple — just black patent and a single strap — since the headband and skirt have colors and patterns. Bring a bag, and you're ready for a day at the office.
2. Schoolgirl Look
Dark academia is a big trend that takes inspiration from academia, preppy style, and school life. When I think of dark academia, I think of Dead Poets Society, or if I think of preppy, I think of Heathers. So I wanted to try to recreate both aesthetics with a plus-size-friendly outfit.
This outfit has school vibes thanks to the button-down shirt, pleated skirt, blazer, and chunky t-strap Mary Janes. Put on some tights if it's cold, and wear a pearl headband to give the look more interest.
This is a Blair Waldorf and Spencer Hastings-approved outfit that would work great for a study date or reading in a coffee shop.
3. Feminine Look
The next look is more feminine and helps the Mary Jane shoes shine! These white shoes would be great for the spring and summer when the weather warms up and there are activities to dress for, like Easter. Put the shoes together with a chambray dress like this one and add a pop of color with this green crossbody bag to create a cute look that'll also stand out.
Note you can wear Mary Janes however you want, not just with dresses, but I think pairing them with feminine looks gives off a vintage and chic feel. Again it's another option, but not the only option.
Wear this outfit on a summer date, for dinner near a beach, for brunch, or even for a picnic. Just swipe on some lipstick, and you'll look great no matter where your day takes you!
4. Casual Look
This last look is casual and a little bit street-style inspired. When most people think of Mary Janes, it is with dressy outfits. But Mary Janes can be worn with casual looks, too!
To make a casual look with your Mary Janes, try less simple pants like smooth light-wash jeans, for example. Then grab a plain tee and put on a jacket. This light brown quilted jacket is an excellent option to throw on when it's chilly outside.
If you want, pair some socks with your Mary Janes for another detail. The Mary Janes I picked for this outfit are chunky, giving a casual feel compared to other styles of Mary Janes.
This look would be great for wearing to a college class, getting coffee, or running errands. I adore this look and can see myself wearing it too. Just remember, if you want to wear Mary Janes, but don't like pieces like dresses or trousers, jeans are still a great choice too. Rock whatever feels good for you!
What Do You Think of our Guide to How to Style Mary Janes?
What do you think of the outfits we picked? If you were to wear them, or if you wear the footwear regularly, what outfit would you wear with a pair of Mary Janes? Leave a comment and let us know!