This week I created five Bridgerton outfits, inspired by the second season of the popular Netflix series, and wore them in real life. Check out my Bridgerton Season 2 fashion guide below!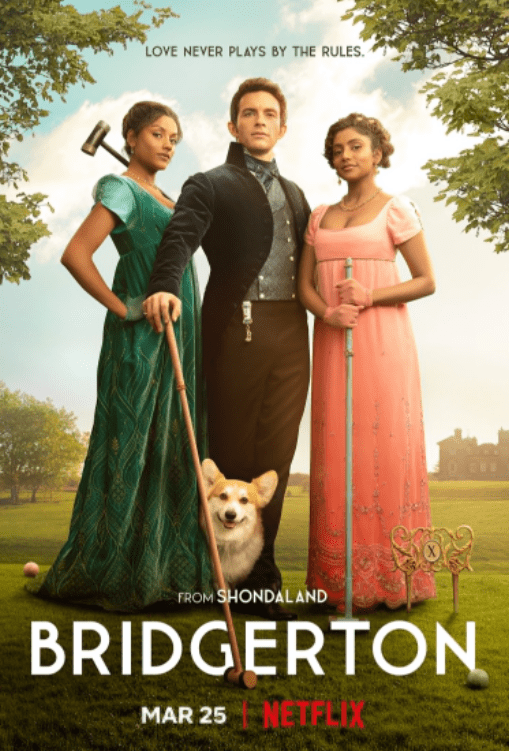 We've all looked to celebrity style for fashion inspiration at some point in our lives. But it's one thing to say "I love her outfit," and it's another to actually copy it in real life.
For this series, I'm going the extra mile and making it happen. Each week, I'm getting inspiration from a celebrity and copying five of her looks as closely as possible. Then, I'm reporting back to you: Did the outfits work in real life? Did I feel comfortable? Did people treat me differently? I'm sharing it all.
In honor of the second season of Bridgerton premiering, I'm creating looks for five of its main characters. Read on for all the Bridgerton season 2 fashion you need in your life!
About Bridgerton (2020)
Bridgerton is a period drama series created by Chris Van Dusen and produced by Shonda Rhimes (Grey's Anatomy, Scandal). The show is based on a series of novels by Julia Quinn. It premiered on Netflix on December 25, 2020 to huge success. It had positive reviews and pretty quickly became the most watched show on Netflix.
The second season focuses on Daphne's older brother, Anthony Bridgerton (Jonathan Bailey). Anthony has to find a wife this season to fulfill his duty as Viscount. Quickly, he becomes the most eligible bachelor, but he is unimpressed with every young woman he meets. Anthony resolves to marry whomever is chosen by the Queen as Diamond of the First Water. Edwina Sharma, a new-comer, is the lucky young woman. But Kate Sharma, Edwina's older sister, proves to be a challenging opponent to the eldest Bridgerton.
Just like in the previous season, there are loads and loads of characters and subplots intertwined with Anthony's main plot. Some of them include Eloise navigating society after being introduced to it this season, Penelope's struggles with her alter-ego, and the Sharma's backstory.
Bridgerton's Fashion
Just like the last season, the costumes are historically inaccurate but gorgeous.
In my previous post (Part 1), I talked about the Season 1 outfits of the main players: Daphne, Simon, Marina, Eloise and Penelope. Since this season focuses on another Bridgerton and we do have a new set of characters with specific styles, I focused this post on Season 2.
In this new season, Penelope and Eloise are still pretty big characters. So I created outfits for them again and took their new characterization into account. Finally, I decided our new main focus characters (Anthony, Kate and Edwina) demanded their own looks.
With that being said, let's see how the week went!
Bridgerton Fashion Season 2
Monday – Outfit #1, Eloise Bridgerton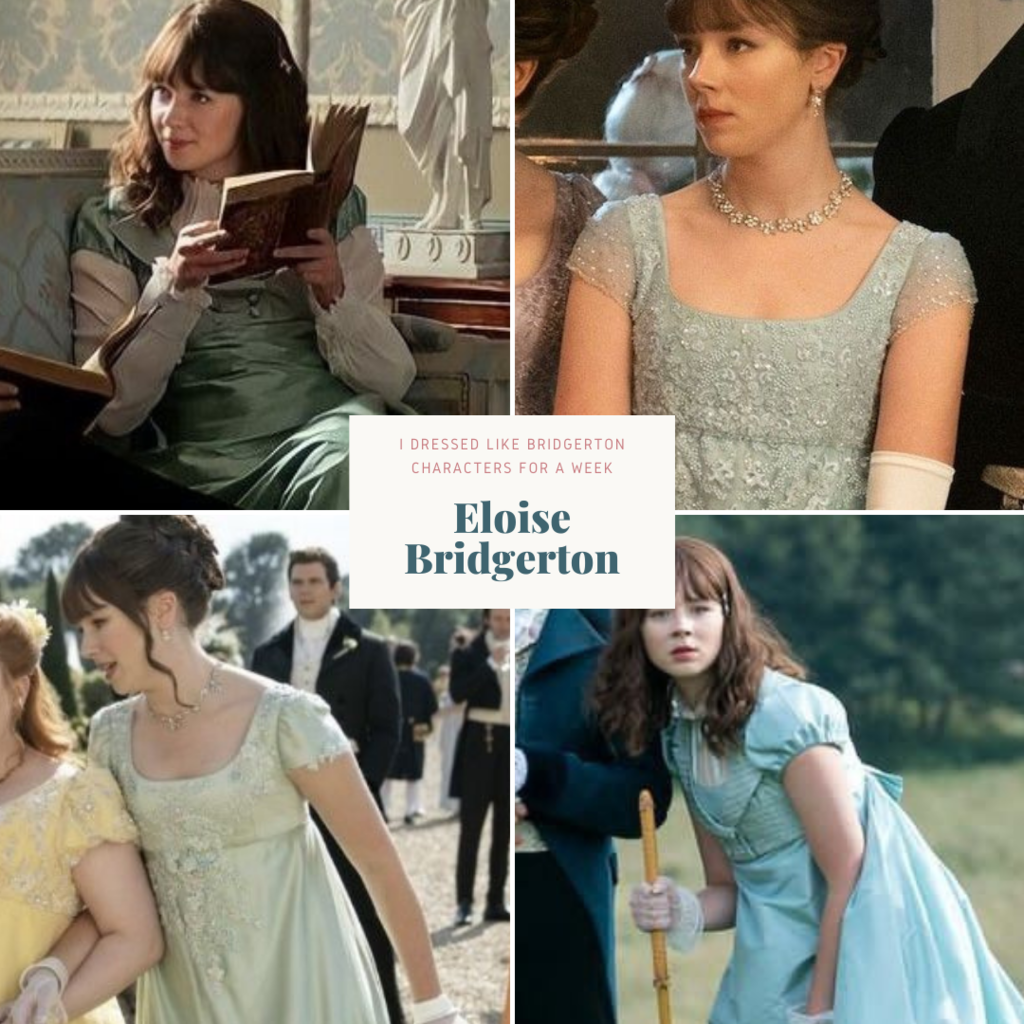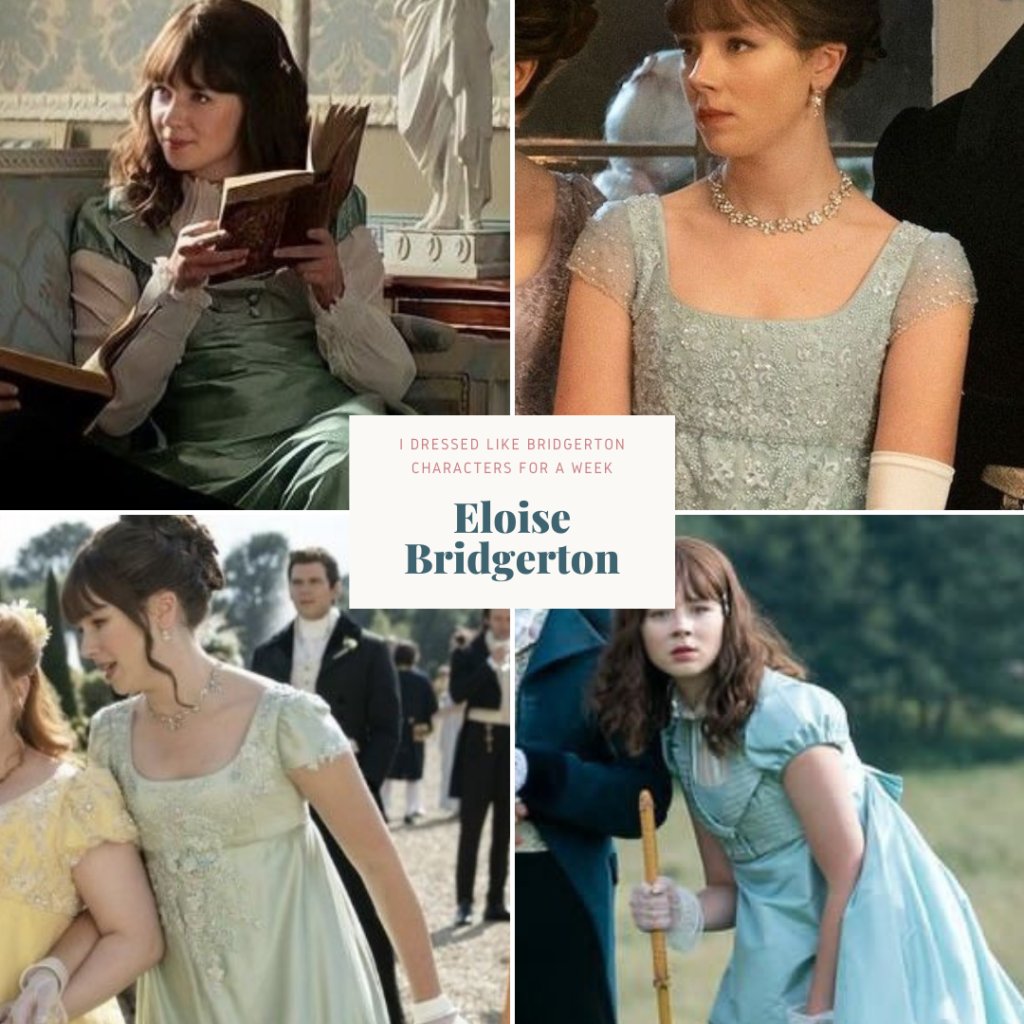 Eloise is the fifth child and second daughter of the Bridgertons. Last season, she was dreading her debut in society. Now, her worst nightmare has come true. Eloise struggles to get through the season, feeling inadequate and disappointing.
While her fashion color scheme still matches her family's, it has started to move away and contrast with them more than complementing it. Purple and lilac remain from the first season, and she adds pistachio green and pastel teal instead of pastel blue.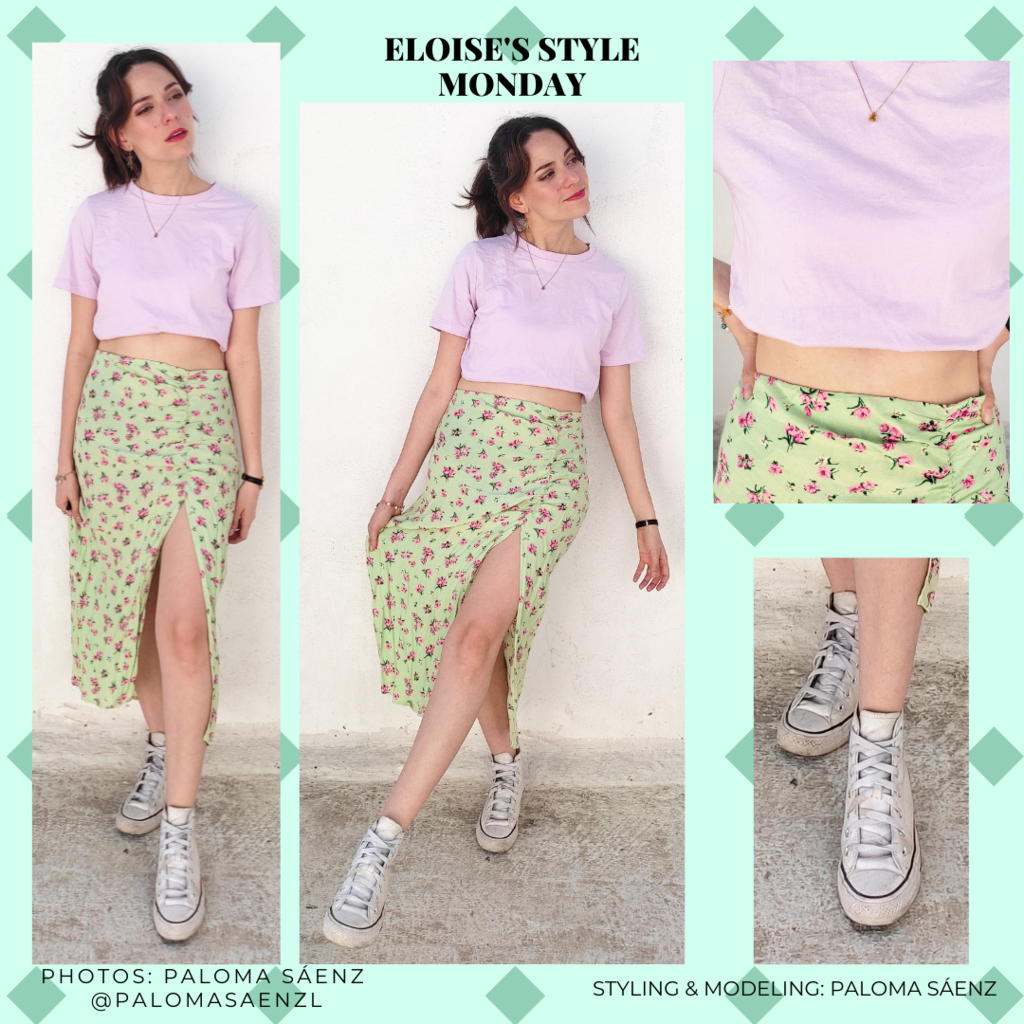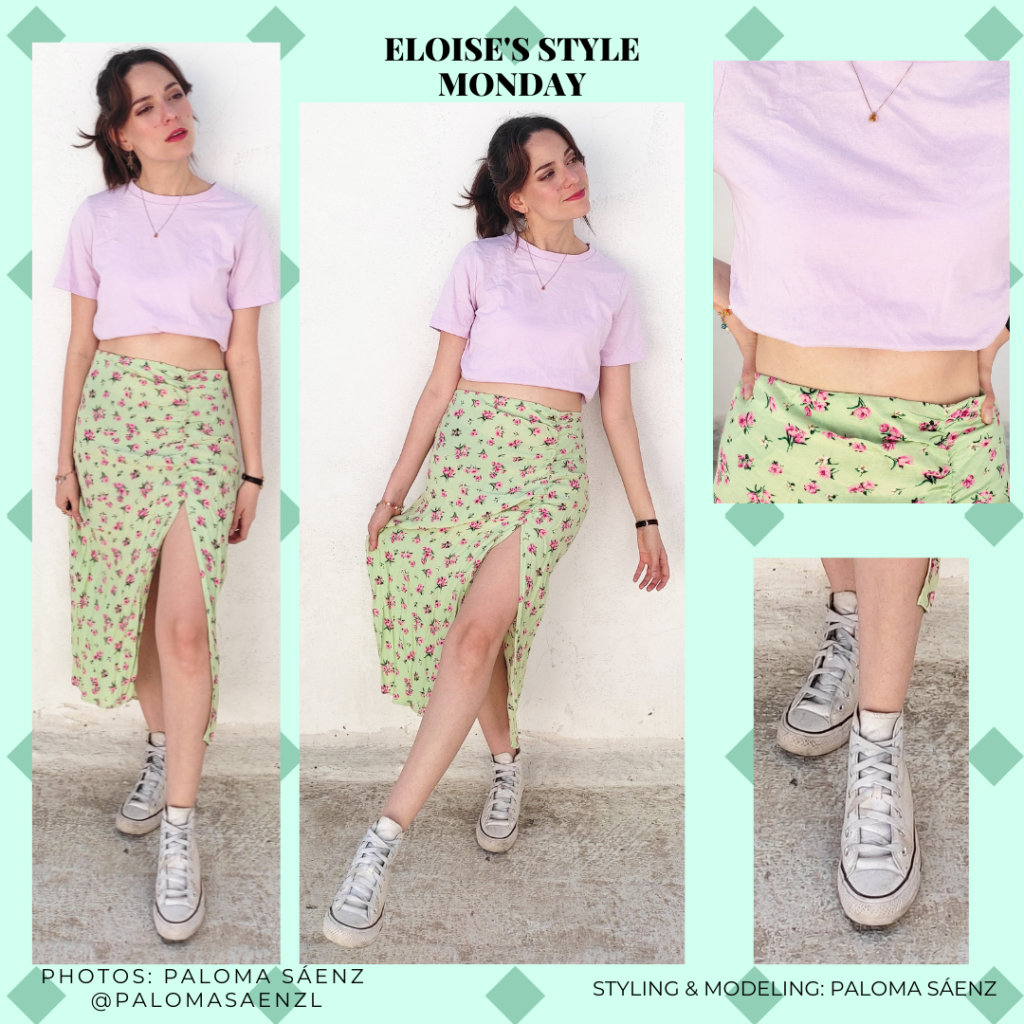 For my season 2 Eloise look, I wanted something more feminine, but still showing her tomboy nature.
For my look, I paired a simple lilac t-shirt with a patterned midi skirt in pistachio green. I kept the lilac from the previous season, to show Eloise's refusal to change herself for others, while the skirt is to portray that she is still forced to dress and act a certain way by her family. For shoes, I wanted something comfortable and simple. So, I chose a pair of white Converse. Finally, I put my hair up in a ponytail.
This look was cute! I like the combo of lilac and green, I feel it's really spring-like. Since it is spring already, the weather is warmer and this look was perfect for most of the day. Early in the morning, I did have to add a jacket because it was a bit chilly, but it was for just an hour or so. I ran some errands after work, and it was a perfectly comfortable and cute outfit to wear.
Tuesday – Outfit #2, Edwina Sharma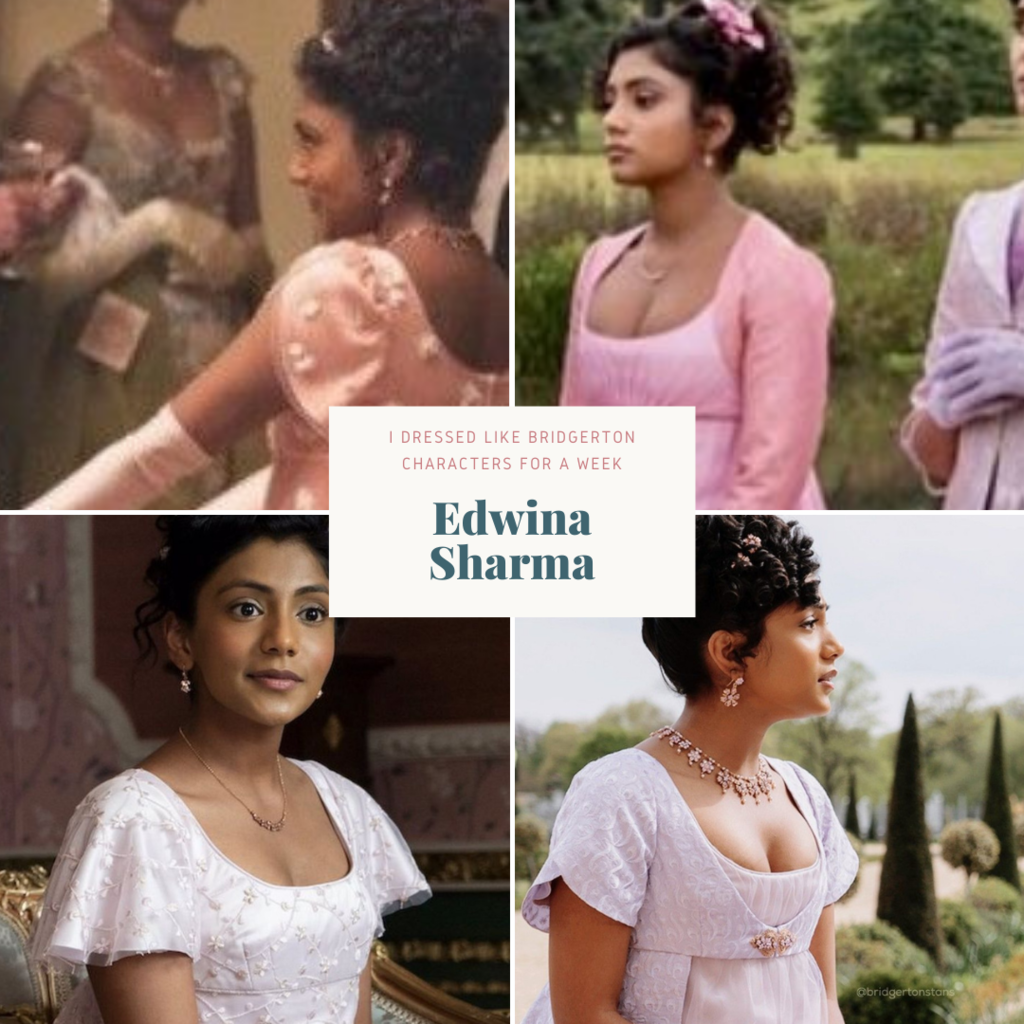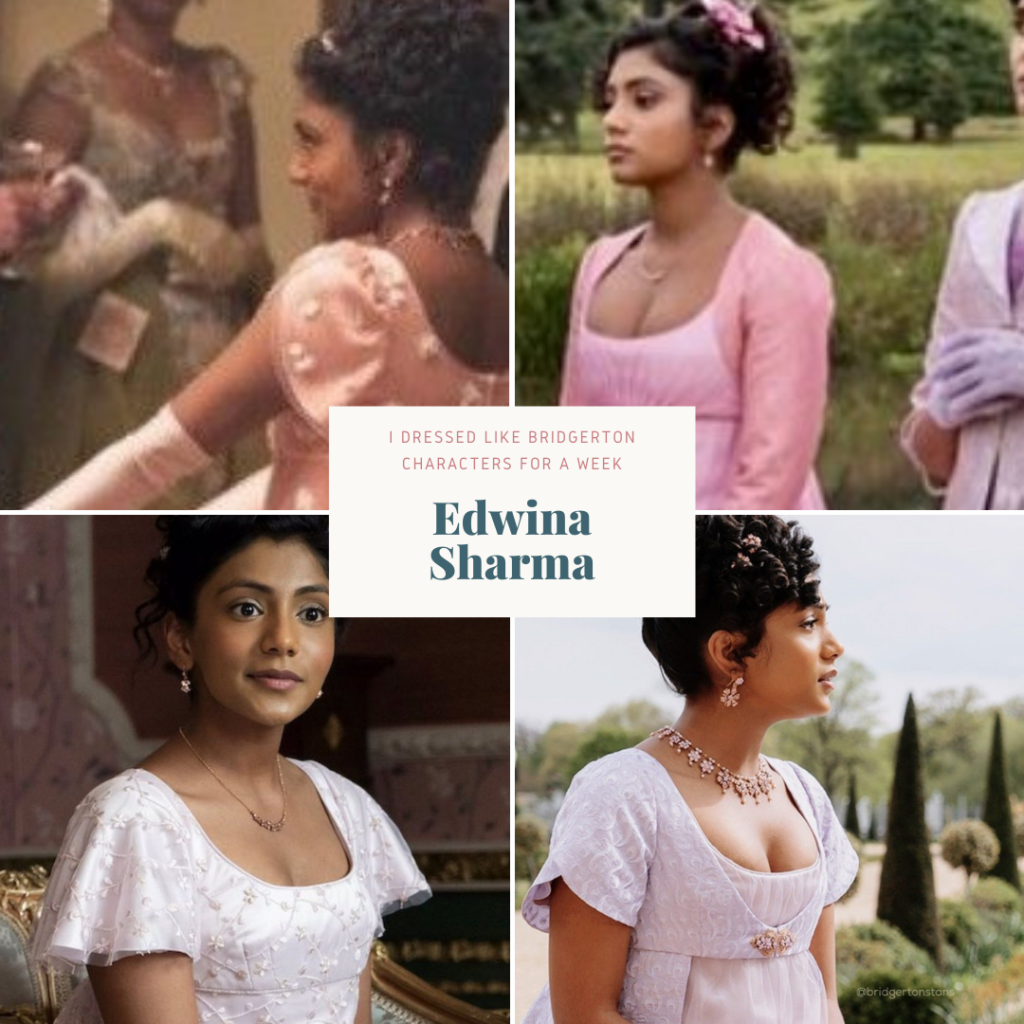 Edwina is the younger Sharma sister, the young lady immediately dubbed the diamond of the season. She's a perfectly sweet and kind person, who wants to make a love match. She adores and admires her older sister Kate, so Edwina trusts Kate's judgment on men and marriage for most of the season.
The Sharma women are almost always coordinating in the same color, but Edwina is usually in pastel shades. This shows her kind nature and her ingenuity. Her signature colors are pastel pink, peach and lilac.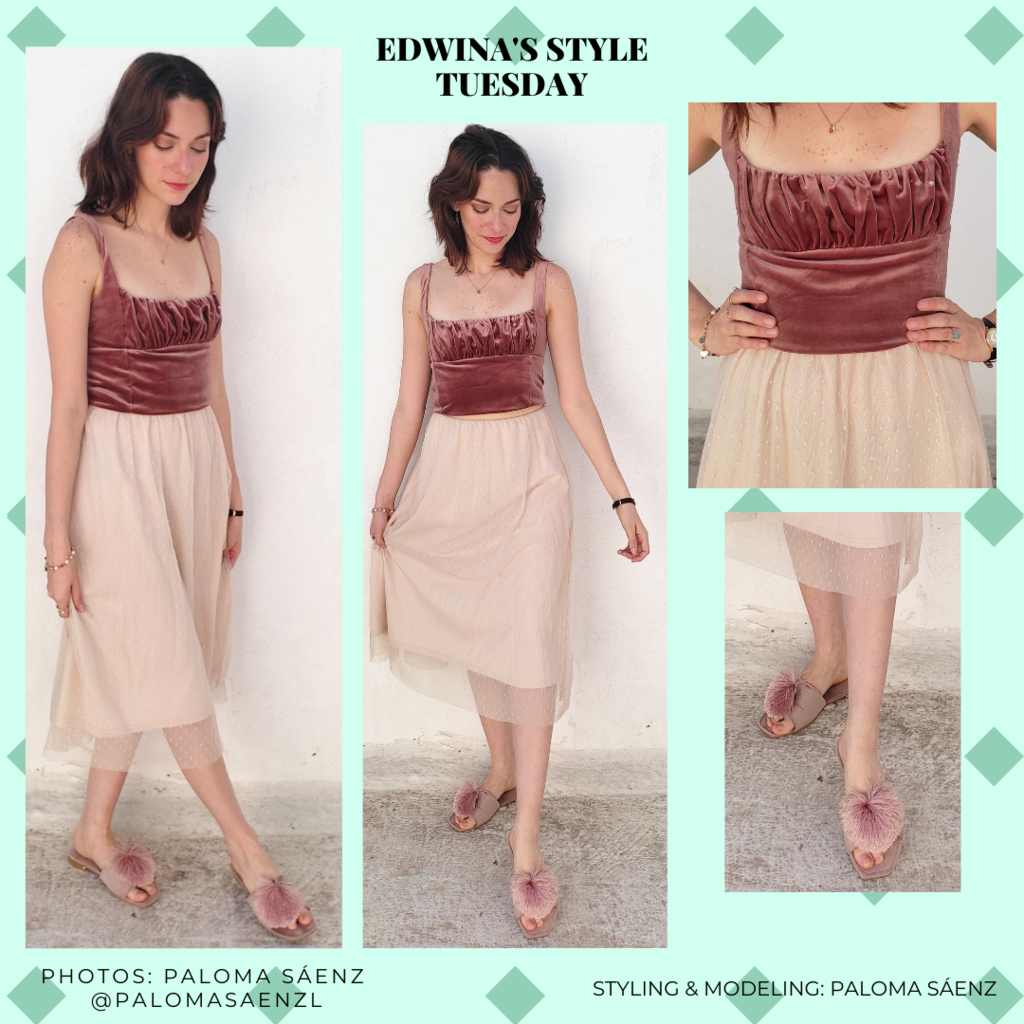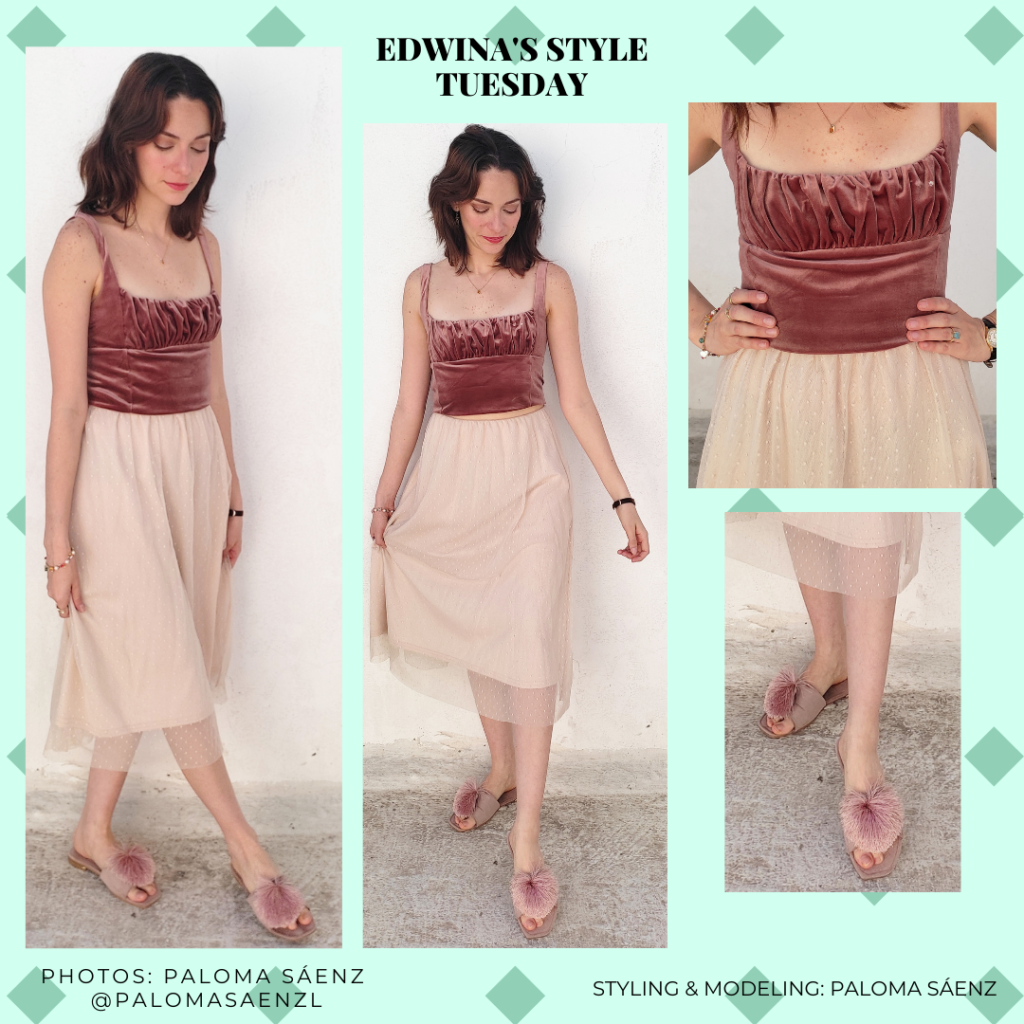 Edwina is a very feminine and gentle character. For my Edwina look, I wanted to portray both her sweetness and her confidence. I put on a pink velvet crop top that has a similar neckline to the dresses she wears through the season. On the bottom, I wore a pink tulle midi skirt, borrowed from my sister.
For shoes, I had a bit of debate: I was between silver heels, nude espadrilles or a pair of velvet mules. The heels and espadrilles felt inadequate for Edwina, they were either too formal or not proper enough. I opted for the pink velvet mules with a little pom-pom on top.
This outfit is so pretty! I love pink and it was a treat to have a pink look this week. As with Eloise's look, it was a bit chilly on the morning to not wear a jacket, so I threw on a pink coat for a few hours. Overall, this outfit is more summer than spring, but it was super cute and lovely to wear.
Wednesday – Outfit #3, Anthony Bridgerton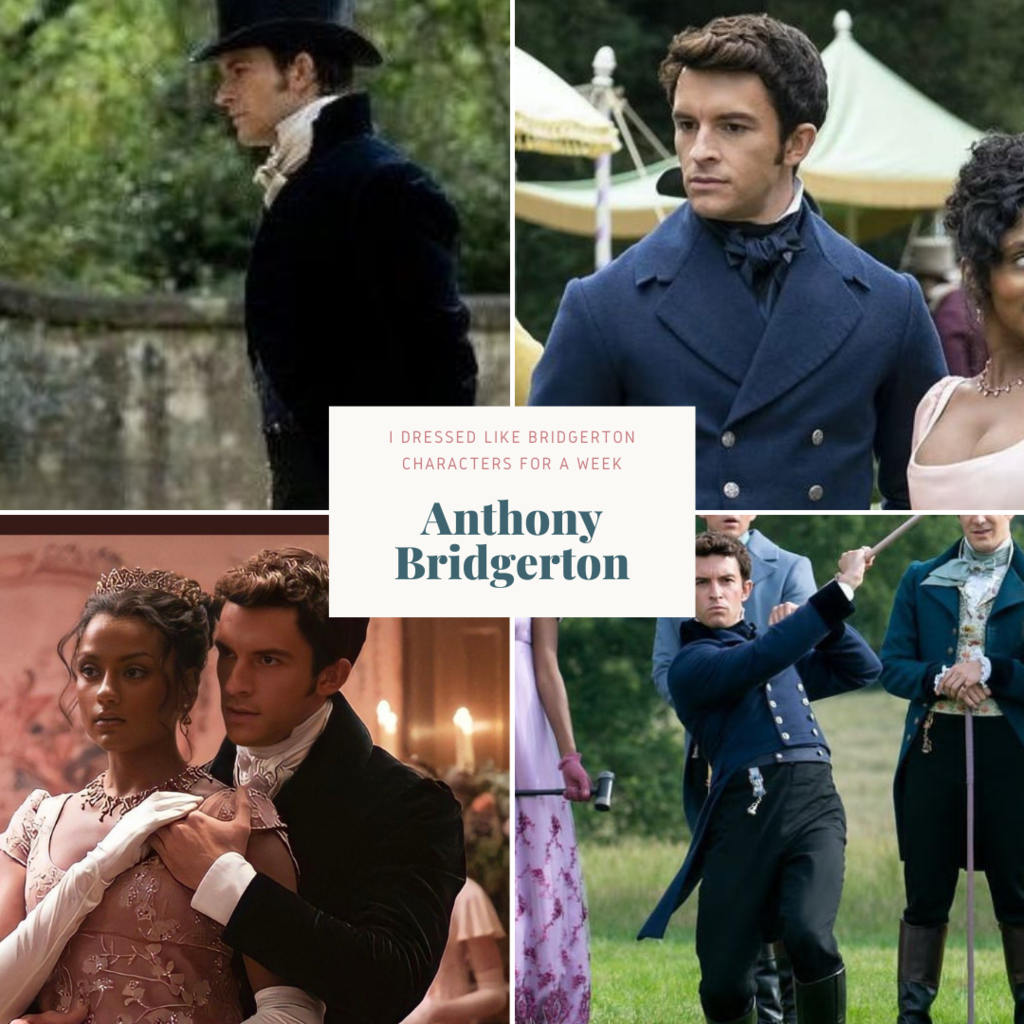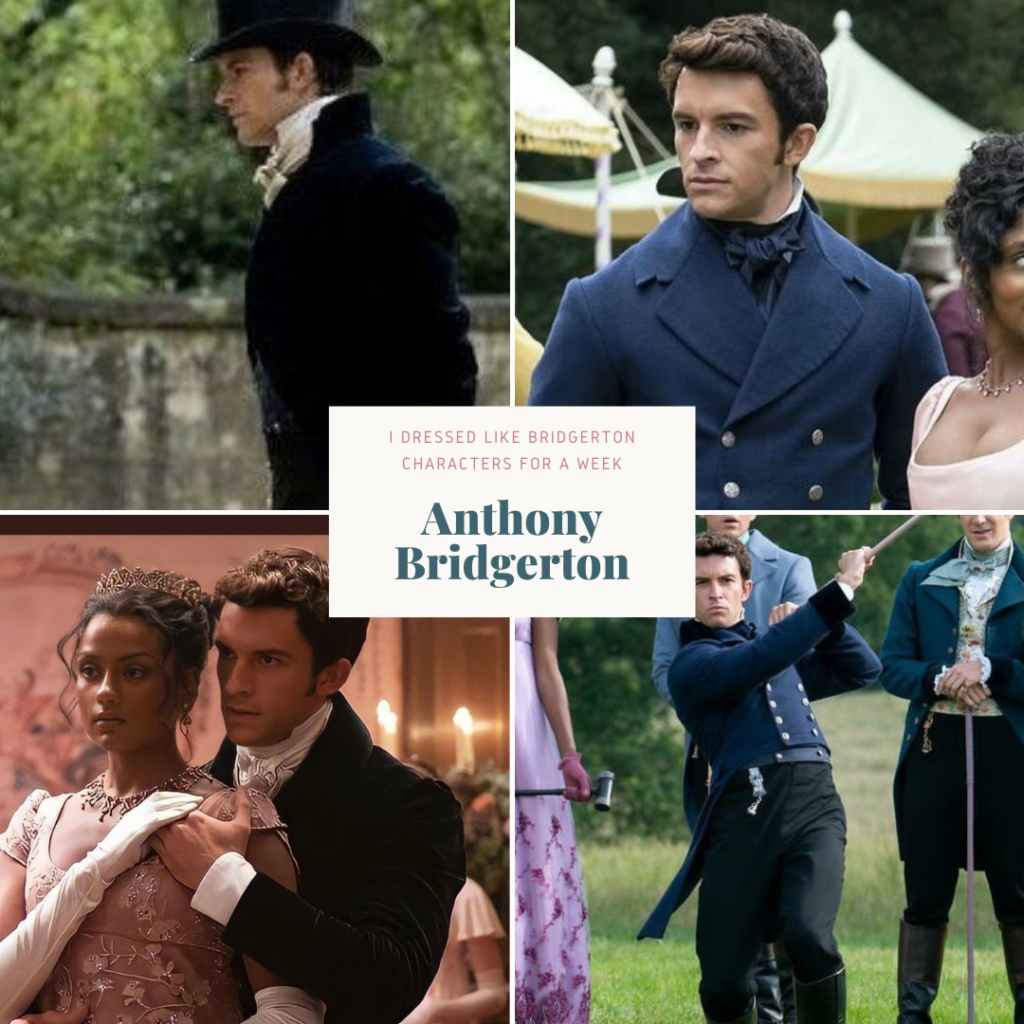 Anthony is the eldest Bridgerton and the de facto head of the family. Nonetheless, he's not eager to wed, struggling between doing his duties and following his own desires. He remains fiercely protective of his siblings and aims to do whatever he thinks is best for them.
Like almost all the Bridgerton's, his signature color is blue. Unlike the lighter shades of blue the rest of the family wears, he opts for a royal blue. Other colors Anthony uses are deep shades of purple and dark teal.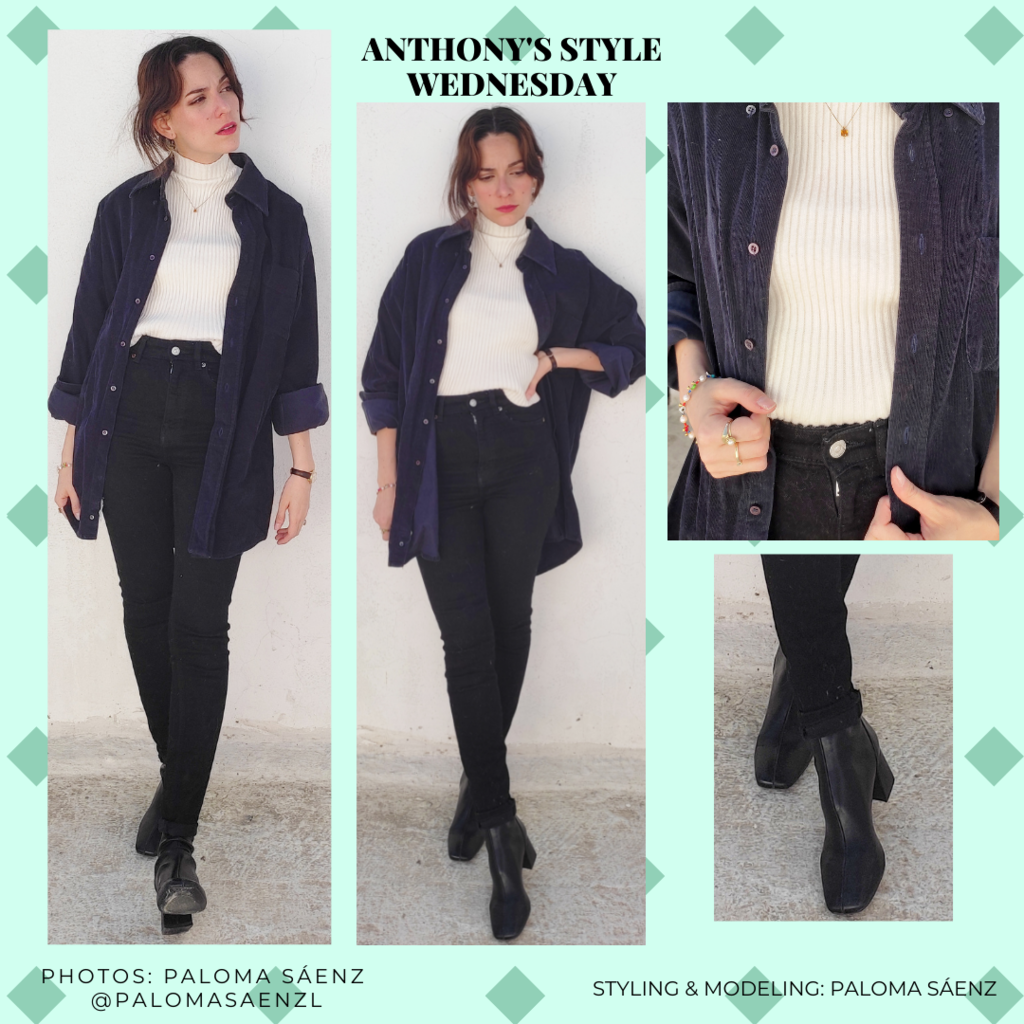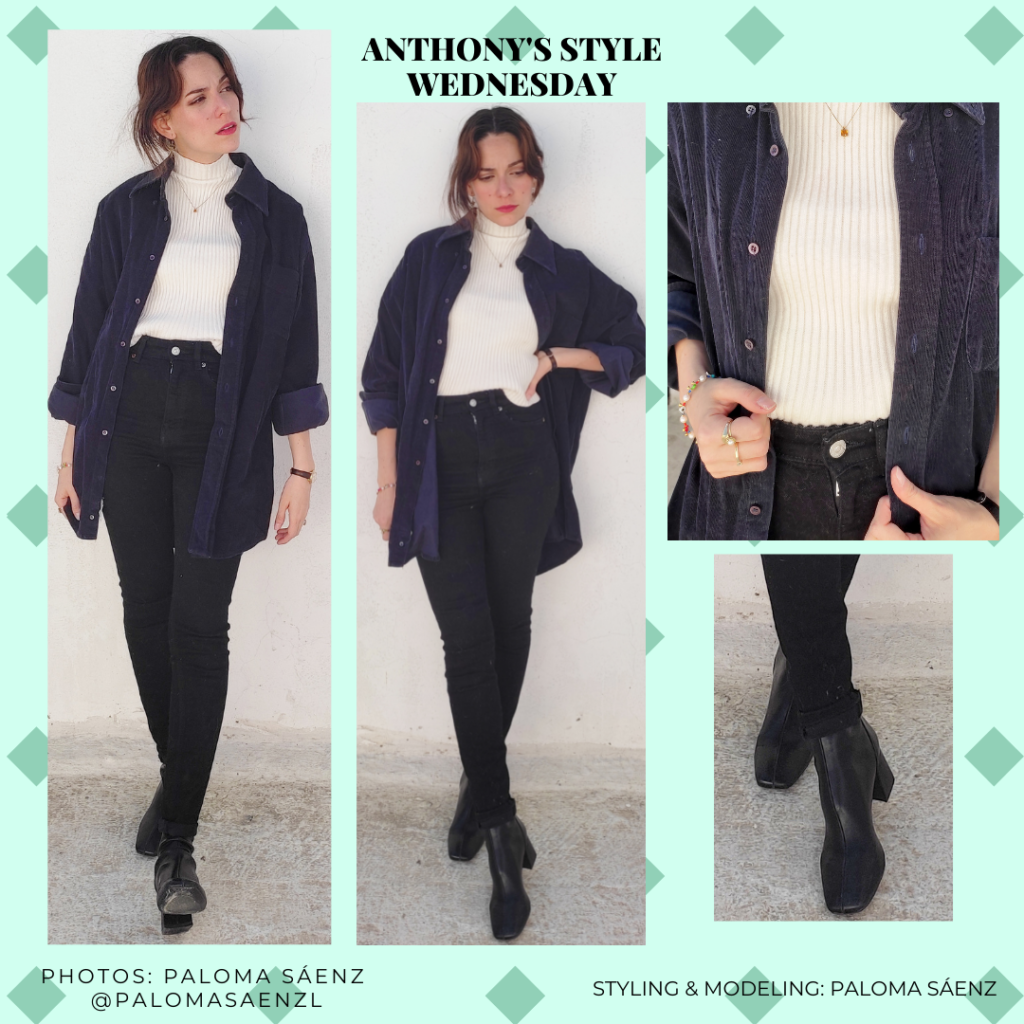 For my Anthony look, I wanted something put-together and practical. He is a no-nonsense type of guy; he wouldn't wear something that would distract him through the day. For the base of the look, I paired skinny black jeans with an off-white knitted top. The top is sleeveless, to keep me fresh through the day, and has a turtleneck, to emulate Anthony's white shirt. I borrowed the top from my sister.
Anthony is always wearing some type of coat, cape or jacket. I threw on a blue corduroy shirt, that I borrowed from my dad. With this last item, I added the Bridgerton blue to the look. My shoes are a pair of black sock booties, to keep everything looking slick.
I loved this look. Everything worked together and it looked great. Unfortunately, even with the white top being sleeveless and all, it was waaay too hot for the weather. In between the knit and the corduroy, it was a lot. But, in early Fall or for a colder Spring day, this look would be perfect.
Thursday – Outfit #4, Penelope Featherington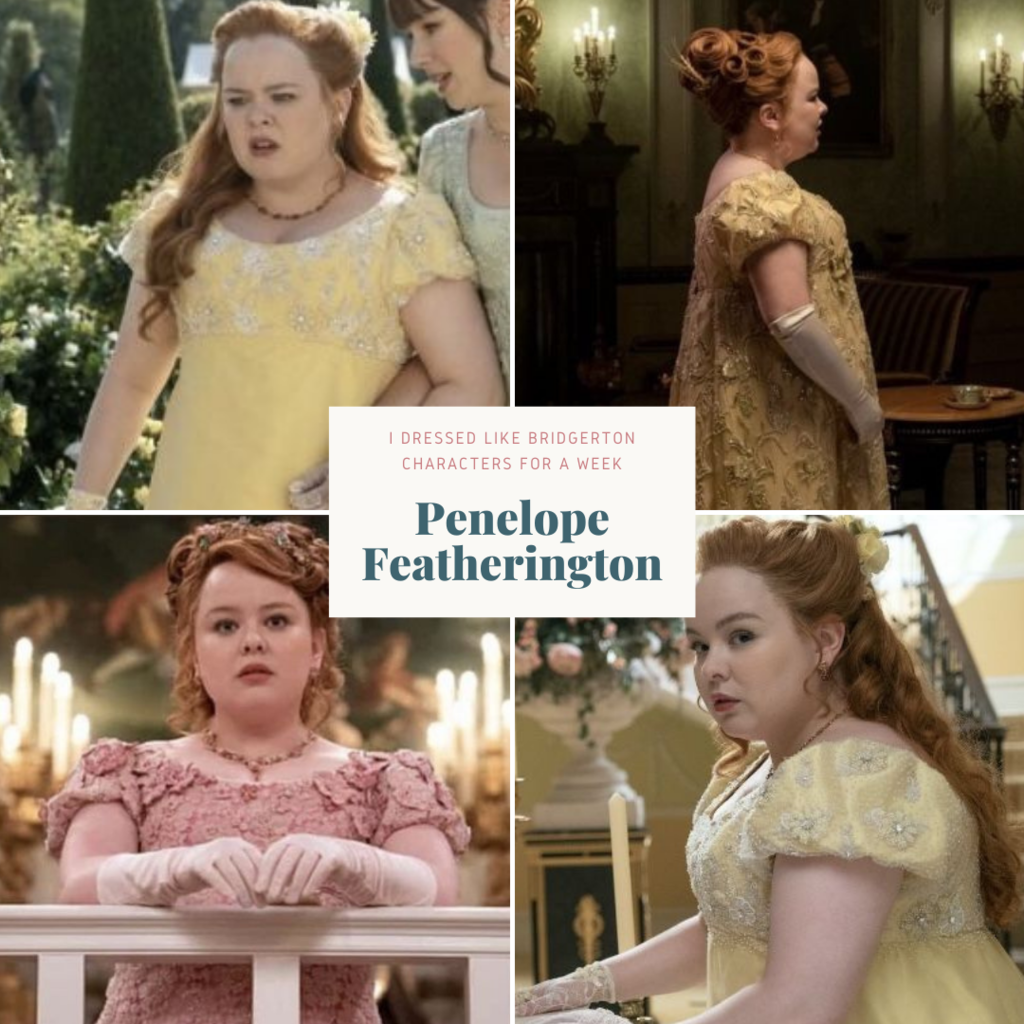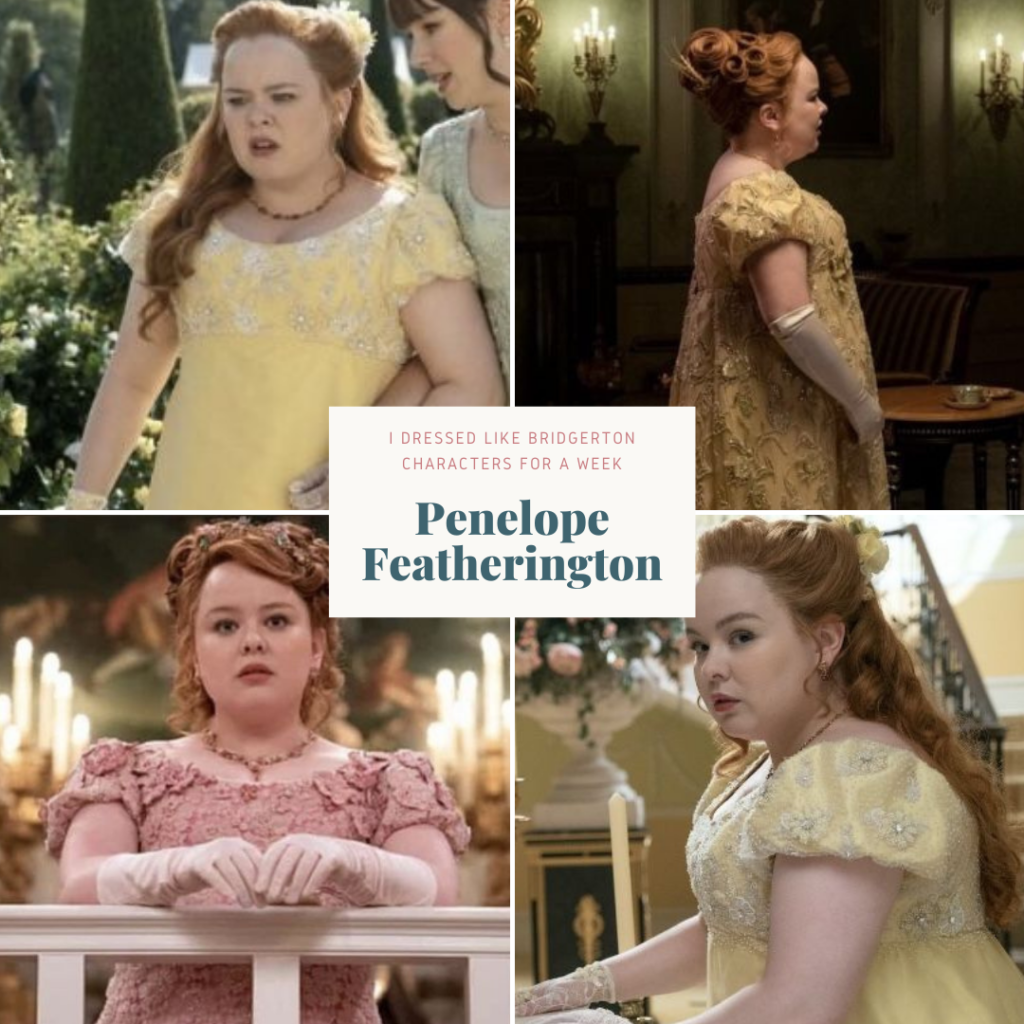 Penelope is the youngest daughter of the Featheringtons. After her actions last season, Penelope has tried to make amends but she has also realized the power she holds with her pen. This season, Penelope is a lot less sweet and more ruthless and direct.
Her color palette (yellow, pink and orange) remains mostly the same, but she has found a way to differentiate herself from her family. The shades she wears are bright, but a lot more subdued than last season's. The patterns in her dresses are smaller, and her hair and accessories are notably toned down in comparison to her sister's.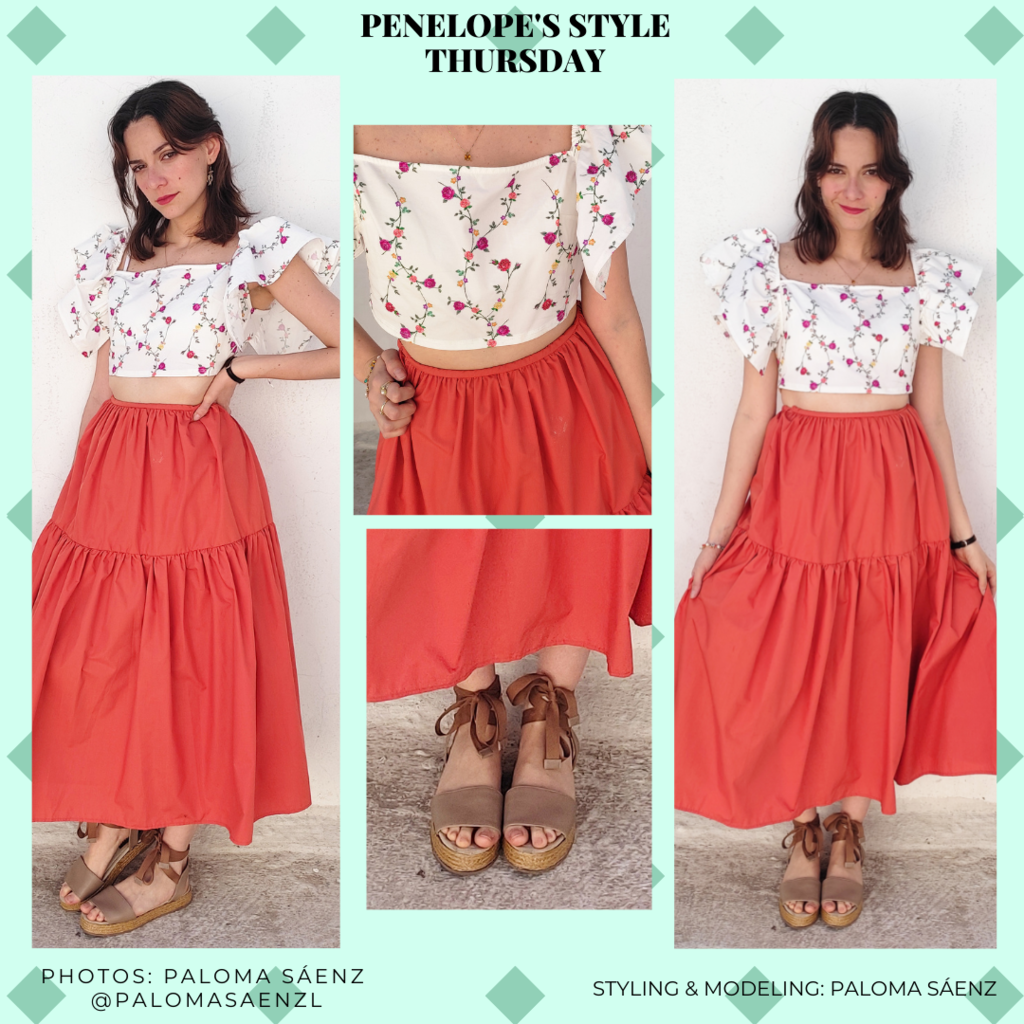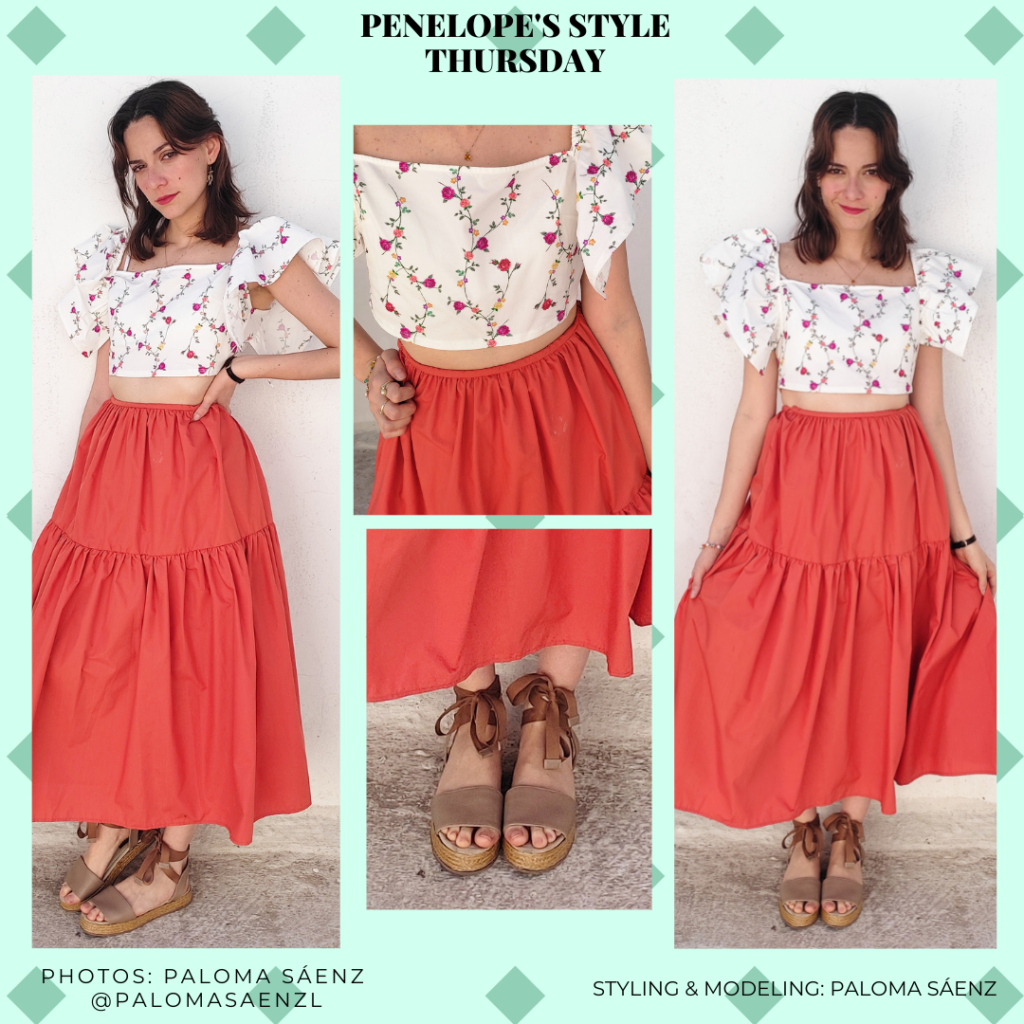 For my second Penelope look, I wanted something kind of grand, because I feel like Penelope has grown more confident in herself.
I have to admit, this outfit needed a bit more of fixing and stitching than the others.
I wore a white peasant blouse that has a floral pattern in yellow, pink and orange (Penelope's signature colors). My sister loaned me the shirt. For the bottoms, I tied up an orange dress into a long skirt. Finally, my shoes are a pair of nude espadrilles, because they're feminine and comfortable.
I am so excited about this one! I wasn't sure about this outfit at first — I thought I'd end up looking a bit disheveled or frumpy. But it actually turned out great and I loved the final result. This is the type of outfit that makes me so excited for spring to arrive.
That being said, since the top was my sister's, it was a bit big on me and if I moved a lot it would slide off a bit. I had to be extremely careful when I moved so I wouldn't be exposed in any way. If I wear this again, I will use a couple of pins here and there to keep everything in its place.
Friday – Outfit #5, Kathani "Kate" Sharma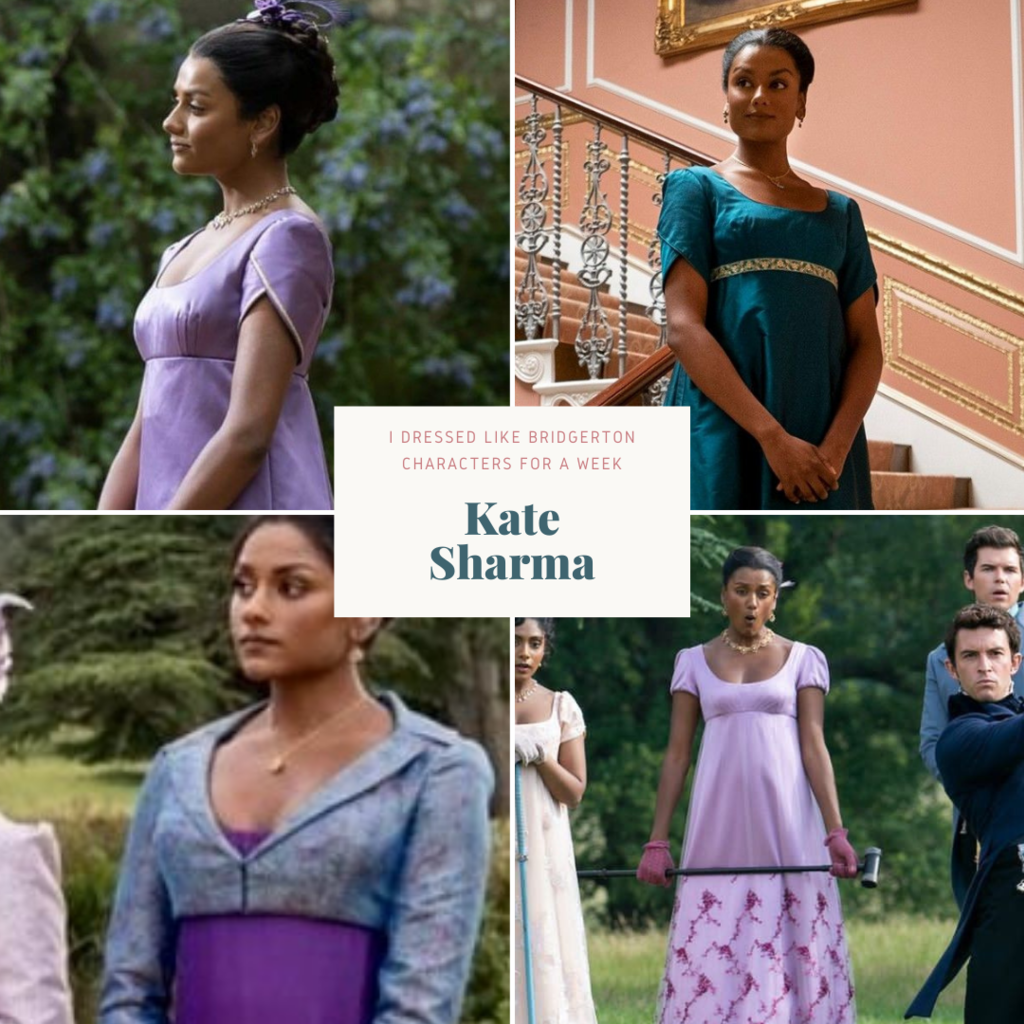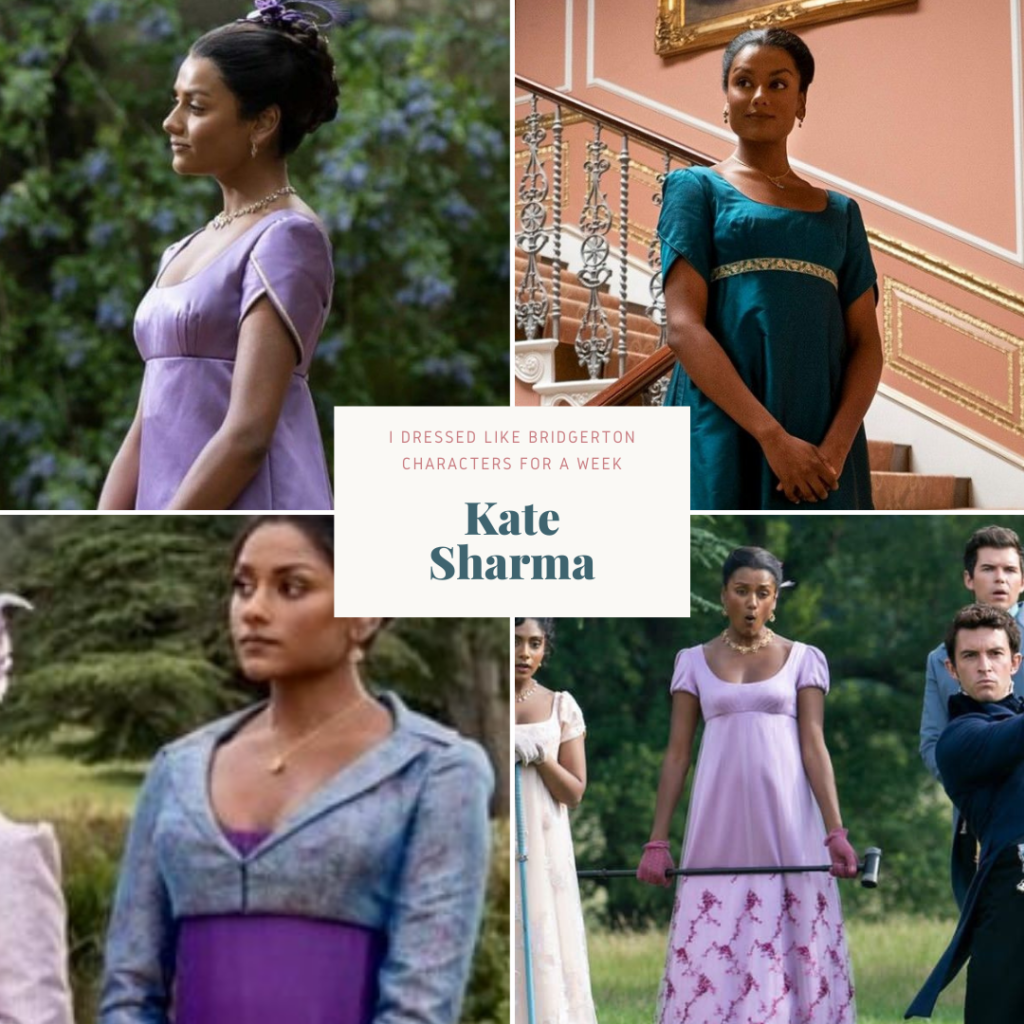 Kate is an independent woman with high standards. At 26, instead of wanting to marry for herself, she wants her younger sister Edwina to find a good match. She is fiercely protective of her sister and works to secure her happiness.
In contrast to previous protagonist Daphne's pastel color palette, Kate favors deeper shades like royal blue, dark teal and purple to reflect her more assertive personality.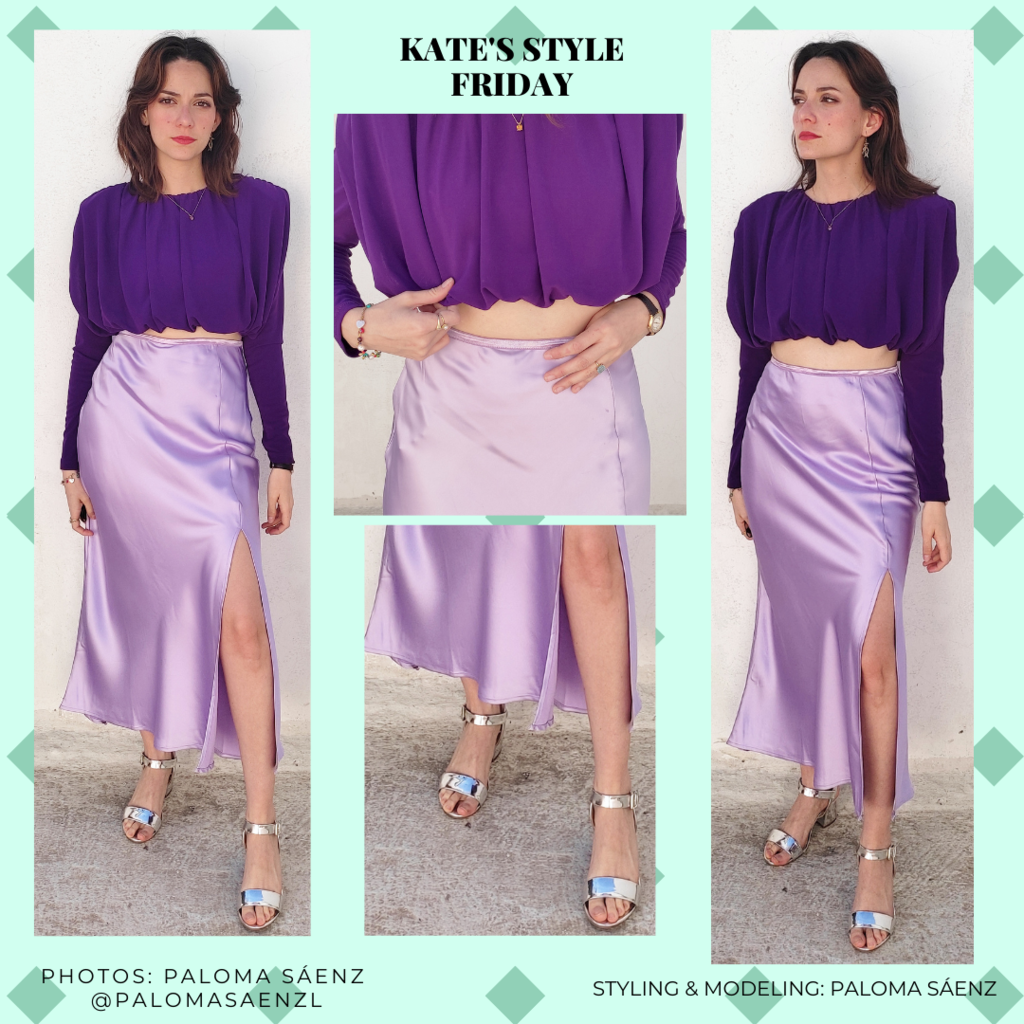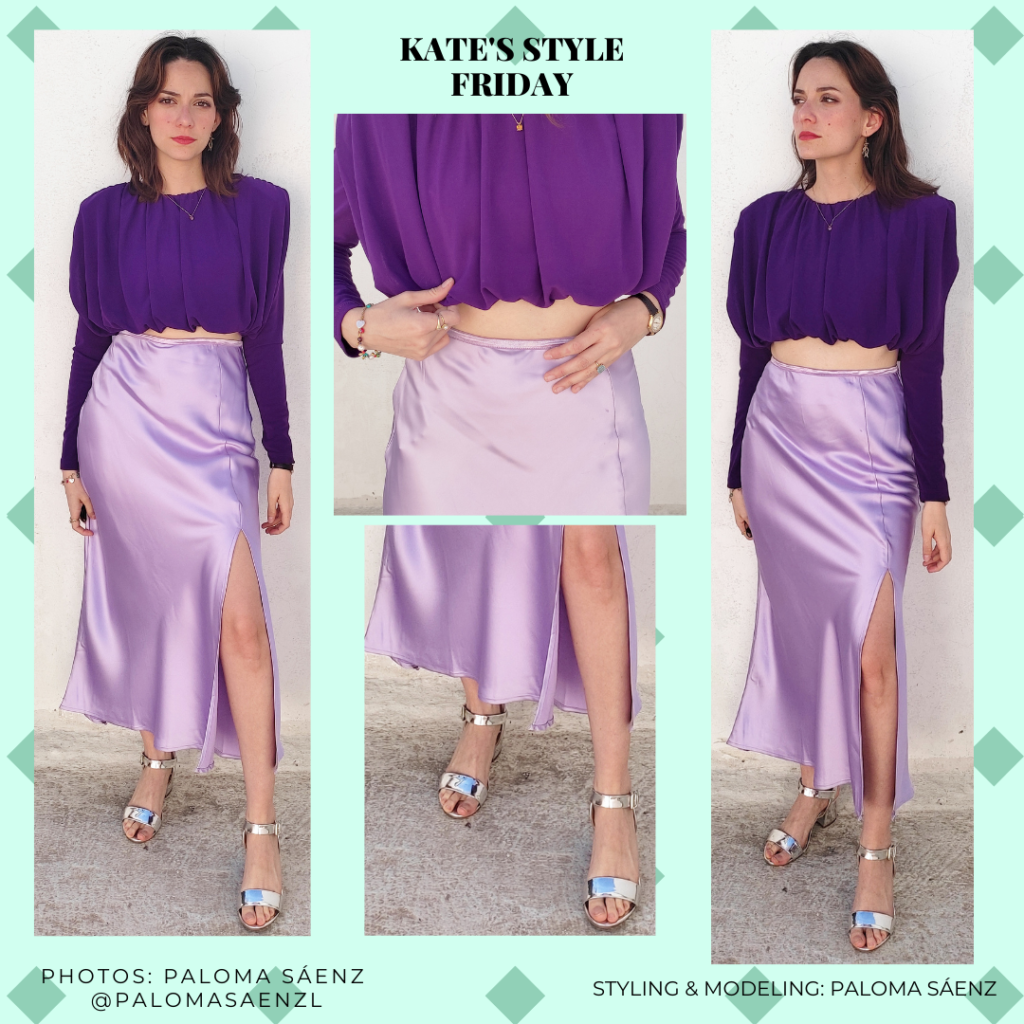 To create Kate's look, I wanted something fierce and that exuded confidence. I also wanted to wear a lot of purple and lilac, because those were the colors Kate wore the most this season.
For this outfit, I paired a bright purple top with a satin midi skirt in lilac. The top has shoulder pads and the skirt has a slit. For shoes, I thought silver heels would be a great addition. They add texture and brightness to the look, while still being sexy and comfortable.
Not going to lie, this outfit was my absolute favorite. I think I looked hot and cute at the same time. It was so different from the rest of the week's looks, so it was exciting to wear it. I enjoyed this one so much. And it was kind of perfect for the weather; not too hot or cold.
Final Thoughts
Honestly, I liked the second season of Bridgerton more than the first. It still has some issues to be sure, but I found this version of the cast way more compelling and exuding way more chemistry than the first season's. Anthony went from being one of my least favorite characters to one I actually root for and empathize with. Kate as our leading lady is such an improvement from Daphne, at least in my eyes. On the other hand, I didn't like Eloise a lot this season, and her storyline disappointed me in the last few episodes. Overall, I enjoyed this season way more and the fashion was just as great.
My favorite looks this week were Kate's, Penelope's and Eloise's in that order. I will wear all of them again with minor tweaks for fit and comfort. It was such a fun week, full of color and different styles and vibes to play with.
If you want something colorful and fresh to inspire your style this spring, Bridgerton is right there! Cottage-core and everything colorful are so popular right now and Bridgerton is the perfect show to get inspired by to wear these trends. You probably have most things you need in your closet. Honestly, all you might need is a midi skirt and a pretty blouse in bright colors. You should give it a try!
What did you think of my Bridgerton Season 2 fashion guide?
Have you seen Bridgerton? Did you like it? What are your thoughts on it? Which outfit was your favorite? Would you recreate any of these looks? Which celebrity, actress or show would you want me to cover next? Let us know in the comments below!