**UPDATE: I created a part 2 to this series with tons of outfits inspired by the fashion in Bridgerton Season 2.**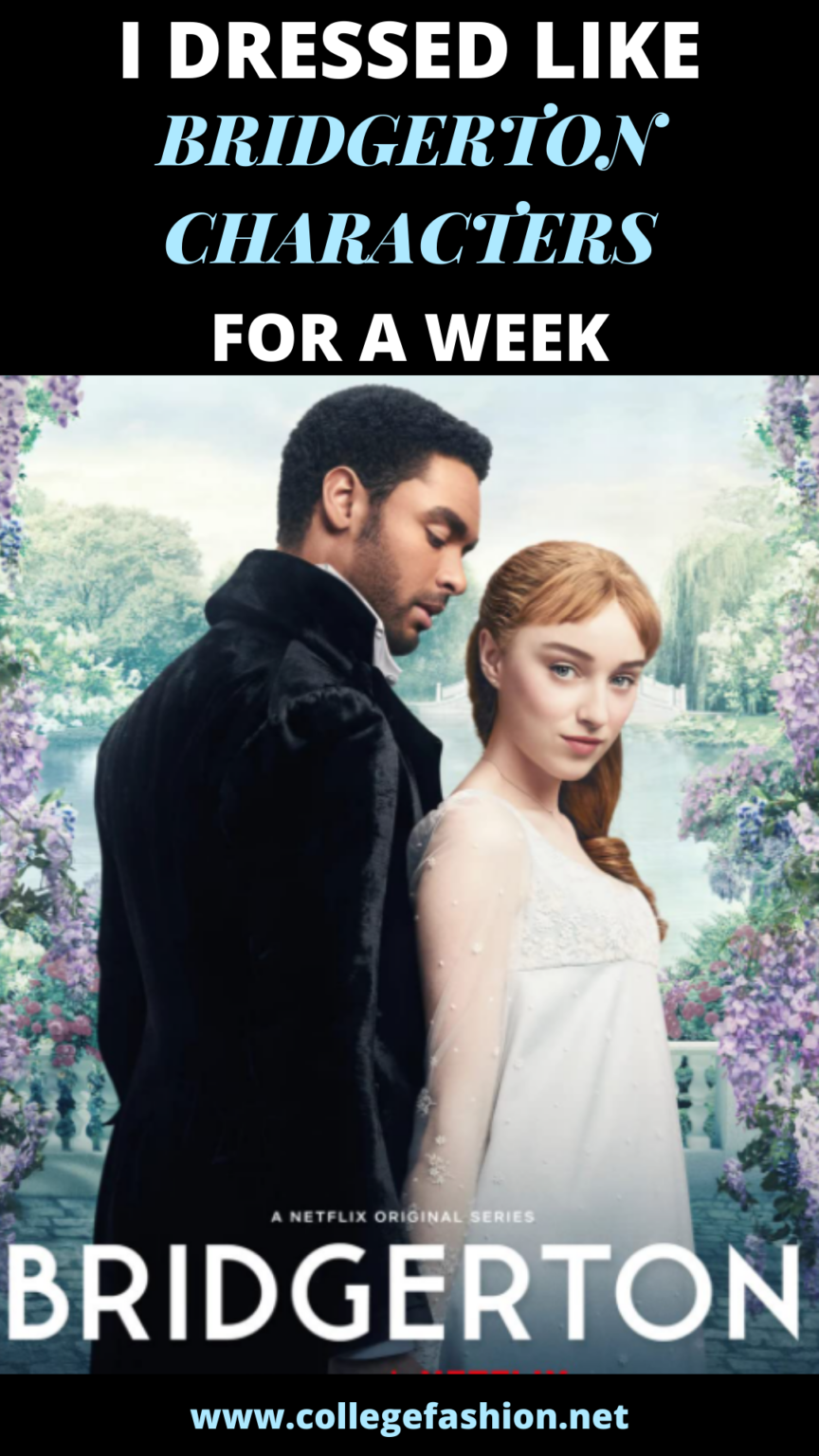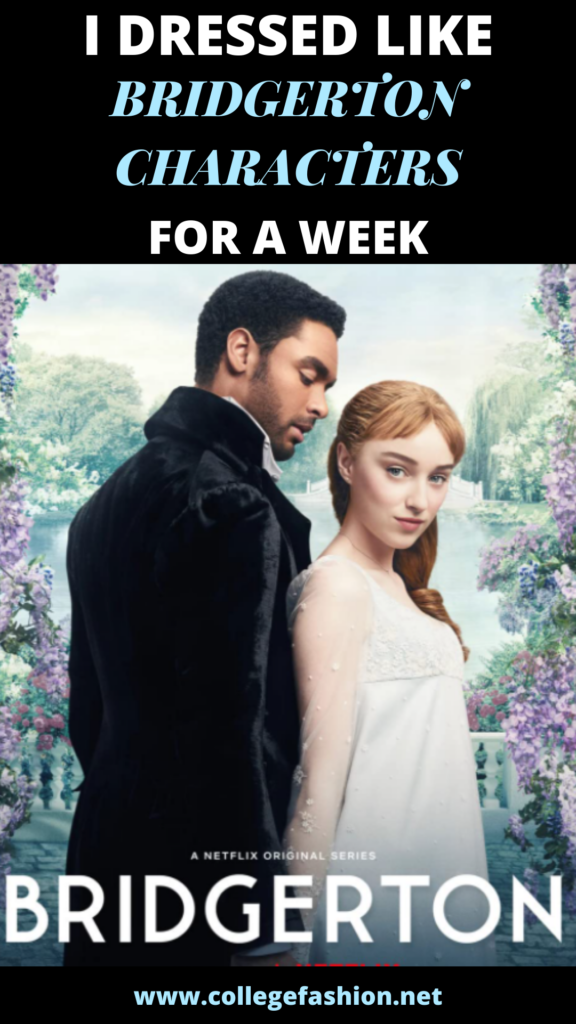 This week I created five Bridgerton outfits, inspired by the popular Netflix series, and wore them in real life. Find out how it went below!
We've all looked to celebrity style for fashion inspiration at some point in our lives. But it's one thing to say "I love her outfit," and it's another to actually copy it in real life.
For this series, I'm going the extra mile and making it happen. Each week, I'm getting inspiration from a celebrity and copying five of her looks as closely as possible. Then, I'm reporting back to you: Did the outfits work in real life? Did I feel comfortable? Did people treat me differently? I'm sharing it all.
In past posts I've covered the style of these celebrities: Zendaya, Gigi Hadid, Grace Kelly, Kendall Jenner, Vanessa Hudgens, Sophie Turner, Priyanka Chopra, Millie Bobby Brown, Hilary Duff, Lily Collins, Taylor Swift, Selena Gomez, Alexa Chung, Queer Eye's Fab 5, Lucy Hale, Dakota Johnson and Hailey Bieber.
I've also covered the style of certain iconic TV and movie characters: Iconic Halloween Characters Part 1 & 2, Iconic Christmas Characters Part 1 and 2, Rachel Green Part 1 and 2, Monica Geller, Little Women's Characters, Gilmore Girls' Characters Part 1 and 2, Iconic Olsen Twins' Movies and Winx Club Characters.
This week, I took inspiration from the Netflix show that took the world by storm at the end of 2020, Bridgerton. Read on for my Bridgerton outfit guide.
About Bridgerton (2020)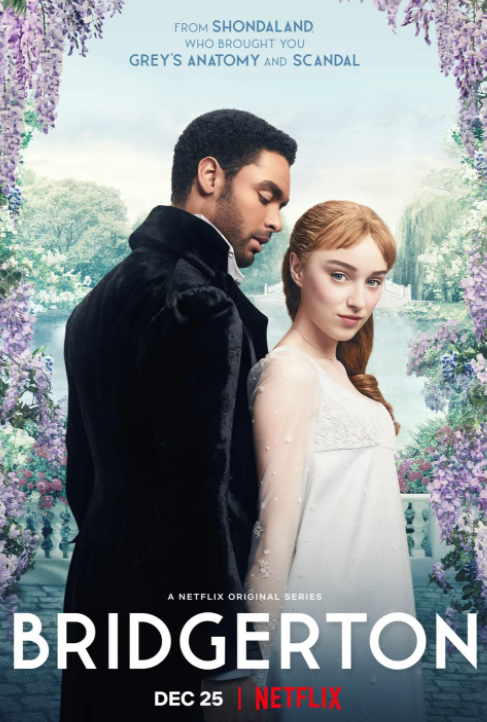 Bridgerton is a period drama series. It is created by Chris Van Dusen and produced by Shonda Rhimes (Grey's Anatomy, Scandal). The show is based on a series of novels by Julia Quinn. It premiered on Netflix on December 25, 2020 to huge success.
The show pretty quickly became the most watched show on Netflix. In fact, it's been so popular that Bridgerton has already been renewed for a second season.
Set in Regency era London, the Bridgerton's oldest daughter, Daphne (Phoebe Dynevor), just made her debut, favored by Queen Charlotte. Her luck starts to run out when her brother Anthony shoots down all her potential suitors.
Enter the dashing Duke of Hastings, Simon Basset (Regé-Jean Page). Simon refuses to get married and Daphne needs the attention of potential suitors. Desperate, Daphne and Simon enter into an arrangement, namely a mutually beneficial fake courtship that will keep the mothers from throwing their daughters at Simon while raising interest in Daphne.
In the midst of the marriage season, Lady Whistledown, an anonymous writer, publishes society papers that uncover everyone's secrets, scandals, and gossips.
This is the basic plot, but there are loads and loads of characters and subplots that are entwined with this. The show is narrated by the wonderful Julie Andrews, the voice of Lady Whistledown.
Critical reception (Trigger Warning: sexual assault)
Generally, Bridgerton garnered positive reviews. Most of the criticism towards it was about historical inaccuracy at first, mostly plot-wise and in costuming. That's kind of a moot point by now. The show never claimed to be an accurate depiction of the Regency era. Even the creator said he sees it as alternative history.
When a wider audience saw the show, some more important — and more harmful — issues were raised.
While the show was praised for its attempt at diversity, it was also criticized for its treatment and handling of storylines involving people of color and LGBTQ+ characters. These issues made people accuse the show of performative activism, colorism and queer-baiting.
Finally, a particular sex scene is considered by critics and audiences, myself included, as sexual assault. The scene, its implications, and consequences are never addressed and viewers are clearly supposed to side with the aggressor.
No matter how much I enjoyed and liked Bridgerton, I couldn't, in good conscience, write this post and recommend this series without addressing the critical reception and issues that were raised.
While it may be an entertaining show and the "new Gossip Girl", these issues are hurtful and damaging to survivors, POC, and the LGBTQ+ community. I hope these things are addressed and changed in subsequent seasons.
Disclaimer
With all that said, let's talk fashion. I loved the fashion on the show, even though it's not Regency era-accurate. (Corsets weren't used like they were portrayed in the show. The silhouettes used in that era didn't need them. At the time, women used stays instead.)
In spite of this, the costumes are still gorgeous and each character has a pretty distinct style, defined both by their personalities and families.
That being said, let's bring the Bridgerton fashion to the 21st century.
Bridgerton Outfit Guide
Daphne Bridgerton – Outfit #1, Monday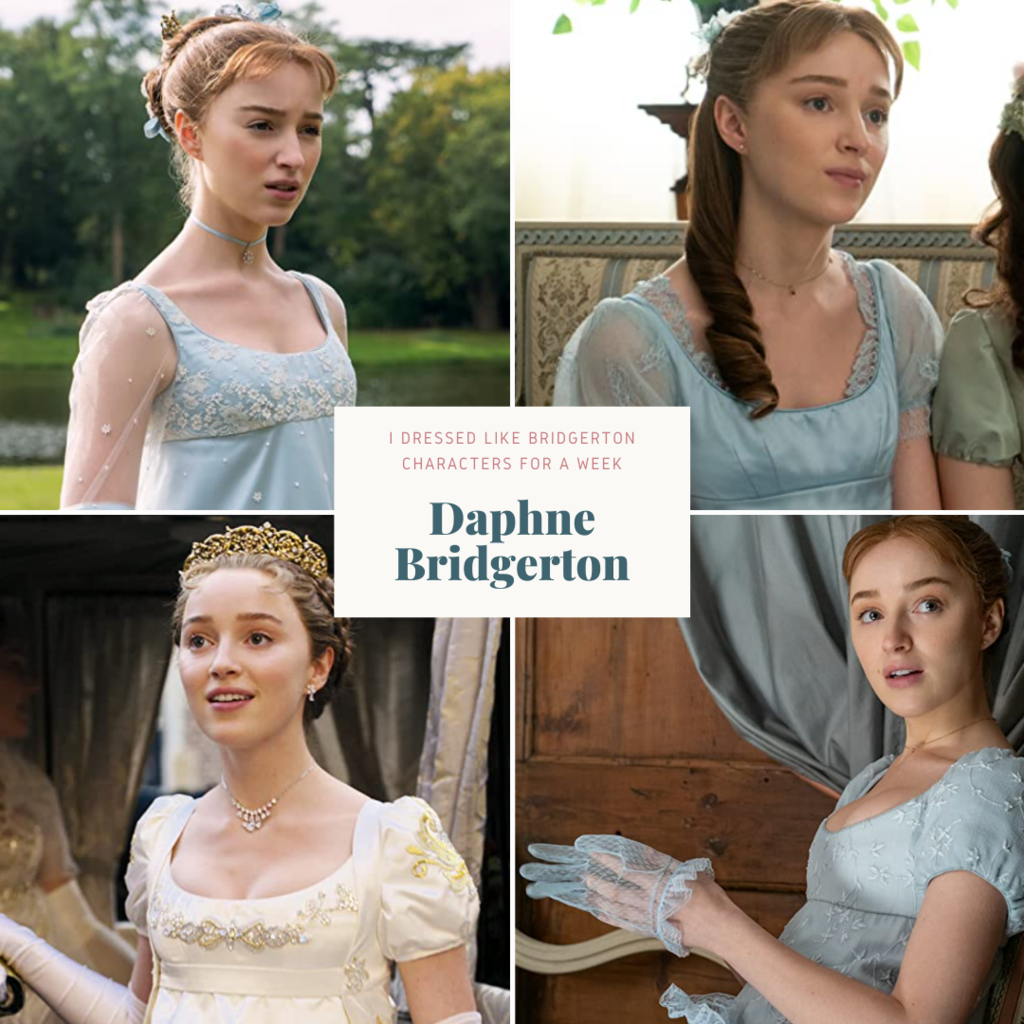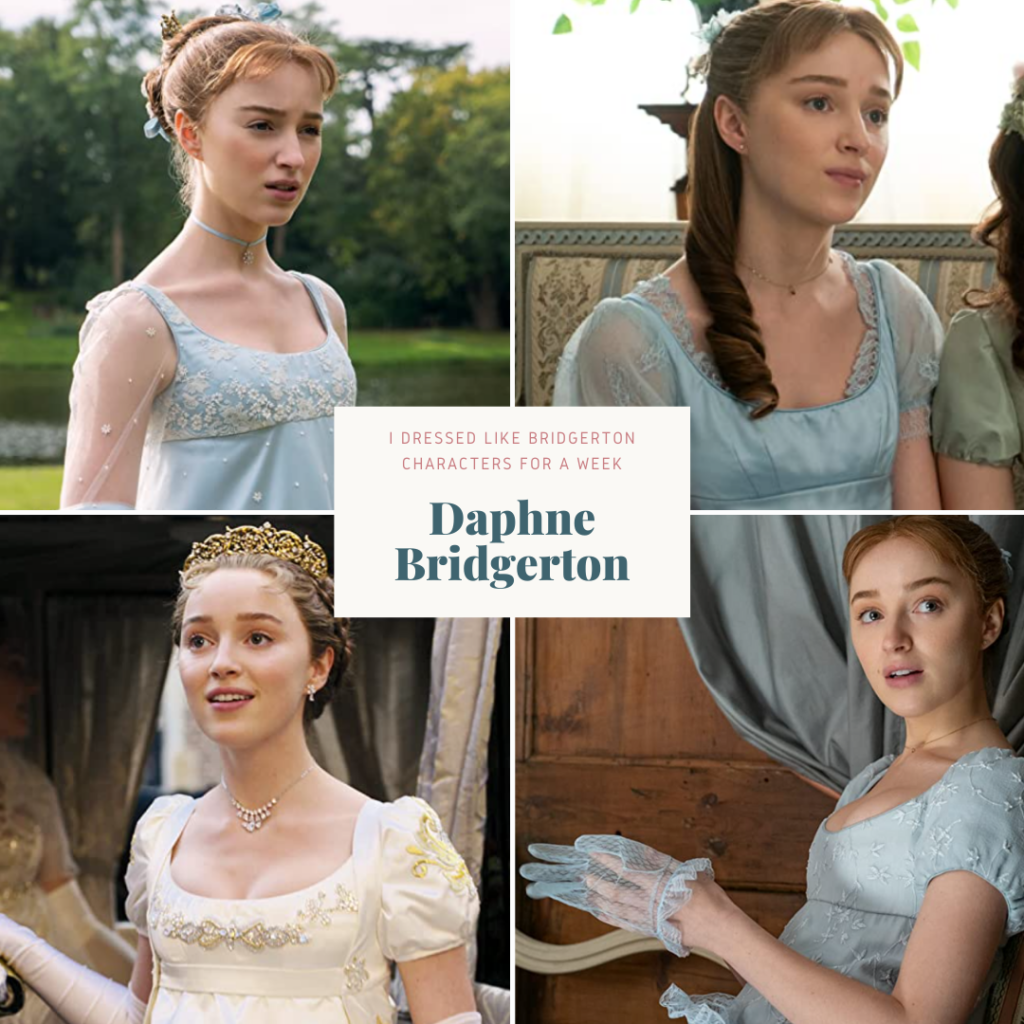 Daphne is the fourth child and first daughter of the late viscount Bridgerton and Lady Bridgerton. She is elegant, polite, and accomplished in typical upper-class pursuits.
During the show, Daphne wears quite a lot of blue, mostly in pale pastel shades, and white.
Daphne's pale blue tones signal her status as a proper lady in every way. The white is a nod to her naïveté. Pearls, diamonds and flowers are also strongly associated with her.
Daphne's Style Recreation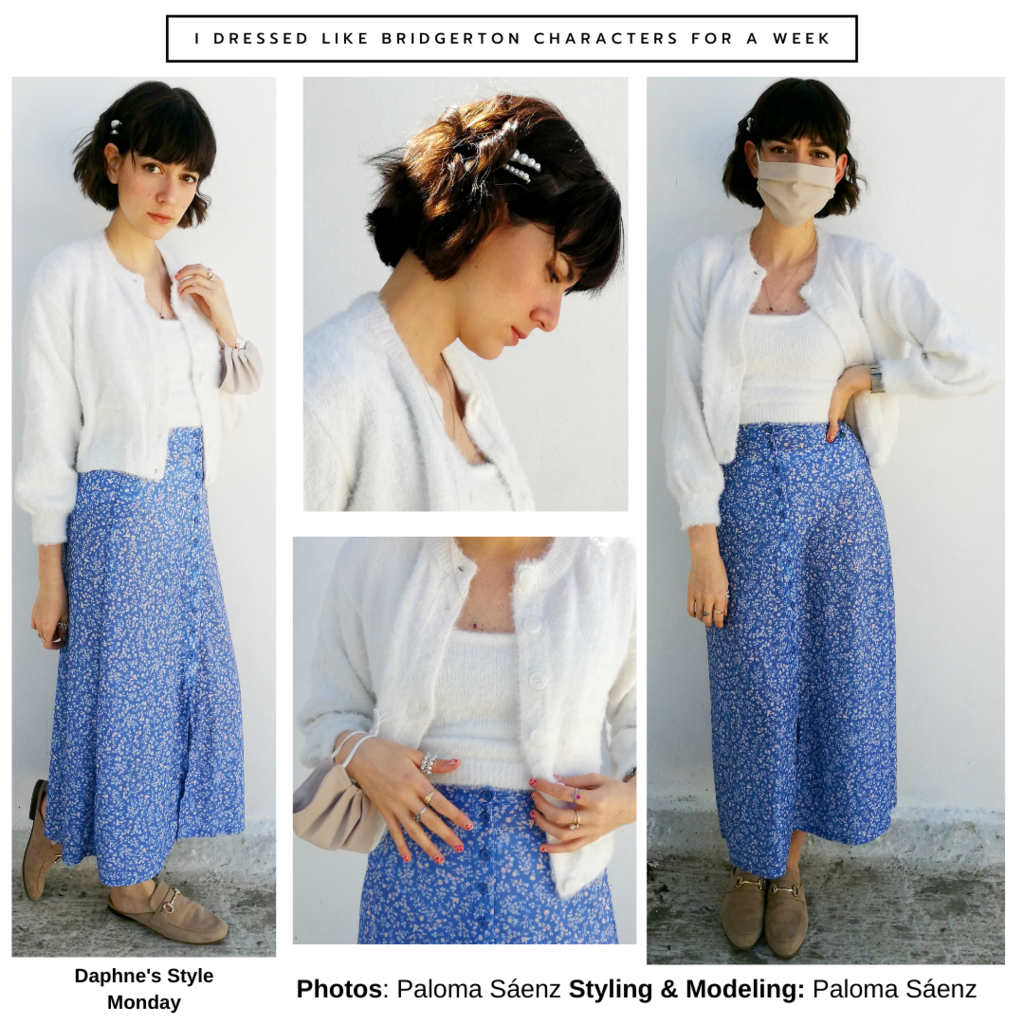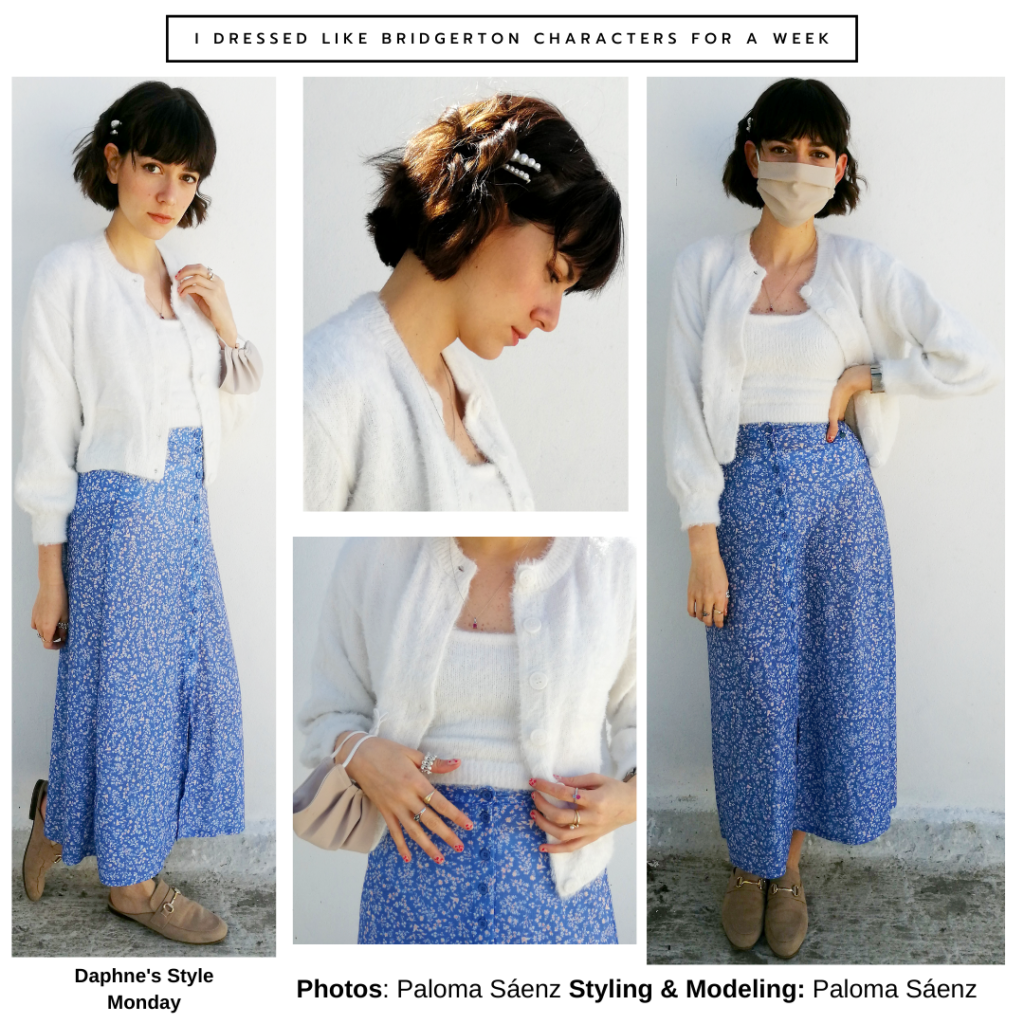 In order to bring Daphne's style into 2021, I decided she would be very feminine and walking the line between preppy and trendy.
For my look, I wore a white fluffy set of tank top and cardigan. Then, for the bottoms, I used a flowy midi skirt in blue with a white floral pattern.
Next, the shoes. I knew that Daphne wouldn't just go for sneakers, so I chose a pair of nude mules.
Finally, my accessories include pearl hair pins and a beige face mask (gotta keep it real).
This look was adorable! I really liked it. It was comfortable and feminine. I think it would be perfect for transitioning into spring.
The look is also versatile; you can dress it up with a pair of heels or dress it down with sneakers. It's a great combination if you want to dress up a bit while staying at home.
Eloise Bridgerton – Outfit #2, Tuesday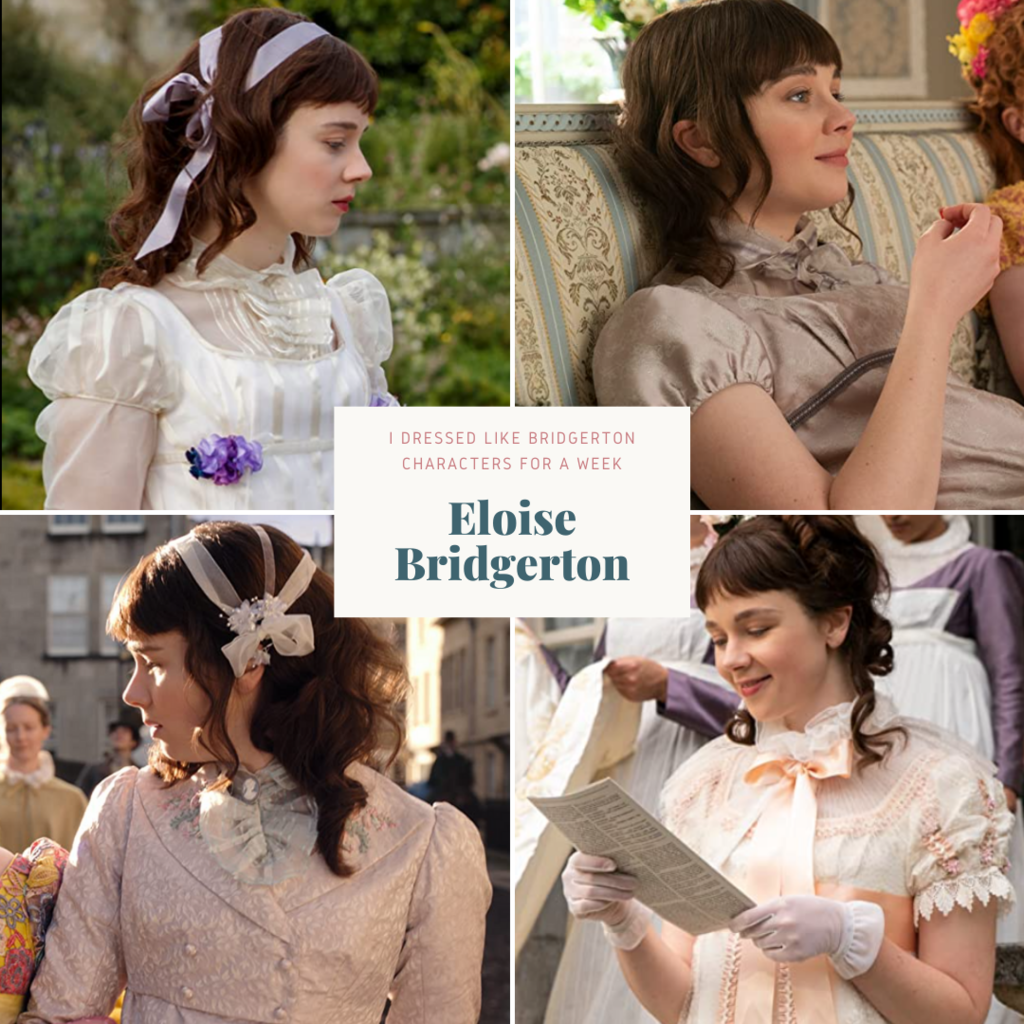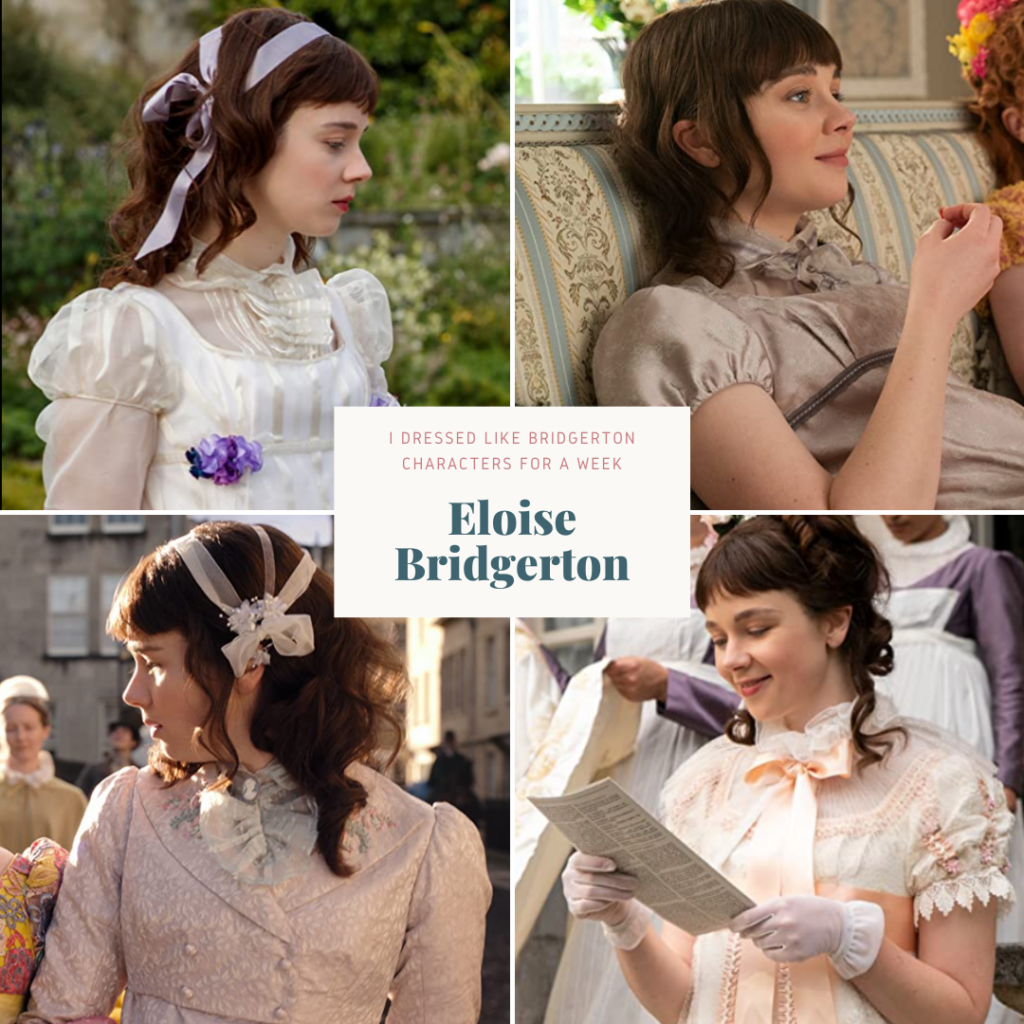 Eloise is the fifth child and second daughter of the Bridgertons.
Unlike her sister Daphne, Eloise has no interest in being a lady. Instead, she wants to go to university and hates the expectations society puts on her.
Inquisitive and spirited, she decides to investigate Lady Whistledown's identity.
Both complementing and contrasting her sister's color scheme, Eloise wears clothes in lilac, pistachio green and pastel peach. She is the Bridgerton with the least amount of blue, showing her rebellious nature.
Eloise's Style Recreation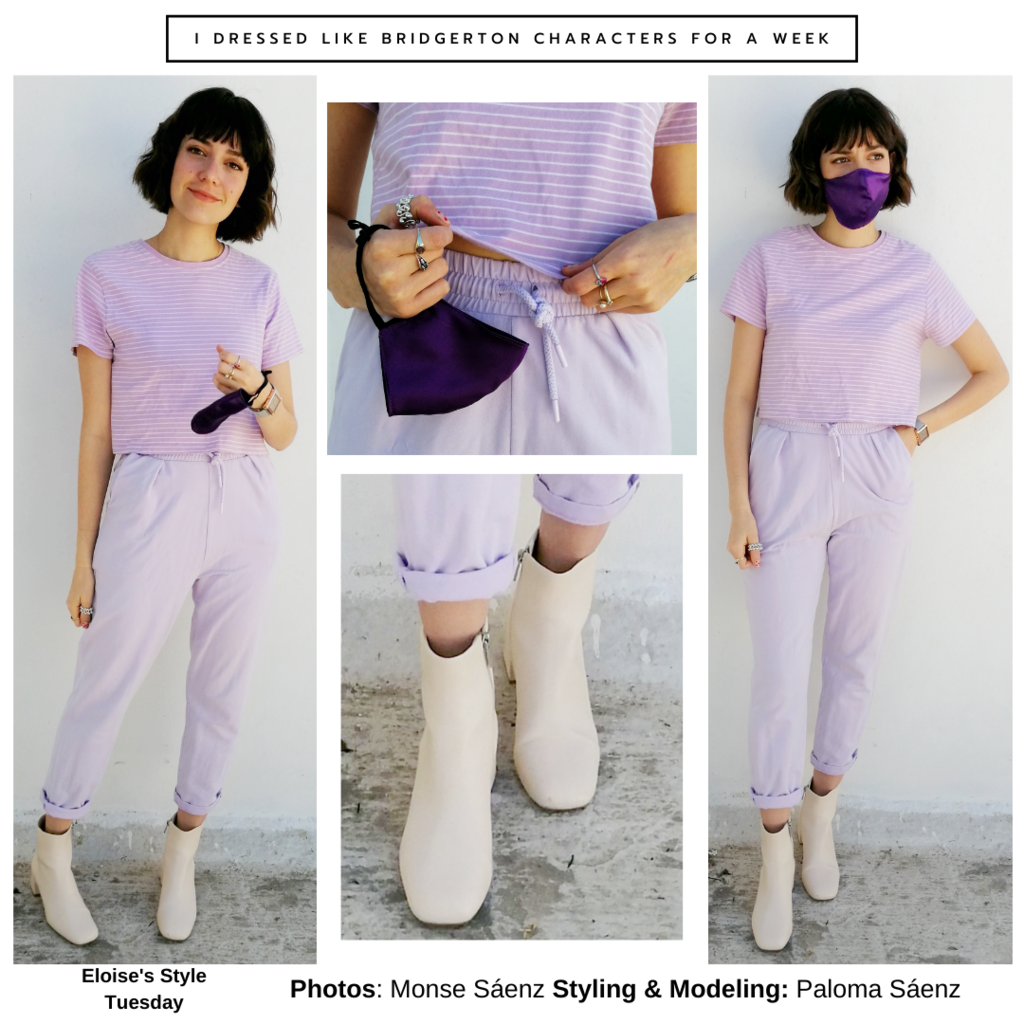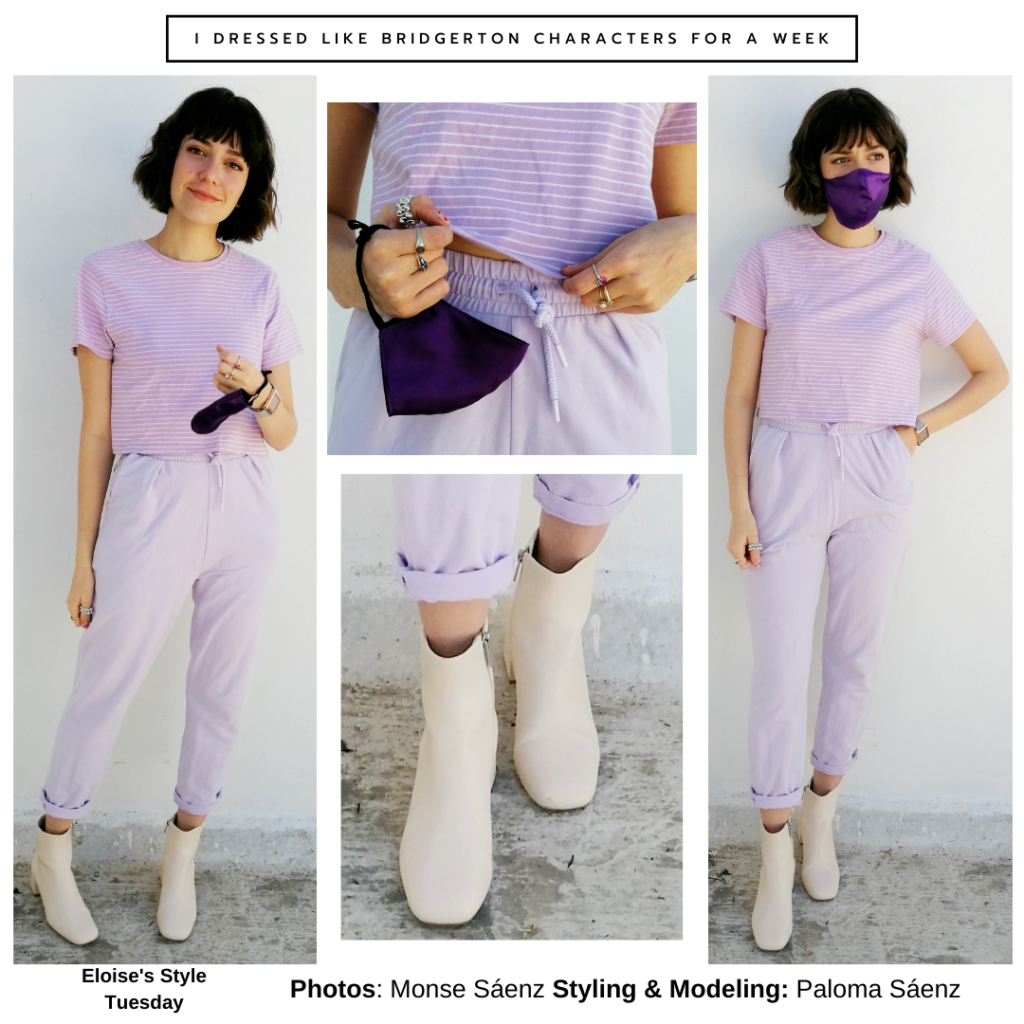 Eloise's nature would definitely fit in with today's society.
In my head, I think her style would lean heavily into the tomboy side, but with a girly streak. I also thought that she would want to be comfortable while investigating the identity of Lady Whistledown.
For this Bridgerton outfit, I combined a cropped lilac t-shirt with a pair of lilac joggers.
Then, I had a bit of trouble deciding on her shoes. Would she be perpetually in sneakers? Or would she take a different route? Eloise's nature is to always march to the beat of her own drum, so I decided to wear a pair of off-white booties.
For accessories, I used my usual rings and necklace, and a purple face mask.
I adored this outfit! It made me feel free and stylish. It's kind of similar to what I wear on my day-to-day, but elevated. Lately, I've been very into monochromatic looks, so this was a great one for me.
Penelope Featherington – Outfit #3, Wednesday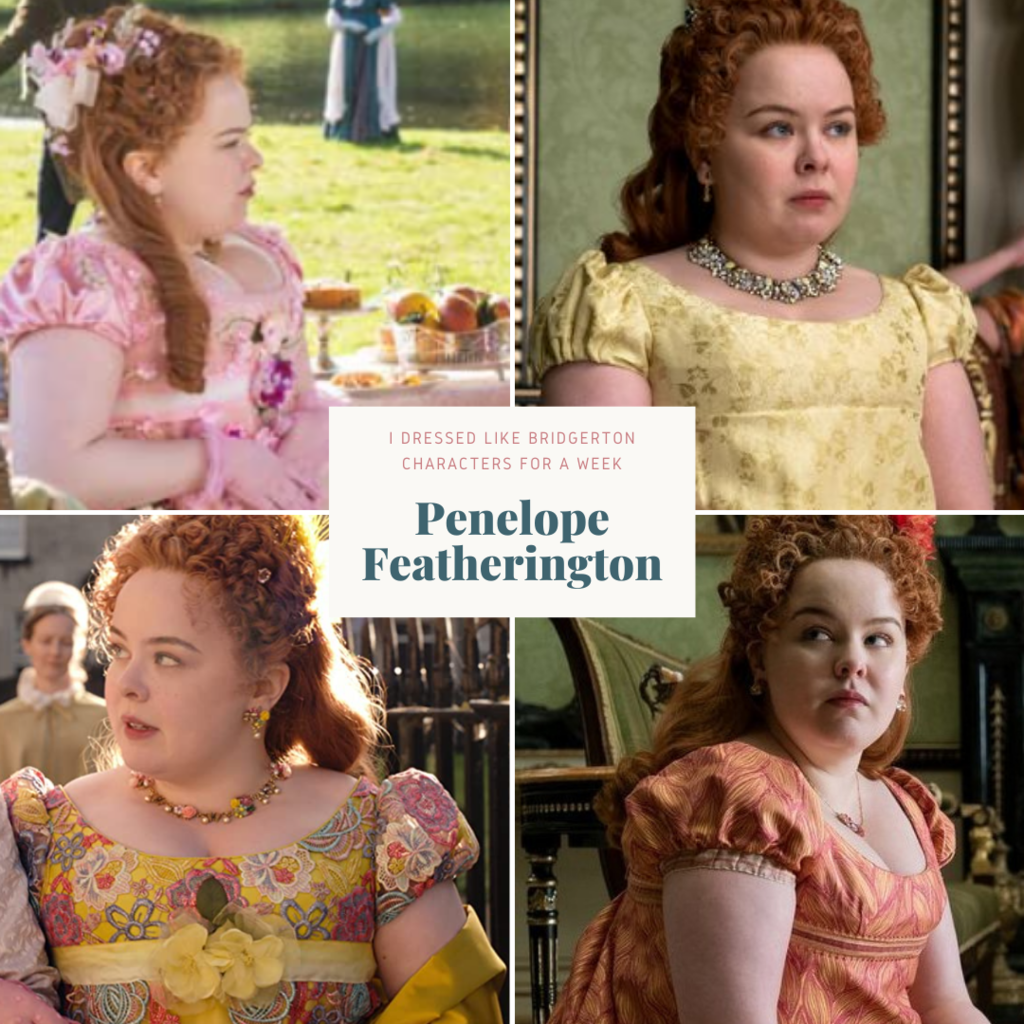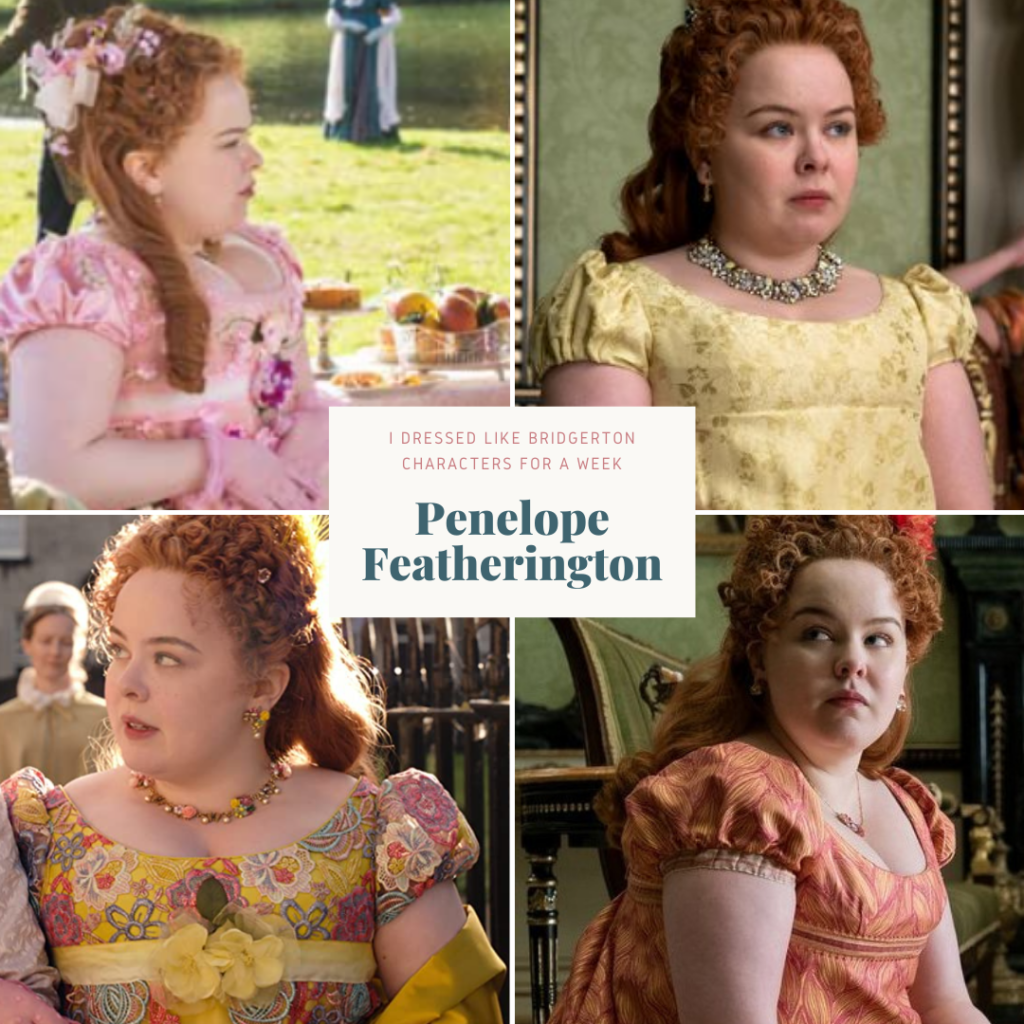 Penelope, played by the brilliant Nicola Coughlan, is the youngest daughter of the Featheringtons.
She is shy and kind, but mostly ignored by everyone and has a dark secret. She is the best friend of Eloise and has an unrequited crush on Colin Bridgerton.
Following her mother's insistence on theme-dressing her daughters, Penelope's closet has tons of bright yellow, pink and orange. All of these pieces are in bold patterns and accessorized with oversized flowers or feathers.
Penelope's Style Recreation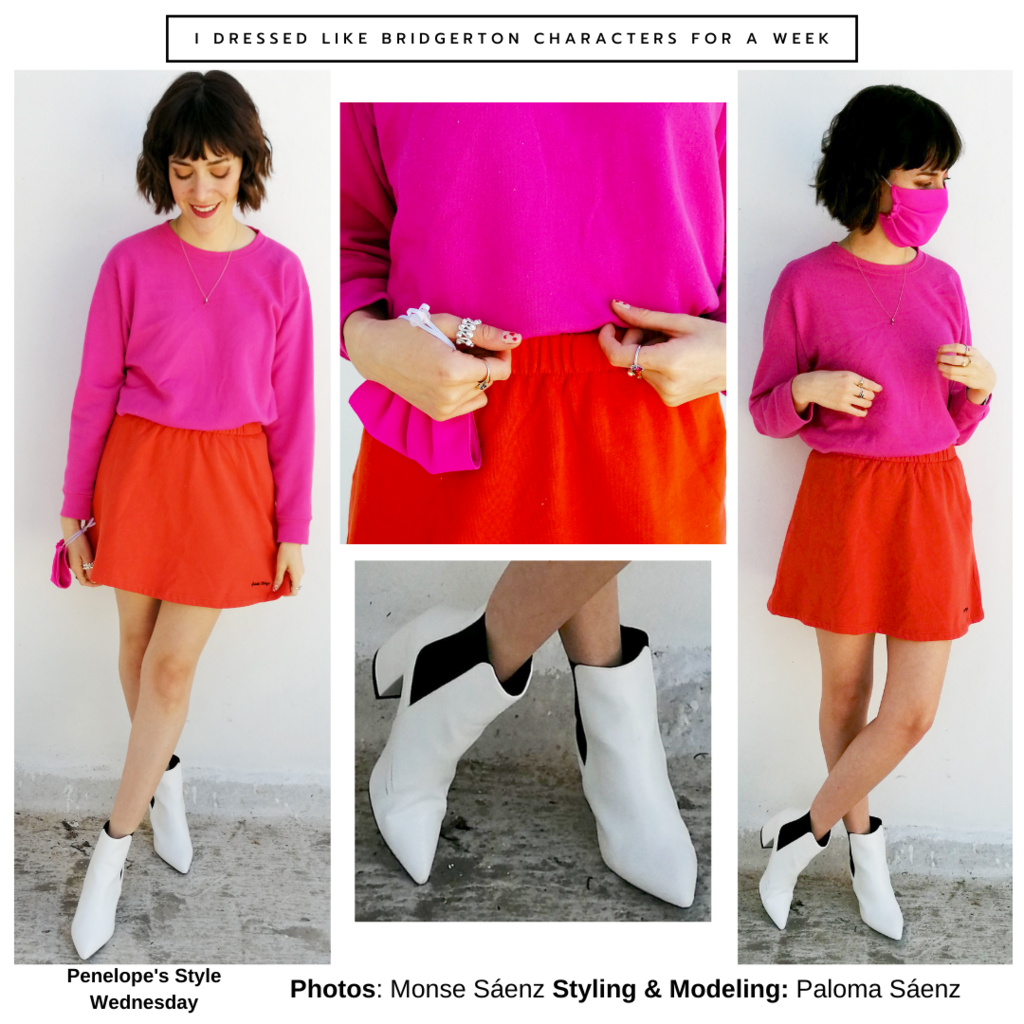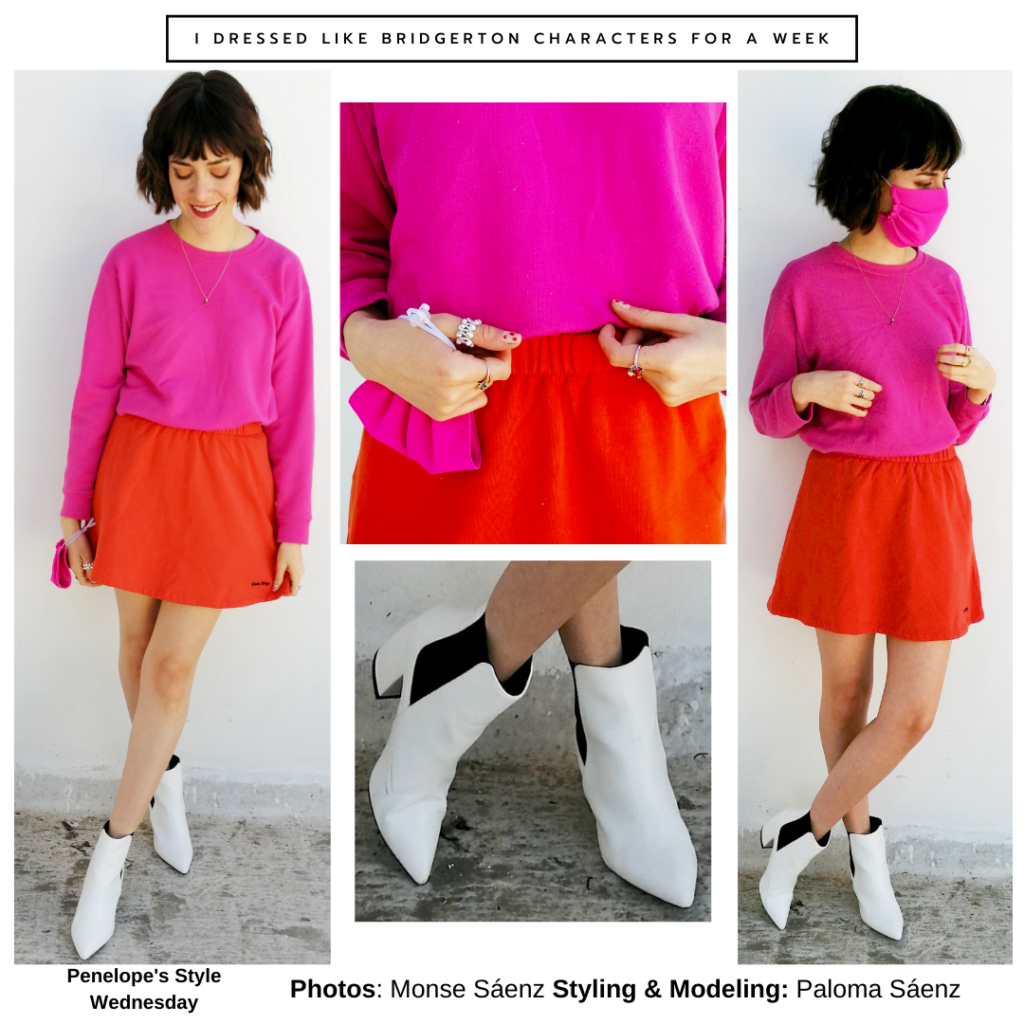 How would Penelope dress in the 21st century? I had a hard time deciding what to do for this one.
While she has similar traits to Eloise, Penelope has both a more conventional idea of femininity and a more edgy side. For her, I wanted something that was very girly, but with a hidden edge.
For this Bridgerton outfit recreation, I paired a hot pink sweatshirt with a bright orange mini-skirt. I would've done a mixing-pattern-type of look, but I didn't have patterned items in bright pink, orange or yellow.
Then, for my shoes, I used white booties. This pair has a pointy end and a higher heel than other booties I own.
Finally, for accessories, I wore my usual jewelry and a hot pink face mask.
I had such a hard time creating this one! But, I think it ended up working pretty well. The sweatshirt and skirt look very girly and the boots bring a bit of an edge.
I loved the end result! It was comfortable, but not perfect for this weather, though. It's ideal for spring or summer, for sure.
Marina Thompson – Outfit #4, Thursday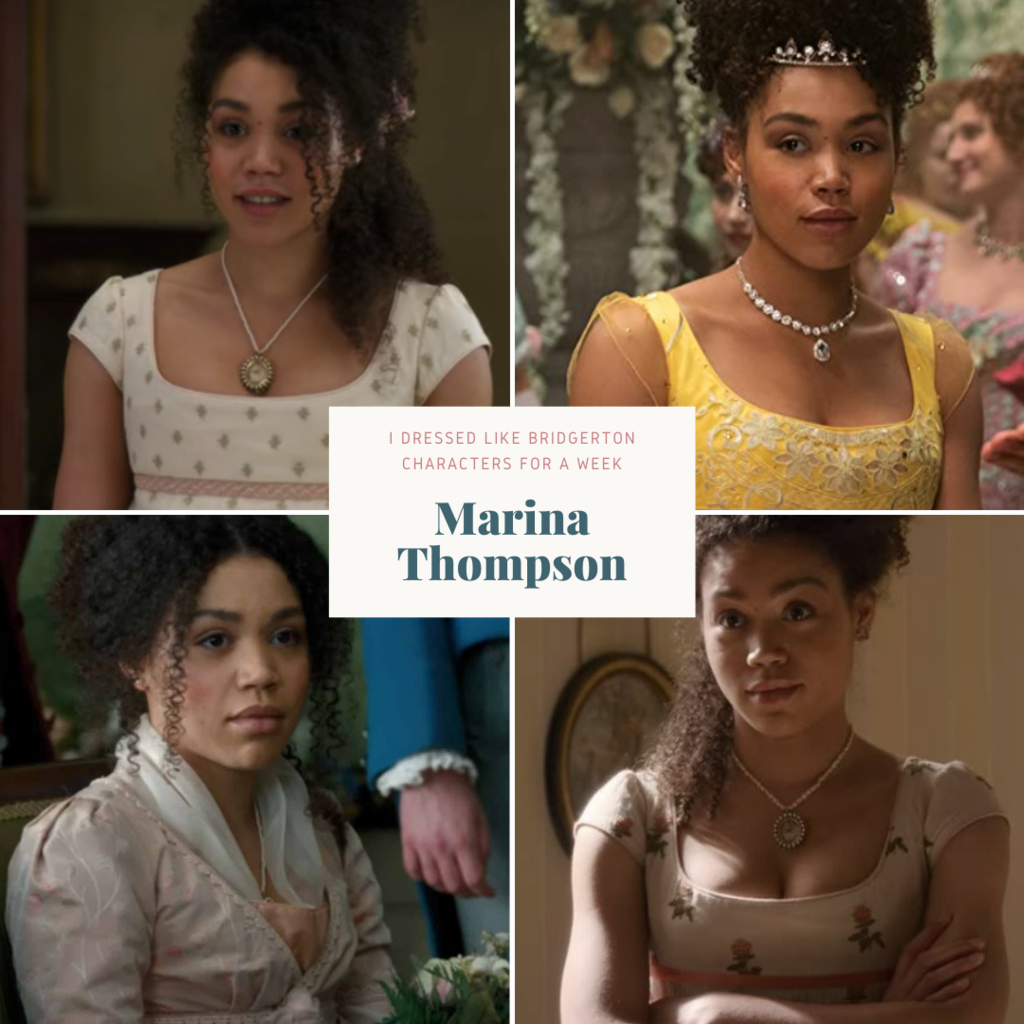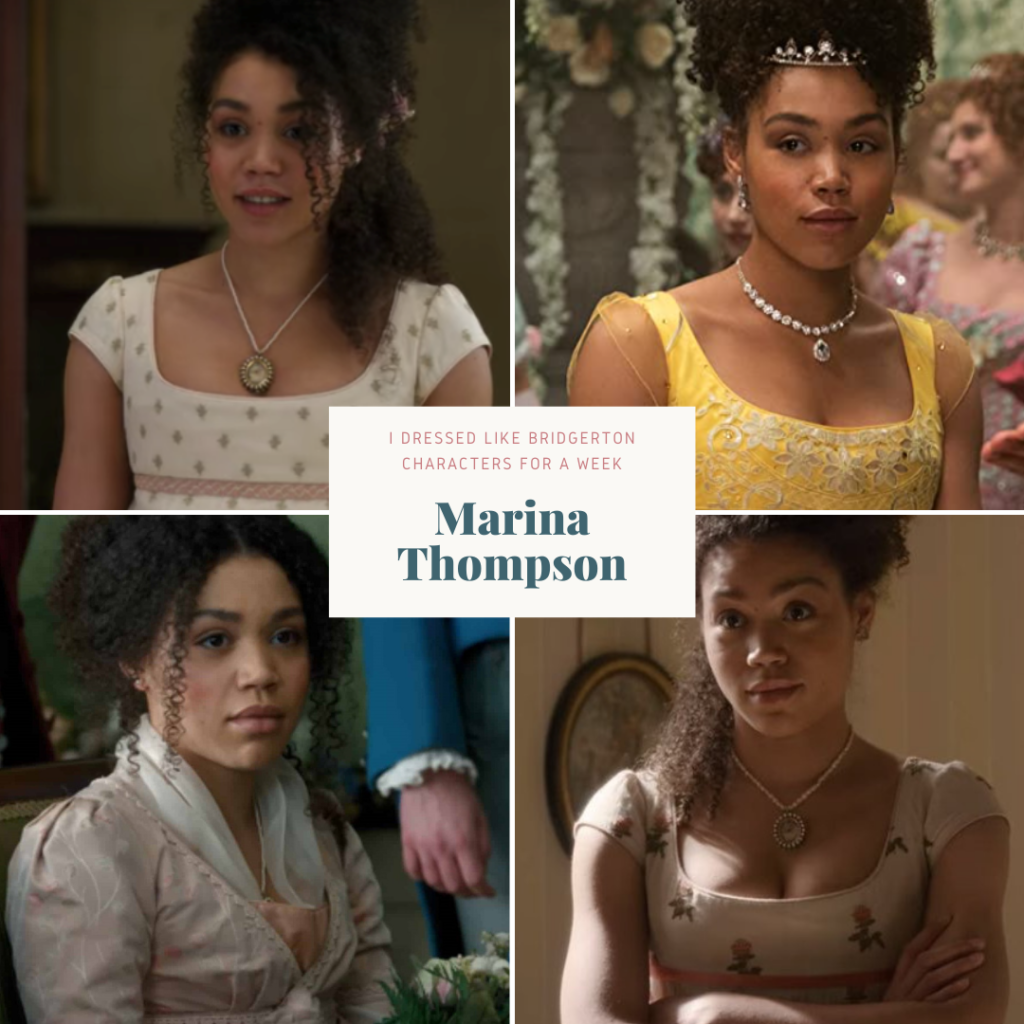 Marina Thompson is a cousin of the Featheringtons. She comes to visit to debut in society and soon becomes not only the most popular girl in the household but everywhere she goes.
Marina is a smart, kind, and hot-tempered young woman.
When she first arrives to the Featheringtons household, Marina uses light neutral colors, like beige, off-white, white and mauve in minimalist prints.
As the season progresses and Portia Featherington gains control of her closet, Marina starts sporting brighter tones of yellow and pink, and bolder floral prints.
Marina's Style Recreation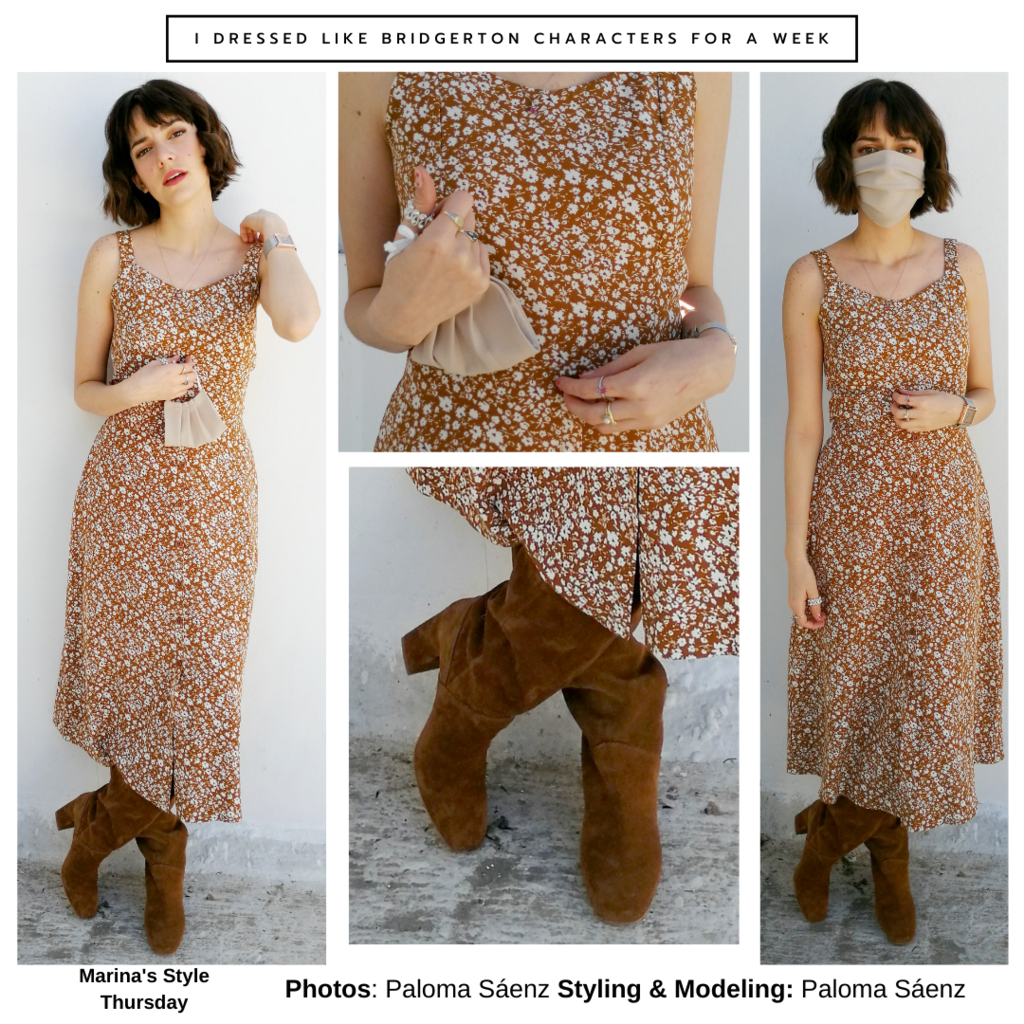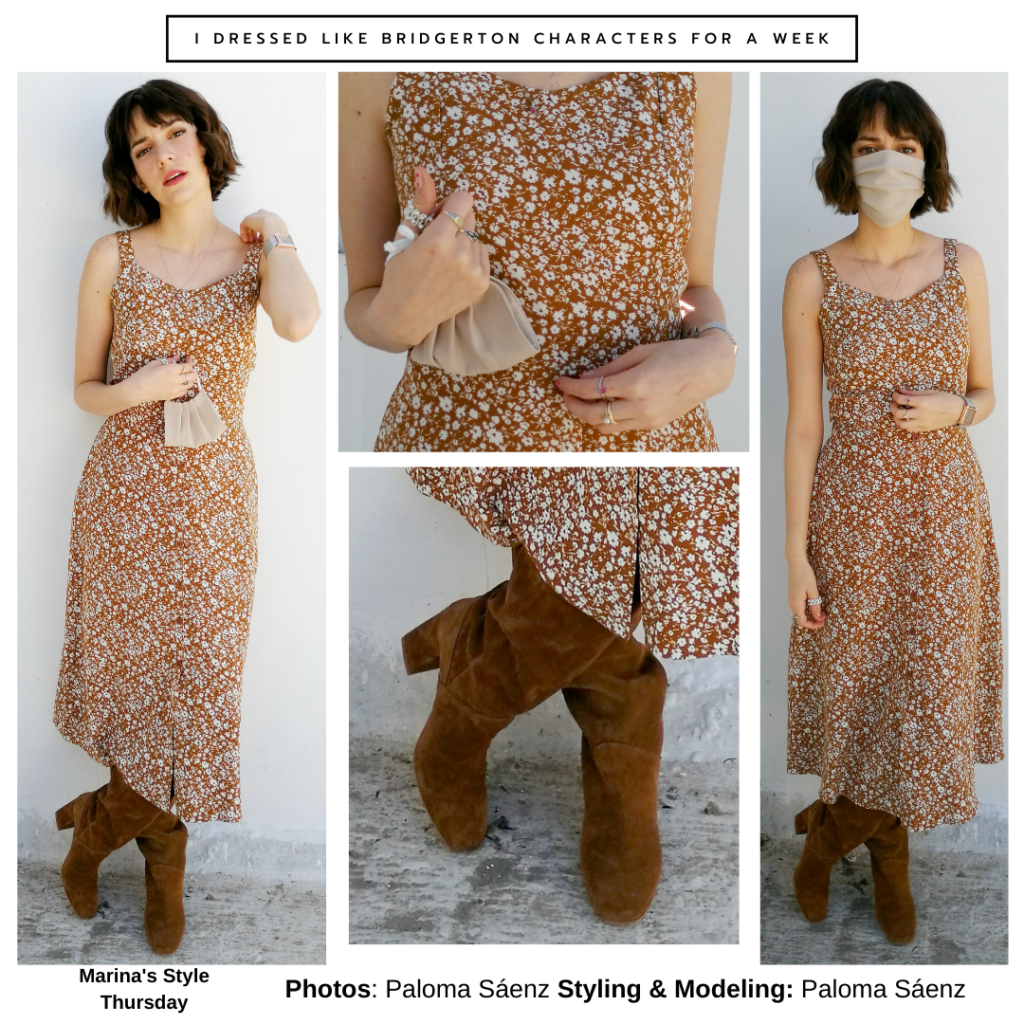 The way I visualize Marina in our day and age, she would definitely rock a cottagecore type of look.
If you ask me, I think Marina's true style was the one we saw at the start of the season: light neutrals, minimalist floral prints, simple silhouettes.
In my Marina outfit recreation, I wore a floral midi dress. It's a bit tighter on the top and very loose on the bottom, which kind of gives it an old fashioned vibe.
For shoes, I used a pair of slouchy cognac knee boots. The boots have a taller heel, but are still very comfortable.
I threw on a sweater later in the day, but, luckily it was a warm day.
My accessories are my signature rings and necklace with a beige face mask to match.
I loved, loved, loved this one! It was so cute and I even wore it again on Saturday for my brother's birthday. While I felt a bit guilty to just wear it around the house both days, it was still comfortable and I liked dressing up a bit.
Simon Basset – Outfit #5, Friday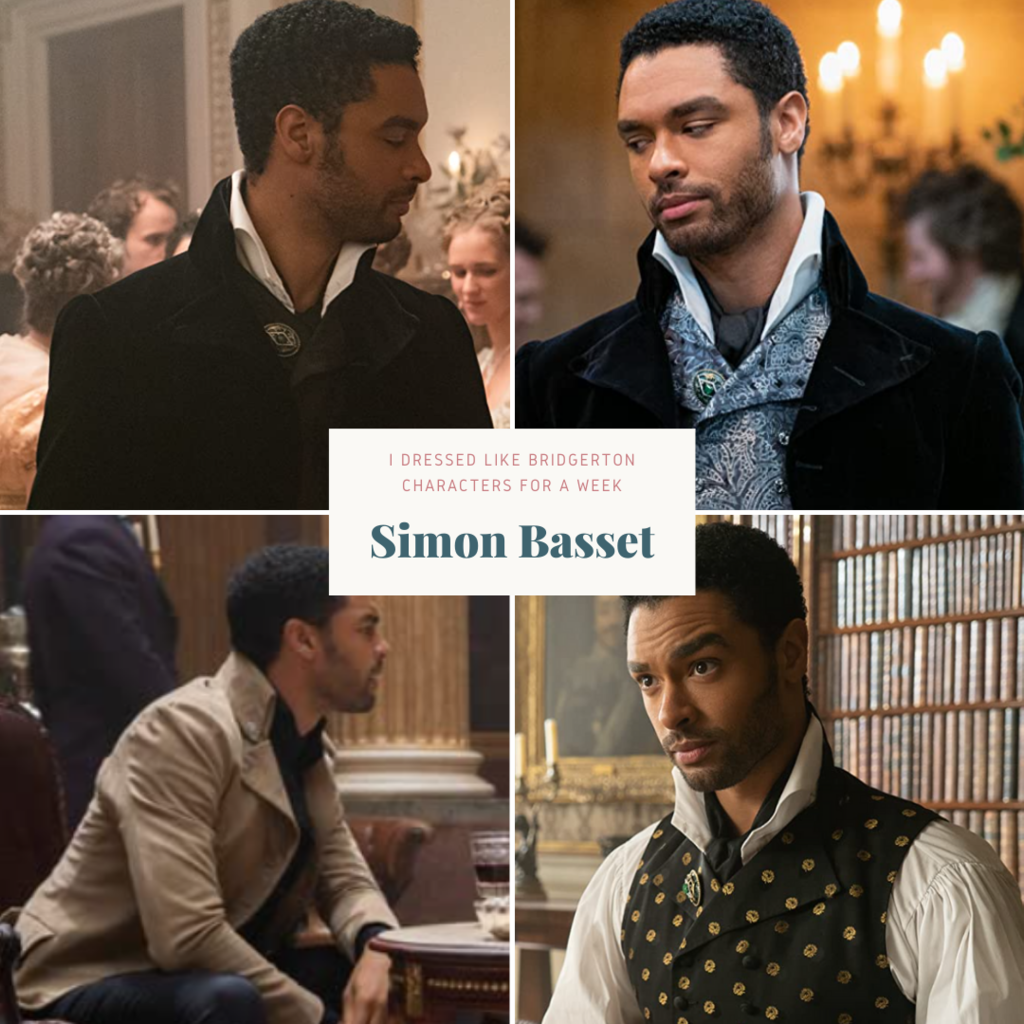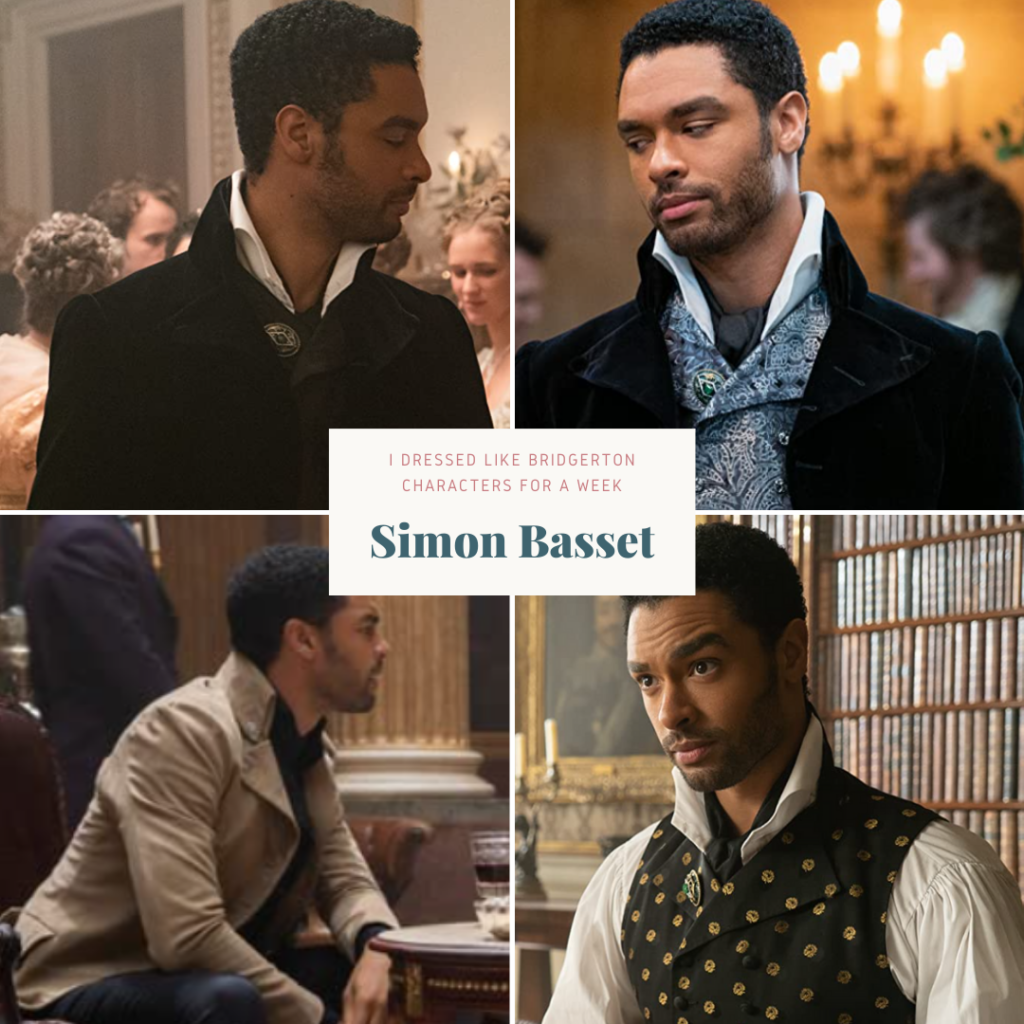 Simon Basset is the Duke of Hastings. An only child to a cruel father, Simon has a mysterious air to him and refuses to marry. He grows close to Daphne and the relationship has roots in their friendship, in spite of his initial aloofness.
As the male lead, and the only prominent male character that isn't related to Daphne, his color scheme is full of dark neutrals: black, dark grey, dark red and white.
Notably, Simon rarely uses blue as a primary color, to differentiate him from the Bridgertons.
Simon's Style Recreation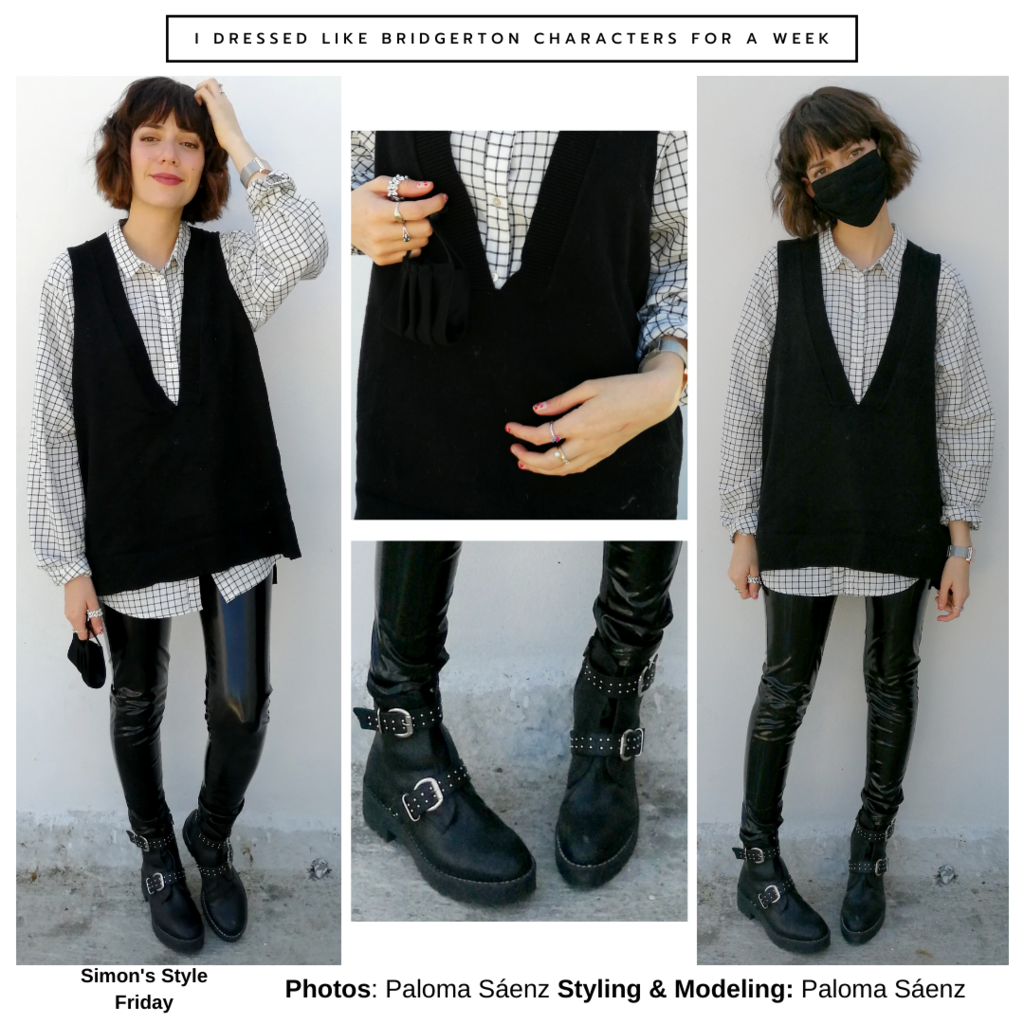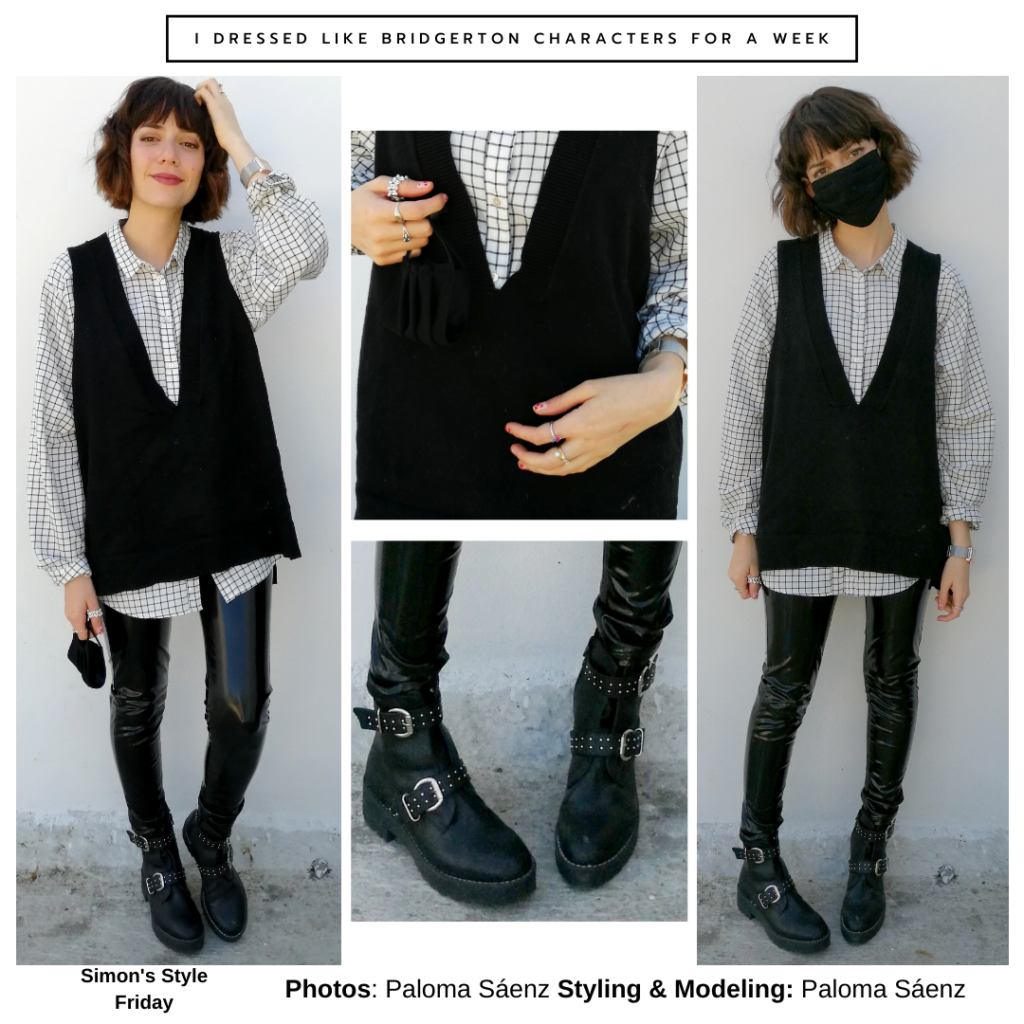 Simon in 2021 would definitely be a stylish, but simple guy with his fashion choices. He would take risks with his suits and the fabrics, though.
For my Simon outfit, I wanted something that would be put together and simple, but with a little extra something.
I took an oversized black and white shirt and combined it with a pair of black vinyl pants (I finally found the perfect pair, guys!). Layering everything, I put on an oversized black knit vest.
For the shoes, I had trouble deciding between over-the-knee boots, sneakers, or combat boots. I ended up wearing the combat boots. They felt more Simon to me.
Finally, I added my usual accessories and a black face mask.
I really enjoyed this look! I think it was both simple and edgy. Yes, it is a simple black and white outfit, but the mixing of textures and the patterned shirt give it an edge. This outfit made me feel so cool and confident.
Final Thoughts
This week was a roller coaster of styles and vibes. After putting everything together, I realized I didn't repeat a single color or item this week, except for the beige face mask. This made me feel like I had really accomplished what I had set out to do.
I wanted to bring these character to our time, but keeping their styles and personalities intact, and I think I nailed it.
My favorite looks were Marina's and Simon's, with Penelope's in a very close third. I would wear all of these outfits, just as they are, any day. I liked the Bridgerton sisters' looks, but I would make some changes to them to make them more "me."
If you want to recreate the style or outfits from Bridgerton, do it! It's a creative and fashion challenge, but it's fun and it will take your styling to the next level.
Finally, I wouldn't recommend this show to everyone, given what I explained in the critical reception section. If you do watch it, just remember the issues it has and try to use it as a catalyst for change in your own life. Make a conscious reevaluation of your own biases, whichever they may be, take a step back, and try to deprogram them from your brain, little by little. These steps are small, but necessary.
What do you think of my Bridgerton outfits?
Have you seen Bridgerton? Did you like it? What are your thoughts on it? Which outfit was your favorite? Would you recreate any of these looks? Which celebrity, actress or show would you want me to cover next? Let us know in the comments below!