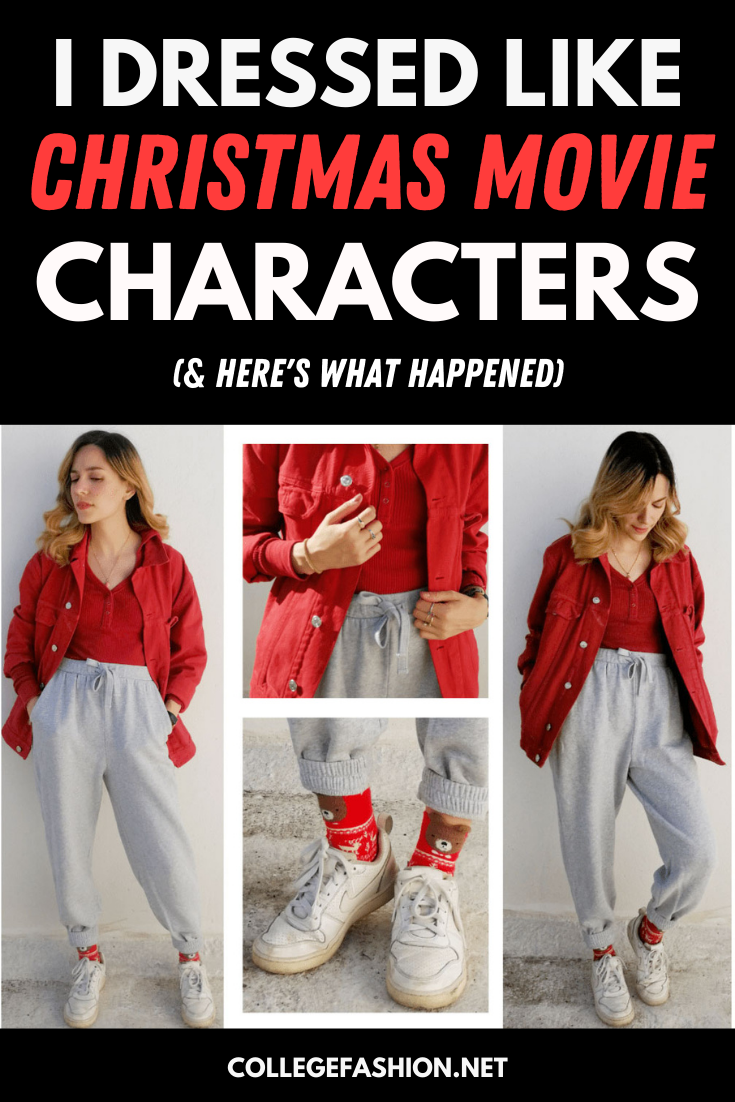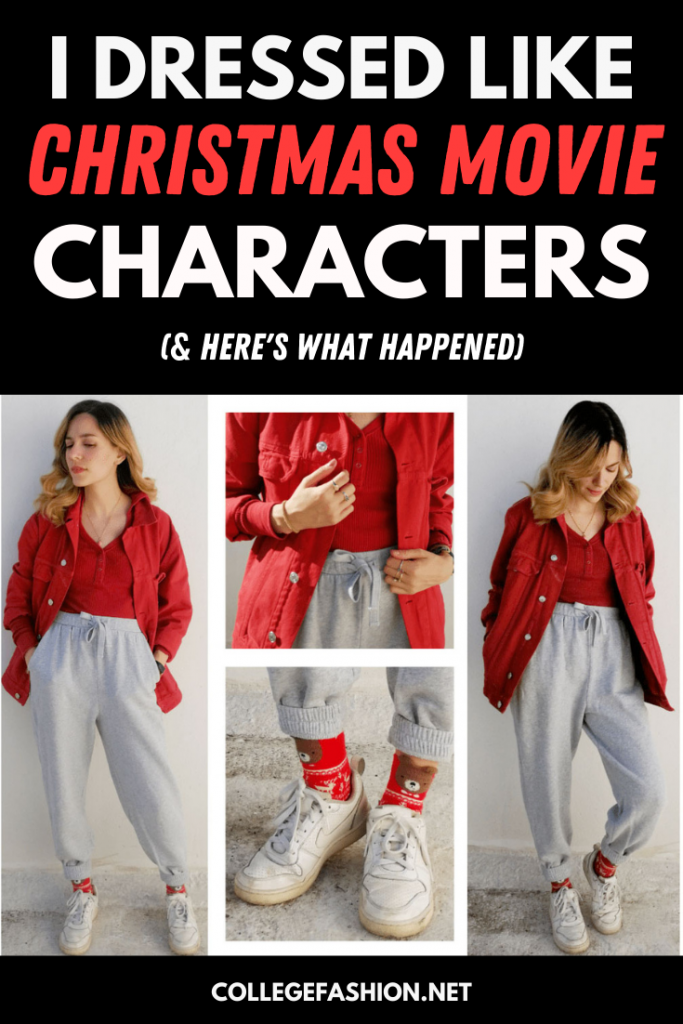 This post will show you some cute Christmas movie outfits to channel your favorite Christmas movie costumes in your looks.
We've all looked to celebrity style for fashion inspiration at some point in our lives. But it's one thing to say "I love her outfit," and it's another to actually copy it in real life.
For this series, I'm going the extra mile and making it happen. Each week, I'm getting inspiration from a celebrity and copying five of her looks as closely as possible. Then, I'm reporting back to you: Did the outfits work in real life? Did I feel comfortable? Did people treat me differently? I'm sharing it all.
In past posts I've covered the style of these celebrities: Zendaya, Gigi Hadid, Grace Kelly, Kendall Jenner, Vanessa Hudgens, Sophie Turner, Priyanka Chopra, Millie Bobby Brown, Hilary Duff, Lily Collins, Taylor Swift, Selena Gomez, Alexa Chung, Queer Eye's Fab 5, Lucy Hale, and Dakota Johnson.
I've also covered iconic TV and movie characters: Iconic Halloween Characters Part 1 & 2, Iconic Christmas Characters, Rachel Green Part 1 and 2, Monica Geller, Little Women's Characters, Gilmore Girls' Characters Part 1 and 2, and Iconic Olsen Twins' Movies.
Christmas is almost here! So, this week I took fashion inspiration from iconic Christmas characters!
Outfits Inspired by Christmas Movie Costumes, Pt. 2
Last year, I covered the fashion of 5 iconic Christmas characters. That list included Mary Hatch from It's a Wonderful Life, The Ghost of Christmas Past from A Christmas Carol (1984), Kevin McCallister from Home Alone, Jovie from Elf and Juliet from Love Actually. Elsewhere on CF, we also did an outfit guide to some of our favorite xmas movie outfits of all time.
While all those movies still have tons of recognizable characters to choose from, this year, I decided to cover 5 different movies that are just as iconic.
So, let's get started!
1. Monday – Scott Calvin, The Santa Clause (1994)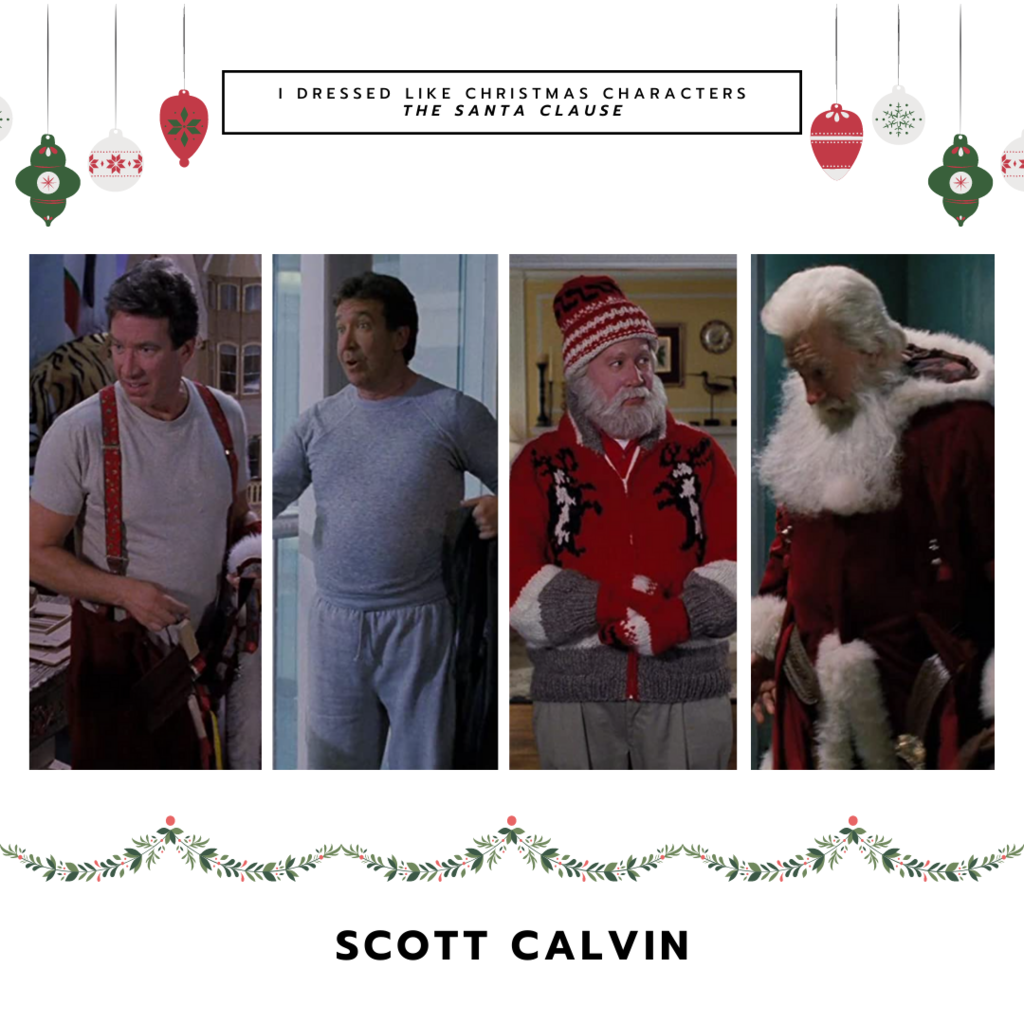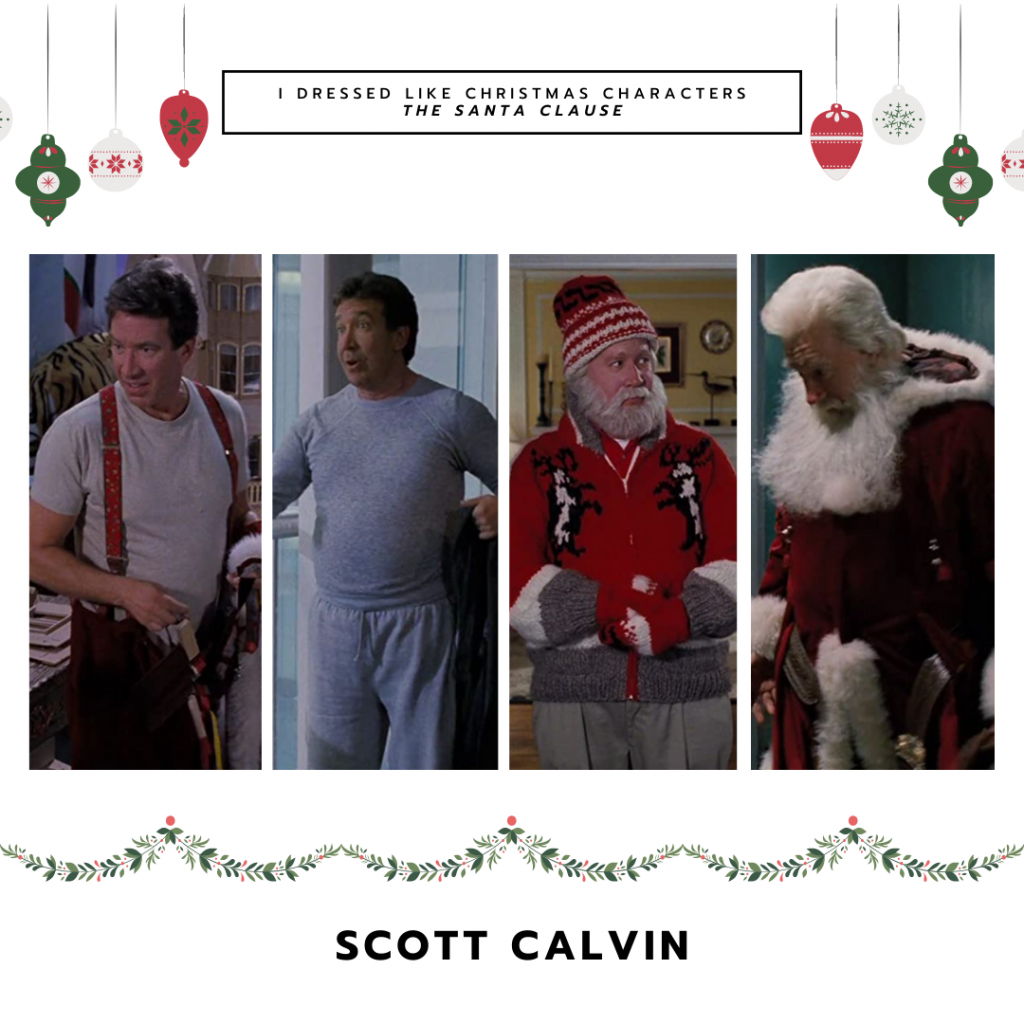 The Santa Clause tells the story of Scott Calvin, a divorced father who is spending Christmas with his son. After a lackluster Christmas Eve together, Scott, unintentionally, makes Santa Claus fall off his roof. Due to a magical clause, Scott is now the new Santa Claus and his life is turned upside down.
When thinking about the Christmas movie costumes from this film, at first, I wanted to give Neal's ugly sweaters a shot. After thinking about it more, though, I opted for a look based on Scott Calvin himself.
Scott starts off as a sharp-dressed man and evolves into a sweatpants/Christmas sweater fanatic and, finally, into the typical red-suit Santa Claus look by the end of the film.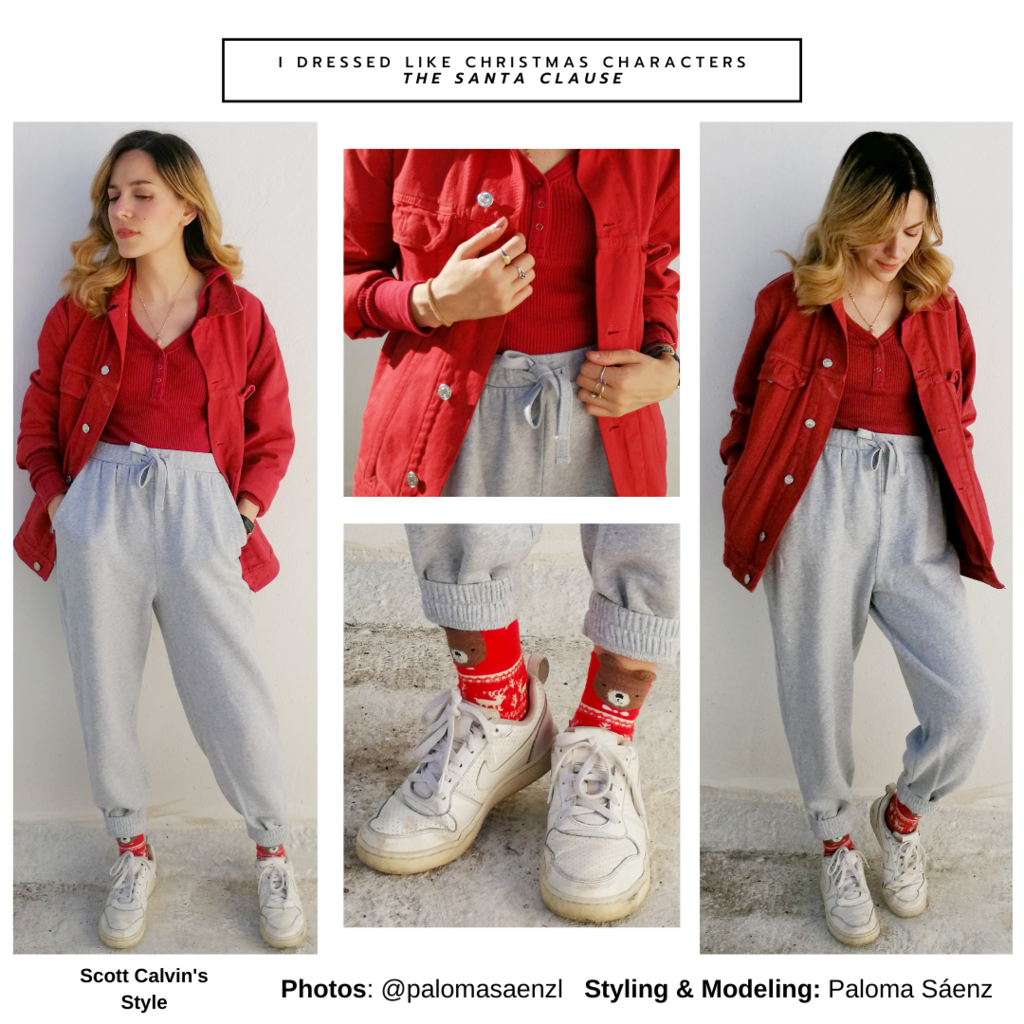 I decided to create a comfy look, based both on Scott's sweatpants looks and his Santa suit.
I wore a white t-shirt and grey sweatpants as a base for my outfit. The pants I borrowed from my sister. Then I put on a red sweater with a hoodie, to emulate Santa's hat, and a red denim jacket, to evoke his Santa jacket. Finally, for shoes, I decided to use a pair of white Nikes to give this a more '90s vibe. I accessorized with a pair of red Christmas socks.
Since I'm doing home office at the moment, this was the perfect outfit for working from home. It was warm and comfy, without looking frumpy or like I was wearing PJ's. I did have to make a few adjustments to the pants to make them look like I wanted them to, but other than that it was an effortless outfit to create.
2. Tuesday – Jesper, Klaus (2019)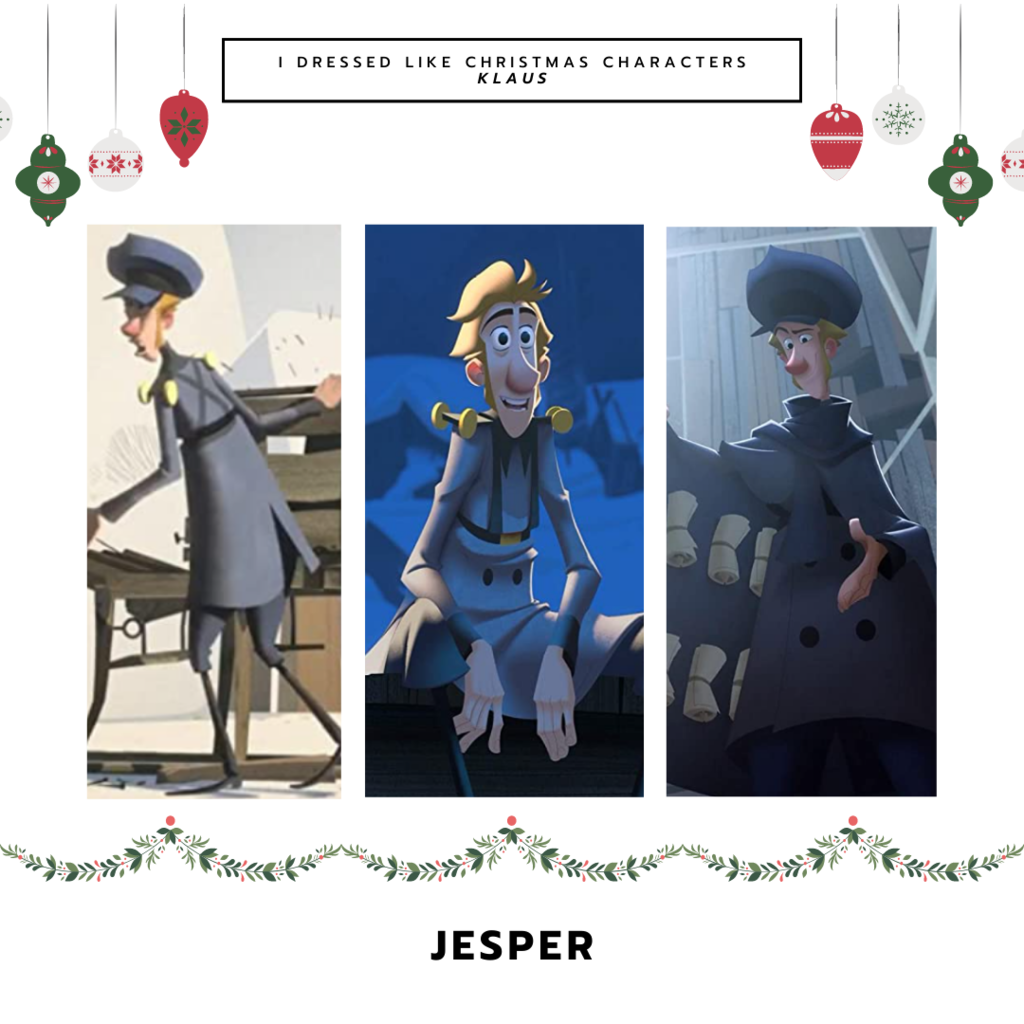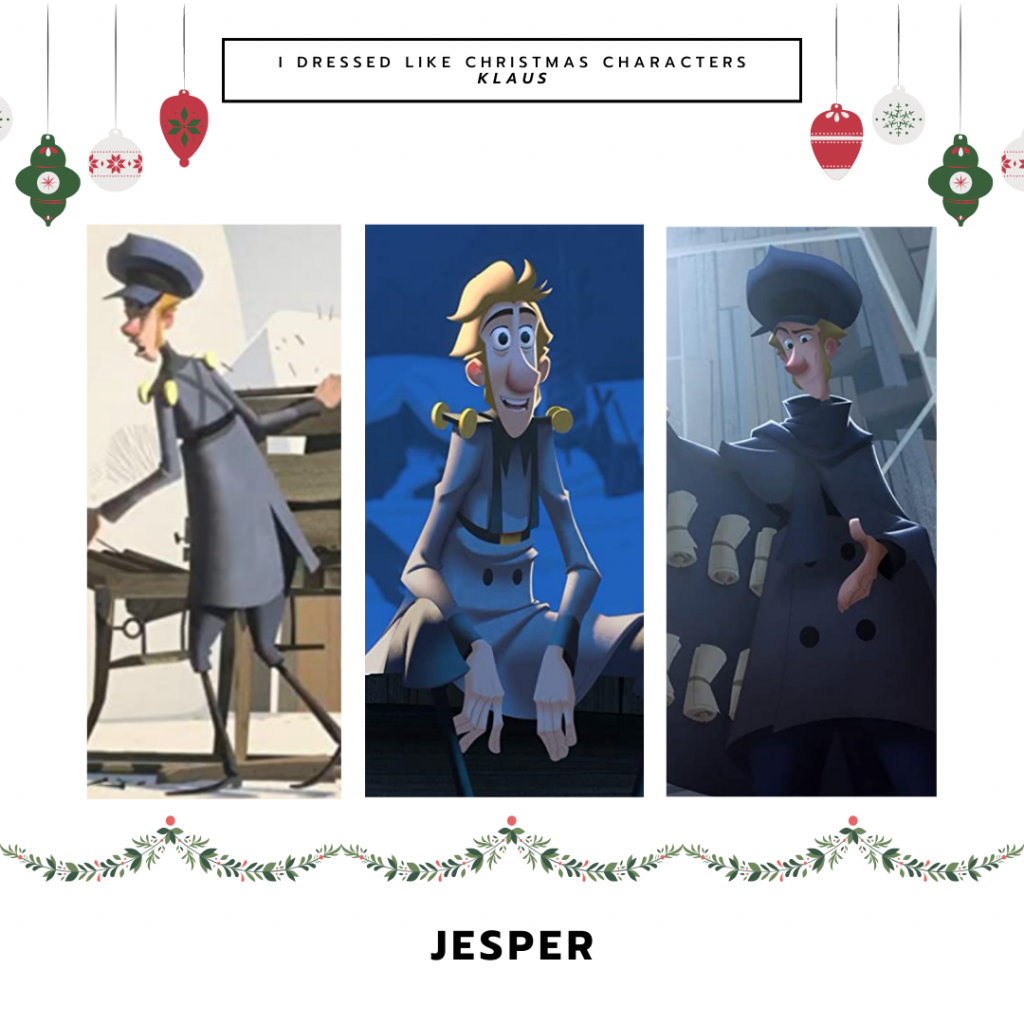 Klaus is the newest movie on this list and the only animated one.
The film follows postman Jesper who, after proving himself to be the worst postman at the academy, is posted to a frozen town in the North where he befriends toymaker Klaus.
I struggled to choose which character from Klaus for this Christmas movie outfit. I was in between Jesper, Klaus, and Alva. I ended up choosing postman Jesper, since his color scheme and look add a different vibe and style to the post. Throughout the film, Jesper is wearing a monochromatic postman outfit, in various tones of blue.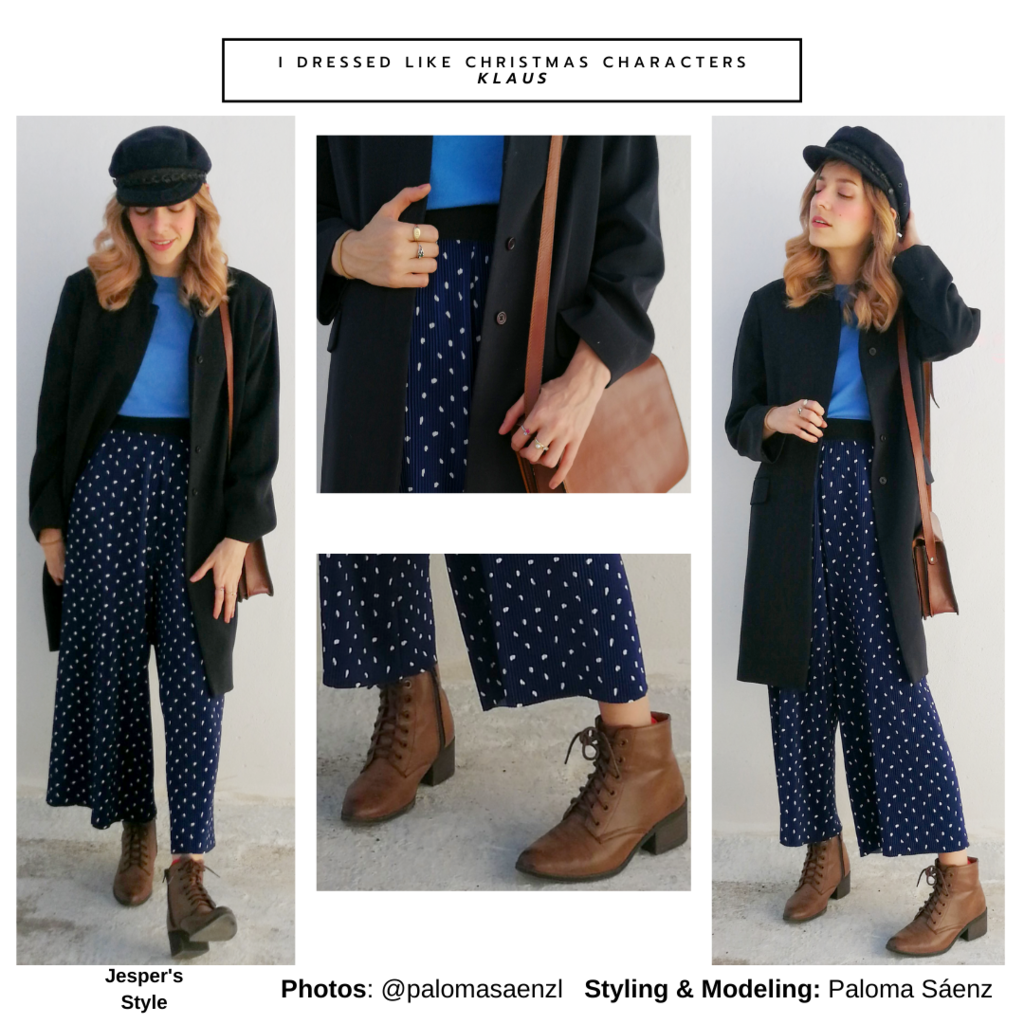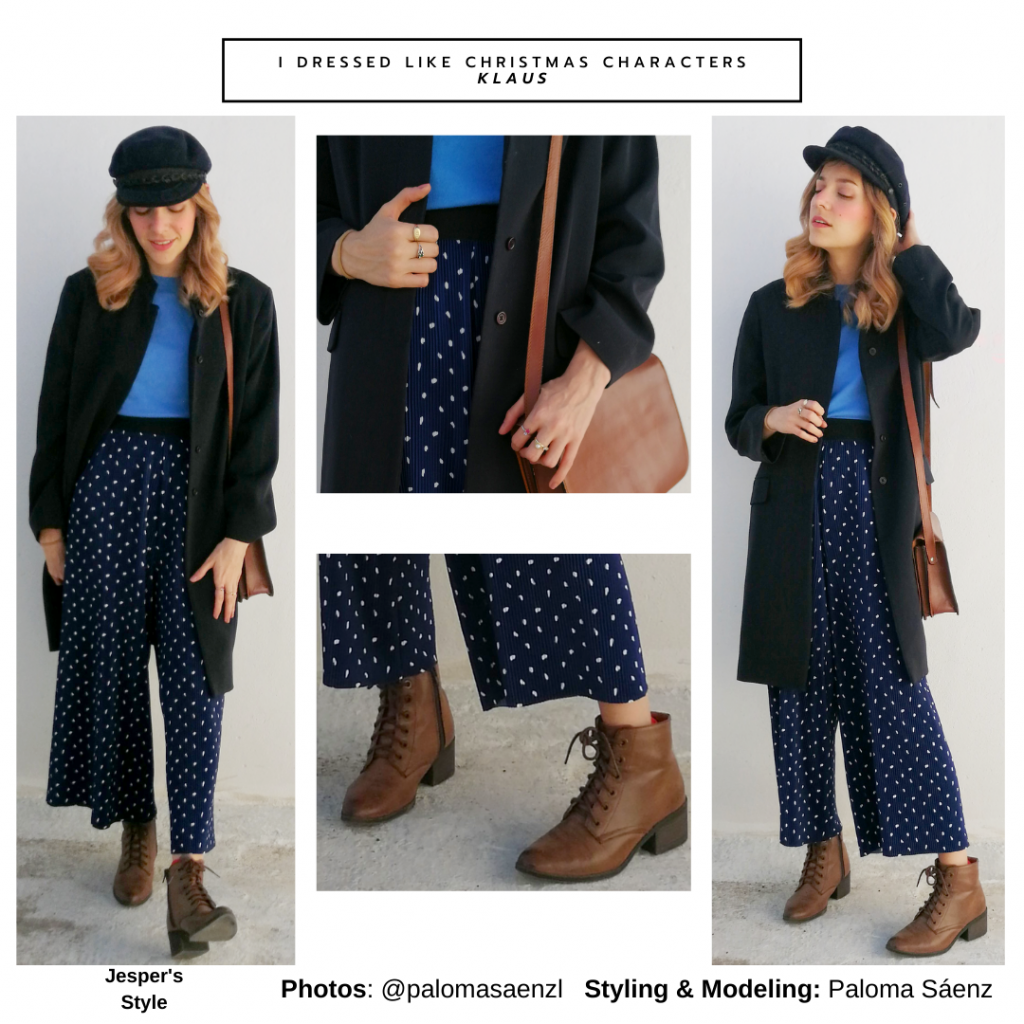 For my Jesper outfit, I wore a periwinkle blue sweater and a pair of navy blue and white wide-leg pants. I chose these pants because they sort of remind me of the snow. Then, I layered up with a blue coat. (I had to borrow the sweater and coat from my sister.)
I accessorized with a brown bag, that kinda looks like Jesper's postman bag and a navy blue paperboy hat. Finally, for shoes, I opted to use a pair of brown booties.
This was a really cute look! Like I said, I'm working from home, so my outfits right now are more comfy and less dressed-up than usual. If I was wearing this for my normal style, I would've gone with a different coat or jacket and I wouldn't have used the hat to stay at home. That said, these two items really made the whole look into something special.
3. Wednesday – John McClane, Die Hard (1988)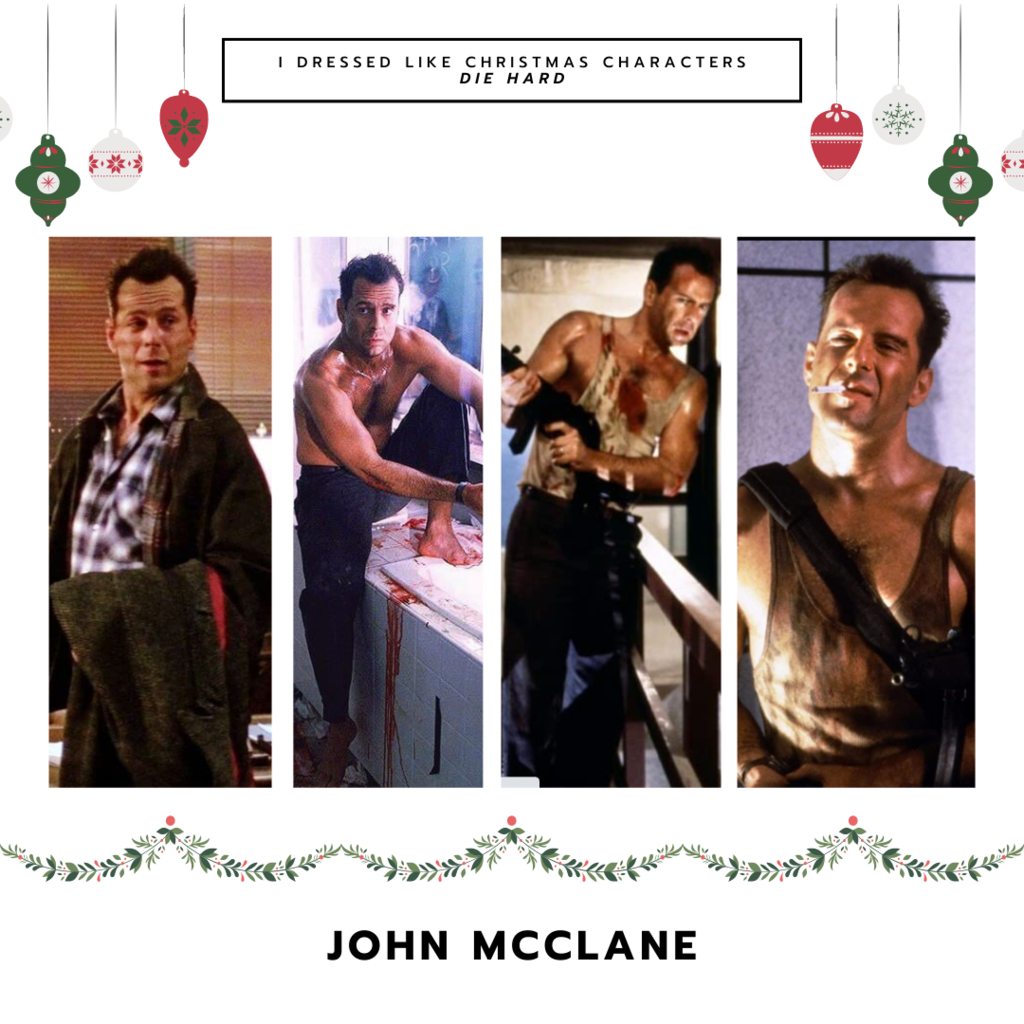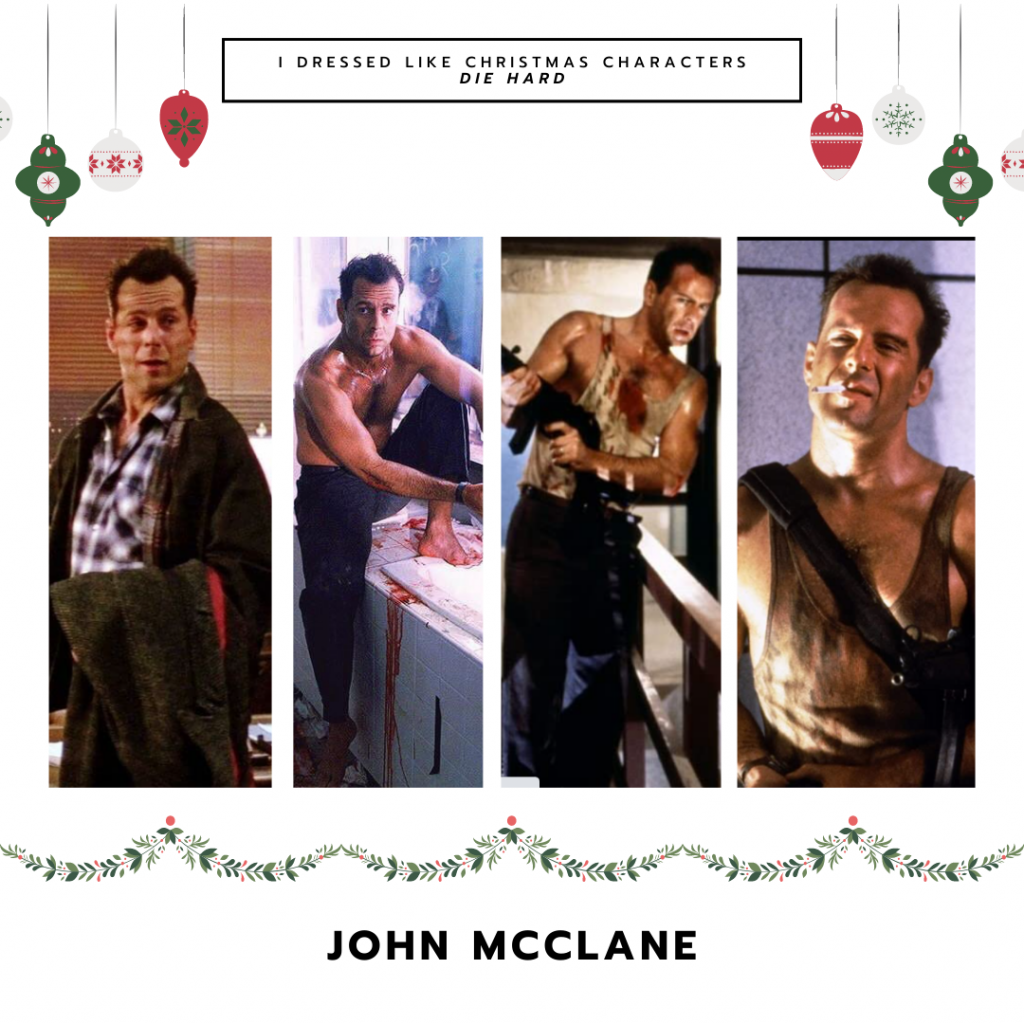 I know there's a whole debate as to whether Die Hard is or isn't a Christmas movie, but for me it is, so I decided to include it. (It's also one of my favorite movies of all time!)
After his wife and several of her coworkers are taken hostage by German terrorists during their Christmas Party, NYPD officer John McClane will do everything in his power to save them.
I had two obvious choices in my head for this Christmas movie outfit: Holly Gennaro-McClane or John McClane. And, while I had the perfect look for Holly already planned out, I changed my mind last minute and went with our protagonist, John McClane.
John starts off wearing a comfy, flannel-jeans combo, perfect for the airport. He ends up with a shredded white wife-beater and a pair of pants.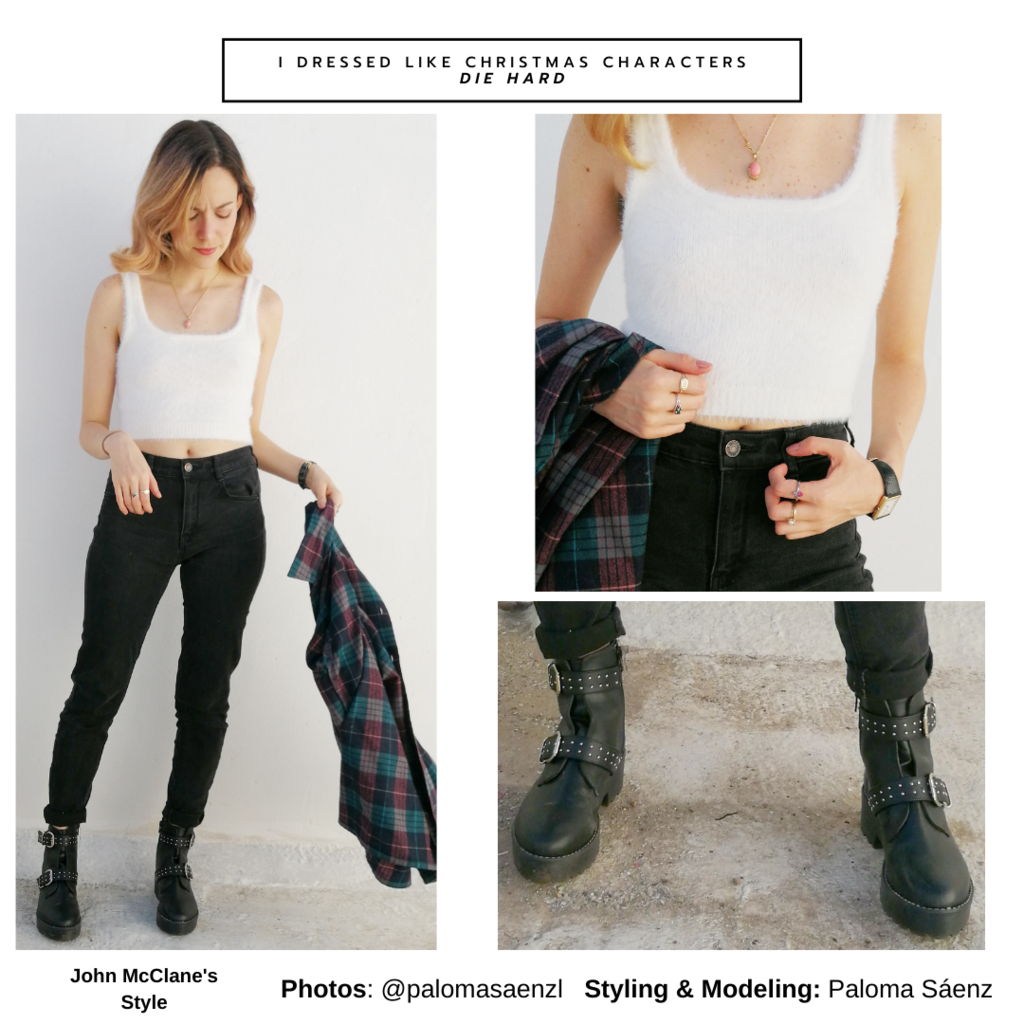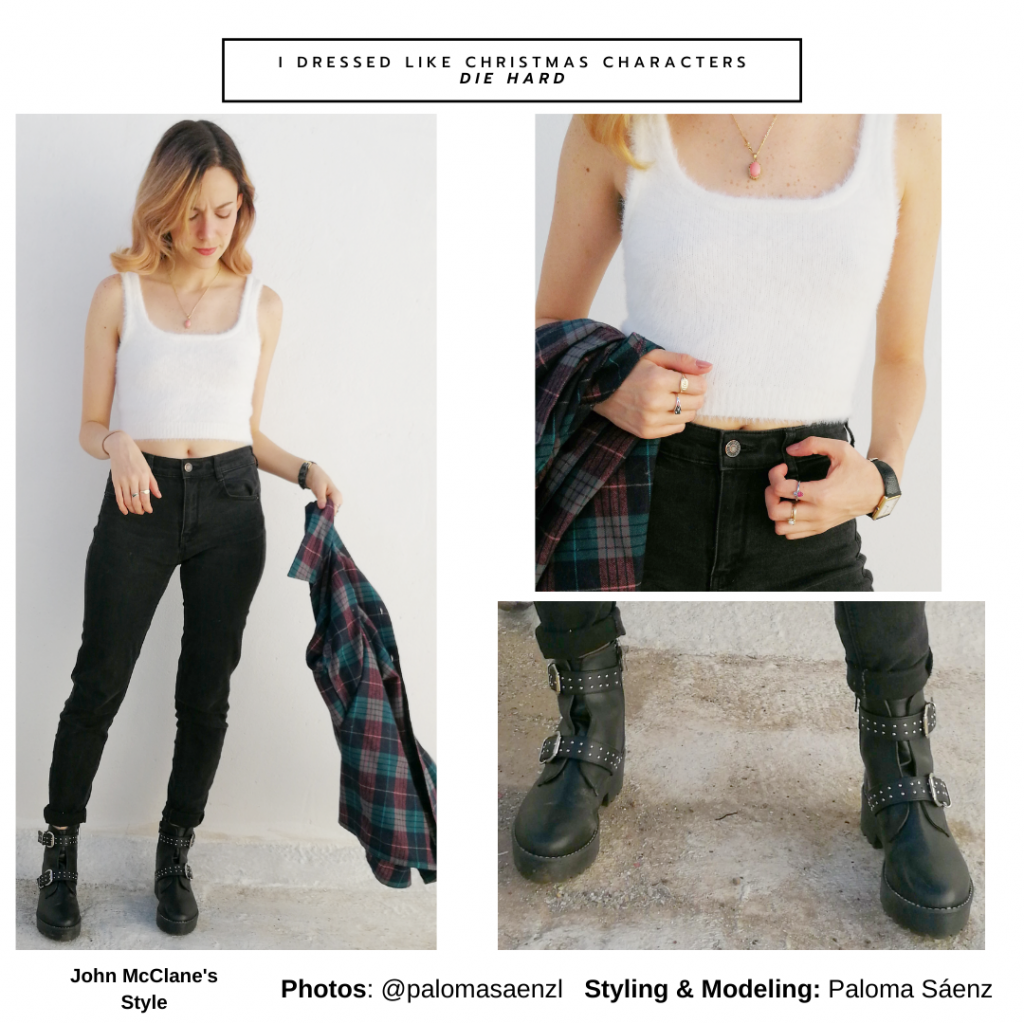 I used a white fluffy crop top, to emulate his most iconic look, and a pair of black worn-out jeans. At the start of the film, he is wearing a blue flannel, so I layered up with a dark purple and navy blue flannel. John is barefoot for most of the film, but I opted to wear a pair of edgy black boots.
This outfit was a challenge to create, but I think it was one of my favorite looks of all. It was the most similar to my personal style and it was a very comfortable outfit.
My only complaint was that this was just a little cold for the weather where I am. If John hadn't been wearing a wife beater as part of his most iconic look, I would've probably worn something warmer.
4. Thursday – Martha May Whovier, How The Grinch Stole Christmas (2000)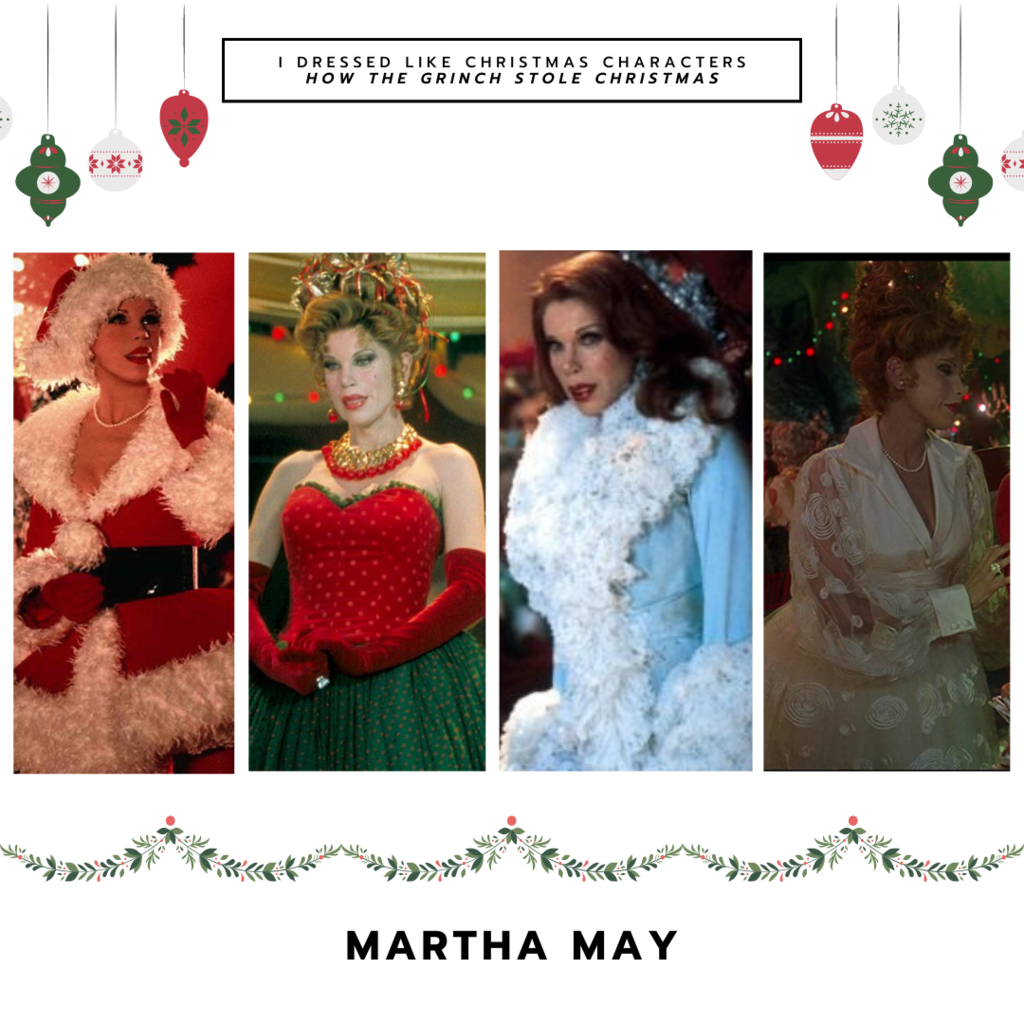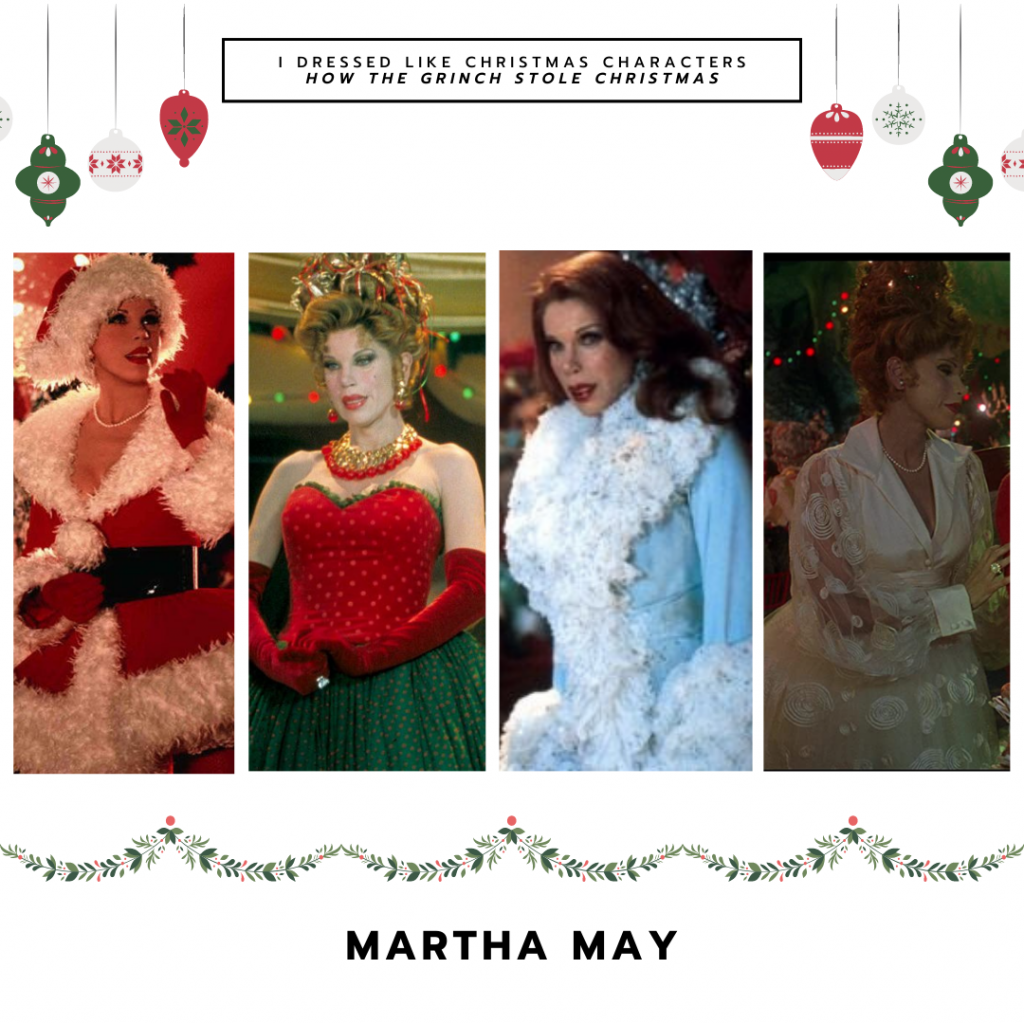 Adapted from Dr. Seuss' novel of the same name, How the Grinch Stole Christmas narrates the story of the eponymous Grinch. He is resentful of the Christmas-obsessed town of Whoville. After years of putting up with them, he decides to take revenge by ruining Christmas.
I knew this wouldn't be a Christmas movie costumes inspiration post without this movie, the only question was, which character's costumes to copy?
While it was tempting to create an outfit based on the titular character, in this movie there is an actual fashionista: Martha May Whovier. She is the love interest of the Grinch and her outfits are the best part every time she's on screen. Martha May wears a multitude of costumes throughout the film, mostly in red and green, but she also has a couple of looks in blue and white.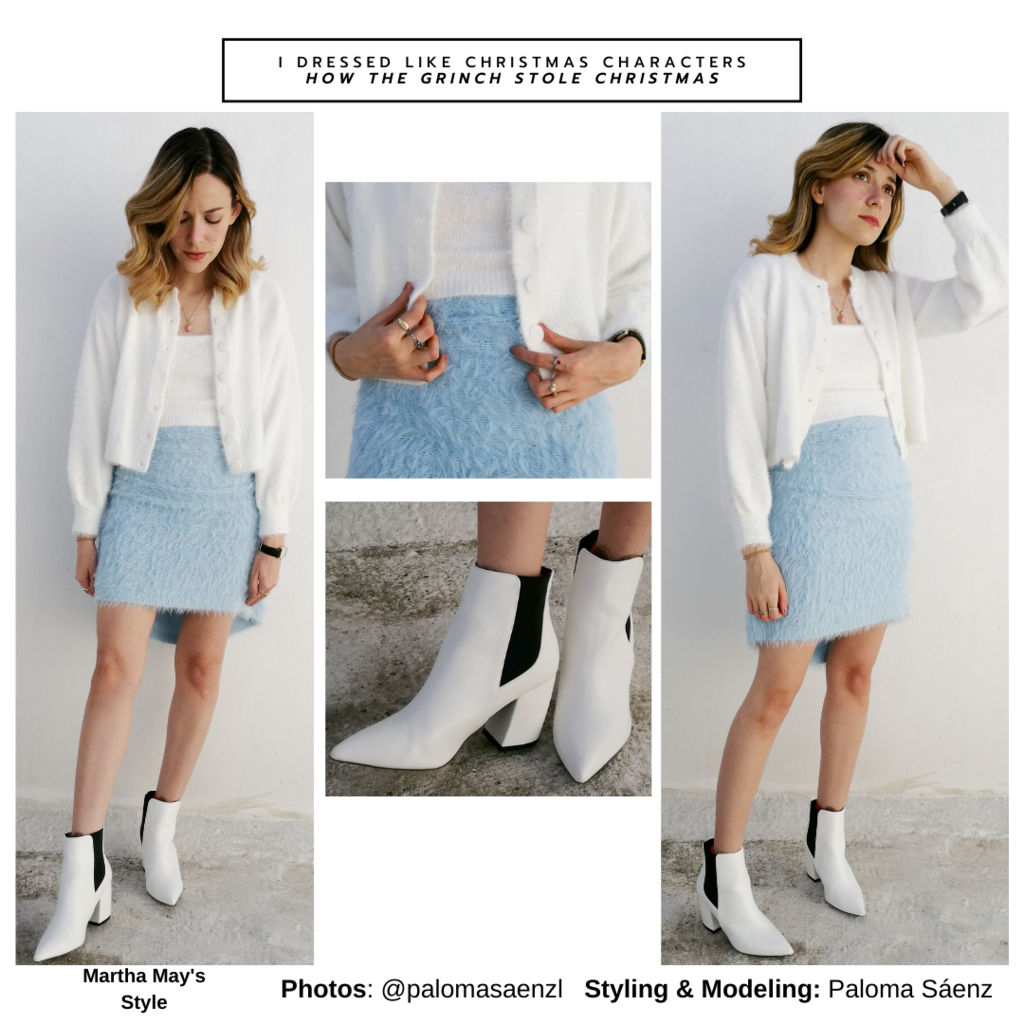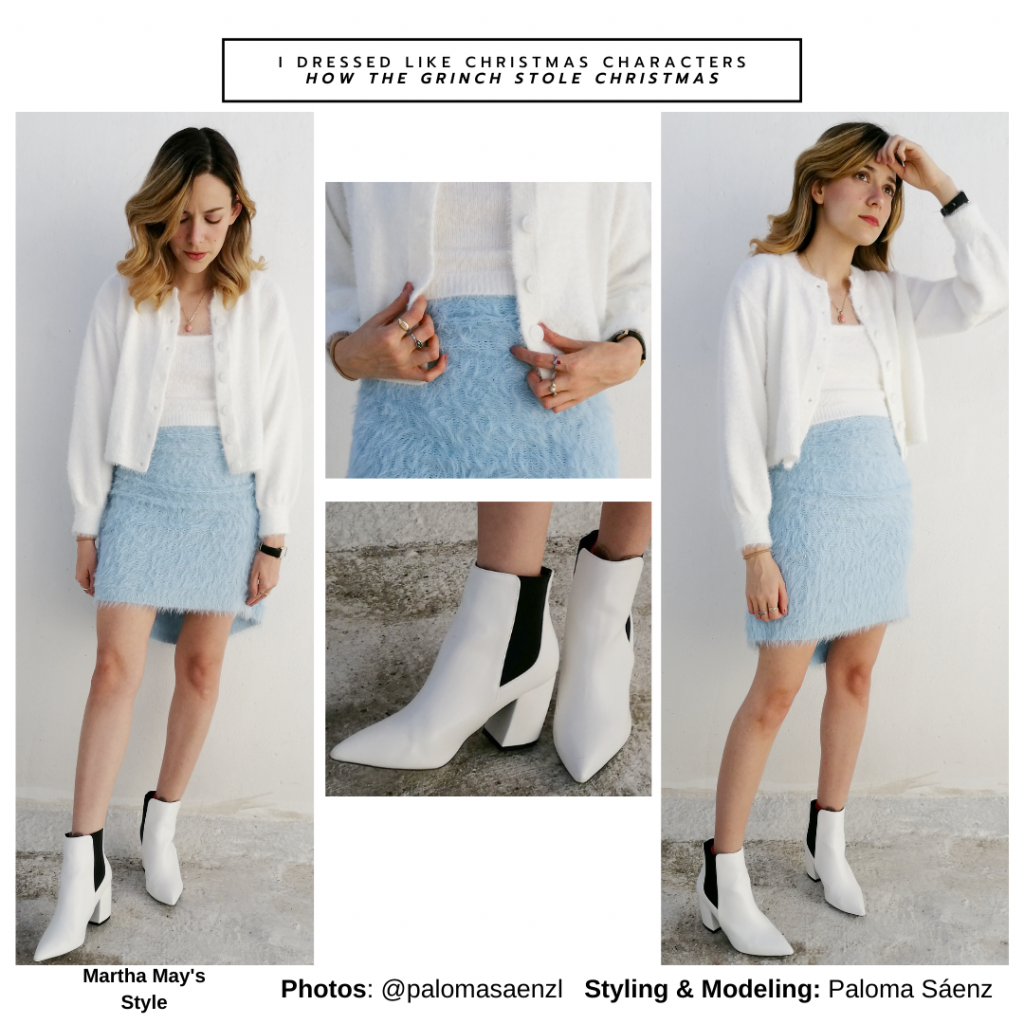 I decided to emulate Martha's second to last outfit of the film, the blue robe, since it was the one look that I liked the most when I was younger.
Sadly, I don't have anything even remotely similar to her robe. So, I wore a white fluffy sweater and crop top set and a fluffy light blue skirt. The skirt is actually an oversized sweater that I used as a skirt. For shoes, I think Martha May is wearing a pair of silver slippers. I opted for a pair of white booties. I also decided to do my makeup more dramatically than I usually do, with a winged eyeliner in green.
I LOVED this outfit! So, so much! It was the most challenging to create but also the one that I got to flex my creative muscles the most with. I loved the end result and it was the most outwardly stylish look of the bunch. It was also more comfortable than I actually expected.
5. Friday – Amanda, The Holiday (2006)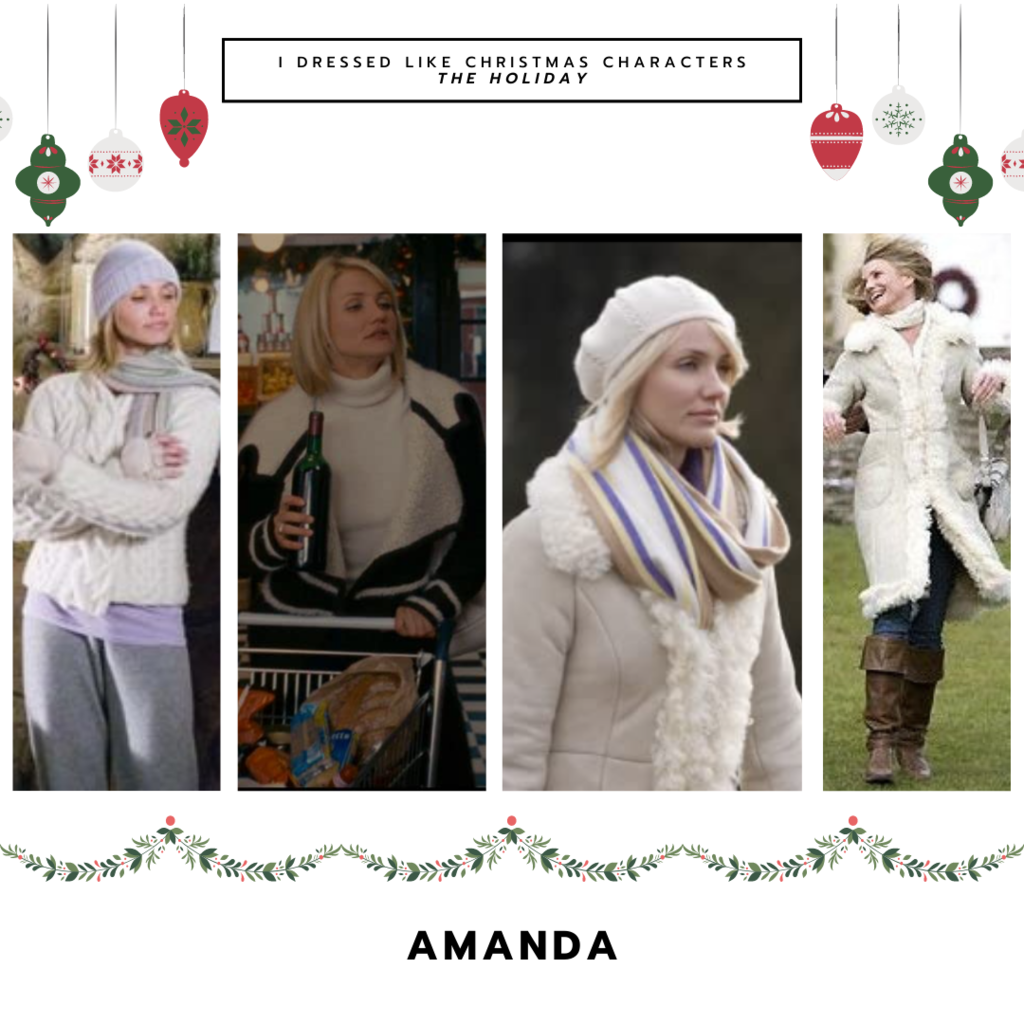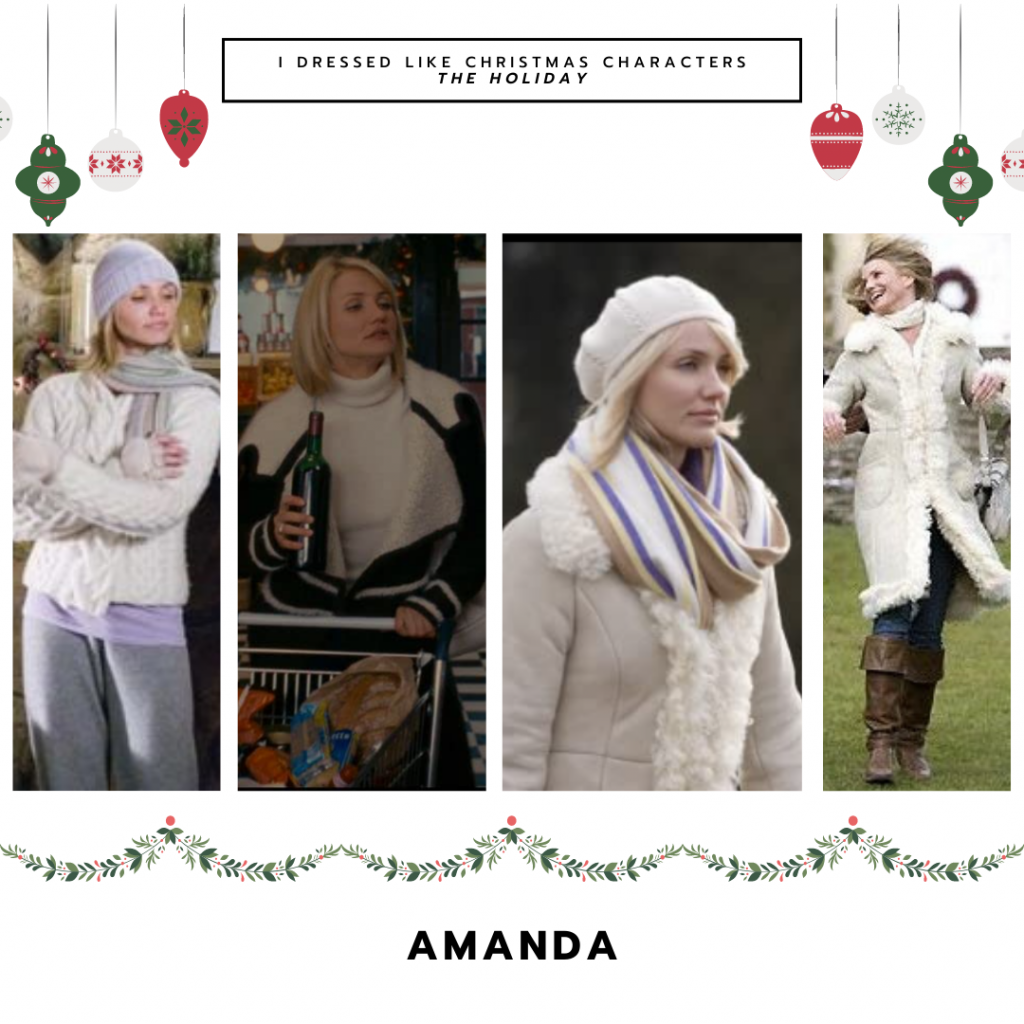 Last year, I rounded up the list with a Christmas rom-com. This year, I'll do the same and cover The Holiday.
In this film, Kate Winslet and Cameron Diaz portray Iris and Amanda, two women who live on opposite sides of the Atlantic. After a series of heartbreaking events, both women search for an escape and decide to swap homes in each other's countries for the holiday season.
While I could've gone with either character, I chose Diaz' Amanda. This was because, for most of the movie, she is in England and her looks are very winter appropriate, while Winslet's Iris spends her time in California, her outfits are more summer-like. Amanda's color scheme is full of neutrals, especially cream, white and black.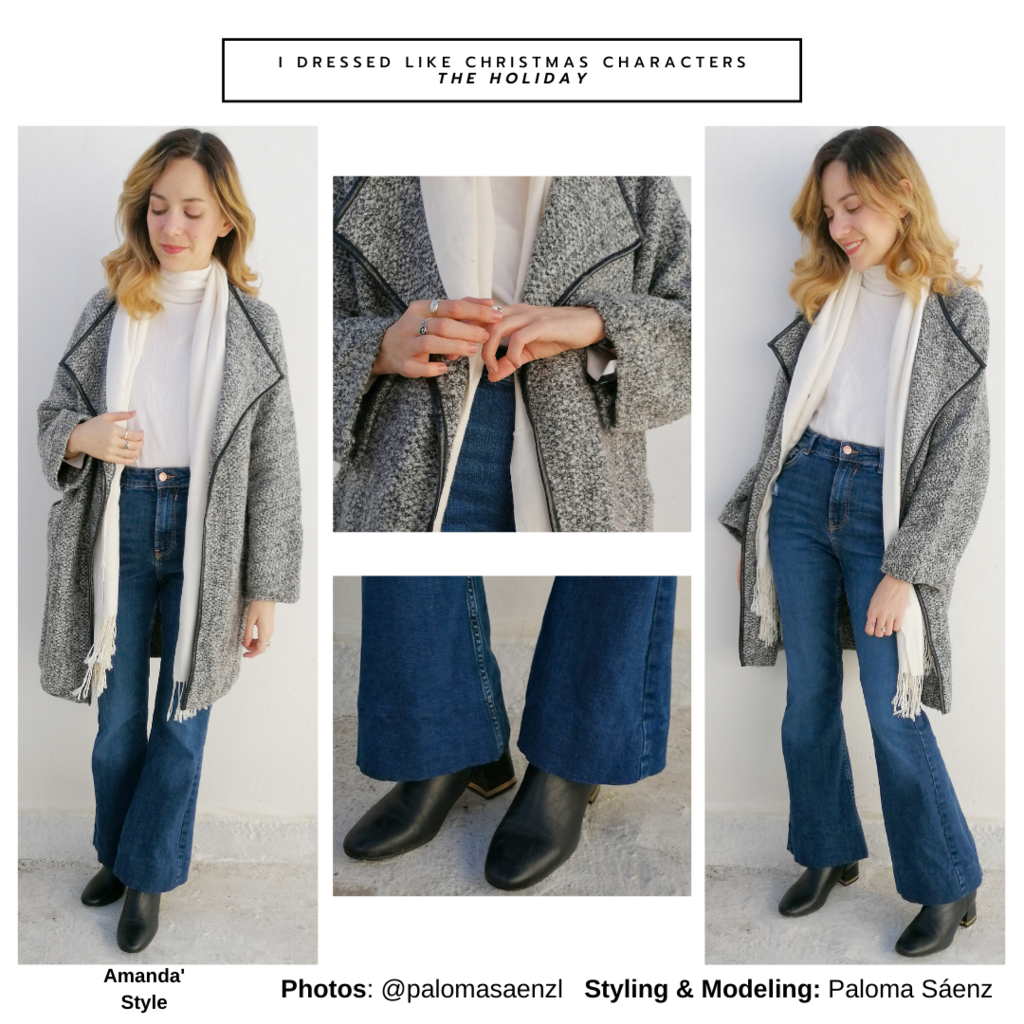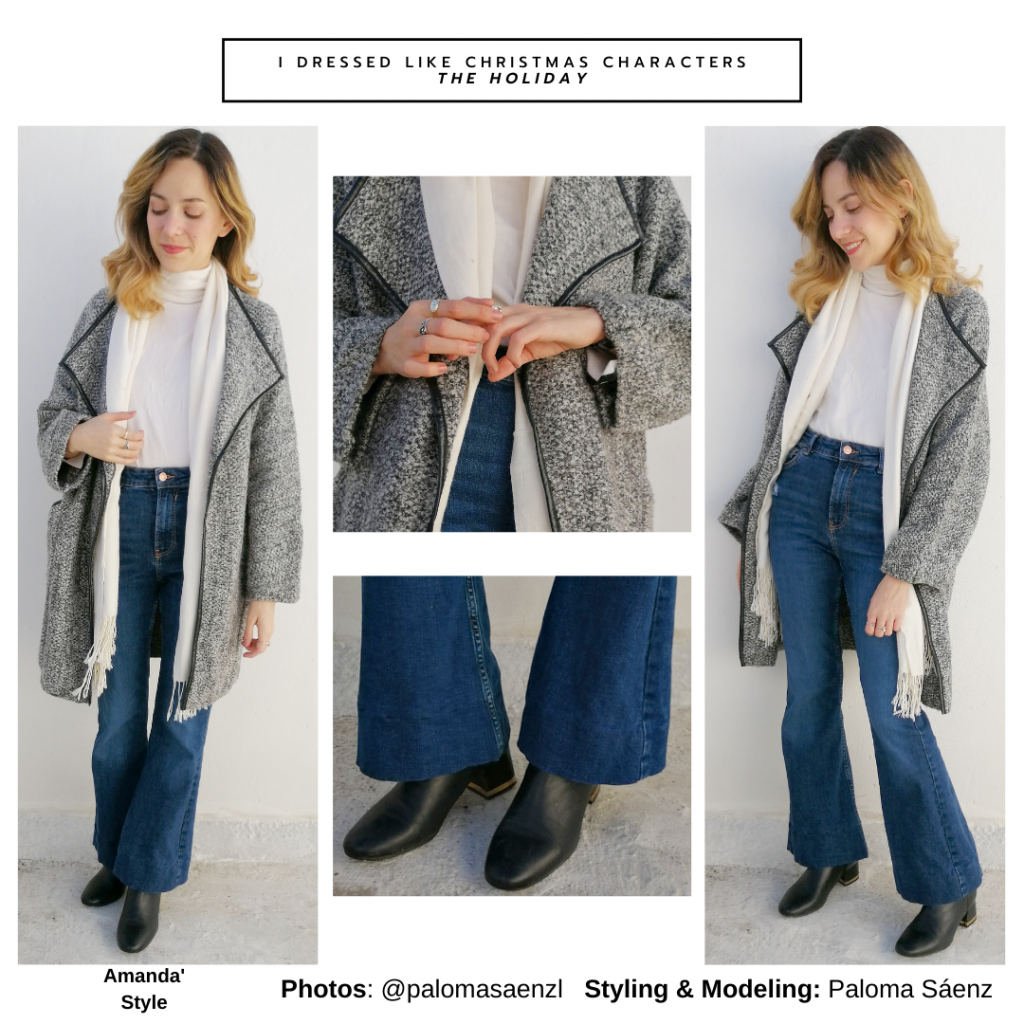 For my Amanda look, I decided to go for a mix of her outfits through the film. I wore a white turtleneck sweater and a pair of dark wash flare jeans. I layered up with a black and white coat and a white pashmina. I borrowed both of these items and the sweater from my mom. For shoes, I used a pair of black booties.
It was a cozy and cute look, but it wasn't really my cup of tea. I would've worn a pair of chunky booties or a leather jacket instead, but it's still a great outfit to have for a day of working from home.
Final Thoughts
It was a fun week and it is always a special treat to create looks based on films that I love. These are all movies that I rewatch every year, so the research for this post wasn't something that up-rooted my free time or something like that.
My favorite of the Christmas movie costumes I copied this week was Martha May's look from Thursday and, in a close second, John McClane's Wednesday outfit. While Amanda's wasn't my style, it is still a great choice if you need a put together look to go to a Christmas dinner or if you have to go to the office this time of year.
If you need inspiration right now and you have no idea where to start, maybe get inspired by the next Christmas movie you watch. It seems over the top, especially since every outfit and scene is filled with color and light, but copying your favorite Christmas movie costumes can give you great cozy outfit ideas for this time of year.
Also, thanks for reading these posts and being here all this year. Happy Holidays!
What are your favorite Christmas movie costumes of all time?
Have you seen these films? Which Christmas movie is your favorite? Which outfit would you wear? Would you wear any of these outfits? Let us know in the comments below!