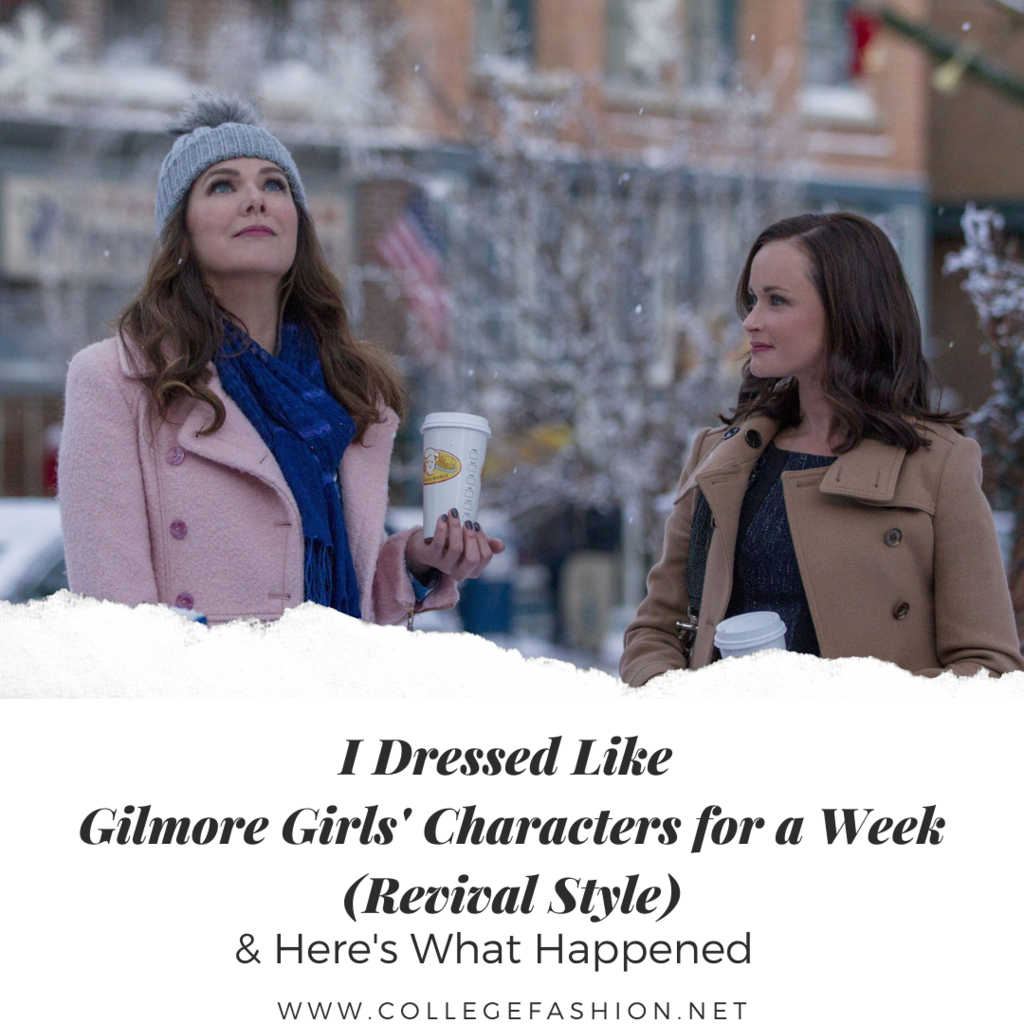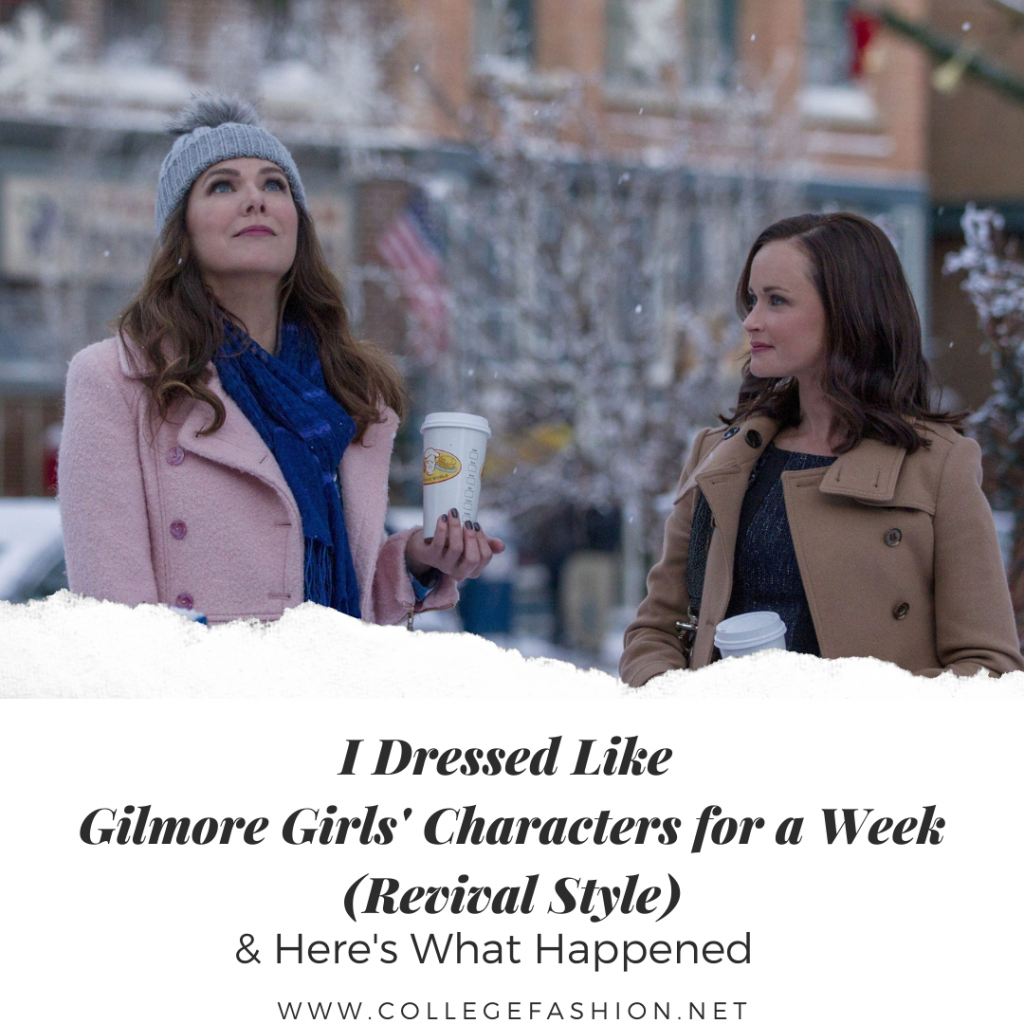 We've all looked to celebrity style for fashion inspiration at some point in our lives. But it's one thing to say "I love her outfit," and it's another to actually copy it in real life.
For this series, I'm going the extra mile and making it happen. Each week, I'm getting inspiration from a celebrity and copying five of her looks as closely as possible. Then, I'm reporting back to you: Did the outfits work in real life? Did I feel comfortable? Did people treat me differently? I'm sharing it all.
In past posts I've dressed like Zendaya, Gigi Hadid, Grace Kelly, Kendall Jenner, Vanessa Hudgens, Sophie Turner, Priyanka Chopra, Millie Bobby Brown, Hilary Duff, Lily Collins, Taylor Swift, Iconic Halloween Characters Part 1 & 2, Selena Gomez, Alexa Chung, Iconic Christmas Characters, Rachel Green Part 1 and 2, Queer Eye's Fab 5, Monica Geller, Little Women's Characters, Lucy Hale, Dakota Johnson and Gilmore Girls' Characters.
And just like I promised in the first Gilmore Girls post, this week, I dressed like Gilmore Girls' characters from the revival episodes. Here's how it went!
About Gilmore Girls: A Year in the Life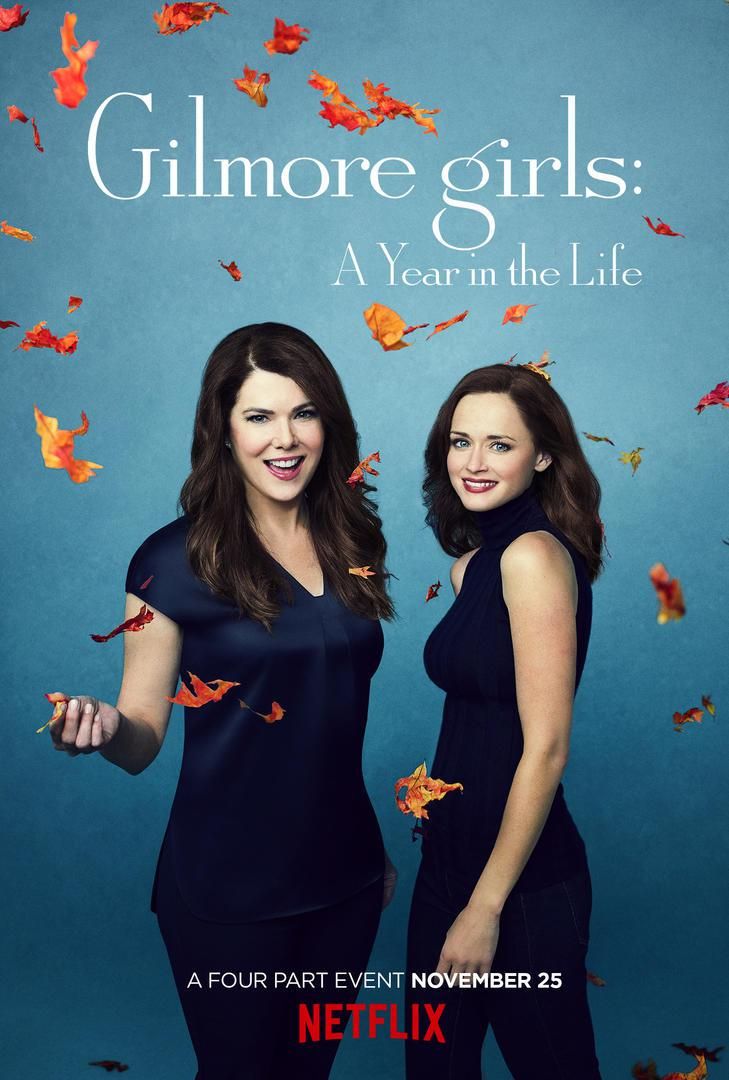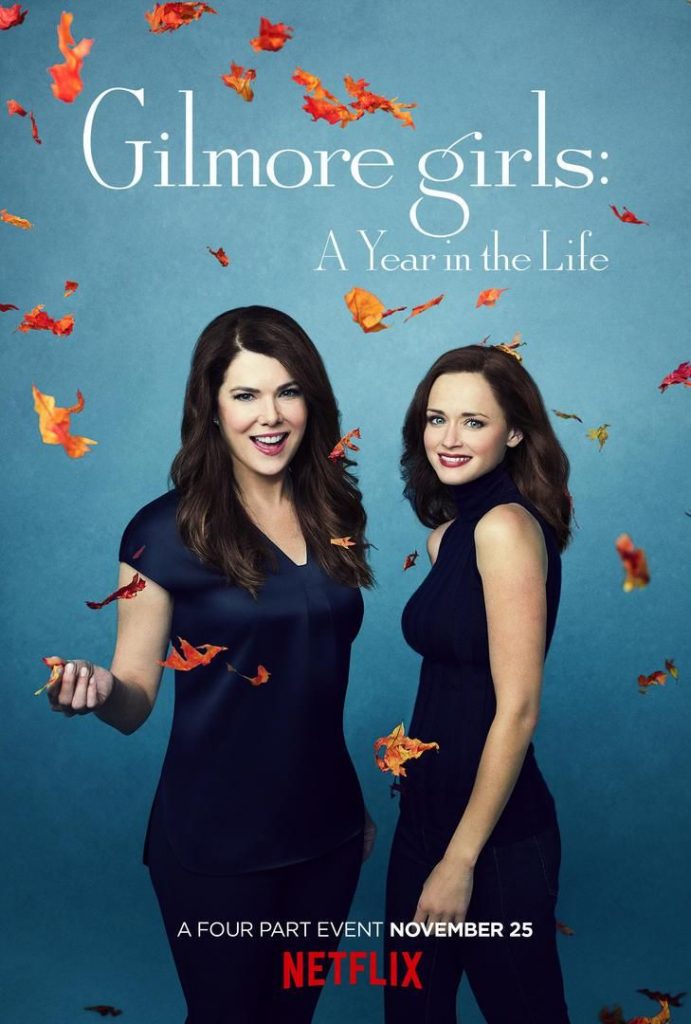 Gilmore Girls: A Year in the Life is a four-episode mini-series produced by Netflix. The show was released on the streaming platform in November 2016. It features Alexis Bledel and Lauren Graham reprising their roles as the leads and Scott Patterson, Kelly Bishop and Liza Weil as recurring characters.
Colloquially known just as 'The Revival', the new episodes were met with mixed reviews, both by critics and fans alike. On one hand, something everyone shared was the excitement of watching Stars Hollow and its quirky residents once again. On the other hand, it had several problems no one could ignore.
Aside from the characterization of Rory, the mini-series lacked the direction and magic of the original series, included random tangents, wasted time on new guest stars, had several offensive jokes (like fat shaming and the treatment of Emily's maid) and, of course, it had quite the controversial ending.
Although it had its problems, The Revival is an important part of the Gilmore Girls canon and, for our purposes, the most modern source of fashion inspiration for the series.
Set nearly a decade after the finale of the original series, this revival follows Lorelai and Rory Gilmore through a year of changes. Each episode is over an hour long, covers one season of the year and they have a more cinematic feel to them than the original episodes. The order of the episodes is: Winter, Spring, Summer and Fall.
Disclaimer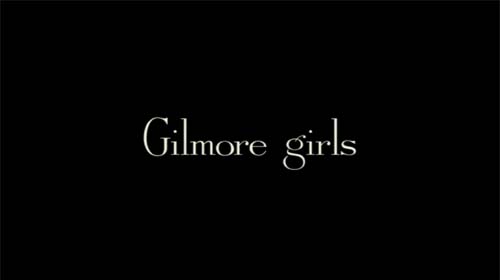 When I covered the fashion in Gilmore Girls before, I focused mainly on the original series (seasons 1-7) and specifically on the styles of Lorelai, Rory and Luke. In this second part, I will still cover Rory's and Lorelai's outfits, but also the three other major female characters' style: Emily, Paris and Lane. (And a surprise outfit for Saturday!)
Since the revival is relatively new and the clothes are more modern, this time, I will try to recreate specific looks instead of a character's overall style. Also, there are fewer style-as-character development changes (except for Emily's), so it's easier to just recreate one outfit to show a character's overall style during the four episodes.
Outfit #1, Monday – Lorelai Gilmore (Winter)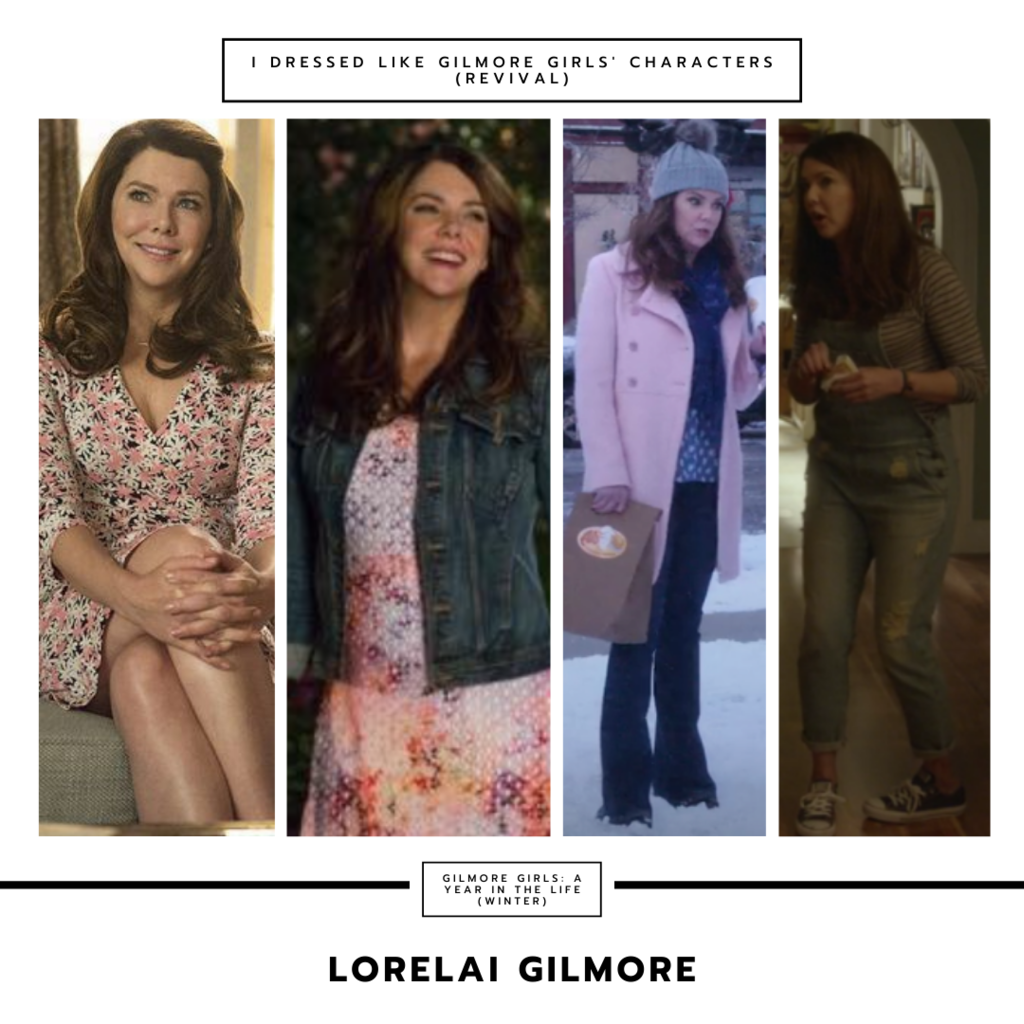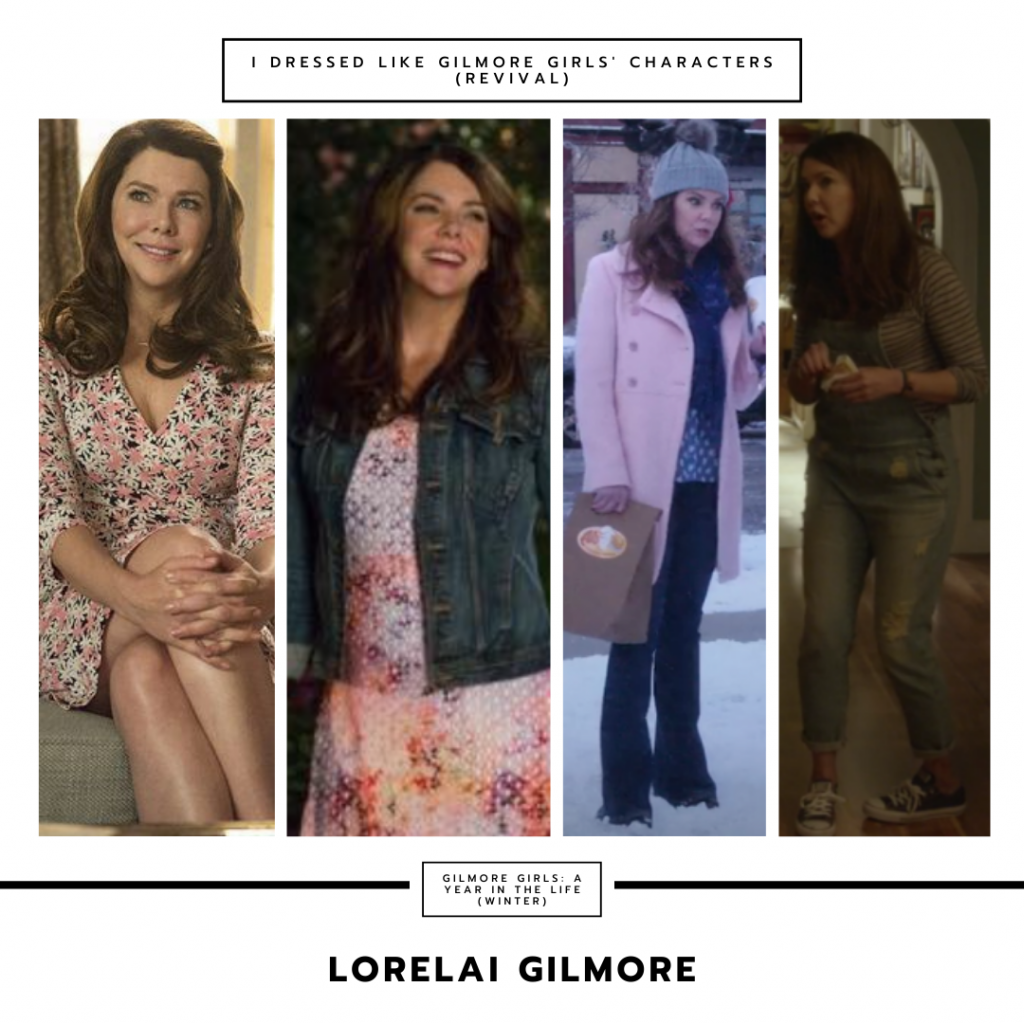 When we first see Lorelai in the revival, we find out that she is still with Luke (not married, though) and that The Dragonfly Inn is thriving in spite of the constant rotation of chefs in Sookie's absence.
Lorelai, while still her caffeine-addled, witty self, has a tough time handling the loss of her father, subsequent fallout with her mother, and her belief that Luke wants something more in life.
Lorelai's style during the A Year in the Life episodes is pretty much the same it was during the last seasons of the original series. There are A LOT of wrap dresses and pretty blouses in interesting patterns and bright colors. She seems to be quite put together with her style like the mature, boss lady that she is. But, she is still Lorelai, so, there are a couple of looks (and PJ's) that show her quirky and playful nature.
Lorelai's Style Recreation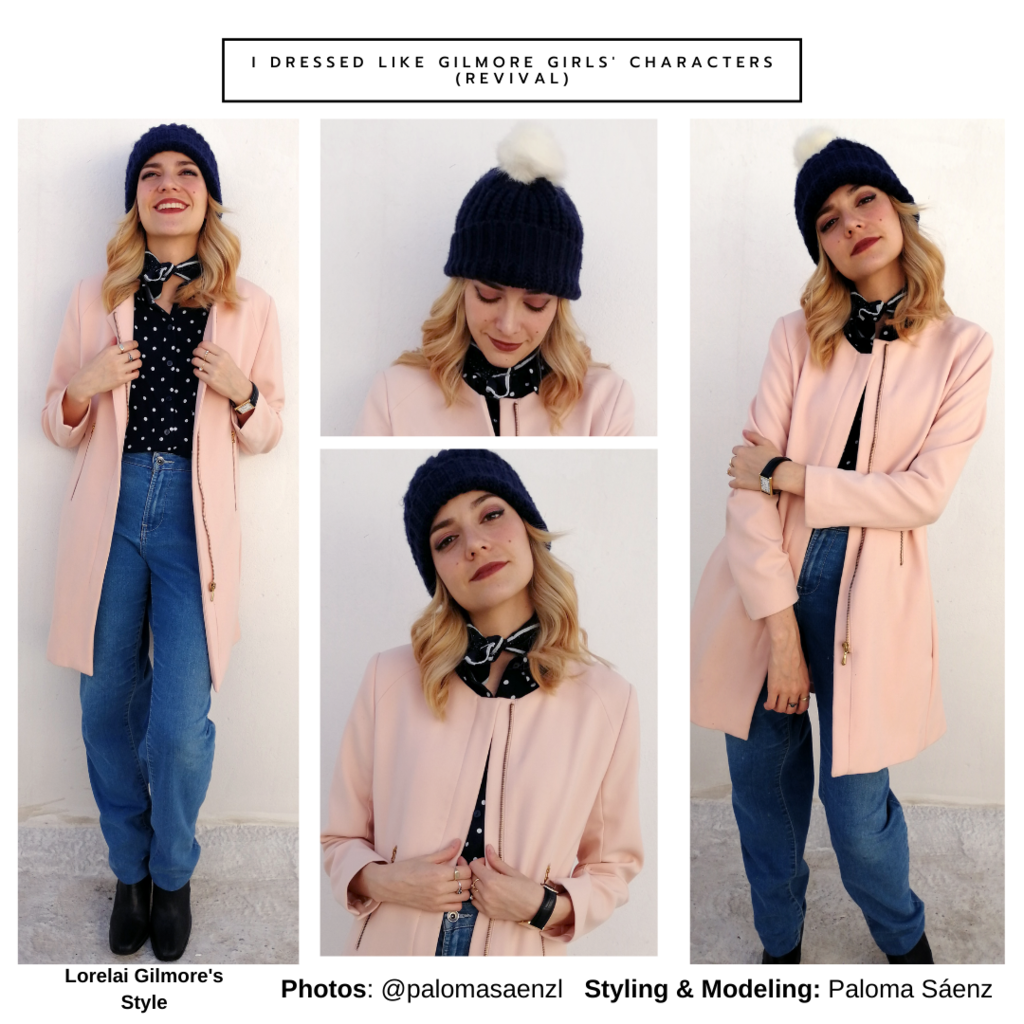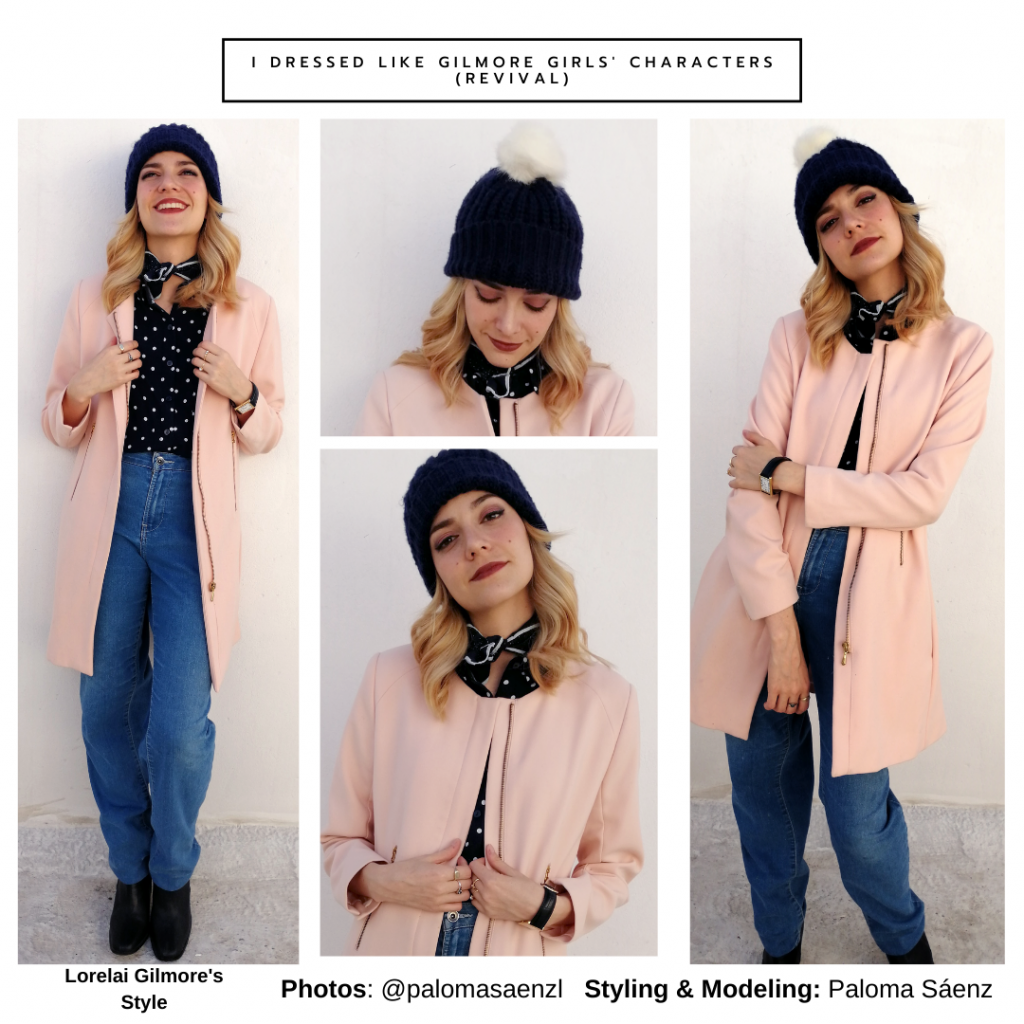 For my Lorelai look, I paired a navy blue and white polka dot shirt with some medium wash flare jeans. I borrowed both pieces, the shirt from my sister and the jeans from my mom. Then, I wore a light pink coat and a pair of black heeled boots. I also borrowed the shoes from my mom. Finally, I accessorized with a navy blue ascot and a blue beanie with a white pom-pom.
I switched a couple of items to make this outfit my own. I wore an ascot in place of the scarf, because it wasn't that cold. Also, my beanie is blue instead of grey, because I already had this one and I felt it complemented the look too.
I loved this look! So much! I had planned on doing a wrap-dress outfit, but I had already done that in the last post. The weather allowed this wintery ensemble to be wearable and I jumped at the chance. I've always liked the light pink-navy blue combo, so it was great to be able to use it.
Outfit #2, Tuesday – Paris Geller (Spring)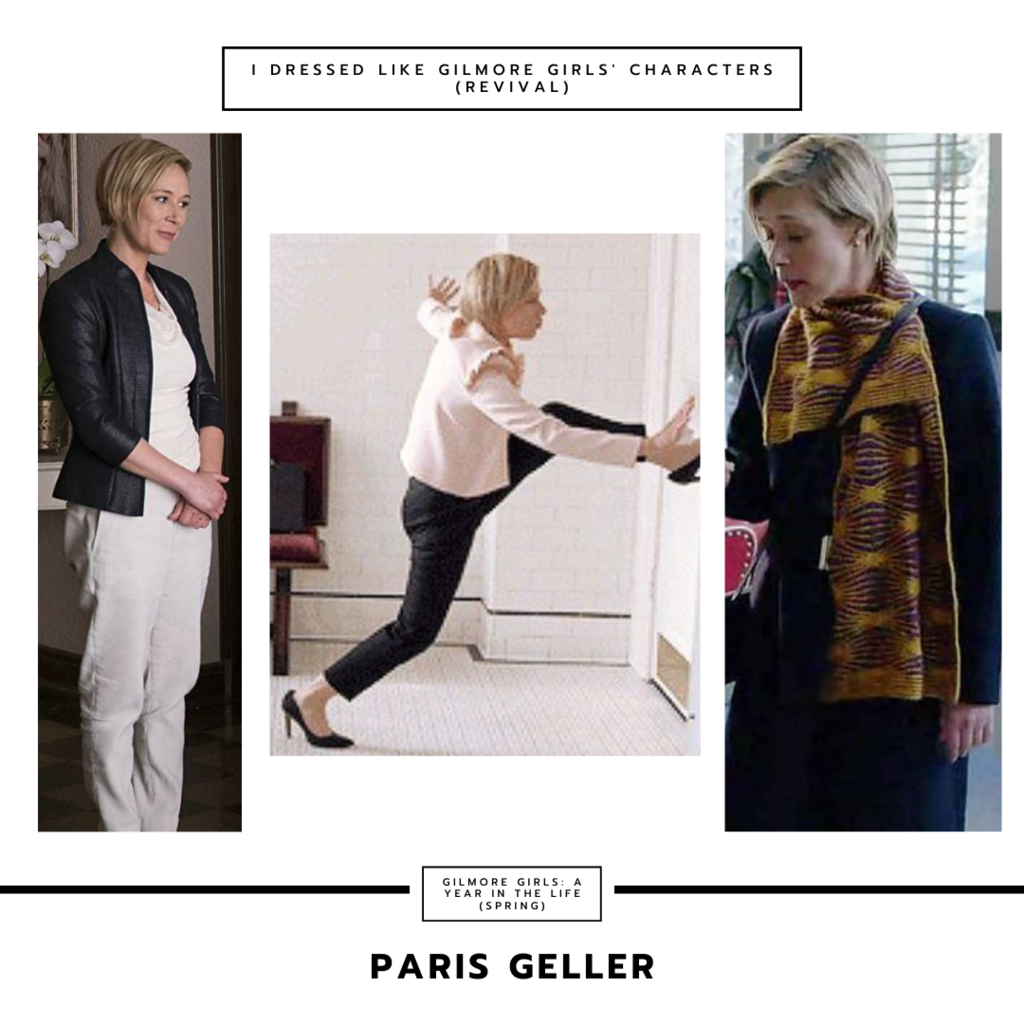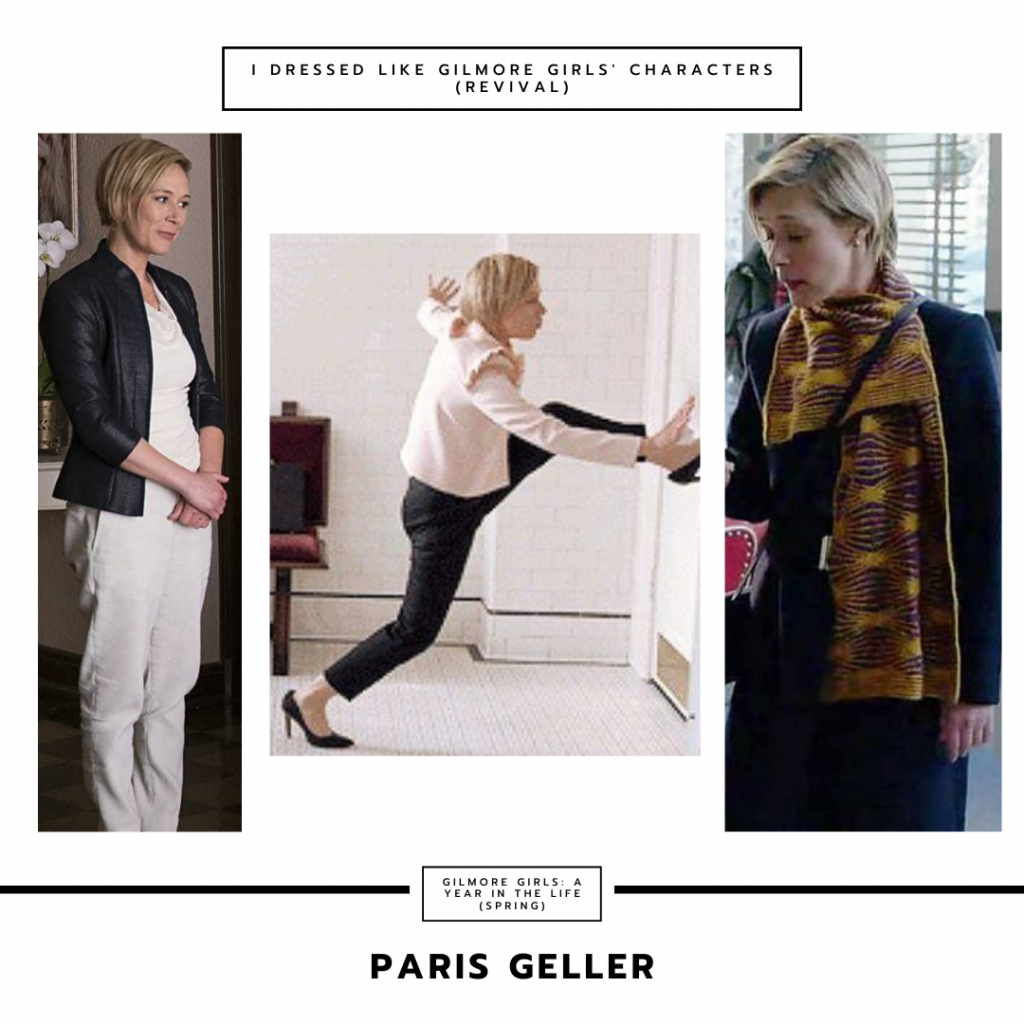 Paris Geller is a definitive boss, through and through. Paris is the most professionally accomplished woman of her age in the show by far. And she is also the one with the most interesting and fashionable closet.
Her style during the four episodes can be described in two words: power suit. And, are we really surprised by this?
Of course, Paris' suits are not your boring, run-of-the-mill styles. She wears blazers in interesting fabrics, colors and shapes, cigarette and jogger-style pants, black pumps, and incredible scarves and coats. Also, her pixie hair-cut is always styled in a very modern but cute way.
Paris' Style Recreation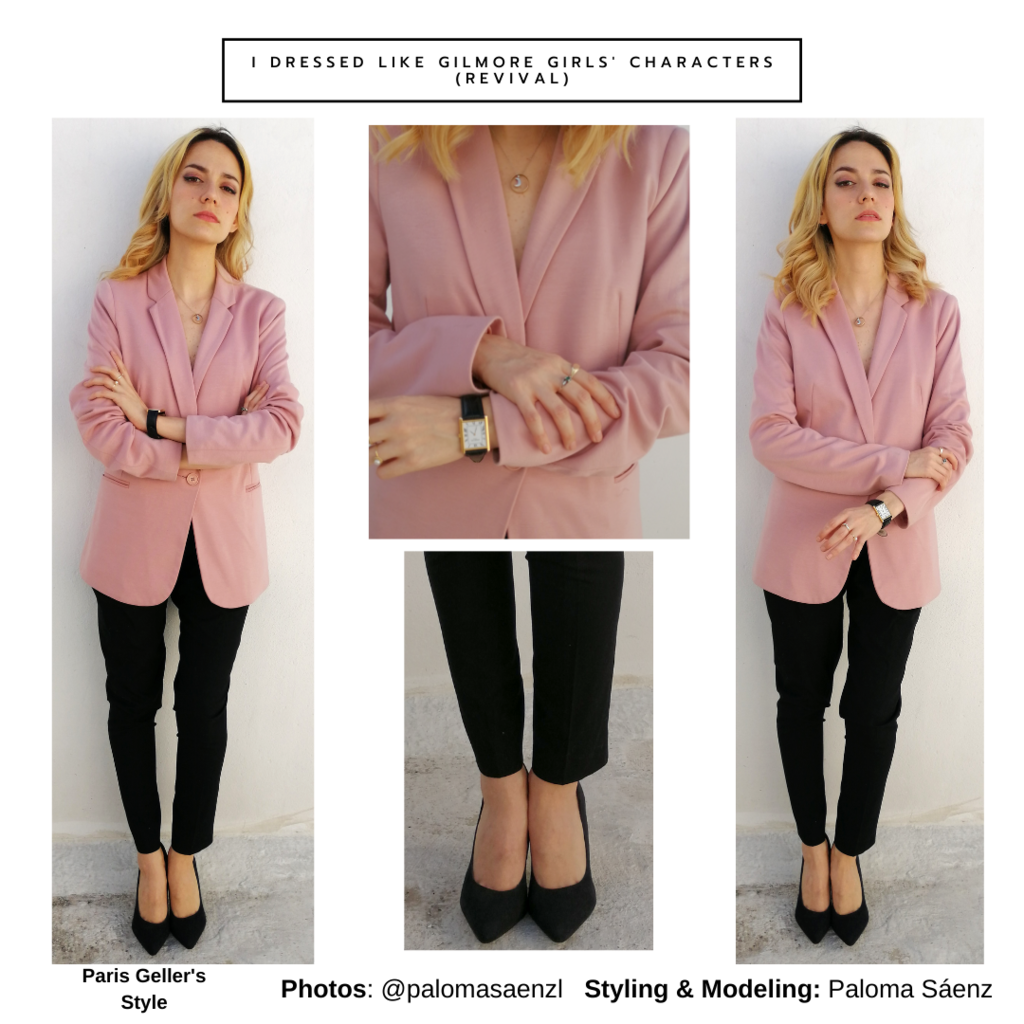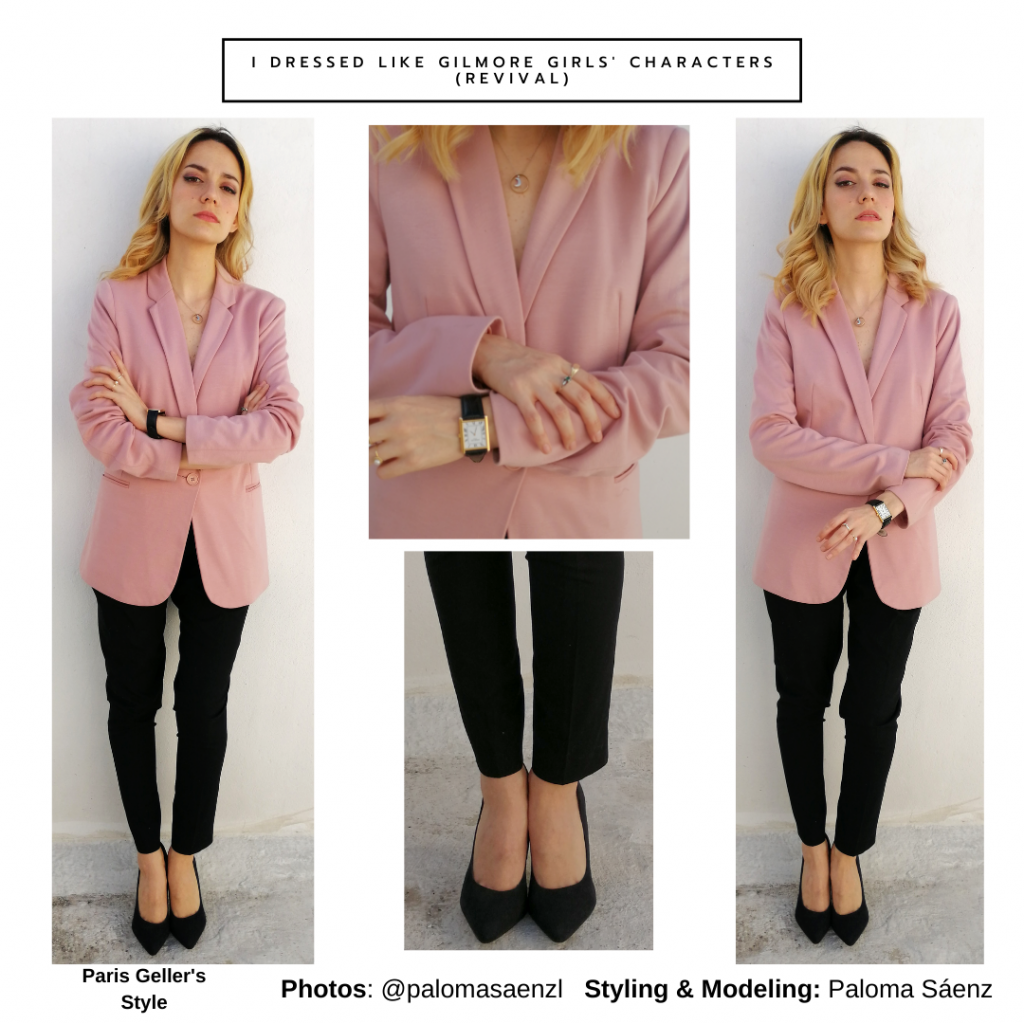 Paris had so many great outfits in the revival, but my absolute favorite was her pink blazer combo for her visit to Chilton. To copy this look, I wore a mauve pink blazer and a pair of black cigarette pants. I borrowed both from my sister. I closed the blazer strategically with a couple of hidden pins. Finally, I added a pair of black pumps.
This outfit made me feel on top of the world, so much. I really loved it! I didn't really have anywhere to wear it, but I went to work to a coffee shop for a couple of hours. Don't worry, I wore a mask the whole time and kept my distance from everyone. Personally, I'd probably wear this look with booties instead of heels next time.
Outfit #3, Wednesday – Emily Gilmore (Fall)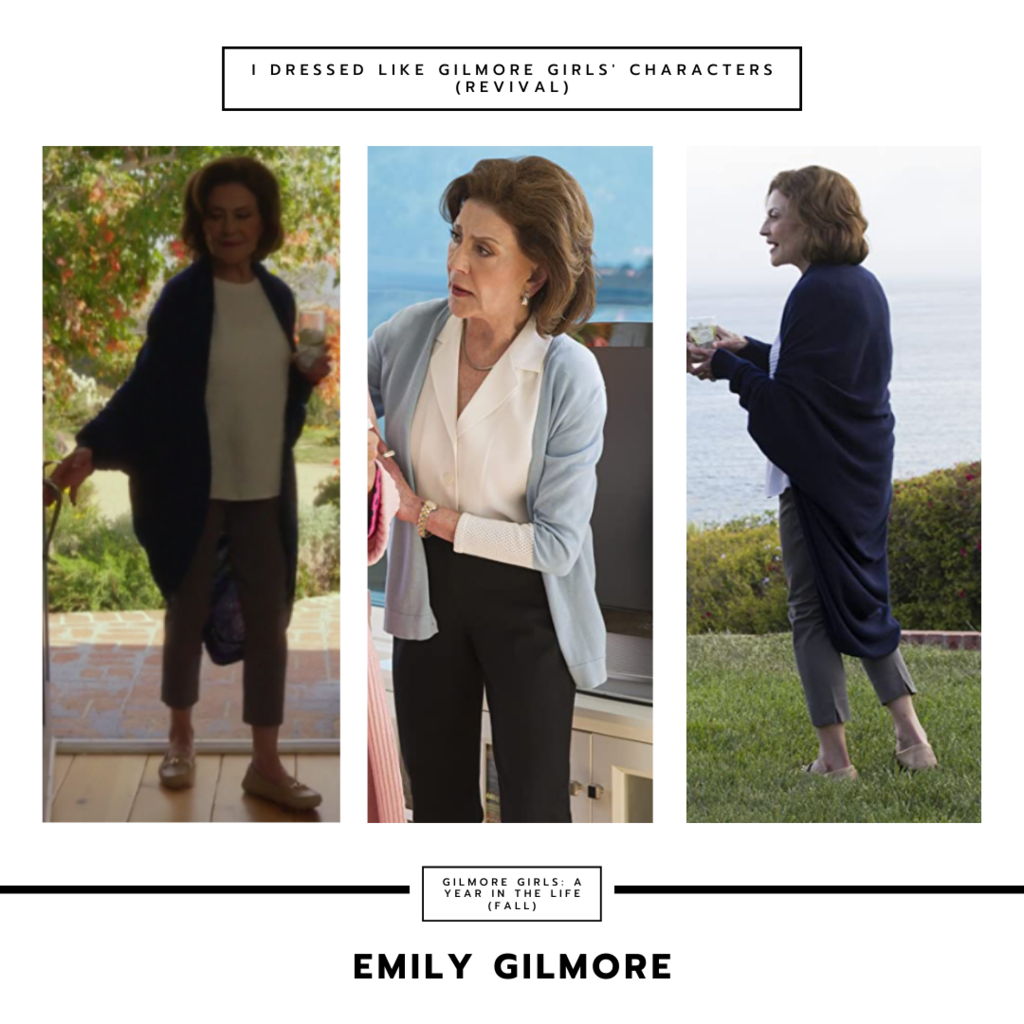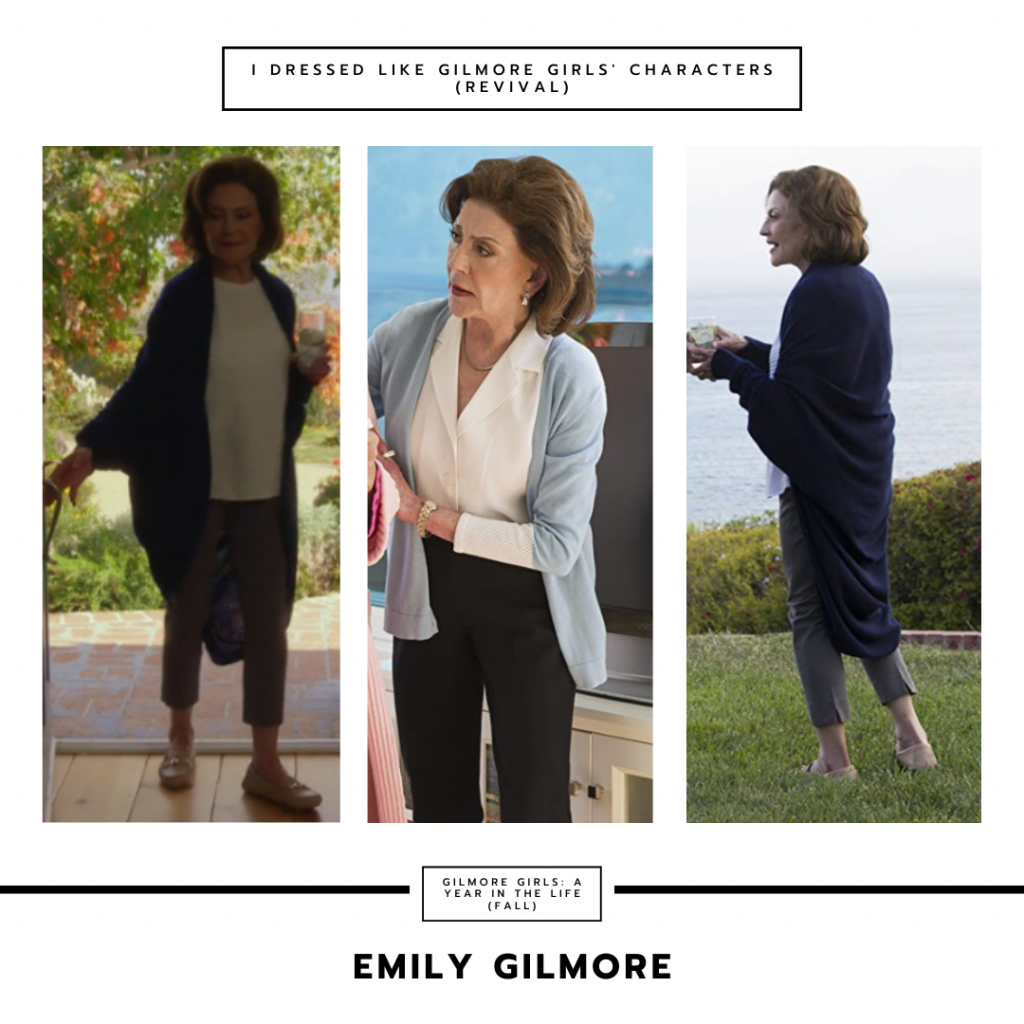 The matriarch of the Gilmore household was the one character that had the most development and, to a lot of the fans, the most interesting storyline in A Year in the Life. Since Edward Herrmann, who played Richard Gilmore, passed away in 2014, Emily starts the revival as a recent widow.
Through the mini-series, we see her trying to navigate through her grief and adapt to a new life without her beloved husband, while trying to mend her relationship with Lorelai.
Her style, while still very much country-club Emily Gilmore, does go through some changes as well. She still wears her Chanel tweed coordinates, pearl necklaces, simple-but-elegant dresses, and her black heels. But, we also see her in more comfortable, but still incredibly put together looks, and, surprisingly, jeans and a t-shirt.
Emily's Style Recreation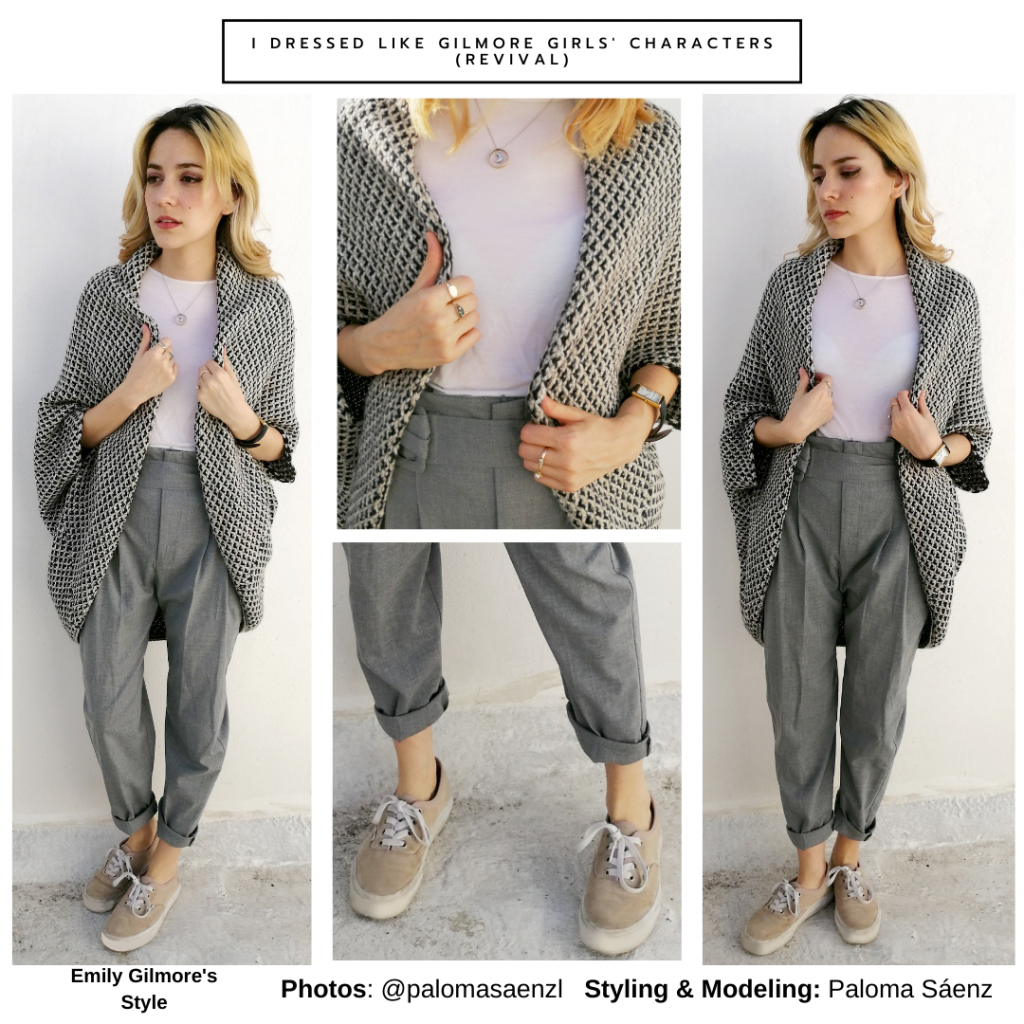 I spent most of the planning time for this post thinking of Emily's look. I know that her most consistent outfits are her Chanel-inspired Friday night looks, but I wanted something that was wearable for someone my age and that I could create without buying two to three items. Finally, I decided to recreate her general style from her last scenes in Nantucket.
For the base of the look, I wore a white shirt and a pair of grey slacks. Then, I layered the outfit with a black and white knitted cardigan/cape. Finally, I chose a pair of beige Vans, just because that's what I had that best resembled her shoes.
This was a simple, but comfortable outfit. I liked how this look turned out, but it still felt "older" than what I'm used to. Also, it was very put together for an outfit that is meant to be for hanging around and relaxing, which I always appreciate.
Outfit #4, Thursday – Lane Kim (Summer)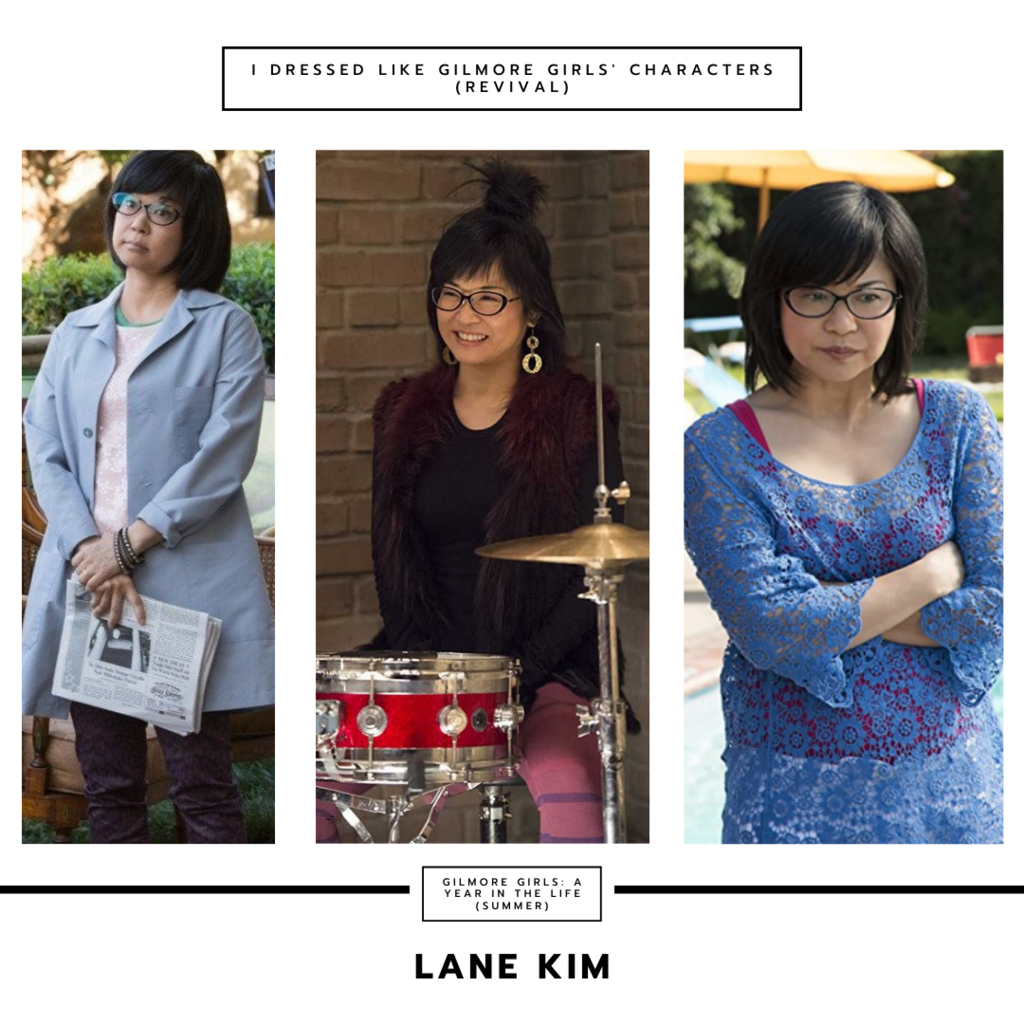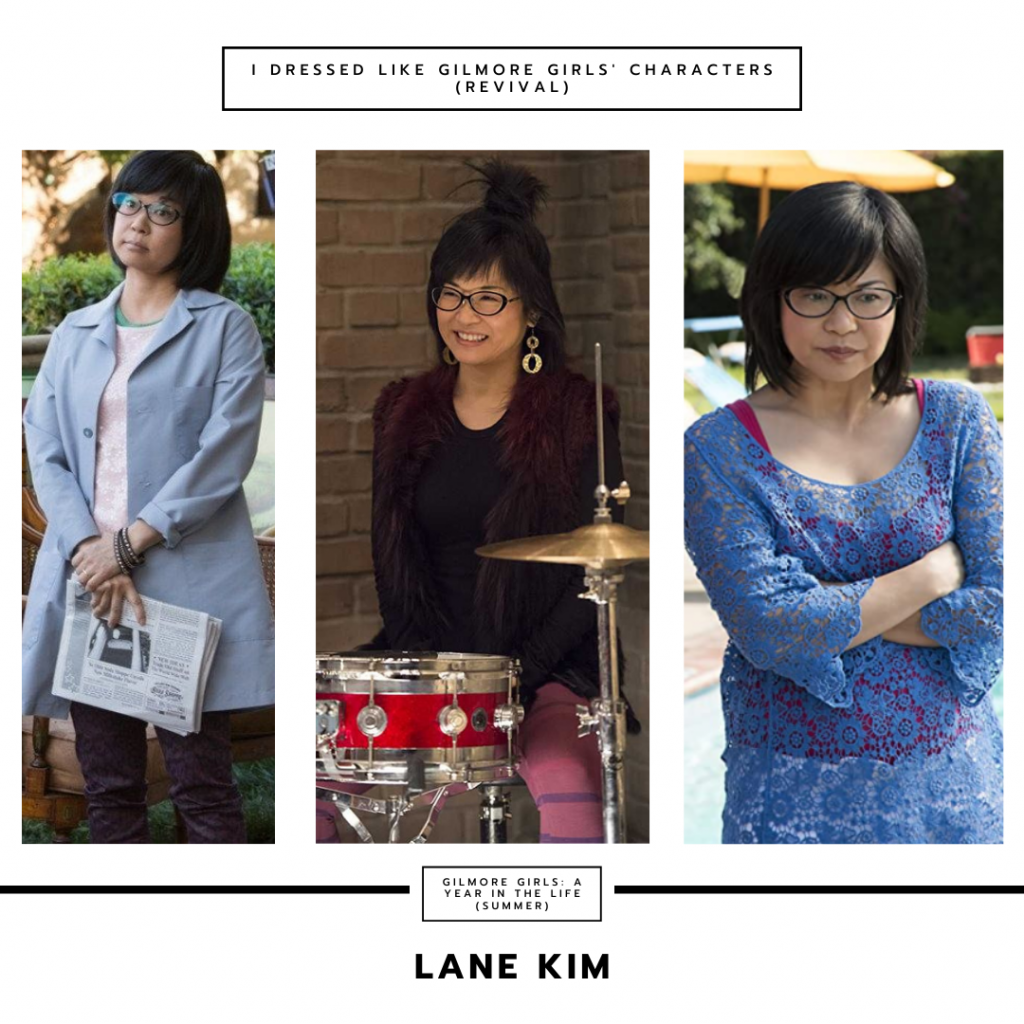 Lane Kim, Rory's childhood best friend, is right were we left her. She is still happily married to Zach and is a mother of twins. Hep Alien, her rock band, is still going strong and they play together every now and then. And she is still the eccentric, supportive, rock-encyclopedia girl we all love.
While she was never the most fashion-forward character, I think the revival let Lane down with most of her outfits (and her pretty much non-existent storyline). There were a lot of graphic sweaters and t-shirts, pastel jeans, flats and wedges with some height. But she still had some quirky, rock-star moments that I loved.
Lane's Recreation Style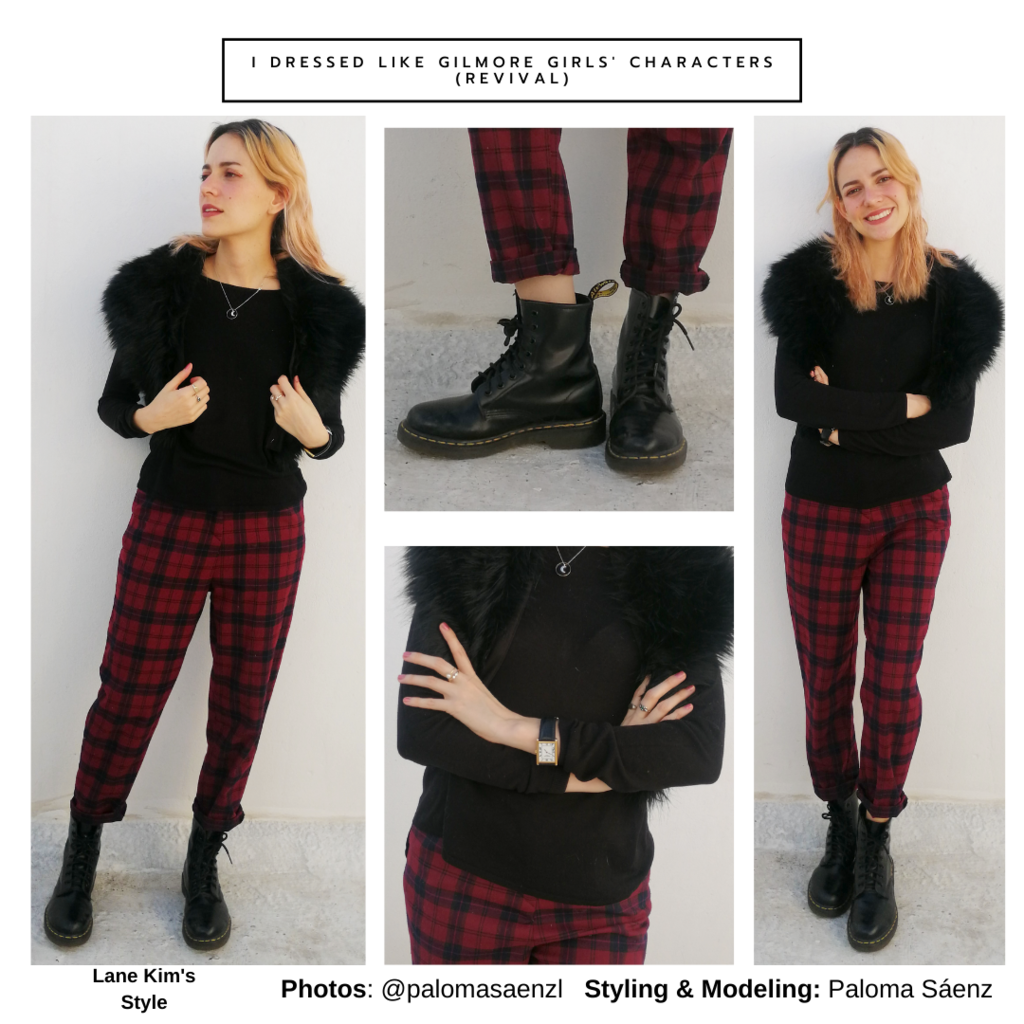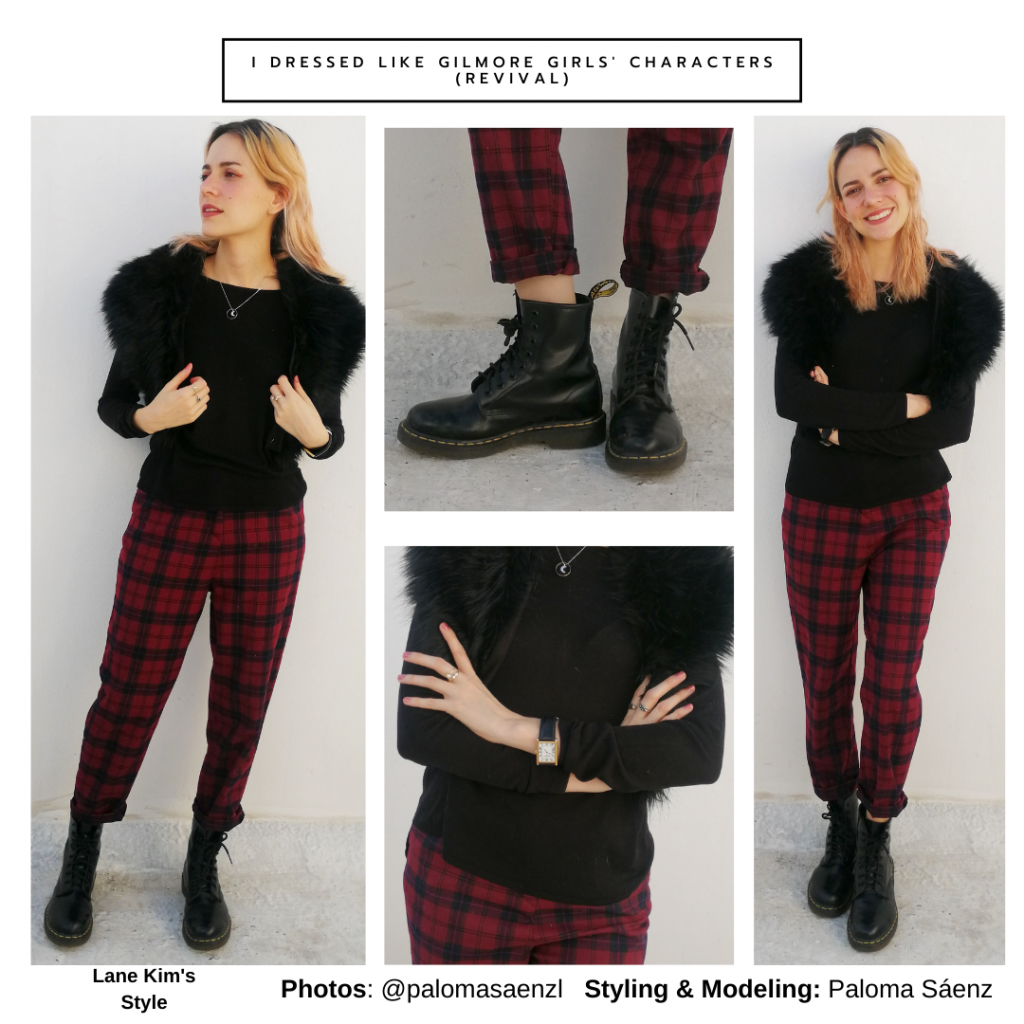 Even though Lane's wardrobe left a lot to be desired in the revival, I did find one outfit from her that I really liked. She's wearing a pair of plaid leggings, a black sweater, a faux-fur vest and combat boots.
To recreate Lane's look, I used a pair of burgundy and navy blue plaid pants and a black sweater. I didn't have a faux-fur vest, but my sister-in law borrowed me a black coat with a removable faux-fur collar. I wore only the collar, and pinned it strategically to make it look like a vest. Finally, for shoes, I used my trusted black Doc Martens.
I really liked this look! Personally, I would've tucked the sweater into the pants, but I really liked the freedom and comfort that I had. It was both edgy and simple to create. Even if I just wore the collar of the coat, it helped when the weather got colder.
Outfit #5, Friday – Rory Gilmore (Fall)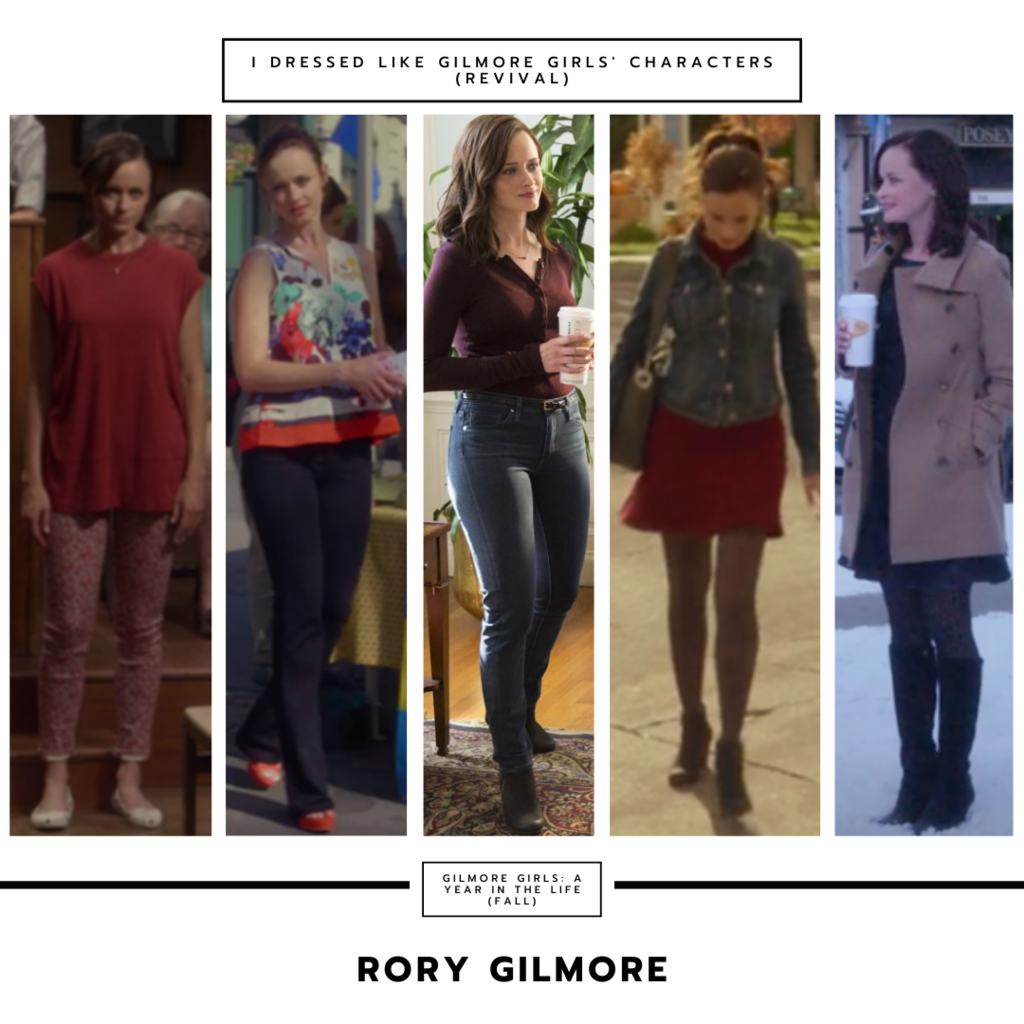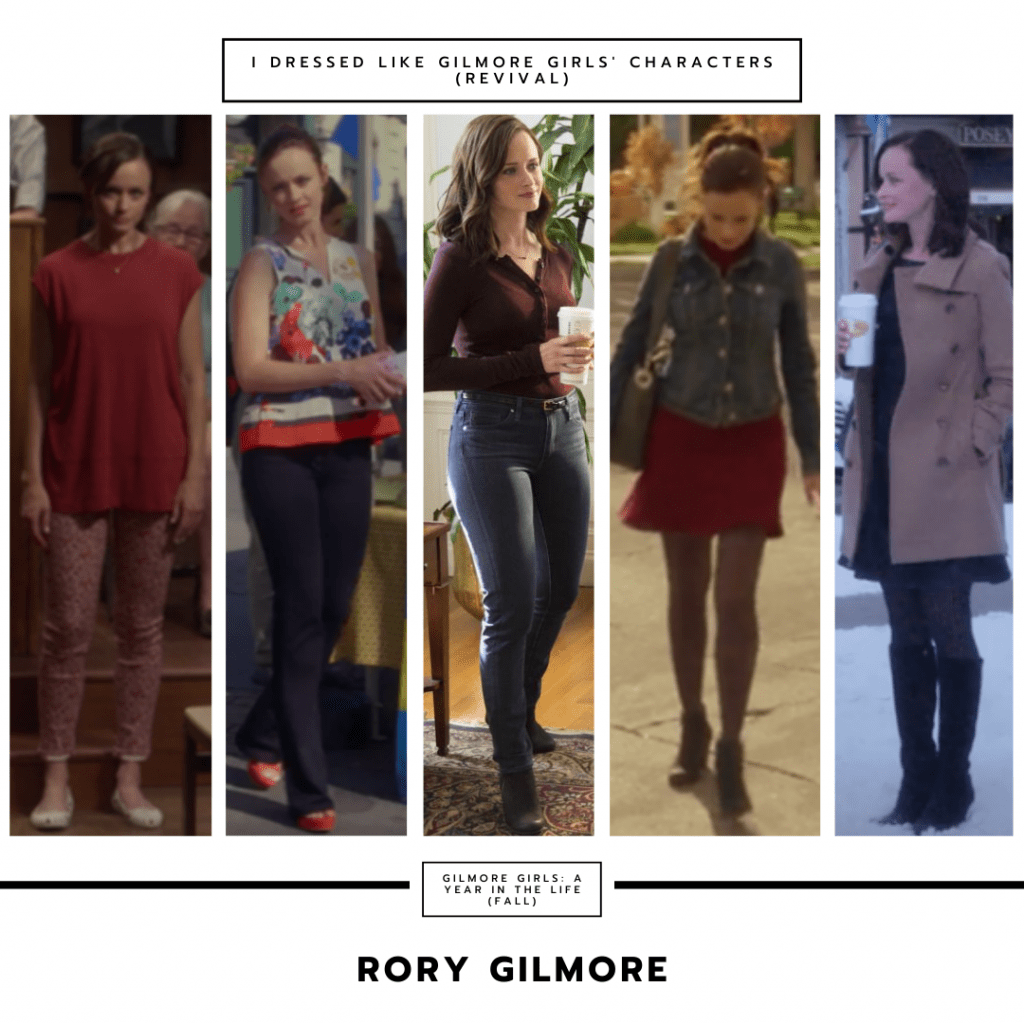 And finally, Rory Gilmore. The revival did few favors for Rory as a character. She always had her defects and she had some of the most reviled storylines in the last three seasons of the show. Rory ended the seventh season getting her life, personally and professionally, back on track. But when we see Rory again in the revival, she is no longer the hard-working, grounded, and kind young woman she once was.
And, unfortunately, a key ingredient to one of her most unsympathetic storylines during the revival has to do with her wardrobe. Rory doesn't have a permanent place to live, so her closet is distributed among her friends and family. She spends most of her time hopping from house to house, looking for that one outfit she has to wear to an interview at Condé Nast, instead of preparing for said interview. In fact, she doesn't prepare for any interview or job she has in the revival, at all.
Her looks through the revival are a reflection of this. The outfits are very hit and miss and, if you ask me, a bit stuck in between the bad part of the '00s and '10s. Rory wears an array of ballet flats, ill-fitted jeans and weird blouses that seem more suited for a much older woman. On the positive side, some of her sundresses, sweaters, jackets, wedges, and coats are very beautiful and salvage her overall style a bit.
Rory's Style Recreation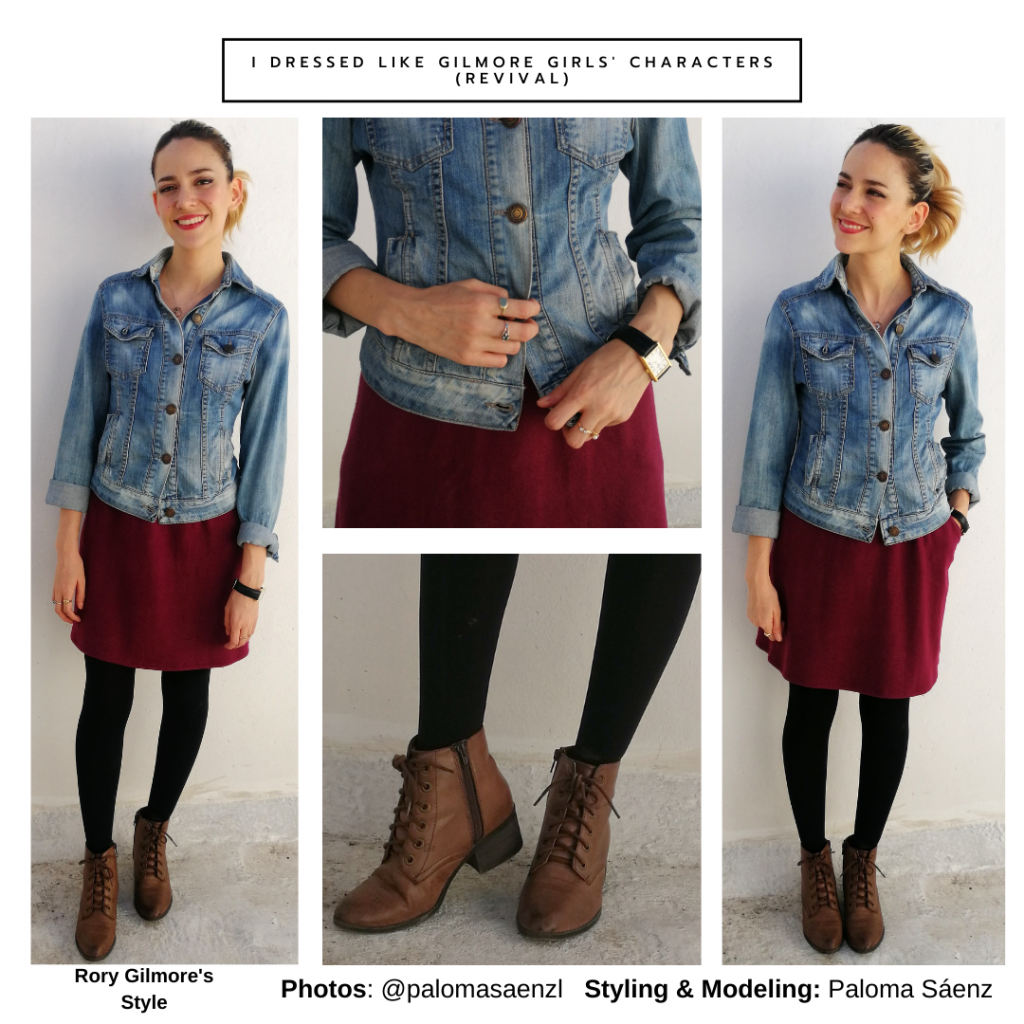 After a lot of back and forth with myself, I decided to recreate Rory's burgundy look from the Fall episode. I chose this one because, personally, I thought it was her best outfit, and I hadn't done a Rory outfit with a dress.
For the base of the outfit, I wore a burgundy A-line dress and a pair of black tights. Then, I used a blue denim jacket and buttoned it up. I borrowed all of these items from my sister. For shoes, I went for these brown booties with a little heel. Finally, I put my hair up in a ponytail.
I loooved this outfit! But not as much as my sister did. She absolutely adored it. While I liked the style and how it looked, there are a couple of details that I would change to make it more my style next time: I would wear an oversized denim jacket and maybe my Doc Martens, for example.
Also Read: Jess Day Outfits: How to Dress Like Jess from New Girl
Bonus Outfit! Saturday – Jess Mariano (Fall)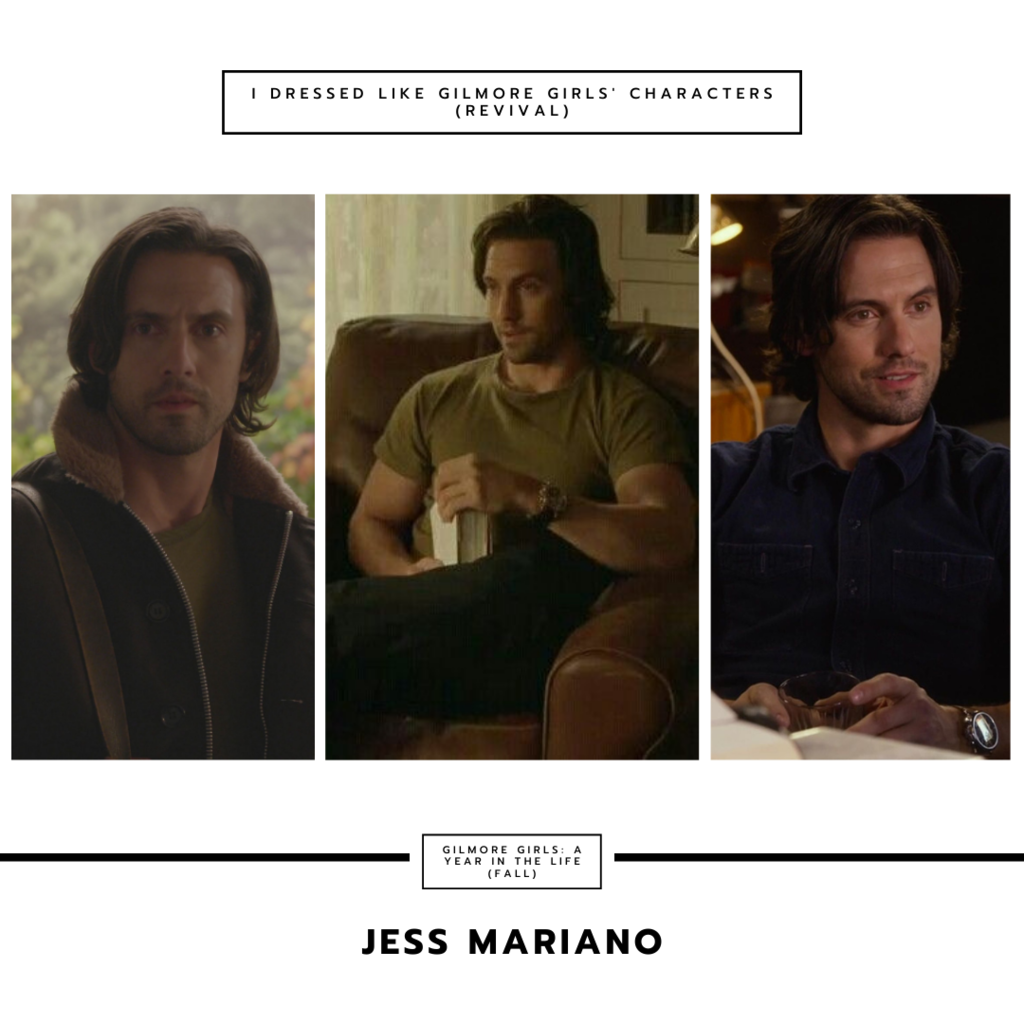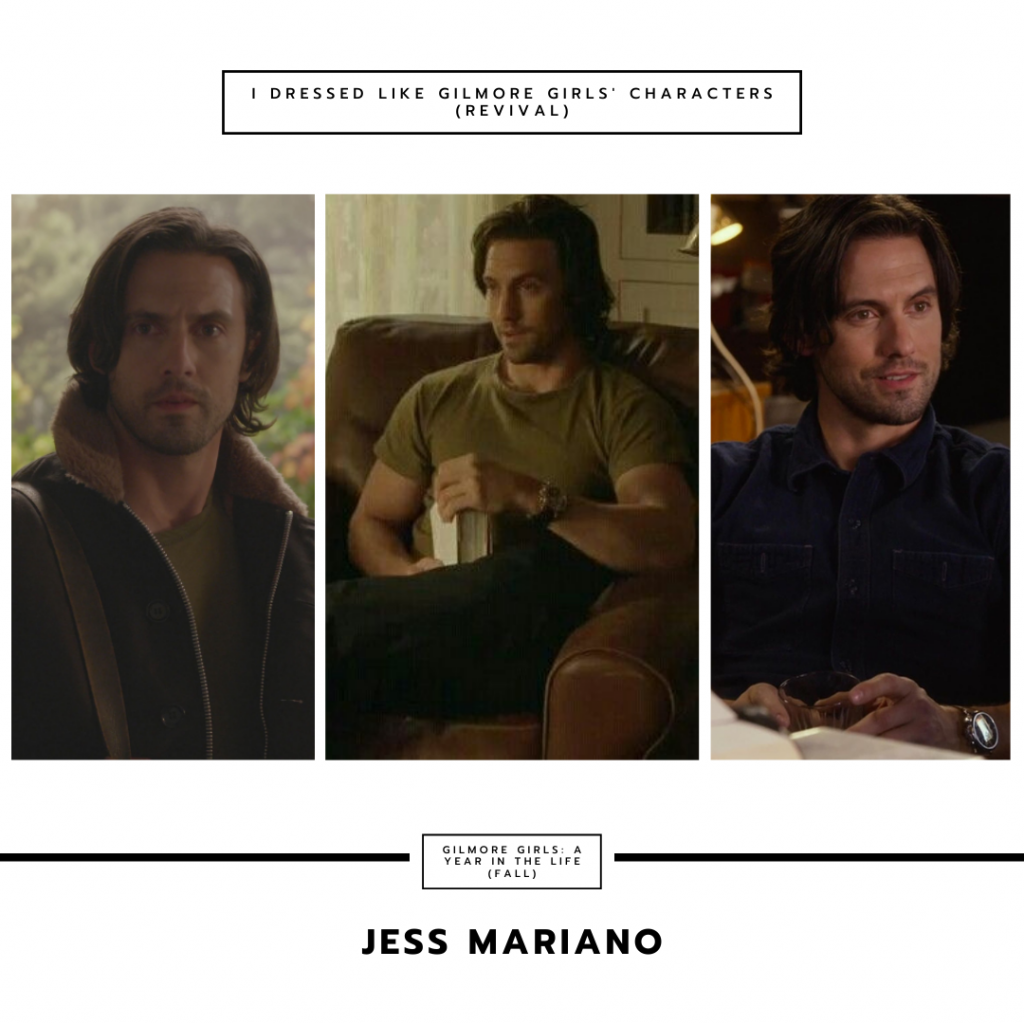 As a bonus, and because I had covered his uncle's style in my last post, I decided to do a Jess Mariano outfit as well.
Jess is one of the three most important love interests in Rory's life, and is also Luke's nephew. Aside from Emily, Jess is the character with the most consistent and major character development from the series as a whole.
Jess starts out as a brooding, incredibly intelligent slacker that breaks Rory's and Luke's hearts. For a character that started out as the poster boy for emotionally unavailable bad boy, Jess ended as the most centered, empathetic, and mature influence, not only in Rory's life, but in most of the characters' lives. He spends his on-screen time being a shoulder to cry on and handing out professional and romantic advice to his uncle and former girlfriend. He helps them get their lives back on track (Rory for a second time).
His outfits show this better than anything. His color palette is deep in the neutral zone, reflecting his calm and grounded nature in contrast to the loud, aimless, and quirky characters around him. Navy blue, olive green, black, and brown are his colors of choice.
Jess' Style Recreation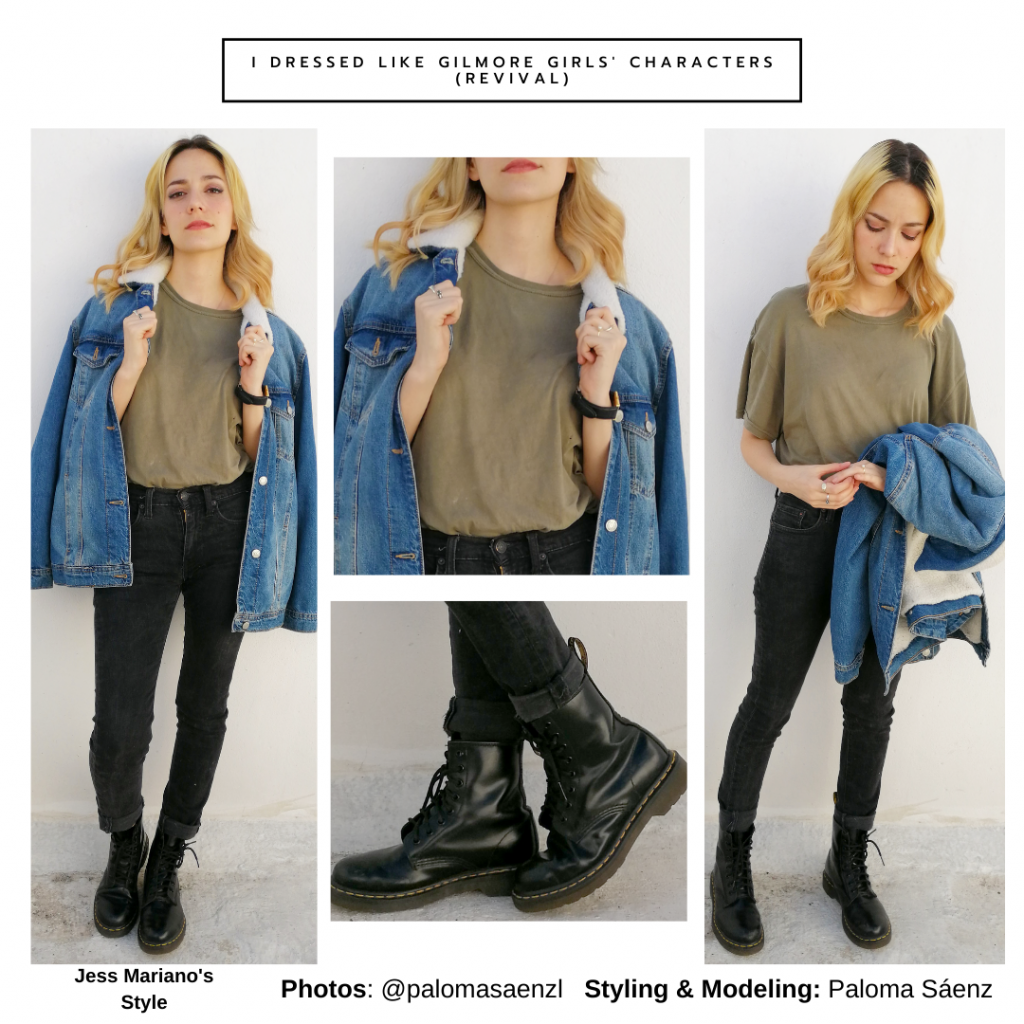 For my Jess outfit recreation, I chose his very last look from the revival, where he wears a green t-shirt, black jeans and boots, and a shearling jacket.
For my version of Jess' look, I used an oversized olive green t-shirt and a pair of black jeans. I don't have a jacket similar to his, so I wore a shearling denim jacket instead. Finally, I wore my black Doc Martens, again.
This was the look that was 100% my style. I have worn versions of this, and this specific outfit, multiple times before. It was comfortable, stylish and it is something I feel very much myself in. although, it has given me the mission of finding a jacket similar to his for this winter. So, if you have any suggestions, let me know.
Final Thoughts
This was a roller-coaster of a week, style-wise. It wasn't what I had planned at first, since the weather kept changing and I had to adapt and take the opportunities that it gave me. My favorite outfits were Lorelai's, Paris' and Jess' looks. All of them are very different, but I could see myself wearing them again.
Gilmore Girls: A Year in the Life gave me so much joy when it first came out. In spite of its problems, there are a couple of moments that I come back to over and over again. (Lorelai and Luke's wedding, anyone?)
While I was re-watching this time around, it got to me in a way that I couldn't have imagined when it first premiered. This summer, I lost my grandfather and I had a very similar relationship with him to the one Rory has with Richard. Watching the Gilmore Girls go through the same thing that I was dealing with, helped me cope a lot. It is actually what inspired me to create both of these posts, just to hold on to that feeling of being accompanied a bit longer.
If you want to get inspired by a Gilmore Girls character, I 100% recommend the revival episodes to do so. Except for Lane and Rory, that is — I would go to the original seasons if you want to get inspired by their looks. But either way, go for it. it will be so easy, stylish and comfortable.
What do you think?
Did you like the revival episodes? Which outfit was your favorite? Would you recreate a Gilmore Girls character style? Who would it be? Let us know in the comments below!