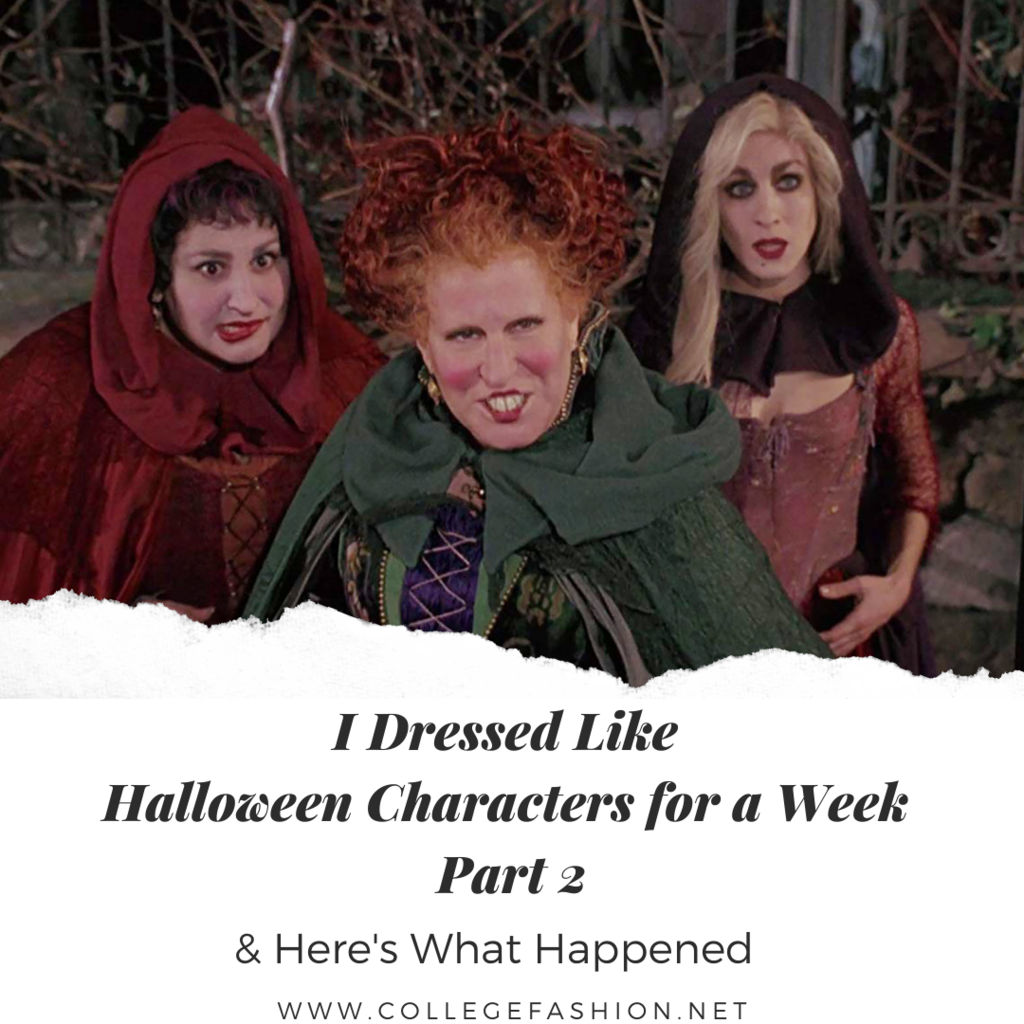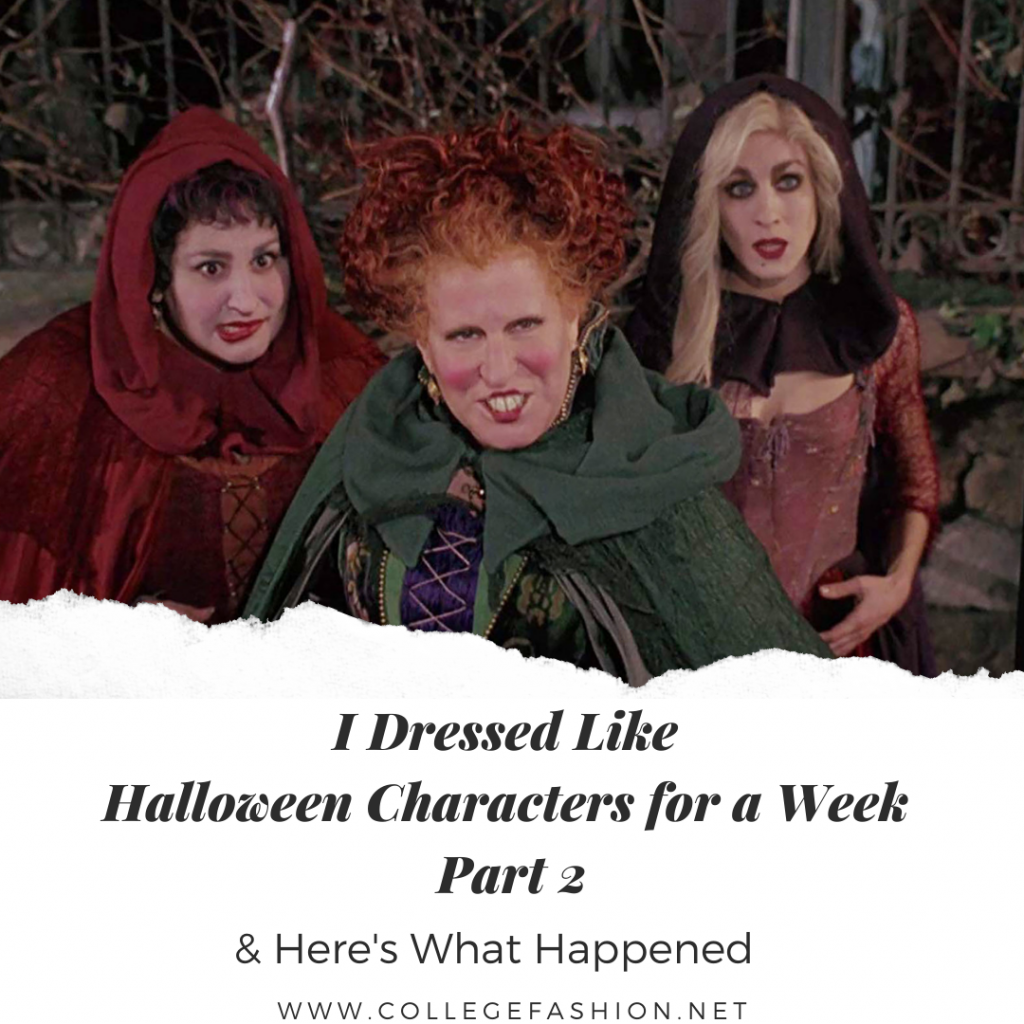 We've all looked to celebrity style for fashion inspiration at some point in our lives. But it's one thing to say "I love her outfit," and it's another to actually copy it in real life.
For this series, I'm going the extra mile and making it happen. Each week, I'm getting inspiration from a celebrity and copying five of her looks as closely as possible. Then, I'm reporting back to you: Did the outfits work in real life? Did I feel comfortable? Did people treat me differently? I'm sharing it all.
In past posts I've dressed like Zendaya, Gigi Hadid, Grace Kelly, Kendall Jenner, Vanessa Hudgens, Sophie Turner, Priyanka Chopra, Millie Bobby Brown, Hilary Duff, Lily Collins, Taylor Swift, Iconic Halloween Characters, Selena Gomez, Alexa Chung, Iconic Christmas Characters, Rachel Green Part 1 and 2, Queer Eye's Fab 5, Monica Geller, Little Women's Characters, Lucy Hale, Dakota Johnson and Gilmore Girls' Characters.
Since October is my favorite month of the year and it is almost Halloween, this week I took style inspiration from iconic Halloween characters.
Halloween Characters Pt. 2
Last year, I created outfits based on the style of five iconic Halloween female characters. I emulated the style of Clarice Starling, Nancy Prescott, Buffy Summers, Rosemary Woodhouse and Wednesday Addams. This year, I changed it up a bit and added two male characters to the mix. (Update 2021: I did a Part 3 to this series, which you can check out here.)
Just like the last post, the outfits will not be an exact recreation or a costume. I will take inspiration from the character and create an everyday look based on their overall look.
With that said, let's get started!
1. Lydia Deetz, Beetlejuice (1988)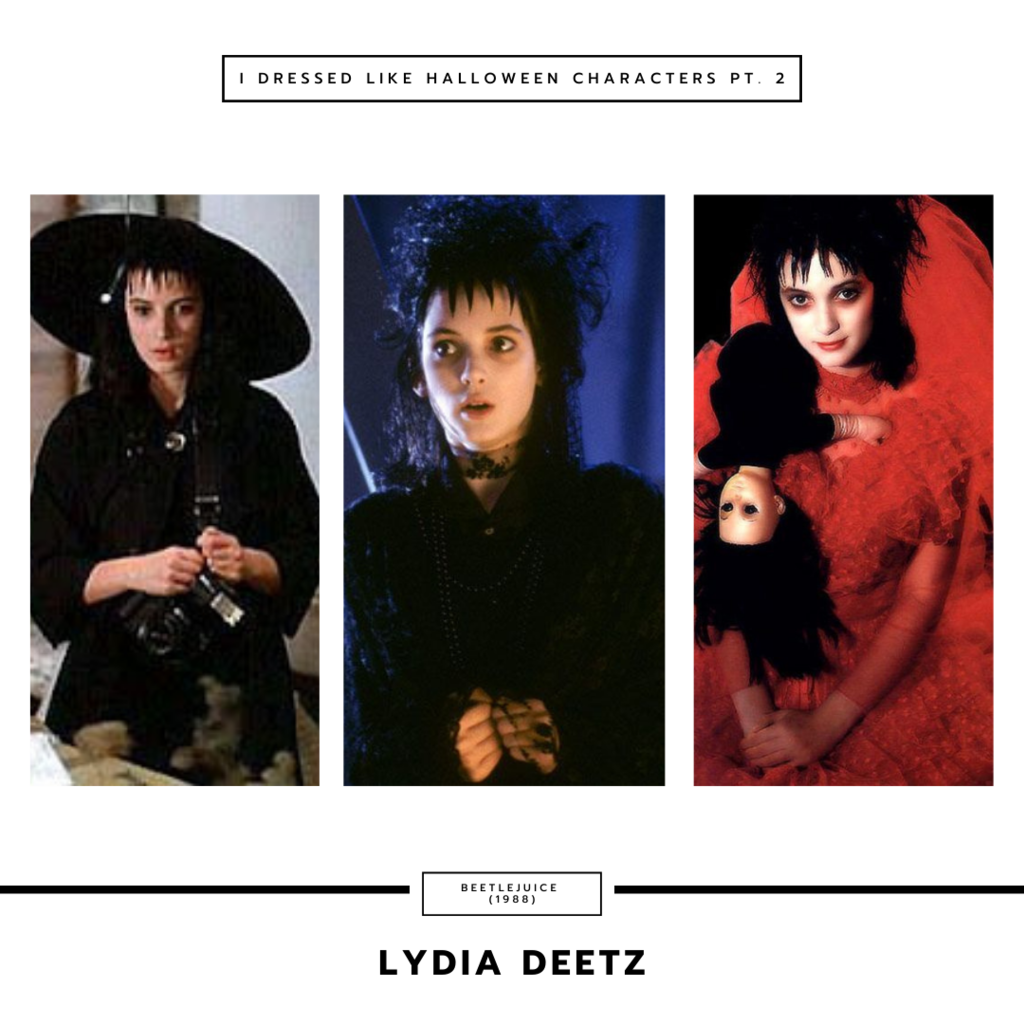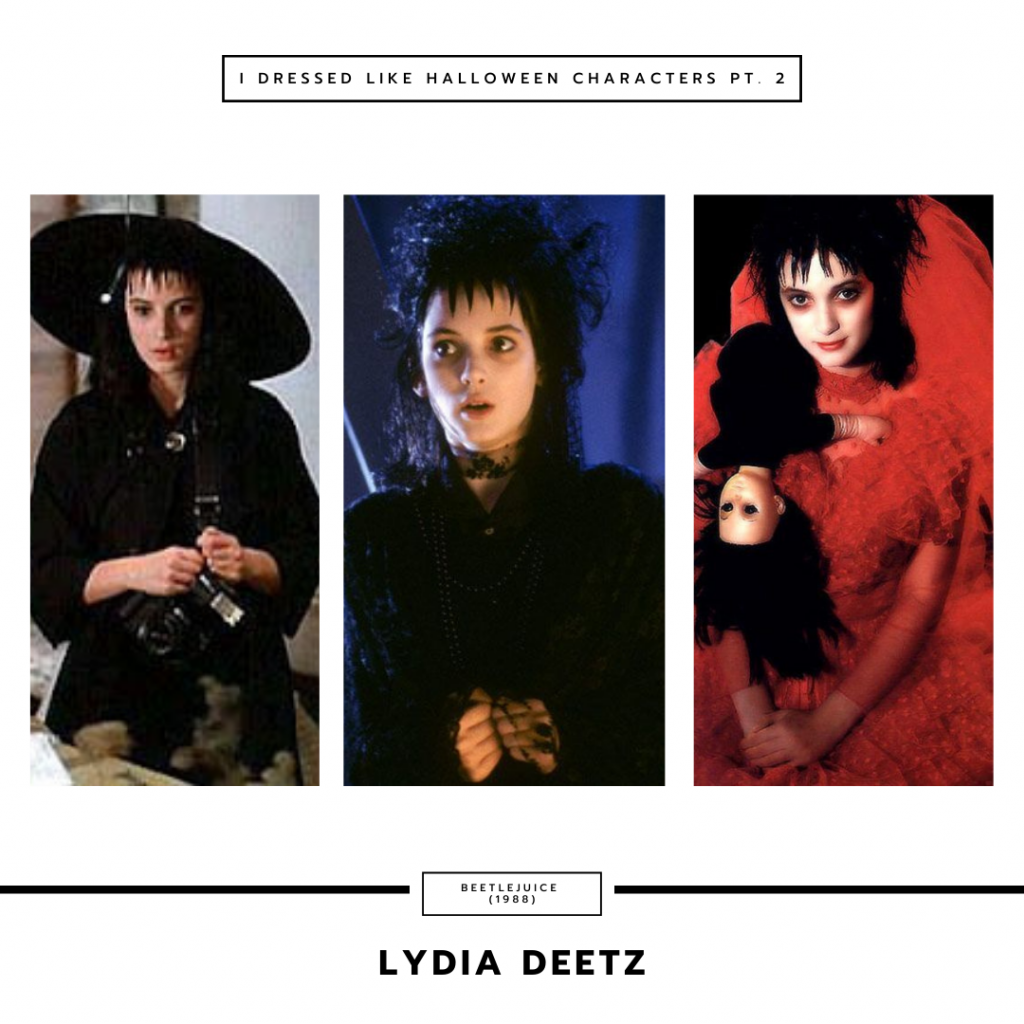 I started the week with one of the most iconic Tim Burton characters, Lydia Deetz.
Beetlejuice premiered in 1988 and it quickly became a classic. The film stars Michael Keaton, Winona Ryder, Catherine O'Hara, Alec Baldwin, and Geena Davis. Keaton has stated this has been his favorite project to work on.
Lydia Deetz, played by Winona Ryder, is the human protagonist of the film. She's a goth girl who's obsessed with death. As a result, most of her outfits through the movie are all-black ensembles, except for the red wedding dress Betelgeuse dresses her in.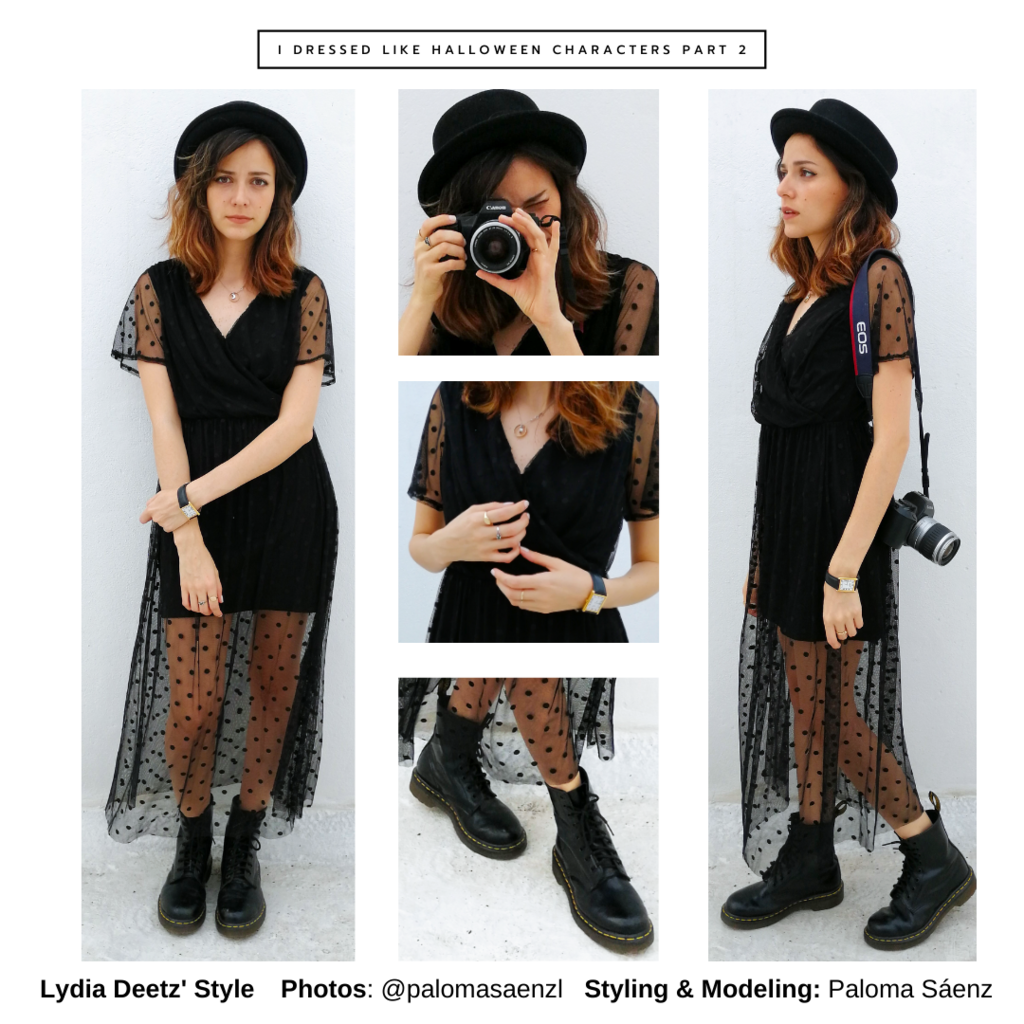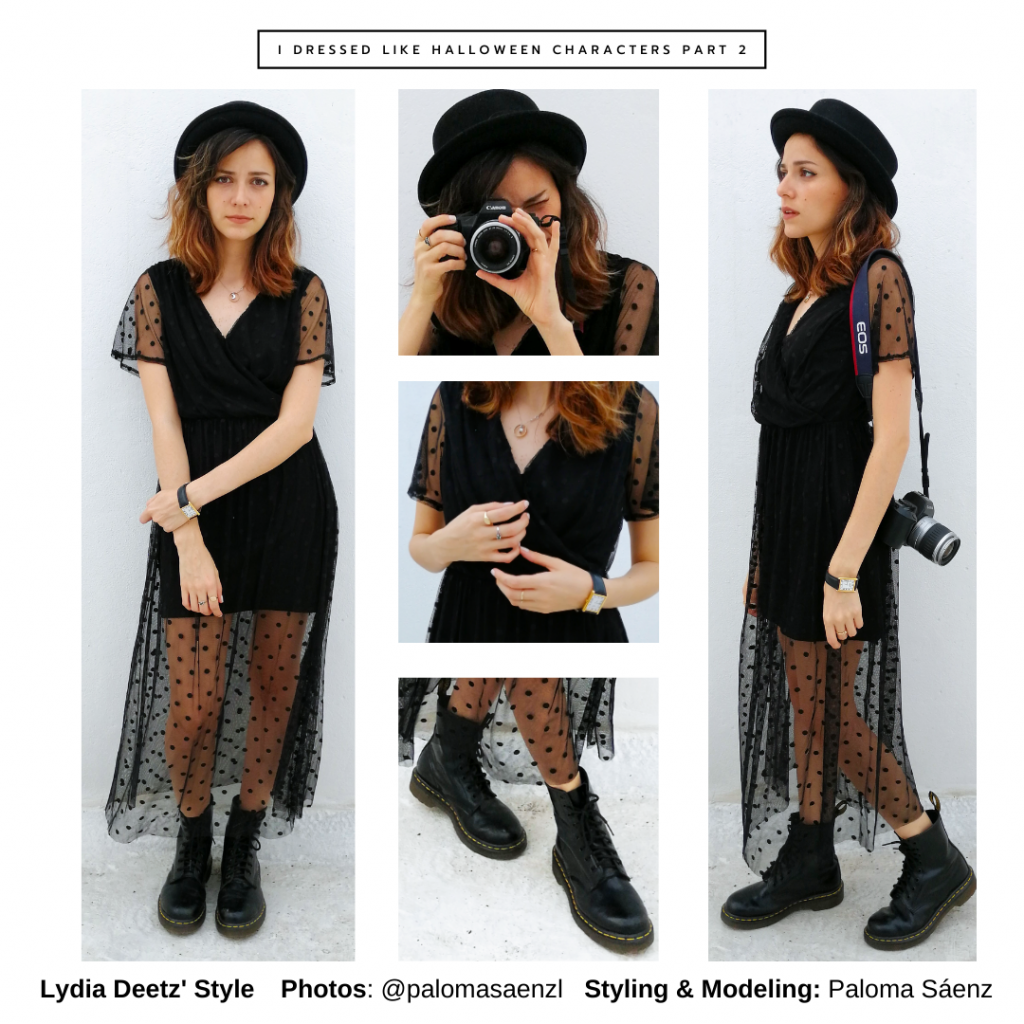 Similar items: Dress, Hat, Boots, Purse
For my Lydia inspired outfit, I wore a black midi dress. It has a lot of lace detailing and it's really loose and flowy, so it was perfect to emulate Lydia's goth looks. I borrowed a black hat from my brother to accessorize and used my black Doc Martens. Finally, I took my camera everywhere that day, since Lydia carries her around for a while in the film.
I really liked this look! I had worn this before, but the hat added an extra something to it that I really loved. The outfit was very comfortable and I felt so put-together and stylish.
Lydia's a goth, but I wanted to make this as everyday-wearable as possible for as many people as possible. As a result, I decided to not do a very heavy, messy, black eye-makeup for this, since most of us wouldn't do it anyways. I also skipped doing my hair, to keep her unkemptness in a bit.
2. Michael Myers, Halloween (1978)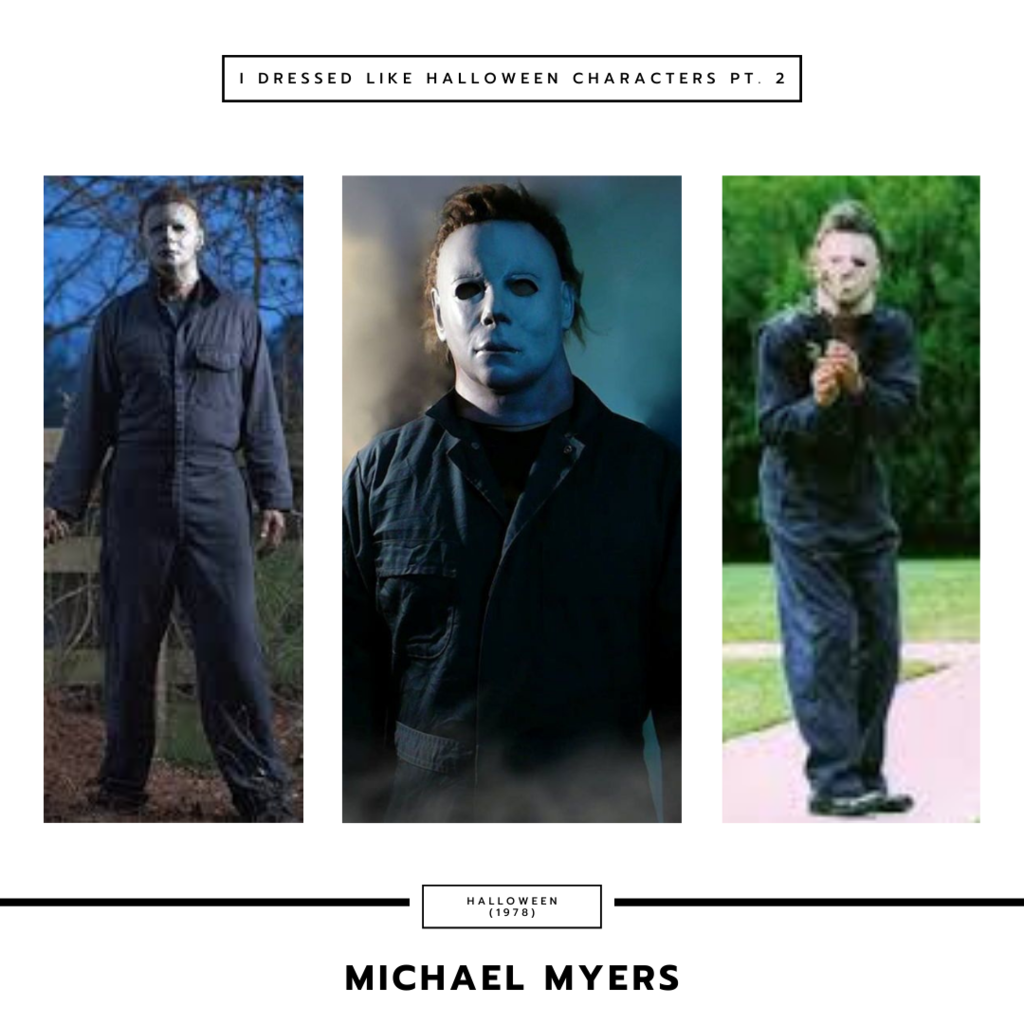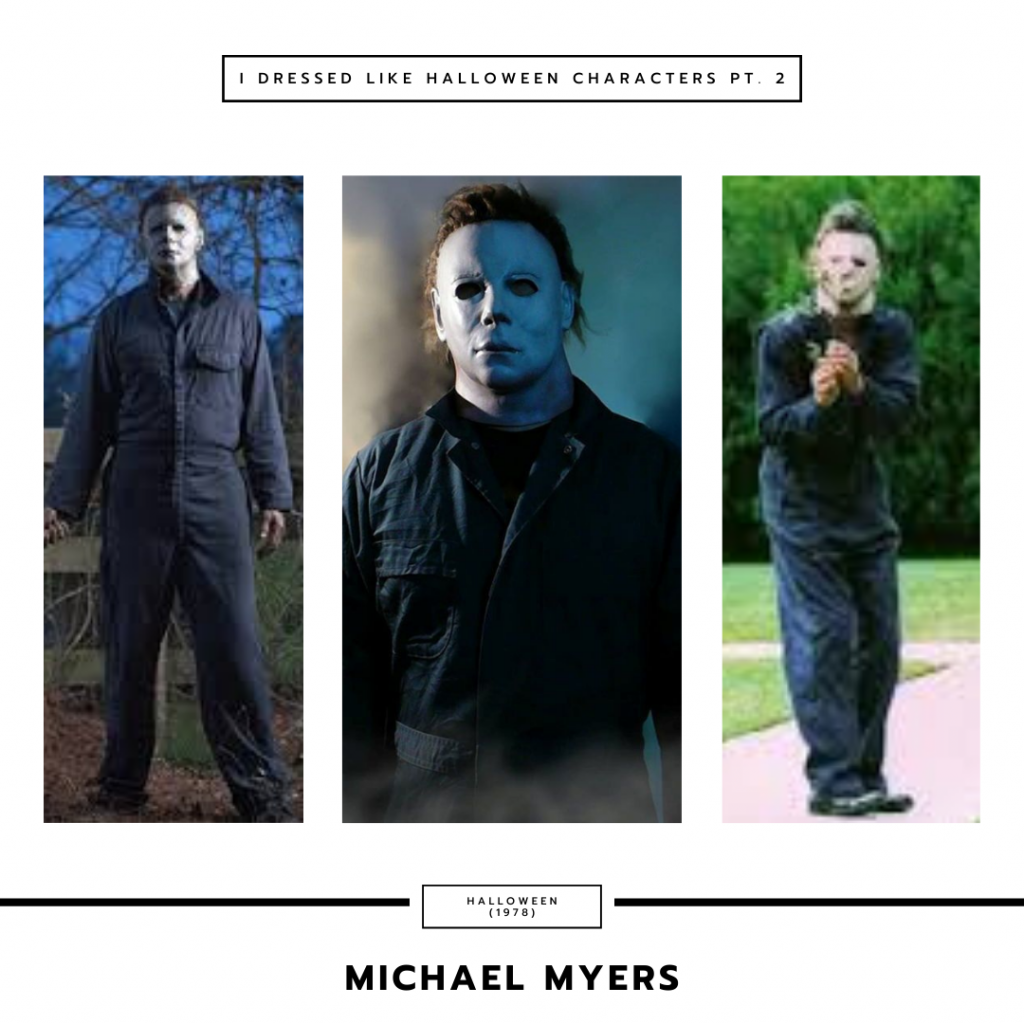 One of the original slasher films, Halloween premiered in 1978 and became Jamie Lee Curtis' star-making role.
While it isn't the first movie of its kind, Halloween is the codifier for the horror genre and is credited with the revival of the horror genre. It spawned a multi-film franchise, that even crossed over with other slasher movie villains, like Freddy Krueger and Jason Voorhees.
For Tuesday, I decided to emulate the original slasher killer, Michael Myers. Michael is a terrifying and unstoppable figure. Since Michael just escaped an asylum, he is only seen in a dark blue jumpsuit, a pair of black boots and his famous mask.
My 'Michael' outfit was by far the most challenging to create. First of all, I had to see what type of style I could do. Unlike the rest of the characters in this post that have very specific styles, (Lydia is a goth, Kat's a '90s girl, etc.) Michael doesn't have a style; he just has clothes. I opted for a comfy, street-style type of look for this one.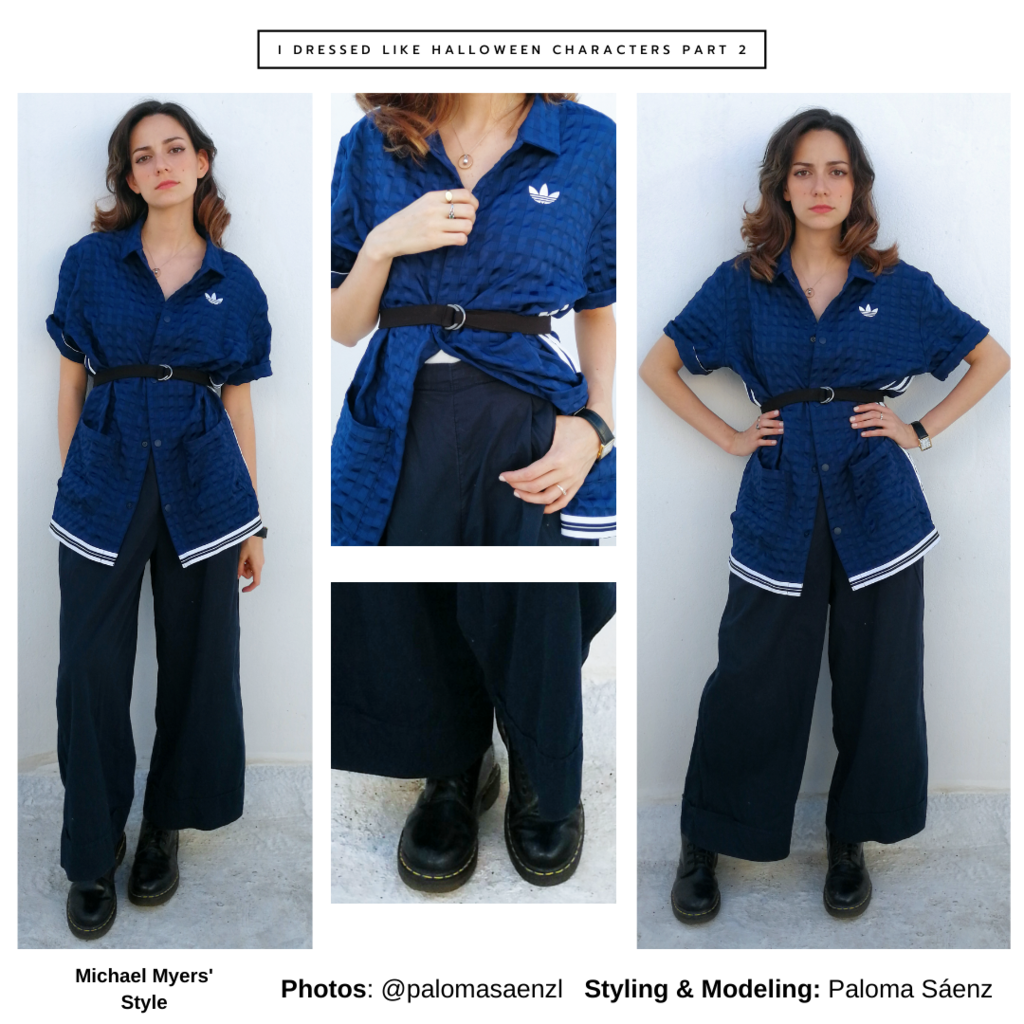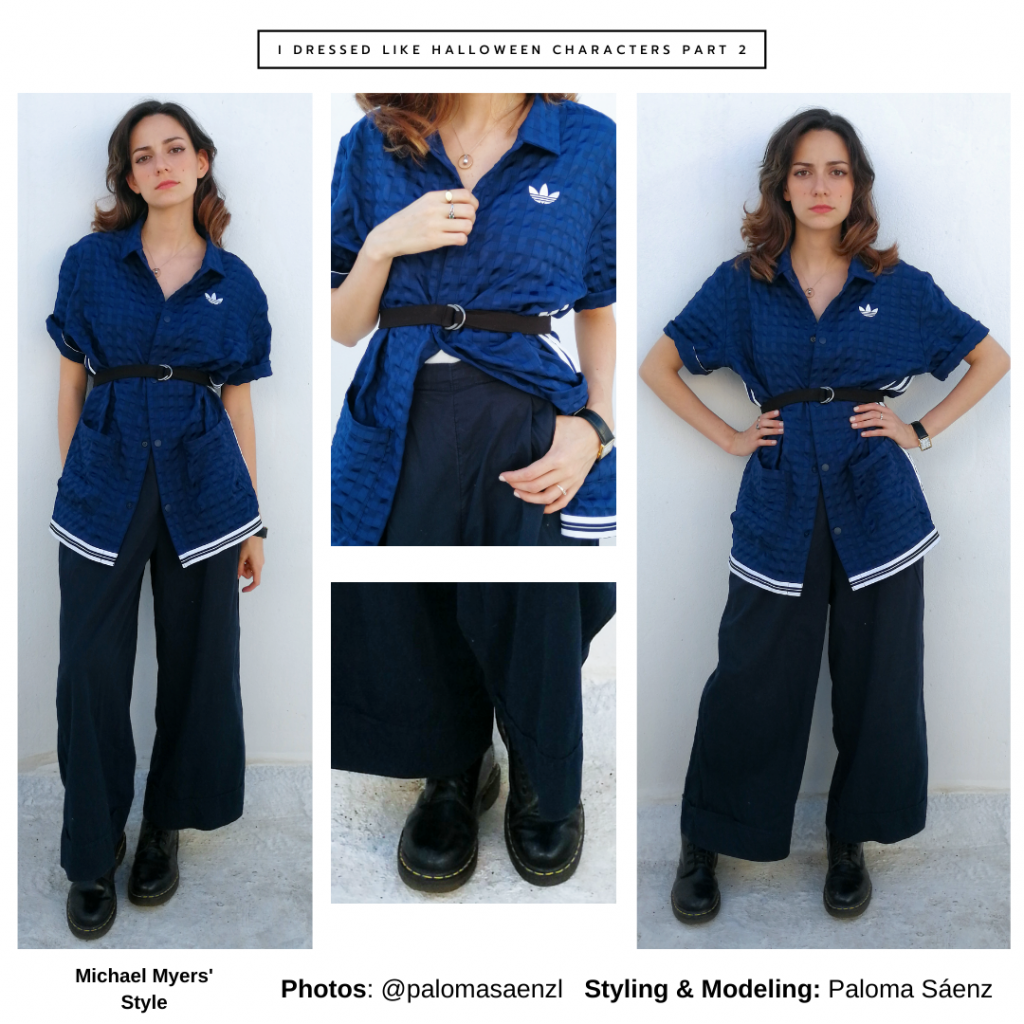 Similar items: Pants, Shirt, Boots
For my Michael outfit, I wore a pair of long blue culottes with an oversized blue Adidas shirt. I buttoned the shirt half-way down and then cinched it with a navy blue belt. I felt like I needed to do that because I would've been swimming in fabric otherwise. Finally, I wore my black Doc Martens to emulate Michael's boots.
I absolutely LOVED the final look! It was a challenge, since I didn't want to buy a blue utility jumpsuit, because I knew I wouldn't wear it again. Plus, I didn't own anything remotely similar or that could be reinterpreted for a 'Michael' look. So I ended up borrowing these items: the pants I borrowed from my sister and the shirt from my brother.
The end result was more street style-oriented than any other outfit I've done before. It sorts of reminded me of the minimalistic mode, a very popular street-style in Japan. This sort of style tends to go for monotone color palettes, genderless items, un-cinched or boxy items, and layering outfits.
3. Kat Harvey, Casper (1995)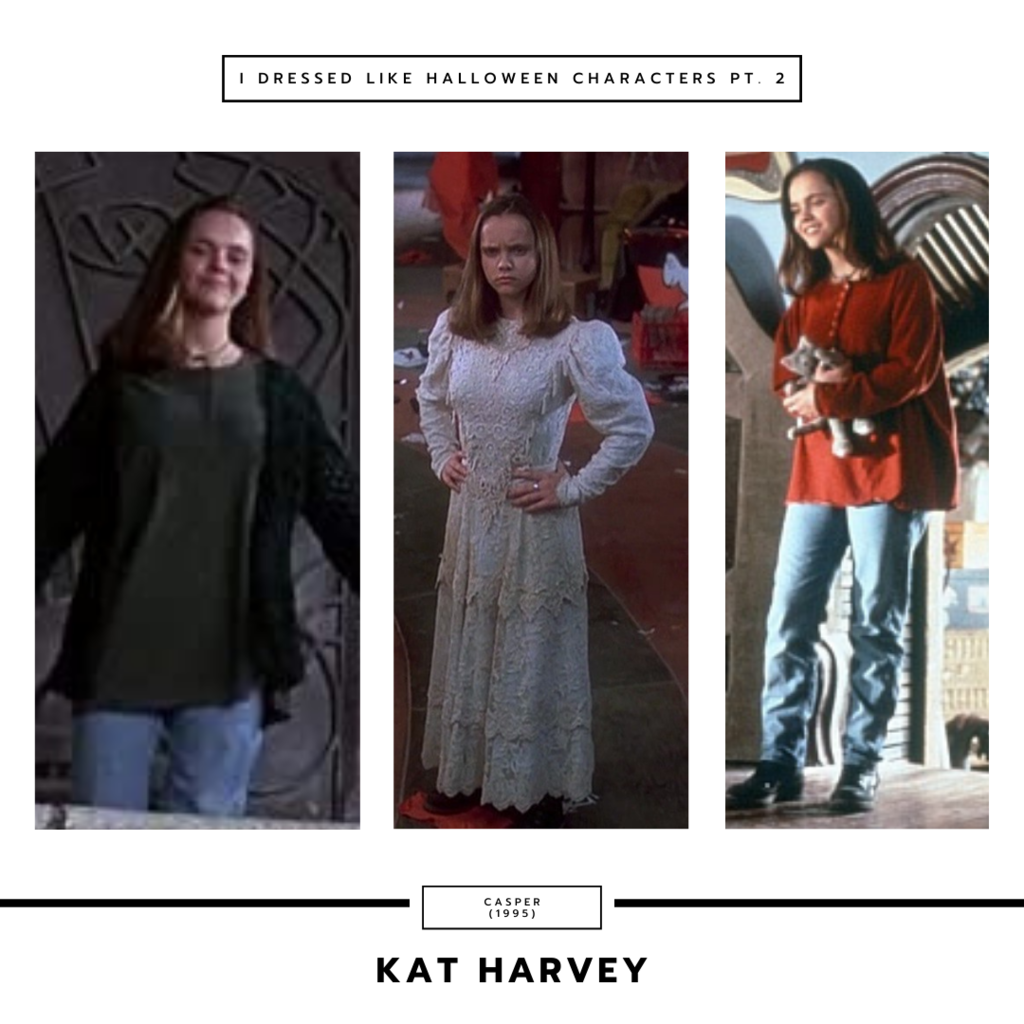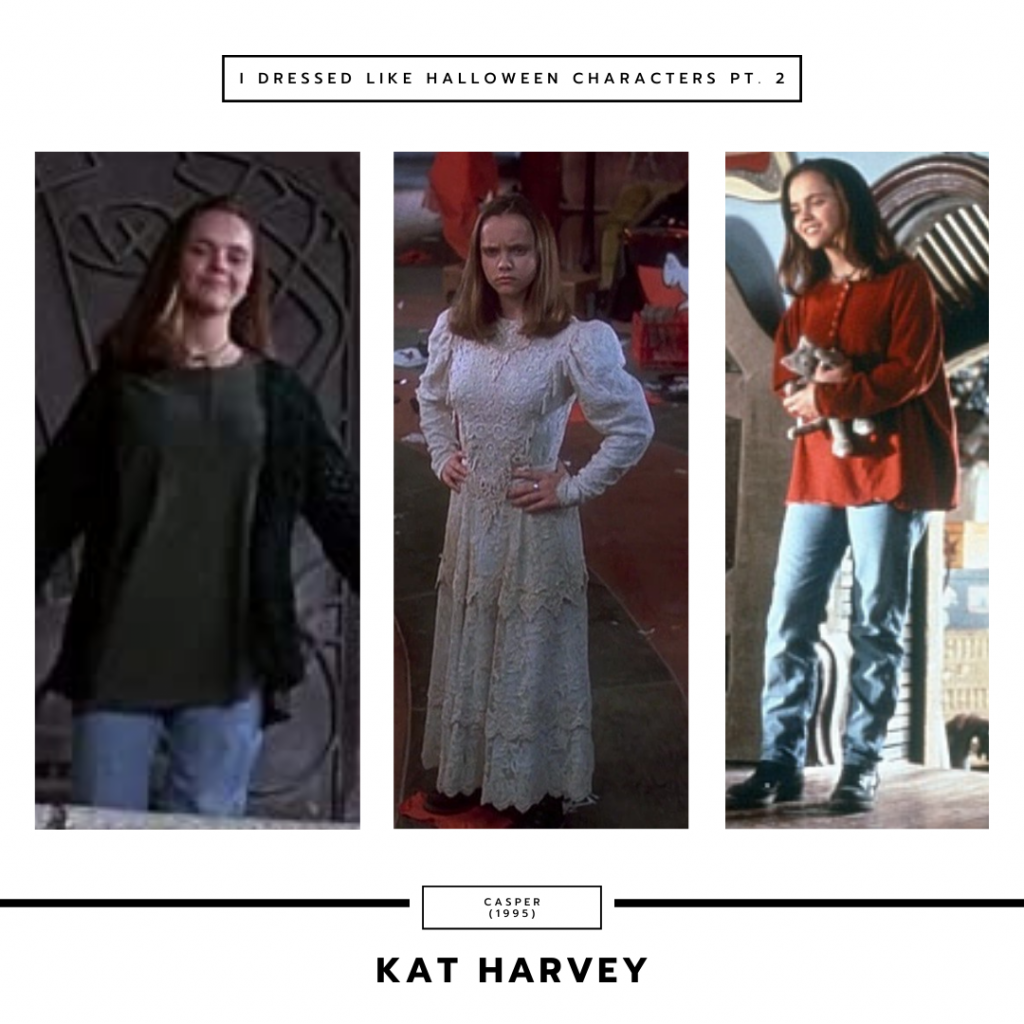 Casper premiered in 1995 and it is the live-action adaptation of Casper The Friendly Ghost comics and cartoons. It stars Christina Ricci, Bill Pullman, Eric Idle, and Cathy Moriarty, with a brief but memorable cameo by Devon Sawa.
For my Wednesday outfit inspiration, I chose Kat's style. Kat is the female protagonist of the film and she's played by Christina Ricci.
Kat's outfits are pure mid-'90s style: mom jeans, chunky boots and shoes, button-up shirts and sweaters, chokers and oversized shirts. Her only off-style outfit is the famous white dress she wears at the end.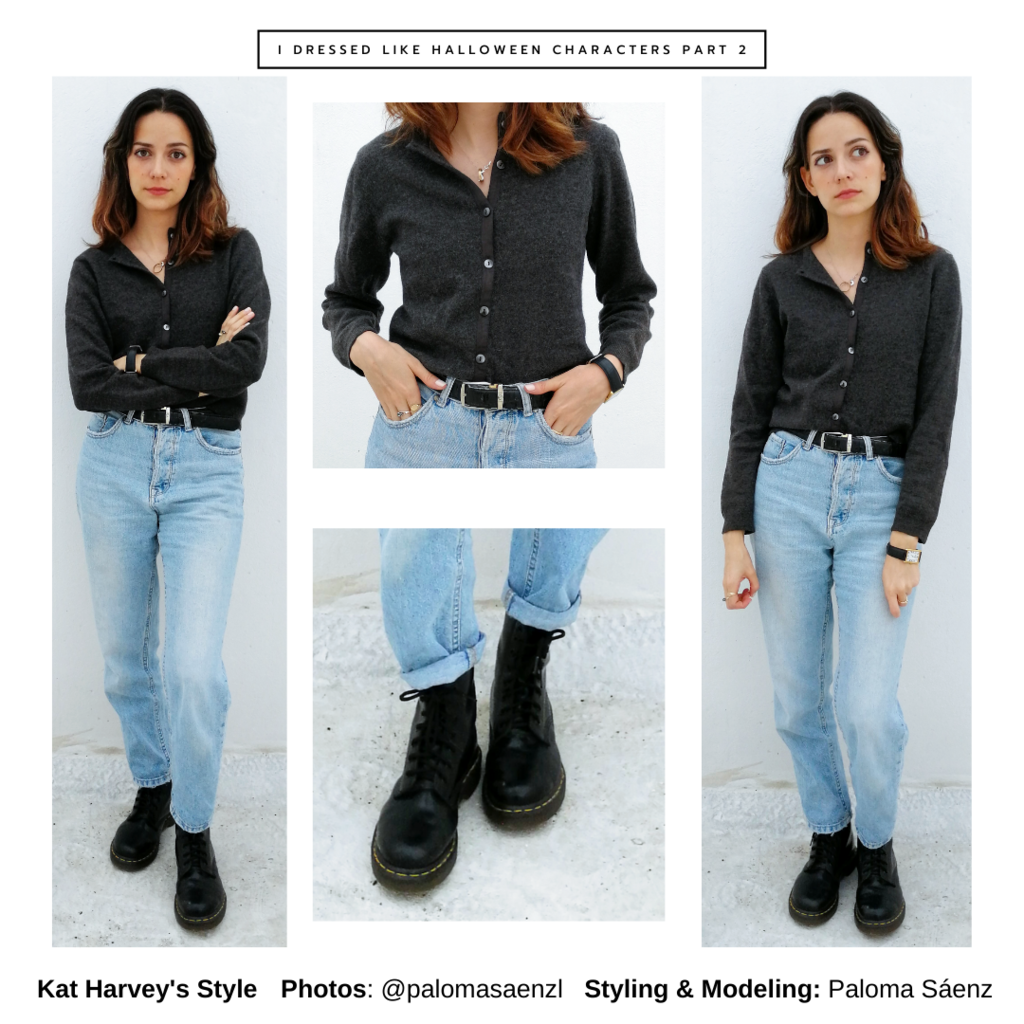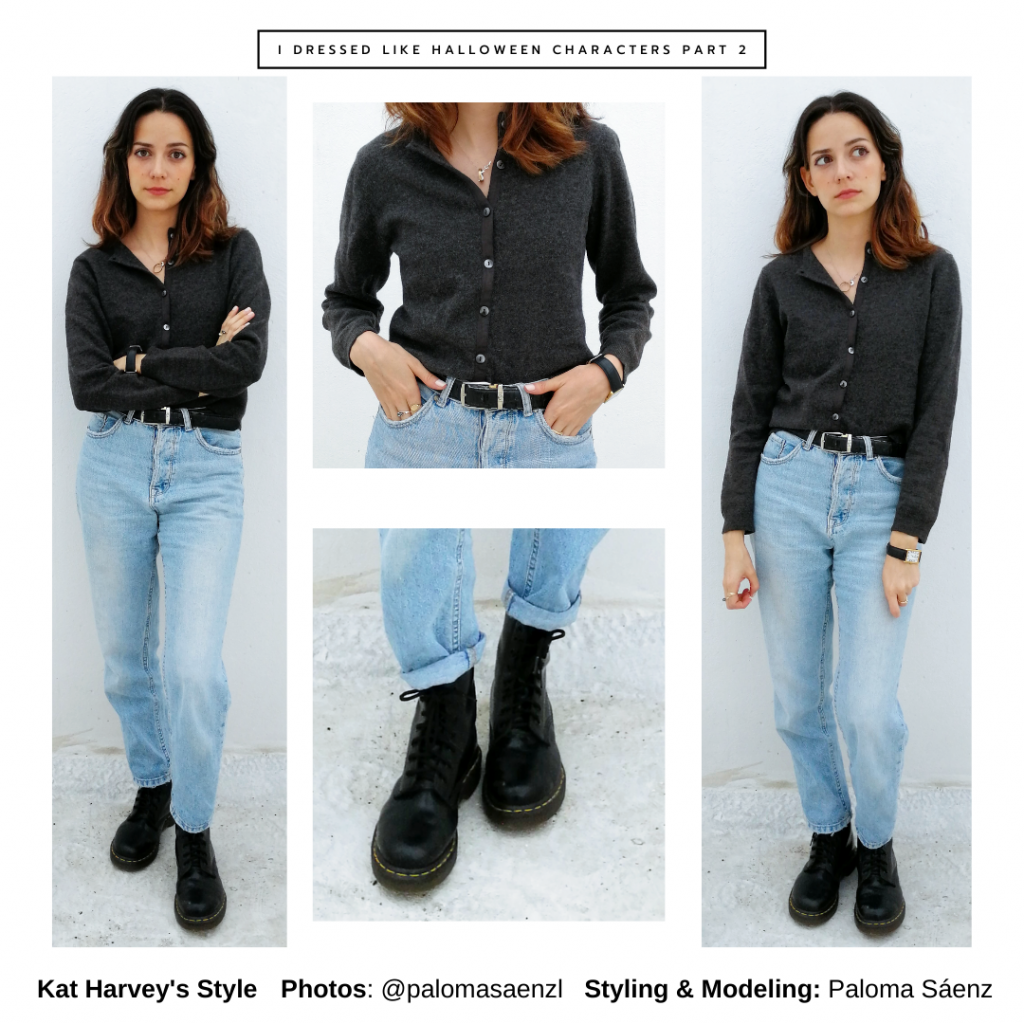 Similar items: Jeans, Top, Shoes, Belt
It was really easy to create Kat's look. I took a simple dark grey cardigan and buttoned it up to wear as a top. Then, for bottoms, I added a pair of mom jeans and did a French tuck. I wore my black Doc Martens, again. Finally, I accessorized with a black belt to make the look a bit more put together.
This was a simple, comfy look. While it was easy to recreate and I've worn versions of this type of outfit before, I felt it a bit underwhelming for my taste. Maybe I should've worn a red sweater instead, layered something on top, or added an extra accessory.
4. Georgie Denbrough, It (1989/2017)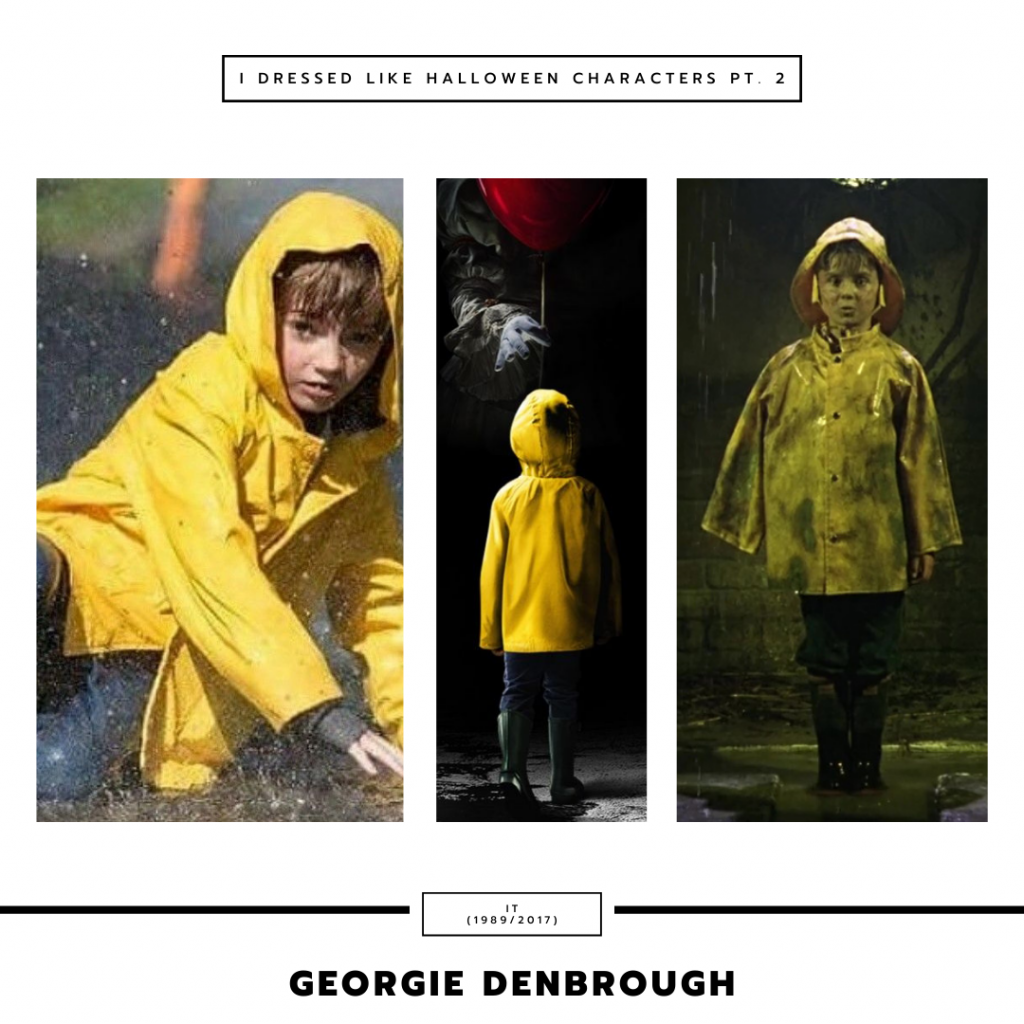 It is a novel written by horror master, Stephen King. Like many of his works, it has multiple adaptations: a mini-series from 1989 and a film adaptation from 2017.
Sometimes the most memorable character of the film is the first to die. And that's exactly what happens with It 's Georgie Denbrough, my choice of inspiration for Thursday.
Georgie is the first victim we see on-screen and it is one of the most heart-wrenching, if not the most heart-wrenching, scenes of the film. Since he appears only for a few minutes, his look is pretty much one: jeans, rain boots, a yellow raincoat and a sweater.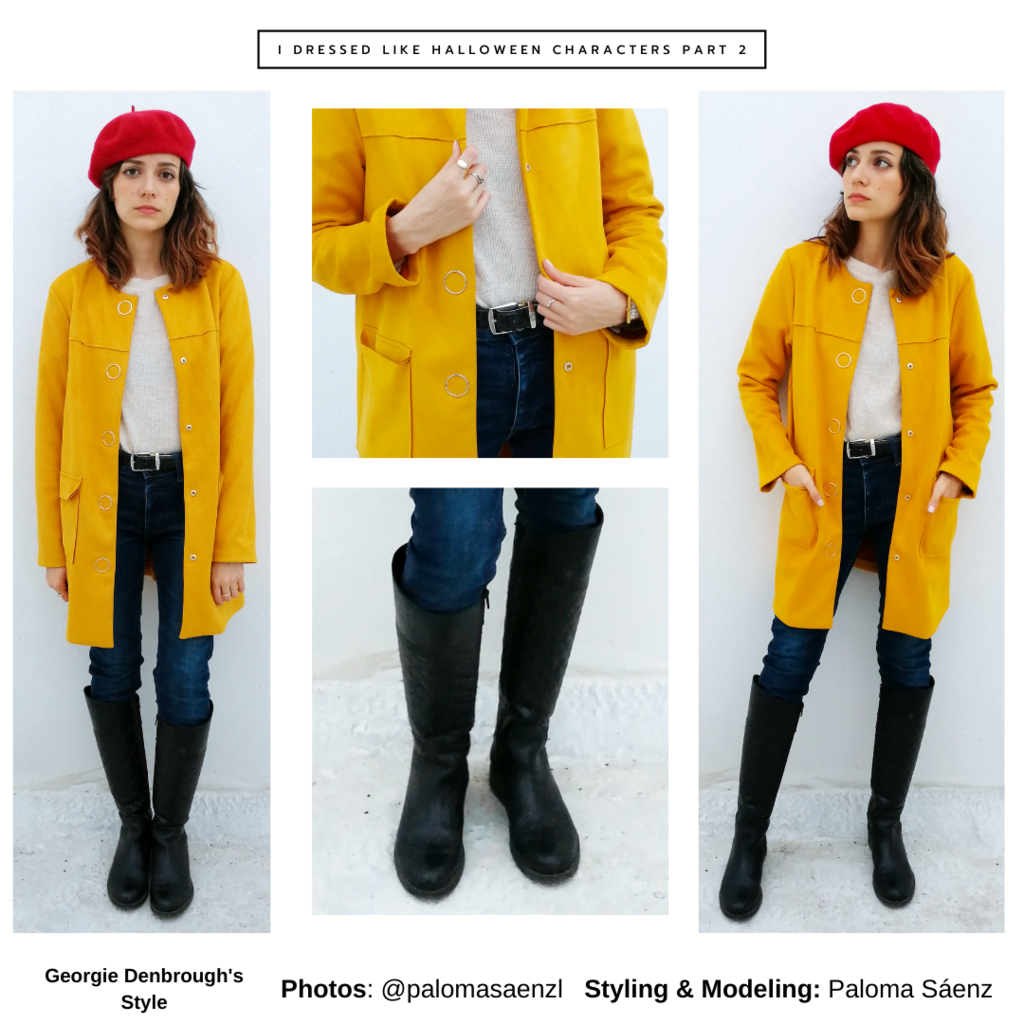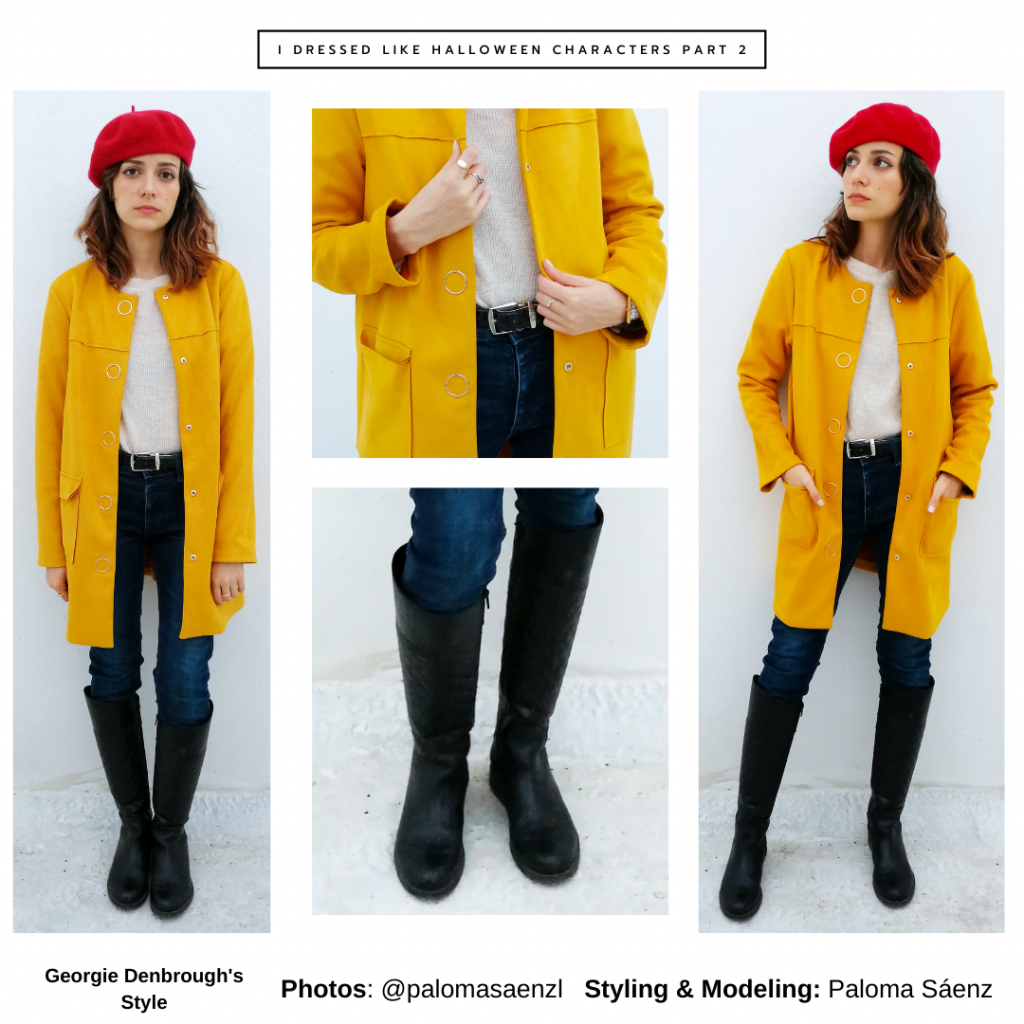 Similar items: Sweater, Jeans, Coat, Boots, Beret
In order to create Georgie's look, I concentrated on the color palette associated with him more than anything else. For the base of the outfit, I wore a simple beige sweater and a pair of dark wash jeans. On top, I used a yellow coat, to emulate Georgie's raincoat.
In the movie, he is wearing a pair of green rain boots, but I don't own a similar pair and it didn't make sense to wear a pair of rain boots since it isn't raining. As a result, for shoes, I settled on a pair of black riding boots. Finally, I wore a red beret to emulate the red balloon It offers Georgie and you can see in the poster.
This was a perfectly put-together, pretty outfit. It was also very fall-winter, which was ideal for this time of year. Personally, I would've worn other boots, maybe a pair of black ankle boots, and a t-shirt instead of the sweater, because it isn't that cold and it did get hot through the day.
5. Winifred Sanderson, Hocus Pocus (1993)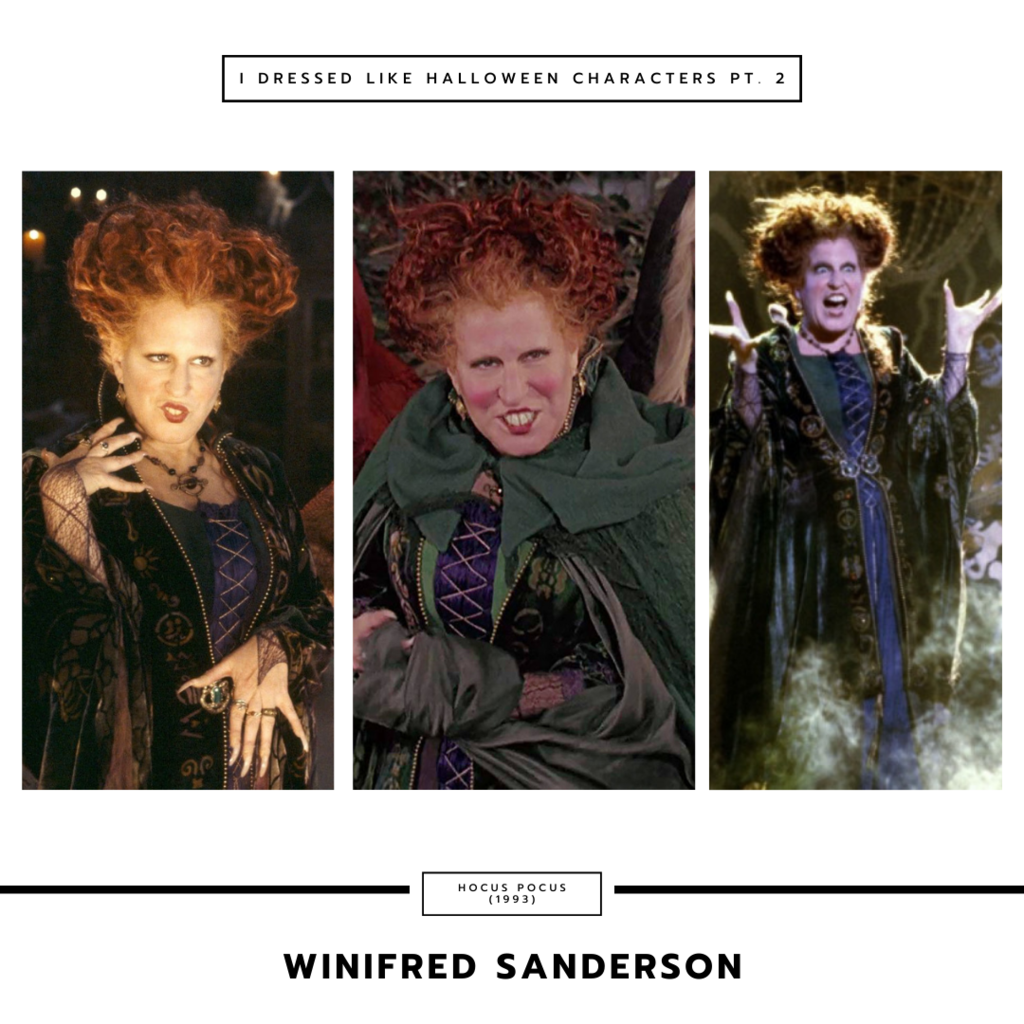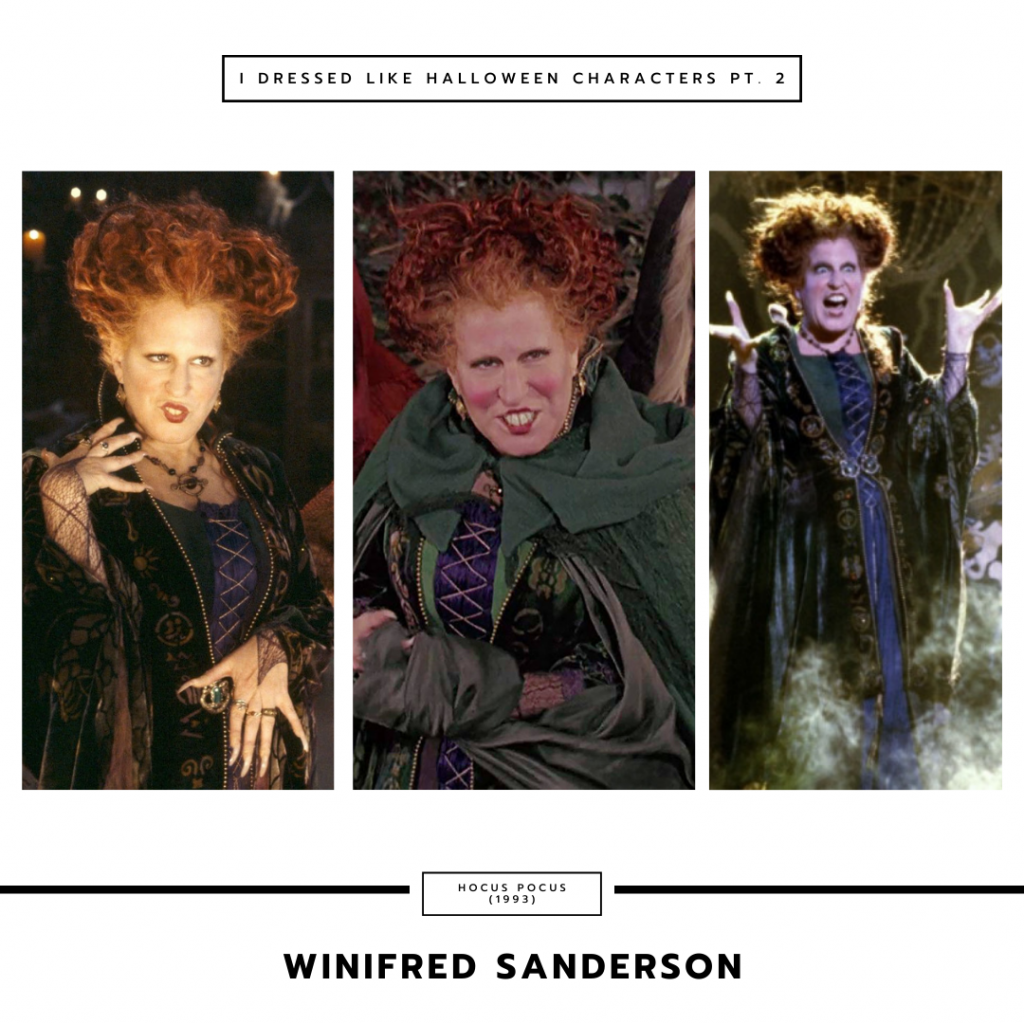 Finally, for Friday, I chose one of my absolute favorite Halloween movies: Hocus Pocus.
One of the most popular Halloween movies ever, Hocus Pocus premiered in 1993, directed by Kenny Ortega. The film stars Bette Midler, Sarah Jessica Parker, and Kathy Najimy as the villainous Sanderson Sisters.
For my style inspiration, I chose my favorite character, Winifred Sanderson. Winifred, played by the wonderful Bette Midler, is the leader of the witches and most dangerous antagonist of the film. Since the events of the movie only span one night, Winifred's look is just one. She wears a green dress, heeled boots and a green cape.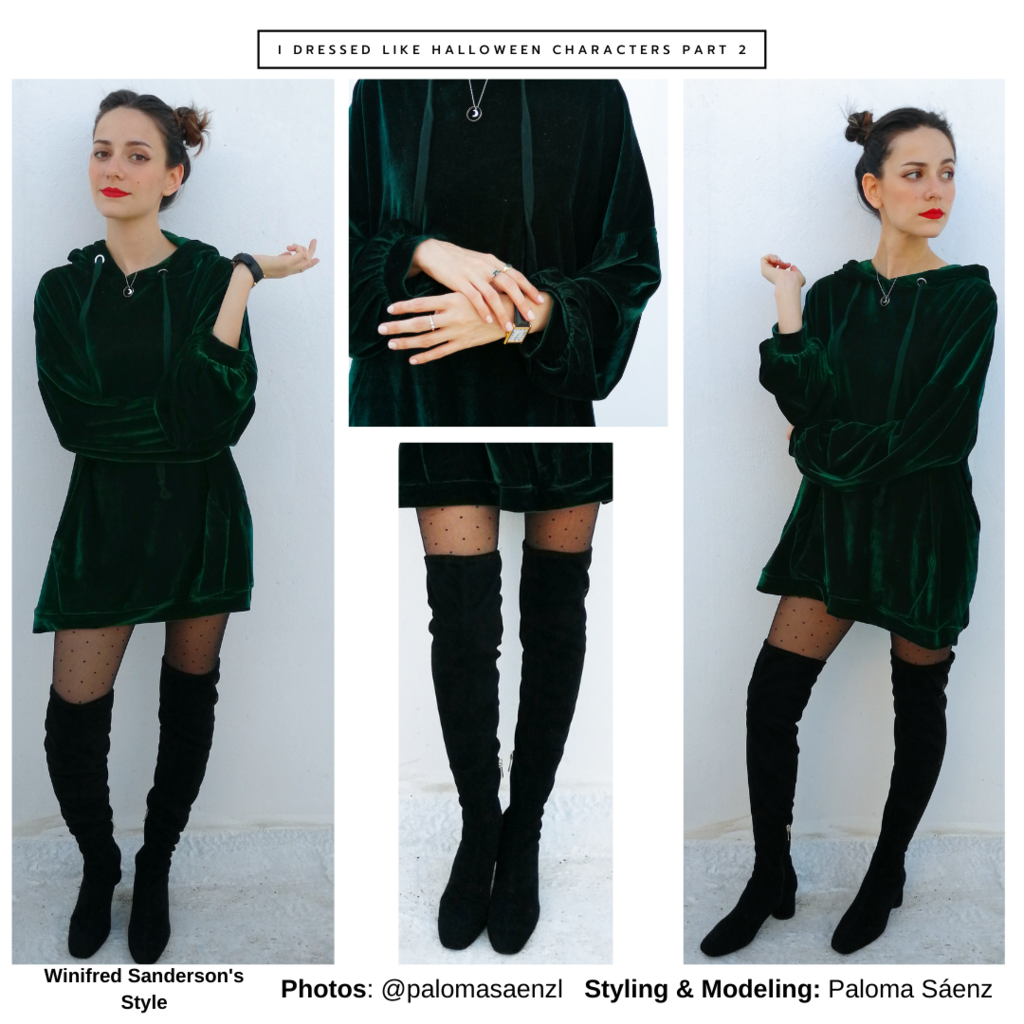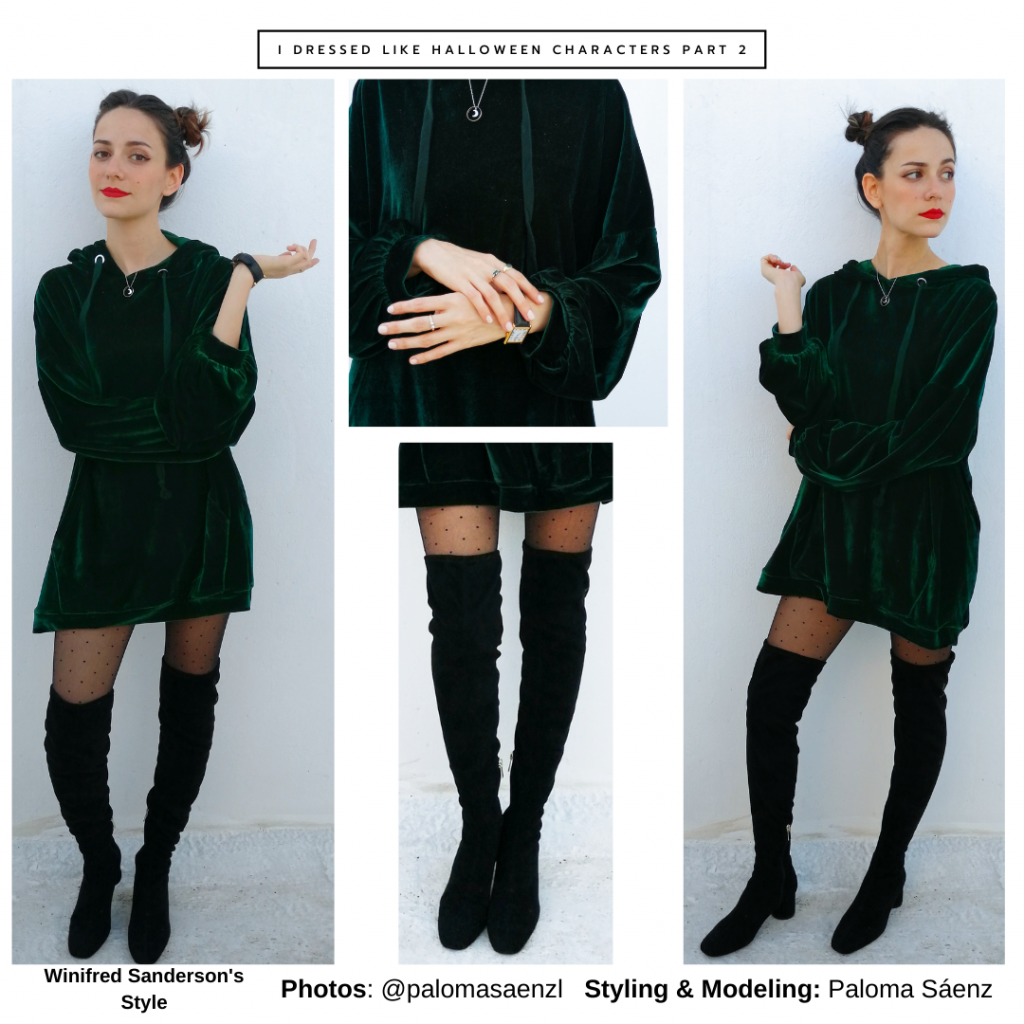 Similar items: Dress, Boots, Tights
Honestly, this was the easiest recreation of the week. Winifred's whole vibe is about green velvet and witchy items, without losing her edginess or femininity. And, after going through my closet, I realized I actually had a lot of green items to choose from.
As a result, I wore an oversized hoodie in green velvet. Since it is such a big hoodie, it functioned as both Winifred's dress and cape. Then I wore a pair of polka-dot black tights and a pair of black over-the-knee boots. Finally, I put my hair up in two buns, to emulate her hairstyle, and wore red lipstick like she does.
I adored this outfit! Hands down, it was my favorite. It was everything I wanted and stylish. It might not look it, but it is very comfortable. It was also very weather-appropriate: it kept me warm when it was colder in the day and it was breezy enough to not suffocate me when it got warmer. I will definitely wear it again!
Final Thoughts
This was a fun week, style-wise! I think I covered more styles this week than I have ever done. None of them were similar, in vibe or color palette. While some of them had an item in common (the Doc Martens), they all had vastly different outcomes and it didn't feel like I was doing the same thing over and over again.
Personally, I loved Michael's and Winifred's outfits the most. While I can't add the former to my usual rotation, since the main items are not mine, I will add the latter to my fall-winter looks. For the rest of the outfits, I liked them and, like I said, I had already worn versions of them before.
If you want to recreate this looks, or something similar, I left the links to do so under each recreation. It won't be an exact replica of what I'm wearing, but I tried to find items you could use to recreate the character's style as closely as possible.
What do you think?
Which outfit would you wear? Have you seen these movies? Which recreation was your favorite? Do you have any celebrity, show or character you'd like to see in this series? Let us know in the comments below!