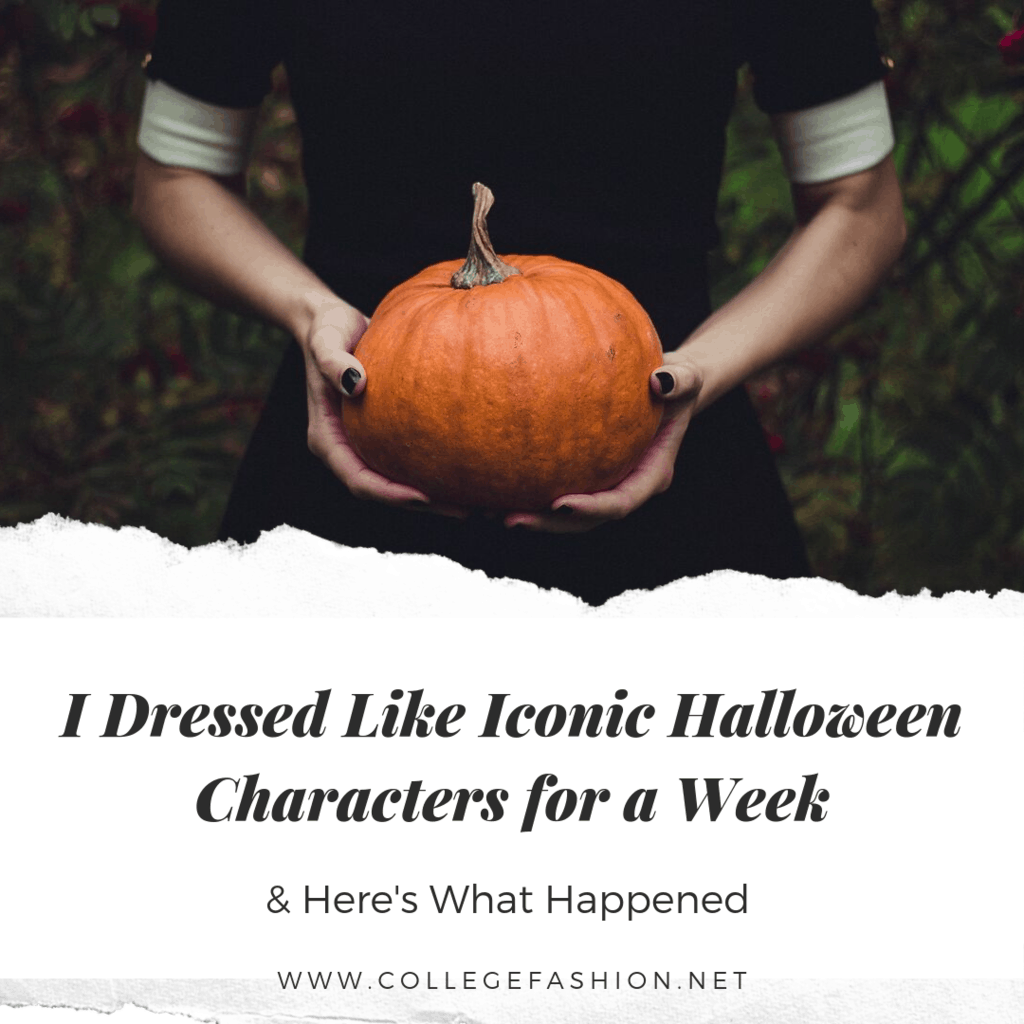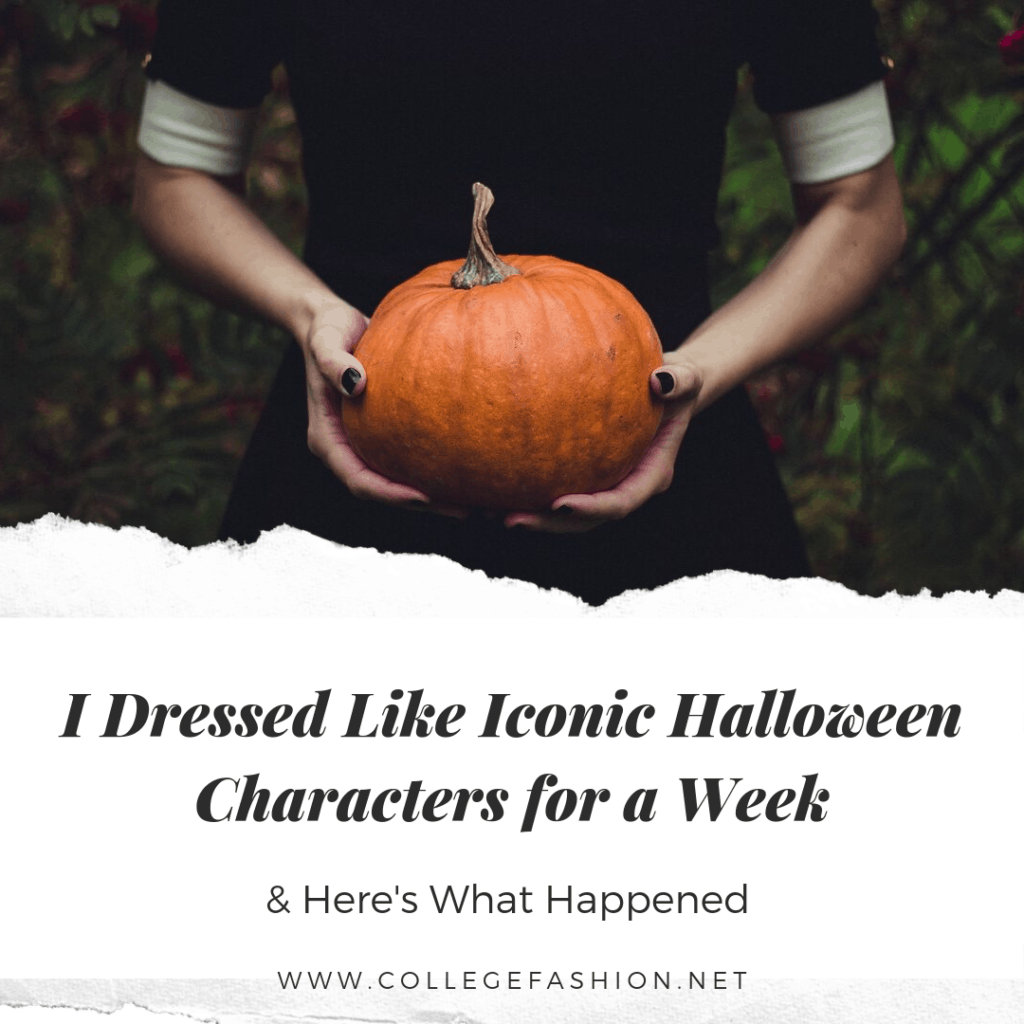 We've all looked to celebrity style for fashion inspiration at some point in our lives. But it's one thing to say "I love her outfit," and it's another to actually copy it in real life.
For this series, I'm going the extra mile and making it happen. Each week, I'm getting inspiration from a celebrity and copying five of her looks as closely as possible. Then, I'm reporting back to you: Did the outfits work in real life? Did I feel comfortable? Did people treat me differently? I'm sharing it all.
In past posts I've dressed like Zendaya, Gigi Hadid, Grace Kelly, Kendall Jenner, Vanessa Hudgens, Sophie Turner, Priyanka Chopra, Millie Bobby Brown, Hilary Duff, Lily Collins and Taylor Swift.
This week, I'm indulging in celebrating my favorite holiday, Halloween. So, I dressed like iconic female Halloween characters for a week. (See also, part 2 and part 3 of this Halloween series.)
Halloween Characters
I know, I know. I keep switching up this series from its original formula, but you have to understand: Halloween is my favorite holiday and I couldn't let the opportunity pass.
For this week, I chose some of the most iconic female characters that are associated with Halloween and dressed like each of them for a day. These weren't full-on halloween costumes; instead, I emulated their styles in as every day a manner as possible.
UPDATE 2022: I dressed like even more Halloween characters this year, including Winifred Sanderson!
Let's jump right in!
Outfit #1 – Clarice Starling (Silence of the Lambs, 1991)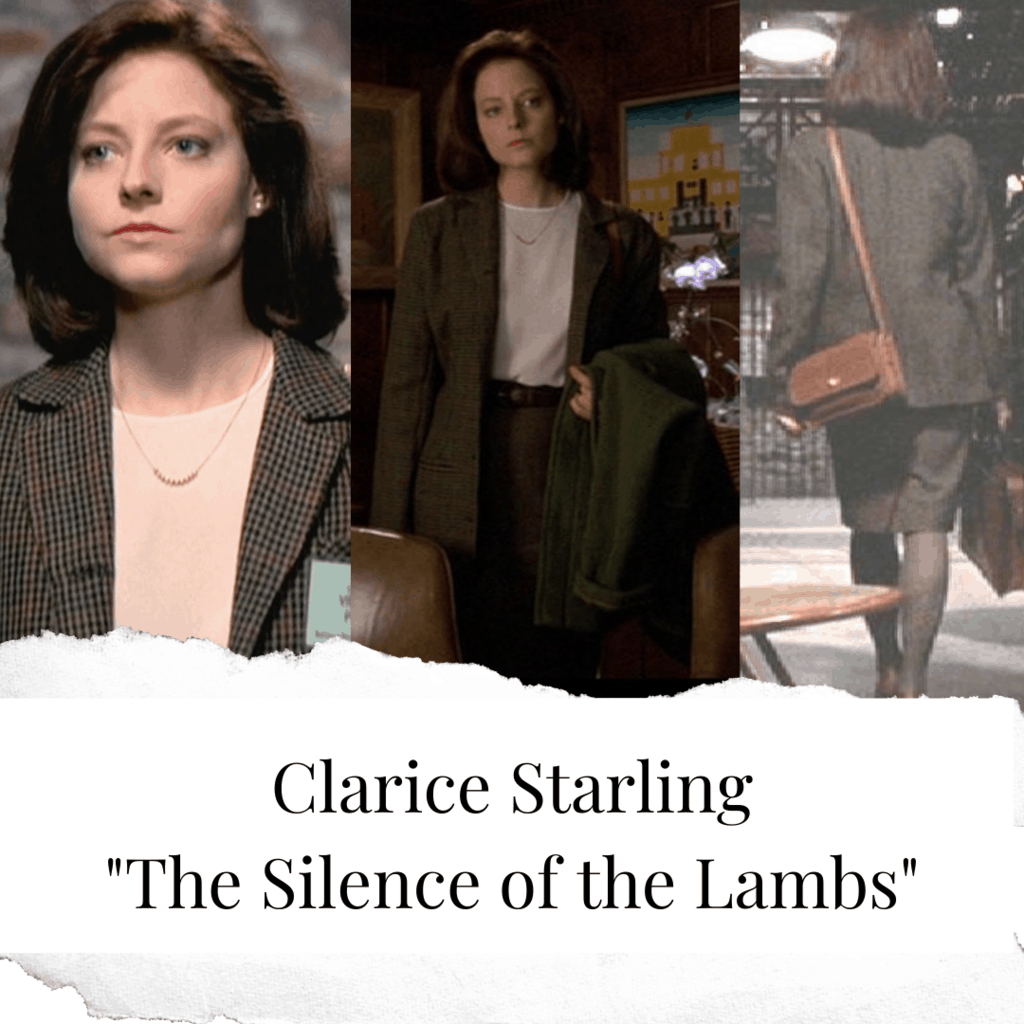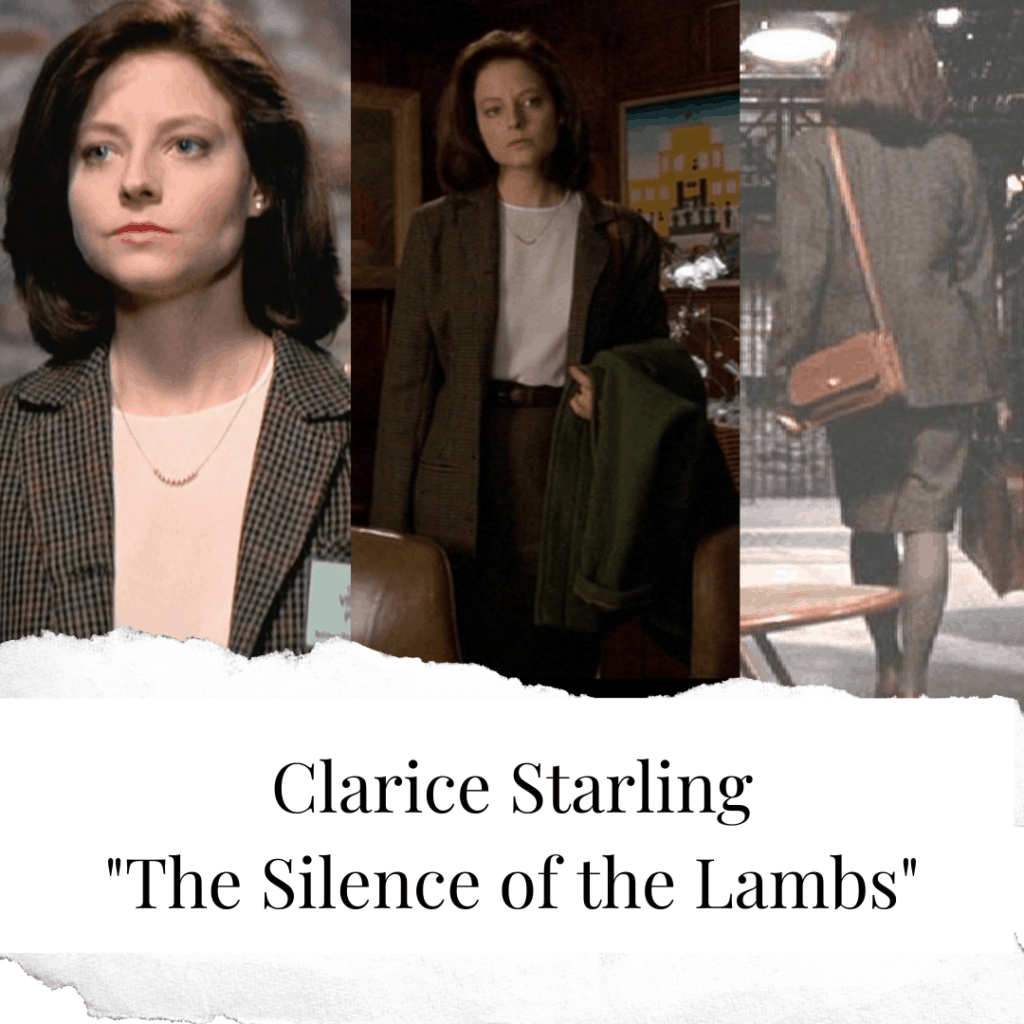 I decided to start off the week with AFI's top-ranked movie heroine of all time, Clarice Starling.
The FBI agent from 'Silence of the Lambs' is professional and determined. This shows through her fashion choices: For work, she rocks broad-shouldered blazers, simple sweaters, jeans, and oxfords; and for her off-duty looks, she mixes high-waisted jeans with sweatshirts and sneakers. All of her pieces tend toward neutral colors, mostly grays, browns, and creams.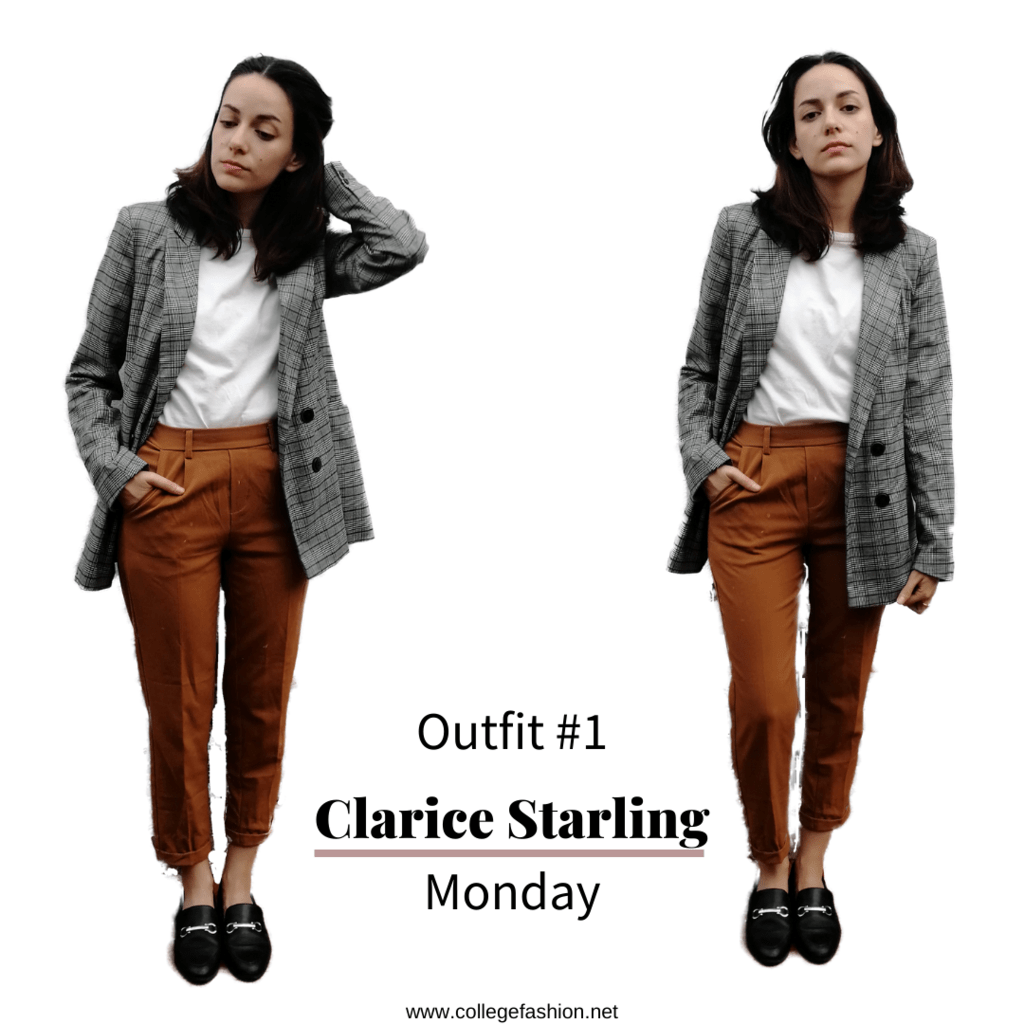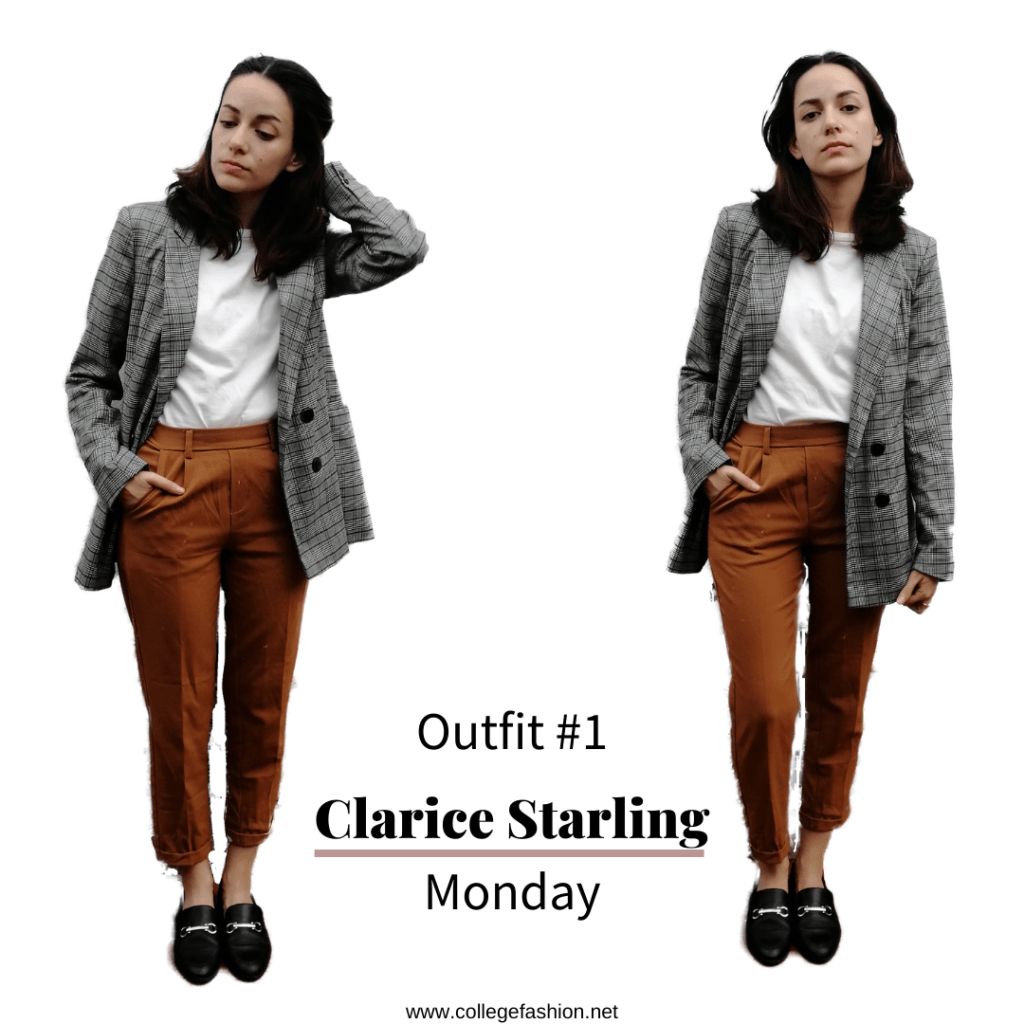 To recreate Clarice's most memorable outfit, the one she wears to meet Hannibal Lecter, I wore a white T-shirt and a broad-shouldered blazer. On the bottom, I debated whether I should wear a skirt or pants since she rocks both in the movie.
Finally, I decided I'd wear a pair of cognac slacks that have a similar shape to Clarice's favorite pair. For shoes, I borrowed a pair of black loafers from my sister.
This was a very, very professional look for me. I love blazers and slacks, but I usually go for a more 'street-style' vibe when styling them, preferring sneakers to loafers and rocking graphic tees up top.
I had a few meetings at the office today (thankfully!) so this was a very appropriate outfit for the day, but at school, I felt a lot more dressed up than usual. Still, I channeled Clarice all day and I felt really in charge and powerful.
Outfit #2 – Sidney Prescott (Scream, 1996)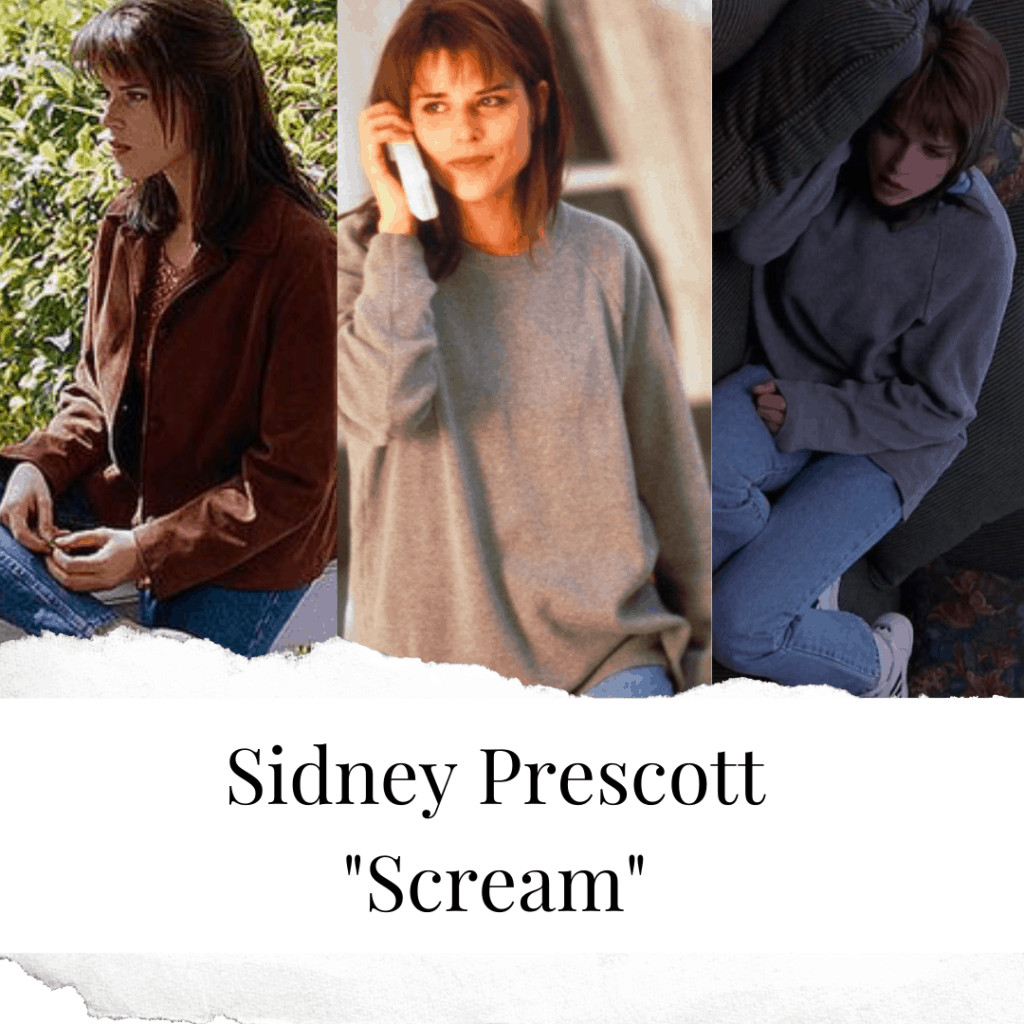 Sidney Prescott from 'Scream' is one of the classic horror movies, and she's one of the most iconic Final Girls in the history of cinema. Sidney beat Ghostface countless times and she always did it in style.
Her outfits in the original horror movie were quintessential '90s girls. Crop tops, high-waisted jeans, platform shoes, tank tops, and baggy sweaters in neutral colors were her most-worn items in the 1996 movie.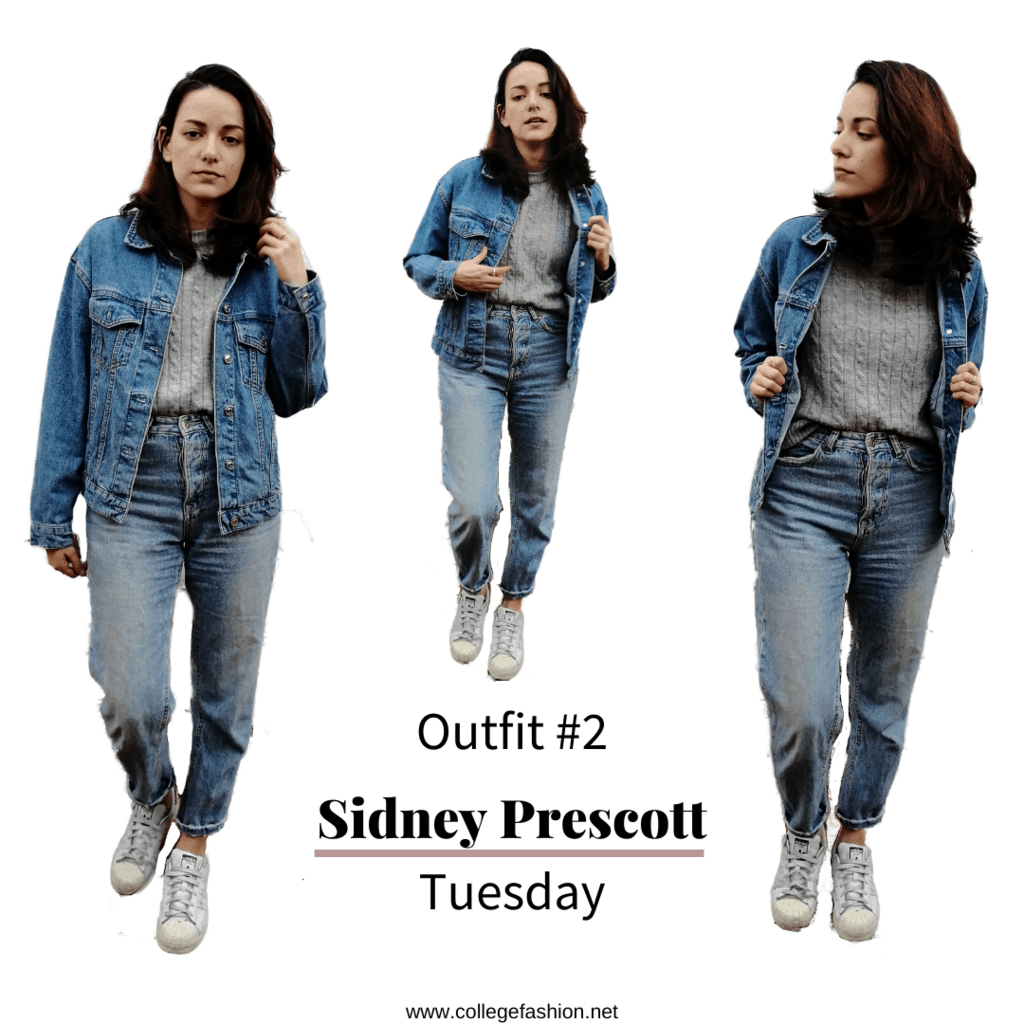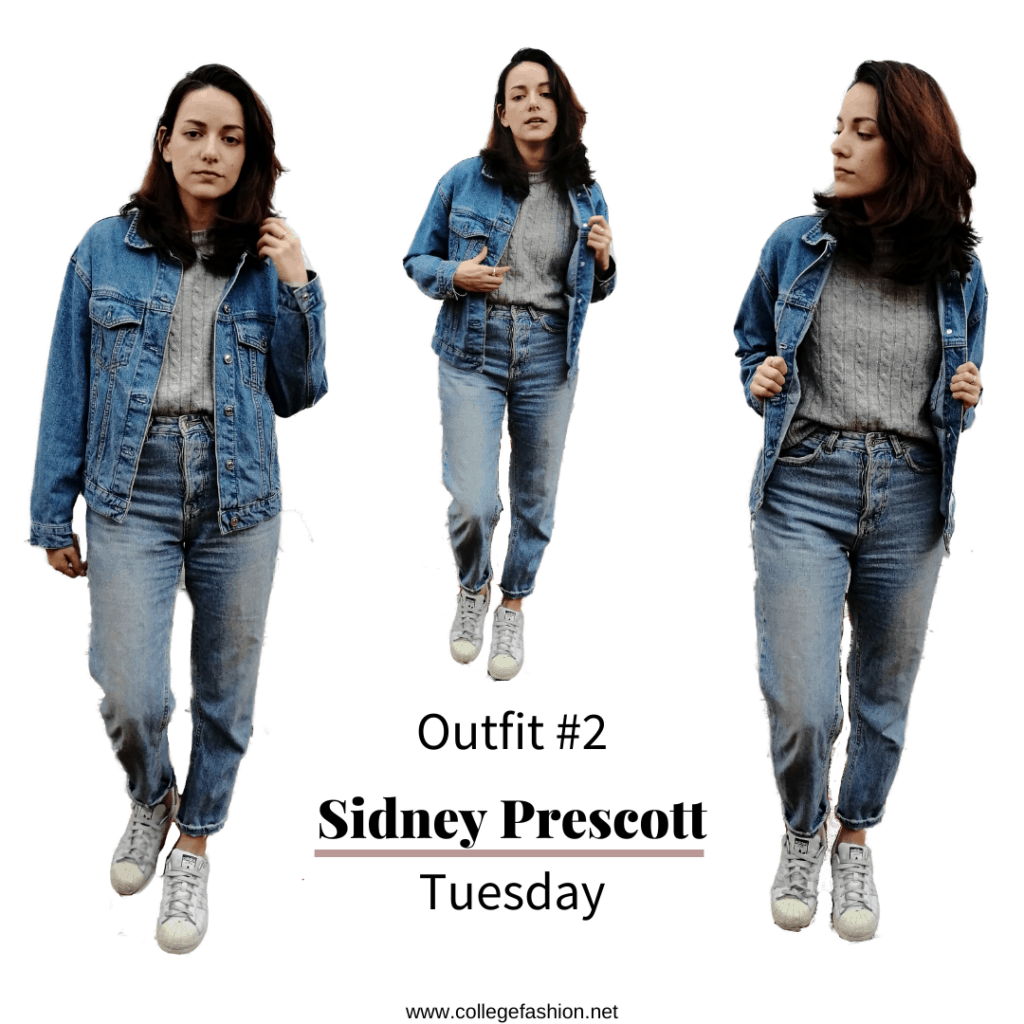 For my Sidney-inspired outfit, I wore some mom jeans with a cropped grey sweater. Over top, I wore an oversized denim jacket like hers. For shoes, I chose a pair of white Adidas. For hair and makeup, I did a natural makeup look with brownish lipstick and straightened my hair.
This was a classic combination. I don't usually do a 'denim-on-denim' look, but I did like how it looked. For a normal office day, it was perfect. It has been getting cold and raining a lot in my city, so the sweater and jackets were very much in sync with the weather.
Since I don't usually straighten my hair, I felt like I had a completely different style vibe thanks to the new hairstyle.
Overall, this look was comfortable and effortlessly cool, perfect for a rainy and busy day at the office.
Outfit #3 – Buffy Summers (Buffy The Vampire Slayer, 1997-2001)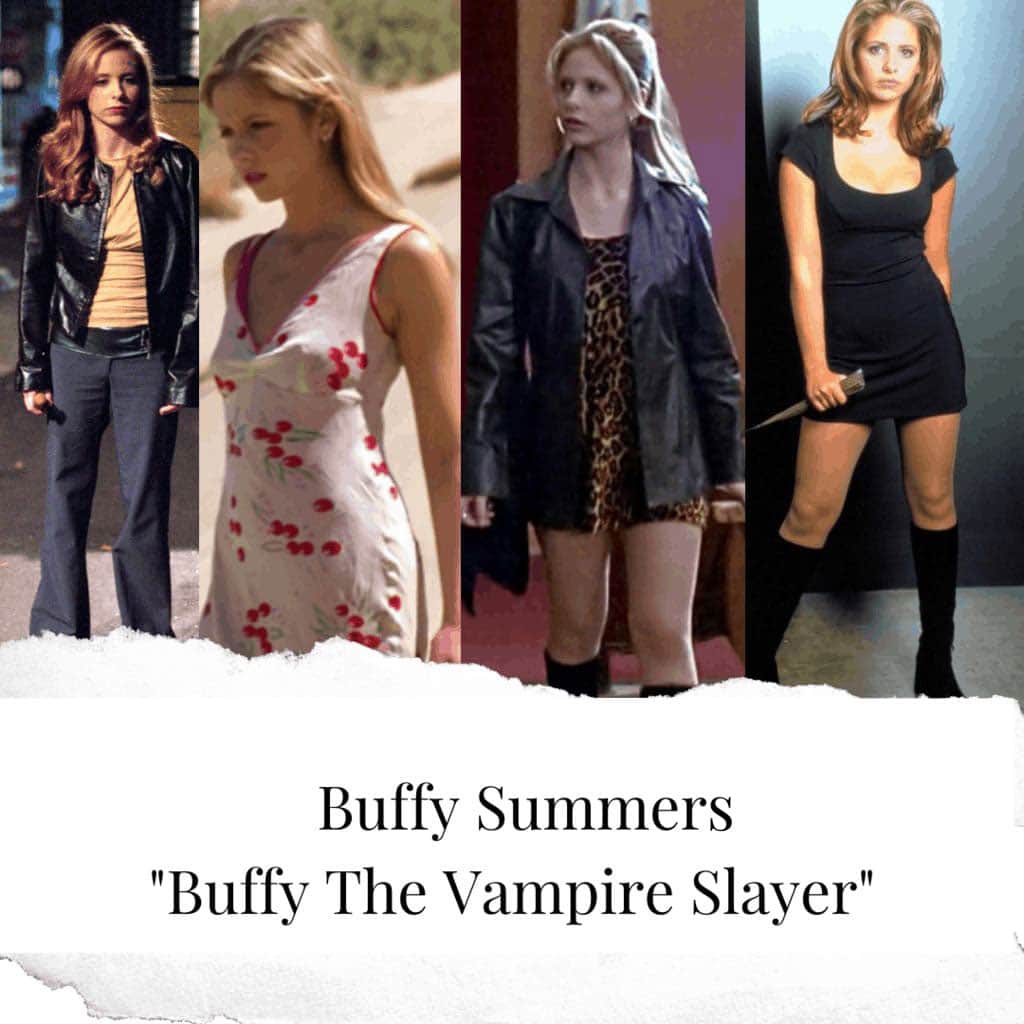 Buffy remains an undisputed feminist icon of the '90s. Sharp, witty, and stylish, Buffy defied expectations of femininity and how a strong person should look. The show has been off the air for almost two decades, but she is still a widely beloved character — and style idol.
Buffy dressed to slay, literally. She wore clothes she could move in, but that still looked amazing — her faves were floral dresses, knee-high boots, leather jackets, crop tops and sweaters, fitted or flare jeans, and platform shoes.
Choosing an outfit for this day was tough. There are so many cute costumes Buffy outfits to choose from; I spent hours scrolling, trying to choose which one I should copy. Finally, I decided to go with a classic: her fitted, black dress from the first promo pictures. I accessorized based on other "dress-boots" outfits she wore.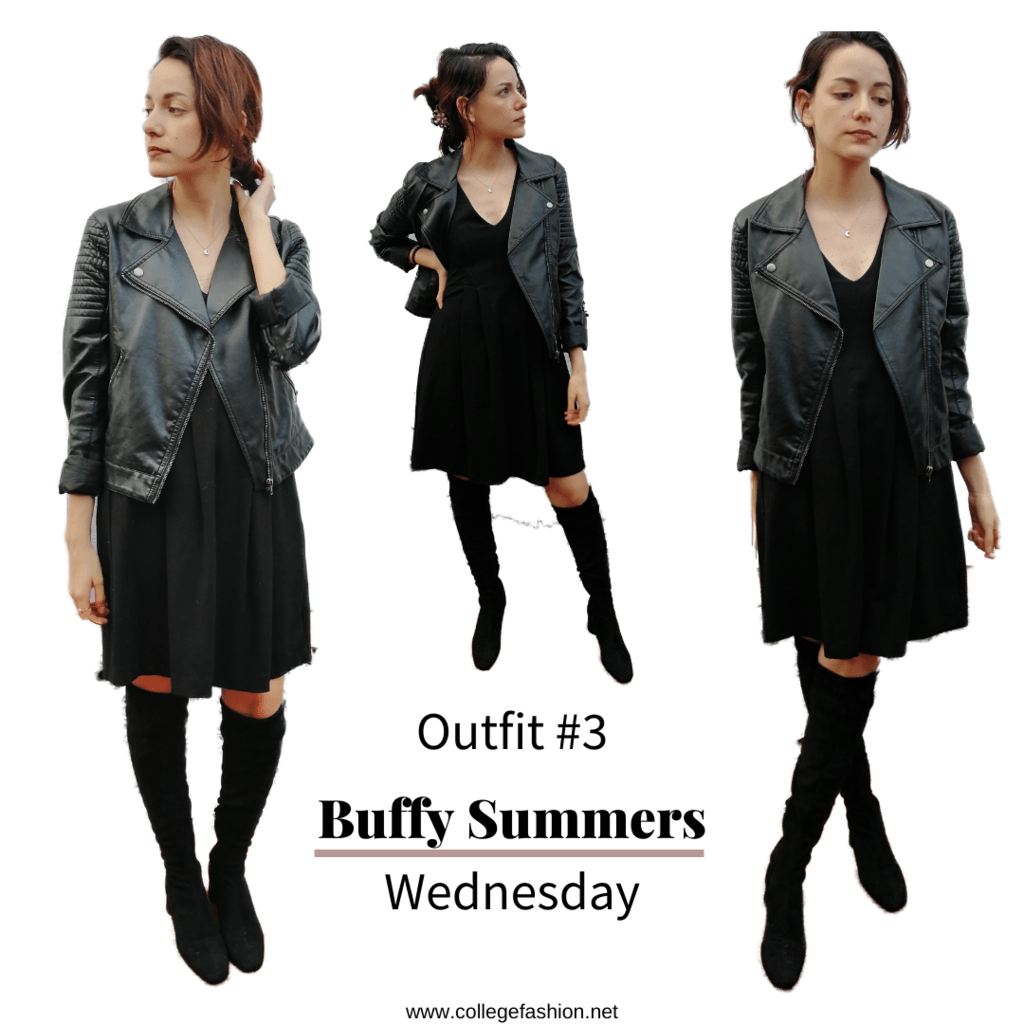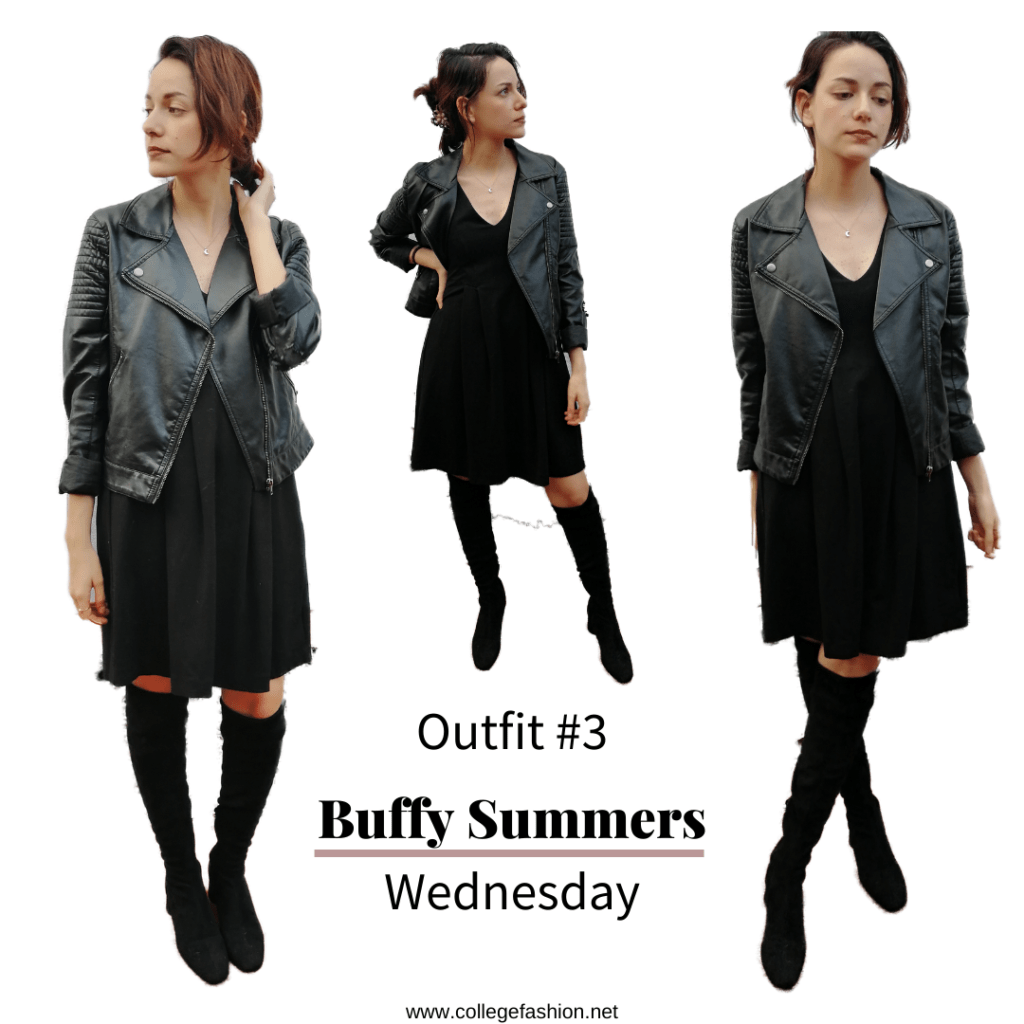 For my Buffy look, I wore a black V-neck dress with a pair of over-the-knee boots. Buffy wears knee-high boots, but I added the OTK boots to give her look an updated feel. On top, I wore a black leather jacket, like Buffy did so many times. For makeup, I did a look similar to Sidney's but with a more intense lipstick and a few more brown shades.
This look was both a throwback and incredibly modern. It was a cool, badass outfit to wear on a Wednesday, which is usually a very uninspiring day for me. I loved it, and I think it was my favorite of the week.
The one thing that didn't work for me was the weather — I felt a little cold in this. Like I said before, it's been chilly and raining, so on a normal week, I would have probably worn a pair of tights to make this outfit more weather-appropriate.
Outfit #4 – Wednesday Addams (The Addams Family)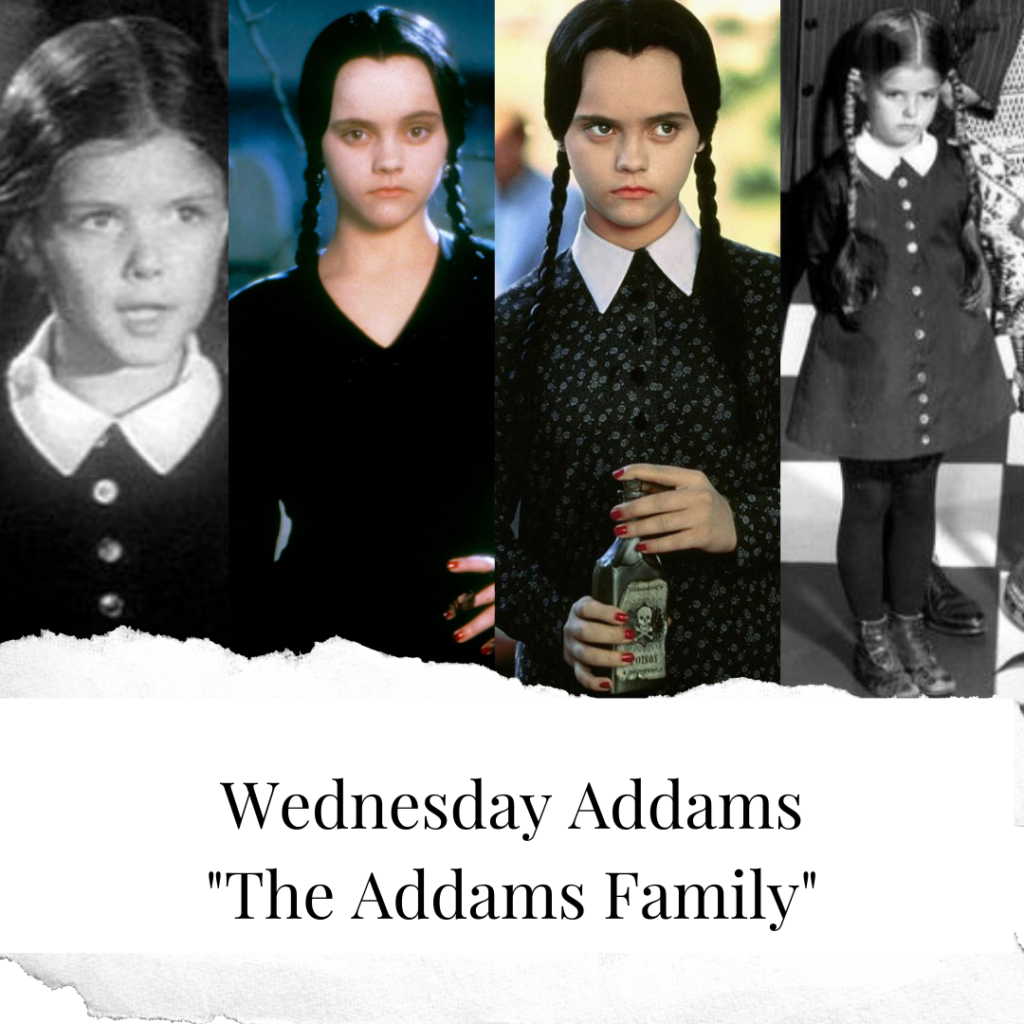 The female members of The Addams family are, hands down, the most iconic and emulated characters from the franchise. Wednesday Addams has innocent doe eyes, but she is far from harmless. Her iconic black dress with a white collar is a staple of LBD-based Halloween costumes.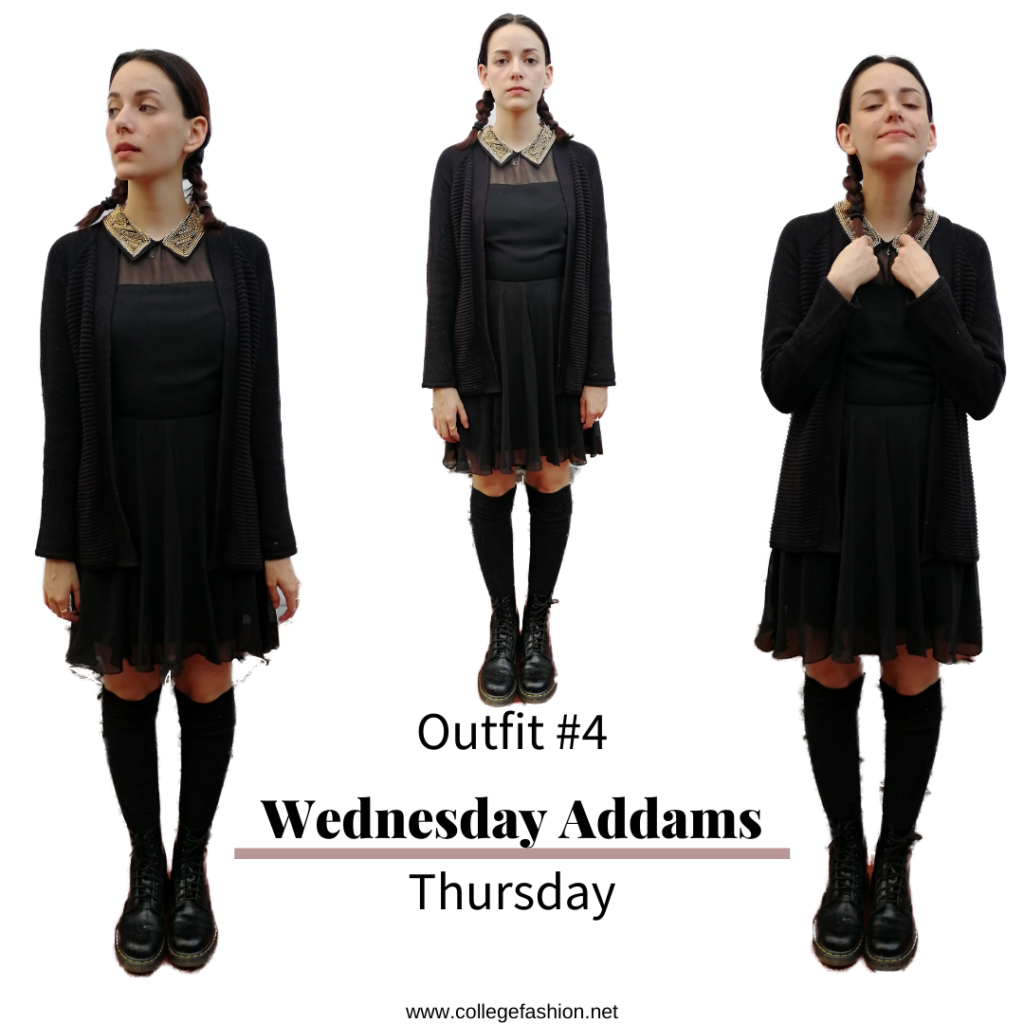 I recreated Wednesday's outfit in a modern way with a black dress that has a collar, except mine is golden instead of white. I then added a pair of black knee socks and some Doc Martens. Since it has been a bit chilly, I wore a simple black cardigan. Maybe if the weather had been a bit colder, I would have worn tights under the socks, but it wasn't necessary on this day. I did wear my hair like hers since her pigtails are just as iconic as her dress.
Since this was the most costume-y outfit of the week, I expected to feel like a weirdo all day. But no one in the office bated an eye and at school a lot of people complimented me!
I did feel different but in a cool way. I hadn't worn this dress in years, because I didn't feel it was a day-to-day kind of dress. Now, I just want to find new ways of wearing it. Also, I never, ever, wear my hair in pigtails, but I really enjoyed not having to brush it away from my face or tie it when it got in the way. Overall, this look was comfortable, edgy, and perfect for this season.
Outfit #5 – Rosemary Woodhouse (Rosemary's Baby, 1968)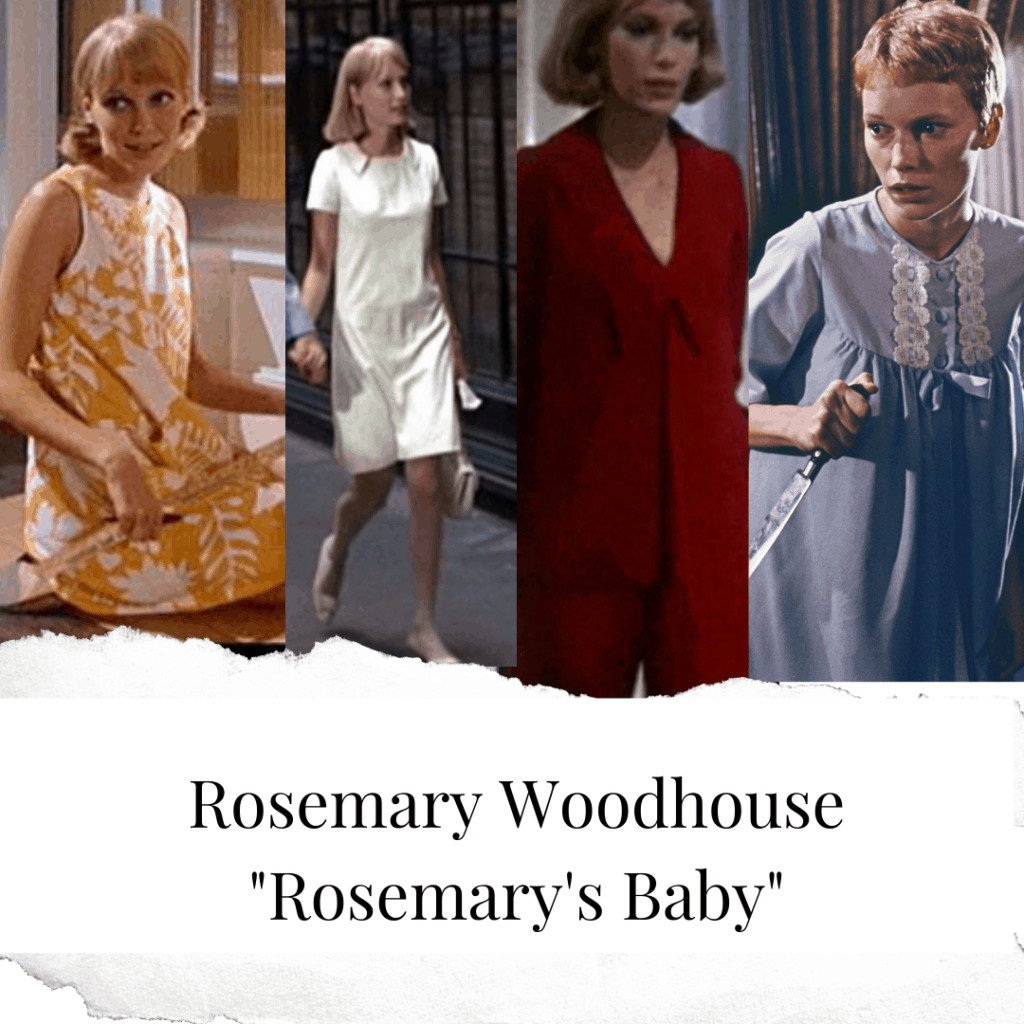 One of the scariest films of all time also has one of the most fashionable characters. Mia Farrow's pixie haircut and outfits through Rosemary's Baby made her character a staple of stylish moments in the film. Her outfits are a 60's throwback dream: Think baby doll and shift dresses, thin knit sweaters, and plaid and Mary Jane shoes, all in pastel colors.
(If you want to know more about her style, check out this article we just posted about the fashion from Rosemary's Baby.)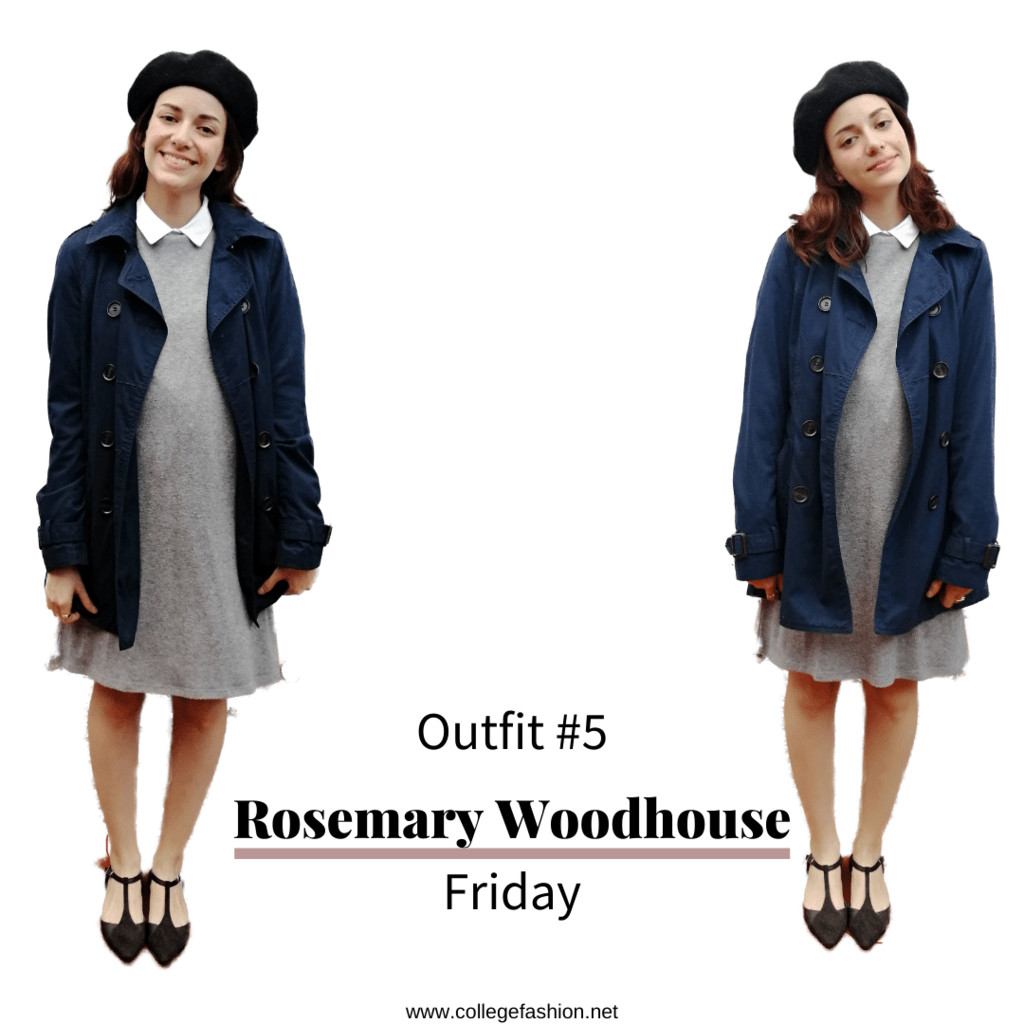 To get Rosemary's look, I mixed a grey shift dress with a white button-down shirt and layered on a navy blue coat. I don't own a pair of Mary Janes. Instead, I used a pair of black classic flats instead. For accessories, I wore a black beret and a simple black bag. I tried to do a simple, '60s kind of makeup with neutral colors and lots of mascara.
Creating a look for this day was the biggest challenge this week. I'm a very big fan of the movie and nothing I thought of seemed to quite do Rosemary's style justice.
After a lot of back and forth, I finally created this look. And it was worth all the time spent! I absolutely fell in love with this outfit. It is classy, incredibly cute, and perfect for fall. It was a calm, normal day at the office and at school, but it was worth it just so I could wear this.
Final Thoughts
Again, this isn't a normal post for this series, but I couldn't let Halloween week pass me by without doing something special. I loved every outfit. I truly did. Maybe it's because I'm a fan of the characters or maybe it was the holiday theme, but it was a very, very fun week for me.
Rosemary's outfit was my absolute favorite of the week since it took me out of my comfort zone, but in a way, I would absolutely emulate it again.
To be honest, there wasn't an outfit this week that made me feel out of place or like I was wearing a costume. All of them were, in their own way, very stylish, cute, and perfect for the things I had to do each day.
I had to leave so many great characters out, like the Sanderson Sisters, Morticia Addams, and Carrie. As a result of this post, I will definitely try to emulate their styles at a later date.
Halloween and the characters associated with it are a great fashion inspiration, especially if you're looking to experiment with different styles and daring items. I definitely recommend you take inspiration from any Halloween movie or character you love!
What do you think?
Did you like this take on the post? Which one of these movies have you watched? Are you ready for Halloween? Whose style do you think I should do next? Let us know in the comments below!
More Halloween Characters Costume Inspiration