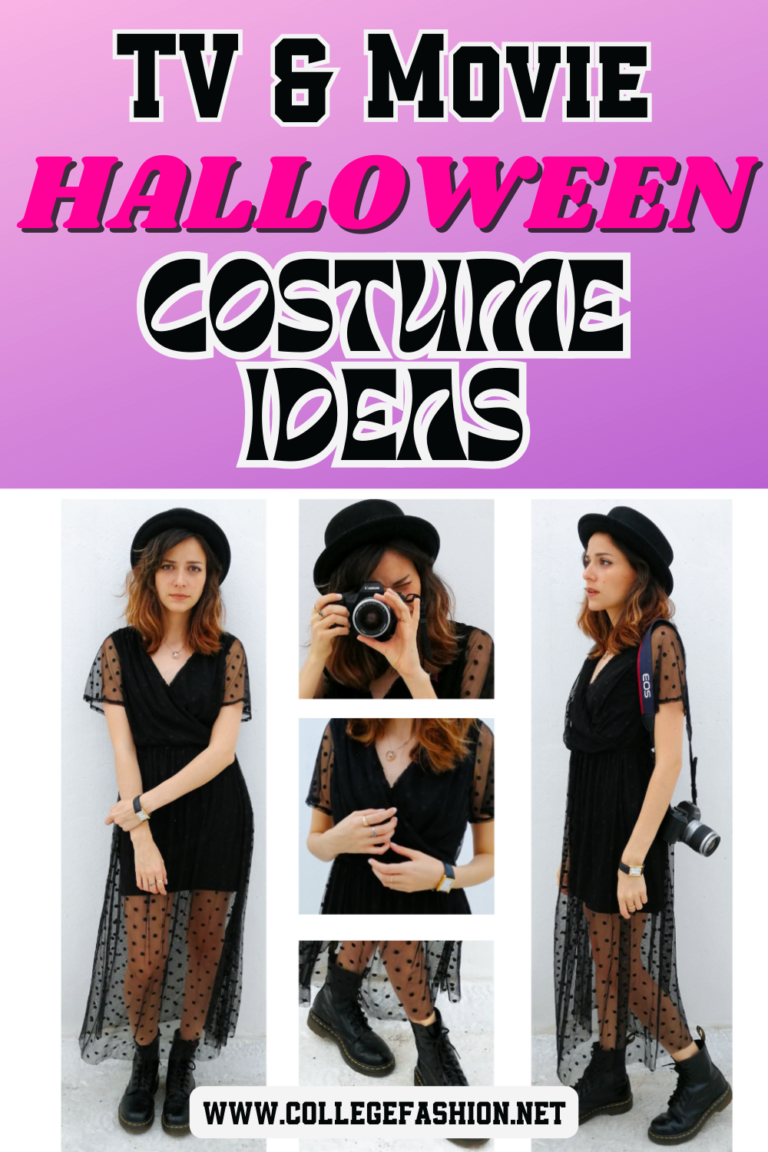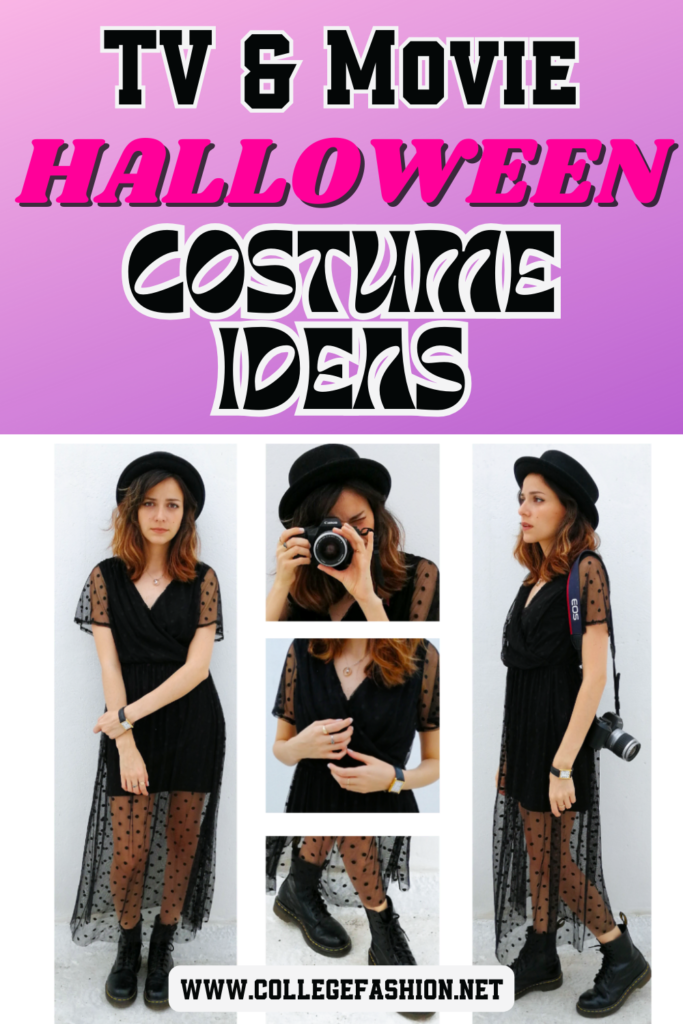 Halloween is coming up, and if you read CF often, you know we're all about easy costumes to celebrate the holiday.
If you need some more ideas for an easy costume that's recognizable and fun, we've got you covered. Below are 28 TV and movie character costumes, with inspo from Halloween flicks, Disney favorites, and even Geeky niche costumes.
Read on to see them all!
Dressing Like Iconic Halloween Characters from Movies and TV Series
To kick off this list, CF writer Paloma challenged herself to dress like iconic Halloween characters, creating looks that work as costumes AND in real life.
Check out her summary of her top 10 best Halloween character costumes below (and see even more of her costumes here):
1. Clarice Starling (Silence of the Lambs, 1991)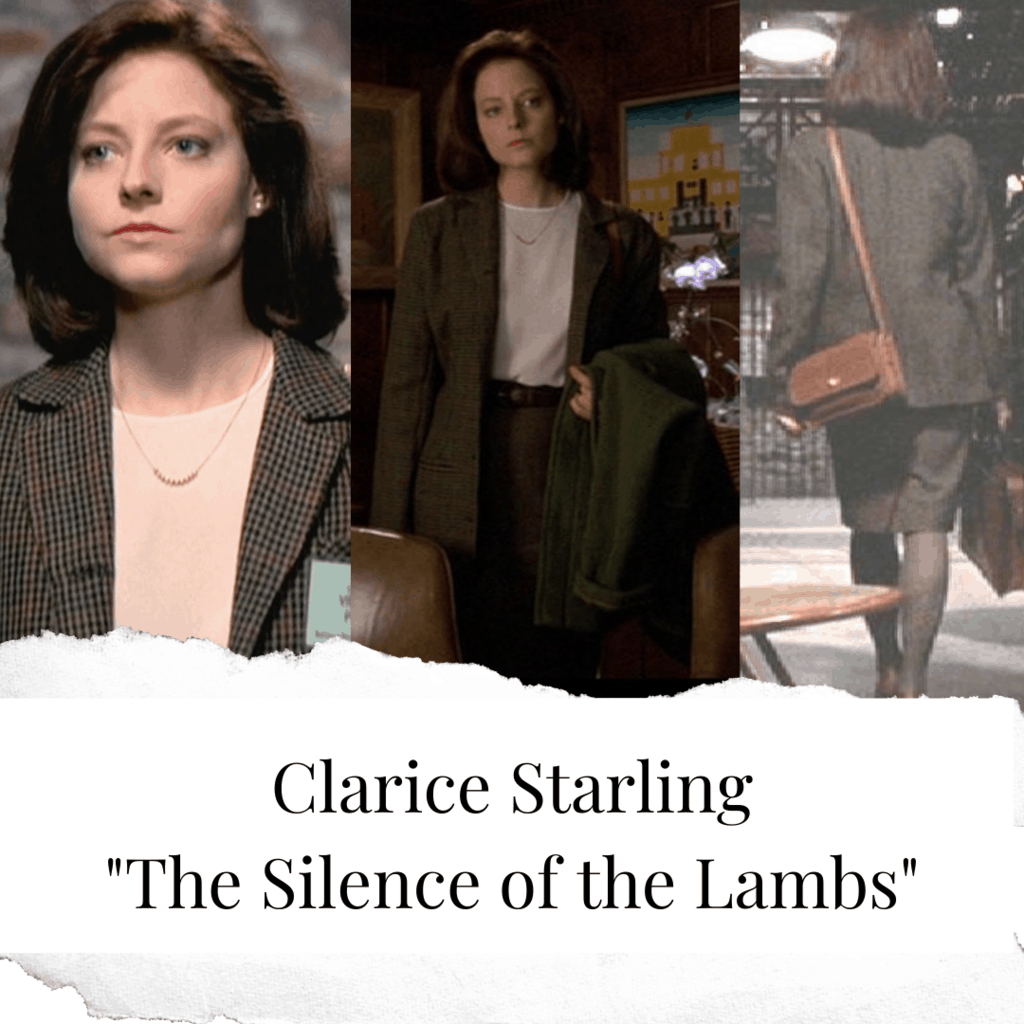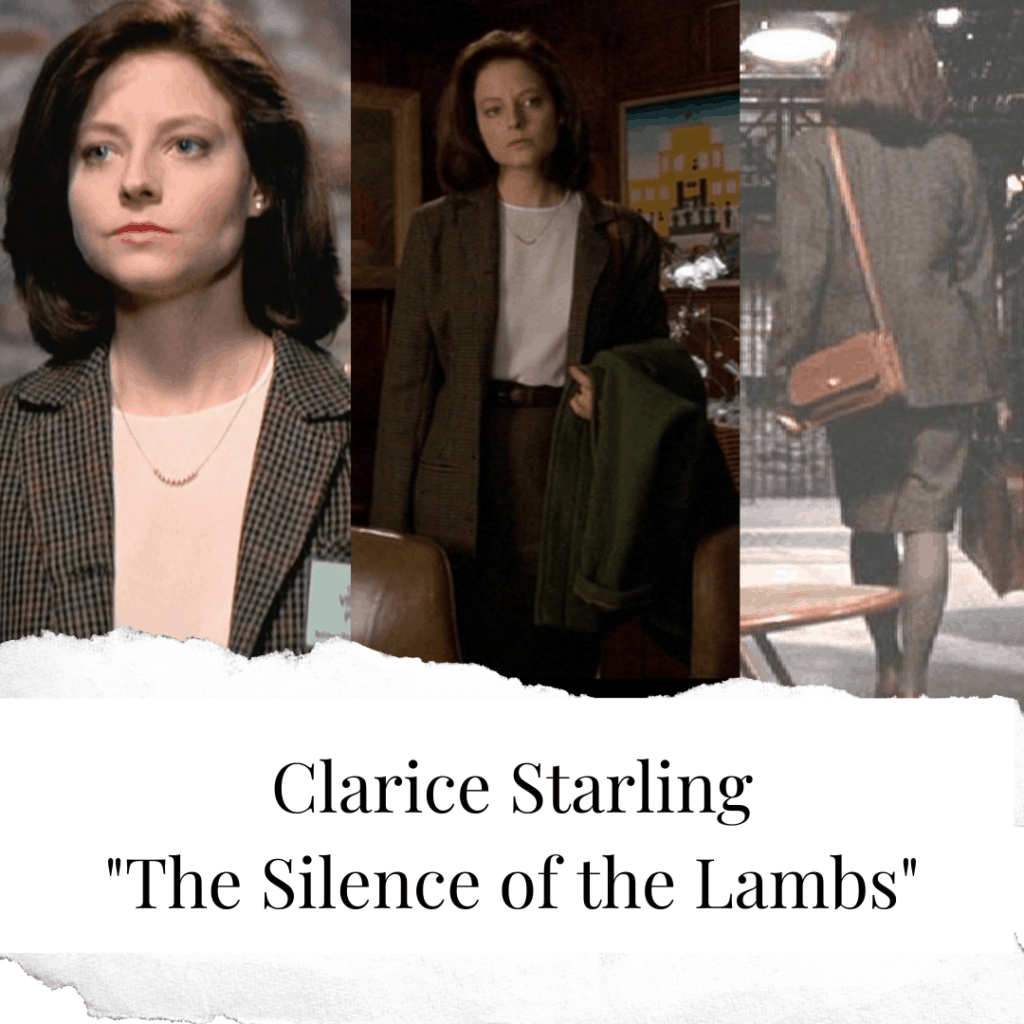 Let's kick off our list with AFI's top-ranked movie heroine of all time, Clarice Starling.
The FBI agent from 'Silence of the Lambs' is professional and determined. This shows through her fashion choices: For work, she rocks broad-shouldered blazers, simple sweaters, jeans, and oxfords, and for her off-duty looks, she mixes high-waisted jeans with sweatshirts and sneakers. All of her pieces tend toward neutral colors, mostly grays, browns, and creams.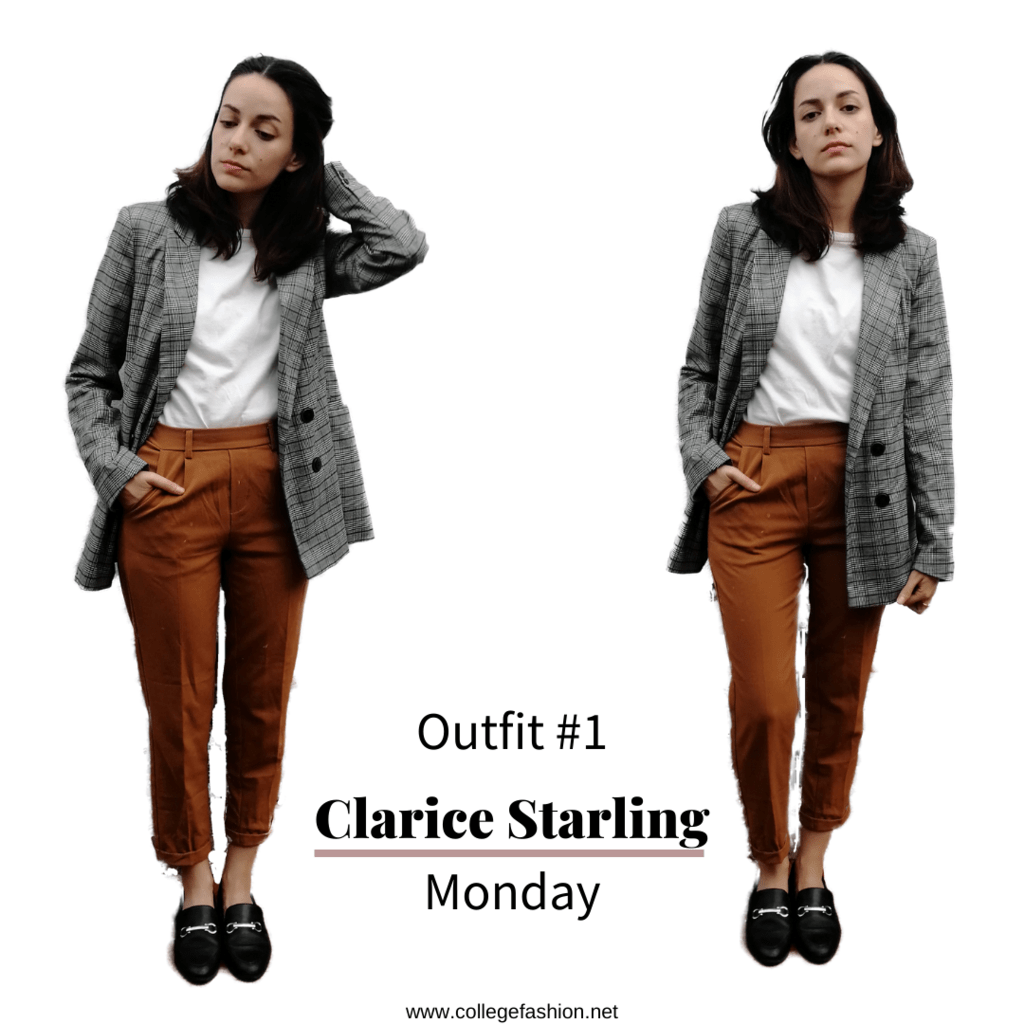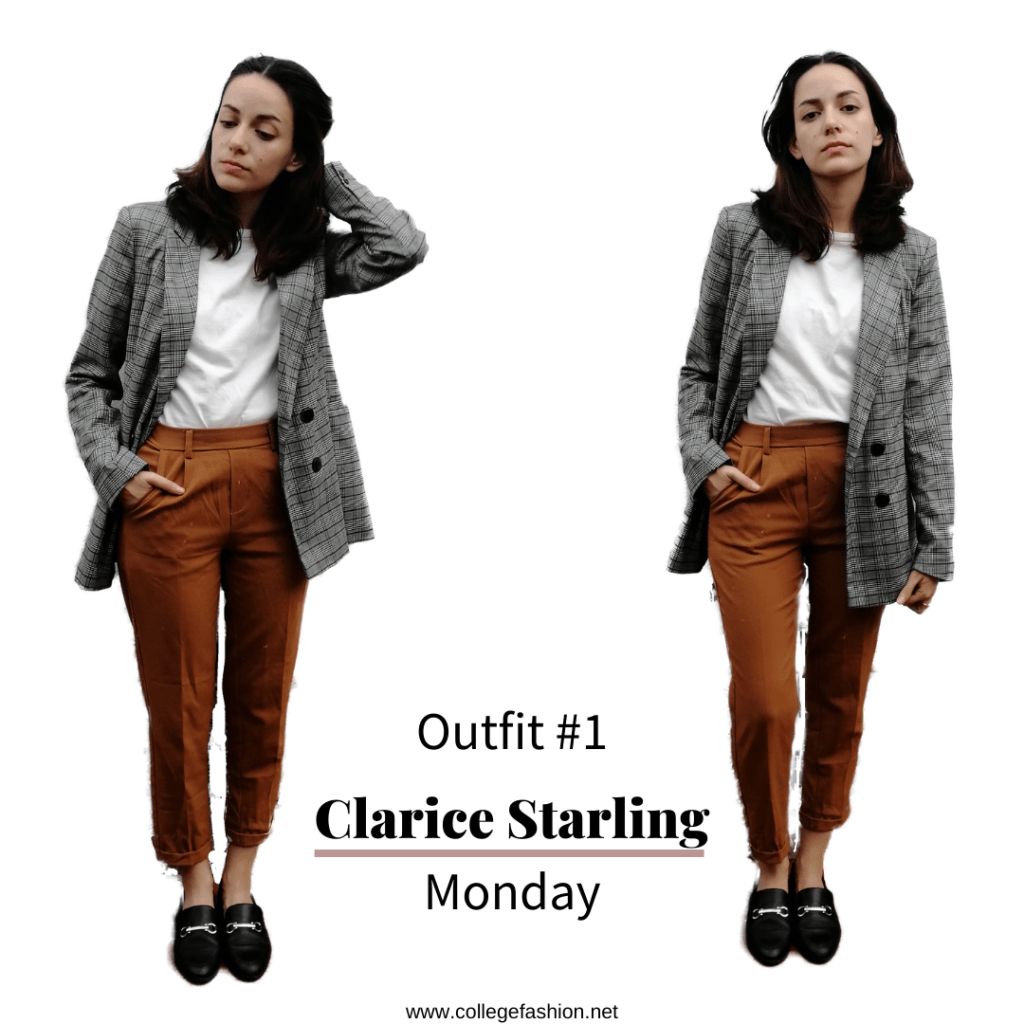 To recreate Clarice's most memorable outfit, the one she wears to meet Hannibal Lecter, I wore a white T-shirt and a broad-shouldered blazer. On the bottom, I debated whether I should wear a skirt or pants since she rocks both in the movie.
Finally, I decided I'd wear a pair of cognac slacks that have a similar shape to Clarice's favorite pair. For shoes, I borrowed a pair of black loafers from my sister.
2. Sidney Prescott (Scream, 1996)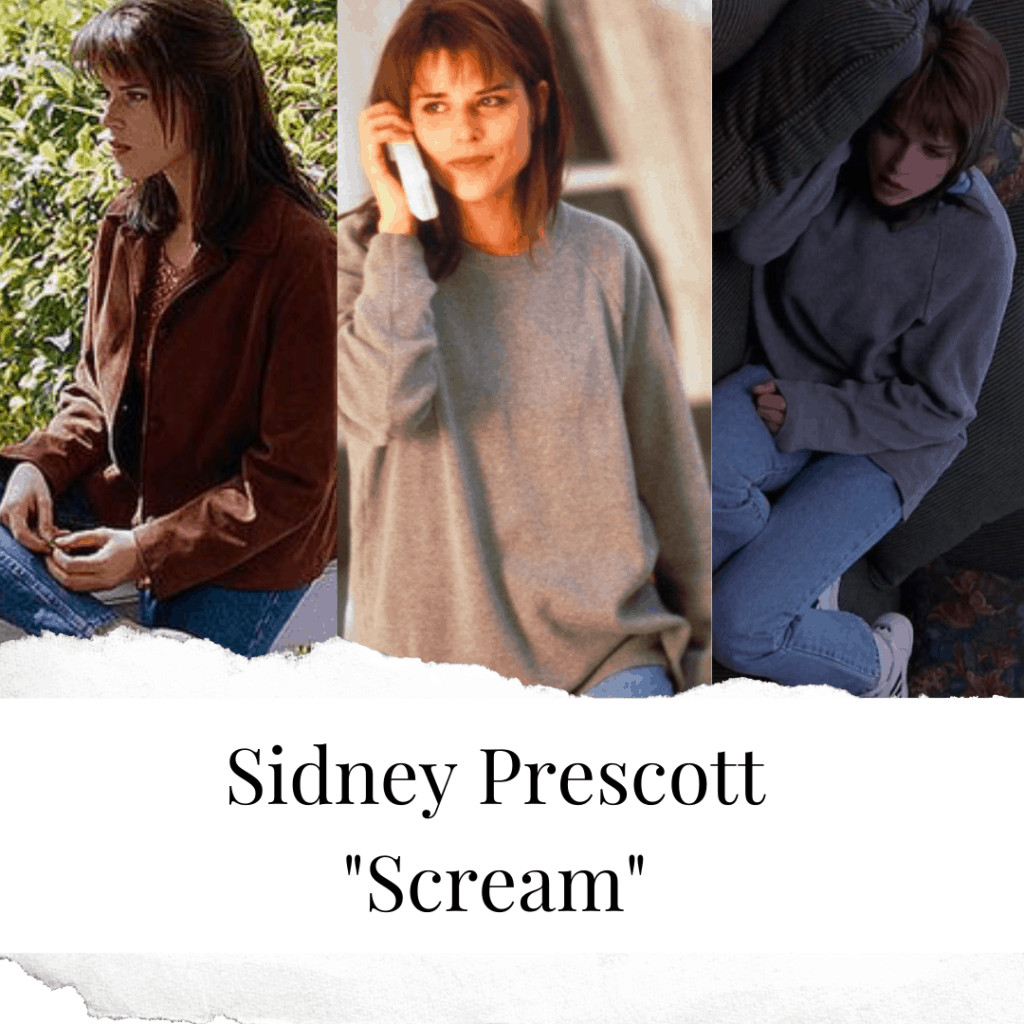 Sidney Prescott from 'Scream' is one of the most iconic Final Girls in cinema history. Sidney beat Ghostface countless times, and she always did it in style.
Her outfits in the original horror movie were quintessential '90s. Crop tops, high-waisted jeans, platform shoes, tank tops, and baggy sweaters in neutral colors were her most-worn items in the 1996 movie.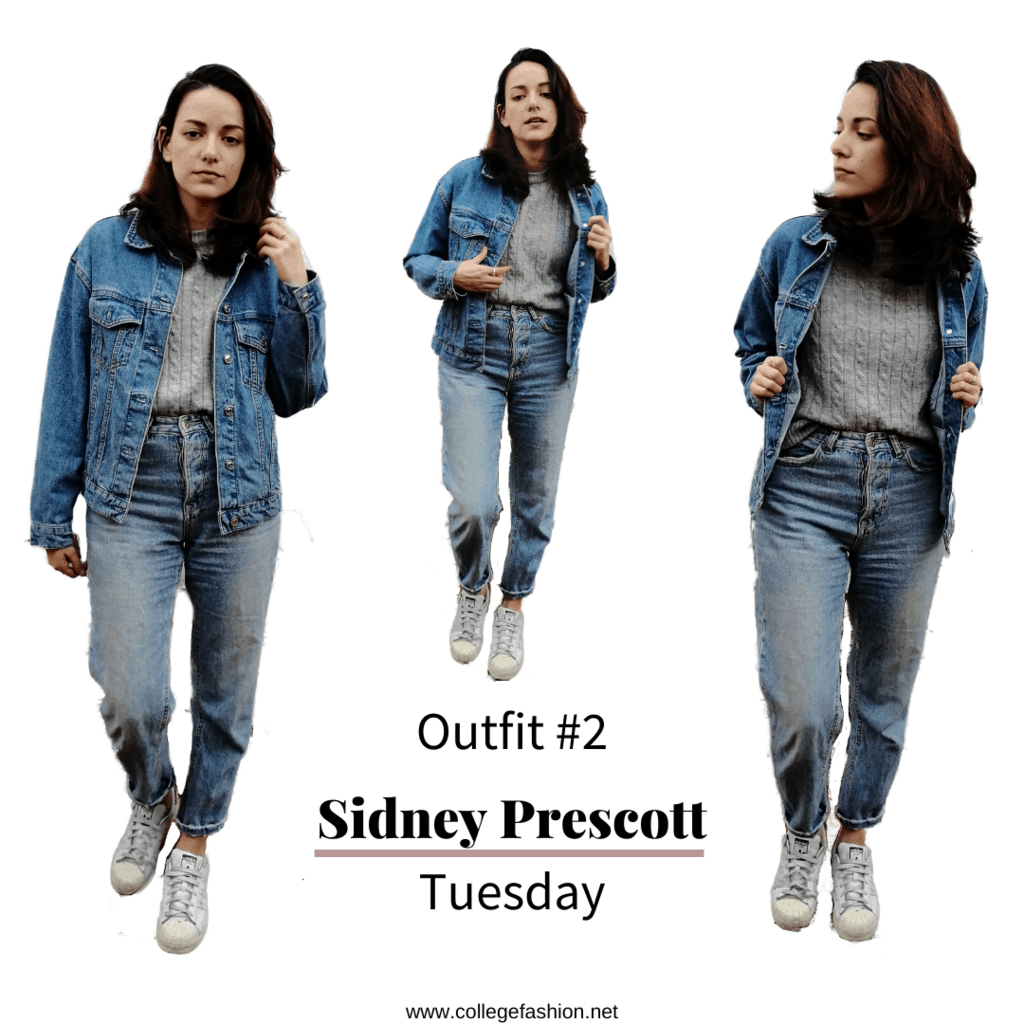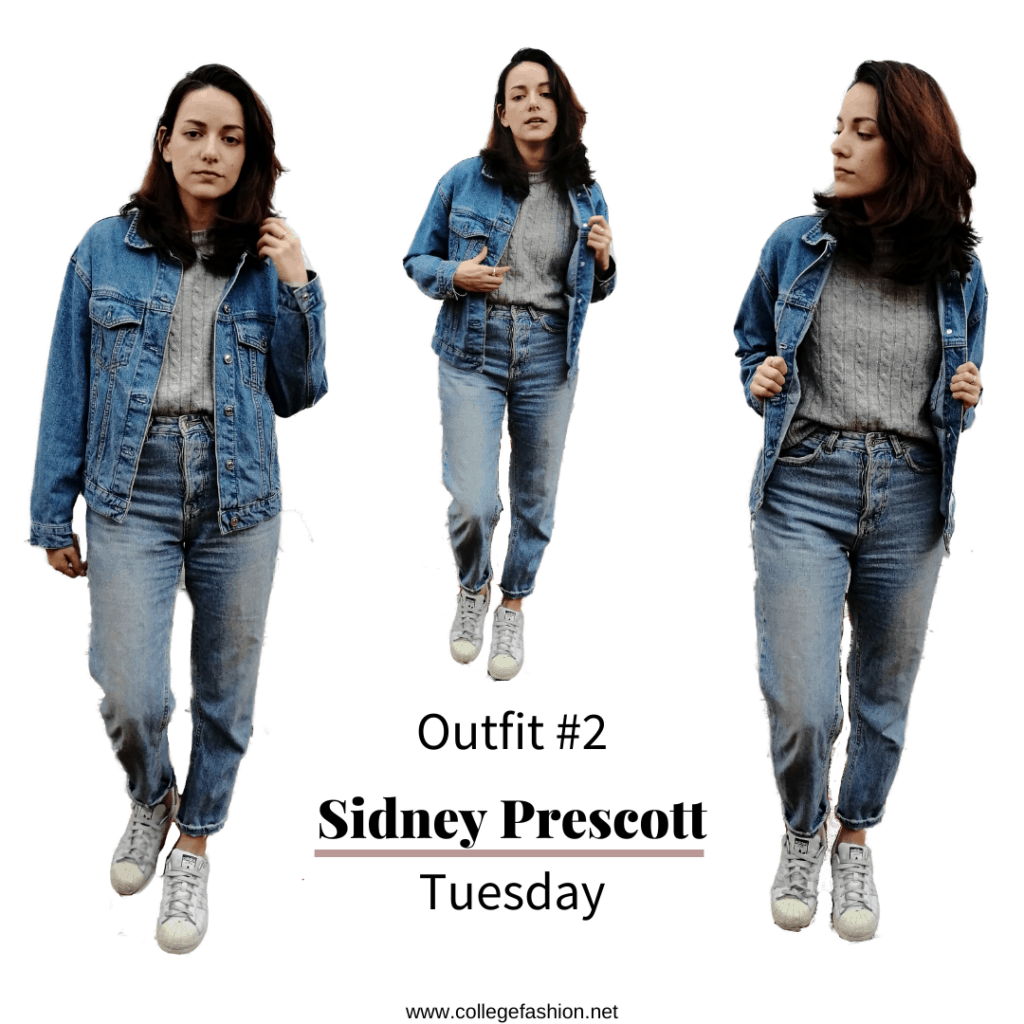 For my Sidney-inspired outfit, I wore some mom jeans with a cropped grey sweater. Over top, I wore an oversized denim jacket like hers. For shoes, I chose a pair of white Adidas. For hair and makeup, I did a natural makeup look with brownish lipstick and straightened my hair.
3. Buffy Summers (Buffy The Vampire Slayer, 1997-2001)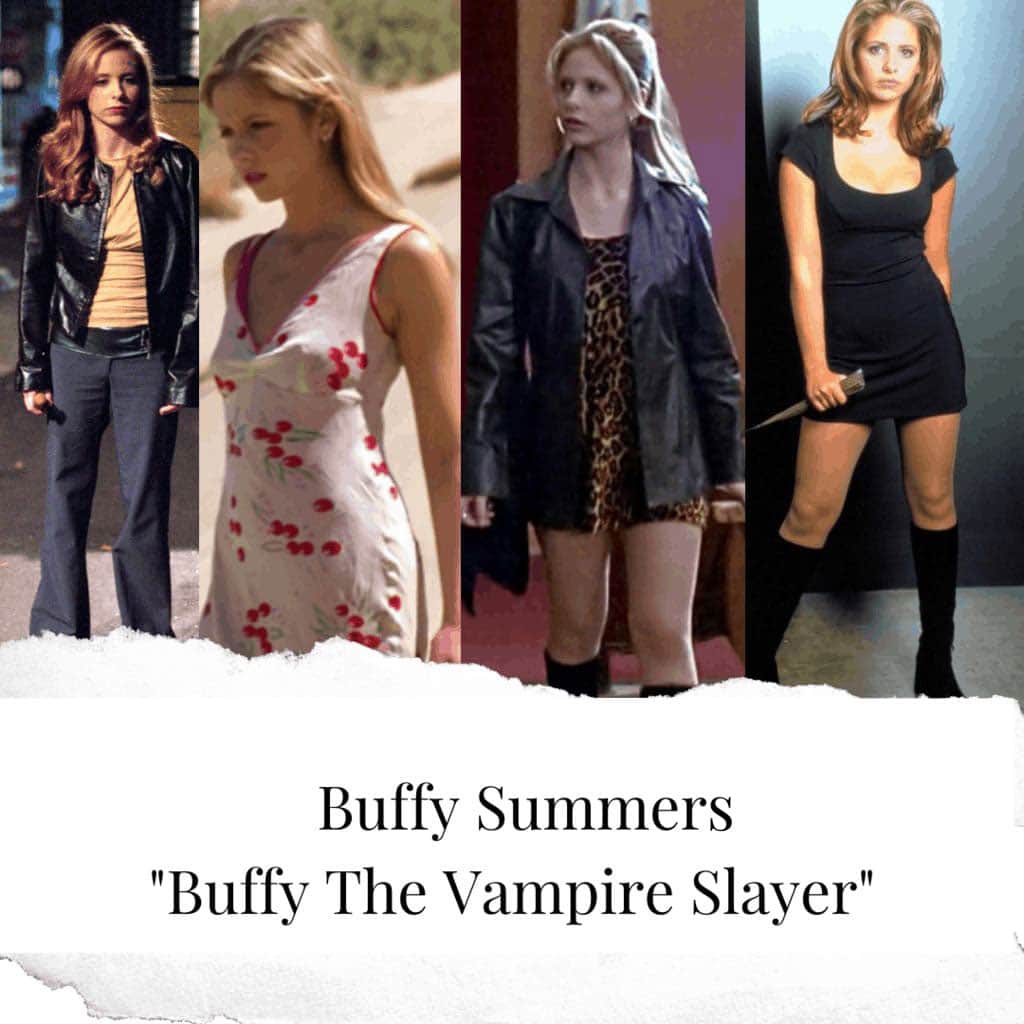 Buffy remains an undisputed feminist icon of the '90s. Sharp, witty, and stylish, Buffy defied expectations of femininity and how a strong person should look. The show has been off the air for almost two decades, but she is still a widely beloved character — and style idol.
Buffy dressed to slay, literally. She wore clothes she could move in but that still looked amazing — her faves were floral dresses, knee-high boots, leather jackets, crop tops, sweaters, fitted or flare jeans, and platform shoes.
Choosing an outfit to copy was tough. There are so many cute Buffy outfits to choose from; I spent hours scrolling, trying to choose which one I should copy. Finally, I decided to go with a classic: her fitted, black dress from the first promo pictures. I accessorized based on other "dress-boots" outfits she wore.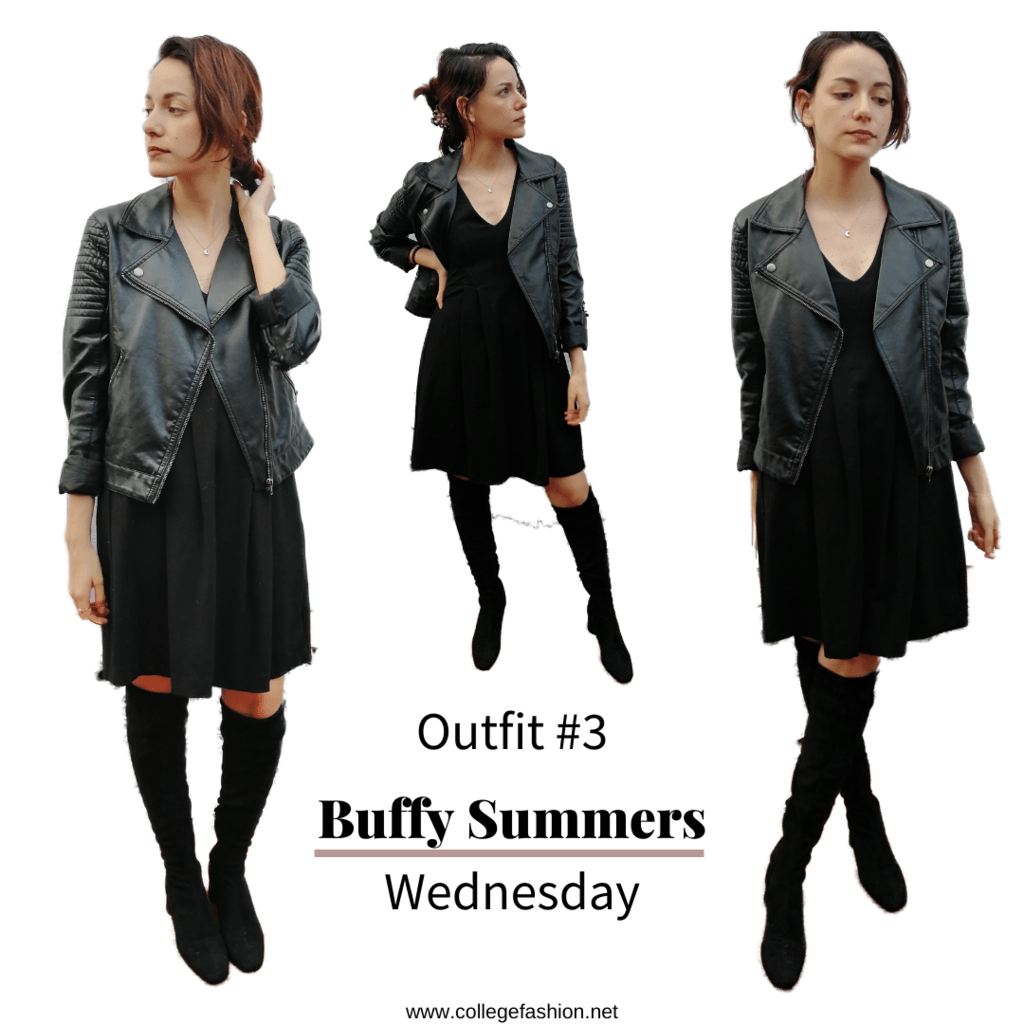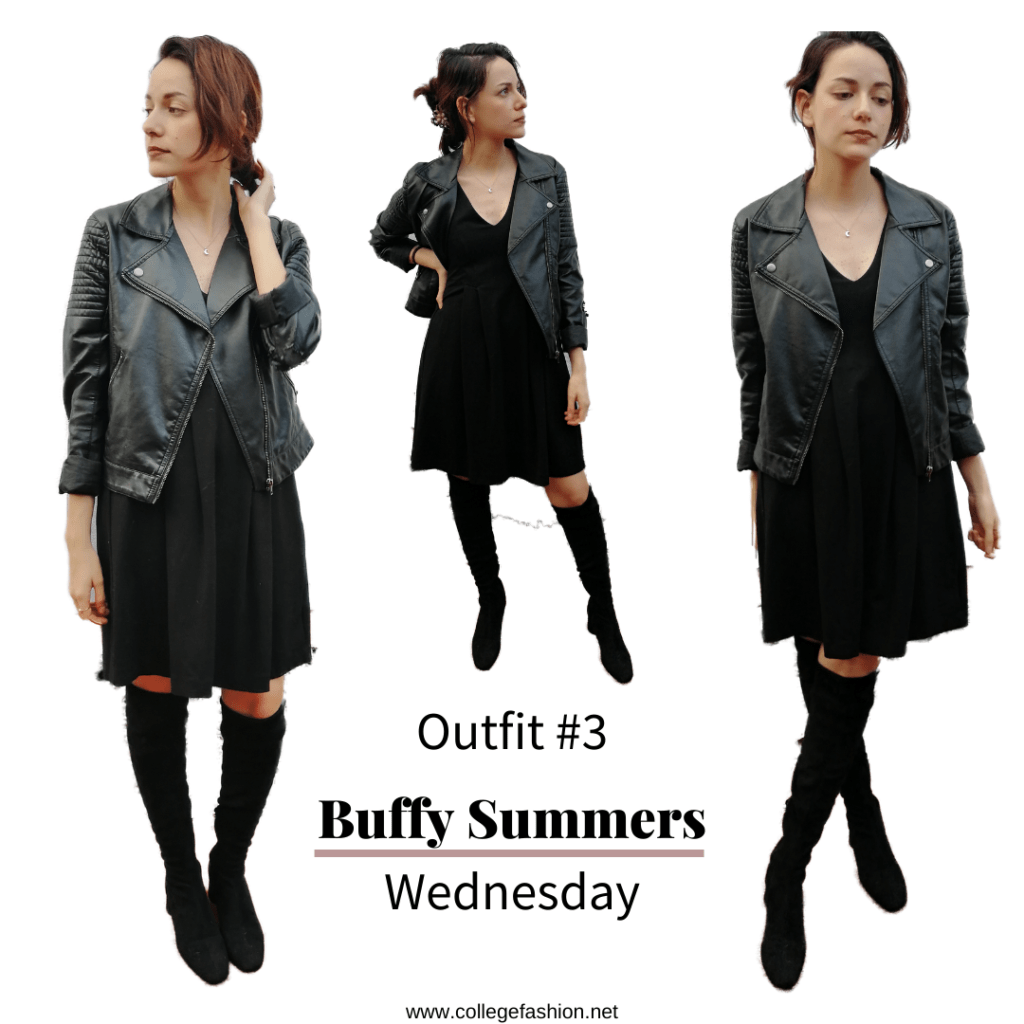 For my Buffy look, I wore a black V-neck dress with a pair of over-the-knee boots. Buffy wears knee-high boots, but I added the OTK boots to give her look an updated feel. On top, I wore a black leather jacket, like Buffy did so many times. For makeup, I did a look similar to Sidney's but with more intense lipstick and a few more brown shades.
4. Wednesday Addams (The Addams Family)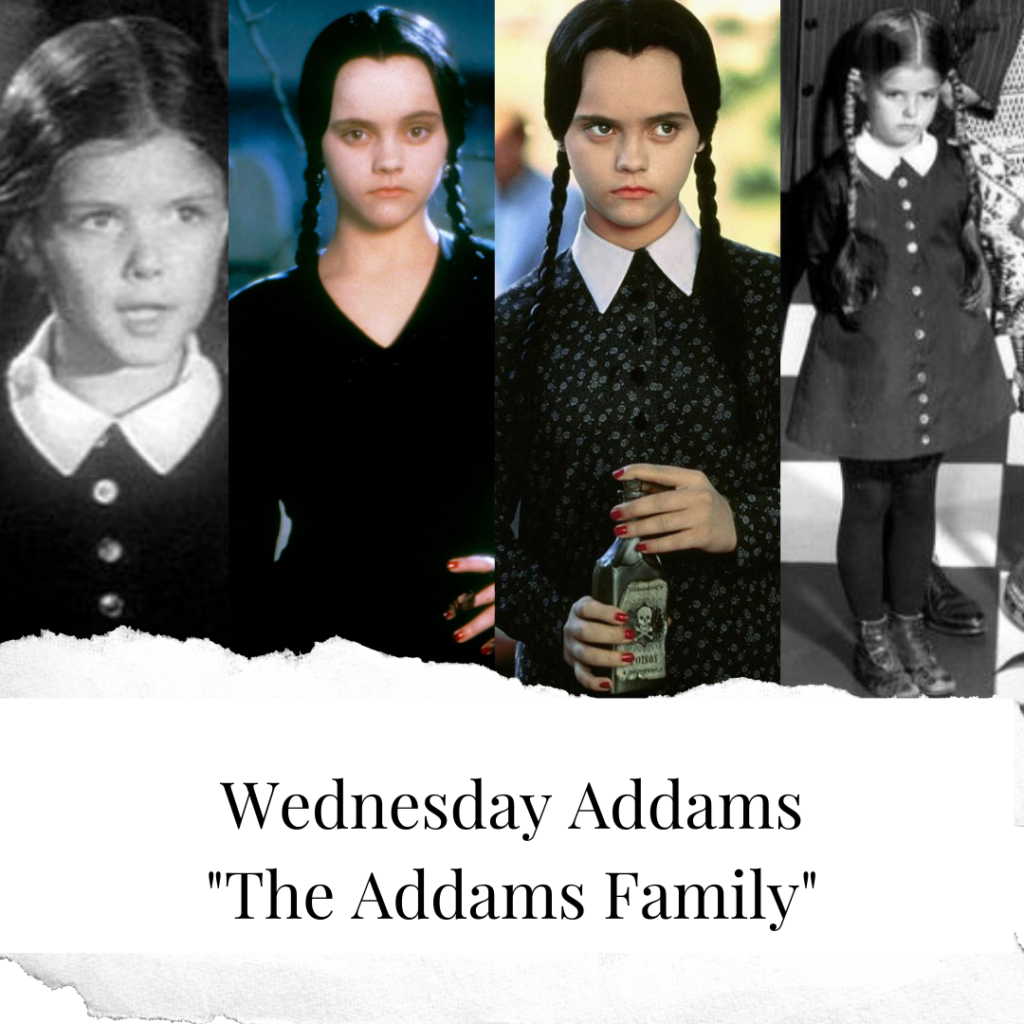 The female members of The Addams family are, hands down, the most iconic and emulated characters from the franchise. Wednesday Addams has innocent doe eyes, but she is far from harmless. Her iconic black dress with a white collar is a staple of LBD-based Halloween costumes.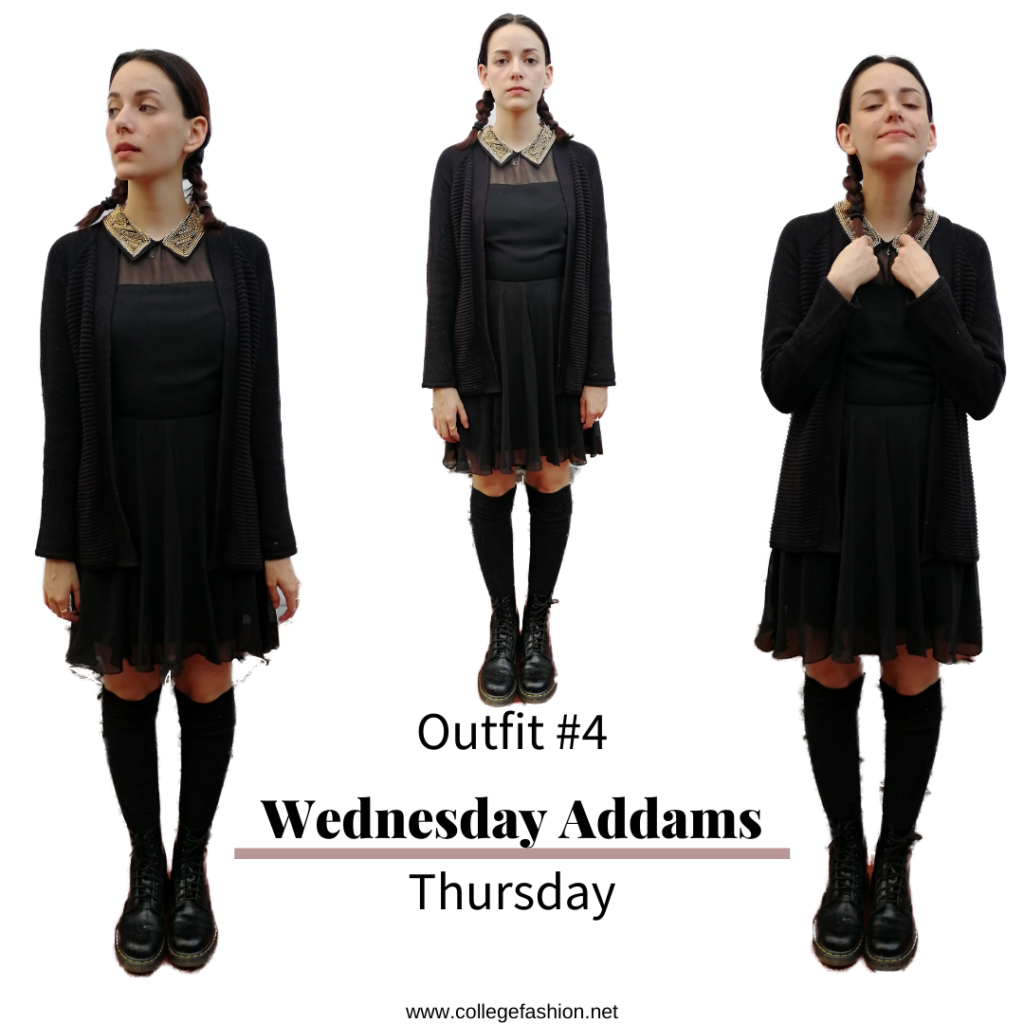 I recreated Wednesday's outfit in a modern way with a black dress that has a collar, except mine is golden instead of white. I then added a pair of black knee socks and some Doc Martens. Since it has been a bit chilly, I wore a simple black cardigan. Maybe if the weather had been a bit colder, I would have worn tights under the socks, but it wasn't necessary on this day. I did wear my hair like hers since her pigtails are just as iconic as her dress.
5. Rosemary Woodhouse (Rosemary's Baby, 1968)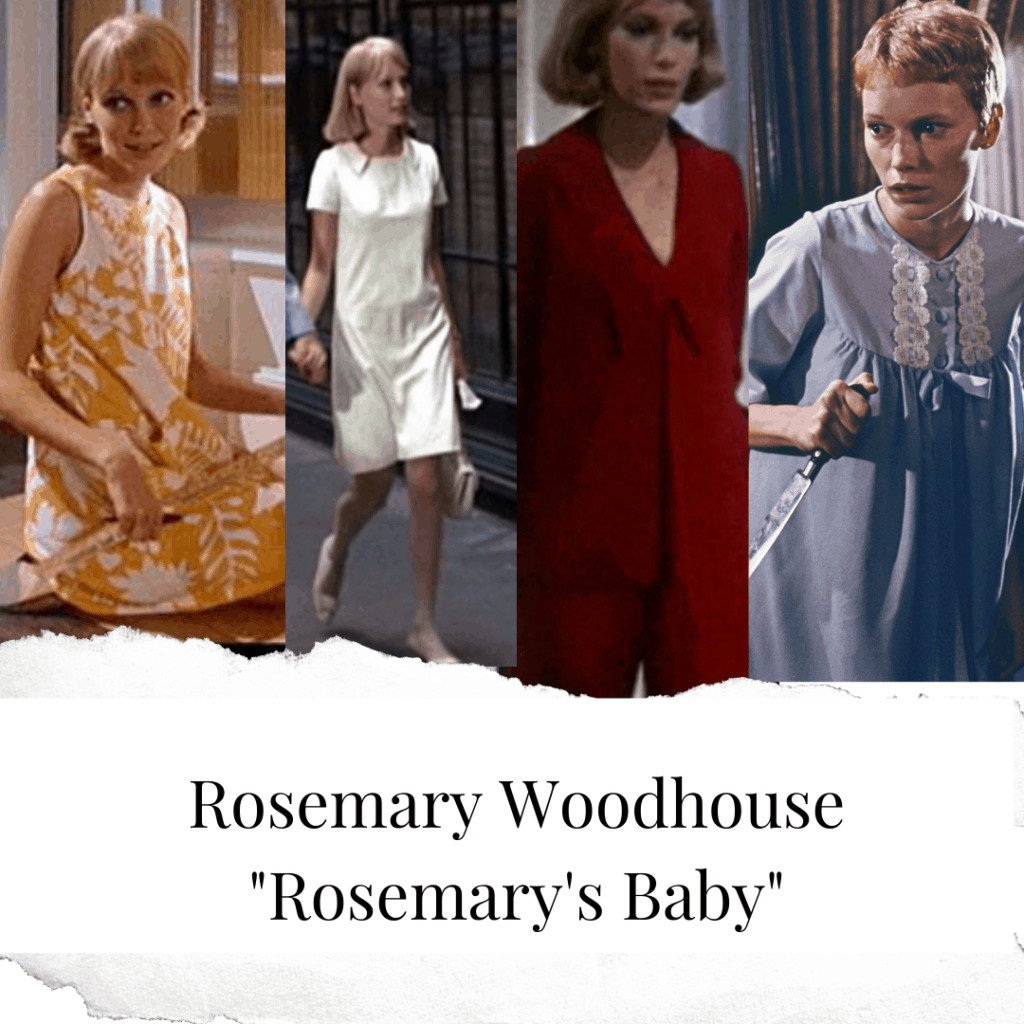 One of the scariest films of all time also has one of the most fashionable characters. Mia Farrow's pixie haircut and outfits in Rosemary's Baby made her character a staple of stylish moments in the film. Her outfits are a 60's throwback dream: Think baby doll and shift dresses, thin knit sweaters, and plaid and Mary Jane shoes, all in pastel colors.
(If you want to know more about her style, check out this article about the fashion from Rosemary's Baby.)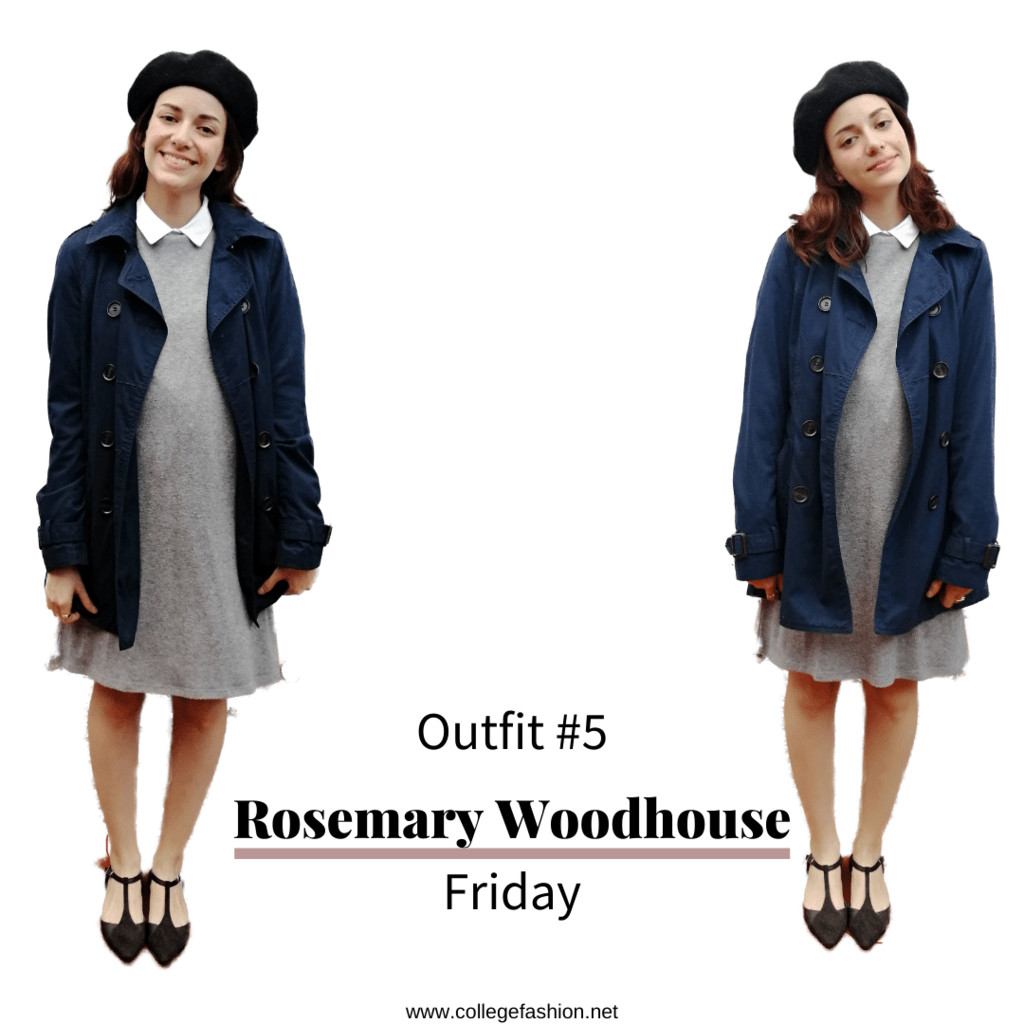 To get Rosemary's look, I mixed a grey shift dress with a white button-down shirt and layered on a navy blue coat. I don't own a pair of Mary Janes. Instead, I used a pair of black classic flats instead. For accessories, I wore a black beret and a simple black bag. I tried to do a simple, '60s kind of makeup with neutral colors and lots of mascara.
6. Lydia Deetz, Beetlejuice (1988)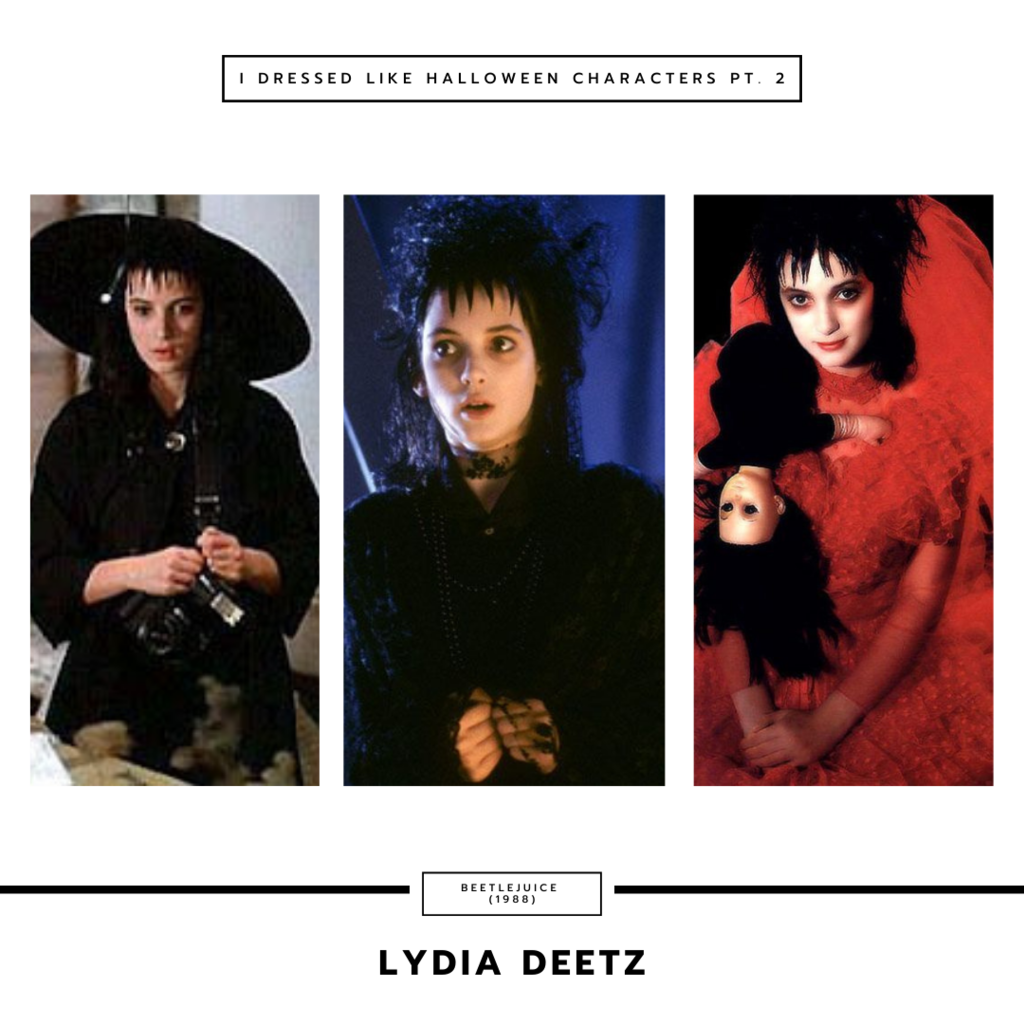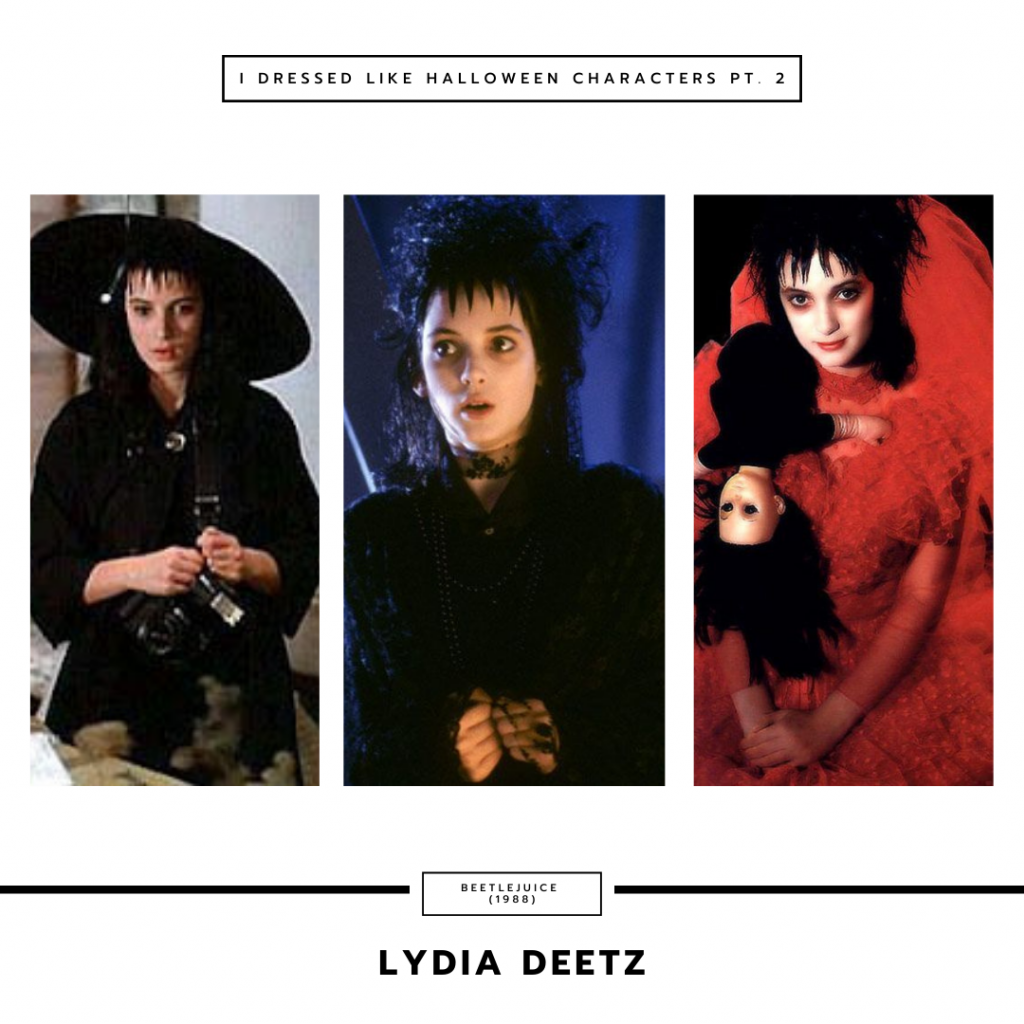 I started the week with one of the most iconic Tim Burton characters, Lydia Deetz.
Beetlejuice premiered in 1988, and it quickly became a classic. The film stars Michael Keaton, Winona Ryder, Catherine O'Hara, Alec Baldwin, and Geena Davis. Keaton has stated this has been his favorite project to work on.
Lydia Deetz, played by Winona Ryder, is the human protagonist of the film. She's a goth girl who's obsessed with death. As a result, most of her outfits throughout the movie are all-black ensembles, except for the red wedding dress Betelgeuse dresses her in.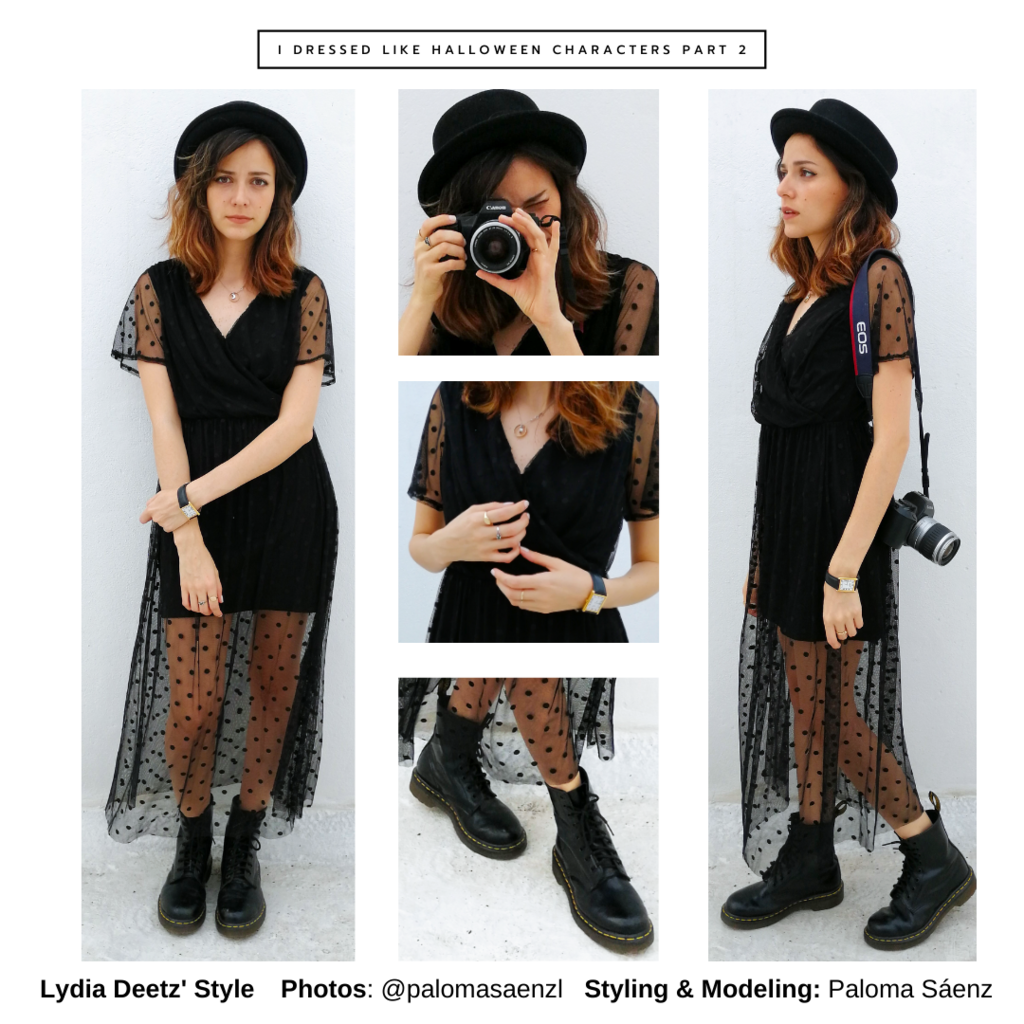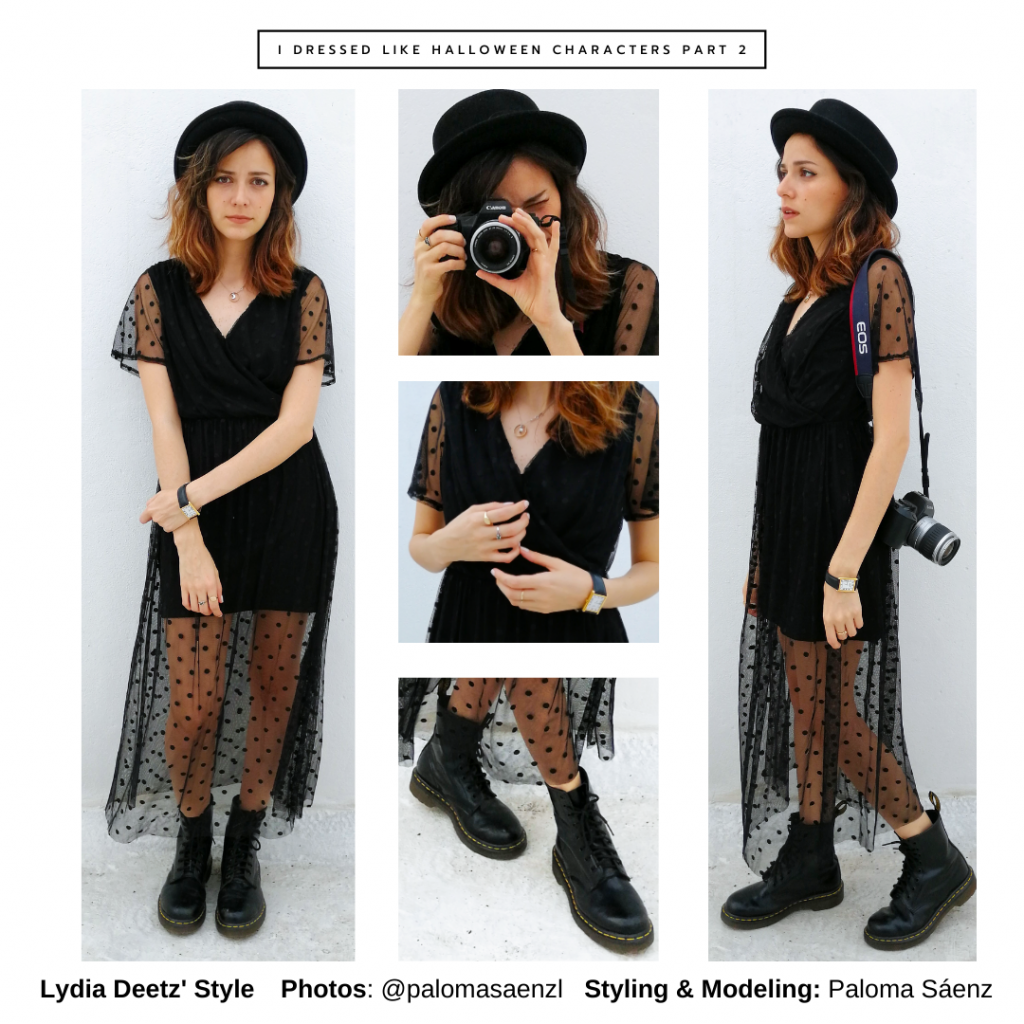 For my Lydia-inspired outfit, I wore a black midi dress. It has a lot of lace detailing and it's really loose and flowy, so it was perfect to emulate Lydia's goth looks. I borrowed a black hat from my brother to accessorize and used my black Doc Martens. Finally, I took my camera everywhere, since Lydia carries her around for a while in the film.
7. Michael Myers, Halloween (1978)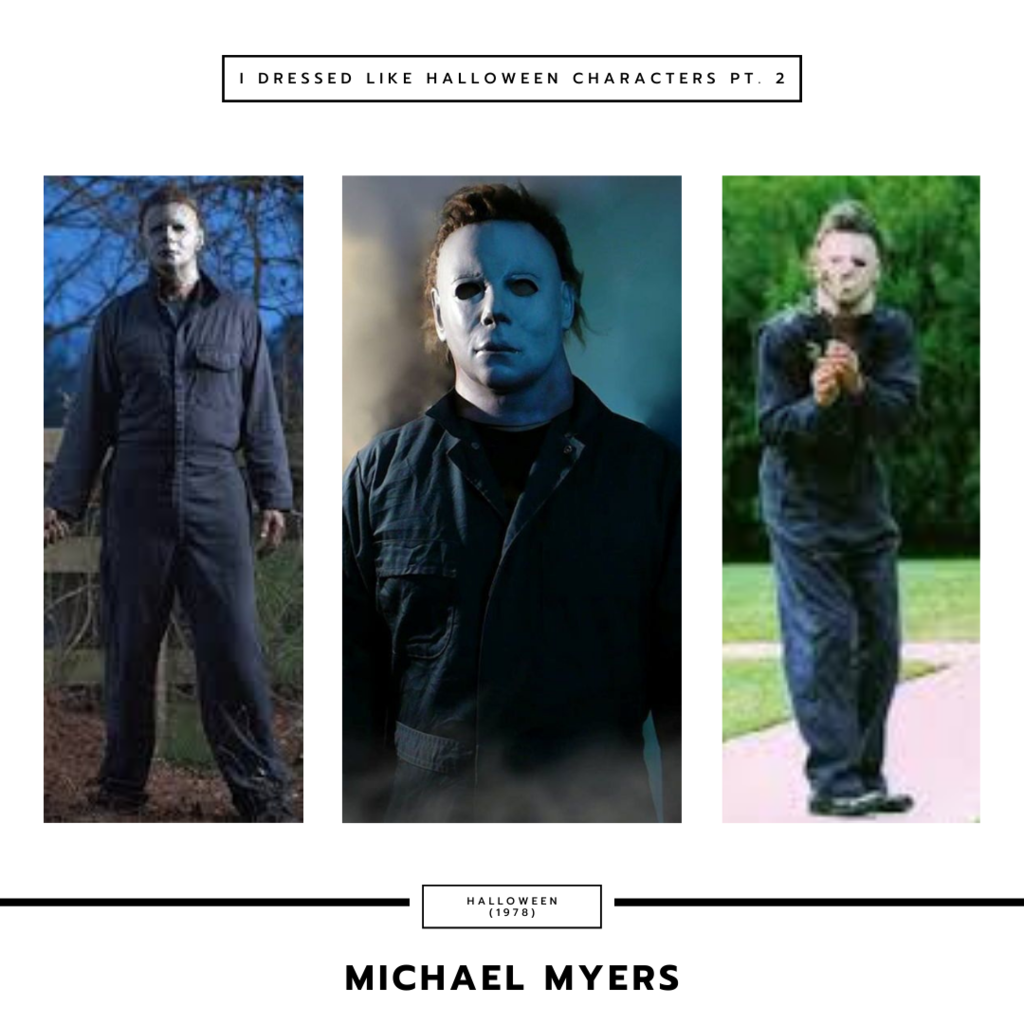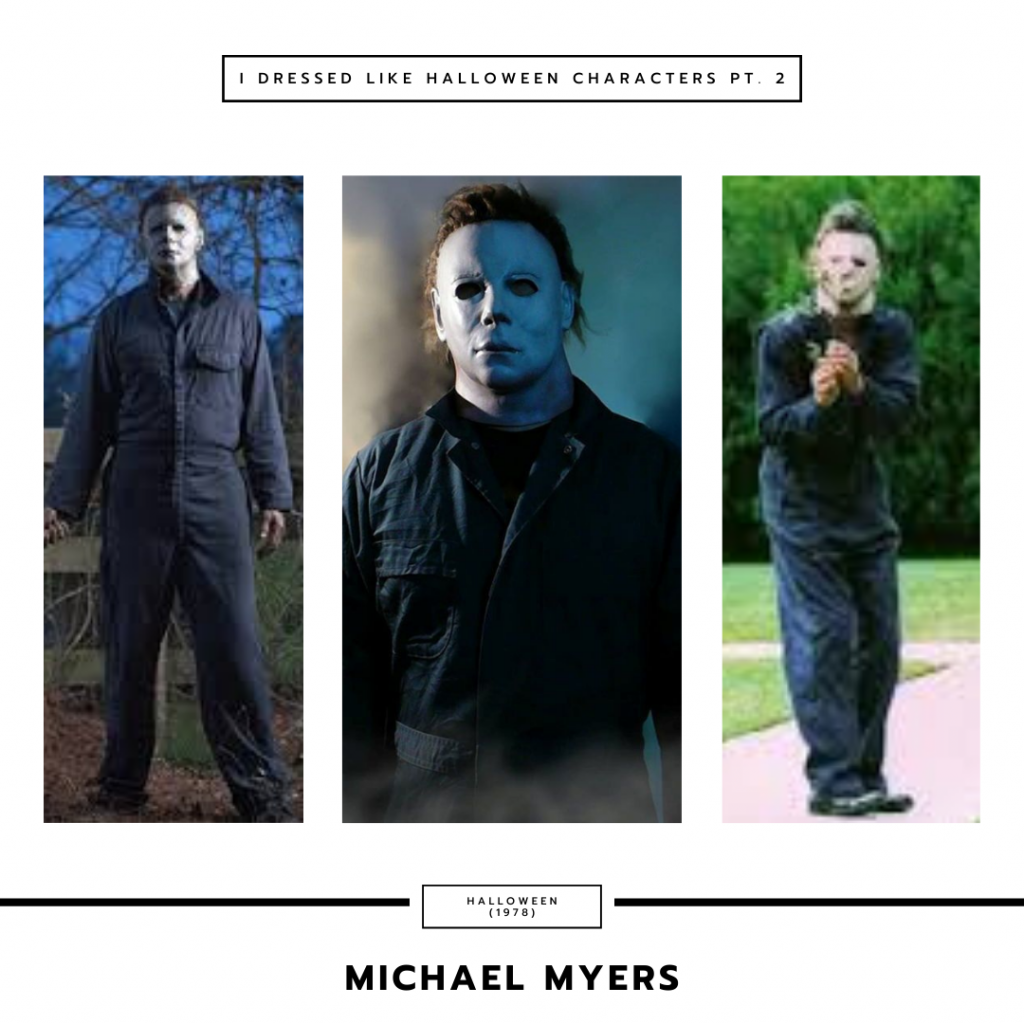 One of the original slasher films, Halloween premiered in 1978 and became Jamie Lee Curtis' star-making role.
While it isn't the first movie of its kind, Halloween is the codifier for the horror genre and is credited with the revival of the horror genre. It spawned a multi-film franchise that even crossed over with other slasher movie villains, like Freddy Krueger and Jason Voorhees.
For this look, I decided to emulate the original slasher killer, Michael Myers. Michael is a terrifying and unstoppable figure. Since Michael just escaped an asylum, he is only seen in a dark blue jumpsuit, a pair of black boots, and his famous mask.
My 'Michael' outfit was by far the most challenging to create. First of all, I had to see what type of style I could do. Unlike the rest of the characters in this post who have very specific styles, (Lydia is a goth, Kat's a '90s girl, etc.) Michael doesn't have a style; he just has clothes. I opted for a comfy, street-style type of look for this one.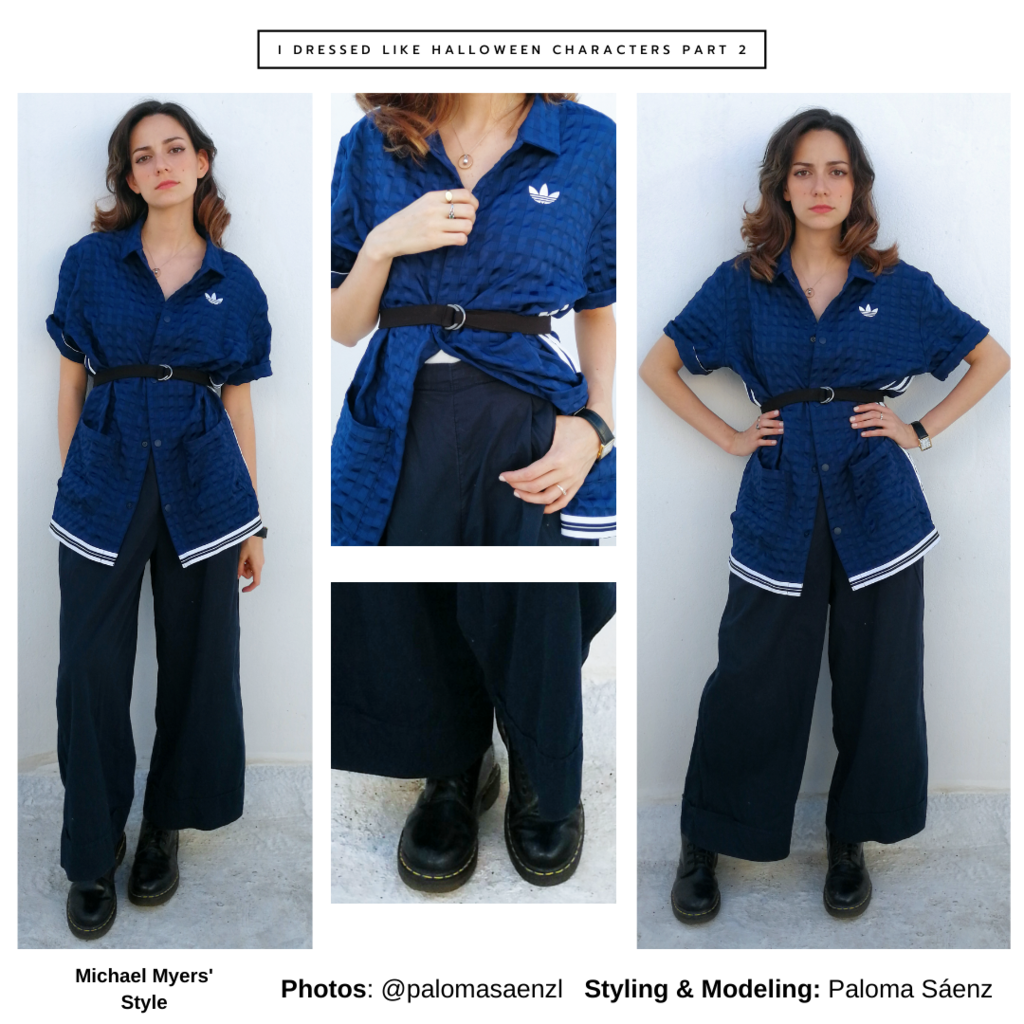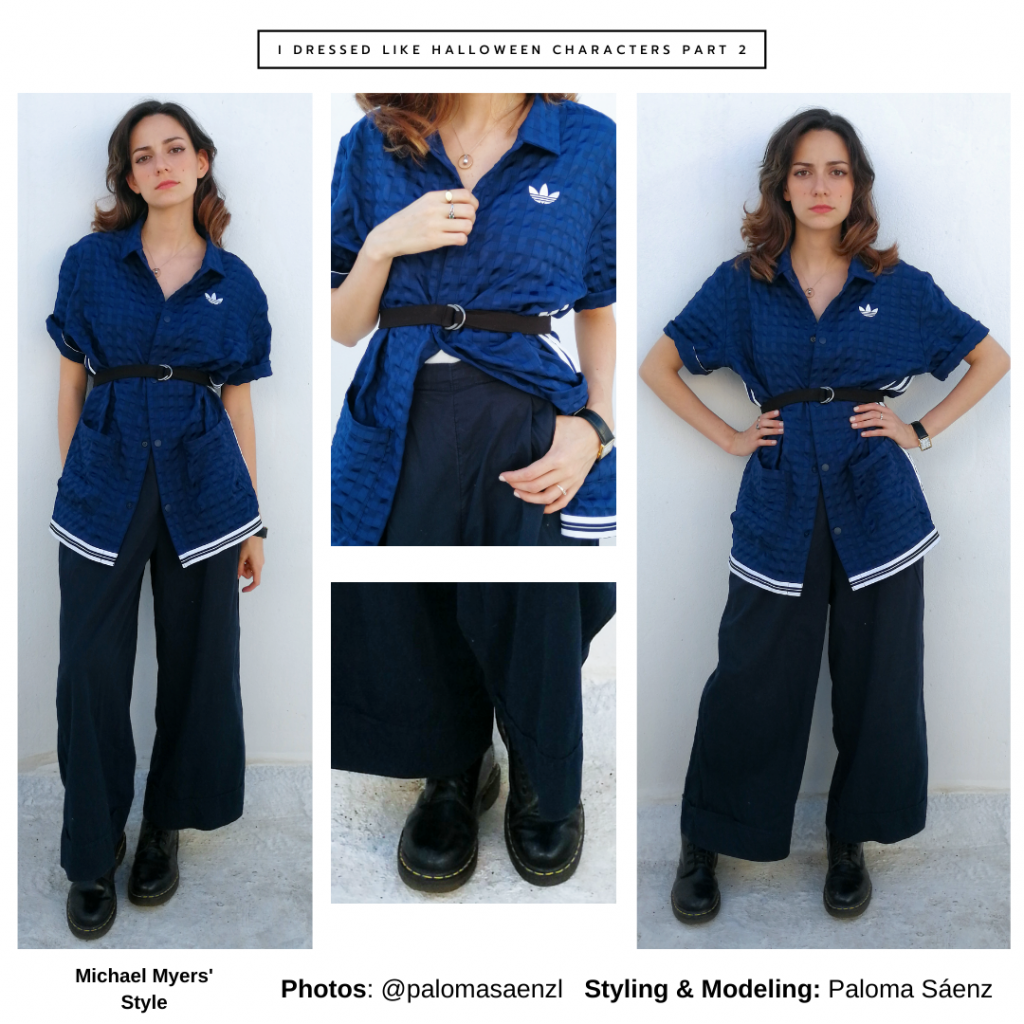 For my Michael outfit, I wore a pair of long blue culottes with an oversized blue Adidas shirt. I buttoned the shirt half-way down and then cinched it with a navy blue belt. I felt like I needed to do that because I would've been swimming in fabric otherwise. Finally, I wore my black Doc Martens to emulate Michael's boots.
I absolutely LOVED the final look! It was a challenge, since I didn't want to buy a blue utility jumpsuit, because I knew I wouldn't wear it again. Plus, I didn't own anything remotely similar or that could be reinterpreted for a 'Michael' look. So I ended up borrowing these items: the pants I borrowed from my sister and the shirt from my brother.
The end result was more street style-oriented than any other outfit I've done before. It sorts of reminded me of the minimalistic mode, a very popular street-style in Japan. This sort of style tends to go for monotone color palettes, genderless items, un-cinched or boxy items, and layering outfits.
8. Kat Harvey, Casper (1995)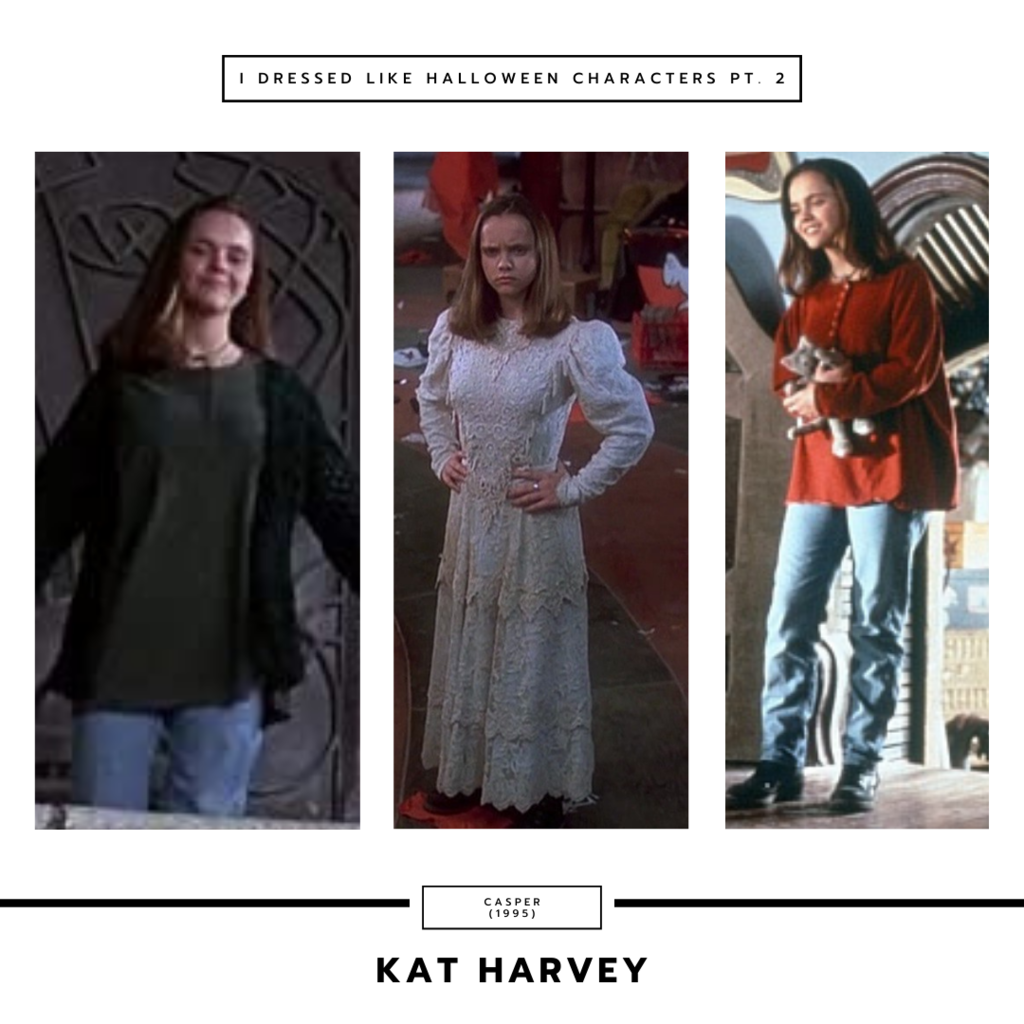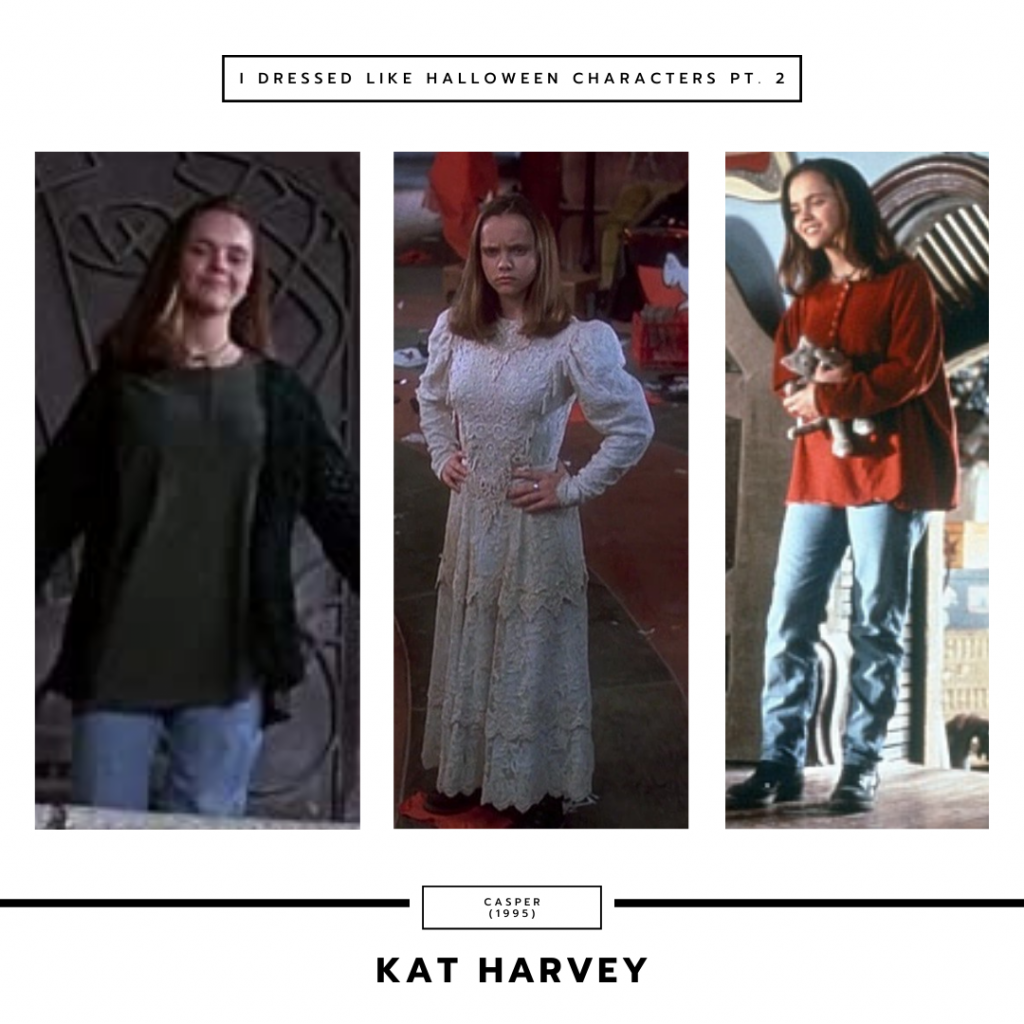 Casper premiered in 1995 and it is the live-action adaptation of Casper The Friendly Ghost comics and cartoons. It stars Christina Ricci, Bill Pullman, Eric Idle, and Cathy Moriarty, with a brief but memorable cameo by Devon Sawa.
For my Wednesday outfit inspiration, I chose Kat's style. Kat is the female protagonist of the film and she's played by Christina Ricci.
Kat's outfits are pure mid-'90s style: mom jeans, chunky boots and shoes, button-up shirts and sweaters, chokers and oversized shirts. Her only off-style outfit is the famous white dress she wears at the end.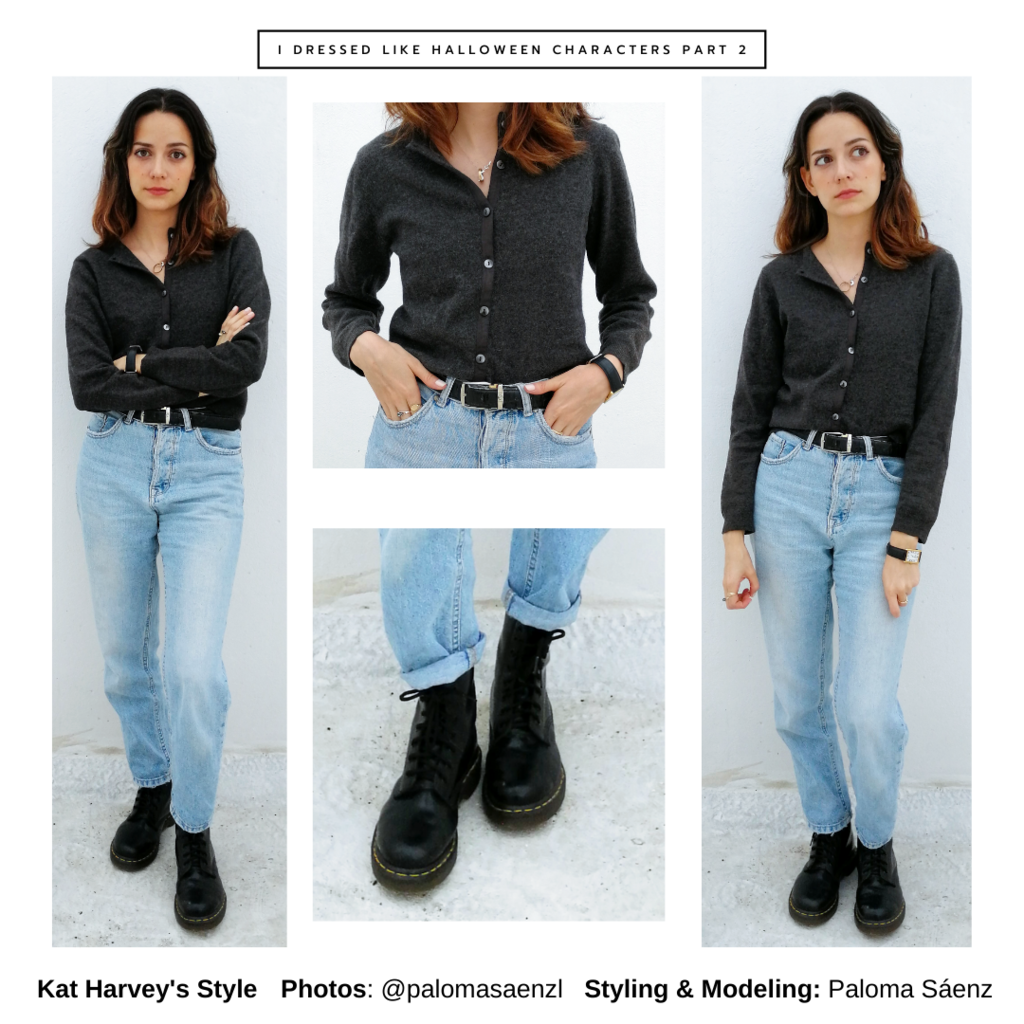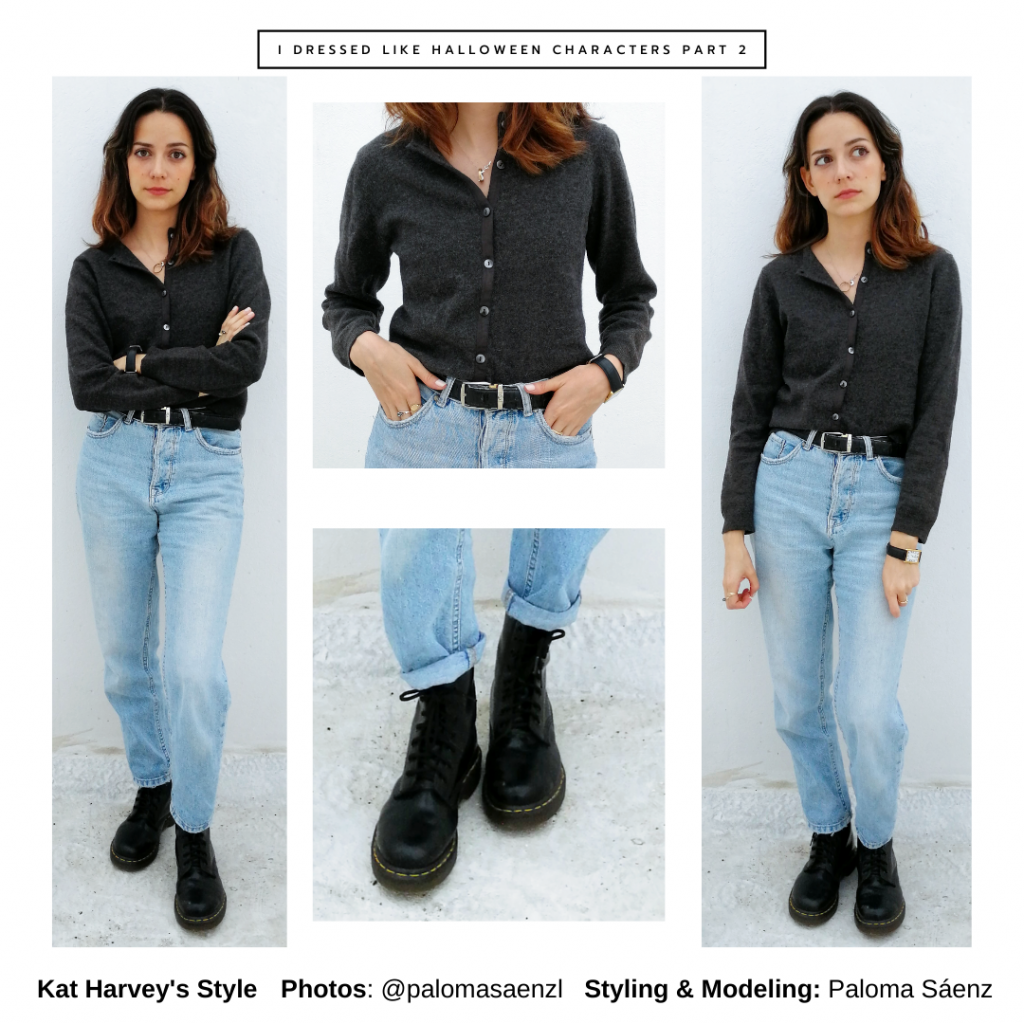 It was really easy to create Kat's look. I took a simple dark grey cardigan and buttoned it up to wear as a top. Then, for bottoms, I added a pair of mom jeans and did a French tuck. I wore my black Doc Martens, again. Finally, I accessorized with a black belt to make the look a bit more put together.
9. Georgie Denbrough, It (1989/2017)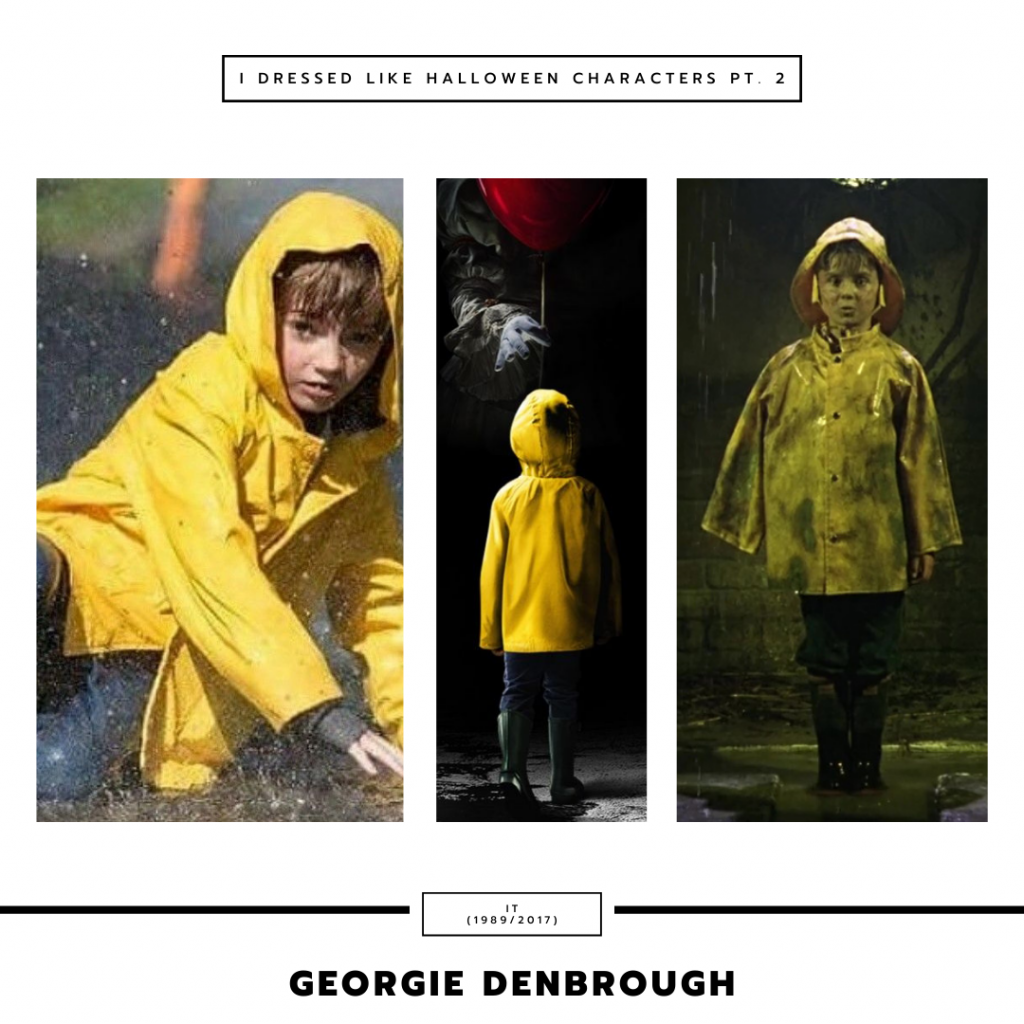 It is a novel written by horror master, Stephen King. Like many of his works, it has multiple adaptations: a mini-series from 1989 and a film adaptation from 2017.
Sometimes the most memorable character of the film is the first to die. And that's exactly what happens with It 's Georgie Denbrough, my choice of inspiration for Thursday.
Georgie is the first victim we see on-screen and it is one of the most heart-wrenching, if not the most heart-wrenching, scenes of the film. Since he appears only for a few minutes, his look is pretty much one: jeans, rain boots, a yellow raincoat, and a sweater.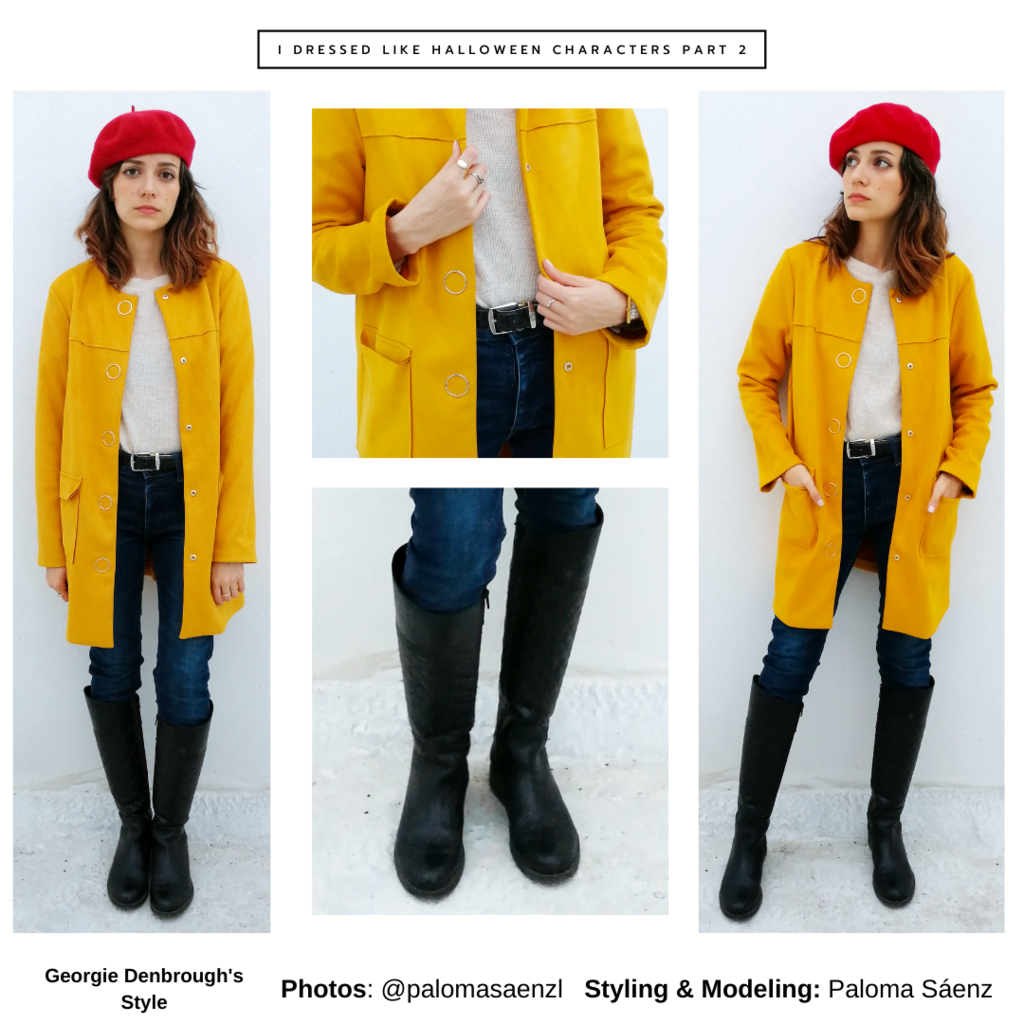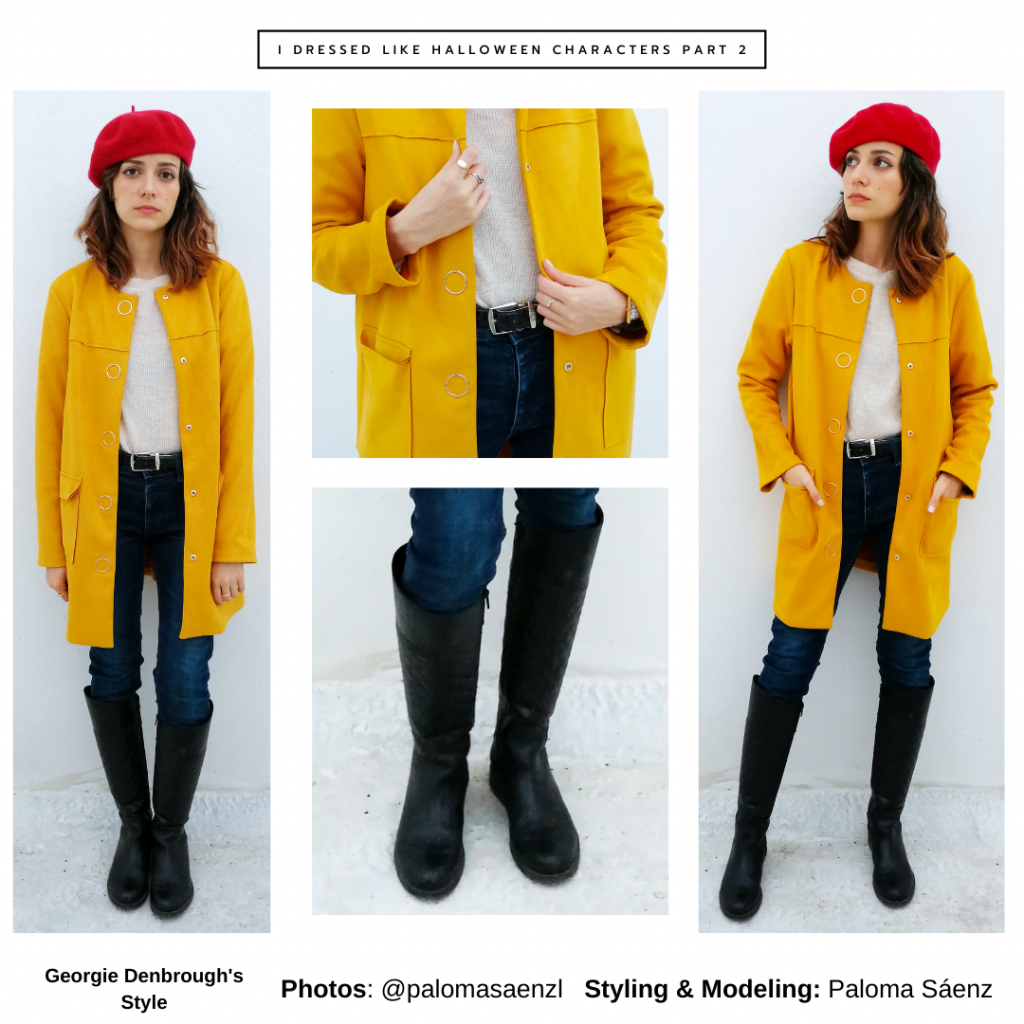 In order to create Georgie's look, I concentrated on the color palette associated with him more than anything else. For the base of the outfit, I wore a simple beige sweater and a pair of dark wash jeans. On top, I used a yellow coat, to emulate Georgie's raincoat.
In the movie, he is wearing a pair of green rain boots, but I don't own a similar pair and it didn't make sense to wear a pair of rain boots since it isn't raining. As a result, for shoes, I settled on a pair of black riding boots. Finally, I wore a red beret to emulate the red balloon It offers Georgie and you can see in the poster.
10. Winifred Sanderson, Hocus Pocus (1993)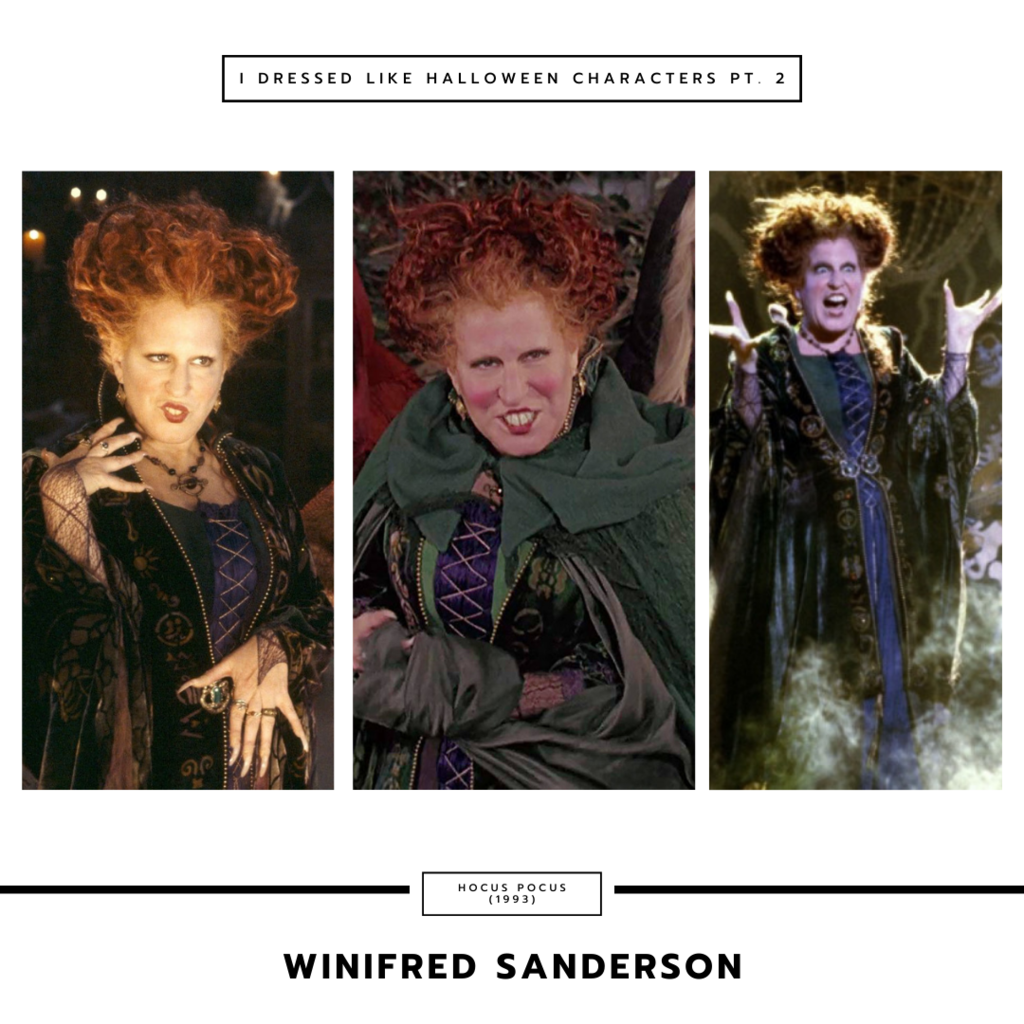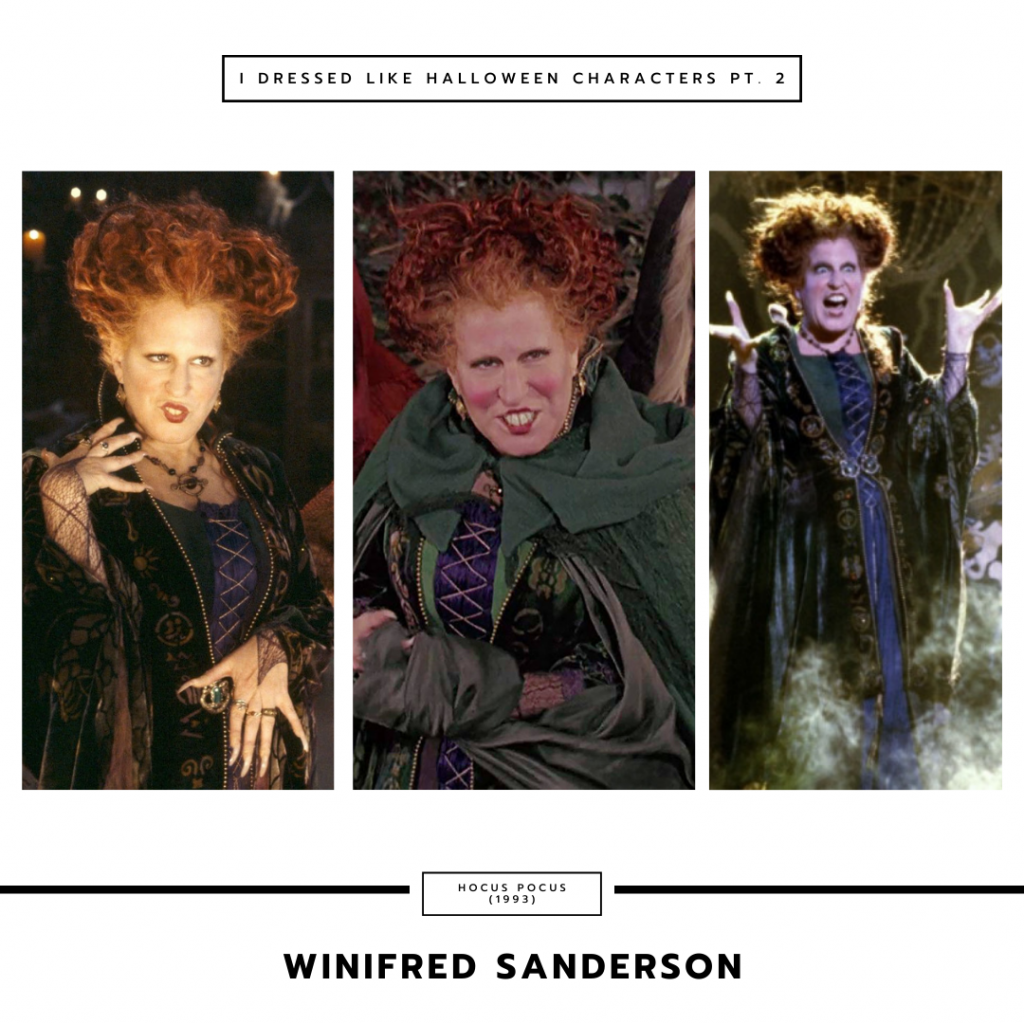 Finally, I had to include one of my absolute favorite Halloween movies: Hocus Pocus.
One of the most popular Halloween movies ever, Hocus Pocus premiered in 1993, directed by Kenny Ortega. The film stars Bette Midler, Sarah Jessica Parker, and Kathy Najimy as the villainous Sanderson Sisters.
For my style inspiration, I chose my favorite character, Winifred Sanderson. Winifred, played by the wonderful Bette Midler, is the leader of the witches and most dangerous antagonist of the film. Since the events of the movie only span one night, Winifred's look is just one. She wears a green dress, heeled boots and a green cape.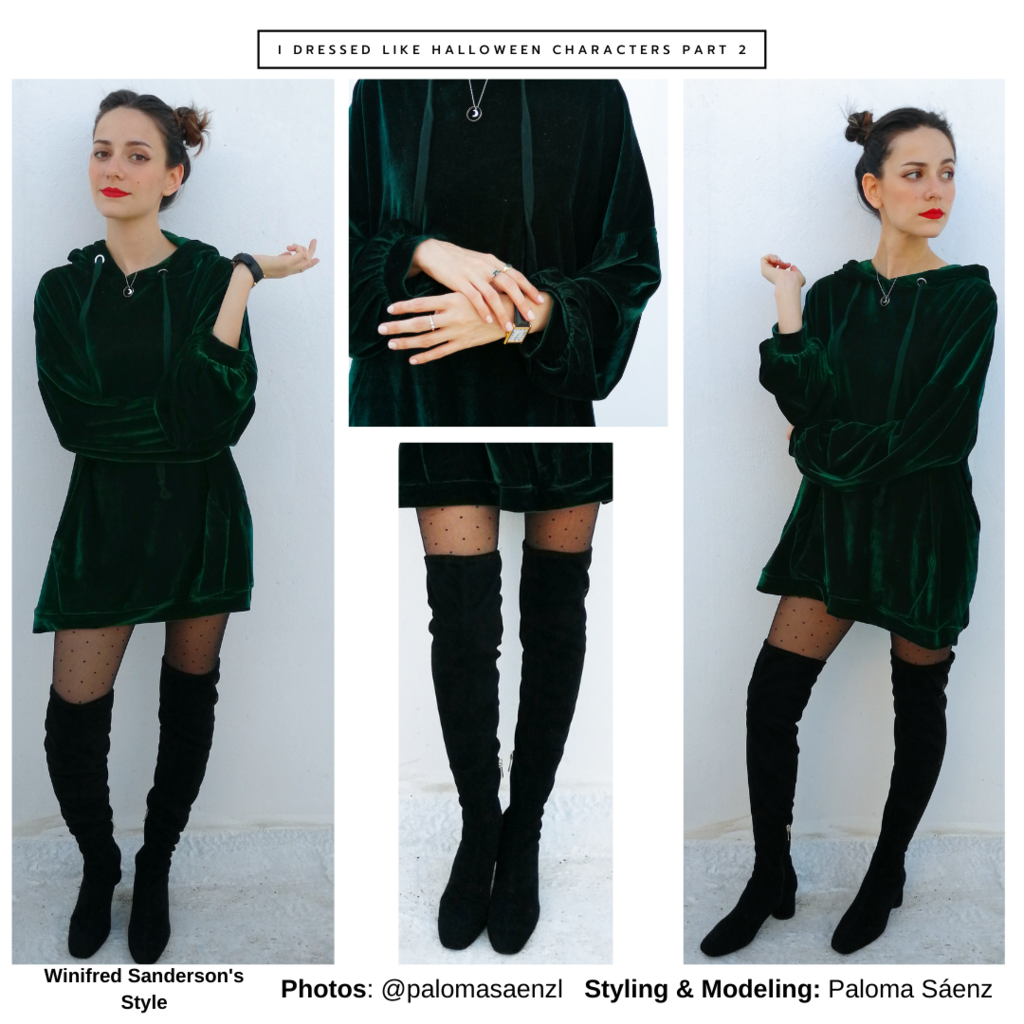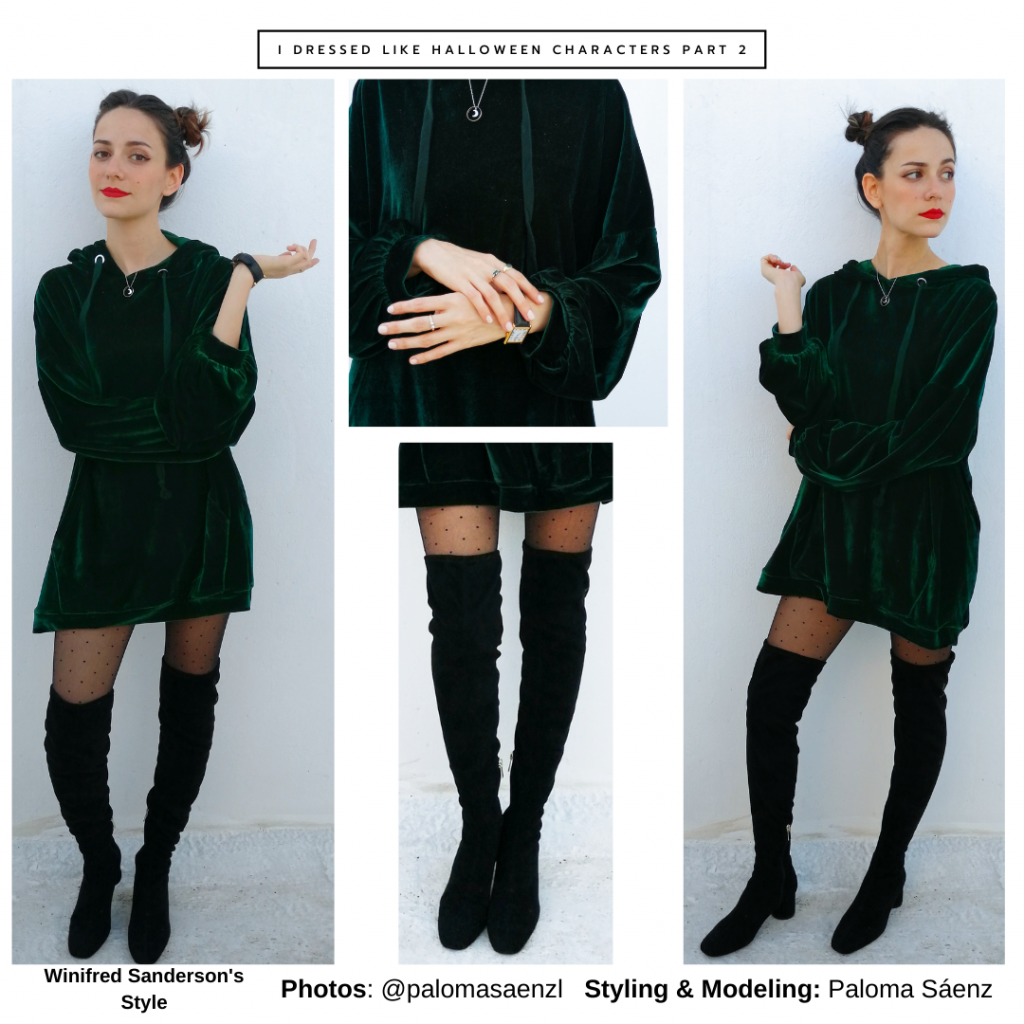 Honestly, this was the easiest recreation of the week. Winifred's whole vibe is about green velvet and witchy items, without losing her edginess or femininity. And, after going through my closet, I realized I actually had a lot of green items to choose from.
As a result, I wore an oversized hoodie in green velvet. Since it is such a big hoodie, it functioned as both Winifred's dress and cape. Then I wore a pair of polka-dot black tights and a pair of black over-the-knee boots. Finally, I put my hair up in two buns, to emulate her hairstyle, and wore red lipstick like she does.
Easy Disney Halloween Costume Ideas
Now it's time for my personal favorite: Disney Halloween costumes!
Assuming you don't already have a ball gown hanging in your closet, here are some of the easiest Disney characters to dress up as with minimal new purchasing! (Gotta save all that money for next month's Friendsgiving feast, you know.)
1. Honey Lemon, Big Hero 6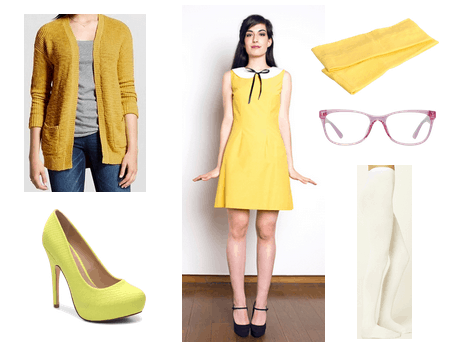 Products:
If you thought I was going to compile a list of Disney character costumes and not include this precious cinnamon roll, think again. A Honey Lemon Halloween costume is crazy easy to make, especially since she changes her outfit scene-by-scene like a normal human instead of wearing the same dress without variation like most animated characters.
Honey Lemon's most iconic look is a yellow mini dress with a mustard cardigan, white tights, and sky-high yellow pumps, but you'll be recognized as this character simply by sticking to her pastel yellow color palette, throwing on your highest heels, and making sure your look is ultra girly. (Think Peter Pan collars and cute skirts or dresses!)
The other two most important pieces to rock are Honey Lemon's iconic yellow headband and pink glasses. I know that you might not have pink fake glasses just lying around, but don't worry- DIY your own by punching the lens out of an old pair of 3-D movie theater glasses, then spray paint them pink!
2. Roxanne, A Goofy Movie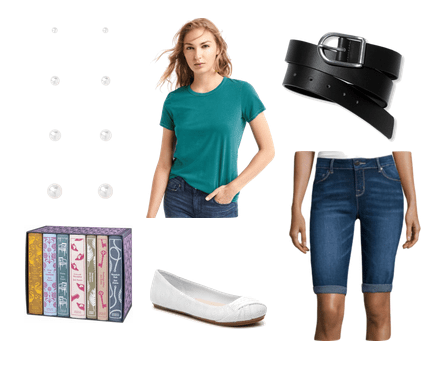 Products:
Everyone is so nostalgic about A Goofy Movie that once it hits them that you've done a Roxanne costume, your look is going to be a crowd fave despite its simplicity.
Max Goof's love interest's outfit is incredibly easy to replicate using items you already have: all you need is a teal (or light blue) t-shirt, denim Bermuda shorts, white shoes, and pearl earrings for that sweet girl-next-door look.
Tote around a couple of the books Roxanne is known for shyly hiding behind and don't forget to paint the tip of your nose with a black circle to make your costume even more recognizable!
3. Boo, Monsters Inc.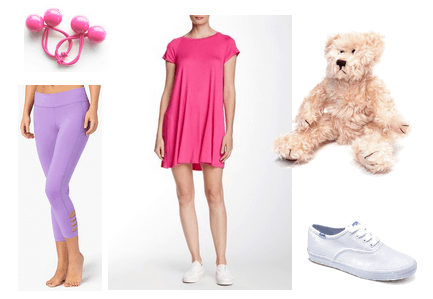 Products:
Boo was necessary for this list because Halloween is supposed to be scary, and yet I am confident that my own ability to be scary rivals that of this two-year-old animated Pixar character.
To do a Monster's Inc. Boo costume, just wear a pink loose-fitting dress or shirt with purple leggings (or tights), then throw on some white shoes and dig out your old pink elementary school hair ties from storage and wear your hair in pigtails. Pro tip: taking pictures trying to "scare" anyone dressed remotely as a monster makes for a fun photo series!
Geeky Costume Ideas
If you read our post A Very Geek Chic Halloween: 10 Geeky DIY Costume Ideas, you know that we have an unhealthy obsession with making costumes. So here are more geeky DIY costume ideas from TV and movie characters to help you embrace your inner geek!
1. Han Solo from Star Wars
You can never go wrong dressing up as a scruffy-looking nerfherder, especially if he's a sarcastic smuggler who happens to be one of the greatest film heroes of all time. (Also, he shot first.)
Grab some striped trousers with a tuxedo stripe for Han's vibe. (Plain navy or black pants work as well; you can also DIY the stripe by stitching a ribbon along the pant leg.) Any long-sleeved white or cream blouse will do – just make sure to add an edgy black vest. And don't you just love a costume that lets you wear comfortable shoes? Boots will finish the look.
2. Kiki from Kiki's Delivery Service
If you're a Miyazaki fan, why not put together this simple costume inspired by the protagonist from Kiki's Delivery Service, a sweet film about a young witch coming to age? Plus, for those who don't understand the reference, it's still a witch costume!
Pair a navy dress with red flats and a cute hair bow (if you can't find a similar headband, try making your own with craft felt). If you don't have a broom lying around, pick up an inexpensive Halloween broom prop. A messenger bag holds your "deliveries" as well as any essentials you might need to carry around on your big night out.
3. Walter White from AMC's Breaking Bad
This drug kingpin's TV reign may have come to an end, but you can still pay tribute to your favorite meth mastermind with a costume inspired by Walter in the pilot episode of Breaking Bad.
For Walter's off-duty look, borrow or thrift an oversized men's green shirt, then add a pair of white workout shorts. (I mean, you could wear a pair of men's tightie-whities, but I'd personally go with the shorts.) Argyle socks and moccasins round out the look, while a pair of crystal earrings reference Heisenberg's "Blue Sky" product. If possible, get a hold of a pair of old-school glasses, a fake mustache, and a gas mask to complete the costume.
Alternatively, if you just want to buy something, you can always get a hazmat suit costume on Amazon.
4. Aang from Avatar: The Last Airbender
After taking a lot of heat from friends for not watching Avatar (the animated Nickelodeon one, not the one with giant Smurfs), I've finally gotten around to watching the show. I'm loving it so far!
Aang, the eponymous Avatar, is easily the most recognizable character from the show, with his flowing monk robes and arrow-emblazoned noggin. For an easy take on this flying-bison-riding hero, layer orange and yellow garments over a pair of brown leggings or yoga pants. If you have blue body paint, great! If not, try using eyeliner or eyeshadow to create the blue Airbender markings.
5. Daphne and Velma from Scooby Doo
Speaking of Scoobies and Sarah Michelle Gellar (what a smooth transition!), Daphne and Velma from Scooby-Doo are two easy costumes to put together. Plus, the great thing about duo and group costumes is that more people are likely to recognize your character.
To get Velma's look, pair an oversized orange sweater with a red pleated skirt. Knee-highs and a pair of thick-framed glasses are essential! For Daphne, any purple dress will do. Accessorize with a neon green scarf and pink tights. Scooby-dooby-doo, where are you?
P.S. Don't do a Google Images search for "Daphne and Velma" on a school computer without turning on SafeSearch first… Rule 34 is very real!
6. Misty from Pokémon
Here's a costume that just about everyone will recognize: Misty the Water Trainer from Pokémon! The best part? You probably already have a pair of denim cutoffs and colorful sneakers in your closet. The suspenders might be somewhat tricky to find, but you can always just tie red ribbon to your belt loops.
There are a couple of options for Misty's yellow top: since crop tops have been trendy, you can probably find an inexpensive yellow one in stores. If you'd rather be a little more covered up or if you just like to be more hands-on with your costumes, try cutting the sleeves off of an inexpensive yellow Hanes tee or a thrift store find. This way, you can adjust the shirt length to your comfort level. Psyduck and orange hair are optional.
7. Abby Sciuto from NCIS
If cutesy costumes aren't for you and you happen to be a fan of NCIS, why not dress up as Abby Sciuto, the awesome forensic specialist and "the happiest goth you'll ever meet"?
Any basic black outfit will do – ideally paired with a tough pair of boots – but you'll need a lab coat and goth jewelry to really pull off this look. Finally, pull your hair up into Abby's trademark pigtails and apply a coat of vampy lipstick.
8. Vanellope Von Schweetz from Wreck It Ralph
On the other hand, if you prefer a more saccharine look, it doesn't get much sweeter than Vanellope von Schweetz from Disney's Wreck-it Ralph! This aspiring Sugar Rush racer may be cute, but she's still one tough cookie.
Pile on the candy colors with a teal hoodie and a pleated brown skirt. There are replicas of Vanellope's tights available on sites like Etsy, but any pair of brightly-colored tights or leggings would get the look across. Use colorful hair ties to replicate her candy-studded hairdo. (If you're sure it won't rain where you are, you can also try hot gluing actual candy to hair clips and using those as well.)
9. Bulma
This iconic character from the Dragon Ball series is sure to get you noticed at any Halloween or cosplay event. Plus, she's easy to dress up as – all you need is a blue wig and some creativity — see the above video for tons of examples of her outfits. So why not give Bulma a try this year? You won't be disappointed!
10. Alien Abductee
One of the most popular geeky costume ideas is to dress up as an alien abductee. This costume is not only unique and eye-catching, but it also has a few different options for how you can wear it.
For example, you could go with the classic gray aliens that are often associated with abductions. Or, you could choose to dress up as a more friendly alien, like E.T. Either way, this is a great costume choice for geeks who want to stand out from the crowd.
The video above shows you how to DIY the costume, but you can also buy the famous Alien Abductee costume on Amazon if you're feeling lazy this year. (No shame!)
11. Gwen Stacy Spider-Gwen
Here are some tips on how to put together your own Gwen Stacy Spider-Gwen costume:
Start with a white hoodie and black leggings or tights. Use fabric paint or Sharpie to create the hot pink accents on her hoodie.
To complete the look, add some bright blue shoes. And don't forget the gloves — Spider-Gwen's are white, but black would work too!
12. Totoro
Totoro is a friendly and lovable forest spirit from the popular Studio Ghibli anime movie My Neighbor Totoro. He's also become a popular icon of Japanese pop culture.
Wearing a Totoro costume is a great way to show your love for anime and Japanese culture. It's also a cute and unique costume choice that is sure to get you noticed at any Halloween party. So if you're looking for a geeky costume idea, consider dressing up as Totoro this year! The video above will show you how.
13. Chun-Li
Street Fighter is an insanely popular video game series (and movie!), so any gamer will know who you are if you dress as Chun-Li.
The video above shows you how to make your own Chun-Li costume. However, you can always make this easier by pairing any high-neck blue dress with a white belt and arm-warmers and then putting your hair up into pigtail buns.
Fashion Inspiration from Halloweentown
One of our favorite cozy fall movies is Halloweentown, an iconic kids' flick that follows Marnie, who, after discovering she's a witch, travels to the magical realm of Halloweentown to help her grandmother fight an evil force.
Below are three DIY costumes inspired by the characters of Halloweentown. Scroll down to check 'em out!
1. Marnie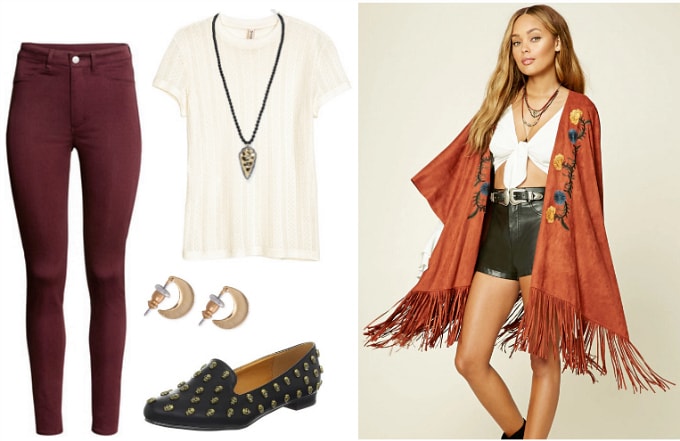 For a look inspired by our fearless heroine and lover of all things weird, start with the basics: dark red skinny jeans and a textured white top. Layer on a pumpkin-colored jacket that's reminiscent of the cape Marnie wears, then step into some Benny-the-skeleton-cabbie-esque studded skull loafers.
Don't forget the "witchy" jewelry. In this case, it's a statement-making pendant necklace and celestial drop earrings.
2. Grandma Aggie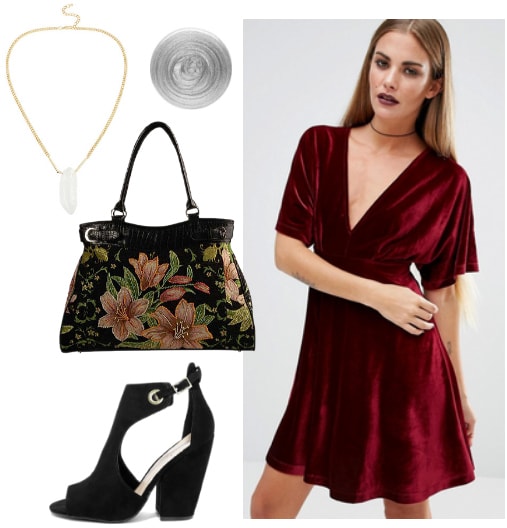 Make Grandma Aggie's BAMF witch attire work for a night out by choosing a luxe, on-trend red velvet dress and suede peep-toe booties.
Stash your belongings in a tapestry bag similar to Aggie's Mary Poppins-like satchel, and string a large quartz crystal around your neck. Finally, add a bit of magic to your mani with a glitter-packed reflective nail polish.
3. Kalabar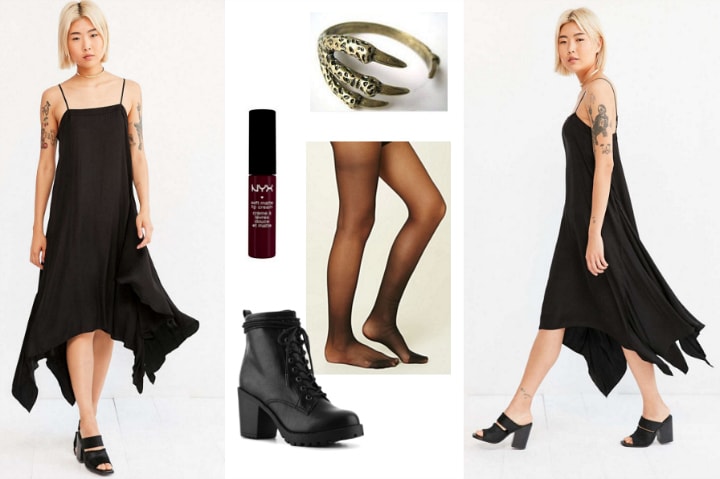 Halloweentown's big bad is actually quite frightening for a movie meant for children, but I'm loving the idea of an outfit based on his billowing robes.
Since this villain wears head-to-toe black (shocker!), start with a long, flowy spaghetti strap dress. Add sheer tights and lace-up combat boots, then adorn your wrist with a claw-shaped cuff similar to the talisman Kalabar so desperately wants. The finishing touch? A dark, mysterious lip color, of course.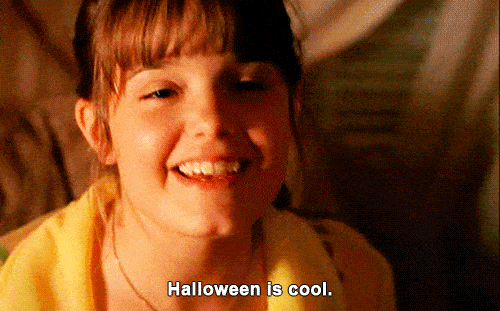 What do you think of our TV & movie character costumes?
From Halloween movies to Disney flicks, there are so many places to find inspiration for an easy Halloween costume!
Remember to be creative and don't be afraid to play around with things already in your closet — with a little ingenuity, you can totally make your own costume and save money this year.
Did you like this take on the post? Which one of these movies and tv shows have you watched? Are you ready for Halloween? Whose style do you think I should do next? Let us know in the comments below!
More Halloween TV & Movie Characters Costume Inspiration