Halloween is fast approaching and odds are you've been too busy with life to plan out a costume that is both age-appropriate and fun. But never fear! I've compiled 13 costume ideas that you can make with your trusty Little Black Dress.
To recreate all of these black dress Halloween costume ideas, here's all you need to do: Pair that LBD (this one from Amazon is our favorite — and it's cheap!) with some items from your closet, make a quick trip to the dollar store, and voilà – you have a Halloween costume that is both creative and inexpensive. Let's jump right in to the black dress costume ideas:
1. Maria Von Trapp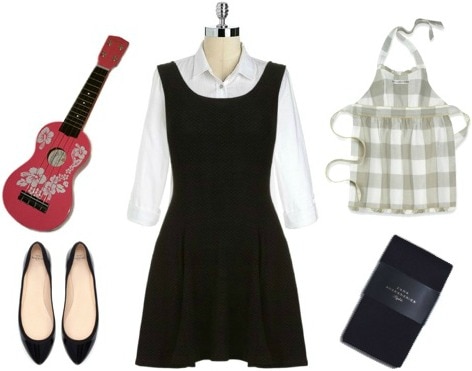 Given how popular The Sound of Music was (and still is!) I'm surprised that people don't dress up as Maria more. The upside is that nobody else will have the same costume as you!
You will need: A ukulele (or guitar, if you don't mind lugging it around), a white blouse, an apron, tights, and black shoes (stick to flats or low heels).
Perfect if: You have short hair and/or want a modest costume.
Bonus points if: You spin and sing, "THE HILLS ARE ALIVE…"
2. Cruella De Vil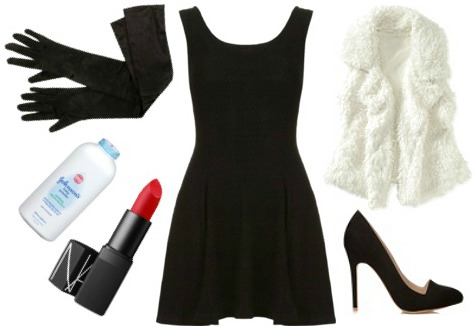 Cruella De Vil is both glamorous and terrifying – perfect costume material. For her crazy hair, use baby powder on half of your hair, then set the powder with hairspray.
You will need: Long gloves, baby powder, red lipstick, a faux-fur vest (or coat), and black heels.
Perfect if: You were a fan of the faux-fur trend that's been going for several seasons now and still have those pieces in your closet.
Bonus points if: You smile maniacally at any dogs you see. (And possibly ask to buy them from their owners.)
3. A Referee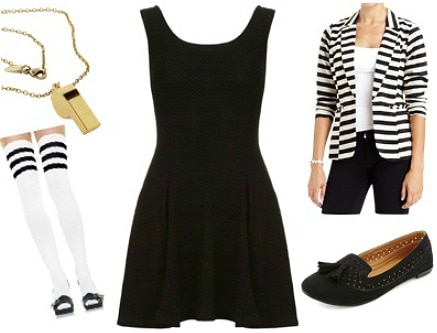 A costume that is both creative and comfy? Score! This is also a great one if you're a sports fan, naturally.
You will need: A striped blazer, a whistle, athletic socks, and loafers.
Perfect if: You happen to have a black and white blazer in your closet.
Bonus points if: You find a good reason to blow your whistle and gesticulate emphatically. (Maybe there's a party foul?)
4. Minnie Mouse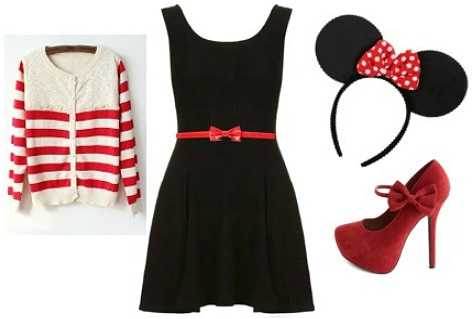 I'm a mouse. Duh.
In all seriousness, it doesn't get cuter than a Minnie Mouse costume. And, of course, this black dress Halloween costume is the ideal choice for longtime Disney fans.
You will need: Mouse ears (if you don't feel like buying this pair from Amazon, you can always add a ribbon to regular Disney ears), and red and white details (I chose a cardigan, belt, and platform mary-jane heels). Also, if platform heels aren't your thing, these block heel mary janes are comfy and cute!
Perfect if: You're a huge Disney fan.
Bonus points if: You convince your bestie to dress as Mickey.
5. Vampire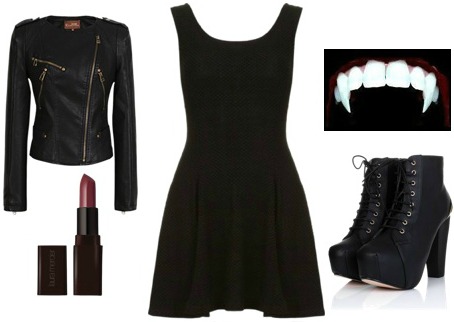 As creative as Twilight was, I think we can all appreciate the badass get-ups of more traditional modern vampires.
You will need: Fangs (you can find a good DIY here), dark lipstick, a black jacket (I went for leather, but a blazer works too) and black booties.
Perfect if: Your style veers toward edgy and dark. Or you just love vampires.
Bonus points if: You pose for every photo holding a cup full of red liquid. (Watermelon Kool-Aid, anyone?)
6. Madeline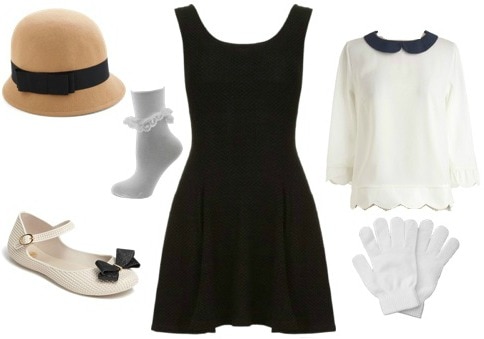 True, Madeline wore yellow and blue outfits in the books. However, I feel this outfit can be immediate recognized since it captures the spirit of Madeline's school uniform. Remember to wear the shirt under the dress!
You will need: A shirt with a Peter Pan collar (outfit shirt sold out but this patterned one is cute and versatile), bow flats, a cloche hat, white gloves, and frilly socks (optional).
Perfect if: You grew up with the Madeline stories.
Bonus points if: You say "Poo, poo" about something.
7. A Masquerade Ball Attendee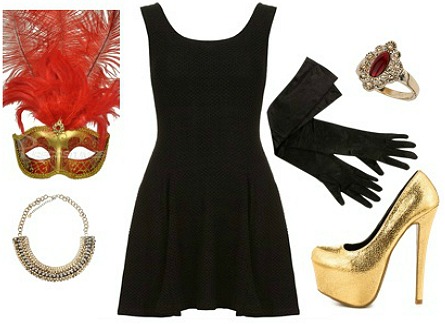 One of the only costumes that makes wearing a mask glamorous. Bonus: Less makeup necessary as the mask does all the work.
You will need: A mask, a statement necklace, long gloves, a statement ring, and statement heels.
Perfect if: You'll be spending Halloween at a party where most of the people there won't know you.
Bonus points if: You smile coyly whenever someone asks you your name.
8. Wednesday Addams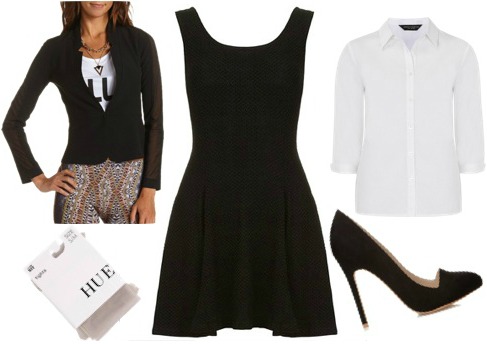 There are two kinds of people in the world: those who love the Addams Family and those who are lying.
You will need: A black blazer, a white blouse, tights, and dark shoes. (I used heels, but a pair of combat boots would work too).
Perfect if: You have hair long enough for two braids.
Bonus points if: You're vaguely morbid all night.
9. Daria Morgendorffer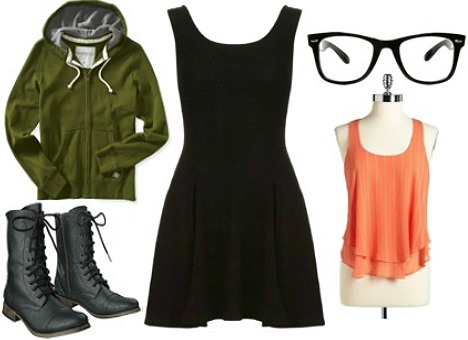 You just know that wearing an LBD would have been too mainstream for Daria.
You will need: A green hoodie (ideally in zip-up style), black combat boots, glasses, and an orange tank top.
Perfect if: You already wear chunky glasses.
Bonus points if: You point out why Halloween is consumerist and lame (in monotone, of course). Even better, why not make a Daria group costume with your friends?
10. Panda Bear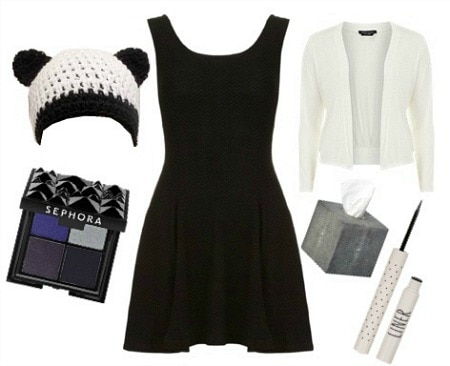 We've all seen the girl that dresses up as a cat for Halloween. Why not try something a little more original and dress up as a panda?
To really complete the look, use black eyeshadow and paint on a panda nose with liquid eyeliner. I included tissues in case you wanted to sneeze periodically and be the famous sneezing baby panda.
You will need: A knit beanie with two pom-poms, black eyeshadow, a white cardigan, and liquid eyeliner.
Perfect if: You're still suffering from hayfever.
Bonus points if: You find a comfy spot and snack happily on candy, panda-style.
11. 1920's Flapper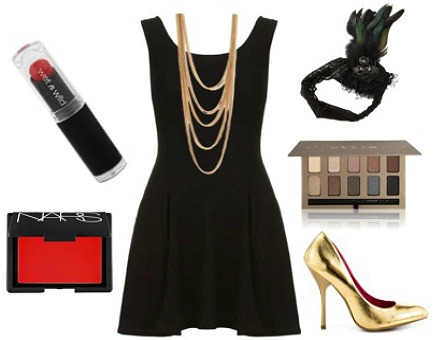 Flappers are just awesome. Need I say more? Apply a very pigmented blush to just the apples of your cheeks for a touch of authenticity.
You will need: Red lipstick, blush, a long chain necklace, a headband (or cloche hat!), dark eyeshadow, and fun heels.
Perfect if: You love Chicago or The Great Gatsby.
Bonus points if: You do the Charleston at some point during the evening.
12. Bat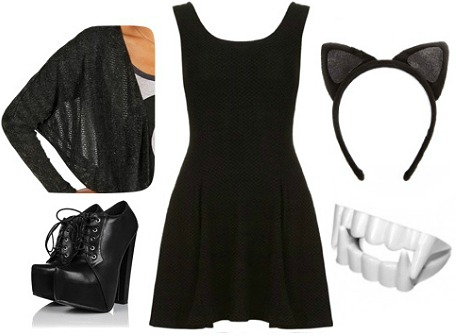 Yet another cute animal alternative to the overdone cat costume. (Wear makeup to really sell the look.)
You will need: A sweater in a batwing shape, boots, cat ears, and fangs (again, tutorial here.)
Perfect if: You're really crunched for time and you have cat ears lying around from last year. Or you only kind of want to match costumes with your BF and he's going as Batman.
Bonus points if: At some point in the evening you flail your arms and exclaim, "I AM THE NIGHT!"
13. Scarecrow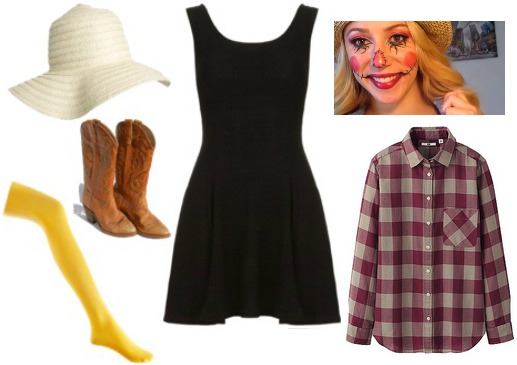 A fun yet modest costume that celebrates the season rather than the holiday. Knot the plaid top around your waist or wear it underneath the dress.
You will need: A straw hat, cowboy boots (or any rustic-looking boots), tights, and a plaid top. Don't forget some face makeup!
Perfect if: You aren't a fan of scary or sexy costumes.
Bonus points if: You sit very still near the front door of your house and jump out at kids to scare them (and then, of course, give them plenty of candy, since tricks should always be followed by treats).
Thoughts?
And there you have it – 13 Halloween costumes from one Little Black Dress!
What do you think of these costume ideas? Can you think of any more costumes that use an LBD? What will you be doing this Halloween? Are you dressing up? Leave your comments below!
Editor's note: This post was originally published in 2013; it was completely revamped in 2017 with updated product links, additional resources, and new tips.